This article may contain affiliate links; if you click on a shopping link and make a purchase I may receive a commission. As an Amazon Associate, I earn from qualifying purchases. 
Trying to get back into the swing of things at Wardrobe Oxygen, I'm sharing what I wore recently. As I mentioned in last week's post, I am lately all about embracing what is enjoyable to wear. Life is short, and life is hard, if your wardrobe affects your outlook (likely, since you're here), why not have a bit of joy in your closet? You'll see a lot of things I've owned for a while, but some new pieces and most new includes color or print or some sort of whimsy or joy-inducing detail.
What I Wore Recently: Colorful Summer Edition
Lotsa Linen
This is what I wore yesterday to the office. Since I am trying to not to work on weekends since my two-week internet break, Mondays will be an office day where I deal primarily with administrative tasks, and if I didn't finish a post for Monday, I finish it up to get it ready to go live Tuesday morning.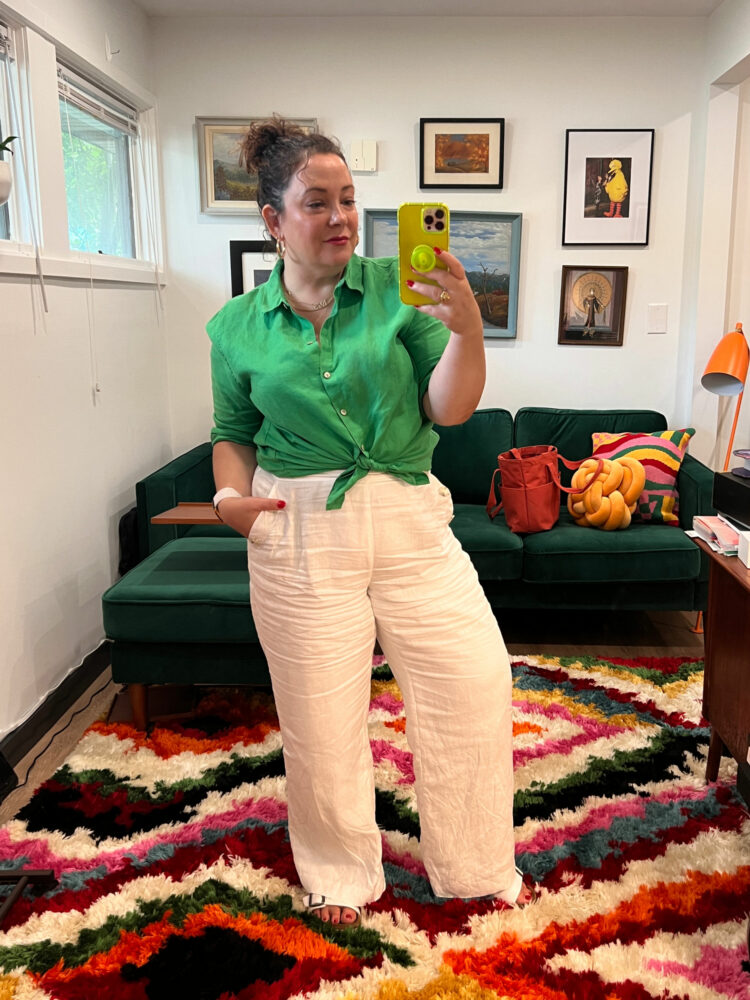 I have raved about Chico's no-iron linen for years (here and here are examples) and when I saw this year they had this gorgeous green color I requested one in a size larger than I usually choose for comfort and so I can also use it as a swim coverup or layering piece. I find the sleeves in the linen shirts this year are a bit more snug than past years; bust too. So if in doubt you too may wish to size up.
The pants are Talbots and I have worn them almost weekly since I got them in May. Talbots also sent them to me in brown, which is unlined, and they fit horribly. But these white ones are near perfect for me (and on sale). The only thing I don't like is the back pockets; I think the were made in a skintone color to make them disappear but instead it looks like two darker than my skin squares on my buttcheeks. I think this is a time where white may have actually been better.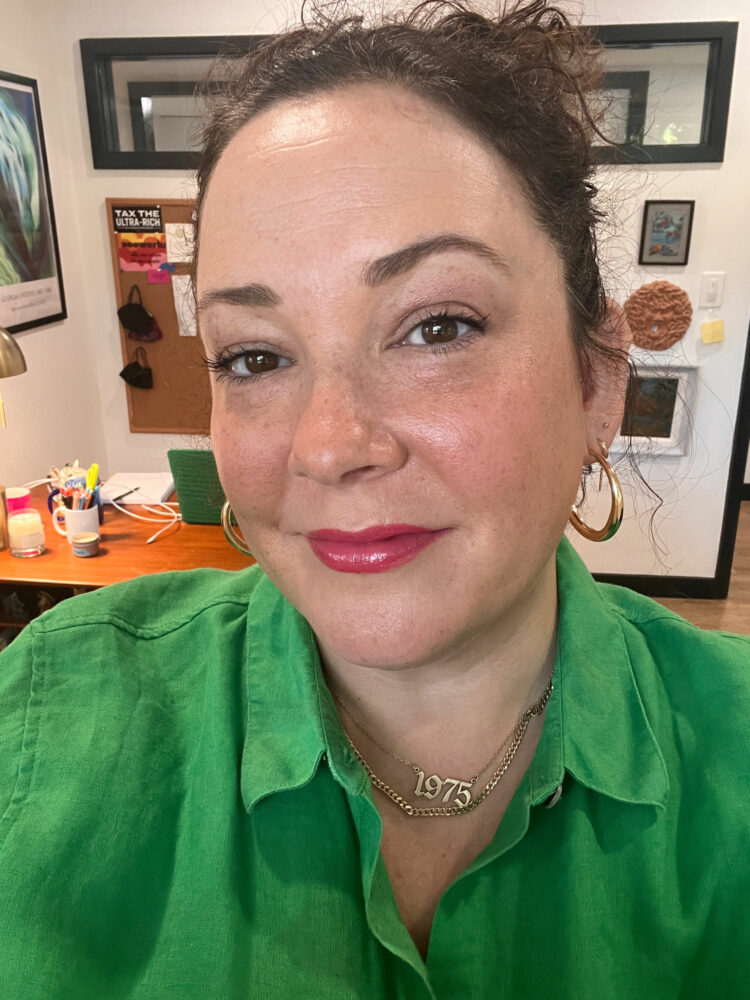 I felt this bright top needed a bright lip; this is Laura Mercier's velvet pencil in "Clique" and then I used some Fenty gloss in "Cheeky" (my absolute favorite) over it to add shine. Speaking of shine, to elevate this look I chose gold jewelry. Here is a link to my birth year necklace; the earrings are old Chico's but these are similar.
Also, inspired by discussing in the Wardrobe Oxygen community, I bought the L'Oreal Balm Foundation. It was discussed along with Jones Road's balm which I tried and did not like. This product from L'Oreal is not at all like the Jones Road balm. This goes on like a cream or heavy lotion, blends beautifully and easy just with fingers, and sort of gives an airbrushed/polished look without heavy coverage. It feels good and wears well, even in humidity. I am not wearing any primer or concealer or powder here, just the balm with some Flyte.70 cheek color and then my eye and lip makeup. I am wearing color 20/Light as reviews say it runs a bit dark and considering I a now a bit tanned, I agree.
Shop the Look:

Bring on the Color!
On my two week break I didn't do any online shopping (no internet, no access and no temptation) but just before my break I ordered a second pair of Nooworks overalls. I ordered my first pair of Nooworks overalls in 2020 and wear them all the time. They have held up great, looking cute with a black fitted turtleneck and boots in the winter, and being a go-to outfit with sandals in the summer. When I saw Zoe Schlacter (an artist whose work I really like and I even featured them on Wardrobe Oxygen back when they were in high school) had a print with Nooworks, it was a sign to buy a second pair.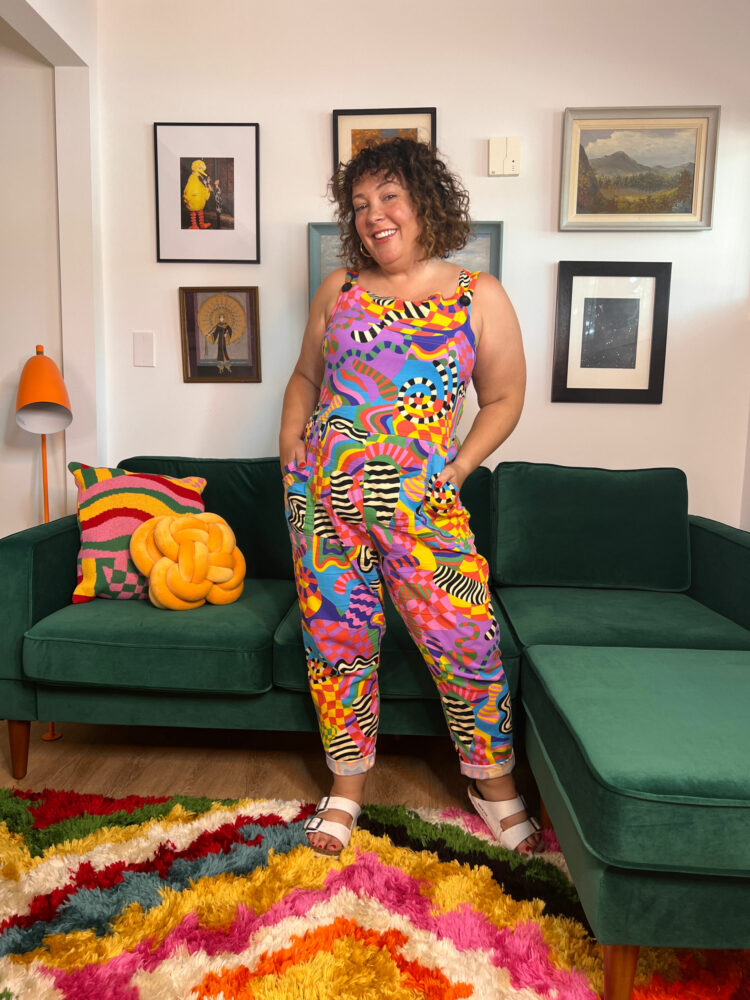 I wear an XL in these overalls. For my height I have to shorten the straps a smidge (right now they're shortened with safety pins in back but easy to stitch down myself when I get a chance) but besides that, a good fit that covers my bra if I wear it like a jumpsuit. Front chest pocket, front hip pockets and back patch pockets make these functional as well as adorable.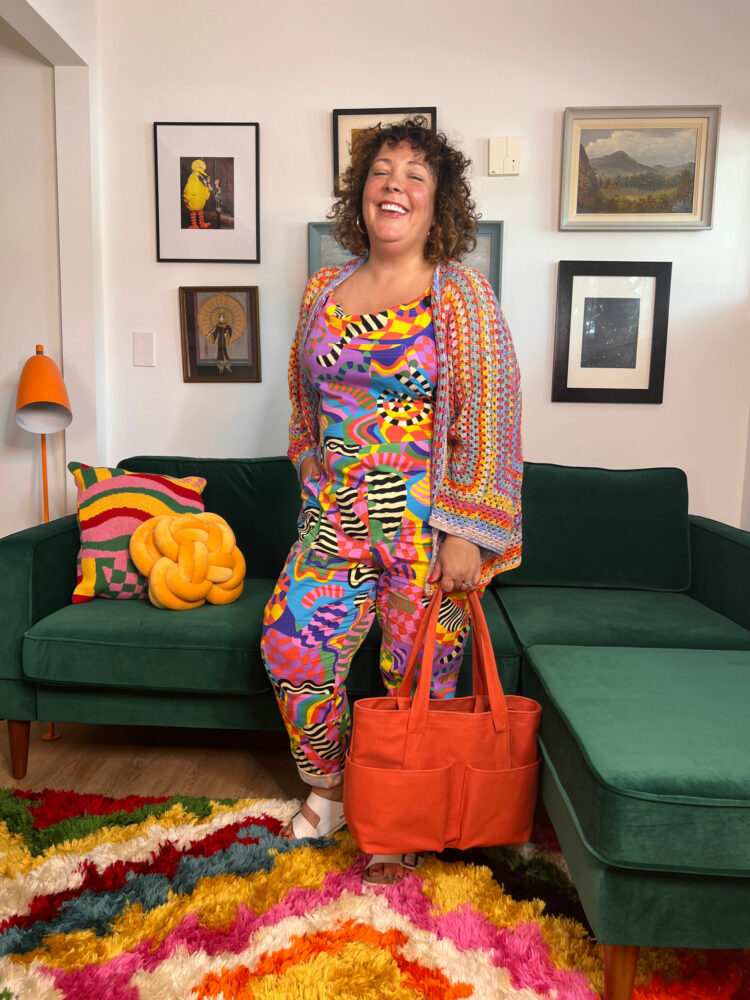 The cardigan I got on Etsy in 2020 and it's a favorite warm-weather layering piece. Just enough for air conditioned spaces, and not itchy in the heat. And the colors are so fun… and match my new overalls! I found a few other similar cardigans on Etsy have them linked below.l
The bag is Dagne Dover and it's also a favorite I've had for a bit. It holds so much (even a removable neoprene cup/sleeve for my water bottle) but looks polished. This rusty orange has been quite the unexpected neutral working with most everything in my closet. FYI, this is the large version of this tote.
Regarding my office, the sofa and matching ottoman are Albany Park, the rug is from Rugs USA, the printed pillow is Zoe Schlacter, the knot pillow is Amazon. And the Big Bird photo on the wall is of the character with Diane von Furstenberg from a 2009 Harper's Bazaar shoot.
Shop the Look:

My Trusty Denim Coveralls
I bought these denim coveralls from J. Crew this past spring (previously seen here and here) and they continue to be a favorite. The fabric is soft, the elastic waist gives me some shape, and I think they get better with each washing.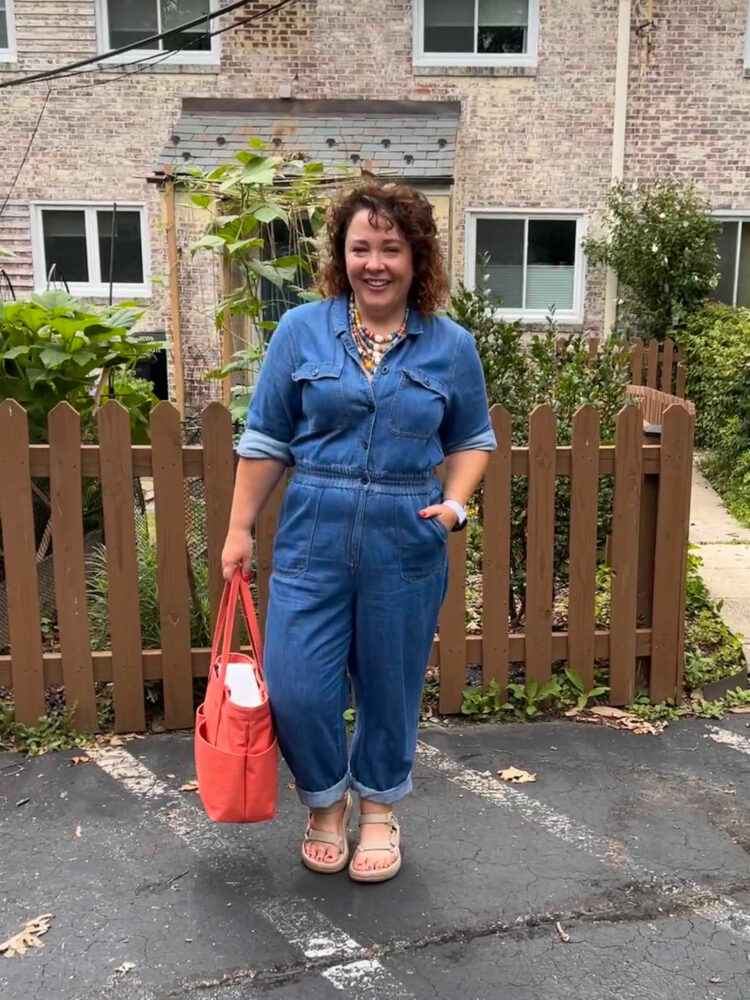 While I won't be wearing on 100+ degree days, they're comfortable for a casual day inside and out with more mild summer temps. Less like denim and more like a soft openweave cotton/linen vibe if that makes sense. I cuffed them twice and rolled up the sleeves for a casual weekend look (and also for a bit more airflow) .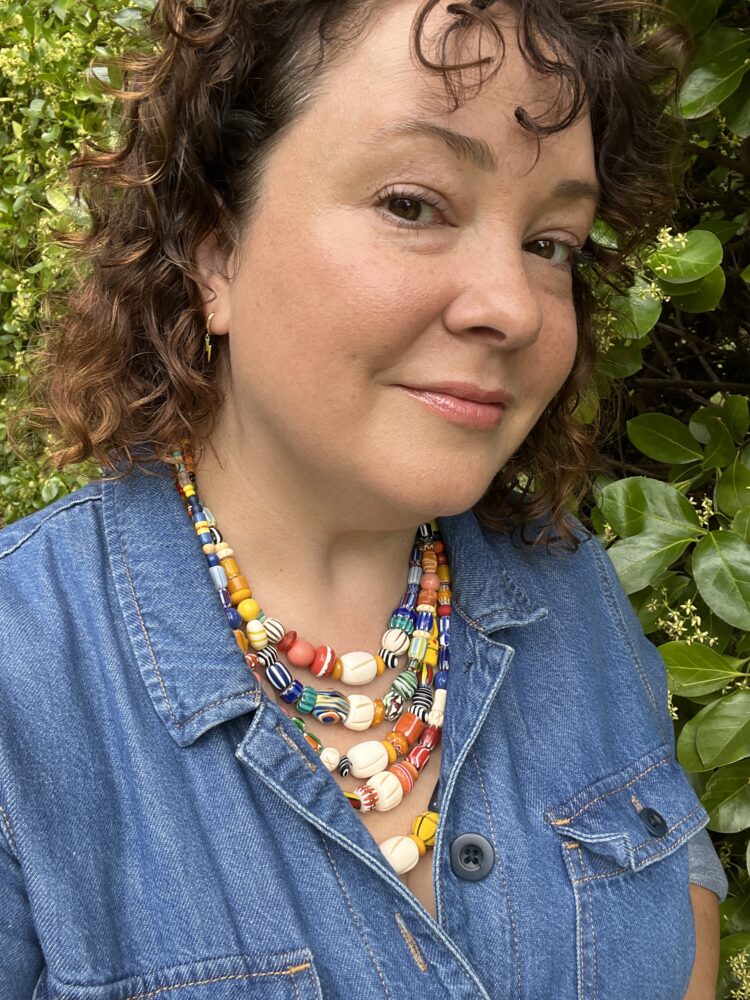 I got this necklace from Chico's to use in a capsule and thought it may be a bit much for me, but I love it. It has an adjustable leather cord to make it short or long. I shortened it to fit into the neckline of the coveralls. Chico's also has a matching set of bracelets and these cute earrings.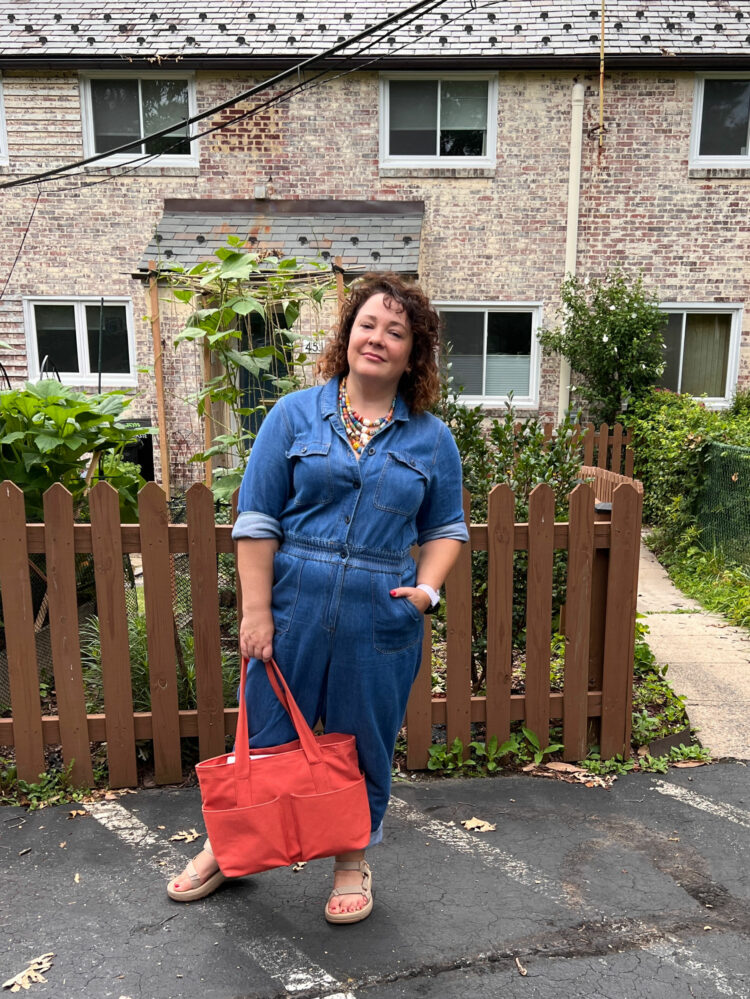 For shoes, it's these platform Tevas which are super comfy. While most Tevas don't fit my wide feet, the Hurricane style work. And then again the Dagne Dover "Vida' tote!
Shop The Look:

That Chico's Duster…
I shared in my post last week that I was in love with a certain Chico's duster and have been wearing it quite a lot. Well I captured a photo of me wearing it last week!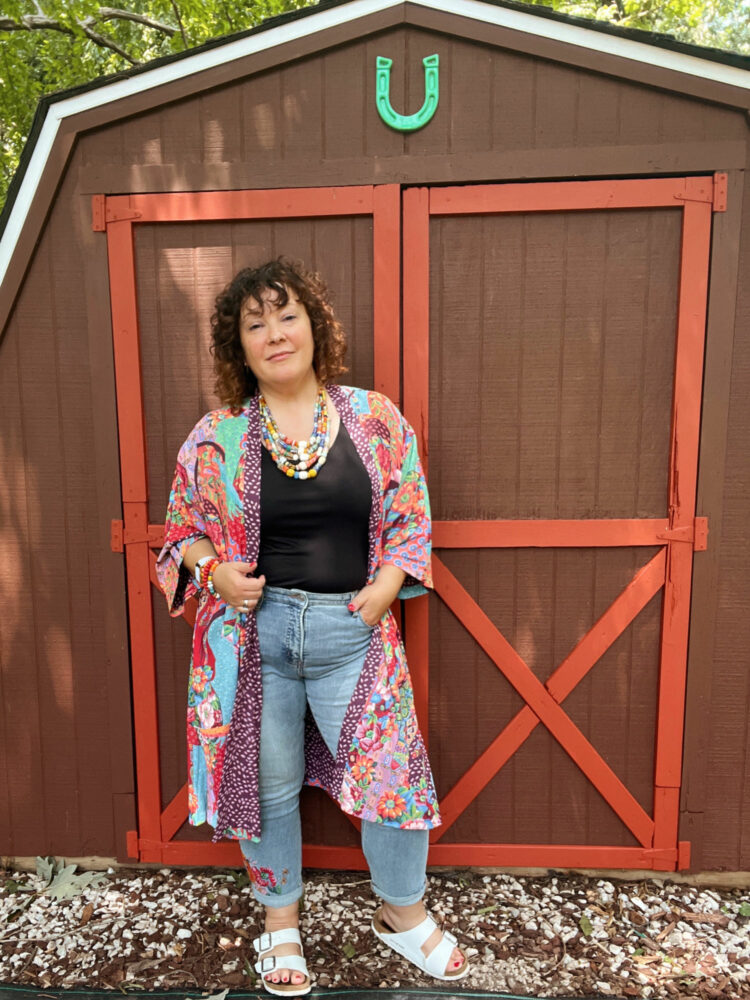 I was playing with clothes from Chico's to figure out my capsule wardrobe for them this month and left this look on for the rest of the day. I am wearing the duster in L/XL, this tank in size 2 (I have several of these tanks they are fantastic), these jeans in a size 2 (wish I got a 2.5, Chico's jeans can run big but these don't), the same necklace seen above with the matching bracelet set, and my white Birks.
Shop the Look:

Back in Black
I mentioned this look in last week's outfit post but forgot that I actually captured a photo of it! Black on black with touches of white!
These are the Universal Standard Smart Stretch Twill Shorts, I am wearing a size 12. I think a 14 would have been a bit more relaxed without looking sloppy, but these are still comfortable thanks to the polished yet stretchy fabric. The padded shoulder t-shirt I got at Banana Republic last summer (size L; the Factory has similar this summer). The black and white silk scarf around my waist is old… maybe 2000 from Express and the shoes are the EVA version of Birkenstocks which I love for being out in the yard and wearing to the pool and beach (easy to keep white with a Magic Eraser).
Shop the Look:

Microburst Fashion
Last Tuesday, a microburst storm came through our city. We knew there would be rain and possibly a thunderstorm but this short intense storm did severe damage to our community and many across the DC Metro area. It happened when I was on my Peloton bike; the power went out and the wind was so intense tree branches were being snapped off, pelting the house.
I hopped off the bike and ran downstairs to join my family. I put on my boots right away; we've had a tree come through our roof before in a storm and have learned boots are smart in case of broken windows or having to go out in the weather to move a limb or some other sort of quick repair.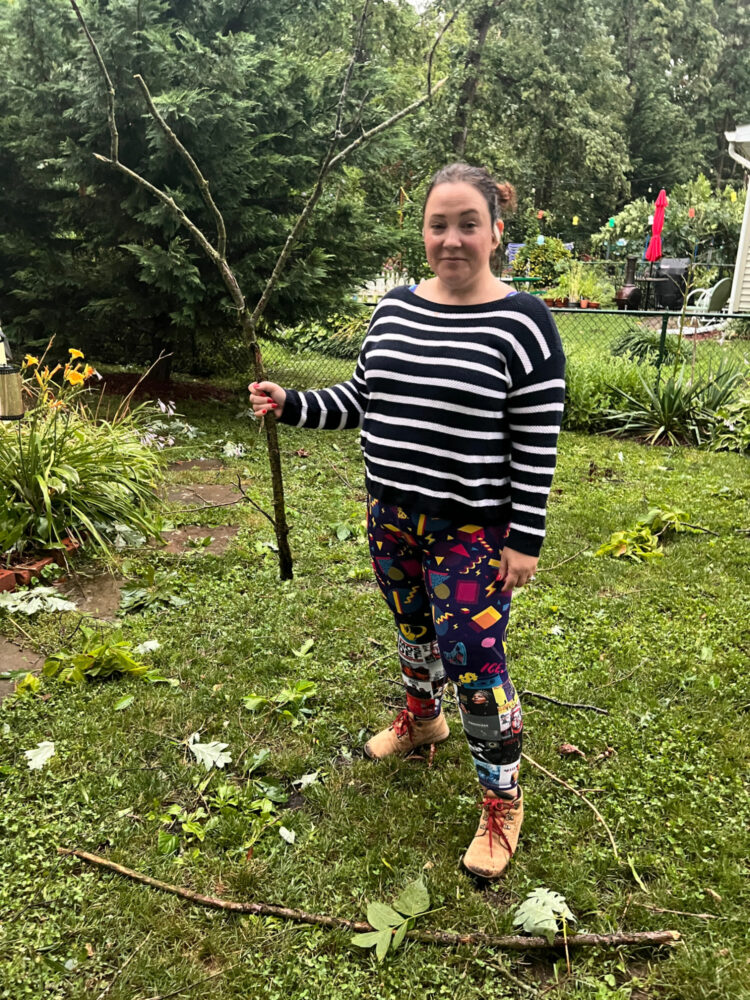 When the storm moved out of our area, we went outside to assess the damage and I realized I was still in just my workout leggings and sports bra so I grabbed a sweater in the laundry/half bath that was ready to be washed and so became this high fashion look, LOL! The leggings are Miami Fitwear (no longer available but they have plenty of other awesome prints; use WARDROBEOXYGEN15 at checkout for 15% off), tthe sweater is Talbots (and on sale! I'm wearing XL petite), and the boots are Danner.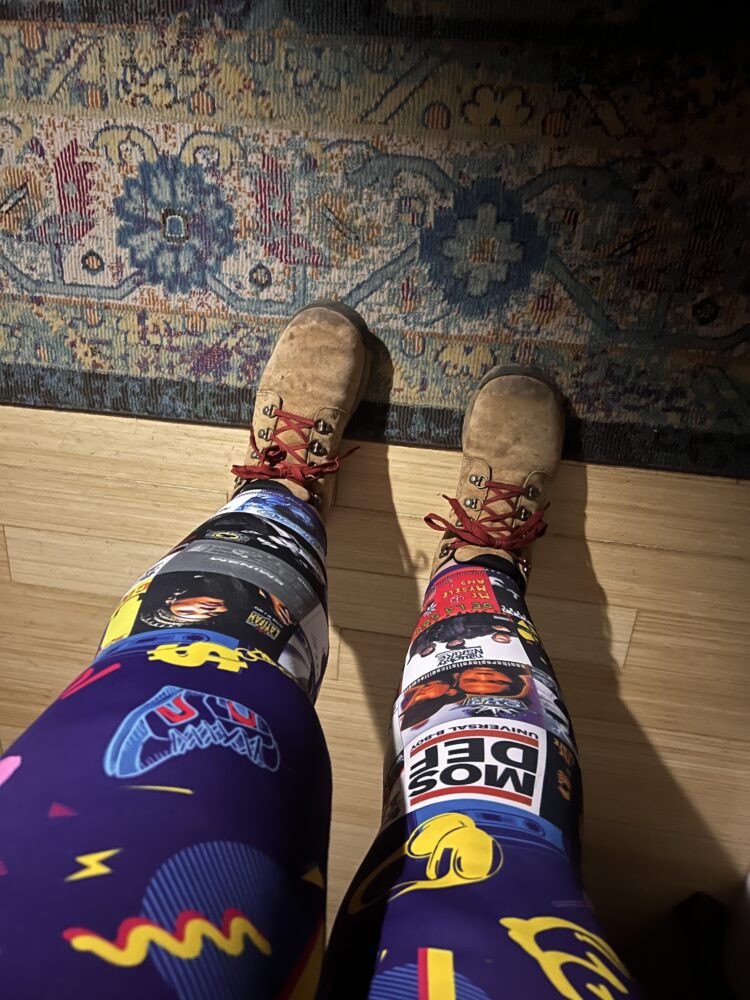 If you're looking for hiking boots, gardening boots, or just all-around sturdy versatile boots I can't recommend these enough. I got them I think in 2019 and they still are awesome. Lightweight but great ankle and foot support, waterproof but still comfortable in the heat, and a classic look that isn't too athletic or clunky. They've been on multiple vacations, been covered in mud and snow and slush, and are still fantastic. Also, Danner is a company I like supporting.
As for our property, we had an old large tree uproot in the storm, lifting one side of our yard's fence and smashing another. A part of our gutters came down too, but we were extremely lucky. Many neighbors had trees hit their homes, cars, and neighbors were out of power longer than we were. We live in a very wooded area (we're called Greenbelt for a reason) and so many trees were damaged or downed in that maybe 15 minutes of storm and cleanup and repairs will be happening in Greenbelt for weeks to come.
Shop the Look: