This article may contain affiliate links; if you click on a shopping link and make a purchase I may receive a commission. As an Amazon Associate, I earn from qualifying purchases. 
If a tree falls in the forest… if an influencer is offline for two weeks does she care about what she wears? I took two weeks off blogging and social media. I didn't go anywhere fancy, I had few social occasions, and found what I ended up wearing to be pretty interesting.
I really thought I'd be spending the whole time in an Evelyn & Bobbie Defy bra and Soma joggers and while I did wear that combo, I felt best when I wore something more enjoyable, and something that was both comfortable and leaving the house ready. All these pieces I already owned and wore, but the change in my lifestyle changed how often they got worn and how they were styled.
I found myself being more daring with what I wore. Daring to go without makeup, to wear casual shoes with dressier looks, mixing patterns, embracing both minimalism and maximalism depending on my mood.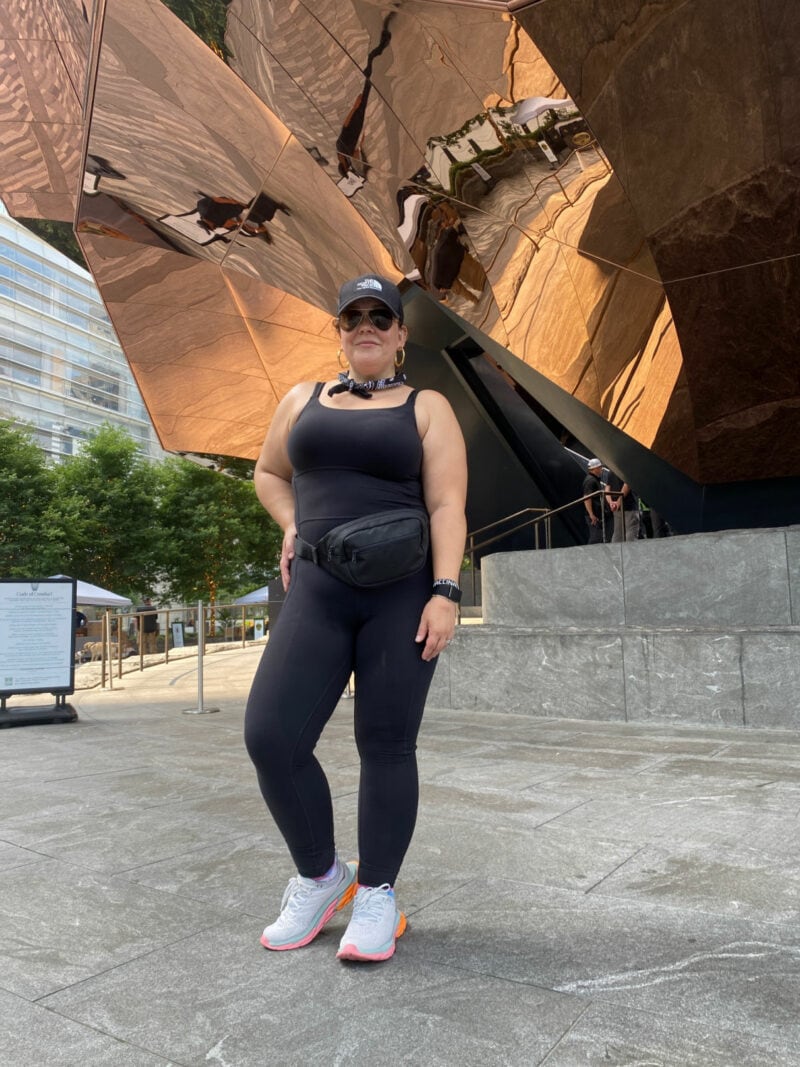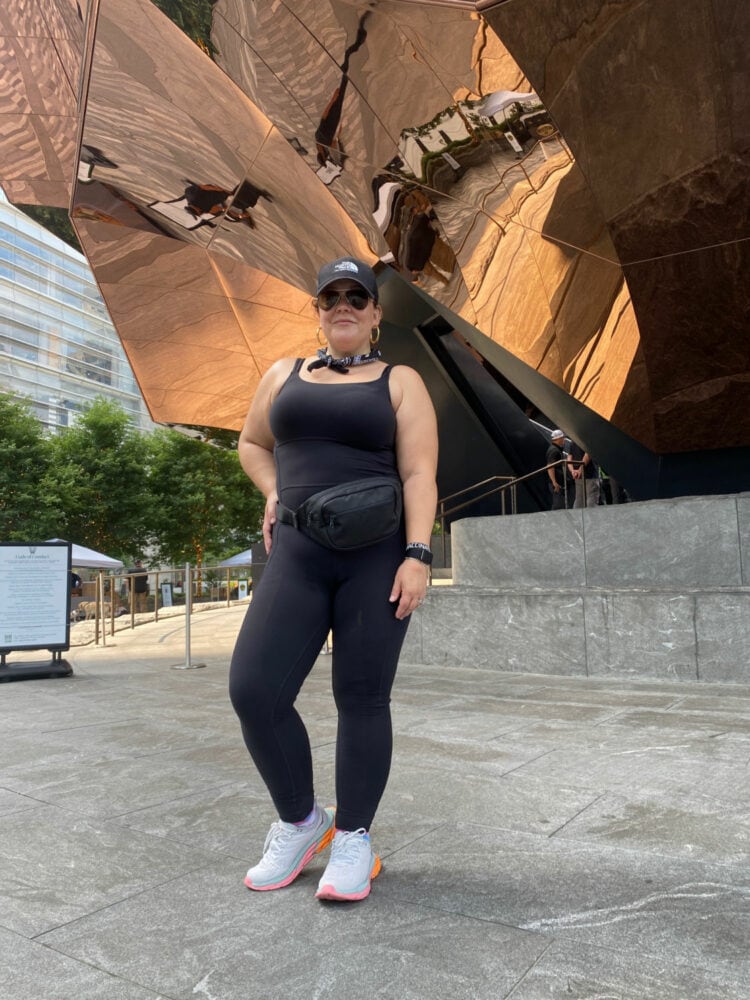 Universal Standard Next to Naked Bodysuit (link)
I've raved before about the Universal Standard NTN bodysuit; I now own a full-length black one and a knee-length navy one. And the navy one I enjoy for activities like sculling or canoeing, but the black one gets a LOT of wear. And I over a year of regular wear and occasional tumbles in the clothing dryer, it still looks and fits great.
I have a large bust, and it wears the signs of gravity, fluctuating weight, and nursing a little human for almost three years. I don't feel comfortable without a bra but for some reason I feel cute as all get out going bra-free in this black bodysuit. The seam below the bust combined with the fabric and adjustable straps gives a bit of lift and separation that looks grown-ass woman sexy comfortable.
I've worn this bodysuit with this duster from Chico's multiple times. The duster has great drape, is a beautiful print, and has pockets. I also wore the bodysuit with my Universal Standard black linen tunic (open and with two buttons closed). I could go from sun salutations before my morning coffee to chatting over the fence with a neighbor to driving my kid to the pool to coming home to do a Peloton strength workout without having to change.
And for those who prefer a bra, I wear this one with it in black and the straps line up perfectly and the neckline matches so it's not visible.
Sizing: I have a XS in both bodysuits and it is a perfect size for my curvy petite 5'3″ self. The legs are a bit long but I just scrunch them at the ankles.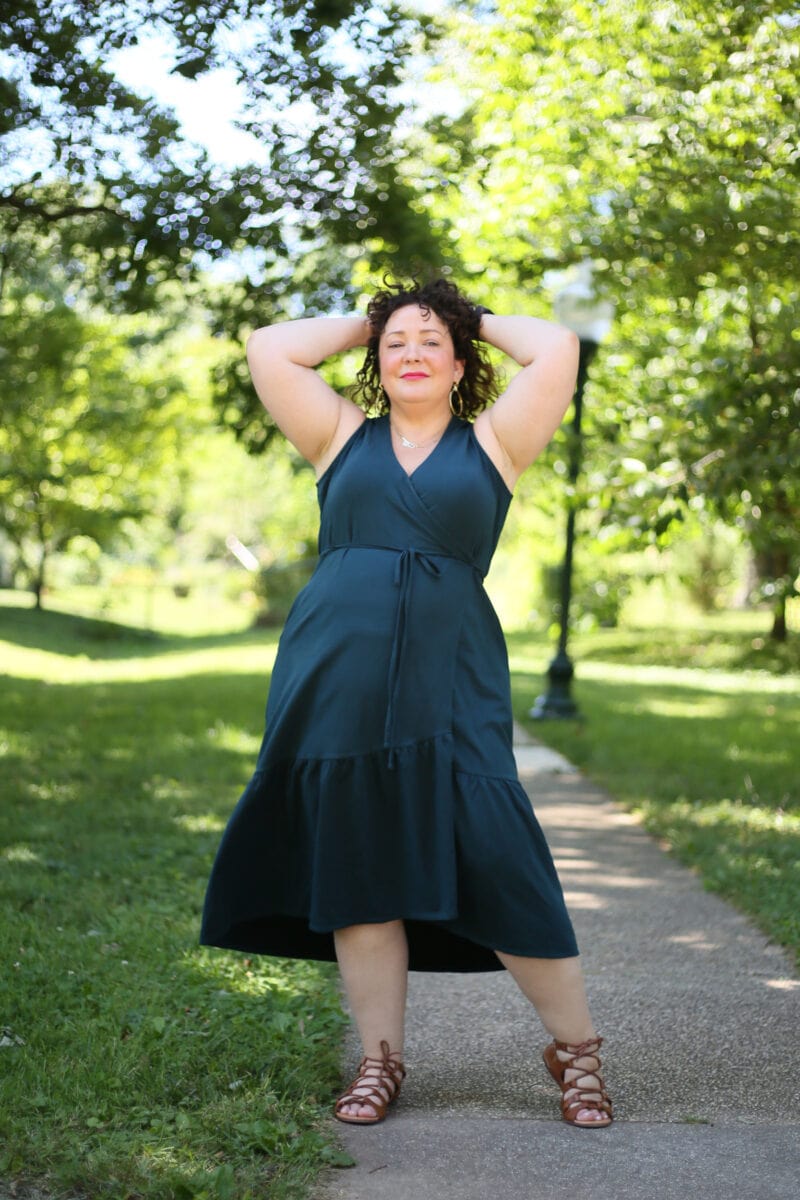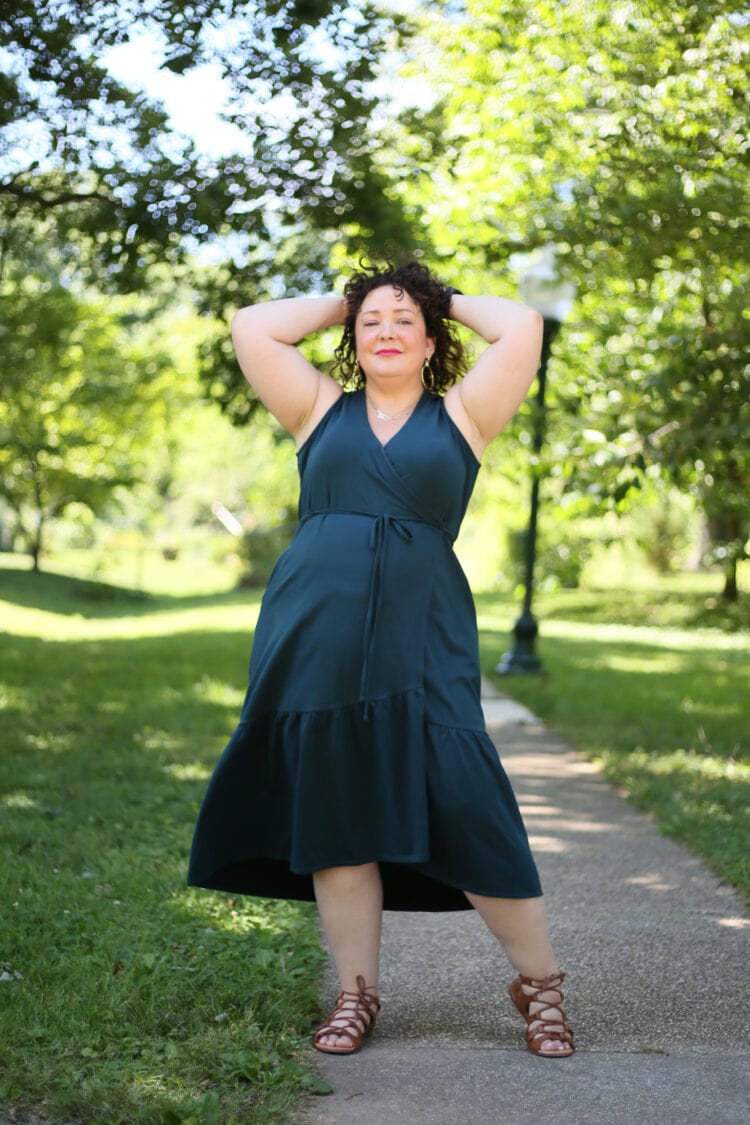 Universal Standard Tiered Twirl Wrap Dress (link)
I reviewed this dress before my break, and proceeded to wear the heck out of it. I like that I don't need to wrangle a safety pin or wear a camisole to hold this dress closed. The pockets are deep enough that I have put my phone in one and my wallet/card case and keys in another. I can sit on the ground criss-cross applesauce and be fully covered (and not have to do a lot of adjusting to be comfy).
I've worn it with my tan platform Tevas and with my white leather Birkenstocks and my old gold flat sandals. Add a pair of gold hoops and I look ready for most anything even though underneath I'm wearing a comfy bra (this is a current favorite) and a pair of Thigh Society shorts maxxing and relaxing.
Sizing: I have this in XS which is a great fit on my size 14 body.
Chico's Folks Art Drama Duster (link)
I ordered this duster from Chico's on a whim. I liked the one in my capsule wardrobe for travel so much, but it was too formal for my lifestyle (I ended up gifting it to a member of the Wardrobe Oxygen community on Facebook). This one is more my pace… it's kind of like a short robe without the closure. I've worn it over a swimsuit, over the NTN bodysuit, with a graphic t-shirt and denim shorts, and I've been known to throw it over a cami and pajama pants to cook up breakfast and enjoy it on the back deck.
In fact I like this duster so much, I decided to do my July Chico's collab based on it. Chico's has a bunch of other pieces with similar print and pattern and the fabric incorporates so many colors I like… I'll be sure to share here as well as my contracted share on Instagram!
Sizing: I have the L/XL and I think since this doesn't close in front this size would fit 12-16.
Universal Standard Smart Stretch Twill Shorts (link)
I don't like shorts on my body. I have curves in all the wrong places for them and they get stretched out in front, give wedgies in the back, and the legs ride up into my crotch. Going up one size helps, but I'd still choose a dress (with slip shorts underneath) over shorts for most any non-athletic situation.
But this spring Universal Standard wanted me to try their linen collection, I also asked for a pair of their shorts; these to be specific. and I forgot my rule of sizing up in shorts and they came and they felt too snug to be comfortable or cute. I left them on the chair in my room, thinking I'd do a giveaway or donate them to Uncommon Threads.
But then one day I tried them on again not with an old t-shirt and no bra but a nice top and shoes and really liked the effect. And I went out and about and they got more comfortable without bagging out in the belly or riding up into my crotch. These shorts looked polished enough that I could wear them with nice sandals and a blouse or wear them casual with a t-shirt and flip flops. And they washed up great, too.
I wore them with an Evelyn & Bobbie black bra and a Chico's linen tunic and just buttoned up the tunic when I left my yard. I paired them with my black Banana Republic shoulderpad tee and a scarf tied at the waist like a belt. I also did a Chico's microfiber tank, another scarf belt, and big hoops. These have become the shorts I wear when I need to go somewhere and non-athletic shorts make sense.
Sizing: I have these in an XS but think S would have also worked.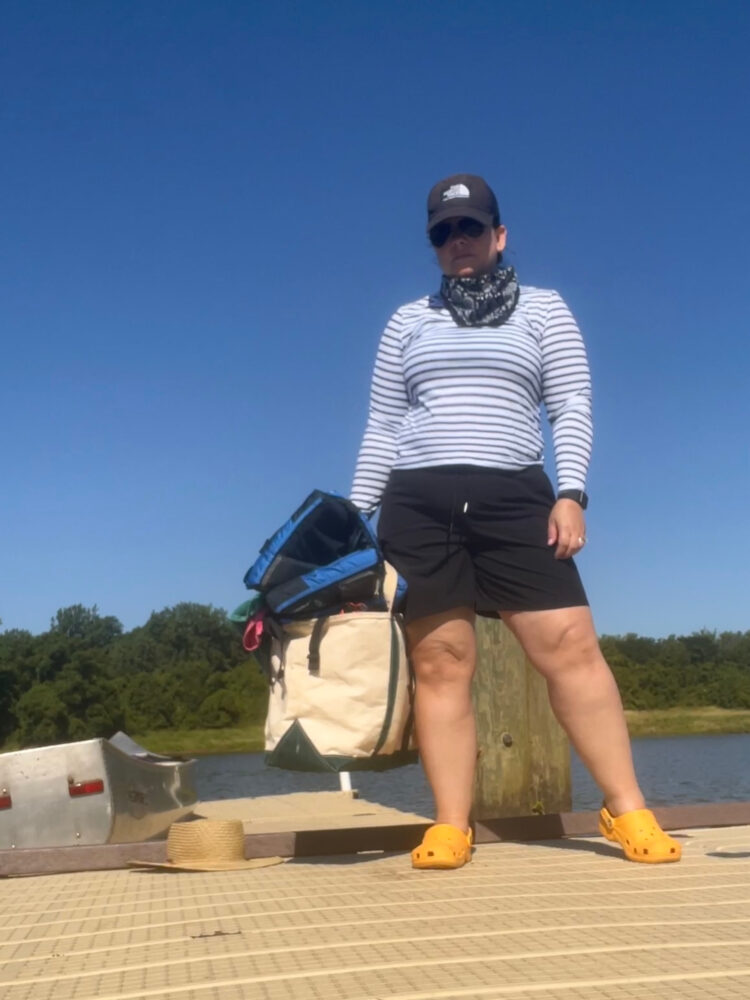 Chico's Zenergy Shorts (link)
I did a lot of walking outside on my break, and almost every time I grabbed one of my pairs of Zenergy shorts from Chico's. I also chose them when we went canoeing. They're long enough that they don't ride up, they have both elastic and a drawstring waist so I can customize fit, and zipper pockets big enough to easily slip my phone in and out to change tunes or take a photo.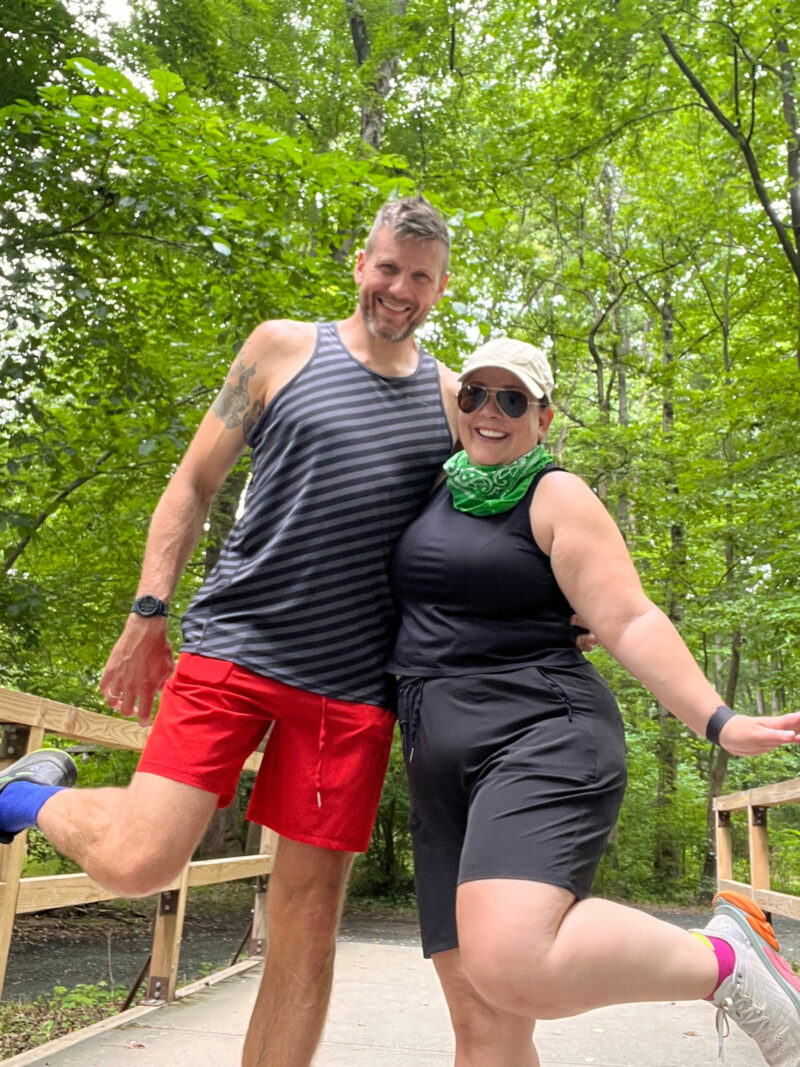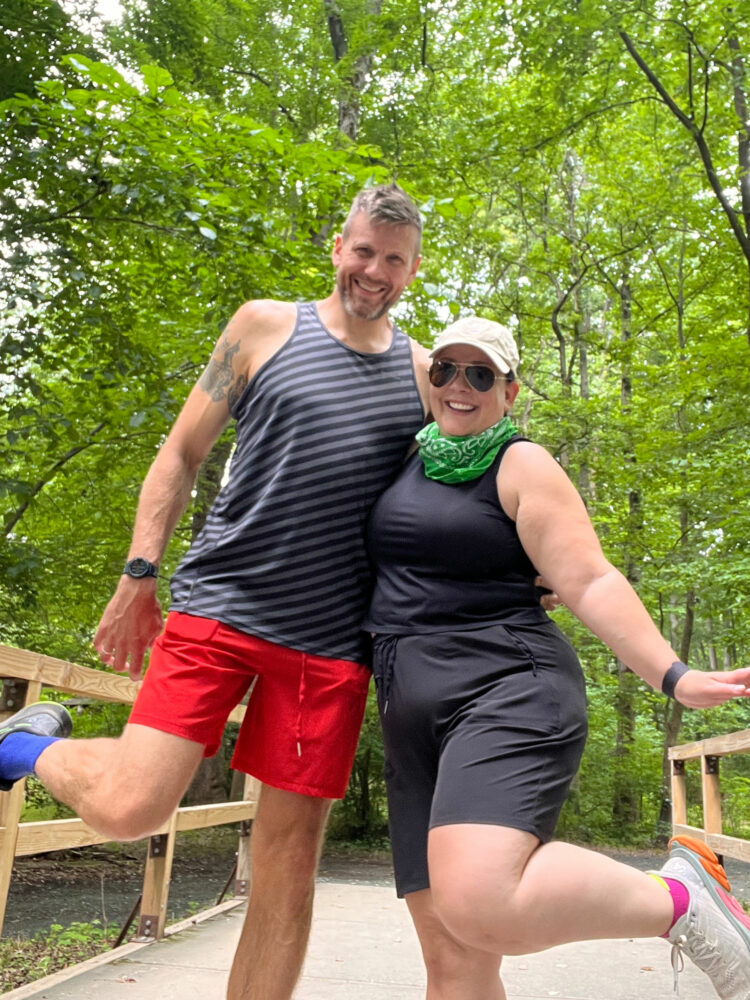 It's funny, my husband also loves these shorts and he clearly has a very different body shape from me. The fabric is stretchy but not knit, quick dry, non-clinging, and comfortable even in heat and humidity. While I love my Universal Standard shorts, the Chico's Zenergy shorts have a few more details that make them great for sweaty activities, especially if I need to carry stuff.
Sizing: I have these shorts in a 2 and a 2.5; the 2 fits trim, the 2.5 more like on the website model but both are comfortable.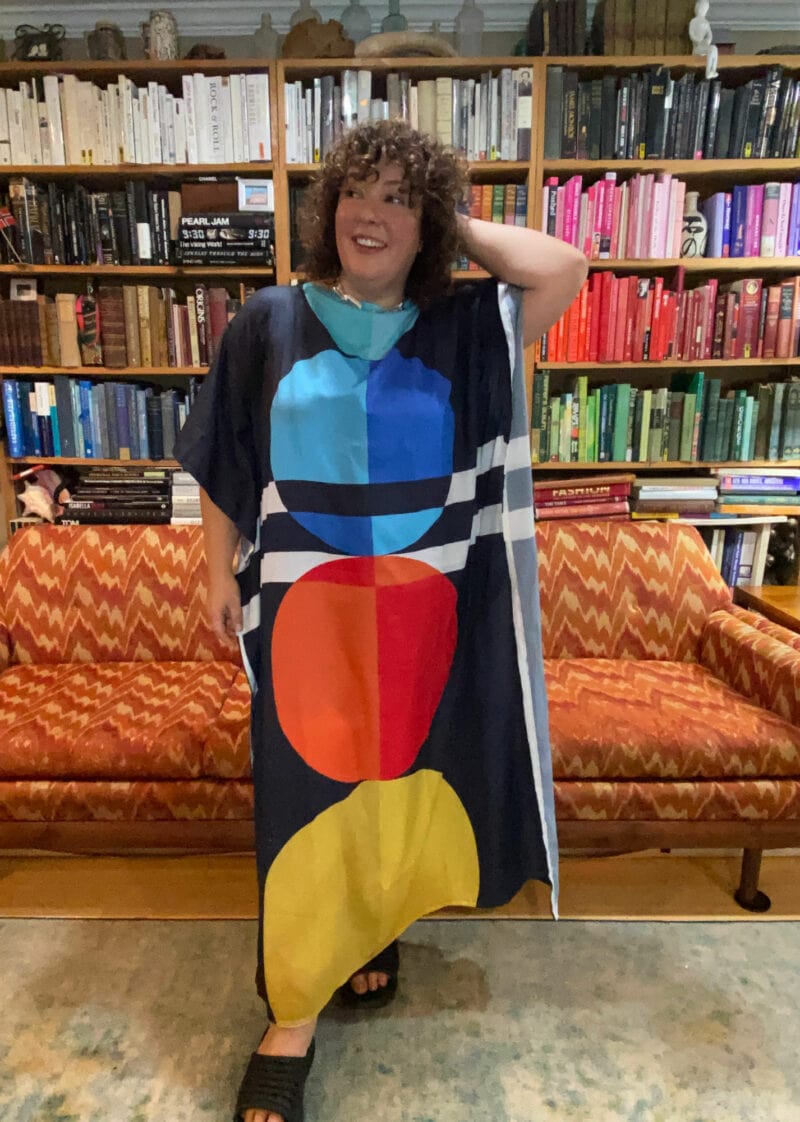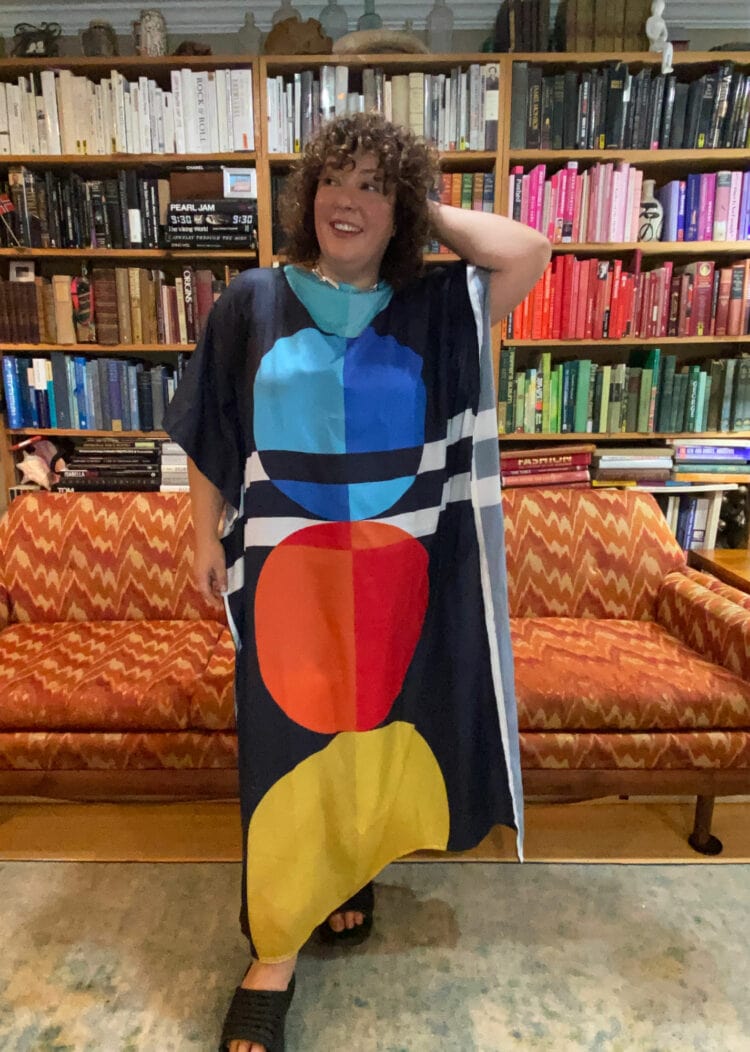 A Modern Art-Inspired Caftan from Etsy (link)
I bought a silky colorful caftan last summer but didn't wear it a lot because it's not super flowing and I wanted a caftan I could throw on that felt like nothing, like wearing a lightweight sheet with a hole for the neck. This is not that. It's a straight cut, but not snug and there are no pockets. I wore it once to my office and once or twice at some and then it languished in my closet.
During my break, I organized my closet and tried on the caftan… and wondered why I hadn't been wearing it! I then proceeded to wear it multiple times.
It's silky and feels good on and not claustrophobic in the heat, but it's machine washable. The print is super cool, and because it's not essentially a sheet with a neck hole it's nice enough to wear out. I wore it as a beach coverup, I wore it to stop by a friend's for coffee, and I wore it around the house.
My specific caftan is sold out but I found a few others from the same Etsy seller (they are all one size except this one which is plus size).
Sizing: As a curvy 14 the one-size model I don't think will fit anyone who wears a larger size than I do. I'd go with the plus size version linked above.
You May Also Like: The Friday Shop (featuring the first time I featured this Etsy caftan)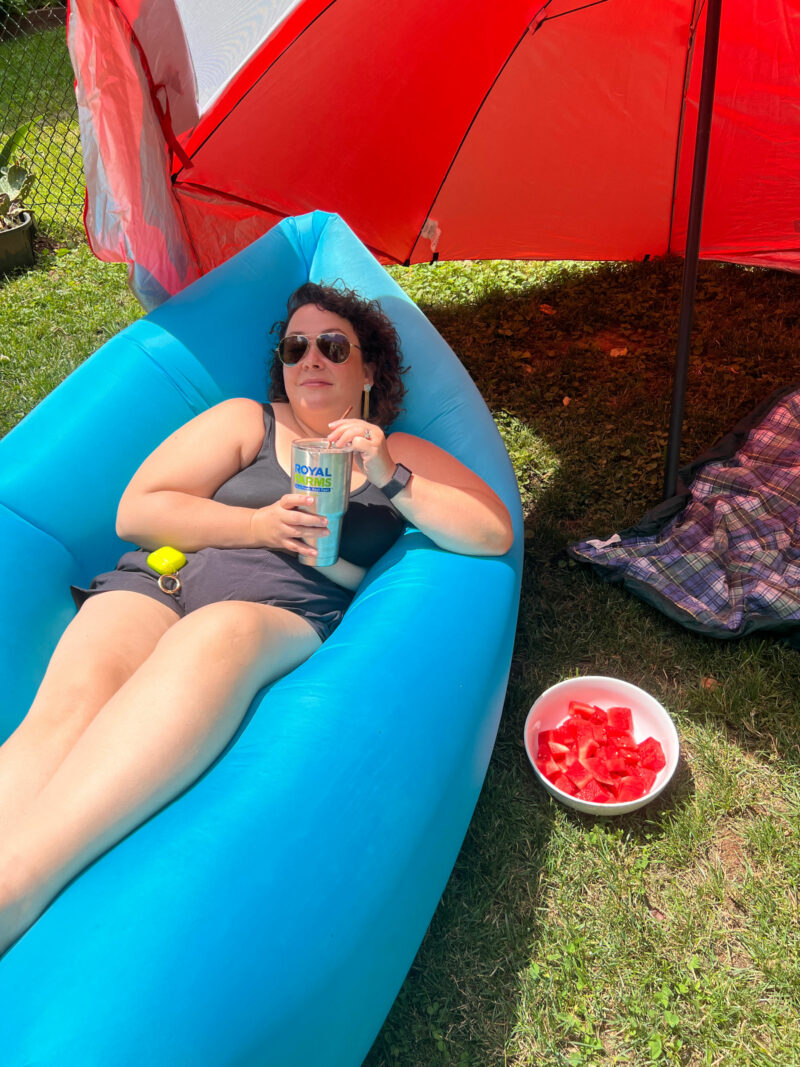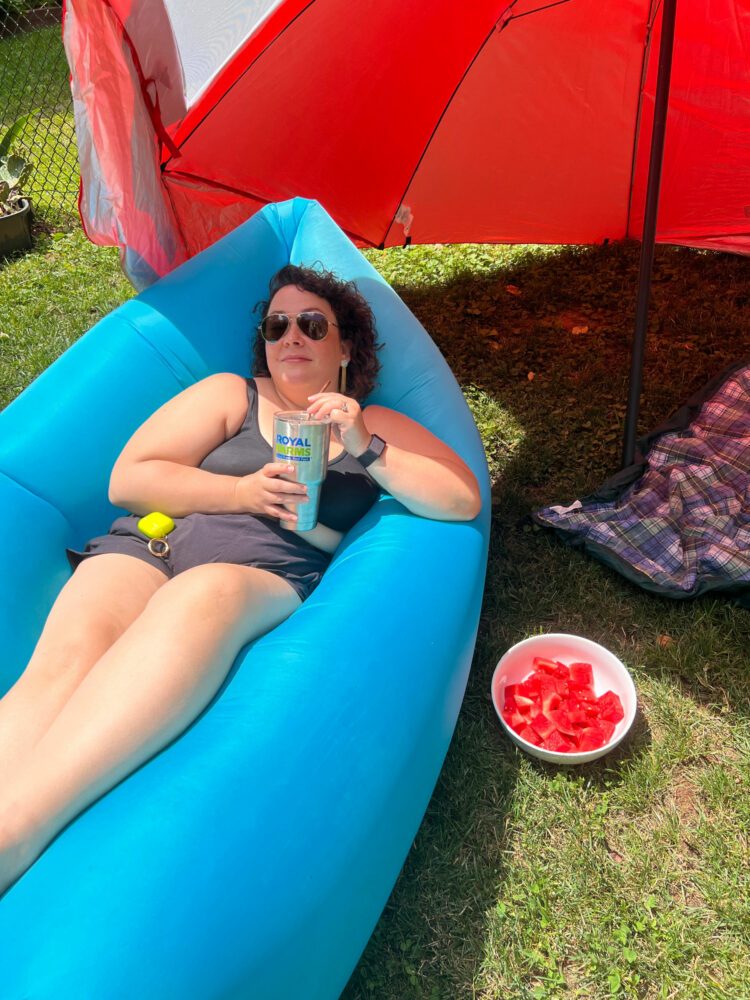 Evelyn & Bobbie Defy Bra (link)
I rave about this bra a lot, but as someone with gravity-enhanced boobage, wireless bras rarely work for me. They give me monoboob, one breast falls out when I bend over, they offer zero lift, and give me the weirdest shape. I've stopped asking for recommendations because likely I've tried it and it failed me. But Sarah at Curvily raved about Evelyn & Bobbie so I took a chance and now I own four of these bras.
These bras are great, but not perfect. They have wide straps and show with some clothing. The cups are visible (some colors they show more than others) and without the cups I'm not as much a fan. But what I do like, especially with my black Defy bra, is it looks like a cropped tank or sports bra.
I don't mind showing some midsection, especially at home and my go-to is a Defy bra, some comfy bottom, and a relaxed layering piece. Out in my yard, you'll often see me in a Defy bra with my Universal Standard swim shorts gardening or just catching some rays. They're comfortable even if I get sweaty and they hold up great even through multiple washings (I never put them in the dryer).
Sizing: I have both Large and XL. The Large gives more lift but rolls up at the band. I find I wear the XL more often.
---
Traditional style advice encourages us to define our aesthetic to look chic, have a small closet, be able to dress more easily. And I've done that, but I especially found during this break that with so much sadness, scariness, and frustration in life, having a bit of fun and whimsy in the wardrobe makes each day a bit more fun, our daily armor a bit easier to put on each morning.
If you have the basics and are bored with your closet, consider trying something a bit out of the norm. A printed duster or jacket, a bag in a bold color, a wide leg instead of a cigarette pant. You may be surprised how it can give new life to your wardrobe and make you see things in a new light.