This article may contain affiliate links; if you click on a shopping link and make a purchase I may receive a commission. As an Amazon Associate, I earn from qualifying purchases.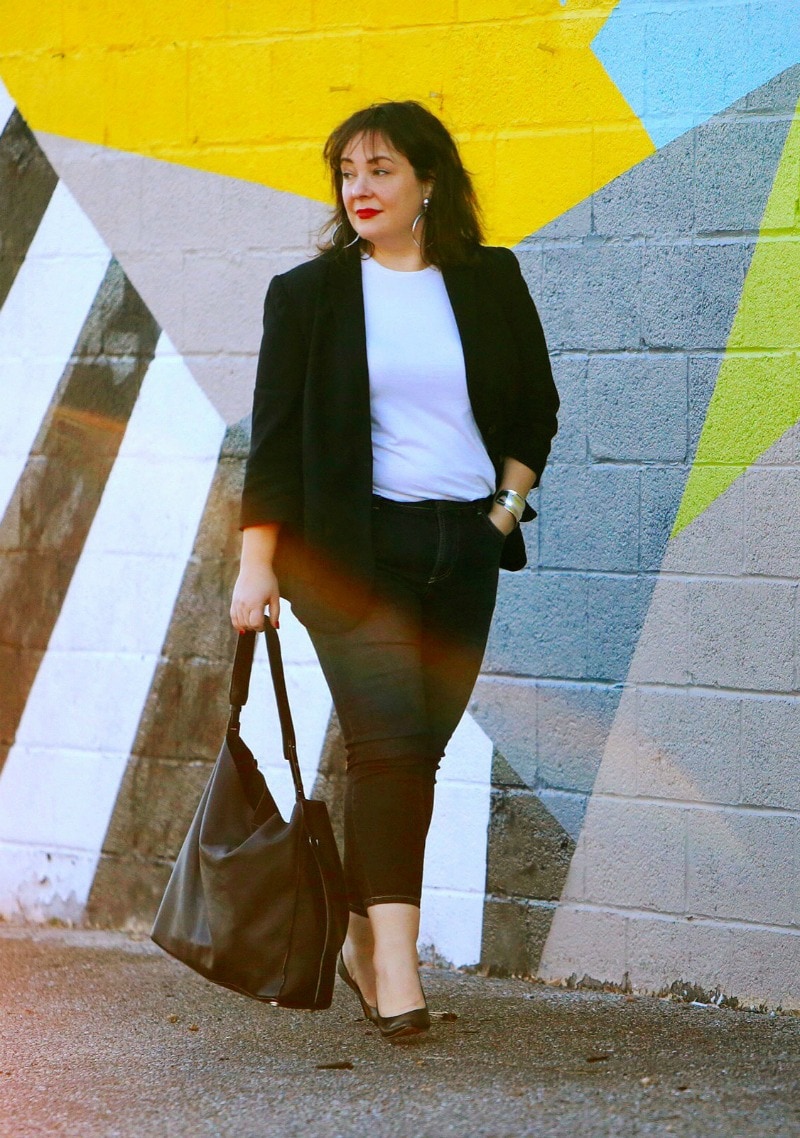 I was tempted to call this post, "What I Wore: Bad hair and too much wind for a photo shoot."  Honestly, if I wasn't sharing my real life core wardrobe, I'd likely scrap this shoot but this is real life and what I really wore the other day.  What I wore was a really bad hair day made worse by the wind, causing me to delete the majority of the photos.  I'm cool with being real on this blog, but not a complete hot mess!  But not until I was going through the photos did I realize that my entire outfit is Universal Standard and I felt it deserved to have a couple of the photos shared.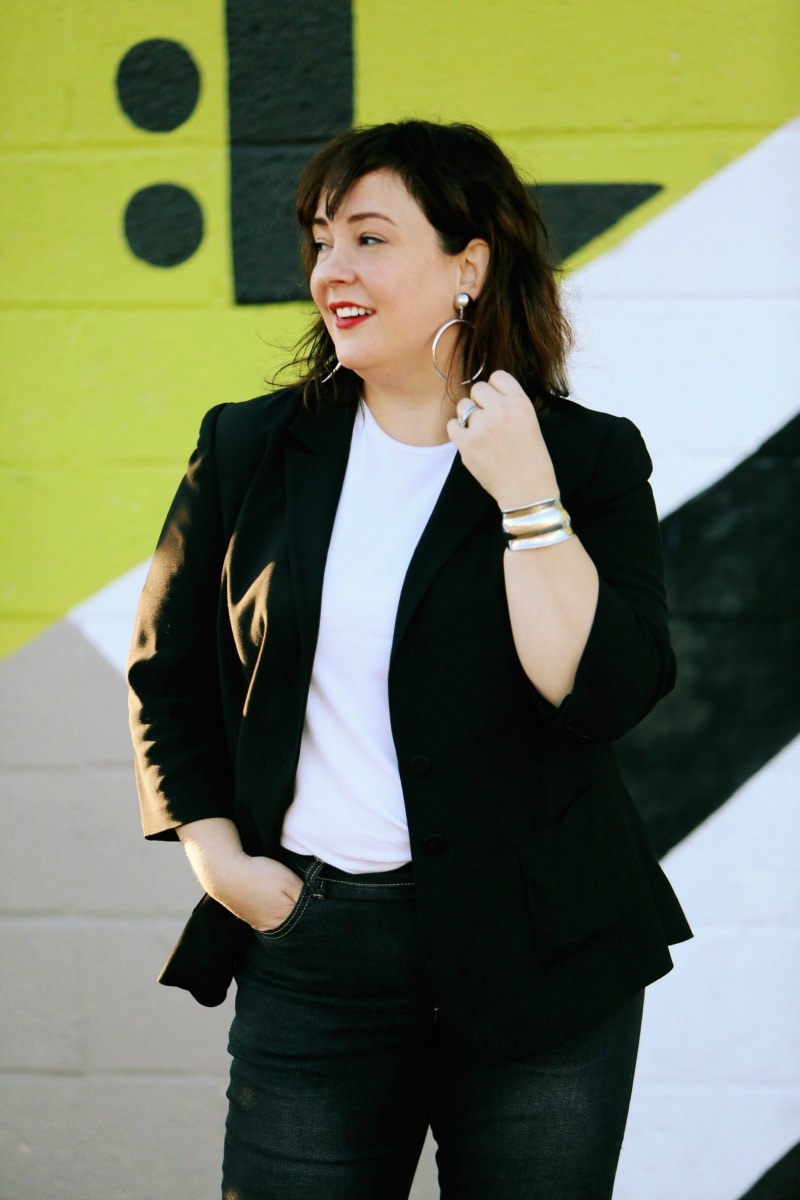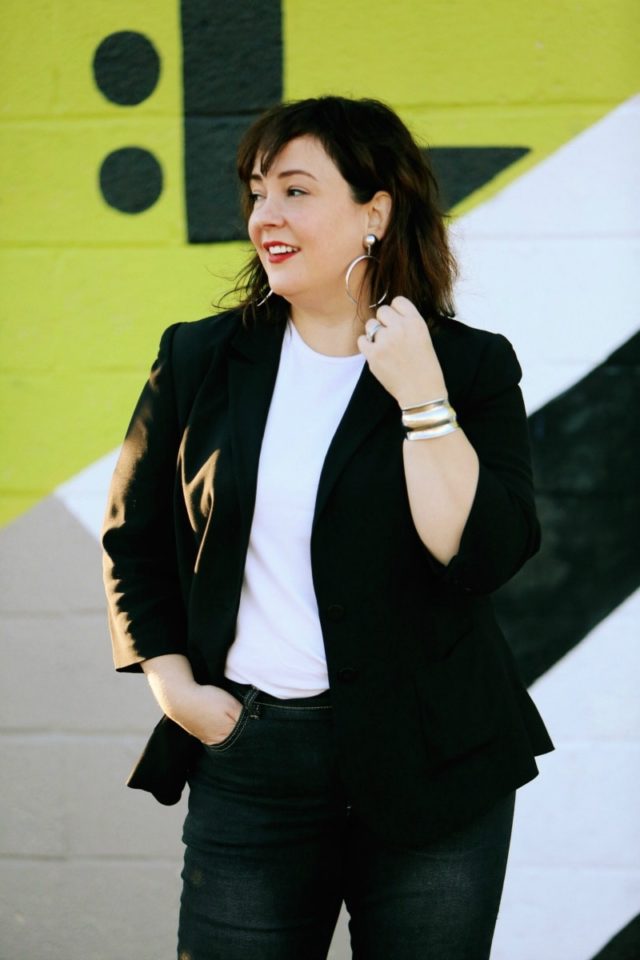 blazer | t-shirt | jeans | bag | shoes | earrings
As I mentioned in my core wardrobe post, this blazer at first was a miss.  It's not my typical "thing" being so relaxed in shape.  But with my more relaxed lifestyle, that's why it works so well.  I can throw it on, I don't have to adjust it just so, cuffing or ruching the sleeves, adjusting the collar, making sure the shirt underneath has just the right neckline, isn't too bulky or tight.  And unlike many relaxed blazers, this one isn't a knit or casual fabric.  This is a nice suiting fabric and lined with buttons and details that would make it at home in a boardroom. It can dress up great, and it can make a plain white t-shirt look polished.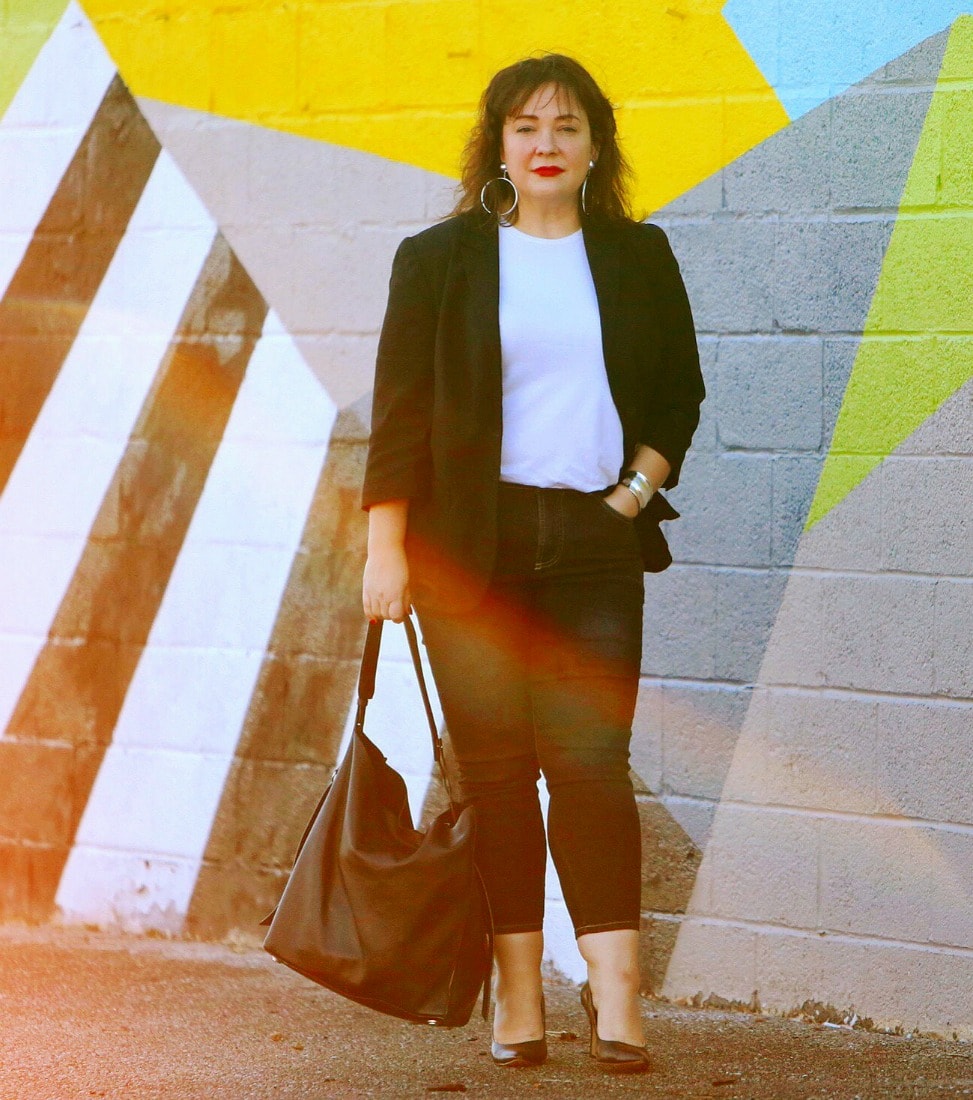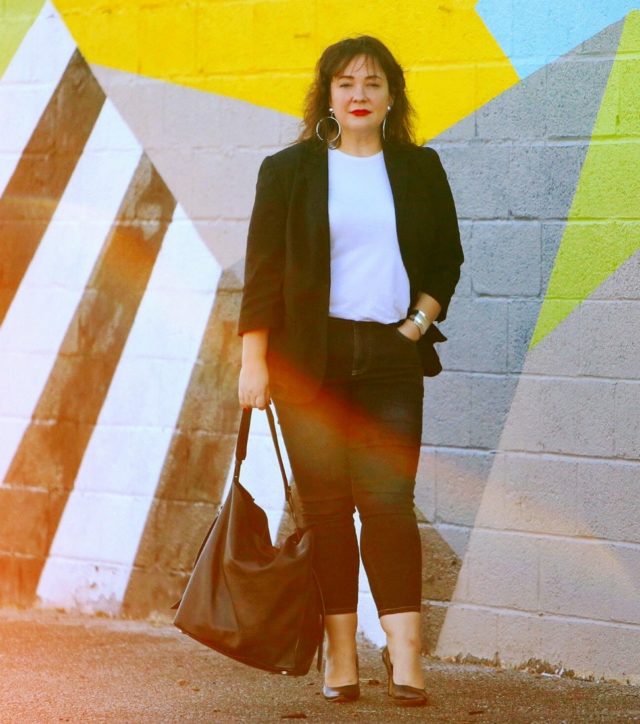 Blazer: Meg Short Blazer c/o Universal Standard (XS) | T-Shirt: T-Rex c/o Universal Standard (XS) | Jeans: Petite Seine Jeans c/o Universal Standard (10P) | Bag: ALLSAINTS | Shoes: Nine West | Earrings: Jenny Bird (similar concept) | Bracelet: Had forever (budget-friendly alternative)
I also shared the specialness of this t-shirt in that original post.  I have NEVER been one to wear a plain white crewneck t-shirt, it goes against everything I believe in.  I like a v-neck to elongate my neck, flatter my bust, provide interest.  I like colors and stripes because they're kinder to my complexion and well, they're better at hiding stains and well, me and coffee have this complicated relationship. But this one is perfection.  It turned me into a white t-shirt gal.  And as for coffee, we still are BFFs but I carry a Tide to Go pen in my purse and a gallon of Bac-Out next to my washing machine.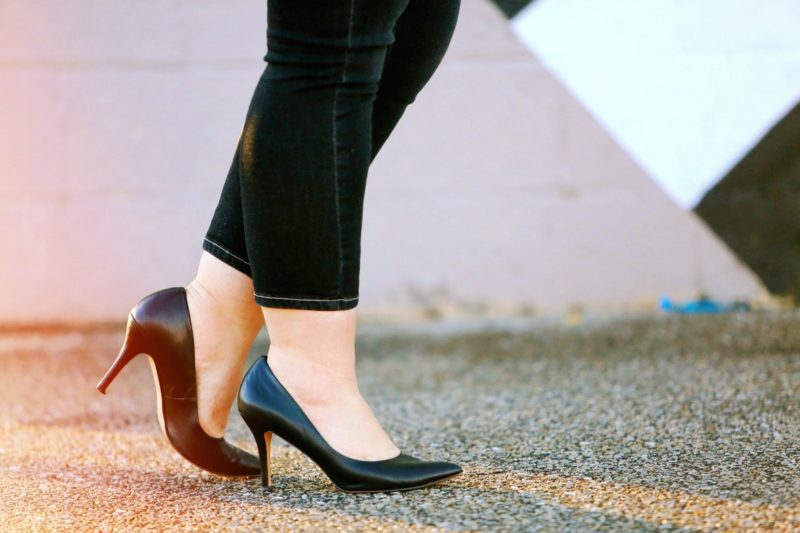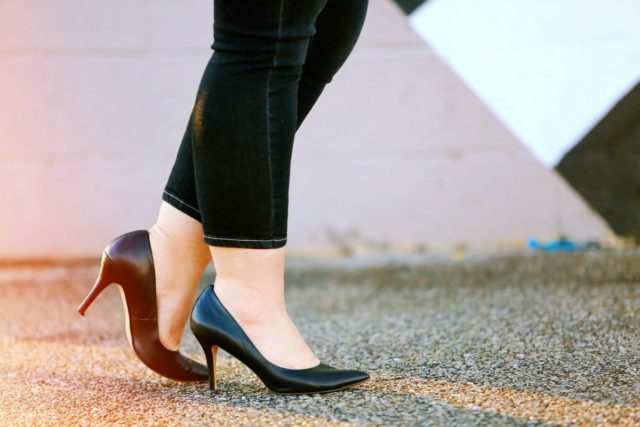 In my bag were my Lissom flats which I changed into (gotta love a big purse!). I do this often; two pairs of shoes for one look.  I no longer can wear pumps for long periods of time, but they do a great job at making jeans look dressy.  I had a lunch to go to, but after I had a ton of errands to run and there was no way I'd be wielding a grocery cart through the Target parking lot at my local strip mall in heels. And since I had a busy day, I chose to go with my biggest purse.  This bag was NOT cheap but it was one of the best buys I've made in the past few years.  Inside is one small pocket and there's a pouch on a cord.  I organize my bag with pouches, each with a different textured exterior so I can easily without looking find my lip balm, my iPhone cord, or my wallet.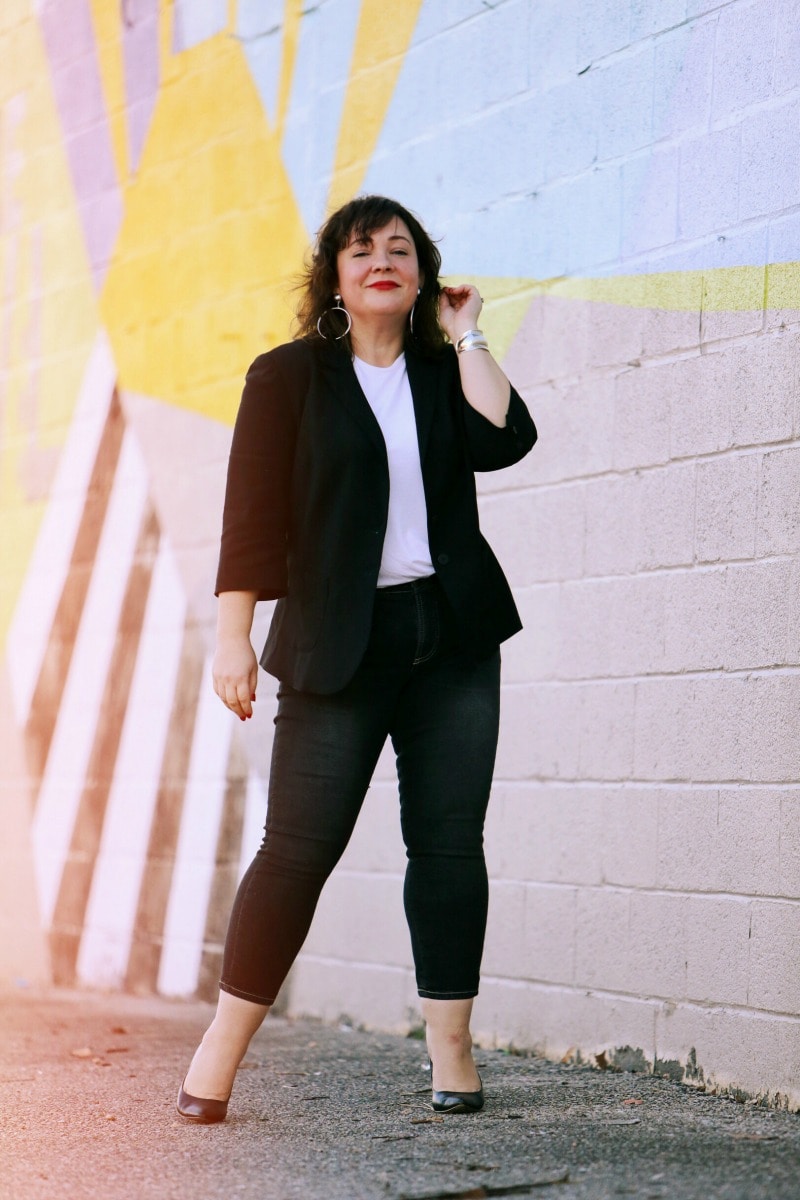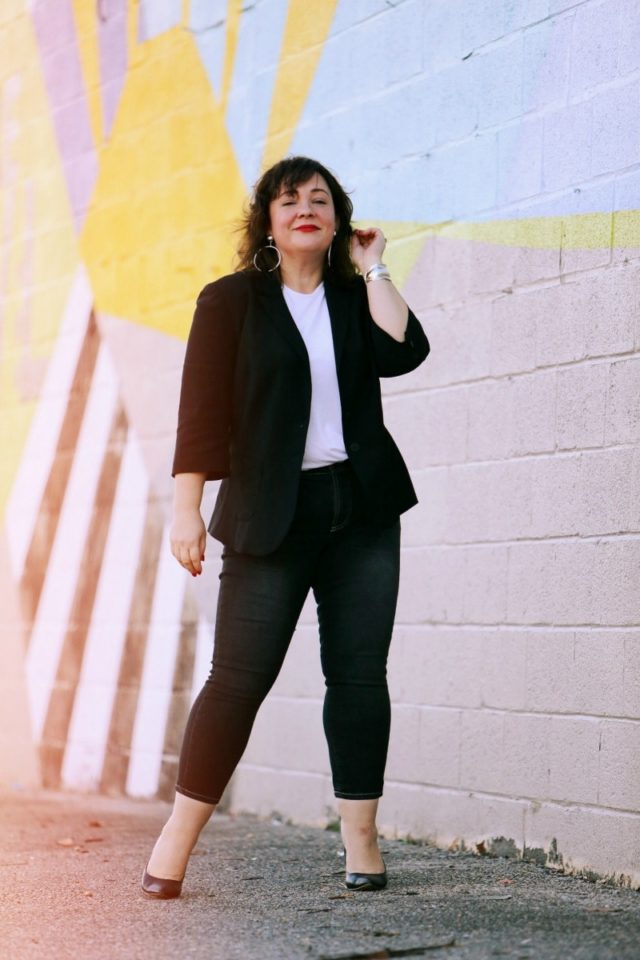 These jeans are awesome… above the knee.  I like Universal Standard jeans but they aren't my Holy Grail.  These are a bit too short and with my solid calves and ankles, a bit too tight at the bottom.  I like the color, I like the fabric, I like the higher but not mom jean high waist, I like how the petite cut fits me in the rise. I love how the jeans really smooth my belly; a lot of jeans hit at places that just seem to segment and highlight it. Also, the pockets are super deep, like fit your iPhone plus in the front pocket deep.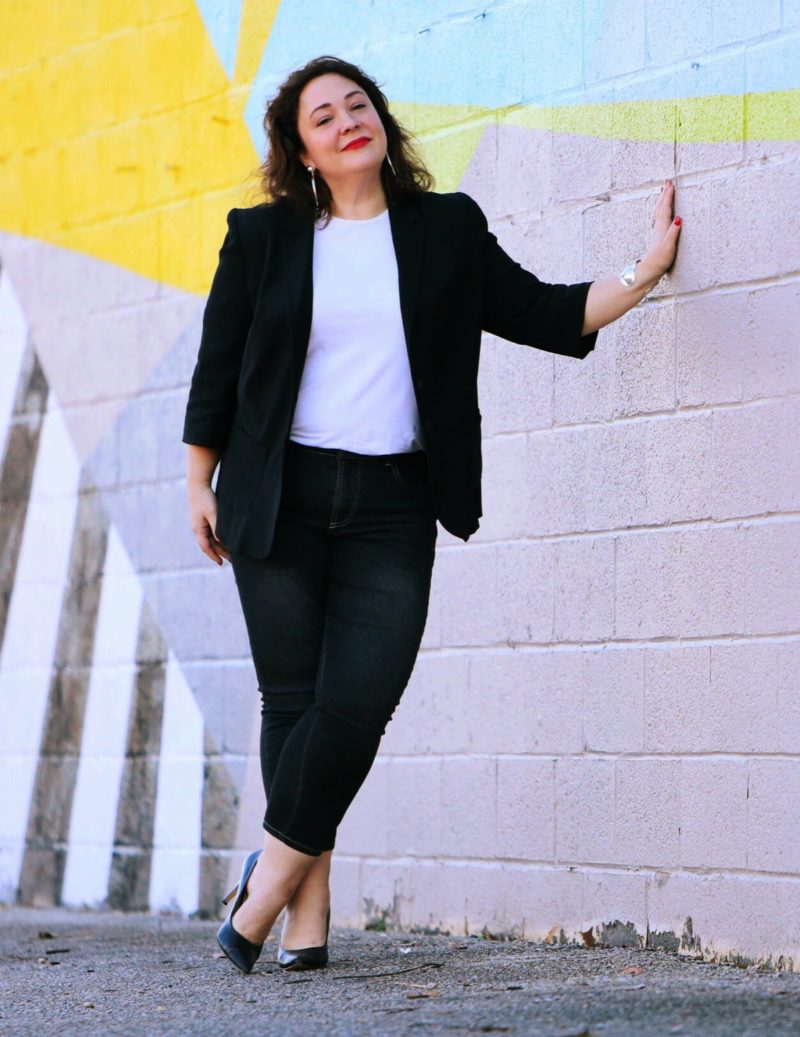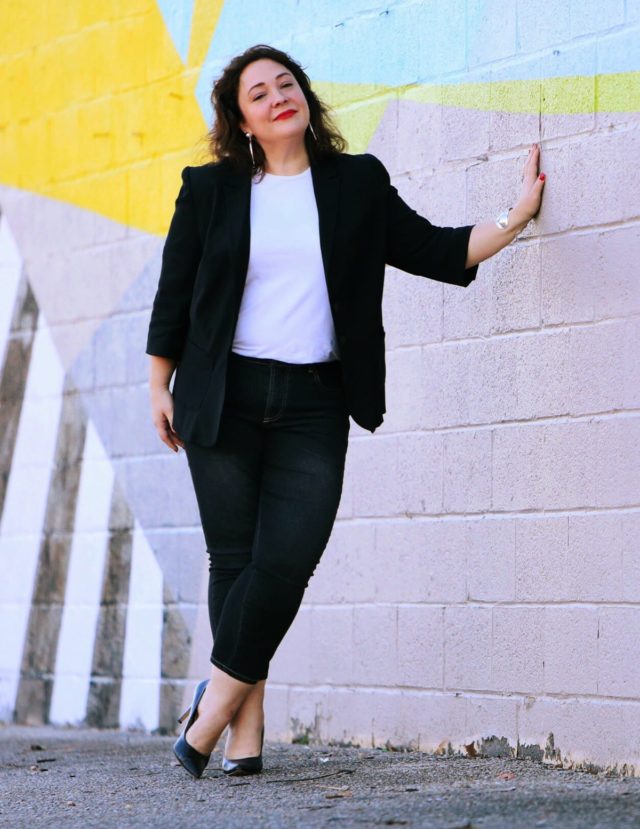 I usually end up wearing these jeans with tall boots because of the length and tightness.  If I were a bit shorter and/or if my legs tapered like most people's legs (I walked on my toes as a kid and built up muscles in my ankles, shins, and calves) I would love these jeans. But I'm not so I am on the hunt for some awesome jeans.  I just received an order I made with Madewell; after so many of you have raved about their jeans I ordered six pairs.  And I returned six pairs.  I see the appeal, but they just don't seem right for me.  I didn't like the color on any of them, even with the petite the rise was too long (not too high, but I had droopy crotch and saggy bum), the straight legs were surprisingly too loose below the knee and the skinnies so skinny they look painted on below the knee (and normal above which wasn't cute). I love my AG jeans, but lately, I've been desiring a higher rise.  I also like a darker wash, but one that isn't super blue. I like a jean with stretch, but also some thickness and rigidity so they sort of suck me in, smooth the figure, and don't look too painted on to be worn with tucked in or shorter tops.  A straight or slim leg, and a zip fly.  If you have any suggestions do share them in the comments!
Shop the Look: