This article may contain affiliate links; if you click on a shopping link and make a purchase I may receive a commission. As an Amazon Associate, I earn from qualifying purchases. 
I was cleaning out my photos on my phone and realized there were several looks I've recently worn that never hit the blog. Before I delete them thought I'd share with you!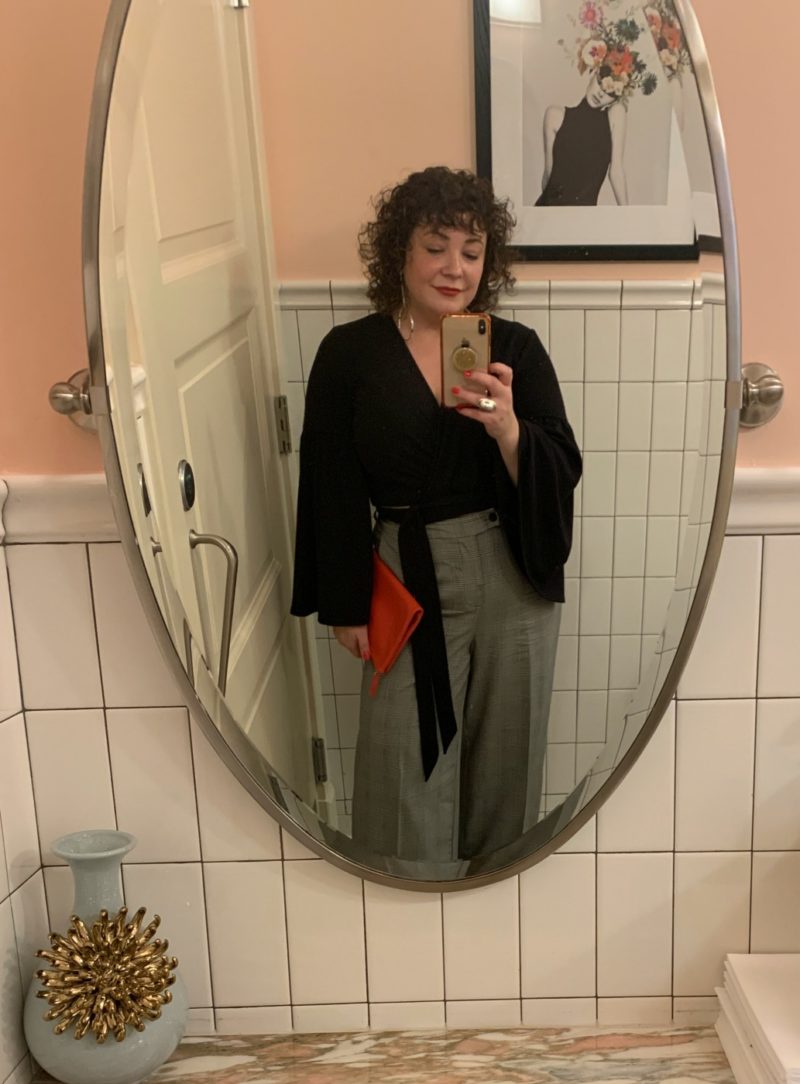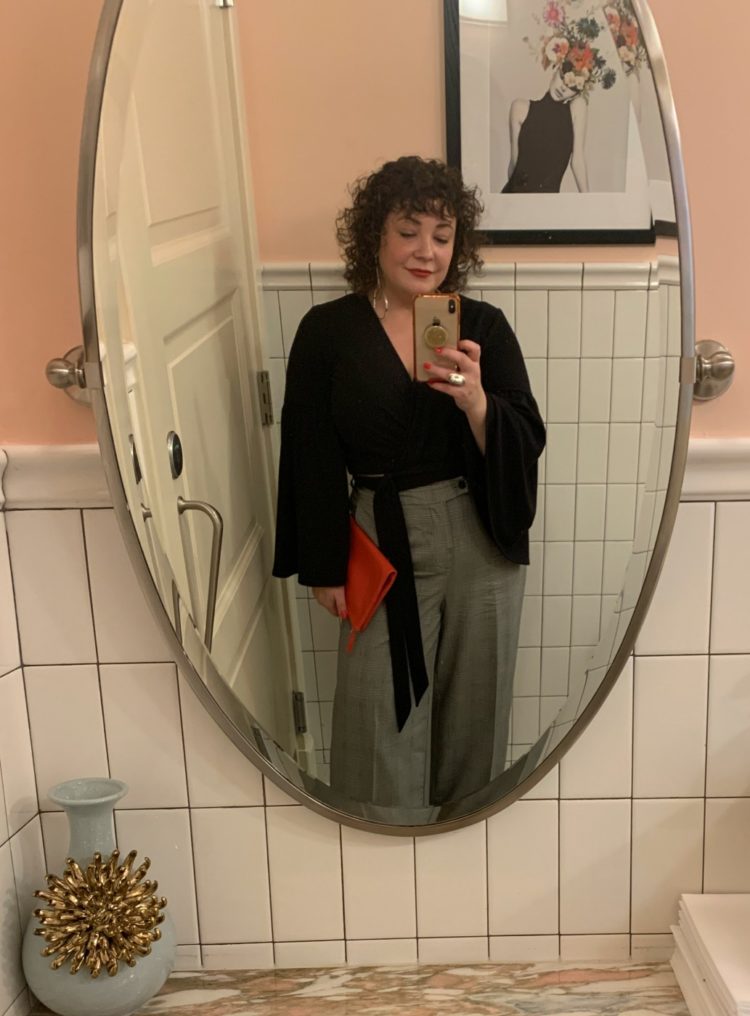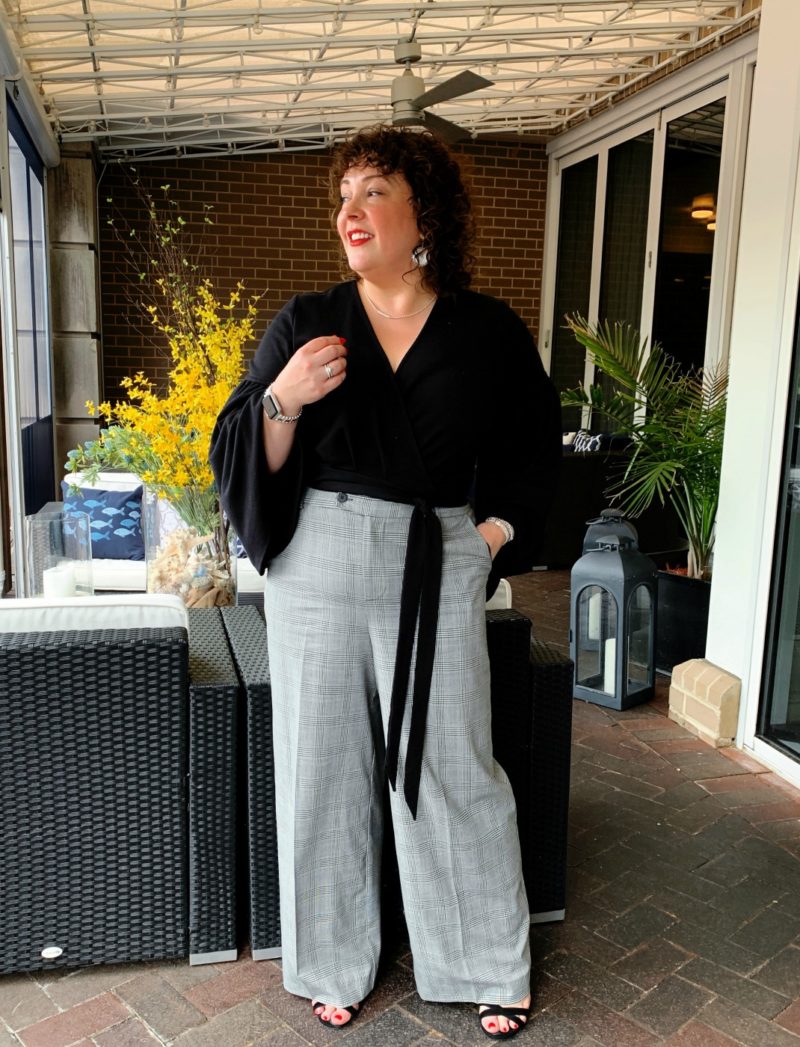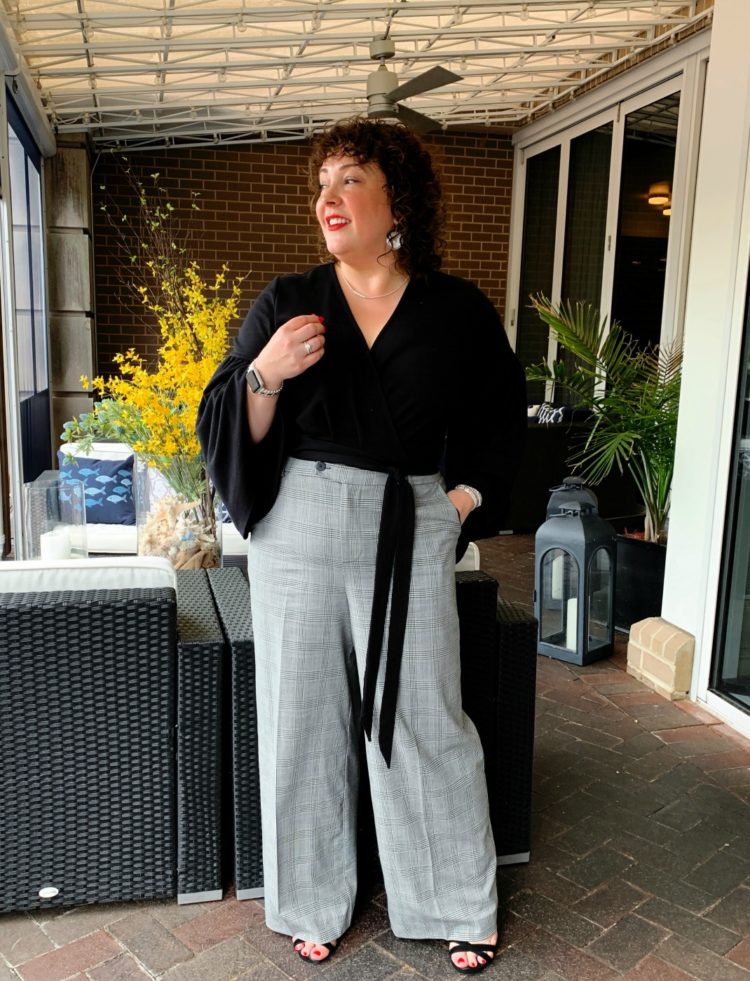 Top: ELOQUII (14; old; similar) | Pants: Emma Pant c/o Universal Standard (XS) | Clutch: The Foldover Pouch c/o Everlane | Shoes: ASOS (old; similar) | Earrings: Jenny Bird (old; smaller version) | Lipstick: L'Oreal in Matte-traction Red
I was invited to a lunch with the jewelry brand LAGOS at Fiola Mare in Georgetown. It was a humid day with scattered showers but surprisingly cool. I recently got back these pants from the tailor (shortened, no other alterations) and wanted to wear them. This top I got from ELOQUII a long while ago (see in this post and this post) and felt it worked well with the high waist and full legs of the pants. So it didn't feel too wintry, I chose to wear heeled sandals. A red clutch (previously seen here), red lips, and statement earrings kept it from feeling too corporate. The second photo I am all decked out in LAGOS jewelry including their gorgeous Apple Watch bands; sadly I had to give all of it back at the end of the lunch!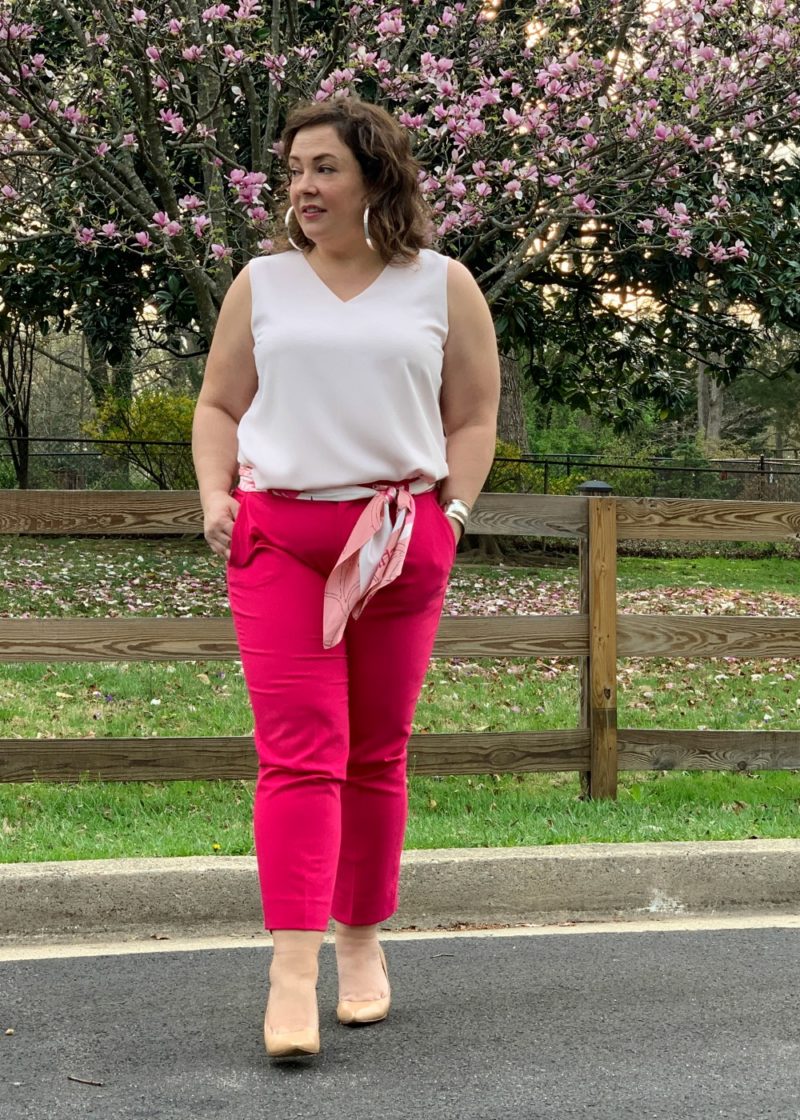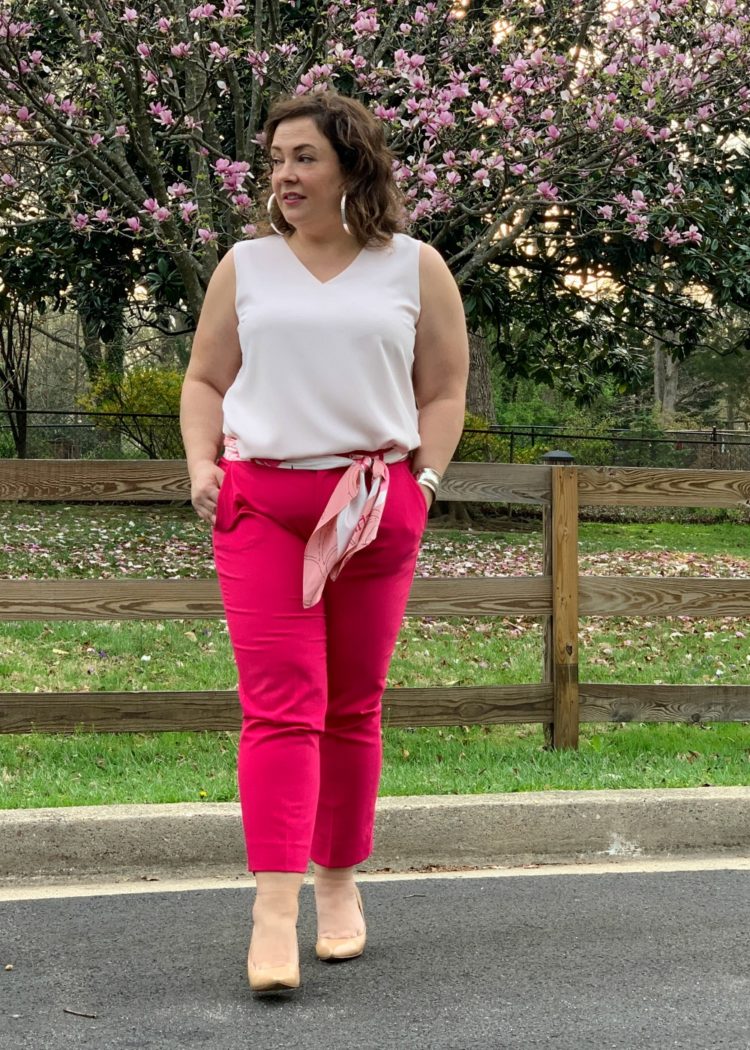 Top: Black Label Curved-Back Tank c/o Chicos (2; no longer available but this is similar) | Pants: Banana Republic (old; similar) | Scarf: c/o Chico's (old; similar) | Shoes: Nine West | Earrings: Cober Hoops c/o Jenny Bird
Earlier this day I spoke at Howard University to a class of grad students in their business school. I discussed what it's like to be a full-time blogger/influencer and had a robust Q&A session. Traffic home was terrible and I hardly had time before I was back on the road heading to an event with a local skincare brand. I seriously had 15 minutes at home; you can still see the marks on my ankles from the previous pair of shoes I wore! These are the pants from my pink pantsuit; this top is the same as the black one in this post, and the scarf I've had for a while. When in doubt, wear nude-to-you shoes! The event had a spring vibe, I was glad I took the time to change out of my navy pantsuit from the daytime.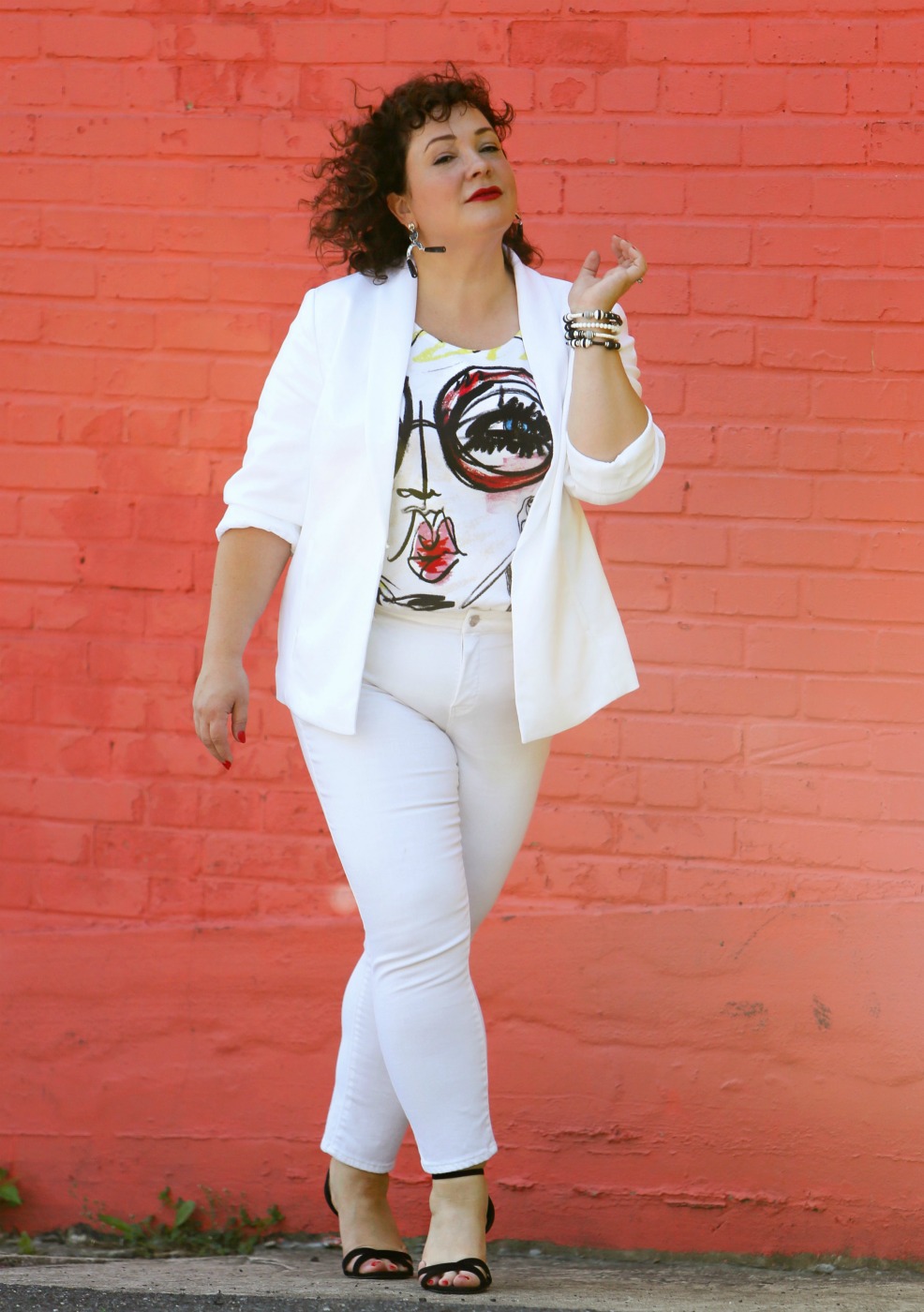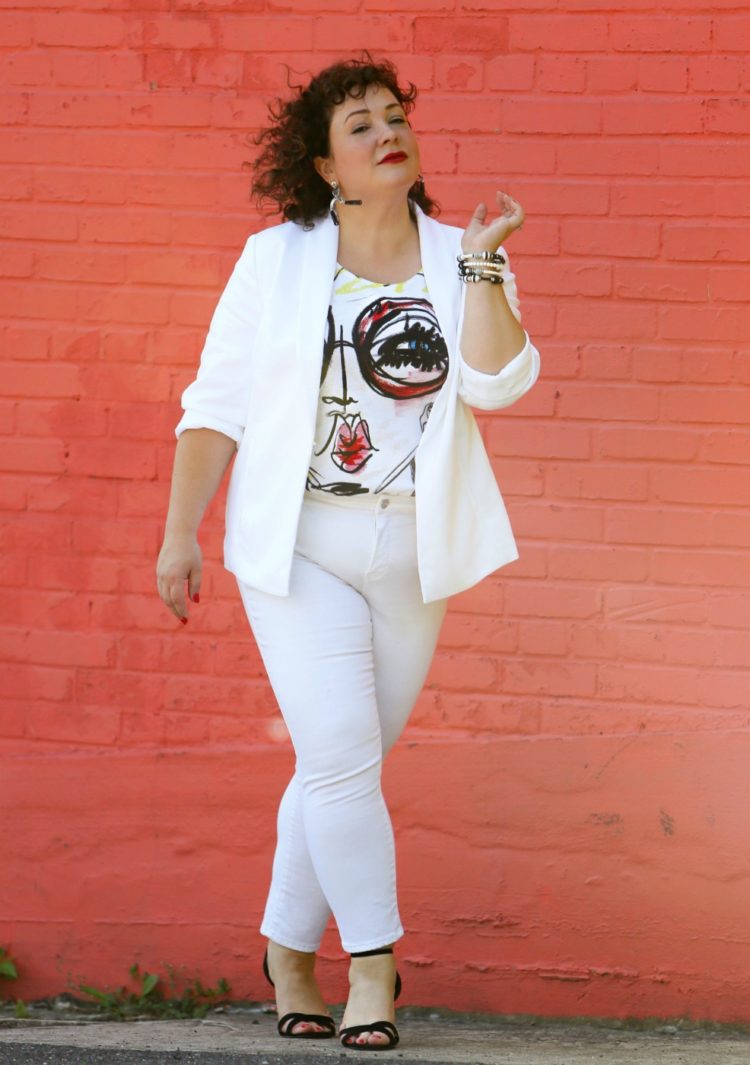 Blazer: Split-Sleeve Blazer c/o Chico's (Size 2) | Tee: Whimsical Portrait Tee c/o Chico's (size 2) | Jeans: No-Stain Girlfriend Ankle Jeans c/o Chico's (2 Short) | Earrings: Chandelier Earrings c/o Chico's | Bracelet: Striped Coil Bracelet c/o Chico's | Shoes: ASOS (old; similar)
I had a campaign to showcase the no-stain jeans from Chico's. Totally excited to be part of it as I've had their no-stain jeans for a couple months now (first seen in this post). They invited me to style an outfit from their New Arrivals and I chose these pieces. The t-shirt I've worn a few times (even made a cameo in this Instagram post). It's a good length for tucking in or wearing loose over jeggings or leggings and is a great weight (also washes and dries beautifully). The blazer has a tux vibe, but is more relaxed, no vent in back. I didn't love the split sleeve so I rolled them. I like the fabric and jacket so much I ended up getting the pants and plan to have both pieces tailored to better fit my body. This photo wasn't the one I used for the campaign, I look as though I'm flipping my hair like I'm too cool for school but actually it was just me in between switching poses and Karl captured it. I kind of love the "too cool for school" vibe, so I figured at least I can share it here! As for this look, I whipped off the heels and threw on a pair of Rothy's flats and wore it the rest of the day.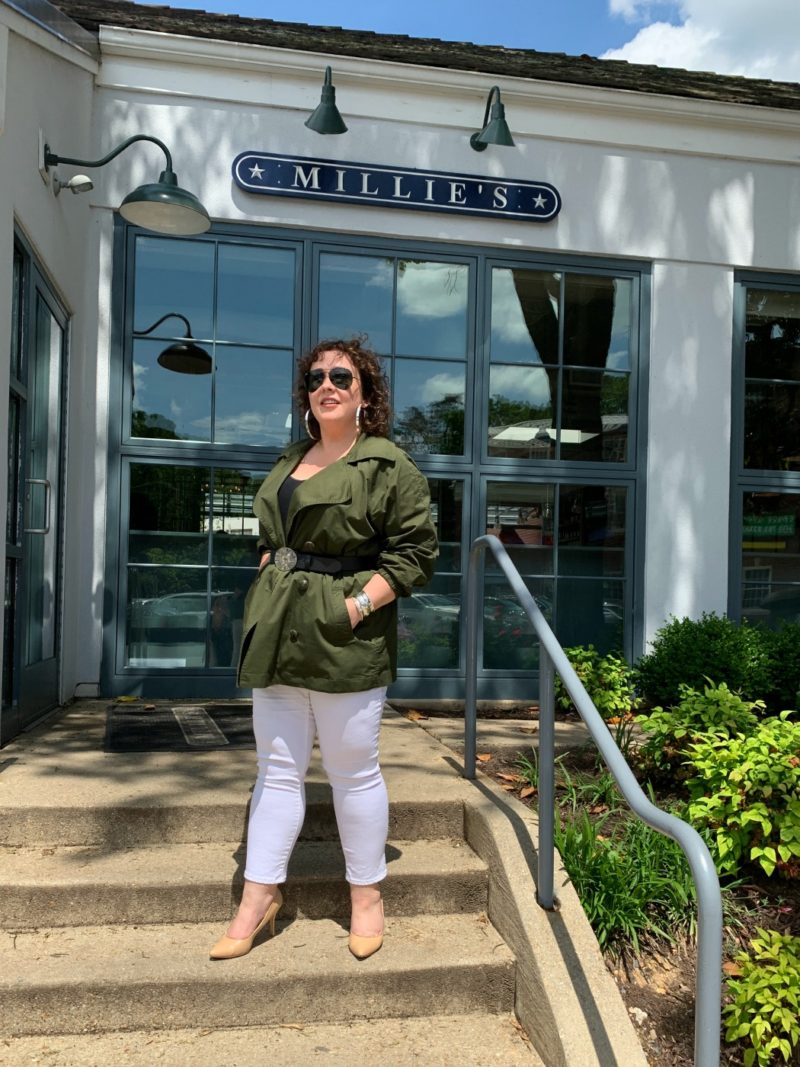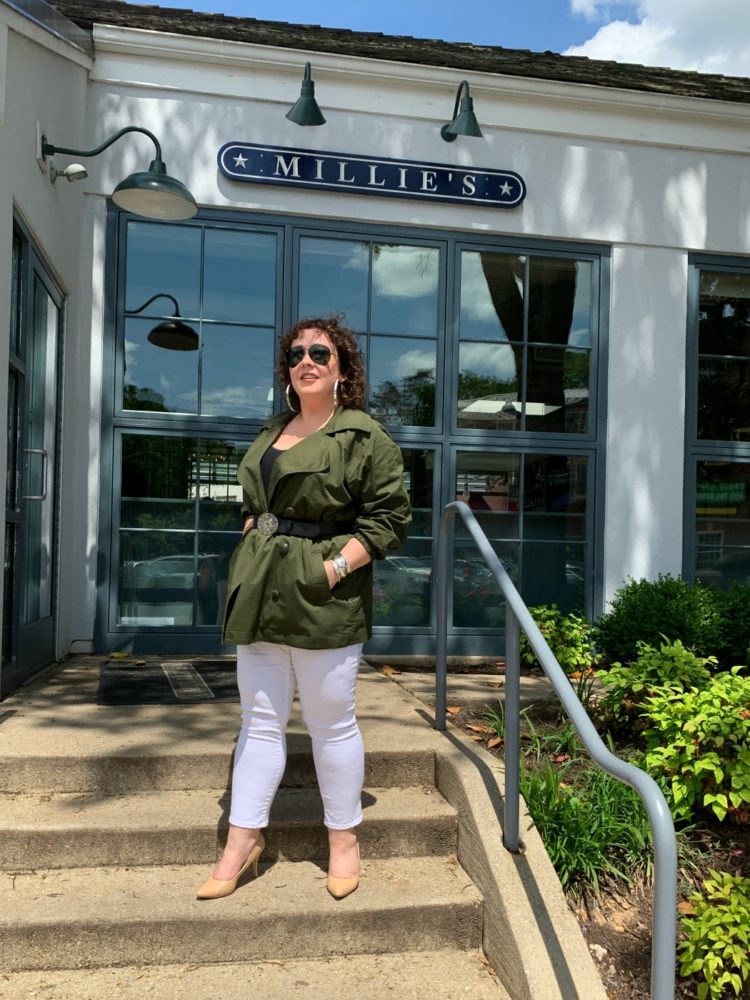 Jacket: Expedition Jacket c/o cabi (Large) | Cami: V-neck Cami c/o cabi (Large) | Jeans: High Skinny c/o cabi (12) | Belt: Etsy | Belt Buckle: vintage (similar) | Earrings: Cober Hoops c/o Jenny Bird | Sunglasses: Ray-Ban | Shoes: Nine West
Went to meet two friends for lunch at Millie's on a Friday. It was a gorgeous spring day, not too hot, not humid, a slight breeze. This look was perfect for dining al fresco. You've seen the jacket before in this post and the jeans in this cabi capsule wardrobe. The belt was in this post and the shoes you've seen for years and years.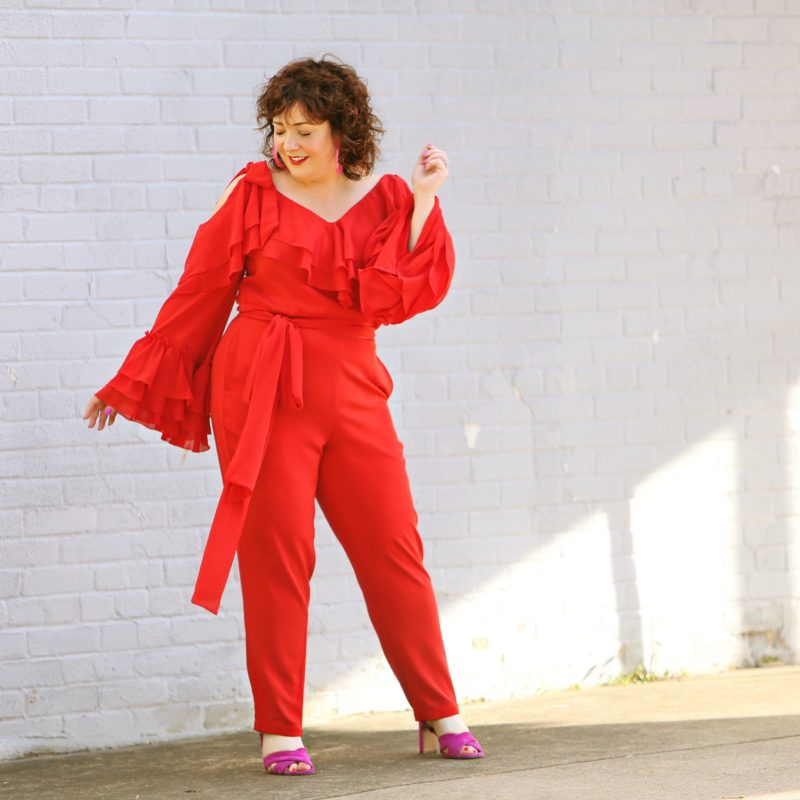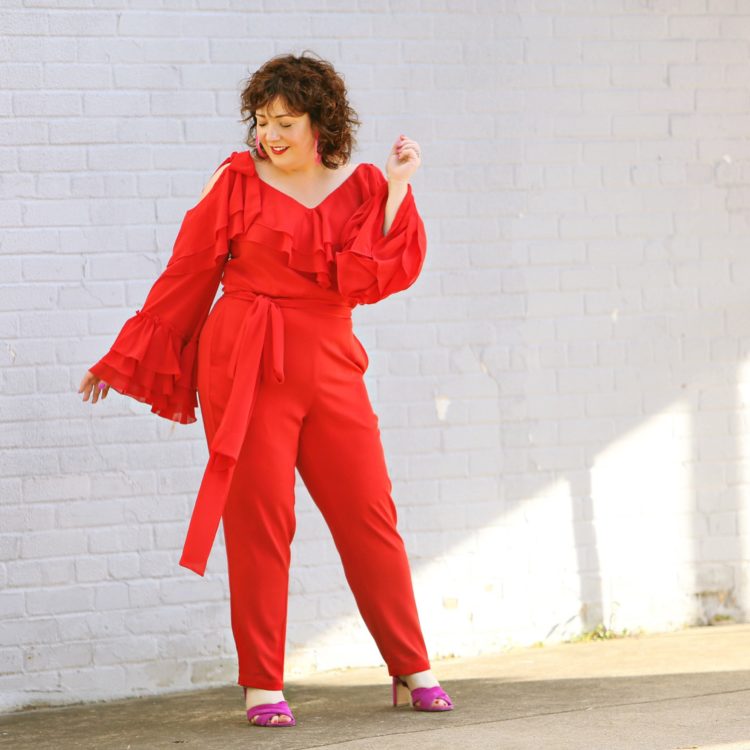 Jumpsuit: Rodarte X Universal Standard c/o Universal Standard (XS) | Shoes: Vince Camuto (old; similar) | Earrings: Baublebar
Universal Standard had a dinner for their top customers in the area. Yep, not only am I an influencer for them, but I'm a customer and buy just as much as they offer me for free and was invited because of that, not because I am a blogger. I decided it was a perfect time to wear the jumpsuit from their collaboration with Rodarte. This jumpsuit is a statement for sure. I think it fits pretty great, no alterations necessary. It helps that the shoulder ties are adjustable. Even with the shoulder straps, I had to wear a strapless bra. And even though the jumpsuit is a dark color, wear nude-to-you seamless undies. My biggest issue with this jumpsuit is the back zipper. Even with my beloved Zipper Genie, I can NOT zip this up and down by myself. Luckily Carrie, a reader of the blog and a Community Manager for the WO2 Community on Facebook also attended and I asked her ahead of time if she could be my bathroom buddy at the dinner. And even more lucky, I didn't need to use the facilities while there! While this jumpsuit is fun, don't expect to see me wear it again any time soon because I enjoy remaining hydrated.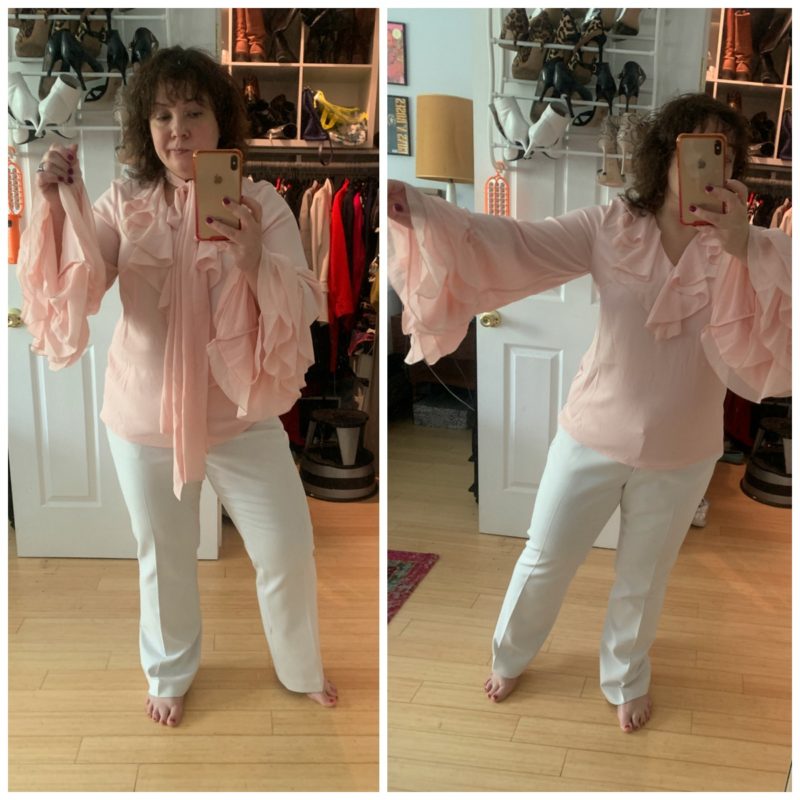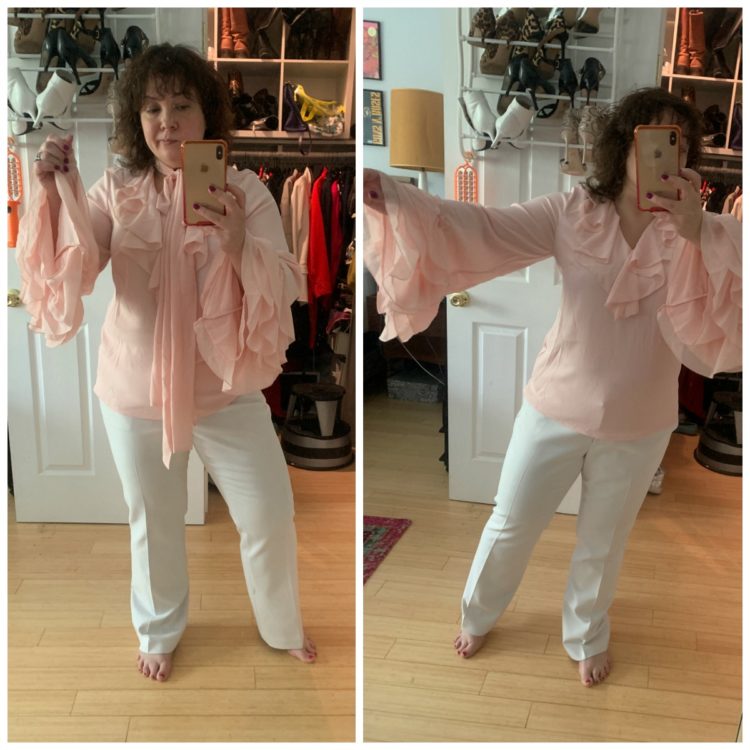 Since I'm discussing the Rodarte X Universal Standard collection, I purchased the blouse from the collection to review. This is it before I returned it. The pictures online made me think it would be fun, kind of like a puffy shirt, but in a feminine way that would be pretty with jeans or dressed up like with the ivory trousers I have in this photo. Nope. There are too many ruffles on the too-long sleeves and IMO too few at the neckline, which is too ordinary/conservative for the ruffles. And the neck tie/scarf is hella long and I could not figure out how to style it. The neck scarf is attached/easily removed thanks to a button at the back of the blouse's neckline but without the scarf I felt the blouse looked plain (which is crazypants since this blouse is ruffle overload). For reference, this is the XS which did fit me nicely (I am an XS across the board with US).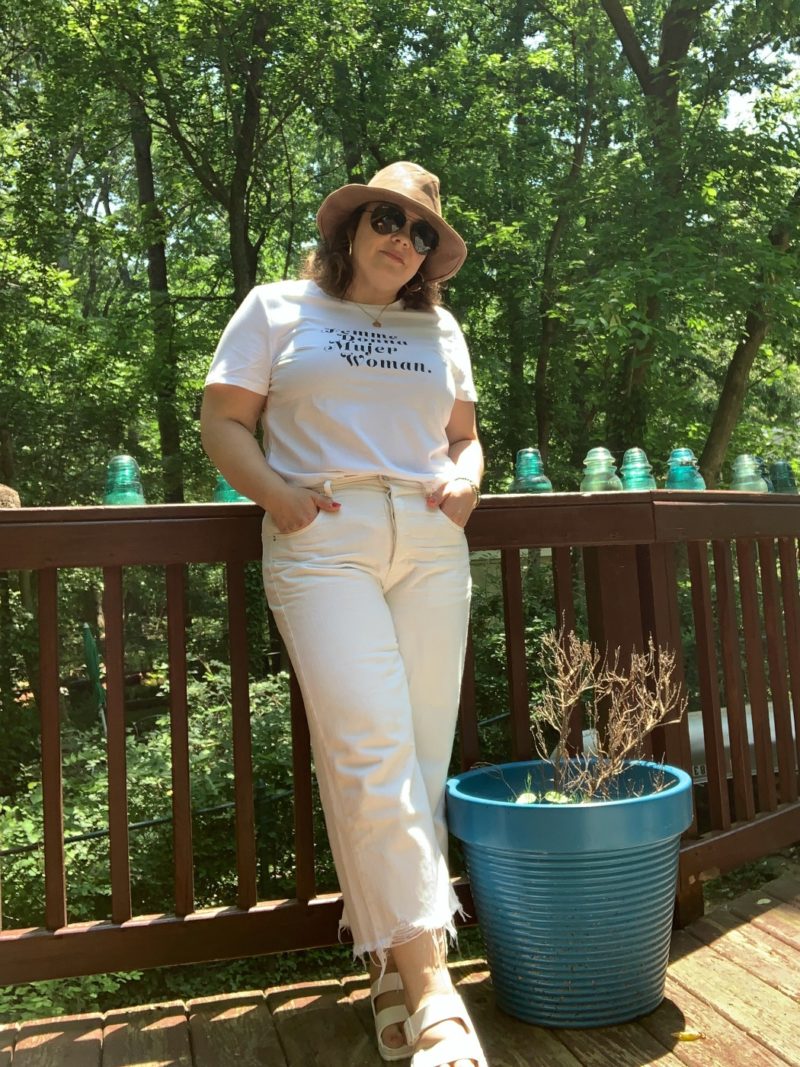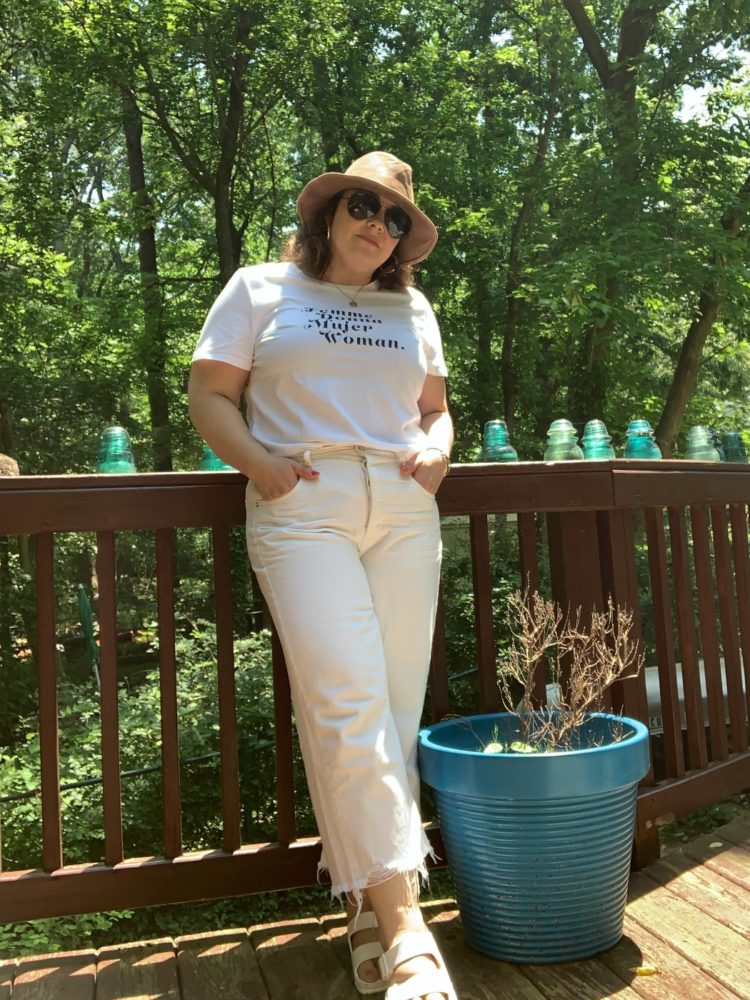 Shirt: Banana Republic (L) | Jeans: American Eagle (14; old, same jean but different color) | Shoes: Birkenstock | Earrings: Cassie Hoops c/o Chico's | Hat: Stetson c/o Tenth Street Hats | Sunglasses: Ray-Ban | Necklace: Modernist Monogram Pendant c/o Jenny Bird
A typical weekend look, I wore this for running errands and hanging out on the back deck with my family. I've had these jeans for a while (previously seen on the blog in this post), I like that they're cream, they actually hide dirt quite well. The t-shirt is new and bought during one of Banana Republic's 40% off promotions. The shoes have also been on the blog several times and are a favorite. The hat was seen in this post and if you know me IRL you've likely seen me wear it on a bad hair day!
Shop the Post: