This article may contain affiliate links; if you click on a shopping link and make a purchase I may receive a commission. As an Amazon Associate, I earn from qualifying purchases.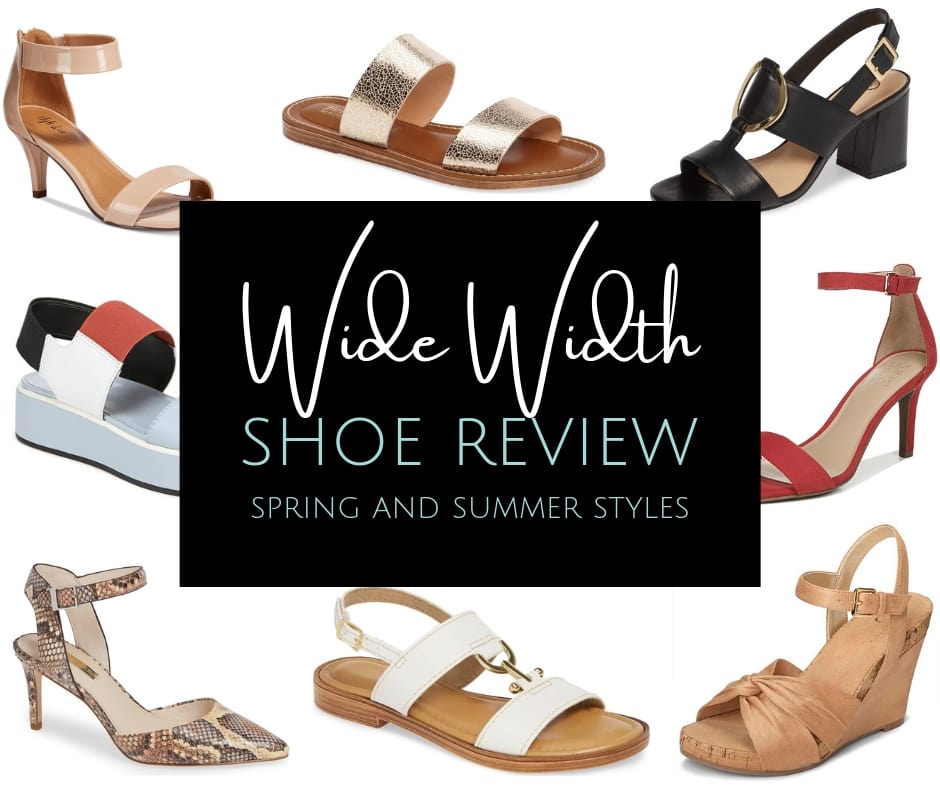 After Monday's Instagram post about wide width shoes, I felt this post was necessary. If you have wide feet you know the struggle is real in finding shoes that are truly wide and aren't truly hideous. As I wrote in my Instagram caption, plus size women never bought cabbage rose-covered polyester tunics because they "spark joy" but because that was available. And women with wide feet don't buy Frankenstein-wannabe Mary Janes with crepe soles because they think they're chic but because there's not much else.
If the average American woman is 5'3" and a size 16, there is no way the average American woman also has narrow feet. I have seen an increase in wide width shoes available at popular retailers like Nordstrom, Macy's, DSW, Zappos, Roaman's/Woman Within, ASOS, Amazon, and QVC but that doesn't mean there's an increase in style. I am going on a trip with a fashion brand later this month to a warm location and was looking for shoes. Over the past month I have purchased over 30 pairs of wide width shoes and from them, I have only kept one pair. The rest were returned for a few different reasons – they were uglier or more awkward in person or they didn't fit. For some it's a unique issue for me (I have a very short pinky toe and very thick padding on the balls of my feet from walking on my toes as a kid), but most of them… it was because they weren't wide. I placed them against wide width shoes from the same retailer, just from a previous year, and the shoe was markedly narrower. Straps were clearly shorter, with fewer buckle holes.
Since I started lifting weights a bit over a year ago, my body has changed and that includes my feet. I have always had high volume feet (not just wide but tall/fat) and very thick ankles (rarely could I find an ankle strap that could close around them). Now, my feet are lower volume and ankle straps often close and not even on the last hole. Pairs of shoes I owned I had to donate because they were now too wide. However, I had more difficulty this year than in years past in finding shoes wide enough for my feet. Below I share what shoes I have ordered, if they were hits or misses, and if they were misses why they were so you can better determine if they may actually be a good choice for you.
Please note I was searching for dressier shoes for spring and summer. This is not a review of wide shoes in general, which is why your favorite retailer may not be mentioned. If you know of a brand that is not mentioned that sells on-trend dressy shoes for spring and summer do share it in the comments!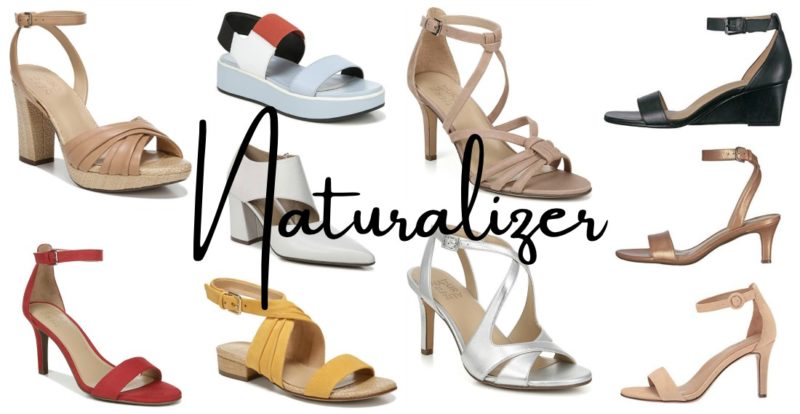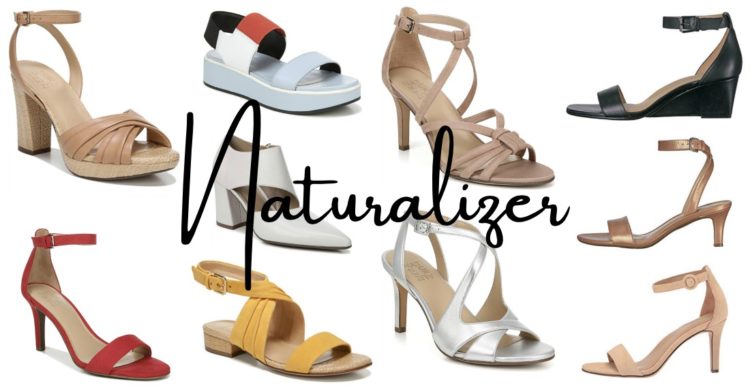 Naturalizer
Naturalizer has been a favorite shoe brand for me for YEARS. They are one of the few retailers who has stylish shoes that are well made, fit well, and are comfortable. I have Naturalizer shoes that are several years old that I still reach for and still garner compliments because they're just great shoes. And when I know I will be on my feet a long time, I'm usually putting on Naturalizer. You can see me wear Naturalizer shoes in this blog post, this blog post, and this blog post. So clearly, they were the first brand I looked to in finding new wide width spring and summer dressy shoes.
Naturalizer 'Kinsley' Ankle Strap Sandal
This is the kind of shoe I want in my wardrobe. It's a variation of the 'Nudist' sandal Stuart Weitzman made famous. It's the kind of shoe that disappears and lets your outfit take the spotlight. It's not trendy, it's not bulky but it's a reasonable heel height (at least for me) and the straps a bit thicker so it's a sturdier shoe without looking bulky or dorky. This shoe you can wear with jeans and a cute top or with a formal ballgown. In my dream closet I'd have this shoe in a nude-to-me color, in a metallic, and in a pop of color like acid yellow or hot pink. I am not ashamed to admit I have ordered this exact shoe six different times in different sizes, different fabrics, even from different retailers hoping I'd get one that would be slightly different and work for me.
My foot is too high volume for the strap over the toes. I cannot fit my foot into that strap. I did order a pair in suede and I could get four out of five of my toes in there but the strap was too forward to capture my tiny pinky toes and the strap was still pressing so hard on the top of my foot I'd end up bruised. However, if it contained all five toes I would have tried stretching the strap to make it work because… well so is the plight of the wide footed woman. We go above and beyond just to be able to have shoes on our feet.
Even though I do not own these shoes, they are beautiful, well-made shoes. I think they run a hair narrow and are not a good choice for those with short toes, high volume feet, or high arches. The suede options are more pliable than the others, I'd recommend trying them first.
The Naturalizer 'Kinsley" has been out for a bit so you can find discontinued colors for less than $50 and the newest options retailing for under $90. The shoe comes in satin, suede, leather, and metallics in an amazing range of colors. I found Zappos has the biggest range of nude-to-you colors, Nordstrom the best for fun colors and metallics (and sale colors), and QVC best for really small or large sizes in stock.
Naturalizer 'Kadin' Heeled Sandal
You may recognize this shoe from my Instagram post. Spoiler alert, it didn't fit. In fact, it was the narrowest of all the shoes I ordered from Naturalizer. This is a gorgeous on-trend shoe that comes in black suede, "gingersnap" suede (the color I ordered), and a mix of gingersnap and some pale pastel shades. Zappos calls the gingersnap shimmer, but I ordered the shoes from them and the shimmer was hardly noticeable.
This is a great shoe if you have a normal width foot. That's about all I can say because I couldn't even fit my foot in the shoe. Depending on the retailer the shoe goes for $110 or a little less. I found this shoe at QVC, Nordstrom, and Zappos.
Naturalizer 'Zenia' Wedge Sandal
I am not a fan of wedges unless I am attending an outdoor wedding or other situation where I need good stability. As a short, curvy woman with wide feet, I feel wedges just make me look even more short and squat and dumpy. But that's my personal opinion on my personal self, and I know many of you love and rock wedges. I ordered these because… well because I was desperate.
I couldn't strap them around my ankles and I couldn't fit my feet into the shoe. They have a shorter strap than the 'Kinsey' for the ankle, about the same at the toe. I think these would work if you have semi-wide feet that aren't too high volume. And for someone who doesn't like wedges, I think these are pretty nice looking. Nordstrom has them in a beige color, a soft metallic, and a floral. Zappos has the same offerings plus black leather. They're available at a ton of other retailers, but I stuck to these two because no one else had additional colors or a better price or a better shipping/return policy.
Naturalizer 'Klein' Strappy Sandal
I didn't like how many straps this shoe had, so many straps looks a bit dated in 2019 but your fat-footed gal was feeling desperate. Feeling the "nude" option would not be a good match for my skin and look extra cheesy, I went with silver leather.
These shoes fit. The straps corral my pinky toe. No rubbing, no issue closing the shoe around my ankles. They're also relatively comfortable for the height. The leather isn't super soft so I have been wearing them around the house with socks to break them in, but they don't need a very long break-in period to be wearable to a wedding or other event. However, I don't love the look of them. I almost considered returning them because I think all those straps is distracting with my wardrobe. I'd feel more comfortable wearing them with pants, but think the metallic will make the straps less pronounced. So I'd say these are a hit, but I am not madly in love.
I bought these shoes at Nordstrom for a bit under $110 where they have them in beige, silver, black suede, burgundy suede, and a denim blue color of suede. These are the only shoes from the whole post that I kept.
Naturalizer 'Maddy' Flat Sandal
While I prefer a heel with my fashion looks, these looked chic and comfy and something that would be dressier than a regular sandal and could possibly work with ankle pants and midi and maxi dresses. While I didn't love the basket weave finish on the heels and toe for the lighter colors, I ordered these in Tuscan Yellow Leather, thinking they'd make the basket weave detail look more purposeful.
I couldn't fit my foot in the shoe. My foot is too high volume to even get in under the cross strap. If you have a lower volume foot and Naturalizer usually fits, these may be a win for you.
Also, the Tuscan Yellow Leather is a muted not crayon yellow and it's suede. And I still think the basket weave detail makes these shoes harder to dress up. I don't know why white can have a white heel but yellow and beige need some weird detail… anyway I got these at Nordstrom for just under $90. They're also available in QVC; same selection of colors but they have a better size range (though they're $99 at QVC).
Naturalizer 'Tinda' Ankle Strap Sandal
Very similar concept to the 'Kinsey,' I ordered these after Kinsey didn't work out. I worried these shoes would not fit around my ankles. I was surprised to find out that they do. However, the strap would only contain four of my five toes and even wearing them with my pinky toe hanging out my foot was sliding all over the place. The ankle strap does little for stability. If you have a foot that is prone to sweating, these may not be the safest shoes for you to try. However, a pair of Footpetals may do just the trick. These aren't horrible shoes, they're just not right for me.
I ordered these in Wisteria Purple from Zappos, which was a suede the same softness and quality as the other Naturalizer shoes (which is nice). At Zappos, this shoe comes in a good range of nude-to-you soft metallic shades. At Zappos, they are $88.95 and have the broadest range of colors and sizes I found online. However, if you have just the right size and want just the right color you may find them for less than $50 at Amazon and some of the options are available for Prime Wardrobe.
Naturalizer 'Hoda' Cutout Bootie
These weren't the kind of shoes I needed, but they looked kinda cool so I ordered a pair in white. I couldn't fit my foot in the shoe and the leather was relatively stiff so even if I did shove my foot in there, I would have ended up with blisters and/or open sores where the shoe edge touched my foot. These are cool looking shoes but definitely for lower volume and less wide feet. They come in three good color options for less than $130 at Nordstrom.
Naturalizer 'Avril' Platform Sandal
I like platforms as much as I like wedges, which isn't a lot. Sure, they make me have to tailor fewer dresses and pants, but I don't like the bulk on my frame. But out of desperation I ordered these shoes from Zappos in 'Cookie Dough' which is a tan suede and came with that same goofy basket weave-covered heel.
These were a bit snug on my foot, but I felt the suede would stretch out a bit. The ankle strap was also a bit snug, but again I felt they would stretch out. However, I just didn't like the look of these shoes. The platform felt and looked heavy, the basket weave made these only shoes I could wear with more casual looks and I wanted shoes that could dress up. These come in a chambray and white stripe and black leather, both options that didn't work for my wardrobe. So they were returned, but if you find any of these options a good choice for your wardrobe, these shoes are worth a try. They are just under $110 at Zappos. Nordstrom also has them for the same price, same color options.
Naturalizer 'Leah' Dress Sandals
I did a campaign with Macy's a while ago and still had money on a gift card so I ordered these in beige leather. They are similar to the Kinsey but slightly different and I could tell with the fit. The ankle strap was looser, as was the toe strap. The only reason these didn't work was because I have that wonky tiny pinky toe and it's too short to fit under the strap. If you have normal toes, check these shoes out. They come in black, nude, and beige leather and red suede and retail at Macy's for $79. I also found these at DSW for $59.99 and Nordstrom Rack for $49.97.
Naturalizer 'Carys' Flatform Sandals
I was perusing GQ and they had all these wacky flatform sandals for men and it inspired me. I ordered these in the White Multi which is pale blue, black, white, and coral. These are some wacky shoes, but I thought they may look FASHUN especially with more modern/edgy clothing.
Flatforms takes some getting used to walking in them and they don't contain my pinky toe. However, I'm all about wacky space-age sandals this summer. If you have fussy feet, check out this kind of shoe. My mom got these from Easy Spirit, I tried a pair from Munro (below), and I think they're a chic way to be comfortable and care for your feet without resorting to Frumptown. You've gotten to an age and point in live where such shoes look cool, not awful. Seriously, get out of your comfort zone, pair these with cropped pants, with your jeans, with your Bermuda shorts, with midi and maxi dresses and linen shifts. Don't be surprised to have a Gen Z-er stop you on the street and tell you they like your shoes. These are $88.95 at Nordstrom and they come in four colors but I do not recommend the Gingersnap version unless you're already a badass fashionista and know how to rock what could look like platform ace bandages. For the rest of the world, go with the white multi or maybe the black or silver if you wear a predominately black wardrobe.


VANELi
I have been a fan of VANELi for many years for high quality stylish shoes that fit a variety of widths. I even hosted an event at a local Marmi store, which carries all the Wolff Shoes brands which includes VANELi and have owned several pairs from the brand over the years. However, the past few seasons I've ordered VANELi shoes and found them to be more narrow than in the past. Sadly, this spring has sealed the deal that VANELi is no longer a brand that fits my feet.
VANELi 'Burlie' T-Strap Sandal
I thought the weird mix of colors may be the unexpected neutral that would go with a lot of my spring and summer wardrobe, and the low wedge sandal would be just the thing to go with a lot of pants, shorts, and dresses.
I couldn't fit all five toes into this shoe. The bottom of this shoe is ridiculously narrow, more narrow than the medium width pumps in my wardrobe. These retail for $129.95 at Nordstrom and TBH, I didn't think the material choice looked that pricepoint in person.
VANELi 'Taletha' T-Strap Sandal
This is a casual sandal that looks glam thanks to the smart choice of fabrics. A croco-embossed patent leather in five colors plus a comfortable looking sole made me think these would be a good casual sandal to mix in with my SAS Duo sandal I bought last summer.
Nope, again I couldn't fit in all five toes. This is a hair wider than the Burlie, but still this is sized like a medium, not wide shoe. That being said, this is a quality shoe, and looks like it's worth its $104.95 price tag at Nordstrom.
VANELi 'Maxine' Sandal
I have a pair of cork wedges that NEED to be replaced. If you've looked at any outfit posts from me from the past few summers you know which shoes I'm talking about. They're from Aerosoles, they're the same color as my feet and have small straps and are virtually invisible unless I turn to the side and you see the wedge. But since the wedge too is cork it doesn't feel as bulky. So I saw these and got psyched. Cork is the color of my skin, cork is soft and will stretch and give. VANELi sometimes works for me!
I almost kept these shoes. I could fit all five toes into the toe strap, though my pinky was only covered at the nail and my pinky knuckle looked like a bunion popping out. But I was so thrilled to have a delicate heel semi-work I thought about stretching them, taking them to a cobbler to adjust them, all sorts of things. And I modeled them for my husband who said, "Those look so painful" and he was right. There was no way I could wear these beyond a blog photo shoot and I don't want to be that kind of blogger so I packed them up and sent them back. But if your feet are wide but not super wide and your toes are a normal length, these are really great shoes. They are by far the best fitting VANELis I've tried in a while and don't look like your typical heavy wide width shoe. They're $134.95 at Zappos and also come in black and two metallics, making them great for summer weddings.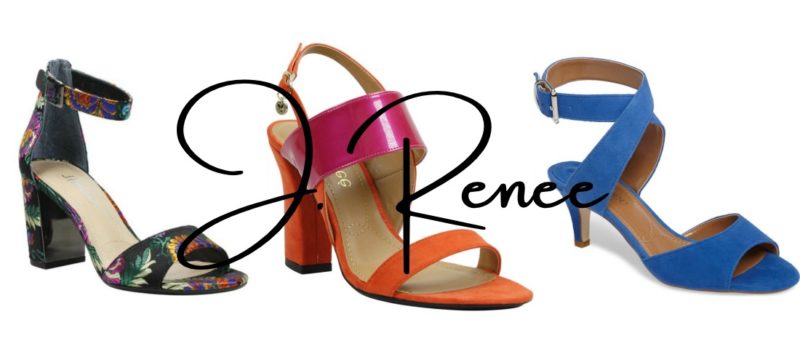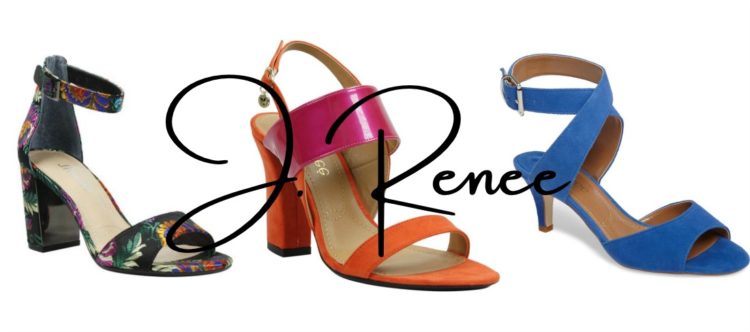 J. Renee
Anyone with wide feet knows of J. Renee, especially if they have had to attend a wedding or other formal event. Sold at many major retailers, J. Renee shoes are dressy… but often are a little… over the top. Like plus size fashion, J. Renee thinks more is more and often takes a perfectly lovely shoe and adds rhinestones, clear windows, a bow, a metallic finish, a gold heel, a giant buckle… but J. Renee makes dressy shoes for wide feet that are truly wide width so I dig through the drek and find their gems.
J. Renee 'Soncino' Ankle Strap Sandal
Quick glance, you'd think these were Naturalizer with the same color suede and cross straps. But since they're J. Renee I ordered them figuring they would fit.
And they do fit! All five toes even! They slid in all happy and comfortable. I was super psyched until I had to buckle them… not enough fabric to get them closed even on the last hole. If you have a slimmer ankle (which likely you do because my ankles are unusually thick from walking on my toes) these are super cute shoes. I ordered them from Nordstrom where they have nine different colors to choose from and are $99.95. Choose carefully, as some are typical J. Renee OTT and others are very wearable and versatile. My suggestion is to stick with the all-suede options unless you're in a wedding party and need the frou-frou.
J. Renee 'Emberly' Block Heel Sandal
Look, I don't need this shoe but I love orange with hot pink so I saw this crazy shoe and ordered it thinking it would look fierce with black, white, denim, olive, navy, etc. I figured I'd grab some pliers and remove that dangling gold charm from the side. We fat-footed girls will go the extra mile for some decent shoes.
Whelp, they didn't work. If I had normal toes the toe strap would have contained all five and I would be reaching for my pliers and buying clothes to justify this footwear purchase because they currently go with absolutely nothing I own. So maybe fate intervened with my tiny pinky toe. I do still think they could be totally fierce if you have the right wardrobe and personal style. They also come in all black, but that doesn't read fierce as much as the orange and pink. $89.95 at Nordstrom.
J. Renee 'Flaviana' Sandal
Look, I do not need a pair of shoes like this. The crazy print won't go with everything I own. But you know how it is, wide-footed ladies. When you find something that doesn't look orthopedic you get excited. And so I ordered these. I wanted the black multi, or even the red multi, but in my size they only had the pink multi so I ordered them.
They fit. They fit well. They weren't cushioning and cozy and comfortable but they fit. The ankle strap was too snug for comfort but I could punch another hole in it and make it work. I was willing to do all of that… but the pink went with literally nothing in my closet so I returned them. But do know I held on to them for a good two weeks wondering if magically my wardrobe would morph into something that could justify keeping them because they're way more fun than 99% of the wide shoes on this planet. These shoes are $90 on QVC, though I have found one-offs in various sizes on Amazon, Zappos, and Roaman's.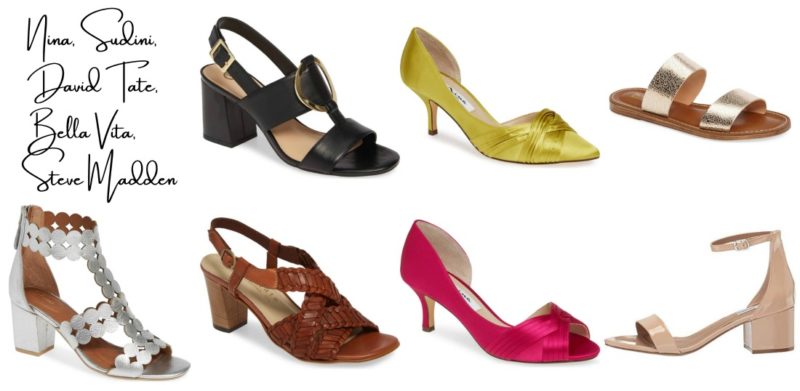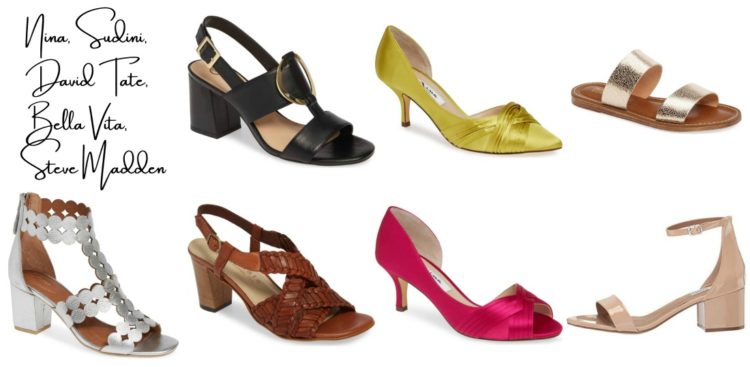 Nina Shoes
Another brand many of you are likely familiar with if you have needed formal wide width shoes in the past five years. They are good at inoffensive styles with dressy fabrics and delicate styles with walkable heel heights. I even have a pair, you can see them in this post. Not my highest fashion shoes, but they've been worn to many a dressy event and been comfortable enough to stay on even when I venture onto the dance floor.
Nina 'Blakely' D'Orsay Pump
I don't need another pair of pumps. Pumps is a style of shoe I can wear in regular widths, and I don't want another closed toe shoe for spring and summer. But the 'Zest' acid color was calling my name so I ordered them.
They're great shoes. They fit great, look great, match the photo. My feet were happy. But I cannot justify purchasing such shoes, I just don't need them. But if you need a dressy closed-toe shoe, these are a great choice and all five colors are excellent. They're $78.95 at Nordstrom.
Nina 'Contessa' Open Toe Pump
Again, bought in desperation even though I didn't want or need a satin peeptoe pump. I got the 'Persian Rose' which was a pretty hot pink but matched nothing in my closet. They did fit, they were relatively comfortable as I strutted around in my bedroom, but I returned them because they are not a good fit for my current wardrobe. They are $78.95 at Nordstrom and come in three colors and would be a good choice if you're in a wedding and need a dressy shoe.
Steve Madden
Steve Madden makes wide shoes, and essentially they are the same shoes that Stuart Weizman makes that Sam Edelman makes cheaper, and Steve Madden makes them cheaper than both Sam and Stuart. All these guys with S names making strappy heeled shoes… it can get confusing! I've found Steve Madden to not only be the cheapest of all three but the widest.
Steve Madden 'Irenee' Sandal
This shoe doesn't work for me. The strap is too low and my pinky toe doesn't fit, and they run a bit more narrow than I need. However, I am sharing them because they are a great choice for many people with normal feet that tend to be a bit wide. They are the 'nudist' concept but with a lower block heel making them wearable for longer. They're sold all over the place but I am linking to Zappos where they have one of the lowest prices as well as the biggest variety of colors. This is a shoe Steve Madden has season after season so watch this shoe as new colors and variations arrive each season (which means old colors go on sale!). $79.95.
David Tate
After having a baby, my feet were even wider than before. On top of that, I had plantar fasciitis and every pair of shoes that fit hurt. A reader suggested David Tate and I got a pair of ankle boots from them and wore them into the ground. Like wore them so much I took them to the cobbler yet again for a reheel and resole and polish and they suggested I just get a new pair. I only share one pair of David Tate below because David Tate isn't known for high fashion, but they are really high quality shoes and really comfortable. The brand is worth a look if you have wide feet and you may find you can carry off a heel with this brand when you usually can't because they are very strategic with heel placement. I find a lot of David Tate at nice prices at 6pm.
David Tate 'Amarone' Sandal
Not dressy, but I felt these leather sandals looked expensive, like something that Tory Burch would come out with. I'd rock them with shirtdresses, white jeans, an all black outfit and gold hoops.
These shoes fit, and fit well. As comfortable as all David Tate shoes are. And they did look expensive… but the dark brown against my pasty white skin was not cute. I may don a bit of a fake Jergens tan this summer, but not enough to make these shoes look chic on my white girl feet. However, if you are darker than I am, check these shoes out because they do look like they are expensive or purchased on a trip somewhere cool. I ordered them for $145.95 on Nordstrom where they also come in black (but it's not as chic as the brown), but I also found them at DSW for $129.99.
Sudini
Sudini is like J. Renee. When the brand's shoes are good they're very very good and when they're bad… well let's focus on the good. Their shoes are comfy, and while many brands seem to be cutting corners Sudini runs a bit wider and bigger than you would expect.
Sudini 'Novara' Block Heel Sandal
Those who follow my Instagram Stories may recognize these shoes and my disappointment in trying them on. I thought these shoes looked pretty badass in silver. Something modern and architectural and would have people asking where I got them.
They were comfy. They fit even on my ankles. They looked expensive and the leather was super nice. My pinky toes didn't fit under the toe strap. If you have normal feet, order these. Gladiator sandals are still a popular trend and this is a fun spin on it that will be chic longer than a true gladiator. They come in six colors, I personally think the silver is the coolest of them all but you could likely rock any of them and look way more chic than you would in 99% of any other wide shoes on the market. $139.95 at Nordstrom.
Bella Vita
I have owned several pairs of shoes by Bella Vita over the years. I did a campaign with a shoe website years ago and ordered a pair and became hooked on the brand which carries Narrow, Medium, Wide, and Extra Wide shoes. The Bella Vita 'Oriana' in gold is my favorite summer shoe two years running and I will cry when they fall apart because they no longer make them.
Bella Vita 'Imo' Slide
Since my gold Bella Vita gladiators are starting to look worse for wear, I thought these could be a replacement, also in gold.
Nope. They look like shower shoes on me. They did contain the pinky toe, but it rubbed on the toe and they just weren't as cute as I thought they would be. I think these would be better on a longer foot. I got them at Nordstrom for $79.95 and they also come in brown and black.
Bella Vita 'Tanya' Sandal
I ordered these purely because they are Bella Vita and I knew they would fit. They're beautiful shoes but they are not what I need right now.
And they do fit, and feel great. And they look super chic, like they are by a fancy brand like Tory Burch or Coach. The leather is nice, everything is nice about them except they don't go with my spring and summer wardrobe. But try them, all four colors are chic and they would be a fantastic work sandal and also super elegant with a pair of kick flare pants or cropped jeans. $99.95 at Nordstrom.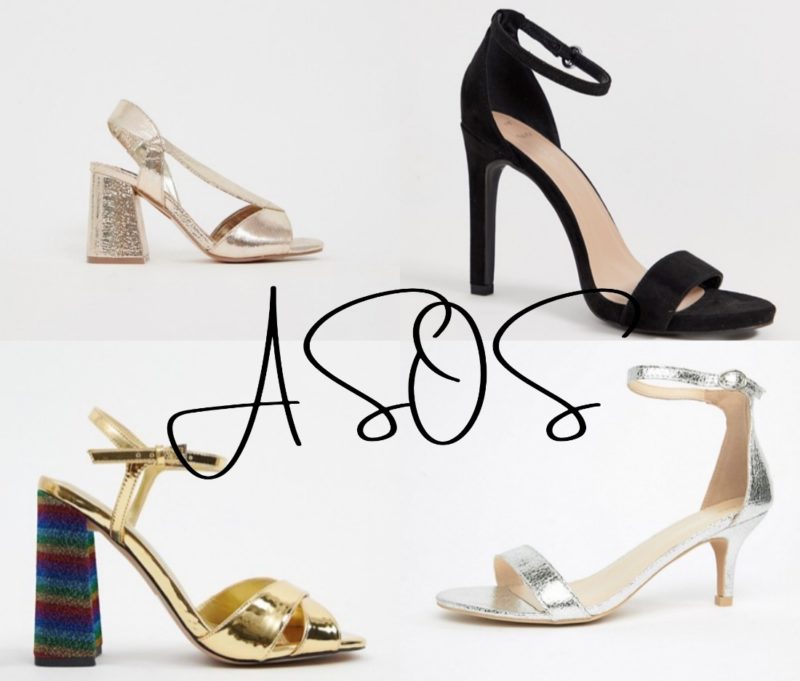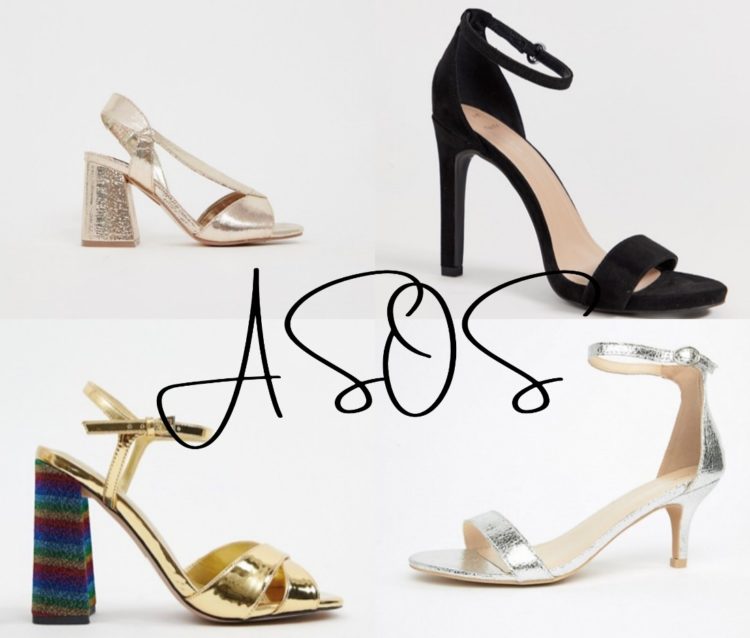 ASOS
ASOS is one of my favorite places for wide-width trendy shoes. I have two pairs from ASOS that are several years old and still favorites (the boots in this post and the heels in this post). The heels are what keep me coming back to ASOS for shoes because they are the only 'nudist' style shoes I have ever found that fit and corral my pinky toes. ASOS has an awesome shipping and return policy.
Glamorous Kitten-Heeled Sandals
These are super cute and a very wearable heel height. The ankle strap is also nice and roomy. I think the crinkle leather looks cool, not cheesy. These aren't cushioned, but they're good for a night out.
Unfortunately, my stupid pinky toes wouldn't cooperate so I had to return them. $32
ASOS Design 'Widsom' Block Heel Sandal
No, I did not need gold sandals with a rainbow striped block heel but I couldn't resist! And they fit too!
However, they're a bit heavy and your girl Allie does NOT need these shoes in her closet so I sent them back. $72
New Look Wide Fit Heeled Sandal
My favorite black strappy heels are from New Look. They are four years old and still kicking and I adore them.
These are extremely similar, the only difference is my pair has cross straps in front to hold in my wonky pinky toes. I even ordered these hoping they'd work; they fit the same they just don't fit my toe. $37
River Island Gold Heeled Sandals
These also fit, and they looked pretty chic. However, from years of walking on my toes I have no curve at my Achilles' and therefore the slingback kept slipping down. But if you don't have that issue, these are really cute. $64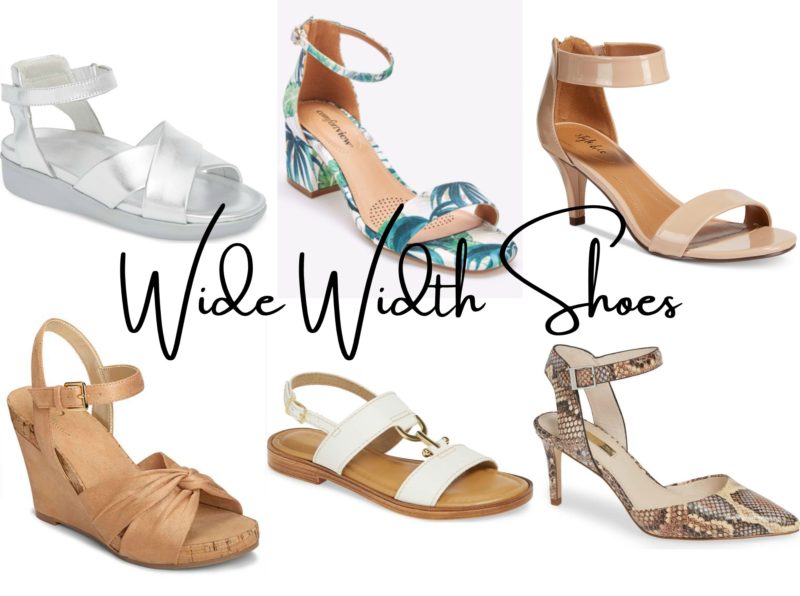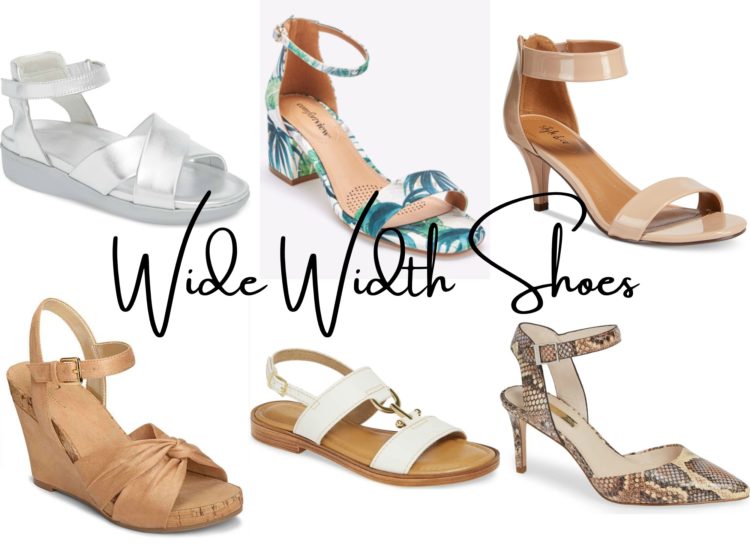 Munro
Oh Munro, you make some phenomenally comfortable and well-made shoes but gosh darn if most of them are fugly. Weird awkward heels, incredibly wide straps, weird mixes of colors and textures of fabric… these are shoes you wear when you don't care what other people think but you do care about your feet. Not hating, I have mad respect for those who have their priorities in order. I just like having a mix of style and comfort so I have not tried Munro until this year.
Munro 'Brinn' Sandal
I mentioned above how I am all about the space-age sandals this summer. I saw these in silver and fell in LOVE. I showed them to Karl, he agreed they were badass awkward cool. They were more expensive than I wanted to pay for sandals, but I knew Munro to be quality and took a deep breath and ordered them.
Oh Em Gee. These shoes feel like a Sleepnumber mattress for your feet. The leather is super soft and I think padded so even the straps are comfortable. The Velcro, unlike many shoes, is placed so you can wear them if you have a slim ankle or a wide one. They cradled my feet better than my Birkenstocks. But… that darn pinky toe. It covered just the tip of the toe but as I walked the toe would peek out and I just knew it would cause a blister. I was sad because these shoes felt their entire pricetag and then some. I don't think the black is as chic as the silver unless you rock a Rick Owens aesthetic. These are $219.95 at Nordstrom.
Miscellaneous Other Wide Width Shoes I've Recently Tried…
Tuscany by Easy Street 'Aida' Slingback Sandal
This would be a casual summer sandal that is a step up from what I currently have. I ordered them in white thinking it would be dressy. This is a very cute sandal and were truly wide. However, my pinky toe slipped out. If you're looking for a casual sandal this summer, this is a good choice. I don't love the contrast stitching, but it's not so bad on the blue or white options. $59.95 at Nordstrom.
Louise et Cie 'Kota' Ankle Strap Pump
I ordered this shoe this past winter. I liked them. It was a touch stiff on the edges but knew if I broke them in with socks around the house they would be great. However, I had them for a month and never found a reason to wear them in place of what I already own so I returned them. But this is a chic shoe that comes in 15 different colors; depending on which one you choose this would be great for work or for an evening wedding. $99.95 at Nordstrom.
Style & Co 'Paycee' Dress Sandal
Each season, Macy's has a few styles of wide shoes made especially for them. This is one of them, and it's a great basic shoe with great reviews for comfort and versatility.
I love that the ankle strap has elastic so it doesn't suffocate my ankle. Again, the only issue is the toe strap and my pinky toe. This shoe comes in 12 different colors and is less than $50.
Orly Sandals by ComfortView
This is one of the single-strap shoes that actually contains my pinky toe. They're not bad looking shoes. That being said, these shoes are NOT comfortable. No padding, no flexibility, don't plan to walk long distances in these. That being said, I got them in the "leather" and the "suede" may be softer and more comfortable. This is the link for the leather which is on sale for $29.99; this is the link for the fabric and suede options which are $39.99.
Aerosoles 'Coral Plush' Wedge
I mentioned before that I have a pair of cork wedges from Aerosoles that I have worn to death. These are extremely similar to those shoes; they even have the same name (both have 'Plush' in the name). So similar, if I liked wedges I would order these.
They are some of the most comfortable shoes I have ever owned. If I wore more shirt dresses and retro styles I would order these in an instant. $59.99
Shop the Wide Width Shoes in this Post:

I know this is a heck of a lot of shoes. Fashion is literally my job, so ordering and returning so many shoes is part of the trade. I hope that my experiences and reviews can help some of you narrow down styles and be more likely to make wide width shoe purchases with far fewer returns. If you've had any great experiences or have shoes you highly recommend, do share them in the comments!