This article may contain affiliate links; if you click on a shopping link and make a purchase I may receive a commission. As an Amazon Associate, I earn from qualifying purchases.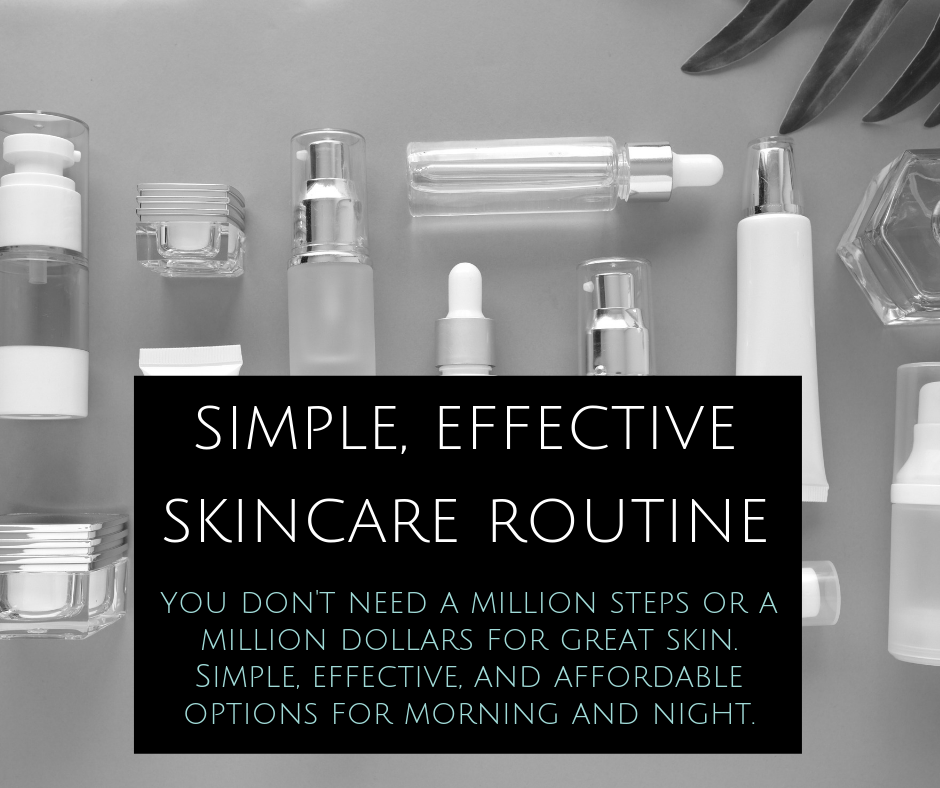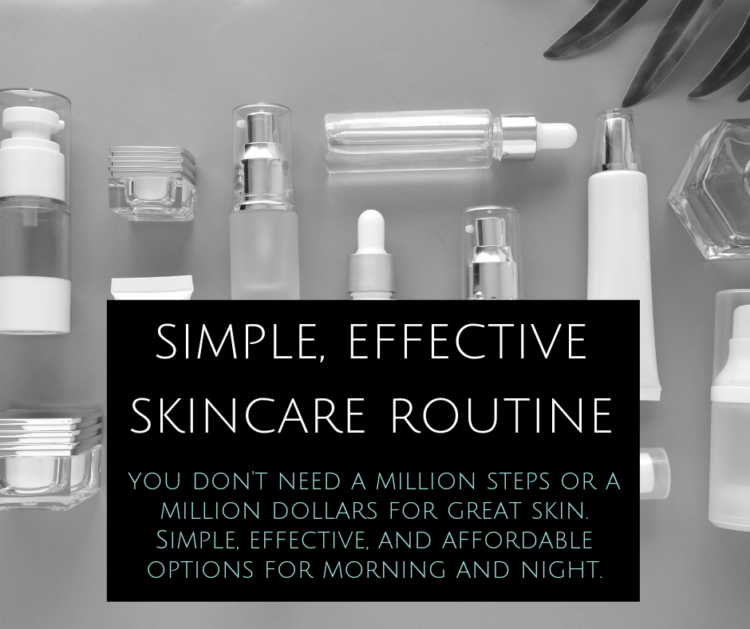 I am a bit obsessed with skincare, and I catch myself getting pretty elaborate with multiple steps. But not everyone has the time, the patience, the budget, or the room in the medicine cabinet for an elaborate skincare routine. When I went on vacation this summer, I learned from my road trip to not stop my skincare routine all together, but I did look to simplify it. Below I share my simplified skincare routine that I found so effective that I have reduced my process since I've gotten home.
A Simple, Effective Evening Skincare Routine
Step 1: Cleanse
I use Colleen Rothschild Radiant Cleansing Balm (read my Colleen Rothschild Radiant Cleansing Balm review). I tie back my hair and rub it on dry skin with dry fingers. I gently rub it over lashes, and it will dissolve mascara and even waterproof liquid liner. I then wet a washcloth (hot if the water has been running already, but I've also done tepid) and use the washcloth to wipe off all the cleanser.
Your cleanser should not make your skin feel tight or dry after cleaning. If you're experiencing that, I recommend looking for a new cleanser. Harsh cleansers are the biggest culprit for wonky skin – it can cause the skin to freak out and produce more oil, it can create dry spot, flaky spots, redness, and irritation. My sister, who has beautiful skin, cleanses her face with just plain sweet almond oil in the same method as I do with a cleansing balm.
Step 2: Treat
I like using a product that works like medicine to treat my skin and make it feel and/or look better. I switch these around a lot, but the one product I find the most effective is Vitamin C. It brightens the skin, it makes it look glowy, and it has helped fade dark spots. Nothing I've used has reversed time; nothing will make wrinkles disappear. Studies have proven it's not wrinkles that make skin look older, but a dull spotty complexion. So, Vitamin C is my friend. I've tried a lot of different brands, Kiehl's Line-Reducing Concentrate is what I have found to be the most effective and the gentlest. I do one pump on forehead, cheeks, nose, and chin. I do not put it around my eyes or lips.
A treatment doesn't have to make your skin sting or get red to be effective. It also doesn't have to cost $500. One of my favorite drugstore brands is the Neutrogena Rapid Wrinkle Repair, the retinol in that line may not "repair wrinkles" but it improves the look and tone of skin without irritation.
Step 3: Hydrate
I read a piece where a skin expert said lotions and creams are to hydrate, oils seal in the moisture. After that, I've been more diligent about finishing my routine with a proper moisturizer. I use Colleen Rothschild Extreme Recovery Cream because it's rich without being greasy, it truly hydrates without clogging pores, and it has very little scent. If you're looking for a lower-priced alternative, I recommend trying CeraVe Skin Renewing Night Cream.
A Simple, Effective Morning Skincare Routine
If you're caring for your skin at night – cleaning off the day, treating, and moisturizing; there is little need for much in the morning.
Step 1: (Sorta) Cleanse
I don't wash my face with a cleanser in the morning, but I do like to wipe away any sweat or excess moisturizer from the night. I usually use Pixi Glow Tonic, a bit on a reusable cotton round to wipe my face and neck. Pixi Glow Tonic has glycolic acid in it, which improves the tone and texture of your skin without being super harsh. If you're looking for a gentler alternative, I also love Thayer's Rose Witch Hazel. It smells nice, if it gets near your eyes it won't burn, and it will gently cleanse your skin while leaving it feeling soft.
Step 2: Moisture with SPF
One thing you can't scrimp on is sunscreen, and SPF 10 or 15 is not enough. I recommend at least SPF 30 and you need to expect that it will take some rubbing to get it fully absorbed.
I use Paula's Choice Essential Glow Moisturizer, which has SPF 30. I like the subtle glow/iridescence of the lotion; it makes my skin look dewier and happier with or without makeup over it. I apply it not only to my face but my neck, my collarbone, and the tops of my hands. If you are looking for a cheaper option, CeraVe has a great daytime moisturizer also with SPF 30.
And that's all you truly need. Anything else is gravy, the extra something to achieve more. But it's not necessary. But I have some hard and fast rules for great skin that cost absolutely nothing but will make more difference than an extra step or product:
Wash your face every night, no matter how tired you are or how late it is. Make this as much a habit as brushing your teeth (and I hope I don't need to tell you to brush your teeth before bedtime). If you do this consistently, you'll become someone who can't sleep without a properly cleansed face. Seriously, this will do more for wrinkles, dark circles, and uneven skin tone than any fancy procedure at a day spa.
Drink water, and then drink some more. Next to my desk are two 32 oz. water bottles. I don't finish my work until both are completely empty. That is my bare minimum amount of plain water that I drink in a day. Usually, I drink another 32 oz on the way home from the gym in the morning and a 4th bottle between the end of the workday and by time I go to bed. Yes, you will have to pee more often. That is the only negative – the rest (better skin, better sleep, better digestion, happier brain, etc.) are worth dealing with that one inconvenience. And yes, this needs to be water, not tea, not soda, not lemonade, not coffee. Those are extra on top of water. Add some fruit or cucumber if need be but get that basic water in for dramatically different skin.
Get more sleep. Stop looking at your phone at least 30 minutes before bedtime. Go to bed 15 minutes early for a month, then 15 minutes more. It's hard to fathom going to bed an hour early, but 15 minutes is doable. And once it's part of your life, add some more. This will really improve your complexion and your dark circles.
Be aware of your allergies. Not all allergies appear as a rash, blocked airway, or stuffed up nose. Some may show as dark circles under your eyes, red splotches, or irritated skin. I found by cutting down on dairy, my skin didn't get as dry and sensitive in the winter and wasn't as oily in the summer. I also found by getting rid of dark liquors (whiskey, bourbon, rum, etc.) my skintone was evener. You can go to an allergist to be tested, but I've just googled common allergens and played with removing them from my diet for a month to see what happens. If it's not dramatic, I bring it back. Common allergens that can affect the skin, as well as inflammation/pain, are dairy, wheat, alcohol, nuts, soy, and eggs. I am not a doctor, I am not trying to replace a doctor, but if you for any reason can't see a doctor for this, it won't hurt you to try eliminating possible foods one at a time to see how they affect your skin as well as your overall wellbeing.
Wash your makeup brushes. If you can't recall the last time you washed your makeup brushes, it's been too long. No need for fancy products, a bit of gentle sulfate-free shampoo will get the job done. I put a bit of shampoo in the palm of my hand, wet the brush (only the bristles, not the metal part), swirl it in my hand to get it soapy, then swirl it on the basin of the sink until the water runs clear. I lay them in a row on the back of my toilet or the side of the counter, the bristles hanging off the edge, so they get air from all directions and let them dry overnight. I have brushes that are 20 years old that still work great and have been washed in this manner. As with clothes, if you care for your beauty supplies, they will last longer and be more effective.
Only use a washcloth once. If you're using washcloths to wash your face, only use them once before laundering. Keep them separate from house cleaning cloths and give them a heavy duty cleaning in the machine. These don't have to be cute or coordinate with your bathroom, they just need to be clean to be effective. You can buy a pack of washcloths pretty cheap on Amazon and Target. I have one basket for clean washcloths and a small hamper for the dirty ones.
Simple Skincare FAQ
Do I need a separate eye cream?
Nope, you don't. Granted, eye creams are specifically formulated for the delicate eye area that doesn't create sebum like the rest of your face, but you don't NEED eye cream. Your eyes won't shrivel up without it. Whether or not you use eye cream, be gentle around your eyes. That skin is far more delicate and sensitive. Do not put treatments on your eye area, pat instead of rub, even use your ring finger to apply products since it's the weakest finger on your hand.
Do I need to use a toner?
No. These days a 12-step or 15-step process is all the rave but it's not necessary. I haven't regularly used a toner in 20 years and my face hasn't fallen off. In fact, I have people rave about my skin. Some people swear by them but they're not required.
Do I even need these many skincare products?
Nope. You can easily wash your face with almond oil and put a bit on it after to keep it from being dry. Or you could do nothing. There is no law stating you must have a certain number of products or steps in your skincare routine. But what I do want you to think about it this: skin is the one thing you wear every day and every night for the rest of your life. Your nails grow and are replaced, same with your hair. Your clothes wear out, your shoes go out of style or get a hole in them. Your skin is your eternal accessory. The better you care for it, the better it performs. Just as with clothing, money does not determine quality. But time, thought, and care are priceless.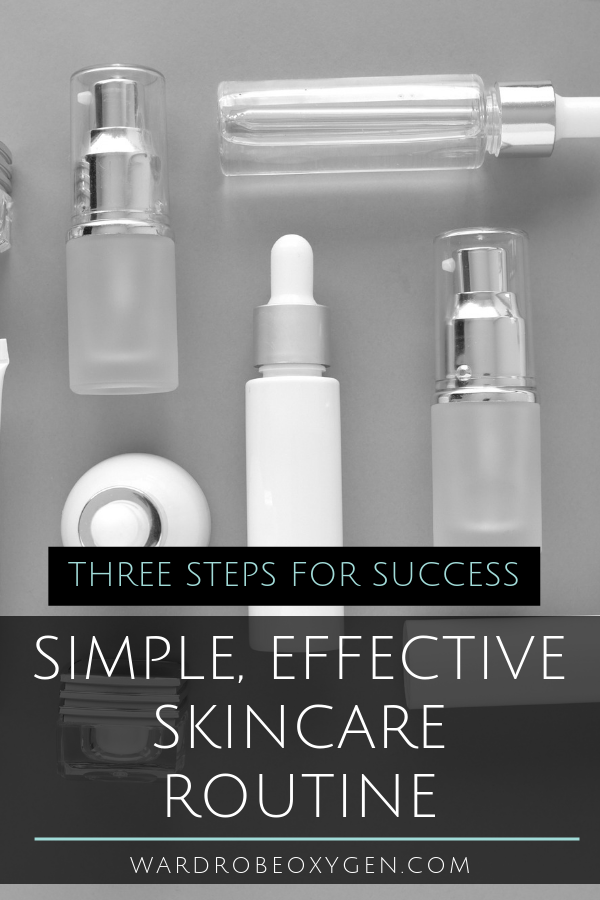 Shop the Products Mentioned in this Article: