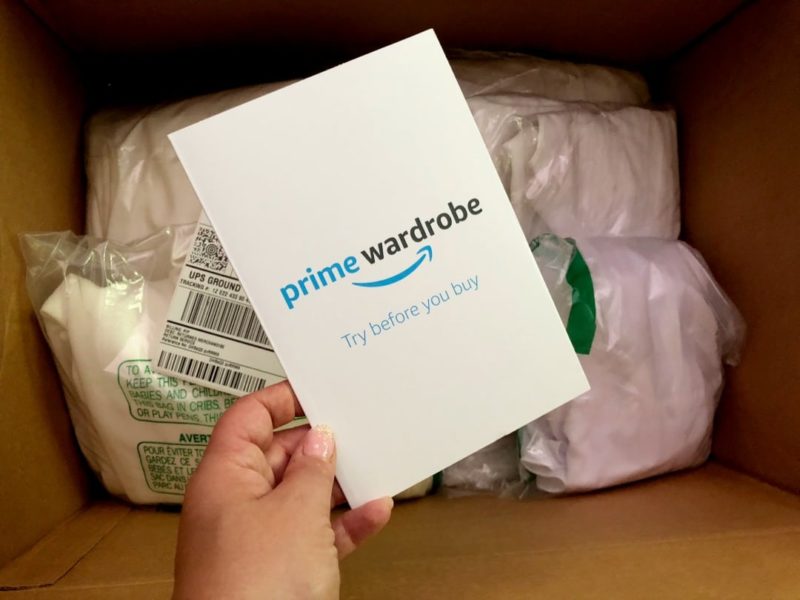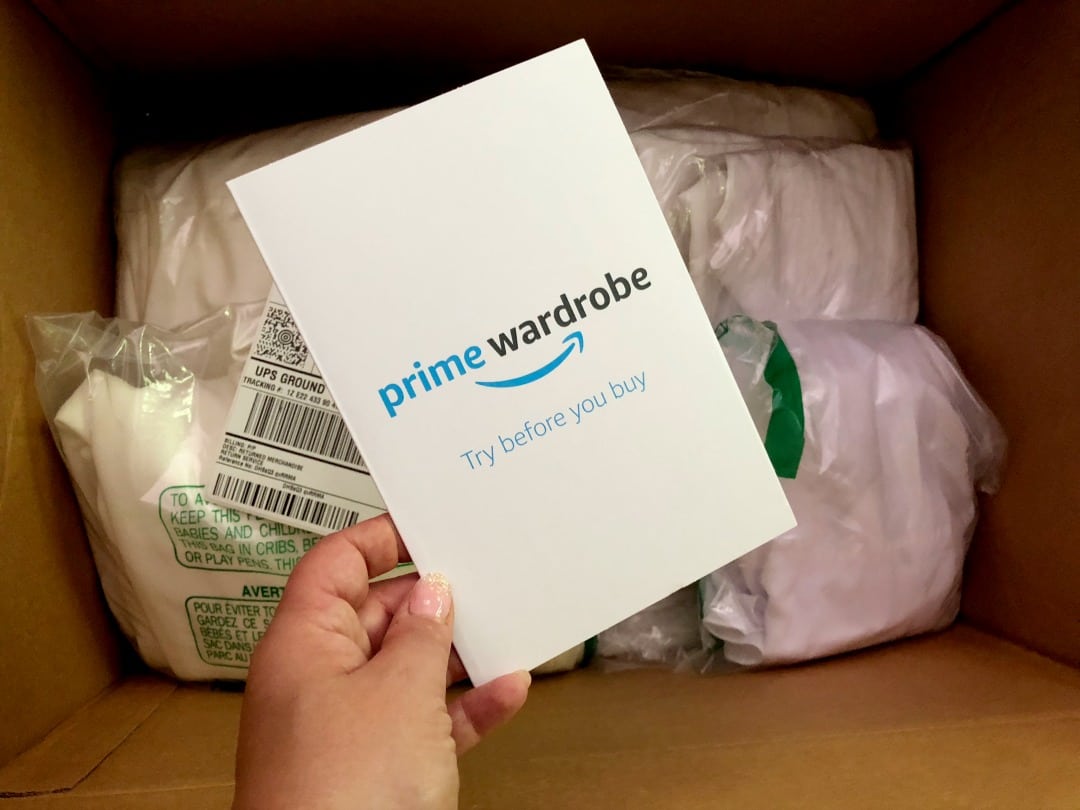 Have you heard of Amazon Prime Wardrobe? It's a new service from Amazon. Pick at least three fashion items (shoes, clothes, accessories) but no more than eight and Amazon will ship them to you for free. You have seven days to try everything, return what you don't want, keep what you do, you will only be charged for the items you keep. I decided to try Amazon Prime Wardrobe and review it here on Wardrobe Oxygen.
Last year I went to Diner en Blanc and had a great time. I found out the date for the event this year and am on the hunt for a white outfit. I figured Prime Wardrobe would be a perfect tool to try several white items from different brands in the comfort of my home without racking up a lot of credit card debt and without having to make multiple returns to multiple retailers.
My Amazon Prime Wardrobe Review
Prime Wardrobe isn't as simple as it seems. Within the menu for Prime Wardrobe I chose Women's clothing, then Dresses, then the color White. I'd click into a new tab any dresses that looked promising. Unfortunately, over 50% of the items I picked from the Prime Wardrobe collection actually weren't available for Prime Wardrobe. The dress would be available for Prime Wardrobe… but only in one size, or a different color.
Amazon, in general, is very hard to shop for clothing. I have been contacted by them multiple times to feature their fashion and I just can't with a good conscience because it's so frustrating. I was looking for a midi or maxi dress or jumpsuit in the color white, size 12, 14, 12P, 14P, L, XL, or 0X. To do this, I had to perform. Multiple separate searches, often seeing the same pieces over and over. And even with these specifications, I was still getting items not appropriate or relevant to my search. With Amazon in general, you can't search a size range. You can search for Petite OR Regular, but not both. Amazon Fashion is best when you're looking for a specific thing – Maggy London dresses, that specific style of shoe from Nine West, pink jumpsuits only in size 10. That being said, if you're willing to do the search or have specific search terms, you can often find items currently available at department stores for less on Amazon. You can also find that items you missed last season on Amazon for a very nice price.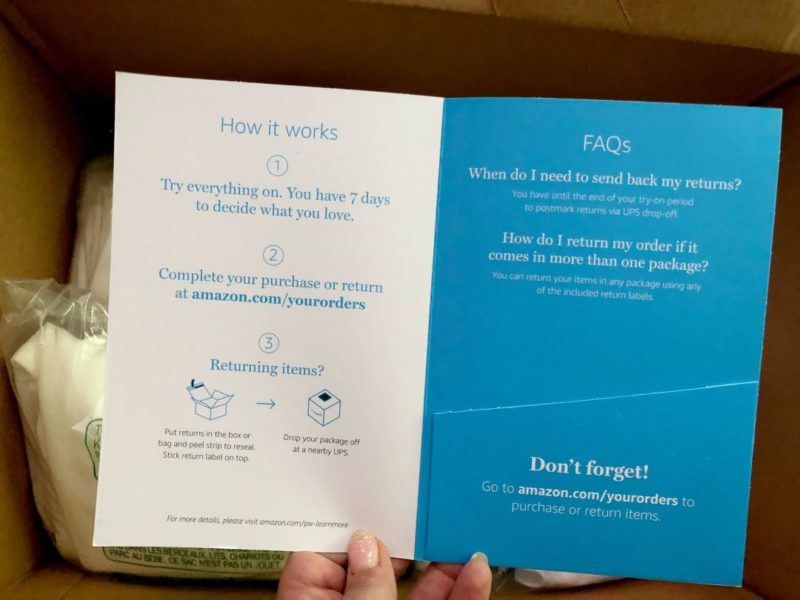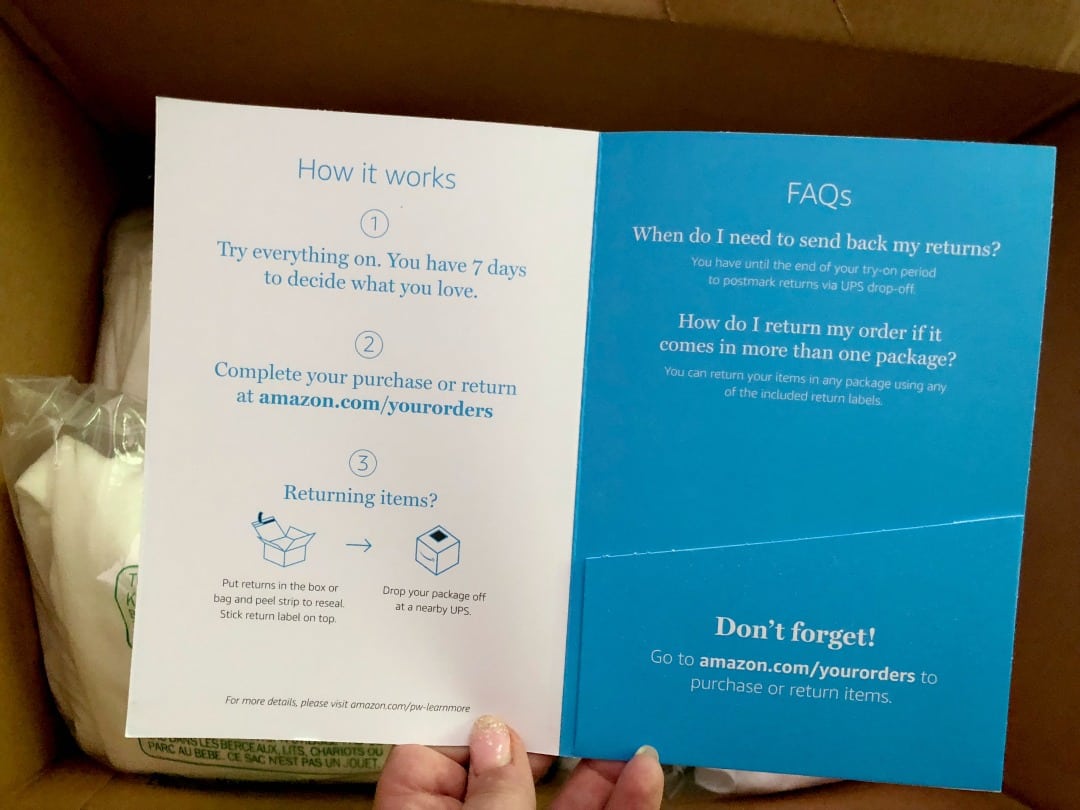 It's also hard to shop because it's so hard to see detail. Amazon Fashion offers a front view, back, view, and a video of the model moving in the dress. Even when zooming into the photos it was hard to tell if a dress had pearl or colored buttons, if there was a tie at the waist with tassels, if the fabric was sheer with an overlay or just lined. Descriptions are rarely as detailed as on other apparel shopping websites.
One perk to Prime Wardrobe is you can order multiple sizes without charging your card. I was able to order one jumpsuit in two different sizes without the price of two lingering on my credit card.
Once I found eight items I went to my Prime Wardrobe Cart. There I realized I had totaled over $1,000 worth of items so I was asked to remove at least one. This gave me a chance to see I had put in my cart two items over my max budget for such a piece so I removed both. I decided to use this space in my Prime Wardrobe box to shop for shoes. I'm still on the hunt for a nude-to-me sandal (I desire both a flat casual one as well as a heeled dressy one). Unfortunately, I couldn't find a single shoe I liked in my size and that color that was available for Prime Wardrobe. I started looking at bags and there was a much better selection but I stopped because I don't need a bag right now and do not need the temptation!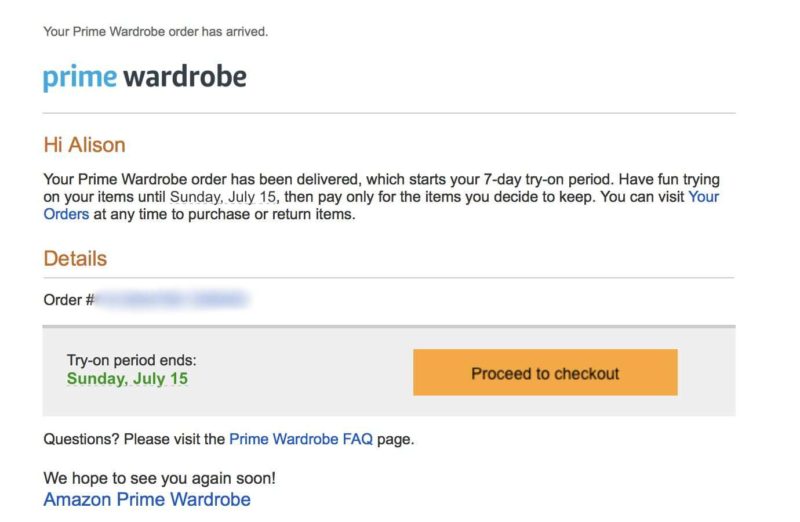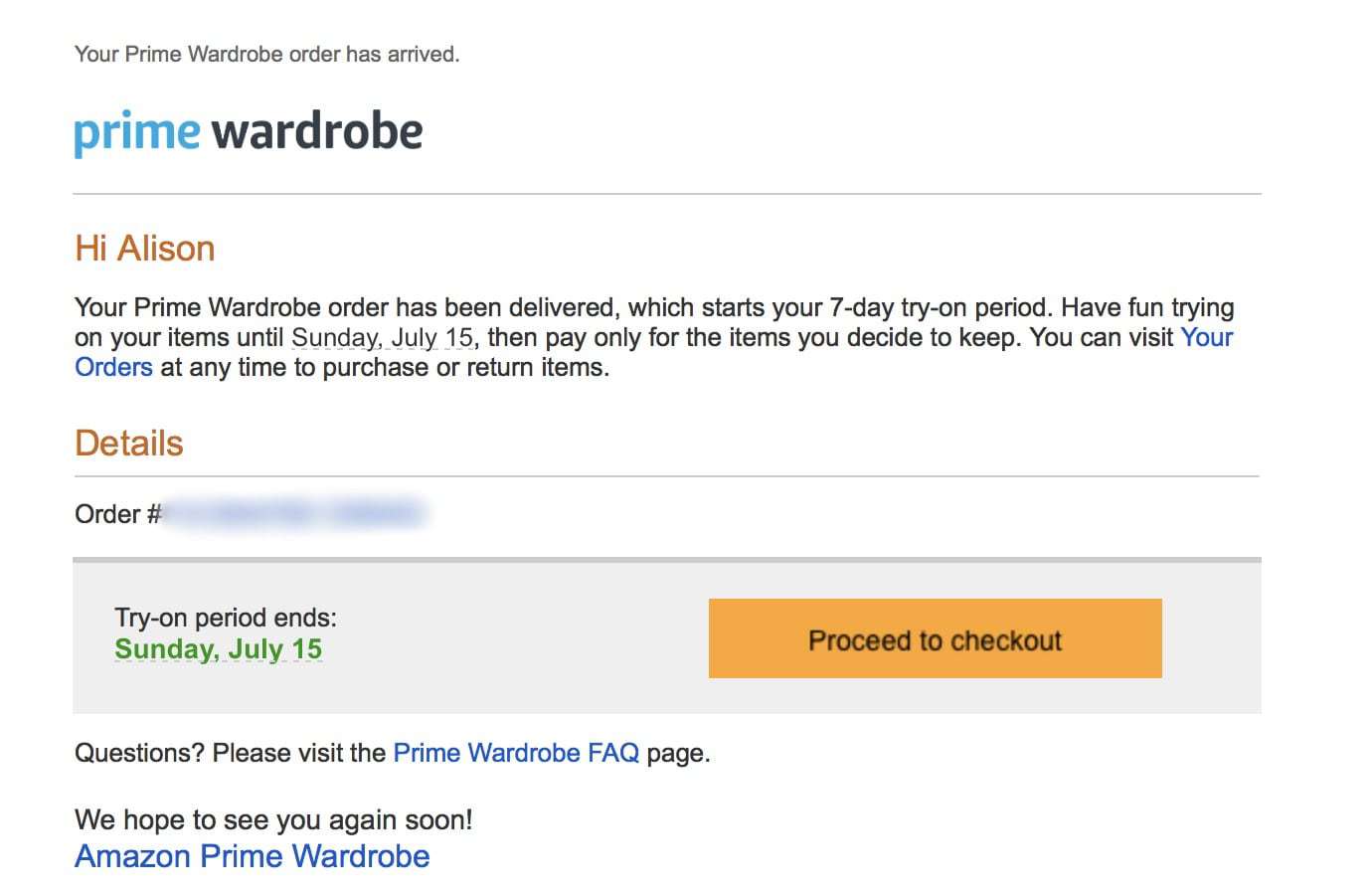 The email I received once my Prime Wardrobe box was delivered
My Amazon Prime Wardrobe Box: My Thoughts
I received an email upon placing my order on July 3rd that my Amazon Prime Wardrobe Box would arrive between July 11th and July 13th.  The box arrived early on July 8th. As soon as the delivery person dropped the box off on my front step I received an email that my Prime Wardrobe 7-day trial began.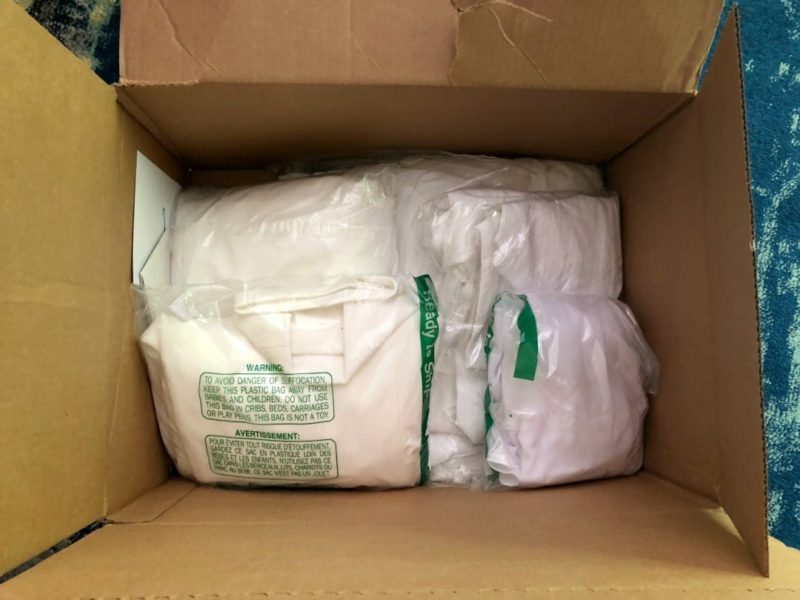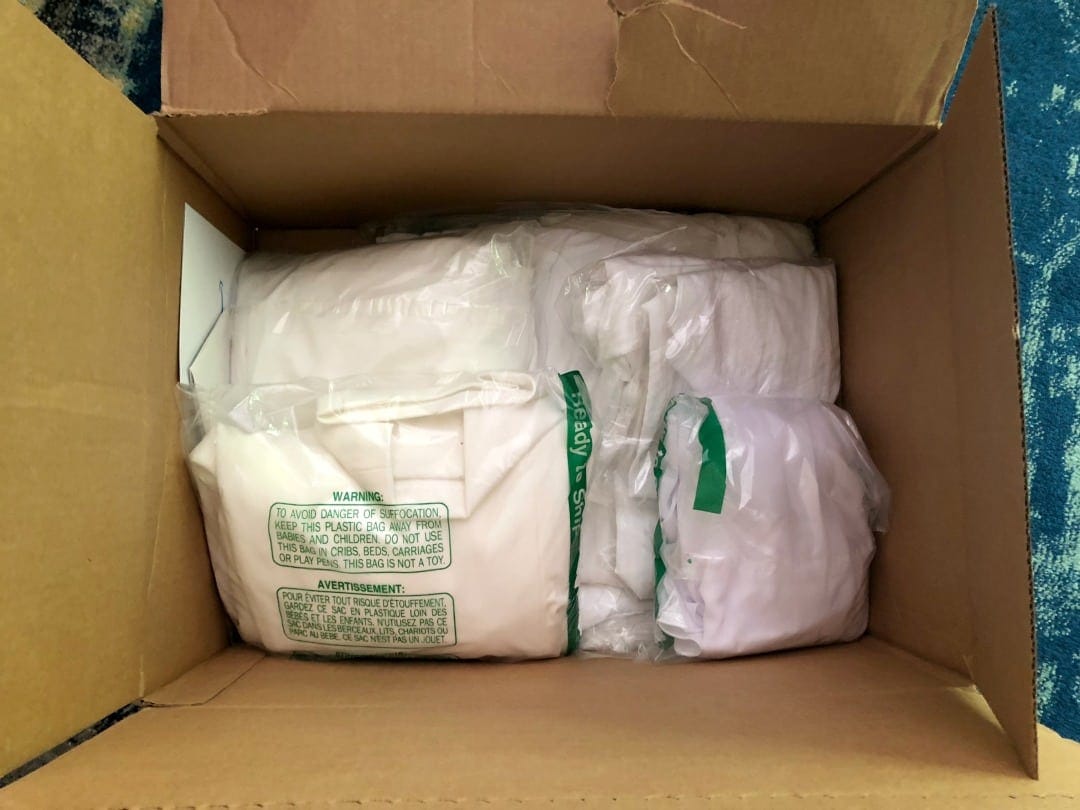 The box is a brown box, but it has a perforated strip on top for easy opening. Inside, the top of the box has a self-sealing strip. Inside I found all the garments folded/rolled into clear plastic bags, a UPS return label, and a folder explaining how Prime Wardrobe works.  I gotta say it felt a bit like a letdown after experiencing Stitch Fix, Dia & Co, Trunk Club, and Gwynnie Bee.  Even Gwynnie Bee, which is pretty minimal, at least nicely folds the clothes and wraps in tissue. I had items balled up and taped into a piece of plastic, some in bags that stated, "READY TO SHIP" in green, and others in the crisp plastic sheathing I am familiar with from other online boutiques. This was as low-frills as any typical Amazon order, and like most Amazon orders the box was way too big for the contents. But unlike these other fashion programs, Prime Wardrobe doesn't have a fee.  Guess you get what you pay for!
What I Had in my Amazon Prime Wardrobe Order
I ordered seven items, looking for something to wear to Diner en Blanc. I wanted either a dress below the knee to maxi length or a jumpsuit, and something with a bit of volume.  With Diner en Blanc you have to walk from your meet-up spot to the undisclosed destination which can end up being several city blocks in the August heat. I wanted fabric that could handle the walking, heat, and humidity as well as a silhouette that would look great with flat comfortable shoes. What I ordered:
Depending on what my tailor can do with the jumpsuit, I may have found a winner!
Amazon Prime Wardrobe: Would I Do It Again?
Hrm… maybe.  Amazon Prime Wardrobe was great for the reason I had; I could order a bunch of looks and only pay for one I wanted to keep. I think this could be a smart choice when shopping for a wedding guest outfit, an event where you have a specific dress code or color to wear, even if looking for new jeans or a new coat.  I don't think this is an alternative to virtual styling programs like Trunk Club or Stitch Fix.  I was annoyed by the lack of selection that was available and because of that found the ordering process time consuming. But I do appreciate not having a charge on my credit card unless I decided to keep something.
Amazon Prime Wardrobe: What to Know Before You Try
You Cannot Use a Debit Card with Prime Wardrobe
My debit Mastercard is my default payment with Amazon but I had to enter an actual credit card number to complete my Prime Wardrobe order. Prime Wardrobe does not accept debit cards for orders over $300 excluding taxes and discount.
If the Prime Wardrobe "Add to Cart" Doesn't Show, It's Not on Prime Wardrobe
Even though you found the item on Prime Wardrobe doesn't mean it's available for the program. It may be that only select sizes or colors qualify.
You Must Have a Minimum of Three and Maximum of Eight Items
Prime Wardrobe will not ship unless you have three to eight items chosen for your box. No need to keep track, the site will notify you when you've reached eight items in your Prime Wardrobe.
You Cannot Order More than $1,000 in a Prime Wardrobe Box
When you get to your Prime Wardrobe cart, it will notify you of your total. There you can remove items or save them for later. Once your total is under $1,000, the check out button will activate.
You Can't Just Box Up and Send Back
You must check out at Amazon before sending back your items from Prime Wardrobe. Be sure to do this to prevent being charged.
You can Return After the Seven Days… But WIll Be Charged
There is one item from my Prime Wardrobe that I am thinking of wearing to Diner en Blanc, but I need to check with my tailor if it can be altered to fit perfectly. I am not sure if I will be able to visit him before the seven days are up. I checked and if you keep something past the seven days, you still have 30 days before it needs to be returned, but your credit card will be charged (and then refunded) for the item/s.
Prime Wardrobe Isn't Just for Women
What's cool about Prime Wardrobe is that it's for women, men, children, and baby. You can also mix a Prime Wardrobe box – a dress for you, a shirt for him, a onesie for your little one.
Prime Wardrobe is only for Prime Members
You cannot use Amazon Prime Wardrobe unless you have a subscription to Amazon Prime. If you'd like to sign up for Amazon Prime, visit this link. Now is the time as Prime Day is July 16th through July 17th and there's going to be some amazing deals just for Prime members.
Have you tried Amazon Prime Wardrobe?  How was your experience? Share it in the comments below and help fellow readers!