This article may contain affiliate links; if you click on a shopping link and make a purchase I may receive a commission. As an Amazon Associate, I earn from qualifying purchases.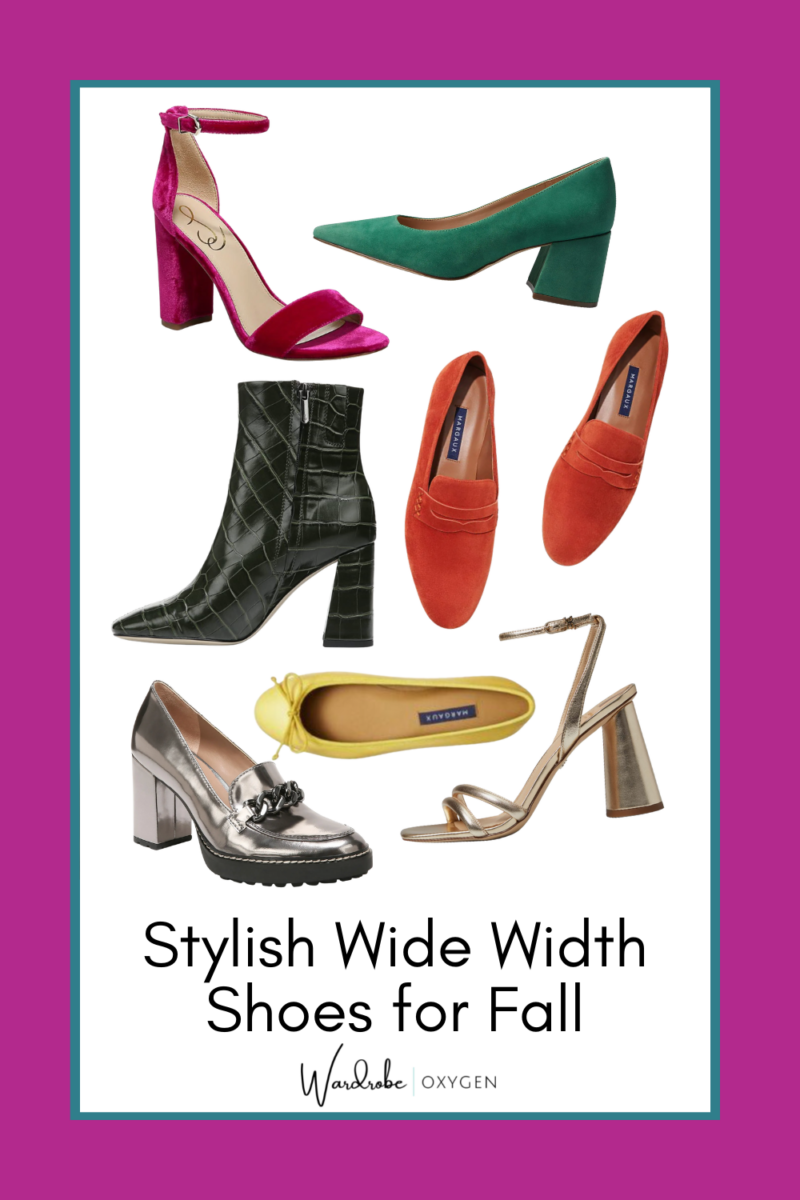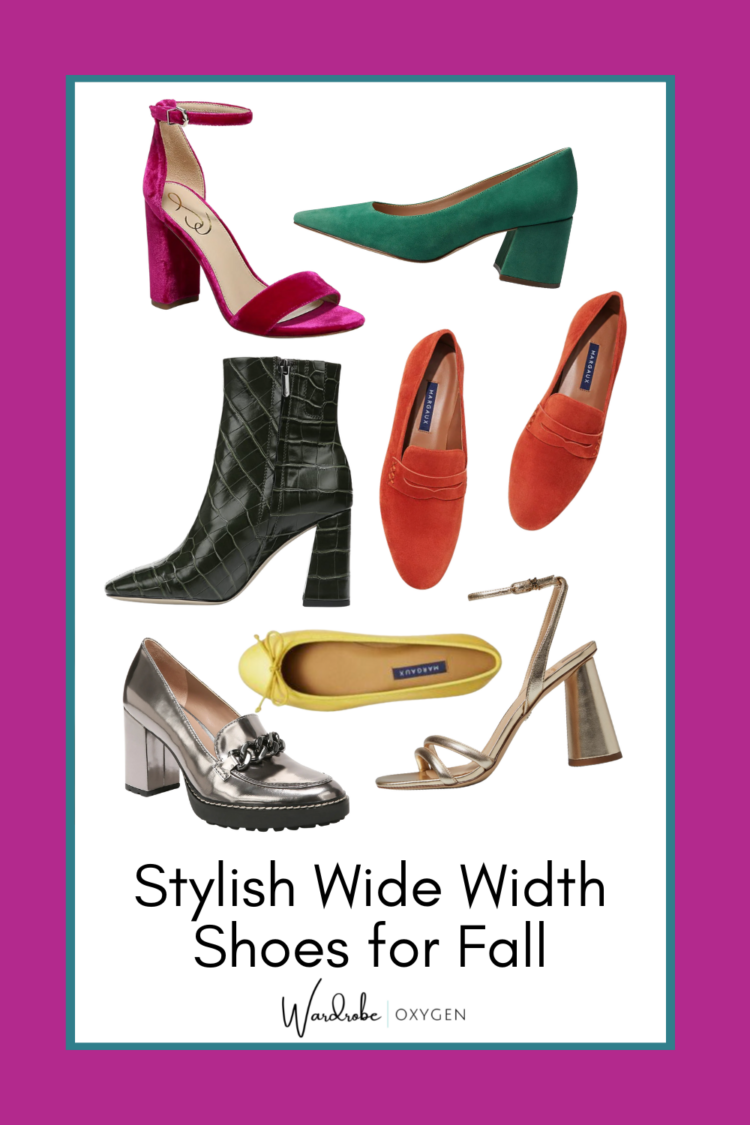 As someone who has wide feet, I know shopping for stylish wide width shoes isn't easy. You can find style, or you can find roominess, but it's hard to find both in one shoe. Well, not to fret, your wide-footed friend Alison has done the work for you and I've collected the most stylish wide width shoes for fall. Looks for work, for play, for day, for night, and beyond!
FYI for those of you looking for narrow width shoes for fall, it's worth clicking through these links as many of the styles are available in a variety of widths, not just wide!
Stylish Wide Width Shoes for Fall: My Picks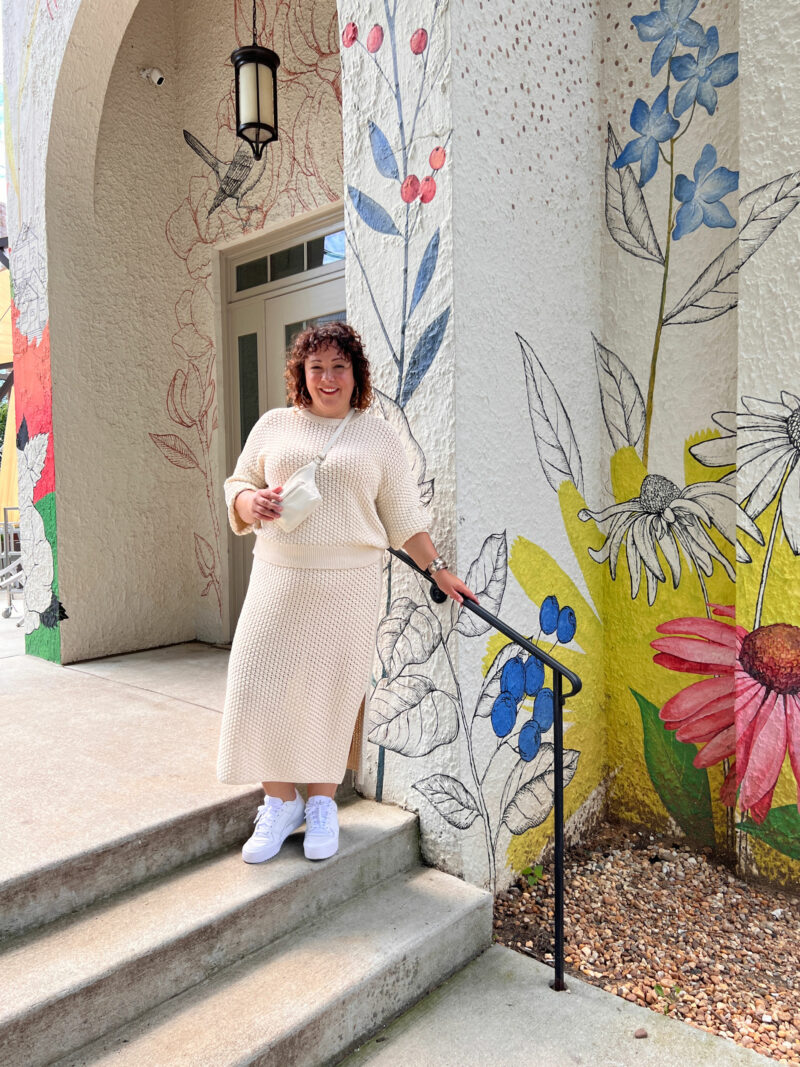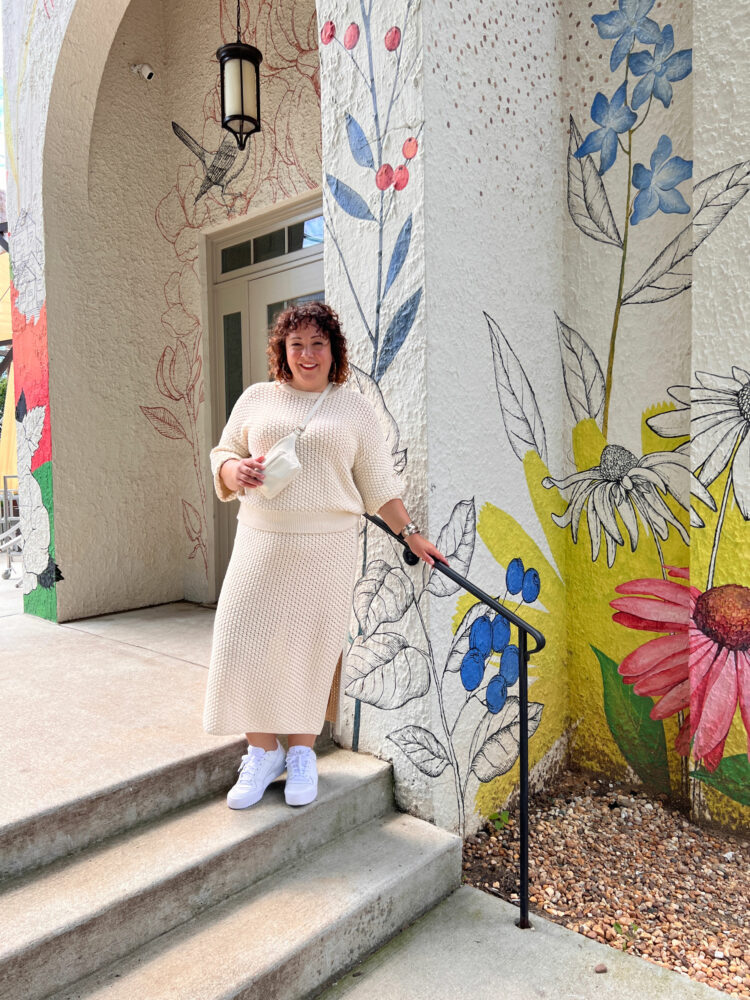 Stylish Wide Width Loafers
If you're looking for one shoe to update your wardrobe this season, I recommend a loafer. From classic penny loafers to lug soles and heeled versions with chain and bit details, loafers are continuing a run again this fall as a must-have fashion shoe.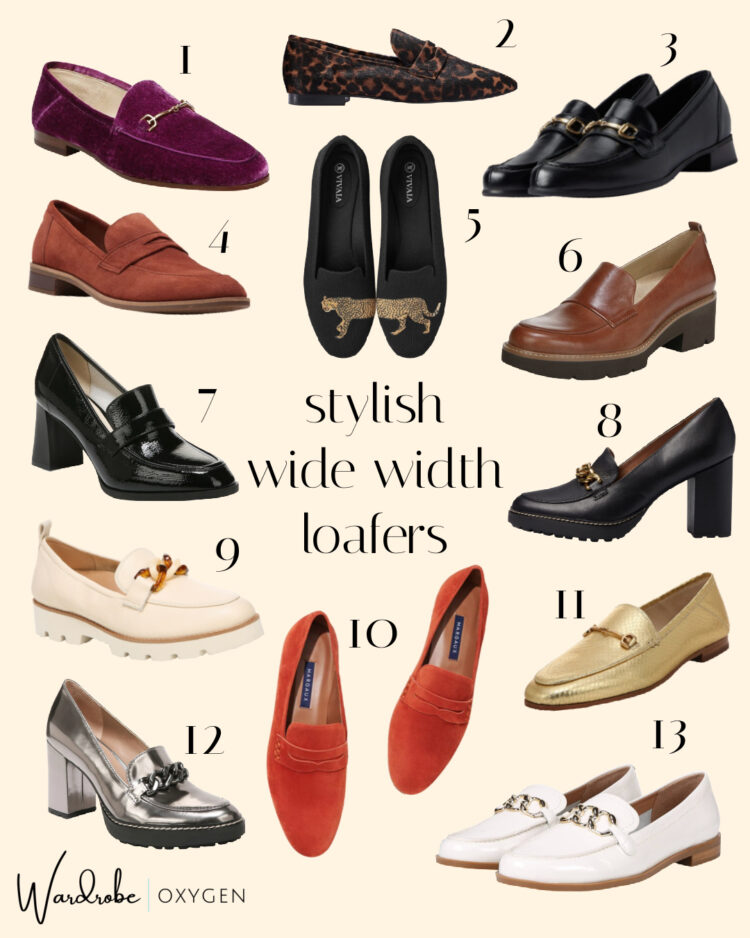 one | two | three | four | five | six | seven | eight | nine | ten | eleven | twelve | thirteen
A loafer with some substance (platform, lug sole, block heel) will be a great pairing with your non-skinny jeans as well as work trousers. A more classic style that is lower profile will work with your ankle jeans, skinny to straight jeans, tapered trousers, and wider legs that are from a more fluid fabric.

You may find a statement loafer to be more versatile than a neutral color. I have a pair of robin's egg blue suede loafers that are going on their fifth year of style in my closet. The unexpected color gives brightness to neutrals, is a great contrast to other colors, and adds personality to any ensemble.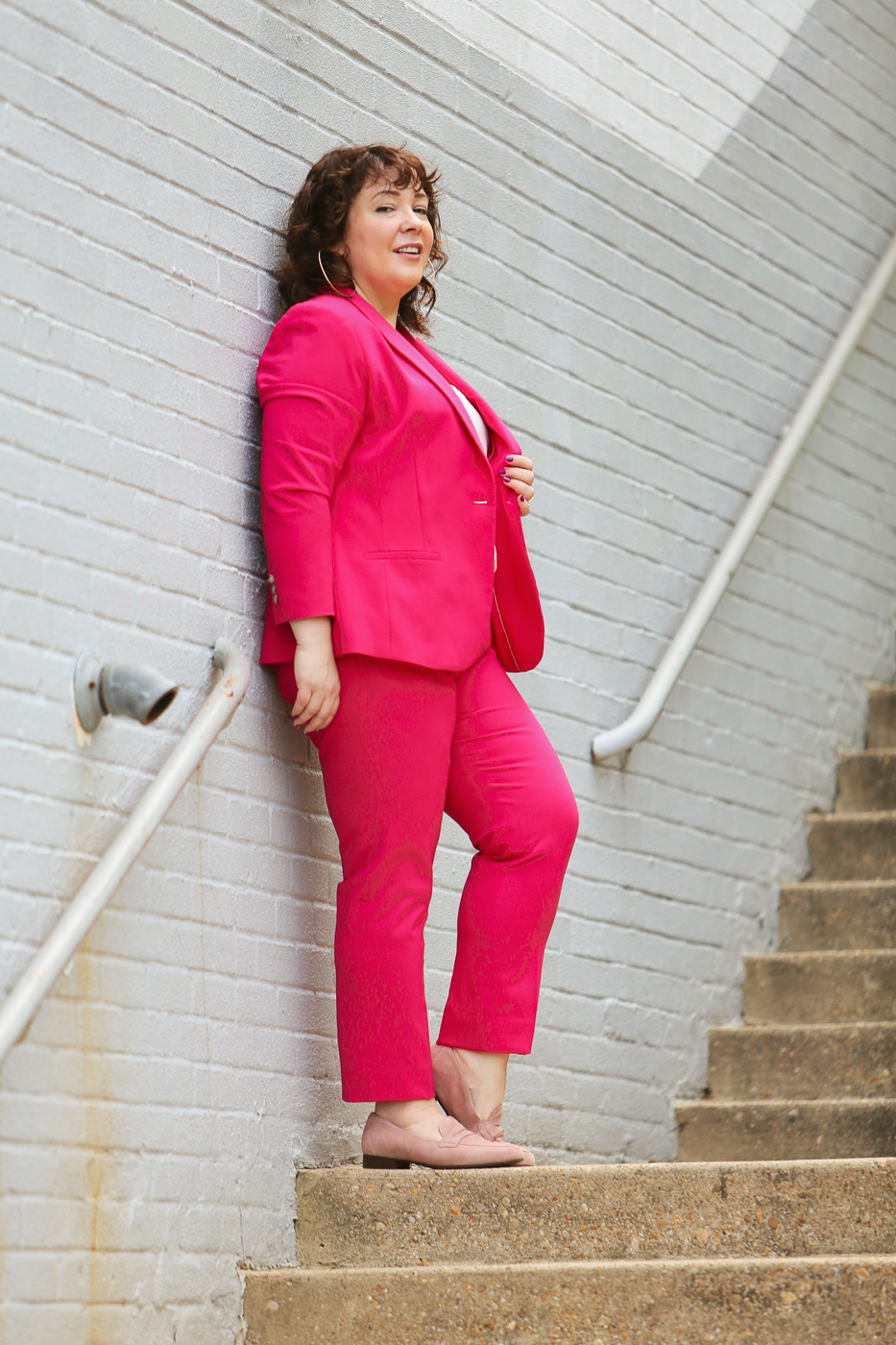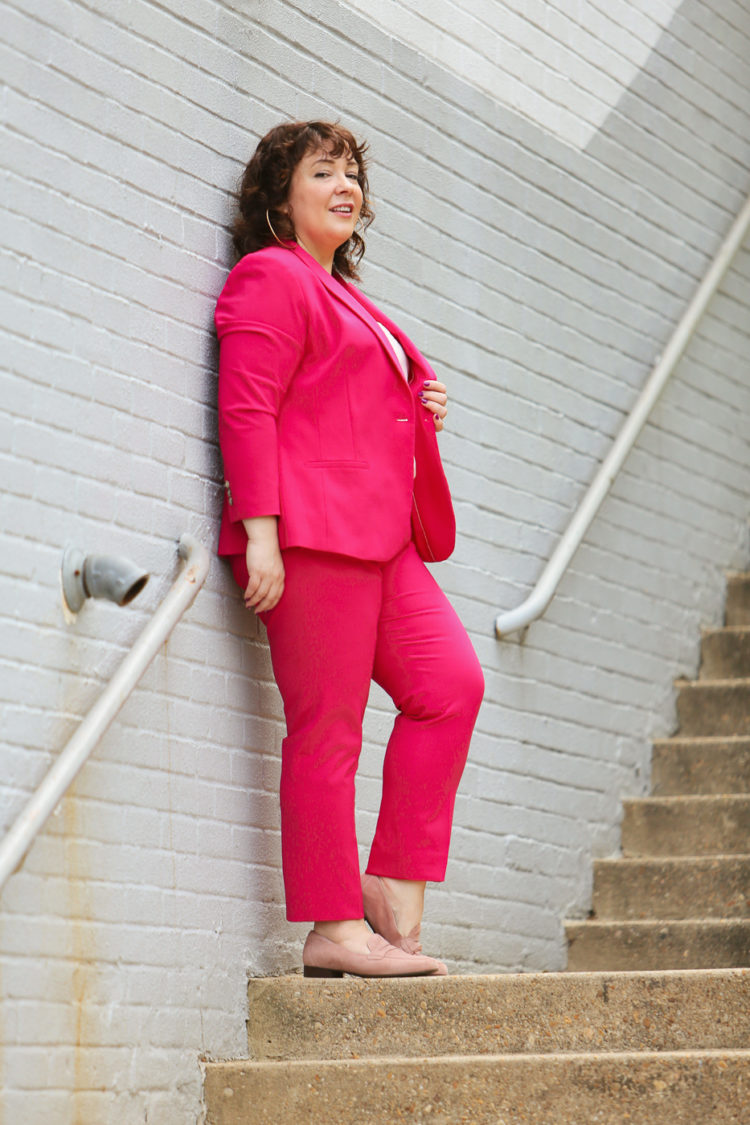 Stylish Dressy Wide Width Shoes
Whether you are a wedding guest or just looking to update your evening looks, this collection of dressy shoes in wide widths are fancy, fun, and perfect for wide feet!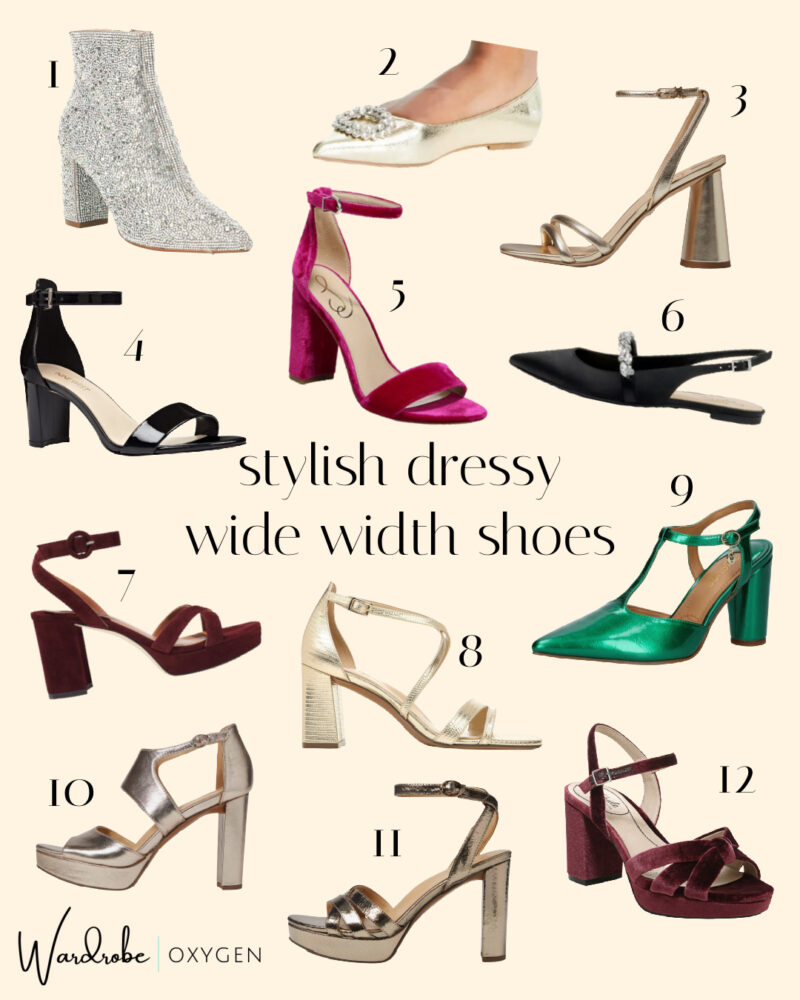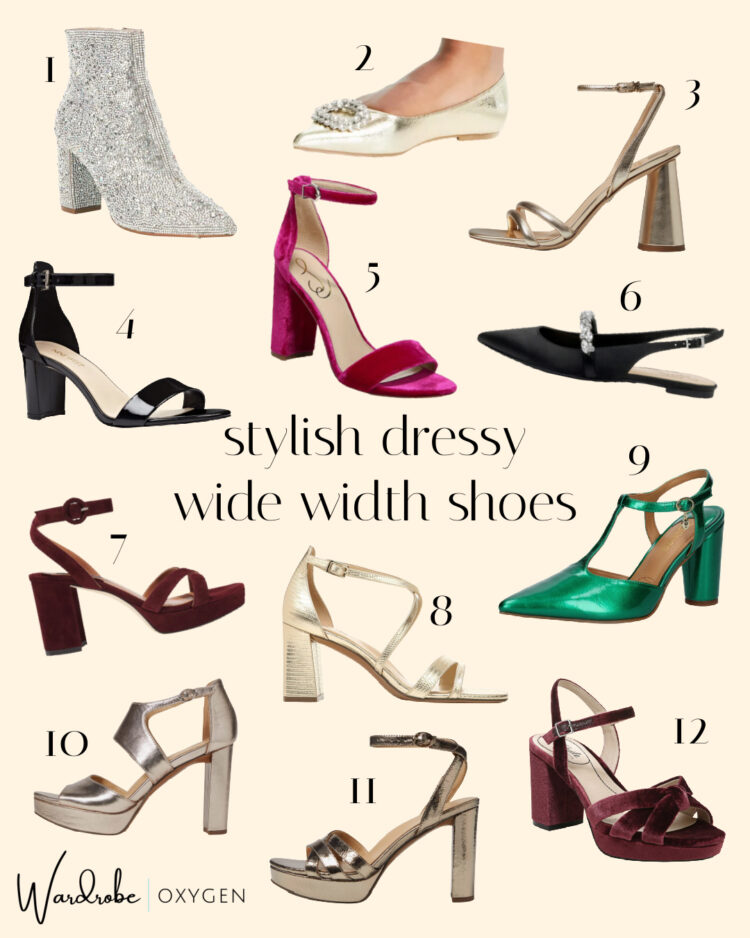 one | two | three | four | five | six | seven | eight | nine | ten | eleven | twelve
While I feature a lot of metallics, know that all of these shoes come in other colors that can also be perfect for dressy occasions. However, if you are looking for a versatile shoe that was transcend trends as well as seasons, you can't go wrong with a soft gold, copper, bronze, or pewter shoe.

This season, heels are thicker (block heels are hot for day and night), subtle platforms are back in (great for stability and making a shoe look taller without as high a heel), and there is less "bling" and more focus on color and texture. You will see metallic snakeskin, velvet, satin, and pops of colors to either match or contrast with the rest of your ensemble. While red used to be the go-to statement color, this season consider emerald green or a bold shade of pink or fuschia which is just as versatile but feels fresh.
Dressy does NOT have to mean heels! I do have a lot of dressy heels above because they are more prevalent and fit this season's shoe trends. However, if you are more comfortable in a flat, or desire a shoe with more coverage, just choose one in a dressy fabric or consider a pair of shoe clips to glam up a simpler flat.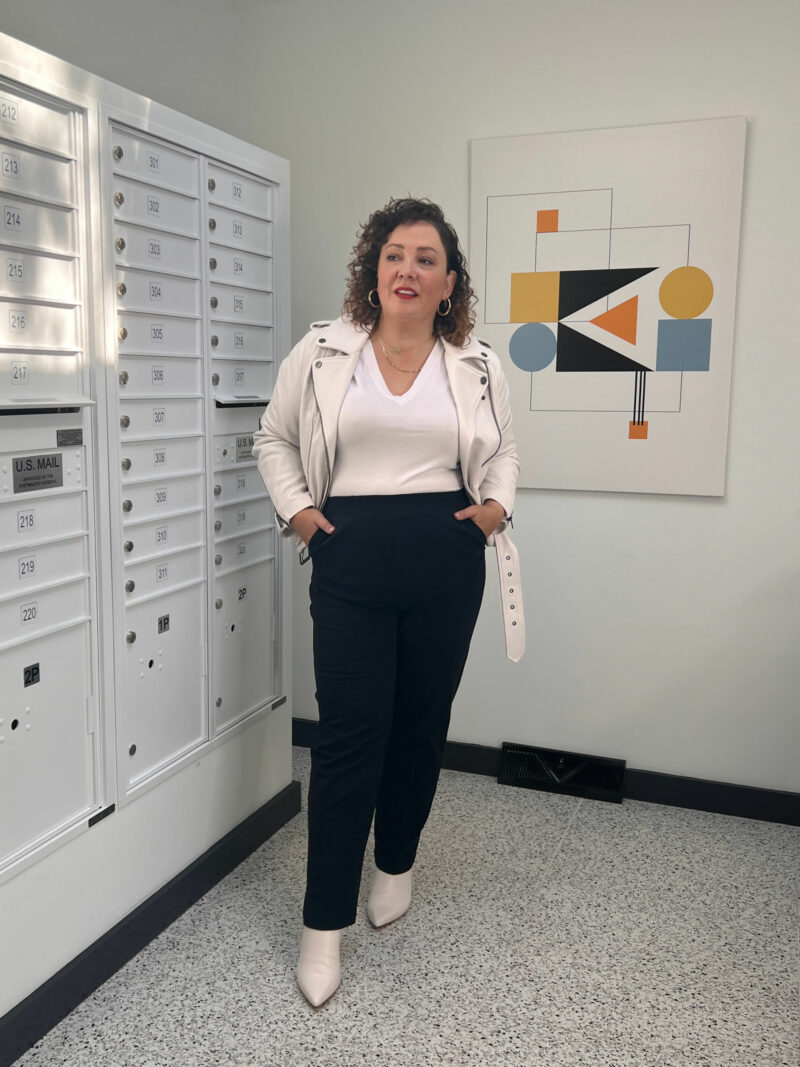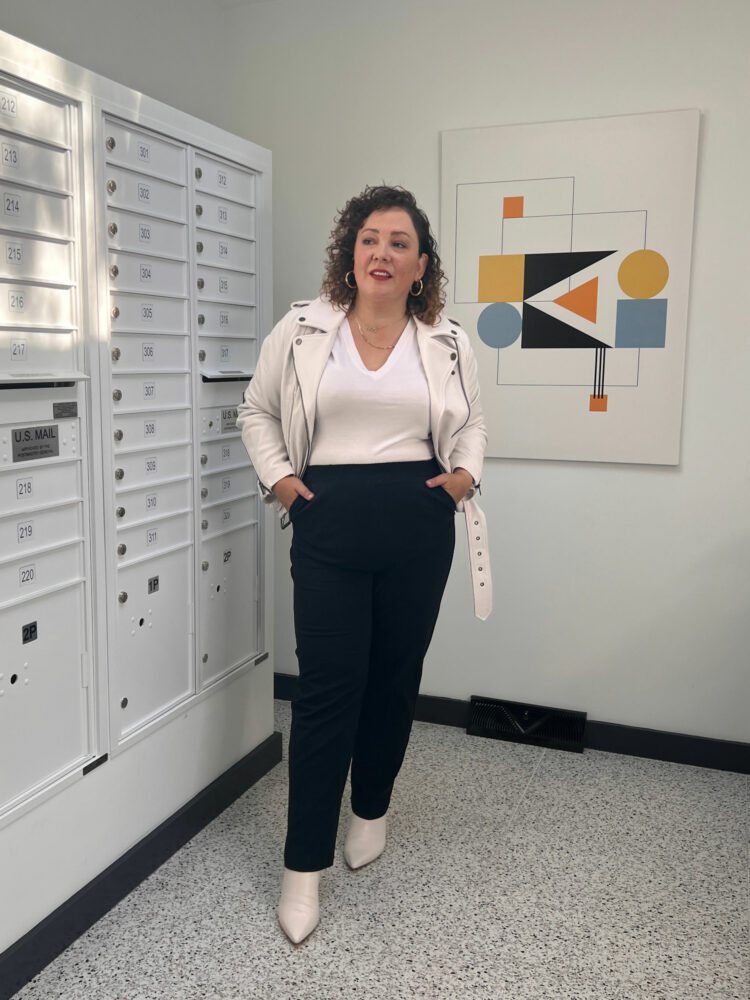 Stylish Wide Width Boots
An ankle to shin height boot is a must in any wardrobe, working with jeans and pants of almost every silhouette and length. They also work with dresses; choose a statement color or low-contrast option for bare legs or match your boots to your hoisery.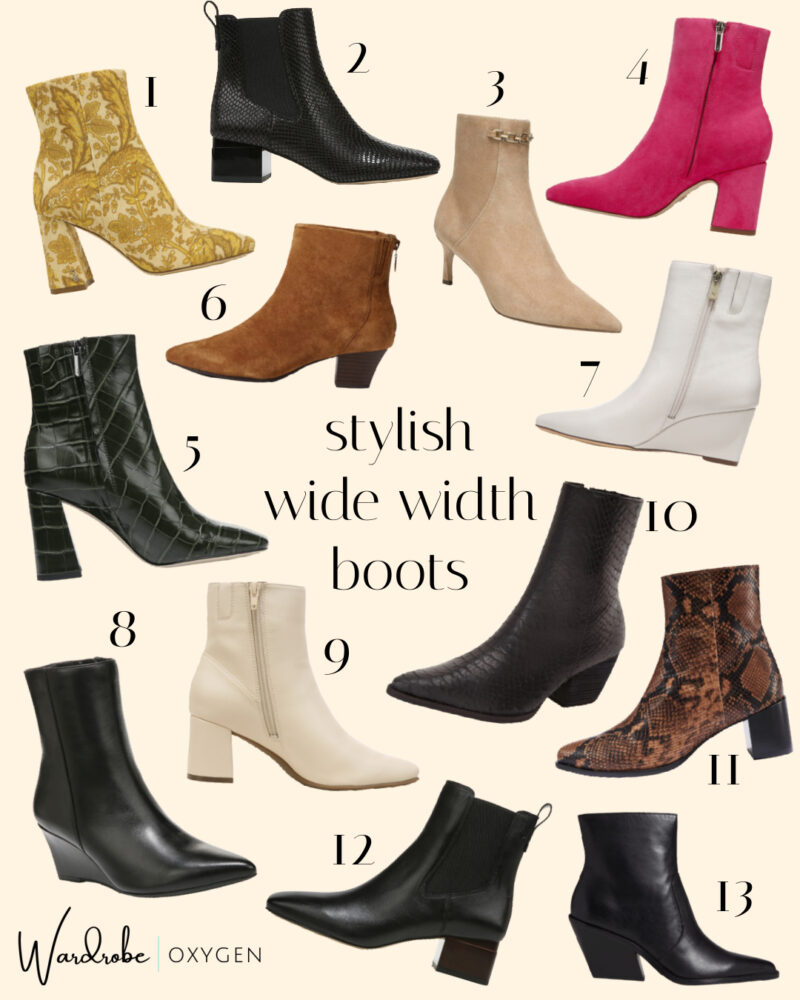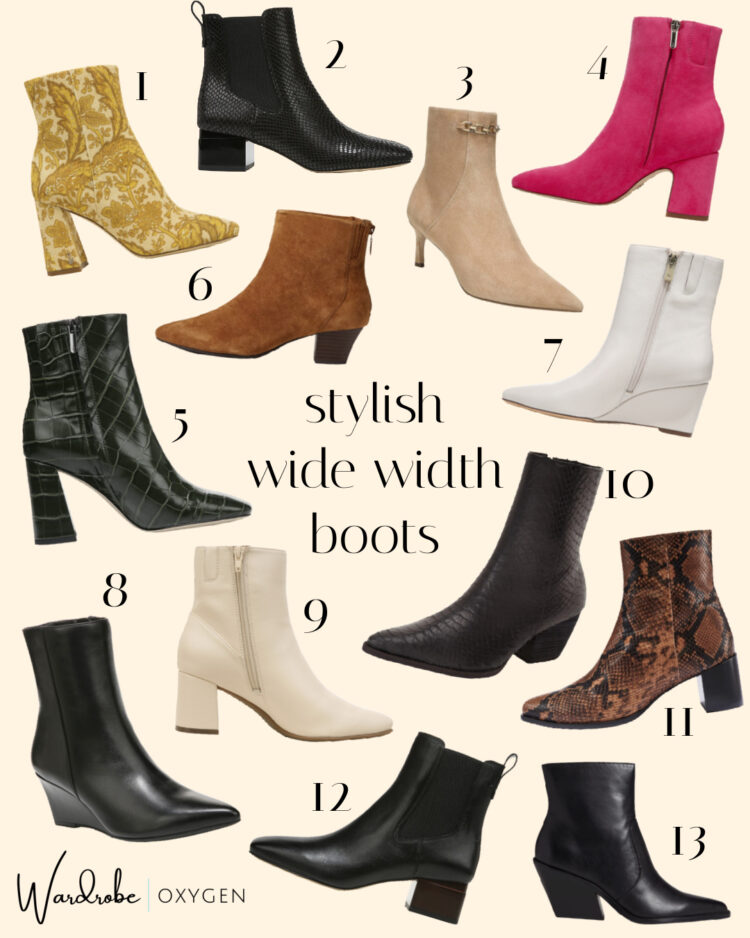 one | two | three | four | five | six | seven | eight | nine | ten | eleven | twelve | thirteen
While black has been the default color for boots in past seasons, this fall I encourage you to try something different. A light-colored boot (white, pale gray, cream, camel) is very on trend and an easy way to update your existing closet. I own these in black and white and find them comfortable, well made, and really a cool silhouette for jeans and pants. A statement color, print, or textile is also a great way to infuse personality into a wardrobe of more classic pieces.

Whether you like your boots flat or heeled, you're likely to find the perfect height for you this fall. Heels are creatively shaped, solid and sturdy, and wedges have returned. For sleeker styles, seek out almond or square toes; chunky and platform soled boots have more variety when it comes to the toebox.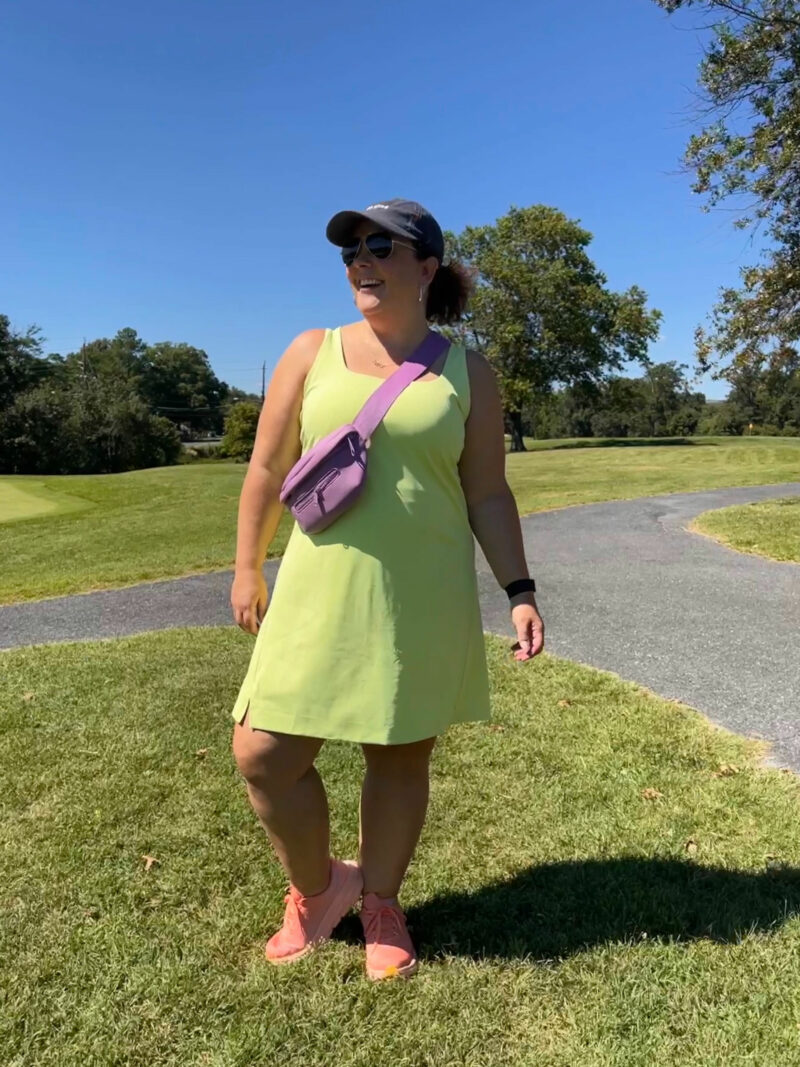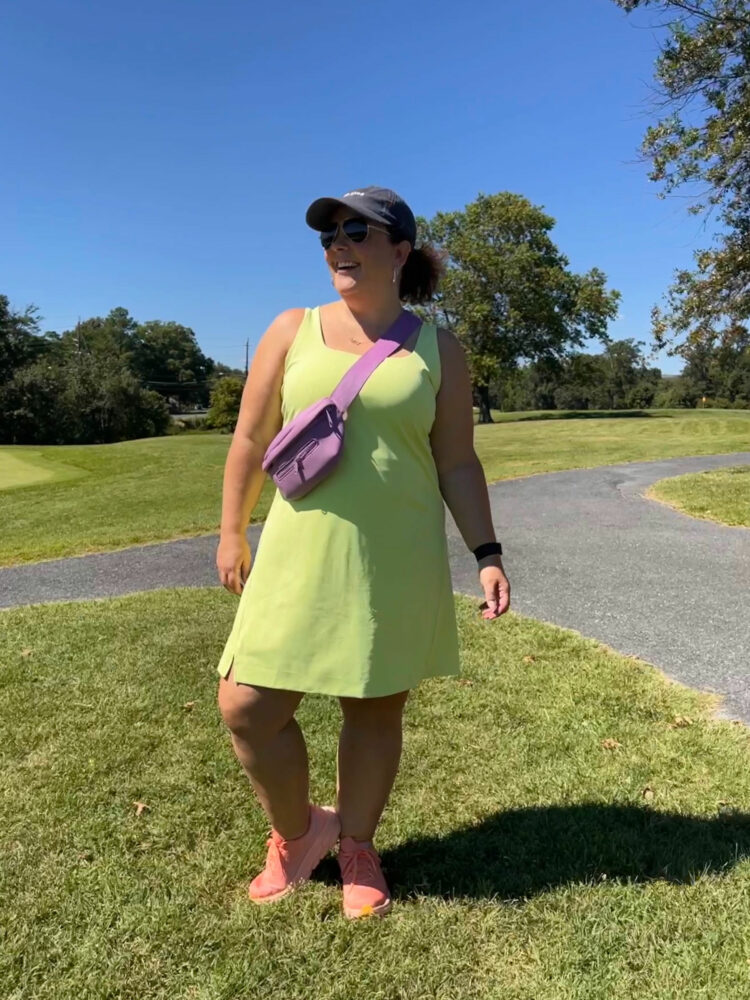 Stylish Wide Width Tall Boots
The knee-high boot is still on trend this fall, and a practical trend at that. This collection is for wide widths in the foot area, not necessarily a wide calf. I will approach that topic in a future article.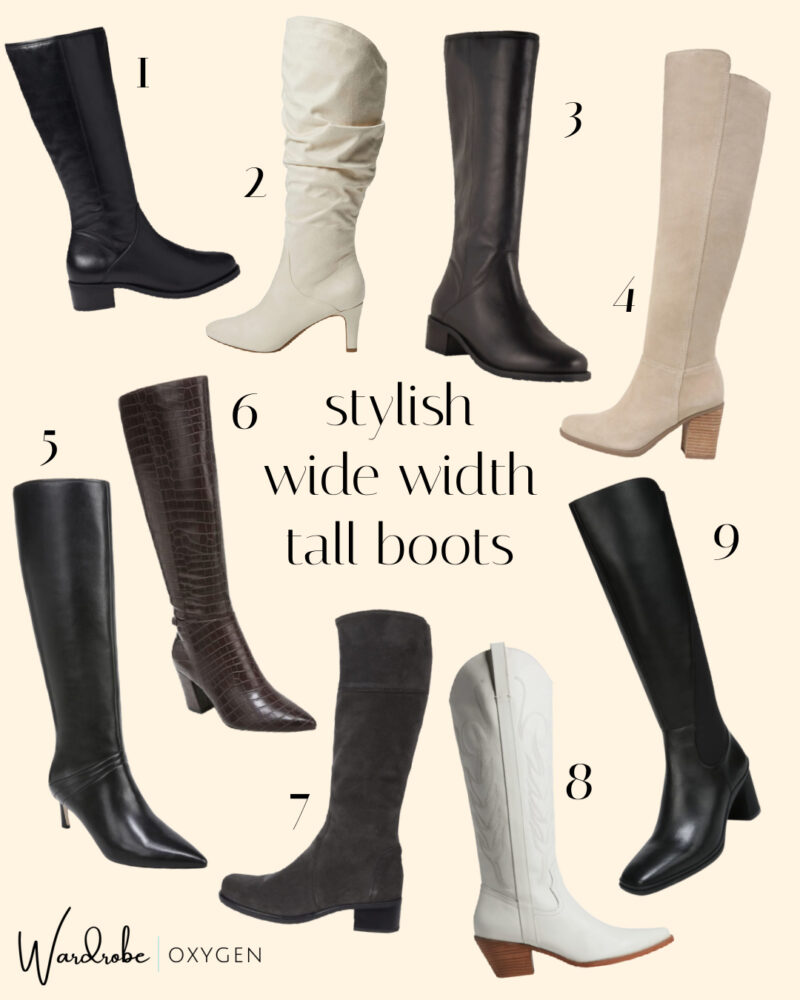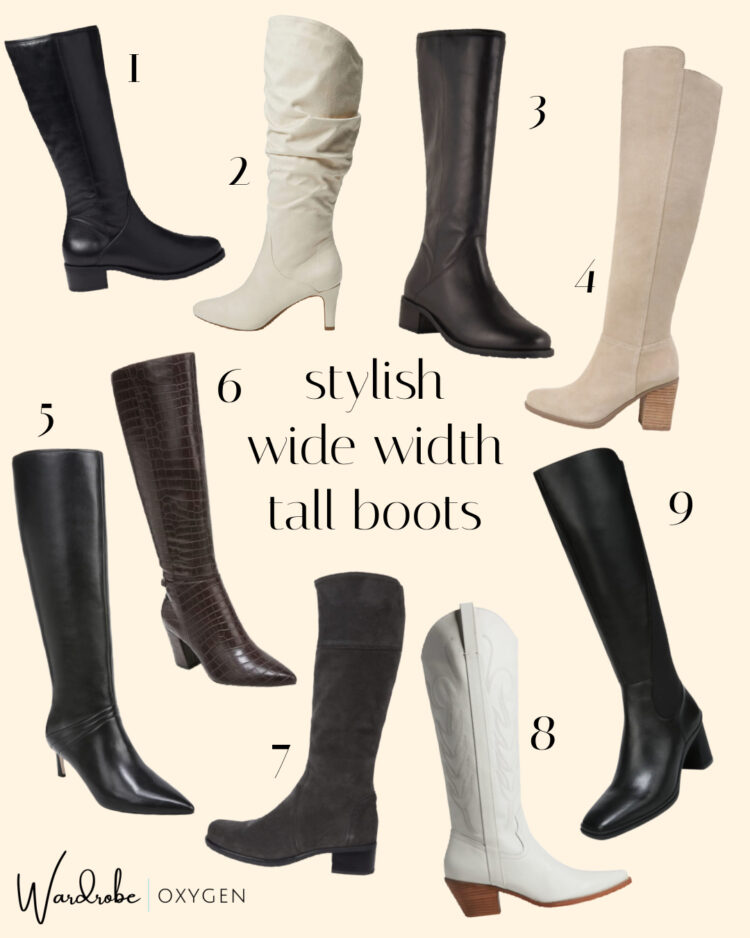 one | two | three | four | five | six | seven | eight | nine
The over-the-knee boot may be on its way out, but classic knee-high boots in sleek styles with almond or square toes are still very much in. From a flat to a heel, the knee high boot is low on hardware and embellishment to let your outfit steal the show. While riding boots are classic, the cowboy boot has returned and it's available in classic black and brown as well as fun colors and finishes.

As a grown woman, if you cannot find quality boots in your size, don't settle for obviously faux suede, superfluous embellishment, cheap construction, and discomfort. There is no need to have tall boots in your wardrobe. If you desire them for warmth and protection, then you still will want better quality to survive the weather.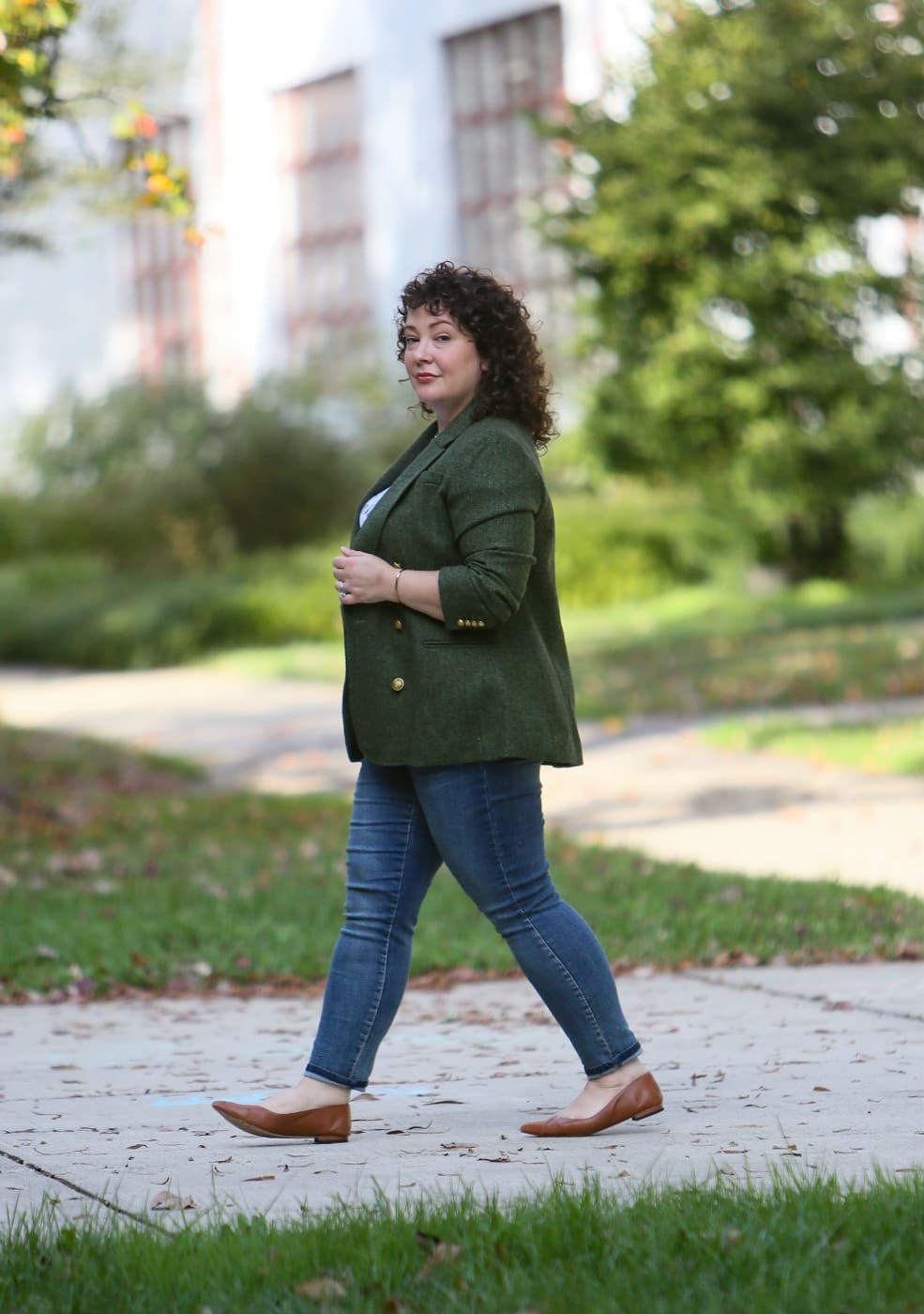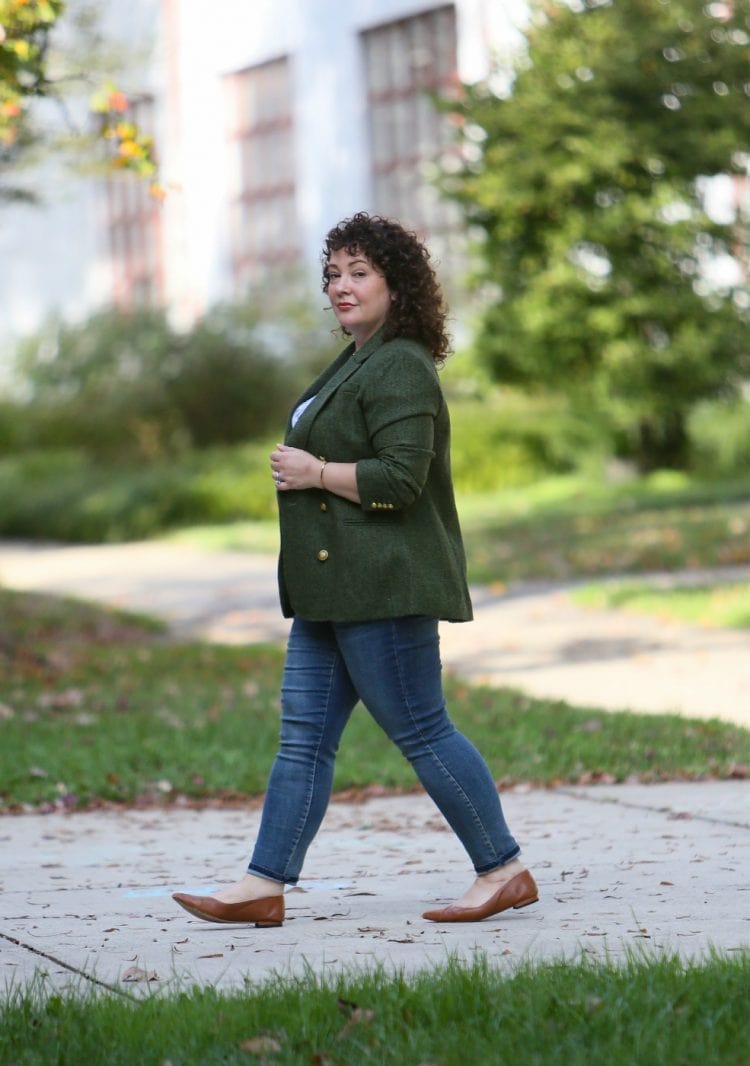 Stylish Wide Width Work Shoes for Women
Classic styles are best for work fashion, finding versatility and comfort in flats, pumps, and sleek ankle boots.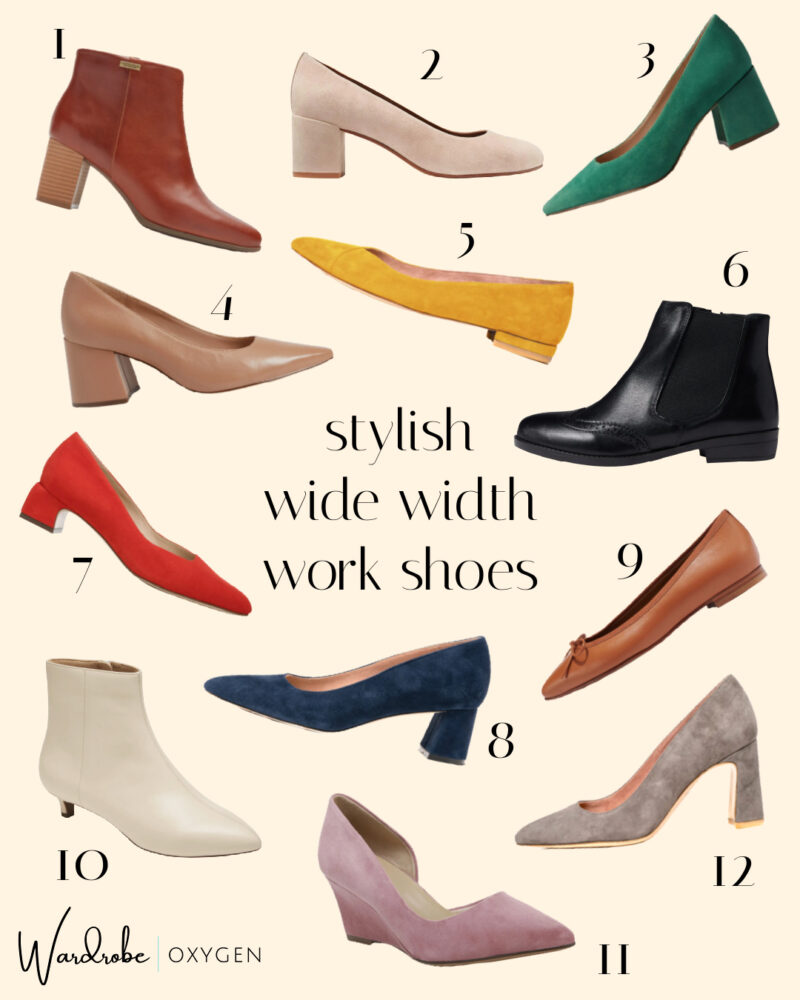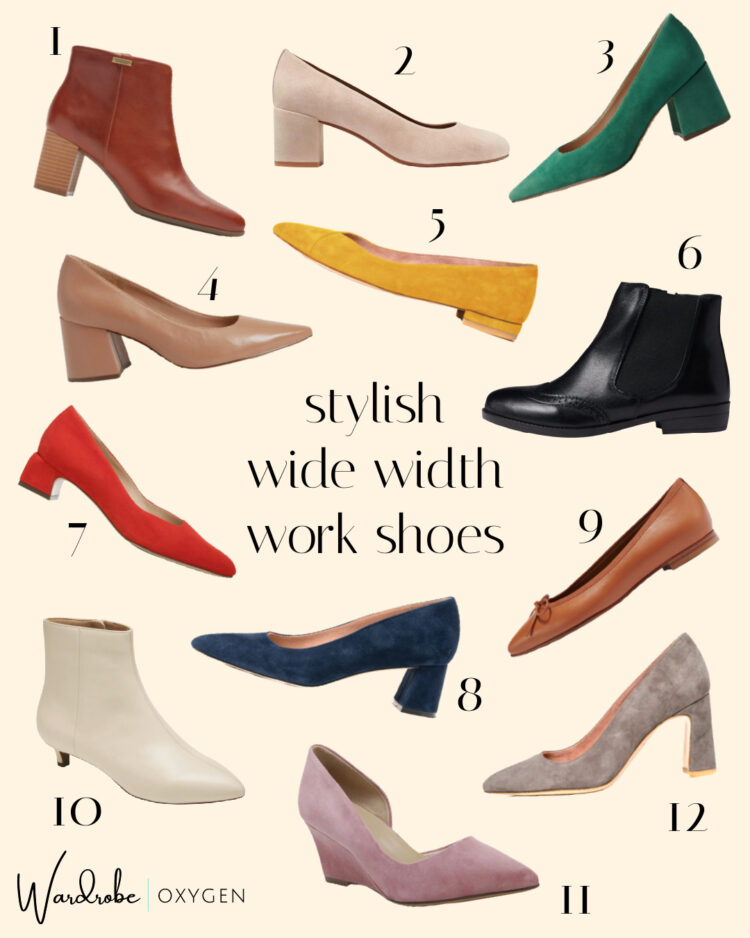 one | two | three | four | five | six | seven | eight | nine | ten | eleven | twelve
This fall you will find a lot of suede shoes, from loafers to pumps. Skintones and neutrals like black, gray, and navy will be available but you will also find a lot of colors that can complement your corporate wardrobe or add a bit of fun and style to suits and work separates.

An almond, pointed, or square toe will look the most modern and also work well with full-length trousers as well as skirts and ankle pants.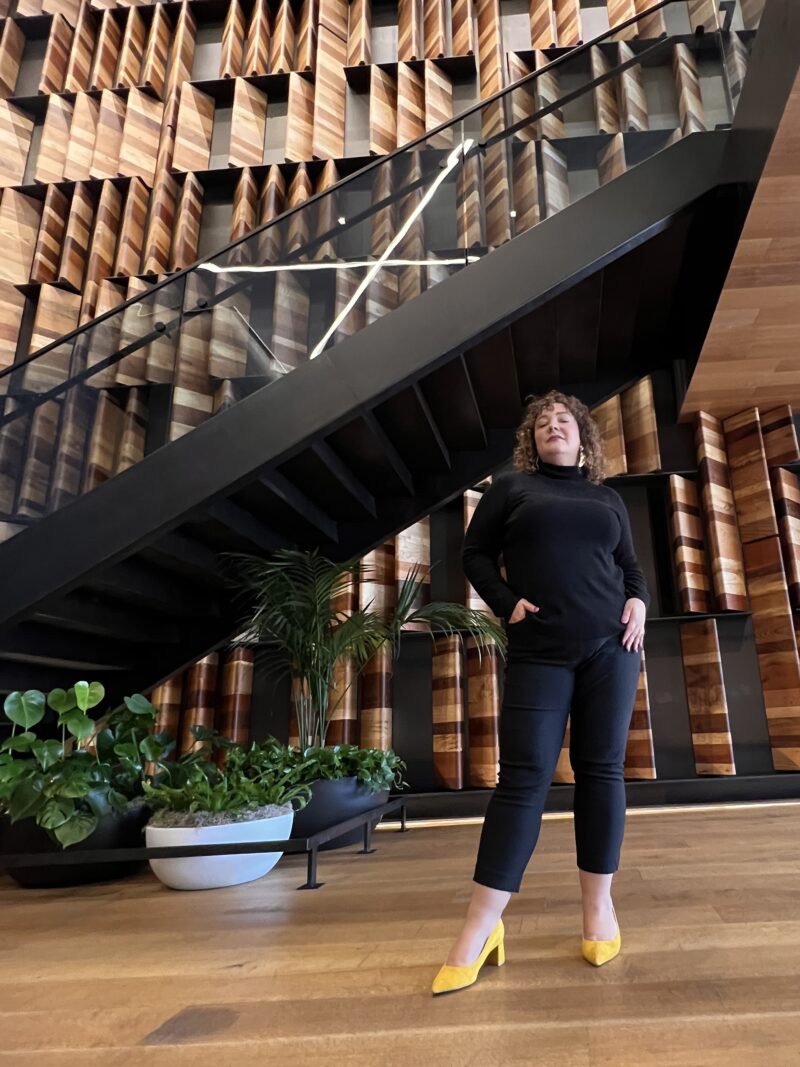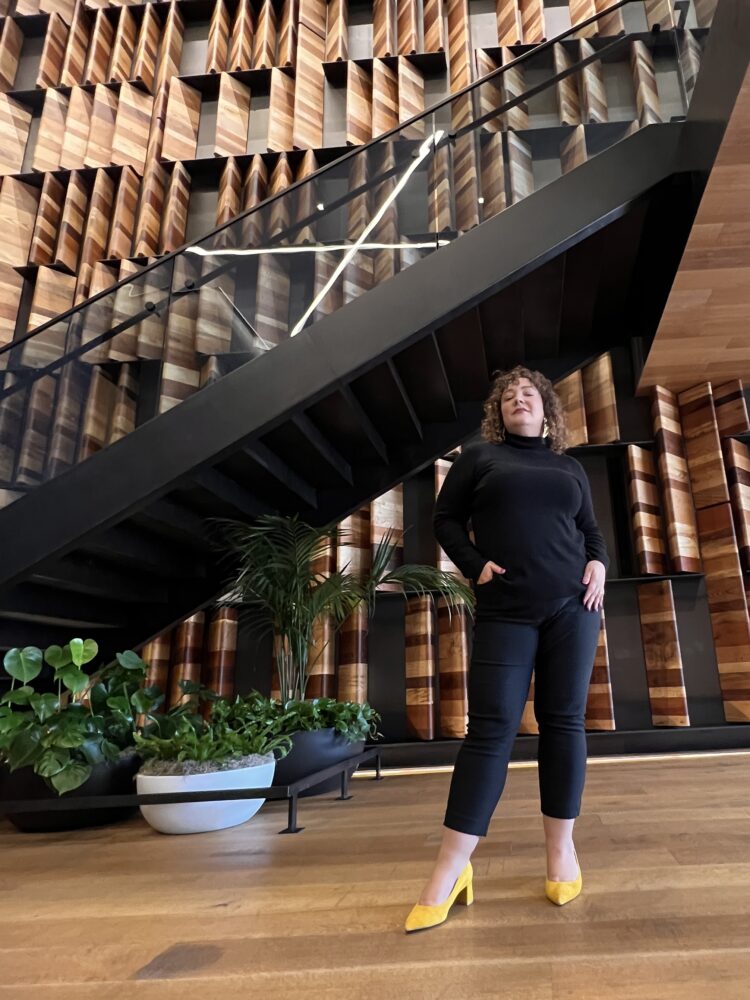 Ally NYC Shoes Promo Code
I linked to three styles of shoes from Ally NYC above; I have Ally NYC promo codes for you to use if you choose to make a purchase! Use WO2FLATS to get 10% off a pair of their Forever Flats (the yellow flats I shared above) and WO2PUMPS to get $40 off a pair of their pumps (the gray and navy styles in the collage above).
Stylish Wide Width Casual Boots
Work and weddings are fine and good, but what do you throw on with your jeans and joggers when heading out the door? You'll be happy to know a lot of practical and classic shoes are back this fall!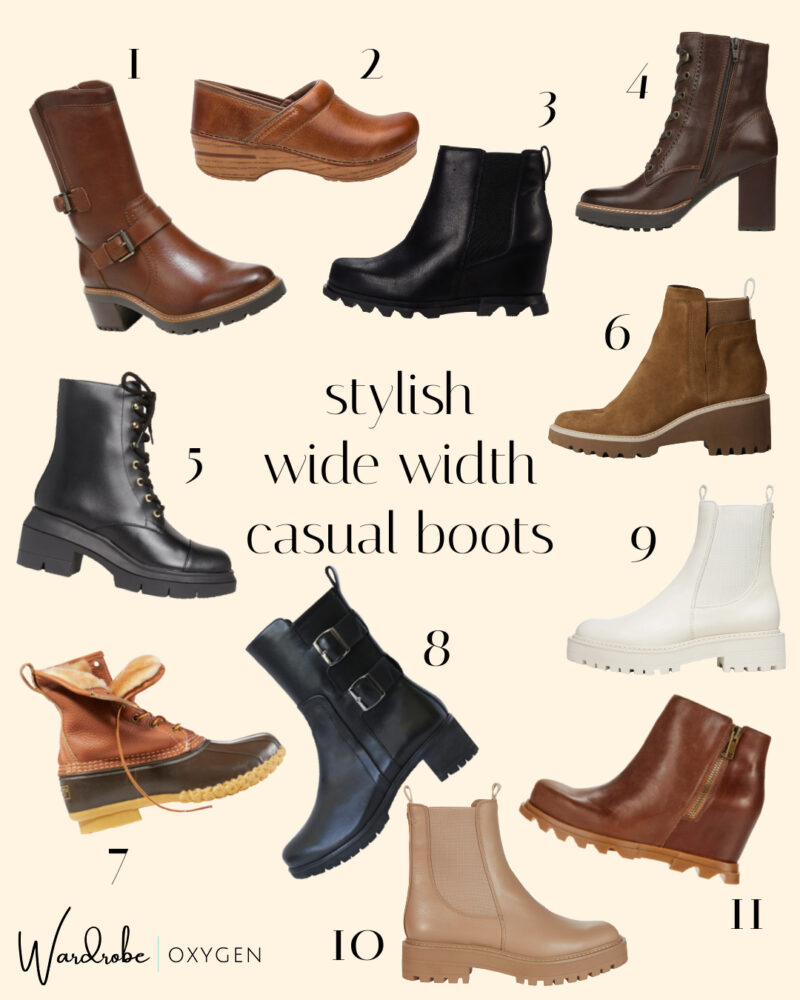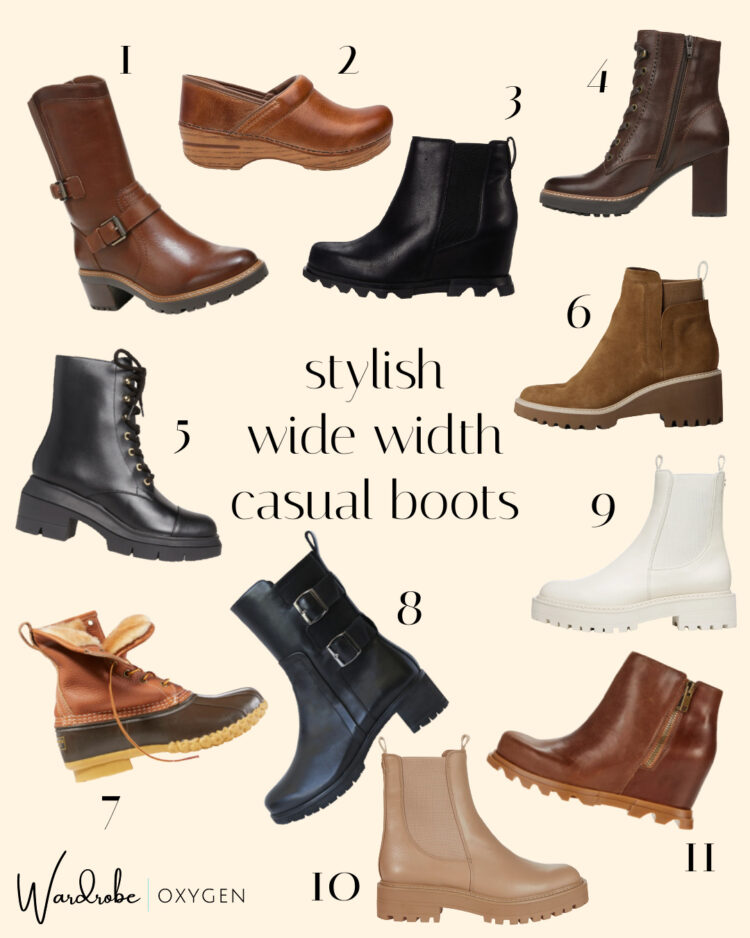 one | two | three | four | five | six | seven | eight | nine | ten | eleven
Duck boots, clogs, Chelseas, work boots… something sturdy and strong is also quite chic this fall with wide leg and flared jeans, cords, prarie dresses, and the new direction of athleisure that is a bit more REI than Lululemon looks great with boots.

You deserve a pair of comfortable boots that are practical too. Waterproof, warm, sturdy on slick surfaces, easy to get on and off. Take advantage of this trend and find some that work with your feet and your lifestyle, care for them, and you can then have them for a lifetime.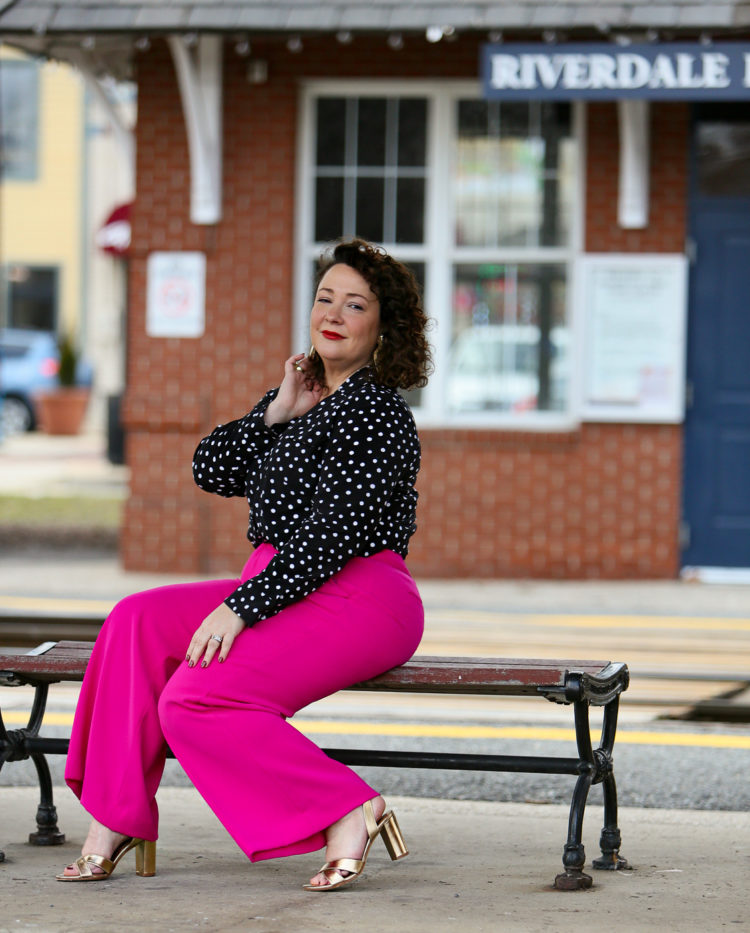 What Wide Width Shoes I Own
Over the past few years, I've become pickier with what shoes I will and won't wear. I hardly ever wear heels any longer, and I find my feet are happiest with a bit of support and structure. I'm someone who is hard on her shoes, but I also know that a chair of cheap shoes can quickly ruin an outfit, a good night out, and a good night's rest. Above I have shared photos of me wearing some of my favorite wide width shoes; I list the ones still for sale below: