This article may contain affiliate links; if you click on a shopping link and make a purchase I may receive a commission. As an Amazon Associate, I earn from qualifying purchases.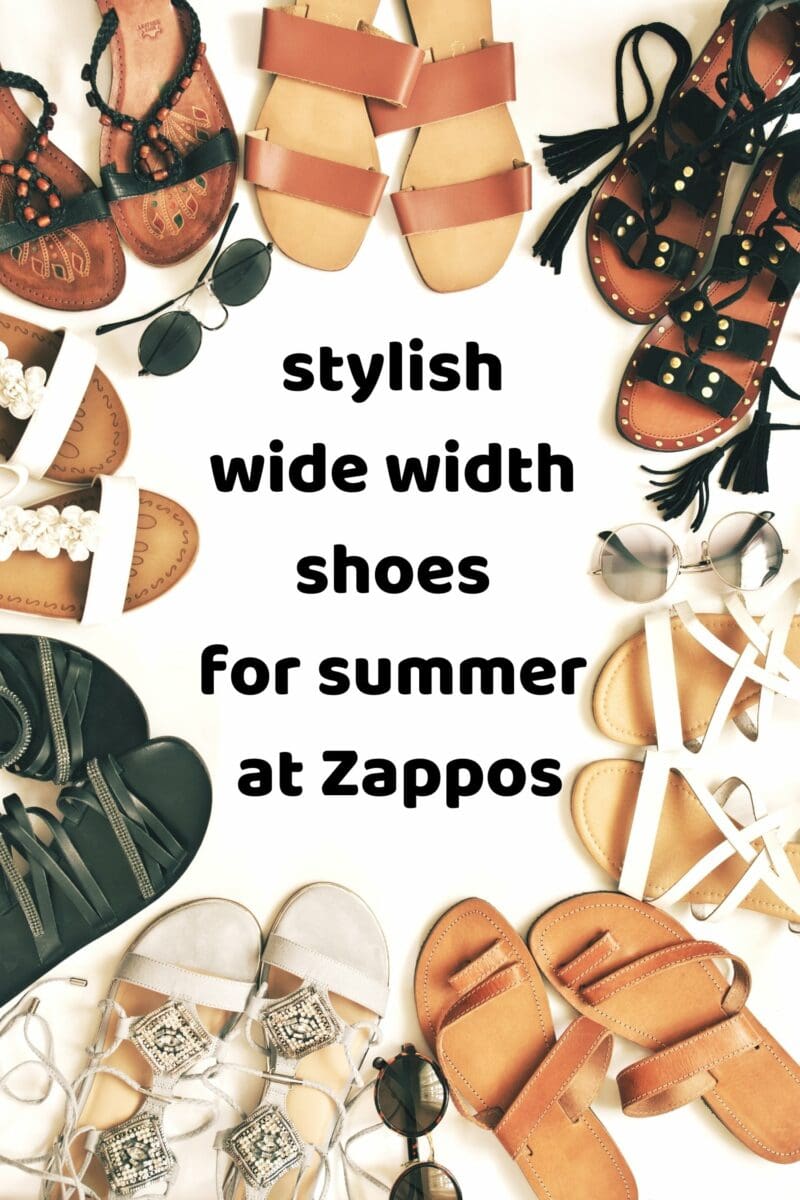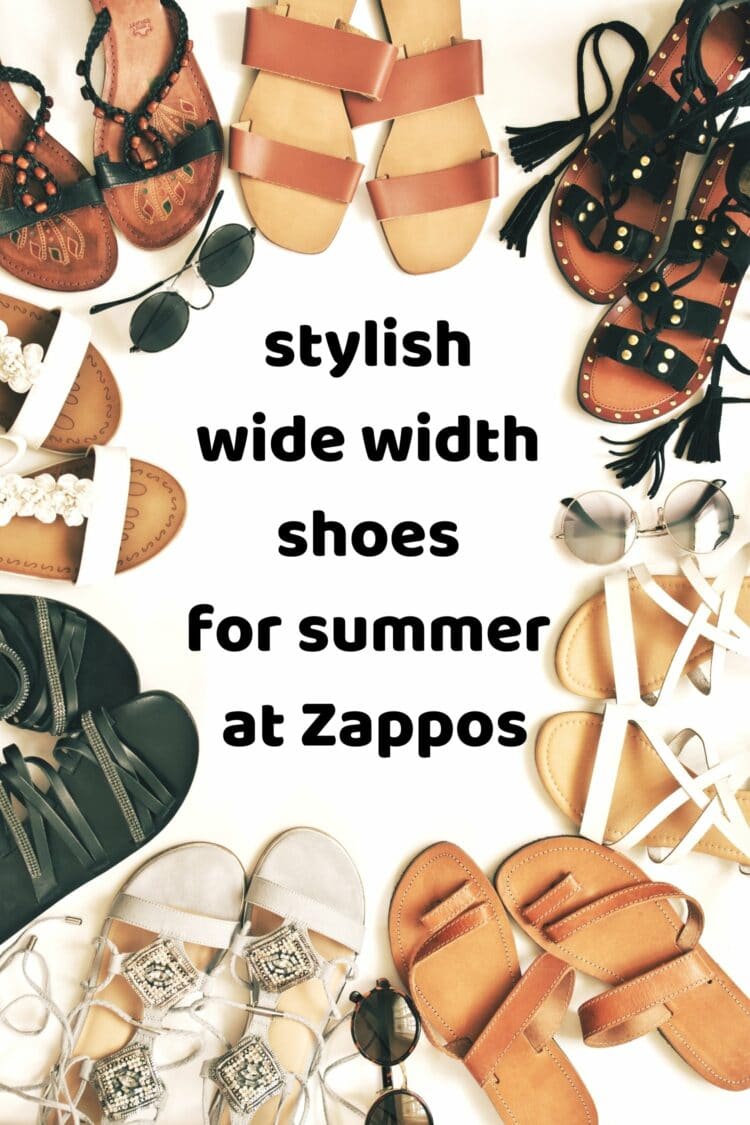 Zappos reached out and wanted me to do a post on Instagram for them. I was down, because I love Zappos and have shopped Zappos forever. Gosh, here's a post of my raving about Zappos way back in 2008! The selection at Zappos is great, especially for someone who has fussy feet and can't buy just any pair off the shelf. I decided to use my fussy feet as the topic for the Instagram post and ordered what I found to be the best wide width shoes for summer from Zappos.
I specifically ordered a variety of brands not only to showcase on the post, but also to get a feel for how these wide width shoe brands fit. For I was truly on the hunt for great wide width shoes for summer and Zappos provided a gift card as part of the campaign.
Because I had such success, I wanted to share with all of you here on Wardrobe Oxygen. This is not a sponsored post, and below I share which shoes I ordered and what I thought.
Wide Width Shoes for Summer: My Picks
Below I share not only the best wide width shoes for summer from Zappos, but the ones I ordered, my thoughts, and if I chose to keep them. I also organized the shoes by category or need.
There is a good chance that even if you didn't have wide feet before, you may feel your feet are wider after a year of going barefoot or wearing less restrictive shoes. You too may also find yourself more comfortable in wide width shoes. I hope these suggestions inspire you!
I am attending a dressy or formal event this summer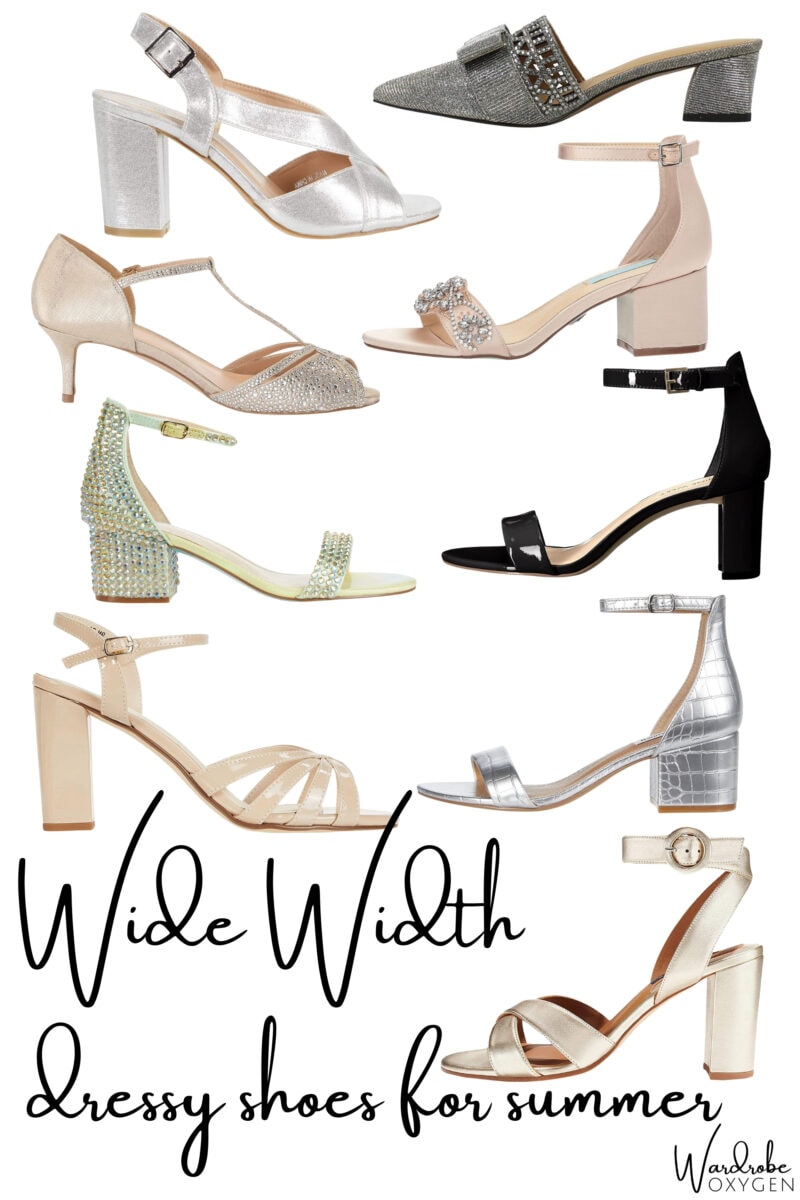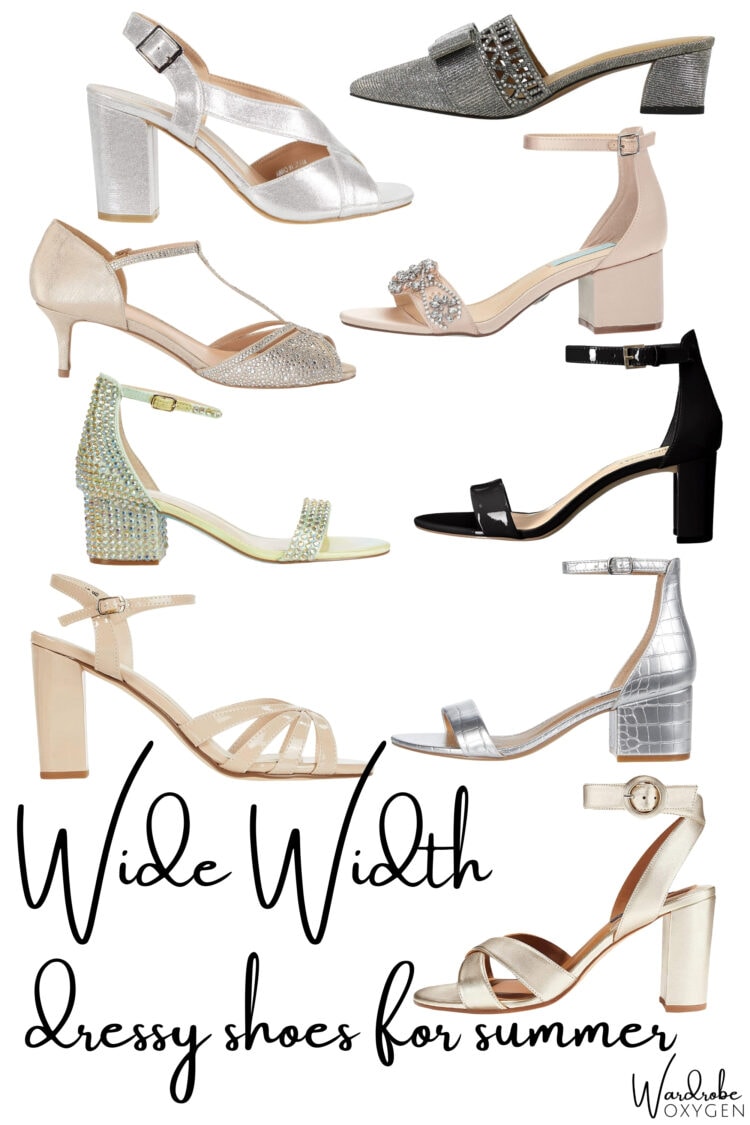 If you are looking for a versatile formal shoe, I recommend a shiny fabric close to your skintone or a soft metallic. While black seems like a given, a shoe that is lower contrast actually reads more formal, and feels more at home during the summer months.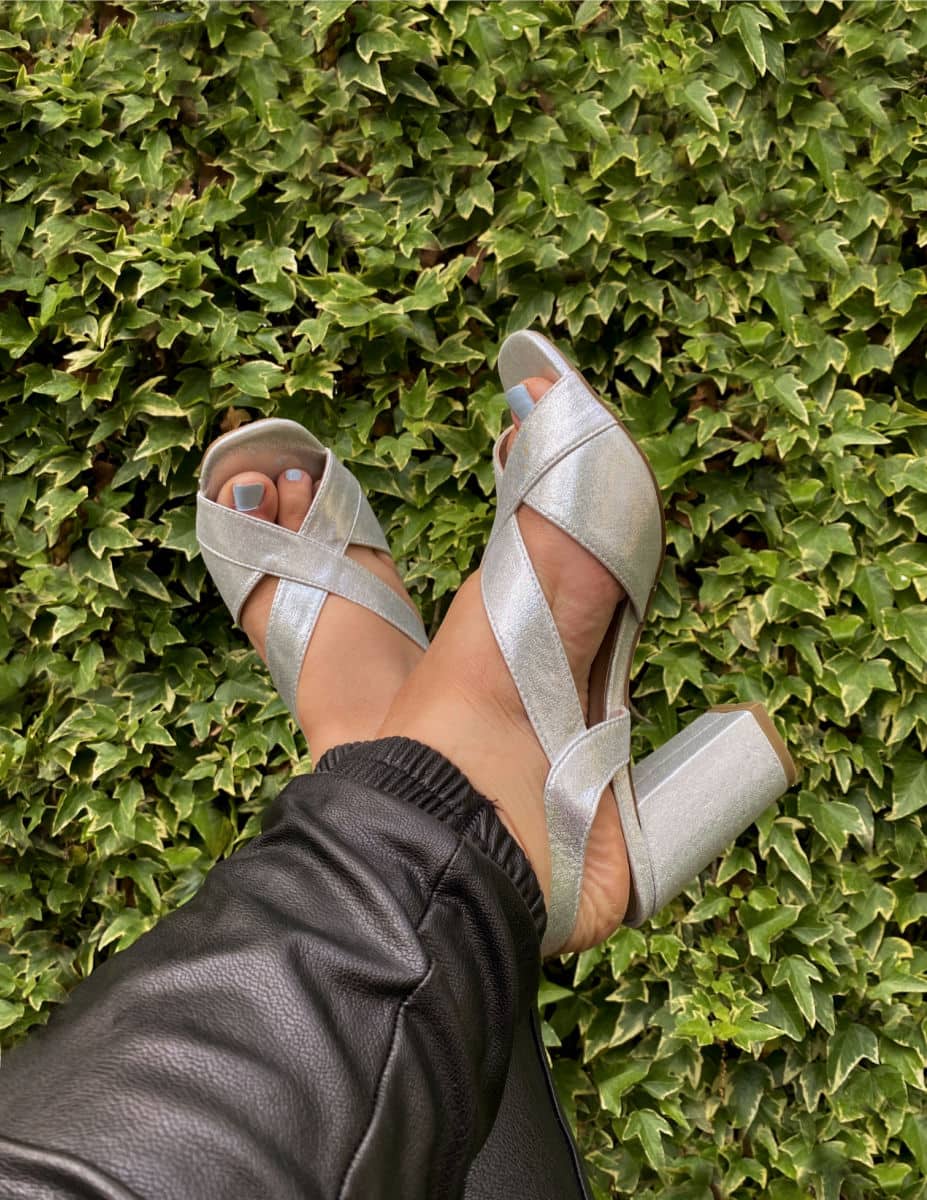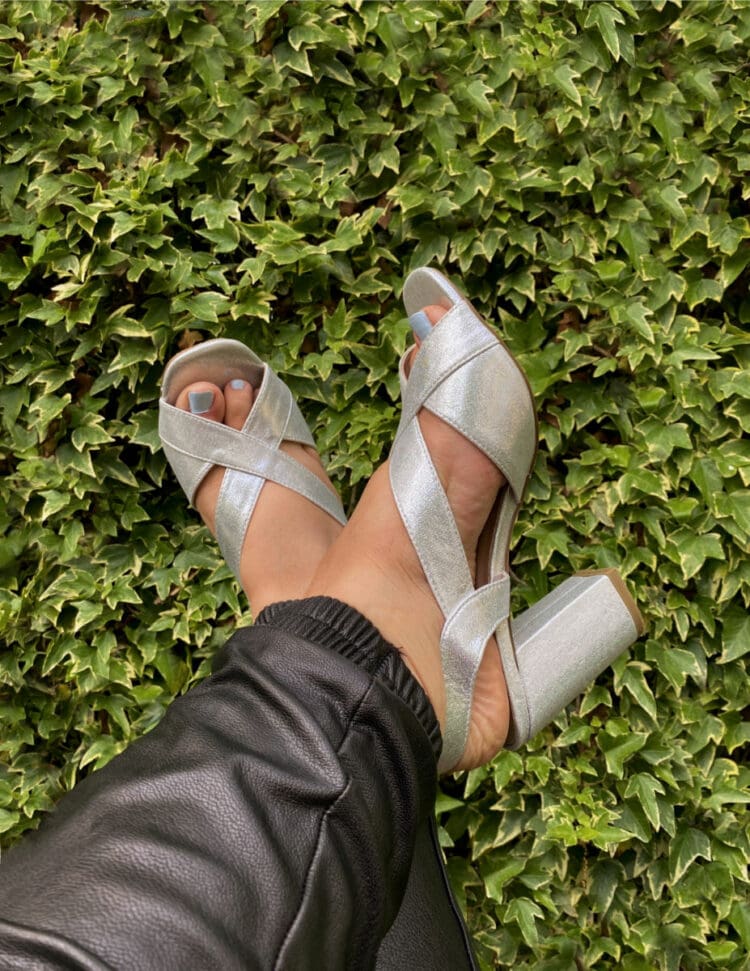 With the gift card that Zappos sent, I decided to try these shoes from Paradox London. Paradox is known for dyables and super generic-looking dress shoes that IMO look a bit cheap, but I had never tried them. I thought these would be cute with dressy jumpsuits and maxi dresses.
I was impressed by how roomy they are, and while there isn't any cushioning or support, they're comfier than a lot of wide width dress shoes I've bought from plus size retailers at the same low pricepoint.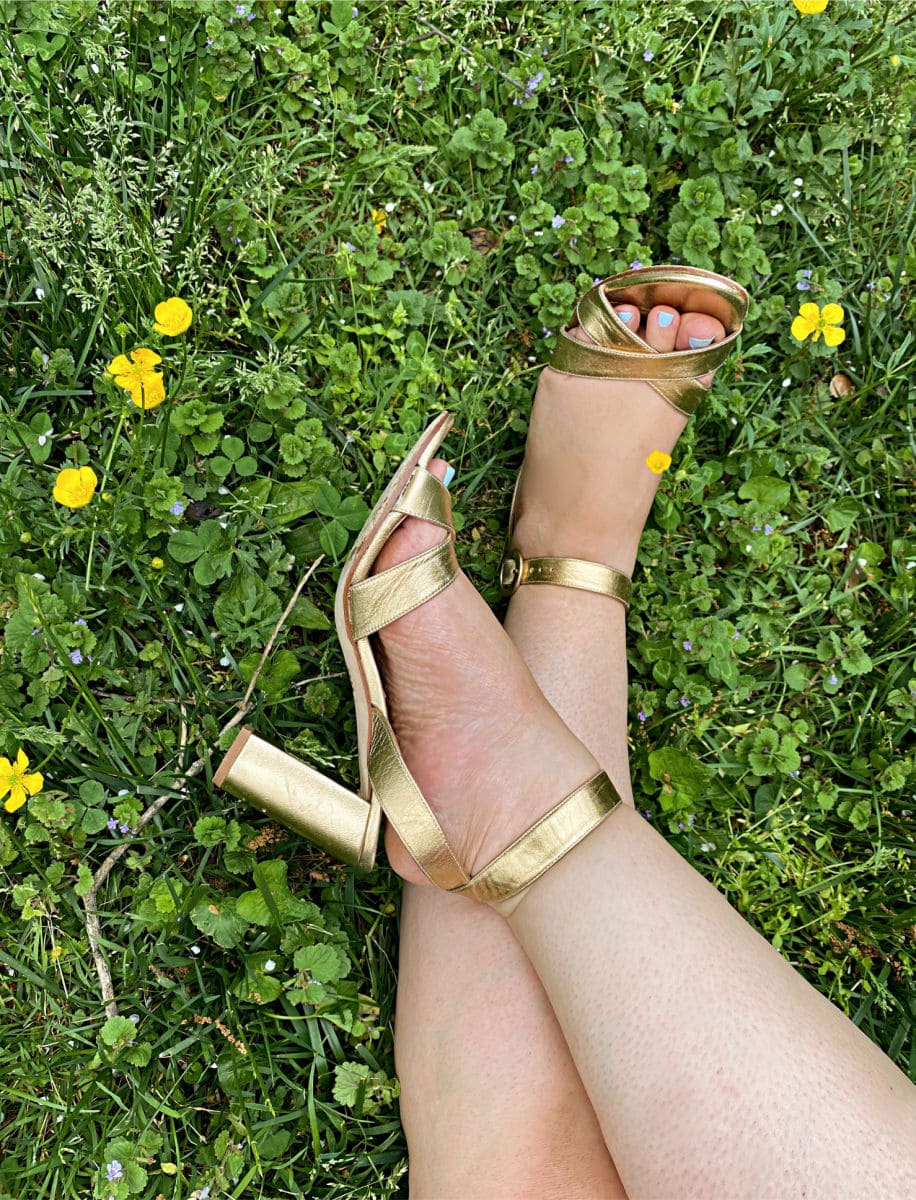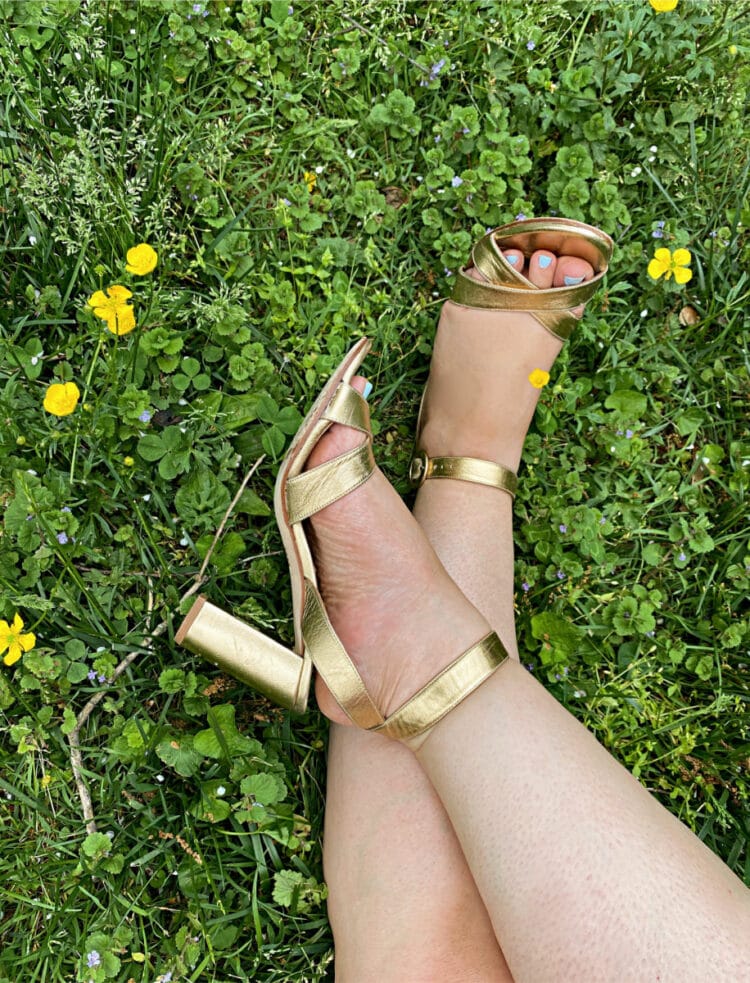 Okay, I didn't get these shoes from Zappos, but Zappos carries these and other Margaux shoes. You can read my original Margaux shoes review here, but for those who are comfortable with Zappos, have a Zappos gift card, etc. know that you can get a couple of the styles of Margaux shoes there and they have the multiple widths!
I just want a pair of shoes to go with all my sundresses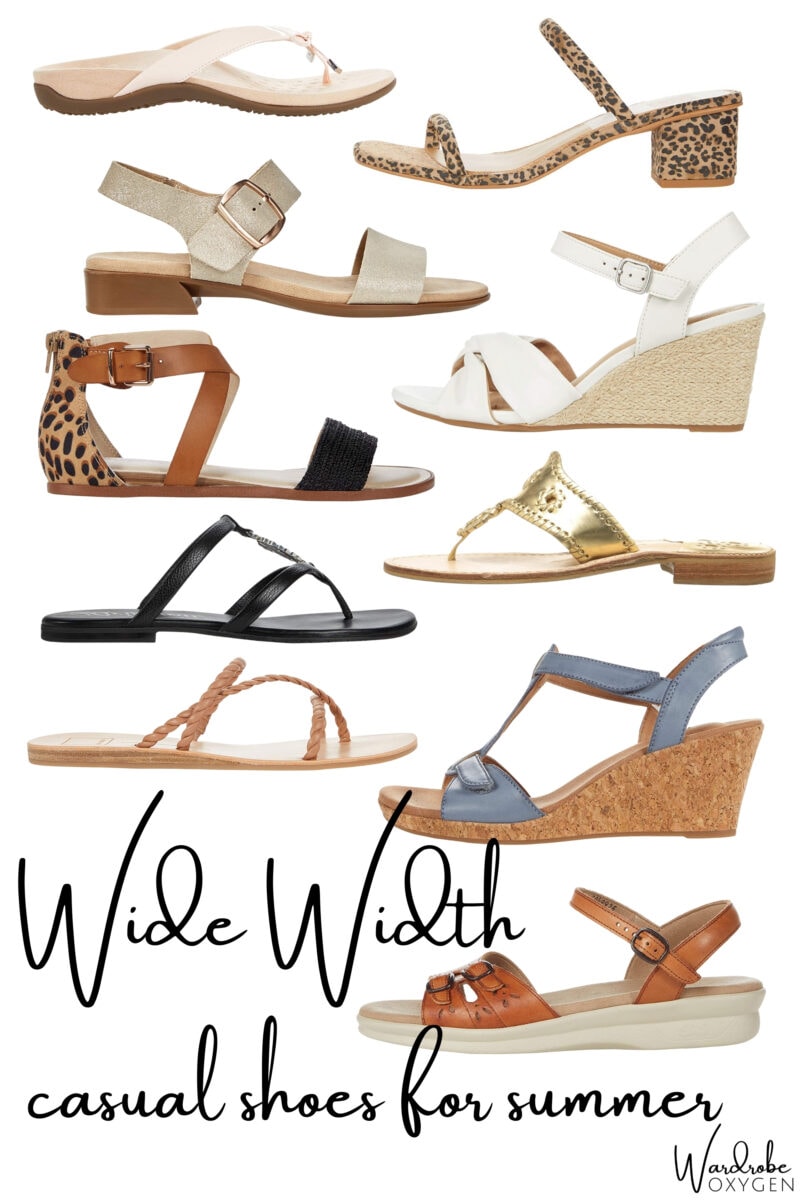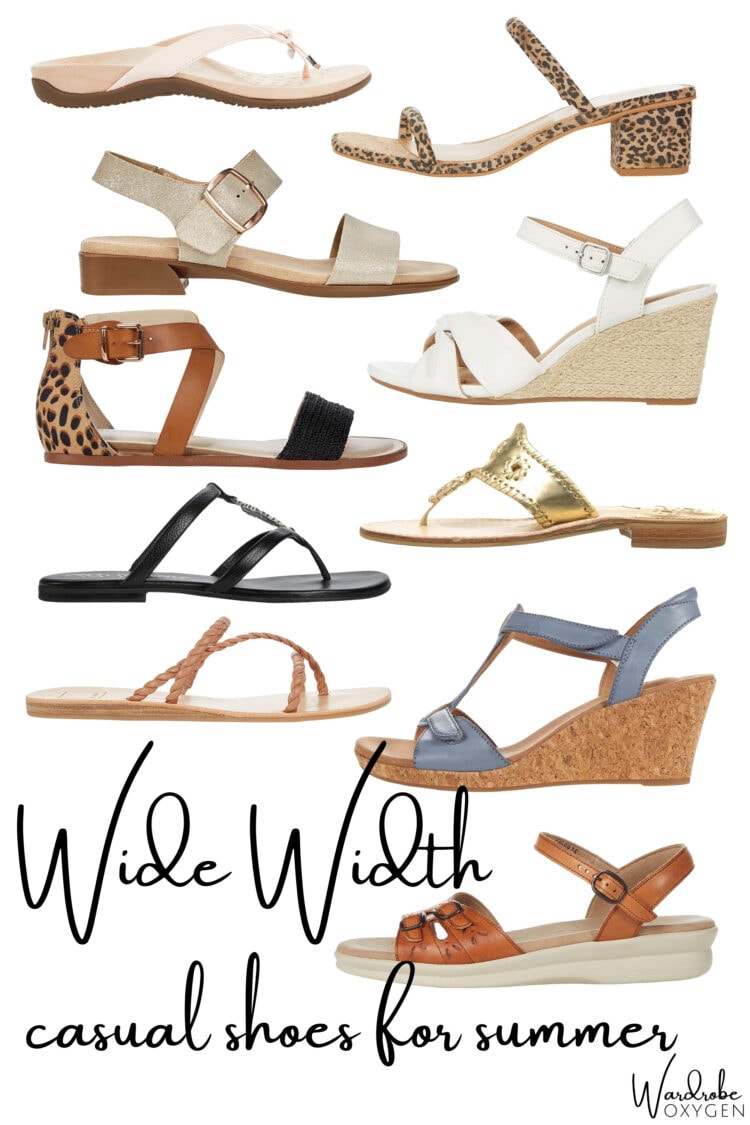 For summer, a pair of low-contrast shoes with a walkable sole and heel height is going to be your best bet. For linen pants, chino shorts, relaxed denim, and all your sundresses and summer skirts, a pair of sandals will easily work with your seasonal wardrobe.
As with other styles of shoes, I recommend a low-contrast option so your outfit can take center stage. Don't be afraid of a pop of color; straps in a cheery color can actually be a neutral this summer and go with most any color in your closet.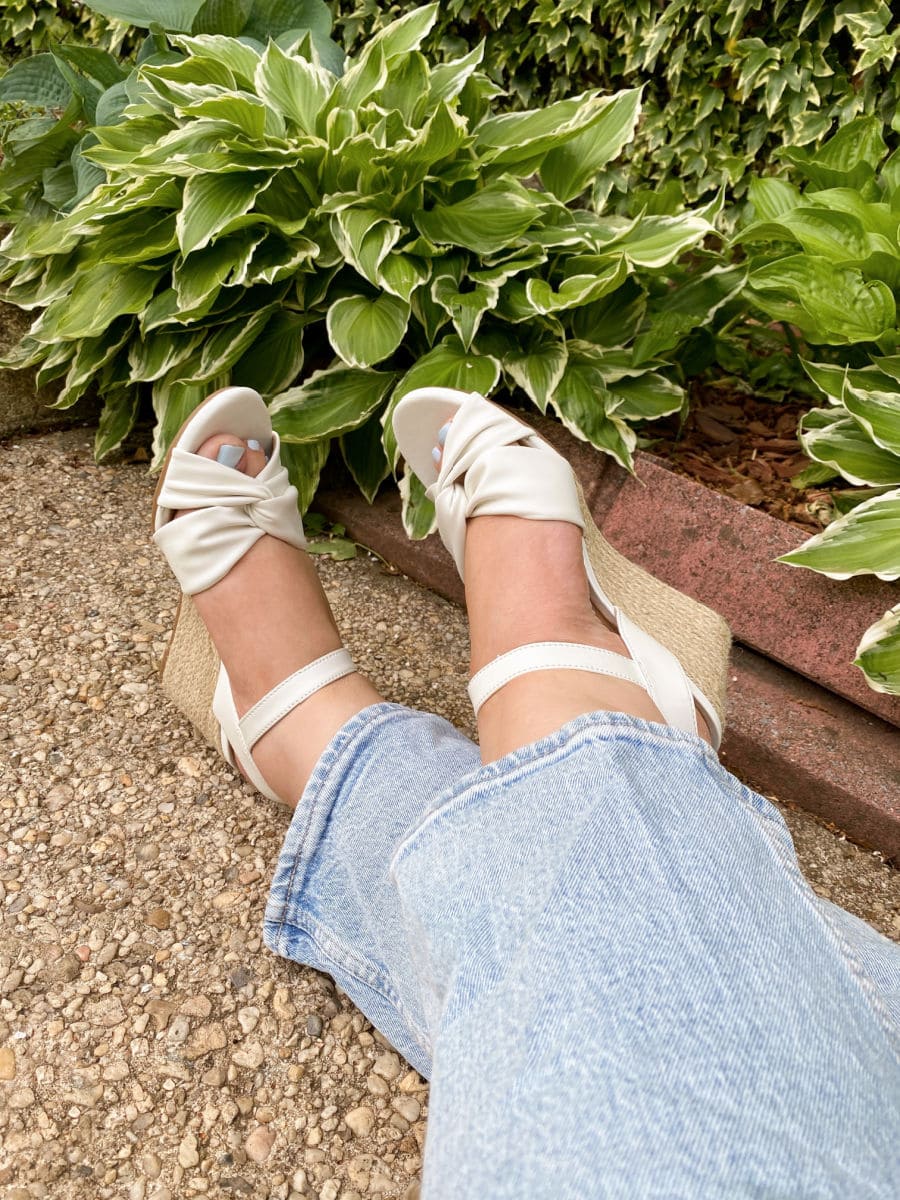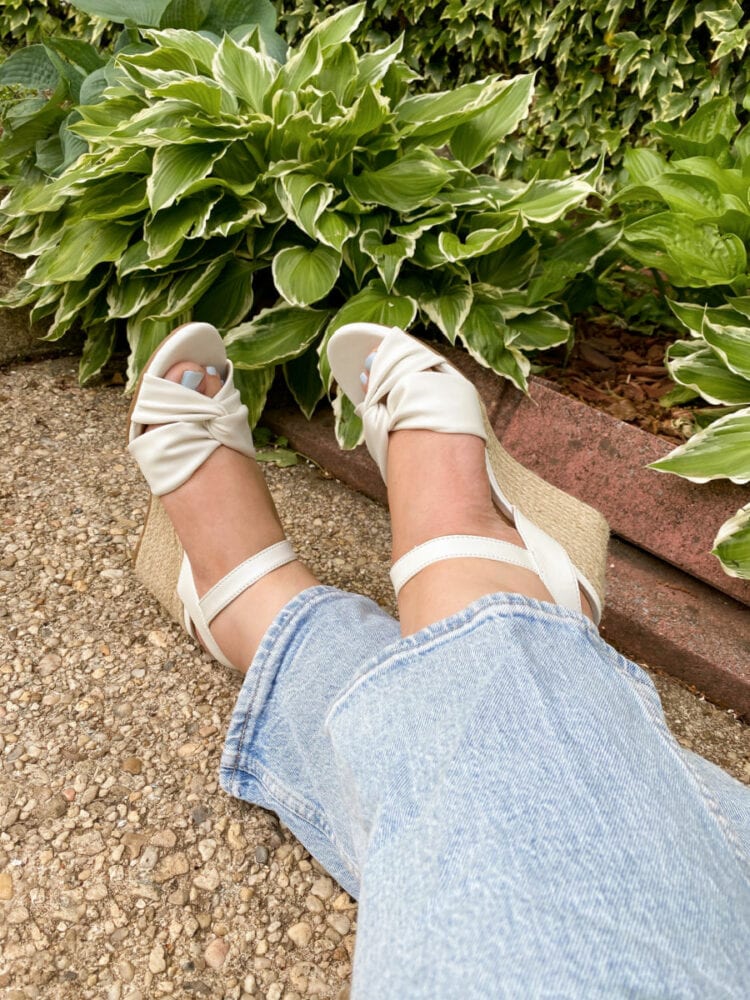 Wanting a bit of lift to go with my more ladylike sundresses this summer, I chose the 'Margee Beth' from Clarks. Available in a soft gold (the toe straps are a subtly metallic fabric, the ankle strap the leather-like fabric in soft gold) and black (all the leather-like fabric in the same manner as the white ones).
These are a classic style of wedge that is perennially chic while also being a great option for garden weddings and outdoor events where you don't want to sink into the soil. I found these super comfy but returned them because I don't really need them.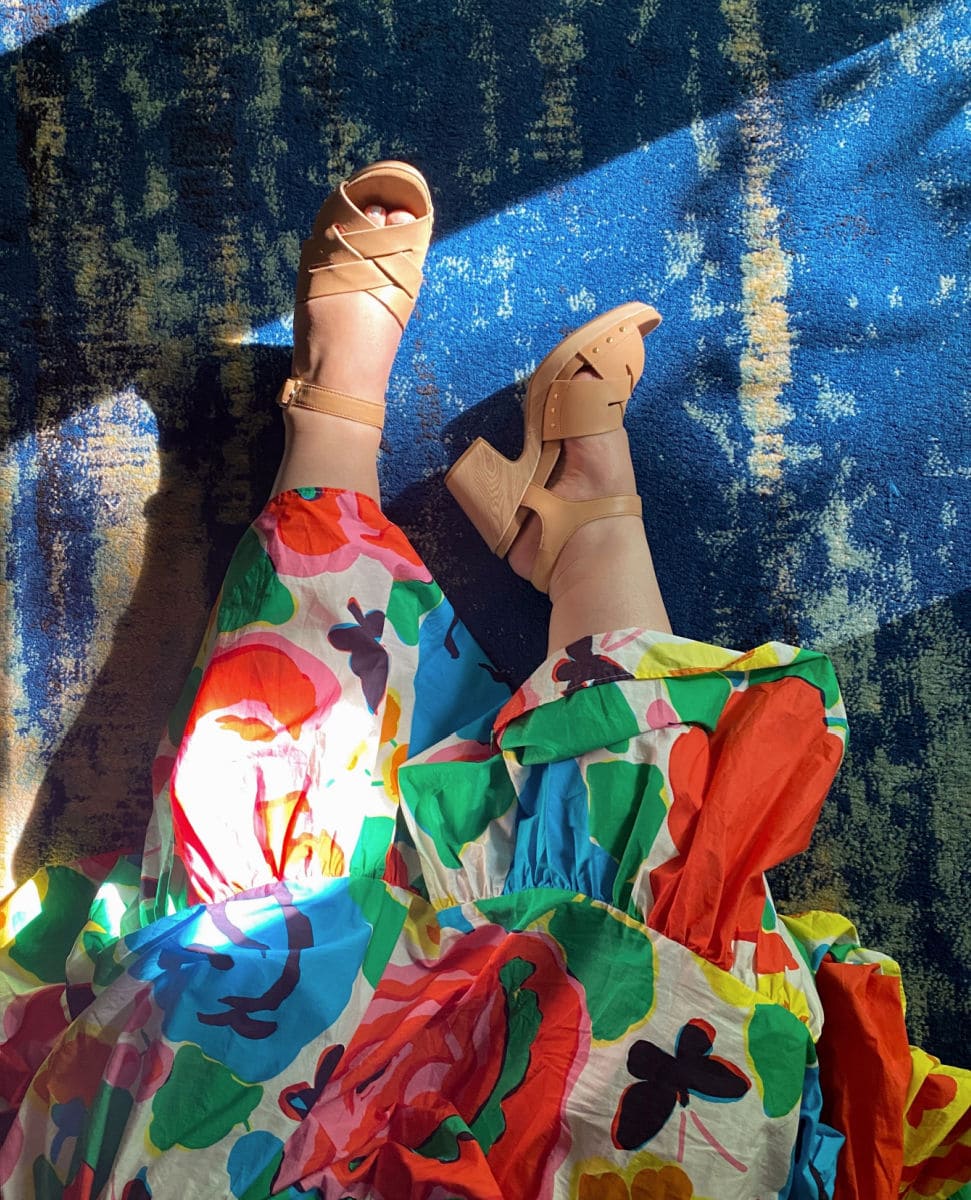 I recently got the Rockport 'Vivianne Clog' (they have them only in regular width at Zappos, but I found the wide width at Nordstrom) and it achieves my goals for having a heel for sundresses, especially maxi dresses. I mentioned that I was getting these clogs in my post about my spring and summer shoe wardrobe.
I have worn these a couple of times and find them super comfy and roomy. I find I need to go down a half size with Rockport when I choose wide; I did that with these and am glad I sized down. If you wish you could find these shoes in the same color and in widths, I have a carousel below of retailers offering the 'Vivianne Clog':

No surprise, the Rockport site has the best selection of sizes and widths. A surprise is that the Rockport store has them cheaper ($90) than a lot of other retailers! Shipping is free on orders $85+, Rockport gives you 60 days for returns and offers a pre-paid UPS label to send shoes back.
I am heading back to the office this summer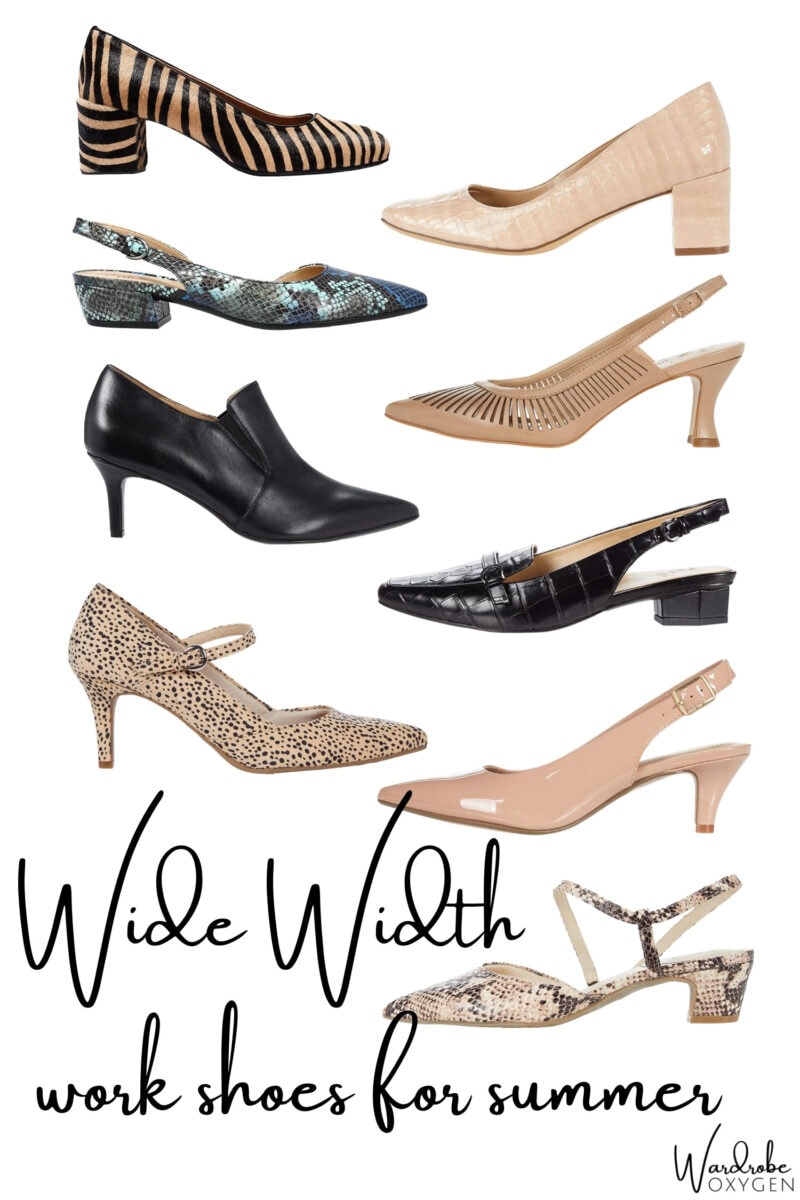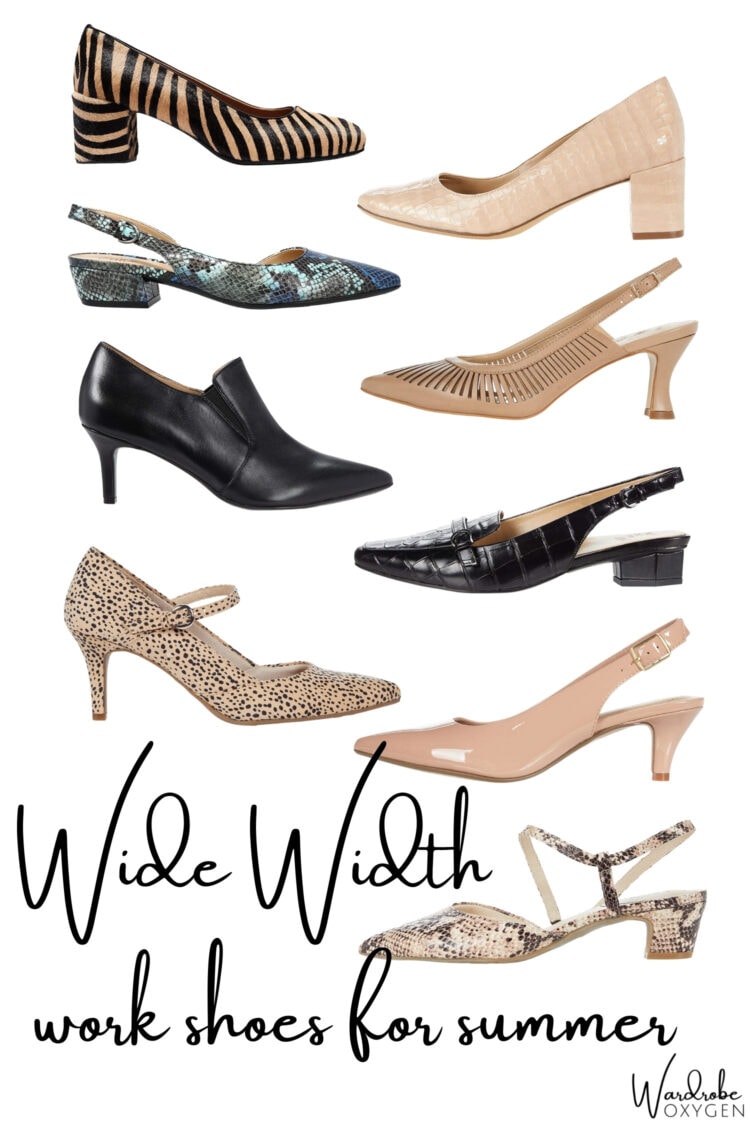 For summer, a light-colored shoe is a great choice. Even if it's covering your entire foot, it just feels lighter and more seasonally appropriate. A modern way to do it is with a subtle animal print or skin. Snakeskin, croco-embossing, and lighter-colored zebra, giraffe, leopard, and cheetah prints are a neutral that will go with most everything in your wardrobe.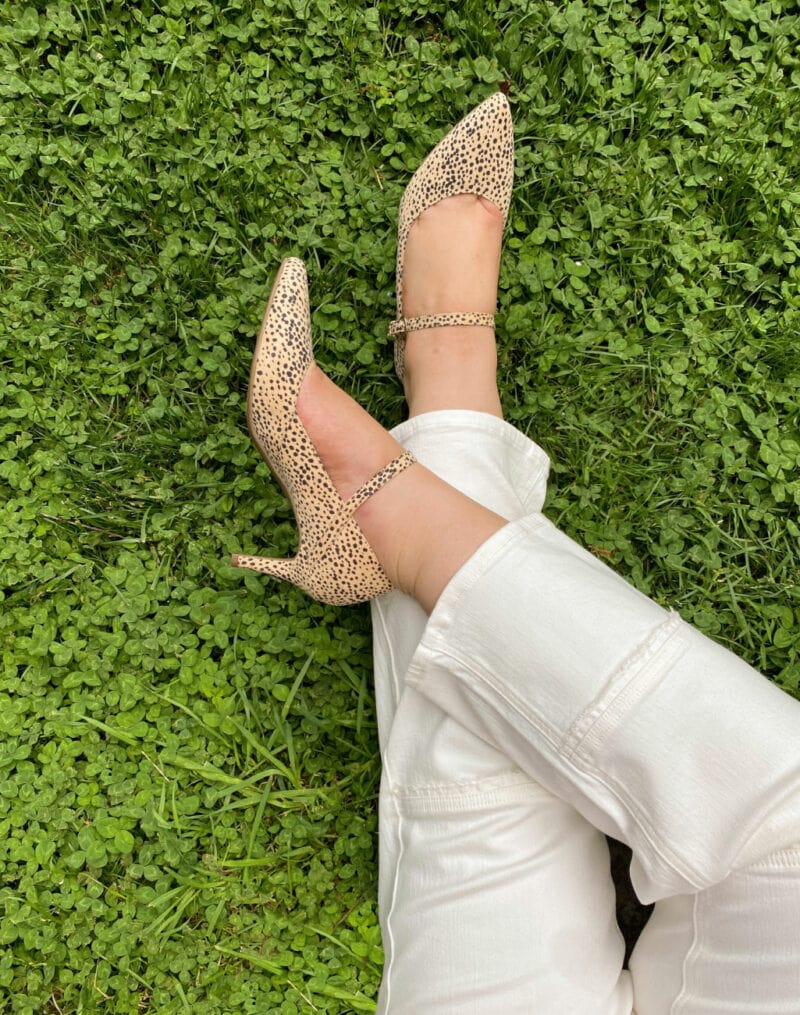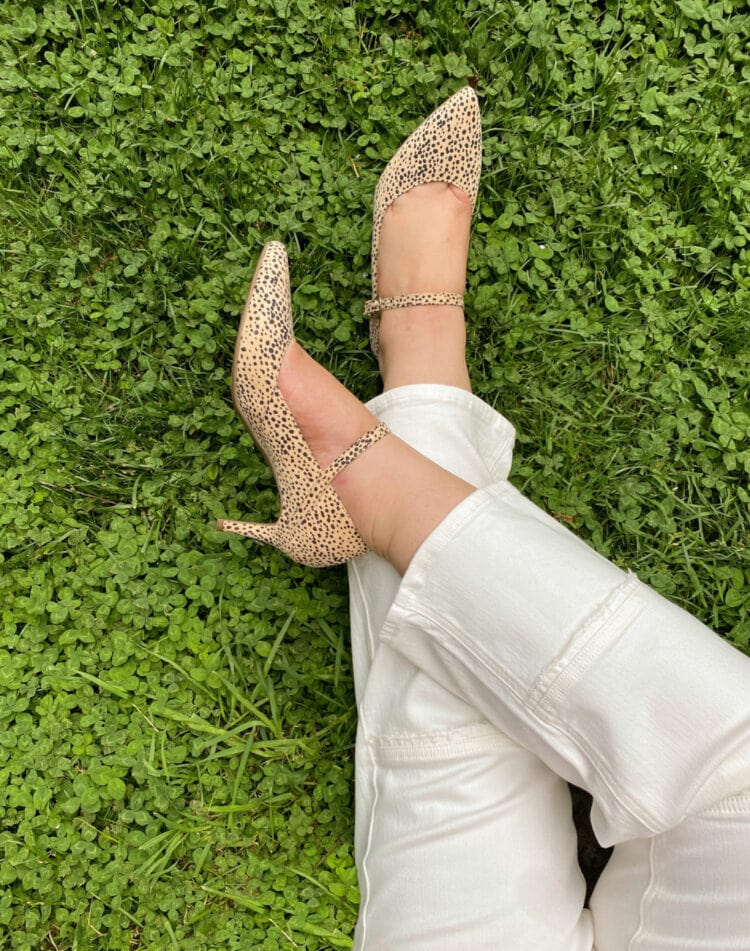 I decided to try these Mary Jane-inspired pumps from Lifestride. I found them roomy, more stylish in person than the product shots on the Zappos site, and a style that will work with skirts and trousers year-round.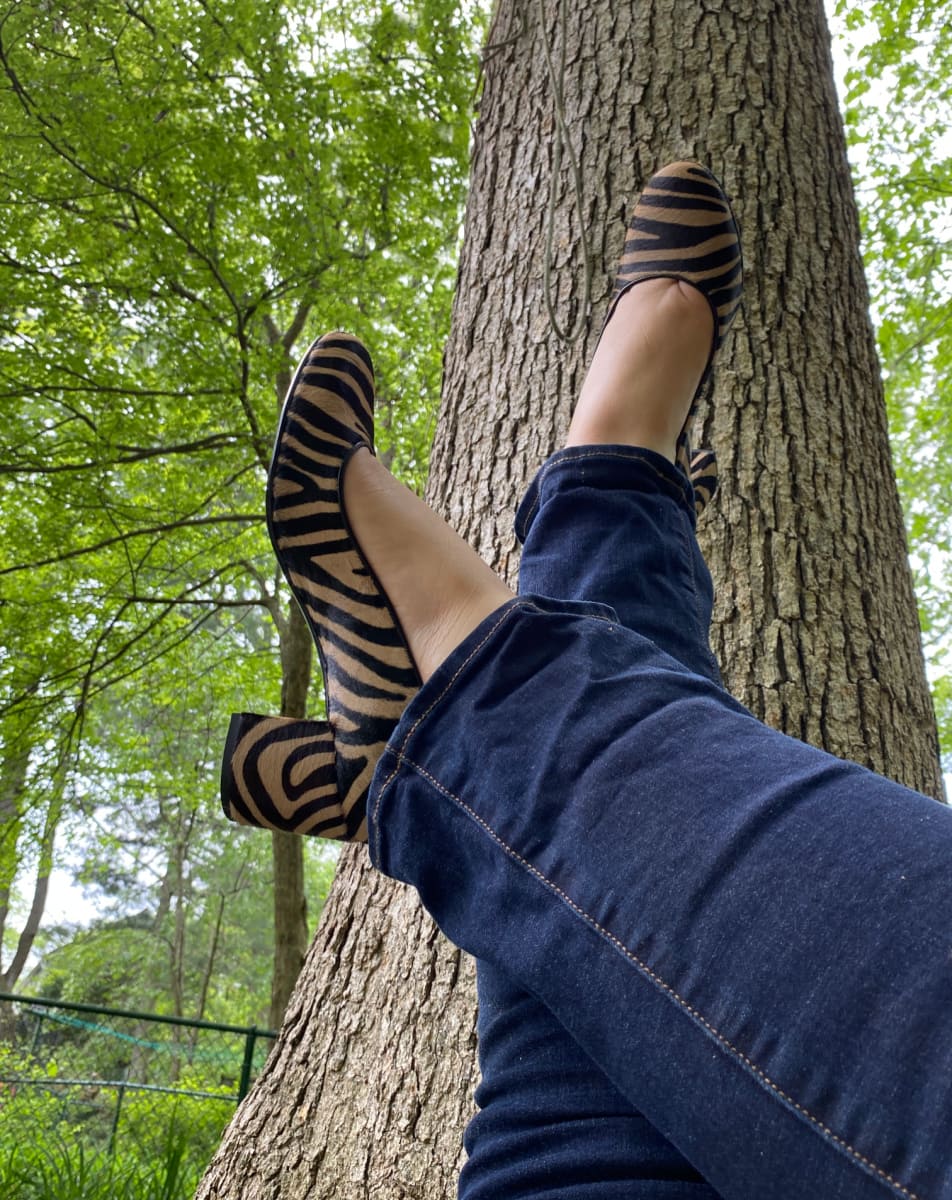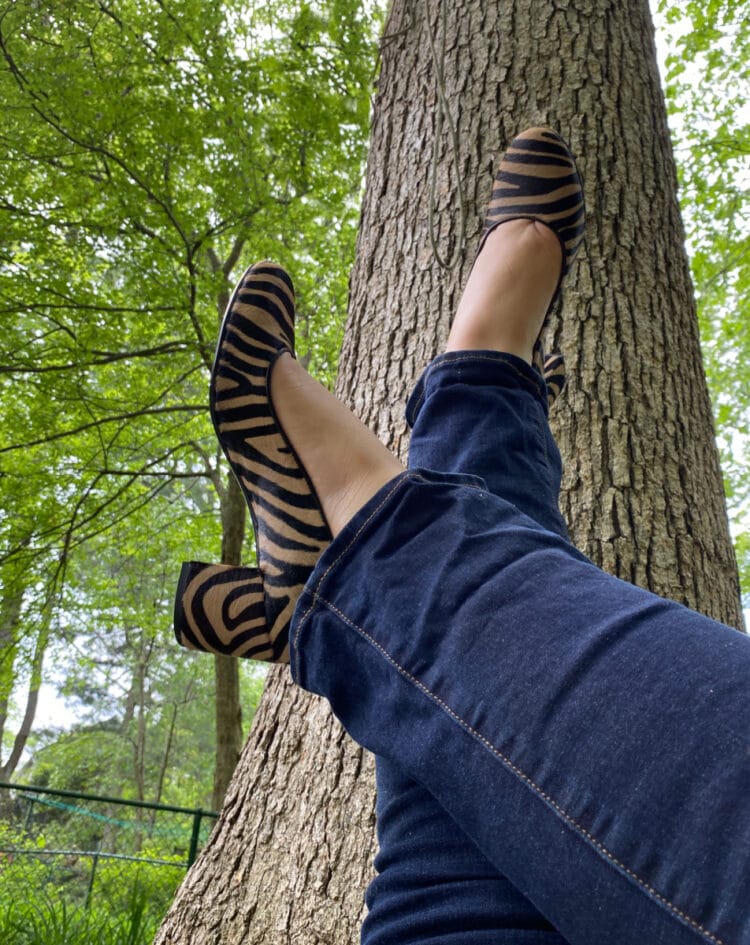 I also wanted to try a pair of the closed-toed shoes from Margaux and ordered these pumps. They are super roomy, well-shaped, and cushioning. However, I returned them because I know I just don't need such a shoe at this time.
What about other styles of wide width shoes from Zappos?
Clearly this is just a small percentage of the wide width shoes for summer available at Zappos. I saw so many great sneakers, athletic sandals, way more casual and dressy heels, and some super fine styles too. But an article can only be so long. Let me know, would you like another post like this? Tell me in the comments!