This article may contain affiliate links; if you click on a shopping link and make a purchase I may receive a commission. As an Amazon Associate, I earn from qualifying purchases. 
The need to wear face masks isn't going away any time soon. Just because the world is over covid doesn't mean covid is over. It is proven that if everyone wears a face mask, the chance of spreading is reduced drastically. I have been purchasing a lot of face masks over the past few months. I love accessories and am using cloth face masks as the newest accessory for my collection. It is far more enjoyable to wear a face mask when it's one that fits well and looks good. When you find masks to coordinate with your outfit, express your personality and passions, and is comfortable to wear for a longer span of time, you find it's easier to make them an everyday part of your wardrobe. Below I share my face masks reviews in regard to fit, breathability, and details that make each mask unique.
Which Style of Cloth Face Mask is Right for Me?
The mask that fits the best is the best cloth face mask for you. You've probably realized by now that the kind of mask that fits your face best may not be the preferred style by your best friend, relative, or neighbor. While there are a variety of ways to hold your mask to your face – elastic around the ears, cloth ties, elastic around the head, knit binding extended as ear bands, and more… there are really only three variants of cloth face mask shapes:
Pleated: The pleated face mask is a rectangle of pleated fabric that can expand to fit over the nose and chin while reducing gaping near the ears. These masks sometimes come with a metal wire at the top to adjust around the bridge of the nose, and can also come with a pocket for a mask filter.
Contoured: These are the masks that are shaped to accommodate the nose and chin, and have a peak at the top to go up over the bridge of the nose and if applicable, under the bridge of a pair of glasses or sunglasses. They usually have a single seam down the center, and occasionally have pockets for filters or a nose wire.
Shaped, Curved, or Active: Sometimes with a front seam, sometimes not, these masks are more of an oval shape without the defined nose peak. Sometimes they have a middle seam, sometimes they are single pieces of layered fabric, using the shape or stretchy fabric to provide a snug fit. I've seen these also called "active" masks, which are two pieces of cotton knit fused together so it is stretchy and comfortable for long wear or while being active, and the fusing keeps the layers from separating and affecting breathing and talking.
Washing Cloth Face Masks
The CDC recommends machine washing with the hottest water possible for the mask and using a hot setting in the dryer or else line dry, preferably in the sun. If you hand wash, the CDC has a bleach solution recipe for sanitizing. We wash almost all our masks in the washing machine on hot. We put them in a lingerie bag so they don't get as crumpled or lost in the laundry. The embellished masks we hand wash and line dry. We have had only one mask not handle warm or hot water in the machine; coincidentally that company no longer makes face masks and is not part of this review.
Face Mask Filters
Filters are now sold with many cloth face masks while at the beginning they were very hard to come by. However, you can also use a coffee filter, vacuum cleaner bag, dried out baby or personal wipe, interfacing, and even a paper towel as a filter. Do not wash your filters, be sure to remove them before washing your cloth face masks.
I am not a face mask expert, I am only sharing my personal experience. I recommend going straight to the CDC for information regarding wearing face masks. Wearing a face mask isn't a political statement. You wear a mask to protect others, and others wear masks to protect you. Wearing a face mask is a selfless act, the kind of acts we need more of in this country.
Shop Face Masks:

Cloth Face Masks Review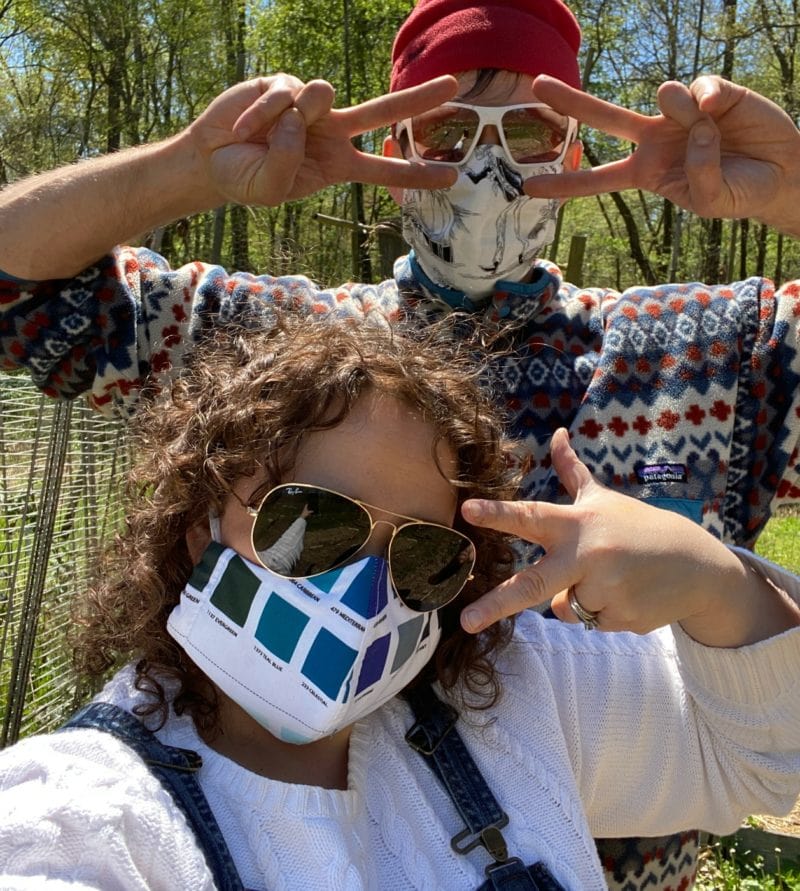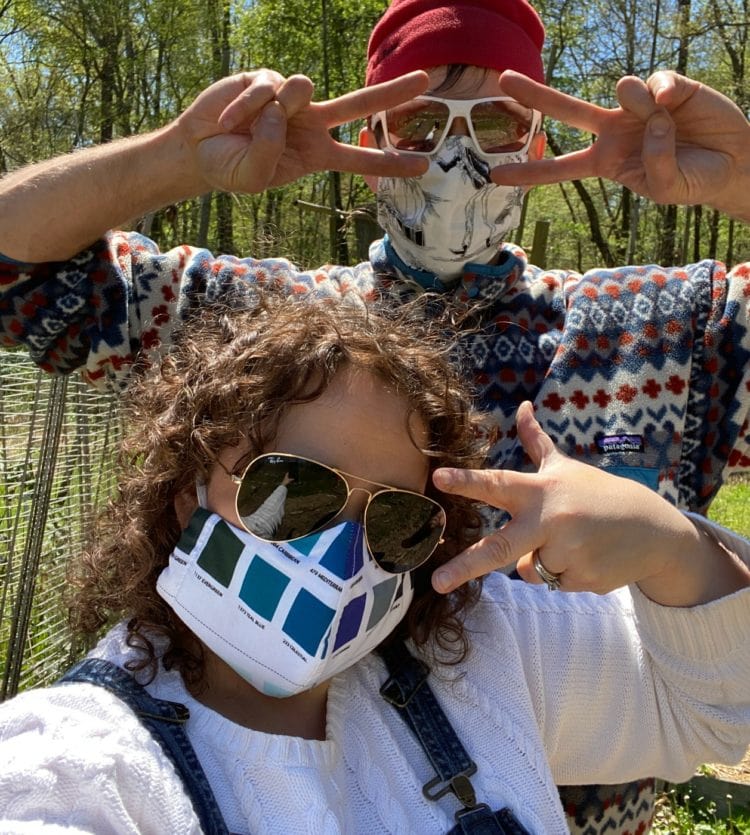 One of the first masks I ordered and received was from Ashley Nell Tipton. Ashley Nell Tipton was the winner of Season 14 of Project Runway and has been designing romantic plus-sized fashion ever since. I love her aesthetic and loved the idea of supporting her during this time by buying a mask. I loved all the cool prints and patterns. She is offering child and adult masks, as well as mask accessories. She has these cool mask chains that work like glasses chains to keep the mask on you even if you remove it temporarily from your face. Ashley also offers headbands with buttons on the sides so your mask can hook to them instead of your ears and for $1 you can also buy ear stress relievers. My mask arrived in about a week.
Ashley Nell Tipton's face masks are contoured with the elastic not sewn to the mask but through a fabric hem on each side which makes it easy to adjust the elastic for a better fit. They are three layers of fabric: cotton with felt in the center to work like a filter. These are reversible and machine washable and the one I got is really high quality. This is, however, the heaviest mask I own and now that it's warmer out, it's not worn as often.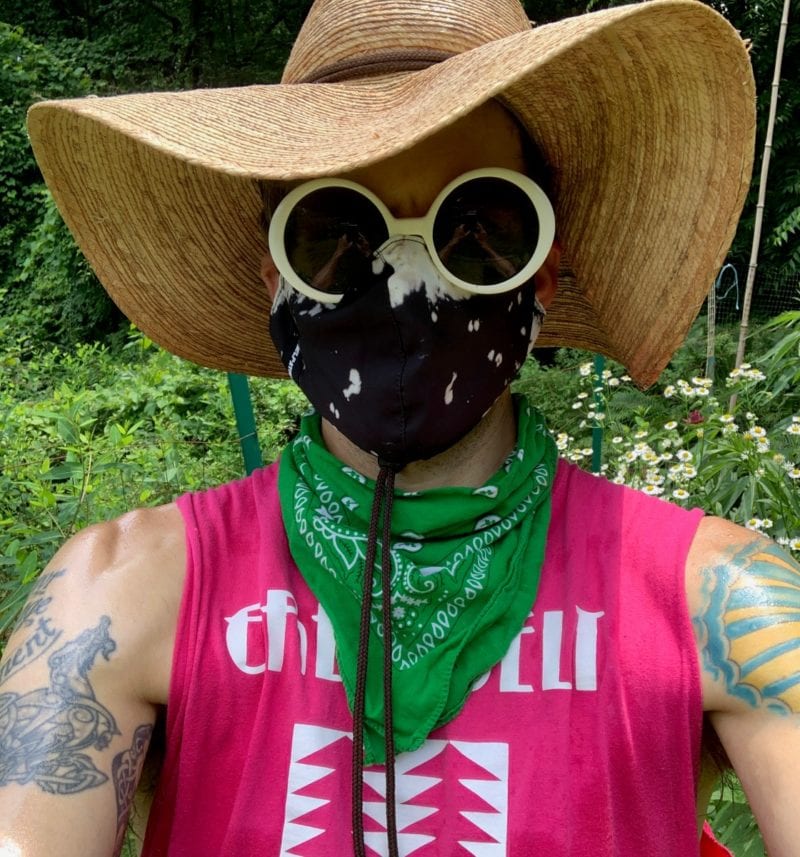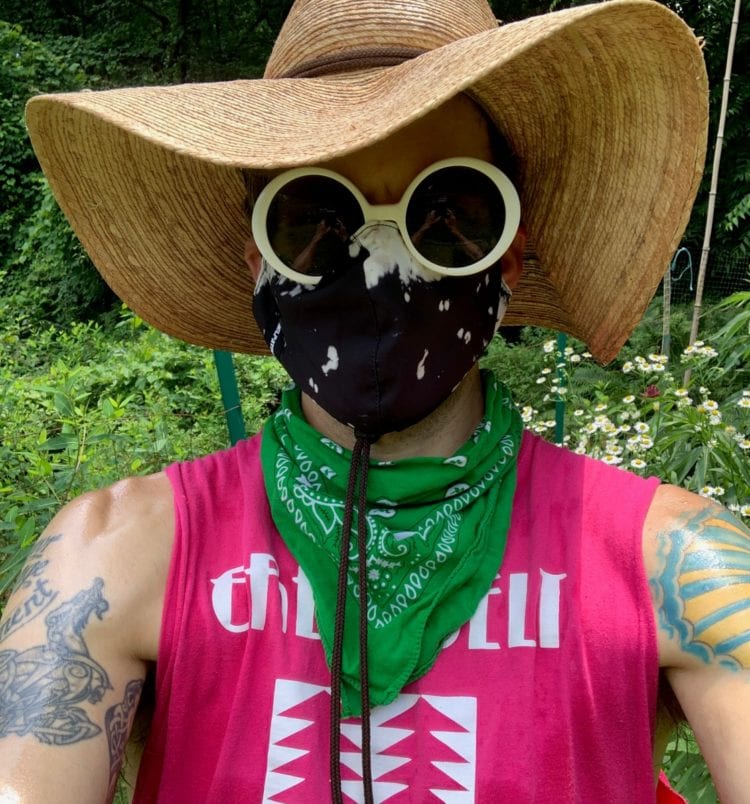 My husband said he didn't care what his face masks looked like as long as they did the job. I knew this wasn't a short-term necessity but something we'd be wearing for a while and I wanted to get him some that would be comfortable and also look good too. Daniel Patrick is a sportswear designer; over the years when my husband has seen something on an athlete or in a magazine and asked who made it, it would be Daniel Patrick. So when I saw Daniel Patrick was making masks, I ordered him one.
Daniel Patrick makes contoured face masks with ear elastics. The masks come in two adult sizes, and Daniel Patrick also carries child-sized face masks. Each color and print is made from a different kind of fabric – some are nylon, some polyester, some cotton. They do not have a nose wire nor do they have a pocket for a filter. The mask we bought has the same print fabric on both sides, but one side has a logo/label to distinguish which side was out when wearing it. It is machine washable and one of the masks that looks the best after being laundering. This mask fits great, without a lot of bulk, and is relatively easy to breathe in. This is one my husband wears often when he is going to be huffing and puffing and in the heat and not being very close to other people – gardening, using his trike to drop off recycling or to pick up garden supplies.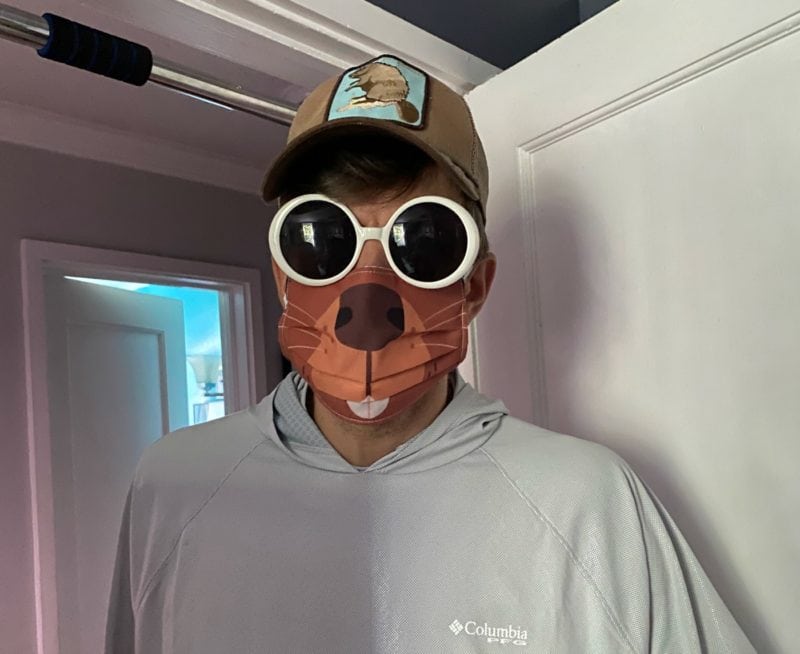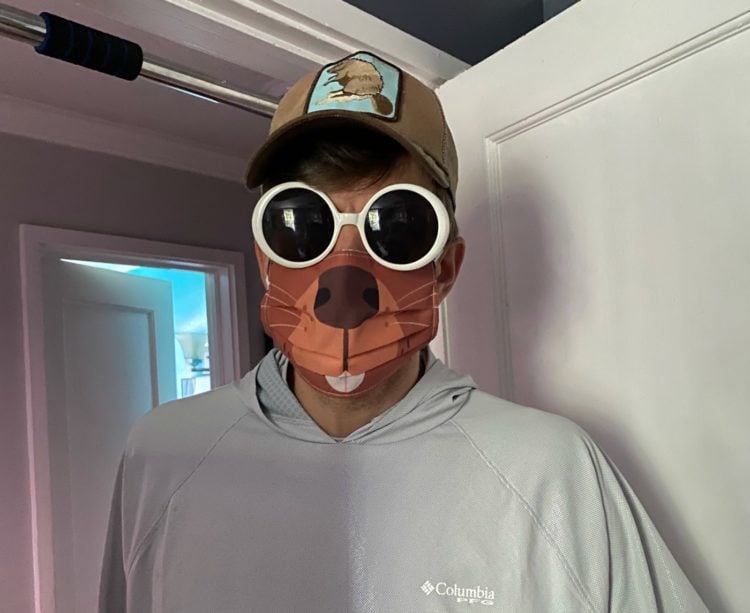 As time has gone on, we have wanted to have fun with our face masks. I saw someone on TV with a face mask that looked like an animal and went on a search. My husband loves beavers, he admires them and even has a tattoo of one. Look Human had a face mask that looked like a cartoon beaver face and I just had to get it for him. I also got my daughter one that looks like a panda, and I got one with a pop art-inspired Ruth Bader Ginsberg pattern. They have hundreds of different masks and the filters aren't great to find what you're looking for. The masks took almost a month to arrive.
These are pretty standard-issue low-cost cloth face masks. They feel like cotton, but they're actually polyester. Two layers, the masks are open on the sides to accommodate a filter. The ear elastics are sewn in place. The mask is too large for my tween daughter's face, and a bit large for my face, but a perfect fit for my husband who loves his beaver mask and wears it often, finding it comfortable and that it washes well. I wouldn't say these are the best face masks out there, but I'd rather a person choose to wear one of these than none at all.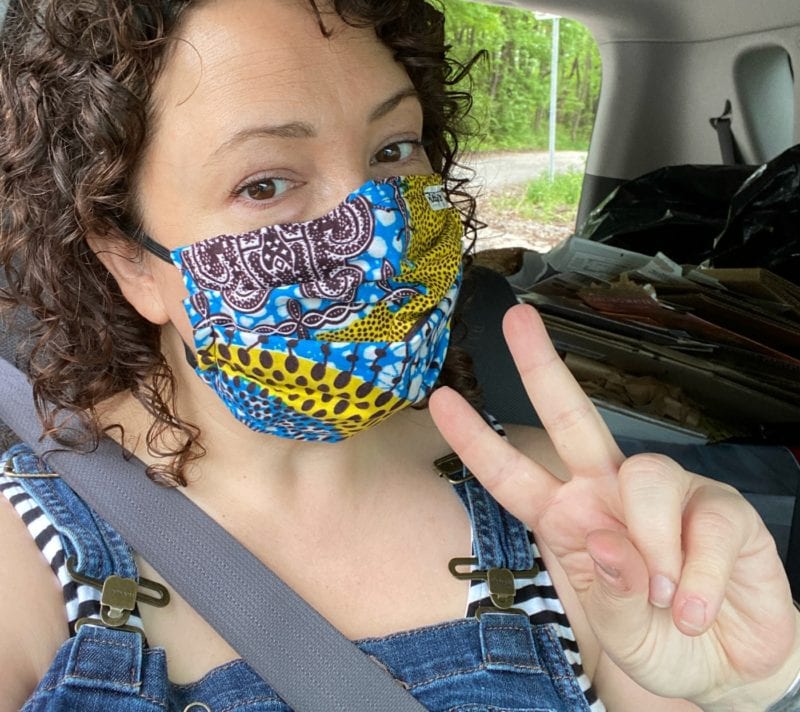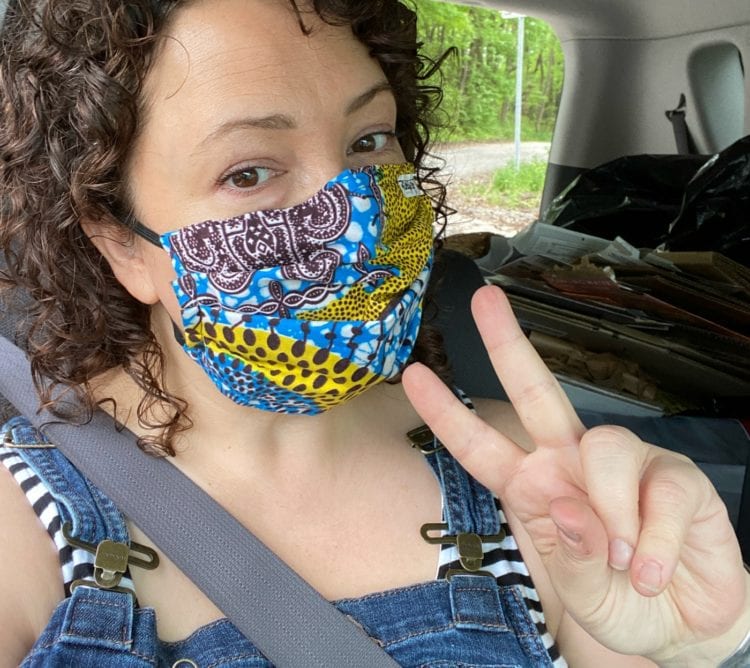 When everyone was buying masks, Mixed Up Clothing was recommended by readers and by friends who live in California. Made in California by an African-American/Mexican-American clothing designer, these pleated-style masks are made from two layers of tightly-woven cotton with a nose wide and pocket for filters. For each mask purchased, one is donated to medical personnel, first responders, essential workers and/or vulnerable populations. You are unable to choose your pattern of mask, but Mixed Up Clothing carries an adult size, a teen/small adult size, and a child size. I placed an order for two adult masks and received them in less than two weeks.
These have been the most-worn masks in our collection, washed several times. Since they are cotton, when you wash them they will get all wrinkled and bunched up but still work great and look good. The elastic is sewn to the edges of the mask. The two layers are the same print, but there is a logo tag on one side to help you know which side was out if you temporarily take it off. This is my go-to mask because unlike some masks that the inner layer separates and you can end up breathing it in, this one, even when it's humid, doesn't cling to my mouth. That being said, a few of you have shared you also got masks from Mixed Up Clothing and have had mixed experiences with fit and quality. I've found this true for many small businesses making masks because they are handmade, often by volunteers and do not know the manufacturing setup of Mixed Up Clothing and if that is the case or if quality has changed since I placed my order in March.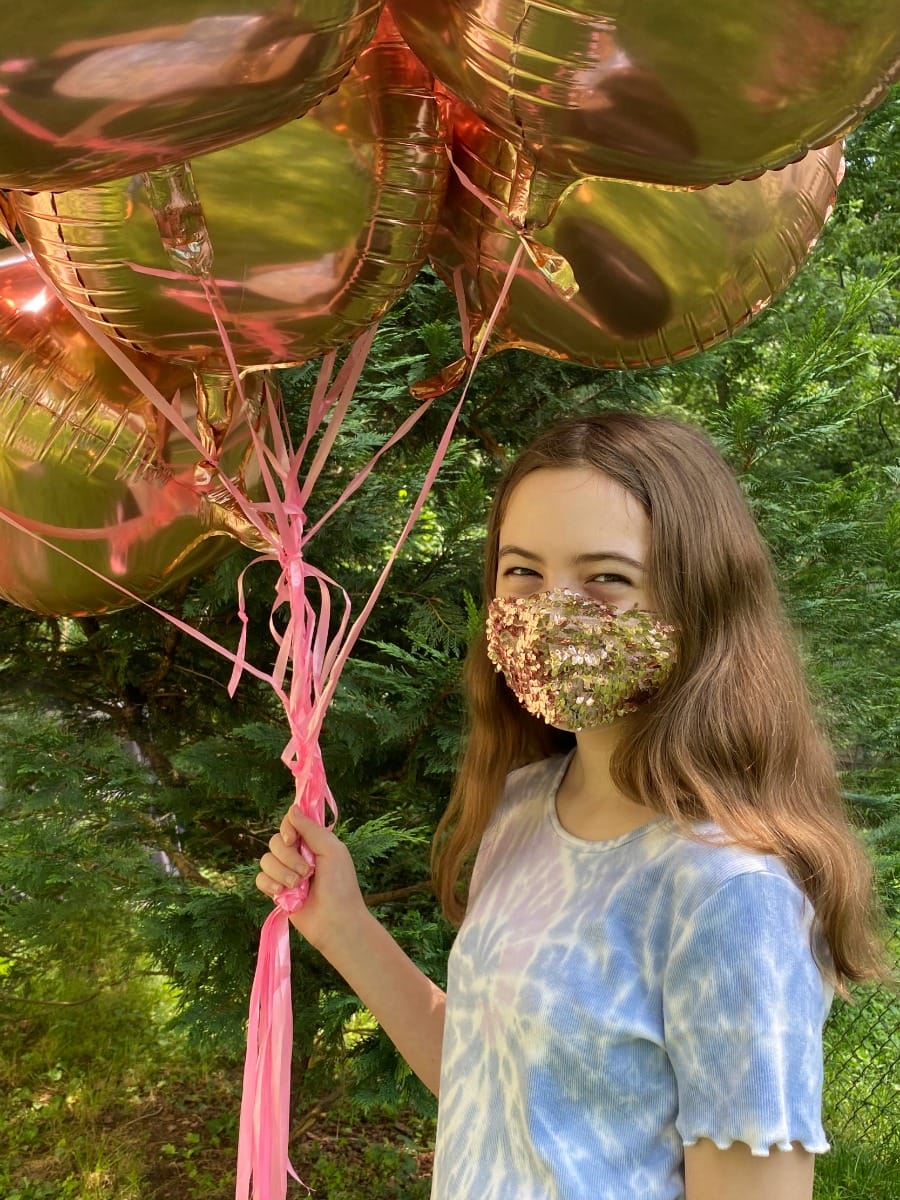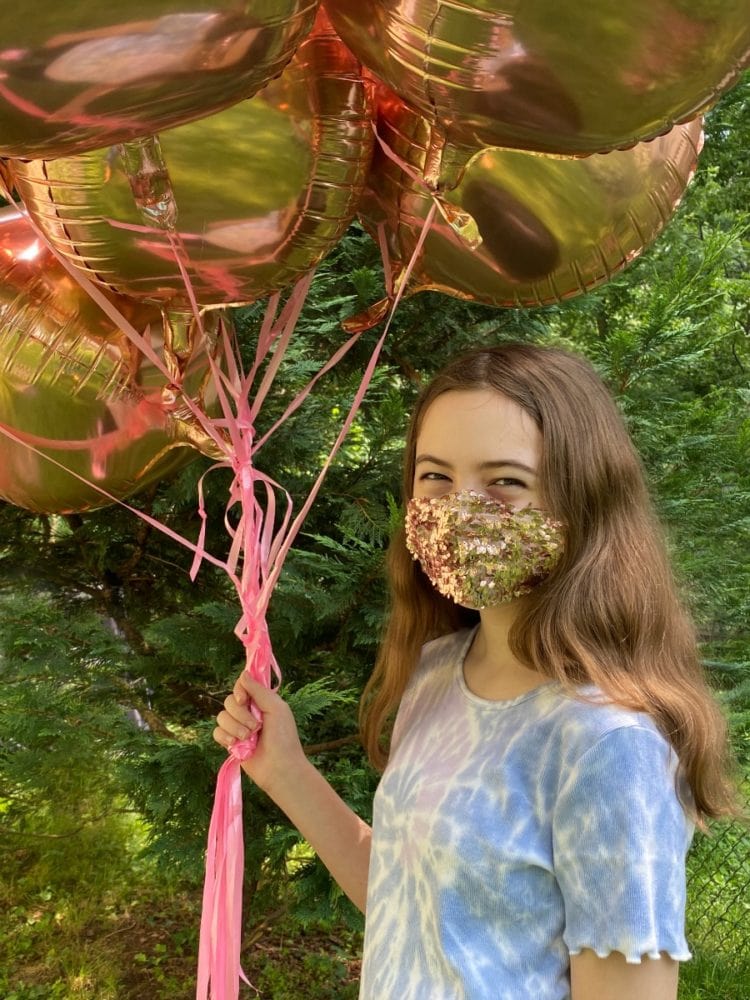 Knowing my kid would have to wear face masks and not knowing the future for in-person school, I wanted to get her masks that she would find fun to wear. I saw an influencer on Instagram wearing a sequined face mask from Ripley Rader so I went to check them out and was happy to find that they made sequined face masks for kids as well as adults. Ripley Rader is a Californa-based womenswear designer who has pivoted to also offering face masks during this time in society. Ripley Rader donates two masks to at-risk patients and essential workers for each mask purchased. You can also just buy masks to be donated directly to those in need. Ripley Rader has contour-shaped sequin and chambray masks and curved "active" masks, solid and with a "Vote" pattern ($2 from each Vote Mask is donated to When We All Vote). and I placed an order for a black sequined mask for me and a rose gold sequined mask for my tween daughter and they arrived in less than two weeks.
The sequined masks are well made, the lining is a soft knit so there is no chance of sequins scratching your face. Since they are sequined and there is a large label inside, these are not reversible masks. Elastic is sewn directly onto the mask for less ability for length customization, but both my child and I found these masks a good shape and fit, verging on small. My child has gone through a growth spurt and I doubt this mask will fit by the end of the year; I recommend the child-size masks for ages 10 and younger and the adult ones for those with medium to smaller faces. Ripley Rader's sequin face masks need to be hand-washed because of the embellishment, but wash up easily and dry overnight.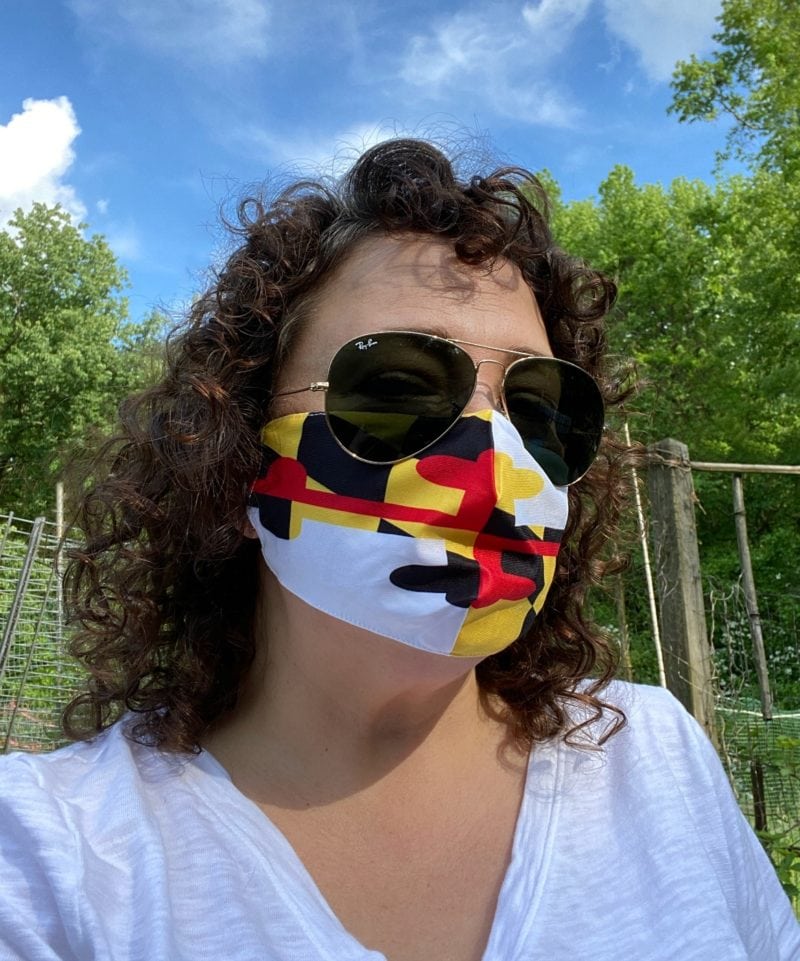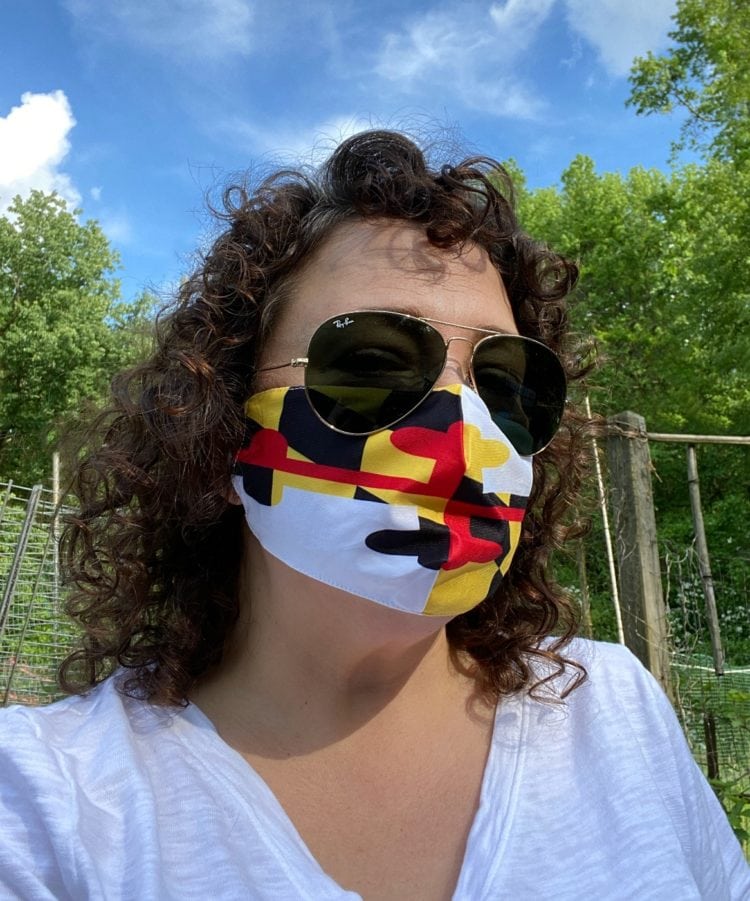 I have shopped Route One Apparel many times over the years. A woman-founded company that focuses on apparel and accessories that celebrate the state of Maryland, I've worn their bandanas to protests, have a silk Maryland flag scarf, plenty of can koozies, this t-shirt, and this umbrella all from the company. When I saw our governor wearing a "Maryland Strong" face mask on TV and said he got it from Route One Apparel, I immediately made a purchase of three face masks. It was a preorder, it took about three weeks for the masks to arrive. For each mask ordered, one is donated to a front line worker.
The masks are a shaped style, two-layer, the outside a thin soft polyester, the inside also thin and soft but cotton. The inside has a pocket to insert a filter and the masks come with a sealed pack of mask filters. The elastic is sewn to the sides of the masks but are of thinner rounded elastic and they have toggles on each side to adjust the fit or make it work better with headbands and gadgets to wear masks off the ears. They wash beautifully. This is the only mask we own that fits all three of us safely and comfortably. This is my favorite mask to wear for long periods of time and when it's especially humid because it doesn't stick to me and I can breathe even when the air feels like soup. I've heard some have come with nose wires but none of ours did. Along with the Maryland Strong masks, Route One Apparel also has Maryland flag masks and Old Bay Seasoning masks and also carry neck gaiters in a variety of prints.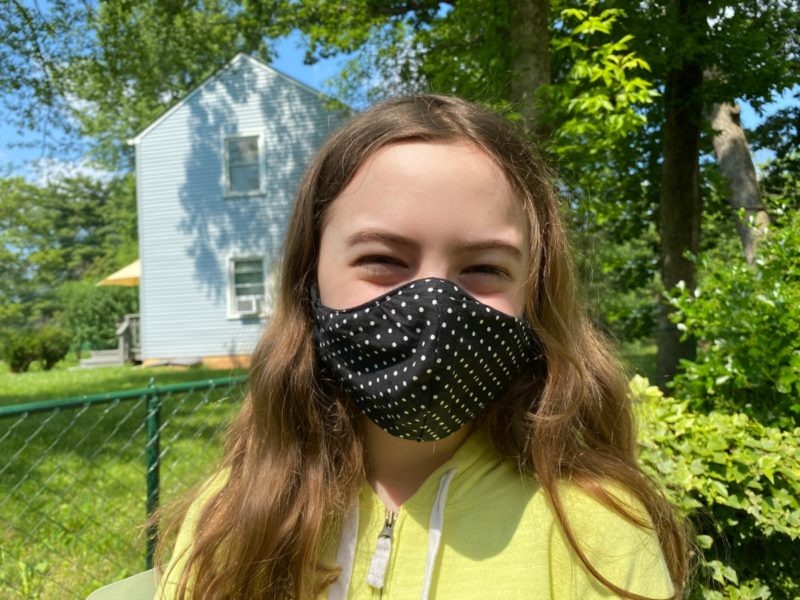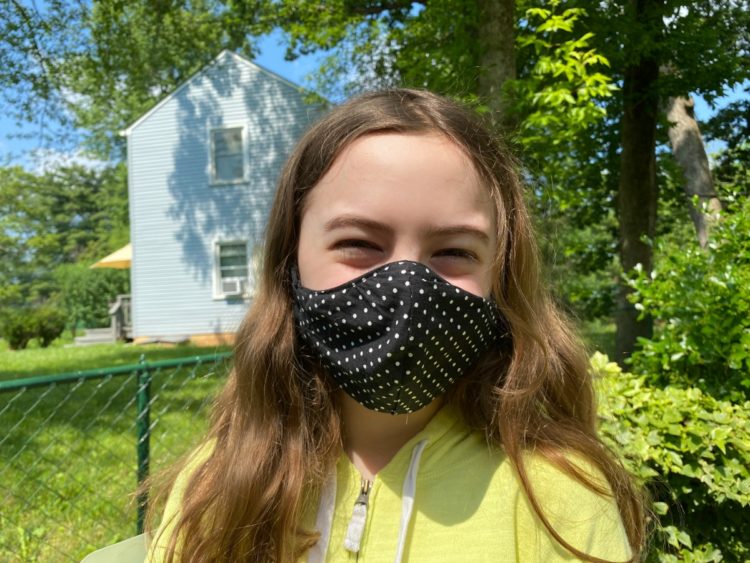 The first masks I ordered were from Teri Choose Designs at Etsy. I was clearly not the only one because this Etsy shop was overwhelmed and had more orders than supplies and deliveries were delayed until they had access to enough elastic and filters. That being said, Teri was great with communication, keeping me abreast of what was happening with the order. I chose this Etsy seller because it is based in the USA (Sacramento, CA to be specific), masks came with optional filters, and the store will make masks based on the size of the person/do custom orders. Teri Choose Designs also sells filters separately. I ordered three masks – one adult male, one adult female, and one tween child. The masks are some of the most carefully made ones I've received. The elastic isn't the thicker white, but black cord elastic (like the kind used for stretch bracelets) which is surprisingly comfortable behind the ear. The elastic isn't sewn on but threaded through the edge of the mask so it's easy to re-knot the elastic for a comfortable fit.
We ordered plain black but the store ran out of black and asked if we were okay with polka dots (we were). I gave the two adult ones to family members since they arrived late and we had others; our tween kept the kid-sized one and it's the best fitting mask she has. A lot of kid masks are for little children and adult ones are too big; I highly recommend this seller for custom made masks for all shapes of faces. This Etsy store now has bridal, suiting, and summer fabric masks. Teri Choose Designs also offers a 3D printer-created gadget to connect the elastic behind the head instead of around ears; it's less than $2 and available for all mask orders (this wasn't available at the time of my order so I don't have a review for the gadget).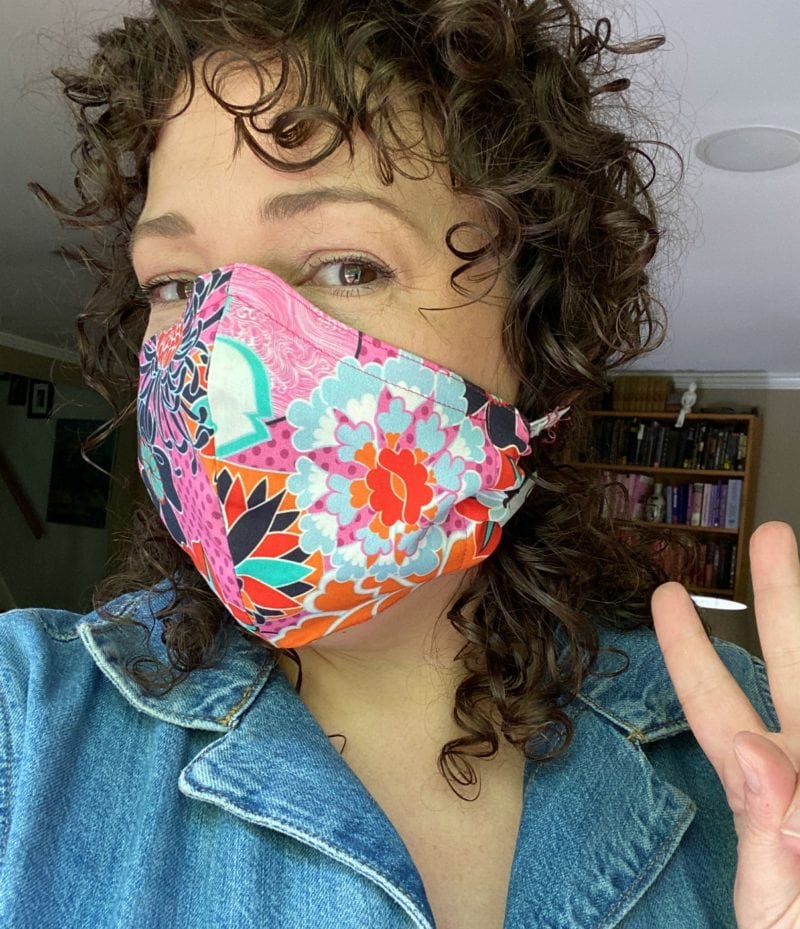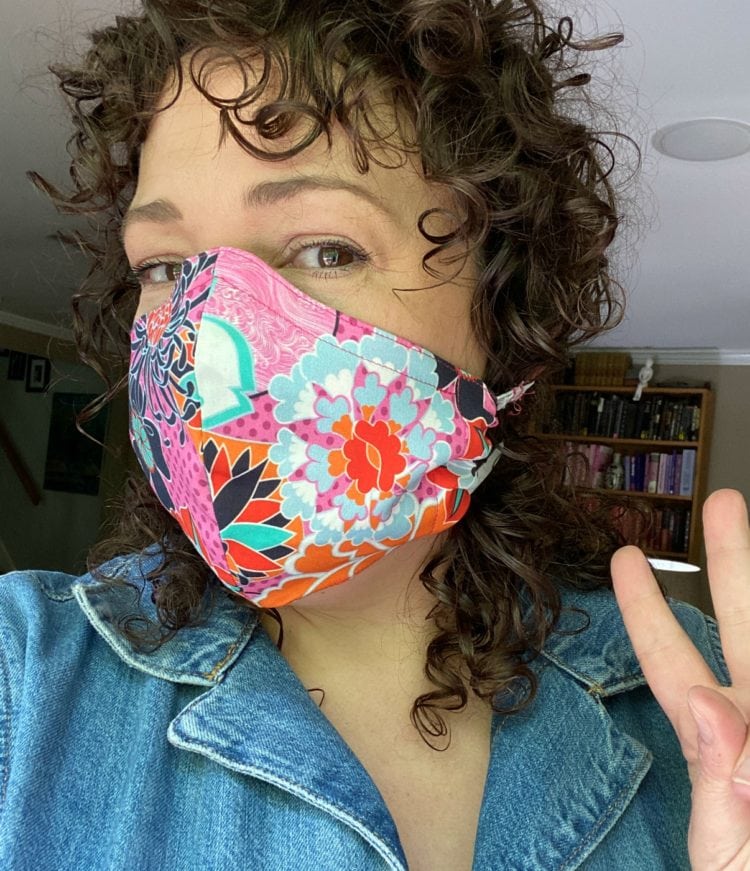 Daniel Vosovic is another fashion designer I have followed since he was a finalist for Season 2 of Project Runway. His line, The Kit, has amazing prints and some styles are available up to 3XL (there was even more size inclusivity in his line pre-covid). I ordered some of his separates and wasn't impressed with the fit but like the concept so much I likely will try to order a jumpsuit in the future when they are back in stock in hopes it is better. In the meantime, when I saw The Kit was offering face masks in their amazing prints, I bought a pack. At the time of my purchase, The Kit NYC face masks only came in one size and only in five-packs. Now The Kit offers a variety of prints, pack sizes, and two sizes of masks. I am assuming my masks are the larger size now available. The masks are reversible, three layers, with the ability to customize with a filter and even adding a pipe cleaner or twist tie to the top for nose shape. Unlike many masks that have elastic to go around the ears, these masks have the elastic go around the back of the head. I ordered a five-pack, it took about three weeks for them to arrive. I kept one and did a giveaway in my Facebook Group for the other four.
These masks are well made, high-quality smooth cotton, they are reversible but mine at least have the same exact print on the front and back without a label so it is hard to know which side was facing out if you choose to take off your mask temporarily. The elastics going around the head make it far more comfortable for long periods of time and it makes it so the mask stays at your neck if you need to remove it from your mouth, but I find the bottom elastic slides down my hair and alters the fit on my face. This is a better option if you have short hair or wear a hairstyle like a ponytail that can go around the two elastics. I know The Kit is constantly adjusting their mask design to make it a better fit and they keep bringing out new prints so it's worth checking back to see how they are modified.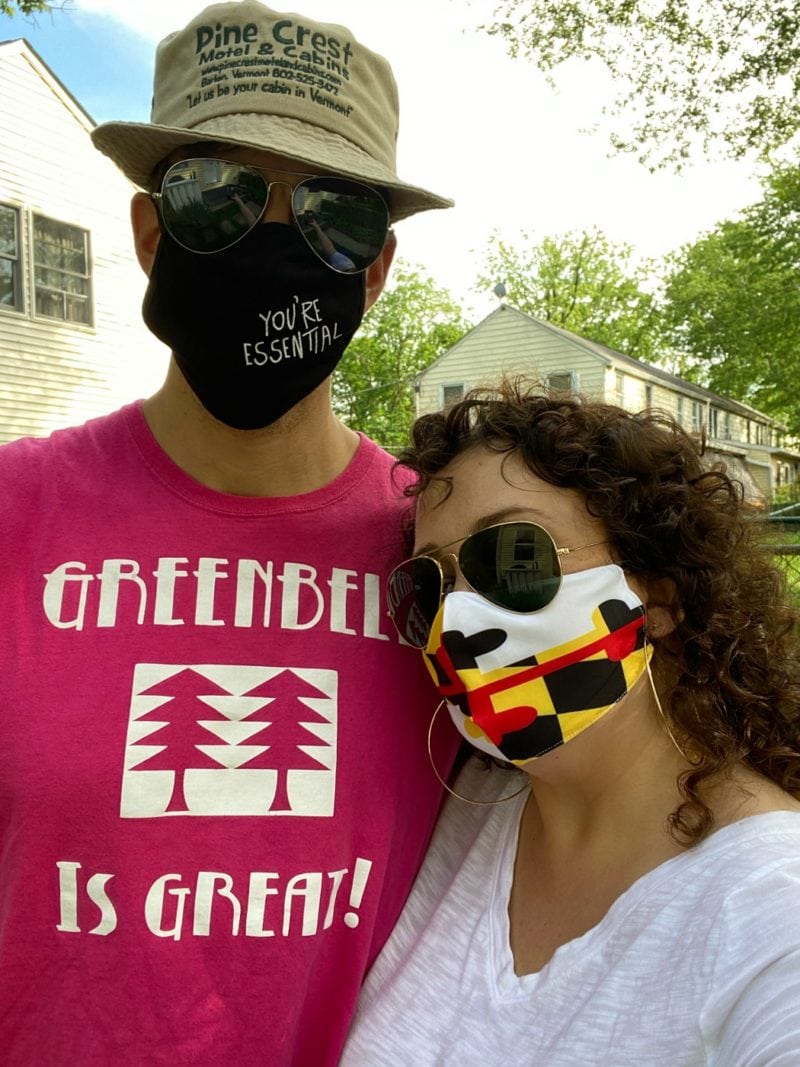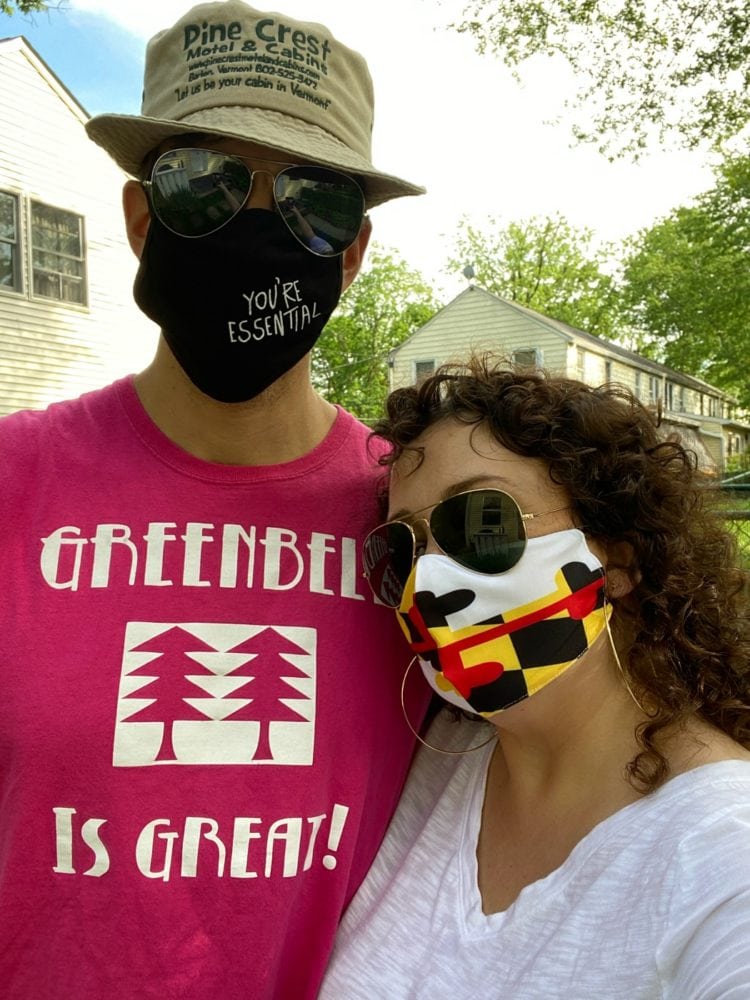 The Outrage is a store but it's also an activism hub. With a location in DC and Philadelphia (which is moving so location TBA), The Outrage gathers progressives, plans protests and campaigns, and every single purchase sends a donation to a progressive organization. I've made several purchases from The Outrage over the years including this t-shirt which is one of my favorite graphic tees. When I received an email that The Outrage had new merch in stock, I went to visit their online store and bought this hat, and also bought one of their face masks.
For each face mask purchased, The Outrage donates a second one. They are donating to a DC hospital that will distribute to people experiencing homelessness as well as to City Kids Wilderness Project. The order arrived in about a week. The mask is one of the "active" styles which is two layers of stretchy cotton with the stretch cotton binding around the mask forming the ear loops. The graphic is silkscreened on the top layer. My husband and I find the mask comfortable but wish the two layers were fused together as the interior layer, especially when you get hot or sweaty, will cling to the face and get into the mouth. This mask is too large for our kid's face and there is no way to customize the size and fit. This mask is a good choice if you are at your climate-controlled place of work since it's soft, not as painful on the ears, and pretty breathable.

This post will be updated as I buy and receive more mask orders. At the time of publishing, I am awaiting mask purchases from Kaela Kay, Johnny Was, and Quality Mask Supply. I encourage you to share where you have found facemasks in the comments to assist others in finding ones perfect for their face and situation. Please note any blatant self-promotion, referral links, political attacks, or what I find to be spam or trolling will be deleted without explanation. We should all be wearing masks when we leave our homes, I hope this post proves helpful!