This article may contain affiliate links; if you click on a shopping link and make a purchase I may receive a commission. As an Amazon Associate, I earn from qualifying purchases.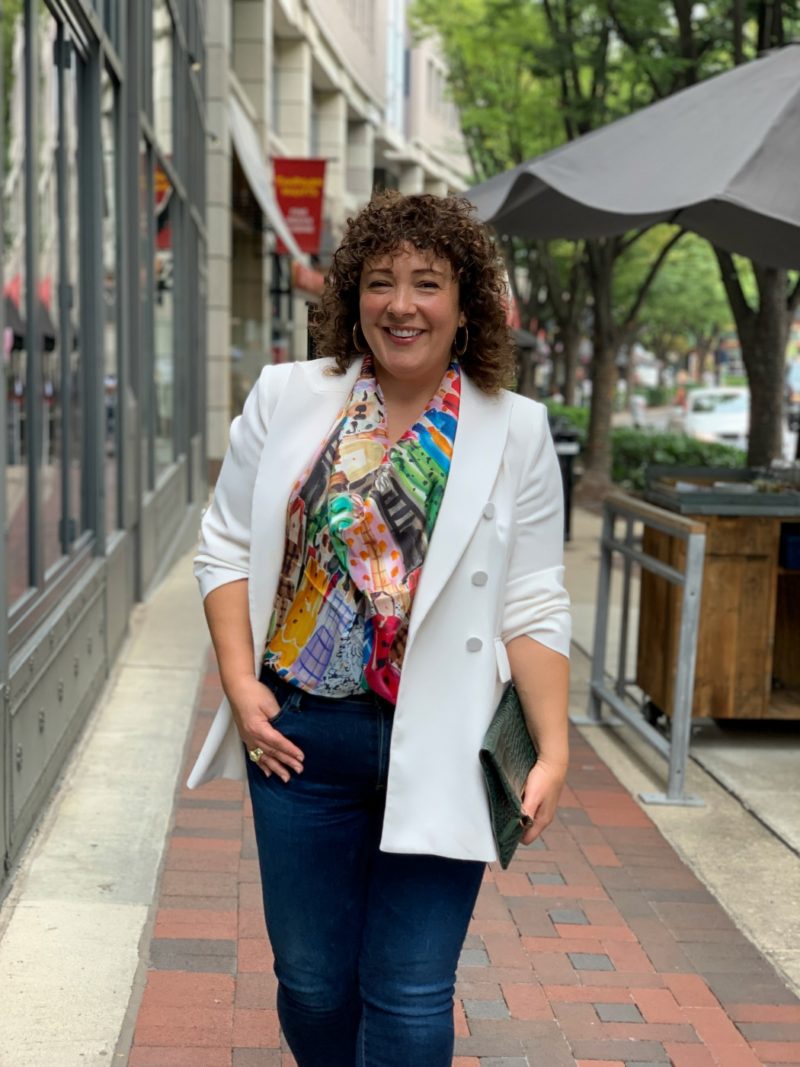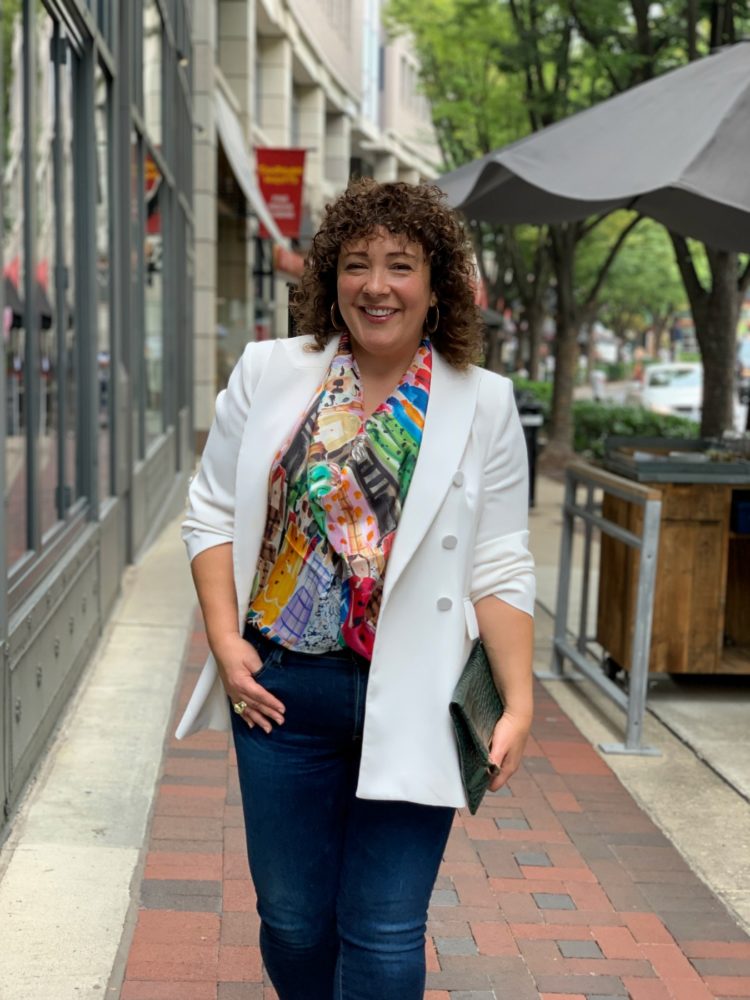 I have always loved the beauty and versatility of scarves. My mom has a great scarf collection, so many beautiful ones she has collected over the years. I have started my own collection. They're an accessory that takes up little space but can truly transform a look. I love learning new ways to style scarves, especially if it's something a little out of the ordinary. However, as a size 14 woman a lot of the tips on how to style a scarf don't work for my body. I always loved the idea of styling a scarf into a blouse but it rarely worked for me. But scarves are being made bigger these days, offering more versatility for those of us who aren't a size 6.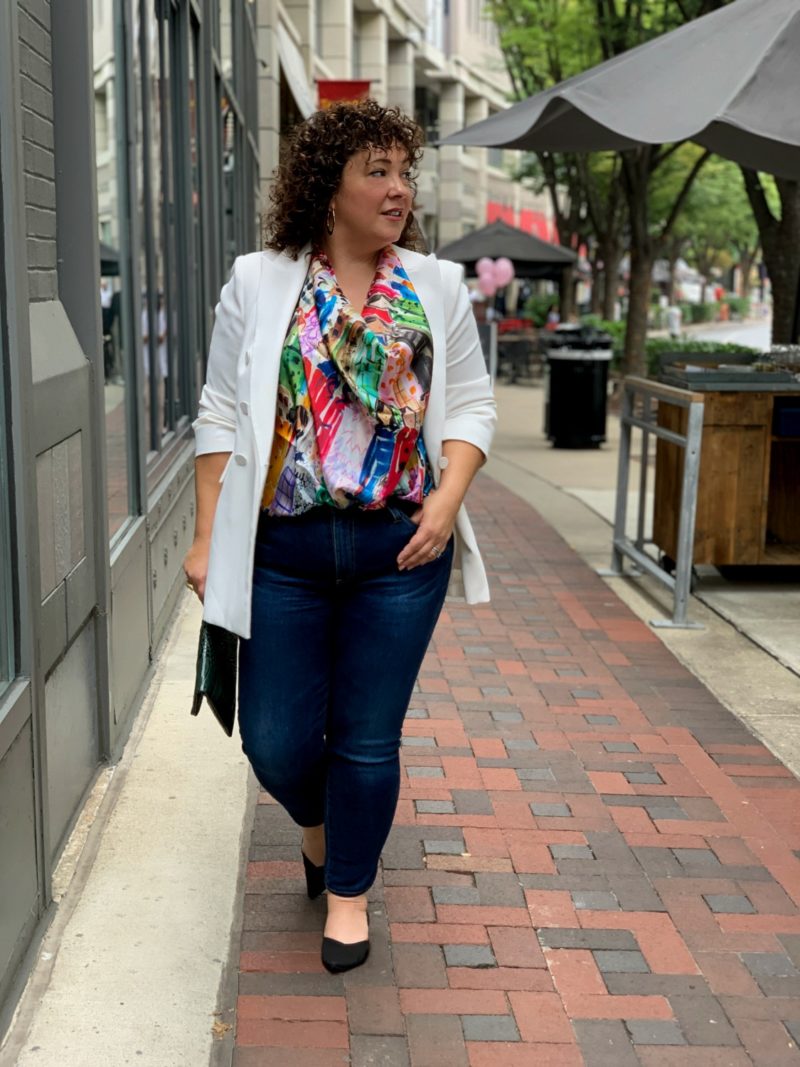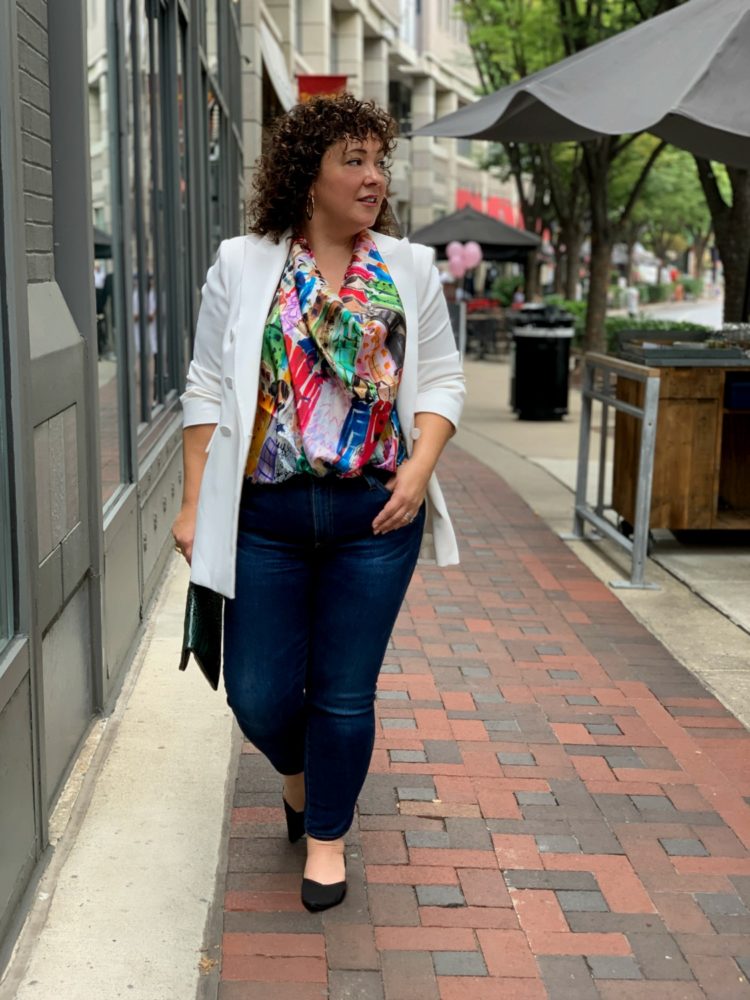 scarf | blazer | jeans | shoes | earrings | ring | bag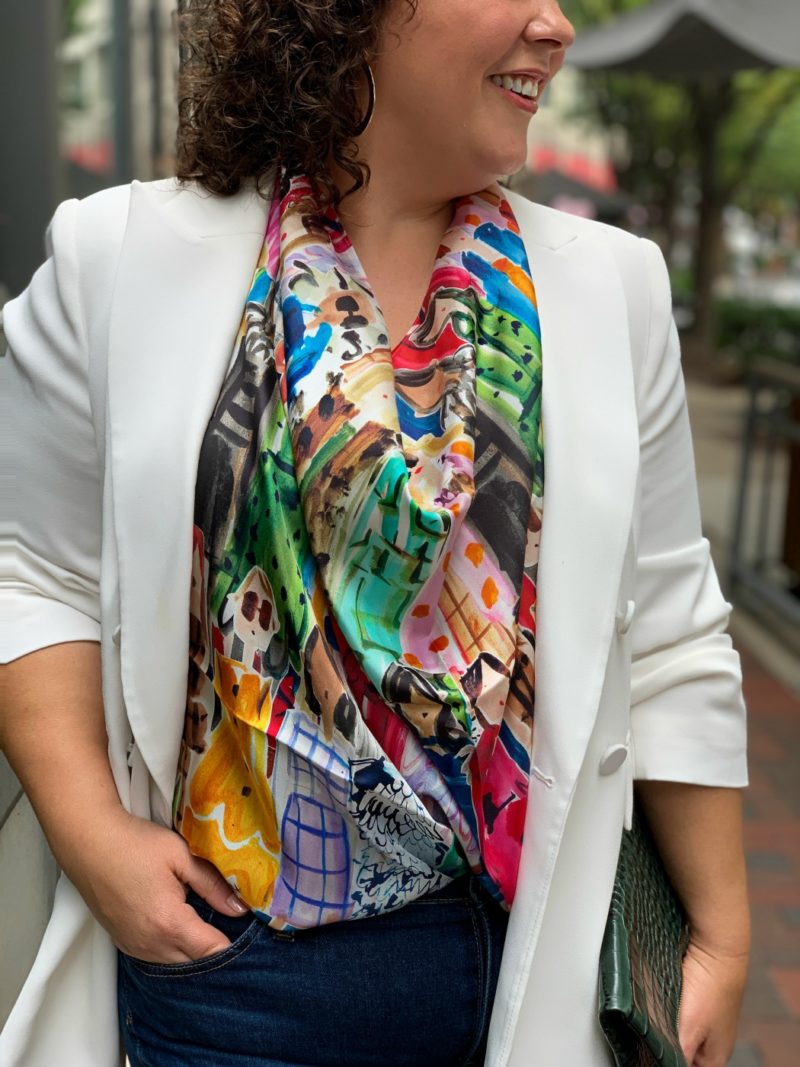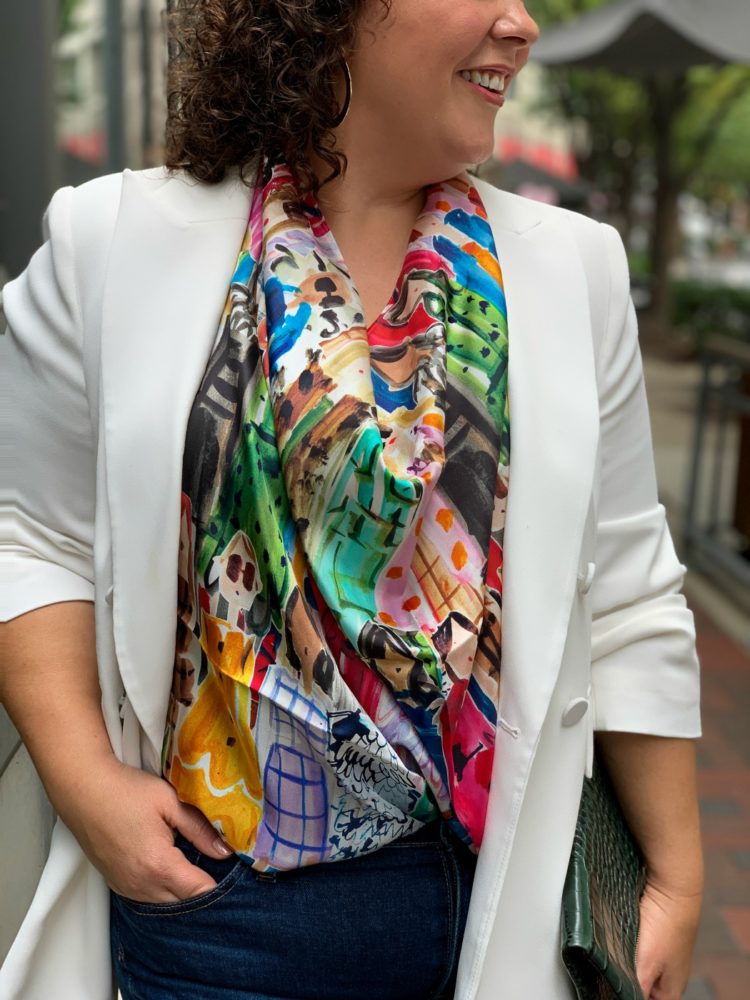 Blouse: actually this scarf c/o Talbots | Jeans: AG (hemmed by Trunk Club to this length) | Blazer: Zara (old; similar, plus size alternative) | Shoes: Rothy's | Bag: Clare V. (old; same bag in different colors, similar bag) | Earrings: Jenny Bird | Ring: REALM
This is the second year that Talbots has commissioned female artists to design scarves for them. Called "The Art of the Scarf" the collection fundraises for Susan G. Komen during the month of October. 20% of the net proceeds from this collection of six 41″ square silk scarves will be donated. You can see all of the scarves at this link. Talbots offered to send me one of the scarves of my choice and I picked this one from Martha Napier, though they are all gorgeous. The print and the colors spoke to me and I loved the larger size.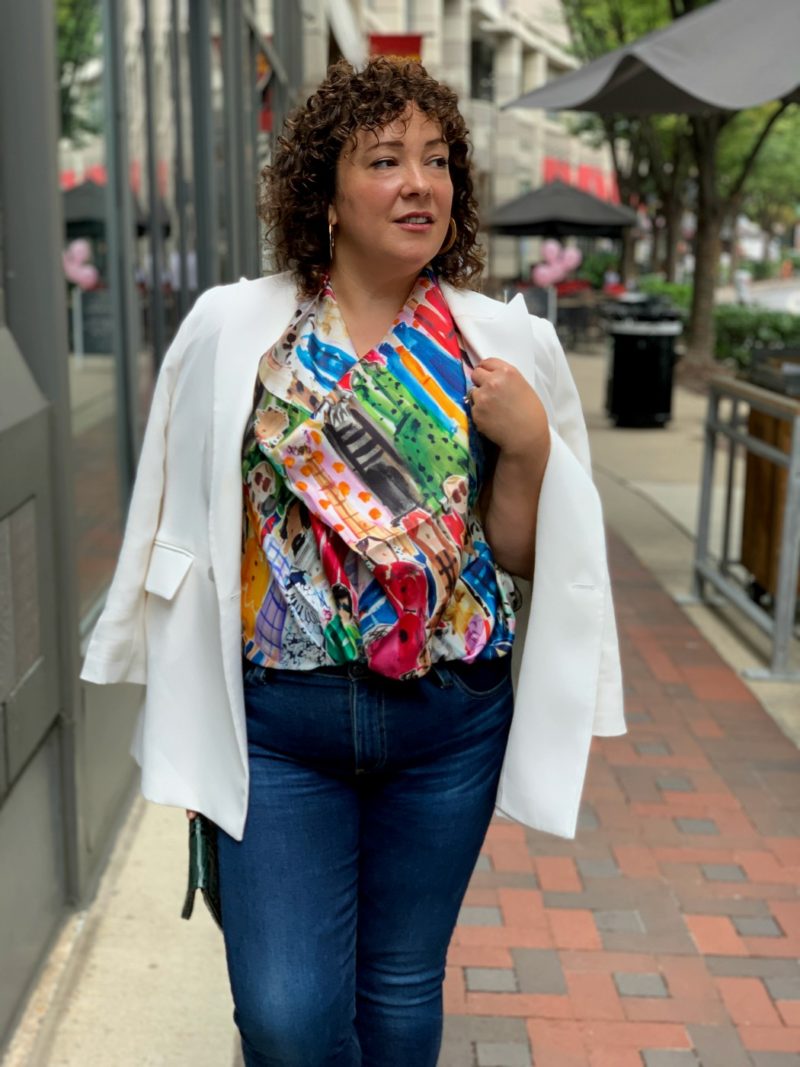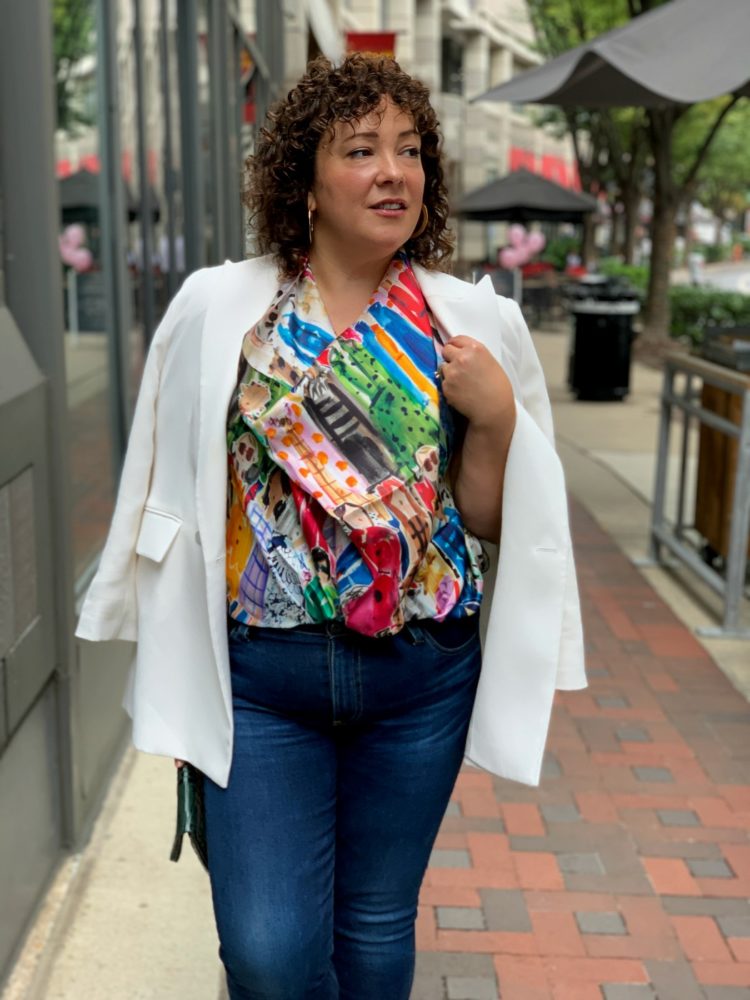 Once I had the scarf I tried it in place of a belt. I looped it twice around my neck and tied it in a knot. I played with rolling it, making a cowl, a few styles but you couldn't really see the cool print. I have a scarf, it's even larger than this one, I got it at Nordstrom Rack before my daughter was even born and somewhere on this blog there is a post where I am wearing it like a blouse under a magenta velvet blazer (darn pre-Wordpress posts that aren't categorized and hard to find even on Google Images). Anyway, that outfit from a post I can't find inspired me to get creative with this scarf to better show the print.
Shop Large Scarves (at least 41″ square):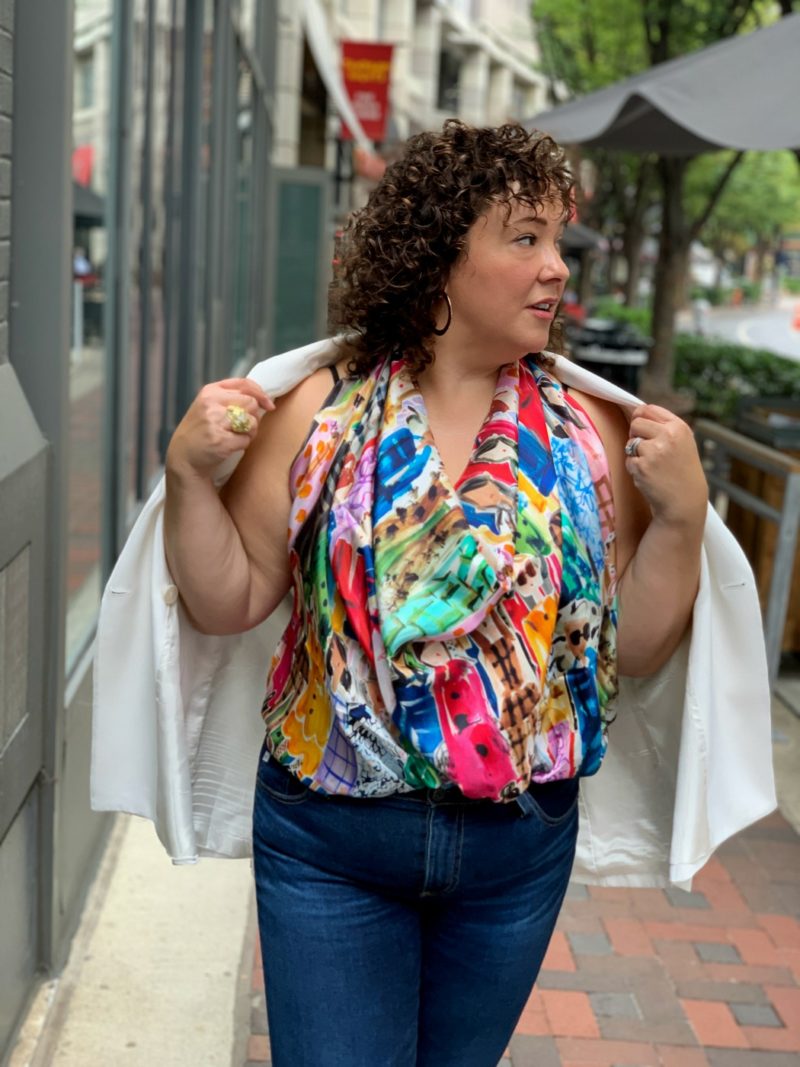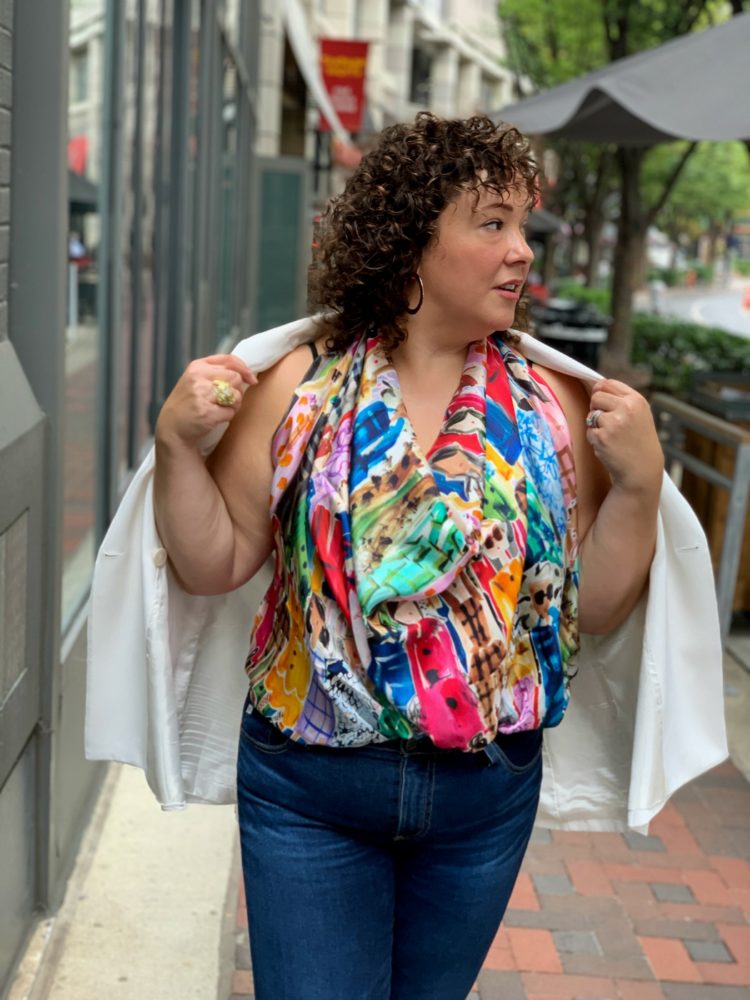 I took two ends next to each other, not across from one other and tied them in a knot. I put it over my head and hung it in front of me like a bib with a cowl neck. I adjusted the knot so it draped the way I liked best. The knot for me is very near the end to allow a lot of drape. Depending on the size of the scarf and your waist, you may be able to tie the other two ends around the back of your waist, or you can just tuck it into your trousers. I am wearing a camisole underneath for modesty (both to be able to remove the jacket and if the cowl falls open). It's not technically a blouse, you can't run around town rocking it alone (well you could, but it's not personally something I would do), but it provides the effect of a blouse under a blazer or other topper and it beautifully shows off the print of a scarf. I loved how a white blazer set off the print. And yes, you can wear a white blazer all year long!
Shop White Blazers:

As for the rest of this look, you have seen all these pieces before. The blazer is half of the suit worn in this blog post and also worn when I attended RebelleCon. The jeans are from AG and picked out for me by my Trunk Club stylist Kelsey when I visited the Trunk Club Clubhouse in DC. They continue to be some of the best fitting jeans I own, somehow they keep molding to my new shape! The shoes are Rothy's; read my original Rothy's Flats review and my Rothy's shoe review where I discuss other styles from the brand. The bag is Clare V. and makes a showing on here at least once a month. The earrings are Jenny Bird and previously seen Friday in my Universal Standard Workwear review.
Shop the Look: