This article may contain affiliate links; if you click on a shopping link and make a purchase I may receive a commission. As an Amazon Associate, I earn from qualifying purchases.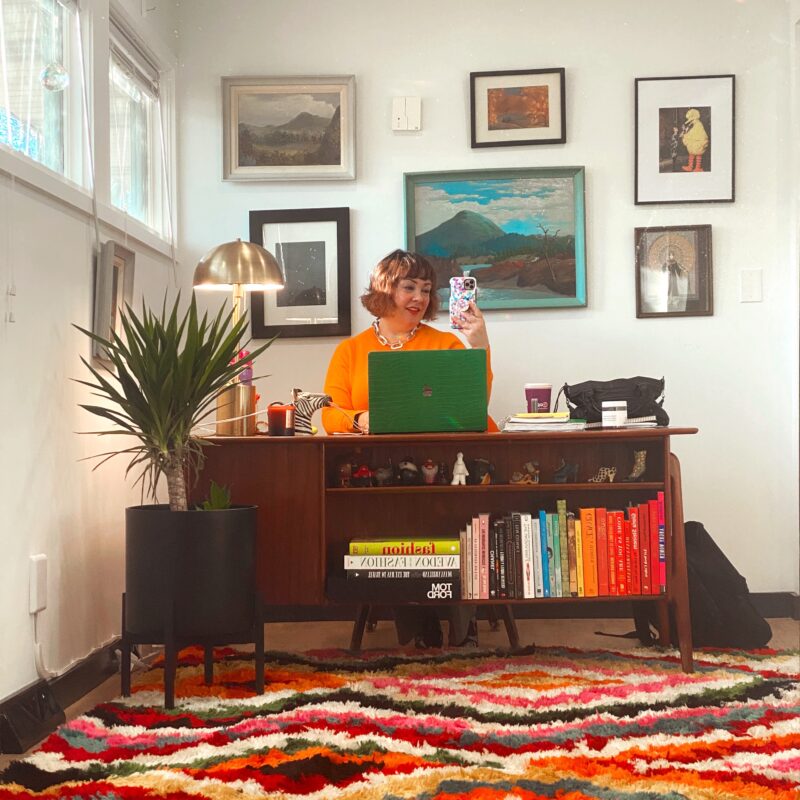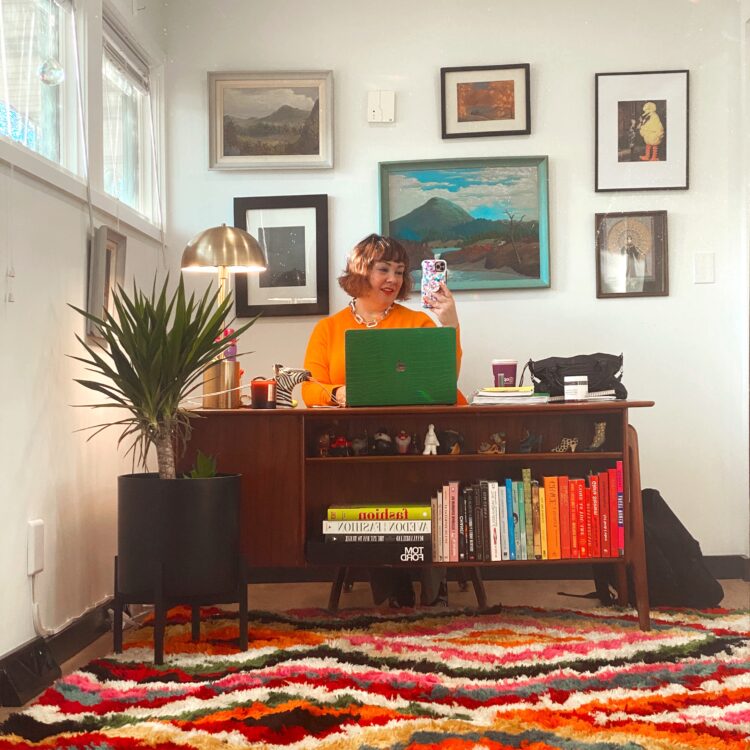 I am not sure what happened to Monday. I can't even recall what I wore! I know I came to the office, I remember taking a few calls from my desk and recall coming home late, while my daughter was having FaceTime piano lessons. But for some reason I didn't photograph what I wore that day.
Tuesday: All About the Hair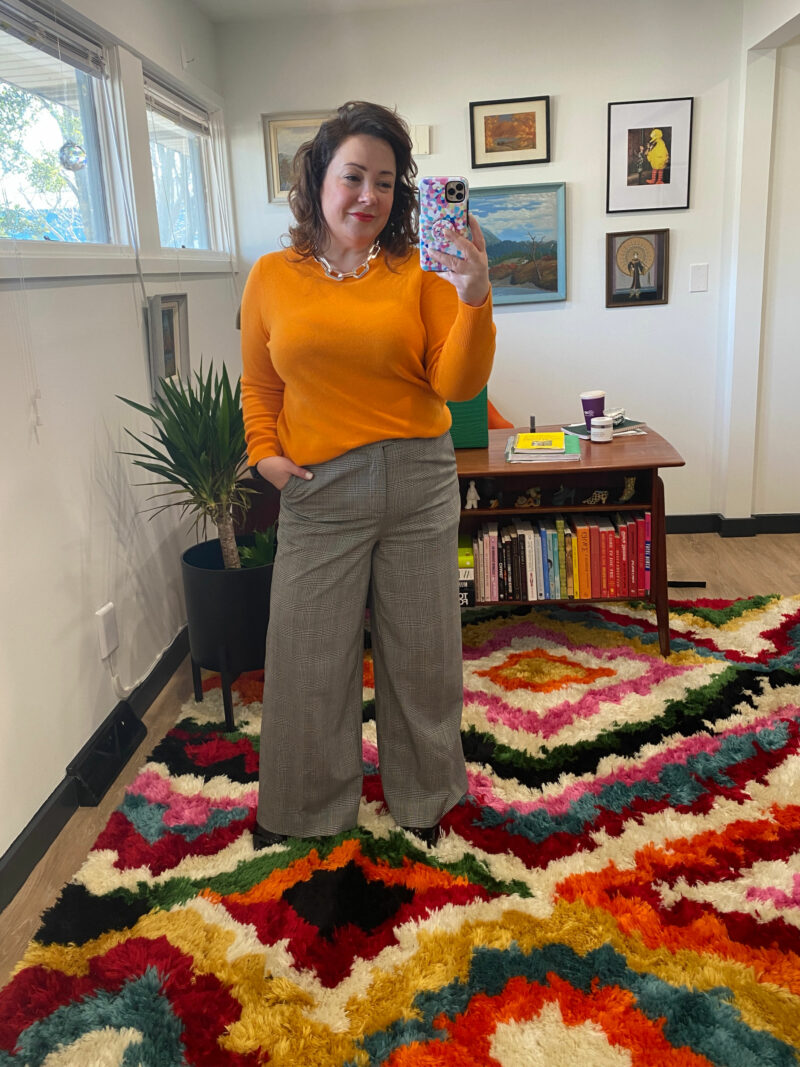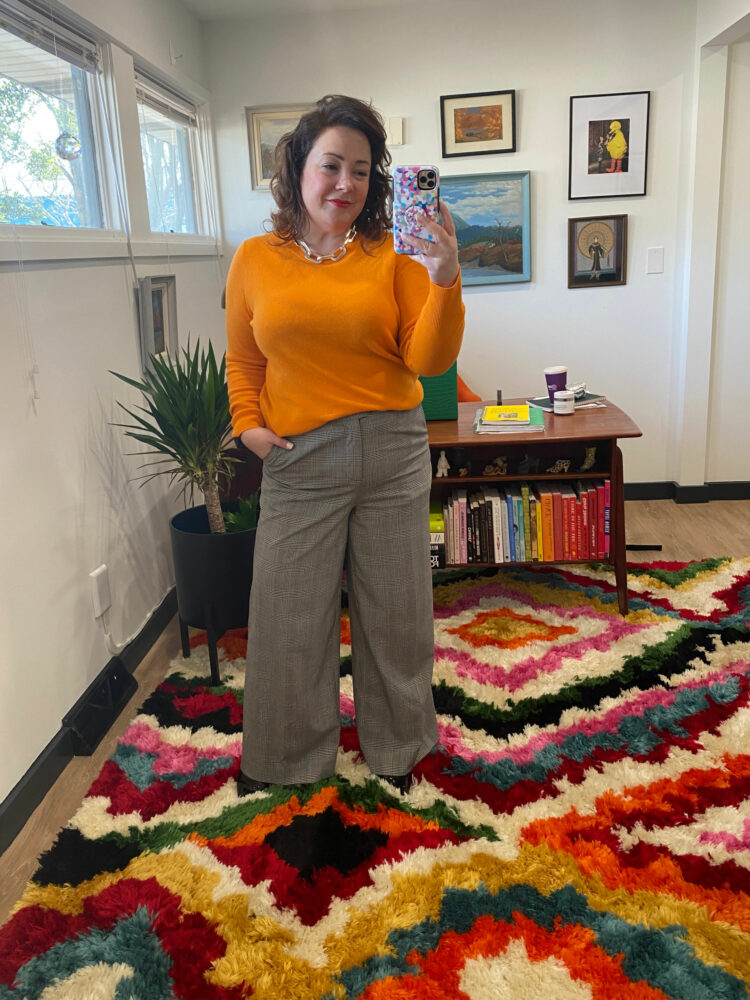 My hair has gotten long! It's to the point where it wants to do absolutely nothing except be big and wingy and something that would have been cool in the '80s but now on me looks a mess. Well good thing I had an appointment with Billy Maloy, my hairstylist!
I'm wearing a J. Crew cashmere crewneck in a color that is no longer available; I wore it before with the same pants in this post. I'm wearing an XL. J. Crew cashmere isn't the softest or the thickest that I own, but it's low on pilling and always comes in great colors.
The pants are Universal Standard and I really wish they'd bring back a similar pant. I only had it in this plaid, and they also had the Meg blazer in the same plaid. But in black, navy, gray, maybe a color like merlot or olive… I like how they aren't heavy or restrictive and dressy enough for the office or a night out. These are the XS but hemmed by a tailor to my length. You can see them on me previously here and here.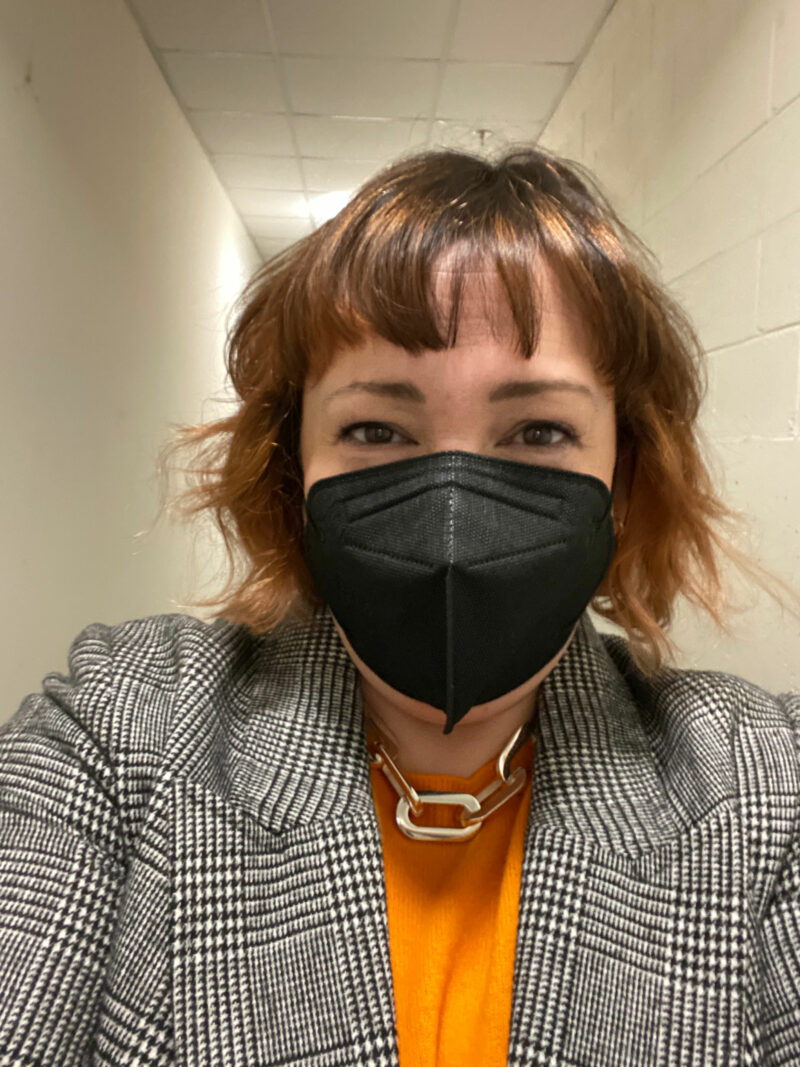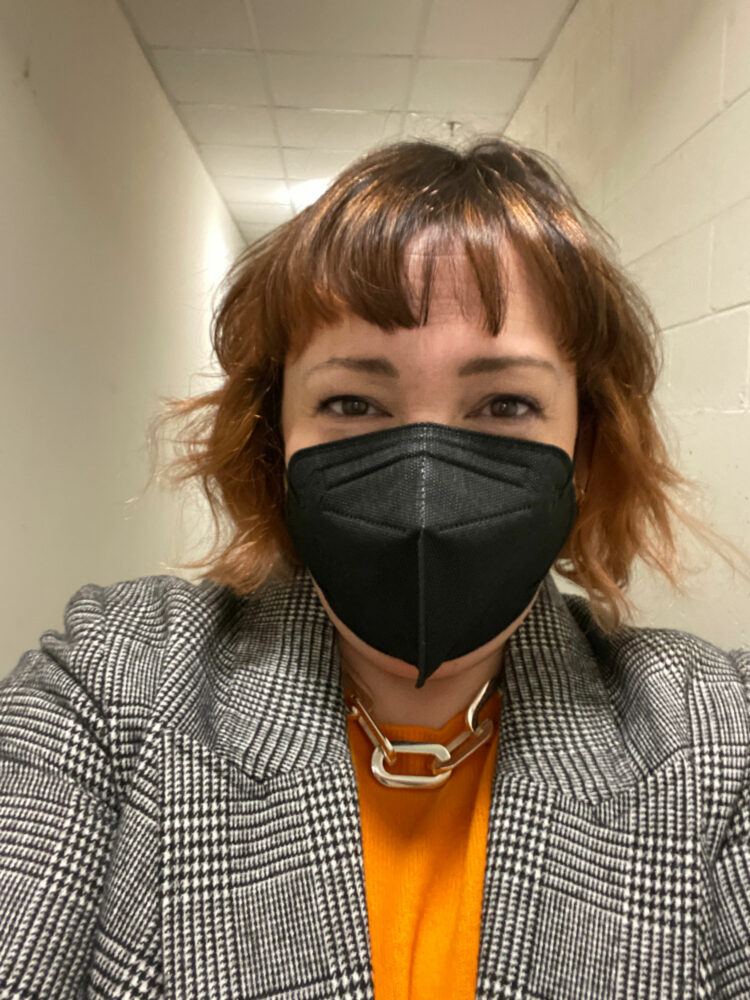 So I went to see Billy and we had already discussed going shorter, a French girl bob, sort of like a 2022 Amelie with a heavier bang. Billy wanted to have it ombre from brown to platinum but I had a fear I wouldn't look badass but instead like someone who hadn't been to the hairdresser to clean up her roots since the pandemic started so we compromised with caramel/strawberry blonde.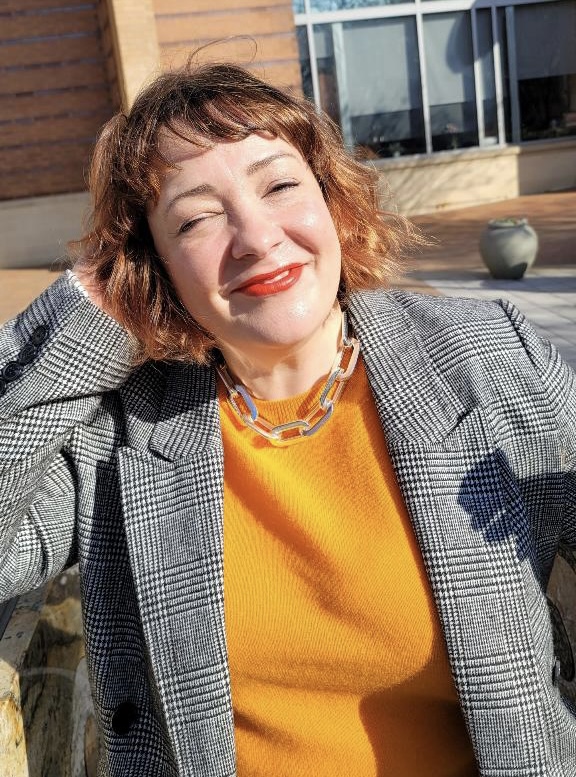 It's funny, I have always been one to change my hair. I've been blonde more than once, every shade of red and auburn. I've done black, blue, and streaks of pink and purple. I've shaved half my head, at 2am one year I put my hair in a side ponytail and cut it off (ended up with a kinda cool asymmetrical cut). But the past few years it has been wavy to curly anywhere from mid-neck to shoulderblades and some shade of brown.
And this change feels really major. Like look in the mirror and am shocked by the results. But I like it… and I needed it. I know I am not the only person who has felt as though some of the sparkle and vibrancy of life is missing since March 2020. And a new cut and color is a kick in the pants to feel new, change things, have a new perspective.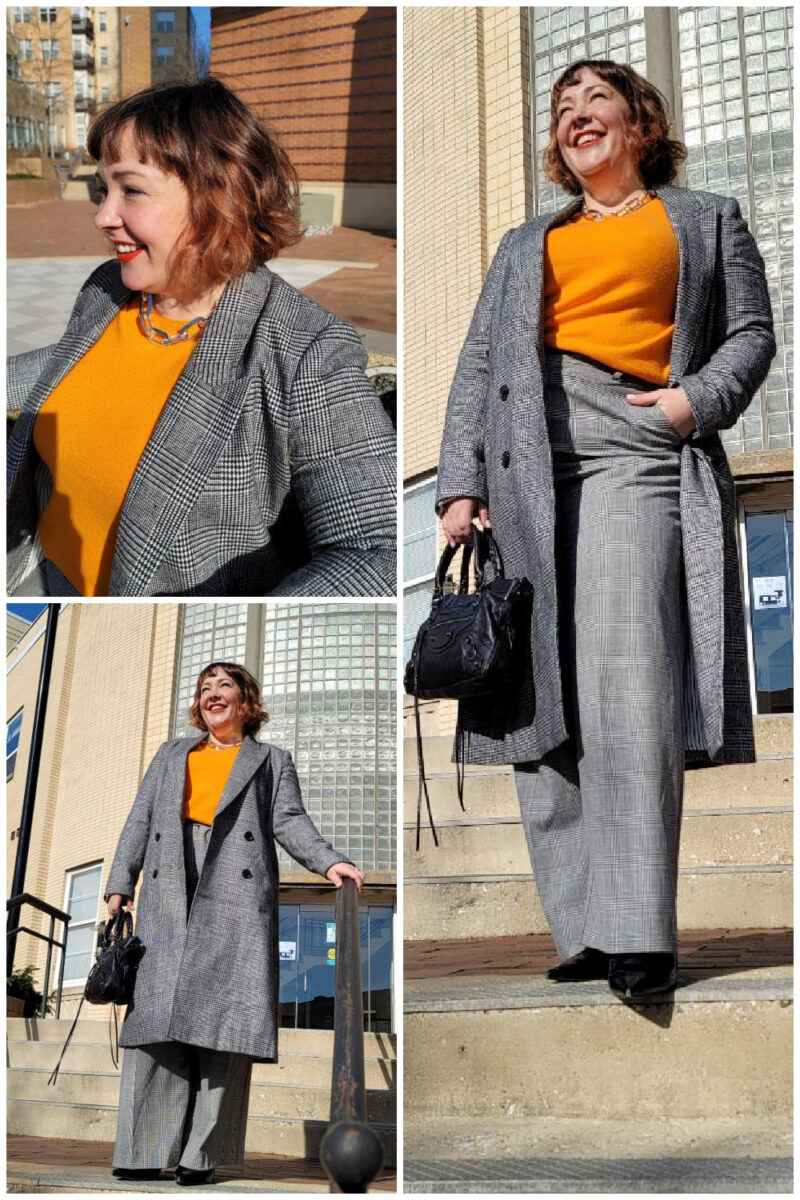 My coat is Nili Lotan for Target, I originally showed it in this post. The boots are very old from ASOS, which continues to be a favorite place for trendy wide width shoes. Necklace is Jenny Bird, though no longer available. Lipstick is MAC's Dangerous.
Wednesday: Not My Best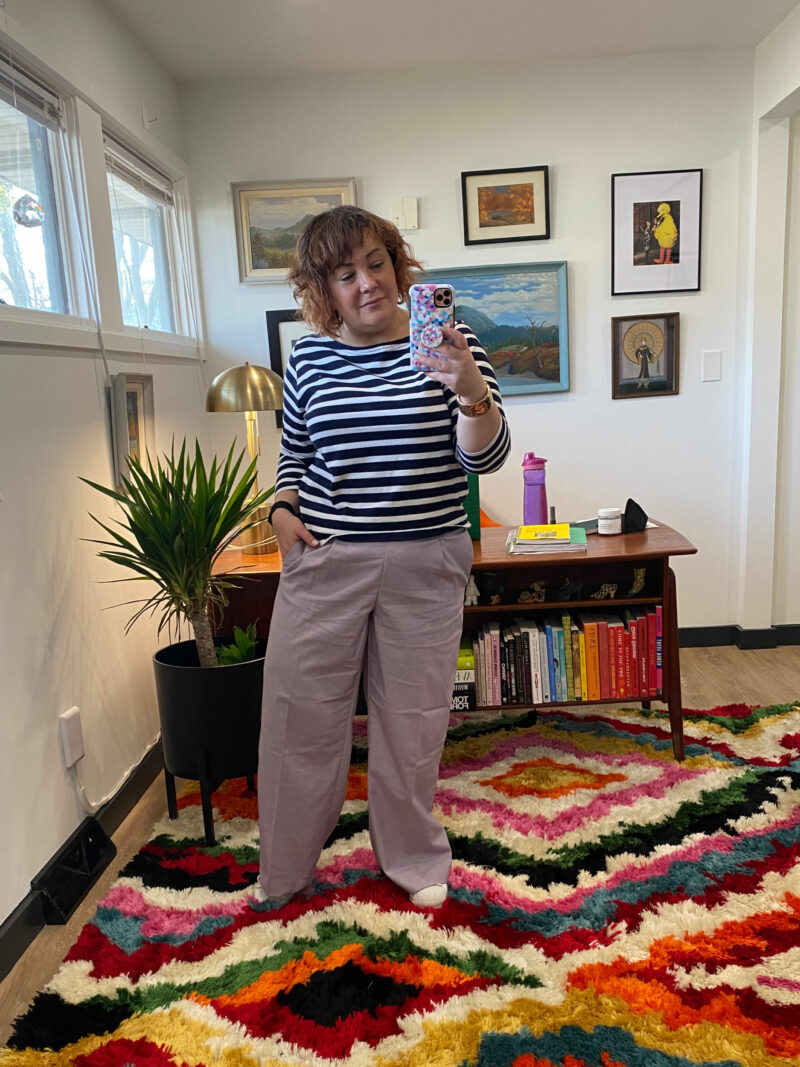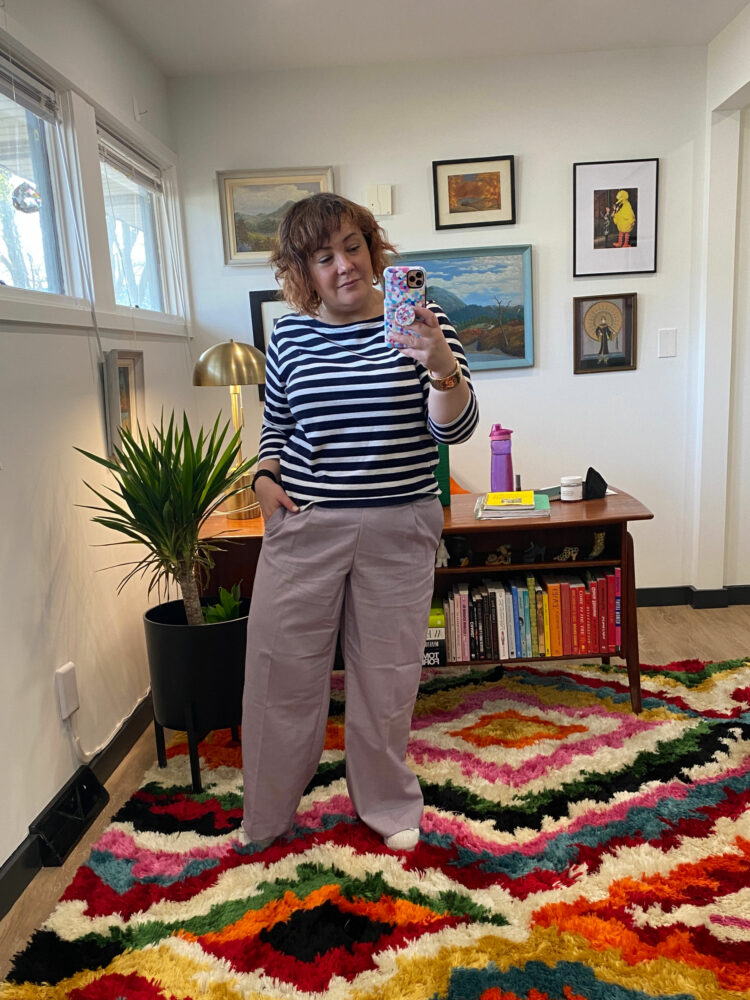 I woke up and was like OMG I look like Punch and Judy, I look like Lynn Yaeger, my hair is so wrong. And with that mindset, getting dressed was really hard. And I had ahead of me a really hard and long day of work. I didn't want to wear anything fitted, I just wanted to be comfy and get through the day.
I mentioned these pants in The Friday Shop, they are from Ann Taylor in Large Petite, and as you see they are really meh on me. The color in person is more refined but in photos, they look like scrub pants. The teal I got in regular and they fit better but need to be hemmed. The top is J. Crew, I've had it for likely a decade, it's size XL. It's the heavier weight Breton they sometimes carry; this I believe is similar. And on my feet are Adidas shelltops.
Thursday: Pattern Mixing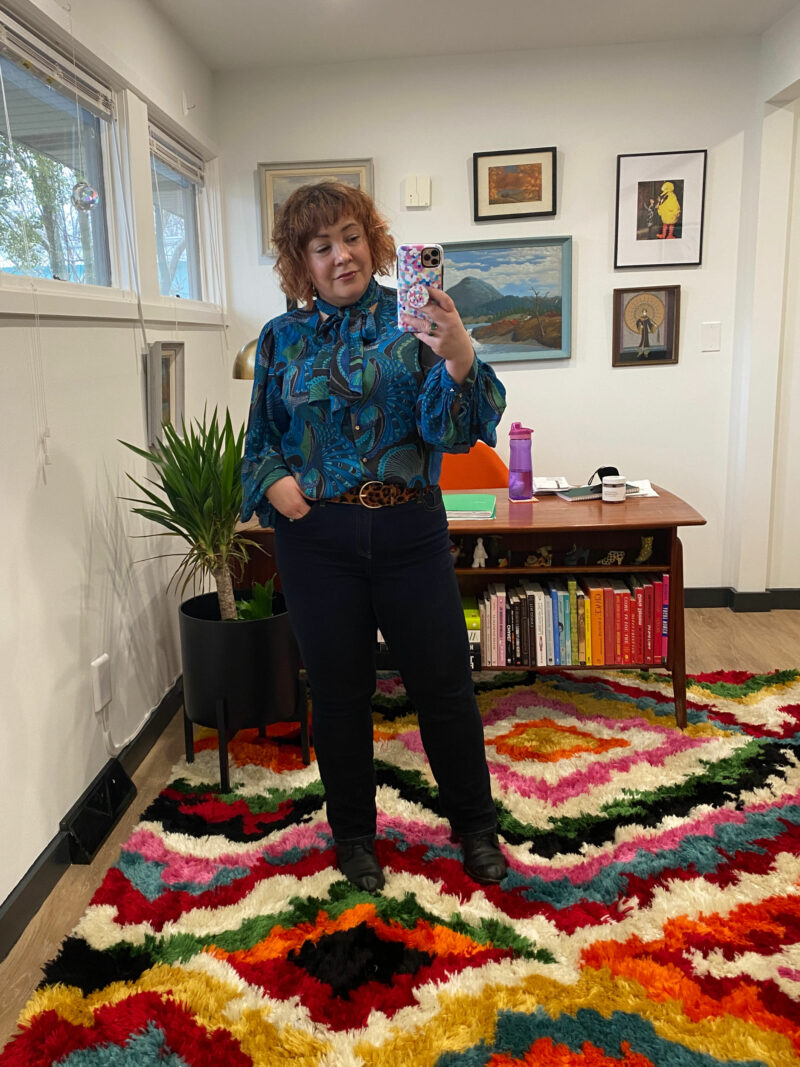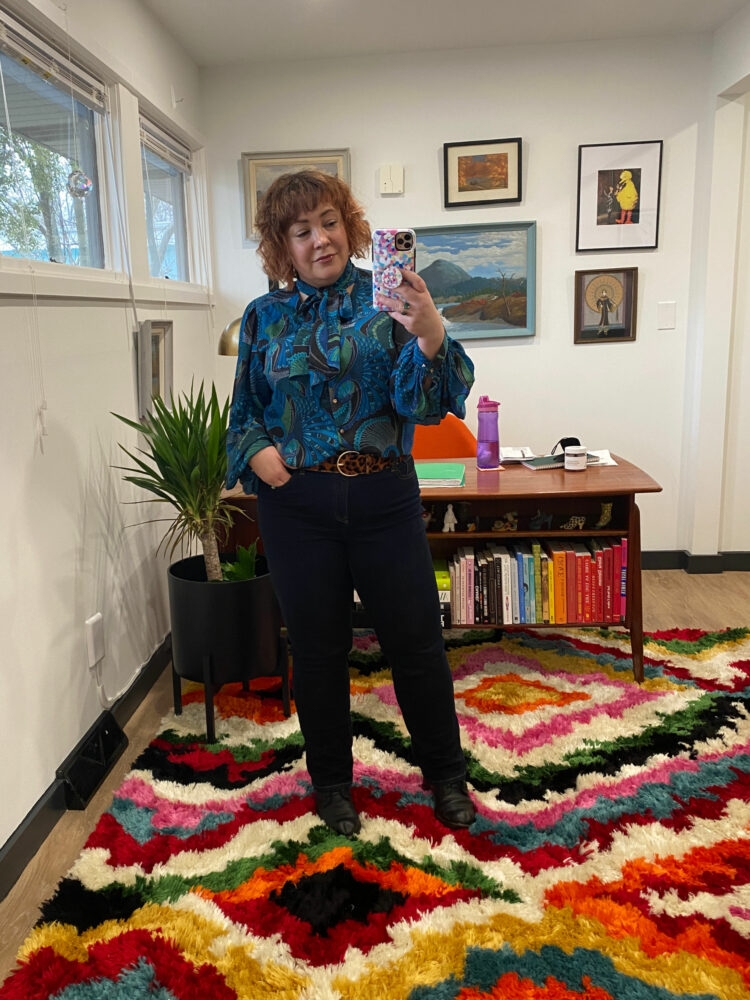 Day 2 with this new 'do and I was getting into my groove. I've worn this blouse from Chico's before (size 2). Last time I threw the tie over my shoulder like a scarf and tucked it into wide-leg black pants. This time I felt the bow went with the new hair and chose jeans for a more chill effect. I am wearing a size 2. The top is out of stock in this print but they still have it in a cool leopard print.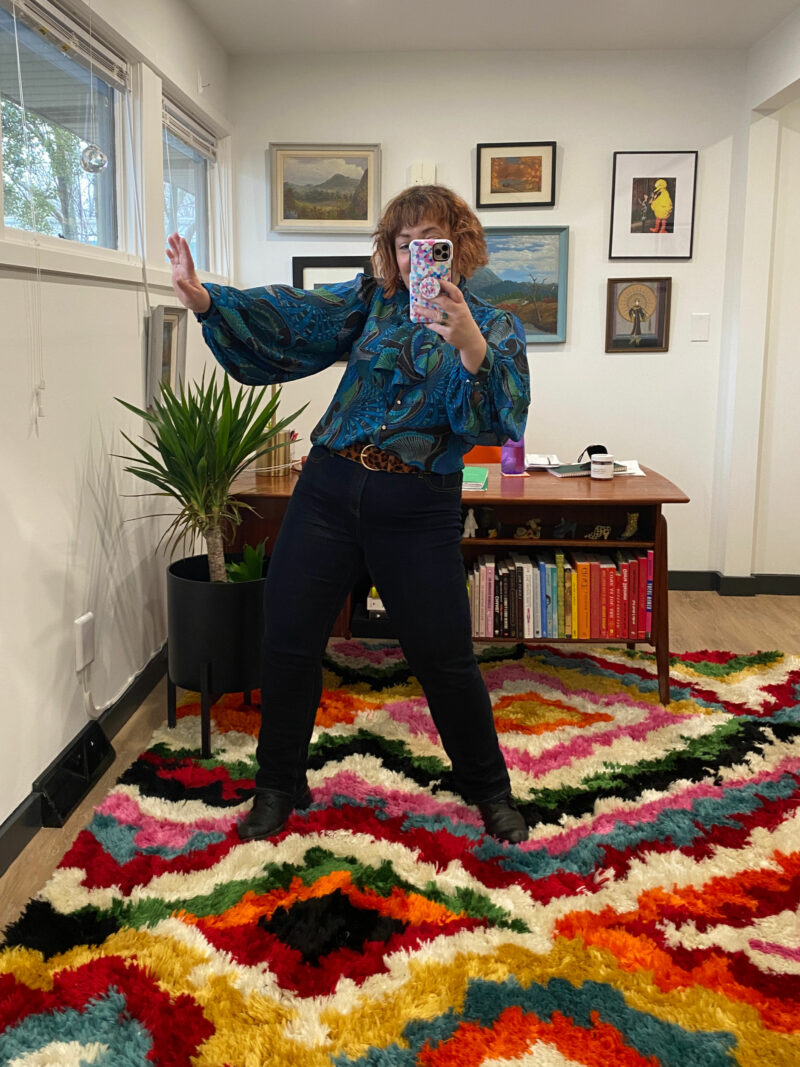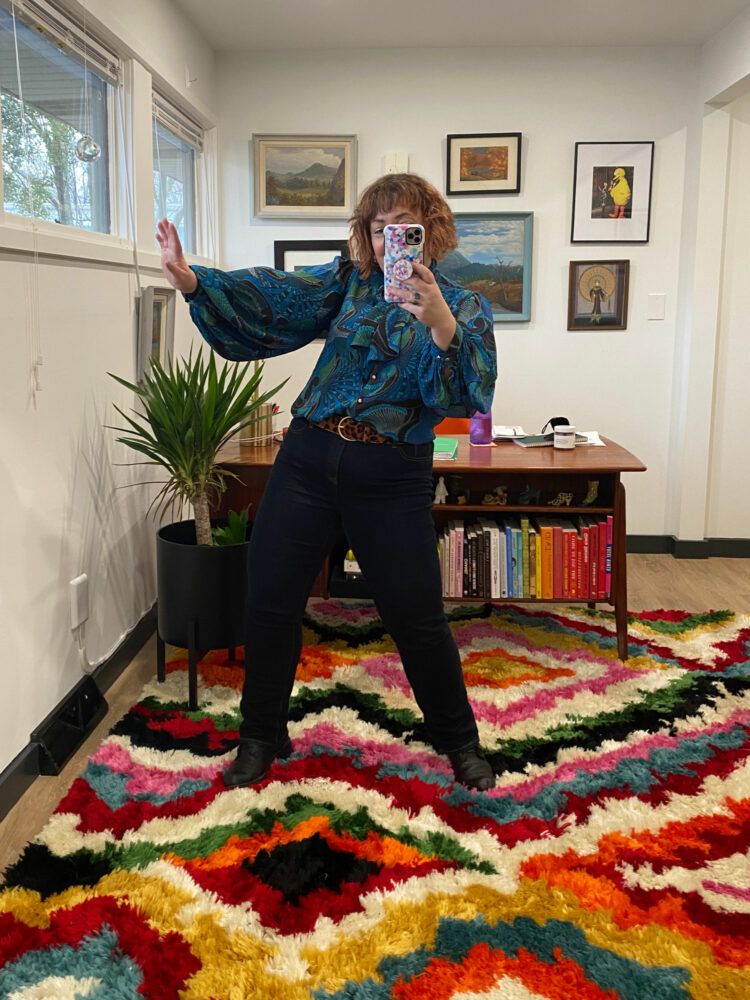 The belt is cabi, several years old but this one is similar and this is a budget-friendly alternative. The jeans are also Chico's – these to be specific in size 2 Regular. And because it was a rainy day I wore my waterproof La Canadienne boots.
Friday: I Saw it In My Head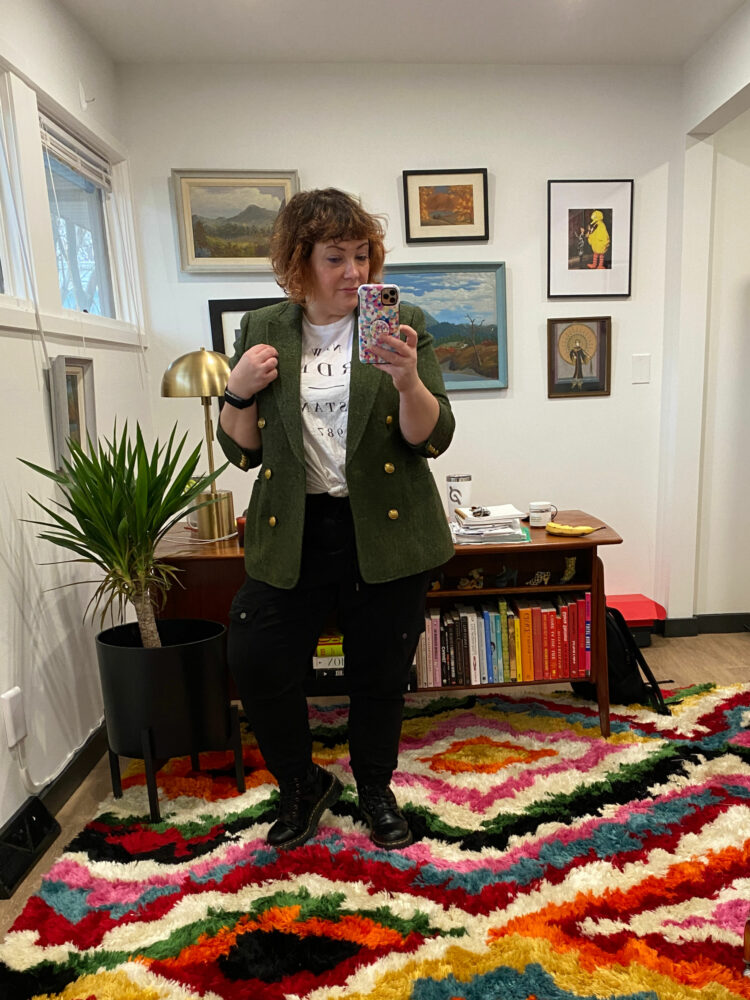 Friday morning I woke at 4am and lay in bed deciding whether to go back to sleep until the alarm went off or get up and take advantage of the extra time. Instead, I just lay there for about an hour and during that time I thought of this outfit.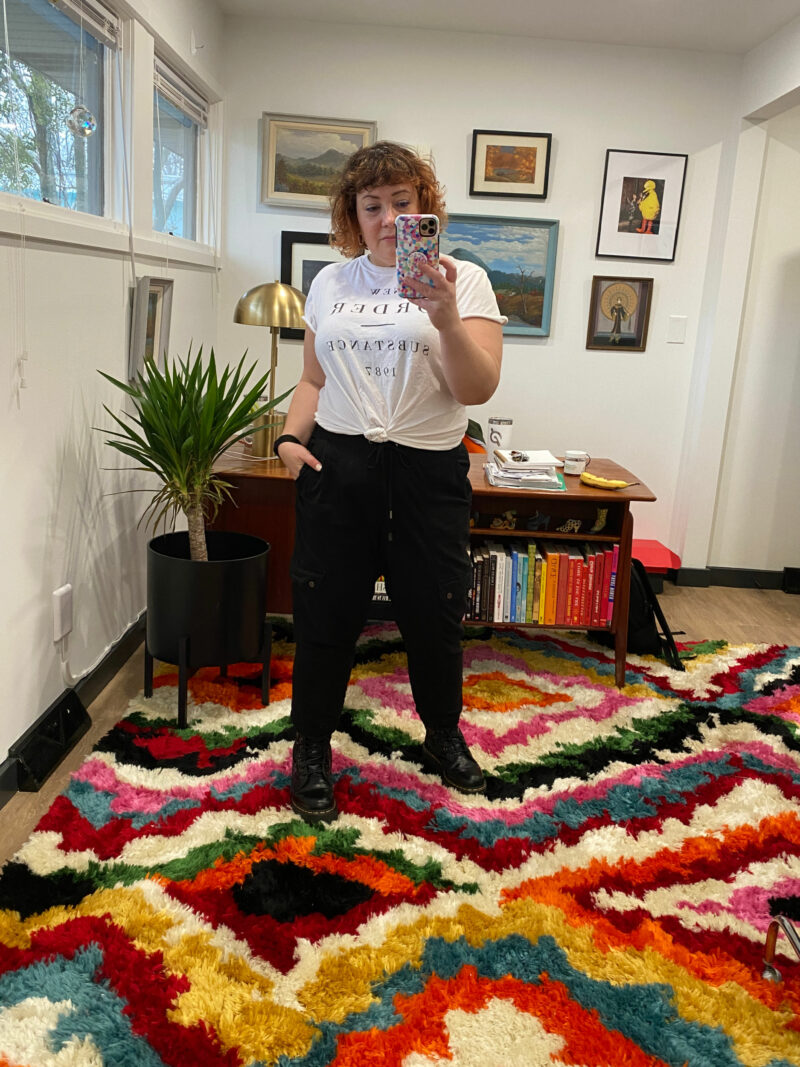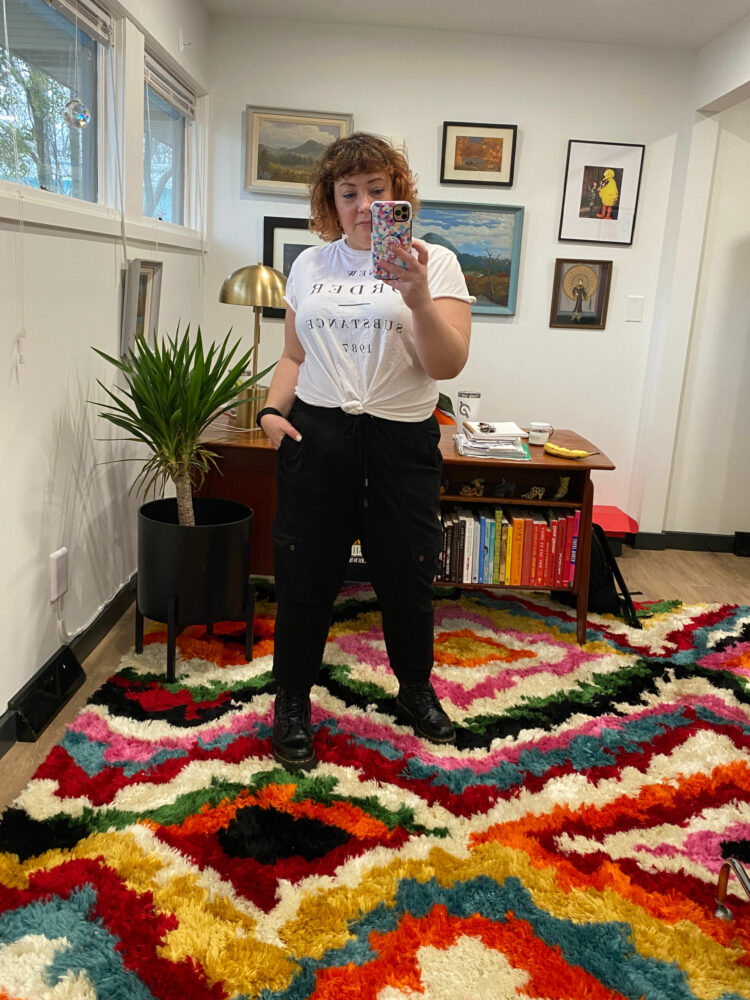 A lot of times I'll think of looks in my head and the execution doesn't work because I forget that I am as short as I am, with as many curves that I possess. But this time it worked out! The t-shirt is New Order, I cut off the sleeves per this t-shirt DIY and tied the bottom per this knotting technique.
The pants are twill joggers from Banana Republic that I got this past fall (size Large); they were first seen in this outfit post. The blazer is J. Crew from two years ago (size 14). This post is the first time I featured it; I also wore it when I got my first vaccine shot last year. And the shoes are my "Jadon" Docs.
Shop the Post: