This article may contain affiliate links; if you click on a shopping link and make a purchase I may receive a commission. As an Amazon Associate, I earn from qualifying purchases.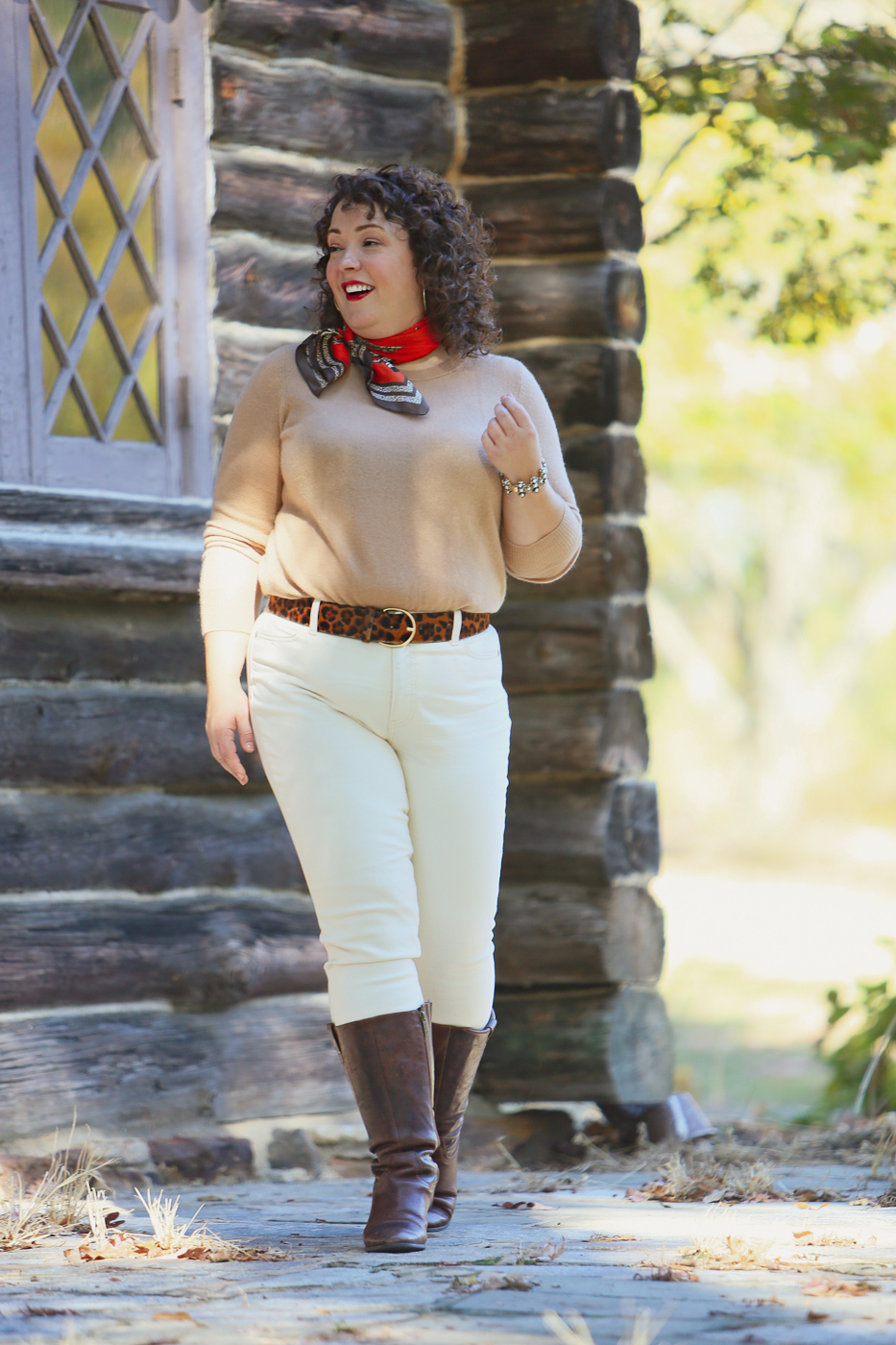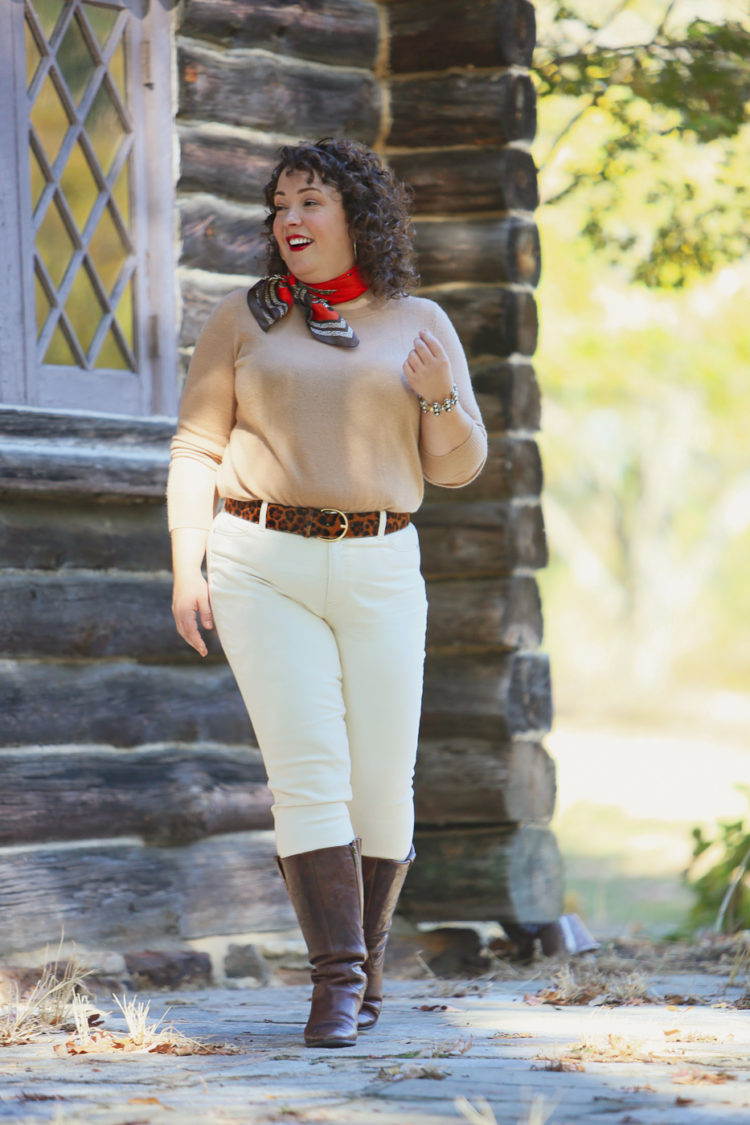 There's something about fall where I gravitate towards warm neutrals. It's like I want to match nature with autumnal hues seen in the drying grasses and falling leaves. It's the time of year where I love wearing camel, gold jewelry, cream, ivory, and brown leather with pops of pumpkin, scarlet, and emerald.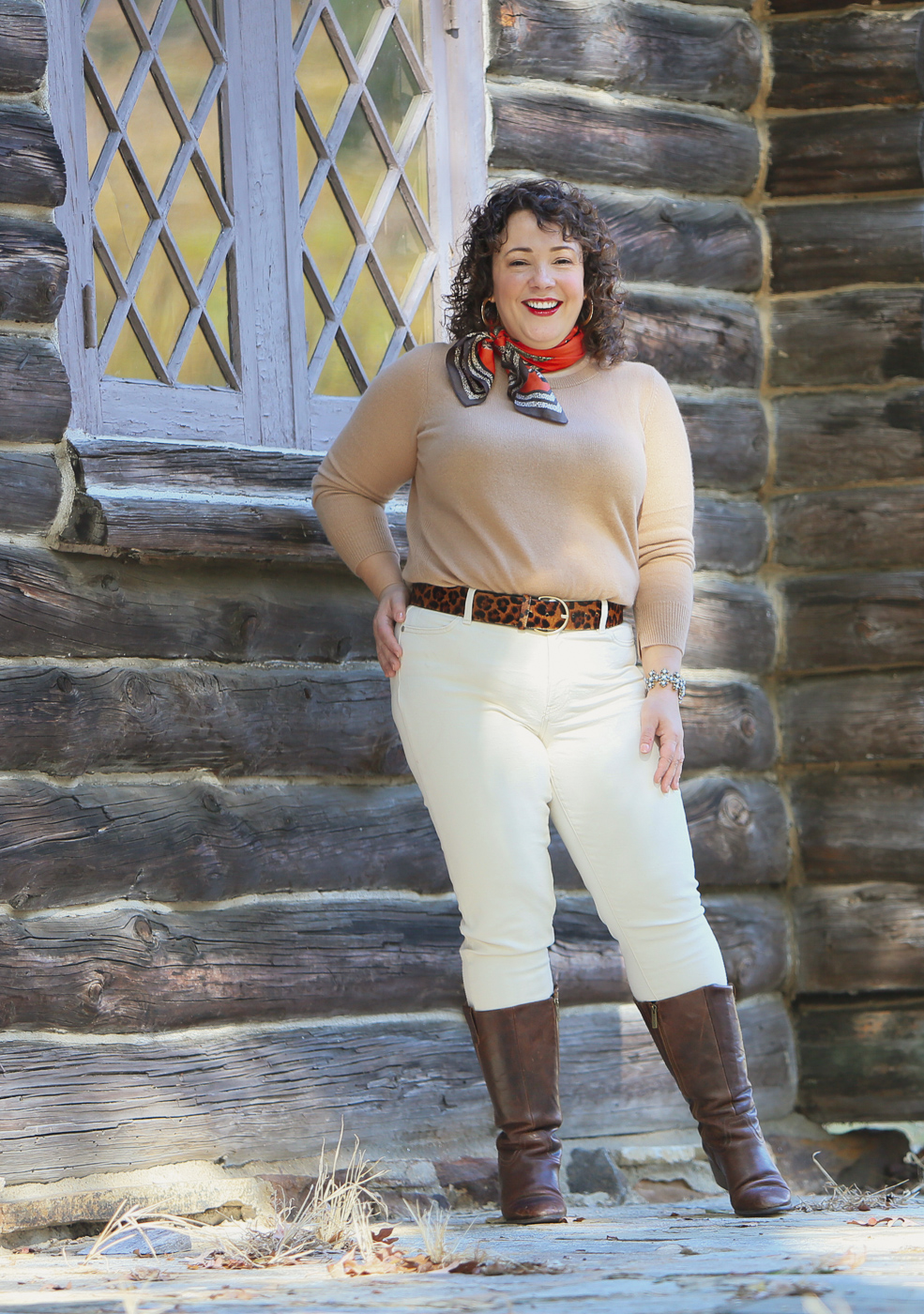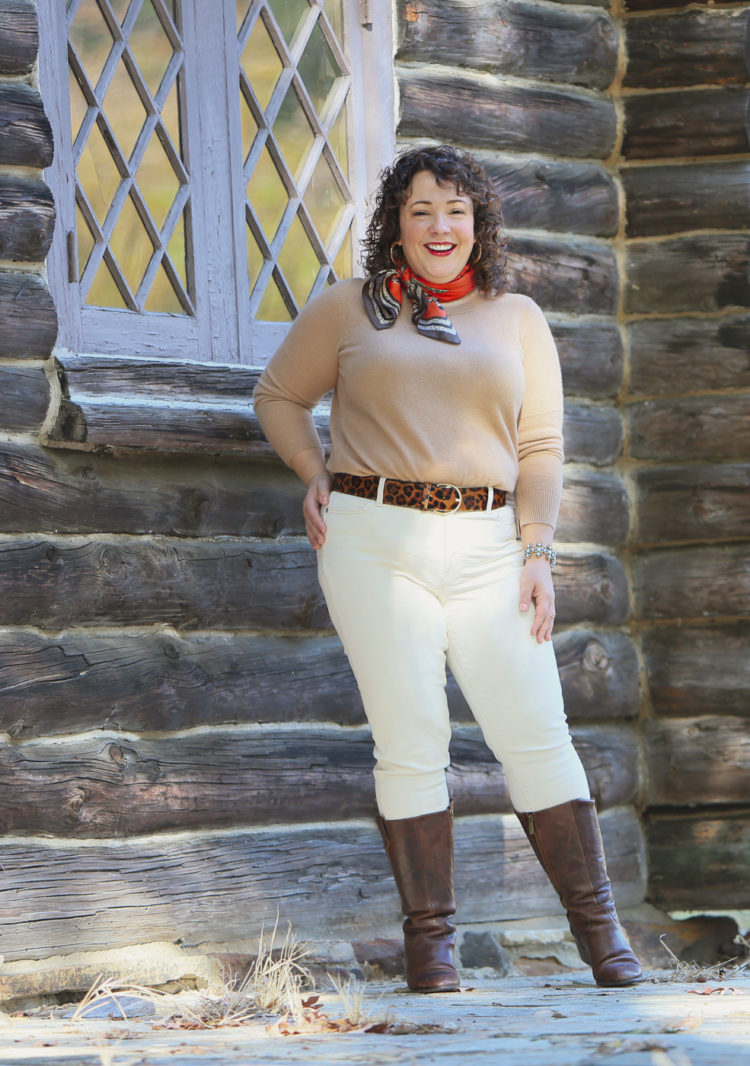 sweater | jeans | boots | belt | scarf | bracelet | earrings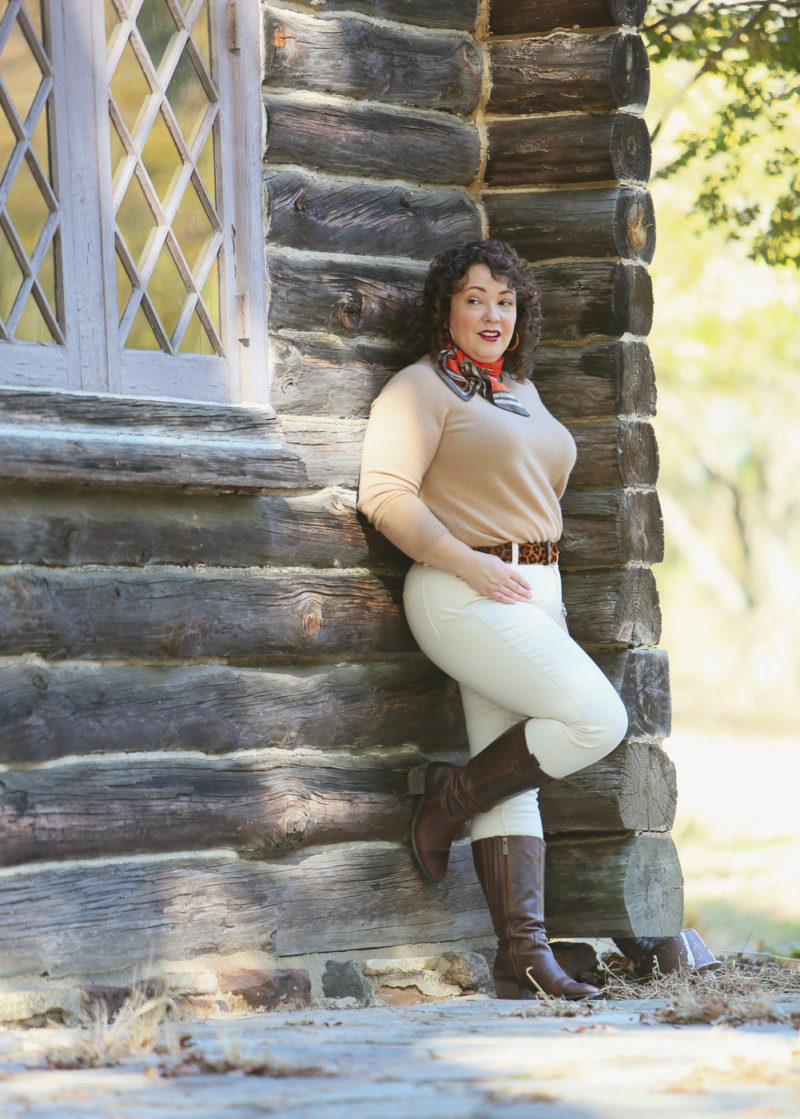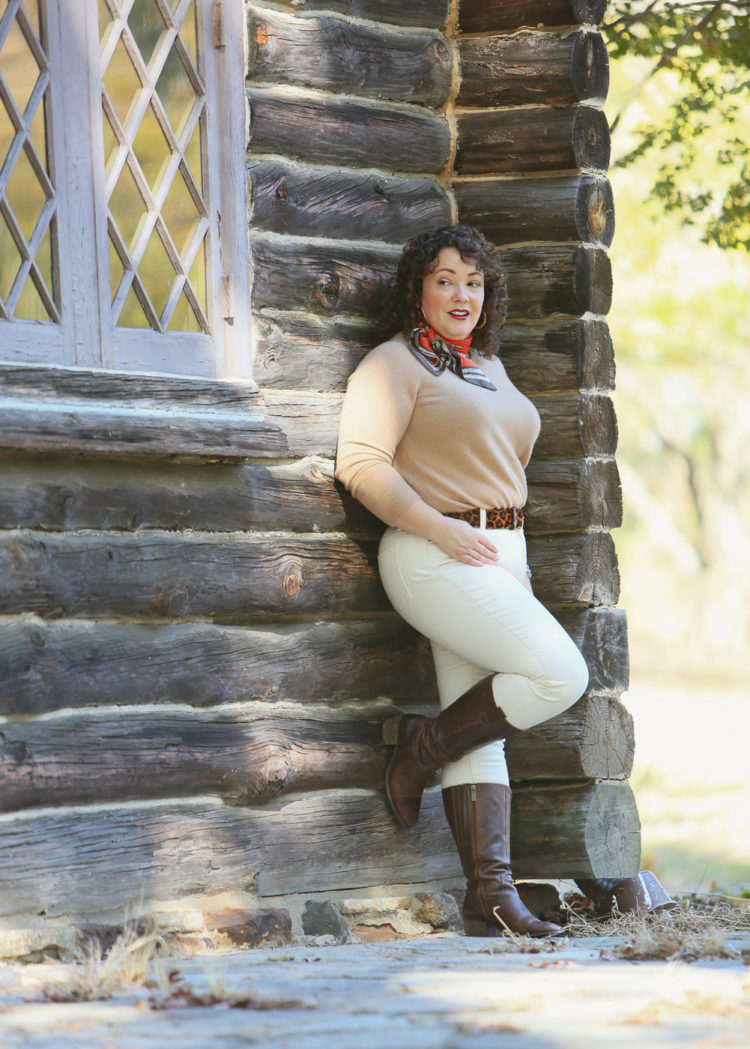 Sweater: Halogen (large) | Jeans: Slim Ankle Jeans c/o Talbots (12P) | Belt: Beast Belt c/o cabi (L) | Scarf: Deidre Scarf c/o cabi (old; similar concept) | Bracelet: Tudor Cuff c/o cabi | Earrings: Quinn Hoops c/o Jenny Bird | Boots: c/o DUO Boots (old; similar)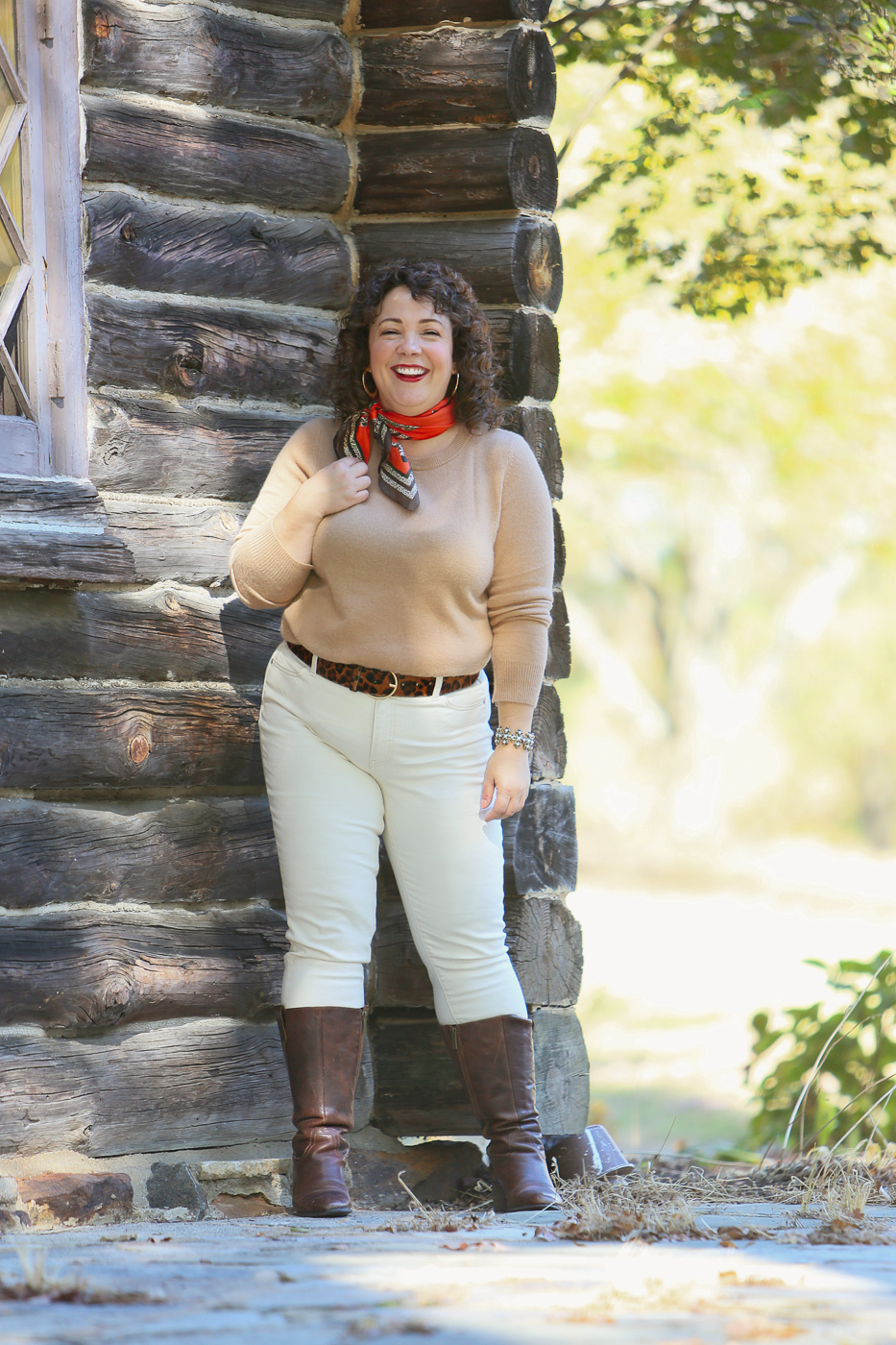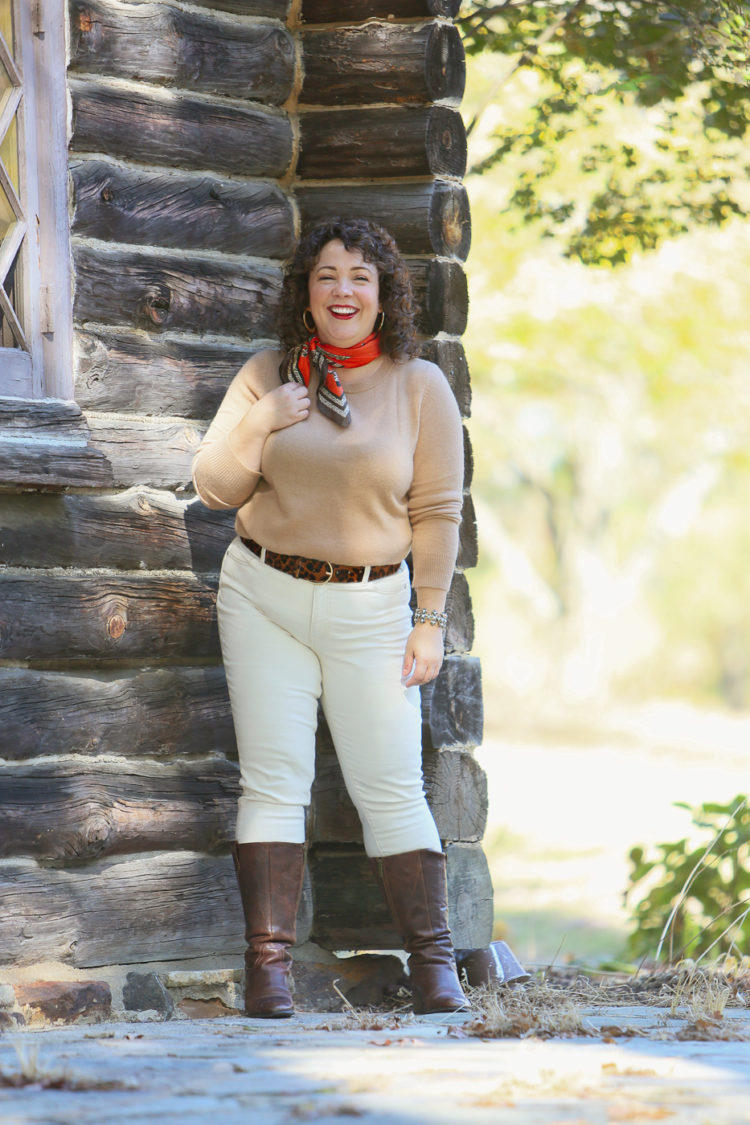 I love the Nordstrom in-house brand Halogen… but I don't love their cashmere sweaters. They start off super soft and lovely but they pill like nobody's business. Also, I don't get the not quite tunic, not quite standard length with the split hem. If you wear it untucked it hits at a really weird spot on many people; if you tuck it in you can't blouse it out much or else the splits will show. I'll be honest, I bought this sweater (again, because I owned this same Halogen cashmere sweater in 2016 which is why I know these sweaters aren't great) with an old gift card for a sponsored post going live next Wednesday. I like the color of camel, I like the softness, I like that it's not super bulky and figured it would work with a few looks and I'd just baby it. Maybe it's better quality three years later? I wore it for two shoots – this one and the one you'll see next week. Then I went to lunch, ran some errands, came home and took off the jeans and switched into knit pants to work on my computer and by the end of the day I had a bald spot under one arm and the sides of my boobs were coated in fuzz balls. That's complete BS, Halogen. So I returned it. I want to be completely honest with you. I know some of you like this sweater but for my shape and how I move, it sucked back in 2016 and it still sucks in 2019. But you know what cashmere I have that I love? I find these to be the best cashmere sweaters for women:
My Picks for the Best Cashmere Sweaters for Women:

All great choices, better than Halogen. If I have inspired you to buy Halogen cashmere, I am sorry. I won't be suggesting it any longer. If you have a cashmere brand you swear by share it in the comments so we can all be better consumers. I don't care what a sweater costs, if it can't survive a single day of average activity, it's a waste. And such waste can't be donated, it's sent off to the landfill. For years I didn't buy cashmere because I couldn't deal with the care it requires. I stuck to merino wool, which looks polished, can oftentimes be machine washed on gentle, and is less likely to pill. I bought a Nordstrom Signature cashmere sweater on clearance and was hooked on cashmere. And clearly from my list above I've tried several brands. Cashmere isn't worth it if it can't survive your life. You don't need cashmere in your life, even though every blog and website will be pushing it hardcore from now until Christmas Eve. You deserve clothing that can survive the day, clothing that deserves your hard-earned money. Thank you for coming to my TED Talk.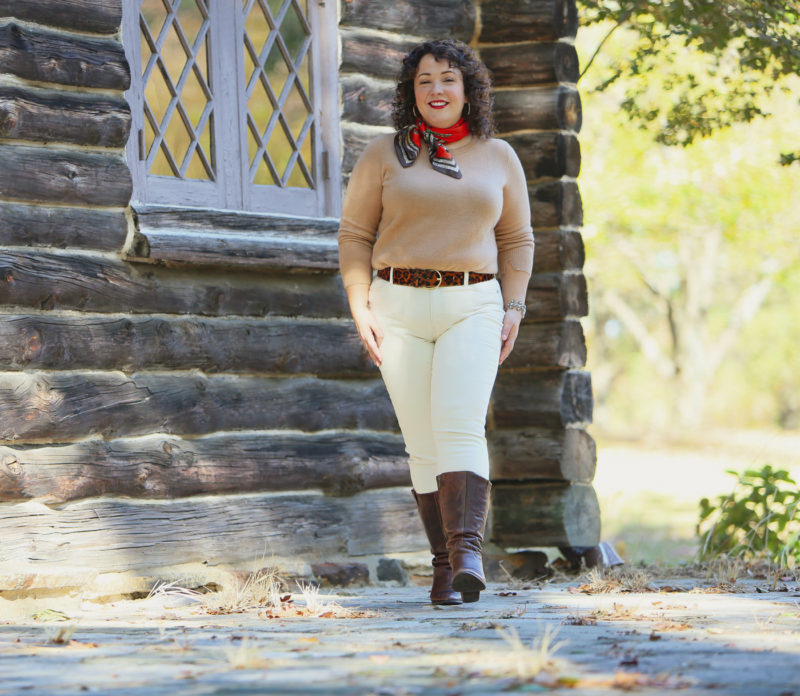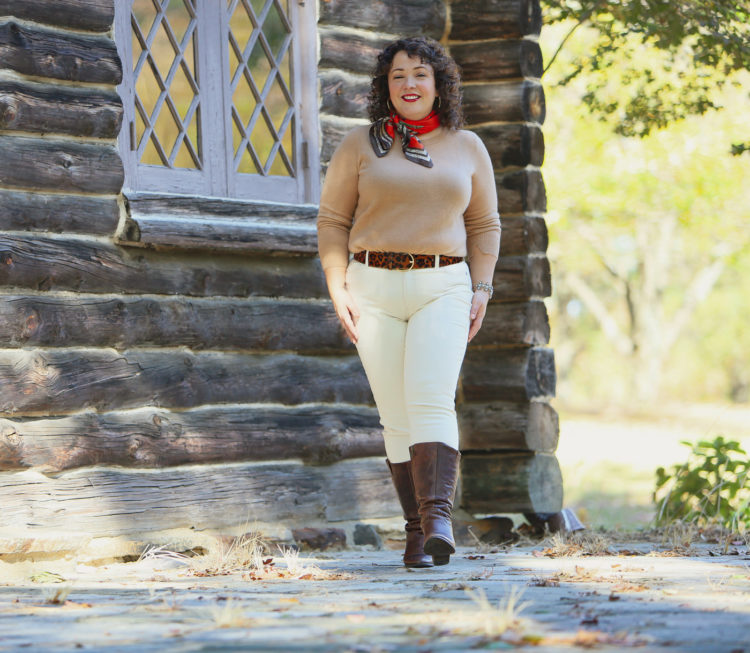 So let's talk about the rest of the look. These jeans from Talbots, I already have them in blue and asked for them in cream. Like white jeans, these are a lighter-weight denim than the blue, but not so stretchy that you end up looking like you're wearing a diaper at the end of the day. I think I'm best with a 12 regular with these for the rise; these hit right where I go in which sort of makes me look a bit lumpy. I always forget, knowing I need to size down but not that I need to lengthen up. But besides that, I like them. They, unlike the sweater, held up pretty well and looked great (and were the same size and length) after a trip through the washer and dryer. FYI, Talbots has their Friends and Family sale going on through October 27th, use FRIENDS at checkout and get 30% off your order.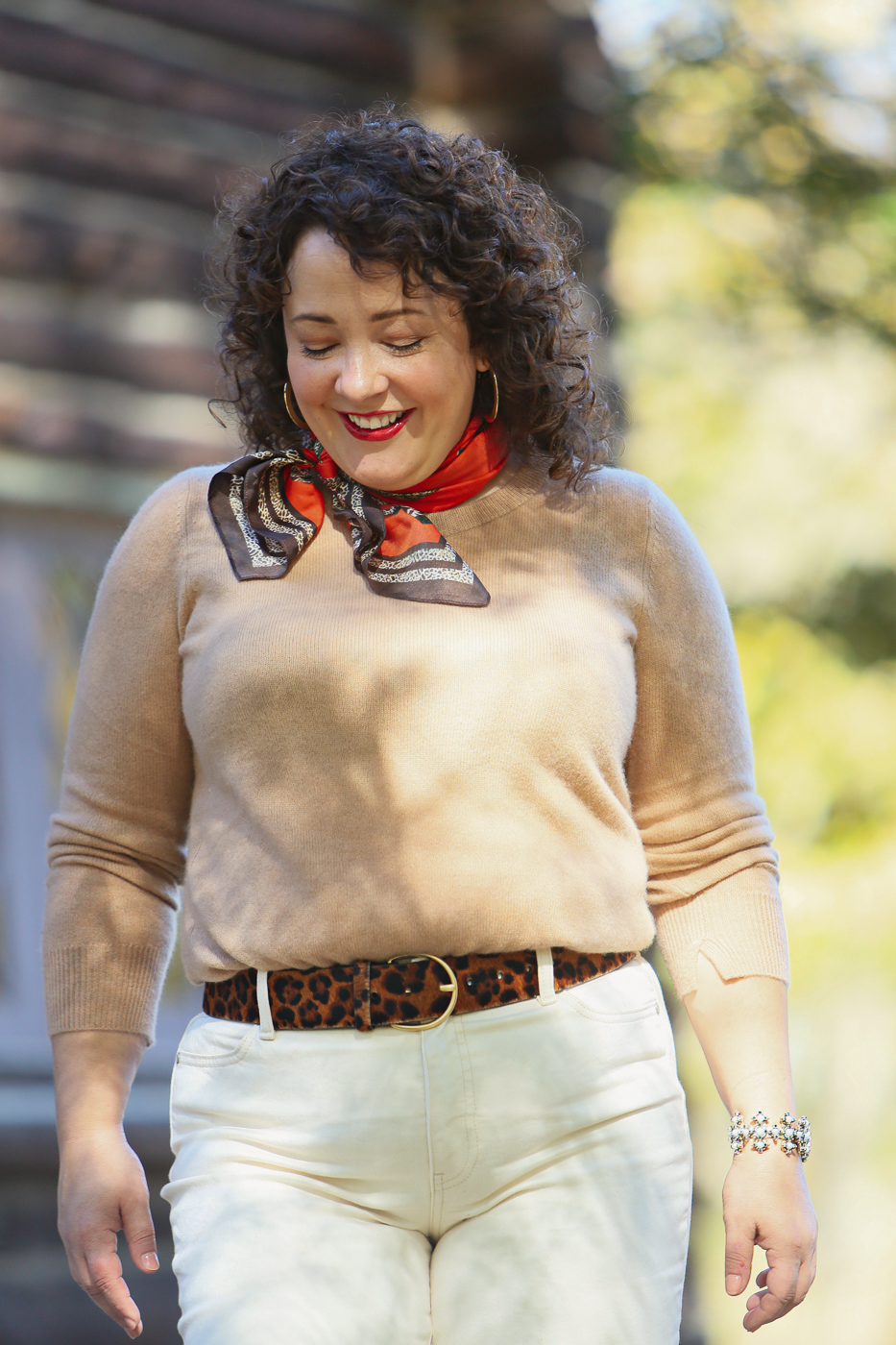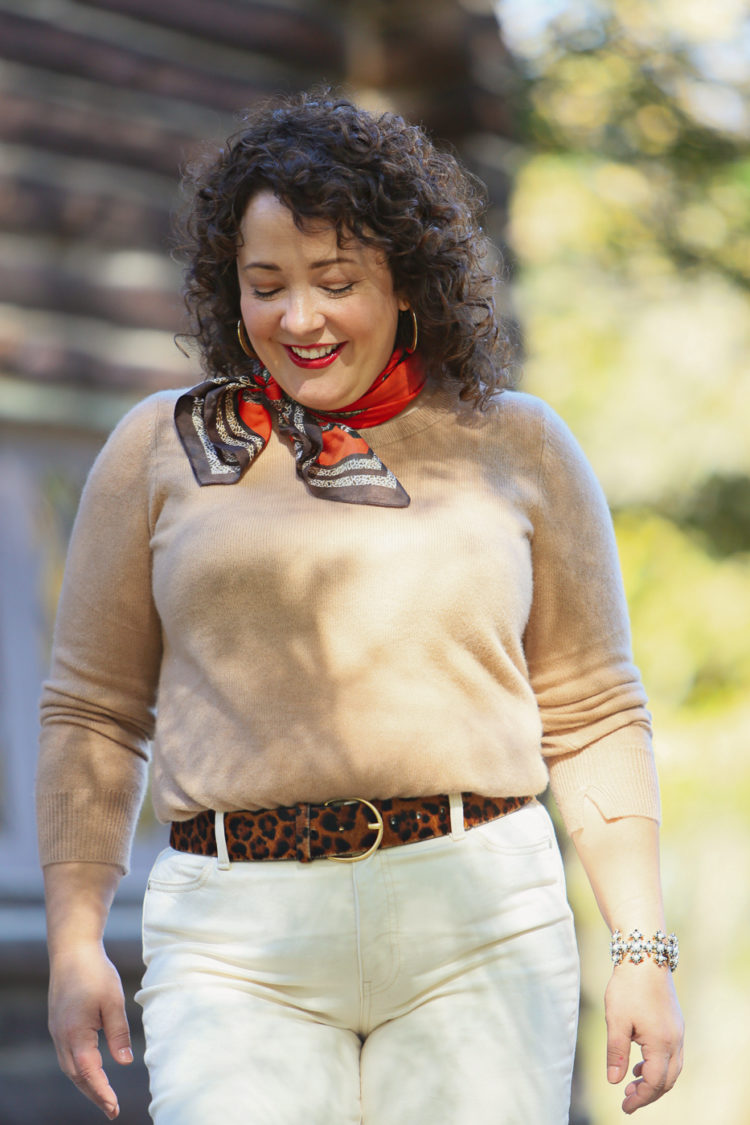 When I put this outfit together I didn't even realize three accessories were from cabi until I started pulling links. The scarf is from 2017 and continues to be one of my favorites. You can see it when I wore the cabi scarf as a belt in the summer of 2017. I bet there are other times I've worn it on the blog, I just couldn't find them right away. The belt and bracelet are from this season. I like that the cuff has a hinge so it's easy to get on and off. And the belt… well I am not ashamed to admit there are three warm leopard calfhair belts in my closet. I have this one, a slightly slimmer one with a lighter background print I got on clearance from Ann Taylor a few seasons ago, and then a skinny belt from… likely Halogen or Ann Taylor. And I wear all three. Leopard is a neutral!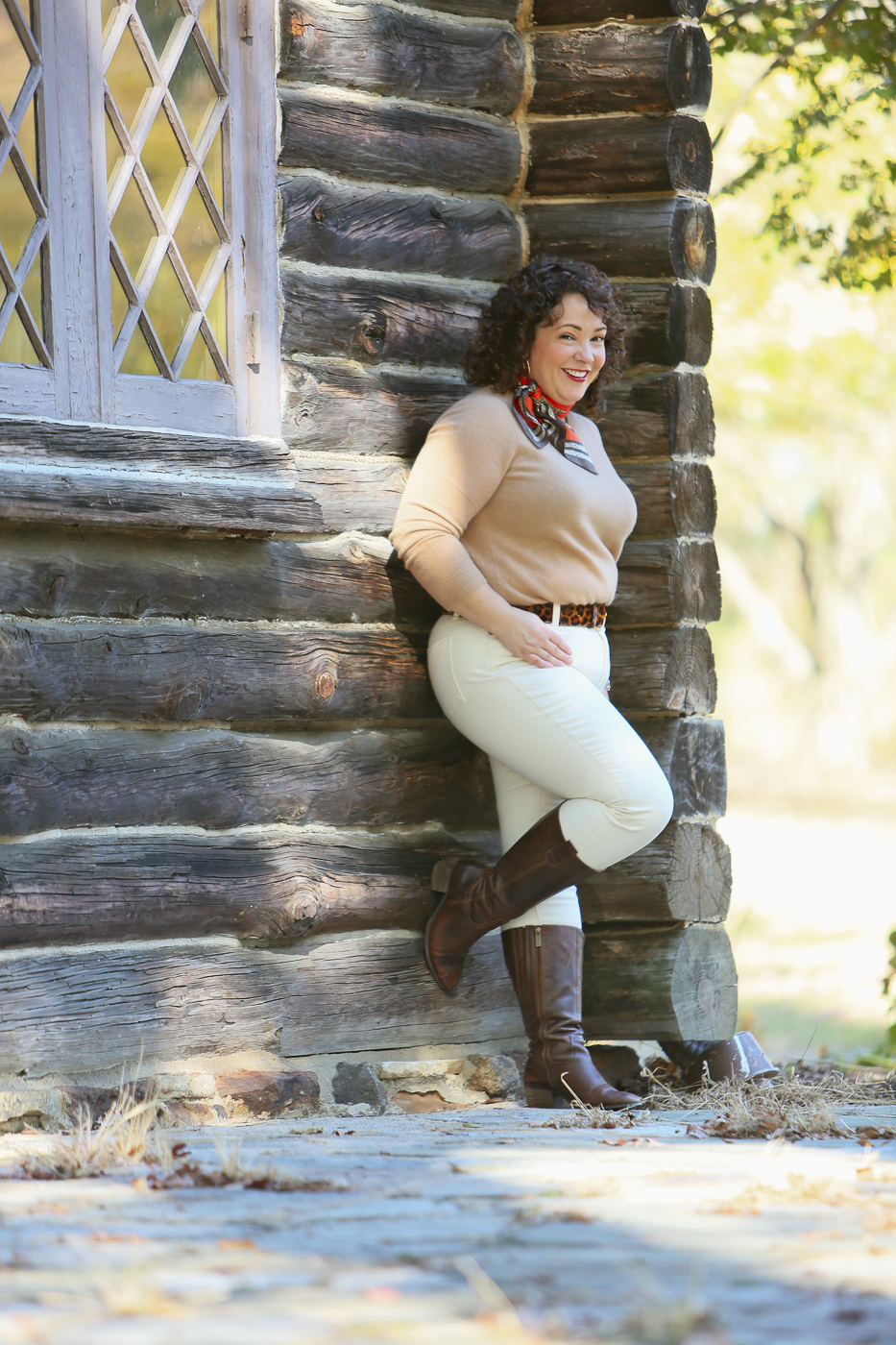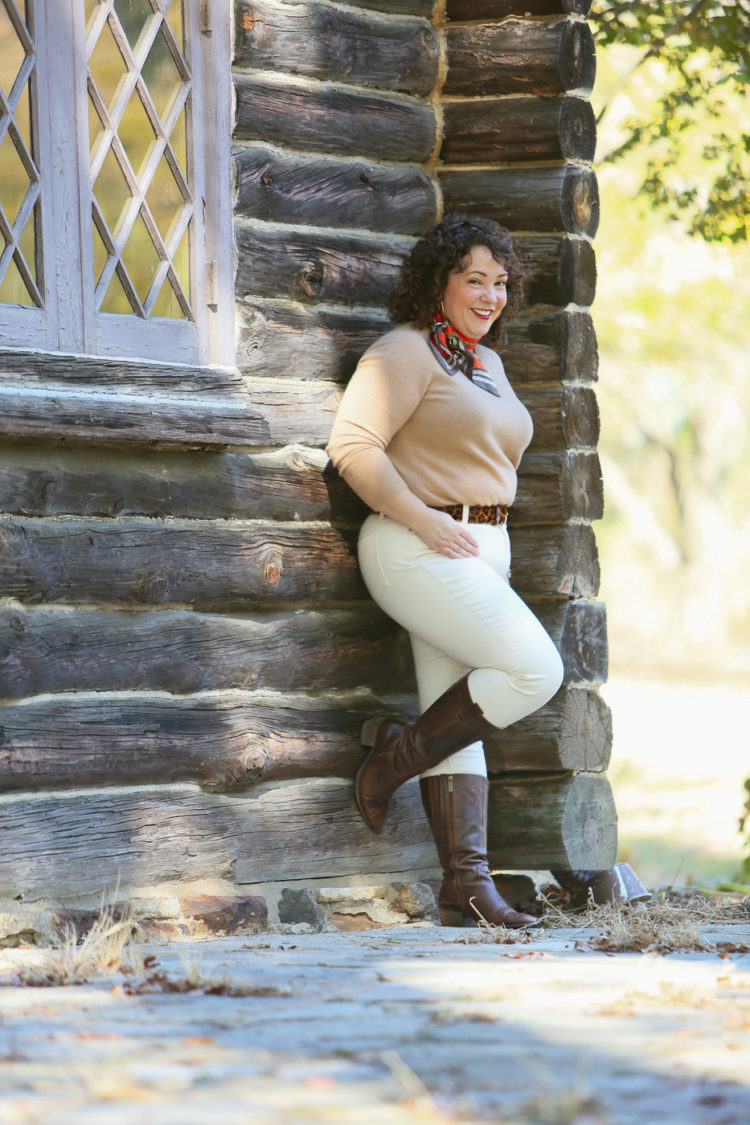 These boots show how my body has changed since I started lifting weights five mornings a week. I have always had big calves. Like I laugh at 16″ and even 18″ circumference boots because they are no match for my legs. My shins/ankles were even more of an issue, being so thick that even 20″ boots wouldn't zip up over them. After two years of weight lifting I still need a wide calf… but I can fit into a 17″ boot AND it will zip up over my ankles! These boots are now all slouchy on my ankles because I don't fill them out and the calves so loose I didn't even realize one was folded over during the shoot. When I got these DUO boots back in 2014 (oh gosh, look at that ridiculous outfit I put together because I had to showcase knee-high leather boots in July while sporting a broken arm) they weren't tight but they fit perfectly. Two years later when I was a larger clothing size, they were very snug over thicker jeans. And now… I am wondering if my cobbler may be able to do a nip and tuck here and there! If you follow me on Instagram Stories you may notice that each Monday I share a post-gym selfie and state my weight. I weigh only 10 pounds less now than I did when I was a size 16, and am almost the same exact weight I was in this 2014 blog post. Weight does not determine size, and your weight does not determine your worth. And I thank you for coming to my second TED Talk, LOL.
Shop the Look: