This article may contain affiliate links; if you click on a shopping link and make a purchase I may receive a commission. As an Amazon Associate, I earn from qualifying purchases.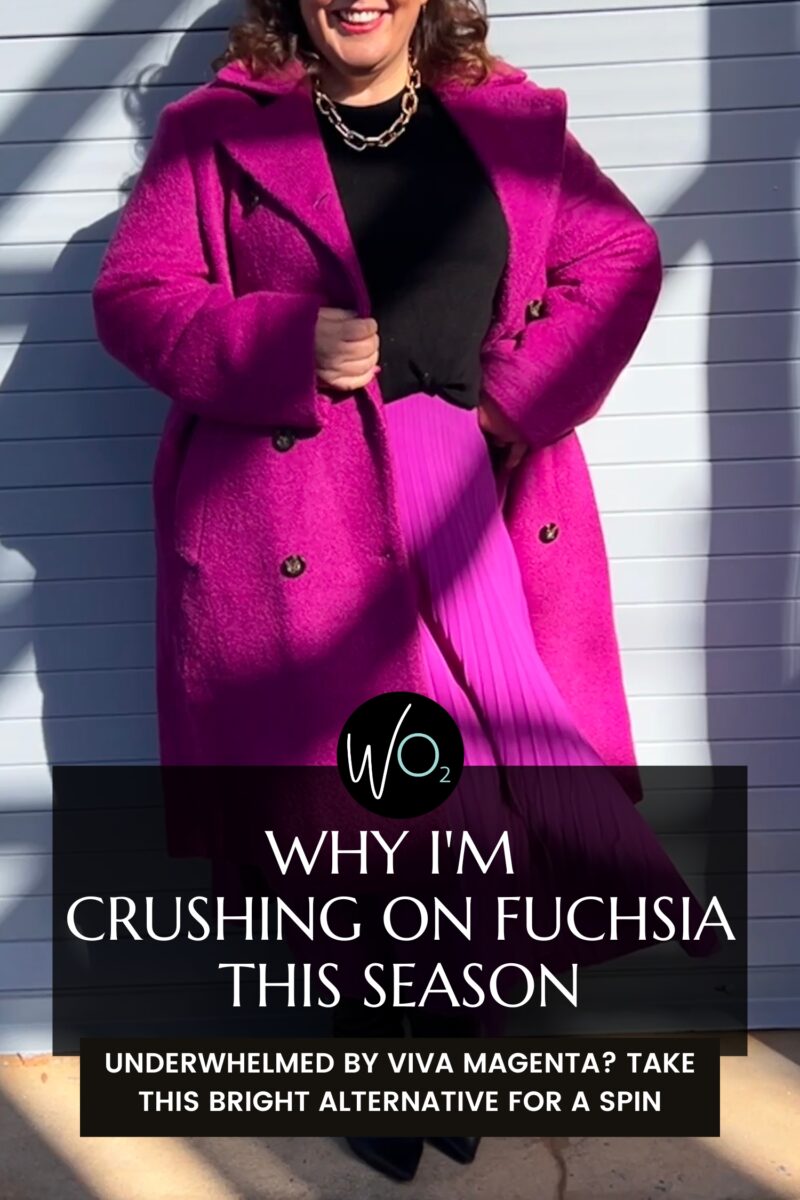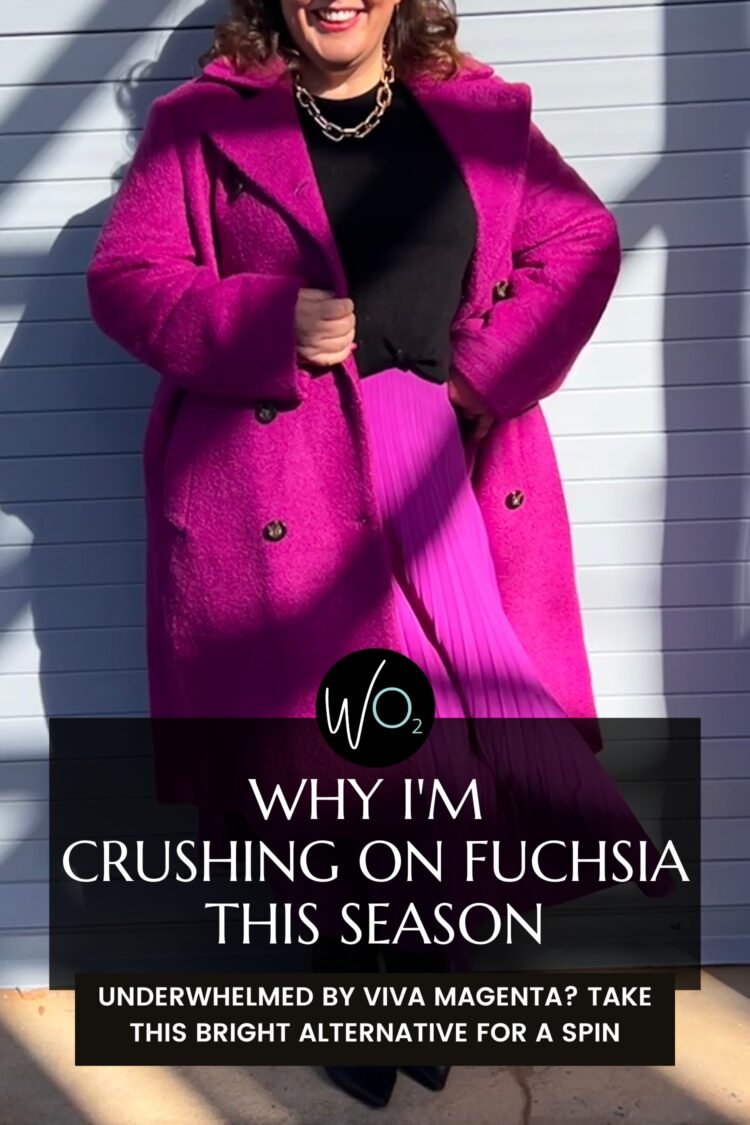 Before Lockdown, I used to get my nails done on a regular basis. I do powder fill acrylic; as someone who chews her nails and cuticles I find this type of nail keeps me from gnawing (makes my nails too thick to reach my cuticles and covers the nail), it lasts without chipping (up to three weeks for me), and id doesn't require scraping to get it off. And my two go-to colors were OPI's Big Apple Red and this fuchsia that didn't seem to have a brand name, just a number on the wheel of color samples.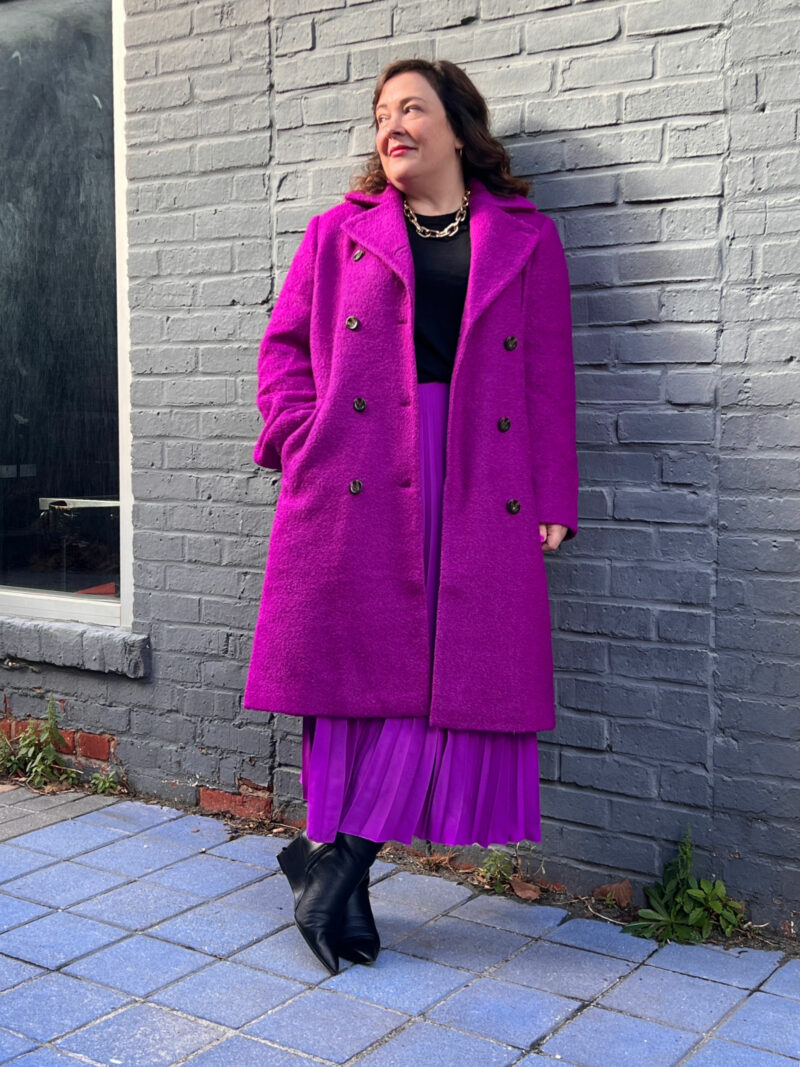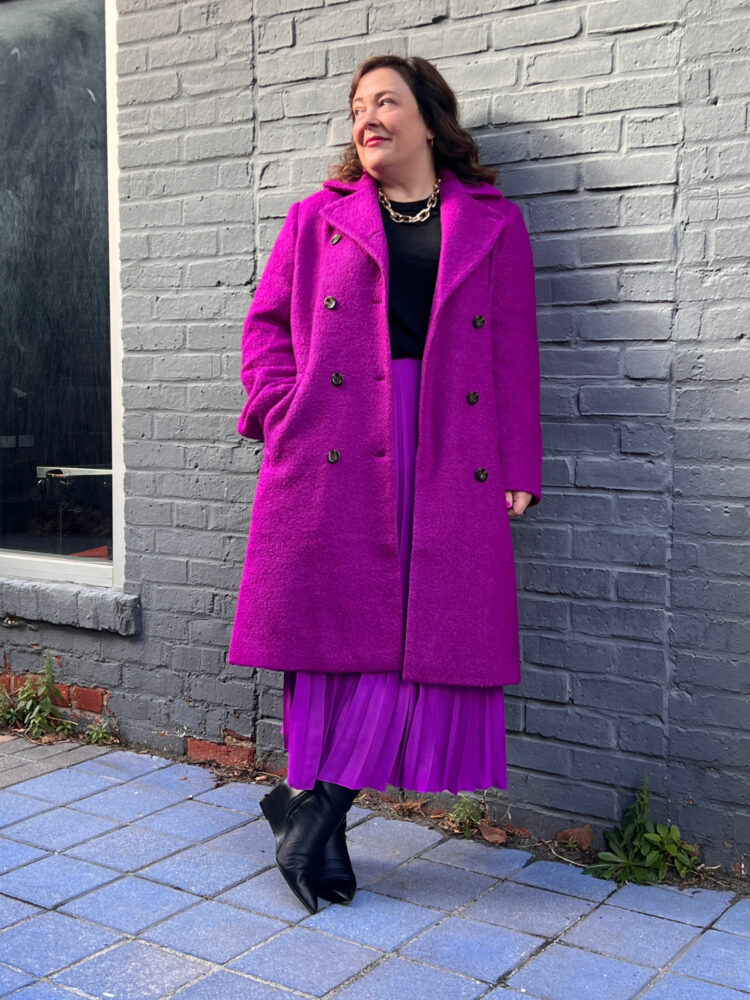 This fall, I began getting my nails done again on a regular basis. I tried to wean myself off gnawing but it wasn't happening. And I really like the look of glossy nails and clean cuticles. I began going to a different salon that had a vibe I more enjoyed (and a more stringent mask and sanitation policy). I got some seasonal colors but then when looking through those rings of color samples I saw that same fuchsia from 2019 and I knew what my signature nail color was going to be.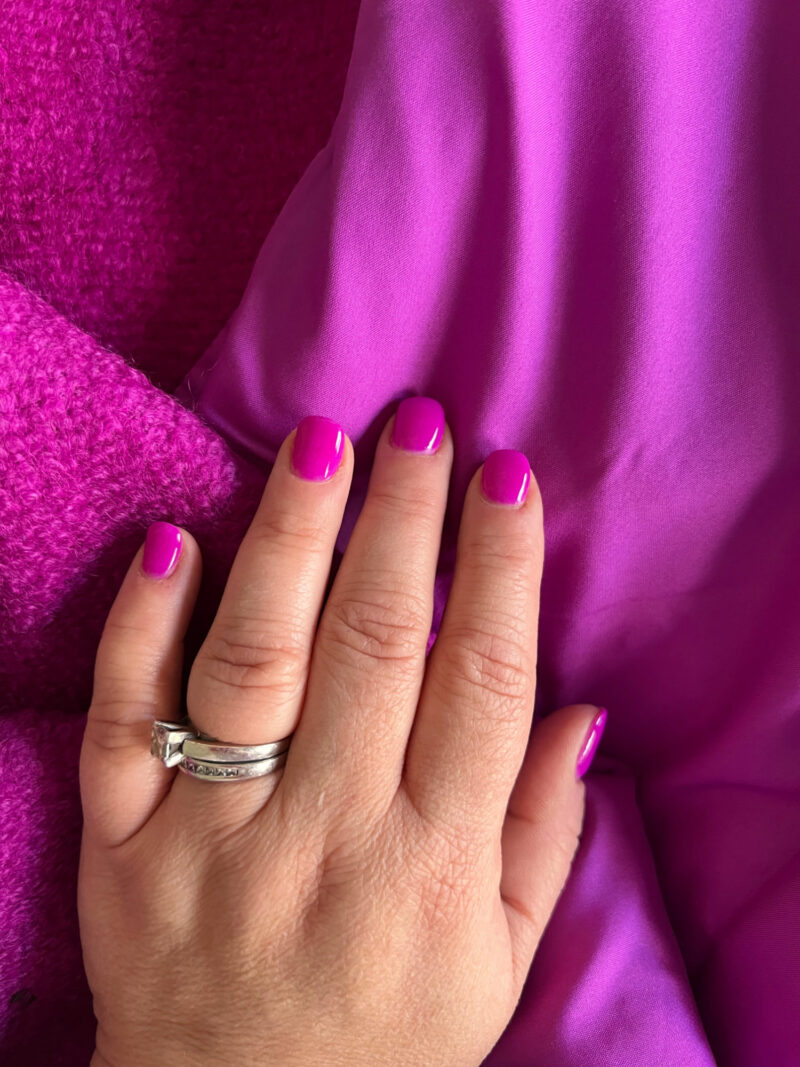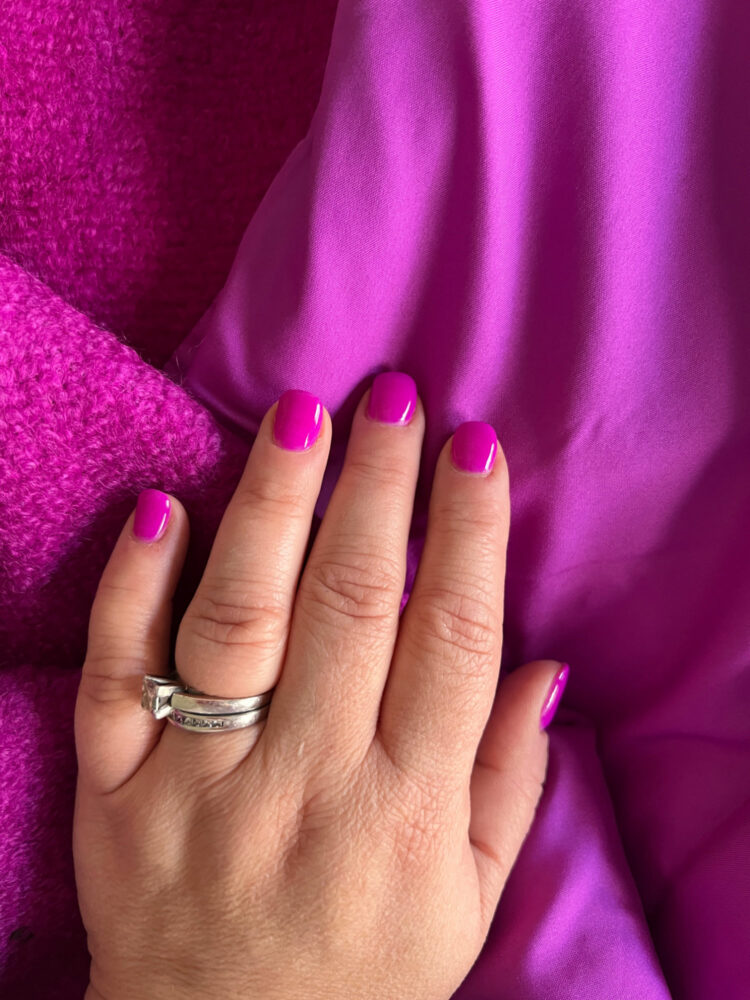 In 2019, fuchsia was a fun color, in 2022 it's a statement. I feel as though I am seeing it everywhere. Earlier this year I reported on Valentino Pink as being the hot color for fall, but it has morphed from being just an almost-neon pink to all sorts of shades of electric berry and then Pantone said Viva Magenta was the color of 2023 and WGSN says the color for 2023 is Digital Lavender. But what I am seeing is something in between. Brighter, bolder… the same fuchsia as my nails.
I bought this pleated midi skirt from River Island earlier this fall. River Island calls it purple, I called it electric orchid. I then was perusing Ann Taylor and saw they had what appeared to be a similar color, they called it Neon Fuchsia and Violet Orchid. I was obsessed and Ann Taylor was kind enough to send me this coat and this dress in these bold fuchsia-like colors.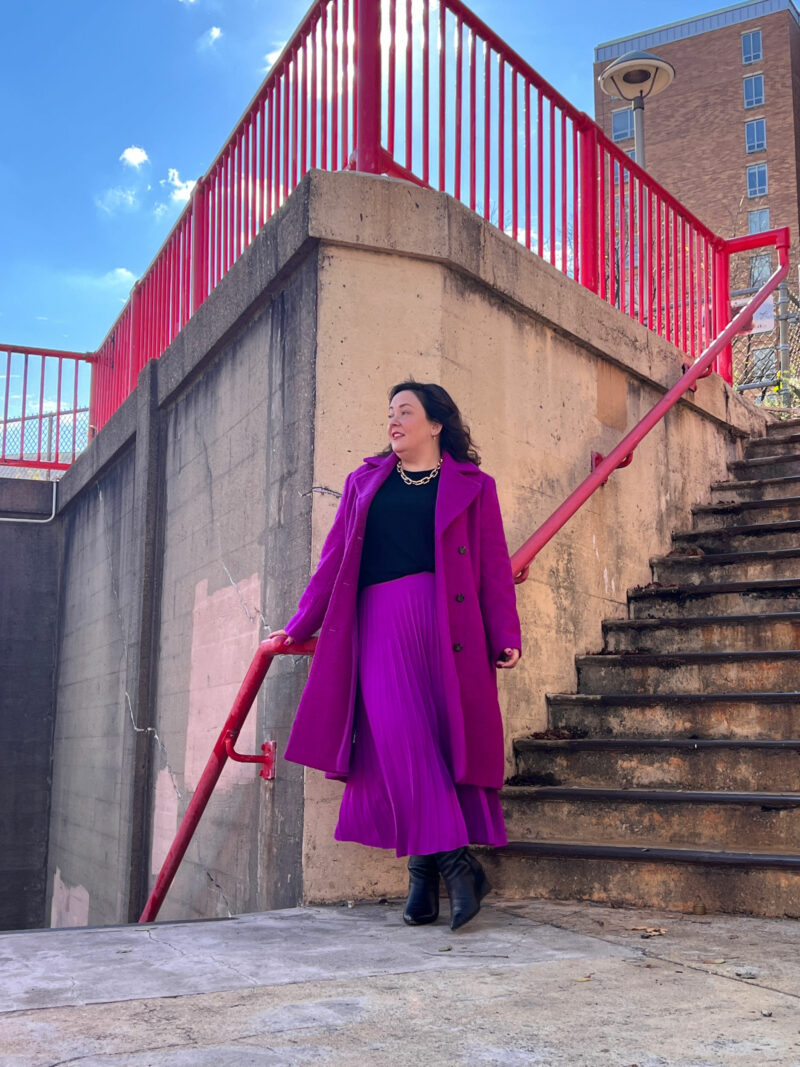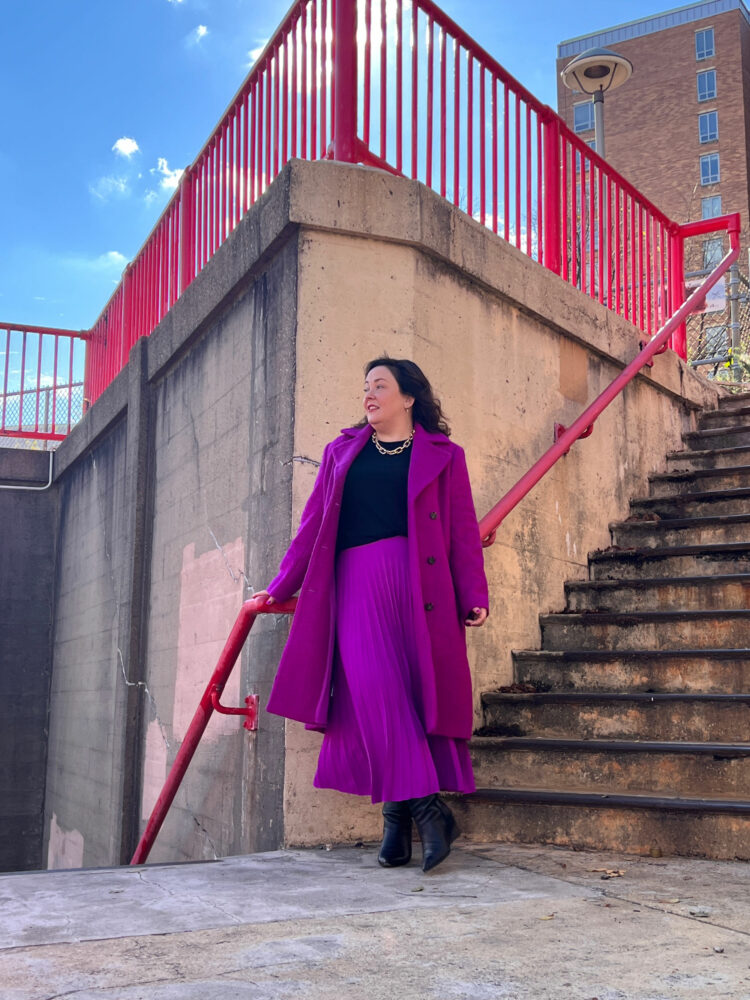 I went to get my nails done, picked my favorite color fuchsia, came home and a bag from Ann Taylor was waiting for me. It was the coat and dress, and they matched my nails perfectly! It was meant to be! I was also surprised to find it was almost the same color as my River Island skirt, and since they were the same tone and very different fabrics/textures they didn't clash. BTW, the Ann dress and coat match each other perfectly, even though they have different color names.
I like dressing up when I go to the hair salon. The following week was my bi-monthly appointment with Billy Maloy and I decided to wear the skirt and the coat together. I chose this black crewneck sweater and these black boots to finish the look, getting the idea from the big black buttons on the coat.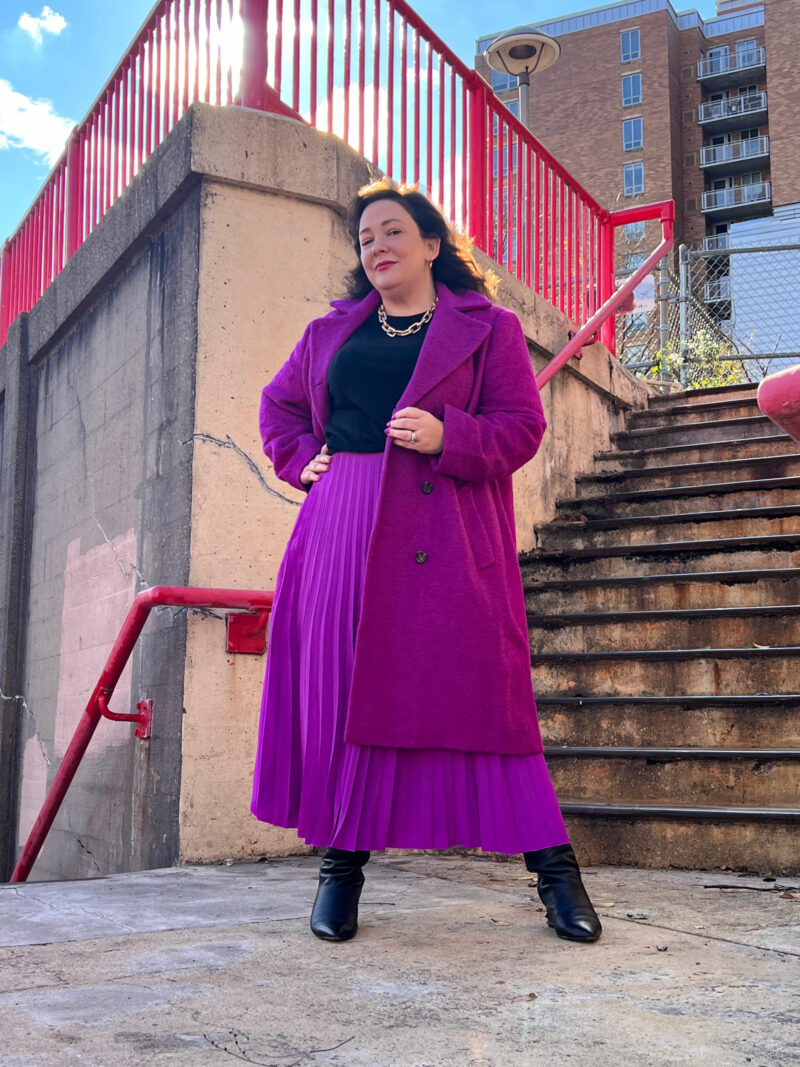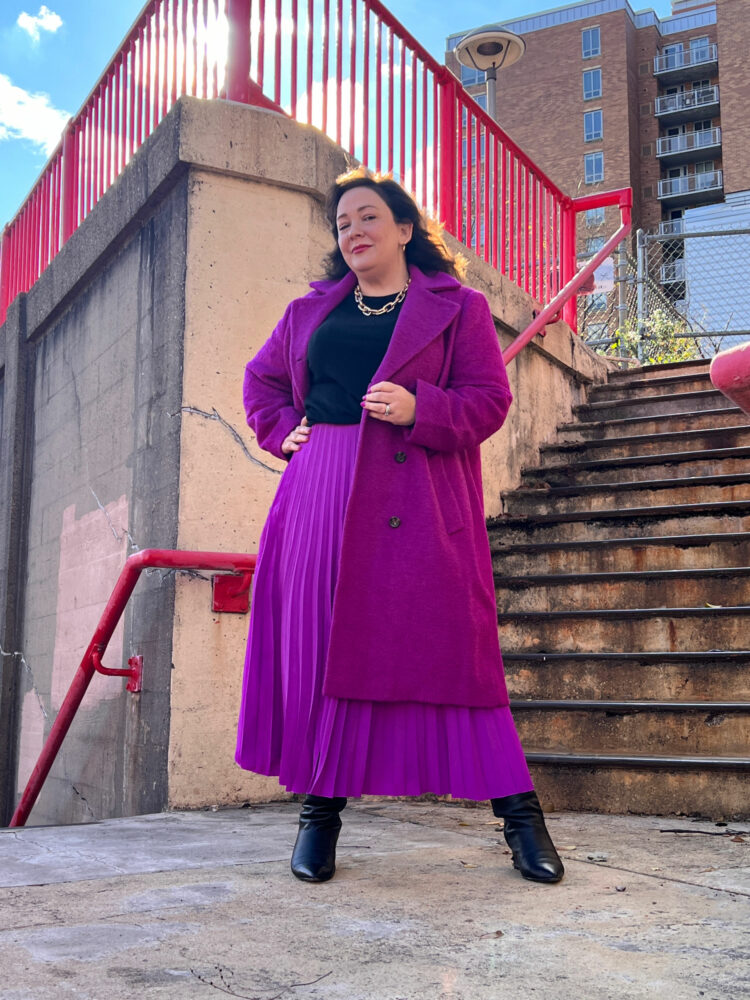 Since the sweater is a relaxed fit, it looked best tucked in, but the proportions felt off and my belly felt on display. A half-tuck looked sloppy with the lightweight skirt so I took a hair tie (you can use a rubber band) and tied up a bit on one side and flipped it under to give the effect of a tuck without the bulk. You can see me demonstrate this in this short video on Instagram.
I added a chunky gold necklace (Chico's and sold out but this would be a cool alternative for a similar price) and to keep this from looking too matchy-matchy, added a red lip (NARS "Bad Reputation"). My stylist Billy captured these photos after my appointment at some locations in Silver Spring near his hair studio.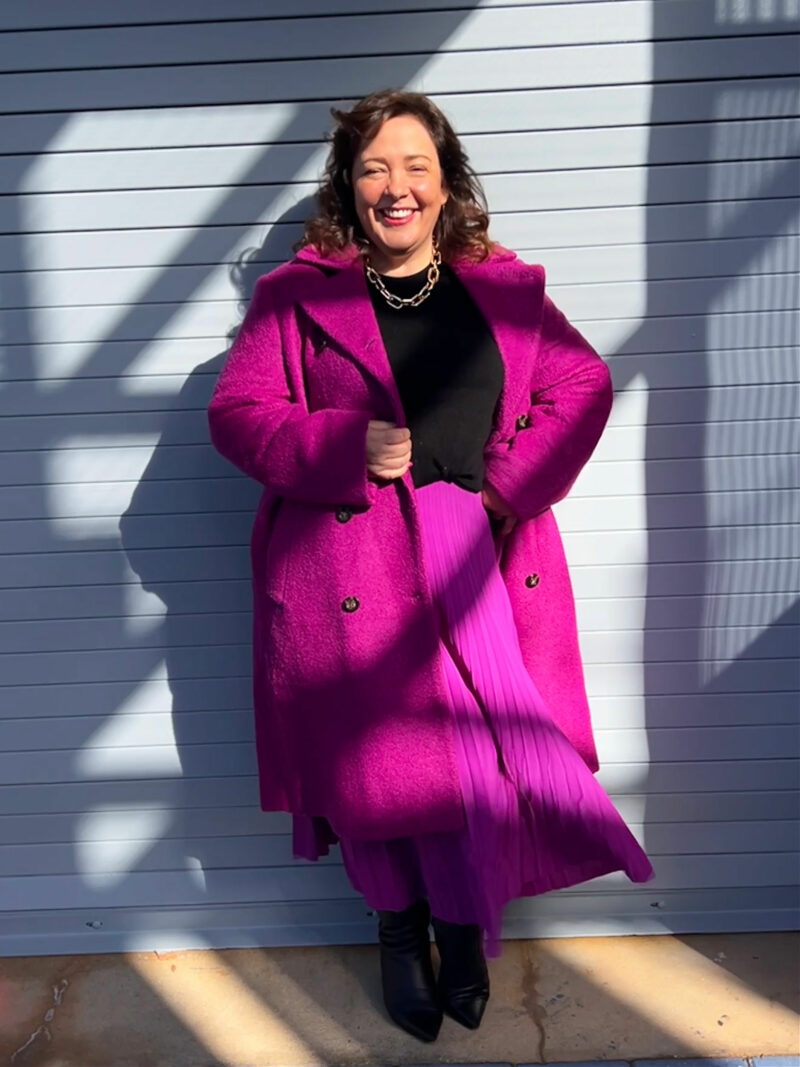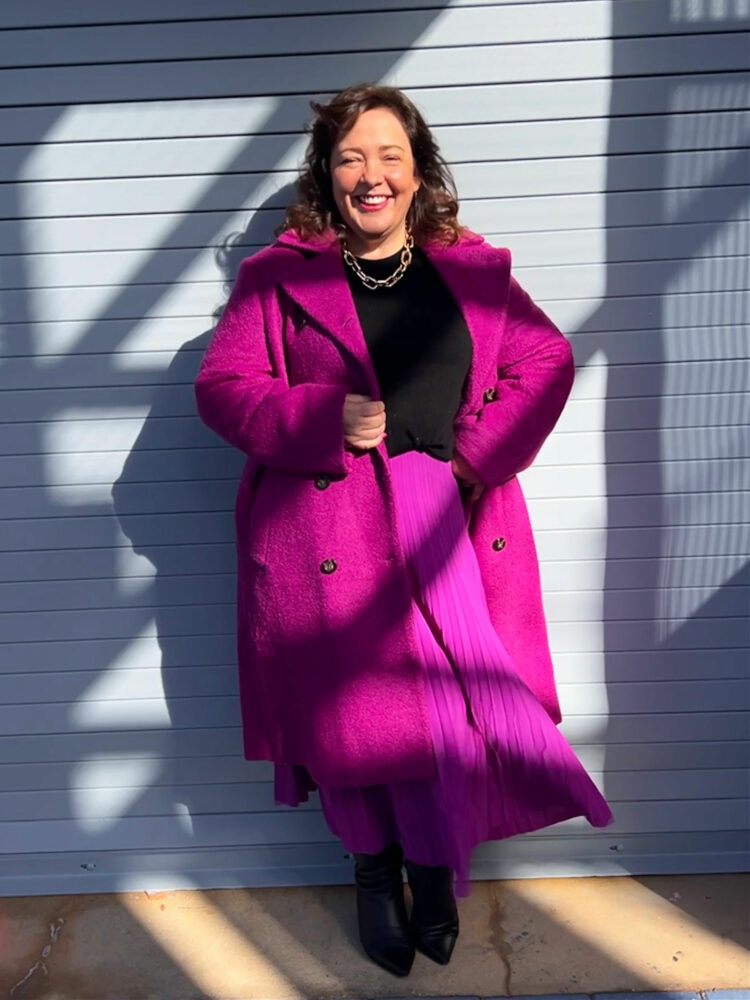 I have since worn this coat with all sorts of things, and this skirt I have worn with red, with camel, and a navy and white Breton stripe top (this one, which is under $25 and a favorite). As I mentioned in this piece, I think colors like fuchsia and magenta look really modern when paired with neutrals. Come spring, I totally will be rocking fuchsia with highlighter brights and this skirt would be cute with a knotted graphic t-shirt and sneakers.
I always love it when the colors I adore become the colors of the moment. Such a great time to stock up. And with current fashion being so fluid, there is no color that is "out" so you can continue to wear it season after season, just playing with complementary colors and new silhouettes!

Size Details
The coat is XL Petite. The sweater is XS. The skirt is 14 and I know most sizes are sold out so the carousel above has more skirts in shades of fuchsia, electric orchid, and magenta. The shoes come in wide; I am wearing that option in my normal shoe size (8). In general, I am a size 14 or XL with brands and choose petite when available. I am 5'3″ tall. You can always see more of my outfits on Instagram where I share my outfits almost daily in Stories and regularly in feed. I also share my outfits each day in the Wardrobe Oxygen Community on Facebook.
Shop the Post: