This article may contain affiliate links; if you click on a shopping link and make a purchase I may receive a commission. As an Amazon Associate, I earn from qualifying purchases.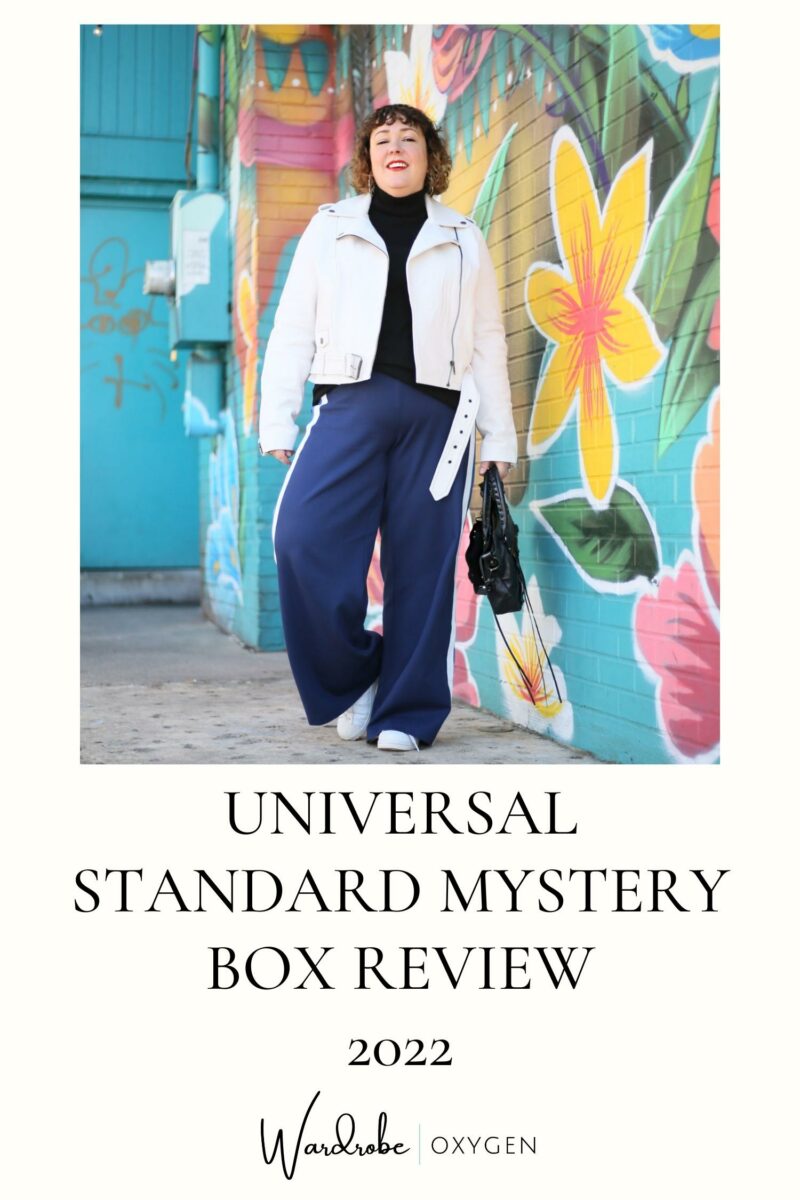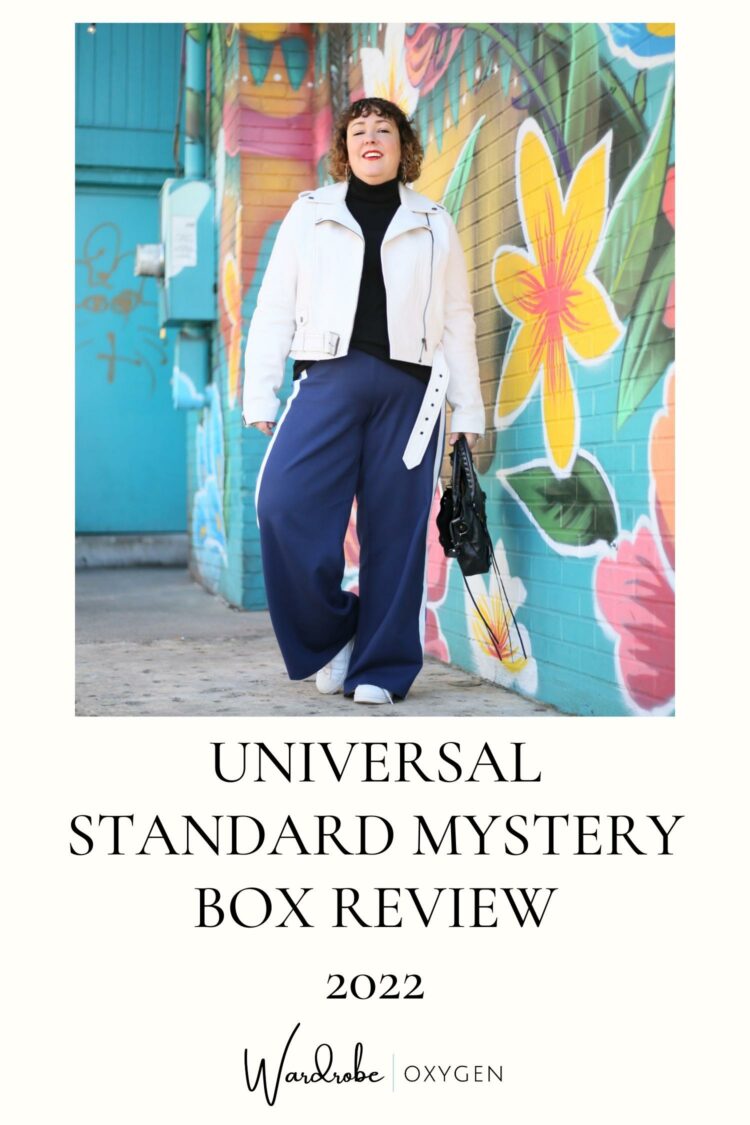 For the fourth February in a row, Universal Standard has brought back their Mystery Box promotion. Through February 23, visit Universal Standard and try one of their Mystery Boxes to get an amazing deal on their quality size-inclusive fashion. Starting at just $68 per box (but valued up to $851), this is a great way to try Universal Standard for the first time or to update your wardrobe for the coming year. I am a fan of the Universal Standard Mystery Box promotion and have taken part in it every year.
Universal Standard was kind enough to send me a Mystery Box, no strings attached, as thanks for promoting the Mystery Box in previous years. I am sharing this promotion on Wardrobe Oxygen as a PSA/unpaid because I think it's such a good deal. There are affiliate links in this post; if you click on one and make a purchase I may make a small commission.
What is Universal Standard?
Universal Standard is a fashion brand that provides high-quality clothing in sizes 00-40. Started with two friends who wanted to shop together, their goal with Universal Standard was to erase the invisible fashion line separating "straight" and "plus" sizes and give all women the same level of style, quality, and respect and to have the same shopping experience.
Unlike many retailers that use one fit model for a dozen sizes, Universal Standard cuts pieces to work for each size, and often you'll find bodies of every size the brand carries, modeling the clothes on their site, helping you envision the pieces on your own figure.
What is the Universal Standard Mystery Box?
Universal Standard has 11 different surprise collections that mix bestsellers with never-before-seen styles. Choose your own style adventure with thematic box options such as Elevated Luxury, Archival Treasures, Athleisure Essentials, or Classics. You put your fashion fate into the hands of Universal Standard's designers, who put together each Mystery Box.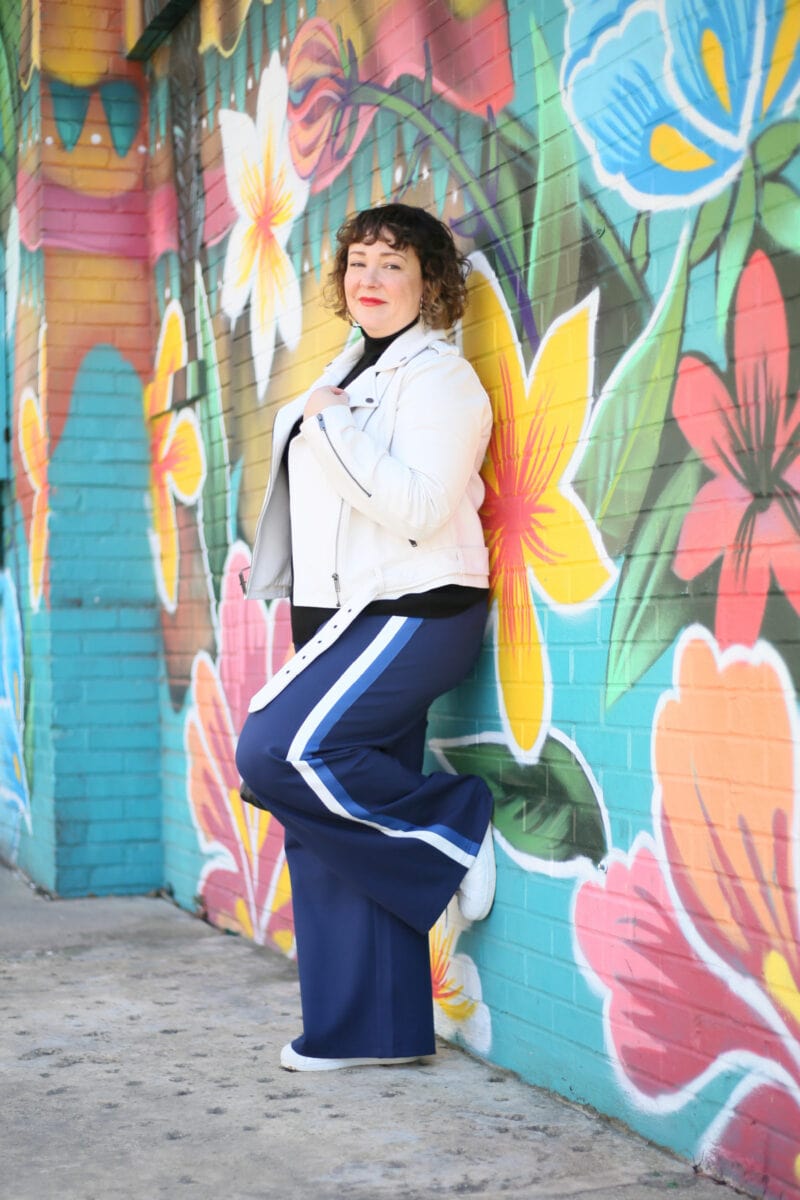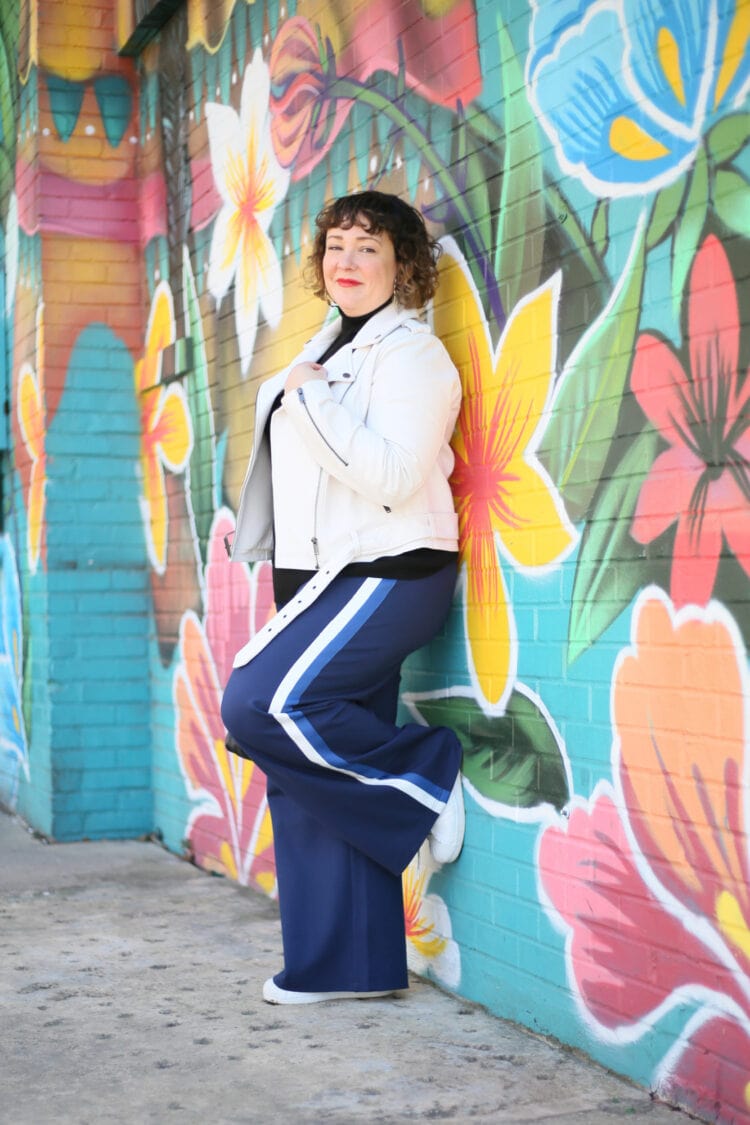 Each box will offer a mix of three luxe closet staples in your size. For example, with the box that was sent to me in size XS (my standard US size) I received the Anywhere Luxe Dress (retails for $188), the Leeron leather jacket (retails for $498), and the Stephanie pant (retails for $145). I was told that I received the Classics box but now that the sale has launched and I can see pricing and descriptions I don't know if that is accurate.
However, based on what I received and the prices of Mystery Boxes it still looks like I got a great deal… though that doesn't mean every box will have the same three items or have the same total value. That is why this is called the Universal Standard Mystery Box… what you get is a mystery!
Choose which box appeals to you (there are 11 different ones to choose from at different price points and with different categories of clothing), and you'll get an email from Universal Standard with a link to a survey that asks a series of questions to understand your style preferences and ultimately, helps build your custom box.
Every Universal Standard Mystery Box will have a value higher than the price you pay. It may be $5 more, it may be $125 more. You never know what you're going to get!
My 2022 Universal Standard Mystery Box Review
As mentioned above, Universal Standard sent me a Mystery Box, they said it was Classics but I cannot guarantee that's what I got. They knew I was a size XS and sent me the items in that size. I had no control over which box I received or its contents. Chatting with my friend Emily who also received a Universal Standard Mystery Box as a gift from the brand, I know they weren't sending based upon what we already own and were treating us as customers, not influencers with our picks.
Here are my thoughts on the three items I received in my Universal Standard Mystery Box: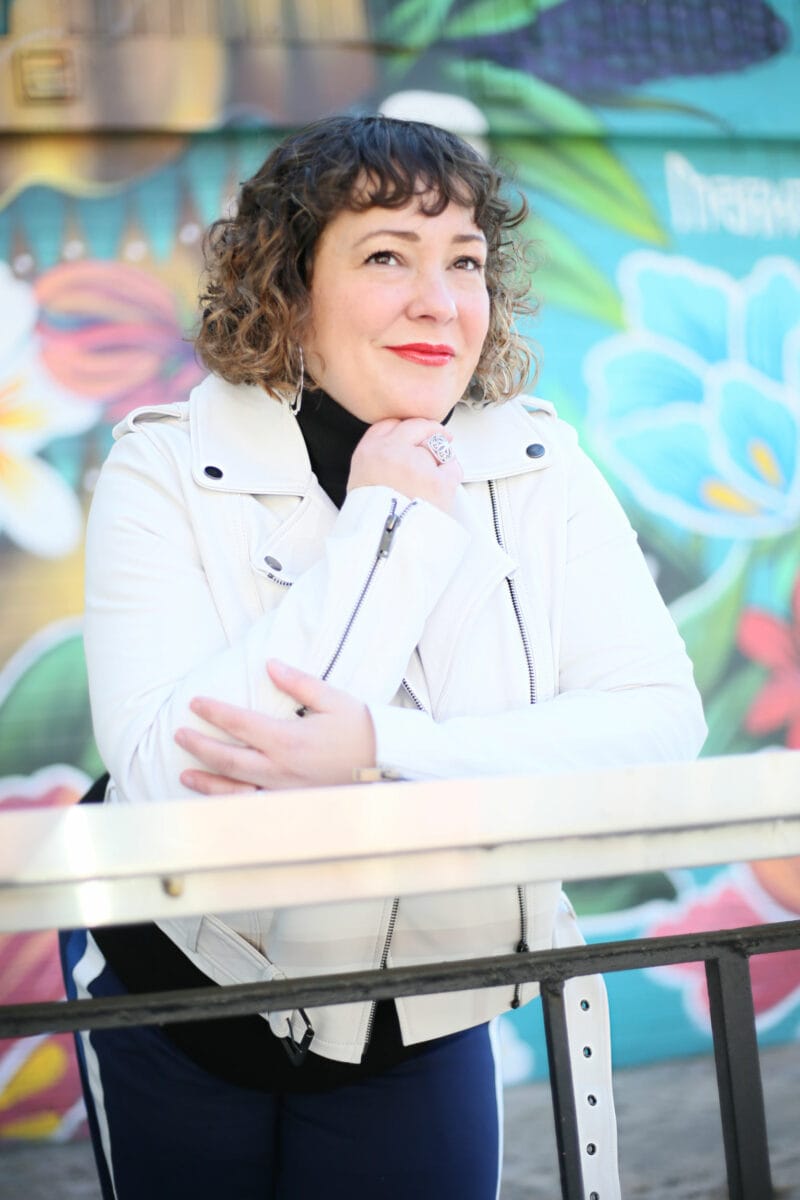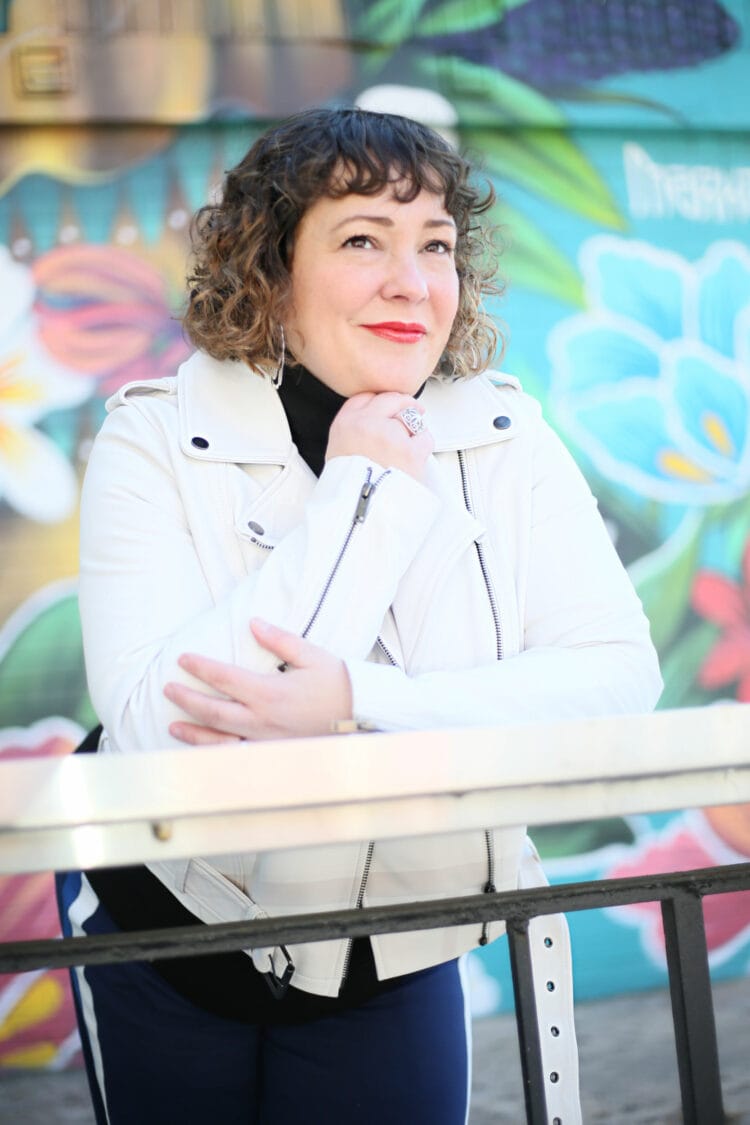 I already owned the Universal Standard Leeron leather jacket, but in black. When I started riding the Peloton I felt it was too big and swapped it with a Wardrobe Oxygen reader for her XXS. The XXS was too small (I'd say fits like a size 10), and last month I donated the jacket to the charity Uncommon Threads to sell to benefit the organization (click here if you are interested to purchase at a great price for a great cause). I missed the Leeron, it's a high-quality leather jacket. I had even been looking at the white thinking it was so unique. It was so exciting to have it arrive in my Universal Standard Mystery Box!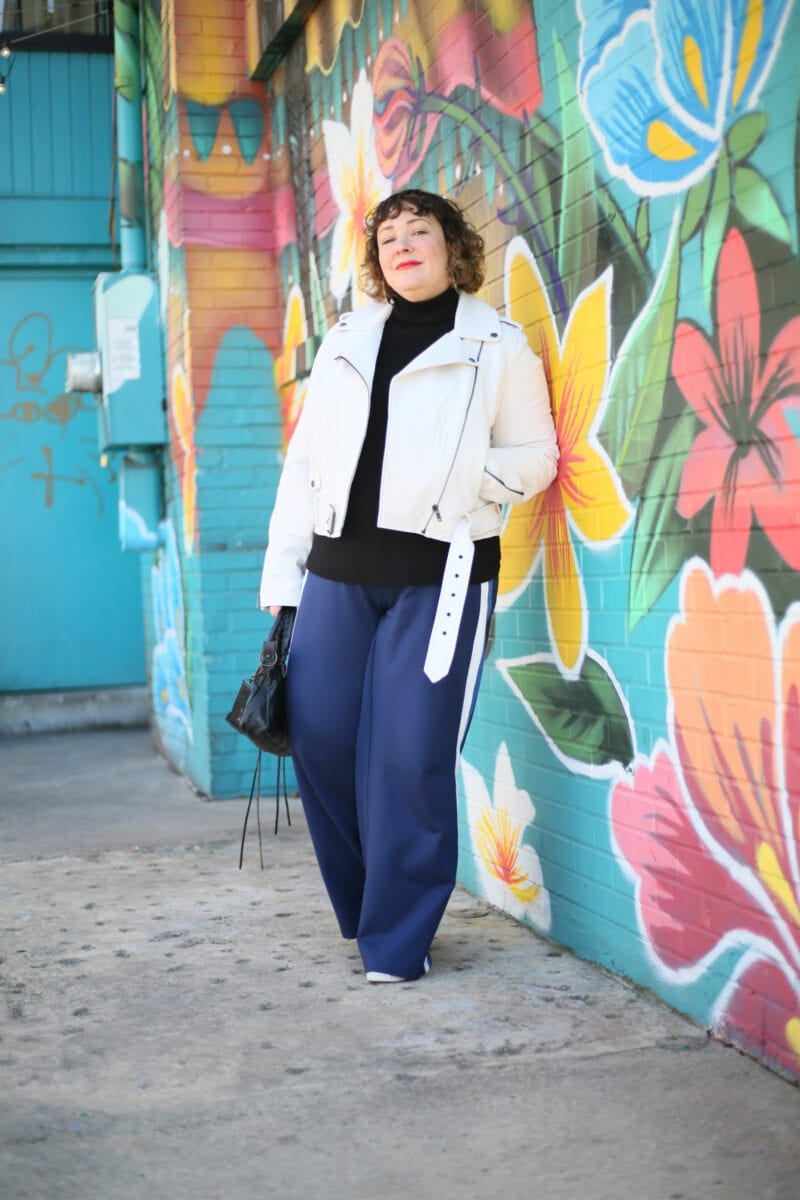 I already owned the Stephanie Pants in black with a black stripe; you can see them on me at this link. I think they're a great hybrid of athleisure and streetwear and was intrigued by the new navy color option but didn't know if I would wear them enough to justify the $145 pricetag (and I really really wish they had pockets). To have them show up in my Universal Standard Mystery Box was awesome. I will be taking them to the tailor to shorten them.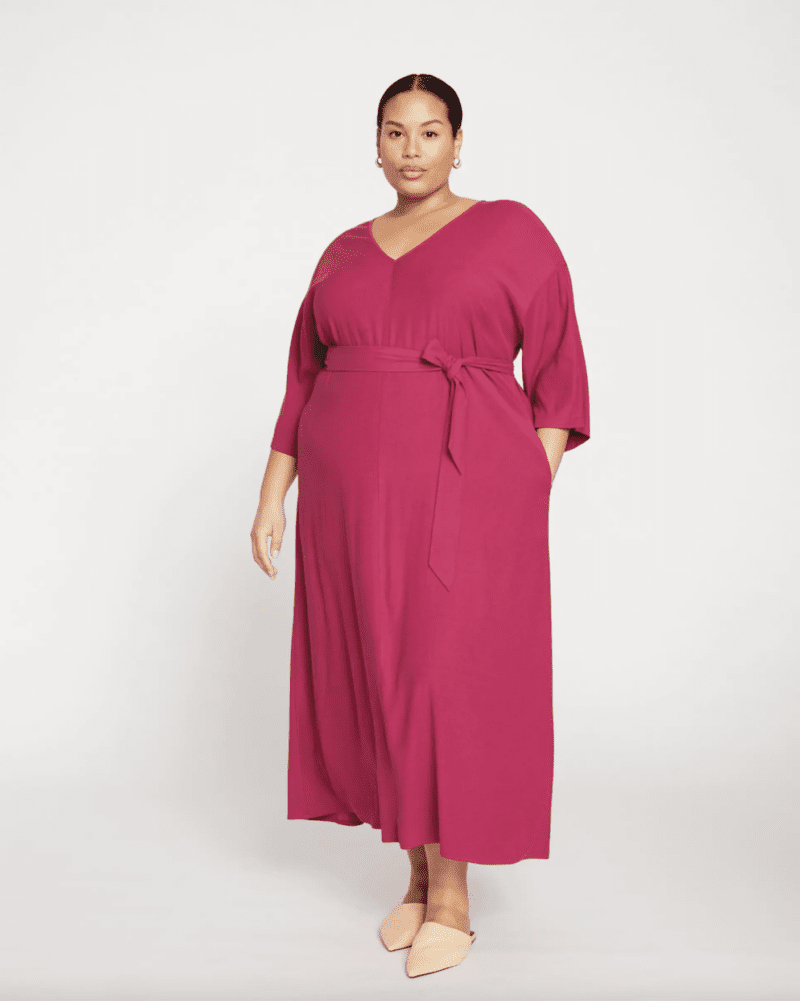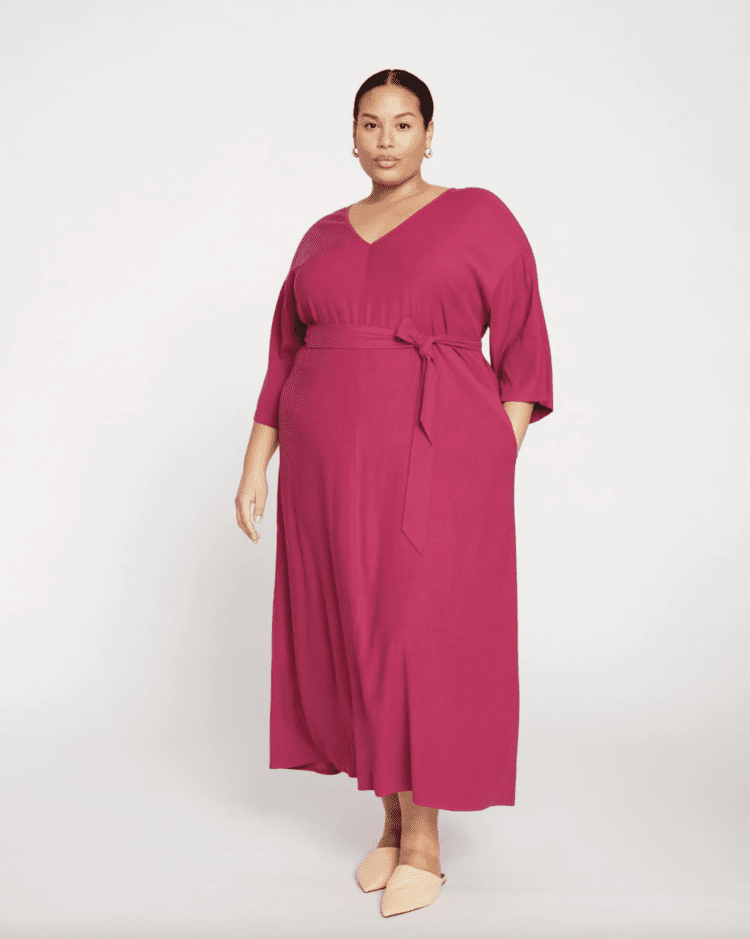 I received the Anywhere Luxe Dress in Berry and… this dress is also being donated to Uncommon Threads. It's a fantastic fabric that feels great on (it looks like sandwashed silk but has a heavier weight and beautiful drape and is satin backed), it has pockets, no belt loops so you can wear with the self-belt or another belt or alone.
However, I spent an hour playing with the self-belt and every other belt in my closet and it just looked like something a cult member would wear. I think this dress runs large and is made for a body taller than mine. Without a belt, it made for a nice caftan, but I think it can serve better purpose being donated to an organization that may have a client that is shaped perfectly for this dress.
Is the Universal Standard Mystery Box Worth It?
Let's face it, this is a great deal on clothing, even though I ended up not keeping one of the items. I still got way more than the value of the box, and my experience has made me want to order another box and take a chance.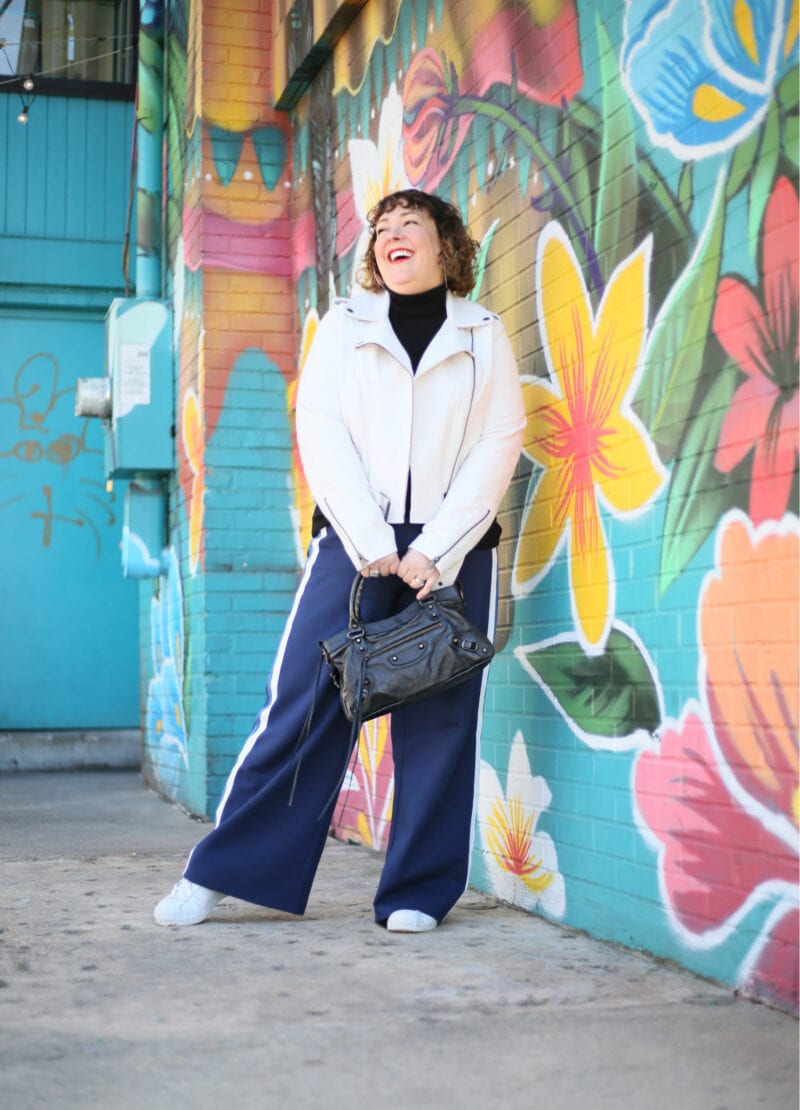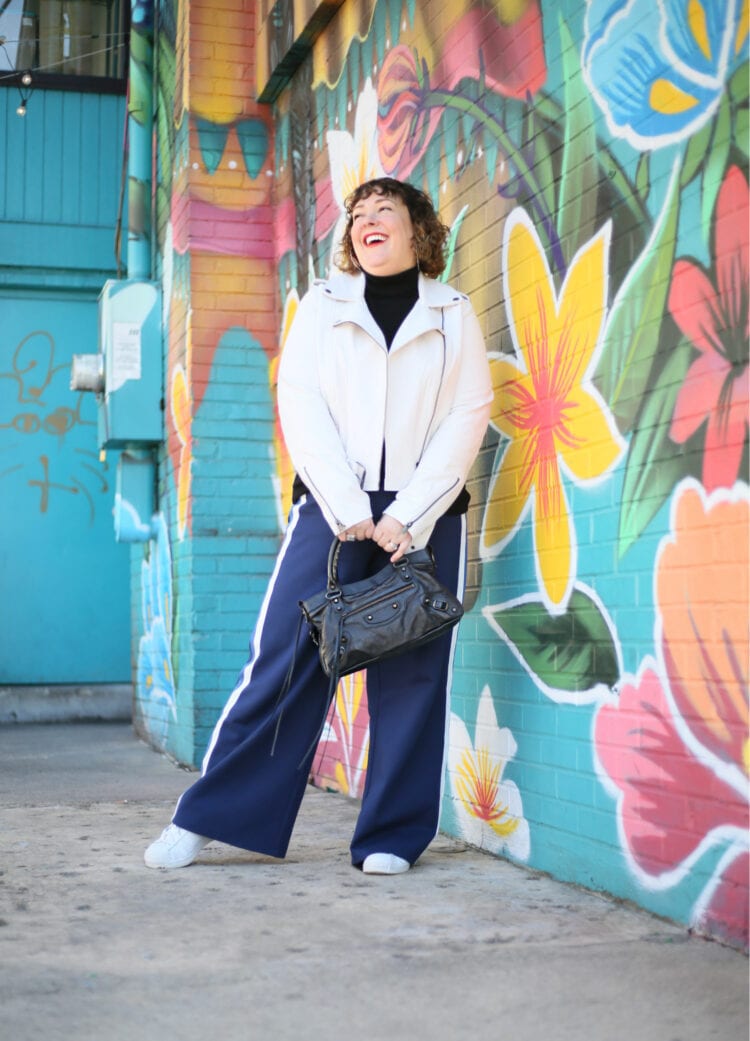 Whether you're new to the brand, trying to reduce spending, or feel like you're in a style rut, this is a great option. It is a gamble, but considering the feedback of Wardrobe Oxygen readers who did the Universal Standard Mystery Box in previous years, most felt they got their money's worth, and for those who didn't there were ways for them to earn back their investment and then some.
What If I Don't Like my Universal Standard Mystery Box?
Purchases of the Universal Standard Mystery Box are final. That being said, that doesn't mean if you don't like everything you get in your Mystery Box you're out of luck.
Last year, the Wardrobe Oxygen Community shared what they didn't like from their Mystery Boxes in the Wardrobe Oxygen B/S/T group. Your miss may be exactly what another reader wanted, and this event has helped readers swap clothing or sell pieces to one another to get what they truly love.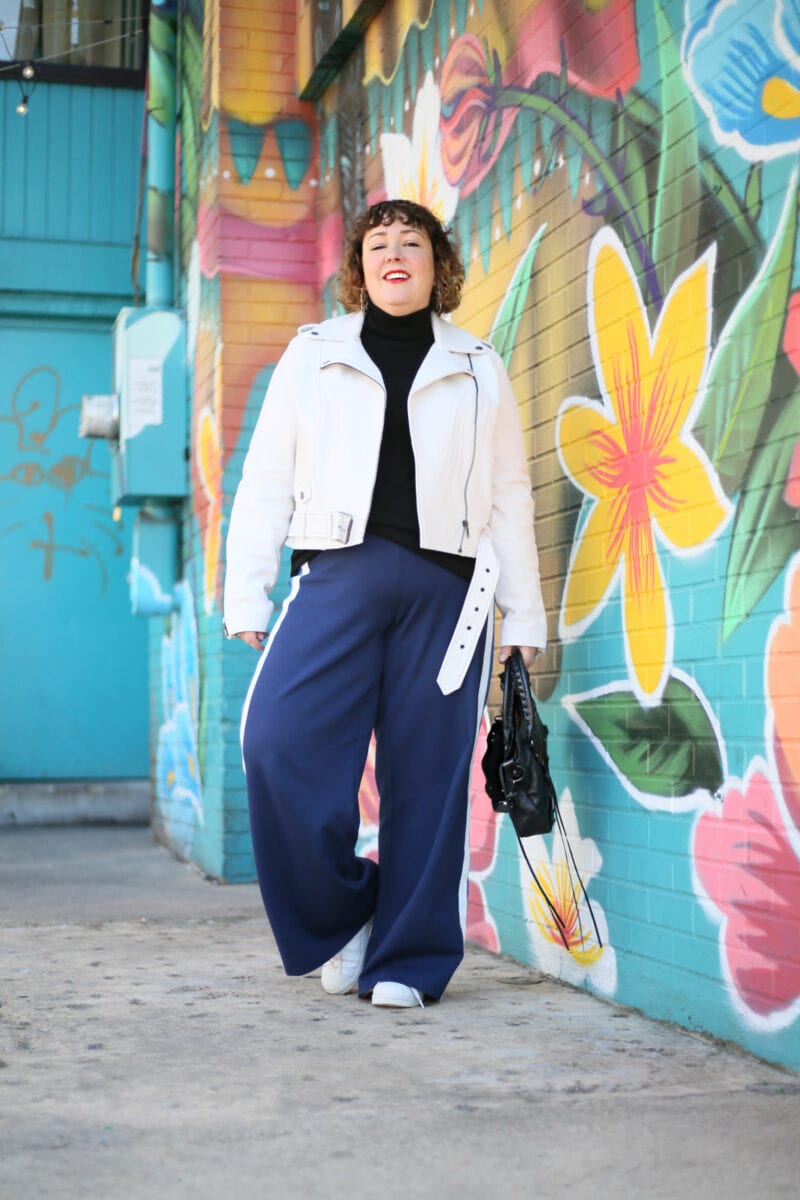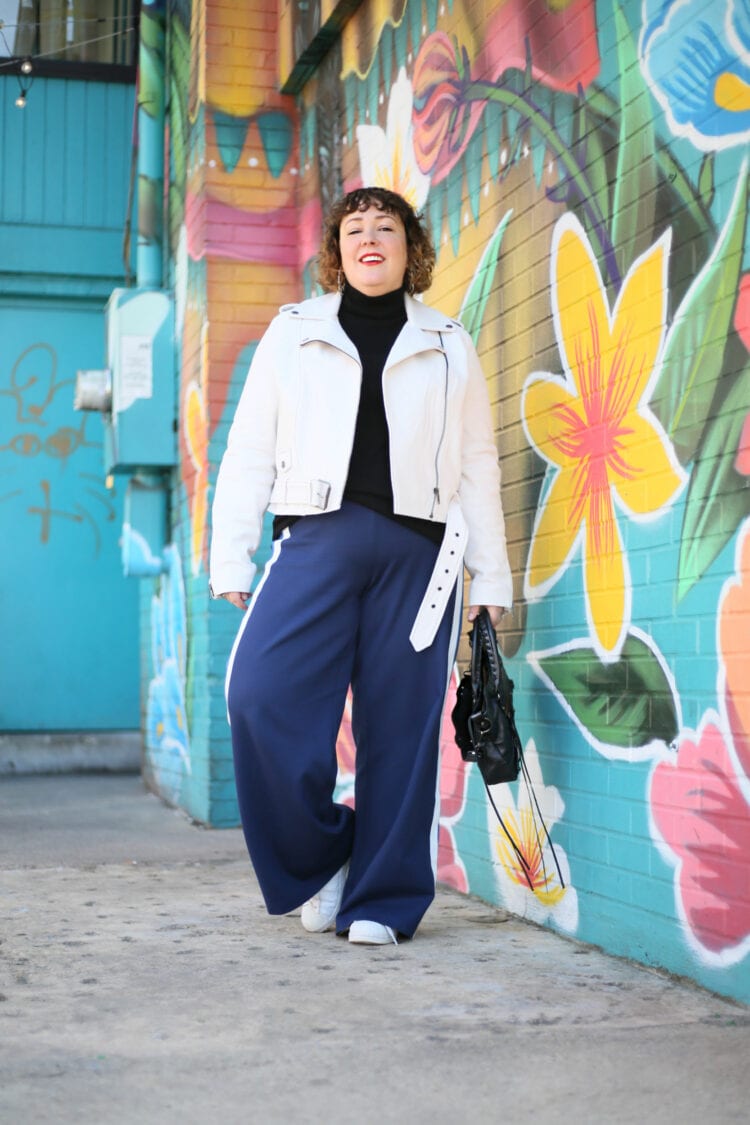 There are other B/S/T groups out there on a variety of platforms dedicated to Universal Standard or a variety of brands that includes US; I love the one on Facebook (easy to search for it, removed the link so true fans join and it stays positive) for not just being a place to buy and sell Universal Standard but find a supportive community of smart fashion lovers.
From personal experience, Universal Standard moves extremely quickly on resale sites like eBay, Poshmark, and Mercari. If you would rather go that route, you will be sure to make your money back from your Mystery Box likely by selling just one or two pieces.
Universal Standard Mystery Box FAQ
How long does it take for the Universal Standard Mystery Boxes to ship?
Due to the popularity of this promotion, orders can take up to 2-4 weeks to arrive.
If I don't like the contents of my Universal Standard Mystery Box, can I return it?
All sales of the Mystery Boxes are final, there are no exchanges or substitutions. I think this is pretty reasonable considering the value of these boxes!
If you don't like what you receive, come to the Wardrobe Oxygen Buy Sale Trade Facebook group where fellow Universal Standard fans will be to swap items with one another to help craft their personal perfect Mystery Box.
If I receive an item from the Fit Liberty collection in my Universal Standard Mystery Box, is it eligible for Fit Liberty?
Universal Standard has a collection of items called Fit Liberty. If you purchase them and your size changes within a year, you can exchange them, no matter the condition, for your new size. Unfortunately, any items received in a Universal Standard Mystery Box are NOT eligible for Fit Liberty.
What happens if I ordered the wrong size for my Mystery Box?
There are no exchanges of sizes with Mystery Boxes. If you are unsure of your size in Universal Standard, visit this link and have a tape measure ready. The size chart is accurate. For example, I am usually a size 14 in brands but in Universal Standard, I am an XS and the size chart matches my measurements.
You cannot mix sizes within a Mystery Box, but you can buy one box in one size and another box in a different one.
In a previous year, I was able to fill out a survey, tell Universal Standard my preferences, or create a wish list to tailor my Mystery Box. Can I do that this year?
Universal Standard may still be a relatively small company in comparison to many other retailers, but they have grown exponentially over the years. And the popularity of the Mystery Box has grown so much it is impossible for them to customize them this year.
Those who participated in the Universal Standard Mystery Box promotion last year may have experienced some of the growing pains the brand had from unprecedented growth and interest in the promotion. To prevent such headaches in 2022, there is no customization. I get it, and think this is a very smart business move to ensure more happy customers across the board.
Last year you had a promo code, is there a promo code this year?
YES! Universal Standard just provided me with a Universal Standard Mystery Box promo code which will give you 10% off. Use INF-WARDROBEOXYGEN at checkout to save 10% off. I am not sure if it will work on individual purchases; try it to see and if it does do let me know in the comments!
I don't live in the US; can I order a Universal Standard Mystery Box?
Yes! Universal Standard offers international shipping services through Flow, which offers shipping via DHL Express. Orders that are shipped outside the United States may be subject to customs, duties, VAT, and/or other clearance fees. Flow calculates and collects these customs and duties taxes with the shipping charges at checkout for all international destinations. You will have access to transparent tracking from origination to the final destination and straight to door delivery. For additional information, visit the "Shipping" section of their FAQ page.
If I order the same box as you, will I get the same items?
No Mystery Box is the same, even within the same category. Yes, I got a Leeron, but that does not mean you will also get one or even the same value of items. Remember, this is a gamble. You get what you get and you don't get upset (instead head to our B/S/T group to swap out what makes you happier!).
Good luck, and do share your Universal Standard Mystery Box experiences and what you received this year in the comments below! Also, I am happy to answer any questions you may have about this promotion!
---
This is my fourth year writing about the Universal Standard Mystery Box promotion. Instead of creating a new blog post for 2022 to discuss it, to make it less confusing when searching the site, I just updated 2021's post with 2022 pricing, details, and photos of what I received in this year's Universal Standard Mystery Box.
As always, I wish to be completely honest and transparent with you. I received the contents of the Classic Box for free, I was unable to have it customized to me. I am not receiving any other compensation from Universal Standard except for affiliate commission. If you click on a link and make a purchase, I may receive a commission Click here to understand how blogs make money. If you have any questions about this promotion, ask in the comments and I will answer to the best of my ability.