This article may contain affiliate links; if you click on a shopping link and make a purchase I may receive a commission. As an Amazon Associate, I earn from qualifying purchases.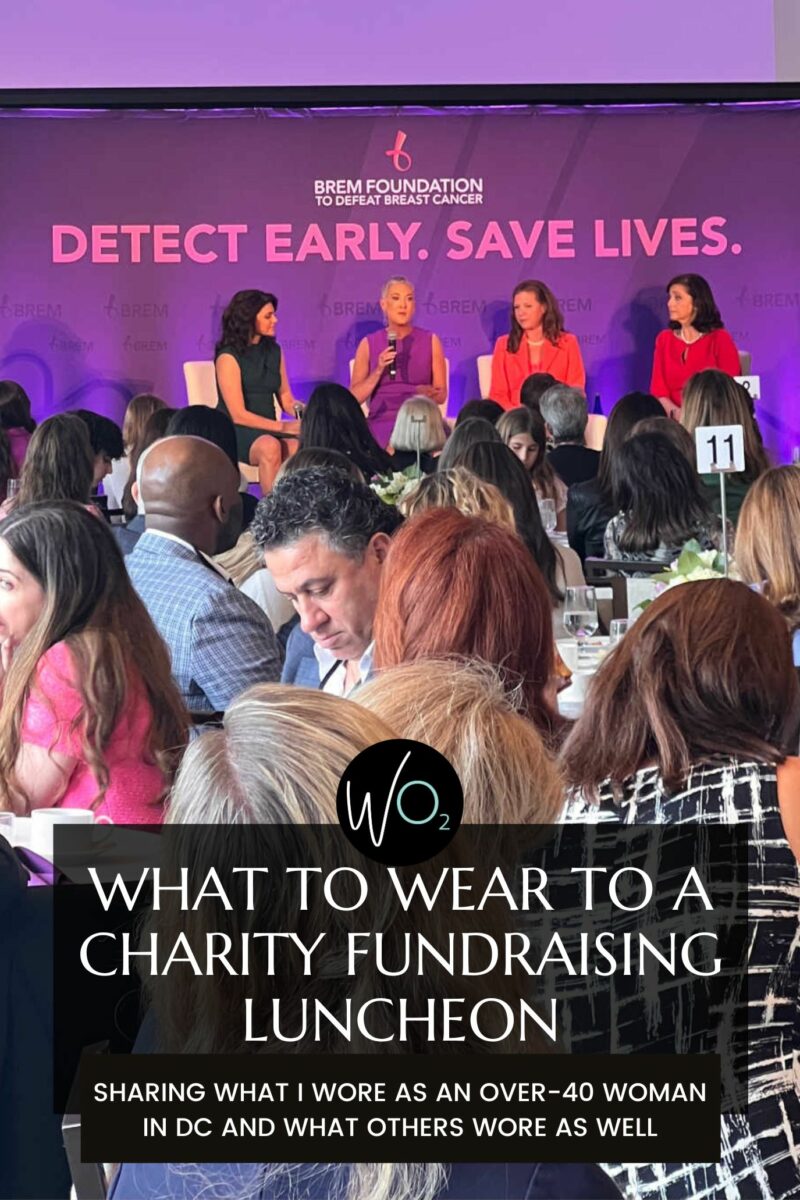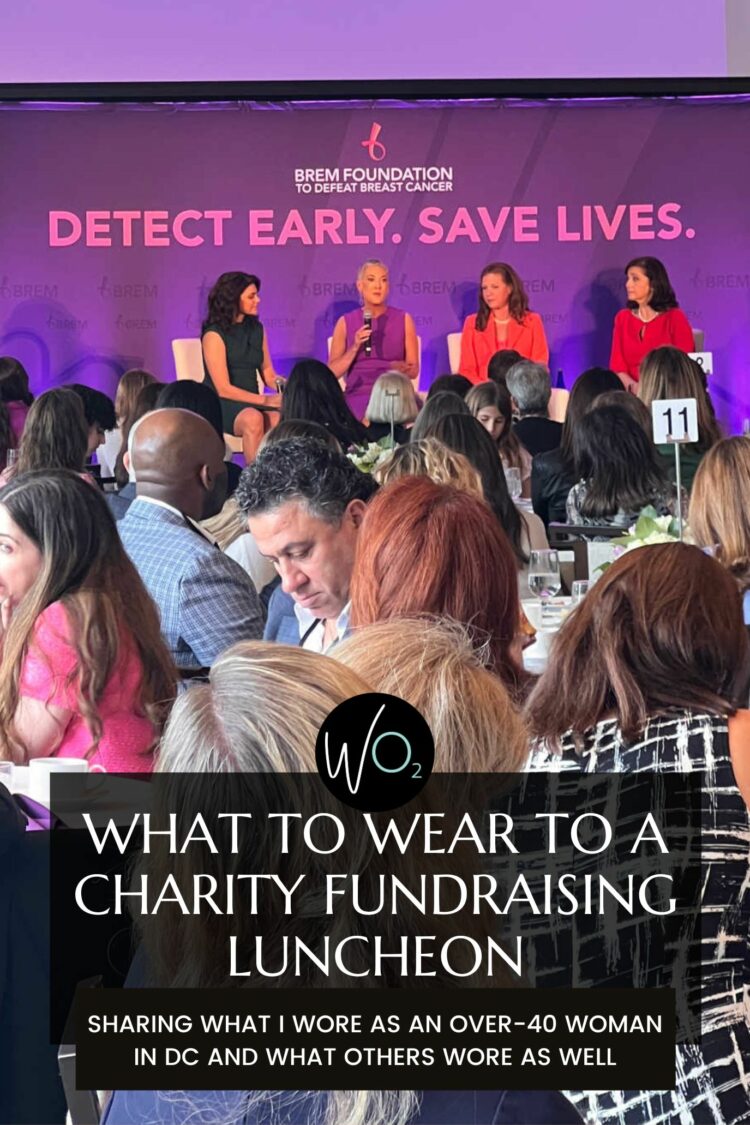 Susie, a member of the Wardrobe Oxygen community reached out last month asking if I would share details about a fundraising luncheon for the Brem Foundation, a DC based non-profit committed to advancing early detection of breast cancer for all women, regardless of their ability to pay. I know many people in my life, including my mother, my husband's aunt, and her two daughters who have been personally affected by breast cancer and was happy to use my platform to inform others.
In thanks for sharing, I was invited to attend the Brem Foundation Empower Hour. Below I share what I wore to the charity fundraising luncheon in Washington DC as well as what other folks wore to such an event.
How I Came to Attend this Charity Fundraising Luncheon
I didn't expect to be invited, I only shared because I was impressed by the Brem Foundation. Focusing on the women of DC and Maryland, the Brem Foundation focuses on education, advocacy, and access programs:
I knew noone at this luncheon. While I have emailed with Susie over the years, I never met her in person. I could have easily said no, but I wanted to know more about the Brem Foundation, and honestly after many months indoors over winter, it sounded lovely to have lunch with smart passionate people at the DC Wharf waterfront and have an excuse to dress up.
I rarely say no to events that are offered with this job. I've learned to say no to most items that are gifted to me, but adventures, chances to meet new people and learn new things… I say yes even if I am nervous and out of my element. Challenging situations help us grow and get to know ourselves better. I thanked Susie and accepted my invitation.
What I Wore to a Charity Fundraising Luncheon in DC
And then I realized I didn't have anything right to wear. Knowing DC, folks would be coming from work and heading back to the office afterwards. Those who weren't coming from work would dress like work. There would be plenty of suits, lots of corporate-friendly sheath and shirt dresses, and the occasional individual with flair who would be in a stand-out look.
How I Decided What to Wear
Since the event was for a breast cancer advocacy group, I knew many in the audience would be wearing pink or at least pops of pink with ties, belts, shoes, and shells under their suits. Not part of the organization, I didn't want to be in all pink but I thought a pop of pink would be a nice touch.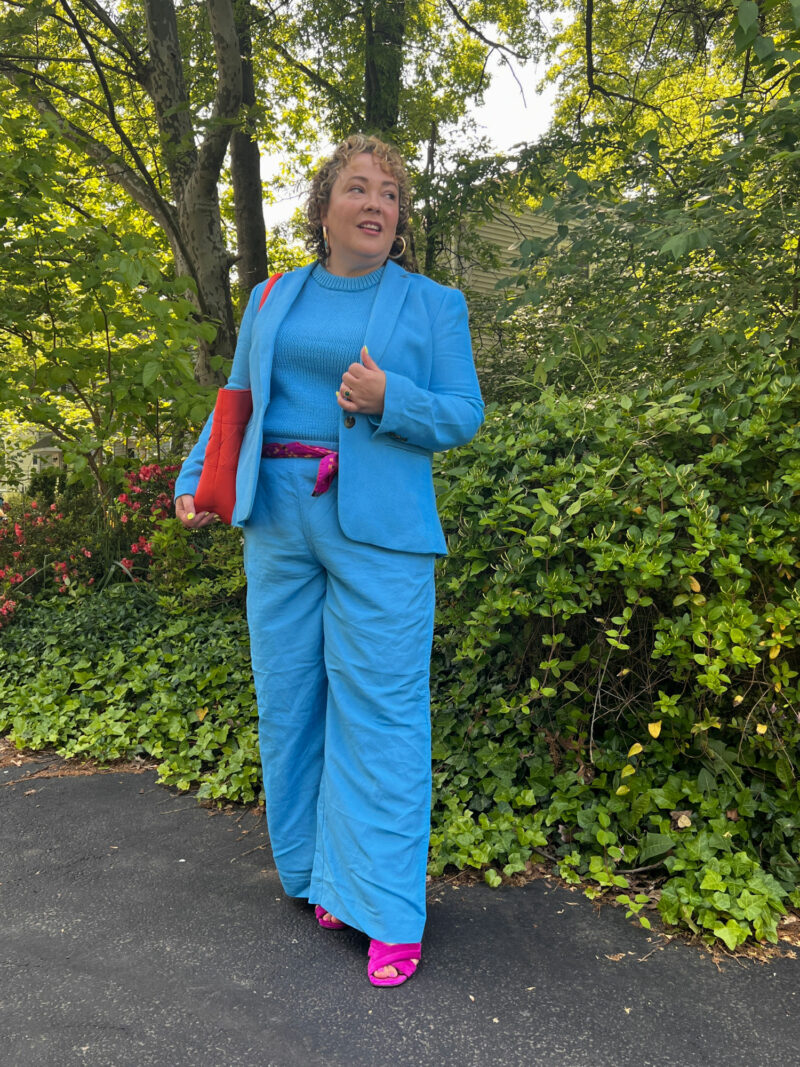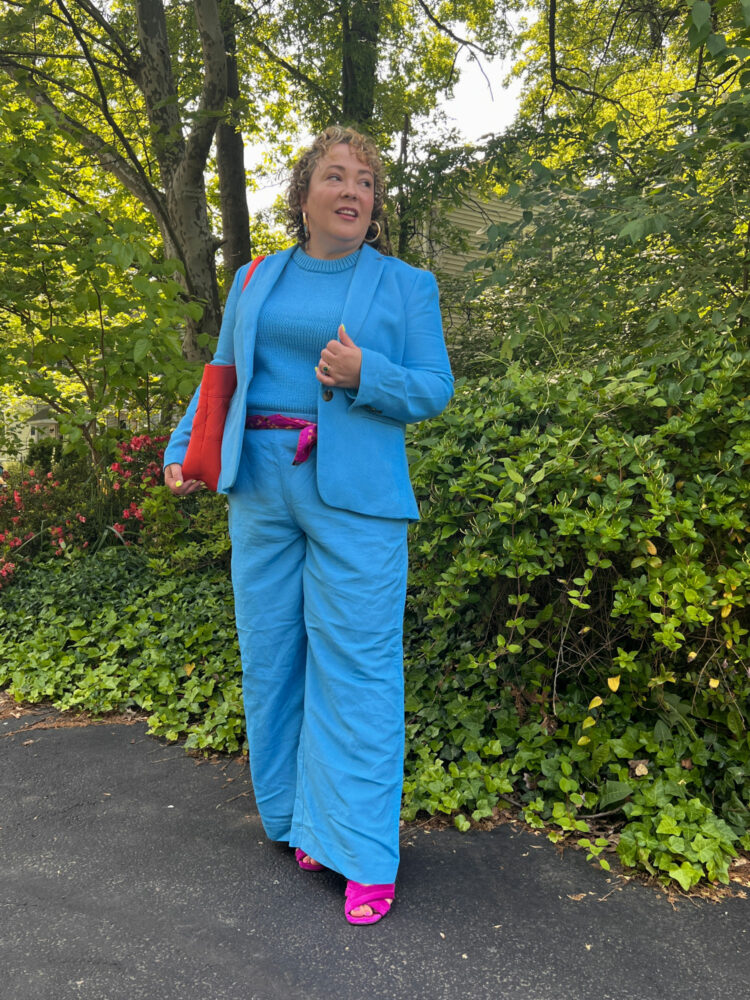 I reached out to Ann Taylor to see if they would gift me something to wear to the event. I knew I wanted to wear a suit of some sort, I wanted a look that would work if I took off my jacket, I wanted to wear pants, I wanted color, and I wanted the look to be separates that could live lives beyond the fundraising luncheon.
I fell in love with the cerulean blue that Ann Taylor has in their collection this season; Ann Taylor calls it Vivid Sky and it's a pretty perfect name. I asked for the Hutton Blazer in 16 petite, the Textured Sweater Shell in XL petite, and the Belted Pull On Palazzo Pant in Linen Blend in XL petite, all in Vivid Sky.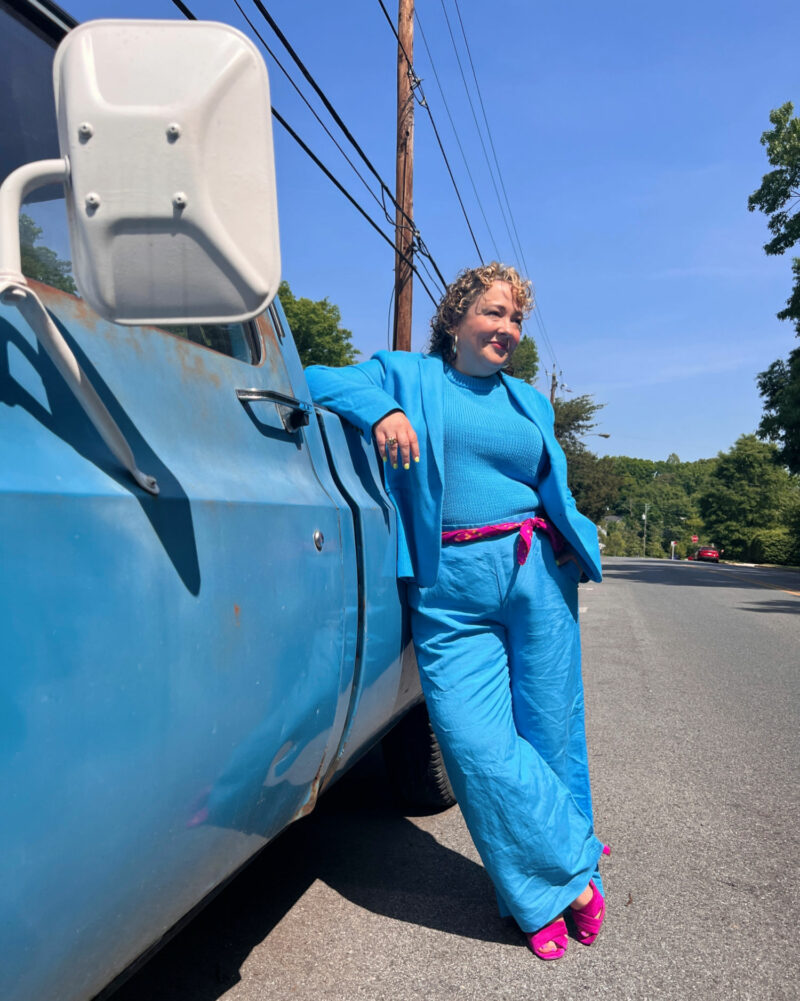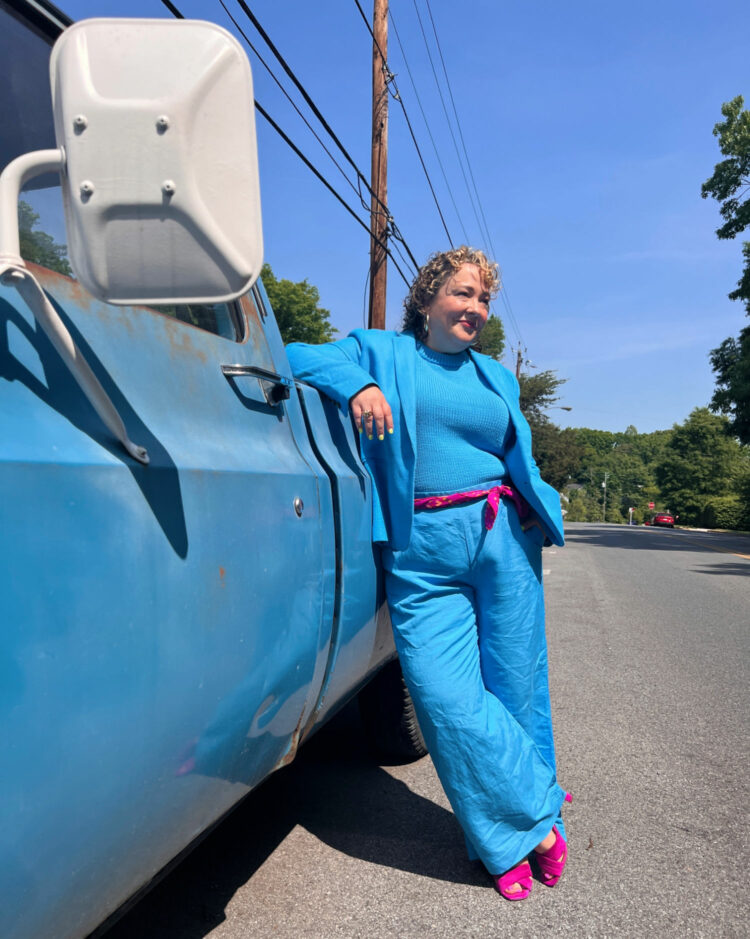 I envisioned the sweater shell with white linen pants or even a pair of chino shorts, the pants with a linen shell shirt tied at the waist, the blazer over a breton with white jeans. The Vivid Sky color would work tan, white, black, navy, gray, as well as brights like orange, pink, yellow, chartreuse, lime, and red.
I've been wearing more Ann Taylor these days because it is one of the few retailers that offers petite over a size 10. At 5'3″, I do best with petite suiting and at Ann Taylor a 16 petite blazer fits my curvy self nicely, and with pants and dresses I vary between 14 and 16 depending on the fabric and silhouette.
The blazer and sweater fit great. The pants were a bit big, but nothing a belt couldn't handle. The pants come with a belt of sorts which is the same fabric as the pants braided into a rope. The beltloops are narrow, designed for a skinny belt like that rope but still wide enough to wear a scarf as a belt. And I love wearing a scarf as a belt.
Choosing to Wear a Pop of Color Associated with the Charity
I went through my pink scarves and liked the effect of the hot pink of my Hermès scarf. I got this scarf at a serious discount at MyHabit (RIP). Remember those clearance sites that were so popular in the late '00s and early 2010's? Well that's how I own an Hermès scarf; with referral credits this scarf was free. In 2017; an Hermès popup came to DC where they would wash your scarf to give it a new effect. Always finding the original magenta color a bit too intense, I went with my only Hermès to Hermèsmatic for a makeover and I ended up loving the result.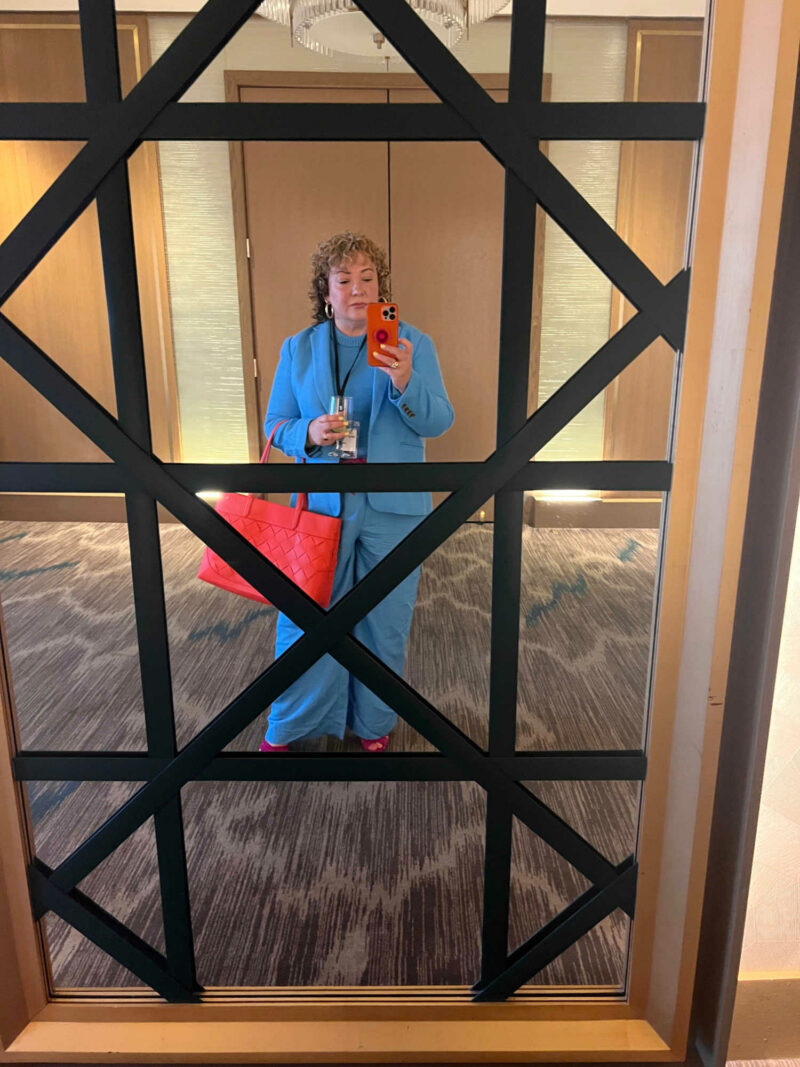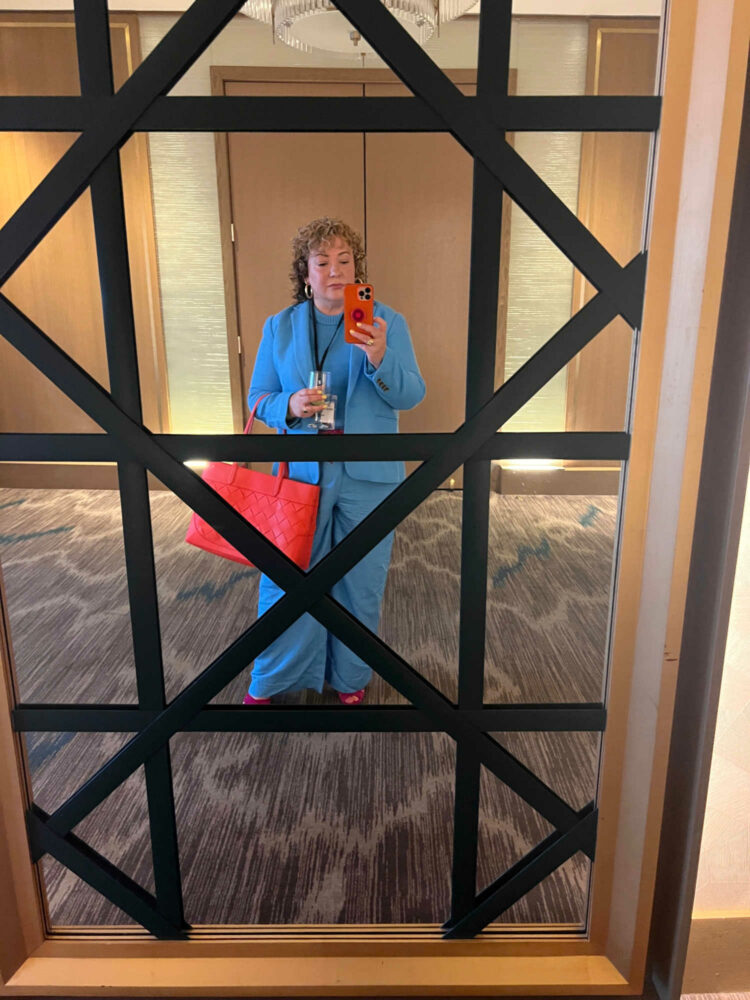 I have a pair of magenta suede heeled sandals from Vince Camuto that I've owned for years (here I am wearing them in 2019). As someone with wide feet, short toes, and foot issues, it's hard to find a pair of comfortable heels. These shoes have lasted because for some reason, they fit and are surprisingly comfortable. I even ordered another pair in a different color and they weren't the same fit and returned them. Well, they match my Hermès scarf perfectly!
For a bag, I went with the orange woven leather tote from Talbots I originally featured in this capsule wardrobe. Hot pink and orange were our wedding colors and I've always loved the combination. The bag is professional yet the color combo of the cerulean, hot pink, and orange is very Alison. I finished off the look with my favorite gold hoops and subtle daytime makeup.

Attending the Brem Foundation Empower Hour 2023
The Brem Foundation Empower Hour took place this year at the InterContinental Hotel at the DC Wharf. I arrived at the hotel and an individual in pink was in the main floor lobby who directed us up the stairs to the event. Upon checking in and receiving my table number and nametag, I was offered a choice of drinks from waitstaff. Folks mingled in the lobby area, chatting, sipping drinks, and enjoying the view from the floor-to-ceiling windows overlooking the waterfront.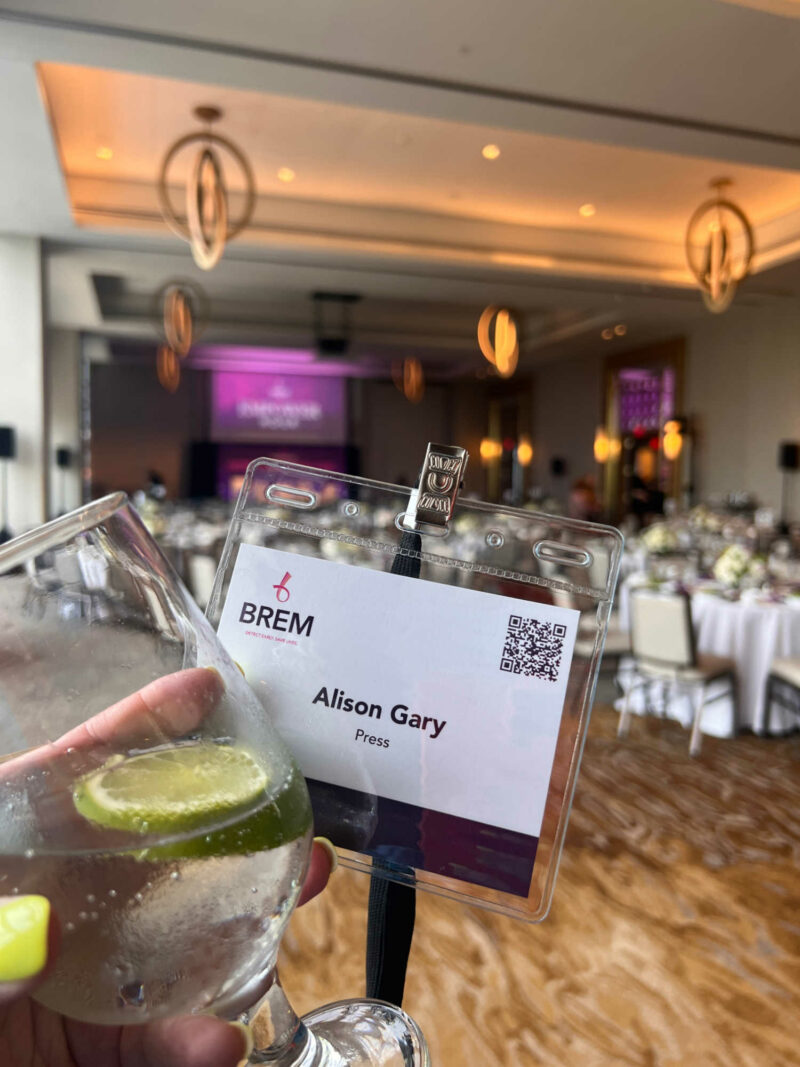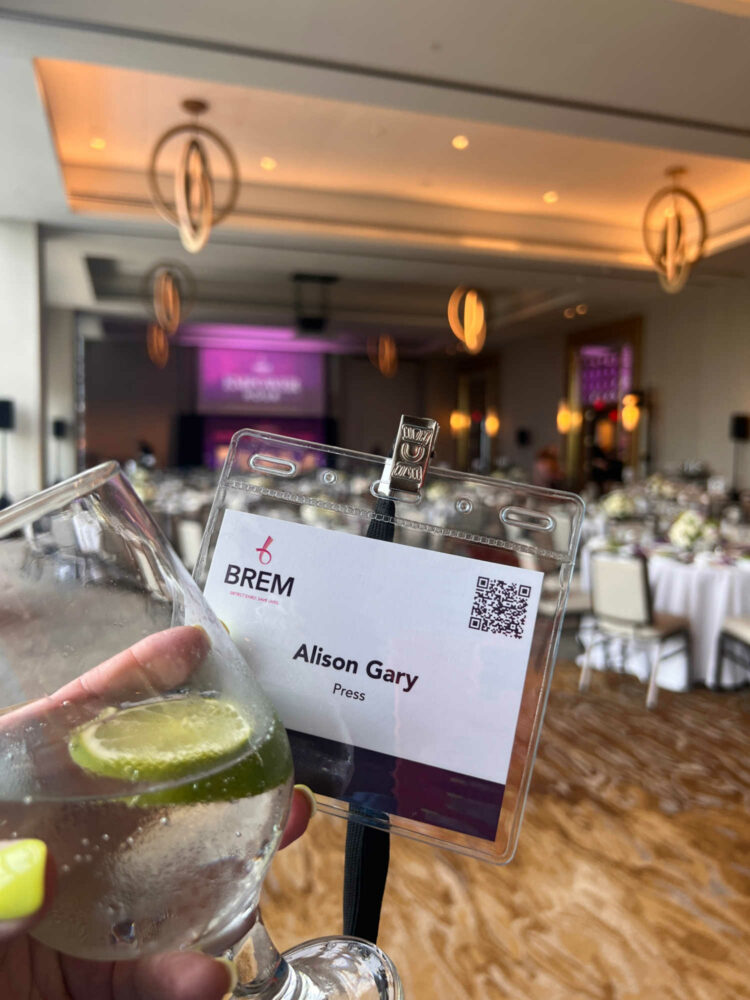 Once the event began, we were led into the conference room. Large round tables holding ten guests were set with linens and china, white and purple floral centerpieces, menus and cards explaining the Brem Foundation's mission and programs. At the front of the room was a stage. I was seated at a table with Susie which I found was a "friends and family" table of individuals who personally know the CEO of the Brem Foundation. It was a fantastic way to get to know the organization and the people of the organization better.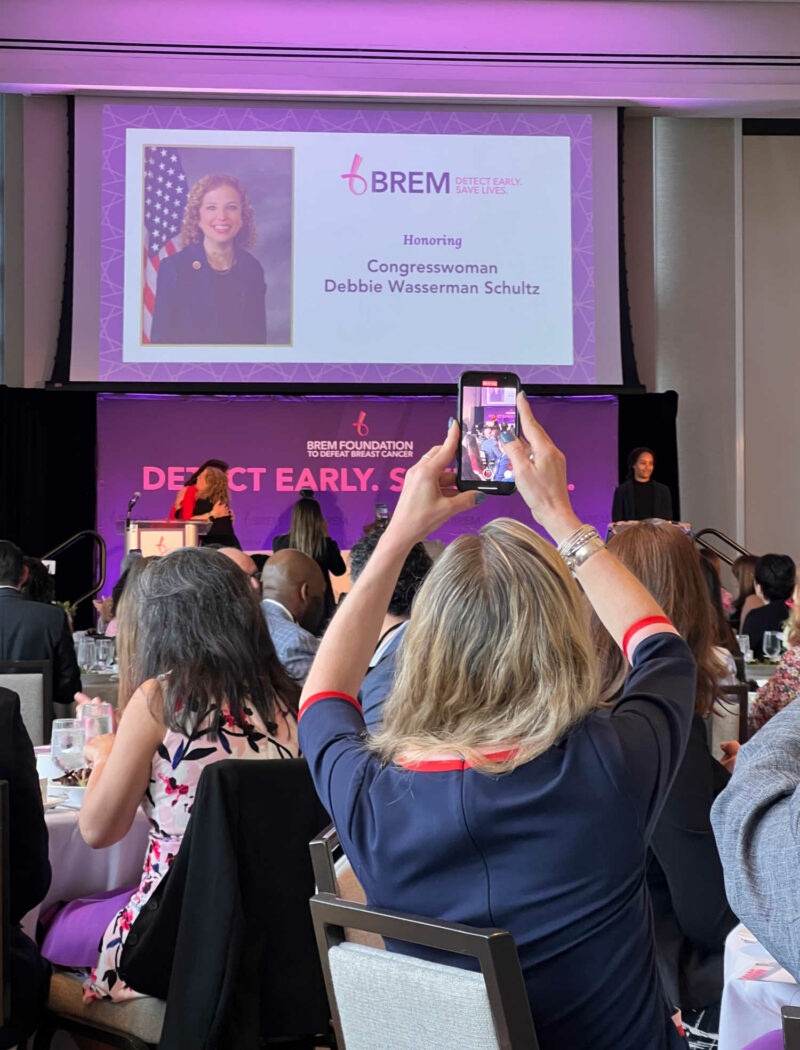 Empower Hour brings leaders across DC together for a compelling program on the life saving work of the Brem Foundation and how we can continue to address disparities in breast care. At the luncheon, two awards were given out:
The Leadership Award to Congresswoman Debbie Wasserman-Schultz from Florida – a breast cancer survivor and fierce advocate for early detection.
The Impact Award to Lyft, who is Brem's key partner in Wheels for Women.
My look was perfect, if maybe a bit brighter than many of the others. DC has great fashion, but in the corporate sphere, considering it is primarily politics and finance, shell pink and maroon are considered pops of color. But it felt like me, and it felt perfect for the sunny, breezy day that was around 75 degrees. And in fact, because it was a bold color I had strangers introduce themselves to compliment my look and stay around to chat.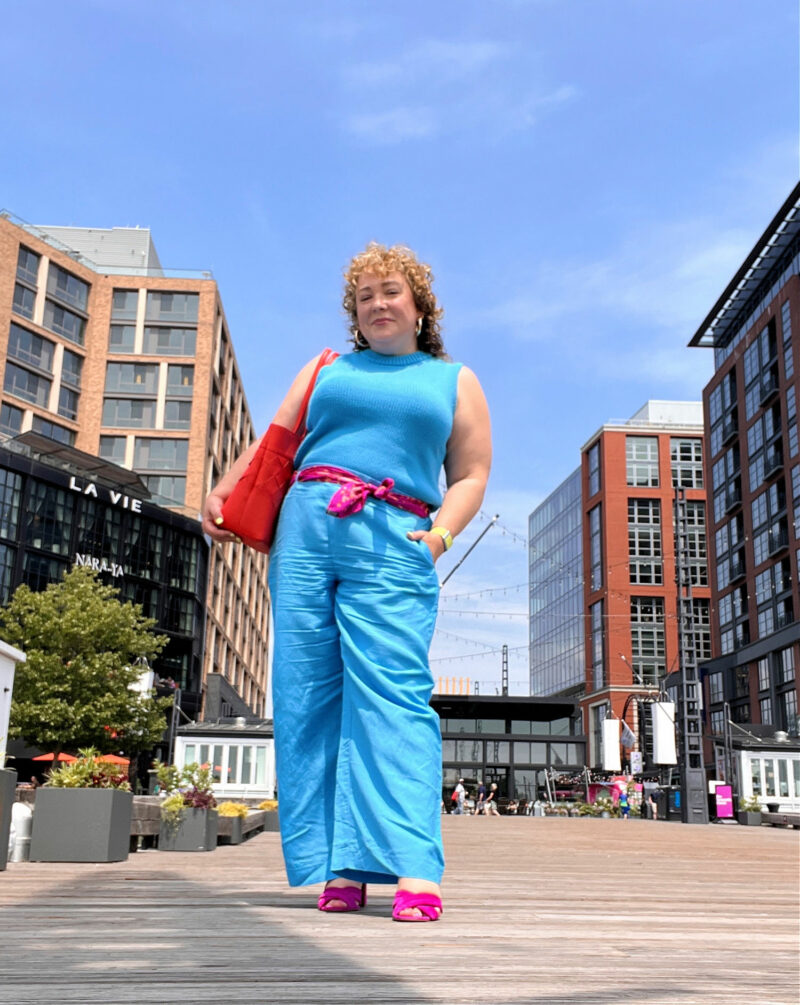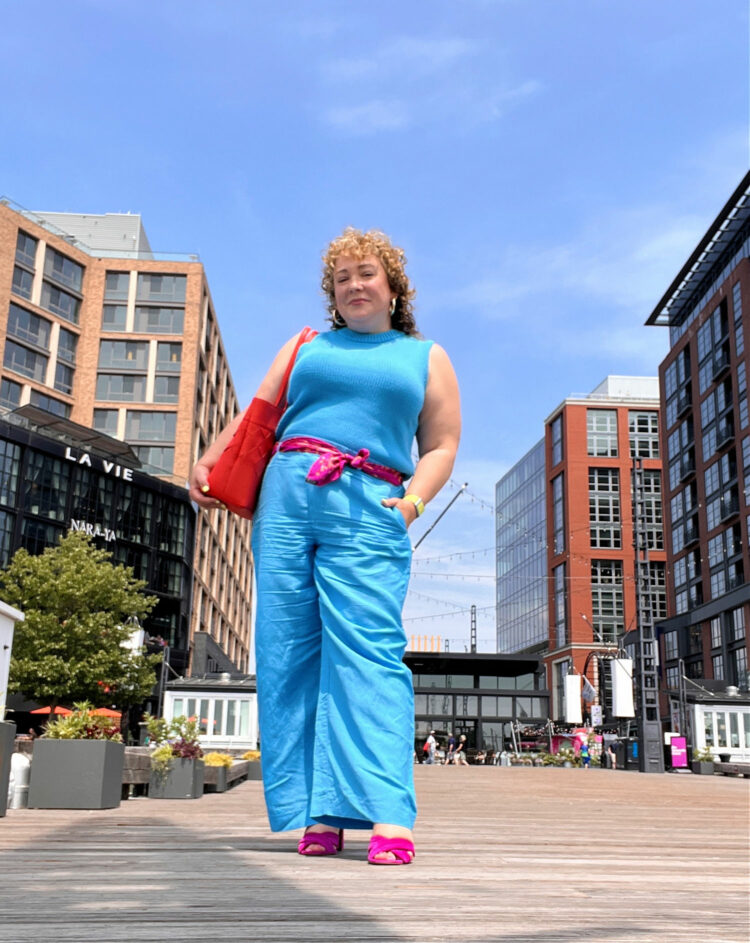 After the event, I took my dessert to go and enjoyed it while walking along the water at the DC Wharf. I was nervous attending, but really glad I did. It's important, especially as we get older, to get out of our comfort zone and have new experiences. I met amazing folks and learned more about an amazing organization. To learn more about the Brem Foundation, visit this link. And be sure to get your mammogram!
What to Wear to a Charity Fundraising Luncheon in DC
As for the other individuals at the fundraising luncheon, I was correct in assuming it would be a lot of suits and day dresses. Since it was late spring, most of the colors were lighter and softer: dove gray and navy instead of black, shells and blouses in shades of pink from petal to magenta, dresses in beautiful colors or floral prints.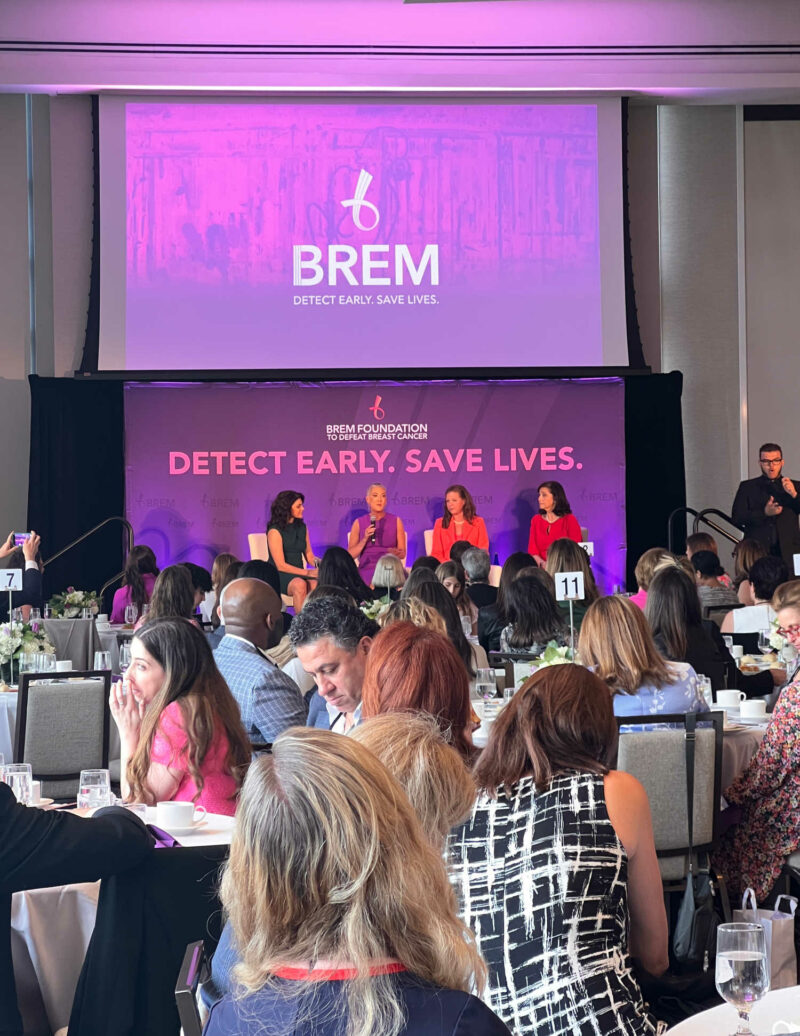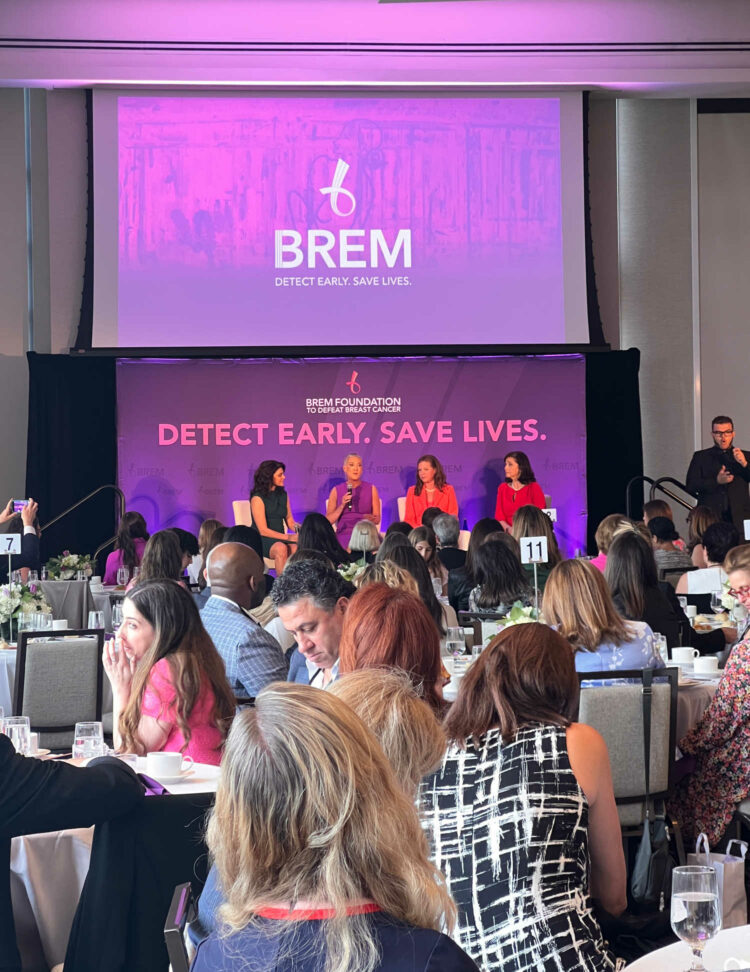 Suits were solids and prints, and mostly pants on all genders. A few wore pink suits, but most wore a neutral color and used pink as a pop of color with ties, shirts and blouses, belts and shoes. However, a printed or colorful suit or dress/jacket combo would be perfectly appropriate for such an event.
When it came to dresses, there were a lot of people in sheath dresses, but I also saw many fit and flare styles in the manner of shirtdresses, cap-sleeved belted styles, and several chiffon-layered styles that were knee- to calf-length that would also look at home as a wedding guest.
Several folks wore polished separates. Blouses with trousers, sweaters with skirts. The vibe was more Sunday house of worship or day wedding than one day in the office style with softer fabrics, some shine, prints, and color. I saw plenty of folks in a matte jersey or silky top with black pants and black flats; a safe bet for most occasions.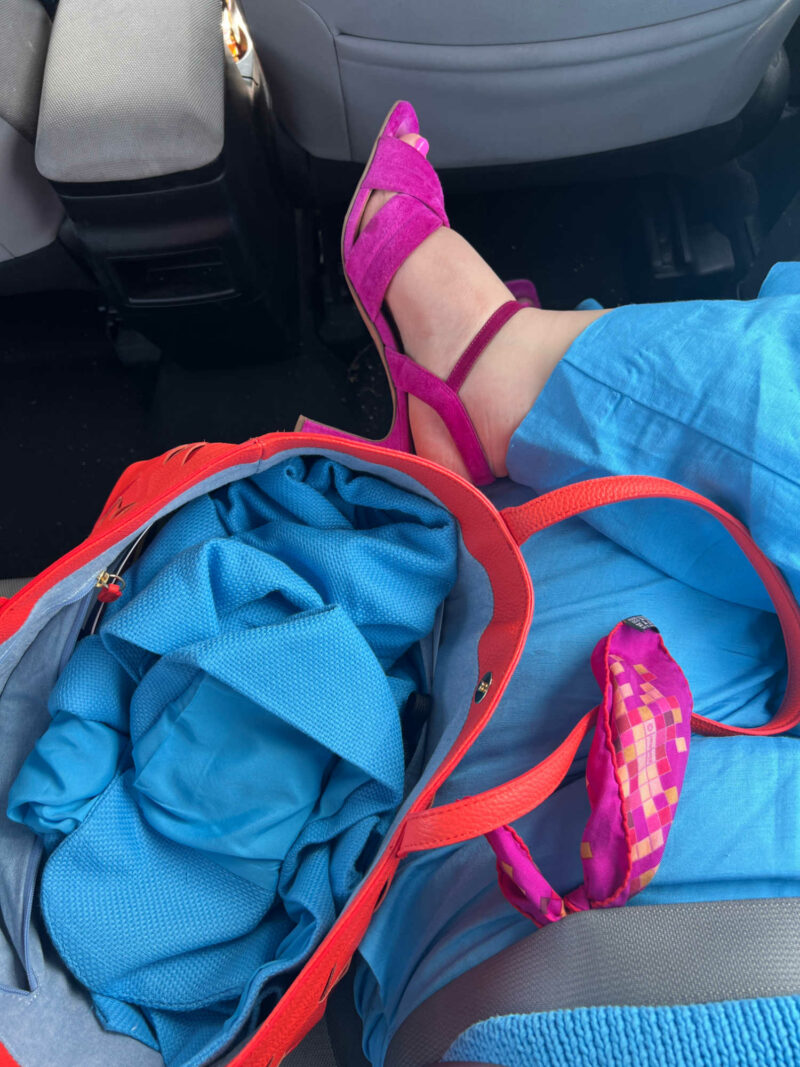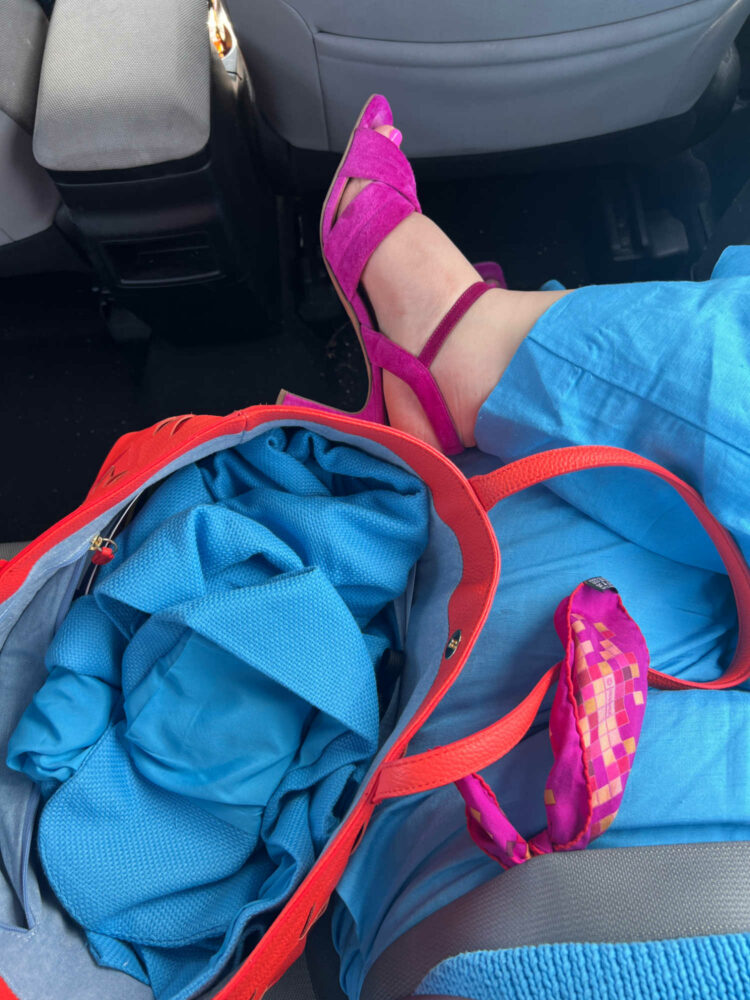 As for bags, I saw one or two women with clutch bags, but most had shoulder bags or totes of leather or another polished fabric that would look appropriate in an office setting. From flat sandals and closed-toed shoes to slender high heels, shoes ran the gamut but were polished styles (no sneakers, rubber, or athletic vibes). Most shoes were low contrast to skin with skirts and the outfit when with pants with the occasional person like yours truly wearing a shoe in a statement color.
I know DC has a different fashion culture than other cities in the U.S. but if you're trying to figure out what to wear to a charity fundraising luncheon, I hope this helps guide you!