This article may contain affiliate links; if you click on a shopping link and make a purchase I may receive a commission. As an Amazon Associate, I earn from qualifying purchases.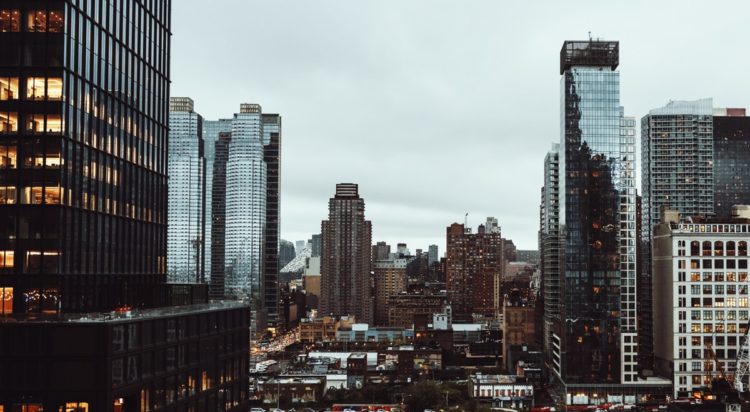 Tomorrow I am heading to NYC for a couple of days. My friend Sylvia and I just last month had the spur of the moment idea to go up for NYFW. Neither of us have attended and we thought it would be fun. We booked our hotel and transportation, secured a couple of show invites… but I had no idea what I was going to wear. I am trying to purchase less and very against buying something for a one-time occasion. Fashion week is SUCH a tempting time to do so, though! I may get photographed, I may meet editors or designers or other influencers. I have to look fierce and fresh, right?
Wrong. I have to look like me. SO, I created all my outfits with what was already in my closet (there are some new to you all items as they were part of an upcoming campaign with a brand I already love and wear all the time and one I haven't yet worn on the blog). It's supposed to be rainy and gross, so no fab footwear, but I feel good about my choices. It makes me feel accomplished, that I am making smarter decisions about what to add to my closet to have the biggest style without a big wardrobe. I'll be sure to recap the trip here on the blog but will be sharing more and in real-time on Instagram Stories!
Weekend Reads
"…In Black America, where an estimated 80% of Black people with wombs will develop fibroids and between 20% and 50% of those people will experience symptoms, there is no time to hide behind shame. We're in a crisis." A must-read about how women, especially Black women, have their health issues disregarded because medical experts, usually men, don't understand and don't find them serious. Read, share, and arm your fellow women with the information we need to maintain our health, our strength, and our sanity. (Medium)
My friend Sarah asked several influencers how they overcome body negativity and I am one of them and honored to be part of a group of some amazing voices with amazing style. (Rascal Honey)
On Instagram Stories I mentioned a ledge I bought on Amazon that temporarily sticks to mirrors, windows, and even the side of a car to hold your phone to take a photo. This is the item. I replace the sticker on the adhesive plate and keep it in my bag to take photos when on travel and I occasionally use it to film video.
I also mentioned my tinted moisturizer which I adore; it's this one from NARS. It gives more coverage than Laura Mercier but not as much as IT Cosmetics' CC Cream. It gives a glow, evens my skin without hiding my freckles. In the summer I wore St. Moritz, in the middle of winter I'm wearing Finland.
Climate change is affecting our environment, and also the mental health of GenZ. (Washington Post)
"I wanted people and young girls to be like, 'Oh, I can look like her and represent a brand.'" Why Christian Sirano picked actress Shannon Purser (from Riverdale, Stranger Things, and Sierra Burgess is a Loser) as the face of his latest fragrance. (Teen Vogue)
And now I want to see the movie, 'The Rhythm Section.' (Hollywood Reporter)
I saw someone share a link on Twitter about Zac Posen-designed flight attendant uniforms landed Delta in a lawsuit so of COURSE I had to click. Well, if you're curious, it's actually that Posen designed the uniforms, Lands' End created them, and whatever Lands' End did to the uniforms caused flight attendants to get sick and have rashes. And then Lands' End was sued again and… well I'm now worried about Lands' End not Zac or Delta. (The Fashion Law)
Macy's is closing 125 of their stores putting 2,000 people out of work. (Retail Dive)
How Pantone built a business turning color into cash. (The Fashion Law)
Despite its environmental and labor costs, shoppers love fast fashion. Will that ever change? (Vox)
In the January 18th Weekend Reads I shared a piece about a woman using the 'Stand Your Ground' Law after being charged with the murder of a man who she said had raped her, threatened her life in her home, and then attacked her brother after he arrived to help. I'm sad to share that she lost her hearing. (New Yorker)
See, Hear, Read
Last weekend I took myself to lunch and sat at the restaurant bar enjoying my salad and read a book on the Kindle app on my phone. I love short stories for such occasions so I can complete it in one sitting (or at least one sitting and a bit before bed the same night). For this lunch, I read Why Your Man Looks Better Than You by Phyllis Bourne. I "met" Phyllis over a decade ago through blogging, and a few years ago she was a beauty columnist for Wardrobe Oxygen. I love her romance novels and have read almost every one of them. I bought this book a bit ago but never read it until now. And I think it is great. It's short and she makes great points about why men seem to age better than women and what we can do to look great without spending a dime. And speaking of dimes, at the time of writing this, Why Your Man Looks Better Than You is only $3.99 for Kindle!
I shared on Instagram Stories some bits from the book and also thoughts I had on the book while reading it because I can see some feeling uncomfortable reading Bourne's books. If you read her books and think this isn't for me because you're not black, then you're feeling how black women have felt for eons reading books about brushing long flaxen tresses and pale skin glowing in the moonlight. Just because a book doesn't mention you specifically doesn't mean you can't glean insight from it. In fact, you get a double education because for the time it takes to read this charming, concise, and brutally honest book you'll get not only an education on why men age better than women you'll get a little peek into what it's like to not be the protagonist over every story. Both are valuable and both are why I recommend this book from my friend.
For Your Entertainment
Black Pumas is a Texas-based duo consisting of Eric Burton (vocals) and Adrian Quesada (guitar and producer). They formed Black Pumas in 2017 and had their first self-titled album come out last year. They were nominated for the Grammy for Best New Artist and won a best new band trophy at the 2019 Austin Music Awards. "Colors" is their second single.