This article may contain affiliate links; if you click on a shopping link and make a purchase I may receive a commission. As an Amazon Associate, I earn from qualifying purchases.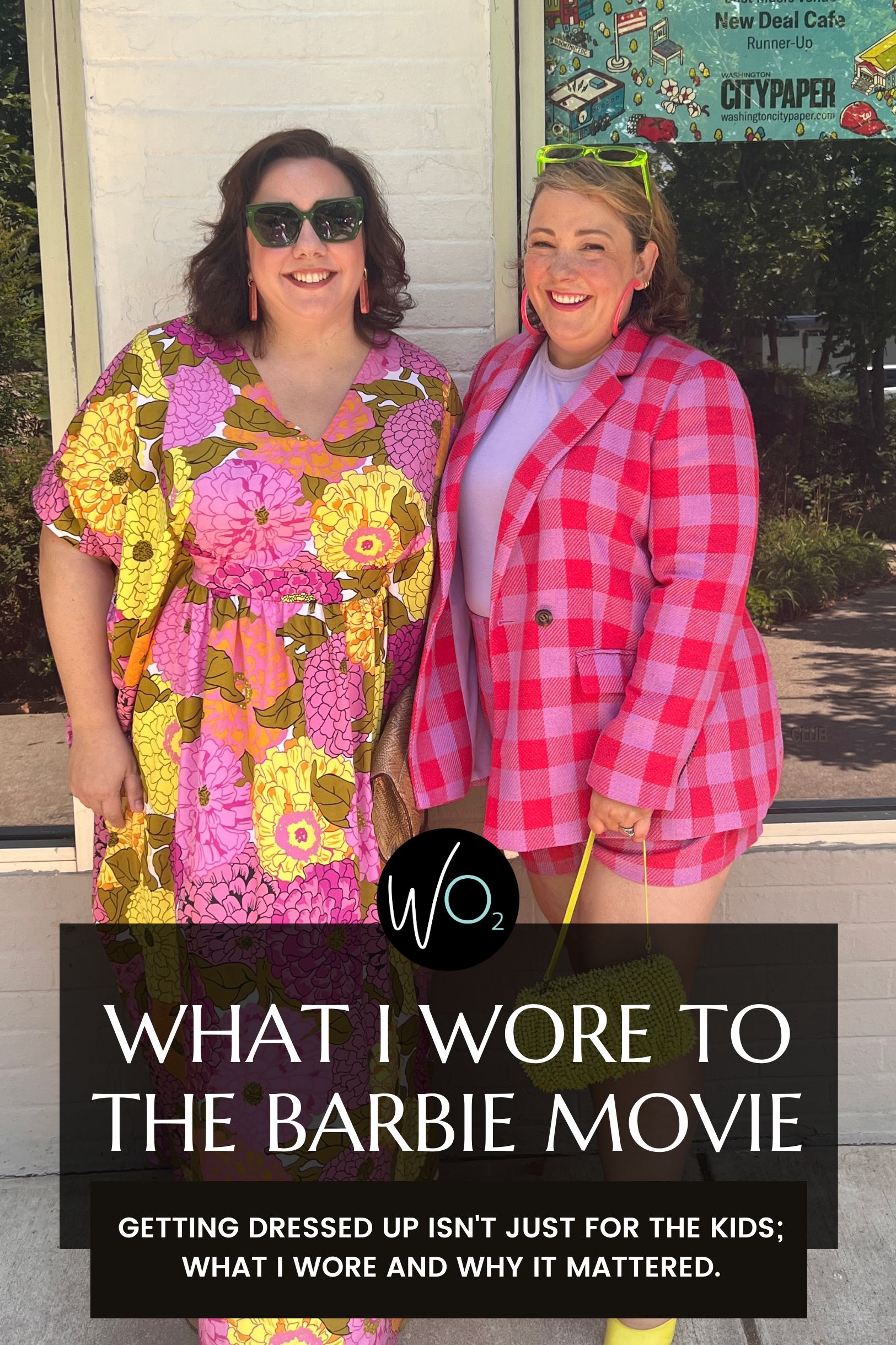 I don't think anyone who reads Wardrobe Oxygen is surprised I went to see The Barbie Movie as soon as it came out. I am a feminist, a mom, and a child who grew up playing with Barbies. I was expert in creating the most magnificent gowns for my Barbies with Kleenex and Scotch tape, much to the dismay of my mother who always ended up out of both when she needed them (and constantly reminded me that neither grew on trees).
I am not going to write a whole think piece about this film. I was not one of those sobbing in the theater, but I did thoroughly enjoy the film and recommend it to others. Some parts I felt weren't necessary, some parts I found corny and cliche, and other parts were really smart, campy in a good way, and well thought out.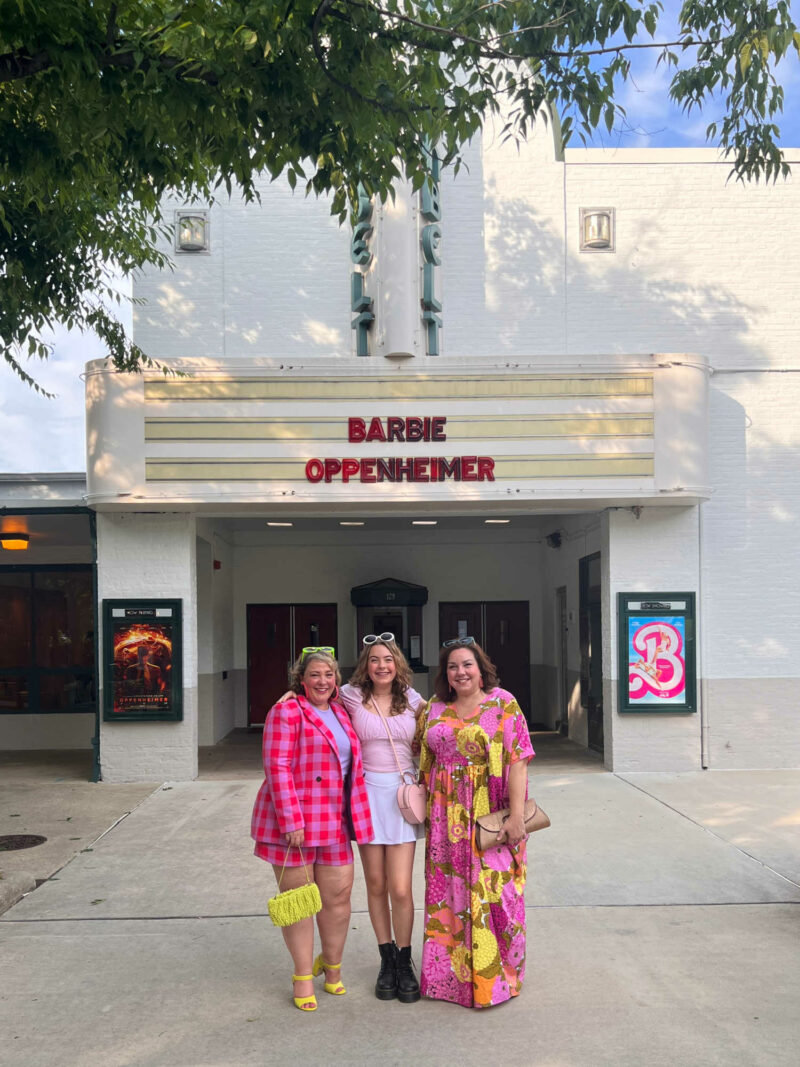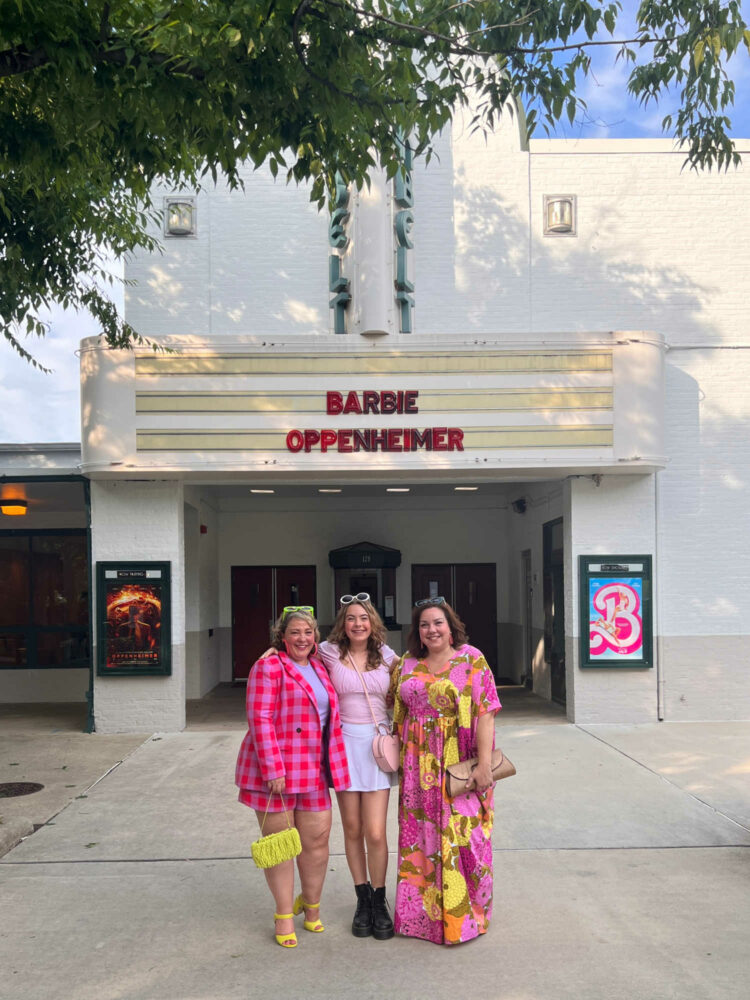 What I Wore to the Barbie Movie
I went to see Barbie with my 14-year-old daughter and my sister Debbie, who is three years my junior. We all enjoyed the film. All three of us also love an excuse to dress up, and love even more an opportunity to dress on theme, we decided to dress for The Barbie Movie.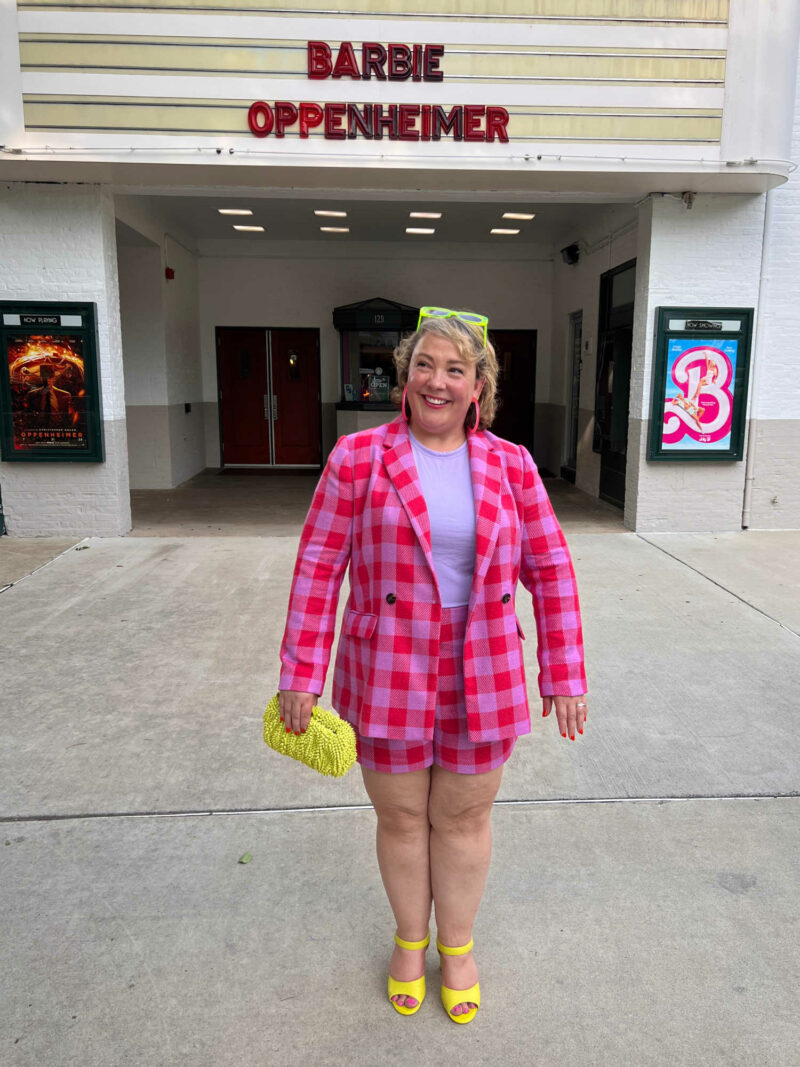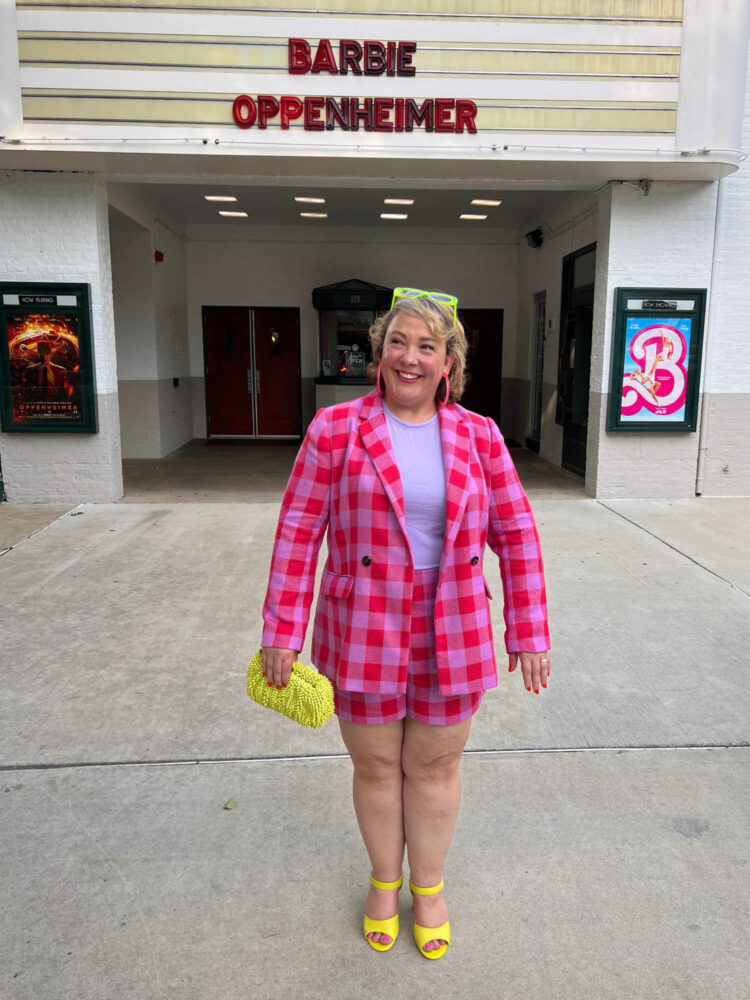 Matching Plaid Blazer and Shorts
I am wearing a pink plaid blazer and shorts from Ann Taylor that I got this past spring. I've worn the blazer with a t-shirt and jeans but didn't consider the shorts until they were on clearance and I felt I couldn't miss up the opportunity for a matched set. They had their debut for the Barbie movie! I am wearing the blazer in 16 petite, my usual size in Ann Taylor blazers. The shorts are 14 regular.
The suit is actually a reddish pink and lavender so I decided to pick up the lavender with a fitted tee from Amazon Aware, the company's in-house sustainable fashion brand. I've had this shirt for at least a year and adore the color however the L (what I'm wearing here) is a bit snug and the XL (which I have in white) is a bit too loose. Nice opacity, nice stretch, good sleeve length, but it's a very straight cut so those with curves may have the same sizing issue I have.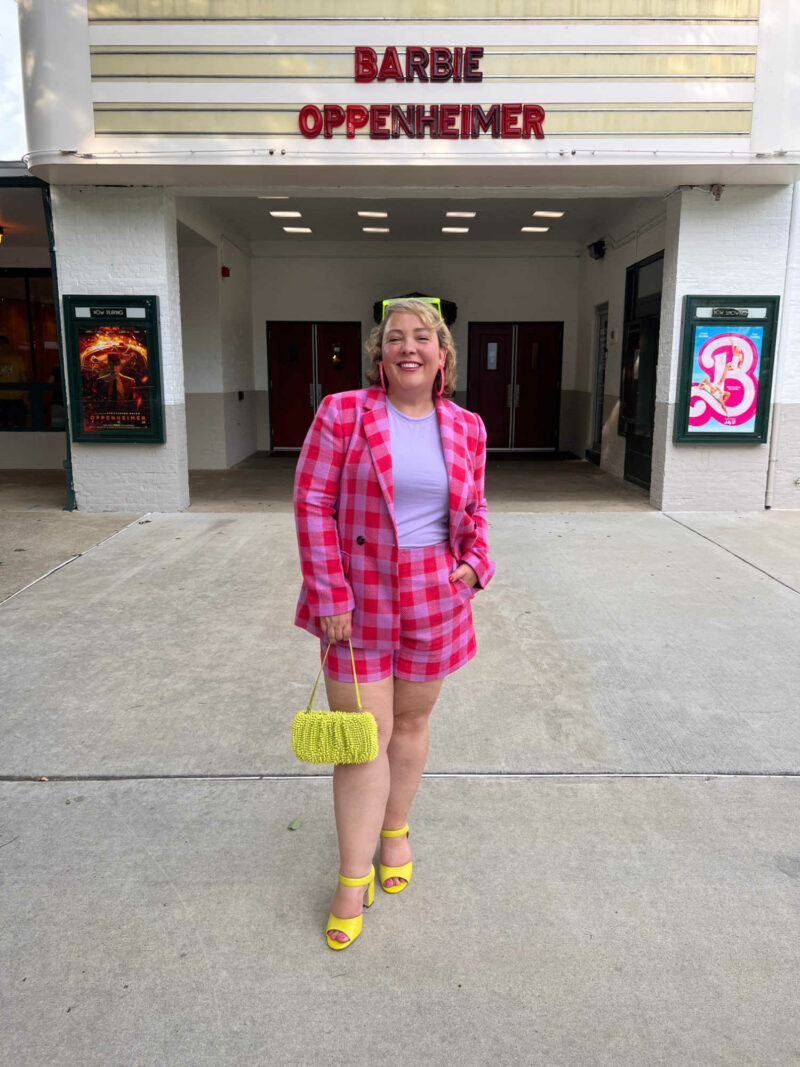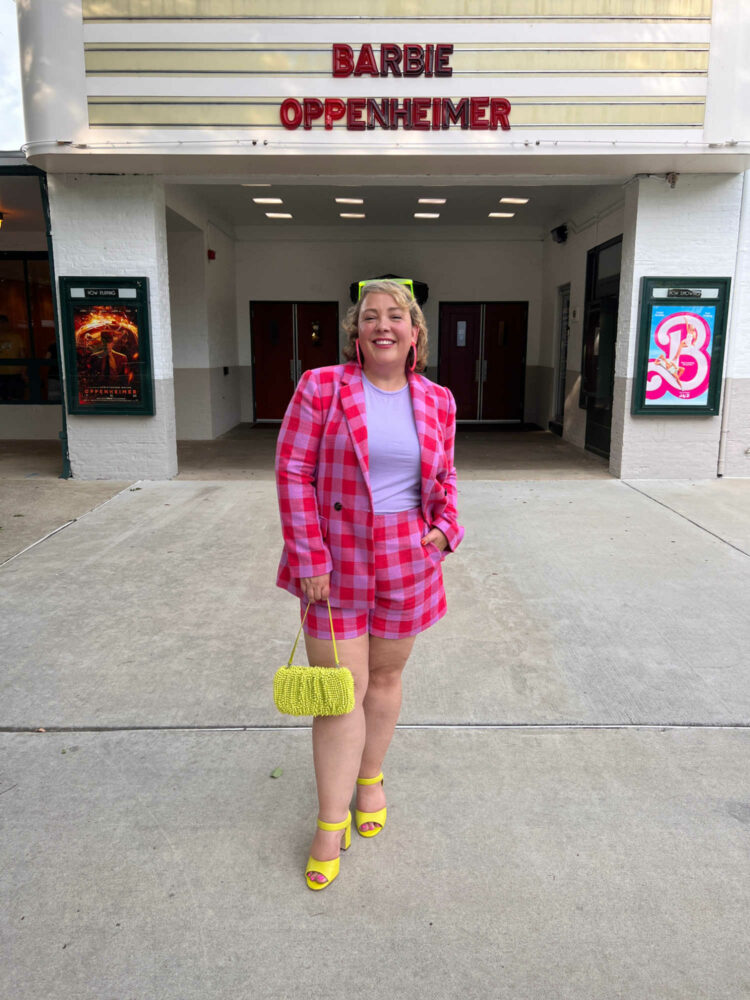 Accessories
I was thinking… what would take this look to a true Barbie level? Bright matching accessories! You saw these Sarto Franco Sarto sandals in my post on how to style neon. They are surprisingly comfortable and relatively roomy for my wide feet. They come in other colors if neon isn't your jam. I found them in stock at Macy's, Zappos, and the Franco Sarto website.
The sunglasses on my head are from Amazon and were purchased for a Halloween costume. The earrings are several years old and from BaubleBar; they are no longer available but these on Etsy are similar.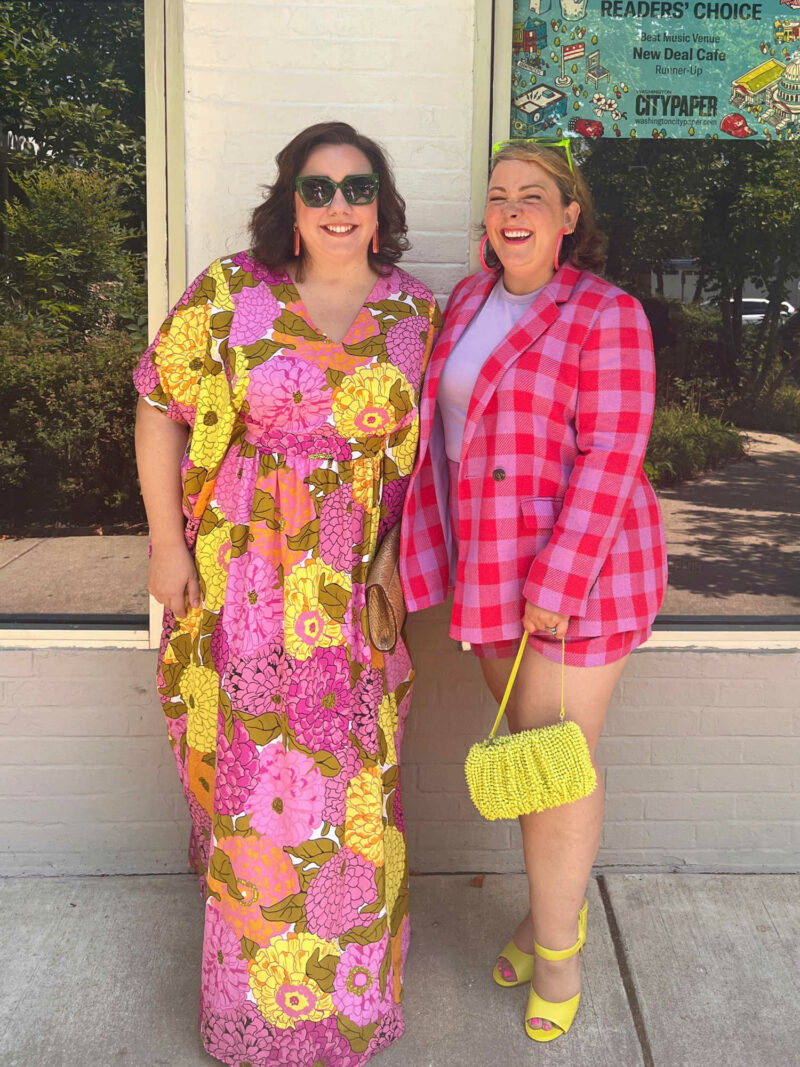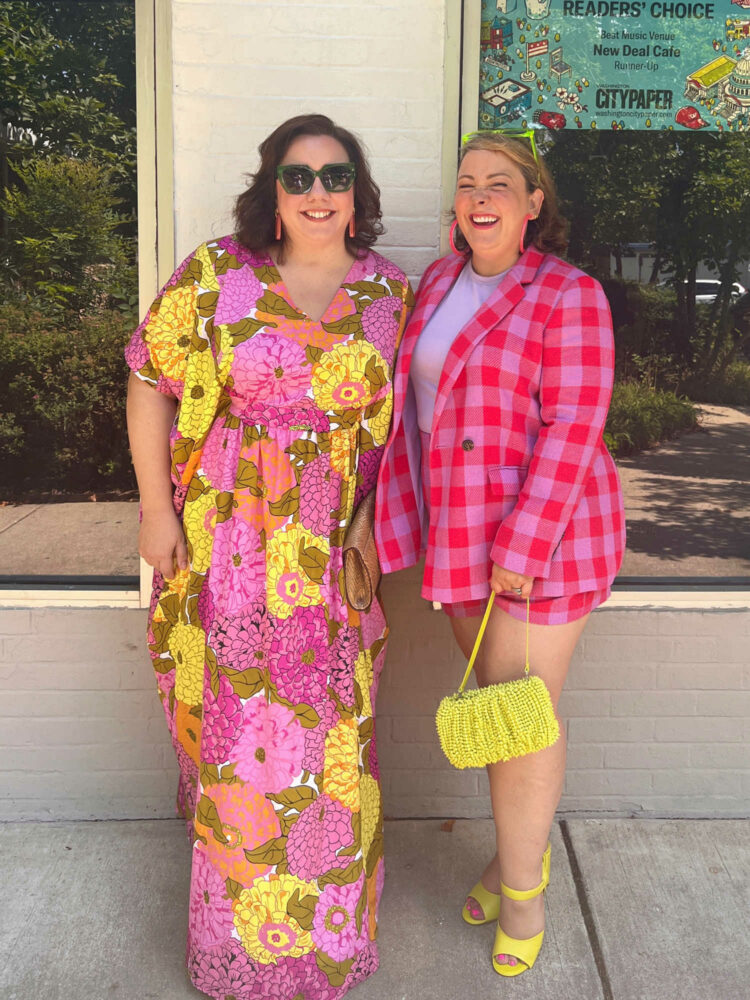 The bag is from STAUD, and one of my Nordstrom Anniversary Sale purchases. I believe in the power of a statement color clutch and find I wear my wacky colored and decorated bags far more than my classic black clutches. I'm on a serious neon/chartreuse/acid green kick this year and was thrilled to have this opportunity to wear this fun bag!
My sister is wearing a caftan she got last summer at Unique Vintage. This print is no longer available but Unique Vintage has other fab caftans. Her sunglasses are these from Amazon; I own the same pair in black. My daughter styled her look with a Kate Spade heart-shaped bag that her Aunt Debbie got her for Christmas. Her white sunglasses I found a few years ago at Goodwill.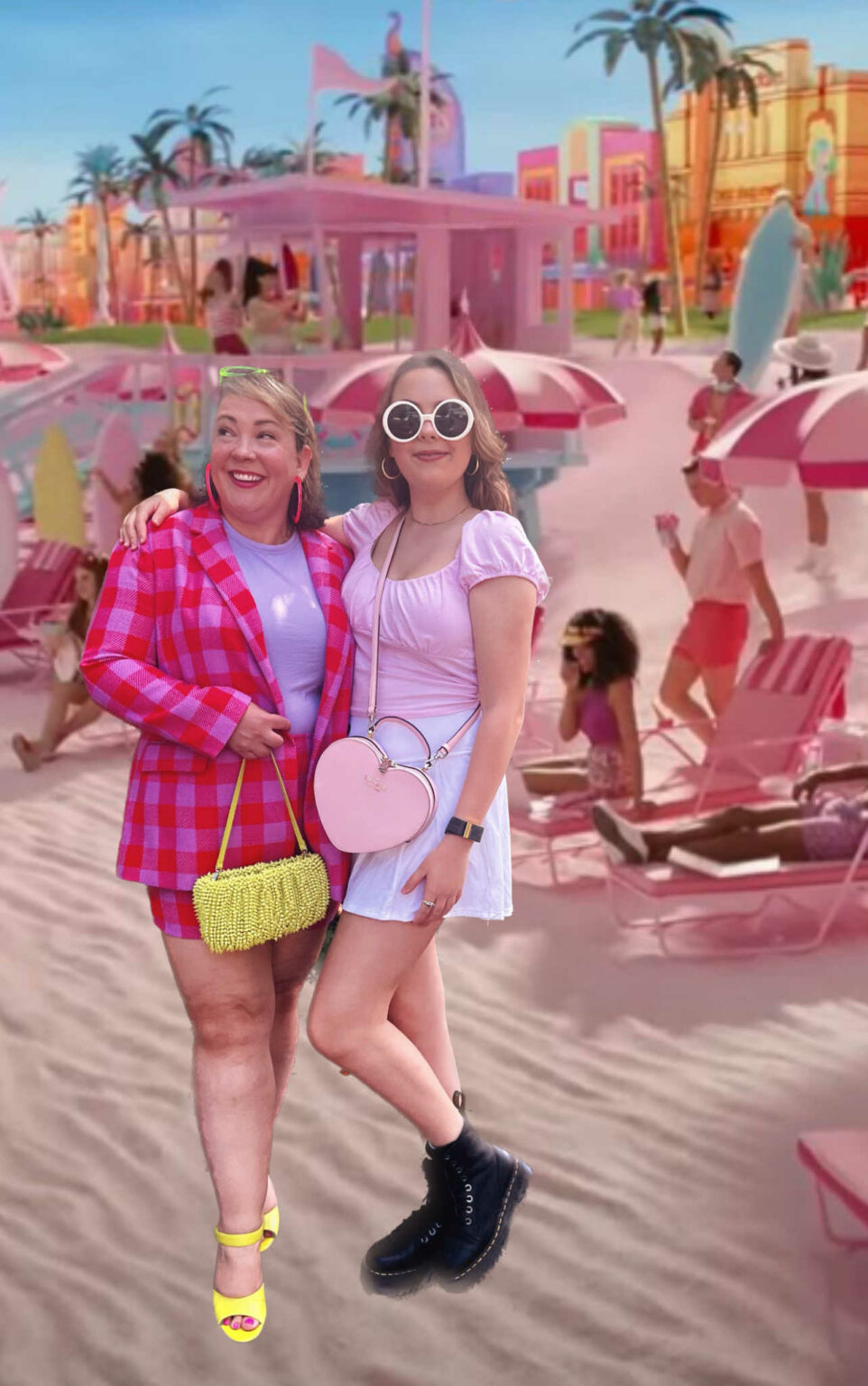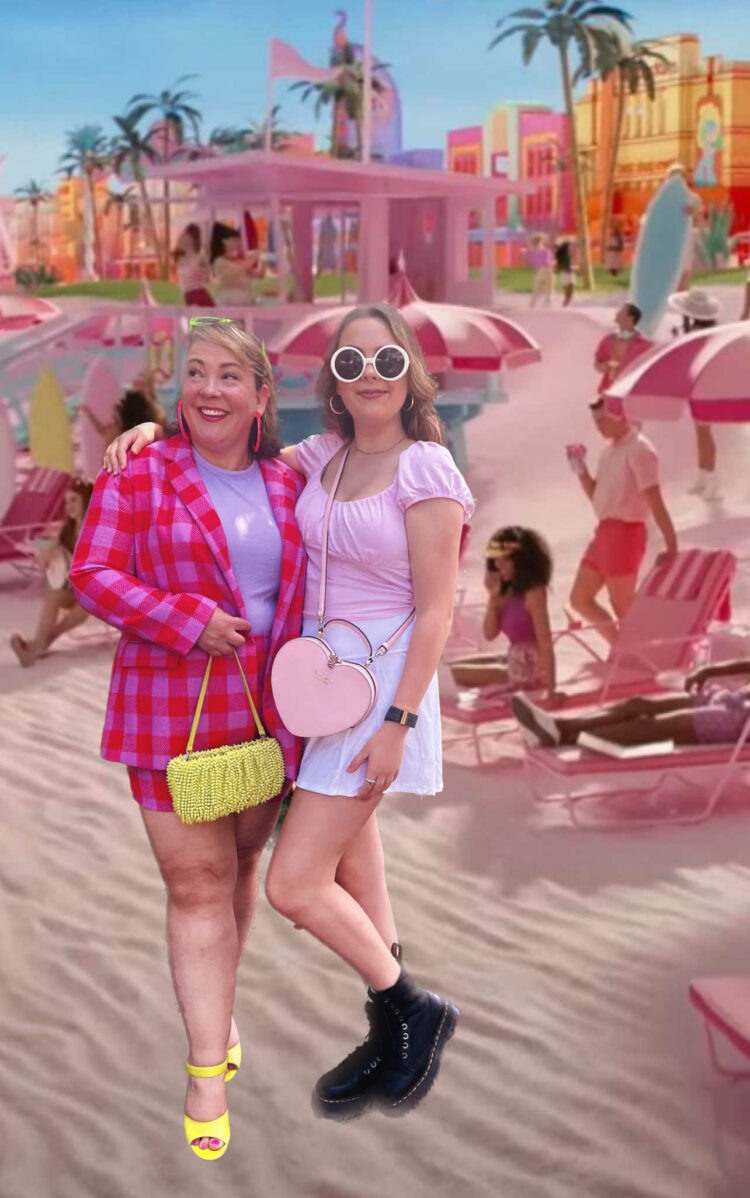 It was fun to dress up to see The Barbie Movie. The majority of the audience was wearing pink, and some attendees even came with their Barbie dolls! After the film, the local paper took pictures of a few of us together in front of the historic Old Greenbelt Theatre (no photos with us in them were used, but there were other fun ones in the latest issue!).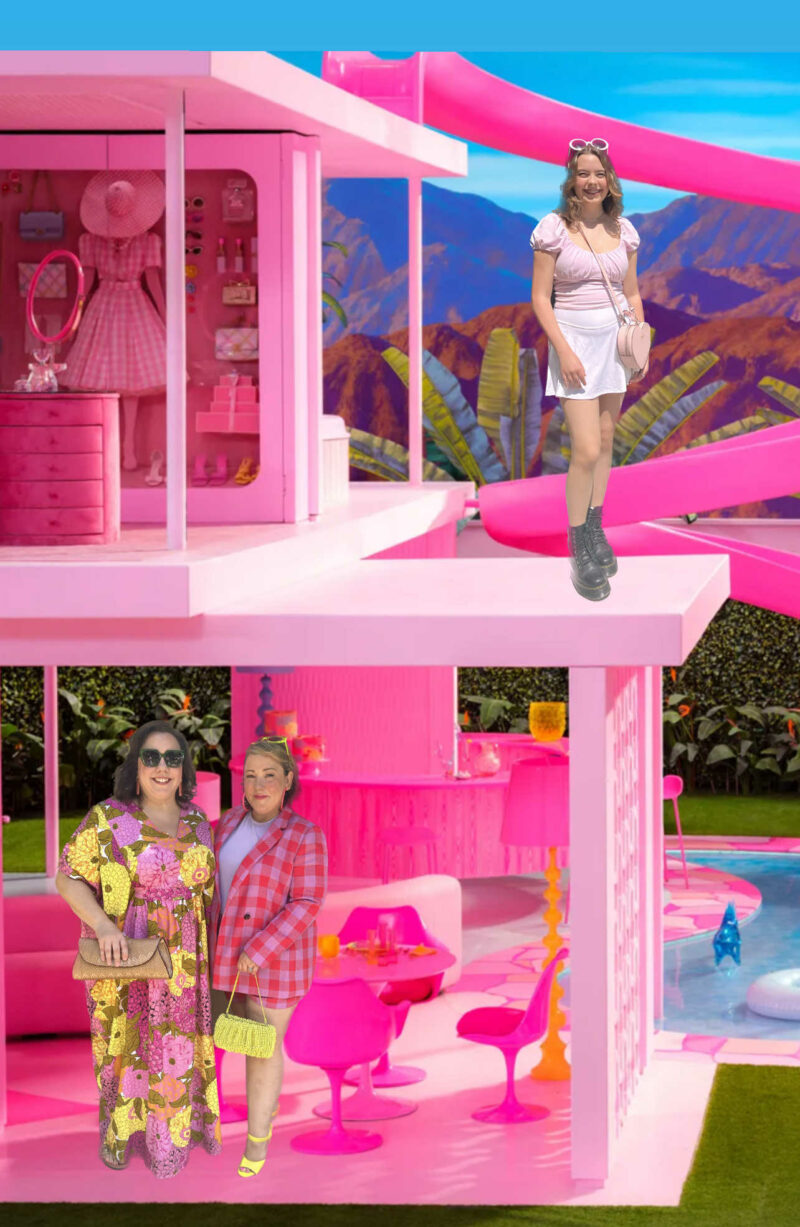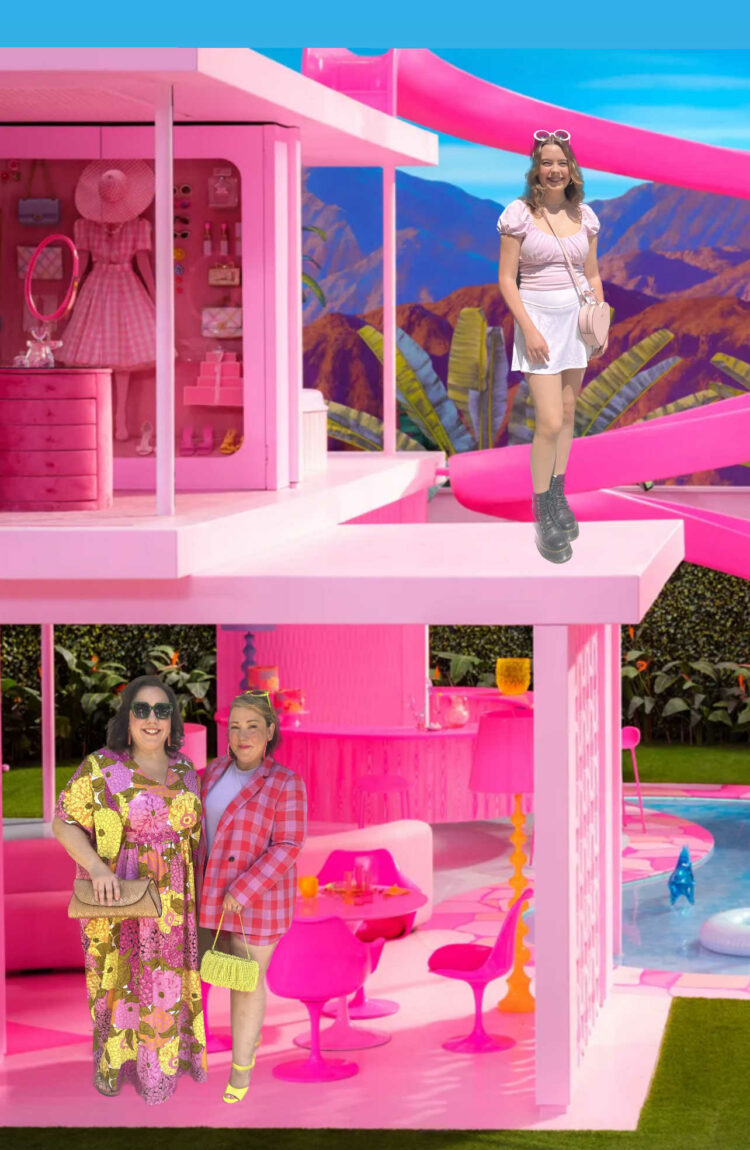 After the movie everyone in pink in the town center were greeting one another with, "Hi, Barbie!" Fashion is political, powerful, and a way to connect with others. Some may see it as superficial, and some may think dressing up to see a movie as silly. But I am so glad we did it (and glad we had pink clothes already in our closets!).
After many years of being home, not going to the movies, and being more detached from neighbors, this was a fun way to bring many of us together over nostalgia, feminism, supporting our local indie theater, and dressing up to see The Barbie Movie.