This article may contain affiliate links; if you click on a shopping link and make a purchase I may receive a commission. As an Amazon Associate, I earn from qualifying purchases.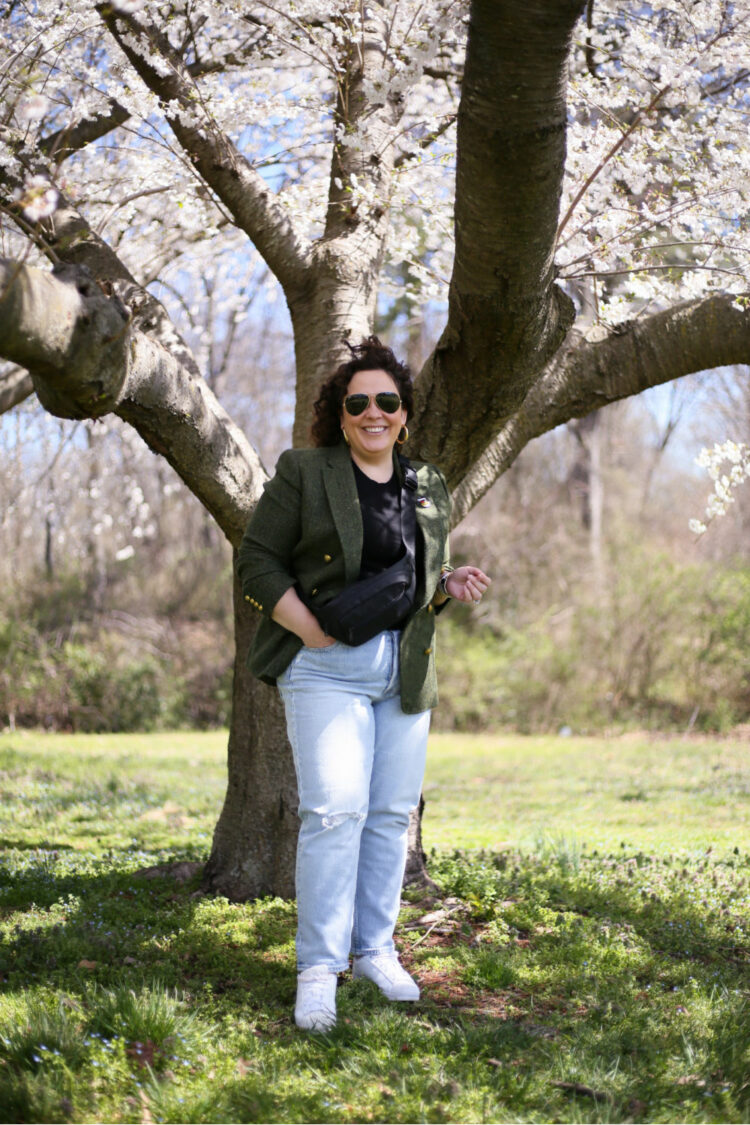 Last week I got the first shot of the Pfizer vaccine and I am so thrilled. My state (Maryland) and especially my county (Prince George's) has struggled with the vaccine rollout; I was only qualified because of my BMI (which if you follow me on Instagram, you know I find BMI to be bullsh*t) but I took it and got the first shot with my second one later this month.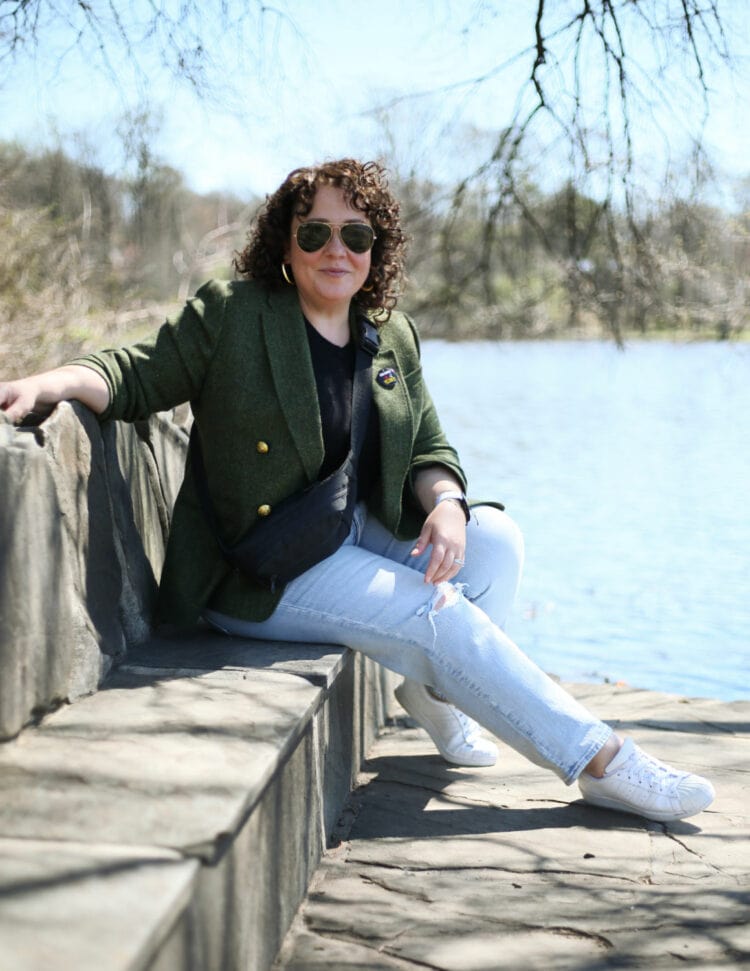 What does one wear to get the vaccine? Well, a sleeveless or short-sleeved top is a start. This merino shell from Everlane doesn't look to still be available, but it has been a staple in my wardrobe for several seasons and was perfect for getting the injection. This one from J.Crew looks similar and is available in six colors up to size 3X.
Since it was cold out, I needed a layering piece. A blazer won't cling like a hoodie or cardigan, so I could slip it off and back on my arm without having my base layers get all caught up. I had no idea I'd get a button on the way out from my appointment to commemorate the experience; I was glad to have my lapel ready to rock it!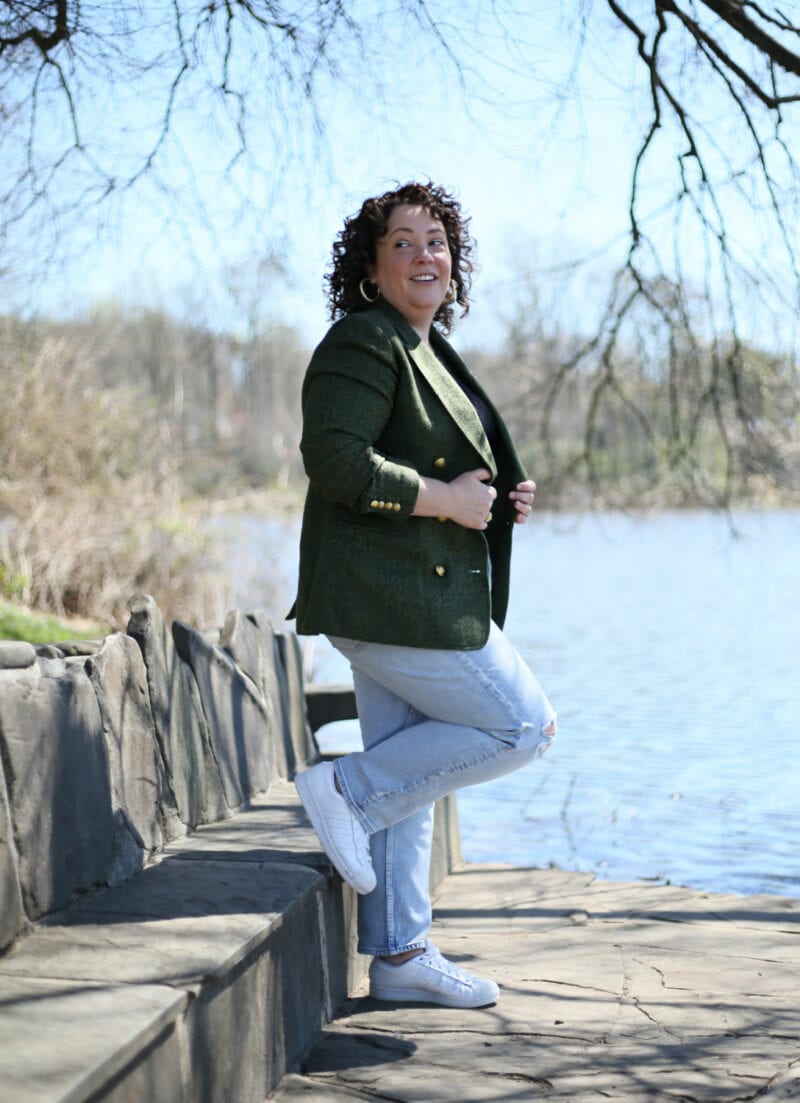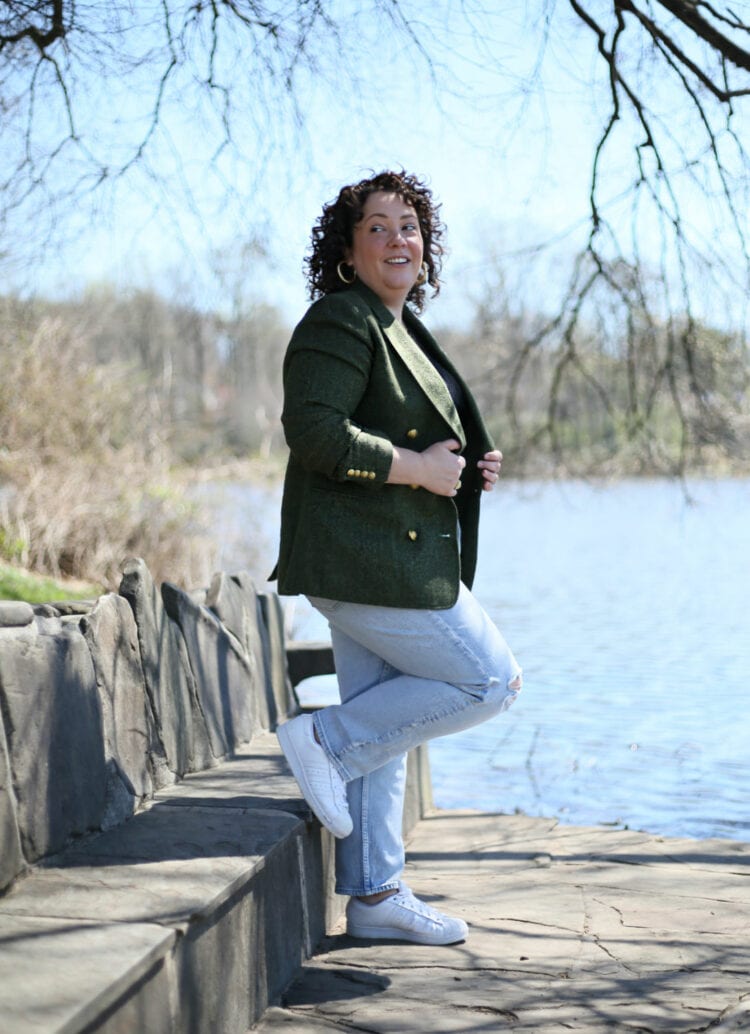 This blazer you have seen before; I wore it in this blog post with a graphic tee and skinny jeans. It's from J.Crew and also came in goldenrod; you may be able to find it on a resale site; I'm wearing a 14.
Shop Double-Breasted Blazers:

I love this blazer from J. Crew which looks to be the same silhouette and same buttons, but in a spring-friendly stretch linen fabric available up to size 16. This plus-size blazer from ELOQUII is also double-breasted with gold buttons; this sweater blazer from J. Crew also has gold buttons and is available up to 3X and is on sale; this ponte knit blazer from Lane Bryant is double-breasted and comes in plus petite.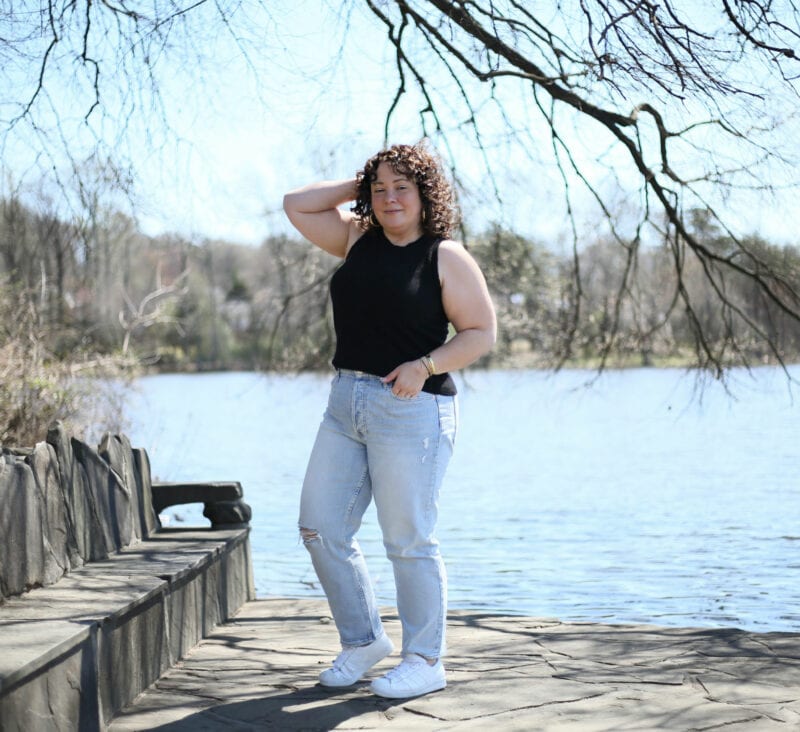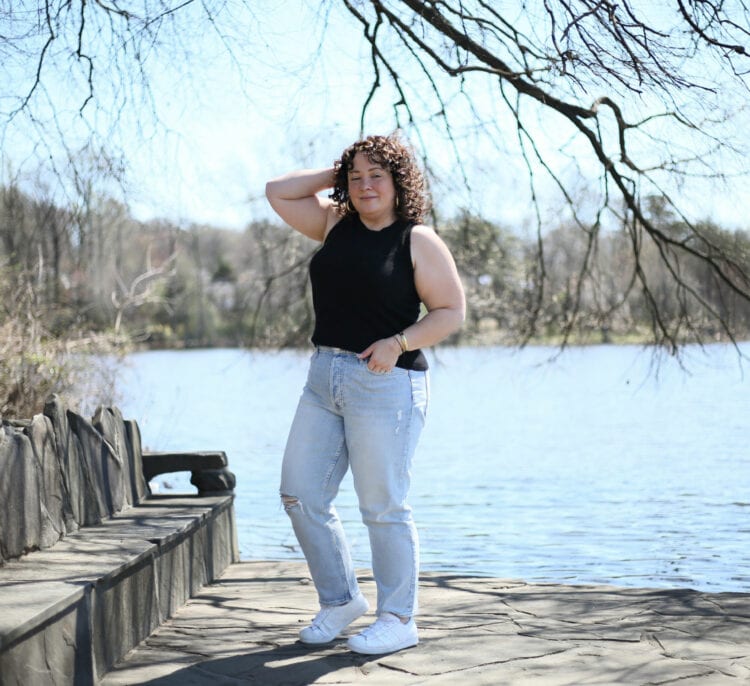 I ordered many pairs of jeans from Gap, Banana Republic, and Old Navy for an upcoming denim haul similar to my Madewell denim haul. The large box has been sitting on the floor of my bedroom for a while; I hope to get to it this week. But the pair on top was calling my name. I went to try them on, assuming they'd be a fail and was pleasantly surprised and ended up wearing them with this outfit.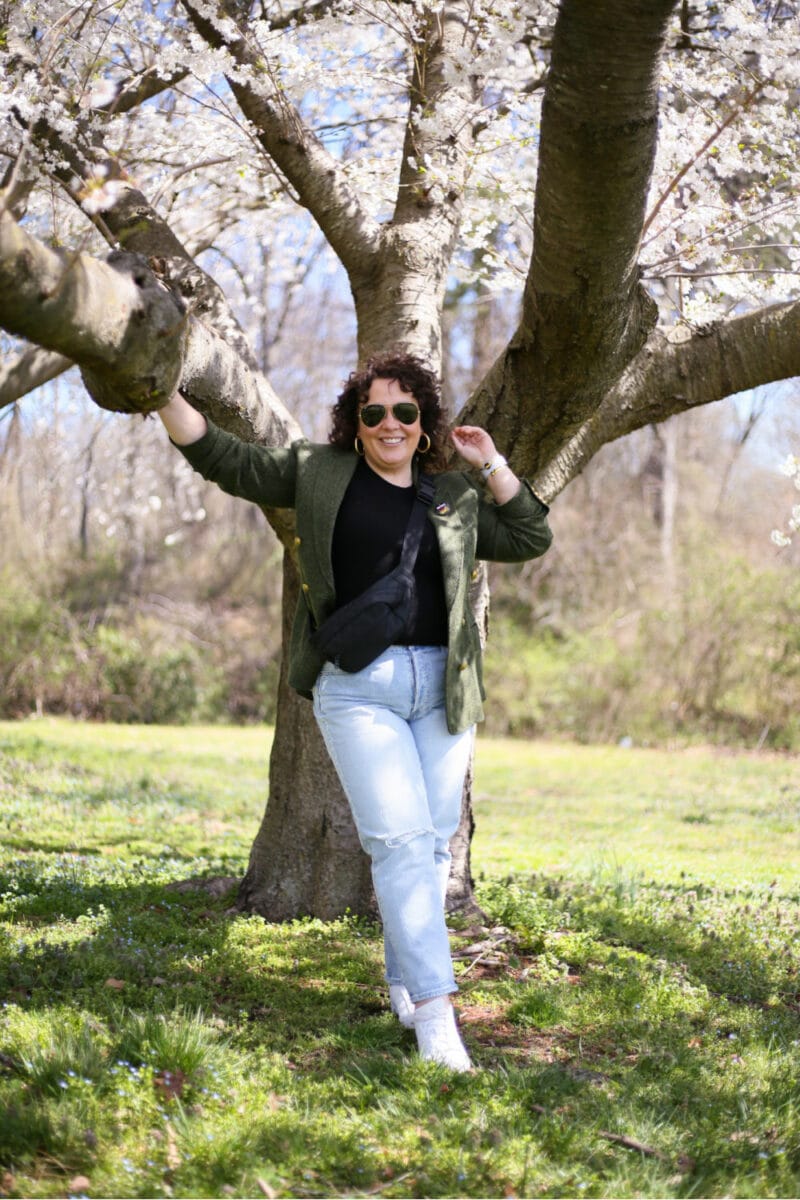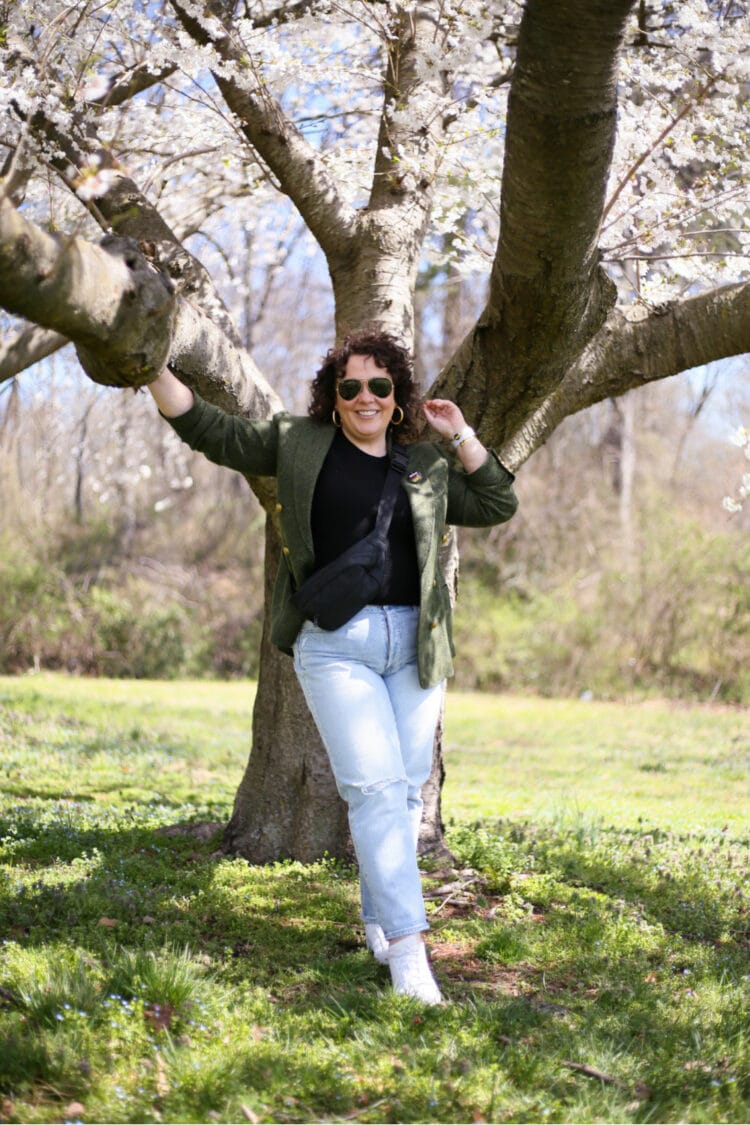 As I mentioned in last week's The Friday Shop, these are the Gap Distressed Cheeky Straight in size 14/32 color Light Indigo Destroy. And I've been wearing them almost daily since I got them. They're just what I was looking for through that painful Madewell Denim Haul: not skinny but not too big, faded, vintage-inspired, distressed but not torn the eff up, and a length that can work with sneakers or sandals.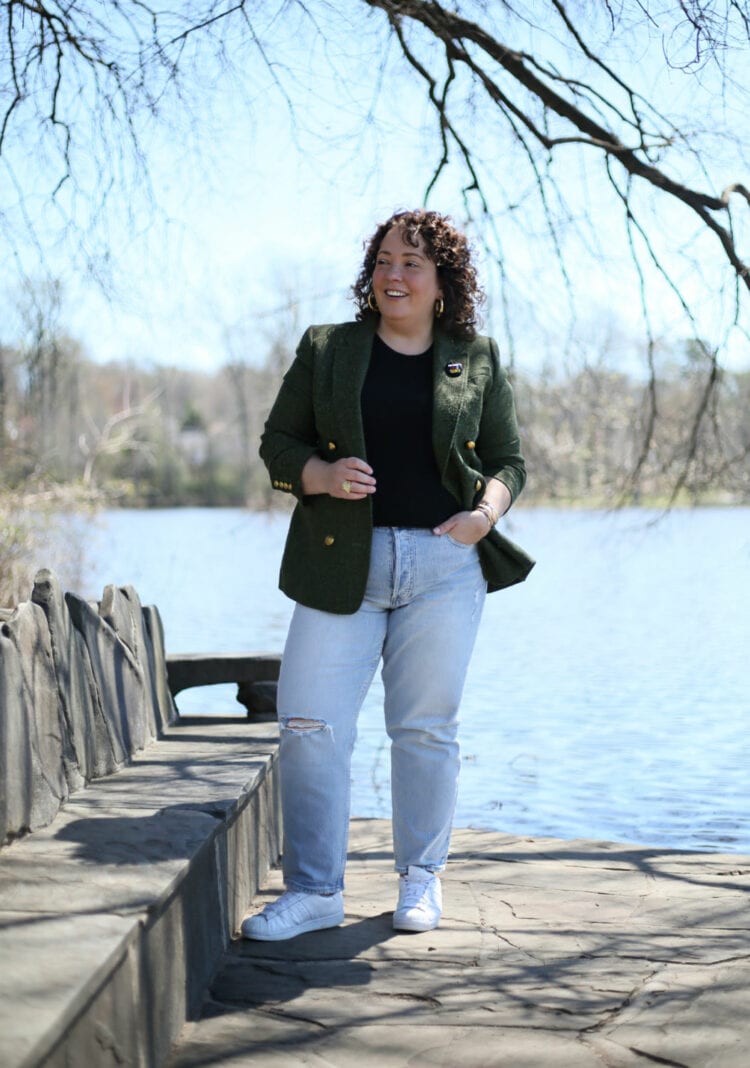 Speaking of sneakers, I am wearing my Adidas Superstars, which are a chunky white trendy sneaker, but not a bulbous as a pair of Air Force Ones, and roomy for my wide feet. They're famous for the black stripes but I went with an all-white pair which feels more versatile and classic for me. I love the look of an all-white sneaker, but many just look weird on me with my wide feet and solid ankles and shins; these I like with shorter dresses and shorts or else with leggings and jeans.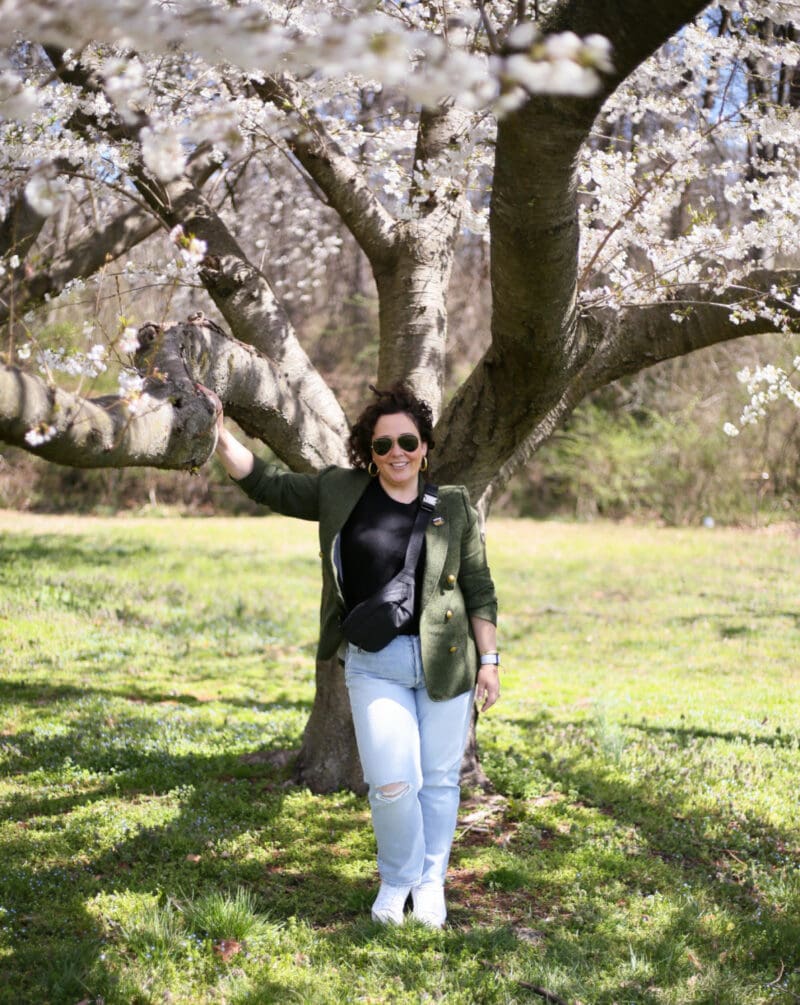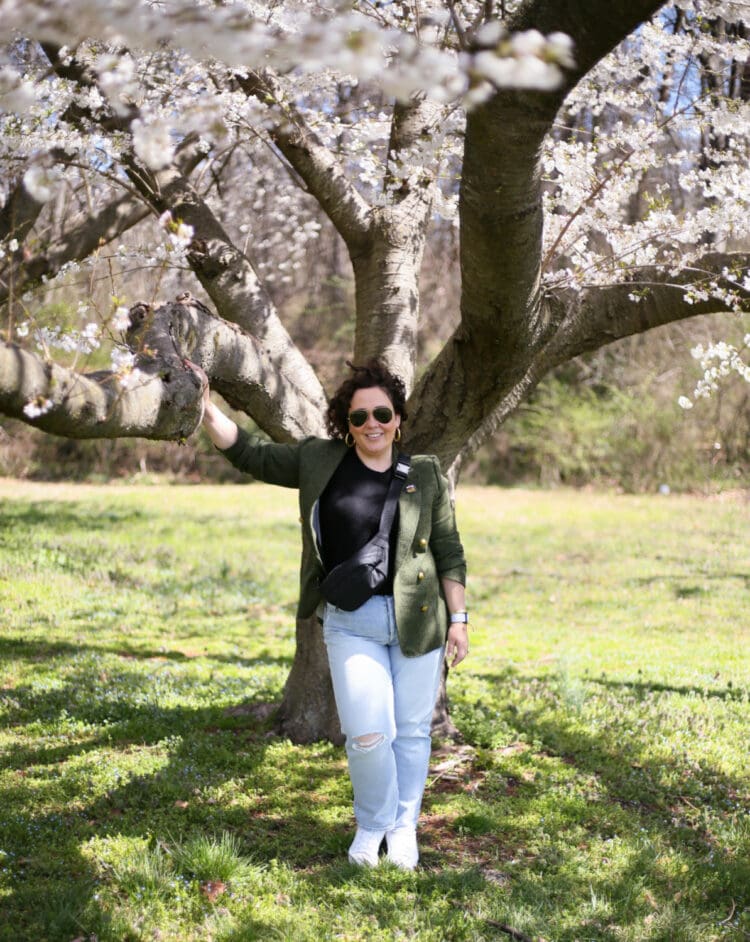 As for my accessories, I am wearing these earrings from Baublebar, this ring from REALM, this bangle from Metal Marvels and this bangle from REALM, and this belt bag worn as a crossbody. My sunglasses are the 62mm size aviator from Ray-Ban.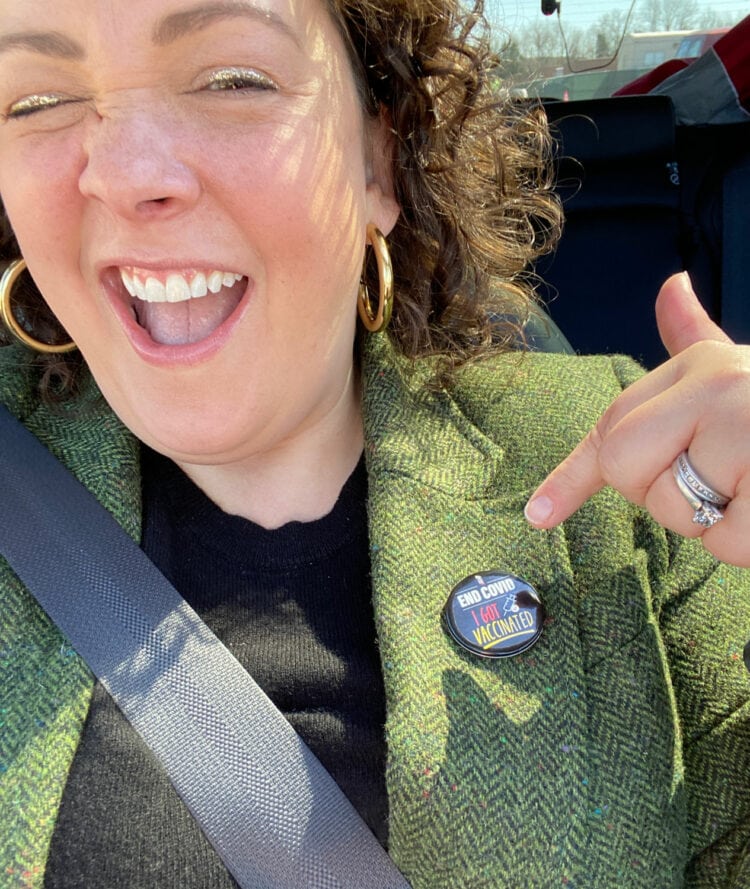 And finally, since it was a day to celebrate I decided to have some fun with my eye makeup and wore this liquid liner from Urban Decay with an otherwise no-makeup makeup face. I have this liner in a few different colors; it's not rough like glitter, washes off relatively well, and you do need to layer in some places but it's in general not hard to apply and always gets compliments. You can go as strong or mild as you desire (apply over black liner for a real pop!).
Shop the Post: