This article may contain affiliate links; if you click on a shopping link and make a purchase I may receive a commission. As an Amazon Associate, I earn from qualifying purchases.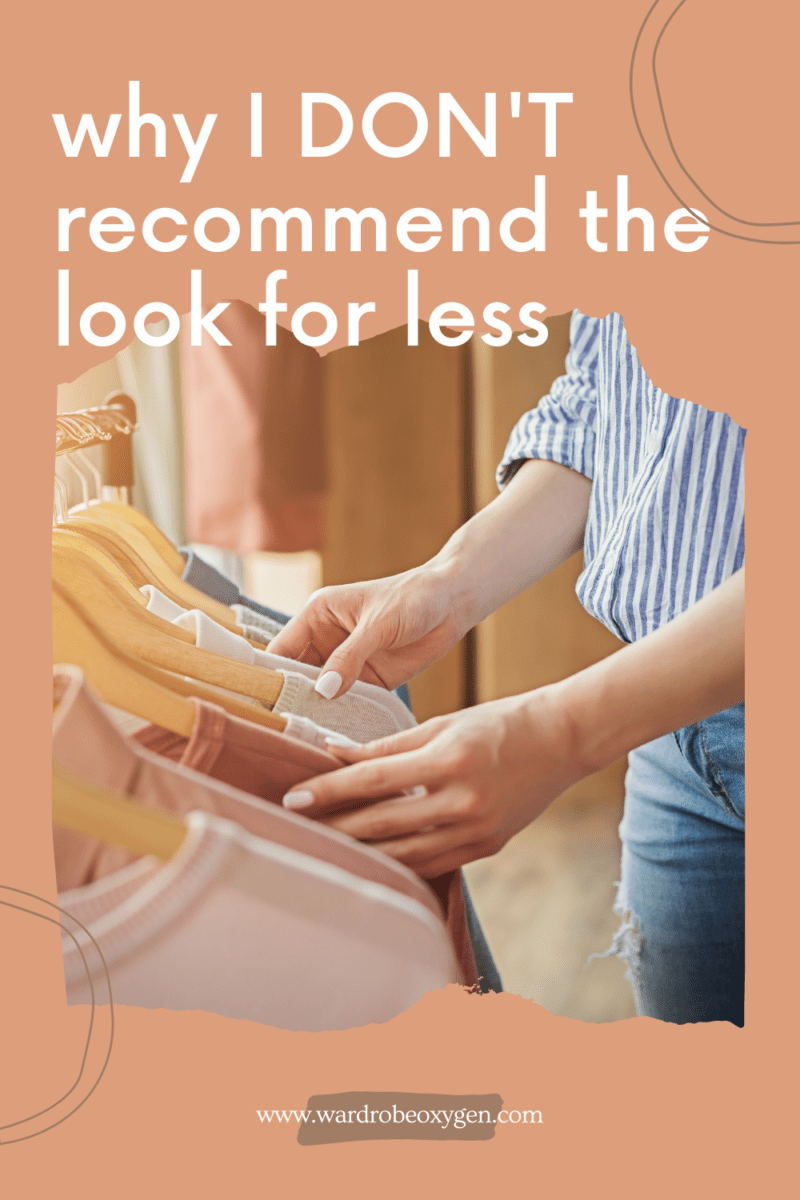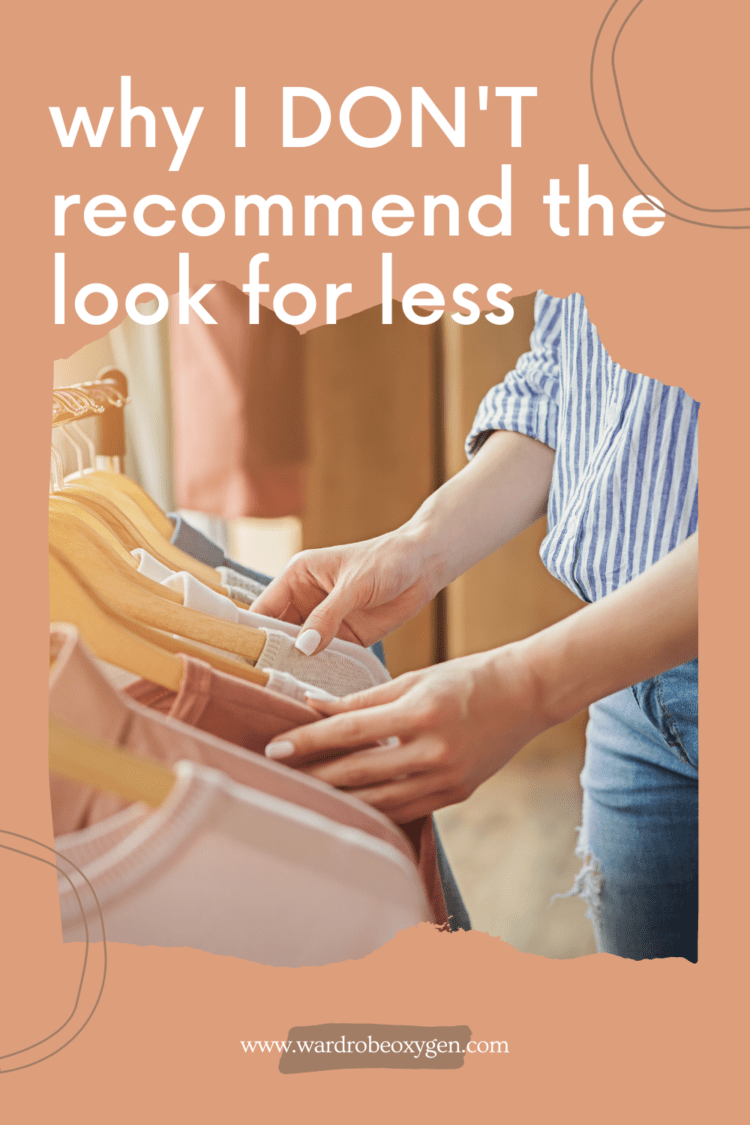 One of the most popular questions I receive over and over is how to get the look for less. A reader sees a designer garment, loves the style, but wants to achieve it on a budget. I know many influencers and style blogs focus on getting the look for less, but Wardrobe Oxygen will never do that. Let me explain…
Why I Don't Recommend the Look for Less
I don't believe in getting the look for less, because it NEVER WORKS. While you may find the same silhouette, the same color, or the same trendy detail as the more expensive item, it's not going to be the same. Not only that, but what made it great is usually lost with the loss of dollars.
But Isn't a Lot of High-End Fashion Overpriced?
Yes, sometimes items are ridiculously overpriced purely because of what designer crafted them. You can't tell me that a Supreme t-shirt is so better crafted than a Hanes one that it deserves such a high price. You're not paying for higher-quality cotton, you're paying for the Supreme label. And since 2020, some brands and designers, even higher-end ones, have looked to cut corners to stay profitable and it has created inconsistent quality.
But more often than not, when you compare a designer dud to the fast fashion "dupe" you will see that there is usually a stark difference in quality, fit, design, and manufacturing. Let me break this down for you…
Breaking Down the Look for Less
Let's imagine it's fall. You want to incorporate a couple of current trends into your wardrobe that has an autumnal feel. A great choice is a tie-neck blouse in a dark red color. The tie-neck blouse has been stylish for a few seasons now.
This is a garment that really runs the gamut in regard to price. When researching this piece, I saw everything from $24 to $2,000 for such a blouse. But what I also saw was that when I looked at the details of each blouse, I saw you get what you paid for.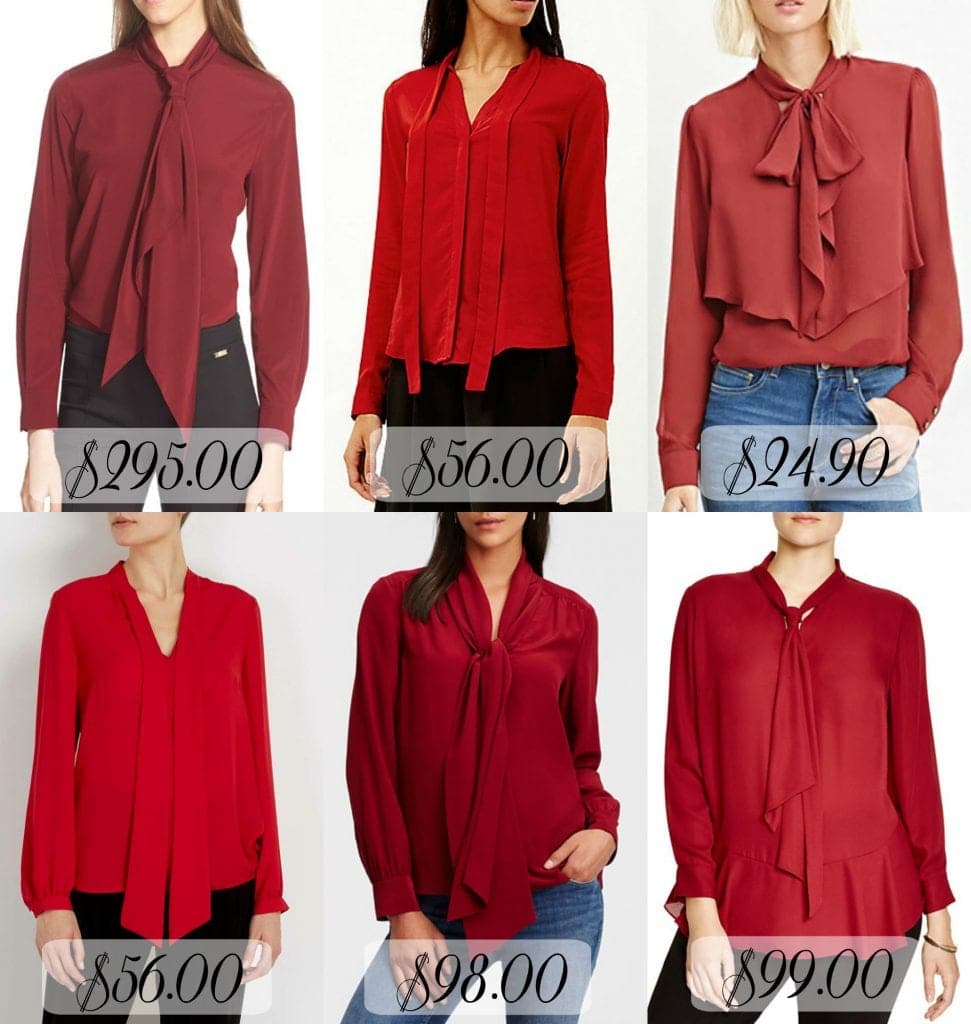 Here are six red tie-neck blouses that were available at popular online retailers at the time of originally writing this article. The prices range from $25 to $295 and at first glance, they don't seem that drastically different. Without trying them on or seeing them in person, you may feel you truly can get the look for less. But looks can be deceiving.
Let's first examine the $295 blouse. The website stated it is made from 93% silk and 7% spandex crêpe de Chine. It has a detachable neck tie, which makes the blouse more versatile and wearable once the trend passes. The blouse has a button-front closure under the tie (and it is a covered placket meaning fabric covers the button area), and double buttons at the cuffs; the buttons are the same color as the blouse.
The cut is tailored and has side slits so it can be worn tucked in or left out. The tie is long enough to knot as featured, or loop into a bow. While the product is made in China, the designer claims to have relationships with the factories and specifically handpicked which ones to work with to ensure more ethical production.
And now let's examine the $24.90 top. The blouse is 100% polyester, unlined, and even from this one photo it's clear the top is sheer and requires a camisole. What this picture doesn't show is that there is a keyhole back; that is the way to put on this top as there are no buttons down the front. And speaking of buttons, the ones on the cuffs are brushed gold, meaning the blouse is not as versatile and may end up looking cheaper in person.
The side view that was on the site shows the top is quite full, so full I am guessing the blouse is pinned on the model. This is very common with online retailers, and to be honest, also with online influencers. Garments, especially lower-priced ones, are often pinned (or held with binder clips) to have them appear to fit better than they actually do. Keep this in mind when shopping online; other tricks are arms crossing in front, sleeves being pushed up, and weird poses where the top is partially hidden by the model's body or props.
But back to this $24.90 blouse. The sleeves are also fuller than the expensive version; detailed shots show there's pleating on the shoulders and at the cuffs. The ruffle over the bust provides some opacity, but that ruffle does not continue to the back of the blouse. While the description on the website states the blouse has modest side slits, a photo of the back view of the top shows the slits go almost up to the waistband of the model's jeans, making it difficult to tuck in and blouse out.
On top of all this, the company that provides this shirt has been sued for copyright infringement and has been busted for using child labor and unsafe factory conditions.
The other blouses vary in price, and much has to do with the following reasons why you often can't achieve the look for less:
The Look for Less Usually Means Poor Construction
Why is it that some retailers have such inconsistent sizing? I can go into a mall store and try on 10 pairs of jeans of the same style, wash, and size and find they all fit differently. Some are shorter, some longer, some have more narrow of thighs, and heck some even seem to be made of a completely different fabric composition. This is an example of getting what you paid for.
To save money and get product to the stores super quick, retailers often source from multiple factories in different countries. I remember when I worked for Express; I came to favor the tees made in the Mariana Islands because they had the best cotton/Lycra blend of all. Also, they seemed to be cut in the most consistent manner.
Another way retailers save money is to cut higher piles of fabric. Trace a pattern on a piece of paper; place two pieces of paper underneath and cut out the pattern. All three pieces will be around the same size. However do this same exercise but instead cut out 12 pieces of paper at the same time, you'll see that the pieces will really vary in size. This is why a pair of jeans may have one leg more narrow than another or one size 8 dress seems twice as big as another.
Cutting fewer pieces at a time and sticking to one factory and/or fabric source costs more. With higher-end brands you're more likely to find consistency in cut, fit, and composition.
The Look for Less Usually Means Lower Quality Fabric
The $56 blouse and the $98 blouse in the collage are very similar, but the biggest reason why the one on the left is almost half the price is that it is made of polyester while the other is 100% silk.
Fabric details only tell so much; think about thread count when it comes to sheets. Two sets of sheets can both be 100% cotton, but the percale bedding will not be as silky or tightly woven as the 800 thread count cotton sateen set.
This holds true for clothing fabric as well and is why your Old Navy tee shirt may start pilling after one wear while your James Perse tee looks new after years of washings.
The Look for Less Often Means Questionable Manufacturing Processes
It's cheaper to manufacture clothing in other countries, and while many of us hate to think about it, the reason is that many other countries don't have regulations to enforce fair wages, safe working conditions, or prevent child labor.
Retailers that manufacture overseas but care about the ethical treatment of their employees and ethical sourcing of their materials are proud of that fact; you will read about it on their website, on their social media, and even in the description when the brand is sold at online boutiques and department stores that carry a variety of brands. If the brand isn't yelling from the rooftops about its ethics, it may not have any.
While there is surely a markup on clothing, there are likely some unethical practices taking place to be able to offer a blouse for only $25. I am learning as I go when it comes to ethical manufacturing; I am working to purchase and feature brands that stand up for where they make their product and am trying to purchase less in general. This is an opportunity to make a change with your wallet.
Cheaper Clothing is Often More… Elaborate
Did you ever wonder why cheaper clothing seems to be more… elaborate? Going back to that $25 blouse, it has the shiny buttons, the keyhole back, the ruffle in the front… is this all to add style or to hide the fact that it's not well made?
It's easy to miss the forest for the trees, and cheaper retailers often hide shoddy construction or cheaper fabric with embroidery, studs, rhinestones, ruffles, and fluff.
The thing is, all this extra embellishment takes away the style. Look at celebrity fashionistas, fashion editors, and style icons. Do they have rhinestones on their ass? Do they wear blouses with ruffles and bows and cut-outs and shiny buttons and pleats and and and? No, because they purchase quality and quality doesn't have to be hidden under sparkle and flash.
What If You Can't Afford The Higher-Priced Version?
Quality can be found at every pricepoint, but not every look can be found for less. Style doesn't come from adopting trends, but from creating a wardrobe that fits your life, your personality, and your figure. If you have a limited budget, the last thing you should be purchasing is trendy pieces.
If you are looking to add a long-term addition to your wardrobe, you want to seek out the best quality you can afford. Some tips for finding quality at any pricepoint:
Just because you can't afford full-price from some brand doesn't mean you can't afford what is in their clearance department. If you love a brand but its prices don't love you back, get on their email list so you know when sales arrive. Visit regularly so you get to know when they update their sale section and when they have promotions.
If you know you love a certain item, stalk it on eBay, Mercari, Poshmark, and The RealReal. I have found designer items up to 80% off with such methods.
If you love a brand or designer, search Reddit and Facebook for groups and subreddits dedicated to it. These groups often sell and trade garments so you can get gently used items from fellow fans for fall less than retail while also building relationships!
Beyond clothing resale sites, get to know your local thrift and consignment shops. You may be able to score a gem, or find a vintage piece of better quality that achieves the look you desire. And when it comes to ethics and sustainability, there's nothing better than buying used.
Get to know fabrics, so that when you read the material composition, you understand what it means. Some fabrics like denim, matte jersey, and ponte knit can be equally good quality at Target as you find at Neiman Marcus. Just be careful with washes, embellishments, and extra details that cheapen a look.
A tailor is your friend. Clearance rack items a size too large but 75% off, a thrifted treasure that is almost perfect, and to be honest, most everything bought off the rack will look more expensive with a nip and tuck to fit your specific shape. Also, a tailor can help with things like hem length, skirt fullness, and cuffs to make a cheaper piece look more like the expensive item you were admiring.
Keep it simple, sweetheart. While you may not be able to get the look for less with a wine-red bow blouse, those celebrity-coveted designer jeans, or that purple floral silk dress, you may be able to with simpler pieces. I have found elegant matte jersey wrap dresses at Old Navy, sophisticated ponte knit suiting at Target, beautiful merino sweaters at UNIQLO, and fabulous leather jackets from Topshop.
Keep your garments simple and add style with accessories. I love buying higher-quality costume jewelry and cheaper belts and accessories to get that trendy look without spending a lot on something I may not love next season. This doesn't mean buying counterfeit (also known as "dupes"), but buying a piece that incorporates a trend seen on many runways. I love Baublebar for jewelry, ASOS for belts, and QUAY for sunglasses.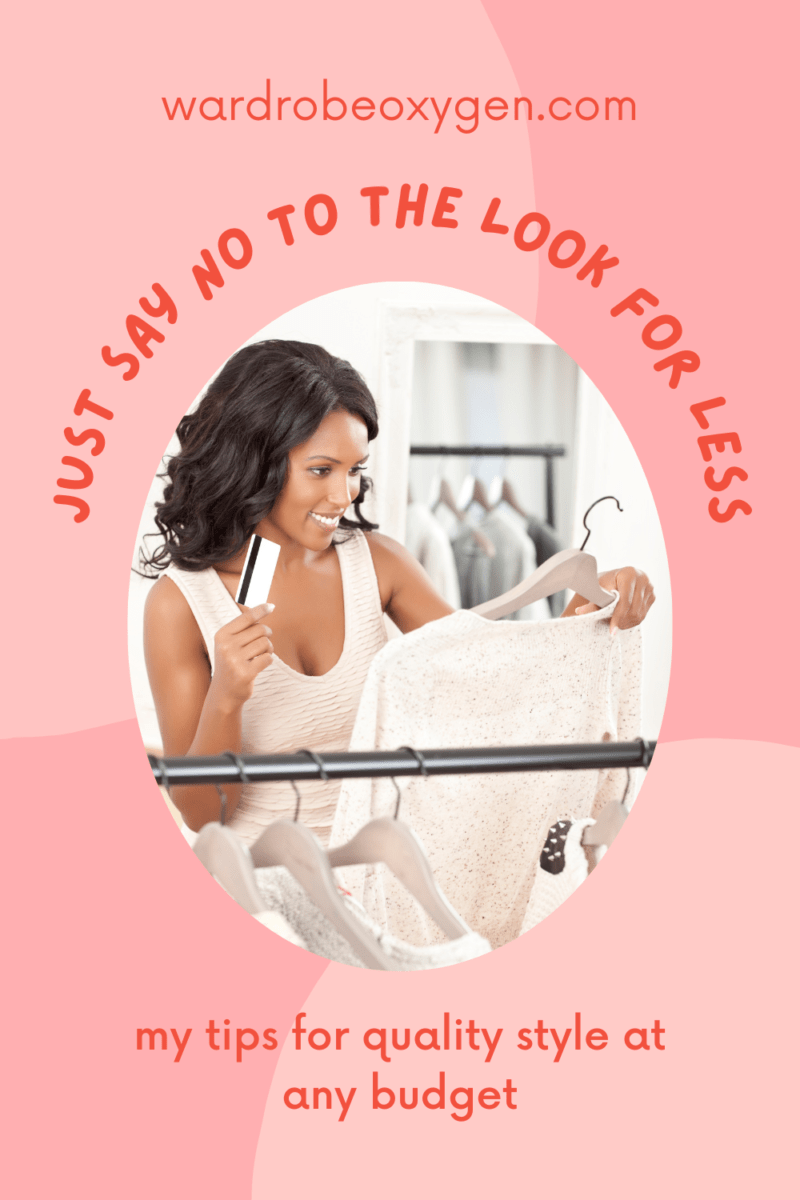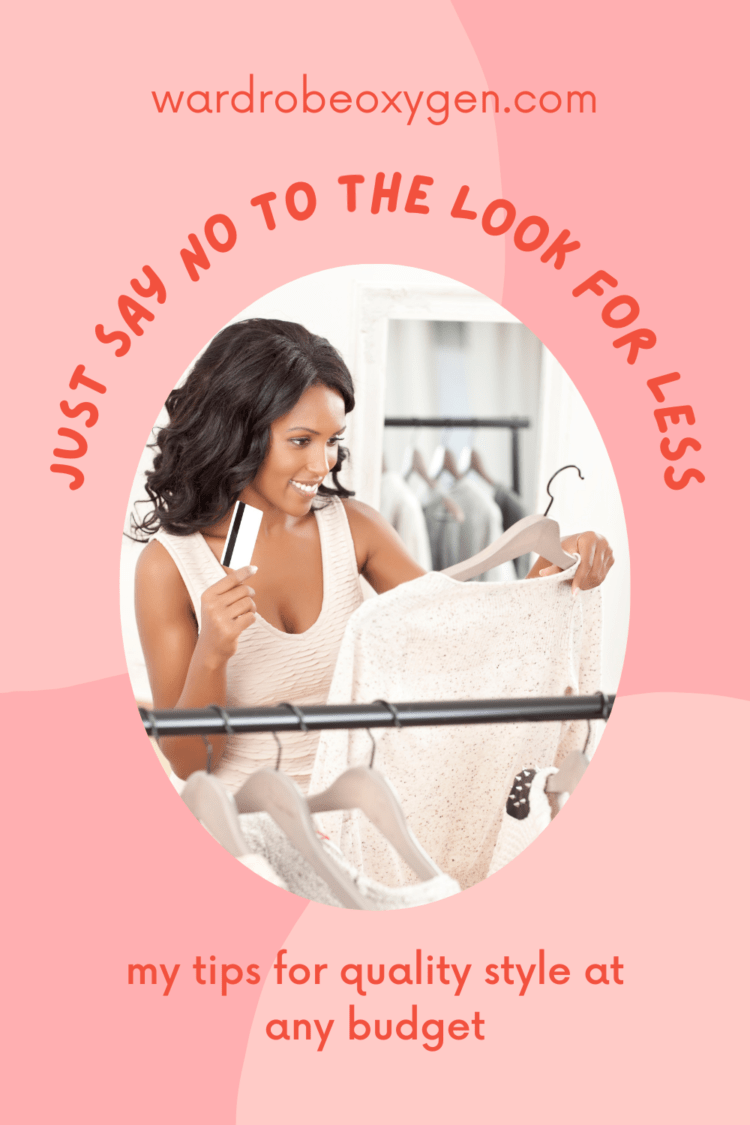 And This is Why I Don't Recommend the Look for Less
Style doesn't come from what (or who) you wear, but how you wear it. Style also doesn't come from how full your closet is, but how thoughtfully you shop for what you wear. You can be the most stylish person in a room with a closet of only ten items, if those ten items fit your body, fit your lifestyle, and are made of the best quality you can afford.
Influencers, style "experts," and magazines that create the look for less are rarely looking deep into what they are selling. They are focusing on the quick fix, the one outfit, versus a life with the garment. It may look great on a TODAY Show segment or in an Instagram photo, but it's less likely to look great IRL and more likely to be donated after a single season.
A bit of a novel, but I hope you understand now why I don't recommend the look for less. You deserve clothing that works as hard as you do, is as thoughtful as you, and is of the best quality you deserve. You don't need the look for less to look like a million bucks.
This post was originally written in 2015 but updated for current retailers and information.