This article may contain affiliate links; if you click on a shopping link and make a purchase I may receive a commission. As an Amazon Associate, I earn from qualifying purchases.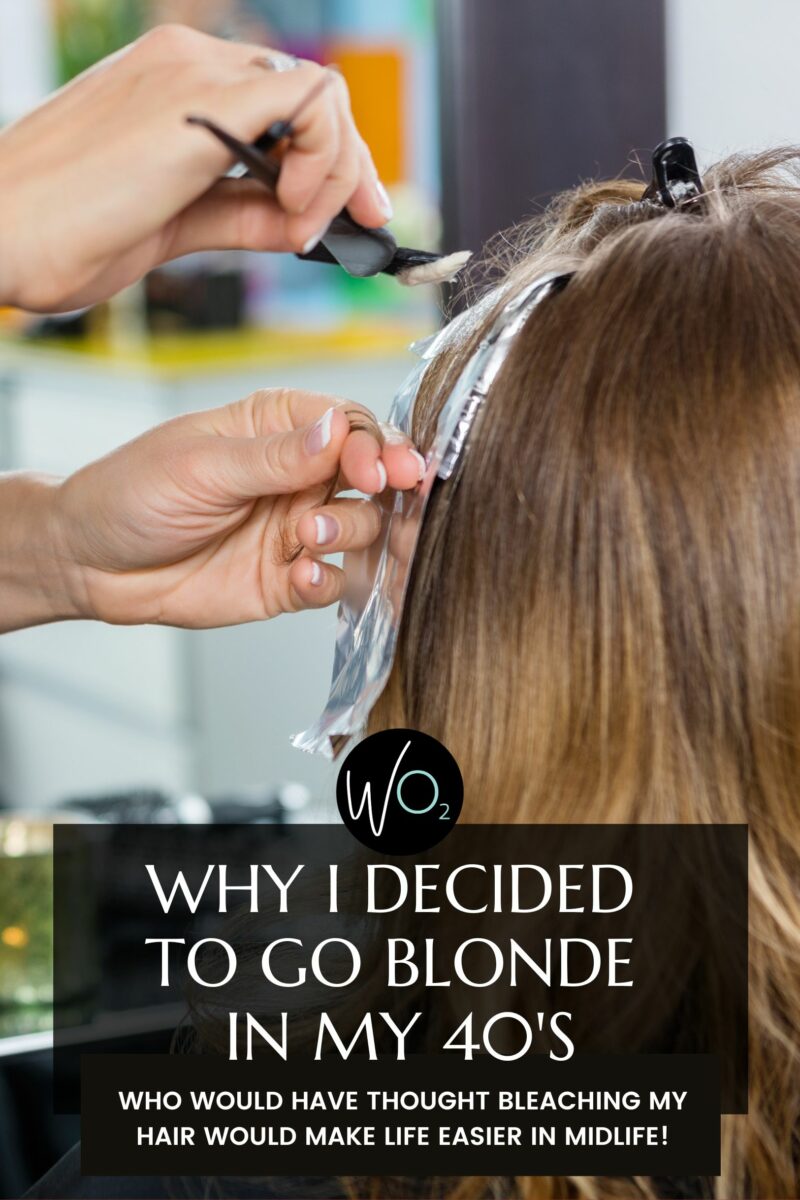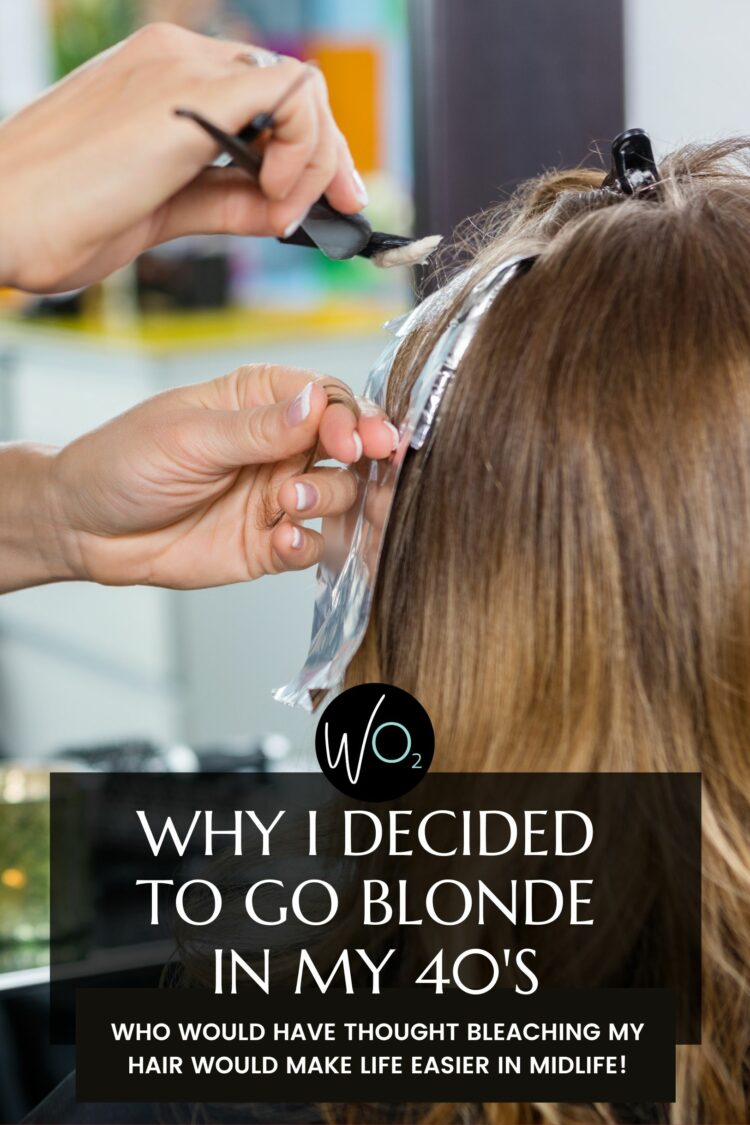 Why I'm Going Blonde at Age 48
I haven't written about how I have recently changed my hair color. I didn't have any grand plans to go blonde, but you've seen on Instagram and in recent outfit posts that my hair is lighter. After bleaching my hair blonde two decades ago I swore I'd never do it again because the maintenance was so intense. However, at age 48 I am finding blonde-ish hair to actually be lower maintenance than keeping my original brunette tresses.
Change Your Hair, Change Your Life?
I am no stranger to, "Change your hair change your life." It began in middle school, when armed with a photo of Tiffani Amber-Thiessen, I went to a proper hair salon for the first time and asked for the same layered cut. Not realizing I had curly hair, such a cut had me look less like Kelly Kapowski and more like a member of REO Speedwagon.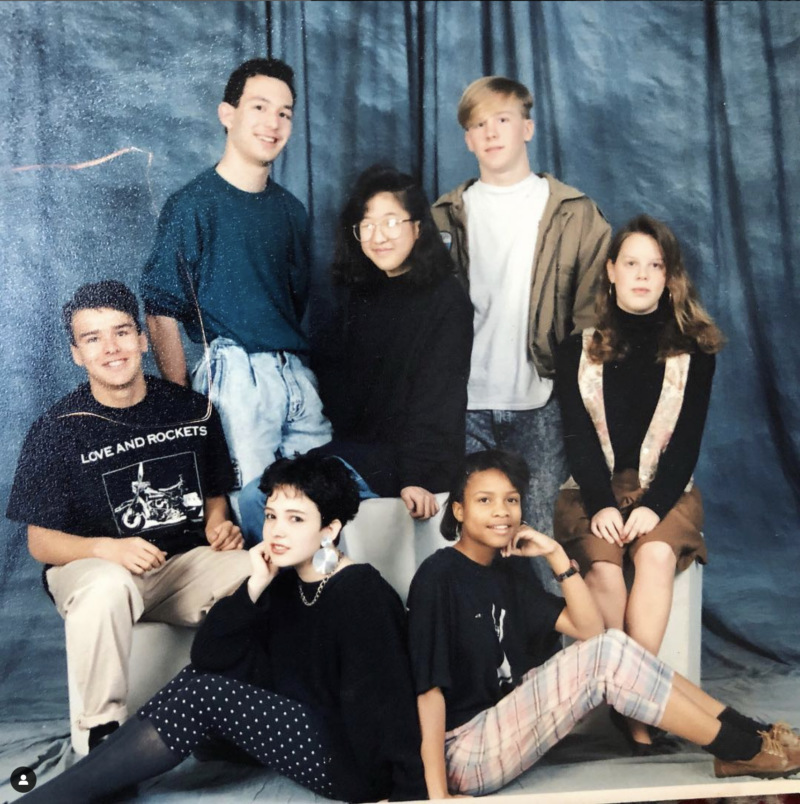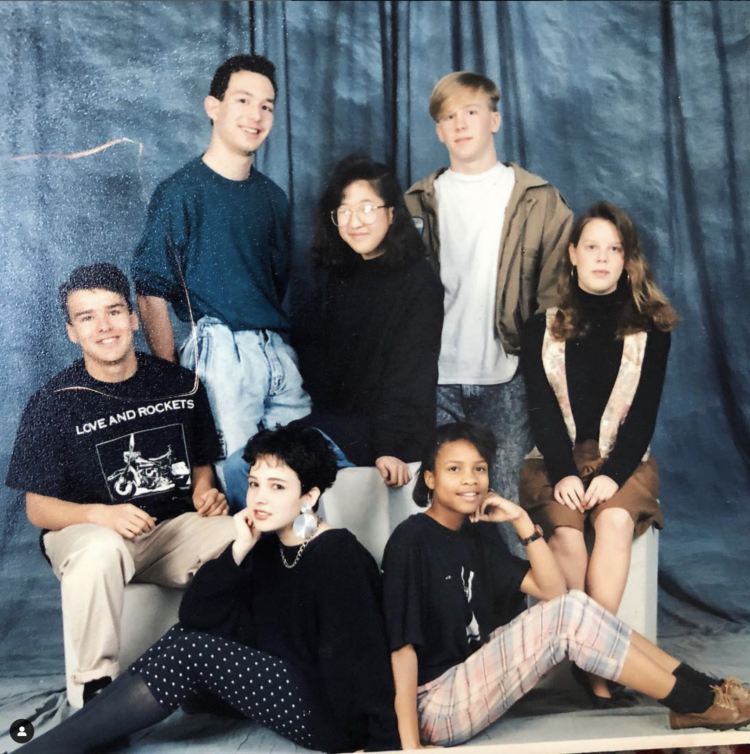 I was devastated, but then leaned into it, playing with hair accessories and then color. I dabbled in Sun-In, soaked my tresses in Red Zinger tea and Kool-Aid, and got daring with Manic Panic. In high school I got more daring with my hair. I cut off my hair a la Marie Fredriksson from Roxette and then dyed it blue-black a la Nice 'n Easy. I shaved my head from eyebrow to eyebrow, gave myself an at-home perm, and tried almost every color on the shelf at the local Peoples Drugstore.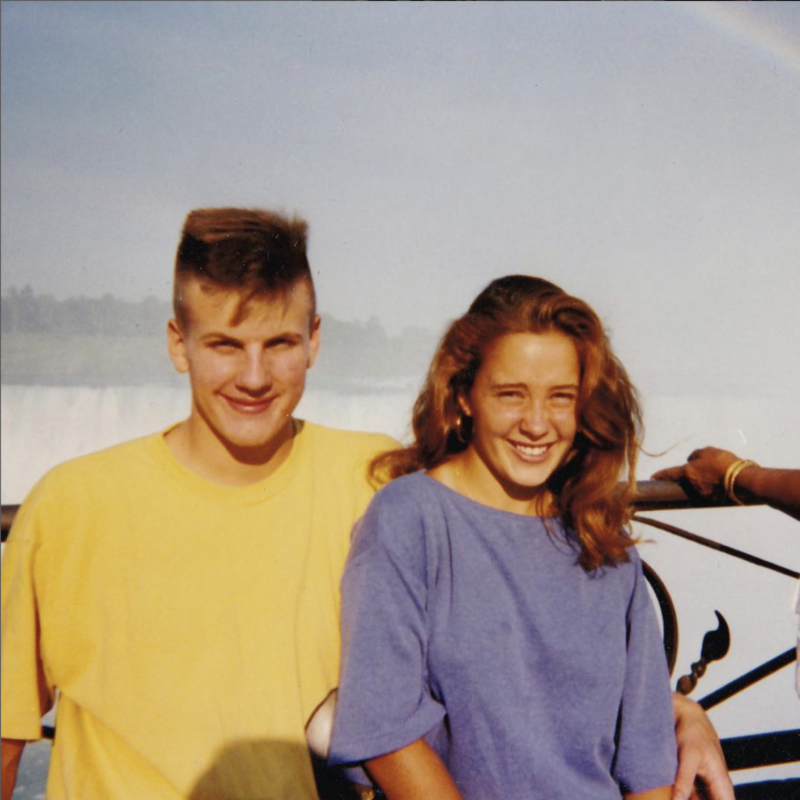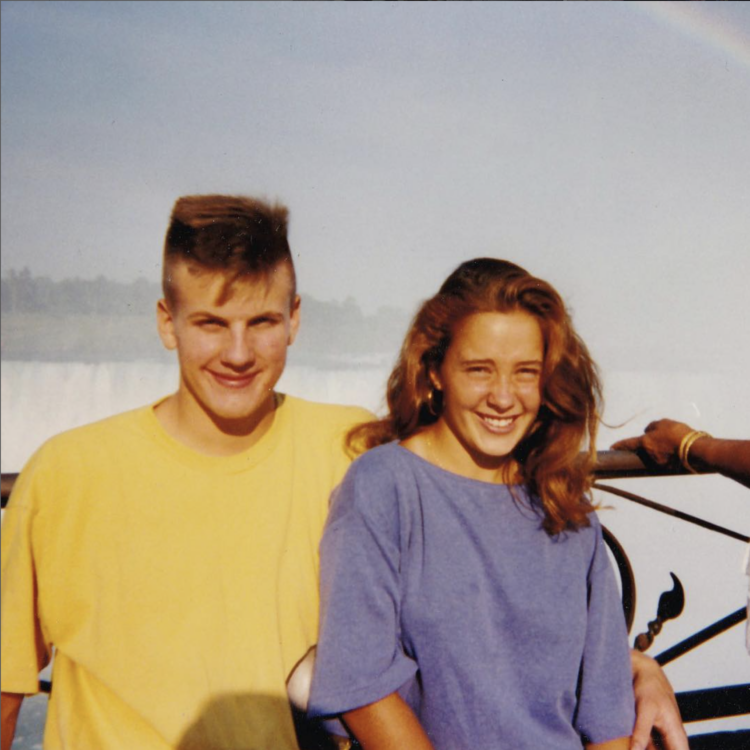 Near the end of college I toned down my look but still had fun with color. I was really into red hair, and did several shades of auburn. Here I am with Karl at Niagara Falls the summer after 12th grade, and we both have some pretty fantastic early '90s do's going on!
Trying Blonde in College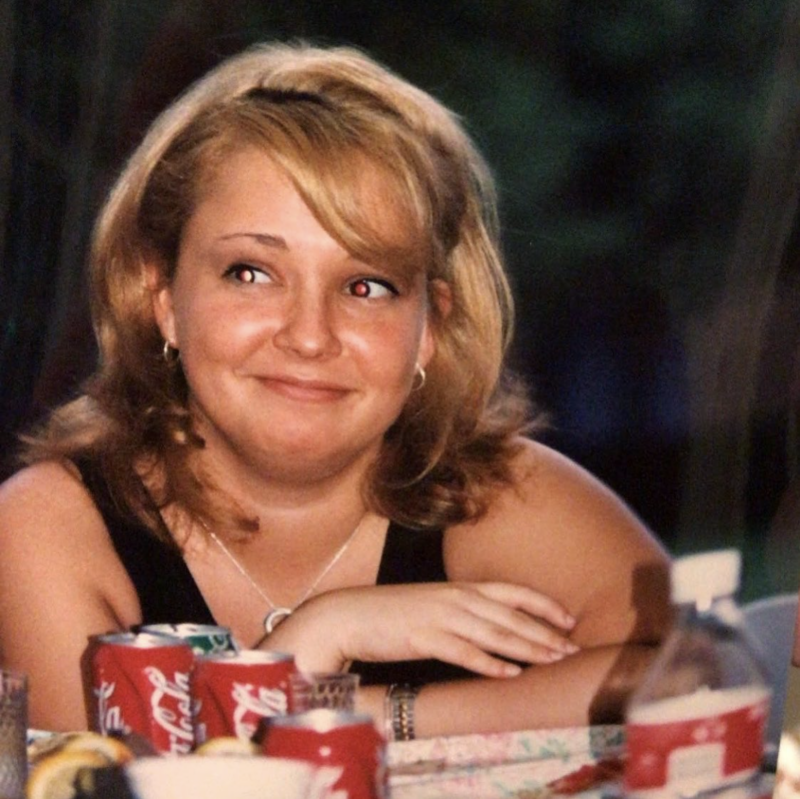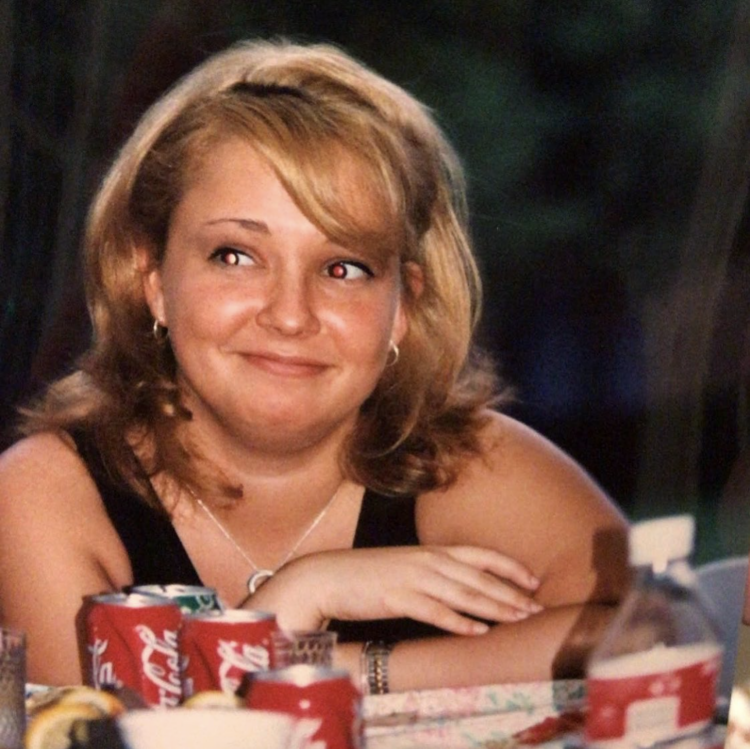 In college, with the back of my head still shaved, I tried pink and red and navy and then a la another Kelly (Taylor, 90210), cut it all off again and dyed it auburn. One time I bleached it blonde and it was really pretty until I had to bleach my roots and they turned pink and my hair so damaged it would break off in the shower.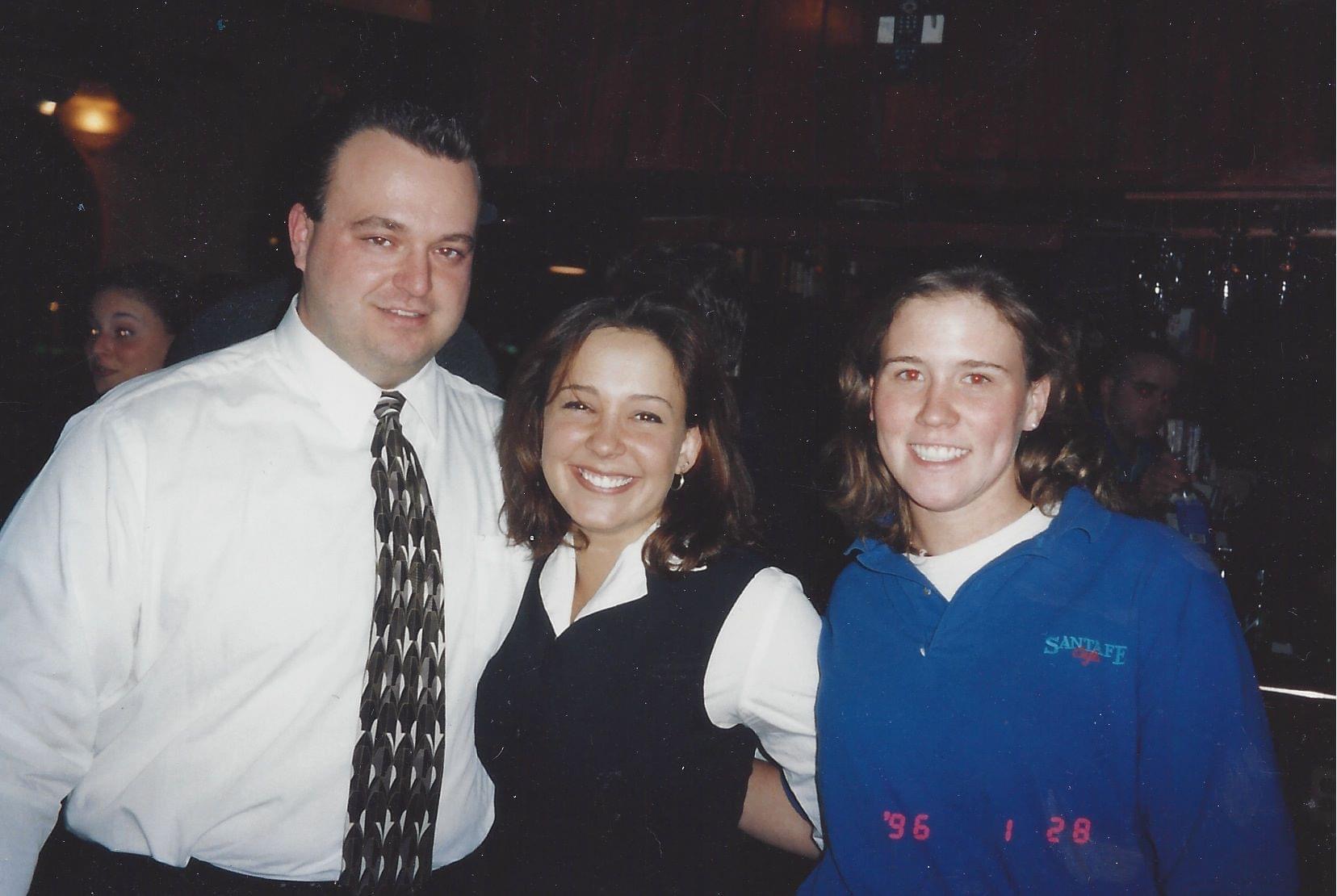 I dyed it with temporary brown color to cover the mess, scared anything stronger would make my hair fall out. I'd have to add it back in after every shower. The photo above is my 21st birthday. It rained that night and that white shirt ended up covered in brown splatter from my hair color melting as I walked home from the bars.
After college, I had jobs in retail, apparel, and beauty where I had freedom to be creative with my hair. I'd braid it, iron it, curl it, and do at-home cuts and colors. I am glad that digital cameras and smartphones weren't a thing then; while I rocked some of my styles, some required several tiny butterfly clips or Bobby pins to hold back the mess until it grew back.
Trying Blonde in my Early 20's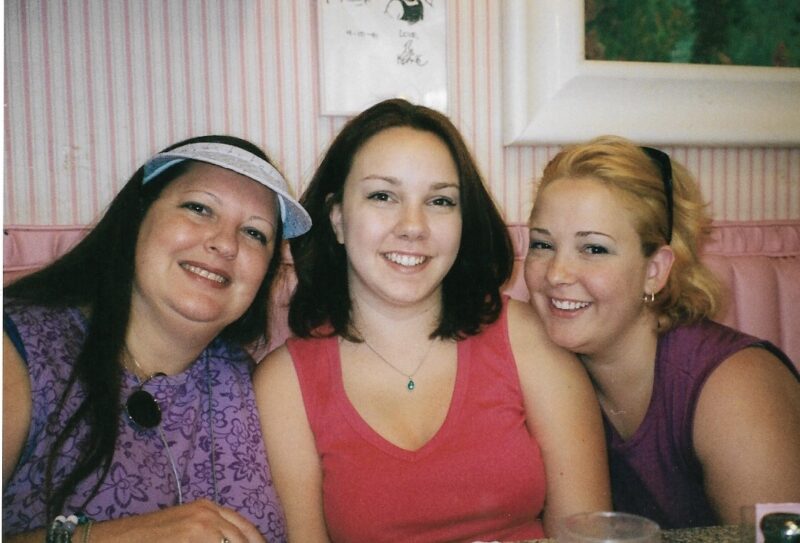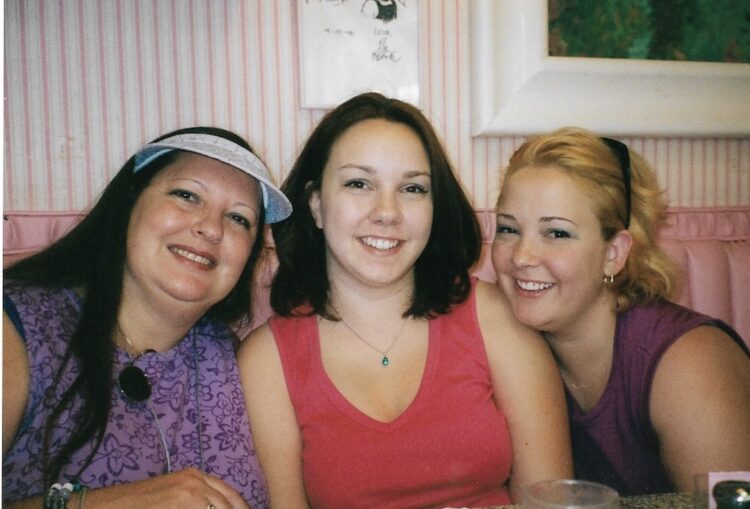 In 2001, I read a piece in Jane magazine about yet another Kelly (Osbourne) who put her hair in a side ponytail and cut it off to get her signature asymmetrical haircut. At 3am after a double shift, I pulled my my hair into a side ponytail and with a pair of kitchen shears lopped it off. Less than a week later, again at 3am after a double shift, armed with two boxes of L'Oreal Super Blue I went platinum. It was a dry, damaged mess, but I rocked it with iridescent green eye shadow and many bandanas covering the worst days.
When the roots started coming in, I remembered my last experience and just let the roots grow until they were past looking punk cool and then just dyed the whole head a new color (I think it was a black-brown). Soon after that I was promoted as a trainer for my company and felt I'd look more like a leader and authority with "adult" hair and went back to natural-ish colors and simpler cuts.
Since then, I have had occasional fun with color and cuts. When I was pregnant and thinking my youth was over, my stylist at the time indulged me by putting magenta and purple streaks in my hair. But in general, my late 20's through my early 40's were various shades of brown and the cuts anywhere from chin to shoulder blade. Any creativity usually came with bangs.
Going to a Professional for Hair Color
I got my first gray hair when I was 29, but I didn't have enough to need to really cover roots until my late 30's. By that point, I was established enough in my career to see the value and be able to afford regular salon visits where a professional, not a box from CVS would expertly cover my grays and make it look natural and healthy.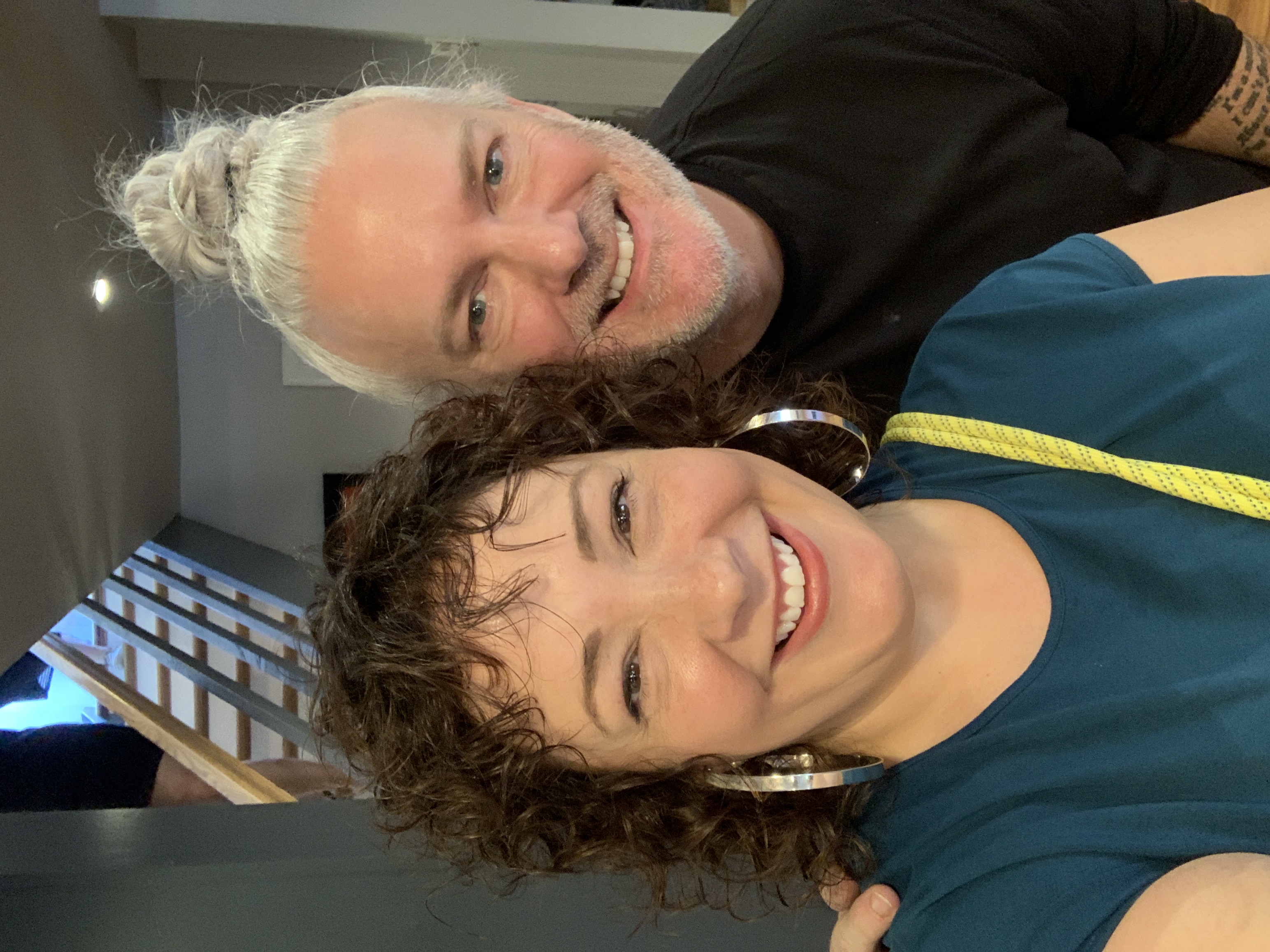 I was searching for a new stylist and checked out a trendy salon I saw on Instagram. The first stylist I tried there was talented but I didn't feel cool enough to be in their seat. The next one was a warmer, friendlier person but the cut didn't feel me. As I sat under the dryer for that session I saw another stylist in the salon that caught my eye. He had the most glorious long silver hair and a fabulous laugh and seemed to be friends with everyone. I asked his name, and next hair appointment I made with the silver fox Billy Maloy.
And I am still trusting my hair to Billy Maloy, who now has his own salon in Silver Spring, Maryland. Billy is the one who encouraged me to embrace my natural texture and become a "curly girl." And Billy isn't afraid of experimenting, encouraging me to step out of my "curly brown shag" box.
Changing Up My Look Every March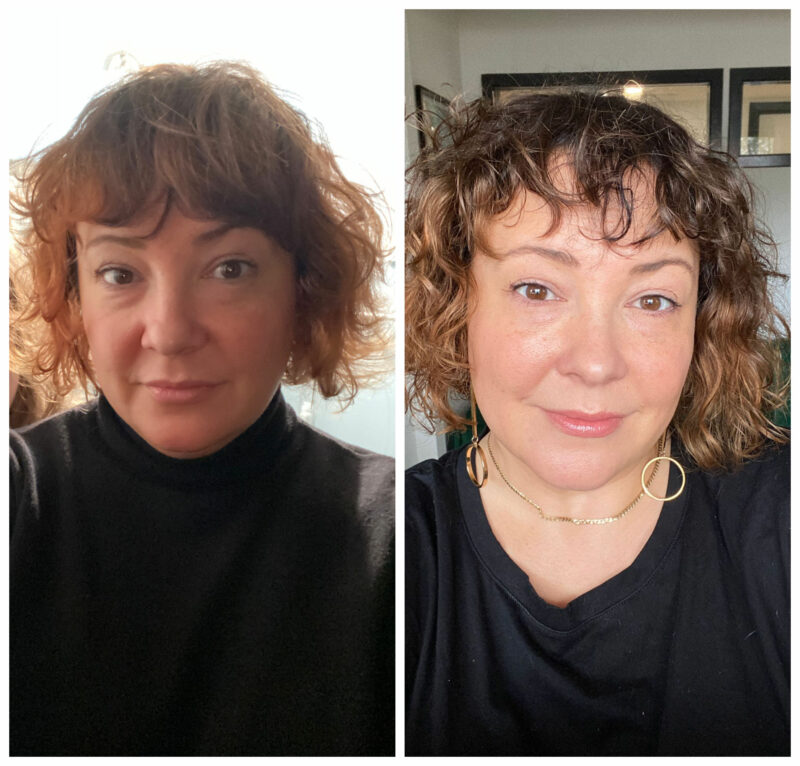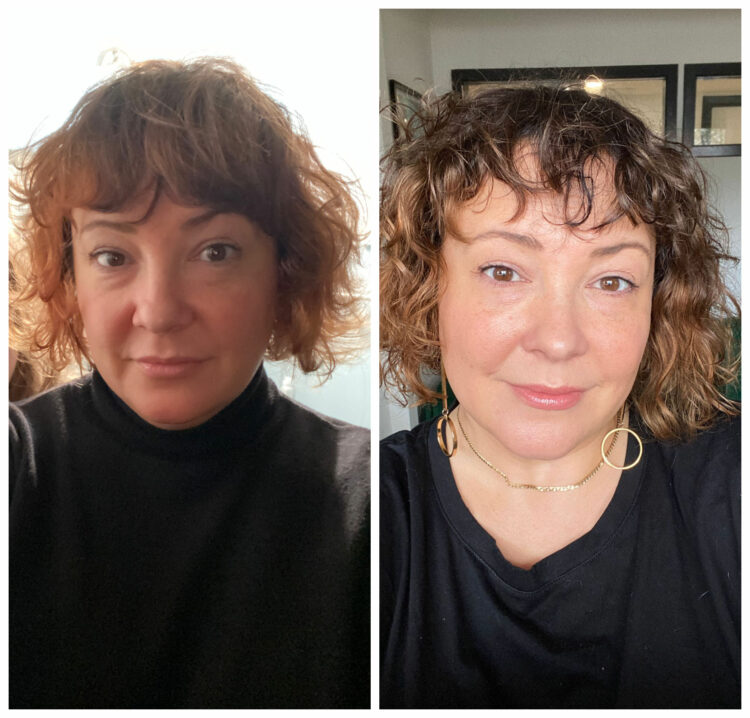 Each March, I come to Billy desiring a change-up. After months indoors for winter, spring arrives and I feel sallow and sad and boring. Last March, we went with a shorter French bob with bangs and a red color which was fun, but didn't feel like me. The thing with hair is it is easy to change. You can cut it, let it grow, dye it, dye it again. And Billy the genius took it from red to this ombre brown to blonde that grew our beautifully.
I didn't regret it, making a big change pushes you to see things differently, especially yourself. You literally see yourself differently, and it makes you reassess your closet, your makeup, your priorities. Is the hair too high maintenance? Do you have inspiration to be more bold with what you wear? Do folks address your differently? How does it feel? So this March, when I was feeling the "Change my hair, change my life" tug, I went with it. I had been watching Poker Face on Peacock and was inspired by Natasha Lyonne's messy shaggy blonde hair.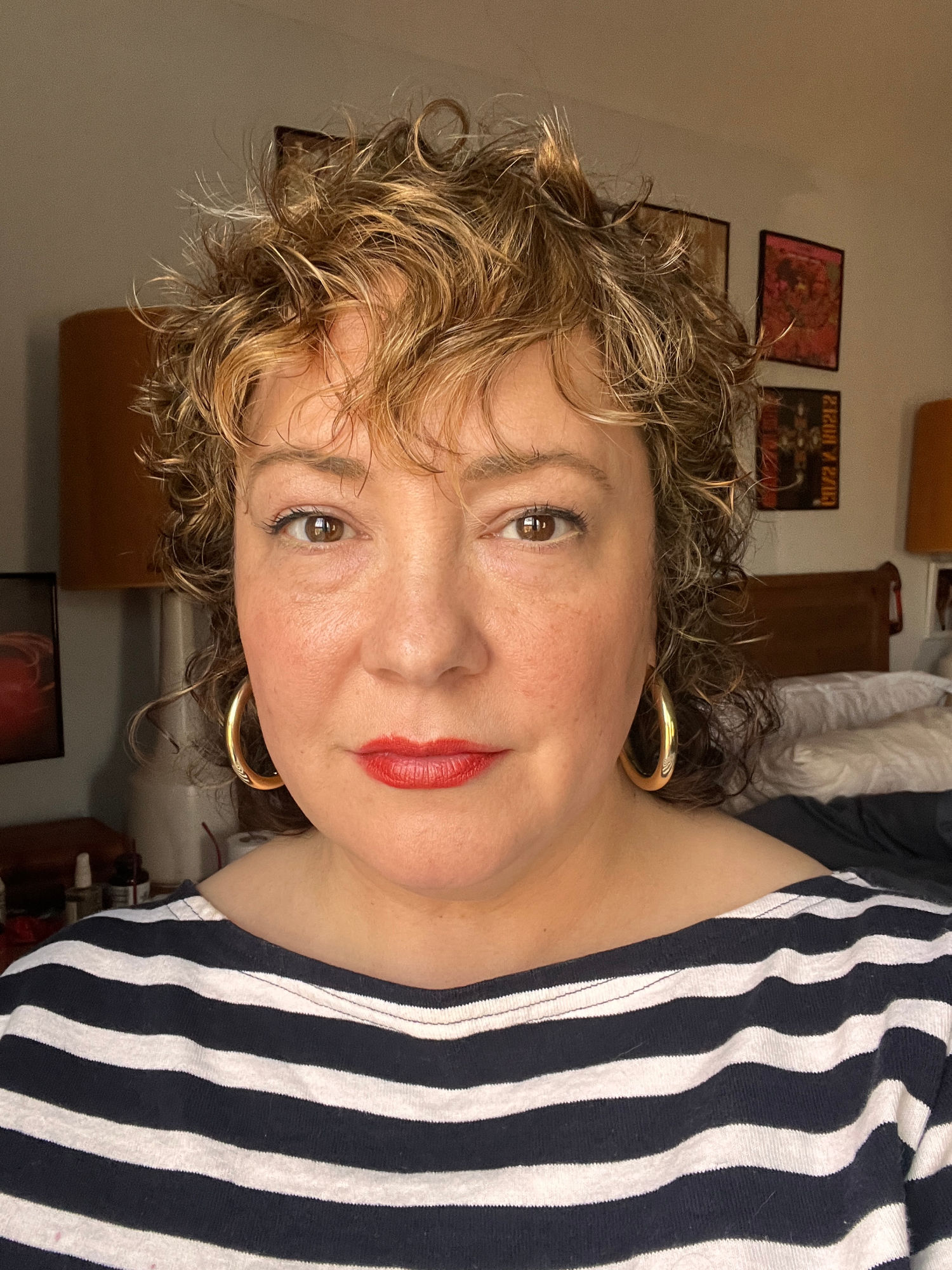 Having Billy, not a box of bleach in my bathroom, bring on the color felt safer to me. And partial highlights of a sandy color meant it could grow out beautifully if I decided it wasn't for me. Along with the blonde partial highlights, I asked Billy for a bit of a mullet; above is a picture I took when I got home from that salon visit. I felt very modern and cool yet still me.
Less Makeup and Less Visible Roots
Unlike when I have gone darker brown or red, my blondish hair didn't require a change of makeup or clothing colors. My everyday face, even my brows still looked right. So right, a lot of folks didn't even notice the color change. Most just asked if I went on vacation, some folks saying I looked tan or "sunkissed." As a woman over 40 who had been indoors all winter and hadn't been in the sun, I loved those compliments. I was surprised how a few blonde highlights brightened up my face more than any new makeup product.
Folks didn't notice I was going blonde, but also wasn't noticed was my roots. Usually around five weeks I start seeing roots. My hair isn't even gray enough to be called salt and pepper but there is enough to make my already thin hair look thinner. The grays were so close to my scalp color no volumizing product could counteract their ability at even one-eighth an inch, to make my hair look thin and patchy.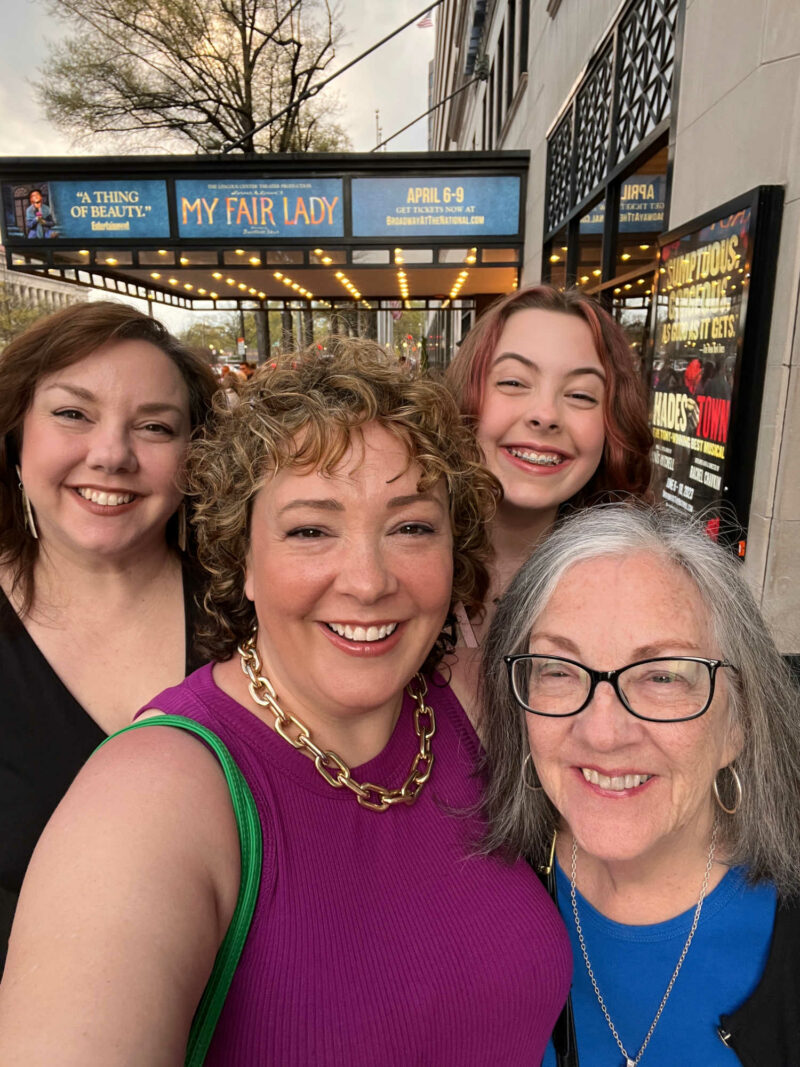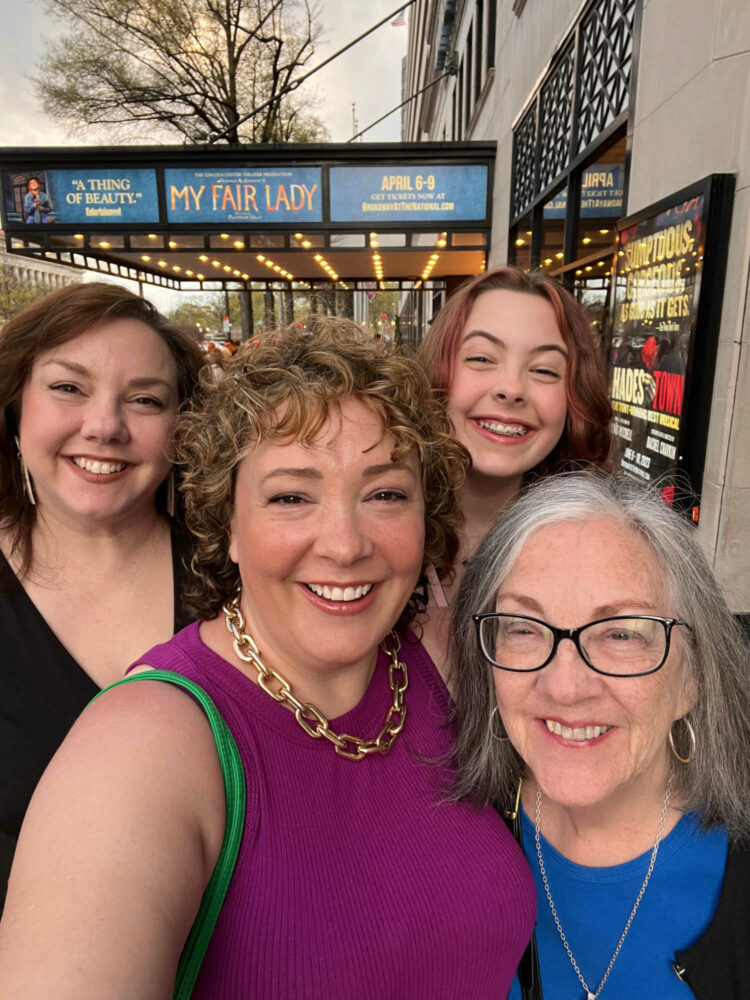 But the partial blonde highlights turned my hair into a calico cat. Some were paler, some were darker, and with spring here and me outside more, my natural auburn highlights were beginning to show. When my grays grew in I didn't notice. In fact, when it was time for my scheduled hair appointment I considered rescheduling to a few weeks later. But the "mullet' was growing out and needed a shape-up.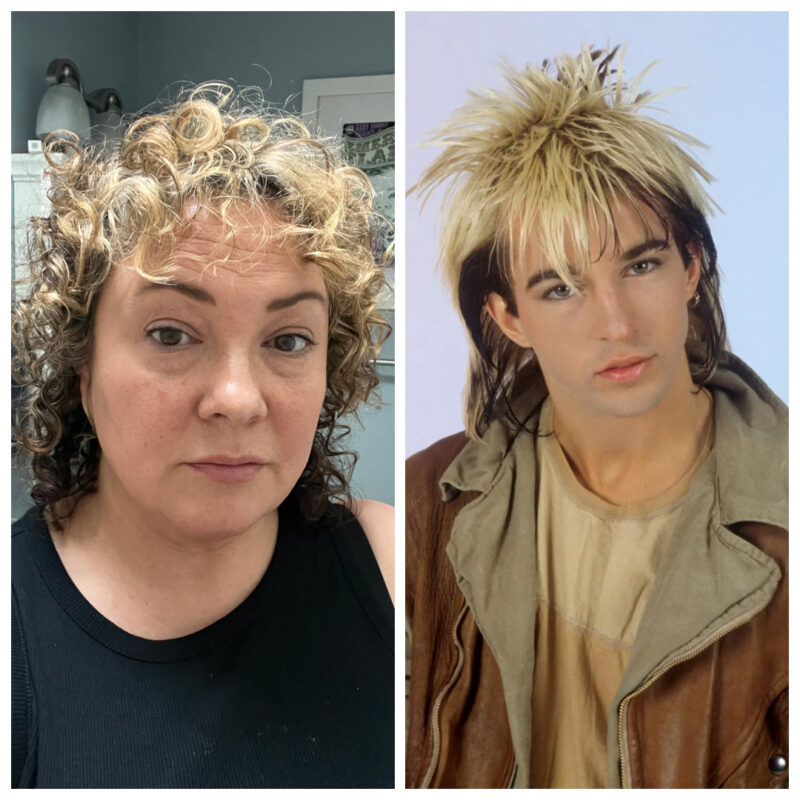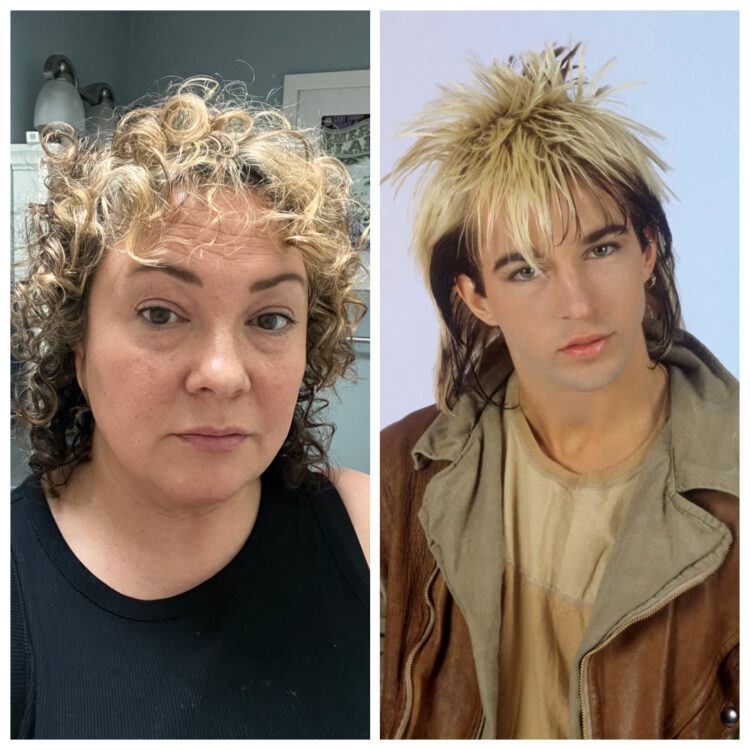 At that next appointment, Billy added a few more blonde highlights and didn't cut much to let the mullet grow out so we could end up with a longer curly shag. It was exactly what I wanted, but I felt I looked a bit Kajagoogoo with my blonde on top and brown "party in back" heading towards my shoulder blades.
Summer was coming, and I remembered how easy it was having a curly shag that ended before my shoulders. It could air dry, it looked good sweaty, it fit well under a hat, and even when it was bad it didn't look that bad. So after a few weeks I went back to Billy.
Managing Curly Hair as a Blonde
We discussed the blonde, and how much I liked it. I found maintenance for this color was quite easy. I continued to use LUS Brands | Luv Ur Self shampoo, conditioner, and all-in-one Wavy styler for my curls. Once a week, I'd use the LUS Brands deep conditioner. I also bought Oribe shampoo and conditioner for color-treated hair and would use that on days when I knew I didn't need my curls to be popping. Oribe is ultra moisturizing and makes my hair look super soft and healthy, but it's not great for curls. I use it like a treatment and think it helps.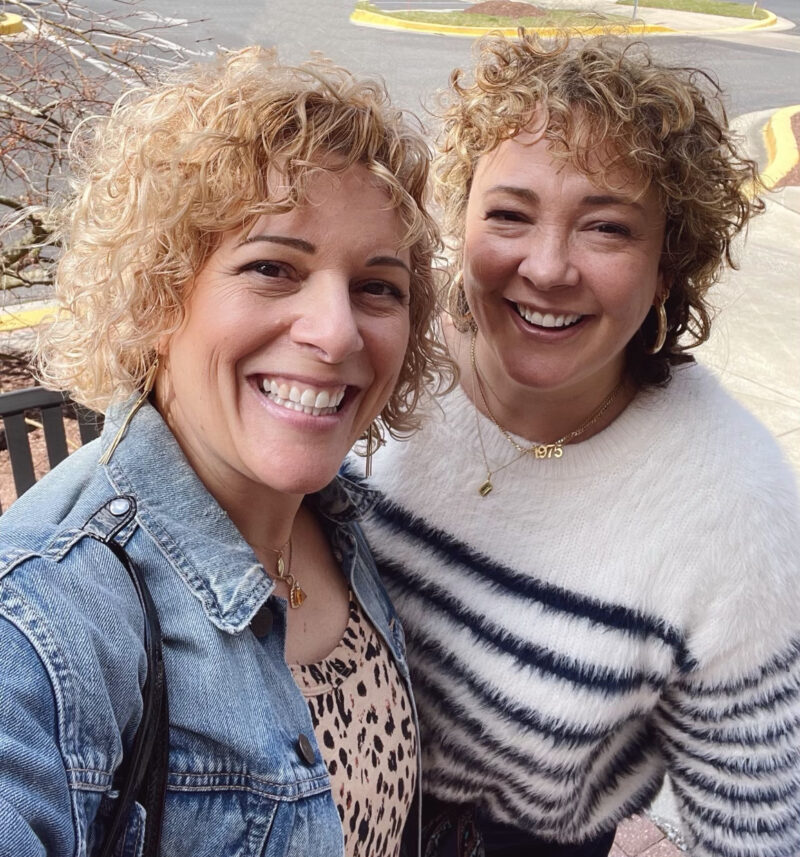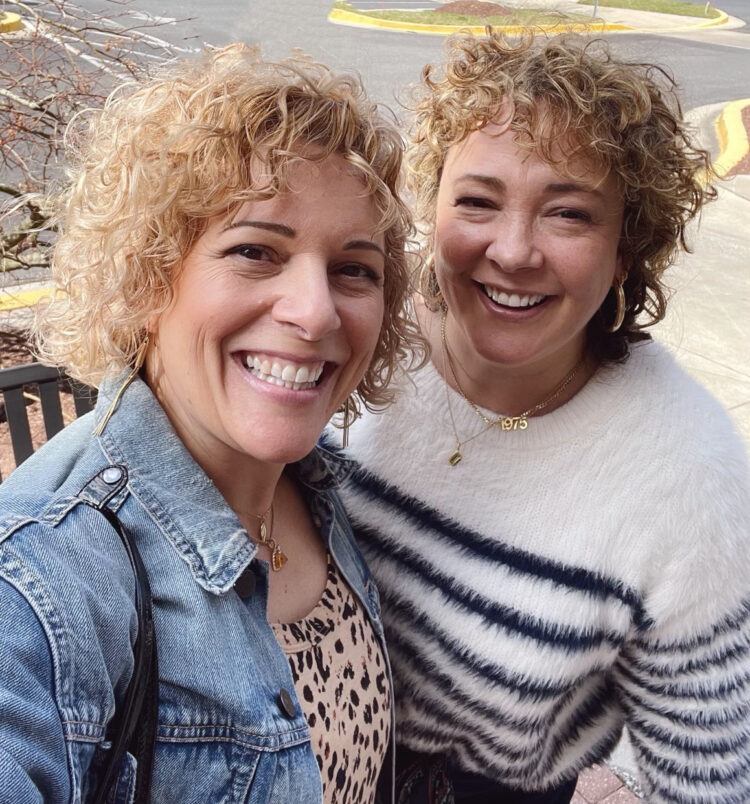 I said I liked the blonde, and wanted it to be consistent, not just face-framing highlights. I also said while I had worked to get my hair longer, I was ready to cut it off again to have the ease of my summer curly shag. Since I was growing out a mullet with shorter sides, Billy cut the hair to let it all grow together again. And for color, he did highlights all over, not just in front, using a sandy blonde color so it wasn't too golden and wouldn't look brassy.
Blonde Hair Equals More Volume
Going blonde does damage one's hair, but with Billy's expertise and me not over-shampooing and hardly using hot tools on it, the only effect I've found on my hair has been a positive one – more body. As someone with thin hair that has gotten thinner since I hit my 40's, I've struggled to have natural looking, low-maintenance volume while hiding my scalp.
I've used mousses, sprays, Velcro rollers, tease combs, and Toppik to achieve volume and scalp coverage. Who would have thought curly blonde hair was the key to it all?
Blonde Hair Means Less Makeup
As we get older, our skin loses a lot of color. What was our natural color can end up making us look washed out, especially if we dye it to maintain that hue. I had been lightening my brown over the years; I can remember when my hair was almost black and I loved that Snow White effect. But I found over the years I had to apply more makeup to balance that intense color.
Celebrities Over 40 Going Blonde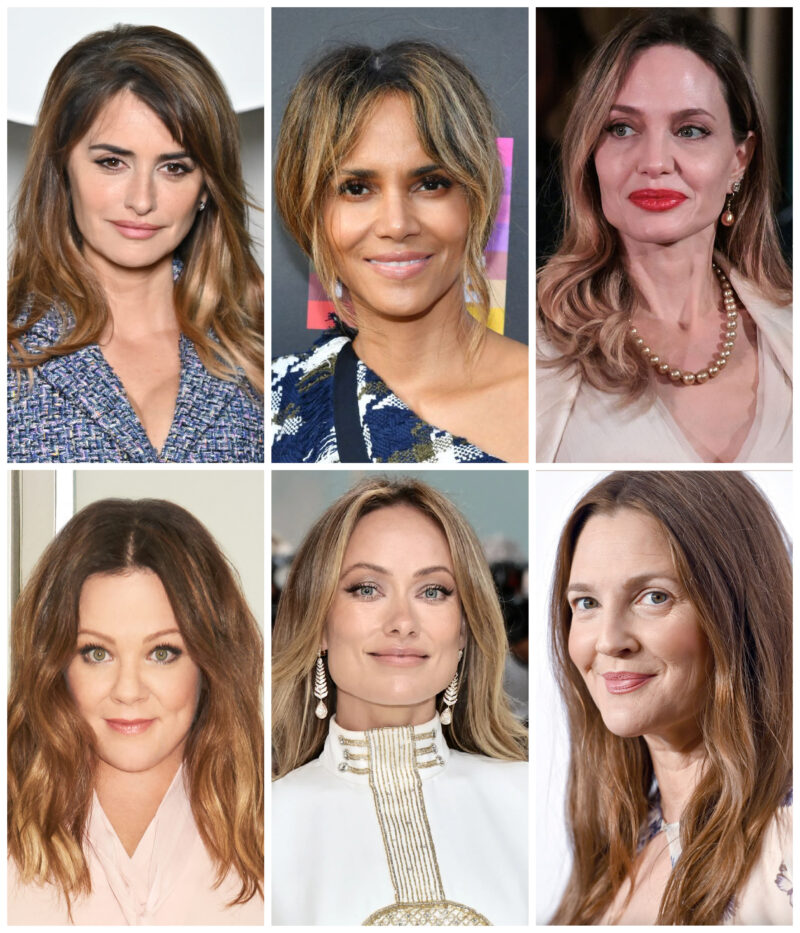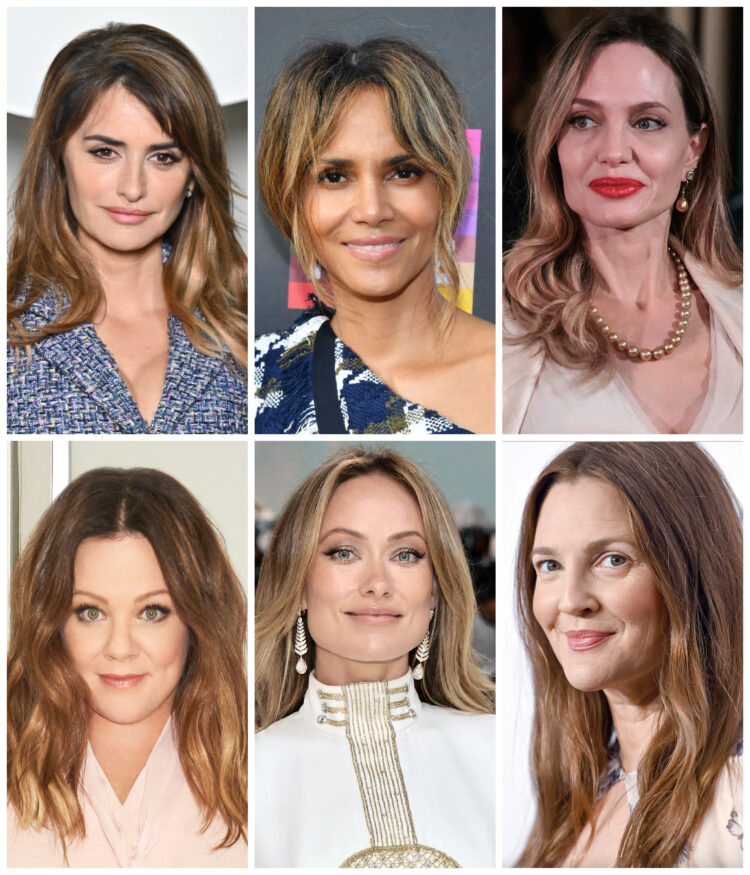 Since adding blonde highlights to my hair, I've noticed many other famous brunettes doing the same once they hit their 40's and 50's. Penelope Cruz and Angelina Jolie have both slowly gone from deep dark brunette to honey shades. Melissa McCarthy and Drew Barrymore have both had blonde tresses over the years, but now it's a soft caramel that isn't quite blonde, not quite brown. Same with Olivia Wilde and Halle Berry, both who have played with blonde but their current shade is a sandy hue that doesn't fight against their skintone and require more makeup and maintenance.
Being Blonde Over 40 is Easier Than Trying to Maintain My Natural Color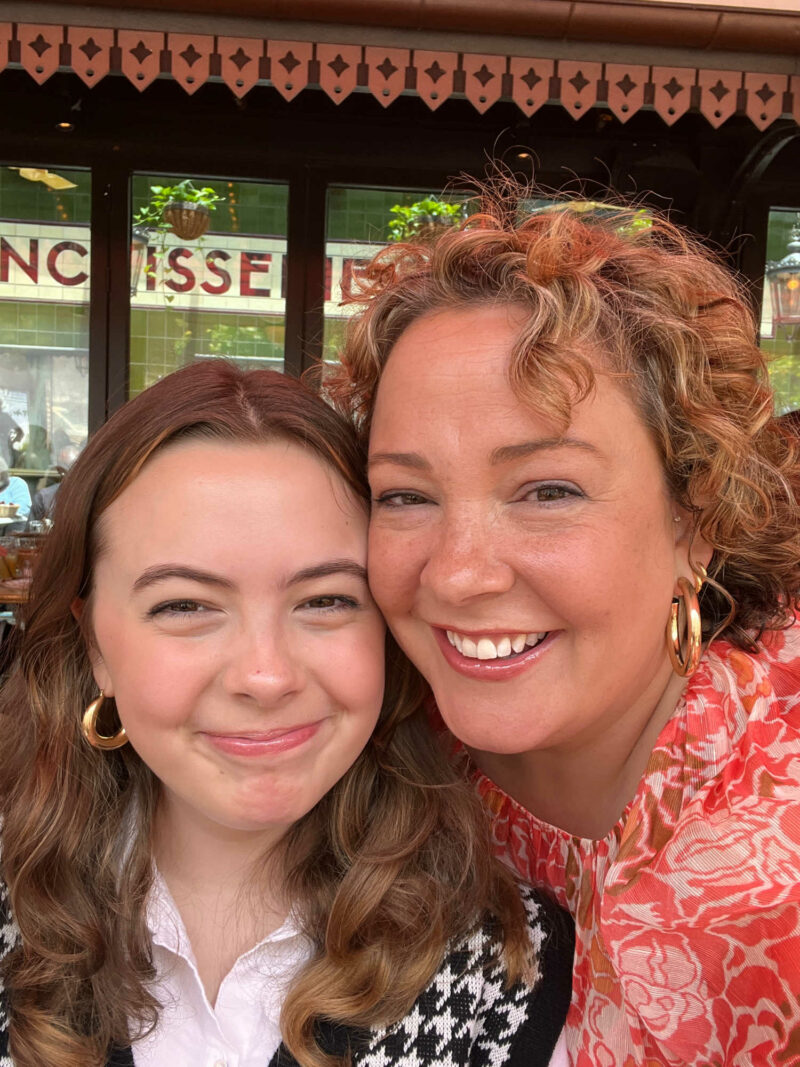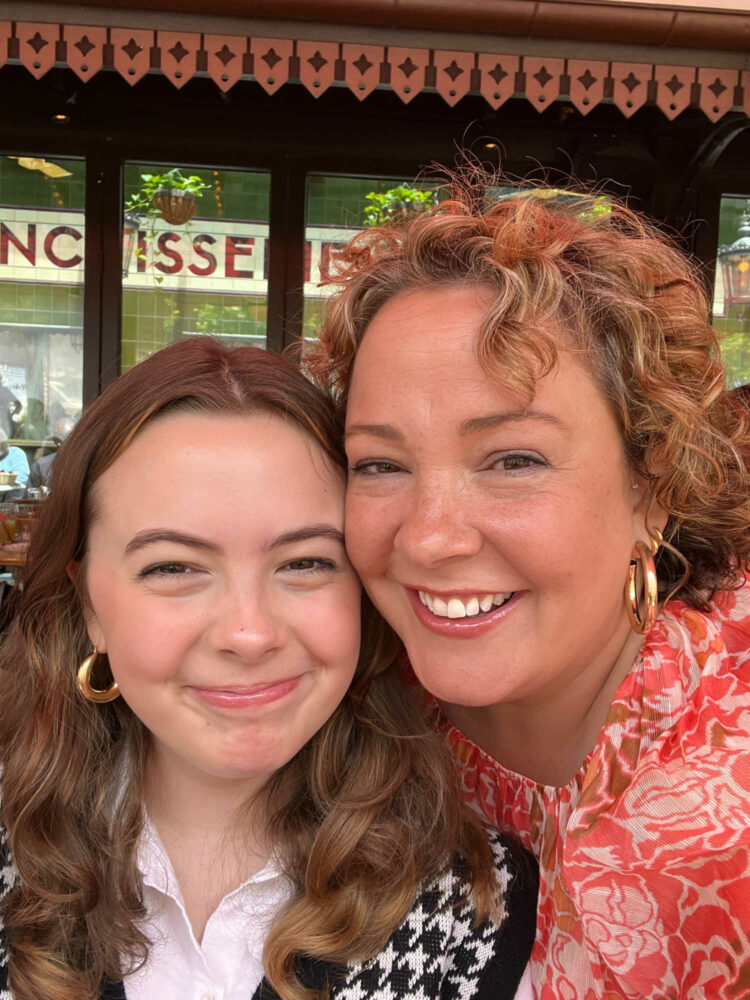 When I was blonde in my 20's I needed a lot of makeup to make it work. Even if I spent the entire summer at the pool, I still wouldn't get a single blonde strand in my hair. It wasn't natural for me and my coloring so I had to play a lot with foundation, blush, and brows to have it look natural. I often just went the opposite route, playing up the unnatural color with darker brows and bold red lips, occasionally with an extreme smokey eye.
But at 48, this blonde is softer, has more depth, and has a sandy tone that helps my skin glow from within. I can go without makeup and not look like death warmed over. My five-minute face looks a lot more "done" than the same products and process when I was a brunette. And to have more volume and less visible roots? Going blonde at 48 has been a win/win/win.