This article may contain affiliate links; if you click on a shopping link and make a purchase I may receive a commission. As an Amazon Associate, I earn from qualifying purchases. 
I'm a jumpsuit fan. I've been rocking this jumpsuit from Karen Kane for a couple years, and now that every retailer has jumped on the jumpsuit train, I've been adding to my wardrobe with some great one-piece outfits that look great for the office, a night out, or even running errands on the weekend. Every time I feature a jumpsuit on the blog or Instagram I always have at least one person say they never thought a soft curvy person or a petite person could carry off a jumpsuit. And I always have at least one person comment on the issue with jumpsuits and needing to use the restroom.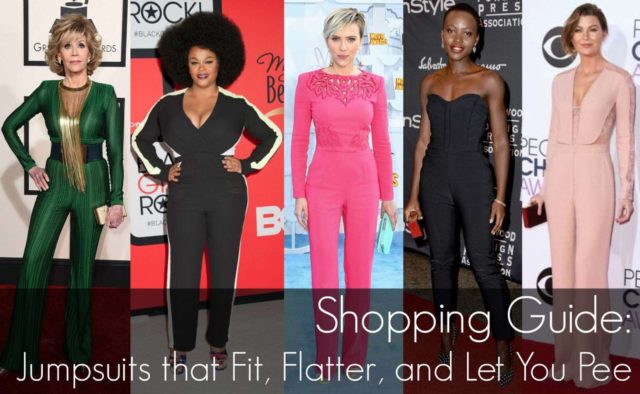 Ladies, you can wear a jumpsuit no matter your shape or size. And ladies, there ARE jumpsuits out there that let you pee without ten minutes of procedure and a friend to assist.
A couple months ago, HauteLook had DVF on clearance. I love Diane von Furstenberg the woman and I also love Diane von Furstenberg the fashion so I was excited to possibly score some more DVF for my wardrobe at a reasonable price. I was even more excited to see some DVF jumpsuits featured and available in a size 14. I frantically clicked BUY before it sold out and a couple days later a black and white printed DVF jumpsuit was at my front door. I raced upstairs and tore open the bag. Ten minutes later I was crying, sweating, had several pulled muscles and was swearing a woman who I consider a hero. I bet a lot of you are laughing, nodding your heads, recalling similar experiences when trying to take off jumpsuits. But not all jumpsuits are created equal, and from my experience the fit, comfort, and pee-ability of a jumpsuit has nothing to do with the name on the label or the price on the tag. A few tips to find a great jumpsuit:
Seek Stretch: Jersey and Lycra-infused Jumpsuits
My Karen Kane jumpsuit is a nubby-crepe textured stretch that is low on shine and can look dressy quite easily. The bodice is a wrap or surplice style so the neckline can stretch a lot for quick removal when changing or using the restroom. There's a built-in camisole for modesty but it's only on the front of the jumpsuit, making the bodice still loose enough to easily slip on and off.
I have this jumpsuit from Loveappeala and I adore it. I wore it to work with a wide belt and caged sandals with a slight heel, but many weekends you'll see me wearing it with a pair of Converse Shorelines or my Birkenstocks. It has a couple pleats on the bottom to keep it loose and comfortable and again, it has an easy wrap-style bodice.
Shop Printed Jumpsuits:


From my experience, if you're between sizes, size up. Jumpsuits often run short in the torso and are prone to cling on the bum; stretchy jumpsuits don't have to have a slim fit so sizing up can add comfort and better drape on your lower half. My local dry cleaner was able to shorten my Karen Kane jumpsuit for only $10 and I have had tailors and dry cleaners adjust the length of straps and even take in seams on jersey pieces for just a few dollars.
Fabric makes the difference whether you can wear a stretchy jumpsuit to a wedding, the workplace, or if it's best left for the bar or a beach barbecue. Matte jersey, crepe jersey, and silk jersey have a more elegant finish, hold dye better providing a richer color, and are less clingy making them better for dressier or more formal situations. If you feel a jumpsuit may be inappropriate for the office, you're probably correct. Even crepe jersey jumpsuits can be clingy, especially on the rear, and often have silhouettes or details that may be too trendy for an office setting. A wrap-style dress with an added cami can look appropriate at work, but a jumpsuit with the same bodice may be seen as unprofessional. Always steer on the side of conservativeness when considering a work wardrobe.
Shop Plus Size Jumpsuits:


Tee-shirt fabric, jersey, and fabrics that have been smocked (stitched with elastic so it is stretchy) are best left for casual settings. The same holds true for strapless, spaghetti strap, and in my opinion, most sleeveless jumpsuits are best kept for times outside the office (no, adding a cardigan will not make it suddenly look corporate).
Non-Stretch Jumpsuits that are Bathroom-friendly
The reason I had a panic attack and pulled muscles in that DVF jumpsuit was because I needed to be Houdini to be able to take it off and I had just finished a bottle of water. Jumpsuits are stylish, and we women like wearing stylish clothing to social events, and social events usually have beverages. I don't care how utterly adorable or flattering a jumpsuit is, if you can't pee without an entourage or double-jointed capabilities you shouldn't purchase it. That doesn't mean you have to rule out all non-stretchy jumpsuits. Some can actually be quite wearable and accessible.
Shop Tall Jumpsuits:


I have a sleeveless silk-like jumpsuit with a jewel neck that fits a bit more like coveralls. Loose straight torso with a drawstring waist and wide cropped legs, I've worn it to the office with heels and worn it on the weekend with flat sandals. The reason it works is because it has buttons from neck to navel and those buttons are easy to work and that perfect space where you don't get a flash of my bra when I stretch. I also have a spaghetti strap jumpsuit from Karen Kane that also works because it too has a drawstring waist and the bodice is loose enough to slip over the shoulder.
Shop Casual Jumpsuits:


I'm short, I'm fat, and there's no way I can wield a back zipper without pulling a muscle. Hell, trying to take on and off a jumpsuit with a side zipper also has its issues, especially when in a public bathroom without a full-length mirror. The only jumpsuits I've found that are non-stretchy and have a zipper that can work in a jiffy are spaghetti strap or strapless jumpsuits. These styles require a shorter zipper and can often be twisted a bit when getting the zipper started. Also look for styles with smocked or elasticized panels which help with getting on and off.
Shop Dressy Jumpsuits:


Before dropping coin, drop the jumpsuit. Try a few times – can you honestly slip it on and off in a rush? Could you do it in a cramped bathroom stall at a bar or concert venue or wedding ballroom? Do you need to be careful about tiny hooks and eyes or too-tight button holes? Be realistic, you have no idea how long that bathroom line may be or how you may be feeling that evening. No jumpsuit is cute enough to risk an accident or wardrobe malfunction.
Tips for Buying and Wearing Jumpsuits:
Size up. Unless it's a non-stretchy fitted style, you can usually go up a size without it affecting the line of the piece. This will reduce cling on the bum and give a bit more fabric in the bodice to be able to get on and off with ease. A dry cleaner can adjust hem and strap length for little money.
If you're petite, try the regular version (and if you're regular consider tall). Again, jumpsuits can run short in the torso, and very short in that space between waistband and crotch. I've found regular jumpsuits to often fit me better in the body.
Seek stretch. Whether the whole jumpsuit is made of jersey or just a portion, stretch will make it easier to work with and be more forgiving to your figure.
Avoid VPL. I have yet to see a jumpsuit that doesn't at least skim the rear. It's easy to worry about lifting the bust and whittling the waist and forget about the back view. Seamless undergarments, thongs, and even bike short-style undergarments will give a smooth finish for the jumpsuit (I often wear my Skimmies under jumpsuits).
Reference your underwear drawer. Don't buy a strapless jumpsuit if you don't have a comfortable and flattering strapless bra (and they do exist). Don't try to cover up bra straps by wearing a tank or tee under a jumpsuit meant to wear on its own. Same with halters, spaghetti straps, cutouts, open backs, and the rest. That jumpsuit may look hella cute on the hanger, but without the right underpinnings you won't get the right effect. Don't try to reinvent your lingerie drawer or redesign your figure, there's another cute jumpsuit out there that's perfect for you and your current wardrobe!
Consider your shoes. A wide-leg jumpsuit needs a substantial shoe – a wedge, caged sandal, or platform is a good choice to balance the width. In turn, a narrow leg or banded leg jumpsuit needs a more delicate shoe. Just as you do with a dress, factor in footwear. Don't think because you have a long leg you can get away with old flats or sandals; a shoe makes the man and the woman!