This article may contain affiliate links; if you click on a shopping link and make a purchase I may receive a commission. As an Amazon Associate, I earn from qualifying purchases.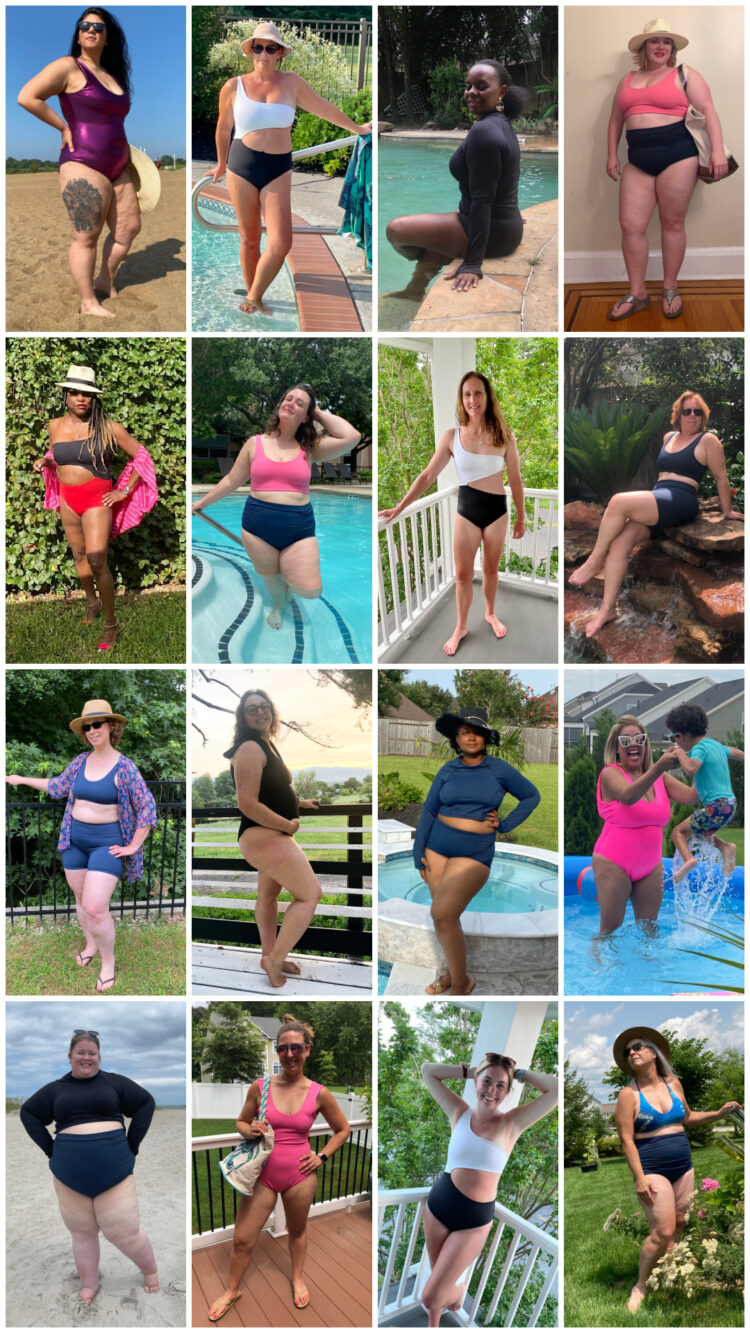 I am a big fan of Miami Fitwear. Miami Fitwear is a Latinx woman-founded company that is based in Texas. All the designing, sewing, and shipping all take place here in the United States. Several styles of leggings, bras, and activewear at Miami Fitwear give back to charities. Miami Fitwear is a size-inclusive brand that offers apparel in men and children sizes as well as women's sizes XXS-4X with a range of lengths for leggings.
If you are sick of boring black leggings, Miami Fitwear is the place for you. Creating exclusive lines for brands like Peloton and fan clubs like the XXL Tribe, Miami Fitwear also offers some of the most joyful and unique patterns you cannot find anywhere else. With buttery soft yet durable fabric, my Miami Fitwear leggings are the ones I reach for more than any other pair in my workout apparel drawer.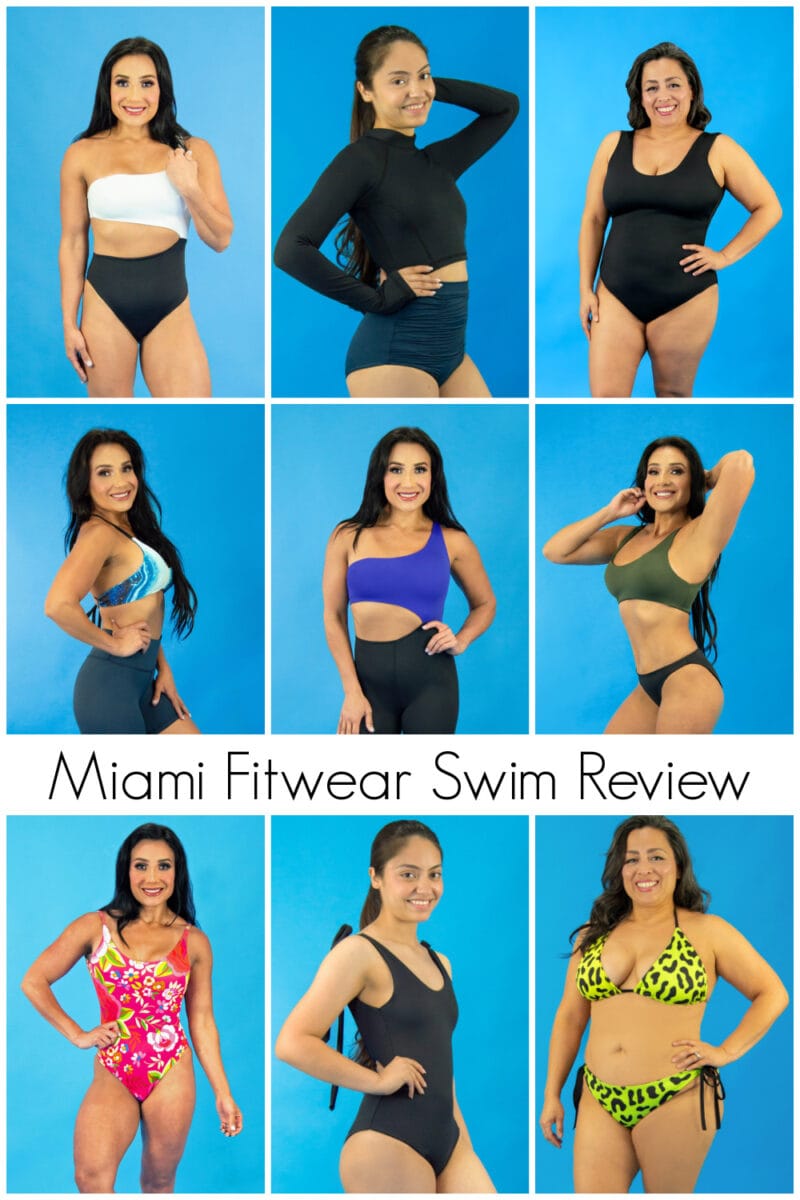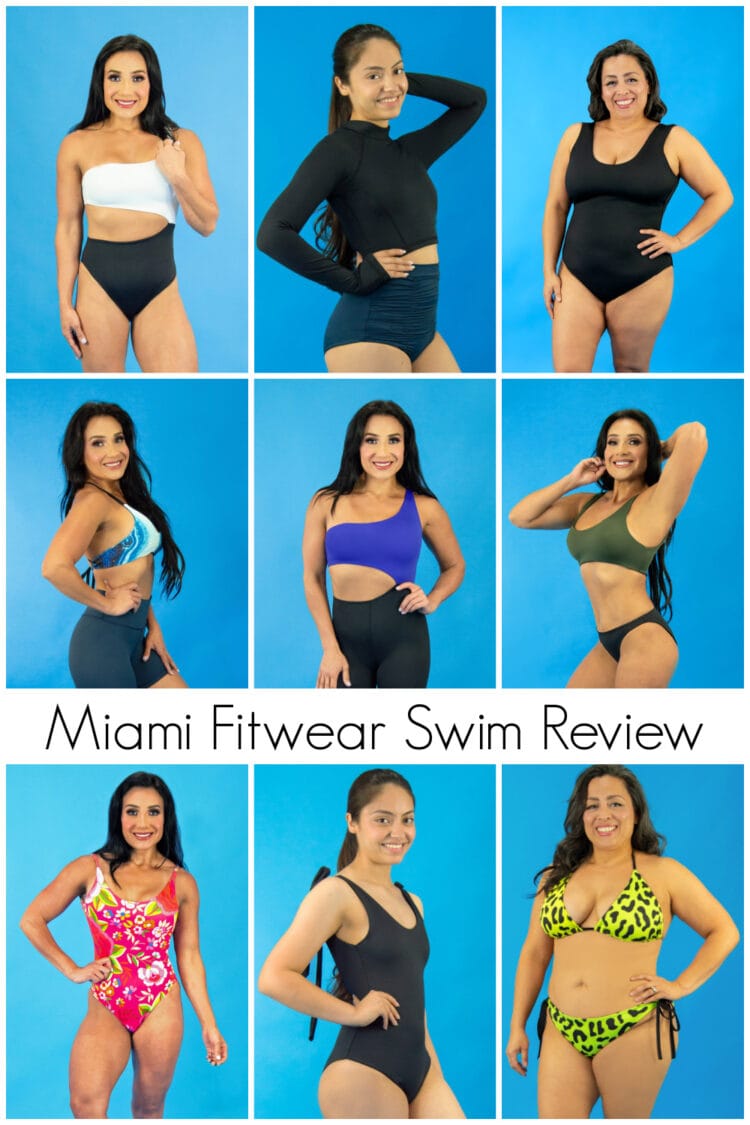 While Miami Fitwear is known for its leggings and activewear, the founder, Raquel, has been asked multiple times to create swimwear. This summer, Miami Fitwear did a soft launch of swimwear, something the brand has never done before. Available in the same great size range all Miami Fitwear is available in (XXS-4XL), the collection has simple one-pieces and two piece separates.
Raquel wanted feedback on the Miami Fitwear Swim collection to improve on it and expand the offerings to have a big launch in Summer 2022. Her hope is with the feedback she can fine tune the collection, add pieces where needed, and offer more in the badass original prints Miami Fitwear is known for. She reached out to me to see if I would like to try some pieces and provide feedback.
How this Miami Fitwear Swim Review Came to Be
I was going on vacation, and I also knew that feedback from one body would not be enough to give Miami Fitwear a true report to create a swimwear line as fantastic as her well-established leggings line. So I suggested to her that instead of me reviewing the new swim offerings, what if we invited Wardrobe Oxygen readers to provide honest feedback and turn it into a blog post?
Understandably, Raquel was nervous. This is a new line she has been updating all summer based on feedback; the idea of having honest Miami Fitwear Swim reviews published online before the proper Summer 2022 launch of the collection could be bad for business. But I know from my 16 years of writing honest online reviews for fashion, beauty, and more that honest and critical reviews often sell products better than multiple five-star ratings.
A good example is Deanna, a reader of Wardrobe Oxygen. She has shared more than once that my fail means it will be a hit for her. She and I have completely different bodies, so usually, the issue I have is a benefit for her and vice versa. I also believe those of you who read Wardrobe Oxygen are smart, savvy, and like details so you can make your own informed decision. I also knew that you all would give very fair and detailed reviews.
I invited 14 people from the Wardrobe Oxygen Community to choose a Miami Fitwear Swim look of their choice and review it for you. It ended up being 16 women who reviewed Miami Fitwear Swim because one reviewer shared it with two other women in her family and they too offered their thoughts. They were asked to pick the suit or swim separates of their choice and provide at least a paragraph about their thoughts about the pieces they received.
Inviting the Wardrobe Oxygen Community to Review Miami Fitwear Swim
This post is sponsored by Miami Fitwear, but the entire payment I receive was split amongst the amazing individuals below who offered to provide honest reviews and photos of them trying on Miami Fitwear Swim. Each of these members of the Wardrobe Oxygen Community was paid along with receiving the Miami Fitwear swim look of their choice. There are affiliate links in this post; if you use one of the affiliate links to the Miami Fitwear homepage or use my promo code below, I may make a commission off your purchase. Click here to learn more about how influencers and blogs make money.
Miami Fitwear Promo Code
Use WARDROBEOXYGEN15 at checkout to get 15% off full-priced merchandise at Miami Fitwear. Be sure to put this in at checkout to get your discount as there aren't coded links with my discount code on individual products below.
Honest Miami Fitwear Swim Review by Members of the Wardrobe Oxygen Community
Below are honest Miami Fitwear Swim reviews by 16 women from their 20's to their 60's living all across the United States. They are a range of sizes, shapes, and lifestyles requiring different things from their swimwear. I think they did a fabulous job modeling the swimwear and providing constructive feedback and honest reviews to help improve and grow the Miami Fitwear Swim collection!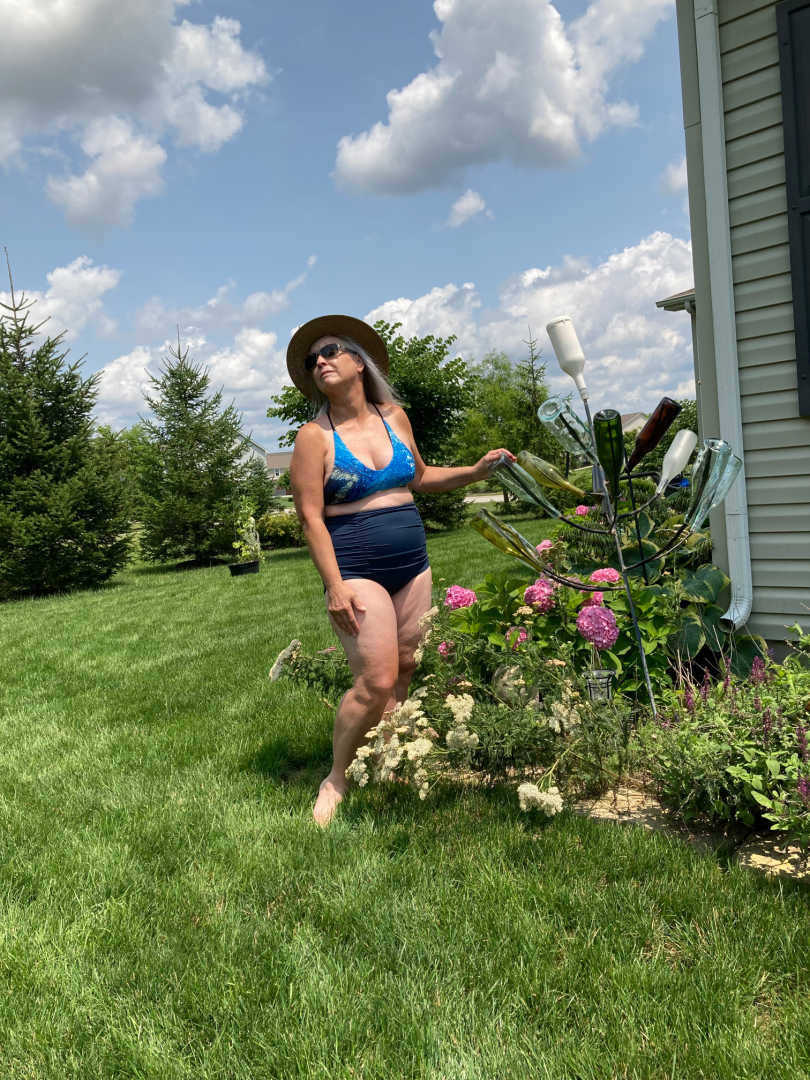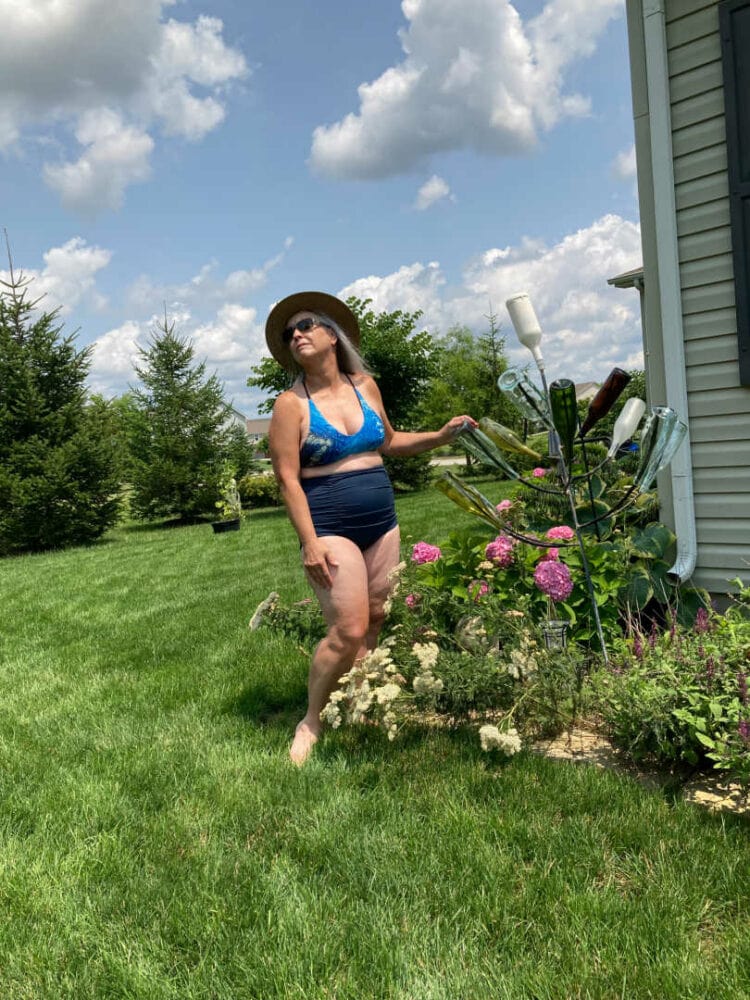 I was excited to participate in this opportunity because I'm an older woman who is neither an apple nor a pear. I consider myself a zucchini! I wanted to see my age demographic represented as well as someone who is busty and has thick legs. I ordered the Criss Cross Swim Top in a medium as I wear a 34DDD bra (size small in J Jill tops, medium in Old Navy).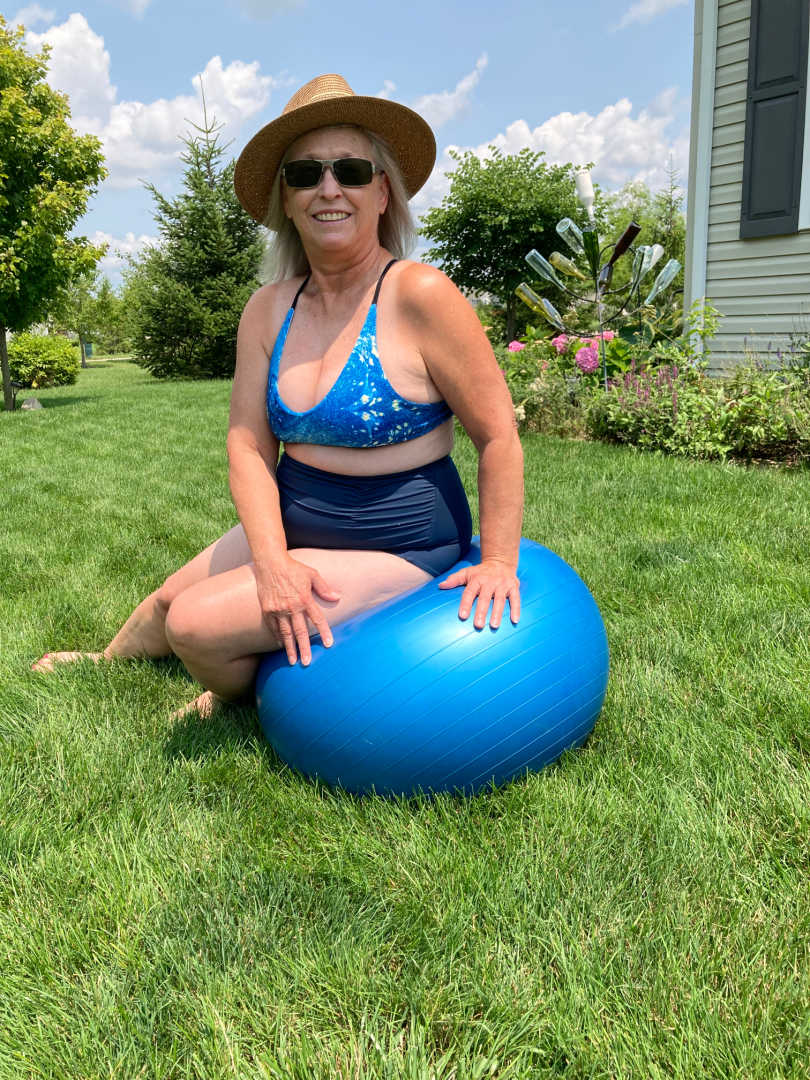 The top is well made and is two layers of fabric in a beautiful marble print (there are no molded cups or underwires). While it is gorgeous, there is just not enough of it for an upcoming family vacation with grandsons and sons-in-law. Will I wear this top? You better believe I will! Just not around the grand!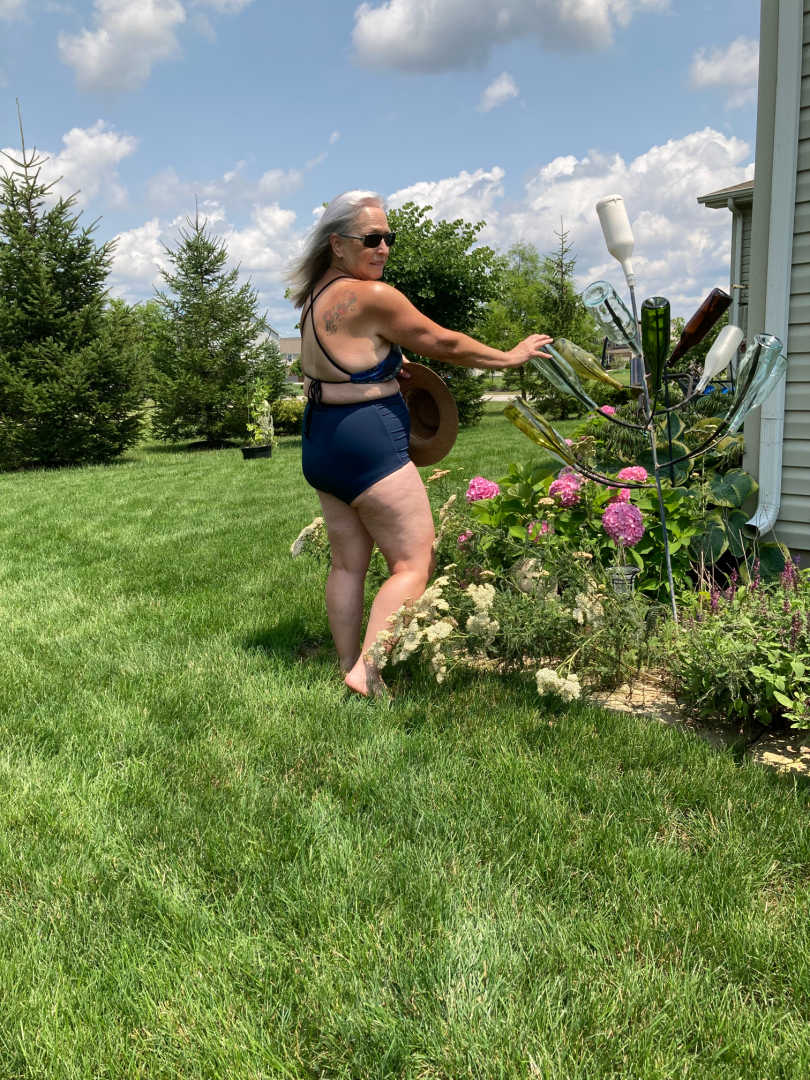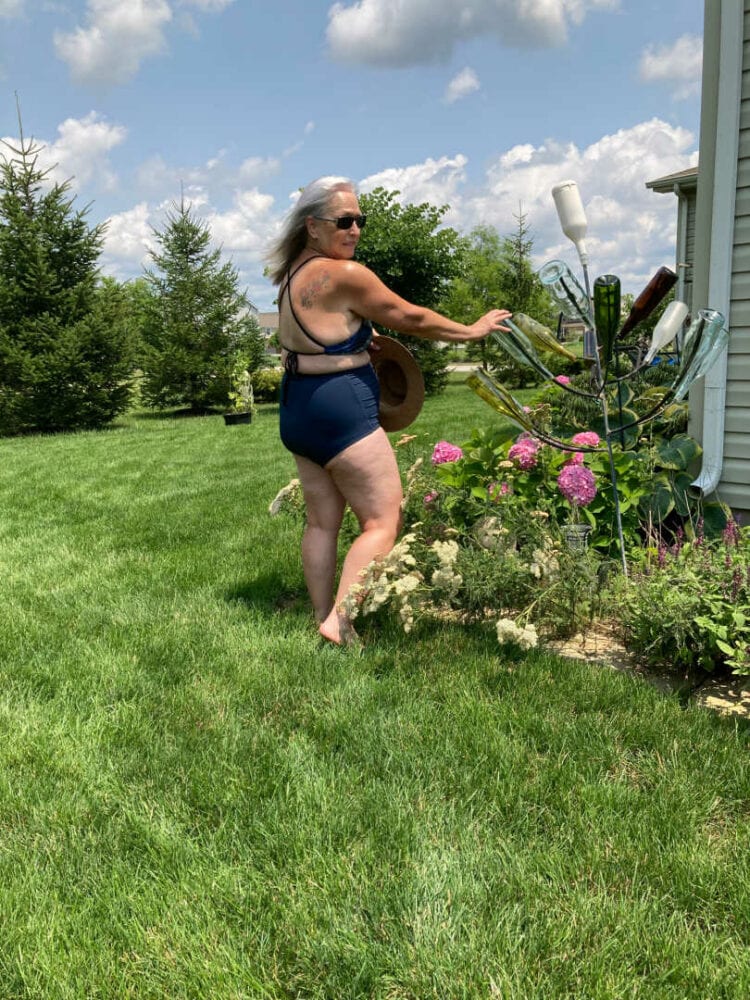 I also ordered the Ruched High Waisted Bikini Bottom in a medium in indigo. I don't have as much ruching across the stomach as the model, but I believe the medium is a good fit. I wear a large in Soma underwear and a 10 in Old Navy Jeans. I freaking love these bottoms! They stay put, cover the results of bearing humongous babies, and just make me feel sexy! I will wear these with another bikini top I have from a different retailer. I would purchase these in several different colors as they are just that good!
Overall, the top is something I would wear to the beach as long as I wasn't swimming. The bottoms I would wear swimming, playing beach volleyball, any summer activity when you need swim bottoms.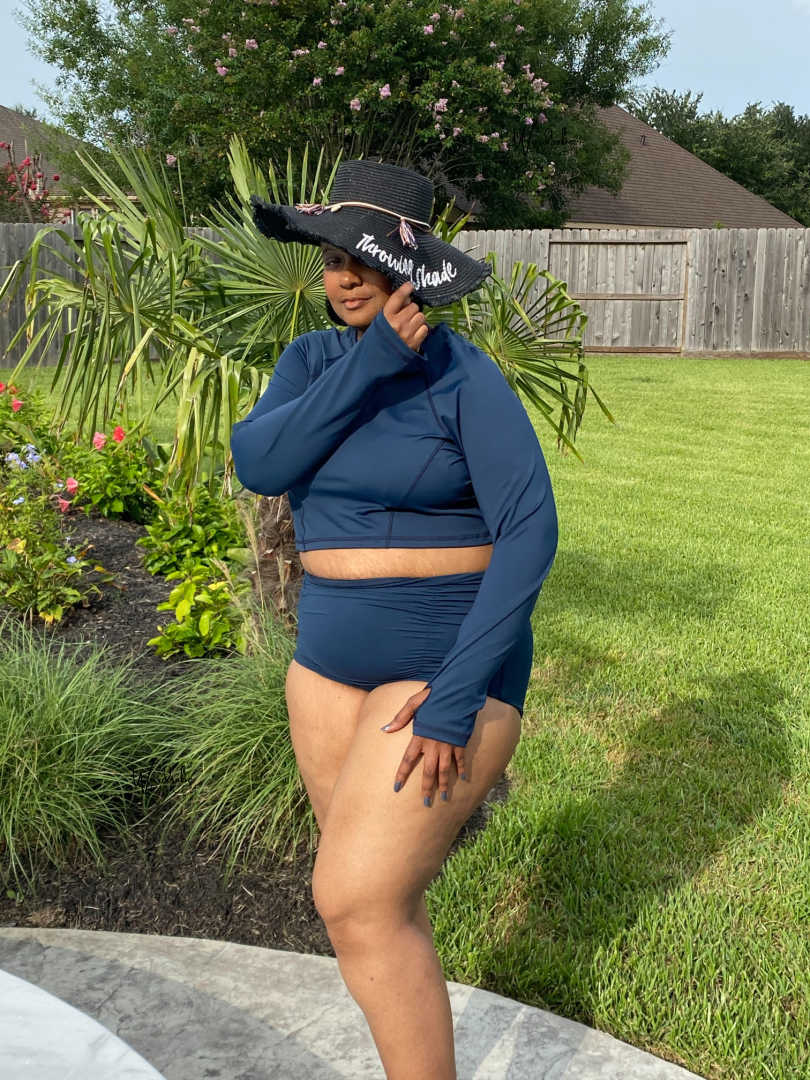 While I had the option of choosing any bathing suit, I decided to choose the UVP Crop Rashguard top and Ruched High Waisted Bikini Bottom for the amount of coverage. When it comes to bathing suits, I typically choose a one-piece but liked the idea of being able to have a crop top with a high-waisted bottom.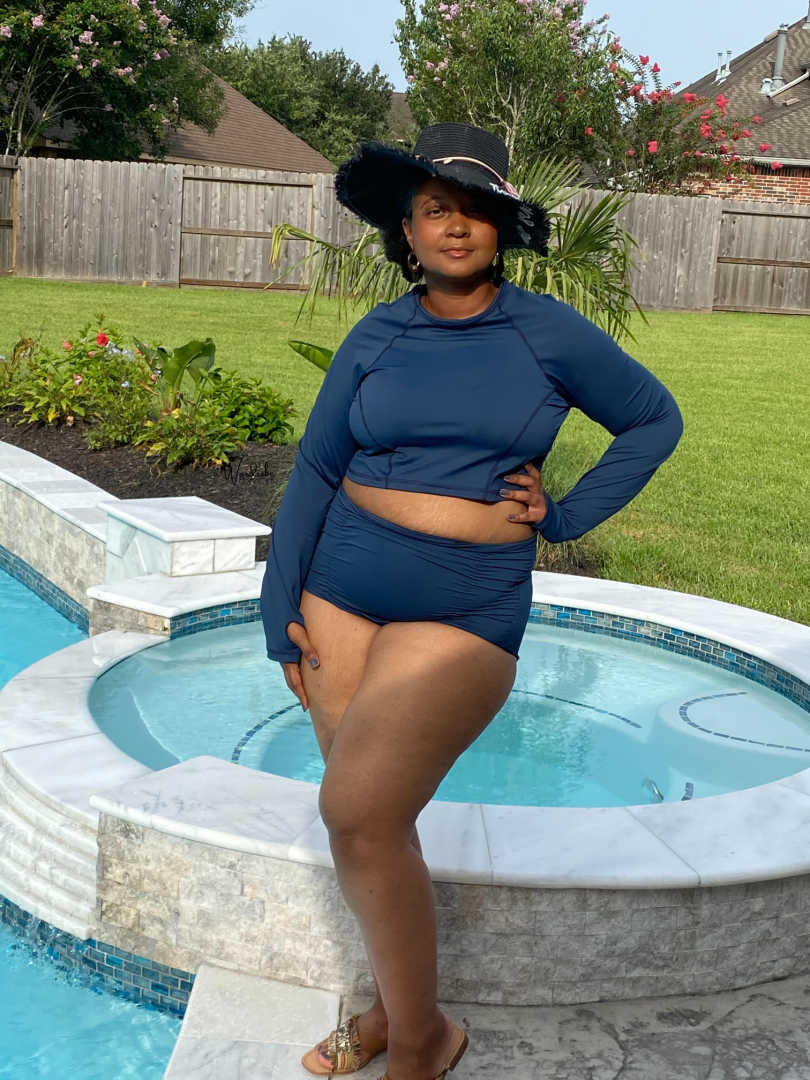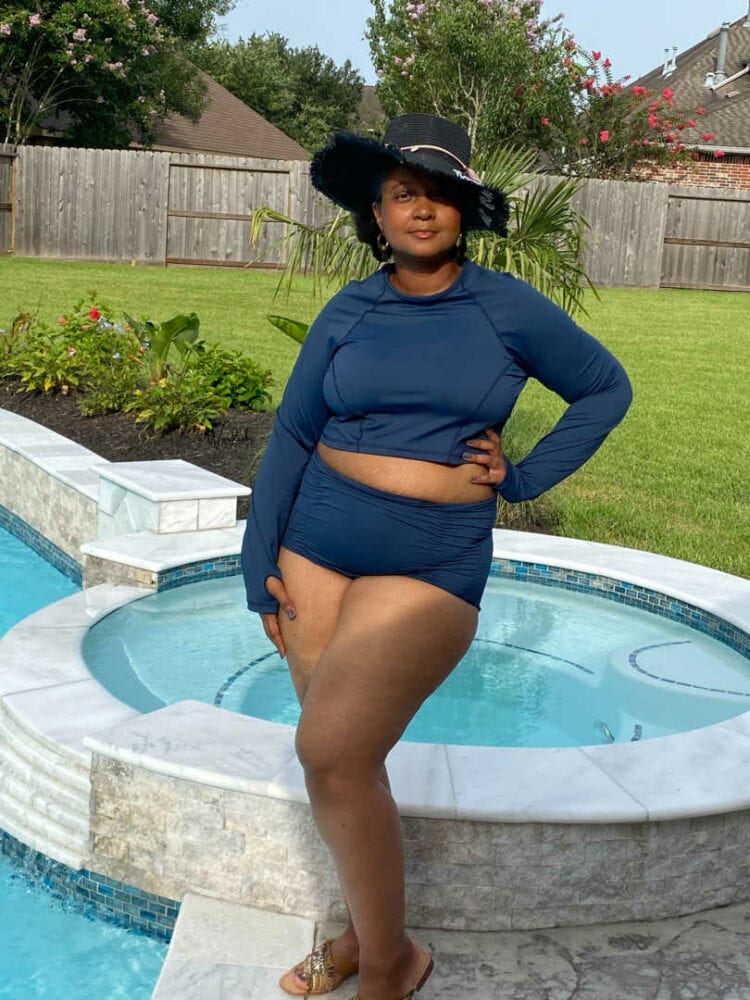 The color (Indigo) on these two pieces is amazing! I am typically a girl who loves black, but when I saw Indigo, I had to give it a try. While black is traditionally classic, I think that indigo offers a nice level of sophistication with its beautiful shade of blue. I am definitely happy that I decided to give the Indigo shade a try over my usual black and have absolutely no regrets.
The quality is super nice, and I feel like the pieces are well made and will last. My bra size is a 38D, and I am a size 16-18 in Universal Standard and most stores like Ann Taylor and Old Navy. While I followed the size chart for both pieces, which suggested an XL, I feel like I could have sized down in the top. The cropped top was loose around the neck and bottom. I would certainly buy both pieces, but I would definitely size down in the top for a more fitted look.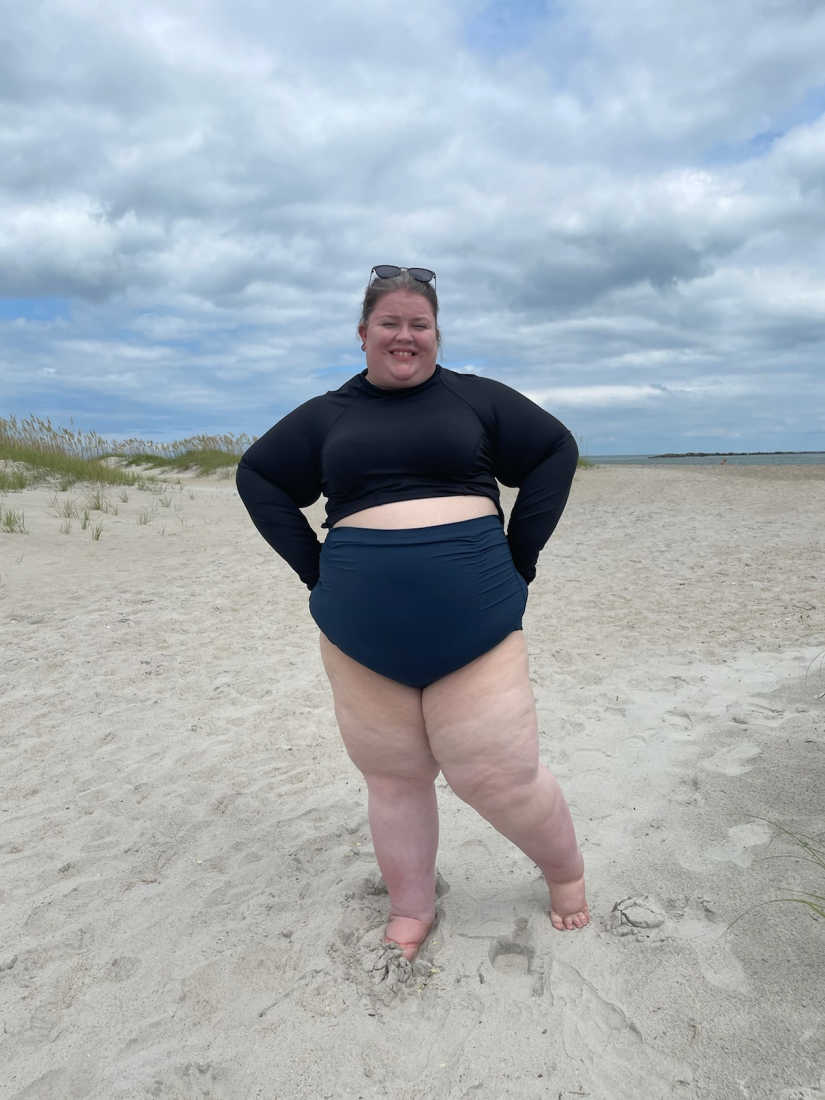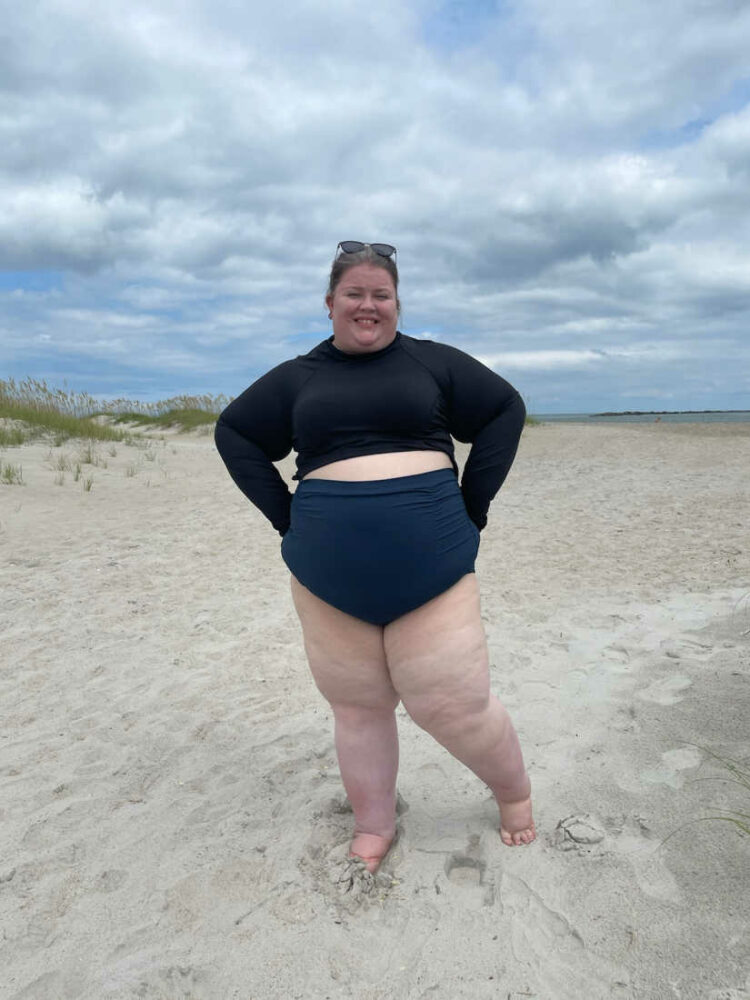 Name: Cassie
Age: 42
Location: St. Louis, originally from Wilmington, NC (where the pictures are taken!)
Miami Fitwear Swim Chosen: UVP Classic Rashguard and Ruched High Waisted Bikini Bottom
I ordered the Ruched High Waisted Bikini Bottom in a size 4X and the UVP Classic Rashguard in a size 3X. I chose the 3 because it's my usual size — I'm a 24 at most plus-size retailers — and the 4 for the bottoms based on the size chart. Overall the fit was good, though the ruching on the bottoms was a bit stretched out. The quality of the pieces was really excellent, with sturdy fabric and seams; of particular note was the gusset on the bottoms, which seemed cut to accommodate a plus-sized frame.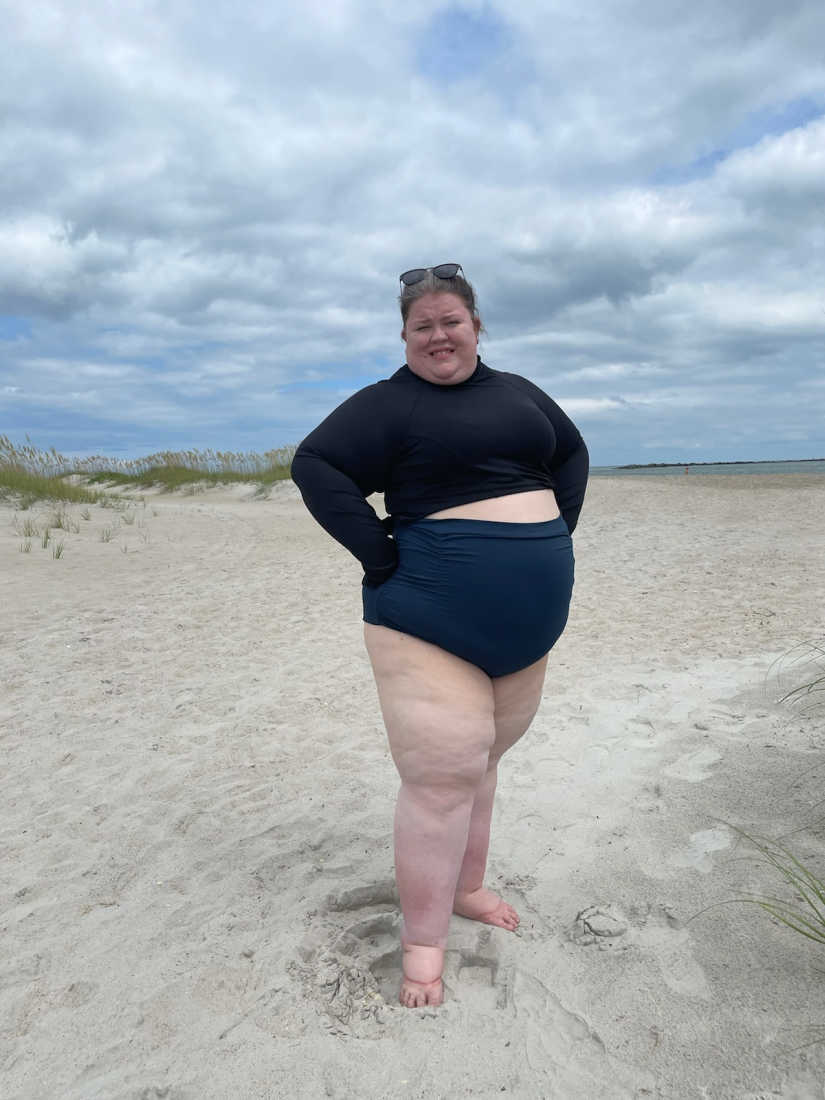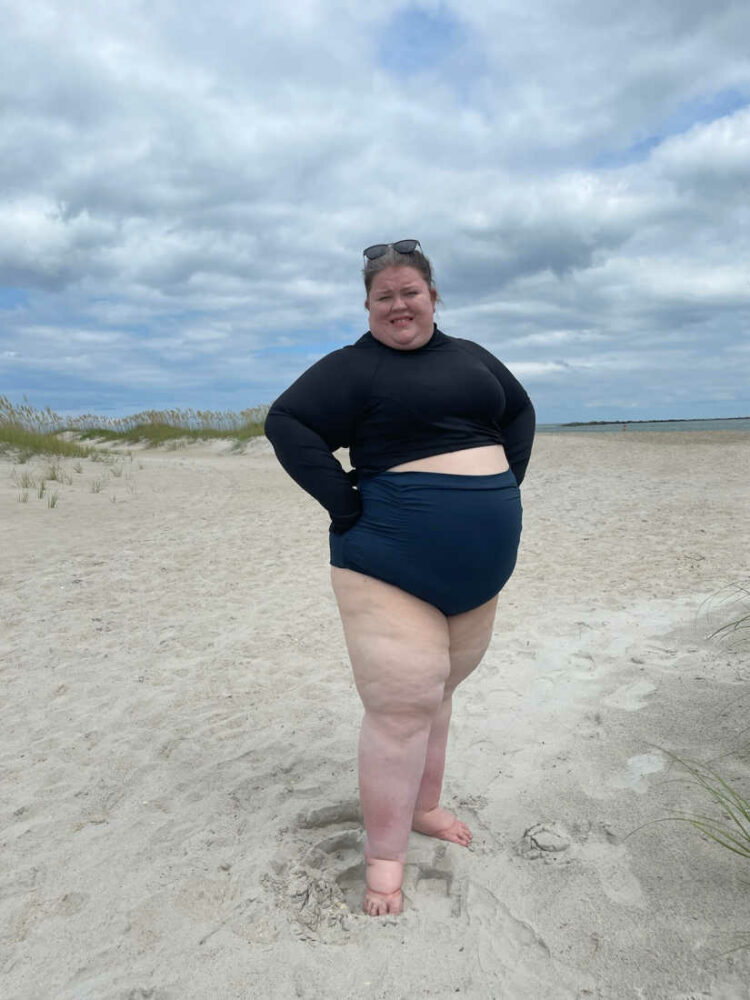 The sleeves of the rashguard were a bit long, but almost all of my sleeves are as I am a T-rex. I chose to wear a structured top that I already owned under the rashguard and the difference in quality was very noticeable!
The bottoms were truly high-waisted, which I have tucked the rashguard up to show. Both pieces held up well in the water, keeping shape and structure, though the waistband on the bottoms can slide down a bit in strong waves — it doesn't have extra constriction. That does help add to the comfort! Overall I really liked this suit and wouldn't hesitate to buy from Miami Fitwear.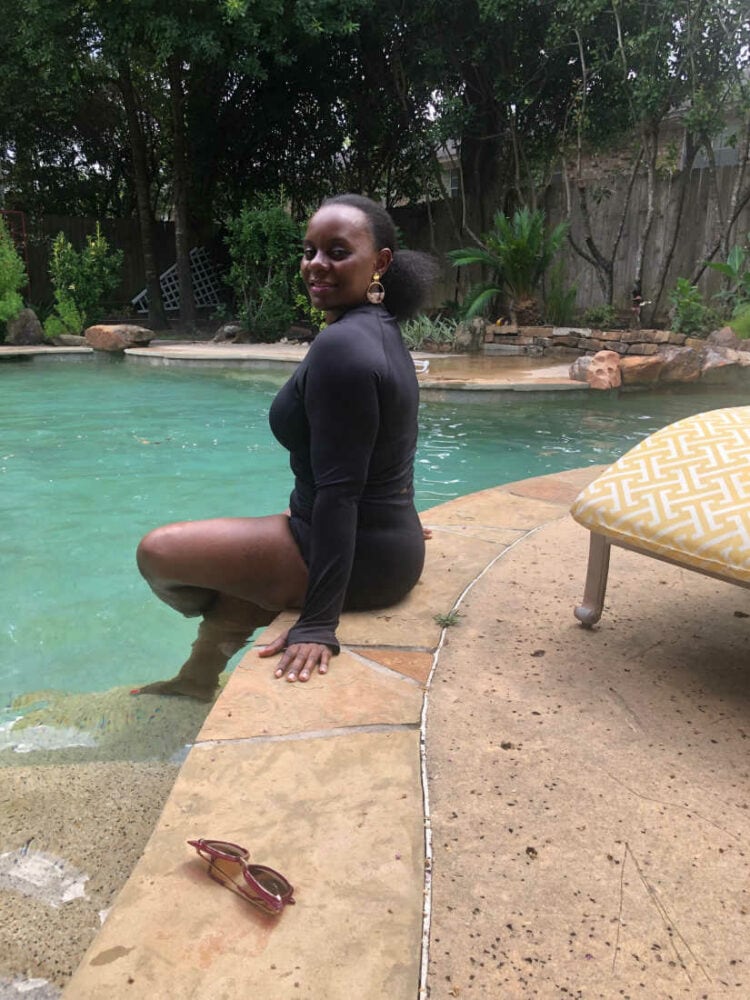 I chose the Ruched High Waisted Bikini Bottoms and UVP Crop Rashguard. I ordered a size medium and I am usually a size 8 in most clothing brands. I chose the rashguard because I wanted to cover up when I was out with my son because we can be exposed when we are in the hot Texas sun for a long time. I really liked the crop look and I thought it would add a touch of sexiness to the outfit.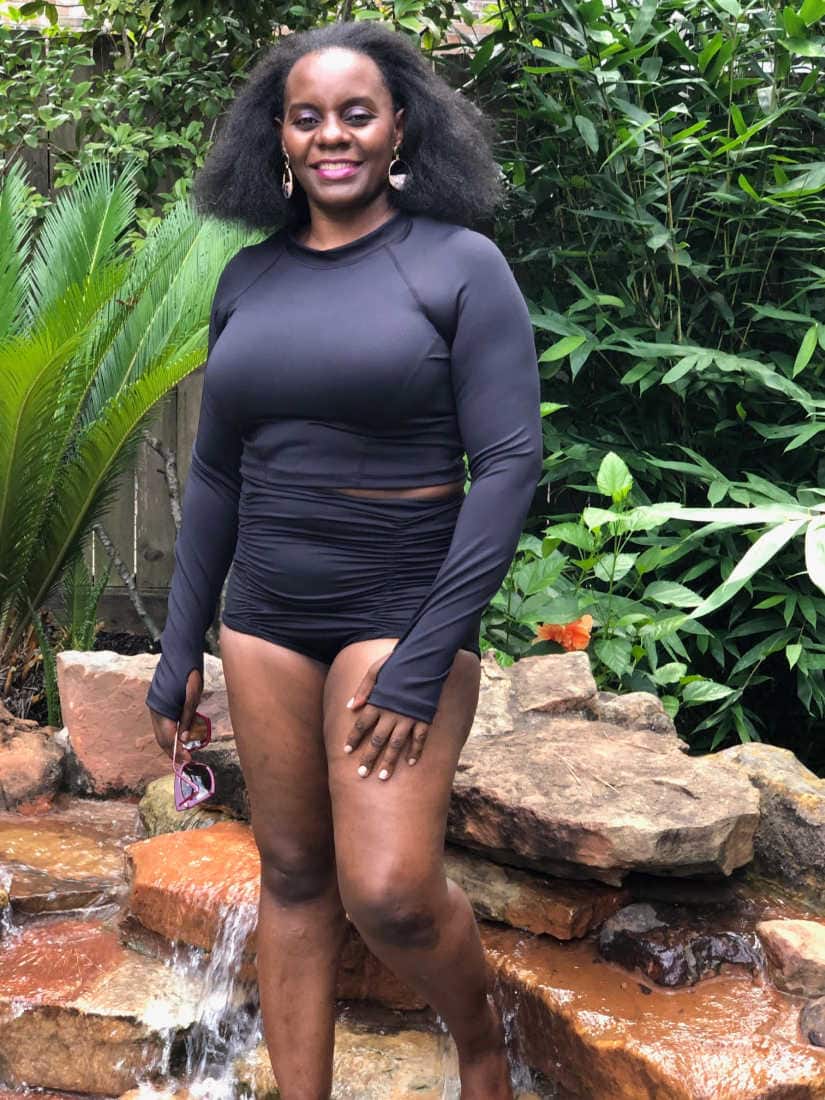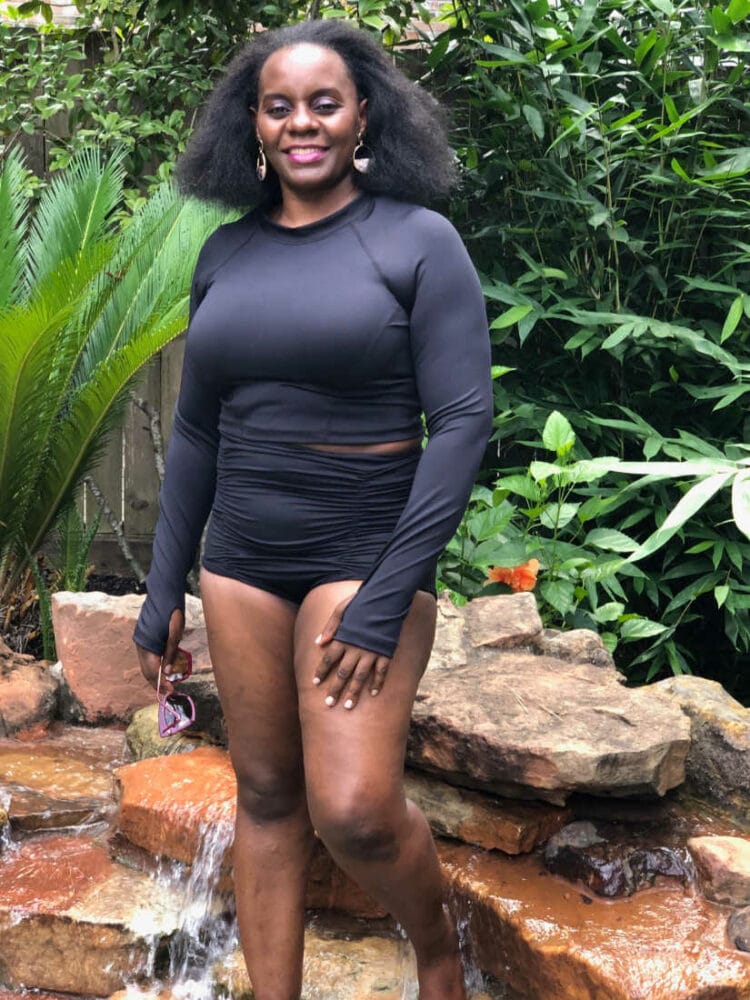 Although this rashguard was well made and the fabric was really comfortable and good quality, I did not feel like it fit me really well. There was gaping around the neck, and it was also loose around the waist. The chest and arms fit nicely, and I really liked the thumbholes in the long sleeves. But overall, the simple black color was really just a little too plain. I thought it could be improved with some contrast color stitching or just something to give it some styling.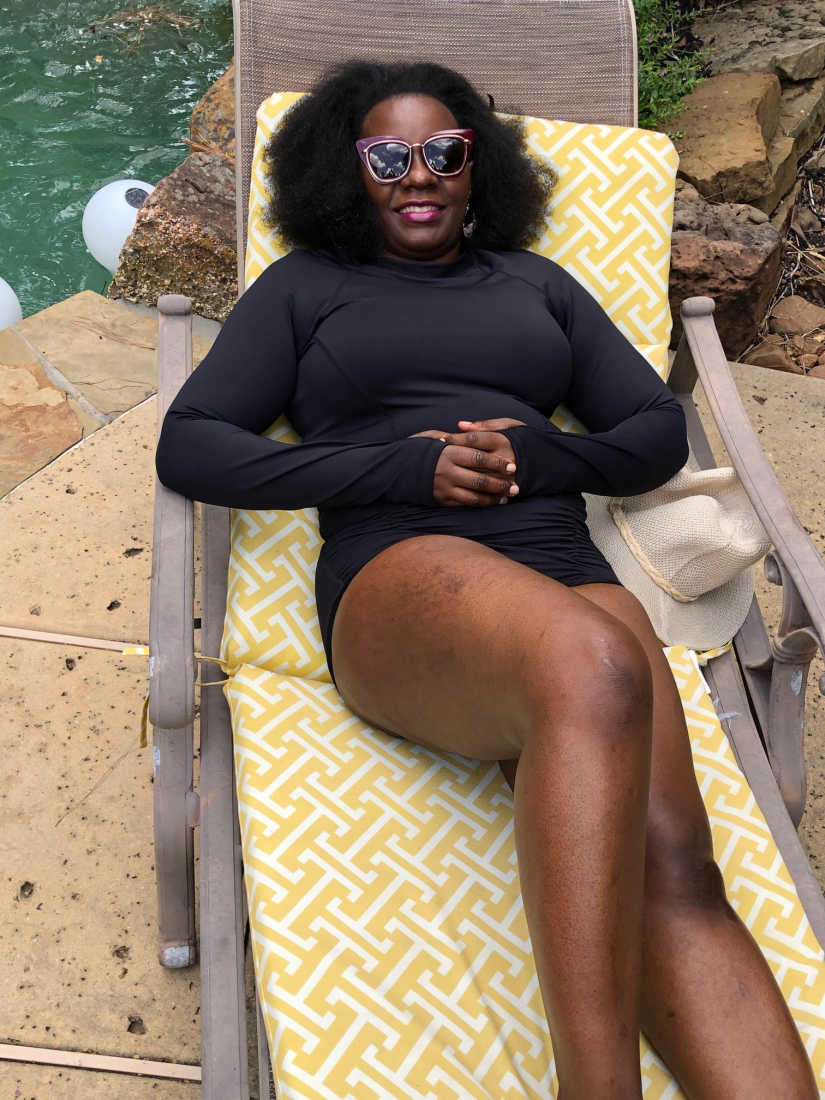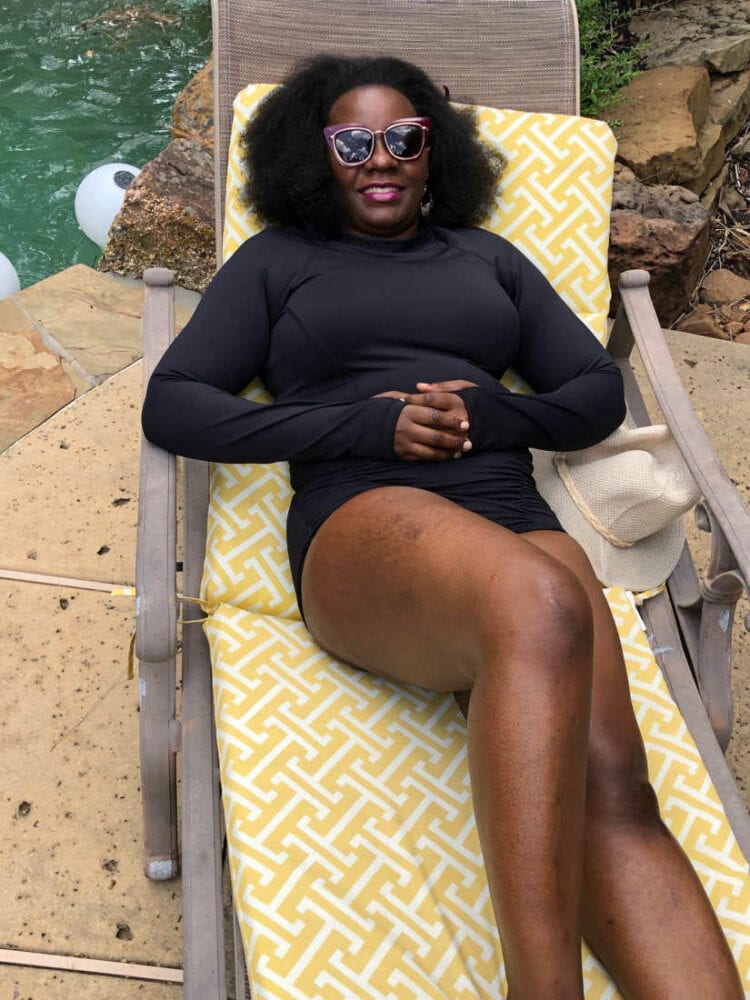 I really loved the ruched bottoms. They fit well and seemed flattering and stayed in place. I spent a few hours in the pool keeping my toddler entertained, and they stayed in place and didn't ride up at all. The waistband was wide and comfortable, and overall I thought these were definitely worth the money.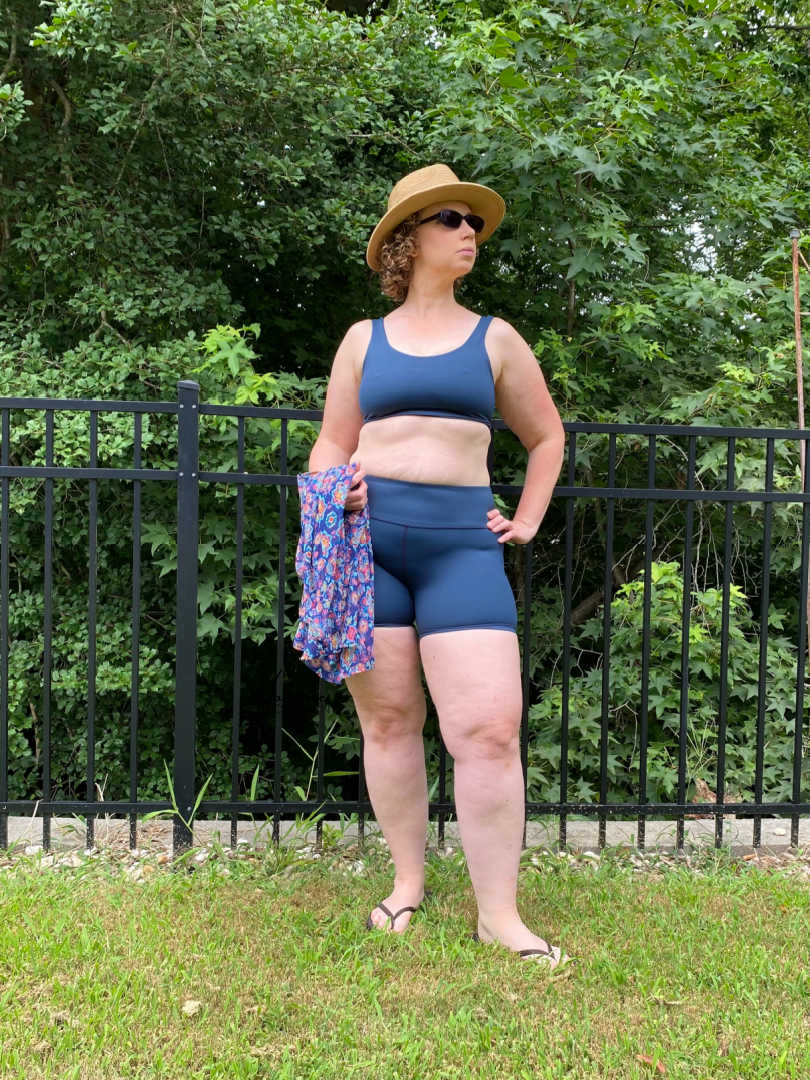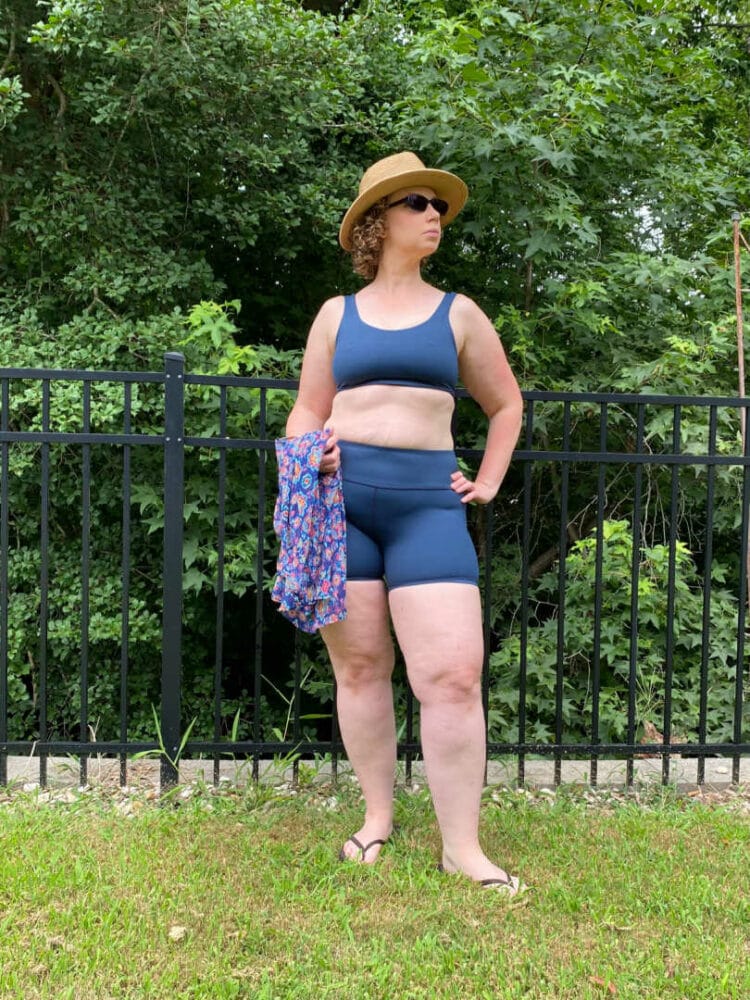 I am tall with a long torso and tend to have issues with swimsuits being too short in the torso, so that's why I chose two pieces rather than a one-piece. I wear a 34DDD or 36DD bra and a size 16 in pants. For the Scoop Neck Swim Top, I chose the size XL with my bigger cup size just to be safe; for the Gym to Swim Shorts, I also chose the size XL.
I usually wear a two-piece bathing suit with a rash guard on top because with my small kids I tend to be pretty active in the pool, and I don't like having to worry about too much exposed skin for sunburns. The shorts seemed like they would have good coverage and be comfortable, and the swim top would be ideal to wear under a rash guard.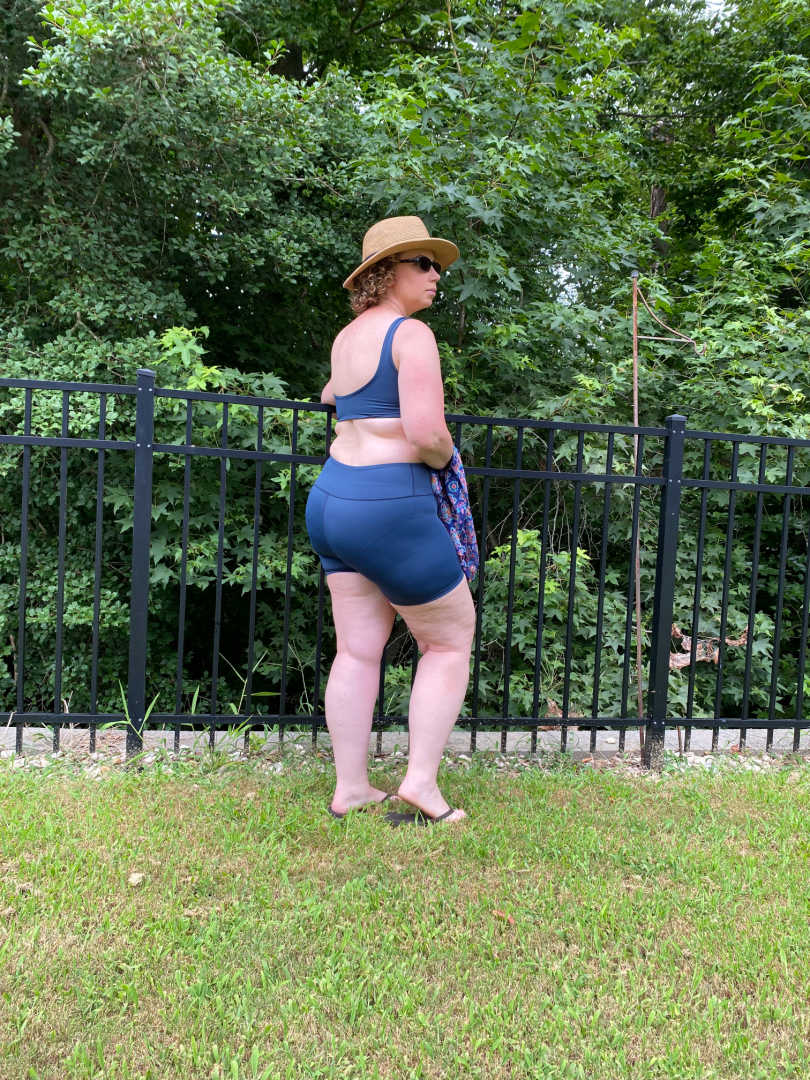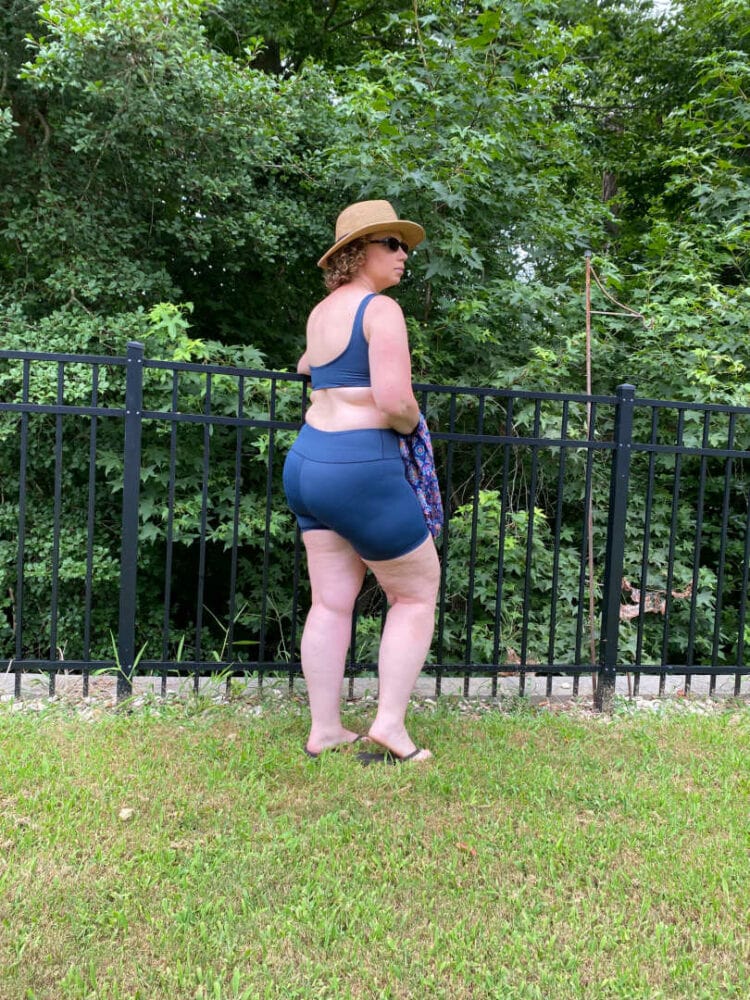 The fabric of the suit is amazing – soft and stretchy but still strong. I feel that it is high-quality fabric and will hold up well with water activities. The shorts are one layer of fabric with no lining. They do have a crotch gusset which is great for ease of movement and better fit. The seams are sewn flat and are comfortable (no bumps that dig into the skin).
The shorts would have been wonderful were it not for the stitching around the bottom hem. It is not as stretchy as the rest of the suit, so it digs into my thighs and causes an indent. I do like the high waist of the shorts – it stayed up well and did not roll down. Because of the tightness of the stitching around the leg, the bottom edge of the shorts did tend to roll up as I moved around and I had to keep tugging them down.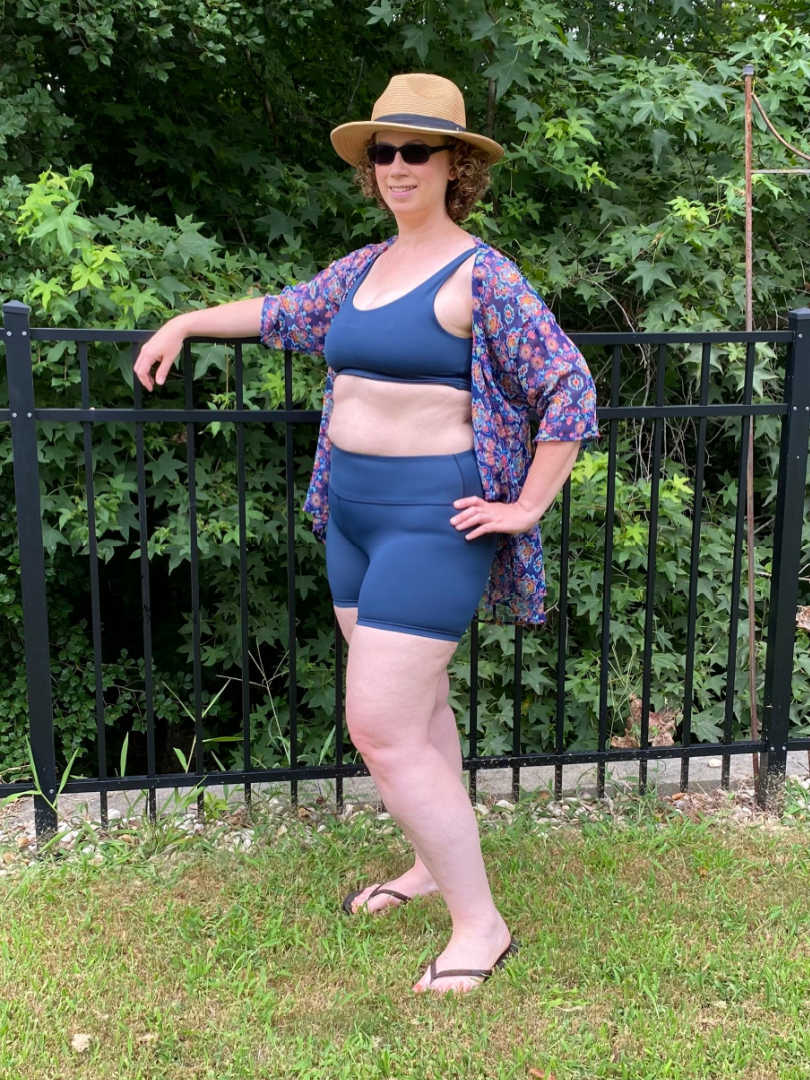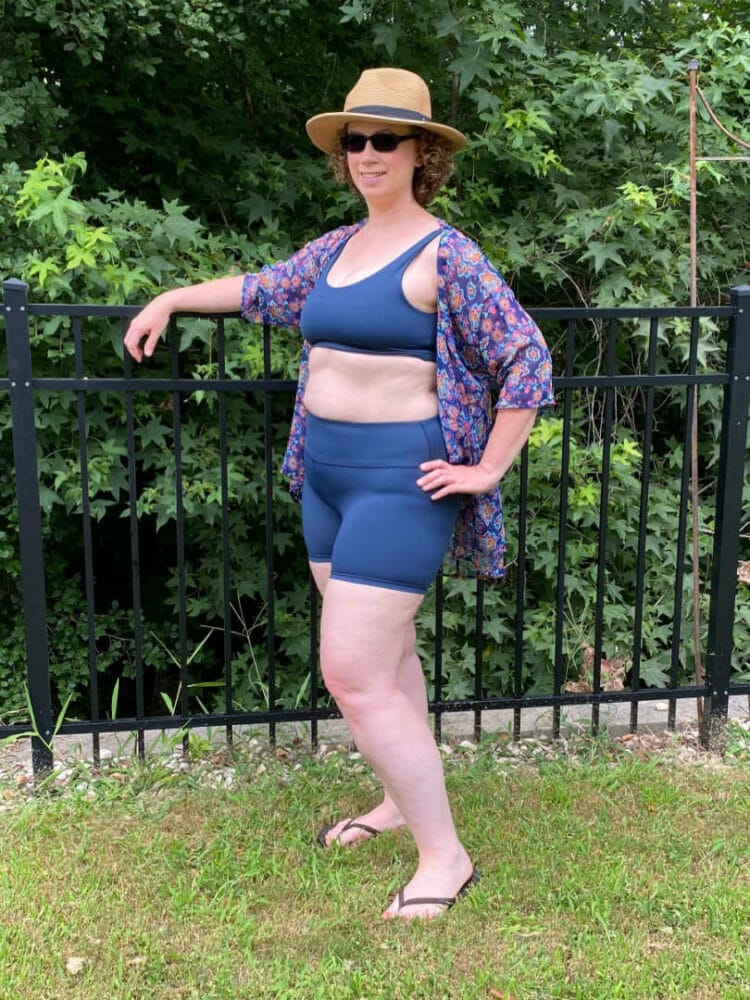 The swim top is the same soft and stretchy fabric as the shorts. It is two layers of fabric, made of two flat pieces for each the front and the back. It is a very basic swim top – no shaping or details that would make it stand out from other swimwear brands. The straps are quite widely set in the back, so I constantly felt like the straps were going to slip forward off my shoulders. Overall I think the swimsuit is good quality.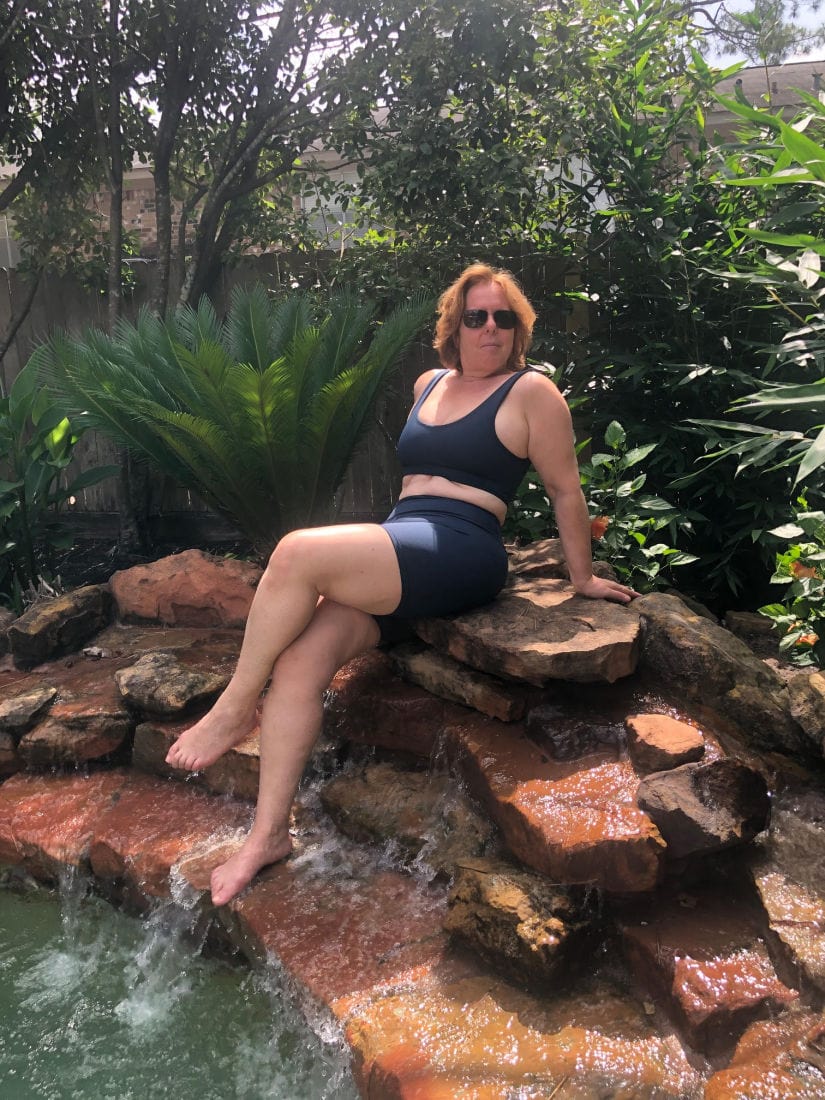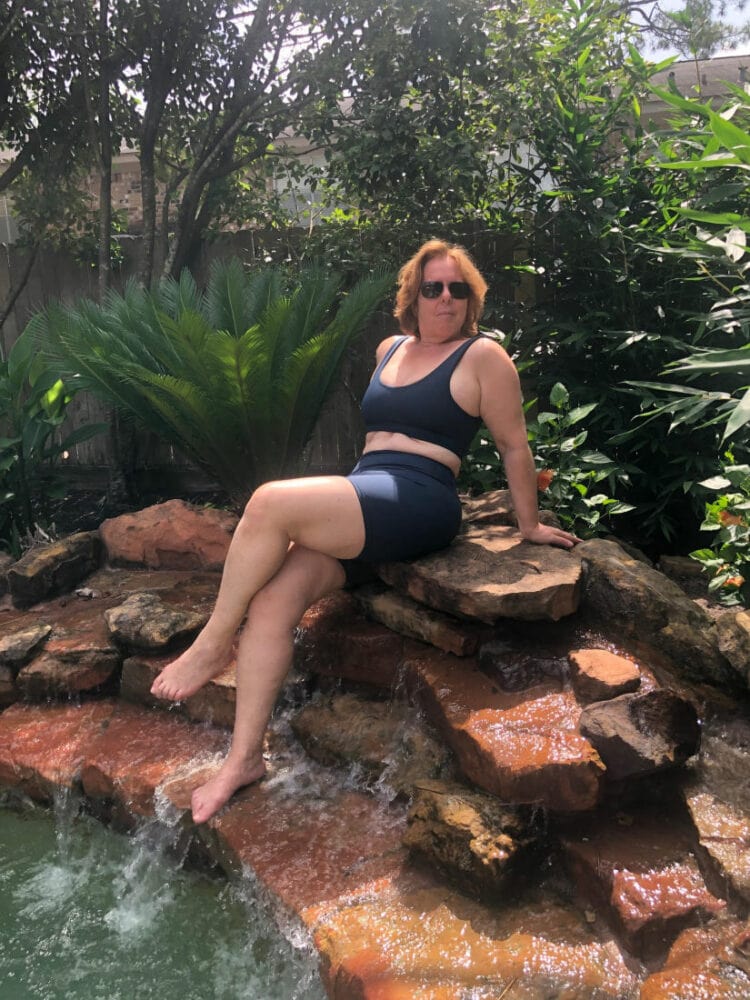 I chose the Scoop Neck Swim Top and Gym to Swim Shorts; both in Large and Indigo. For reference, I usually order M or size 12 in Land's End suits (36DD) or XL in Andie Swimwear. I am about 41-32-41. I picked these pieces to try because I loved the idea of a cute, durable swim short that I can keep on for the whole day. I've started scuba diving, so it's useful to have something like this on for when I peel off the wetsuit and start moving equipment. I need the suit to be quick-dry, form-fitting, and tough, with leg and waistbands that stay in place and don't roll.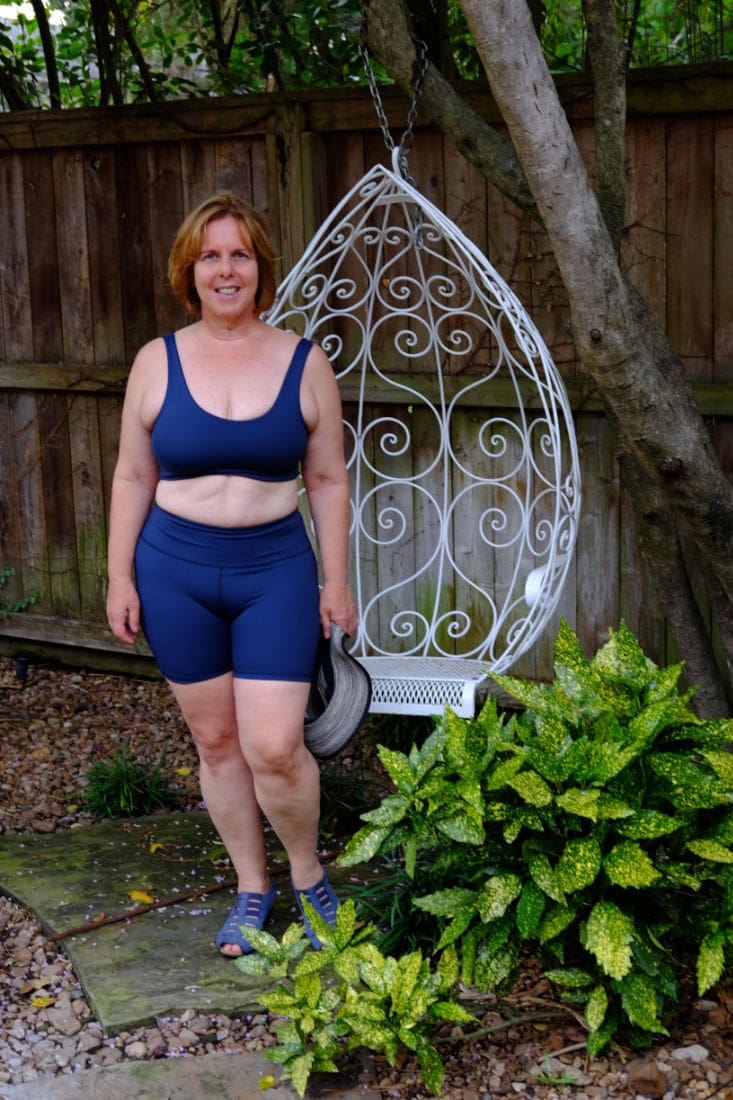 The Gym to Swim Shorts hit all the marks, in a soft, stretchy beautiful polyester-lycra blend. I compared them with the Lands' End High Bike shorts, which I also love. They are very similar in cut and style, but the Miami Fitwear version has a 4" leg as opposed to the LE 6" leg. The shorter leg is a bit less matronly looking, and the grip was good enough to keep it in place even after a vigorous pool session.
I've started to bare my midriff in my middle age… because why not! But I felt that this top did not offer enough support or coverage, and it gave me a fairly unflattering mono-boob. I cannot fault the material or the workmanship. I guess this shows me that for my size and shape, I really need cups in my swimsuit. However, it works perfectly underneath a scuba suit or rash shirt, where I would want something form-fitting, quick dry, and durable.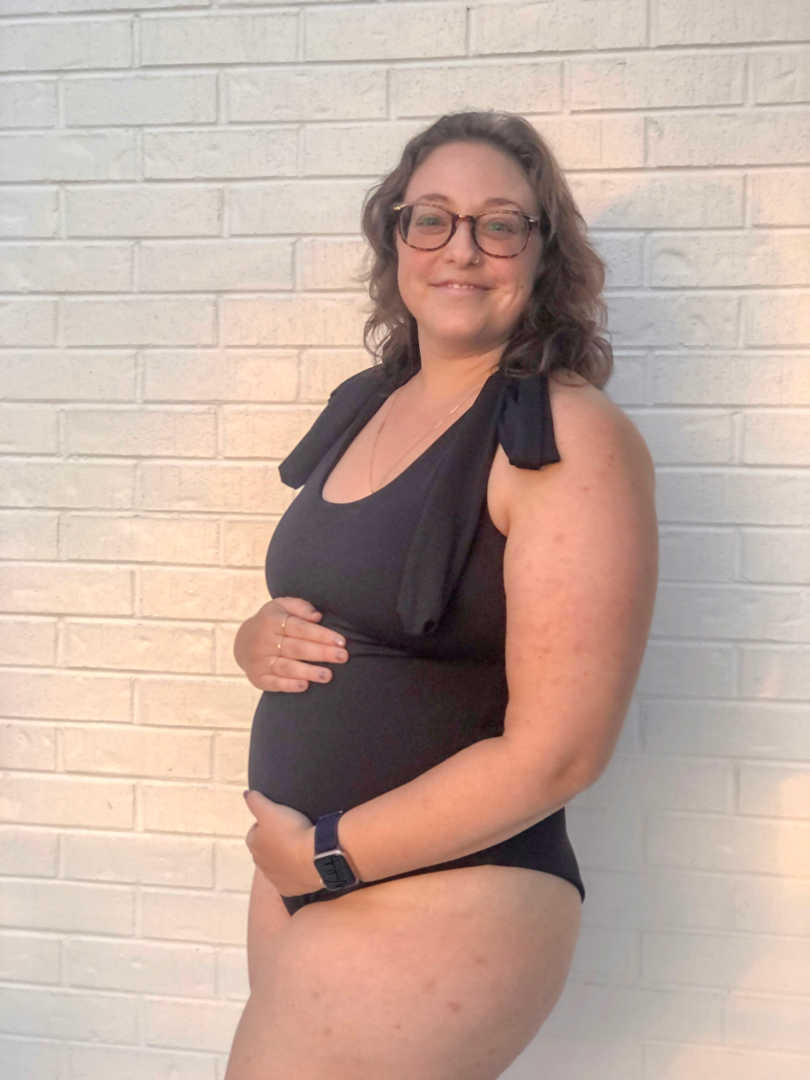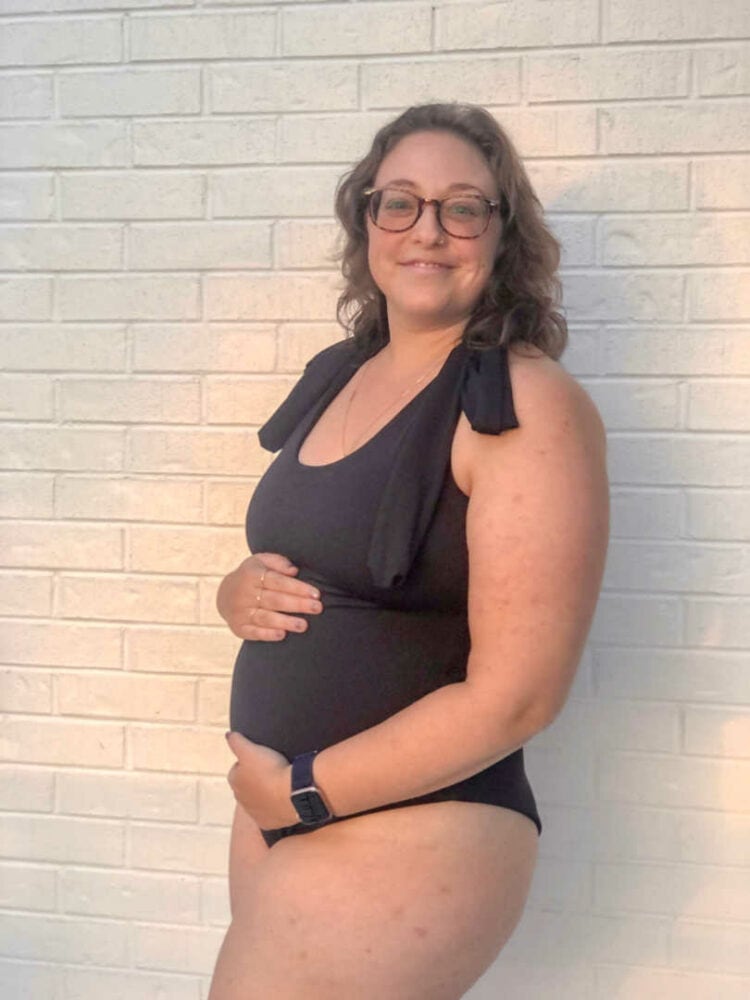 Name: Rachel
Age: 35; Gestational Age: 15 weeks
Location: Denver area of Colorado
Miami Fitwear Swim Chosen: Adjustable One Piece Swimsuit
I ordered a size XL because I am usually between a Large and an XL, but since I'm pregnant, I definitely wanted to err on the side of more room. I ordered the adjustable one-piece because I had a sneaking suspicion I could cross the straps in the back and it would be extra supportive–I was right! I have a short torso and shoulders and non-adjustable straps tend to be too long and loose for me, plus I like the extra drama of a bow.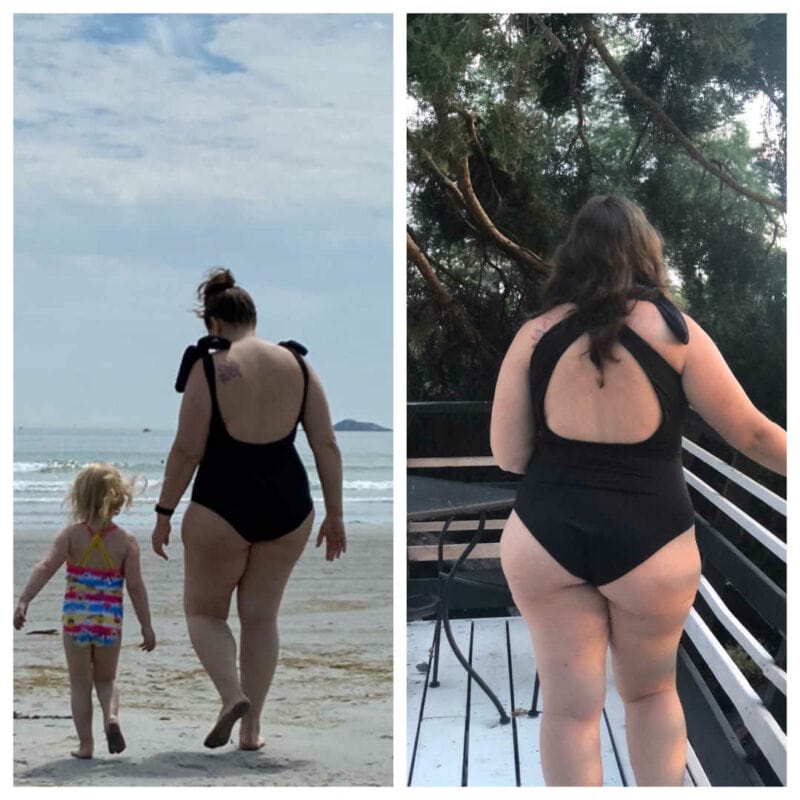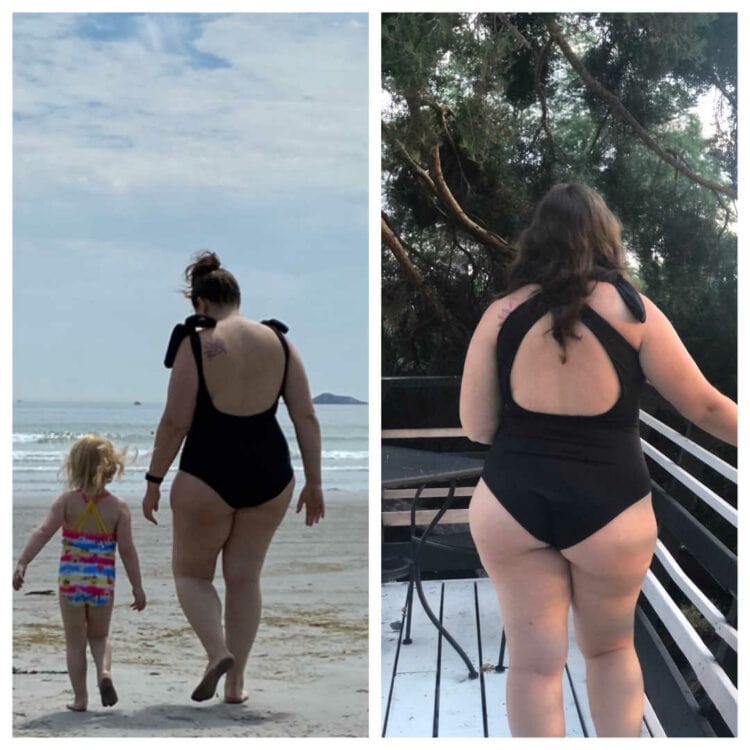 I did wear this suit at the beach with my parents and my 4-year-old. Even when wet, it didn't get too big or move around too much. I double knotted the straps when I was swimming, but not for the pictures on my deck. This has a higher cut in the hip and less coverage on the butt than I am used to, but I'm glad I tried it out–it's more flattering on my pear shape than I thought it would be and it made me less afraid of showing more booty.
This suit works for chasing a kiddo on the beach but would probably be best for a chill day with friends by a pool. Still, it wasn't awkward to wear in front of my parents/strangers.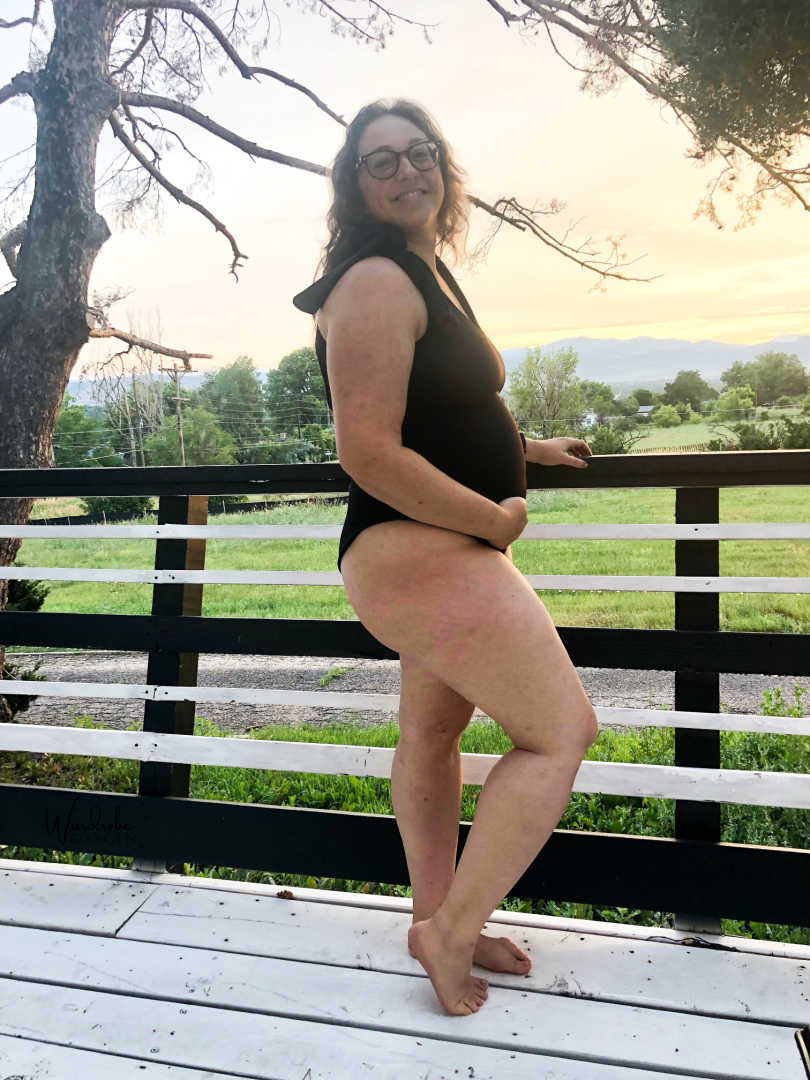 I definitely felt more supported in the bust with the straps crossed (I'm about a 36DD or E, but I didn't feel like I was going to have a boob fly out with the straps tied the normal way either. I occasionally felt like I was nearing wedgie territory, but I think this was due more to my being unused to a higher/smaller cut than any problem with the suit itself.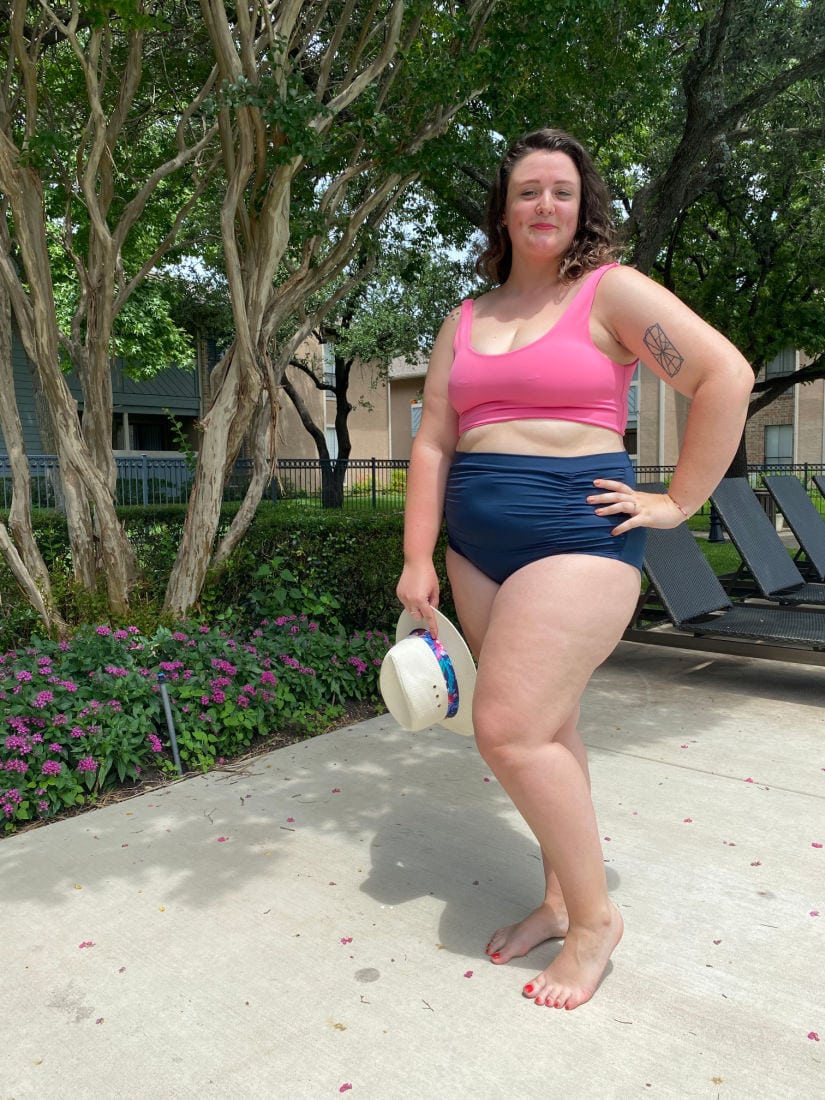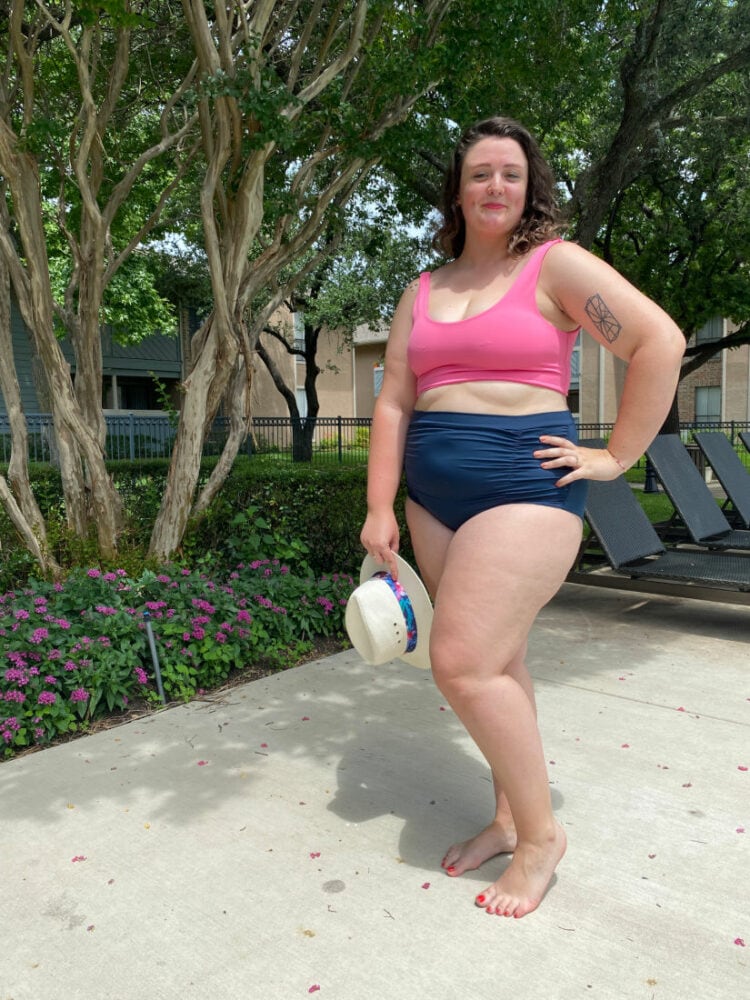 My swimsuit pick was the Ruched High Waisted Bikini Bottom, size 1X, in the color Indigo, along with the Scoop Neck Swim Top, size 2XL, in the color Rose. I love a mis-matched swimsuit, and a high-waisted ruched bikini bottom is my go-to first-choice; I knew both pieces would go with some of the other swimsuits in my collection. The bottoms only come in Black and a Dark Teal, and I think there is an opportunity for there to be brighter colors available.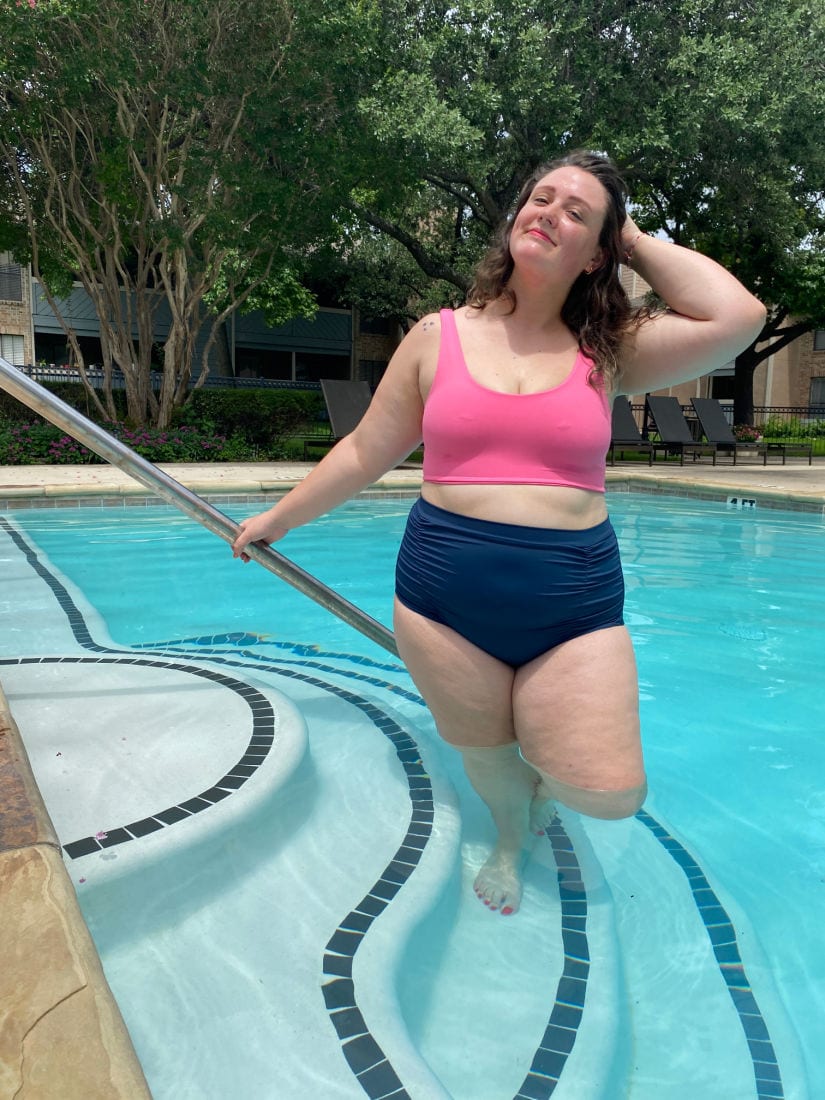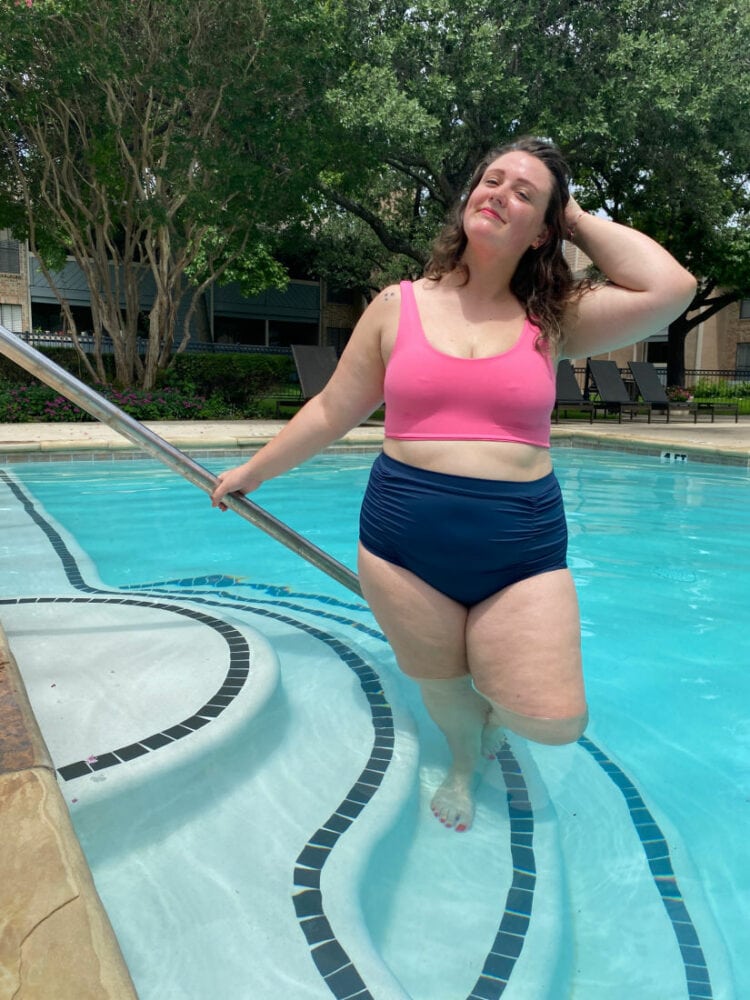 I'm a pretty true size 18, with a 40DDD/E wide-set chest. I typically order a size 18 swimsuit from Lands End or a 2X swimsuit from Torrid, and my frequent issue is with length – I'm 6' tall and a lot of that is in my torso. My top in a 2XL corresponds with a 40D-E size and is true to size. I did slightly size up in the bottoms, while I'm an 18 the XL size corresponds to 16-18 and I didn't want them to be tight.
I went up to the 1X (20-22) size and was very comfortable, and the length was not only sufficient but these are easily the highest 'high-waisted' swimsuit bottoms I've ever worn. These were both totally opaque for me in the water, and didn't become heavy or dragged down in any way.
These bottoms are AMAZING. Super stretchy and thick without being tight or uncomfortable in any way. The waistband is comfortable and doesn't roll down, and the booty coverage is full without making me feel dowdy. As a woman with hips, the coverage in the front crotch was also amazing – it goes all the way to the bend of my leg, and as someone whose preference is not to show too much bikini-line hair and yet also hates bikini-line hair maintenance, this covers everything beautifully. Bottoms are easily a 10/10 on my scale.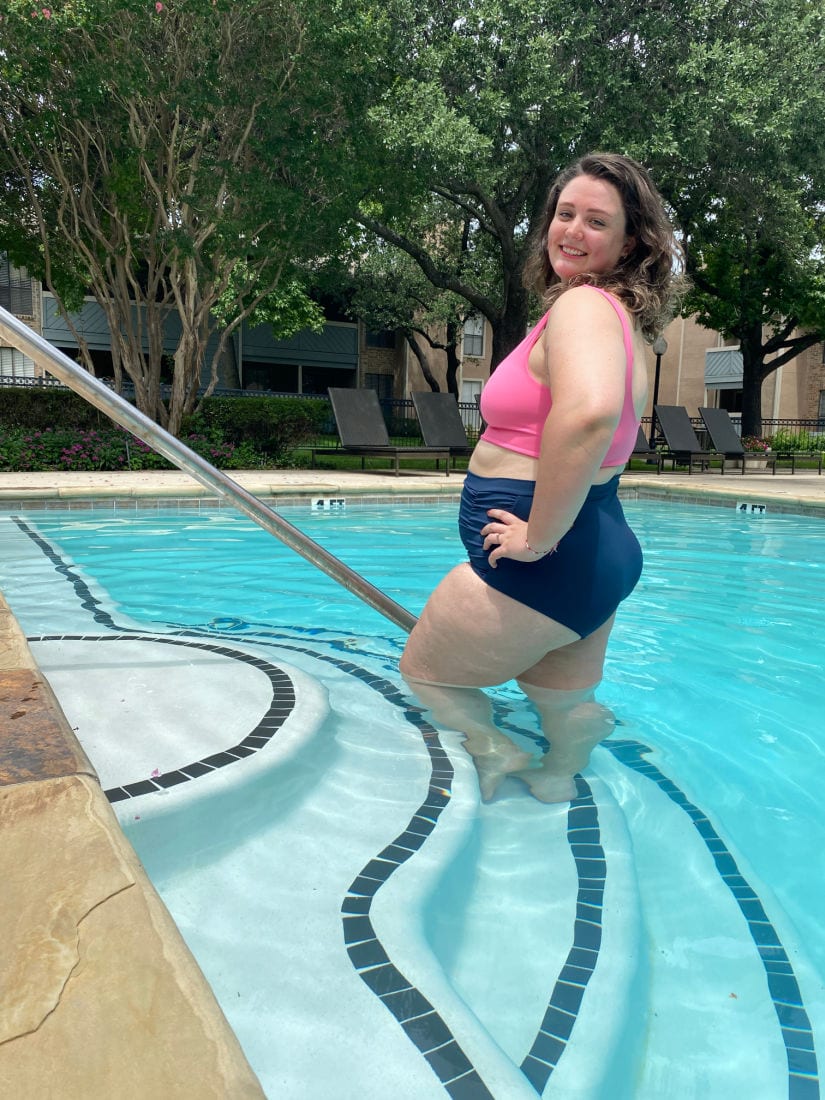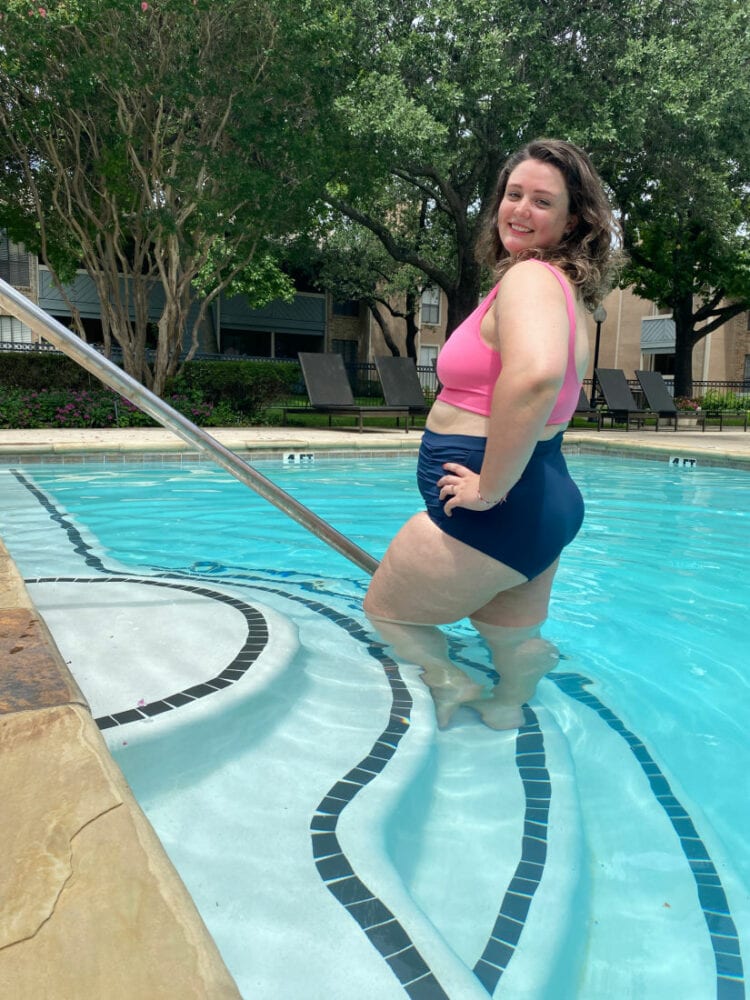 The top is a pretty basic swimsuit top without seaming or structure, scooped front and back. Again very stretchy and comfortable, but enough hold to bring my wide-set chest together and enough fabric not to be showing underboob. I wouldn't trust this top to run or play sports in, but it does hold up to walking around, lounging, and swimming/floating. Something else to note as a fairly 'nipply' person, there is no padding on the top. I'm fine with it, but I know a lot of people wouldn't prefer it. Top is a 7/10, it's a good basic but I think I'll be more likely to wear the bottoms with an underwire-style bikini top from another brand for more support.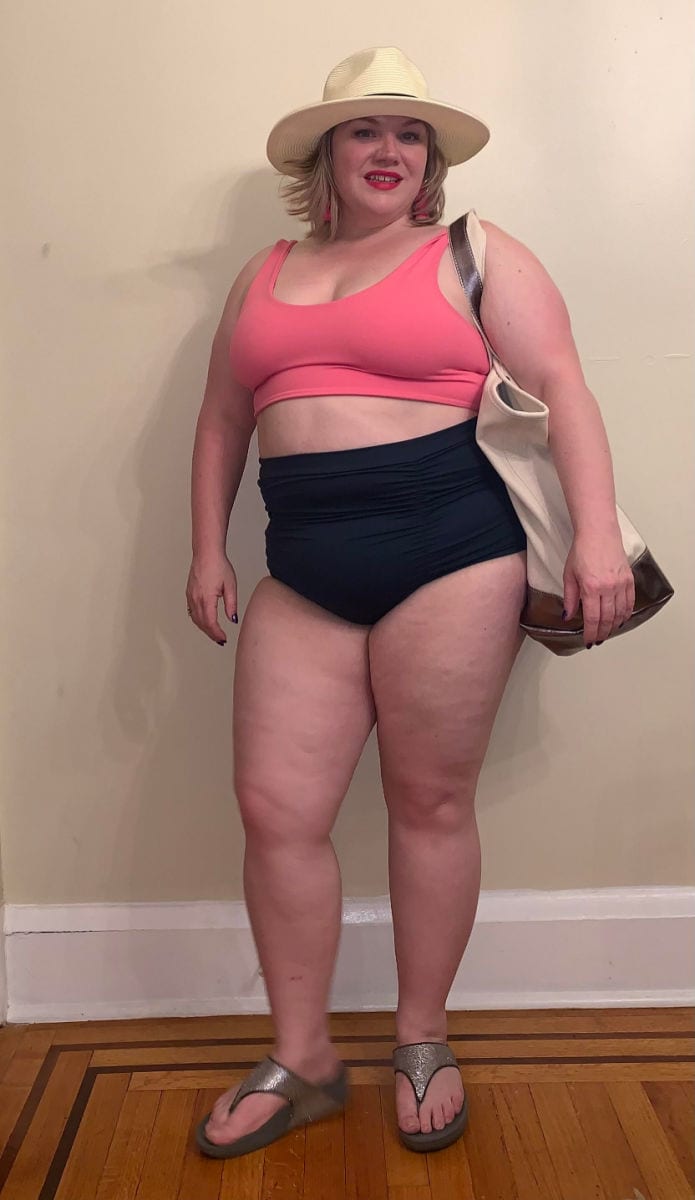 My measurements are 5'3", 48" bust, size 42G, 41" waist, 52" hip, usually a size 18-20 petite 2x is pretty normal for me in bottoms. Usually, I order a 1x for tops, however, I have a sports bra in 2x from Miami Fitwear, and I find that while it is comfortable, I don't have as much coverage on the side boob area as I'd like. I think the 3x was the correct choice for the top.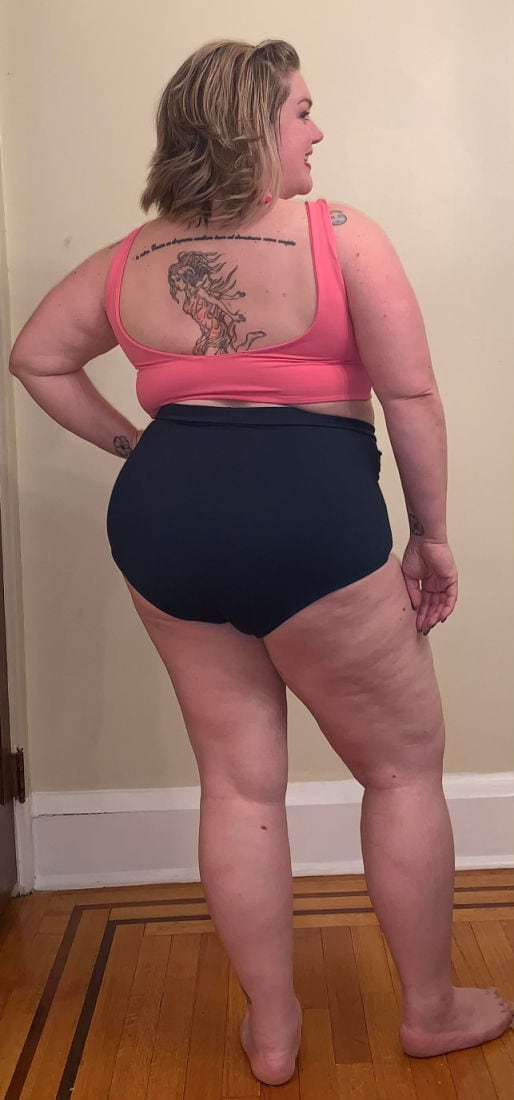 Fit: the bottoms are true to size and are extremely comfortable. The fabric is just really nice, a bit more substantial than regular swimwear, possibly because it is self-lined instead of lined with regular swim lining. The coverage is actually a bit more than I'd usually go for, but there didn't seem to be anything between this and the smaller scoop style bikini bottoms, which is a style I'm not comfortable in.
I do not have to tug on the legs or pull up the waist. I did some laundry and chores, putting things away, bending, etc, and the waistband did not budge, which I love in a high-waisted style. I have a "B" belly, and I hate for things to roll down to the in-between area. I would definitely wear them for the beach or the pool, and even some moderate activity.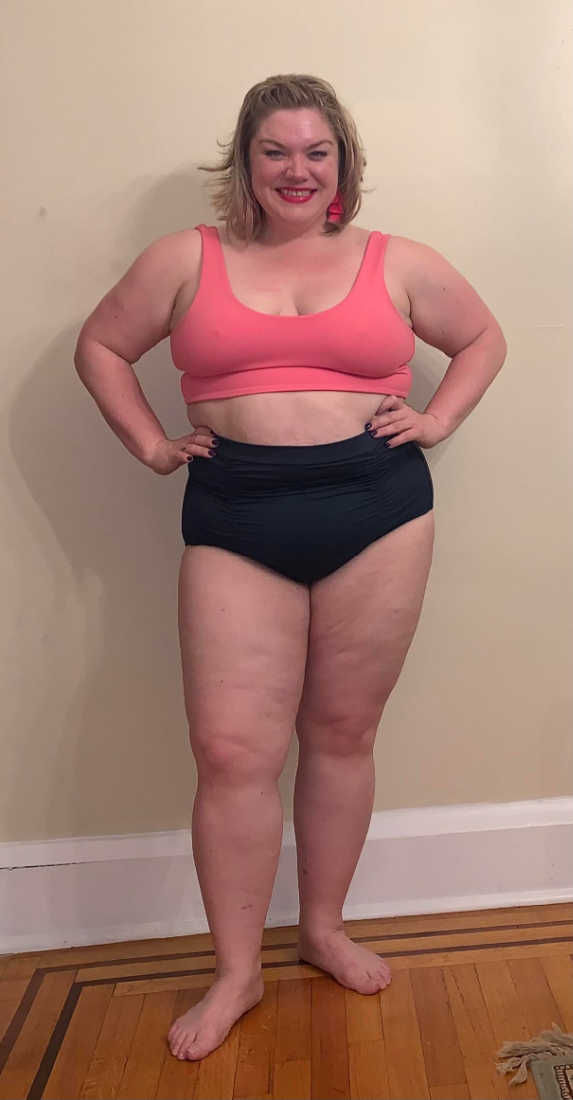 I was worried that the top would have zero support and that I would hate it, but it's actually very nice! My bust feels supported and I feel confident, even without wires and a lot of structure. I will say that while I have a large bust, I do not have heavy breast tissue, so I don't require heavy-duty support to feel comfortable.
The tank-style top has enough support from the compression fabric, but somehow doesn't smoosh my boobs into a sports bra shape, which is great! The straps are long for me, and I will be shortening them for just a bit more support and lift. This is an adjustment that I have to make to almost every bra, tank, and bathing suit I own. In my puttering and chores around the house, I did have to pull up the straps and readjust in the top, but this is most likely due to the straps being too long for me. I have enough coverage on the sides, and the torso length is good.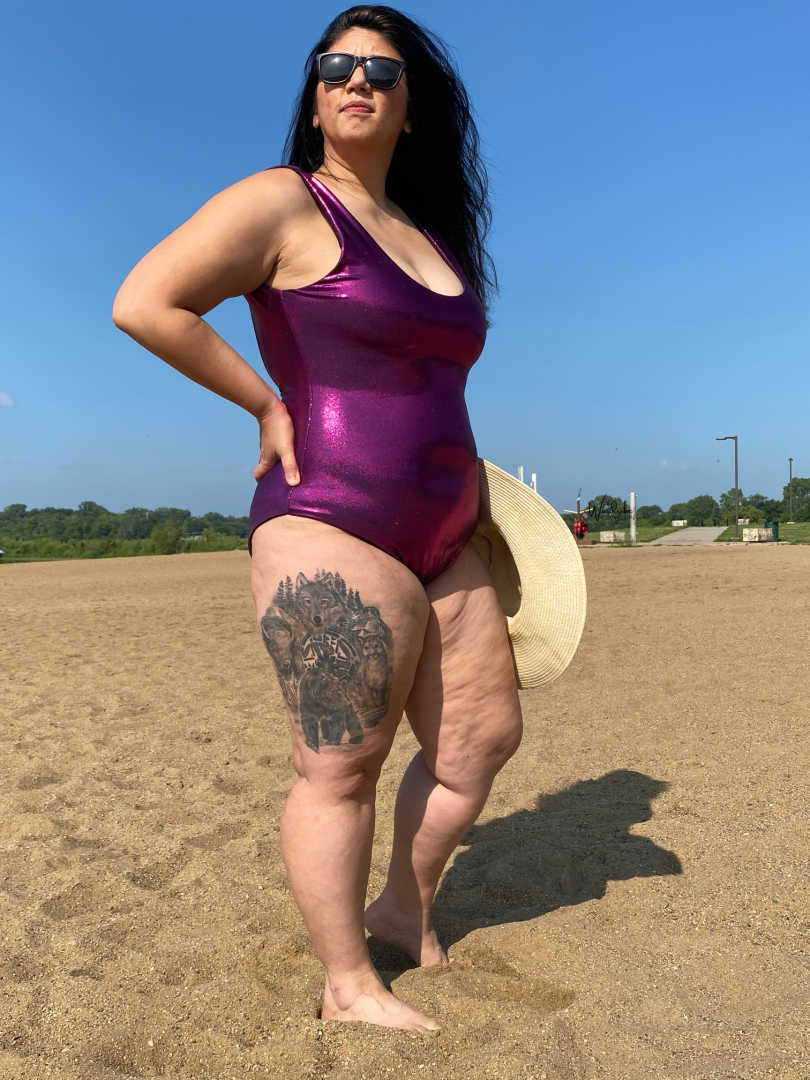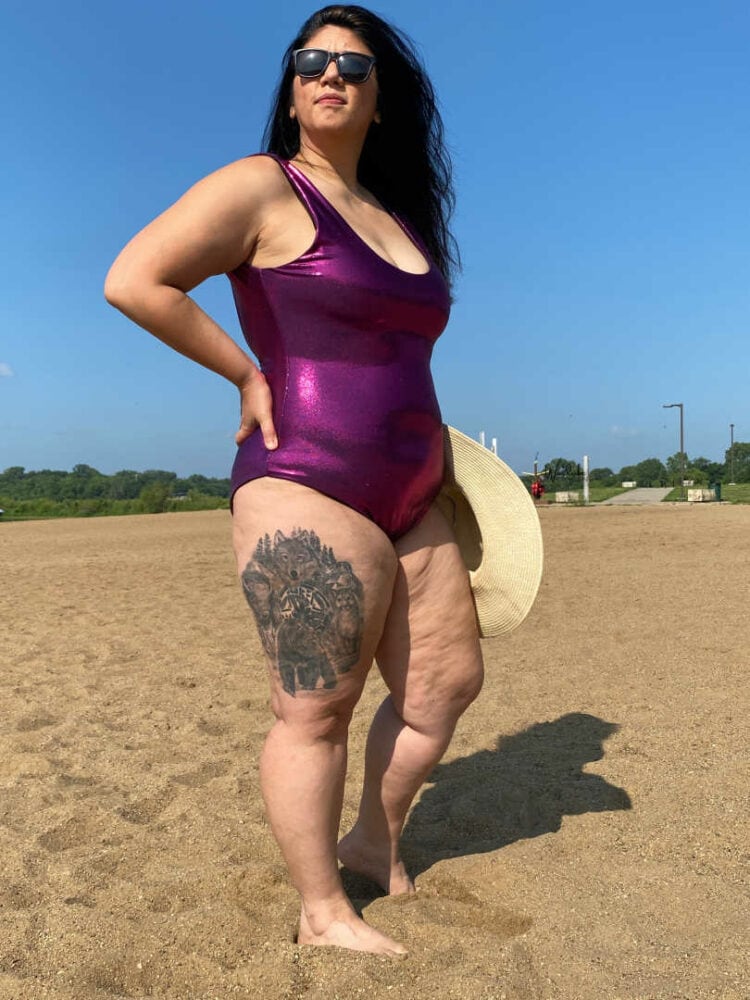 Name: Laurel
Age: 44
Location: Midwest, US
Miami Fitwear Swim Chosen: One-Piece Swimsuit
Like any woman, my size fluctuates. I can range from a medium to an XL depending on the material, cut, style, etc.
My current swimsuit is a size 12, so I ordered the one-piece swimsuit in fuchsia in a size XL. I ordered an XL based on the bust sizing on the size chart.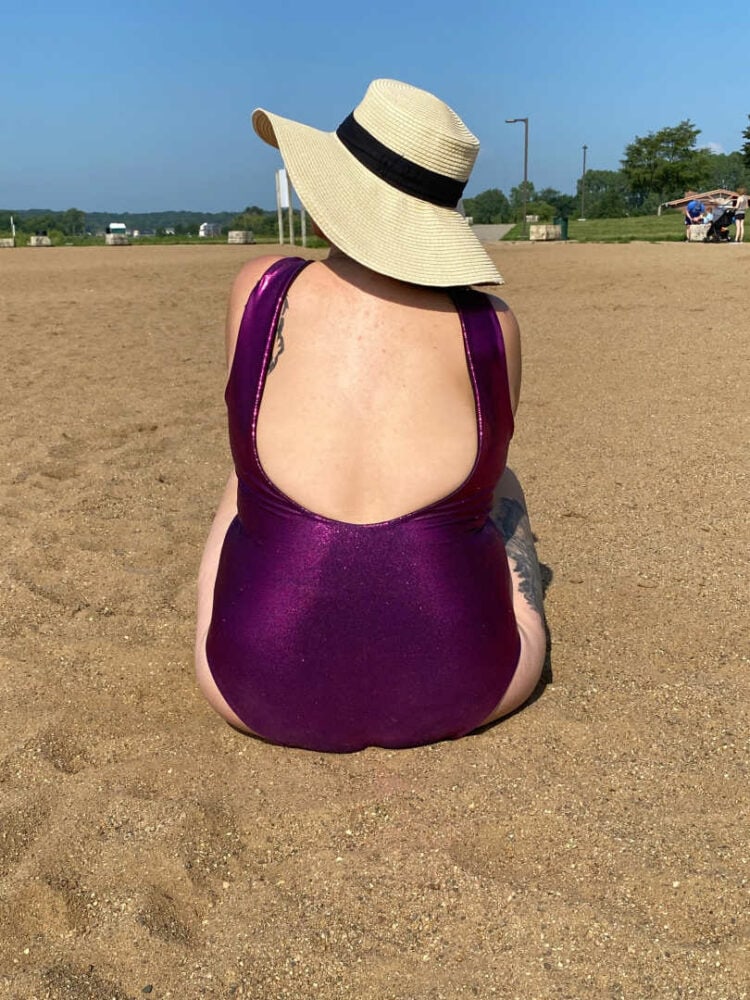 The suit fit well in around my bust and abdomen, however, the shoulder straps kept slipping, the crotch area had a lot of extra material, the buttocks area kept sneaking inward rather than staying outward and the scoop of the chest was a bit too low for me as someone who loves swimming. I don't believe going down to a large would benefit based on how well in fit in my main/core areas.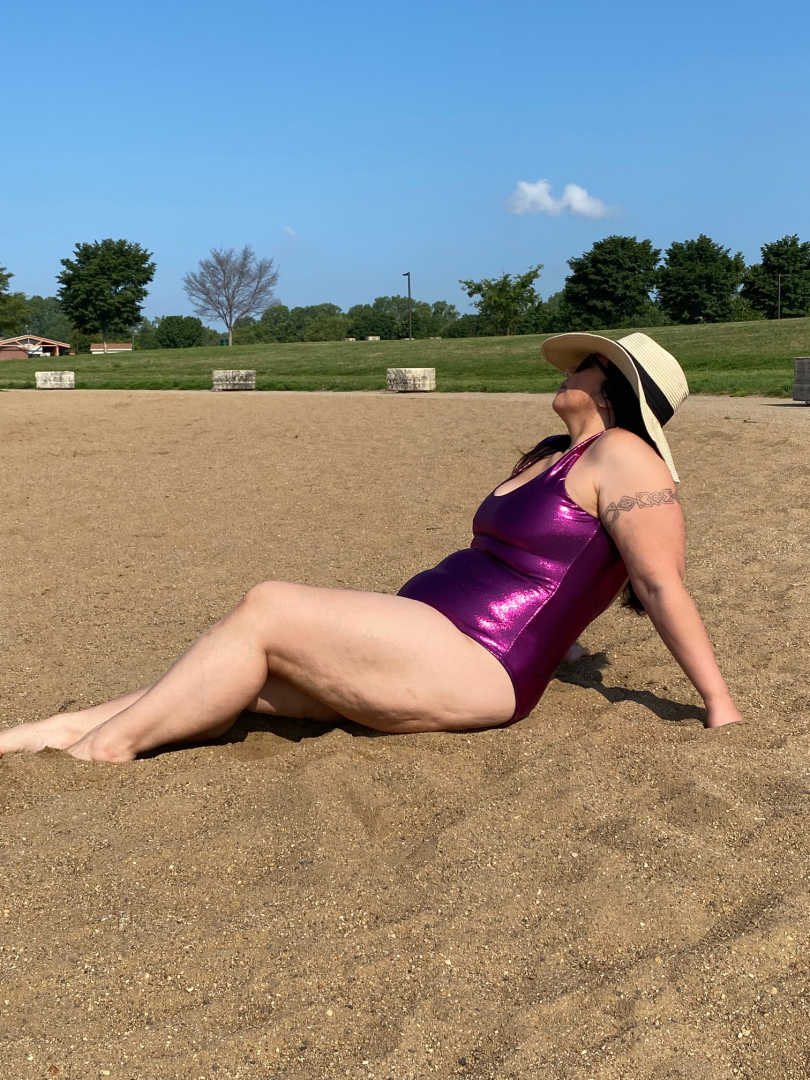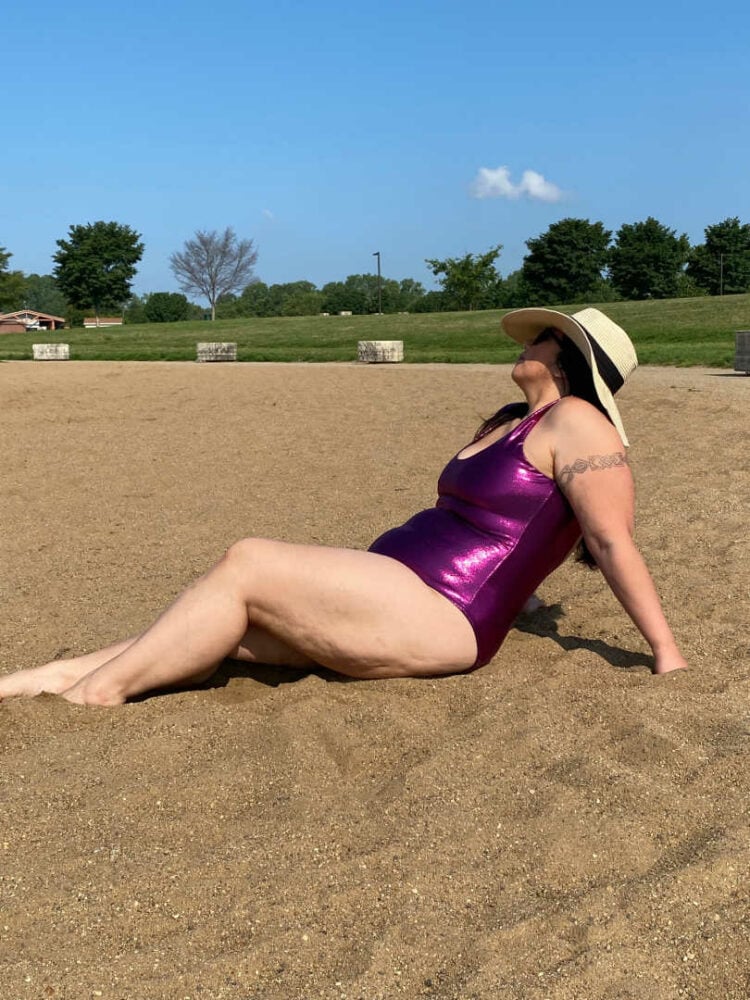 The suit color is gorgeous and vibrant and great for sunbathing, just not for the type of active swimming I tend towards.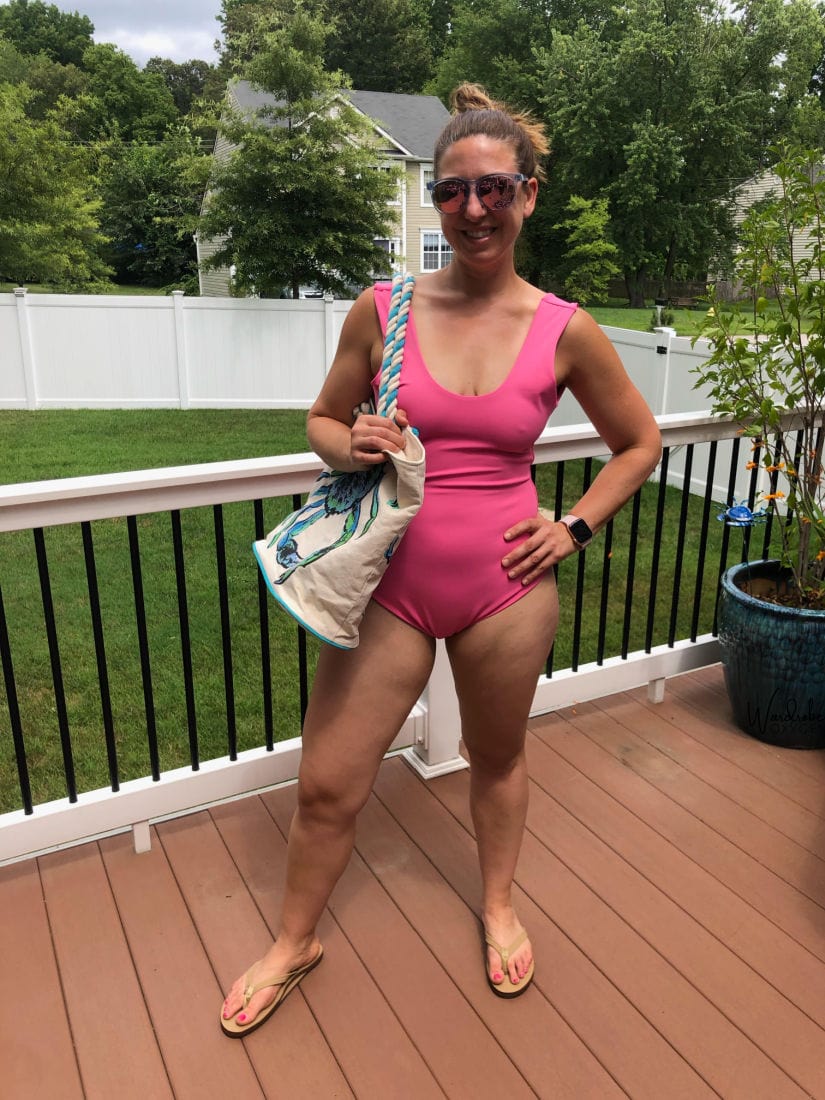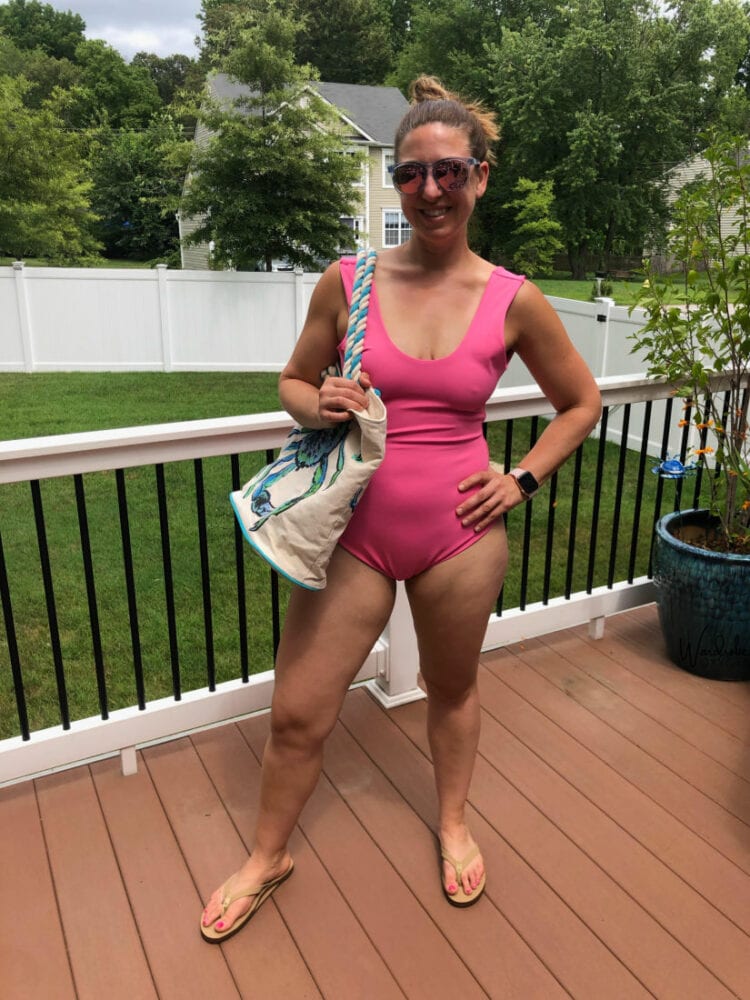 Name: CMH
Age: 39
Location: Maryland
Miami Fitwear Swim Chosen: One-Piece Swimsuit
I had high hopes for the one-piece swimsuit I ordered. I ordered it in a color I normally wouldn't have to try something different, and I ordered in a size L because I wanted to be sure it wasn't too tight along the stomach / waist line. I am typically a size 10/12 and when choosing between a M and an L, I always go L. I would have liked it to be a little less tight in the stomach area but it was too large in the bust.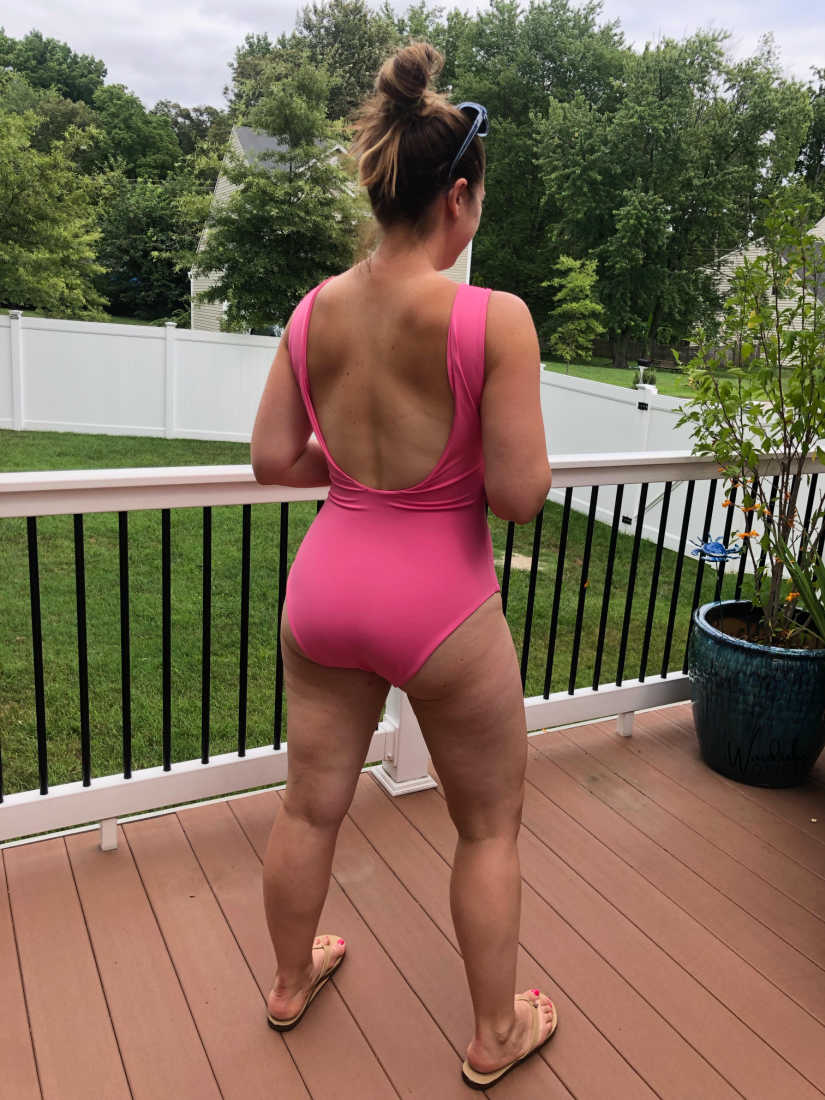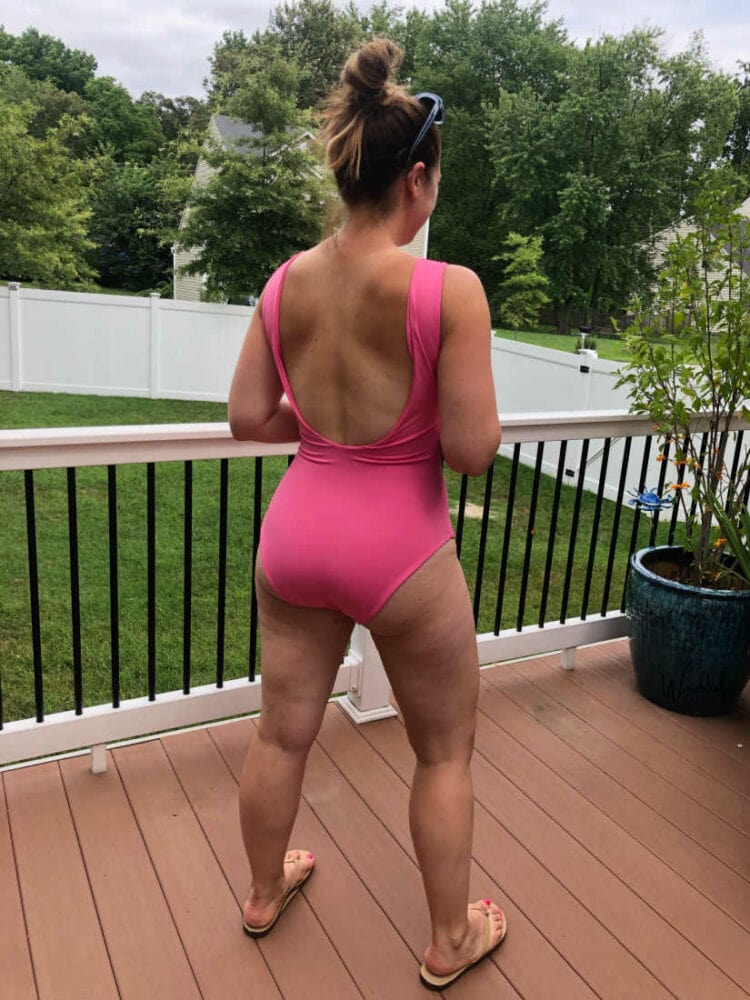 The color of this suit is really pretty and the low back was a fun touch to make an otherwise "normal" one-piece more appealing. The fabric is nice and stretchy and feels thick but it didn't have the compression component that I was really looking for. I also felt that it was a little cheeky, more than I would normally choose.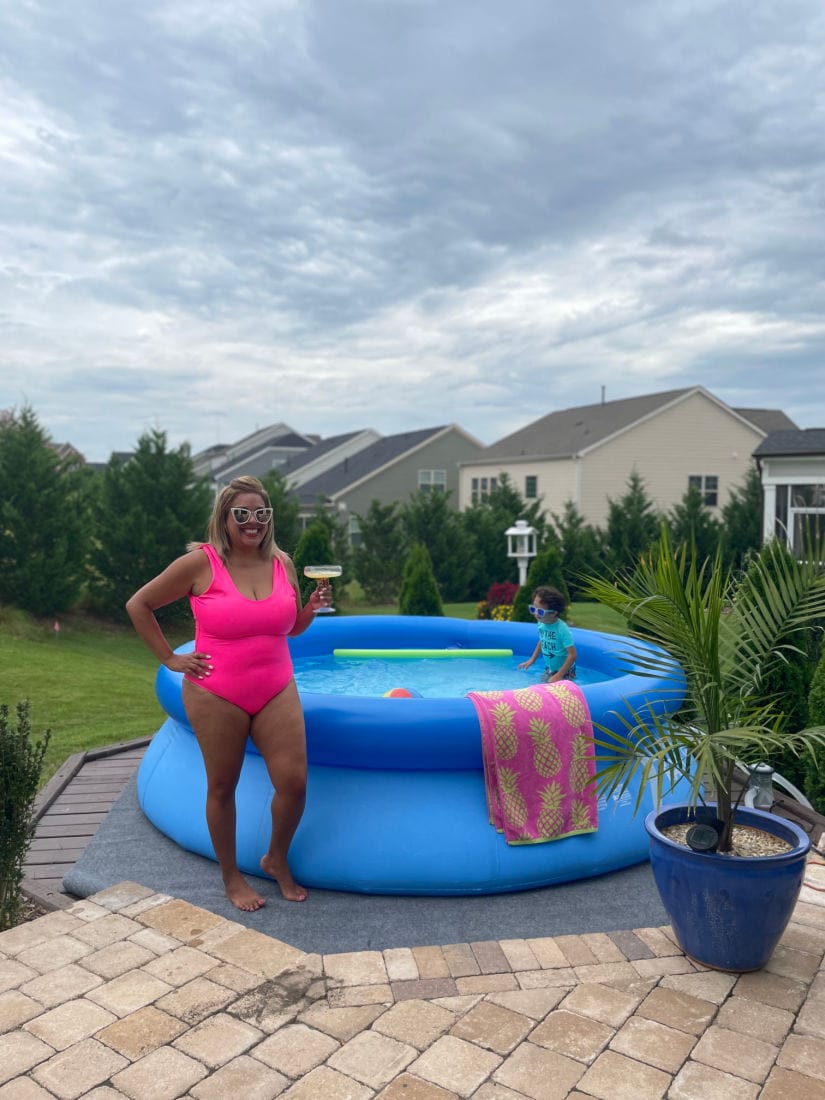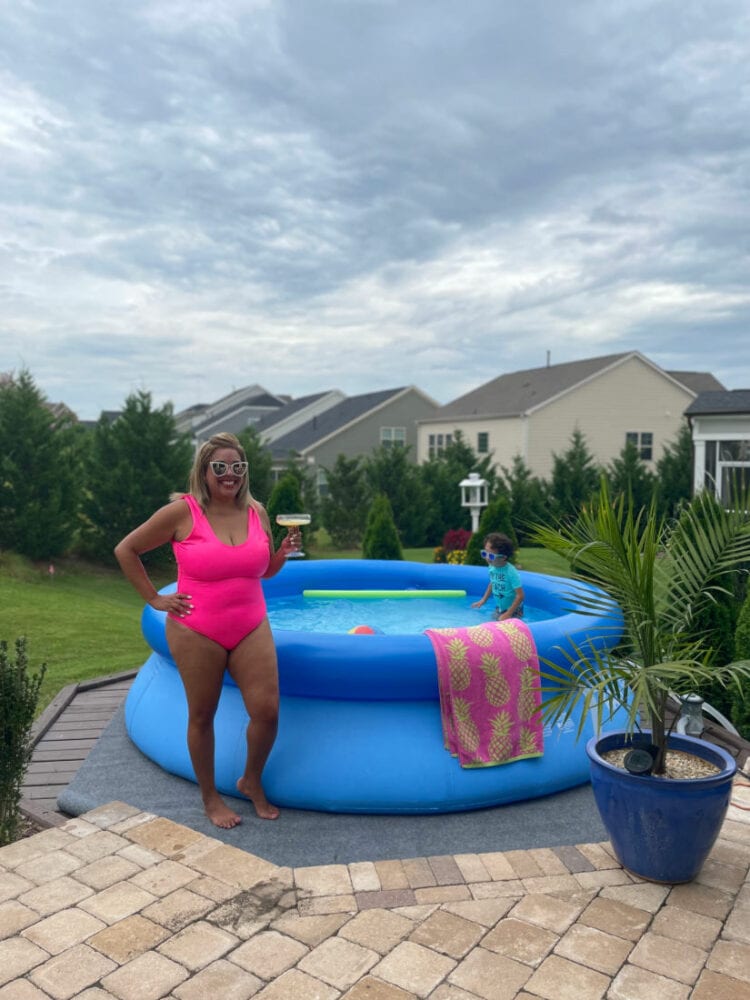 Name: Jessica
Age: 41
Location: Raleigh, NC
Miami Fitwear Swim Chosen: One-Piece Swimsuit
I ordered the XL in this suit because I have a large bust (38DDD) and carry most of my weight on my bottom half and I wanted to make sure it was comfortable. I'm usually between L/XL, however, in swimsuits I tend to size up. I felt overall it was true to size. I like the one-piece for pool activities and chasing after my toddler.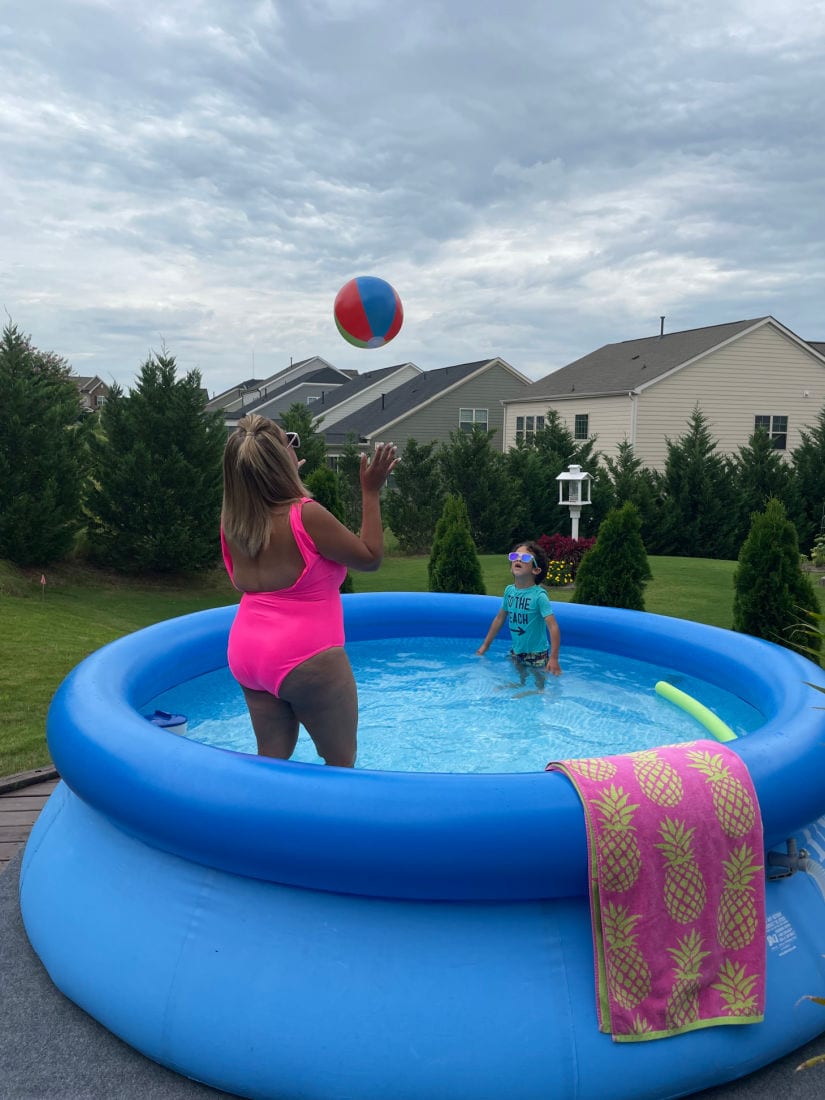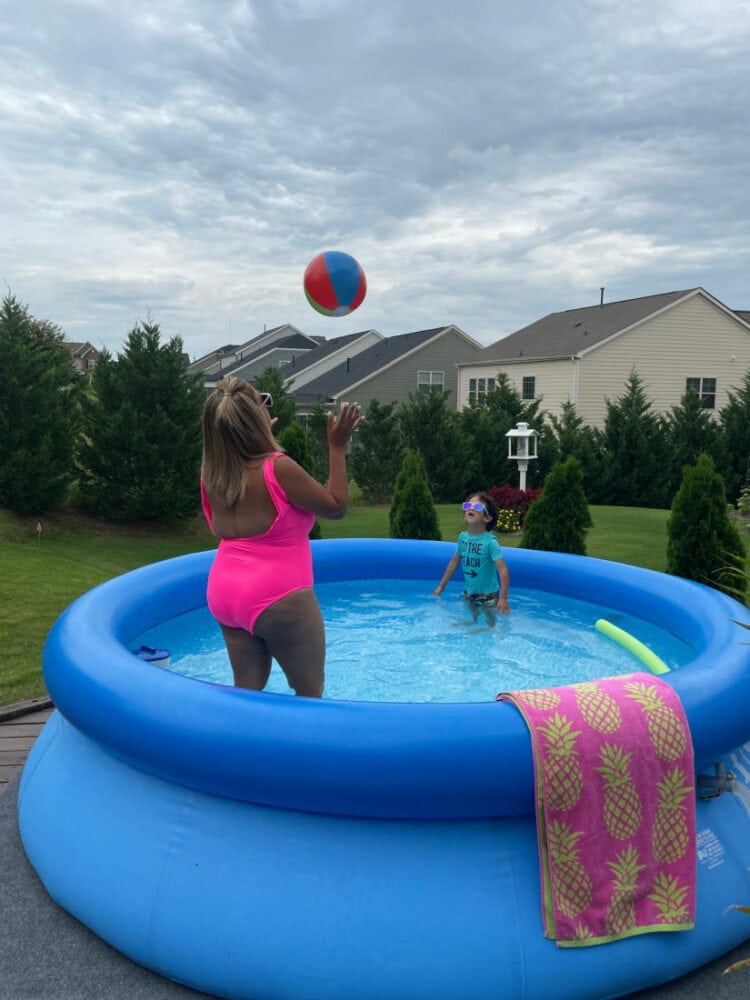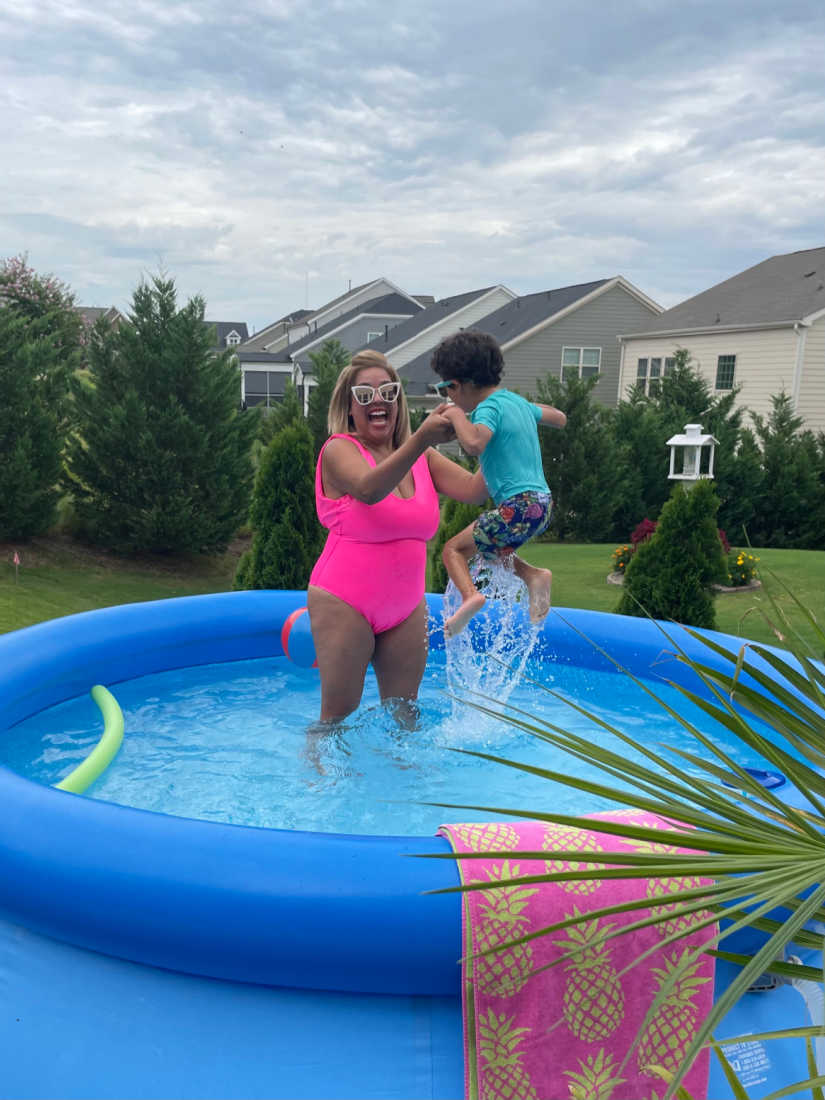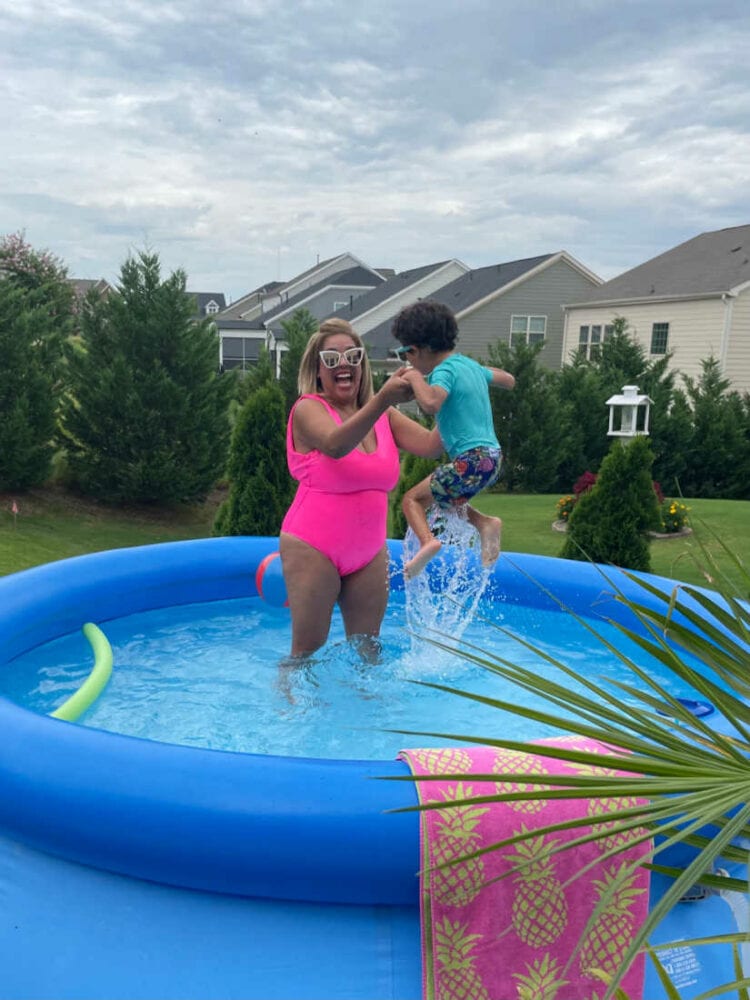 The material is nice because I feel supported. My only critique of this swimsuit is the top half was a bit too long and it gapped around the armpit and in the back. Overall, I loved the color and material.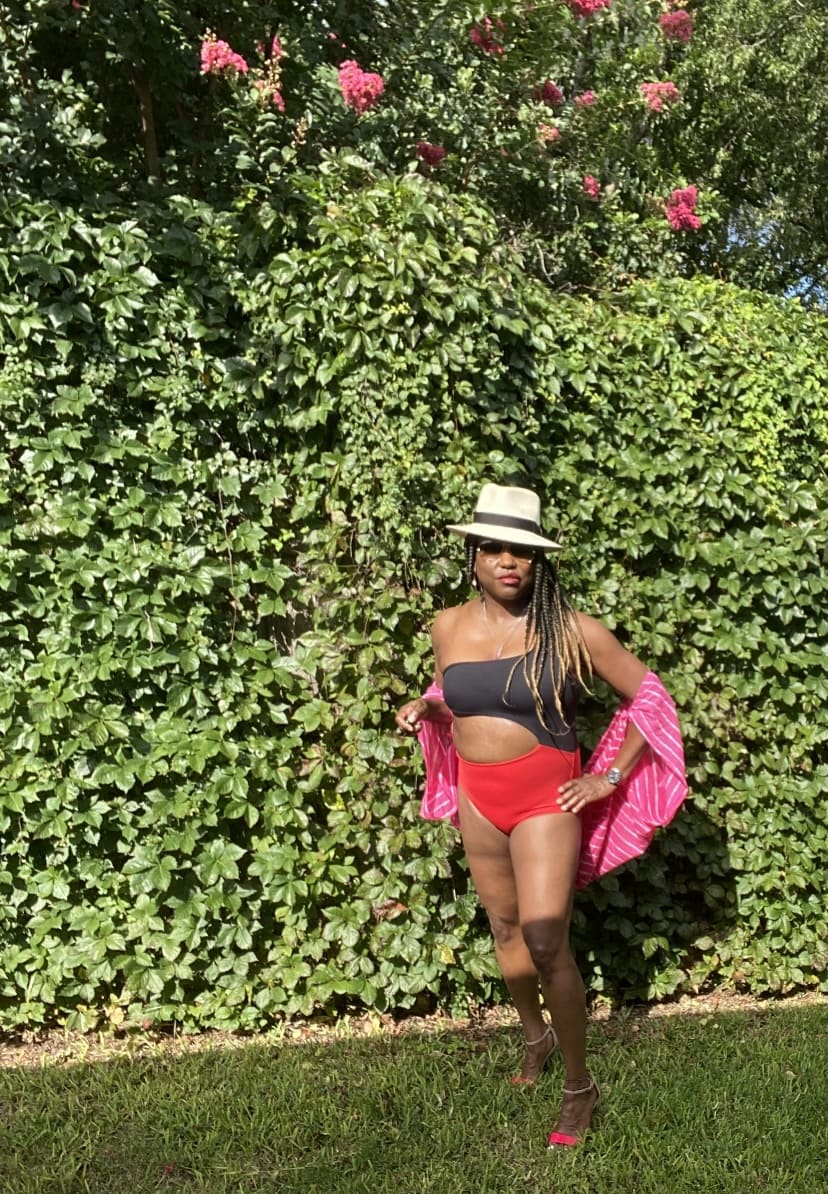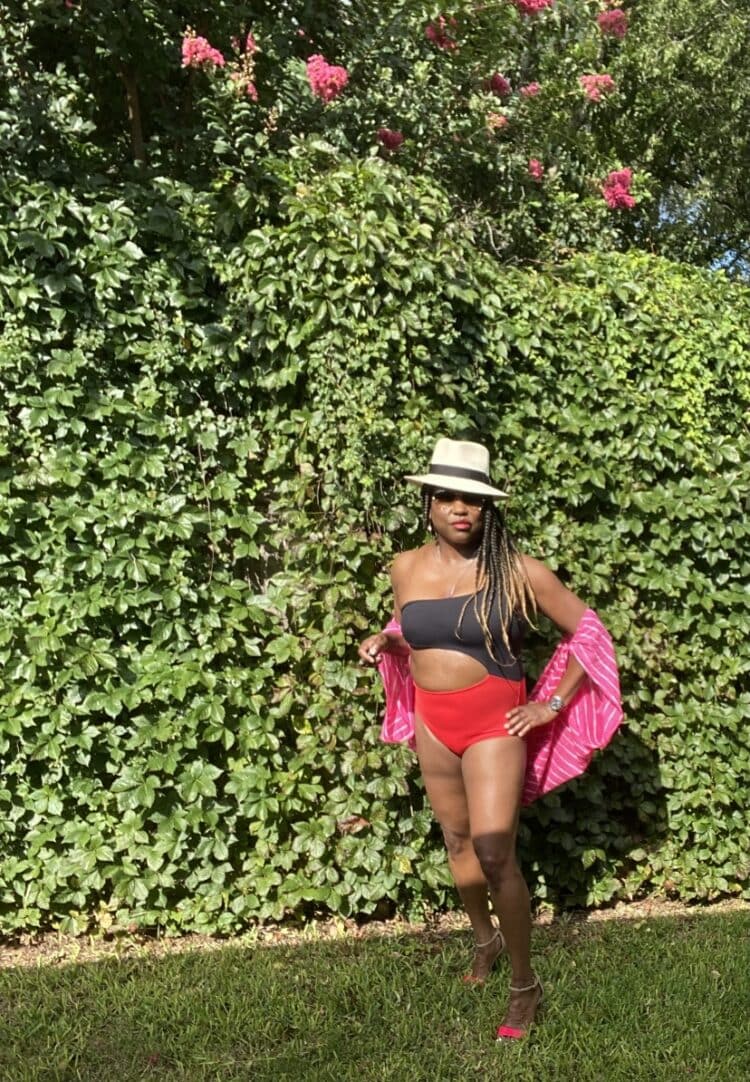 I ordered the Miami Fitwear Duotone Peek-A-Boo one-piece classic in red|black, size large. Because I am not one to really wear swimsuits – I got a size large because of my voluptuous boobies (DD) and wanted to make sure they would be covered sufficiently. Bottoms for me are usually a medium just cause I don't have a lot of junk in the trunk as they say, lol…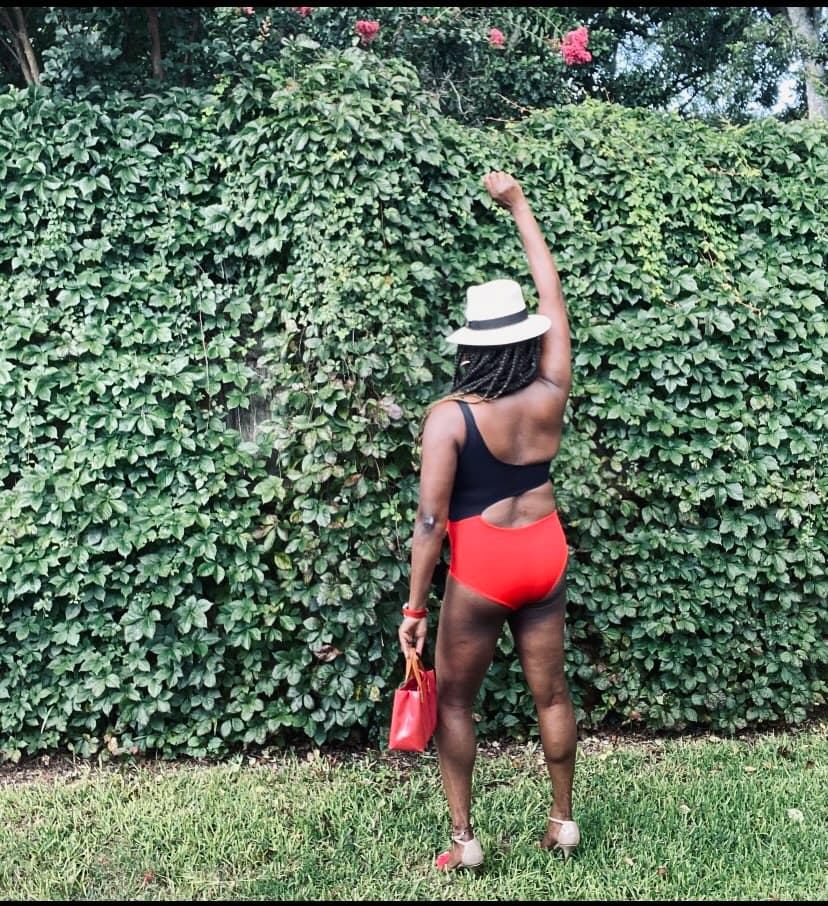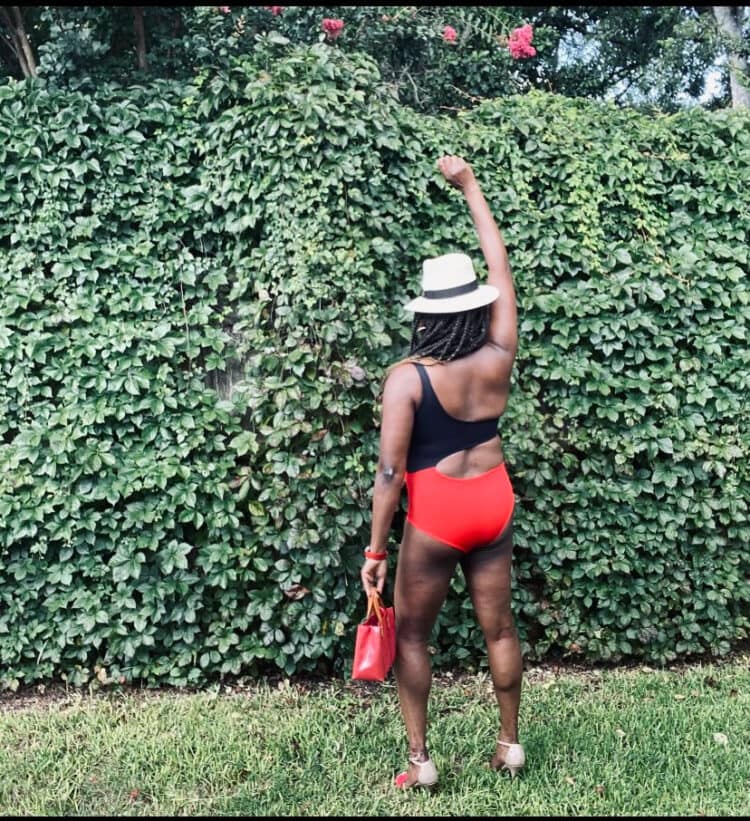 Anywhooo, I liked the feel of the suit, it was soft and not super binding when I got it on. I did wish there was a little more fabric on the top so the material wouldn't roll, but I think an x-large would have been too big. The bottom fit fine; however, I did think there was a bit too much fabric in the crotch area. I would definitely wear this on the beach, at a swim party, or the pool. I love the color and the peek-a-boo detail. Overall, it's a sexy, fun swimsuit and I am happy with it!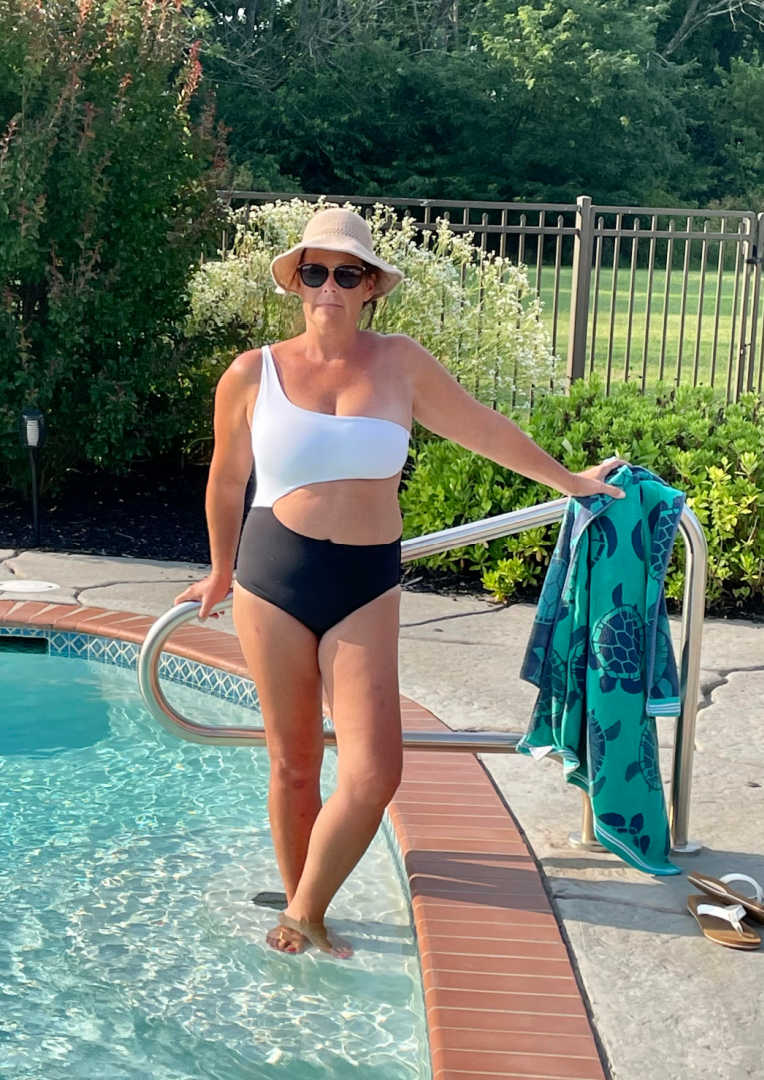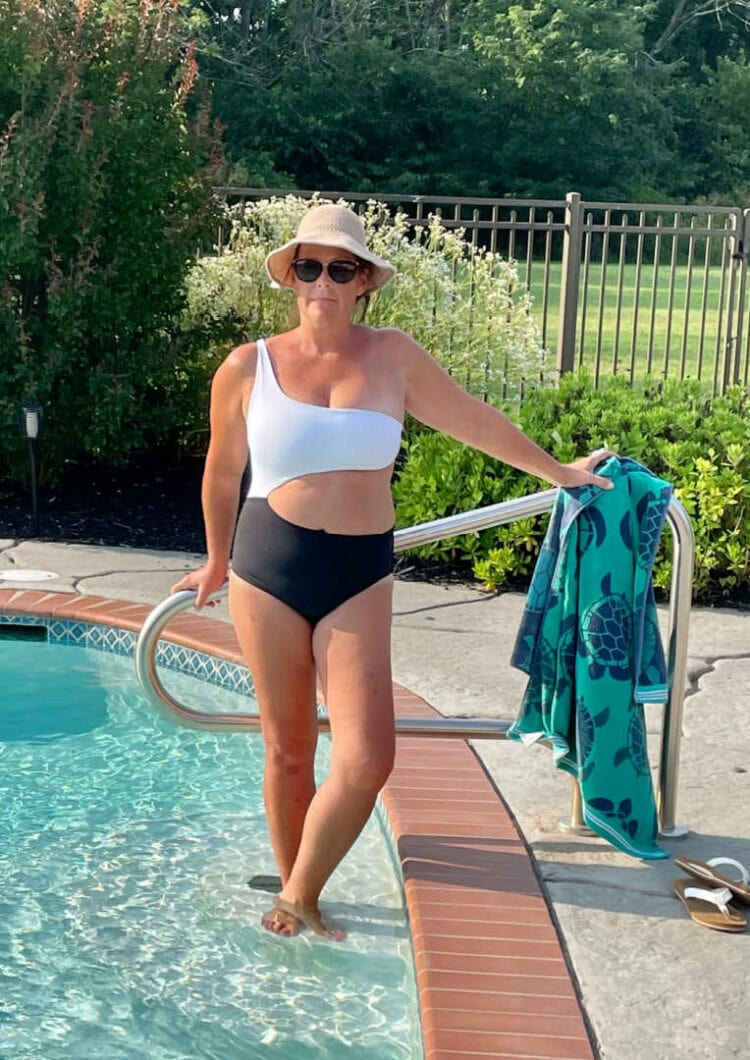 Names: Erin, Kate, and Olivia
Age: Erin is 48, Kate is 42, Olivia is 20
Location: East Coast, US
Miami Fitwear Swim Chosen: Duo-Tone Peek-a-Boo One Piece Classic (they're all wearing the same suit in the same size!)
I am Erin, 48 years old, located on the east coast. I ordered the peek-a-boo one-piece classic because it looked fun! I love the classic look of black and white and thought it offered just enough coverage to not be self-conscious if a neighbor caught a glimpse of me in our backyard pool. I used the measurement chart to choose my size (XL), but after trying it on, I wish I had sized up! For reference, the suits I currently wear most often are Jantzen one-pieces (size 14), and a Target tankini (large). In the past, I have liked Lands End suits in 12/14 Long due to my long torso.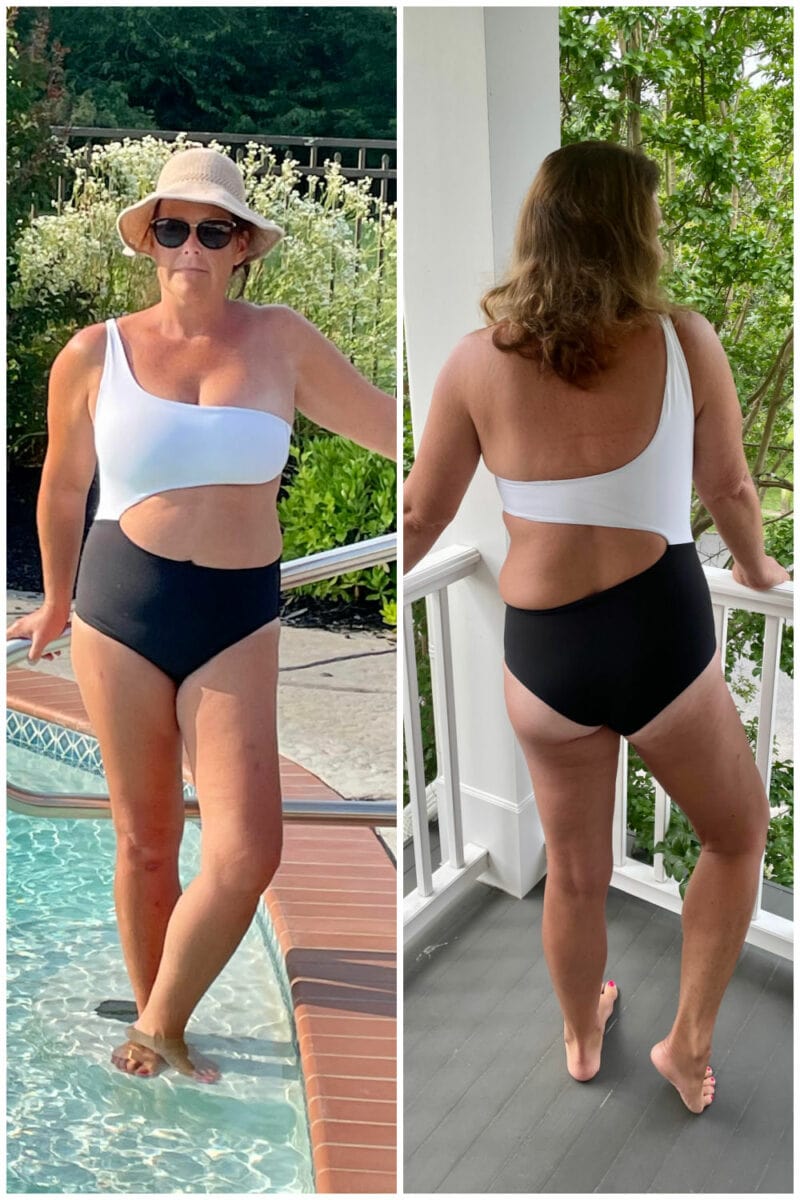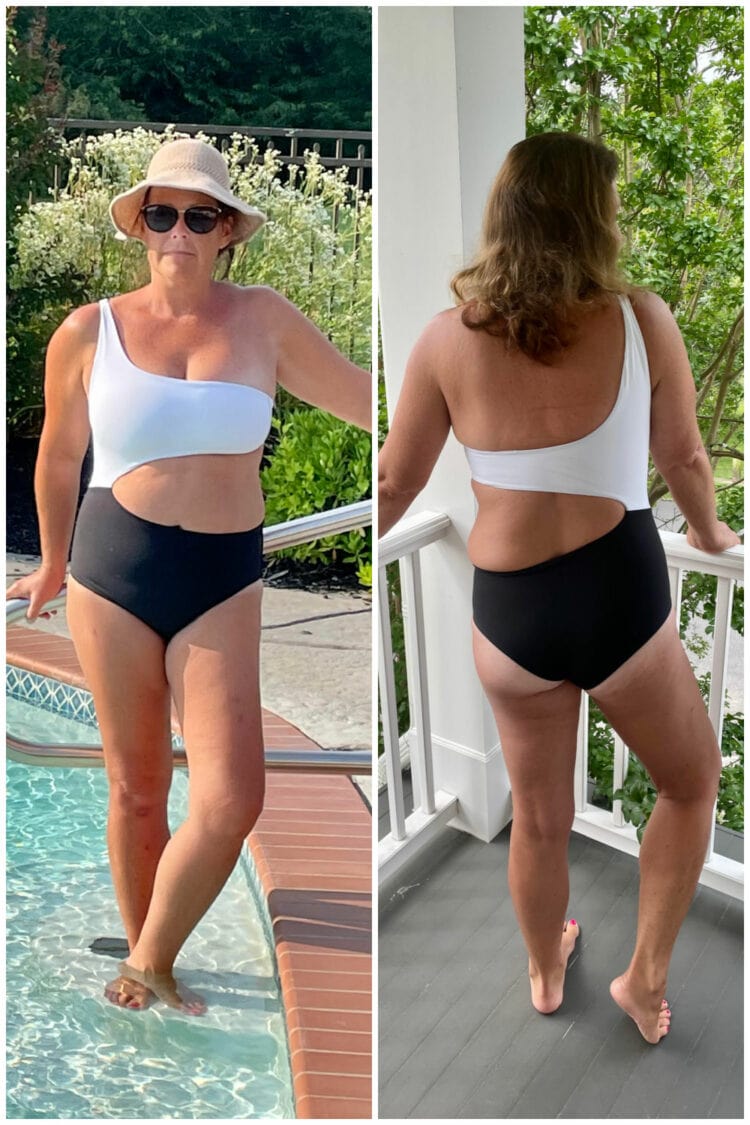 This suit is made of a great fabric – more like workout wear than a standard swimsuit. Very soft and stretchy! I love that it is double layered and tagless. Unfortunately for me 38DD, there is just not enough coverage up top, (UNDERBOOB!) or on the butt. That being said – it was actually pretty flattering – more so in pics than in life, in my opinion. Also – the white top was not at all sheer after getting wet, which is very tough to find.
Since this suit in this size didn't work for me, and I received it while on a family vacation, I passed it on to a couple of family members to test it out!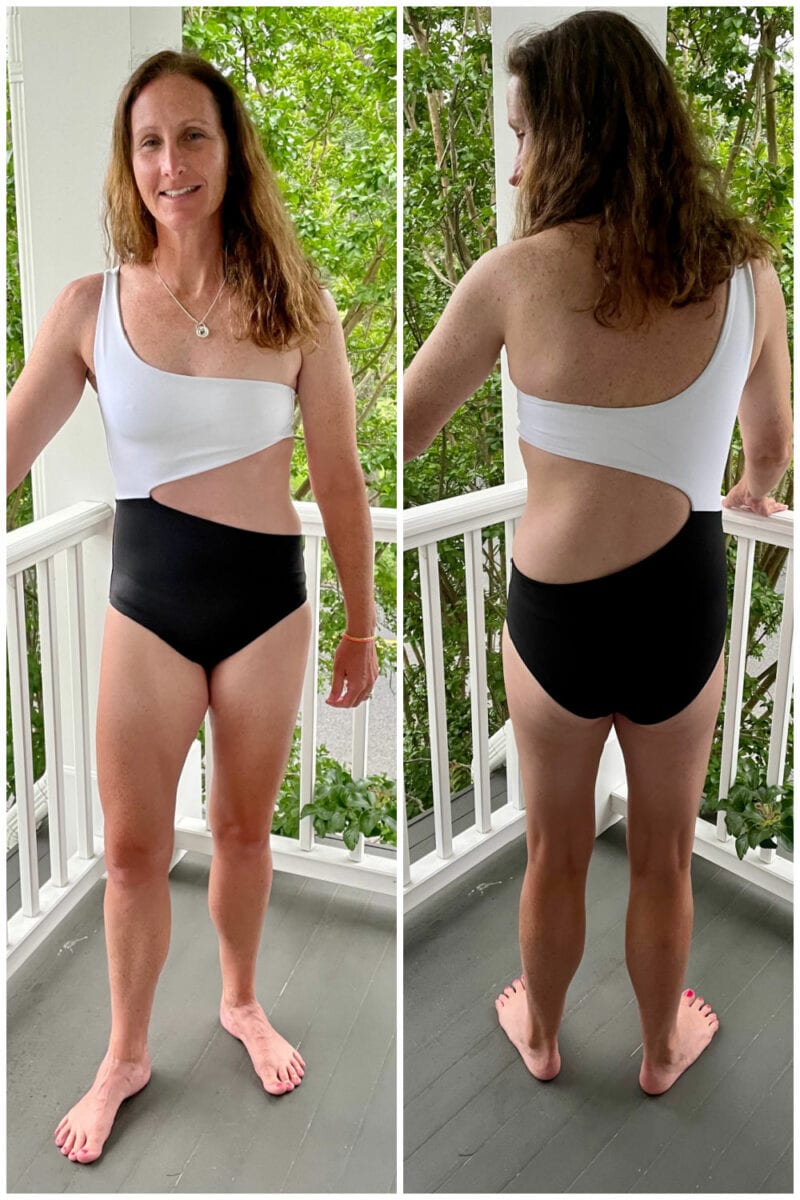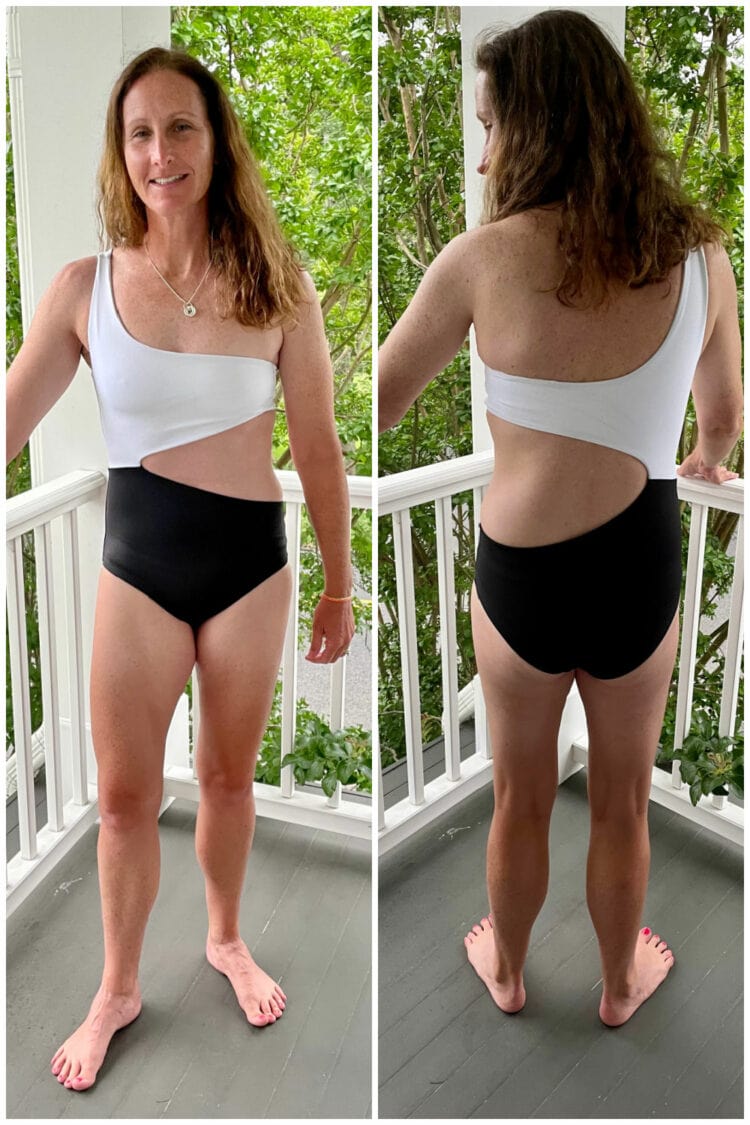 Kate, age 42, is my same height but about 40 lbs lighter. Despite her height of about 5'8″, everything about her frame is small. She usually wears a bikini bottom and swim shirt in a medium, usually from Target. Her #1 desire in swimwear is function, and she didn't get it in this suit. Most of her swimsuit time is spent boogie boarding, building sandcastles, and fishing. Someone with her body shape looking for more of a lounging/ sunbathing/swim-up bar type suit would probably love it!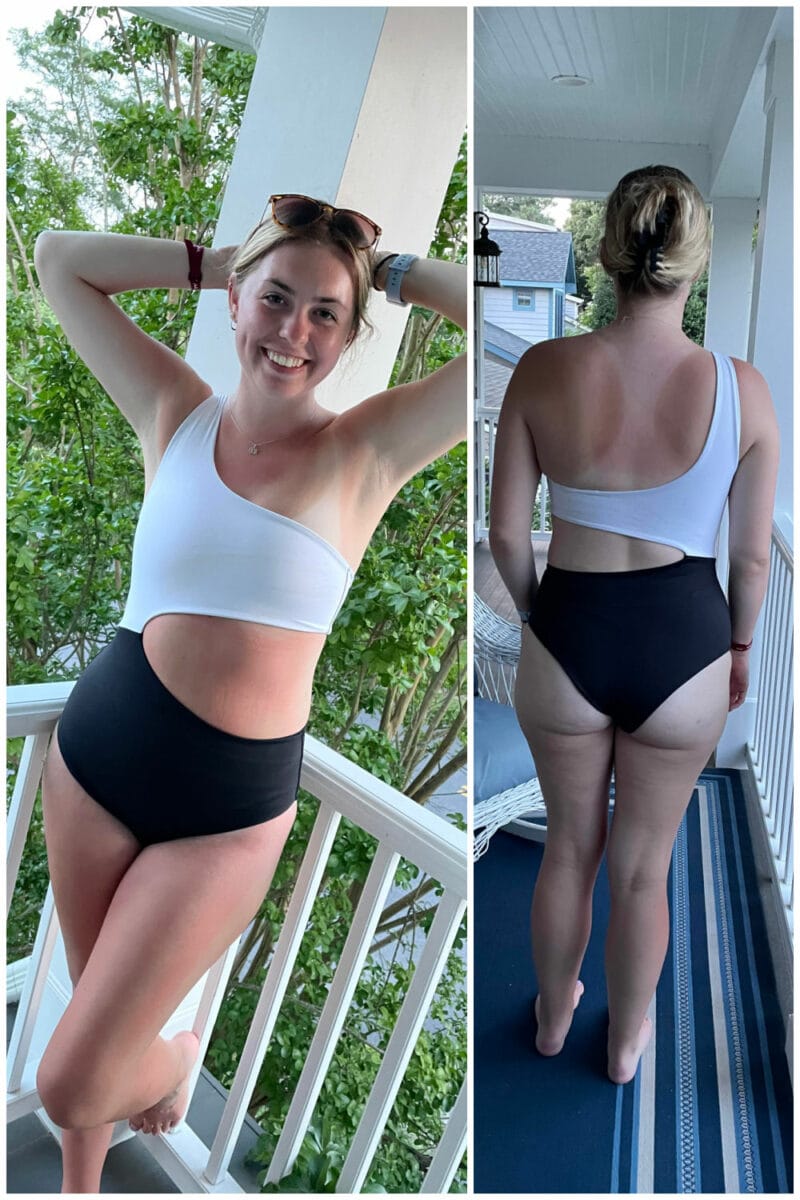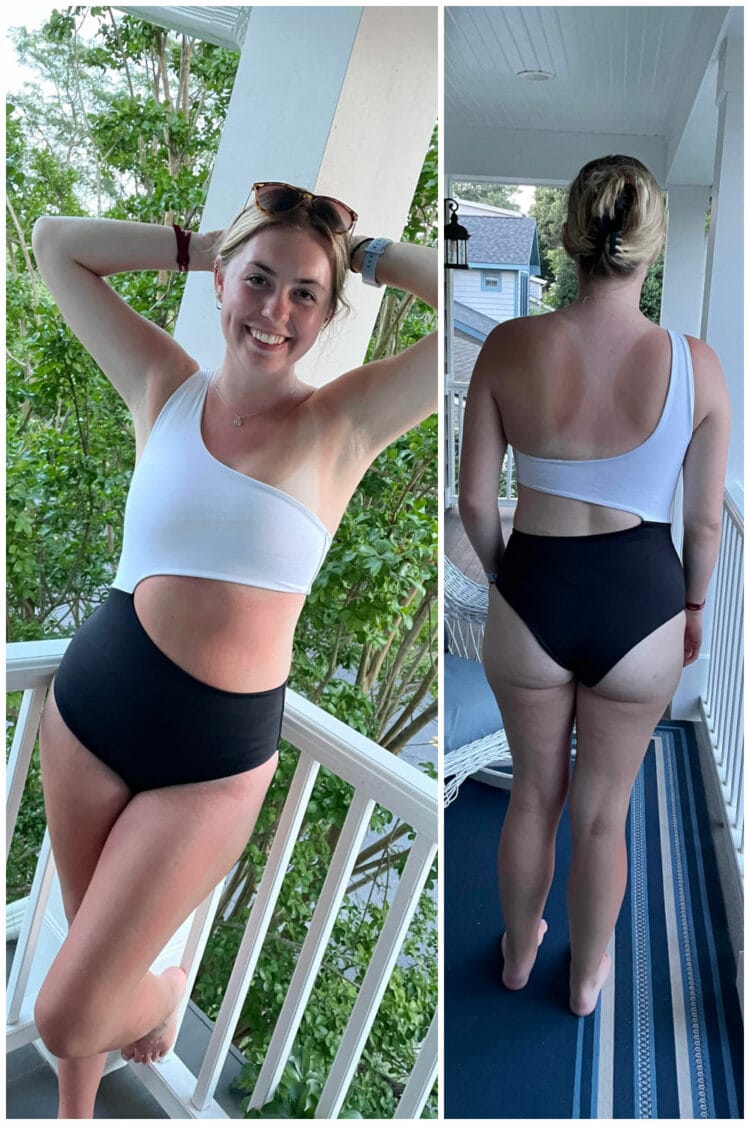 Olivia, age 20, same height, about 20 lbs less than me with more of a pear shape. She LOVED this suit! Because she has a smaller bust than I do the top part was perfectly adequate for her. She also is comfortable with a skimpier butt on a suit. She also isn't quite as active in her swimwear as Kate and I are since she's not playing with kids. However, she told me she would definitely wear this suit boogie boarding! So clearly, Olivia is being gifted this quality suit!
---
A big thanks to these amazing women who volunteered to be a part of this Miami Fitwear Swim project! It was so fun to collaborate with them and I believe their feedback will make Miami Fitwear Swim even more awesome than it is already. I am totally wanting a Ruched High Waisted Bikini Bottom after reading all these reviews!
Miami Fitwear has expanded their swim line! New fabulous prints, new tankini tops and bottoms. Click here to see the full collection and use WARDROBEOXYGEN15 at checkout to save 15%!
All who participated received the swimsuit of their choice for free plus were paid a fair rate. I know when I am reading online reviews, I prefer those of individuals who are not just my size, but also my age. I'm thrilled to have such a diverse group of readers so whether you're in your 20's or your 60's you have a model above you can relate to.
If you like this review and would like to see more with other brands and products, please leave a comment. Share this post on your social channels. Let the brand know your thoughts. I would love to have Wardrobe Oxygen host such reviews again in the future, and seeing the success of this one will help that happen. Thank you all, this was such a fun project with such wonderful folk!