This article may contain affiliate links; if you click on a shopping link and make a purchase I may receive a commission. As an Amazon Associate, I earn from qualifying purchases.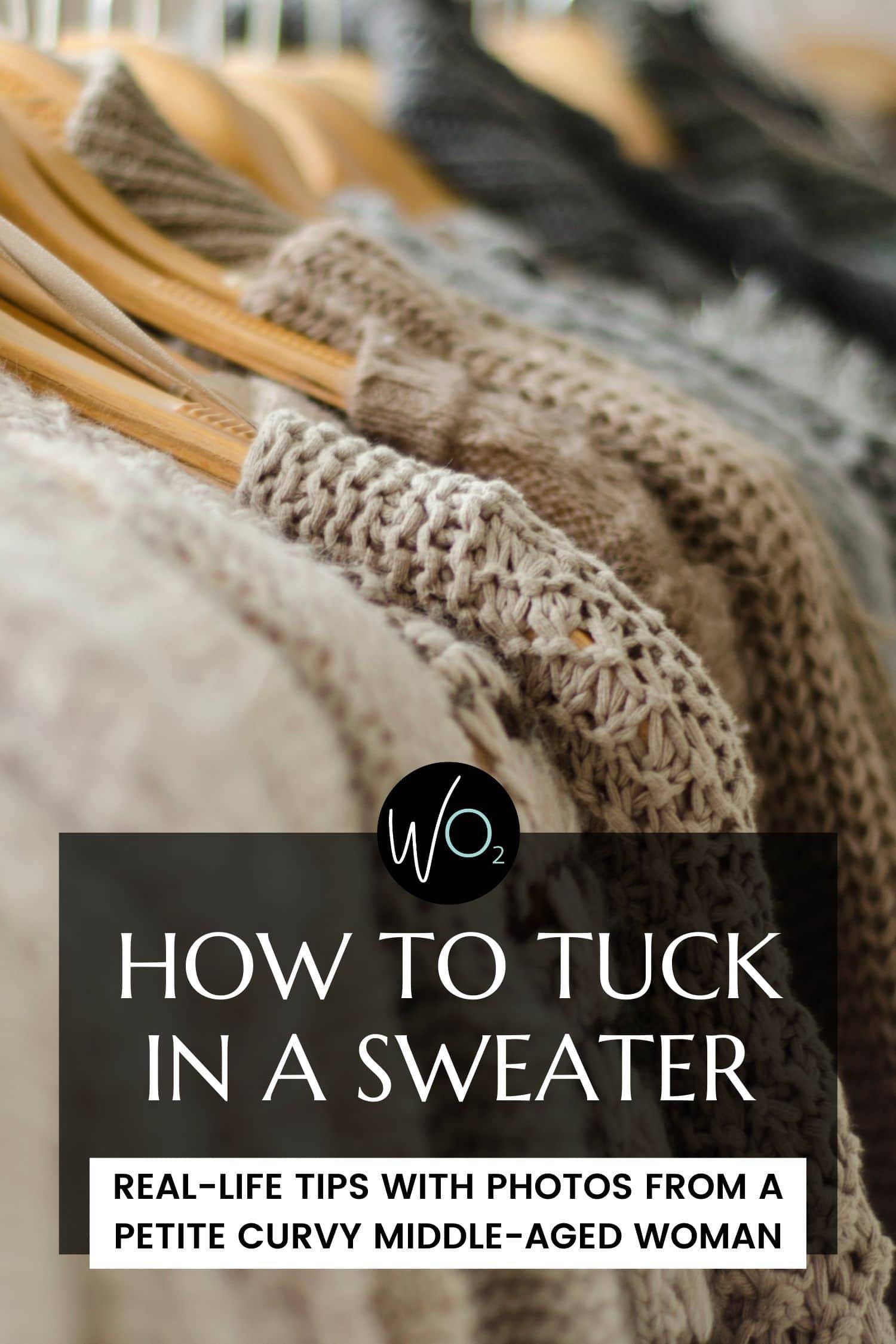 Over the years, I have received a lot of questions from the Wardrobe Oxygen Community on how to tuck in a sweater and not look like a mess. I wrote about the do's and don'ts of tucking in your shirt, but a sweater is a whole other beast for tucking. How do you deal with the bulk of a sweater, especially when your body is soft and curvy?
My Tips on How to Tuck in a Sweater
The biggest tip I have for how to tuck in a sweater is it's all an optical illusion. Rarely is my sweater completely tucked in, and even when it is, it is adjusted just so as to look less bulky. I will share these styling tricks below with examples of different times I have tucked in a sweater.
1. Focus on the Front of your Look
When I tuck in a sweater, I start front and center. I make sure the sweater is lined up correctly with the center of my skirt, jeans, or pants. And then I carefully tuck from center to side seams, smoothing to ensure there isn't any pleating or gathering. And more often than not, that's where I stop tucking in my sweater.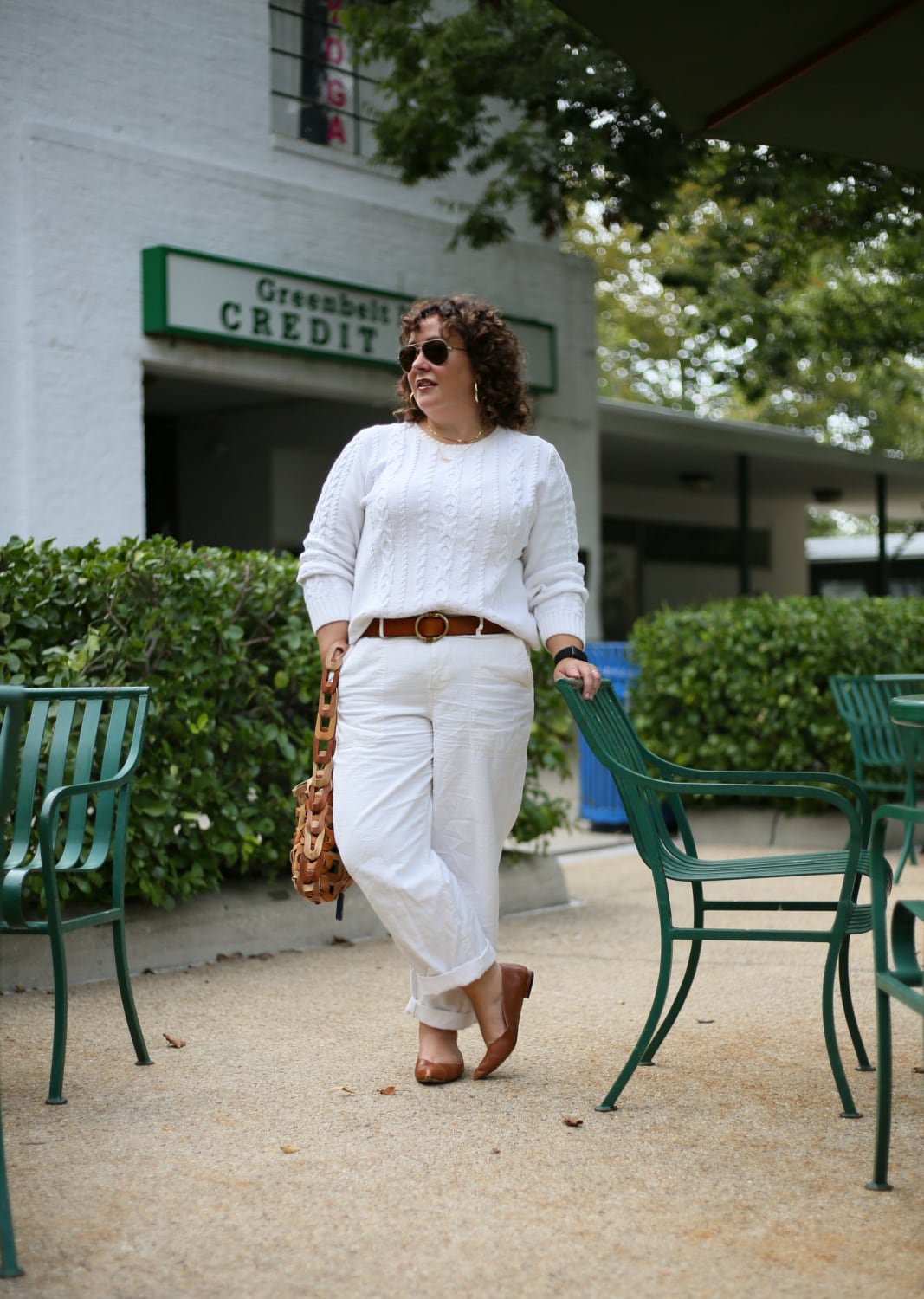 For this look that got all the questions, my sweater was only tucked from the center to where the pockets start. The rest of the sweater was untucked and just bloused under. This way, the sweater's bulk is in the back where it has space to hang a bit lower. Because there is a proper waistband on this sweater, it will naturally fold at that point, keeping the sweater bloused under.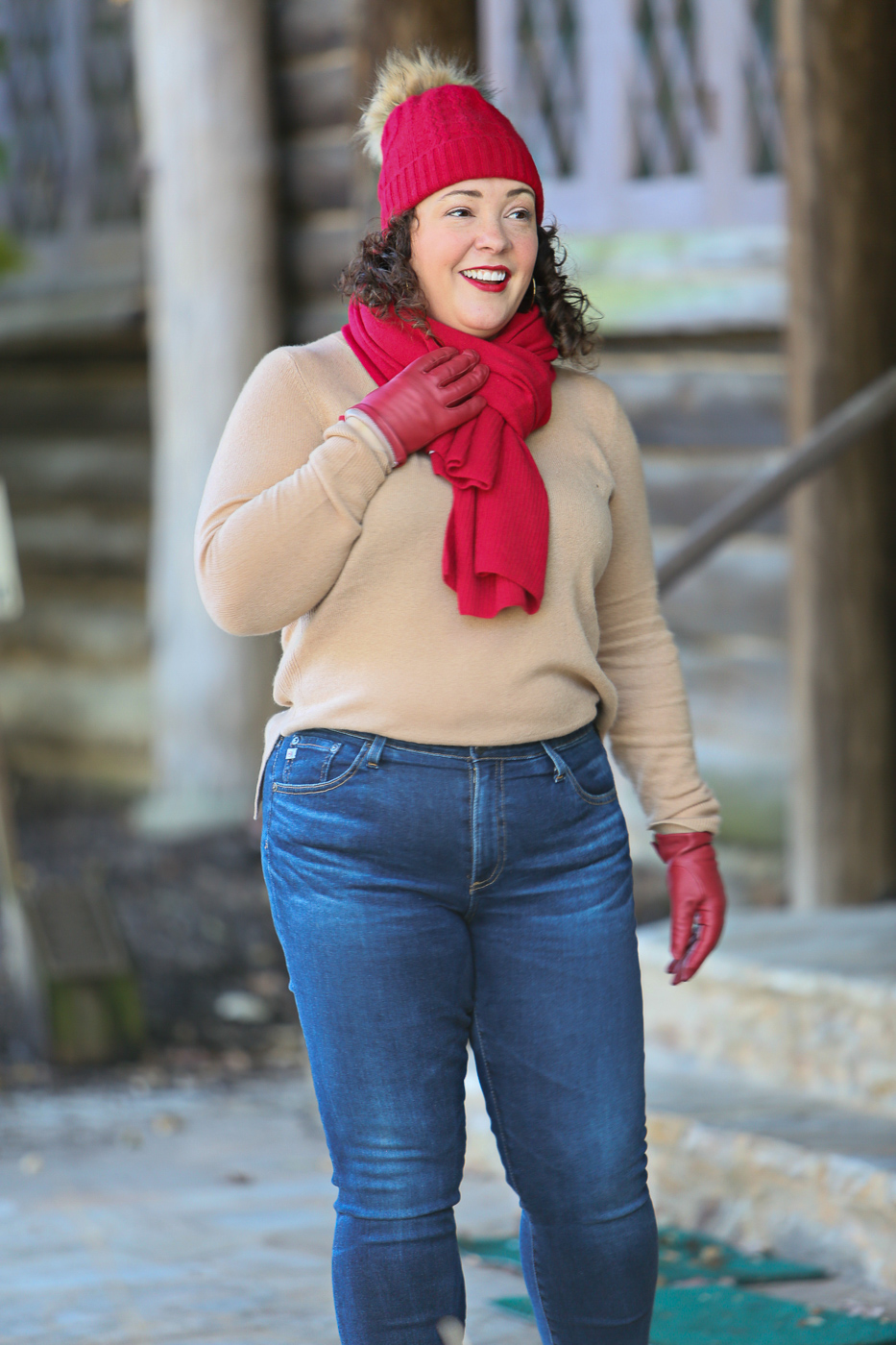 For this look, I am wearing a cashmere sweater tunic with side slits. I only tucked in the front part of the sweater, but I again employed focusing on the front of my look. By doing this, the front ended up being tucked in beyond the slits, which helped the back part blouse under on its own. You can see in some photos in the original outfit post that the back didn't stay bloused under. However, focusing on the front made it so the front looked polished, not sloppy which made the back look purposeful and not like I missed a part when I pulled up my jeans that morning.
2. Gather at the Small of your Back
Most of us curve in at the small of our back and curve out on the opposite side. By having a bit of bulk in the back of your look, it balances everything nicely. Try it, especially if you aren't comfortable tucking in tops. You may think it will spotlight your stomach but somehow having the front smooth and the back a bit gathered de-emphasizes those curves.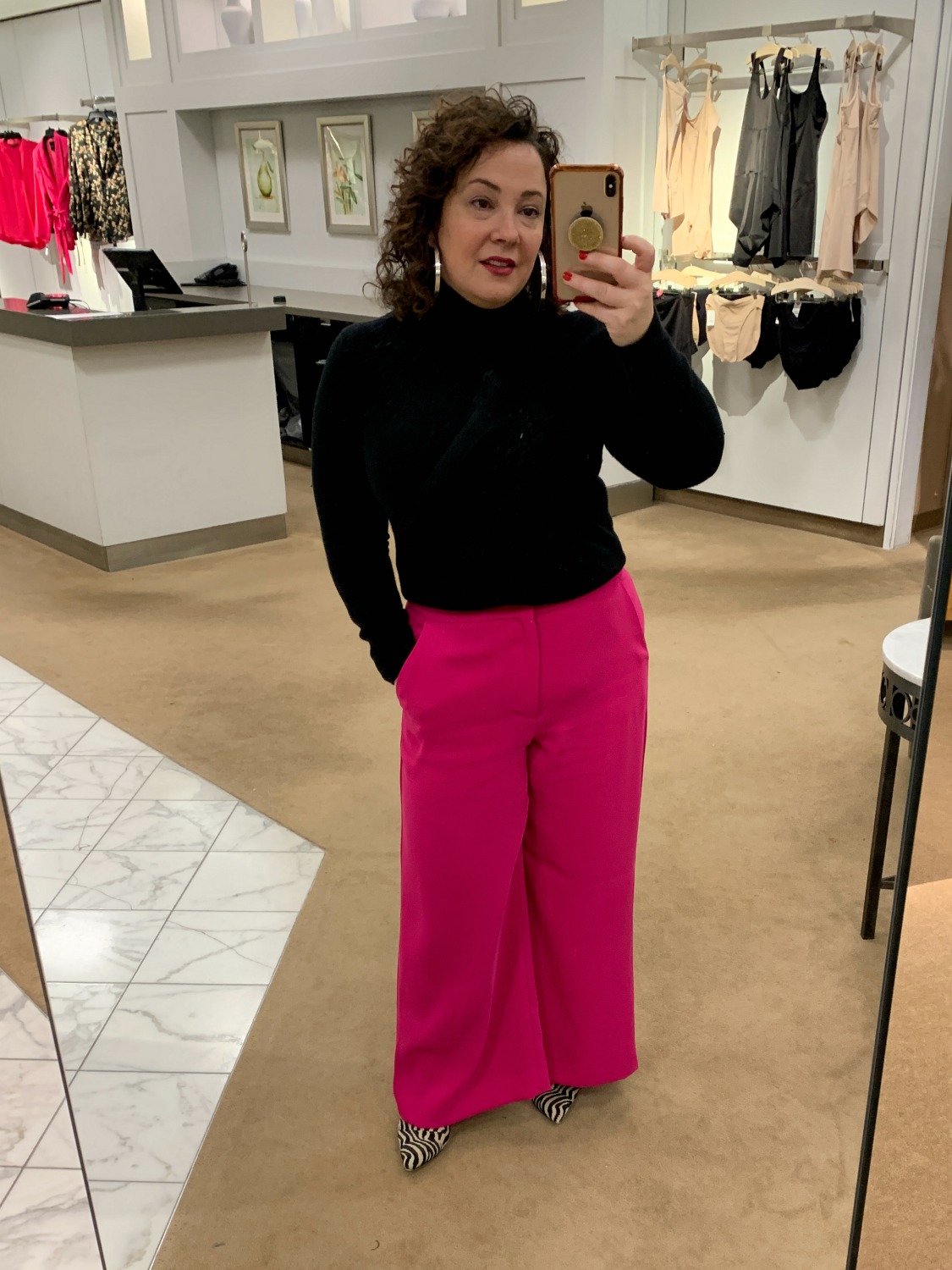 For this look, I tucked a cashmere turtleneck into fitted trousers using the same method of focusing on the front. I kept tucking as I went around the body, and then any bulk was at the small of my back. I tucked before I bloused, and through that tiny bit of blousing let me distribute a bit of the bulk through the back of the look.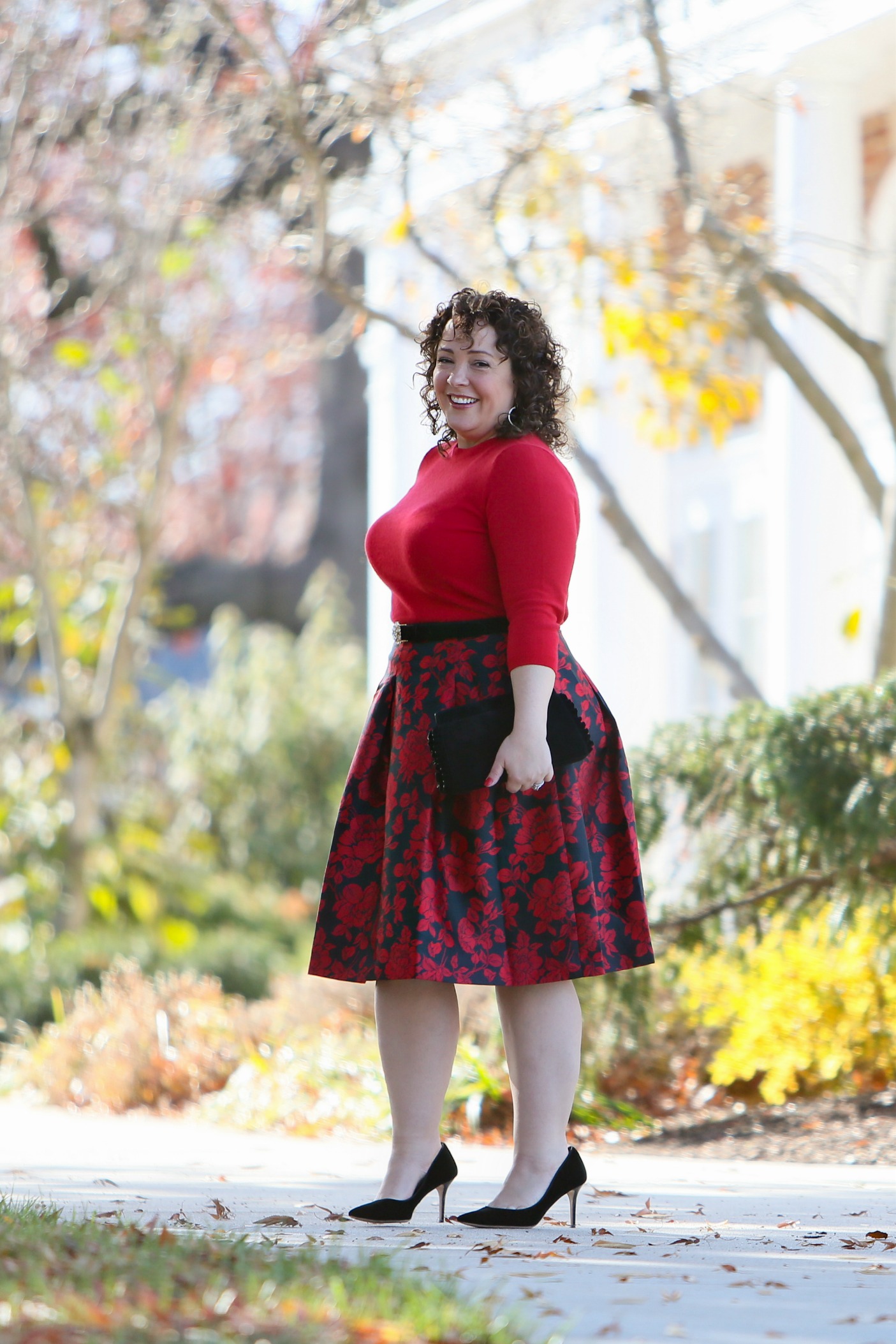 For this look where I tucked a sweater into a skirt that was fitting a bit snugly that morning, you can see from this side view that I kept the sweater completely smooth from front to the sides and let the gathering happen at the small of the back. I bloused it out a bit to make space for the gathering. It looked balanced and not at all messy.
3. Tuck, then Blouse
If you tuck in your sweater focusing on it being smooth and even in the front and having any bulk gathered at the small of your back, you can use blousing as a way to redistribute that bulk.
I usually begin untucking by raising my hands over my head. I know such movement will happen during the day so I might as well make the outfit functional and flexible before I head out the door. This will pull bulk from the back to the sides a bit. I then even out the front, and by doing that some of that bulk that shifted to the sides will distribute in front.
Then in the back, I again use it as the place to sort of let things not be quite as pristine. But because it's where the body curves in, it doesn't look messy, it almost makes a v-shape towards the small of your back.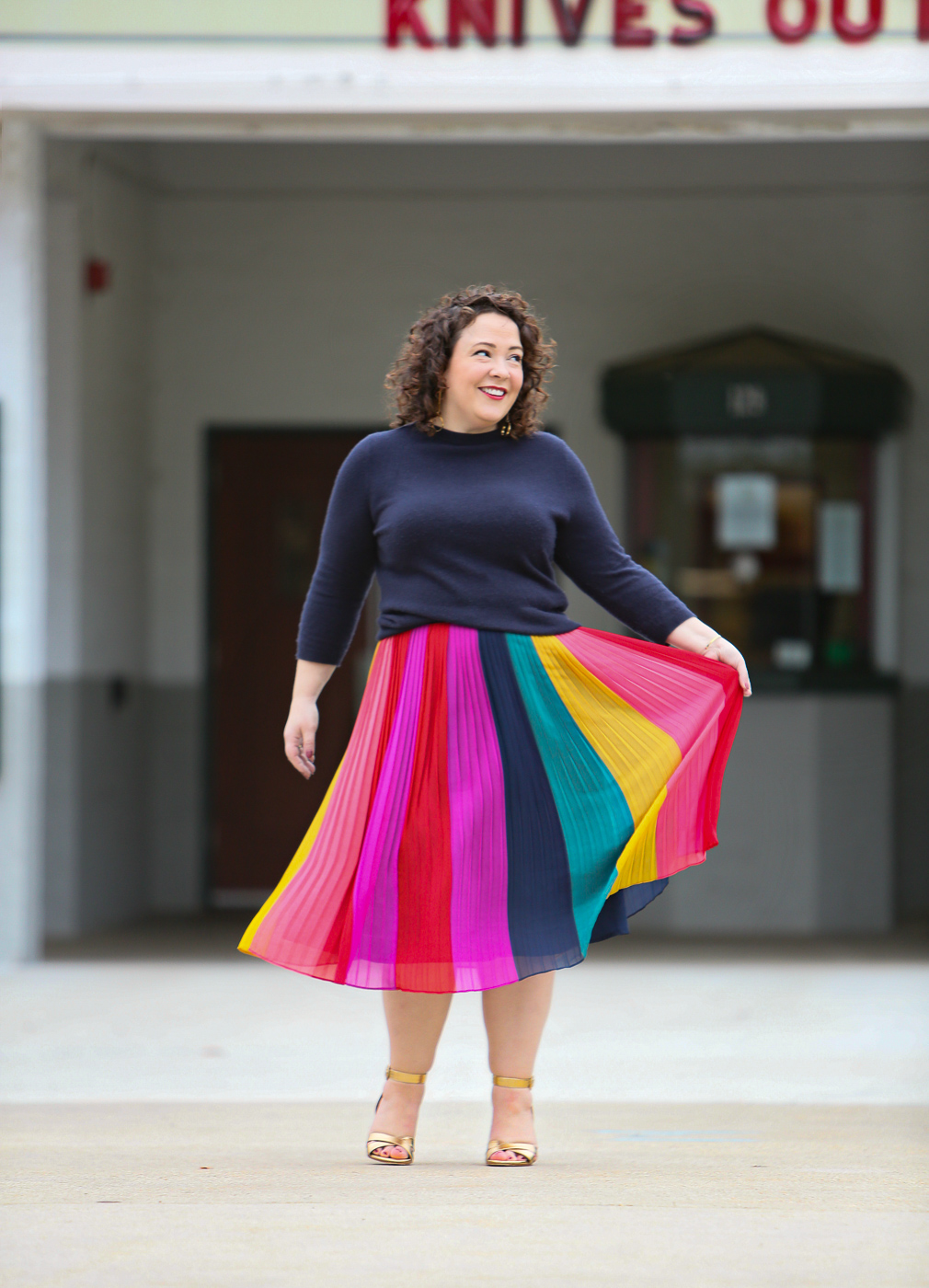 For this look, you can see how I pulled the side volume to the front and it almost created an architectural detail. I didn't plan it but I kept it, thinking it created more of a waist shape with really my body with such a skirt can look like a rectangle. Using the blousing as a time to be creative and try things. If it's weird if you untuck too much, no worries. Just go back and smooth from the belly button to the sides and try again.
4. Respect the Weight of the Sweater
Don't think you can do a full tuck of boiled wool, or a delicate linen sweater will look tidy with a 2″ French Tuck. Certain weight sweaters only work for certain styles of tucks. In general, the heavier the sweater the less of it you tuck in. If you tuck too heavy of a weight too much, the textile loses its ability to drape and you end up with bulk and a boxy result.
When it comes to lightweight sweaters like those of linen, silk, and open weaves, they need the support of being fully tucked in. Have you ever hung dry such a sweater? You'll find it will grow several inches in length. The same happens when you half-tuck a very lightweight sweater. The weave will stretch with wear, pulling all weight to the untucked part, affecting the entire hang of the sweater. With such fabrics either leave them untucked or go all in.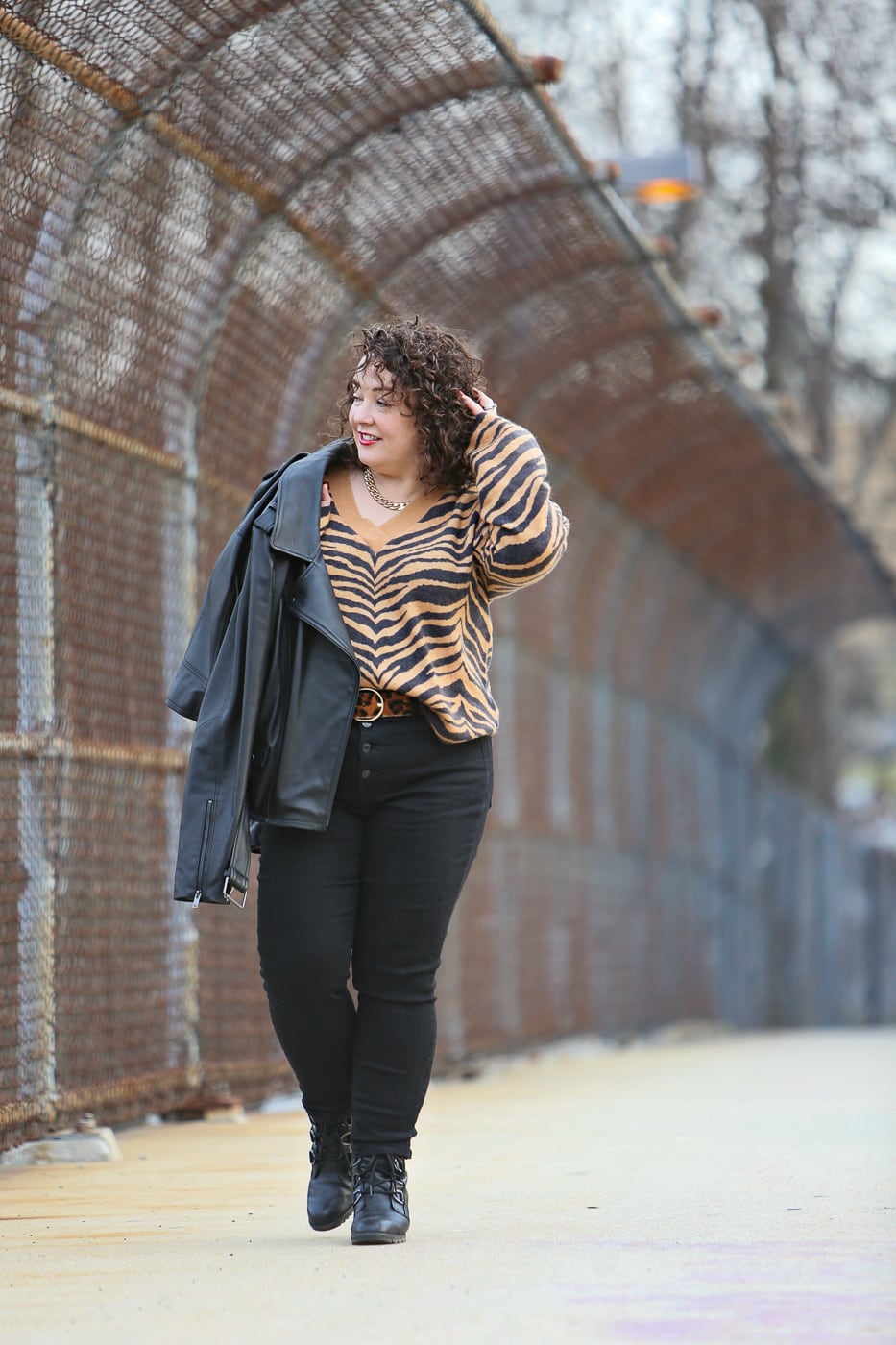 For this look, I only tucked in a couple of inches of this thick sweater. Any more, and the drape would be lost and with it my shape and my comfort. A bulky sweater in a waistband may look good in the mirror, but it won't feel good once you have to take a seat! A partial tuck like this is often called a French tuck. For a thick sweater, I don't recommend tucking any farther than where the belt loops on a pair of pants begin.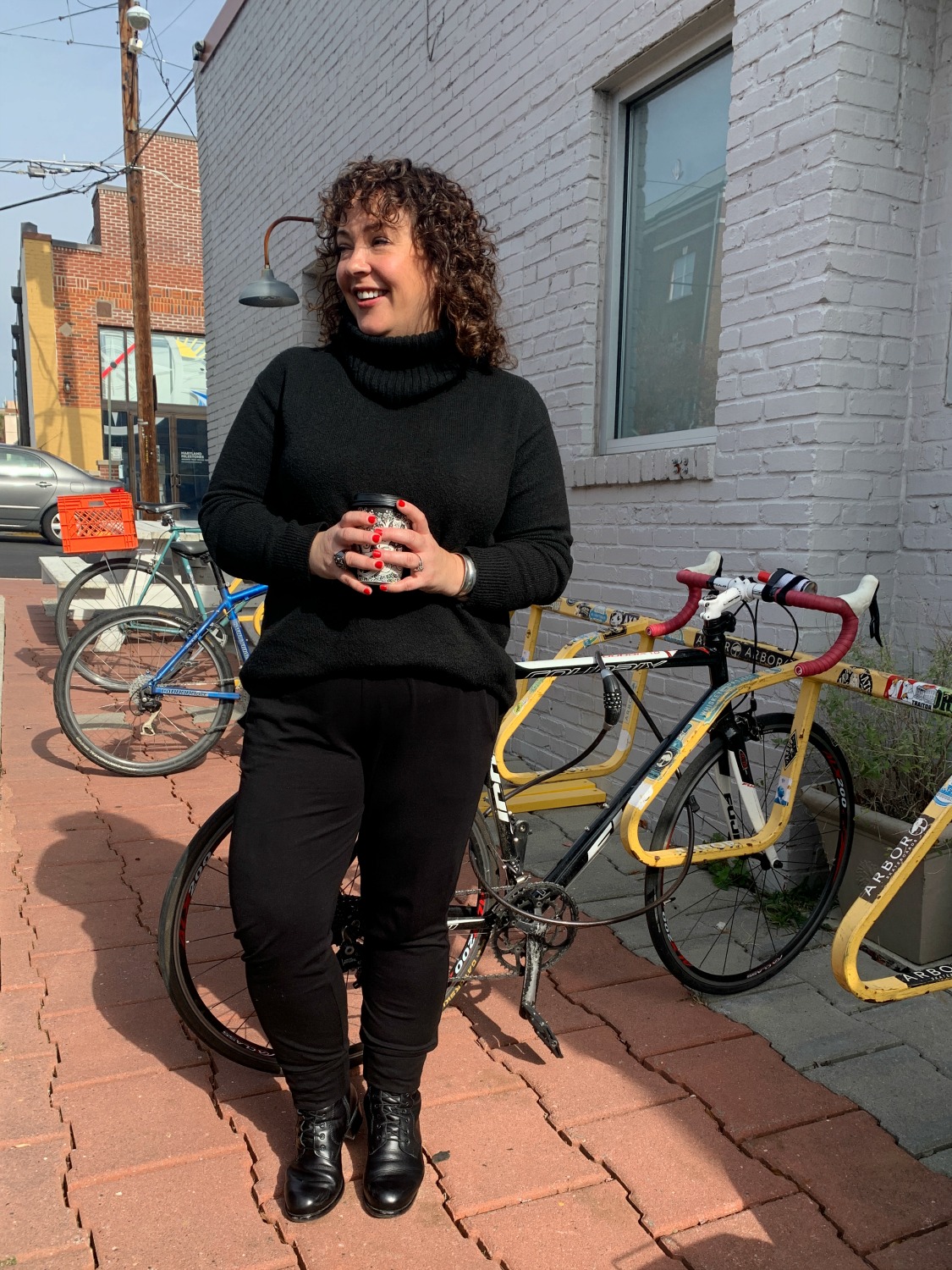 And for this look, the sweater was fully tucked because the spongey weave of this sweater, while thicker than linen, stretched easily. Just by gathering the bulk at the small of the back, it still achieved a high-low effect.
When Do You Tuck In A Sweater?
To tuck in a sweater or not? Consider the fit and the occasion. A fitted sweater that hits the waistline looks chic when tucked in, but if it's too loose or too long, it can create an unflattering silhouette. Tucking in a sweater can elevate a casual outfit for a dressy event, but leaving it untucked creates a laidback vibe for more relaxed occasions.
Ultimately, the decision to tuck in a sweater is based on personal preference and style. Experiment with different fits and occasions to find what works best for you. And keep in mind that fashion rules are meant to be broken – confidence and comfort in your outfit are key.
Mimic Tucking in a Sweater with a Skinny Belt
This tip only works with longer sweaters and sweaters that have a bit of a drape. If you don't want to tuck your sweater into your pants or skirt but want to achieve the effect of a tucked-in sweater, you can use a skinny belt. Cinch the skinniest belt you have at your natural waist or just above the waist of your bottom. Then blouse out the sweater until it covers up both the belt and any fabric below the belt.
To keep this from moving, you will want a belt with texture so it will grab the sweater. Think rubber, silicone, braided, or woven leather, something that will have a grip. Otherwise, you'll be constantly rearranging your look each time you stand up from a chair. With this, you want the belt to keep its shape. I have a Beltaway I have used for this very purpose.
What About the Tucking Your Sweater Into Your Bra Trick?
I don't know what folks are running around town with chunky knit sweaters tucked into their bras feeling comfortable. I'm a grown-ass woman who wears a 36 F bra. The last thing I want is more bulk in those cups or more pressure from the band. So a bra tuck is really not an option. And unlike your pants or skirt where you can gather at the small of your back or do a half tuck, you have nowhere for the bulk to go with your bra strap.
Instead, I recommend achieving the same effect with a Beltaway belt placed on your torso under the sweater and use in the same method, leaving your bra to do all its bra things.
Originally Published 10/06/2021
Date Updated: 04/30/2023