This article may contain affiliate links; if you click on a shopping link and make a purchase I may receive a commission. As an Amazon Associate, I earn from qualifying purchases.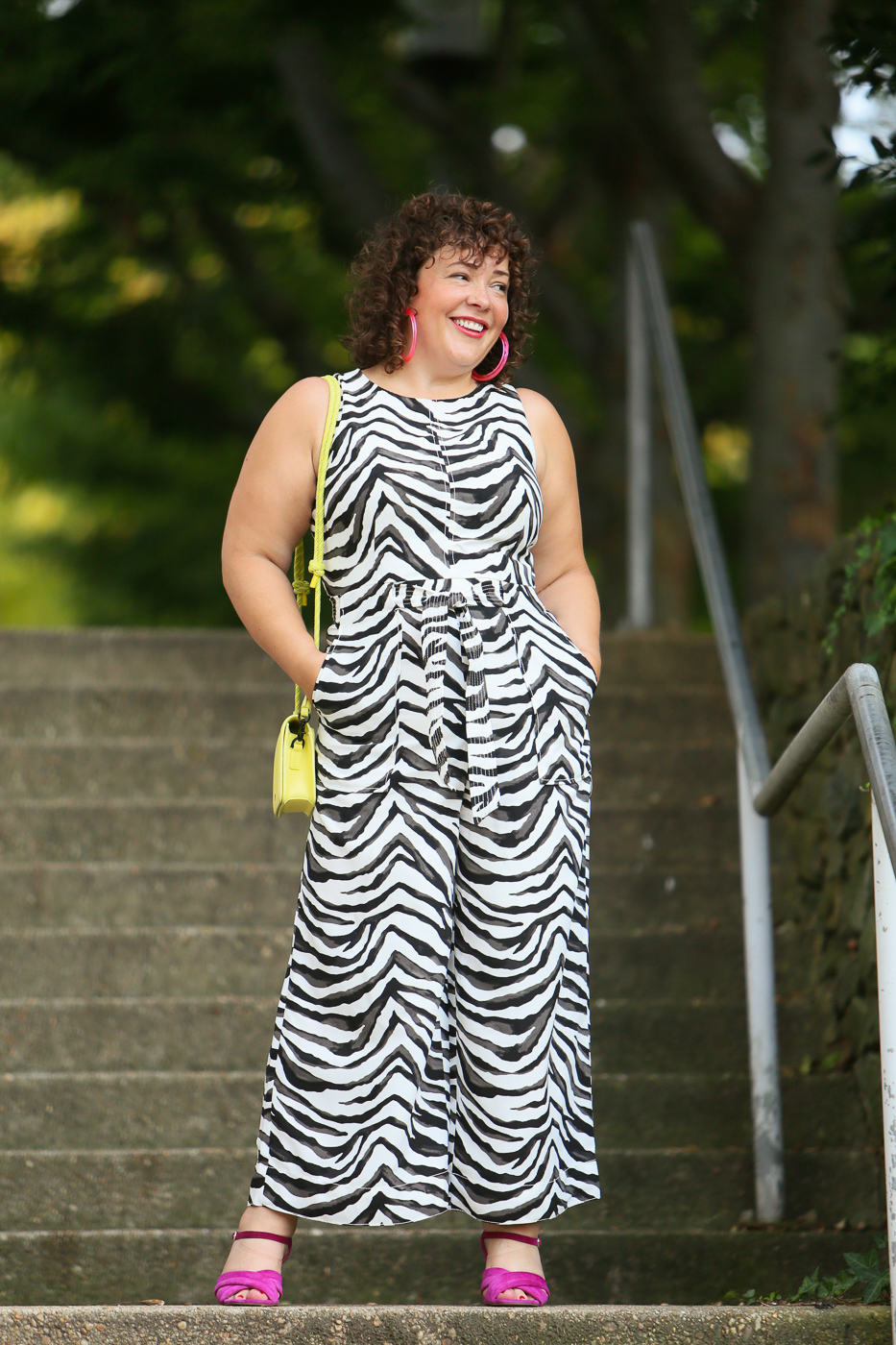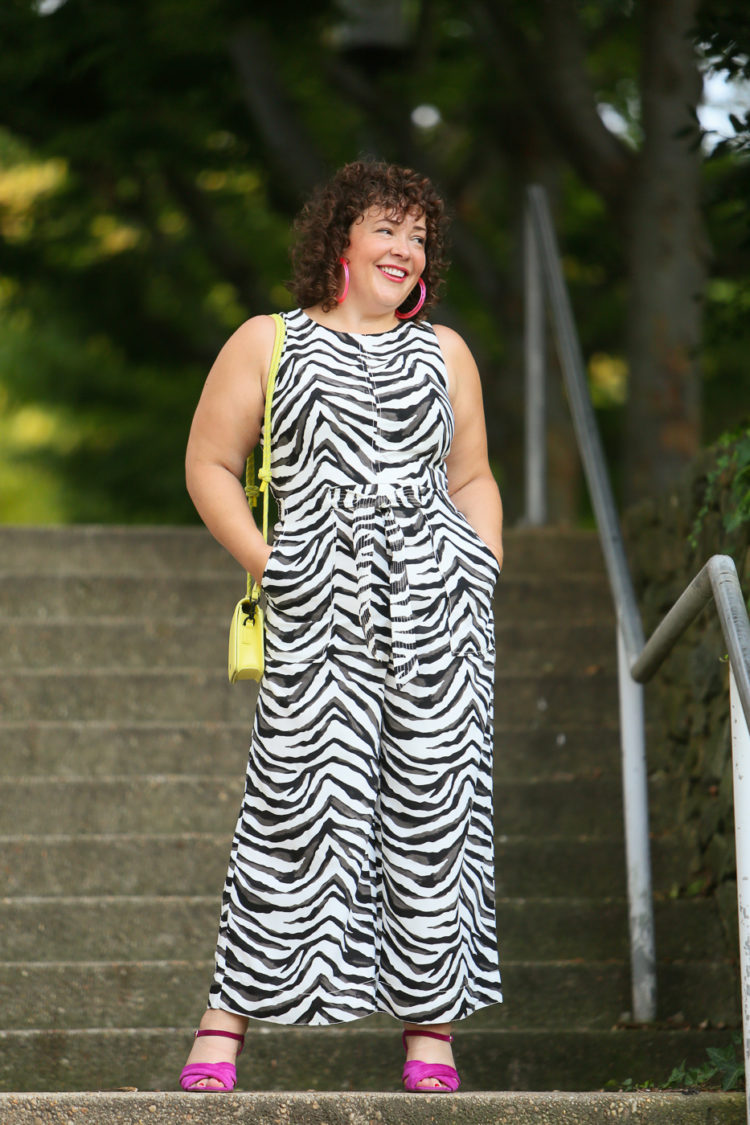 Summer is my favorite time of year.  I don't love sweating, but I like it more than shivering.  I like it more than slipping on black ice.  And now that I have curly hair, I like how my hair likes summer.  I love the pool, I love the ocean, I love friends with boats and being on their boats with them, I love eating blue crabs on a brown paper-covered picnic table, I love grilling, and I love summer fashion.  The bright colors, the permission to go boho or wear neon, and everything seems to work with a pair of white sneakers.  When I saw this jumpsuit at Banana Republic a few weeks ago, I had to get it.  It just felt like summer.  I wanted to pair it with highlighter brights, bronzed cheeks and glossy lips, some fun summery pair of cheap yet fabulous earrings.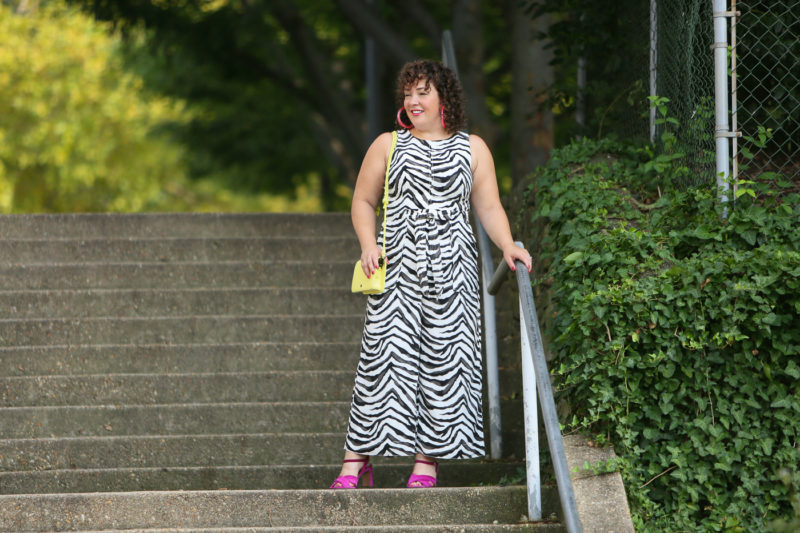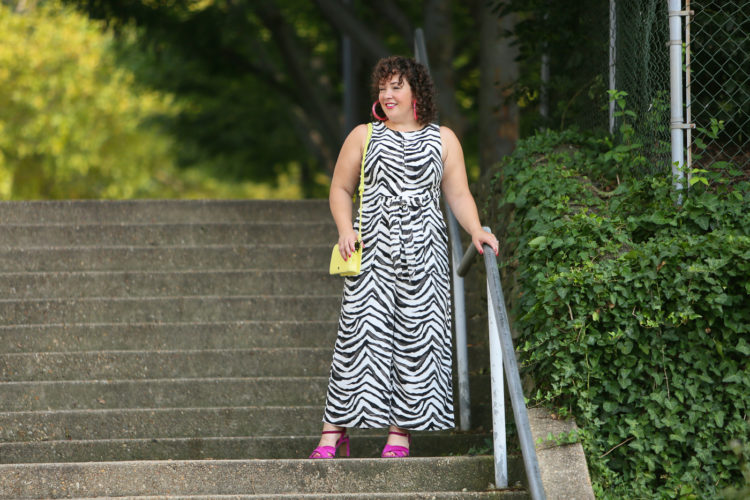 jumpsuit | shoes | earrings | bag | lipstick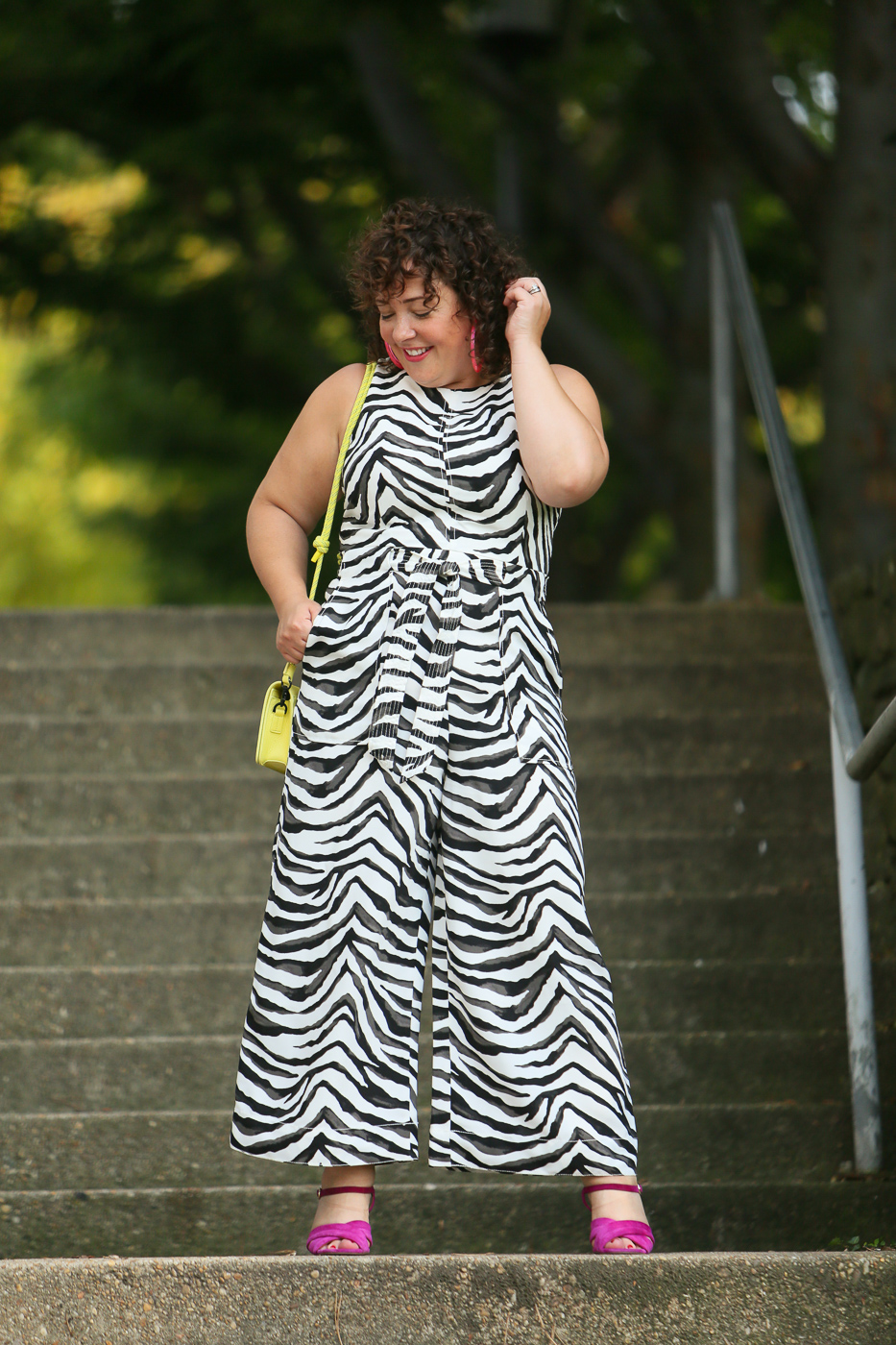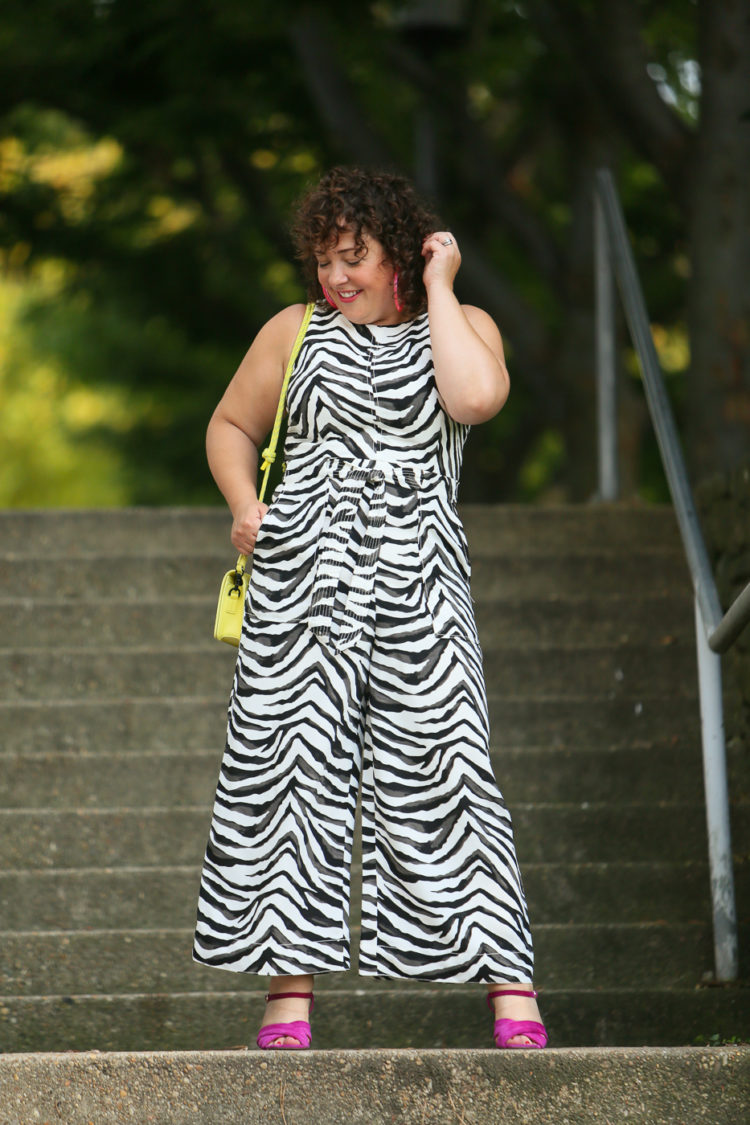 Jumpsuit: Banana Republic (14; available up to size 20 with petite and tall options) | Shoes: Franco Sarto (old; similar) | Earrings: Baublebar (found them on sale for less than $10!) | Bag: Andra Crossbody in Medium c/o Dagne Dover | Lipstick: Revlon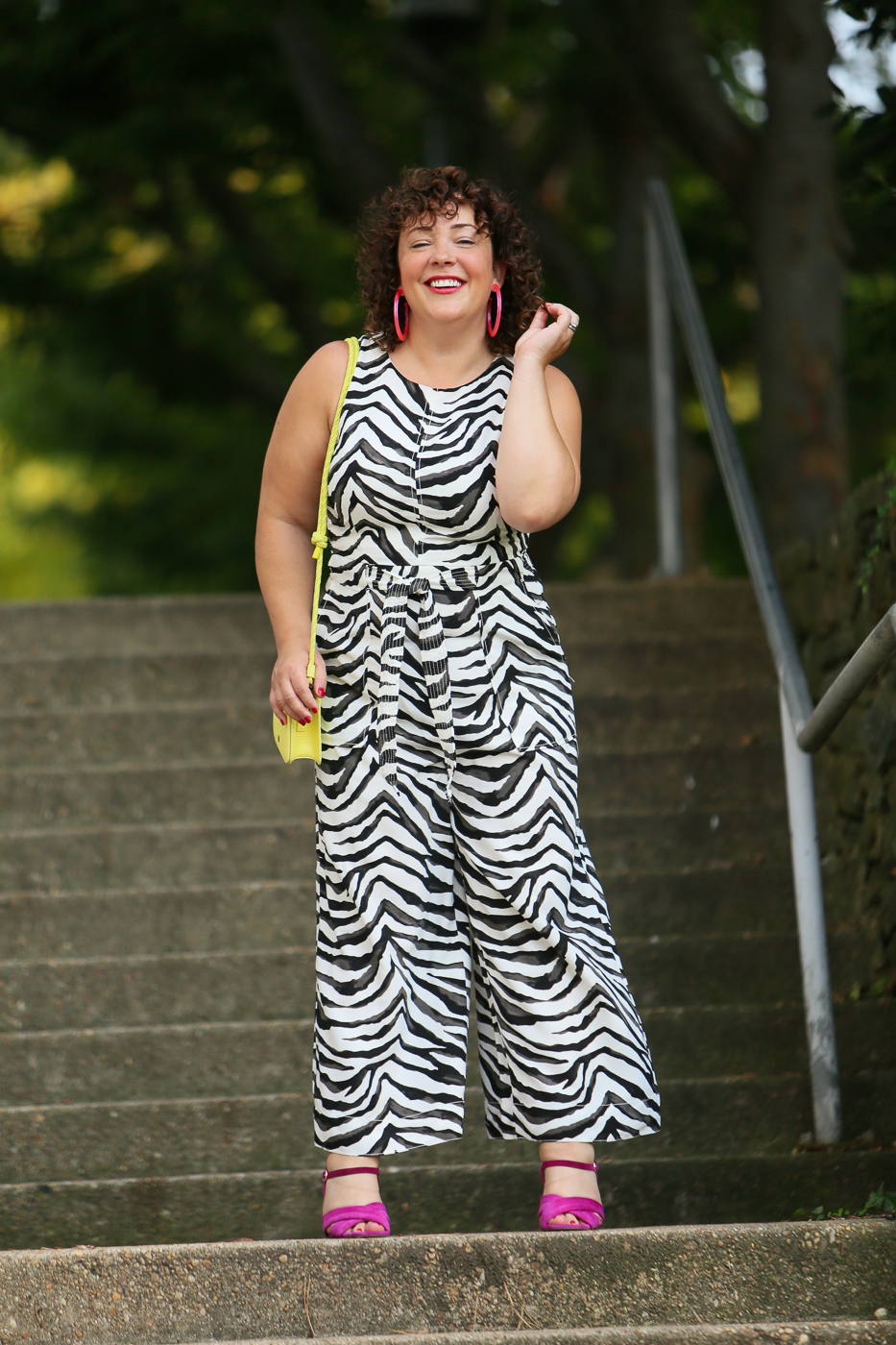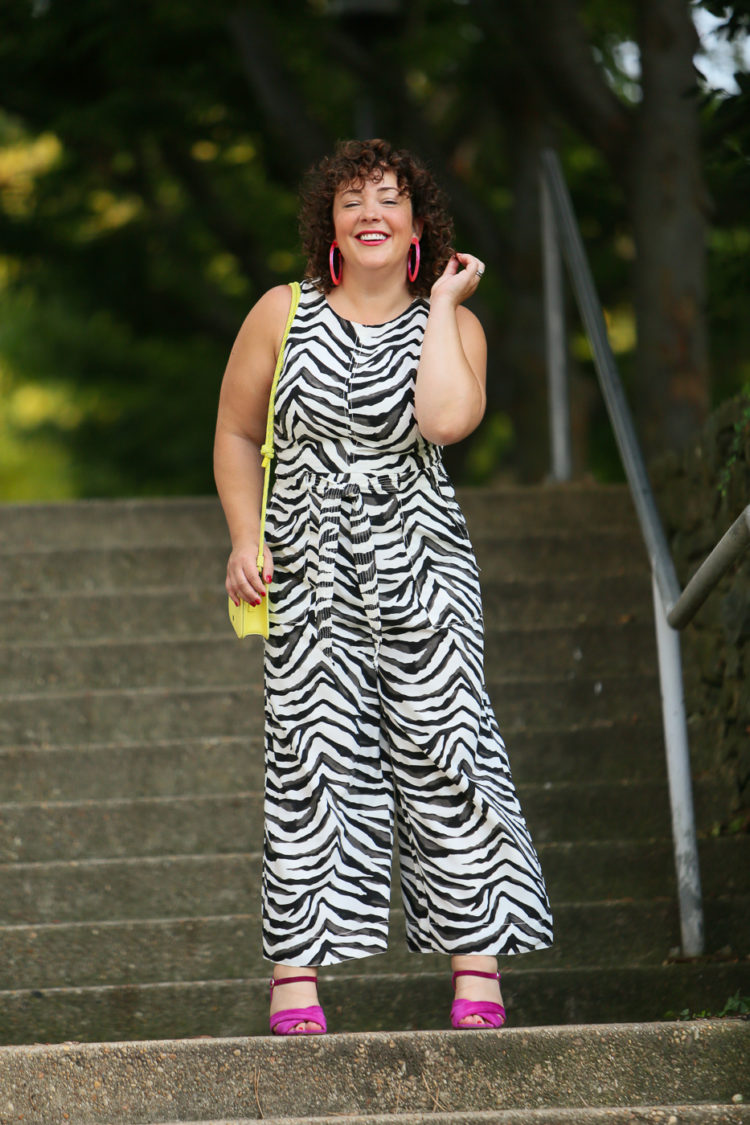 But Alison, you say.  Even though it's still before Labor Day and it doesn't get cold where I live until almost Halloween one can't wear such a look!  We must don blanket scarves and suede ankle booties and consume hot spiced beverages!  This look is blasphemy, mocking the holy holiday that is back to school.
Nay I say, nay!  You may wear white, and rock your neon, and free your toes from their suede prisons for as long as you are comfortable.  And not only that, this jumpsuit which I feature, looking oh so summery with touches of hot pink and highlighter yellow, it can adopt an autumnal vibe.  Yes, yes it can, and tomorrow I will show you.  For while you can wear whatever the heck you like to feel comfortable in your climate, for the majority of this country a summery garment may only have a few weeks left of life, not deserving of the pricetag, even with the sales this retailer seems to hold every other weekend.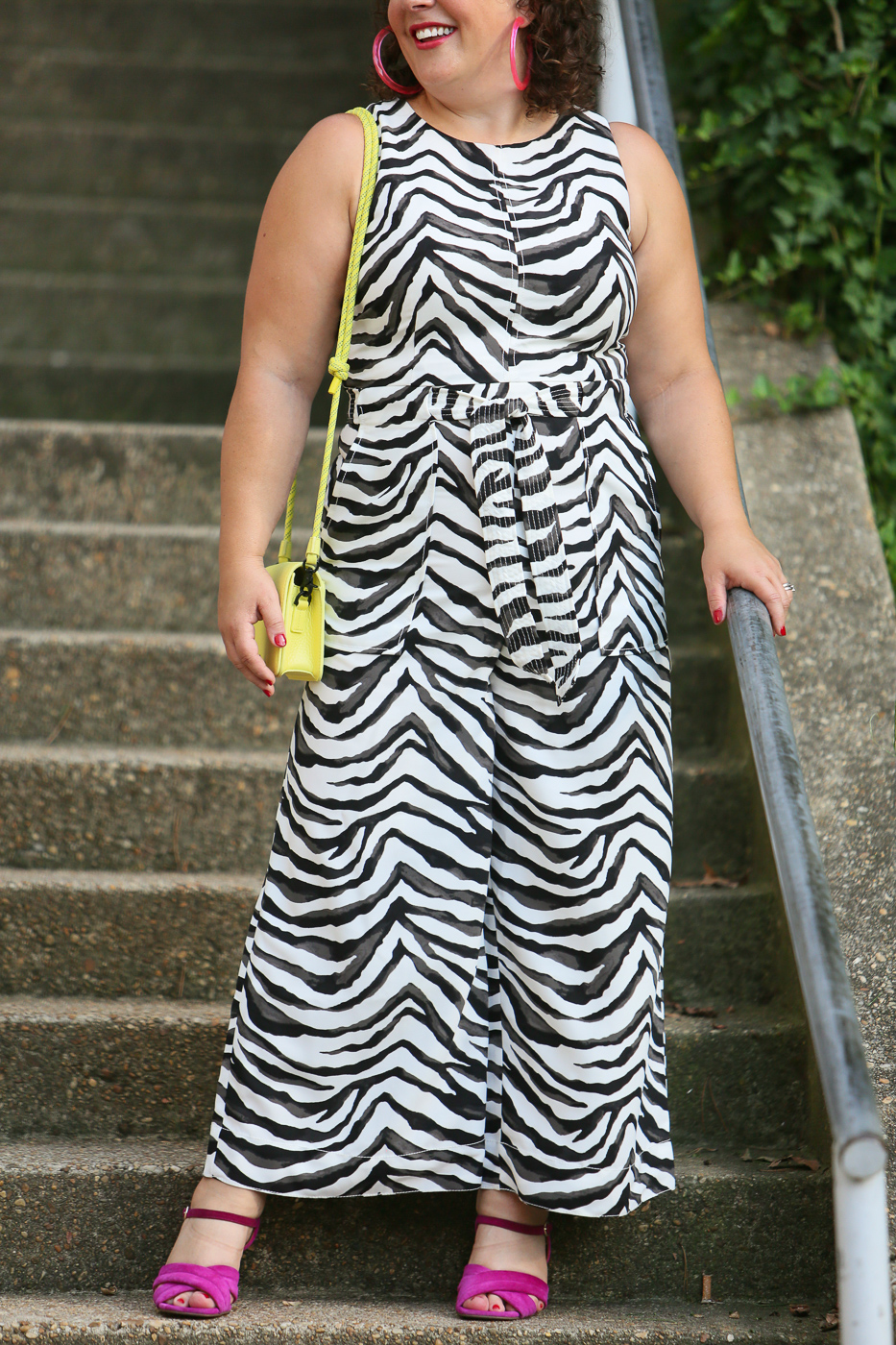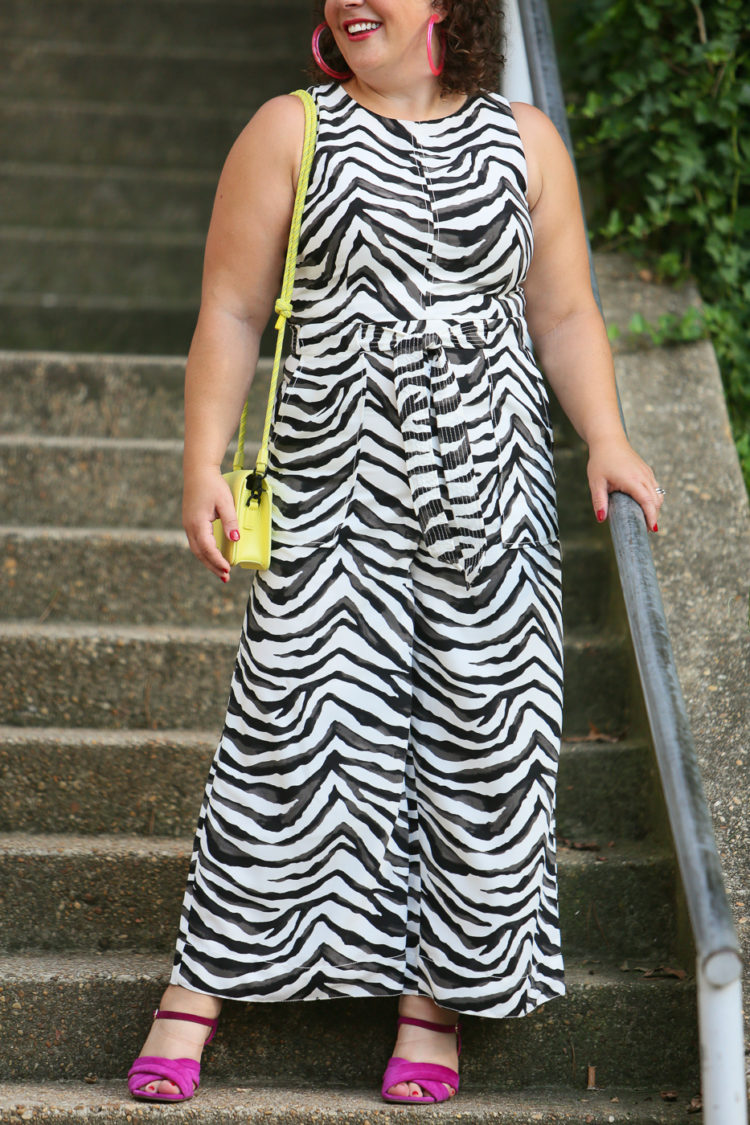 It is a skin print, which is a hot trend for fall.  It's a seasonless fabric and silhouette, though the print makes it look as though it's a lightweight rayon or chiffon overlay.  But what makes it work is the length.  This weird cropped length that likely is to be inches shorter on my frame as this is a regular jumpsuit and I usually need petite… it's super versatile.  Because it looks cute with a pair of ankle booties with high enough shaft that it hides under the hem.  I did this look last winter in this post and this post with a pair of cropped wide-leg jeans.  It's the same concept if the jumpsuit is a seasonless fabric and silhouette.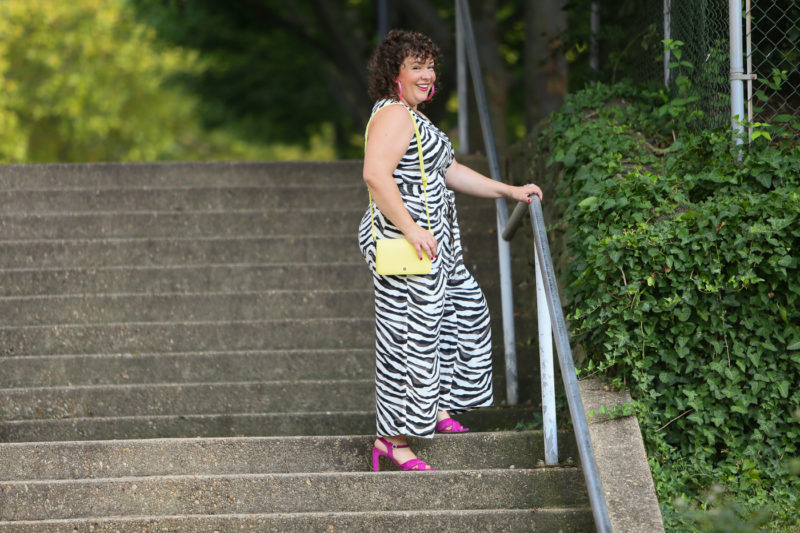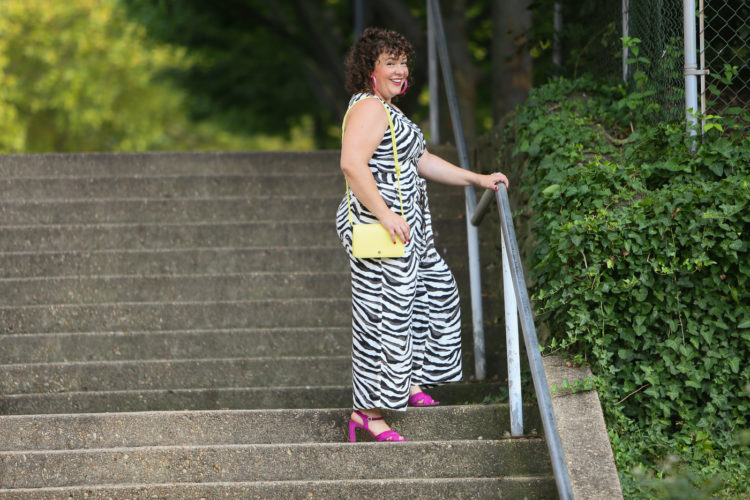 I feel clothing should get some serious mileage, more than a few weeks.  Thing is, this body hasn't stopped changing since I turned 35.  Even if I'm the same weight, I'm a different clothing size.  Even if I'm the same clothing size, my body is shaped different or my personal style has evolved.  I don't believe in fast fashion, but I also don't believe in wardrobe investments.  I've been burned.  But if I can get a piece to work through more than one season and have a silhouette that is simple enough that it may possibly work with my body, my personal style (I've been a skin prints kind of gal since high school), and general style trends next year, it may be a worthy purchase.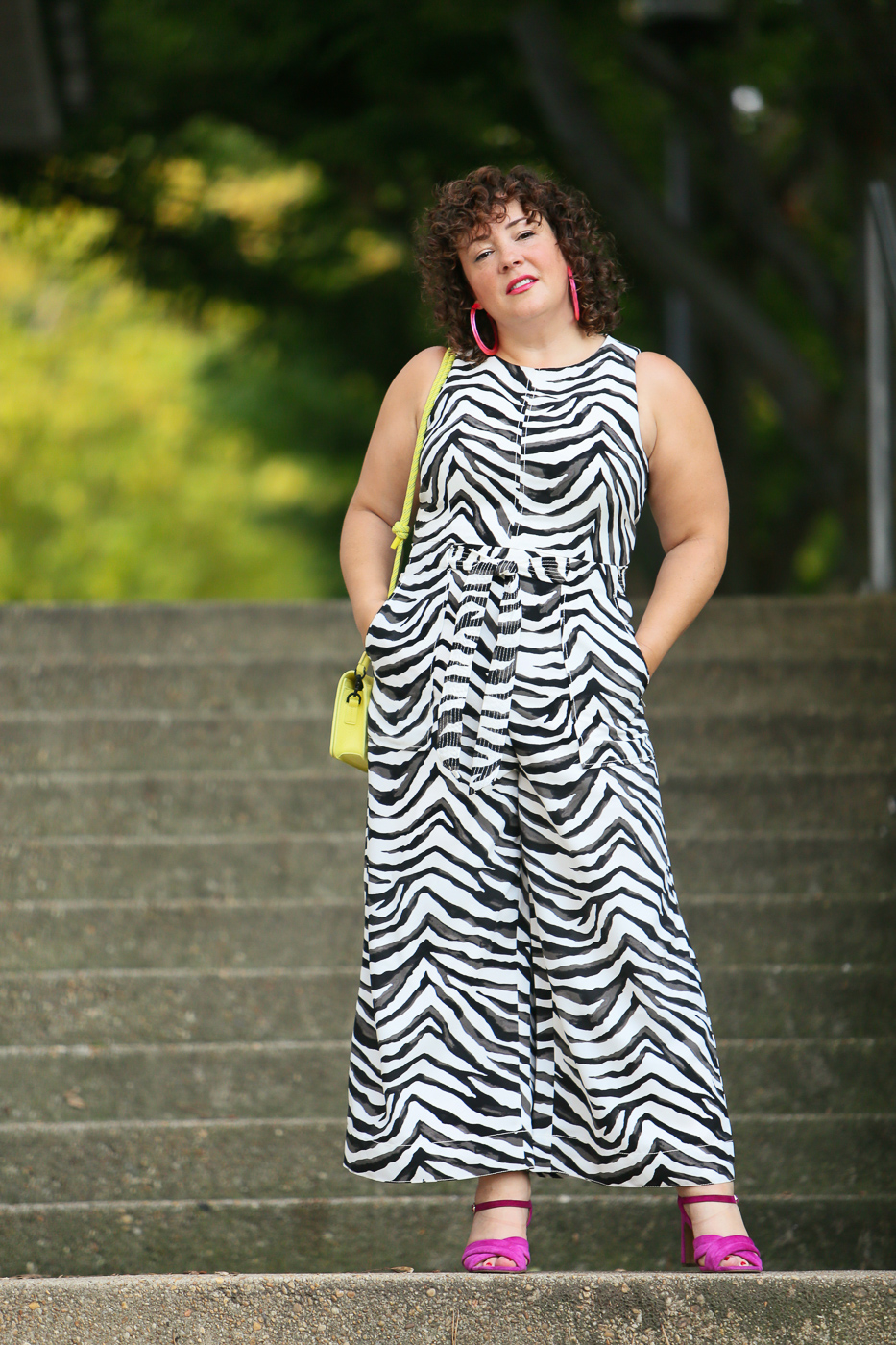 As for this jumpsuit, I went with 14 regular and am glad I didn't choose petite.  I think it would have been too short in the rise, and an awkward length on my calves.  I wore this look one day while I was in Florida with Soma Intimates.  It was a day where we took a limo bus to Soma's Corporate Headquarters.  There we saw several of the pieces for the fall and winter collections (sooo gorgeous and some cool concepts), learned more about the technology and innovation behind Soma's products, and had a chance to sit down with the senior exec team and honestly discuss the brand, share our questions and feedback from our audiences.  Essentially, I sat in this jumpsuit for four hours and drank enough coffee and water during that time that I had to get up and use the facilities at least four times.  It didn't crease, it wasn't uncomfortable, and while it wasn't super easy, was able to zip and unzip the jumpsuit on my own (I'd recommend checking out a tool like a Zipper Genie if you deal with dislocating a shoulder each time you try to zip your jumpsuit).  The belt can be removed so you could slip in your own belt for a different look, and it's opaque enough that you can wear a black bra underneath and it doesn't show.  It fit better right after my period than the week before. Oh, and while the armholes look like they're cut in, I'm wearing my everyday bra with this and the straps don't show even when I bend forward.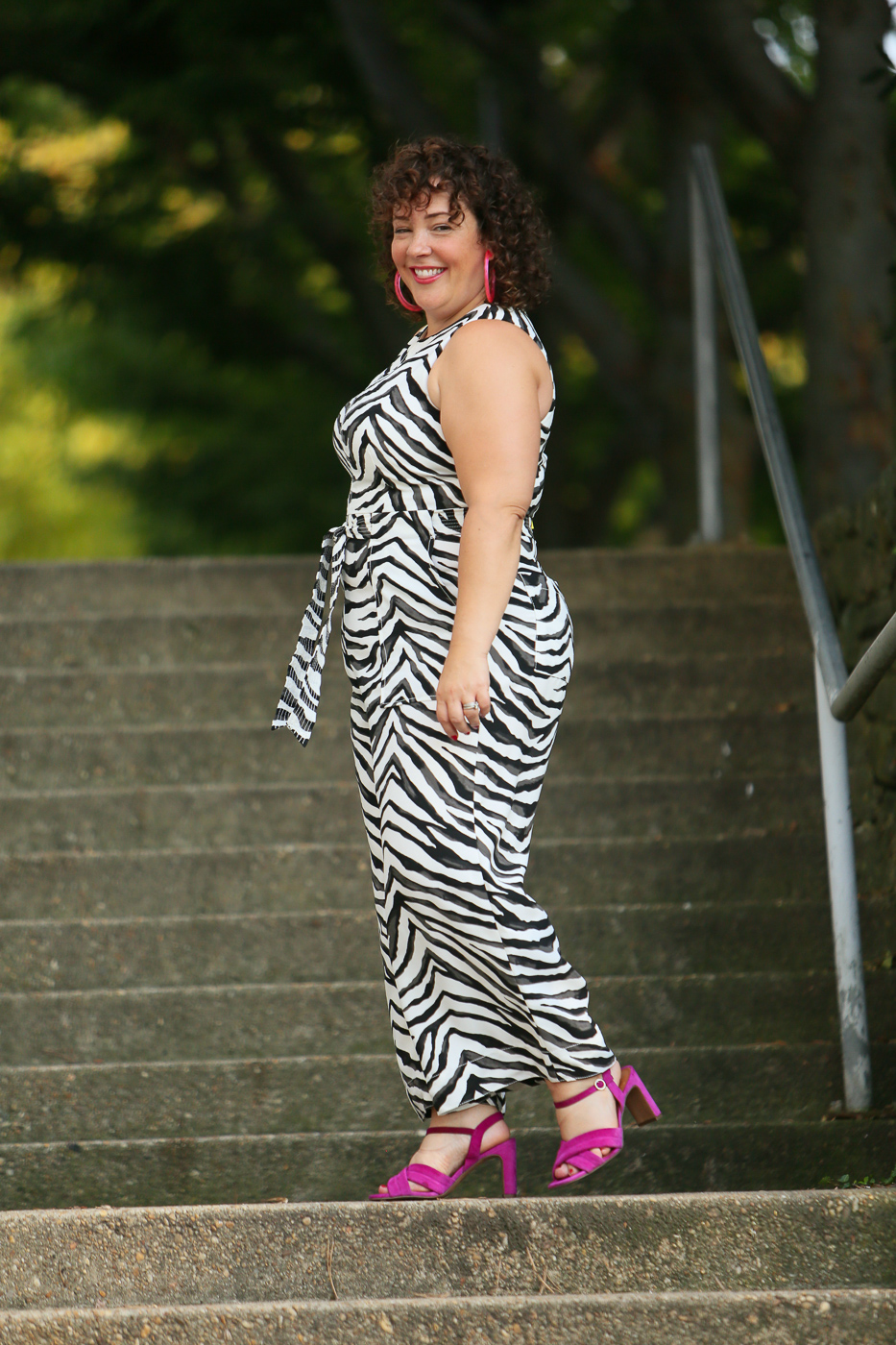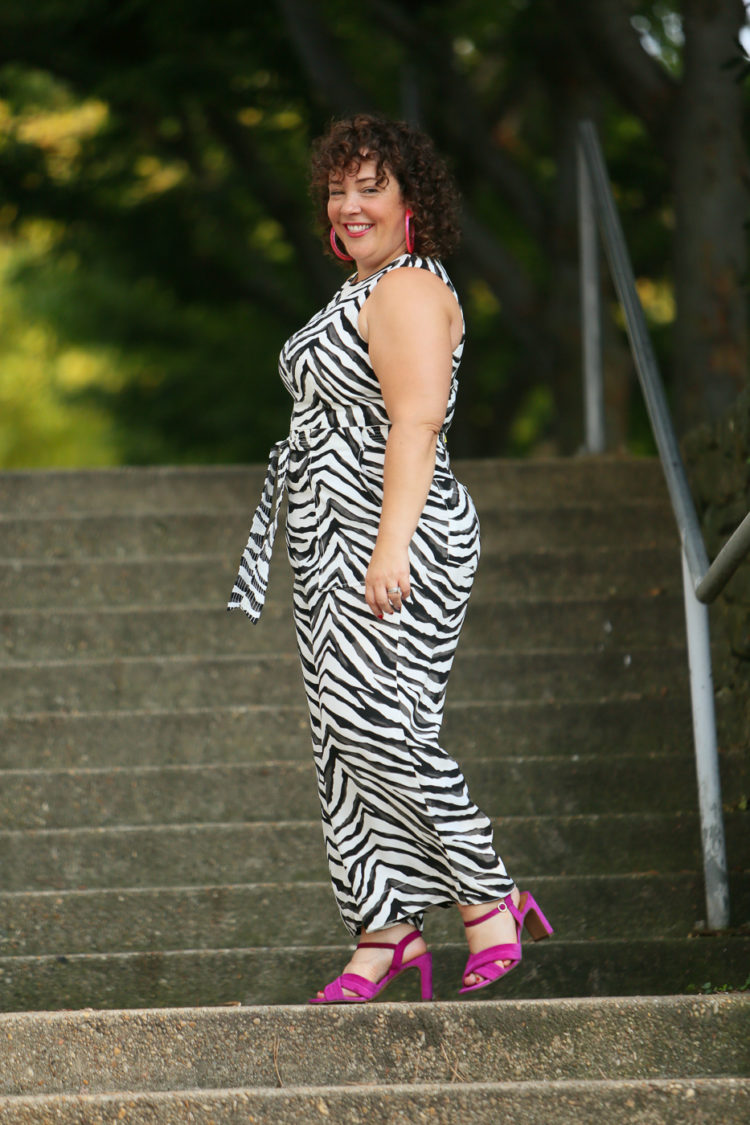 The shoes are from last year but you've seen many times before such as in this post, this post, and this post.  The earrings have also been seen in posts like this one.  I think the bag has only made one blog appearance previously, in this post. And the lipstick, I've been using since I did this Revlon collaboration many moons ago. These are the kinds of accessories that will likely be retired by the end of September and I'll look forward to bringing back out in late April or May.  Tomorrow I'll share this same jumpsuit, but styled with pieces already in my closet, to make it work in fall.
Shop the Post:

Dagne Dover Promo Code:
Use ALISON10 at checkout to get 10% off your order at Dagne