This article may contain affiliate links; if you click on a shopping link and make a purchase I may receive a commission. As an Amazon Associate, I earn from qualifying purchases.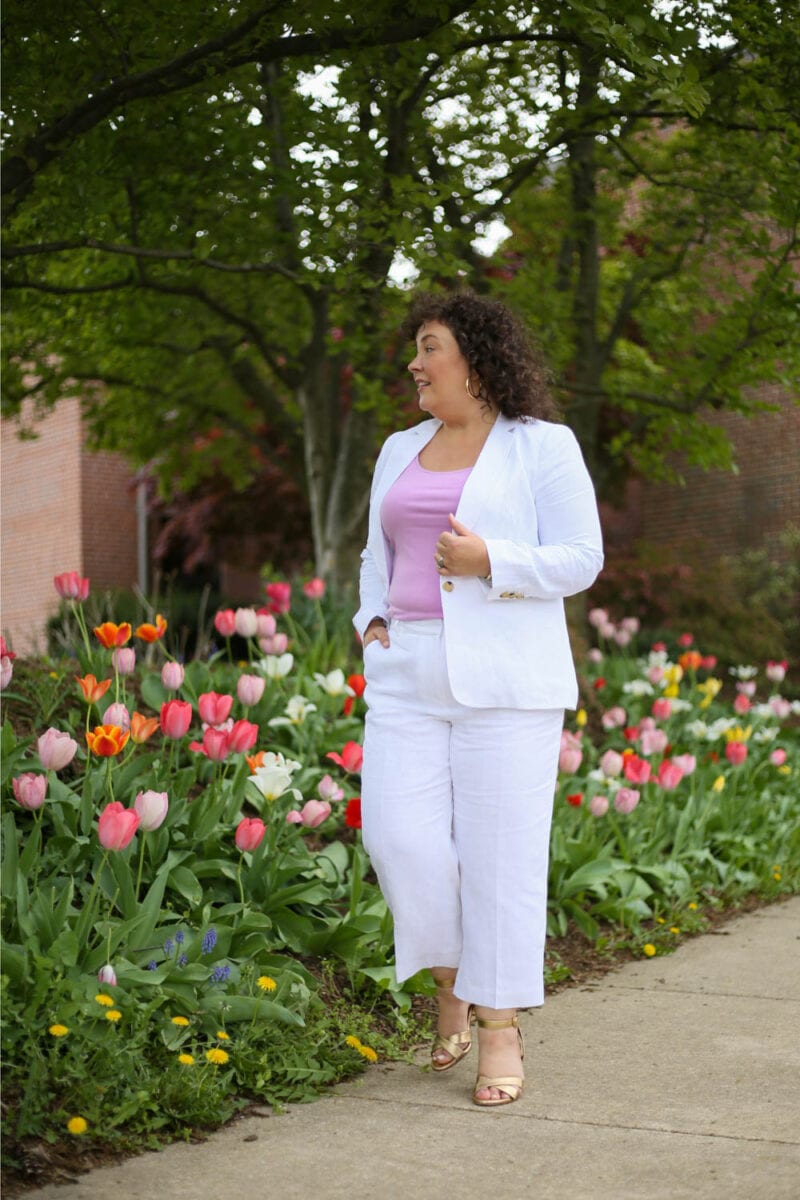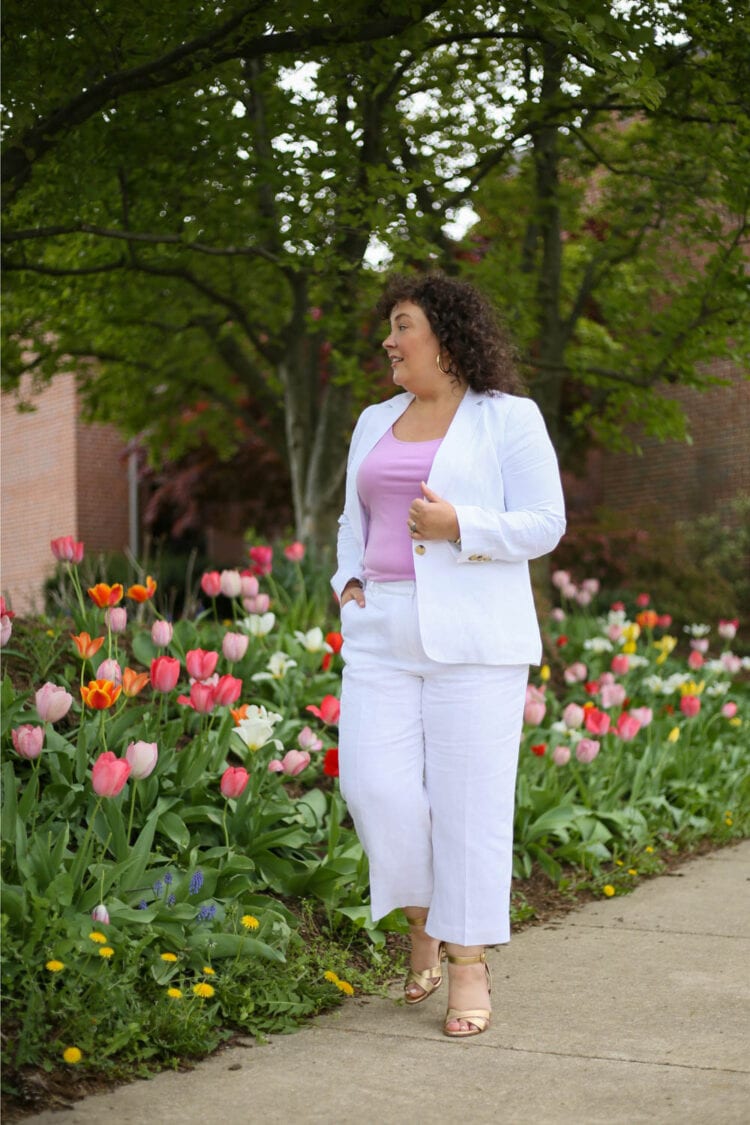 If you're not in the Wardrobe Oxygen community on Facebook you may not have heard this week is Linen Week on the blog. Not on purpose, just by chance, I received linen from a few brands and it was all so good and all came at the same time, that you'll see it this week! And today is Talbots Tuesday, one of my favorite retailers for both linen and suiting, with this Talbots linen pantsuit with cropped trousers.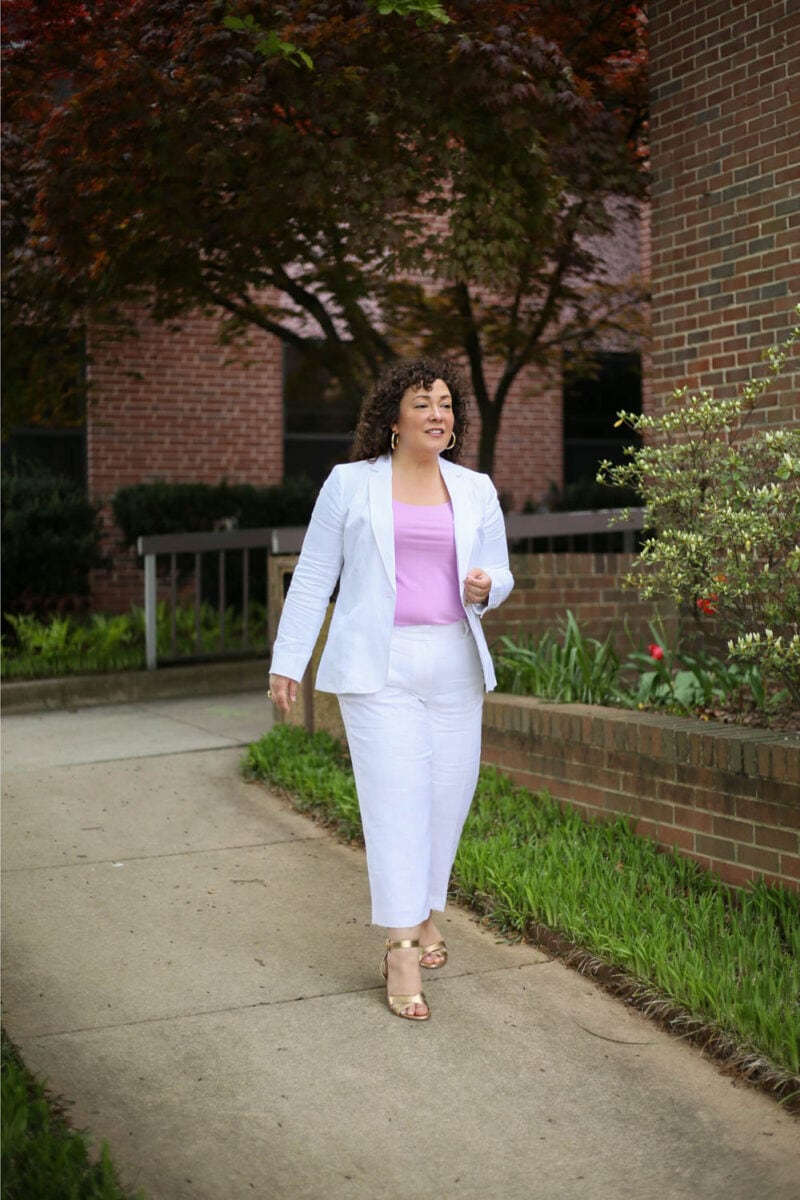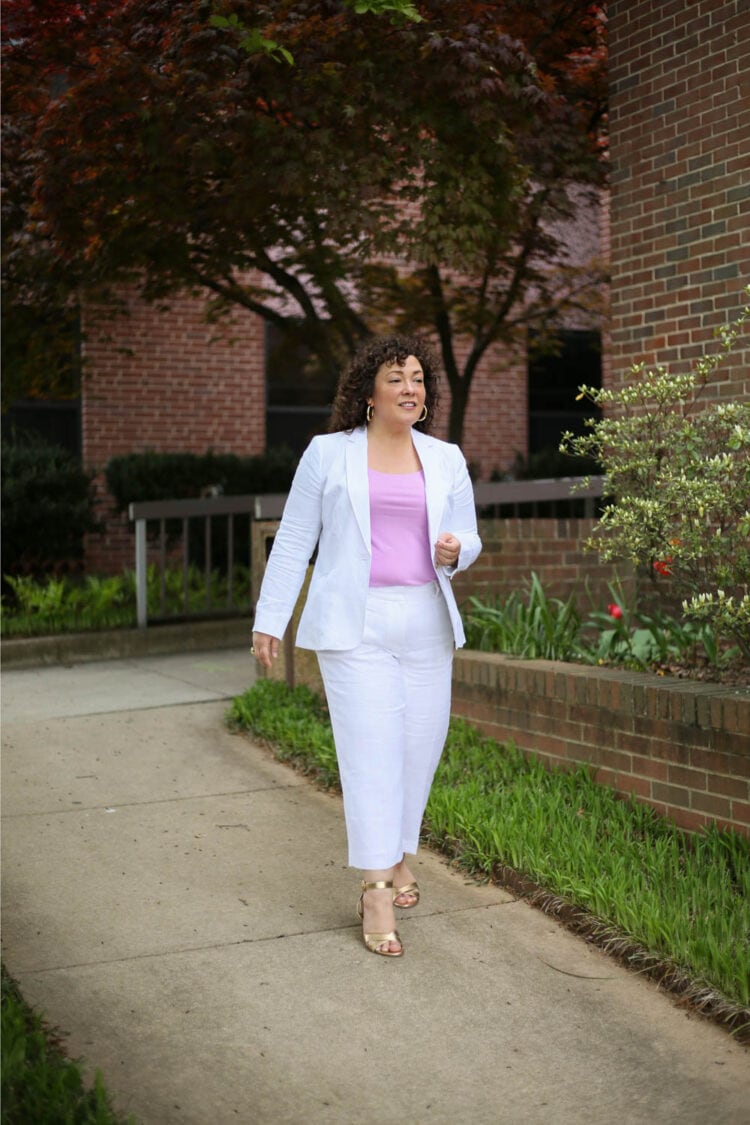 I mentioned in a recent Friday Shop post that I requested this look from Talbots. The last suit I got from Talbots was right before the 'demic last year and it fit beautifully right out of the shipping package. Wanting to counteract all the soft knits of the winter, I wanted a pantsuit to feel like myself, and maybe to wear when I celebrate once my second vaccine shot has kicked in!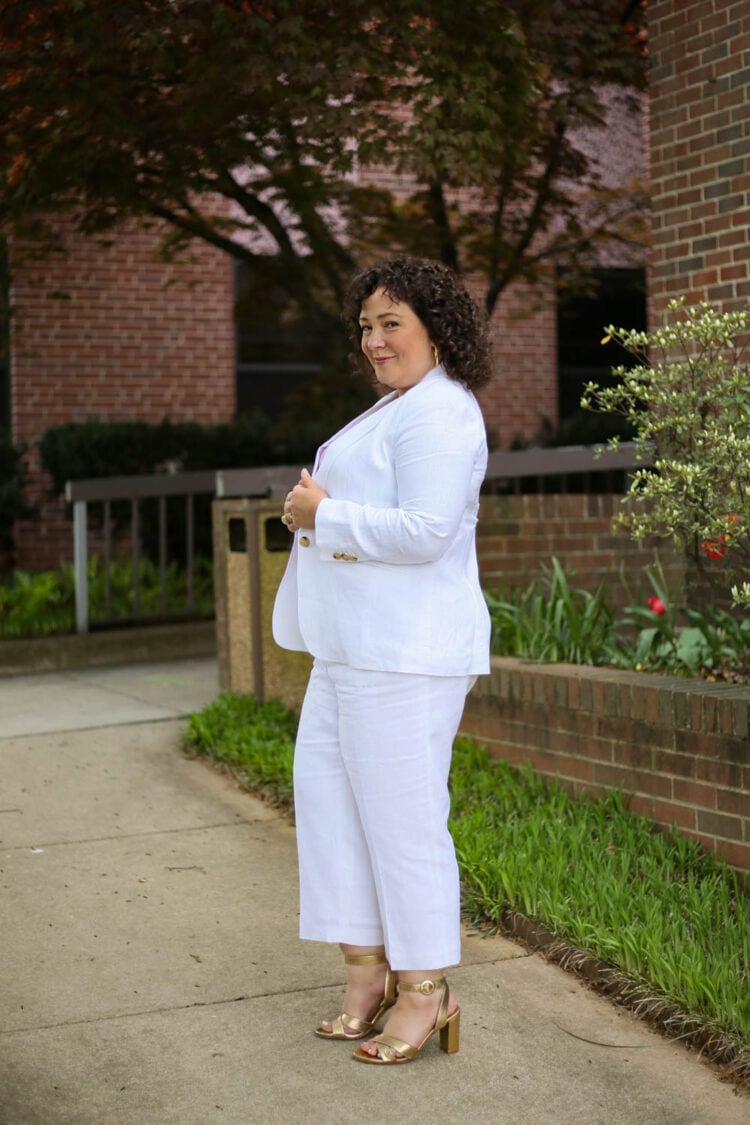 I am consistently a 14 petite in Talbots and both the cropped lined pants and the blazer are in 14 petite. The shell is size Large as I sometimes find petite too tight across the bust.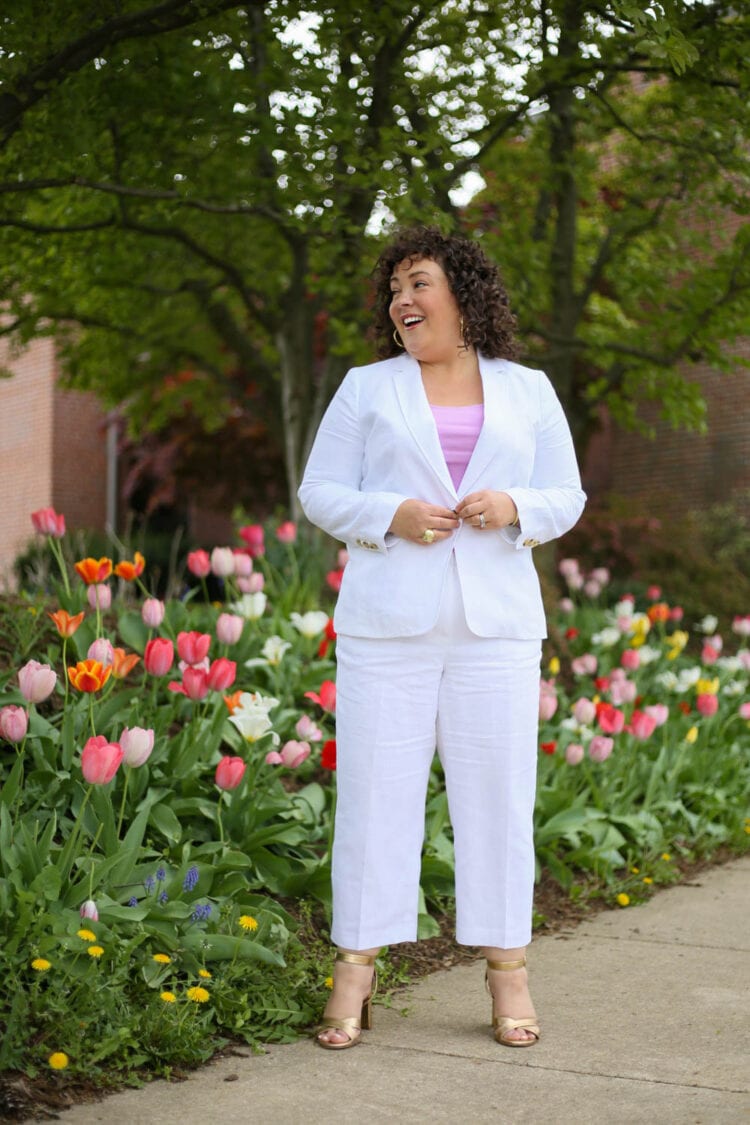 Blazer: Classic Linen Blazer c/o Talbots (14 petite) | Pants: Linen Straight Leg Crop c/o Talbots (14 petite) | Top: Pima Cotton-Blend Tank c/o Talbots (L; other colors available) | Shoes: Margaux (read my Margaux shoes review) | Ring: Insignia Empress Luxe Ring c/o REALM | Earrings: Baublebar
Again, Talbots hits it out of the park with great fit and classic silhouettes that won't look dated in a season or two. As someone with soft curves, I find it hard to find suiting that I don't need my tailor to practically recreate. Usually, I have to go up a size or even two and have him nip and tuck so a blazer can fit my bust and arms; no need with Talbots.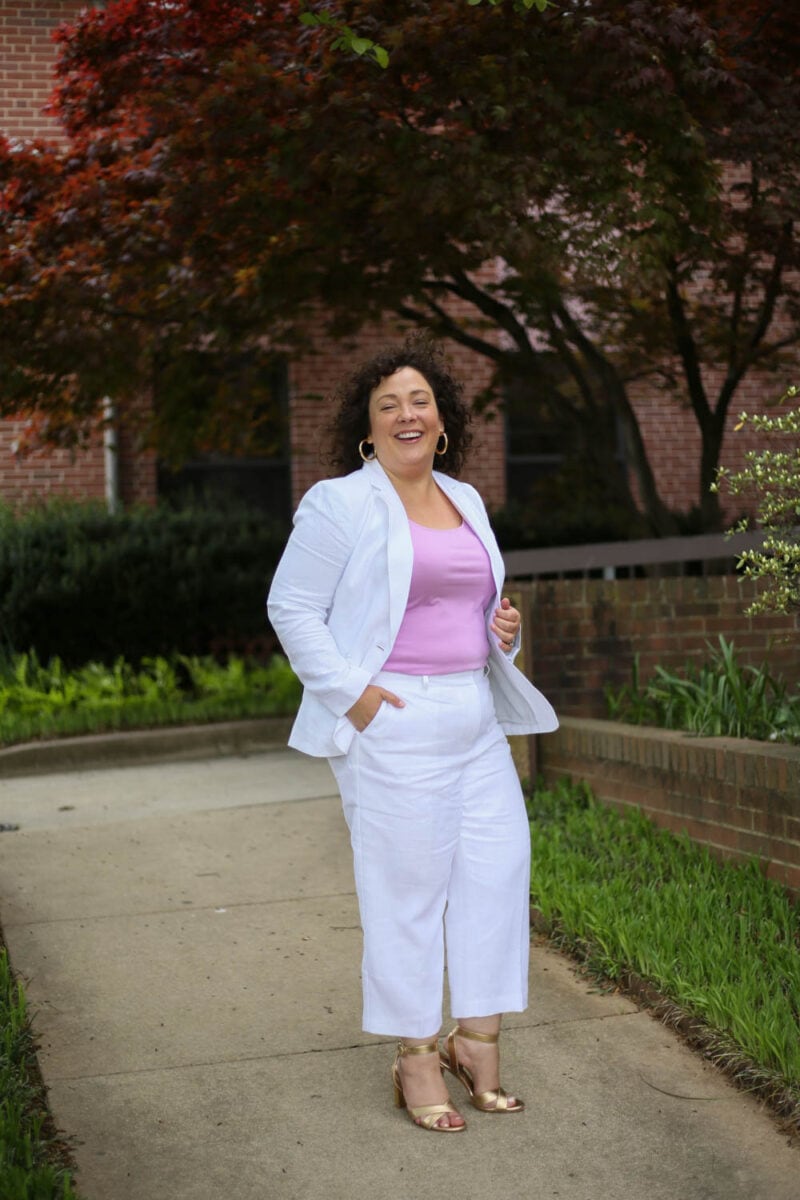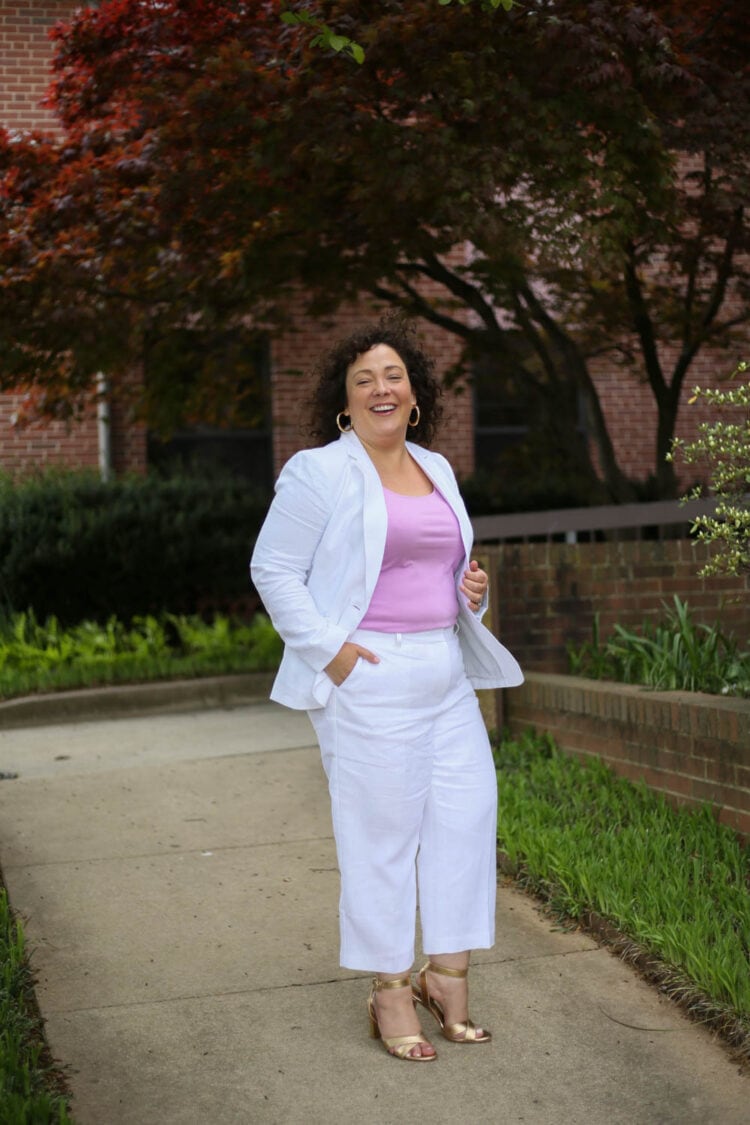 Please note this entire look is available in Talbots' full size range. Sometimes Talbots only has pieces in Misses, maybe with some Petite. These pieces are available also in Plus and Plus petite up to size 24.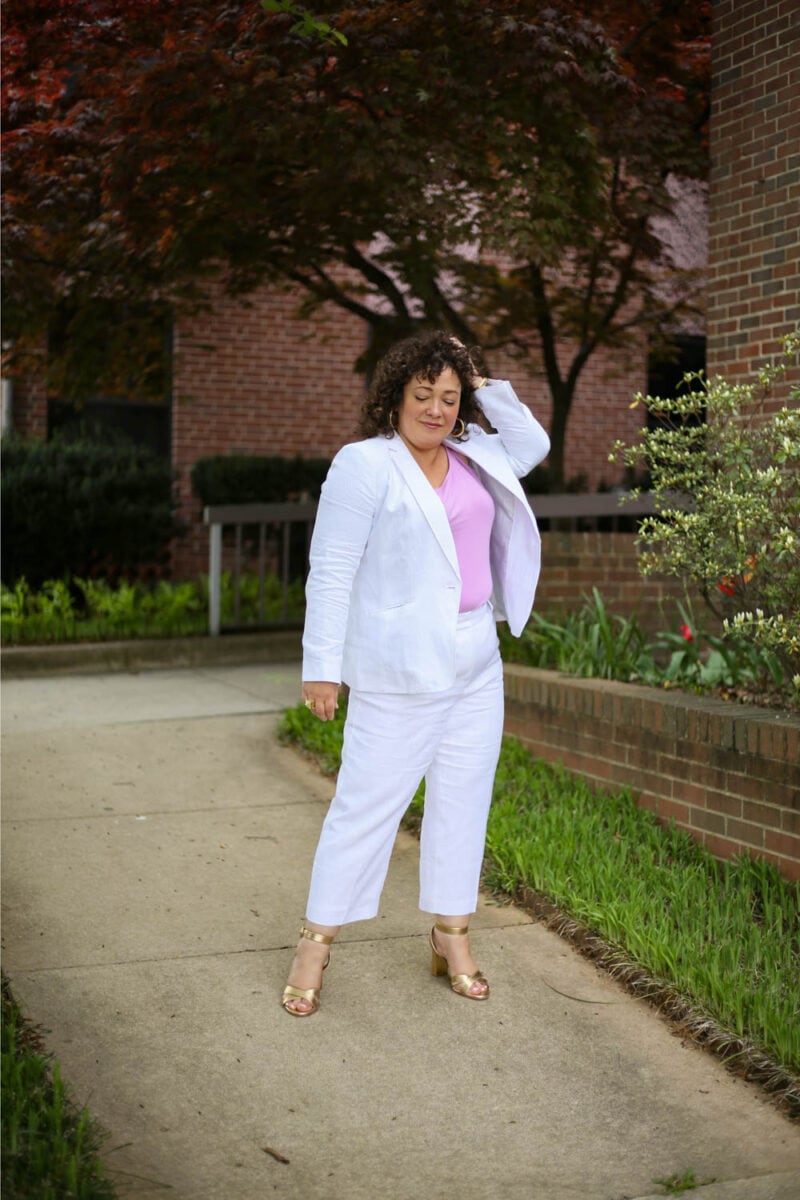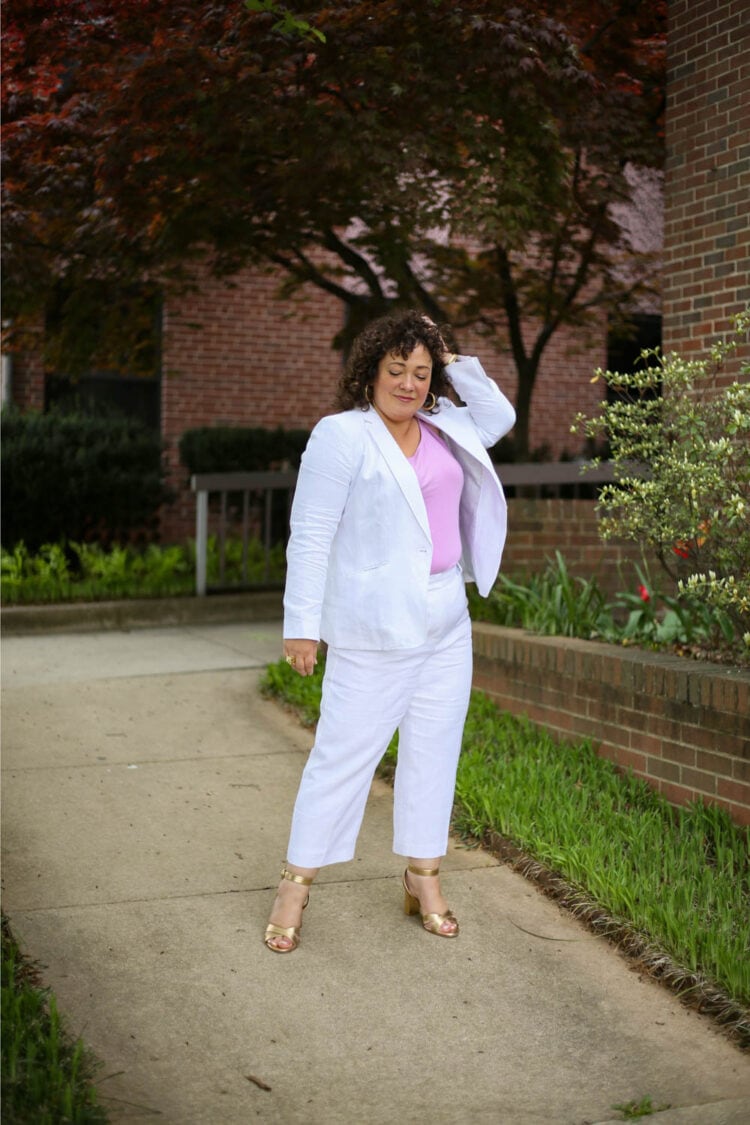 Unlike yesterday's Universal Standard linen collection, Talbots' linen pieces are 100% linen so yes, they are more likely to crease and wrinkle. Both pieces are lined which offers stability to reduce the number of creases and makes it look more casually rumpled the way linen looks best.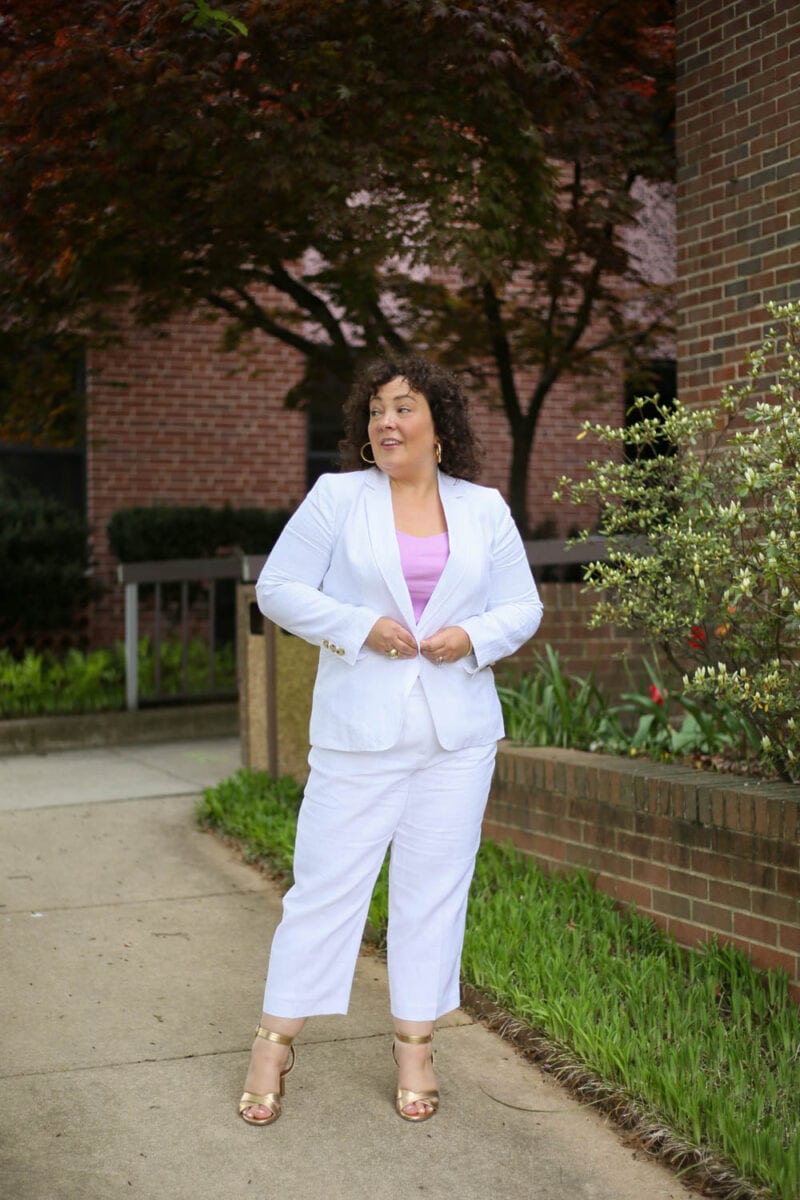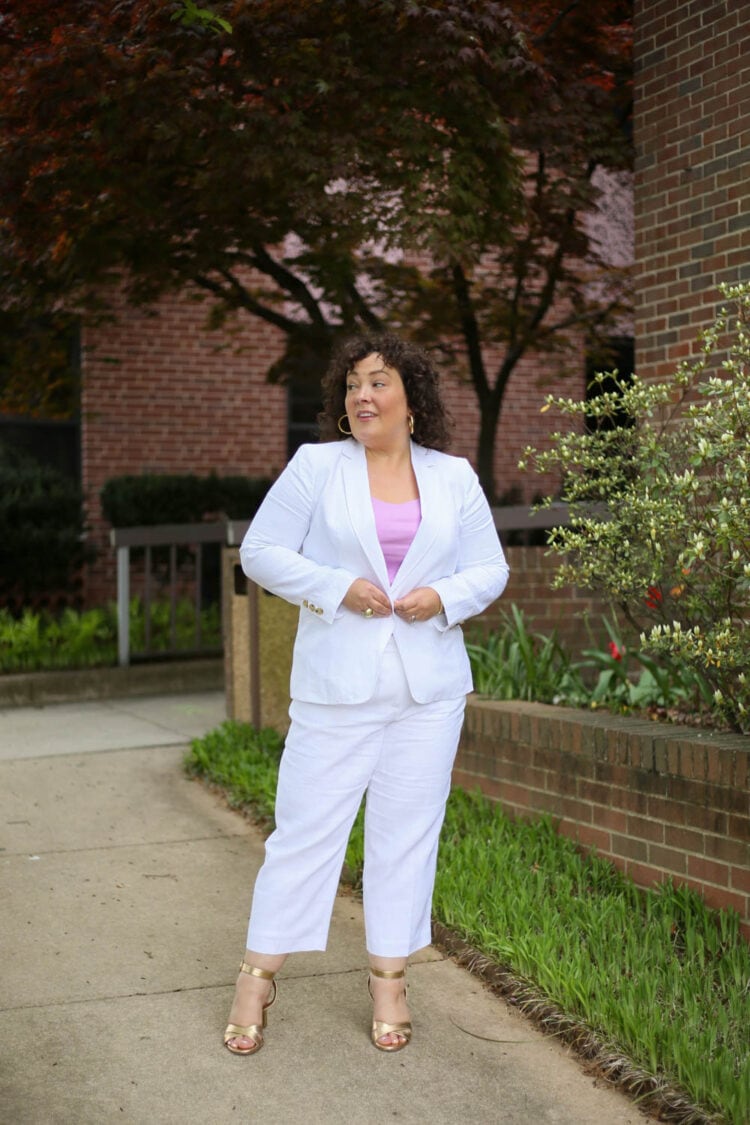 When looking for a base layer for this Talbots linen pantsuit, I wanted lilac. Lavender. Orchid. Violet. Purple's paler sisters are on trend this spring and I'm always excited when lavender is on-trend and is a bit brighter and cooler-toned. I chose this tank but Talbots has a lot of this color this season; if you want a coordinated look I got this mask set and they pair perfectly.

I played with a few styles of shoes for this look. If I had the pants tailored a bit shorter, they would have looked pretty cute with some trendy white sneakers. I considered my white croco loafers (same brand similar style) which were cute, and a pair of almond- or pointed-toe flats or oxfords would also be a great choice. But I went with a celebratory shoe.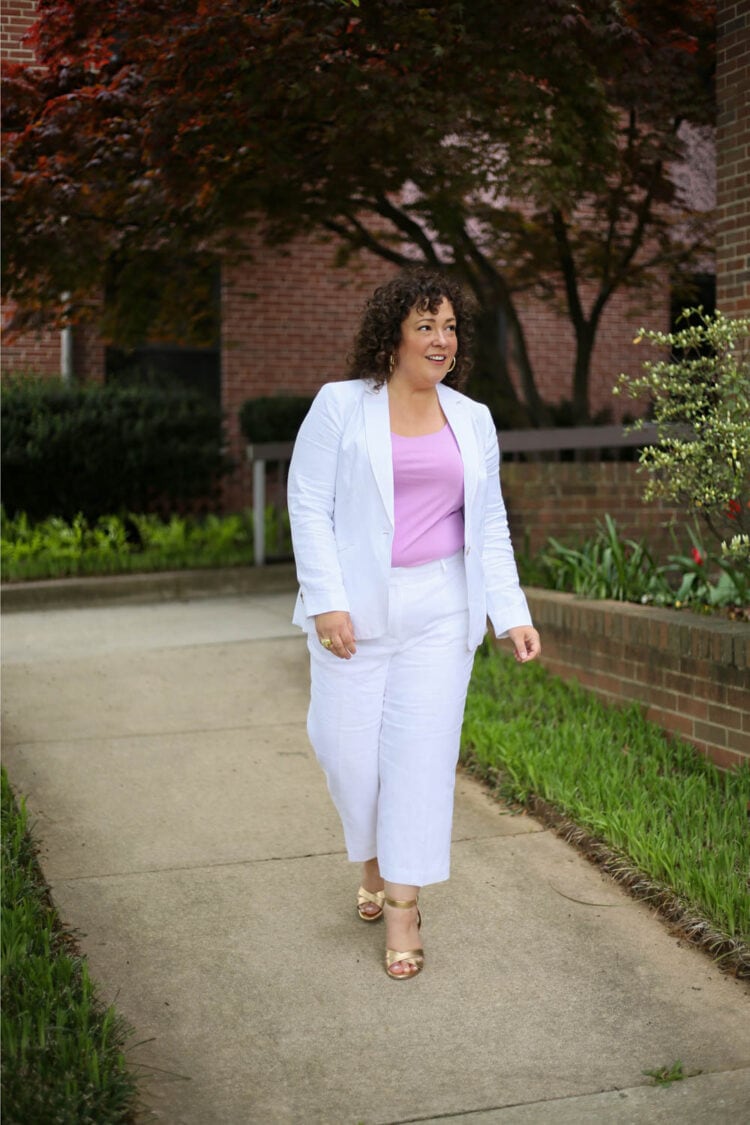 After a year in slippers, hiking boots, and Birkenstocks, few of my heels are comfortable anymore. In fact few even fit as my feet spread over the months. However, these heels from Margaux not only still fit but are still comfortable.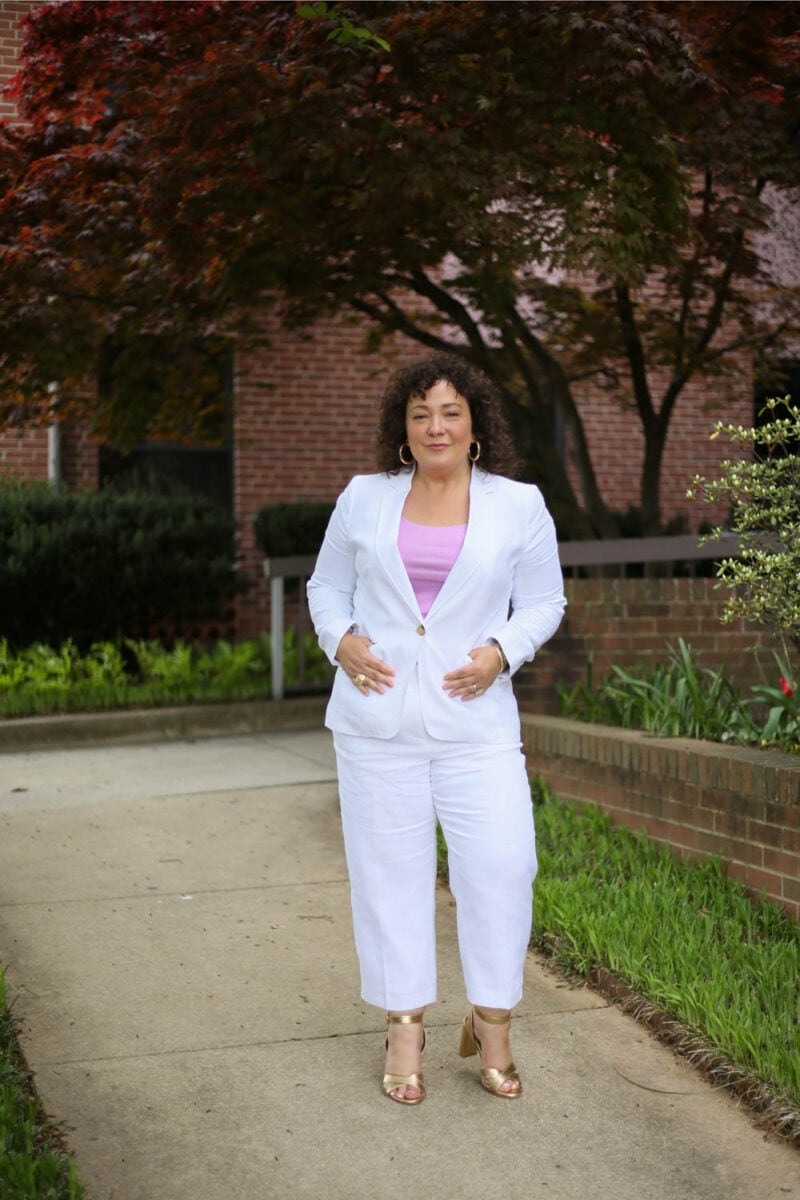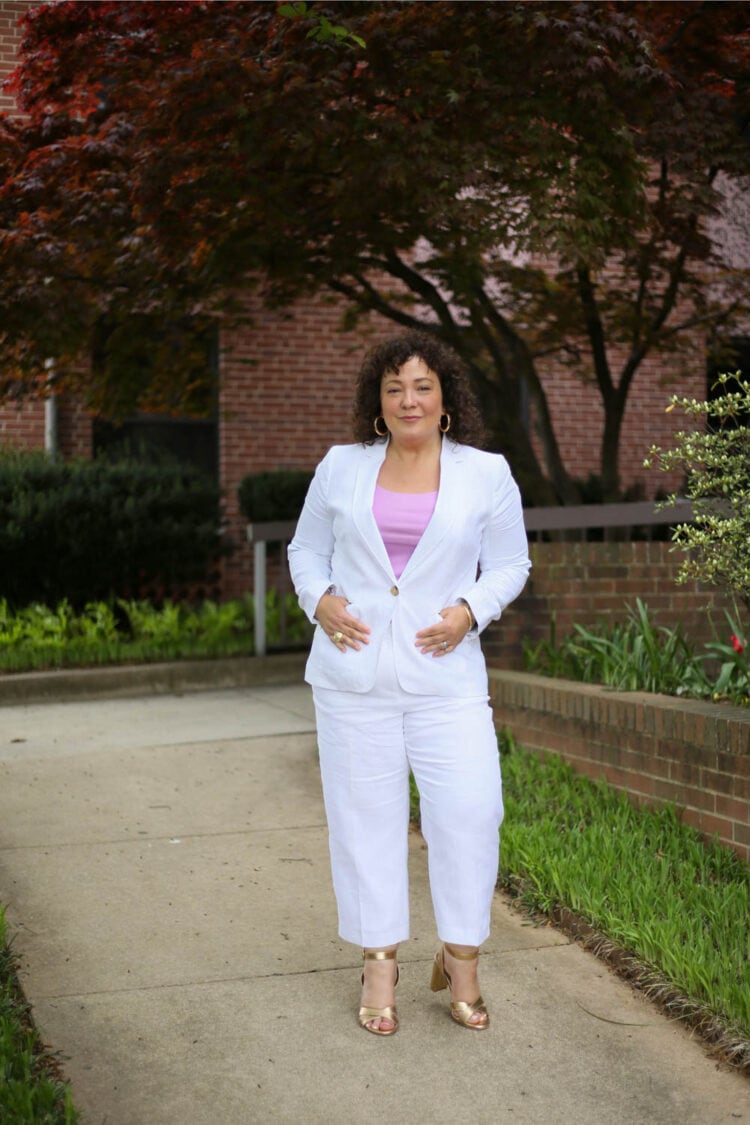 These heeled sandals from Margaux were such a good purchase (read my initial review). I can run in them, stand for long periods of time, dance, and I feel secure and my feet have plenty of room (Margaux shoes come in three widths). Once the world opens again I plan to buy another pair of Margaux shoes (these are their only high heels) because these have impressed me so much.
Shop the Post: