This article may contain affiliate links; if you click on a shopping link and make a purchase I may receive a commission. As an Amazon Associate, I earn from qualifying purchases.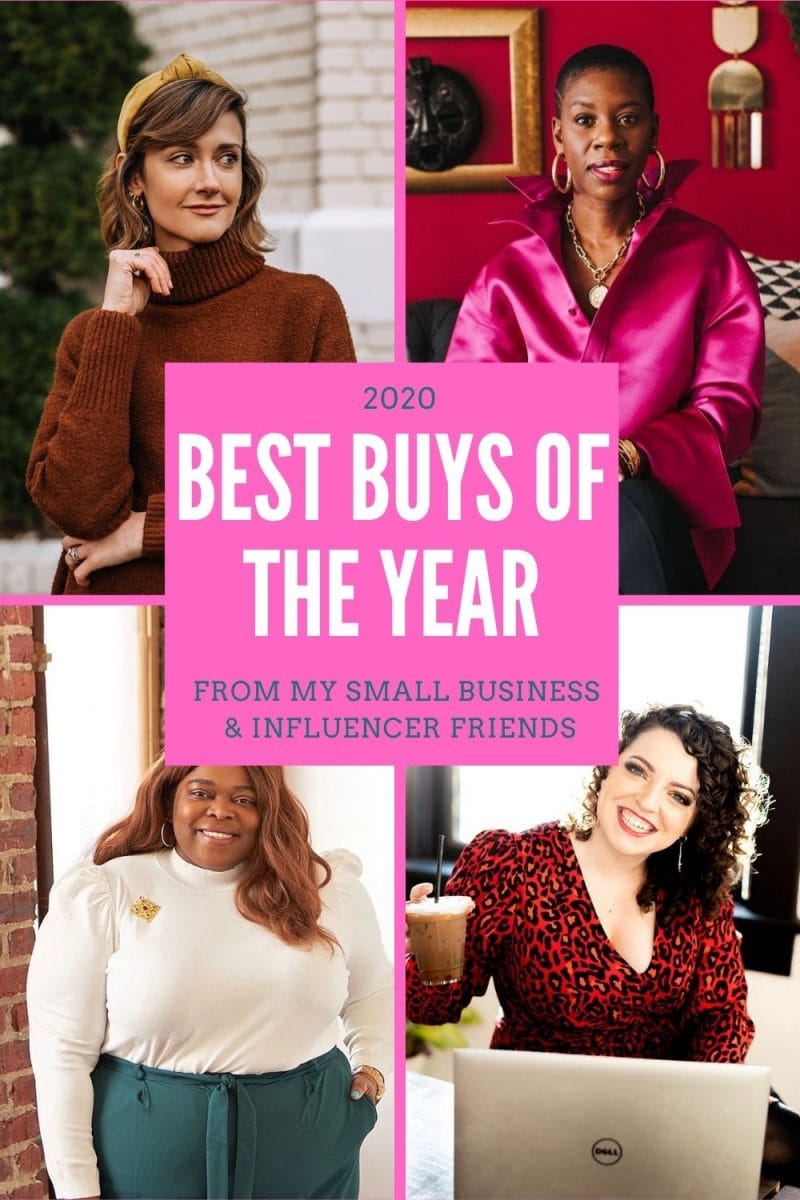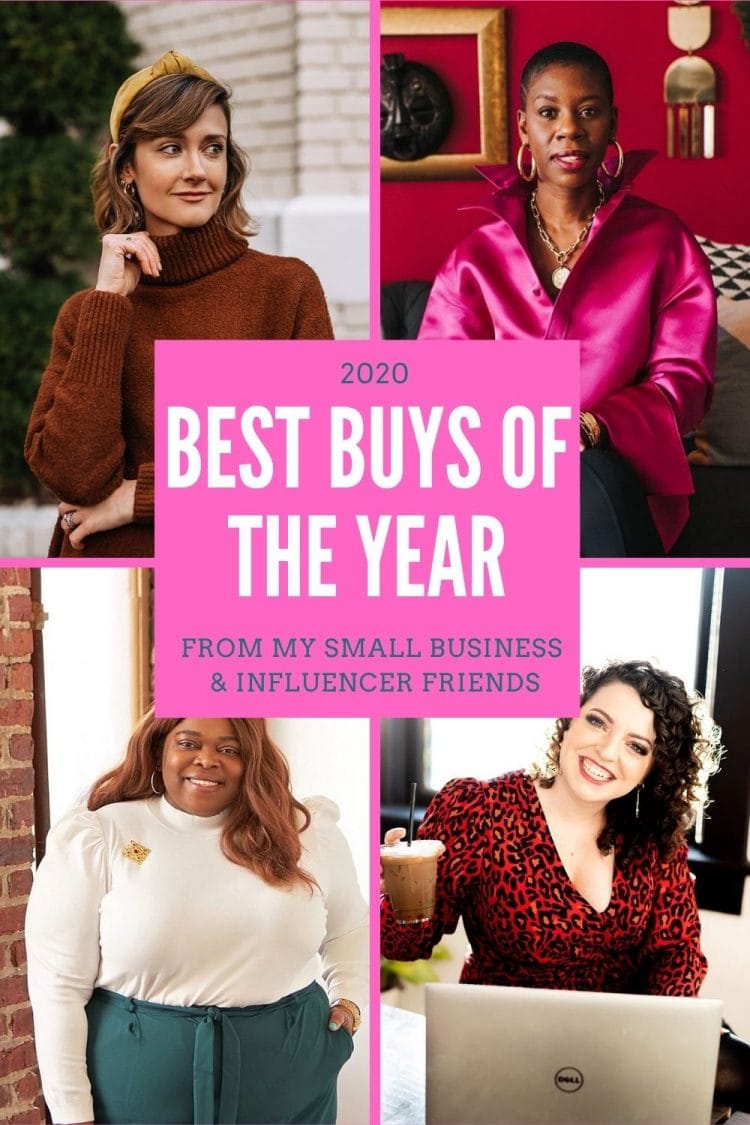 I know I am not the only one constantly inspired by and influenced by her friends. And this weird year, a lot of that inspiration and influence happened online through Instagram, texts, Zoom calls, and reading reviews on Facebook and when they have them, blogs. I decided to reach out to some of my friends who have an online presence: bloggers, Instagrammers, business owners, podcasters, and more and asked them to share their favorite purchases from last year.
I figured if these amazing women inspired me, they may also inspire you. And their responses were so fun and so varied! Fashion, cooking, books, technology, and even new furry members of the family were shared. And I think these answers really show how the year 2020 changed us and our priorities.
If you want to get to know these women better, I have shared their Instagram accounts as well as their website/blog/podcast/channel. I think they're fantastic, and I hope you do too!
I enjoyed gathering these responses from my friends, and I hope you enjoy them! And if you have a favorite purchase from 2020, do share in the comments and inspire others with what may be their favorite purchase of the New Year!
San Francisco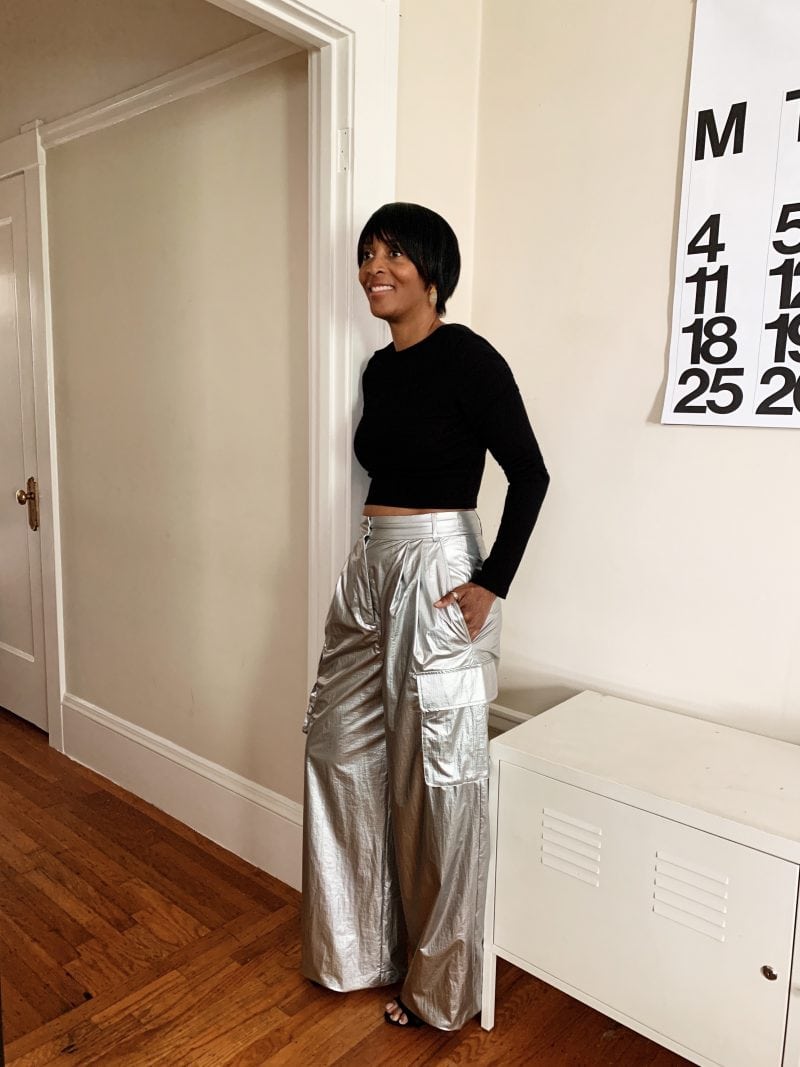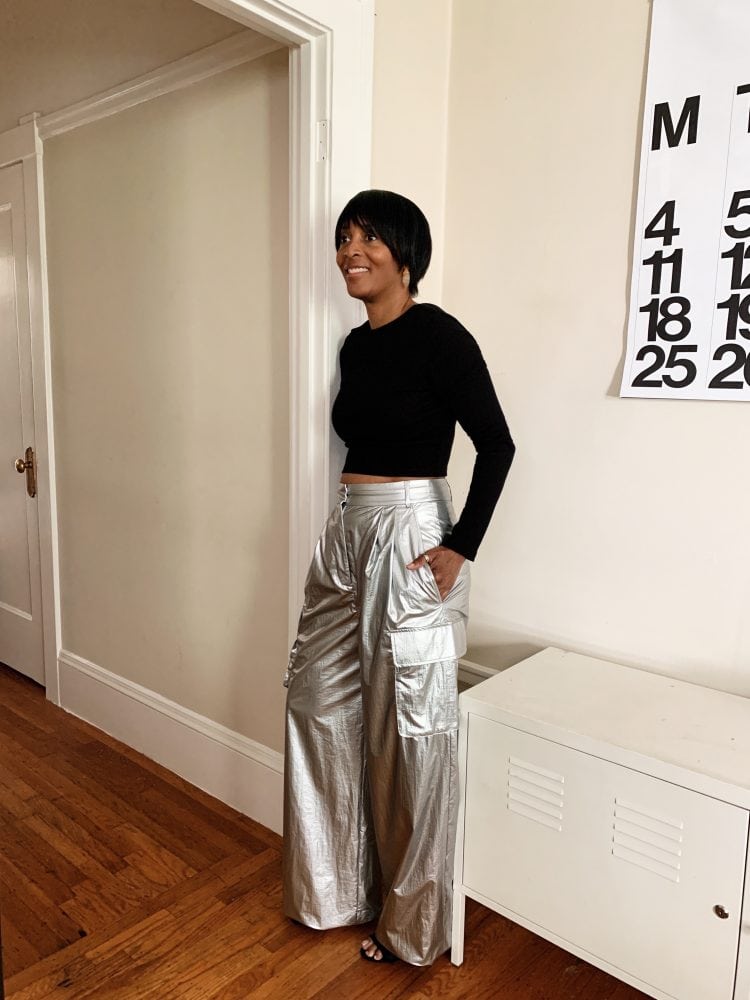 "My favorite purchase of 2020 are the Tibi silver metallic cargo pants. Tibi is one of my favorite brands, and I remember seeing photos of this show and thinking there were the coolest cargo pants ever. Pre-COVID, I saw myself wearing these as a new take on cocktail attire. I considered not getting them because where was I going out? But they really are very versatile, going from dressy like here, comfortable for working from home, or dressing down in sneakers. Maybe they seem a bit impractical, but they're fun…and that's what clothes should be all about."
Maryland suburbs of Washington, D.C.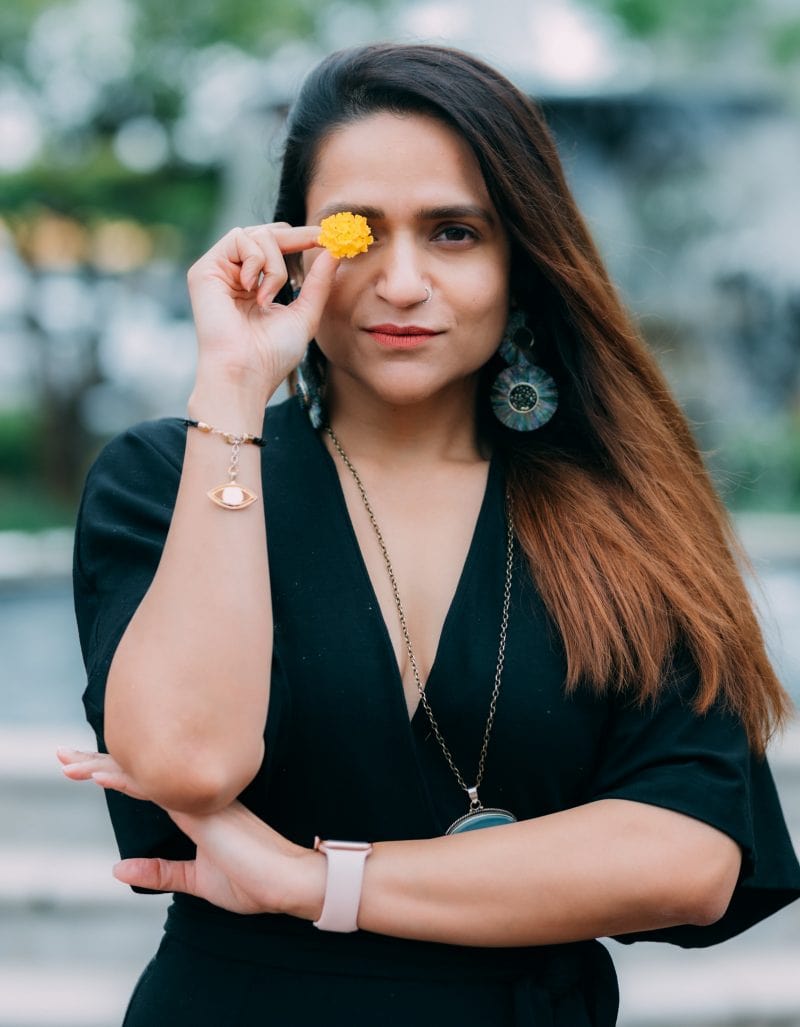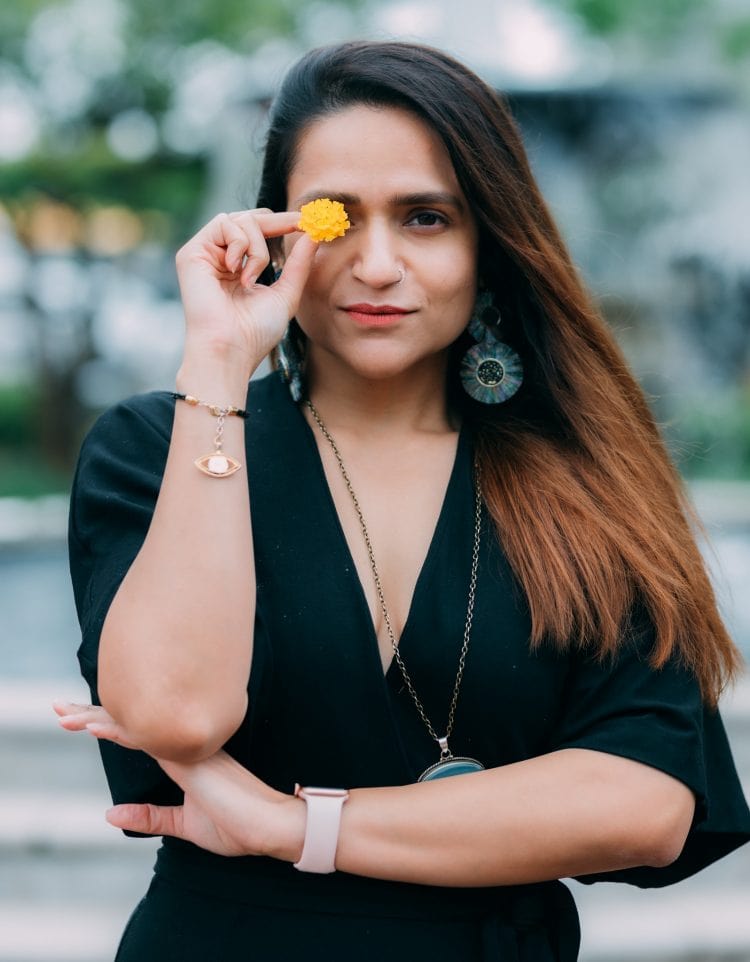 "The best purchase of 2020 for me has been the APL Performance Sneakers (TechLoom Wave). They were on my wishlist for years but I had not been able to hit 'buy' due to the hefty price tag ($245). However, once the COVID-19 lockdown ended and I started to take stock of what I had done during that time, I had realized that I was consistent and disciplined about my home workouts. I felt the need to reward myself to keep going for the remaining of the 'demic (since there was no end at sight at the time). In mid-summer I hit 'buy' and got myself a pair in white which I had intended to only use indoors for my HIIT workouts."
"Boy, oh boy I cannot tell you how glad I am with these sneakers. They are lightweight, with just the right amount of snug and are super comfortable on my wide-toe feet. I have been wearing them every-single-day and have already got the value for the money spent. Bonus: they are easily washable in the washer-dryer at home. I would highly recommend these to anyone who does a lot of high intensity training and/or is looking for a stylish yet comfortable pair of sneakers which aren't chunky/bulky."
Toronto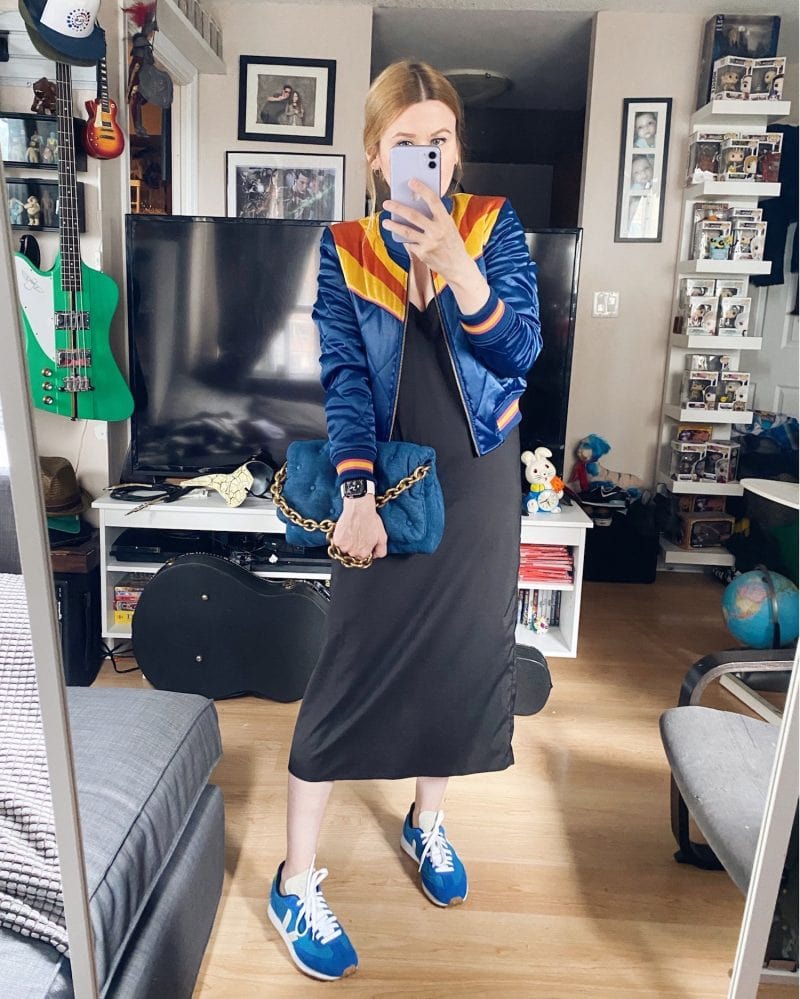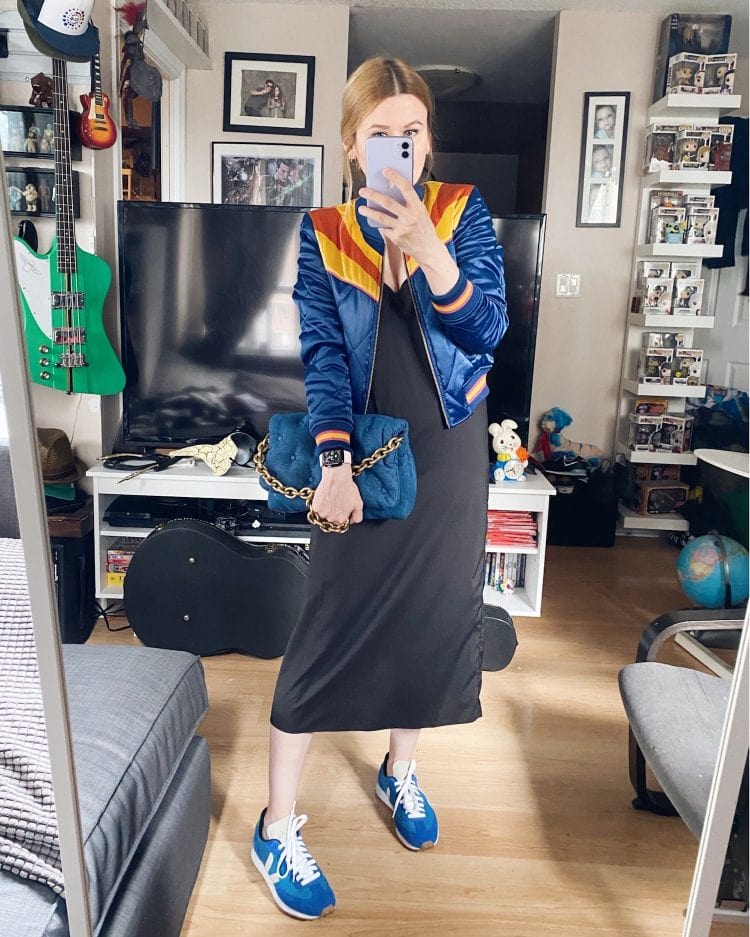 "When the lockdown hit at the beginning of March I, like many others went on a shopping hiatus. It was scary and stressful and I usually shop when I am stressed so I had to adapt."
"Fast forward to May. Spring was in the air, sunshine and warmer weather and I was feeling uninspired with my wardrobe even though I wasn't leaving the house much. I wanted a pair of new sneakers, but not any sneakers. I wanted the Veja Rio Branco in white which was impossible to find anywhere in my size. Then I came across them at a local retailer, but they were blue."
"A bright blue called Swedish blue, and I didn't like blue. I have never liked blue. I would actually describe it as my least favourite colour, but for some reason, I instantly got that rush that you get when you know that you have found a special piece."
"So I bought them, and they are my most worn shoe ever. Two weeks later…
I was searching through Etsy and I came across a jacket by ClassicRockCouture that had been on my wishlist for YEARS. It is handcrafted but looks vintage and I wanted one so badly but could never justify the purchase for myself…until then. I was feeling inspired again thanks to the shoes. It comes in several colours, but I chose blue. I thought 2020 would be the year of getting fit for me, but it turned out to be the year where I learned to love blue. "
Brooklyn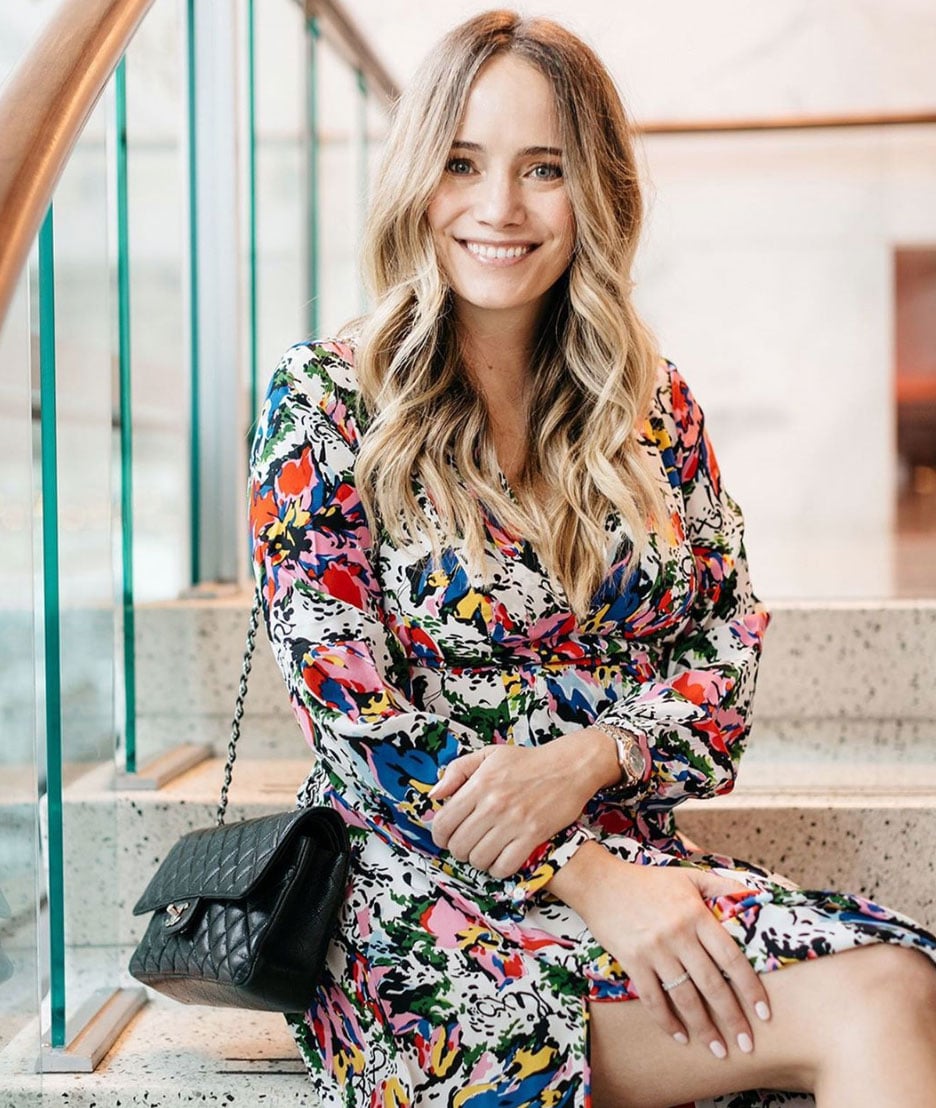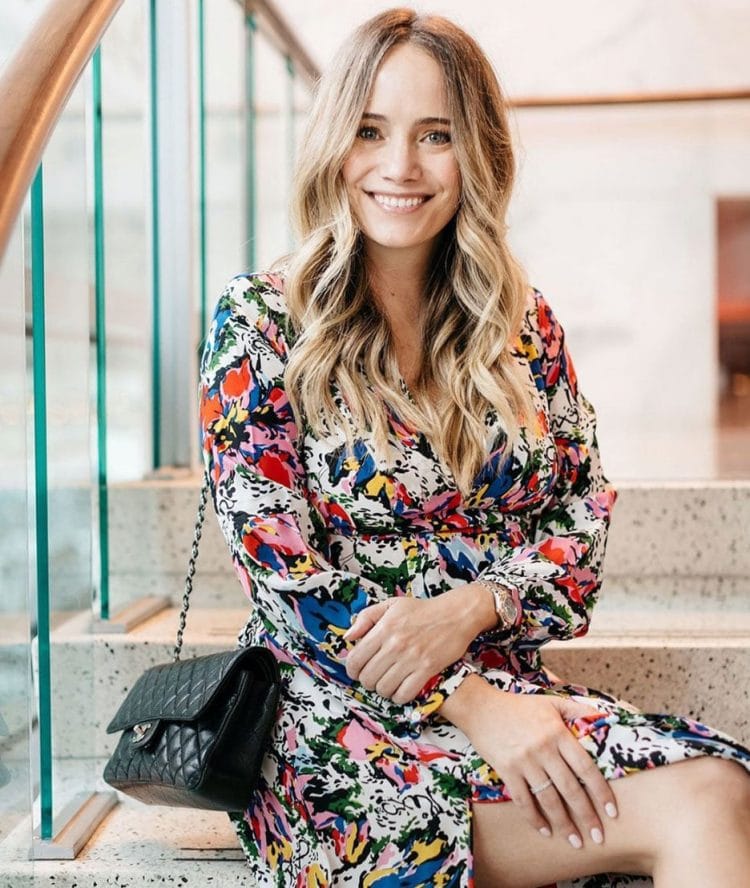 "It's hard to say what my best purchase of 2020 was. New dining room chairs? My air fryer? Needless to say, 2020 was a year of time spent at home, and when you are single and live alone, anything that made staying home feel a little bit better was a winner. I'm going to go with these cozy slouchy socks, though. They are the absolute most comfortable and weirdly make me feel safe, secure, and cozy while wearing them at home during lockdown. They also transport me back to my youth of growing up in the 80's / early 90's. I've now bought two sets and cannot recommend them enough."
Washington, D.C.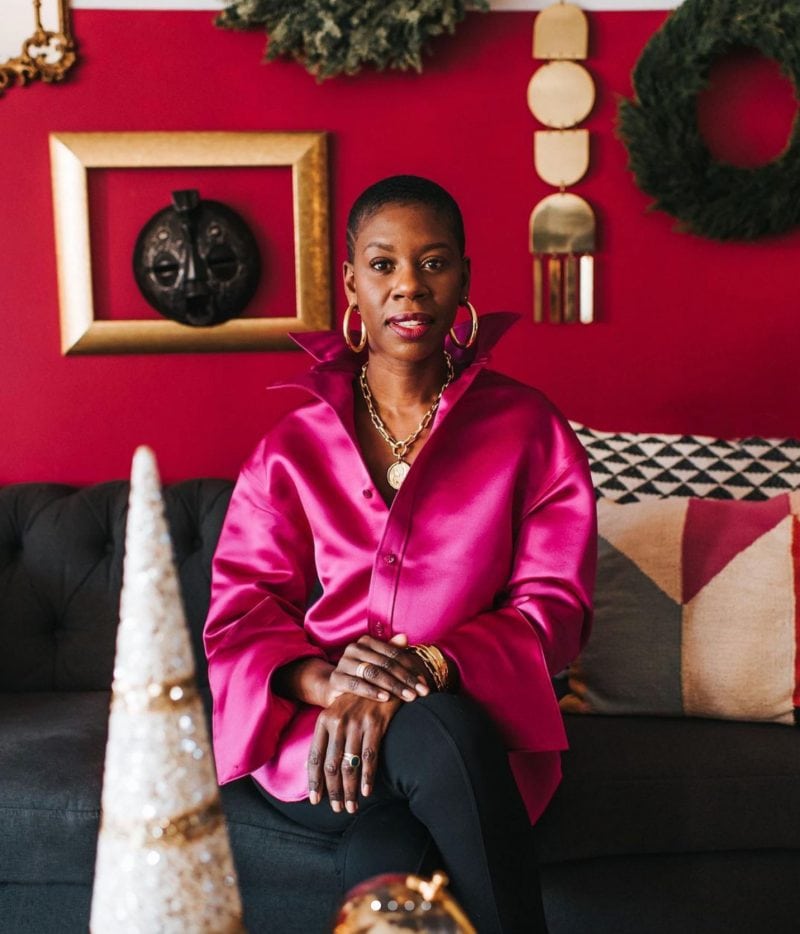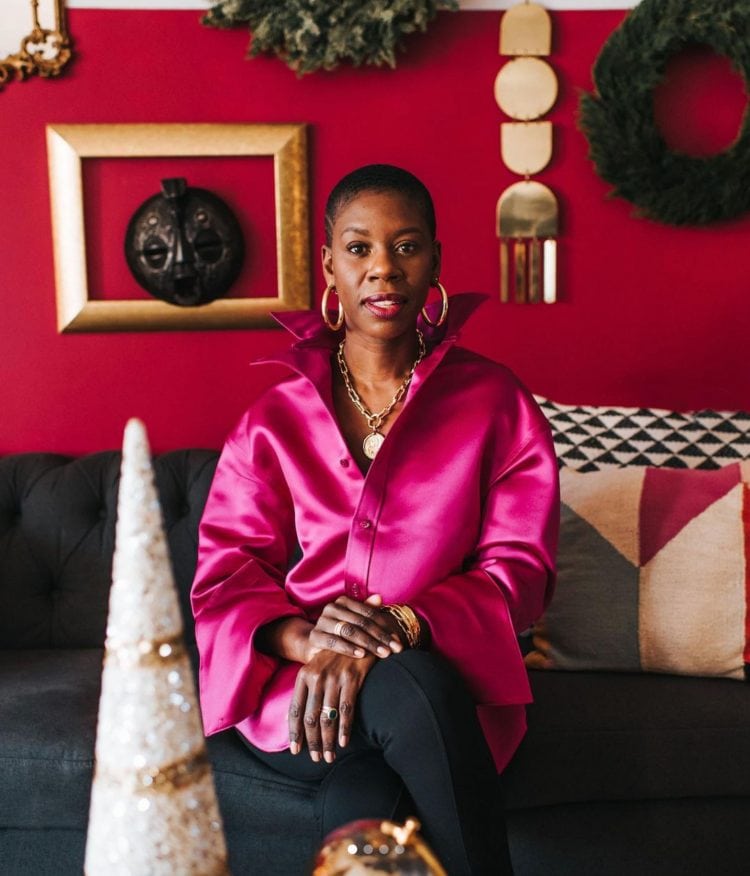 "My favorite purchase of 2020 was my large Louis Vuitton agenda cover. It was a total splurge when I walked into Louis to replace my lost keychain. I timidly asked if they had any agenda covers and to my surprise, the sales associate said yes! They're literally always sold out and go for above the retail price on the resale market. It was a sign from the organization gods above that I needed it in my life lol. I stocked it with my favorite inserts from Cloth & Paper, a Black-owned business, and have been using it for project planning and goal-setting. I feel so grown-up and chic every time I use it!"
Washington, D.C. area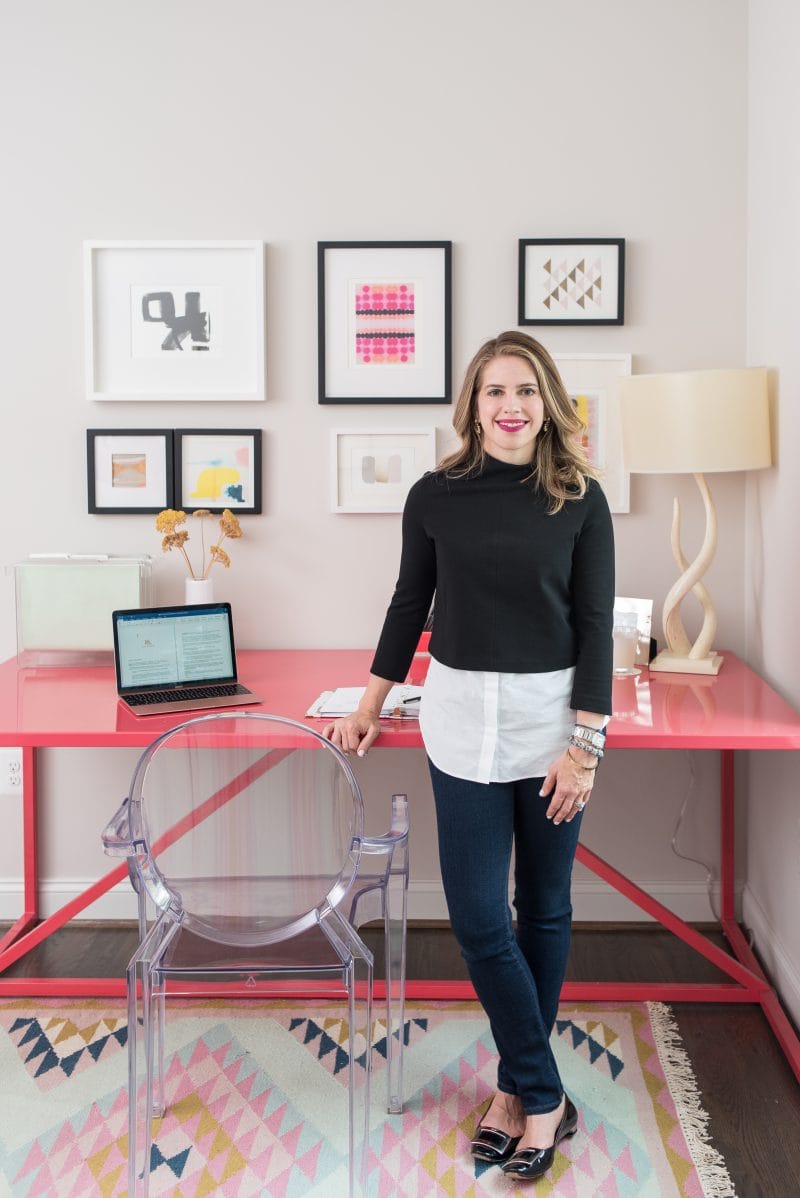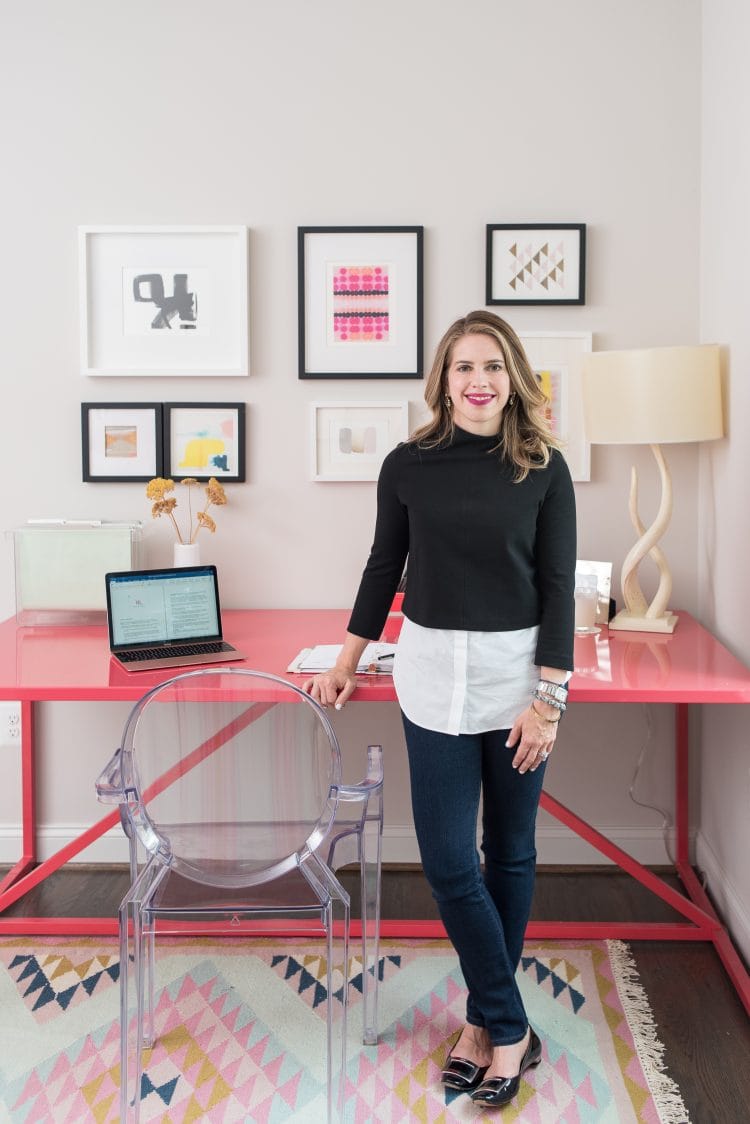 "My best purchase of 2020 has to be the chest freezer that I purchased in late February. I know, a freezer doesn't sound like it could be on even a top 10 list of purchases but my husband and I talk about it at least every few weeks and how much we think the freezer has changed our lives for the better. When we started to hear about COVID, I suggested we purchase another freezer so we could start storing frozen food and meals to have on hand."
"We aren't usually ones to keep a lot of extra food in the house but with COVID and not wanting to go grocery shopping often or go into restaurants, we knew we wanted to stock up. We have been able to keep our family of four nourished with the items inside and it is organized (I had of course I had to organize it!) by category of food."
"We have saved countless trips to the grocery store, saved a ton of money on our food bills being able to see what we have on hand at all times and as a bonus (because it is organized) my girls can actually find something they want for dinner and help me cook it!"
Virginia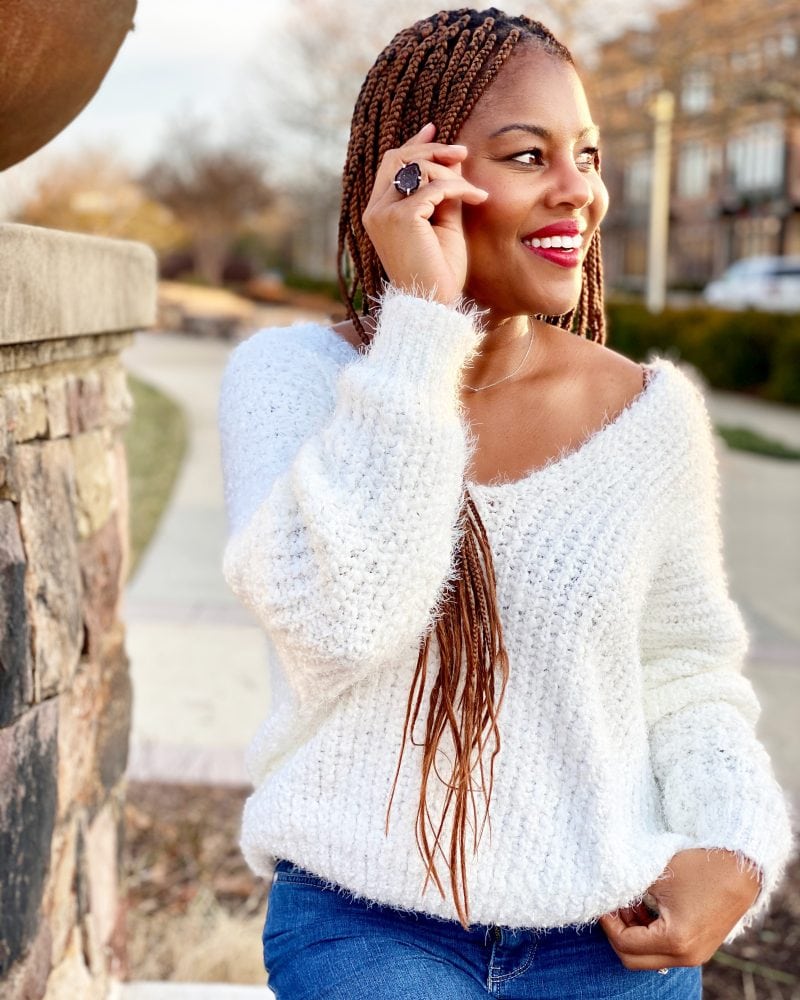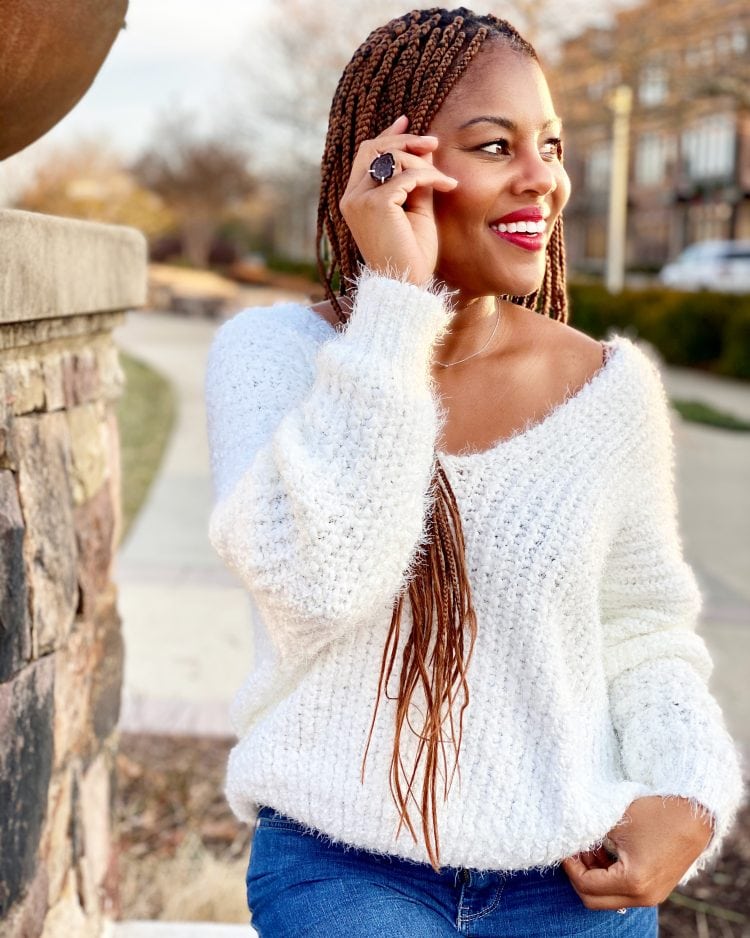 "By mid-March, it became very apparent that I would not be able to travel to see my daughter and her family for the monthly visit we had become accustomed to. I typically made the three-hour trip every three weeks to see my grandsons, but even before our stay-at-home directive was given my daughter had made it very clear that she wasn't taking any chances. Her consolation gift was the Facebook Portal. I loved it immediately."
"Unlike FaceTime, you aren't holding your phone for a video chat and multiple people can be in the frame as it captures nearly the entire room and moves with you as you move around. But the best part is there are little filters that keep my grandkids engaged-they love turning into a meatball or having a frog sitting on top of their heads and I can read stories or play games with them as well."
"I loved it so much I bought one for my mom immediately after receiving mine, and I gifted several to other family members this Christmas. Being able to video chat in such an informal and fun way has definitely brought us a little joy this year."
New Mexico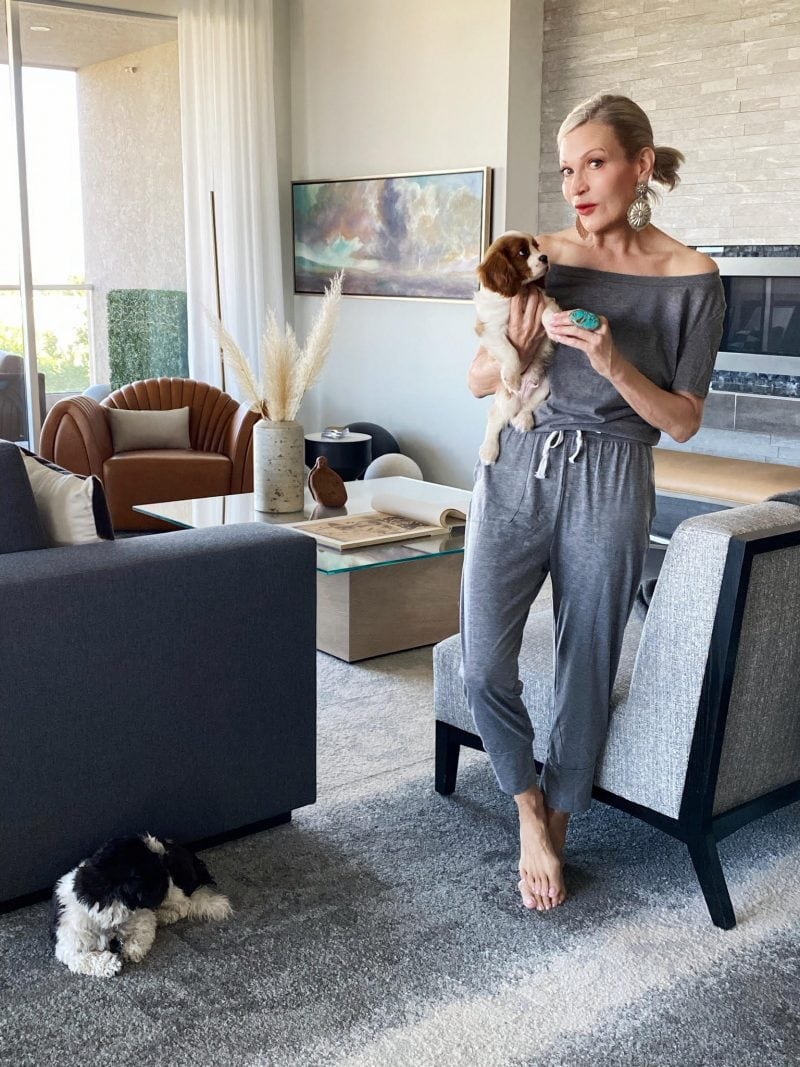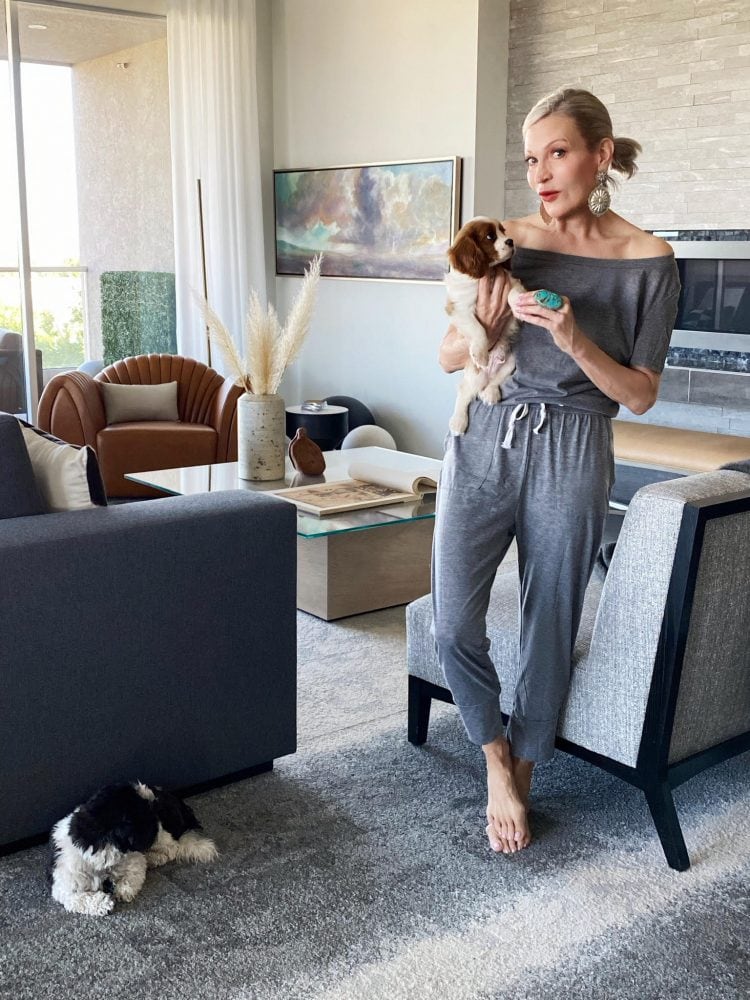 "My/our best purchase this year BY FAR was the addition of our new puppy, Lagerfeld – who was 100% named after the Designer and 0% after the beer (Lager is a Cavalier King Charles Spaniel)."
"At the beginning of Covid, we had to put our beloved pointer/lab mix down. It broke our hearts but especially broke the heart of our Shih Tzu, Valentino. It took a few months for the two of them to get to know each other but now they are the very best friends and bring such joy to our home! *kind of nervous that Lager thinks humans stay home 24/7 though."
Washington, D.C. area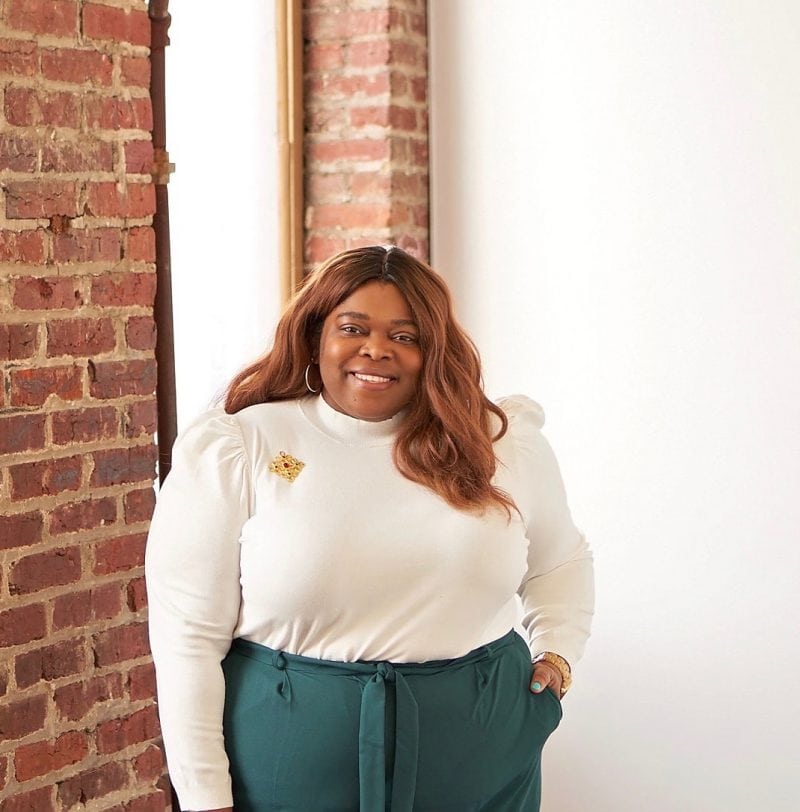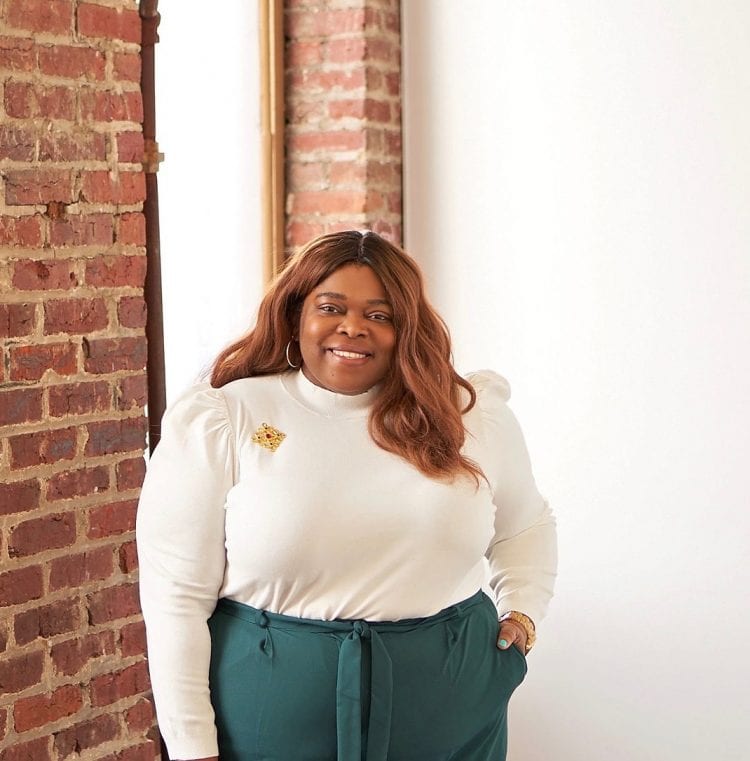 "A few years ago, I discovered Eeni Edit through a friend's post on Instagram. And to say that I'm a fan would be a huge lie – I am a STAN. Flat out. Her artwork of Eeni, an impeccably dressed world traveler, continues to bring joy to my life. Thankfully, she has an online store with products showcasing everyone's favorite fashionista."
"So far, I've purchased a tote bag, phone cases, and desk calendars. But this year, I purchased her beautiful, well-thought-out 12-Month Undated Planner. I've deemed it my creative planner to help me sort out content for my blog and its social media platforms. It comes equipped with laminated tabs, vision board, notes, and cute-as-hell stickers. Hands down my favorite purchase of 2020. So much so, I gifted one to my sister for Christmas."
Brooklyn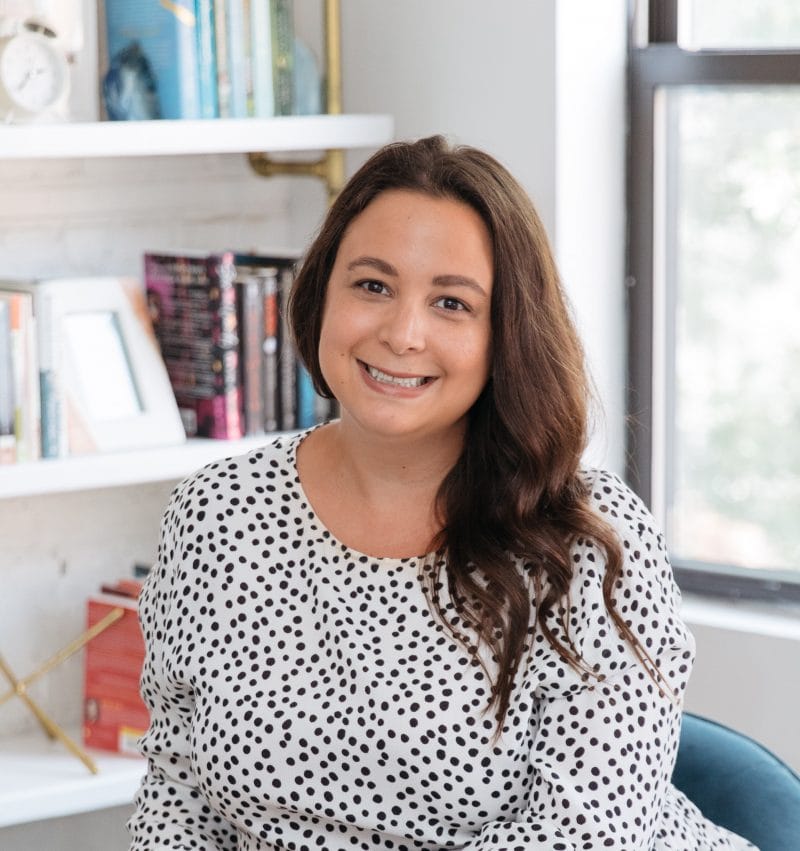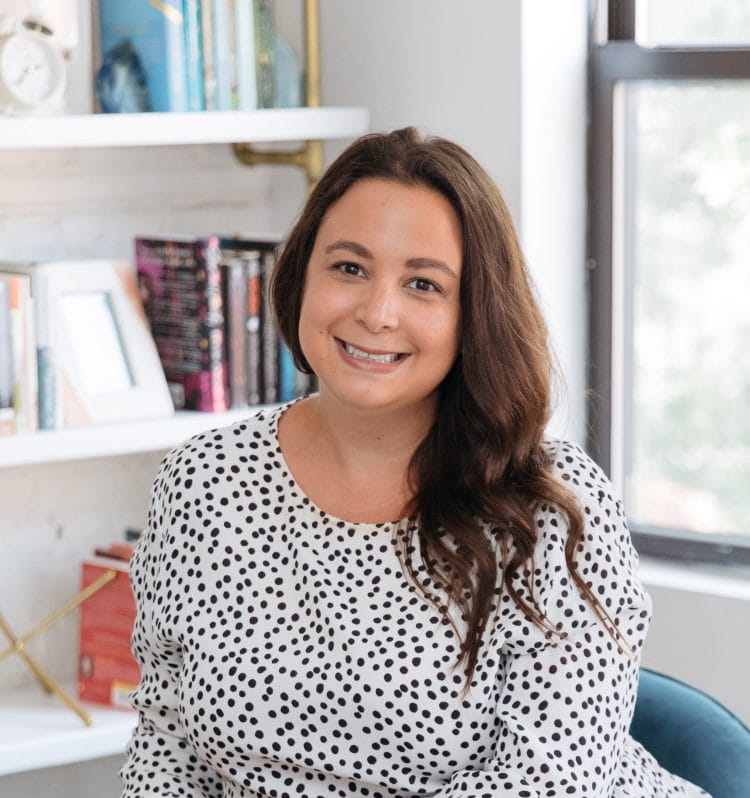 "2020 is the year I bought an airfryer, and yes: every meme you've seen about airfryer ownership is true. At first, I was unsold, most airfryer recipes are complicated and involve battering something, which creates too many dishes when the dishwasher is you. But I found my stride making roasted vegetables that were quicker and more crispy than roasting in the oven, turning frozen tater tots into a restaurant-caliber experience, and heating up any kind of leftover (seriously… ANY KIND from meatballs to pizza to salmon) and giving them a crispy new life on day 2."
Chicago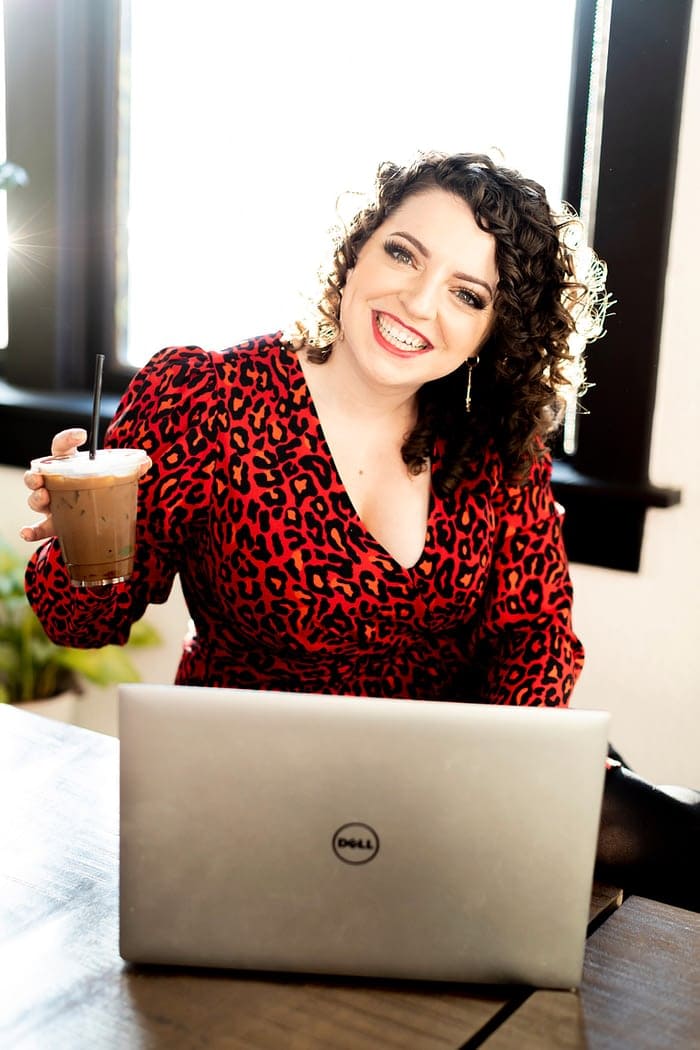 "My favorite purchase of 2020 was this stationery. While a boring purchase, I've written three cards every single Sunday for a year straight and it has been life-changing."
"Taking the time out of your week to send a note is one of the most intimate ways I've found to truly show how much someone means to me even when we can't be together. I've become pen pals with my 98-year-old grandfather and learned more about his life story he never shared before. Never, ever forget the power of a physical card and the power of it."
Washington, D.C. area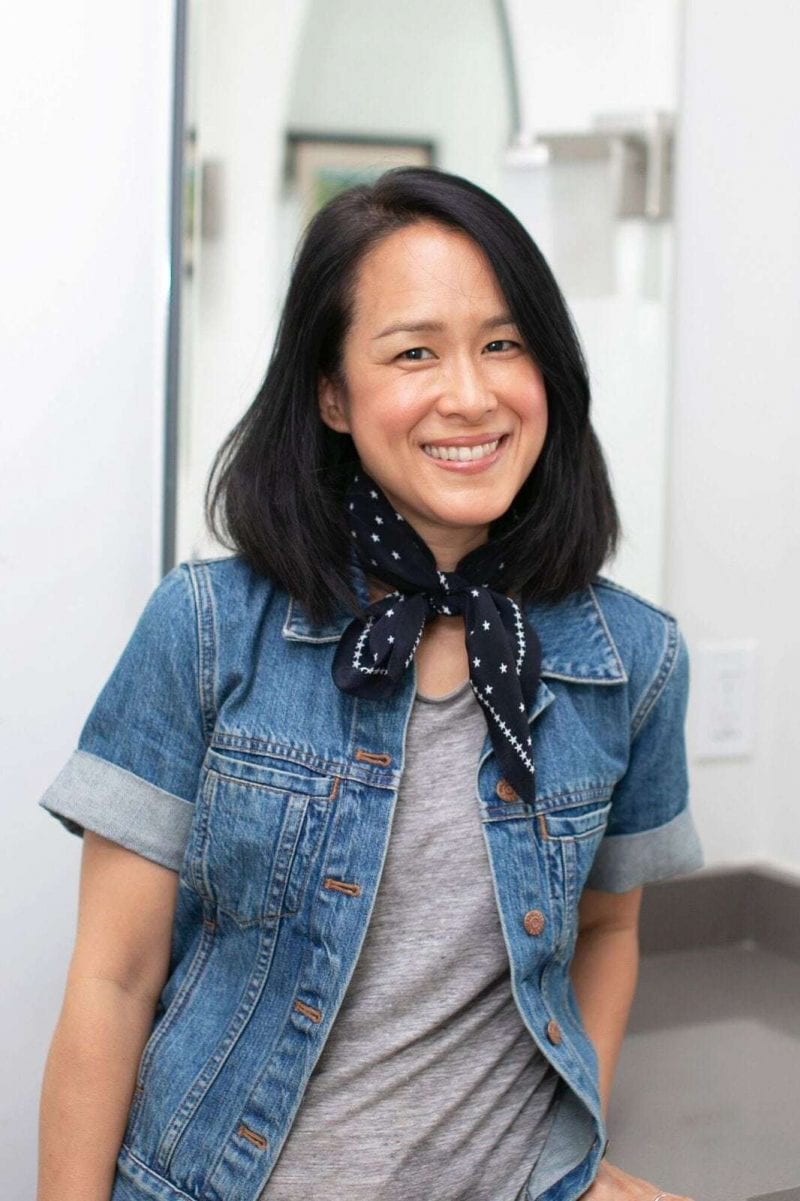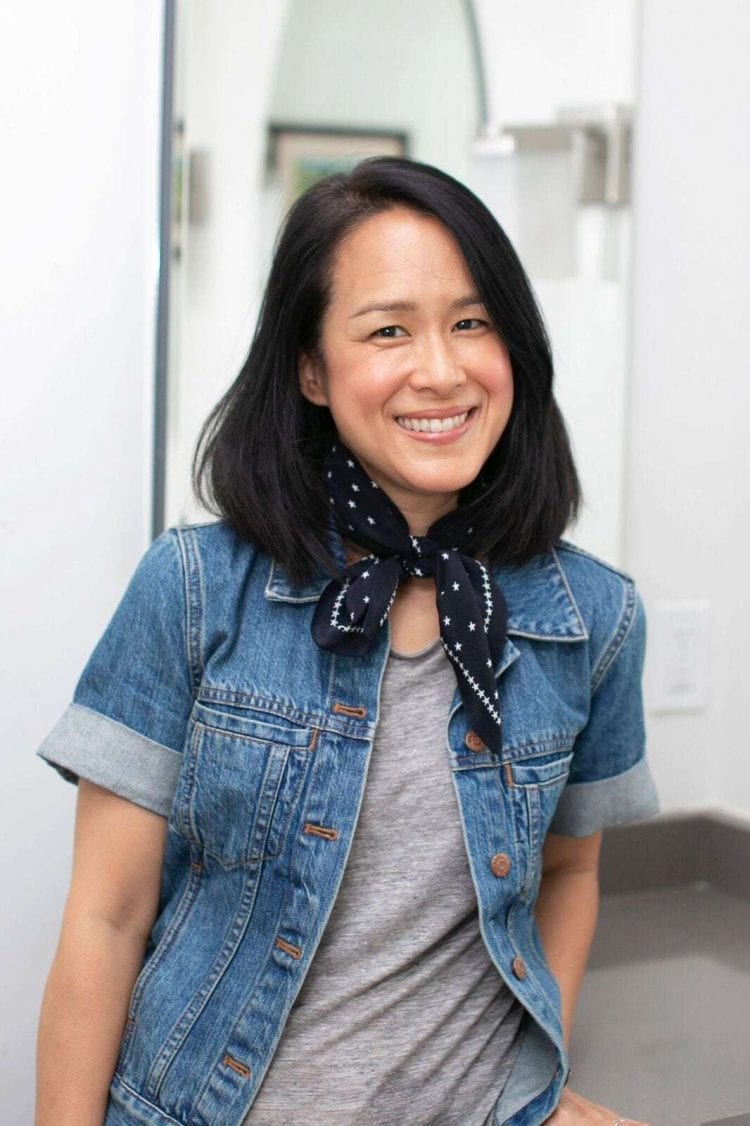 "The Body is Not an Apology by Sonya Renee Taylor is my best purchase this year. 'The voice of doubt, shame, and guilt blaring in our heads is not our voice. It is a voice we have been given by a society steeped in shame.' Filled with gems like this, the book leaves you unsettled if you allow it to work its magic."
"It has not only shifted how I view myself, but introduced intention into my thinking and action, which absolutely has impacted my work as a personal stylist and my approach to doing business. It also reminded me that as much as I have accepted as impenetrable truths about myself… there is so much more to learn."
Washington, D.C. area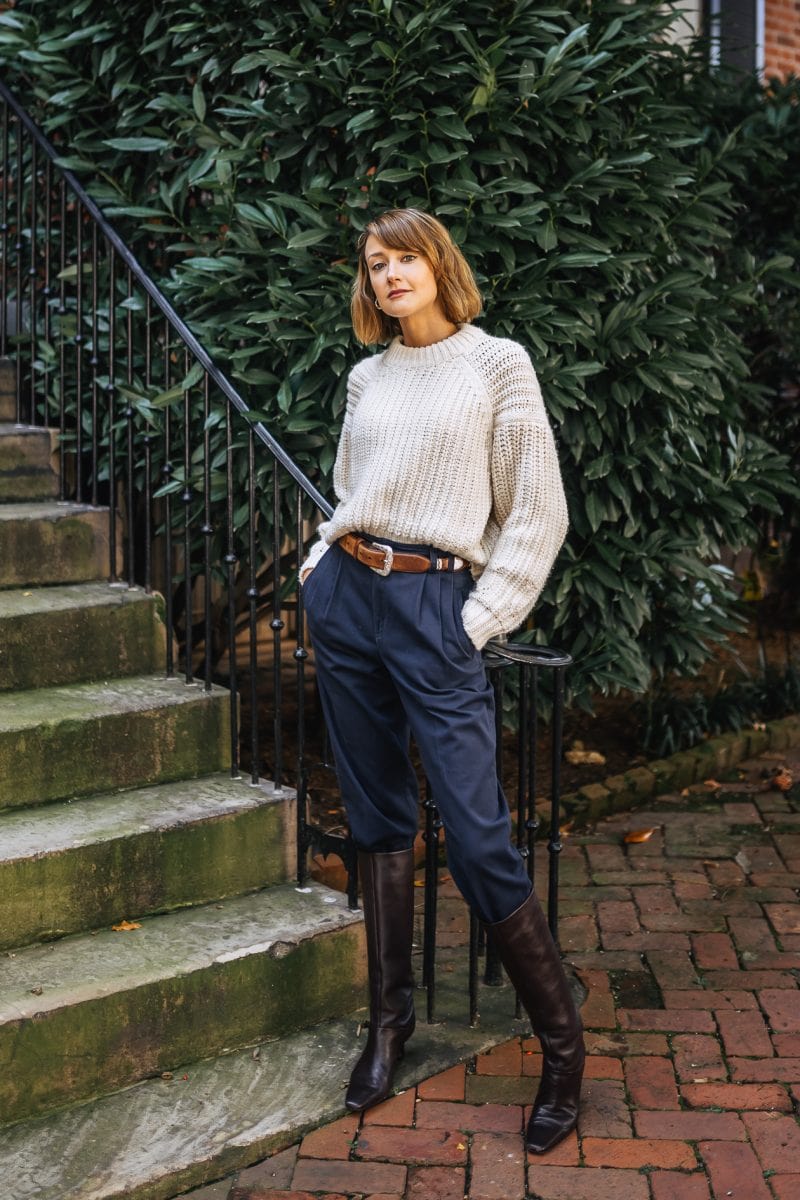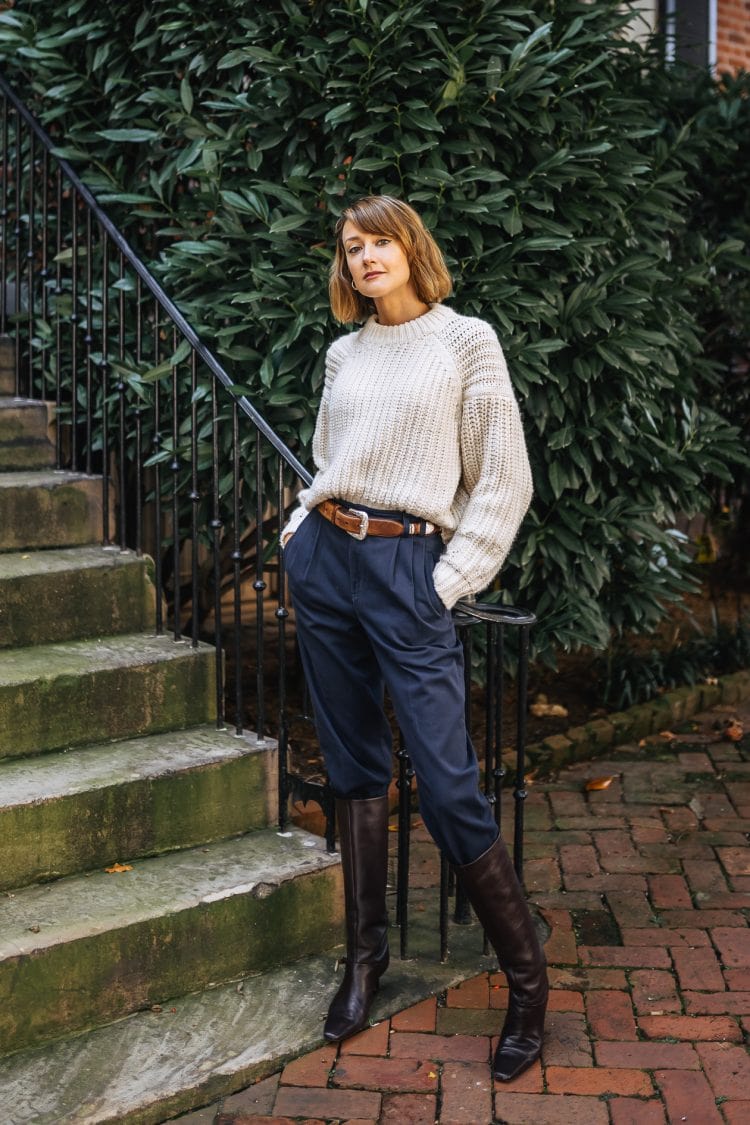 "One of my first purchases after COVID lockdown started was a pair of big buckle Birkenstocks. I love heels, but I had come to terms with the fact I'd be chasing a little boy in and out of the house for the foreseeable future. I knew I needed something I could slip on and off quickly. Of course, they're every bit as comfortable as I remember from the '90s and actually work pretty well with "fashun" looks, as well. I love them so much I ordered them in the shearling-lined clog version too!"
Washington, D.C.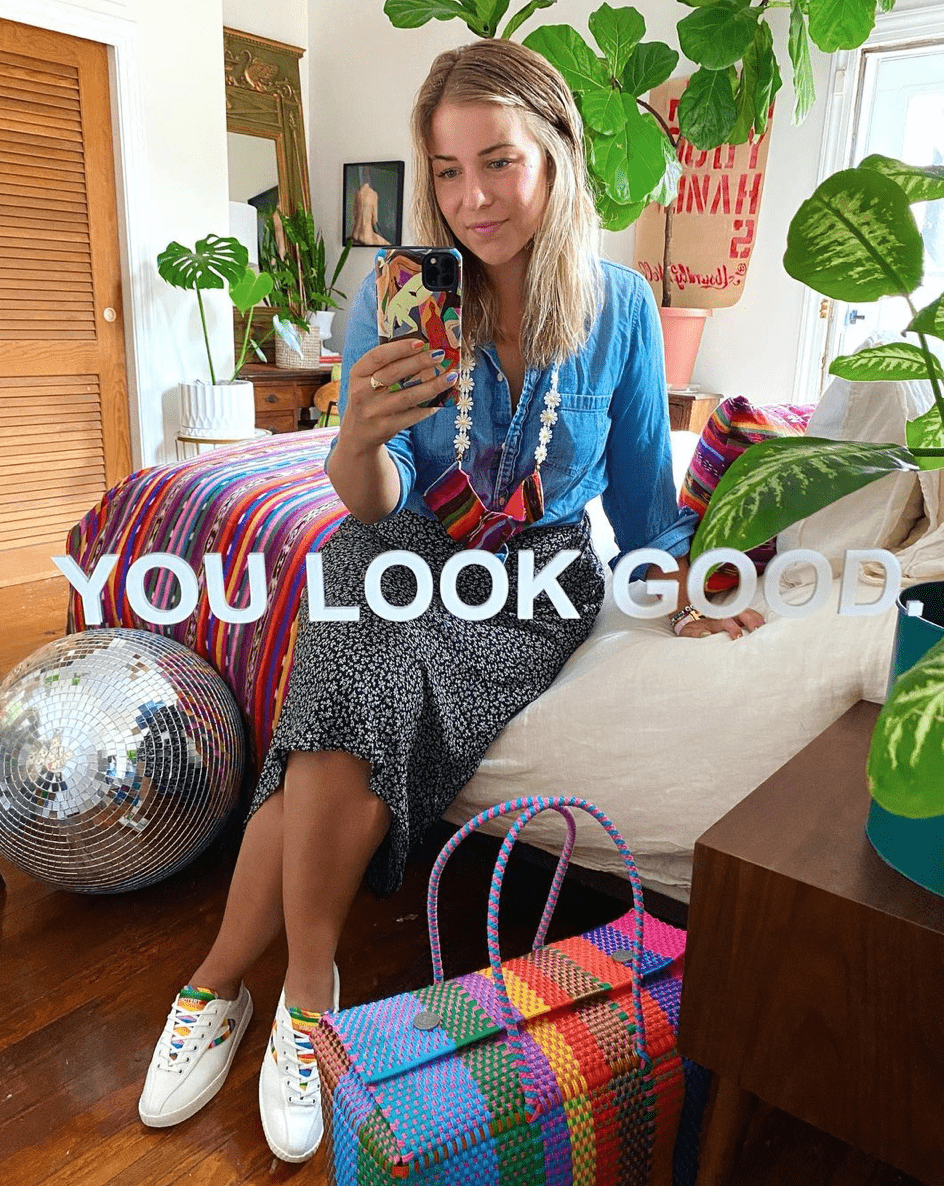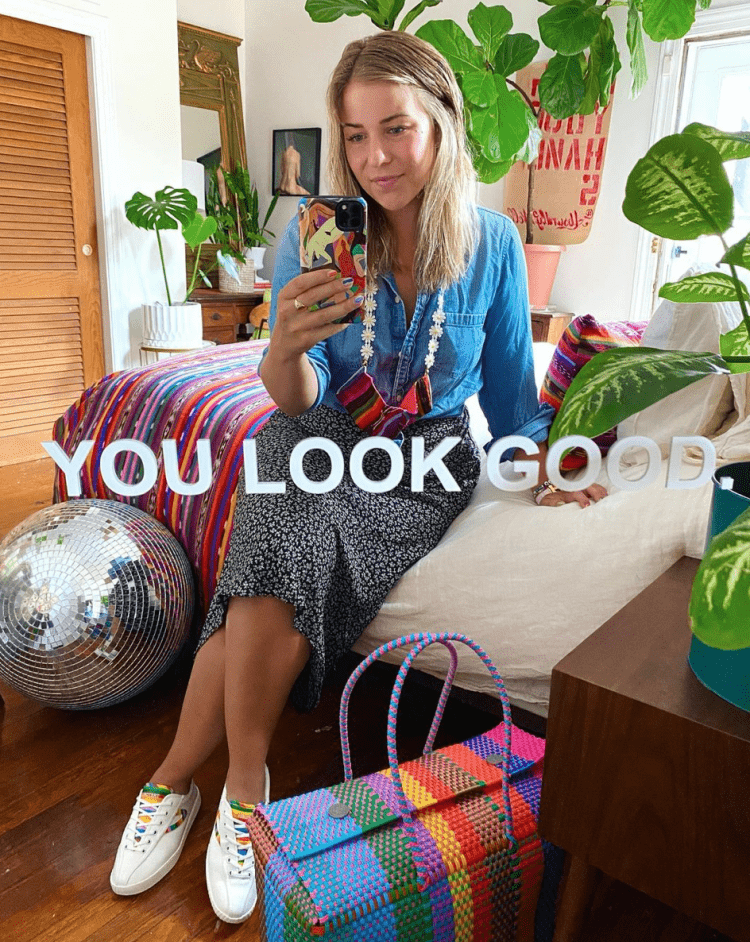 "My favorite purchase of 2020 was probably my @elcholoskid XL tote bag! Made in Mexico from recycled plastic, this bag is like my Mary Poppins endless bag! Of course, I had to get it in the vibrant multicolor! It's great for groceries, the beach (though I wouldn't know!) or a weekend away. Highly recommend this bag and this brand!"