This article may contain affiliate links; if you click on a shopping link and make a purchase I may receive a commission. As an Amazon Associate, I earn from qualifying purchases. 
Time flies when you're busy AF! And that is how June was. Our daughter graduated from 8th grade and is heading to high school next year. We had dances, ceremonies, celebrations, and all sorts of other events. It was our 19th wedding anniversary at the beginning of the month, and after all the celebrations, we got into the summer rhythm of the garden, day camp for our daughter, and me trying to get back into the work swing of things before our first summer getaway. So here are some of the looks I wore during the month of June!
What I Wore in June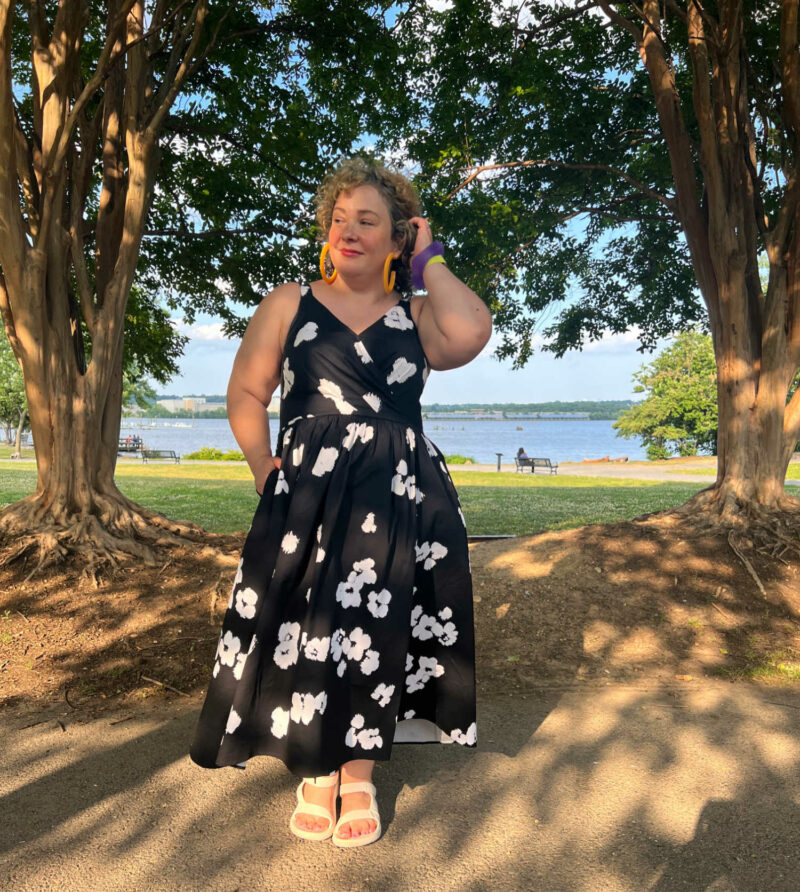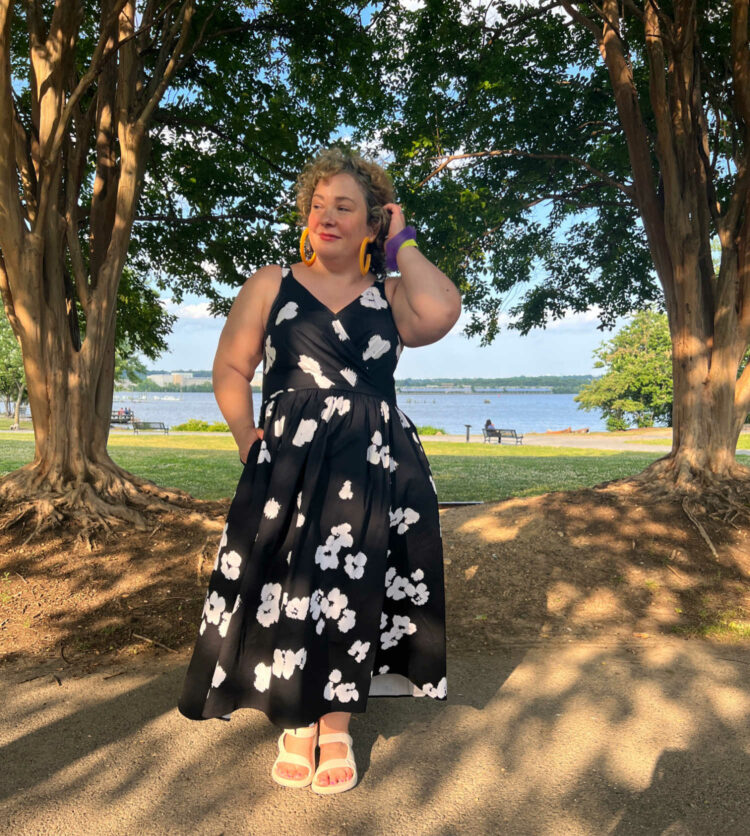 For our wedding anniversary, we went to dinner in Old Town Alexandria, Virginia and then walked around the waterfront. A warm day and knowing I'd be doing a lot of walking, I decided to wear the Universal Standard Bellport dress (size XS) with my white Teva Hurricane Drift sandals (waterproof, arch support, and wide foot friendly). Underneath I wore the new Thigh Society cargo slipshorts so I could tuck my wallet in there and go without a purse.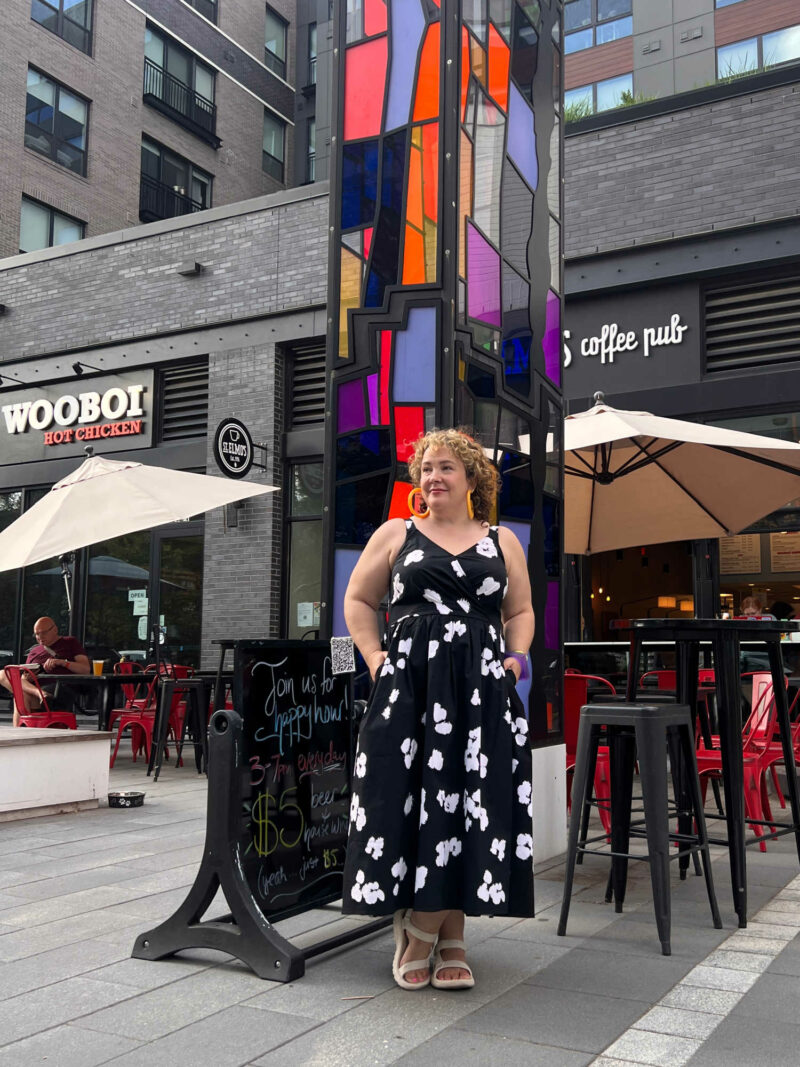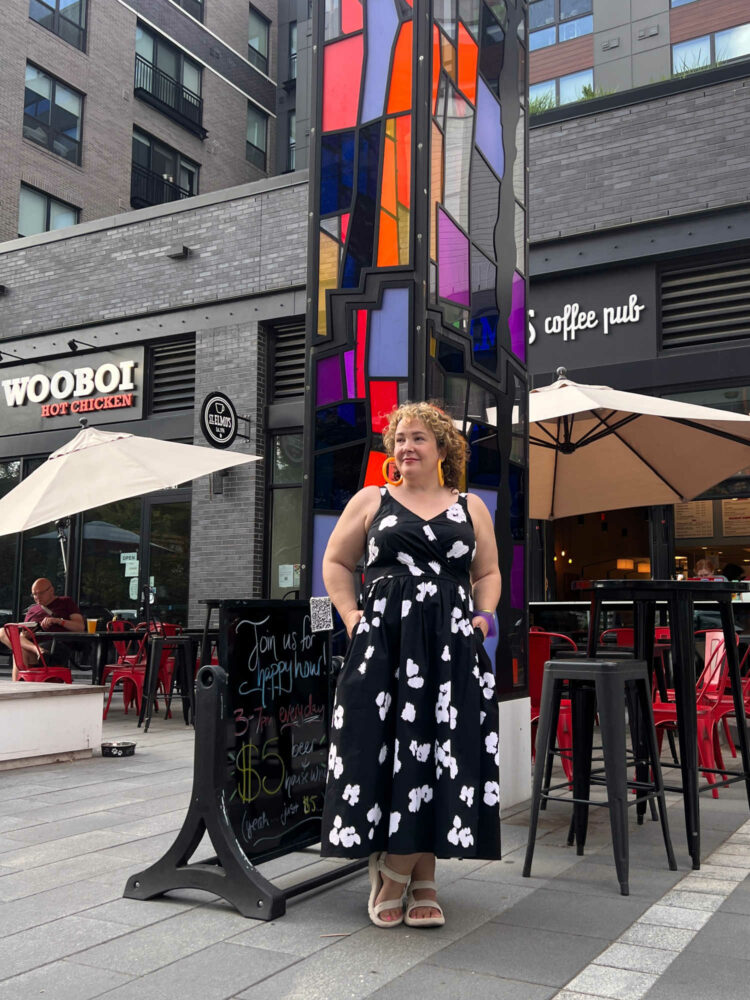 For some fun, I wore a pair of vintage yellow hoop earrings and two of the silicone bangle bracelets my husband bought me as a gift last Christmas (seen last month too).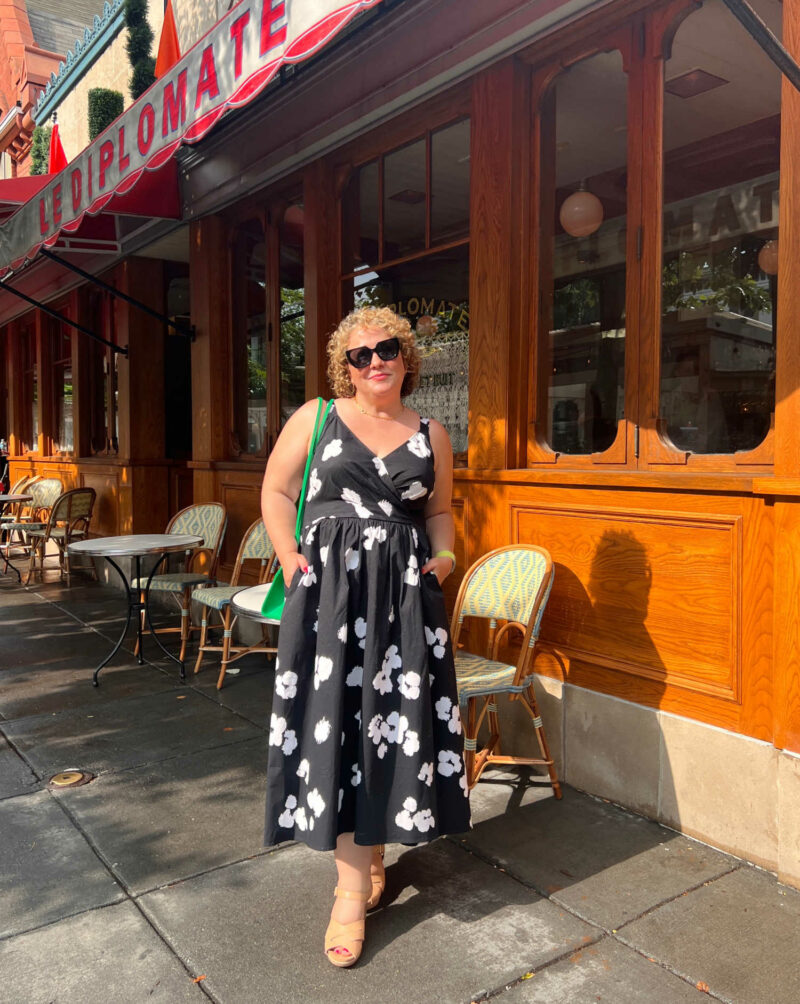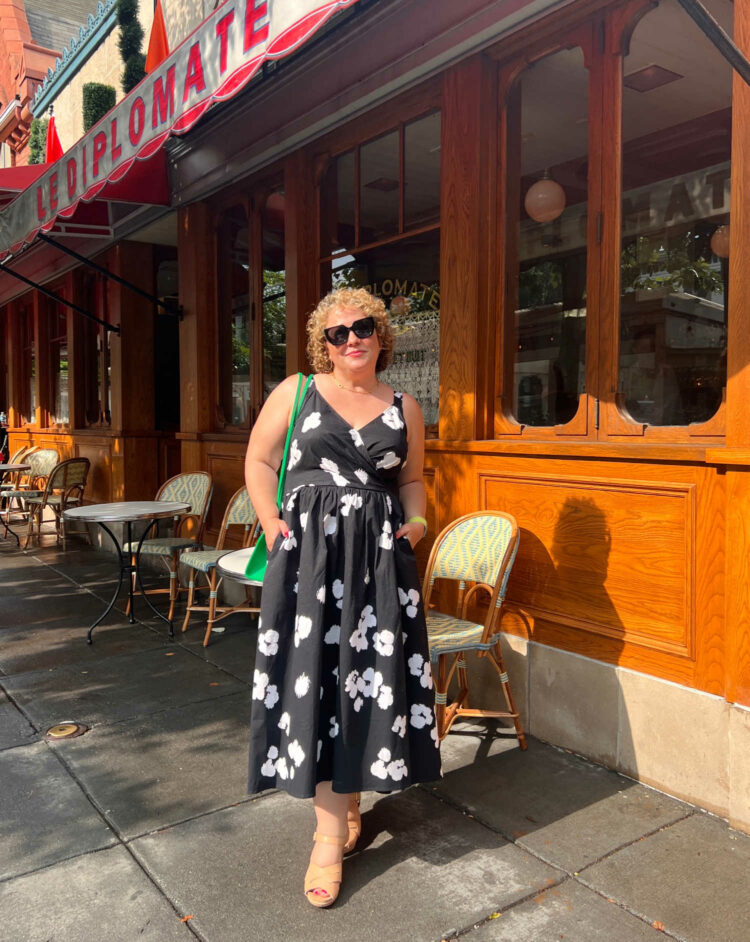 When I went to lunch in the city with my friends at the end of the month, I again wore this dress. This time, I paired it with these Rockport sandals I bought last summer and find very comfortable for long periods of time (and they come in wide width), and added a pop of color with my small green Telfar bag. The sunglasses are these from Amazon.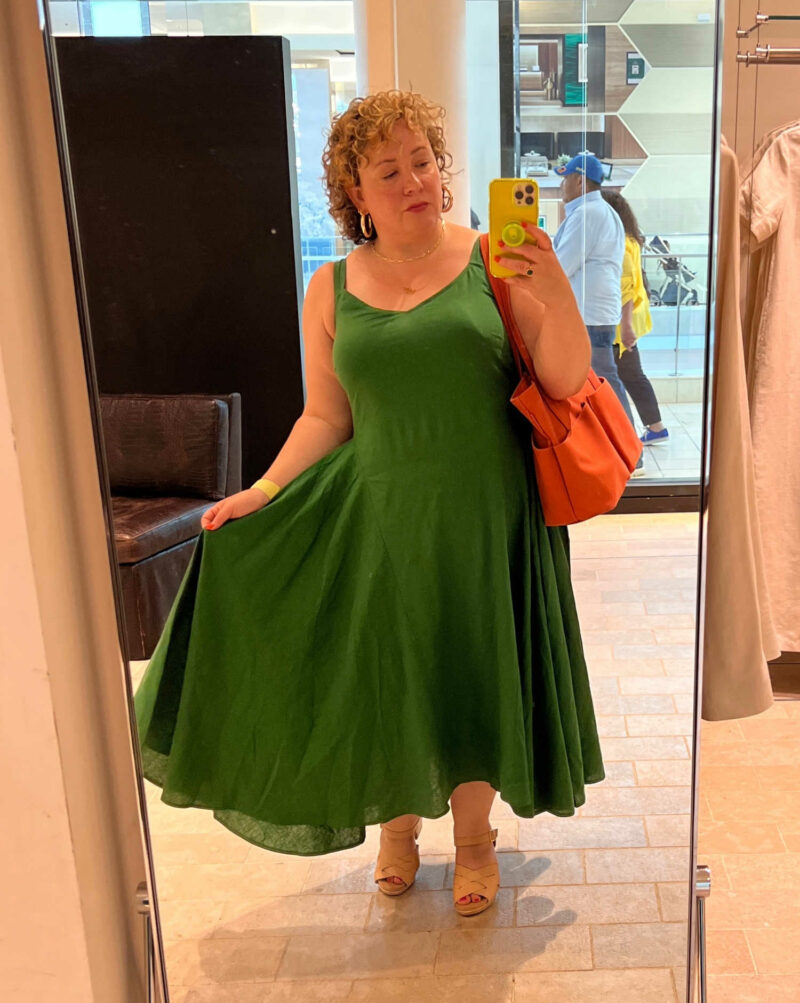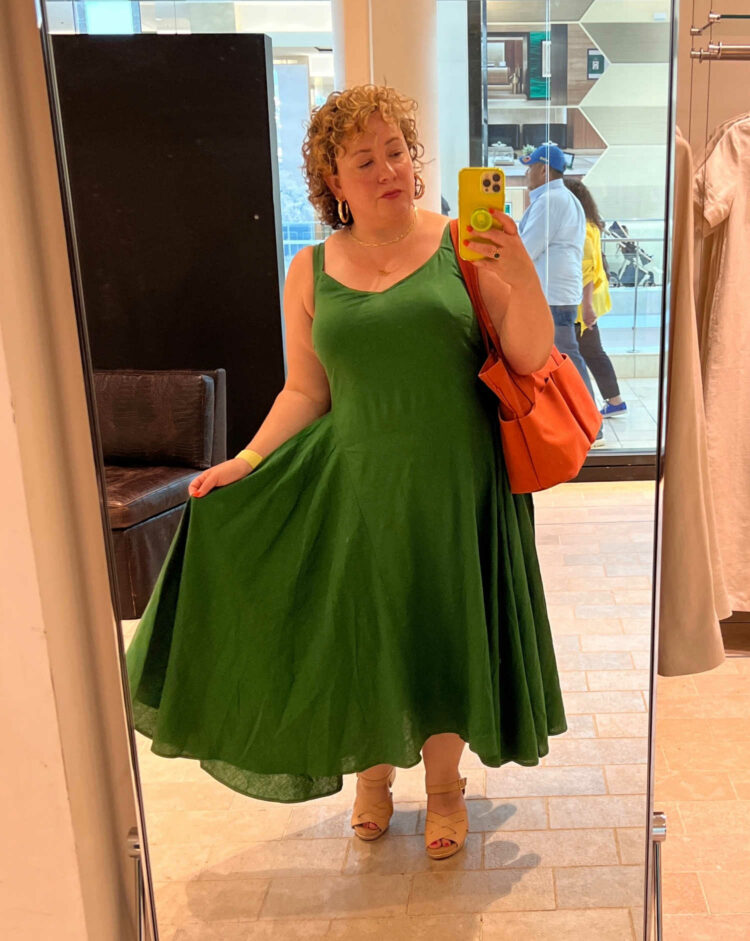 You saw this dress in my post on how to style neon, it's the Sunshower linen dress from Universal Standard, also size XS. When I went to the mall, I wore it with the same Rockport sandals and my orange Dagne Dover Vida tote (color no longer available but they have other colors).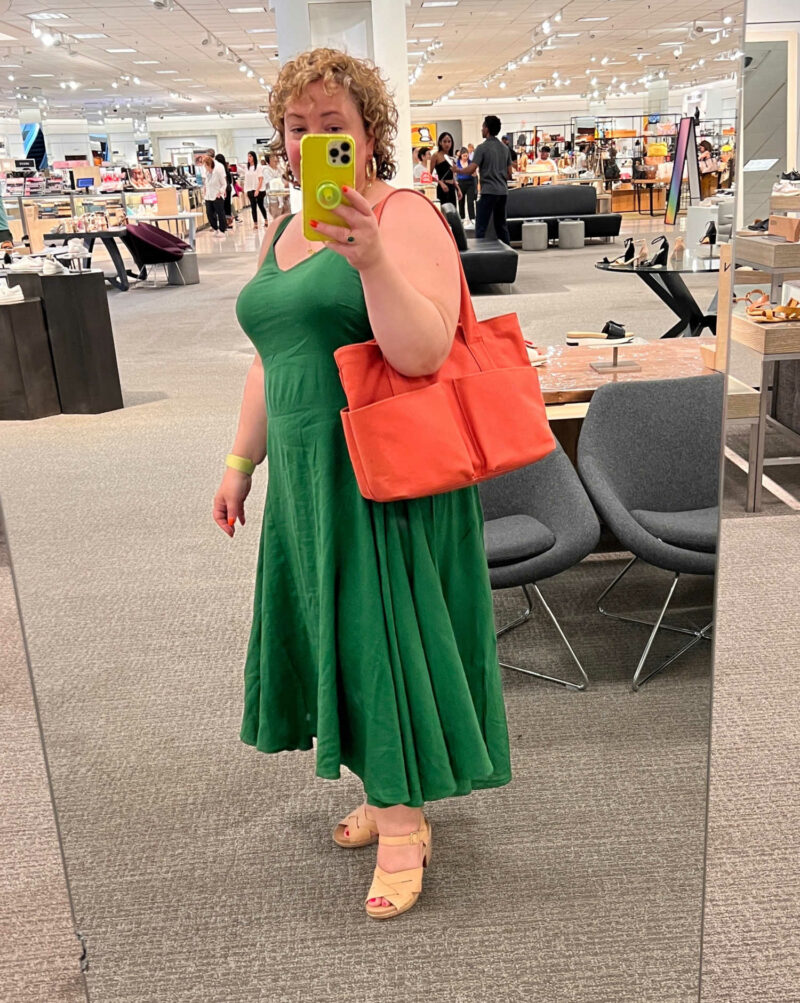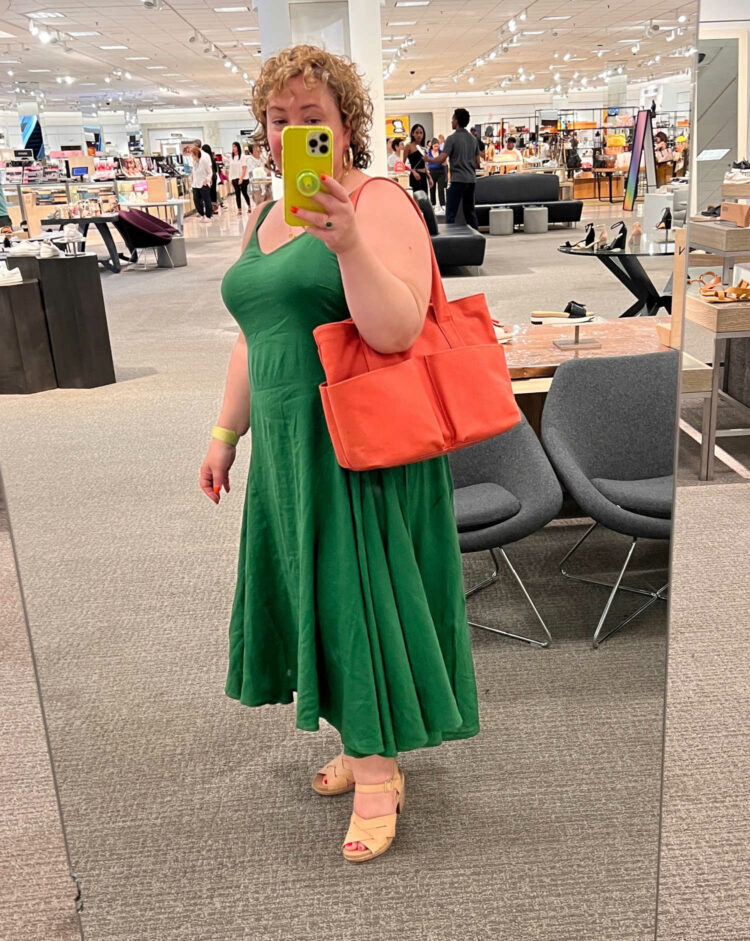 This photo was taken after sitting in a car with a seatbelt on the drive, wandering the mall for a couple of hours, and sitting at a restaurant having dinner. I wanted to show that the linen does wrinkle, but not excessively so.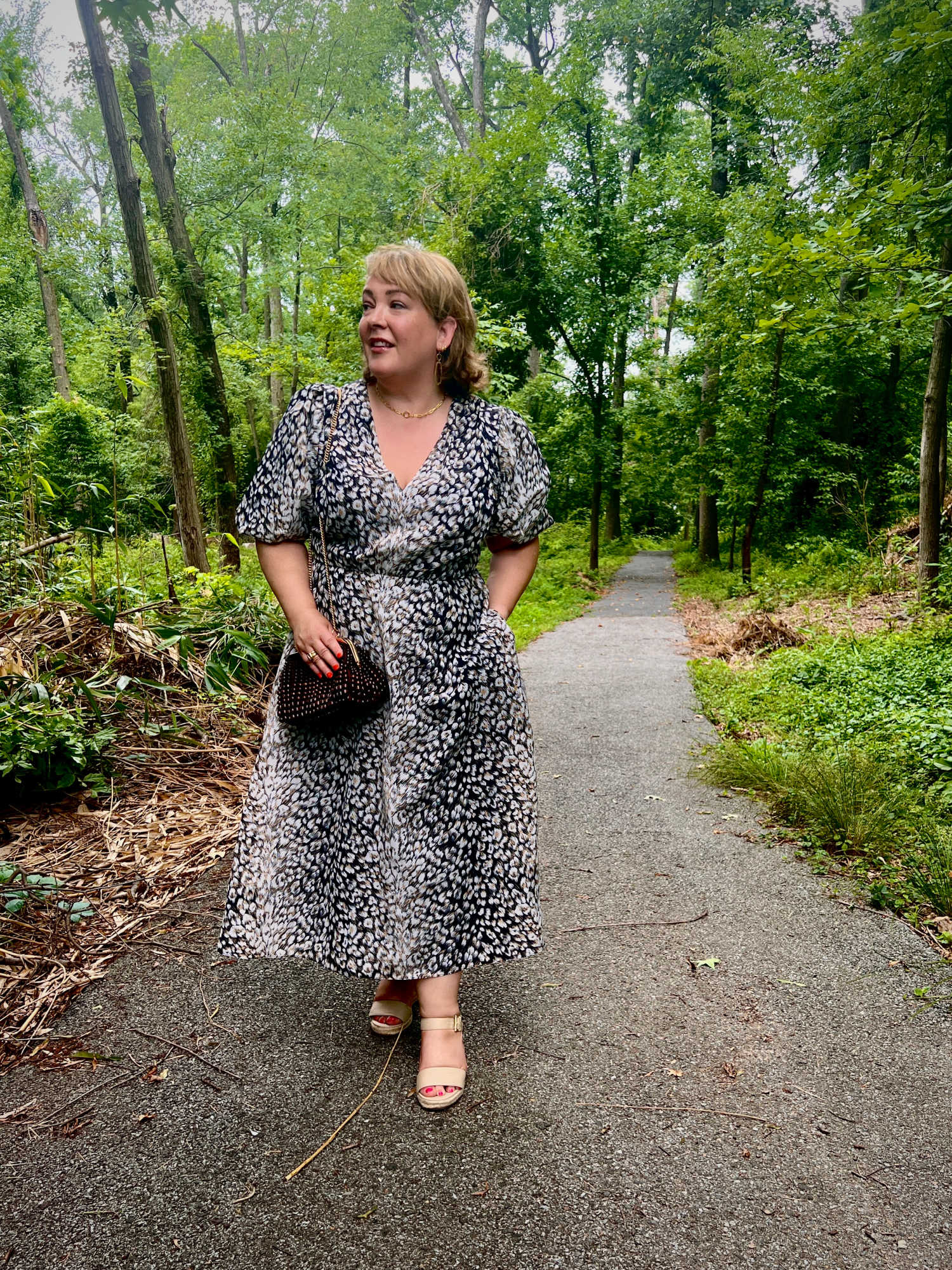 I showed this Tanya Taylor dress (XL) before when the label was having a sale. I really like this dress, it can dress up or down, doesn't cling, and hello pockets! Here I styled it with these wedge espadrille sandals from Lifestride (they come in widths) and this brown wood beaded bag from Ann Taylor. The necklace is from Gorjana, the earrings were a gift. I wore this to go out to lunch with my husband on one day when our schedules aligned and we wanted a little mid-day date.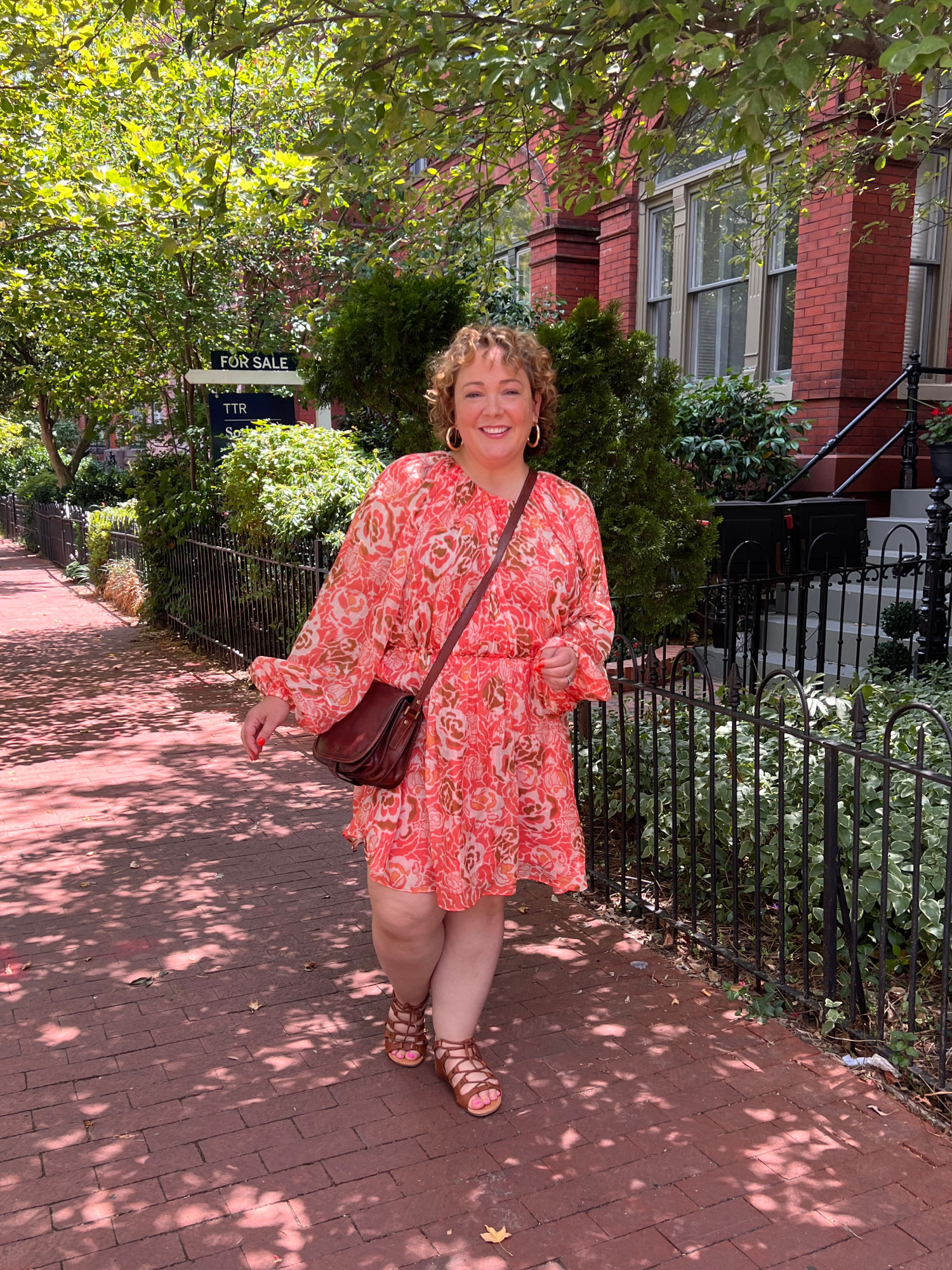 I also wore this Tanya Taylor dress in June and featured it in the sale post. I am wearing a size 16, though I think I could have done a 14. With it I'm wearing very old gladiator-style sandals and my brown leather saddle bag from Maxwell Scott. My hoops are from BaubleBar. I wore this look to a graduation lunch at Le Diplomate for our daughter.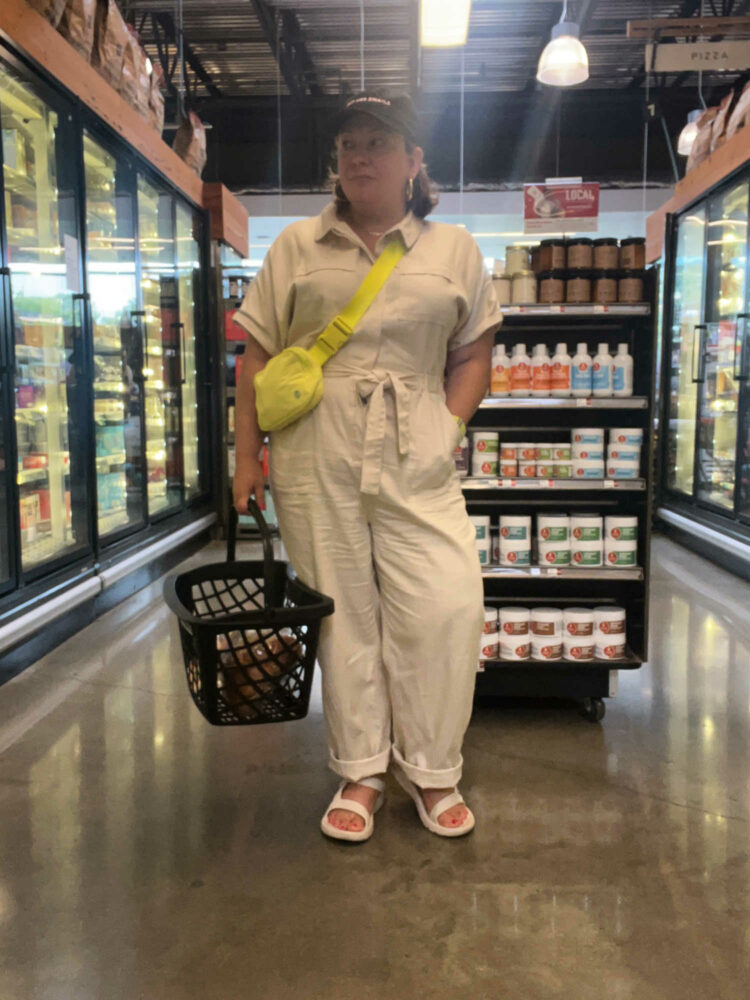 You saw this Target boilersuit before, I wore it back in March to a mini high school reunion. Well, it has been on regular rotation since, especially when I am running late. Need to look cute in a jiffy? I roll the hem 2-3 times, pair with Tevas (as seen here) or Birkenstocks, throw on a belt bag (this one is Lululemon but this is a discontinued color I found on Poshmark) and there you are! I am wearing a 14 in this boilersuit.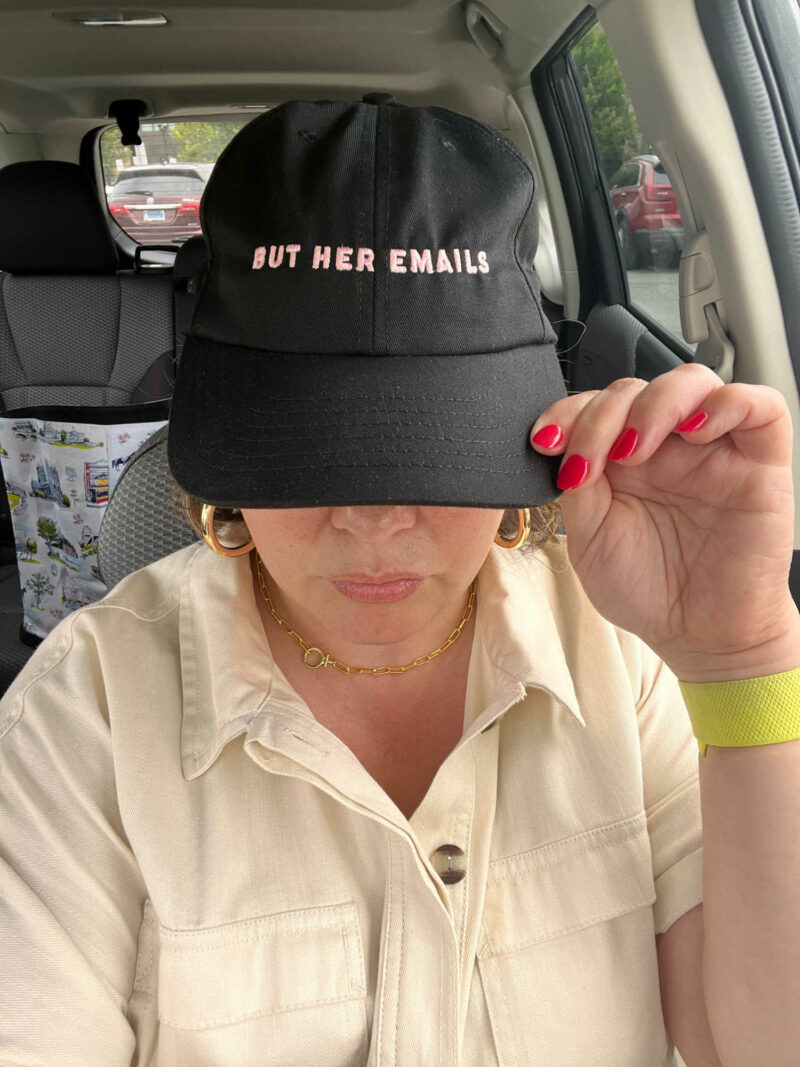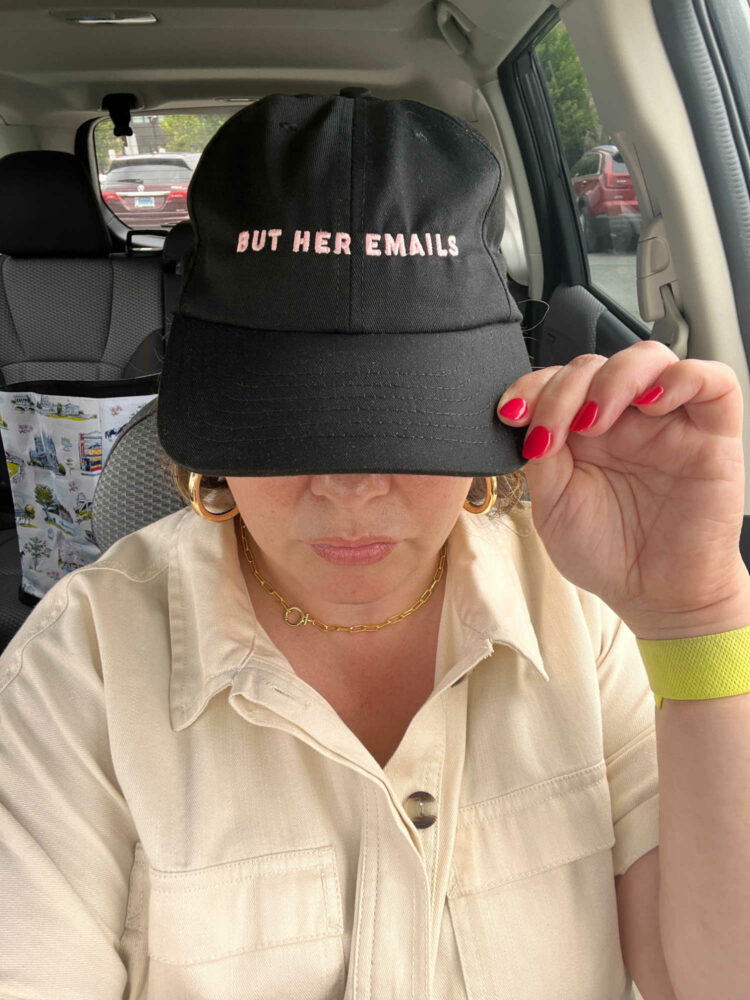 Running very late this day, I added a cap to cover bedhead curls. This hat is from Onward Together and gets plenty of comments from strangers. "But her emails? What does that mean? Oh, it's a HIllary Clinton reference…" and then that follows up with laughter, animated discussion about a past president, or folks giving me a look and moving on. The hoops are the large version of these from Baublebar, the necklace the 20″ of this one from Gorjana.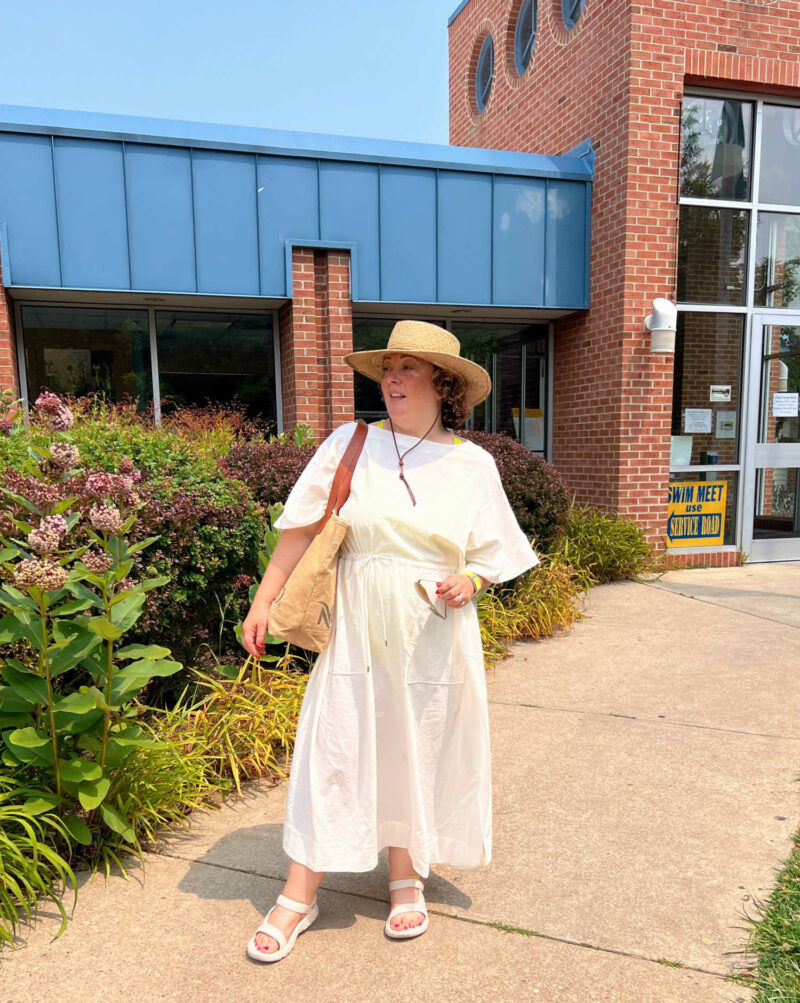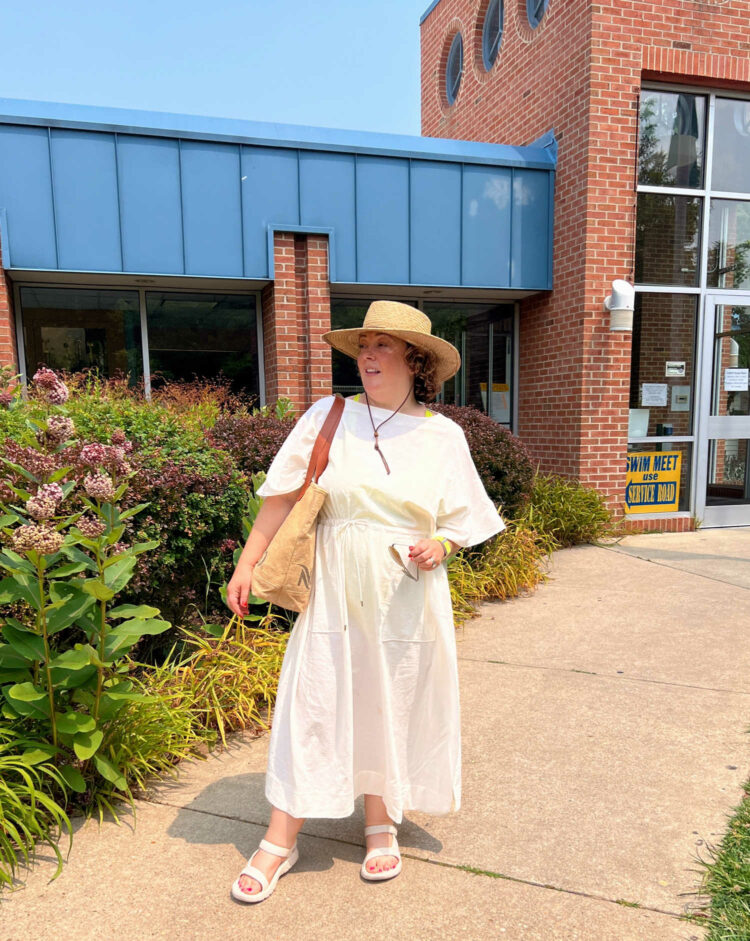 I went to the local pool, pretending I was in the Hamptons instead! When I went to my local showroom to see the M.M.LaFleur spring new arrivals, they let me pick a couple of things for free in thanks. I got this caftan, and I adore it. My husband says I look biblical, but I feel very Grecian Coastal Chic. I'm wearing the Freedlund Caftan in Large. It isn't opaque; if not worn as a swim coverup it would need a nude slip underneath. If any of you have suggestions on where to find one that is free of lace or adornments, isn't fitted, and has adjustable straps for my short self, do share in the comments.
The hat is from Lack of Color, I got it in 2021. I thought the brim too wide then, and my husband stole it and wore it often to the garden. When we went to Fire Island, he brought it and I ended up wearing it the entire time and ended up stealing it back! The tote is a gift with purchase from Nespresso, I think it's made from a coffee bean bag. And again the Teva Hurricane Drift sandals!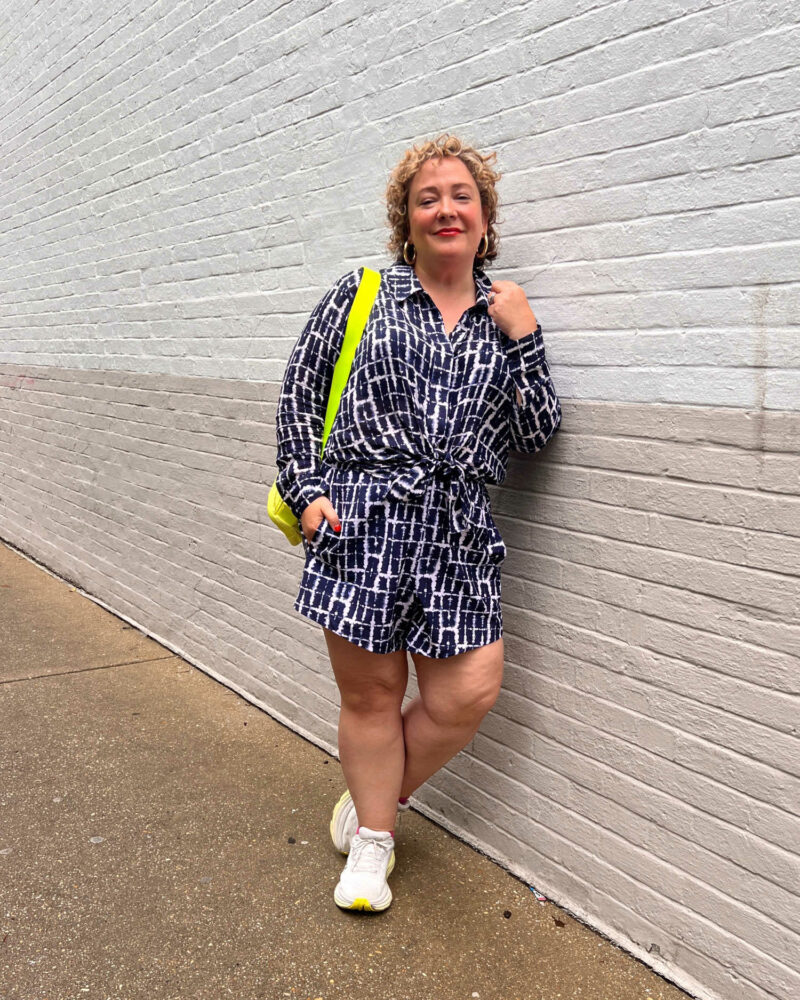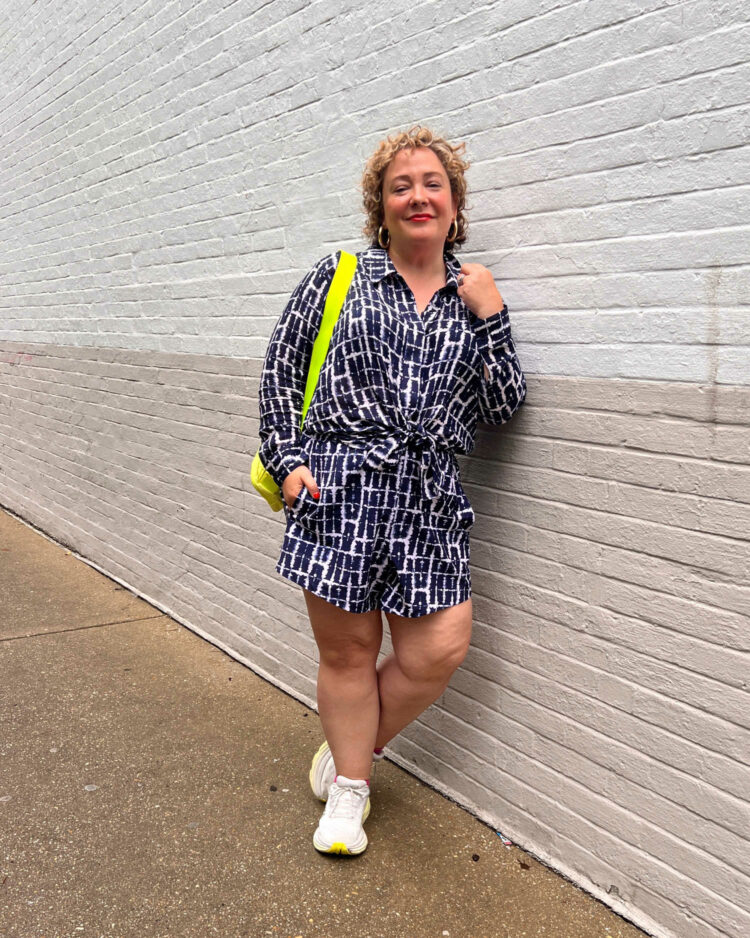 Occasionally I receive specific free product from Universal Standard in exchange for social media promotion. Other times, I buy it as a regular customer. And this Shibori top and shorts I bought as soon as they were featured in a promotional email because I knew they'd sell out. The top is XS, the shorts are S. I find the Sunny Shorts run smaller this year than when they first came out and the S this year fits like the XS from when the shorts originally launched. I tied the shirt in front and tucked the back shirttail into the shorts.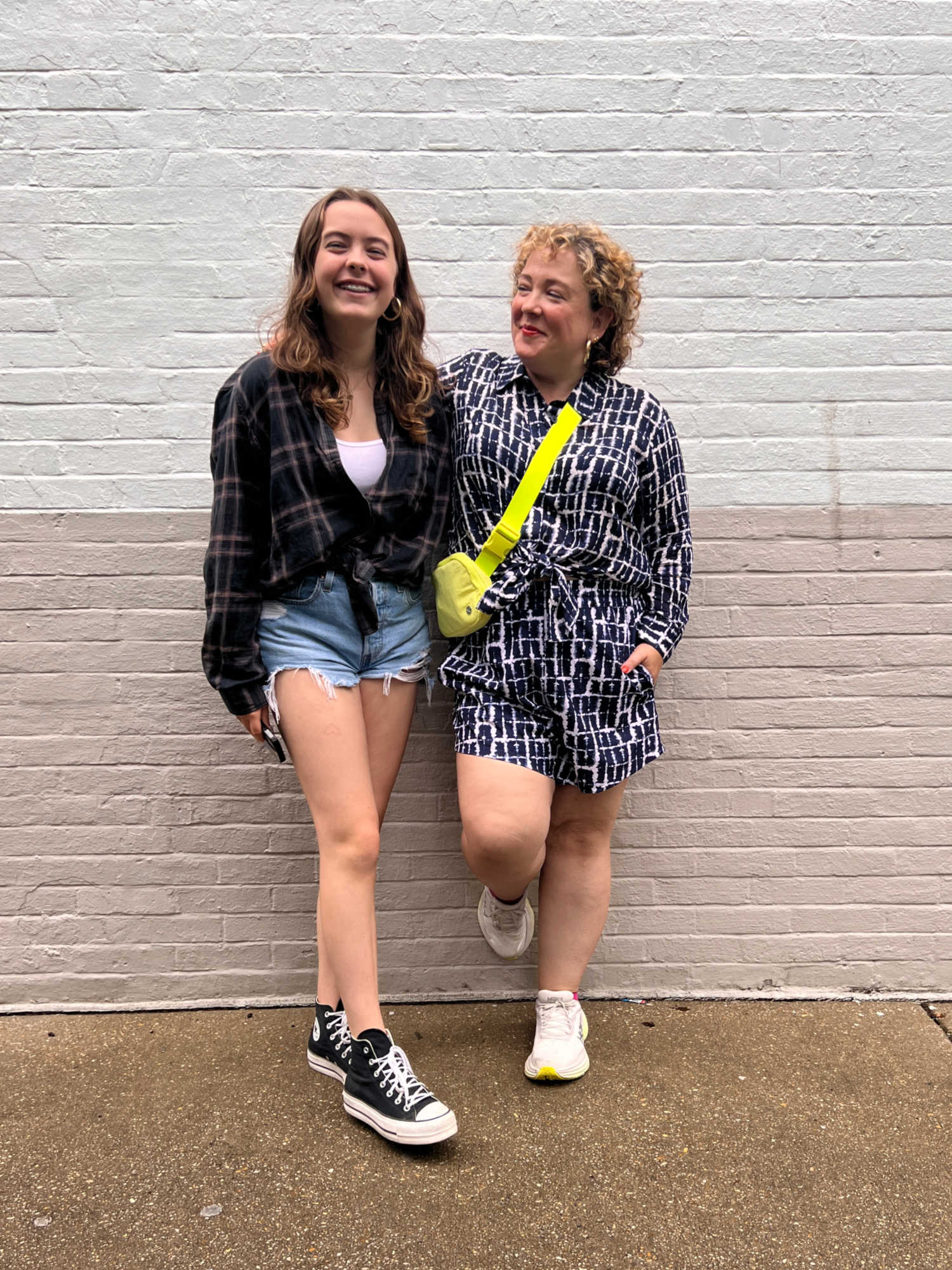 With it I am wearing my Lululemon 1L Everywhere bag in highlighter yellow with the HOKA Bondi 8 with highlighter yellow trim. As you can tell from this post on how to style neon, I am on a highlighter yellow kick this summer! I think it's a fun accent color with this blue print. On the 4th, I wore this Shibori print set with red acrylic earrings and red BIrkenstocks.
And as an aside, the plaid shirt my daughter is wearing is from Gap and I bought it… oh maybe 10 years ago? It has been fun having her dig through my closet and any clothes I've stored and see how she styles them. And the earrings she's wearing are my Cassie Hoops from Chico's.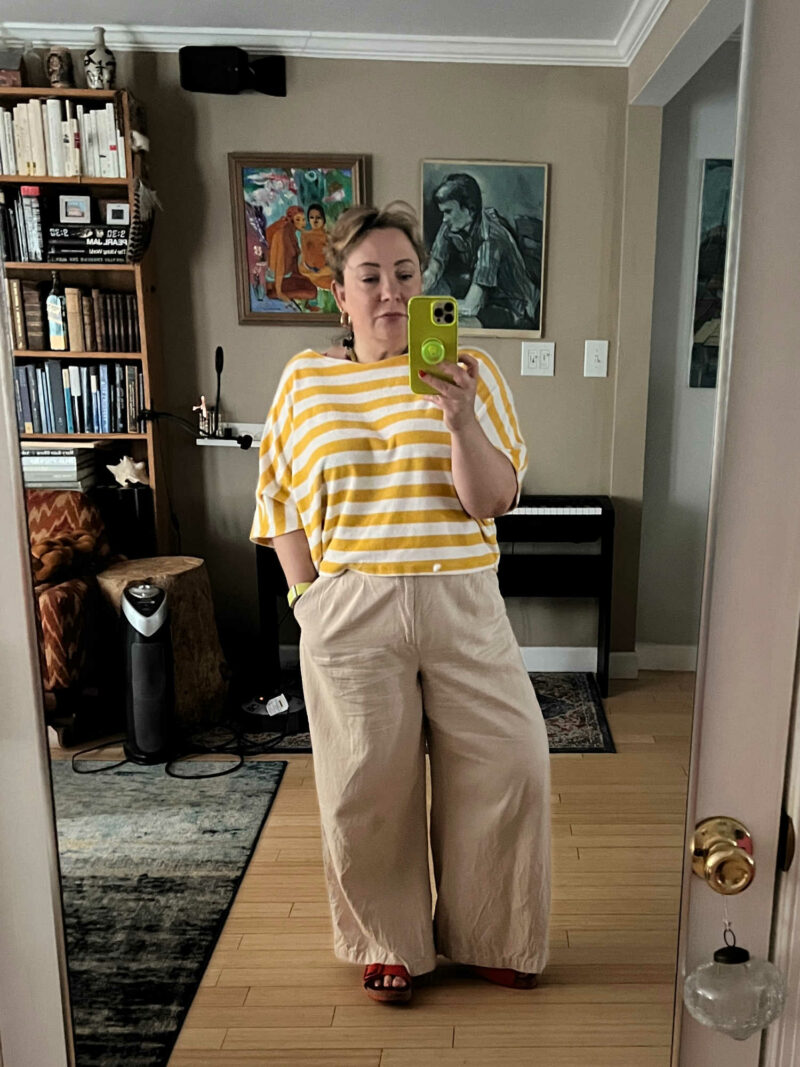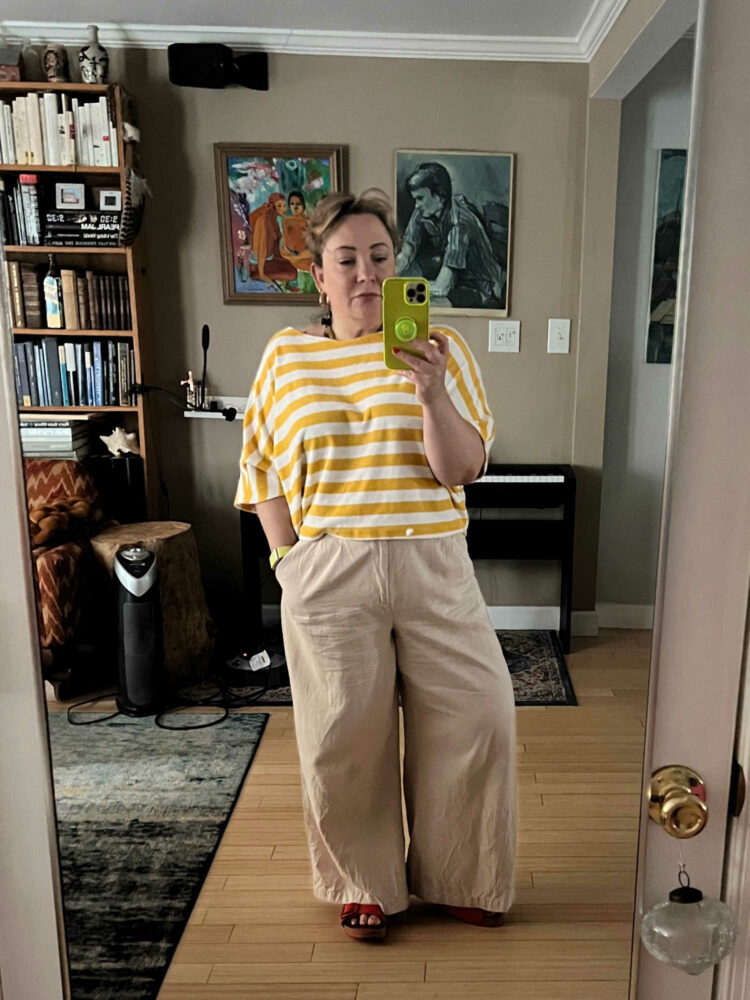 Striped top and wide leg pants
This was a day when I had two Zoom calls and had to run errands. The pants are the Harlow Wide Leg from Madewell, size 14 petite. I wore these a lot in May, too. I'm psyched to see Madewell has added even more colors of this pant, though some are backordered until October! With it is a terry top from MERSEA, no longer available (also came in a pale blue stripe, it's one size). Red Birkenstocks for when I went out and tucked under the collar is an old long necklace from Chico's, doubled up. It's a mix of different colorful beads similar to this one and I thought added something for the Zoom calls.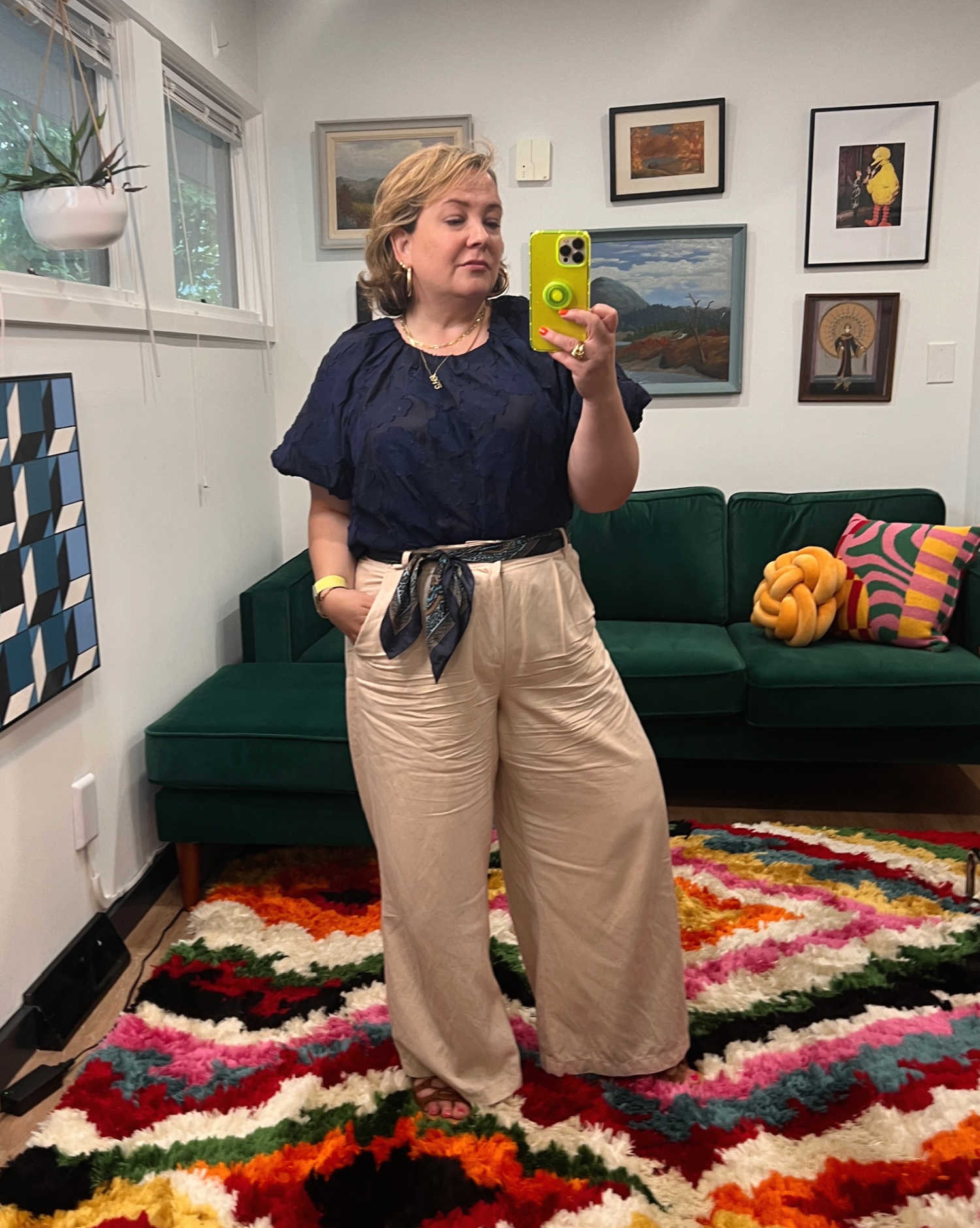 Same Madewell pants, this time with this top from Tanya Taylor in size XL. An old Talbots silk scarf as a belt, and the same brown leather gladiator sandals I wore with the shorter Tanya Taylor dress. I'm wearing this Gorjana necklace in the 20″ length and this number necklace (with my birth year) in the 22″ length. Hoops are Baublebar.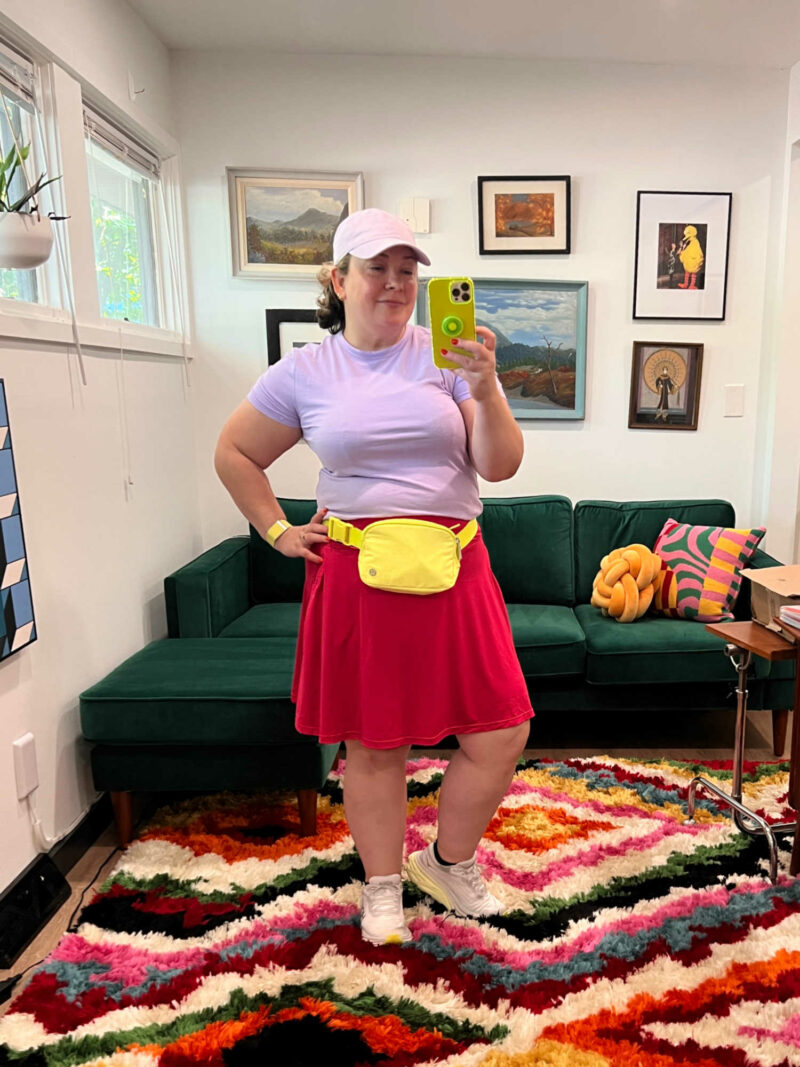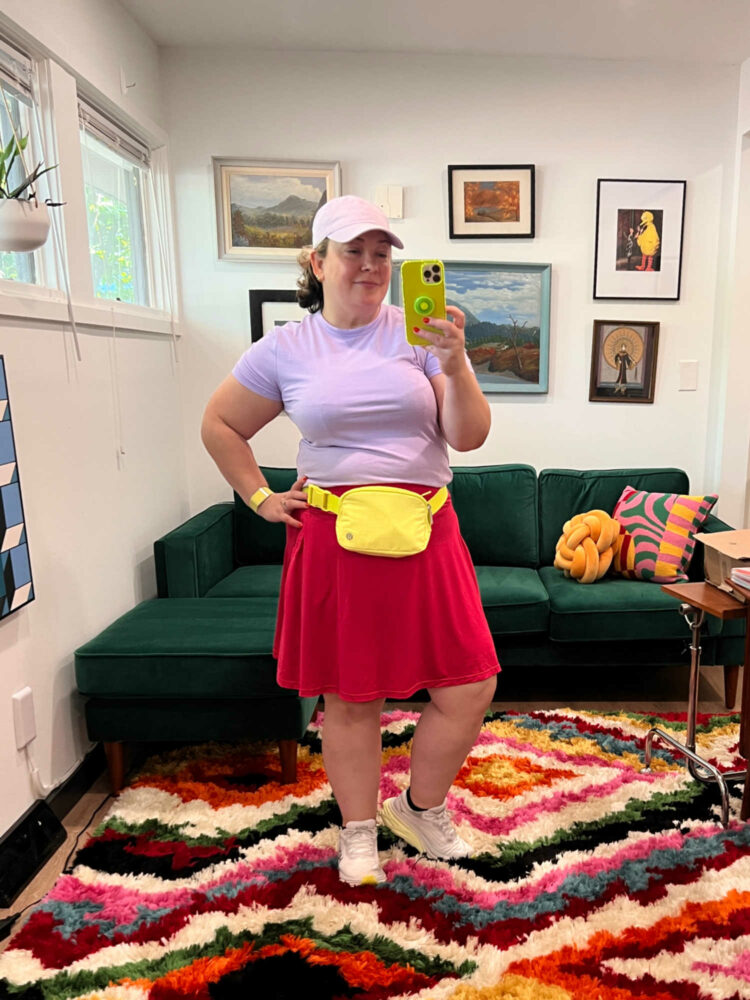 Fun active look
I meet a friend in town once a week and we go for a long walk all around town. She's relatively new to the community, but did live here when she was little. I have lived here for 20 years and my father in law moved here my husband's senior year of high school, when we started dating. It's a great time to catch up, I get to play tour guide, see my neighborhood through her excited eyes, and it gives me a good excuse to put together fun active looks. I stopped by my office after a walk and took this selfie of that day's look.
The cap is Old Navy; the color is sold out but Treasure & Bond's cap looks similar and has lavender. The t-shirt is from the Amazon Aware collection, size Large. If I could go back, I'd size up to XL. It's a good shirt though, doesn't shrink, opaque, has held up nicely. The skort is BALEAF, it's the one I rave about in my skort review. Same HOKA sneakers, and same Lululemon belt bag.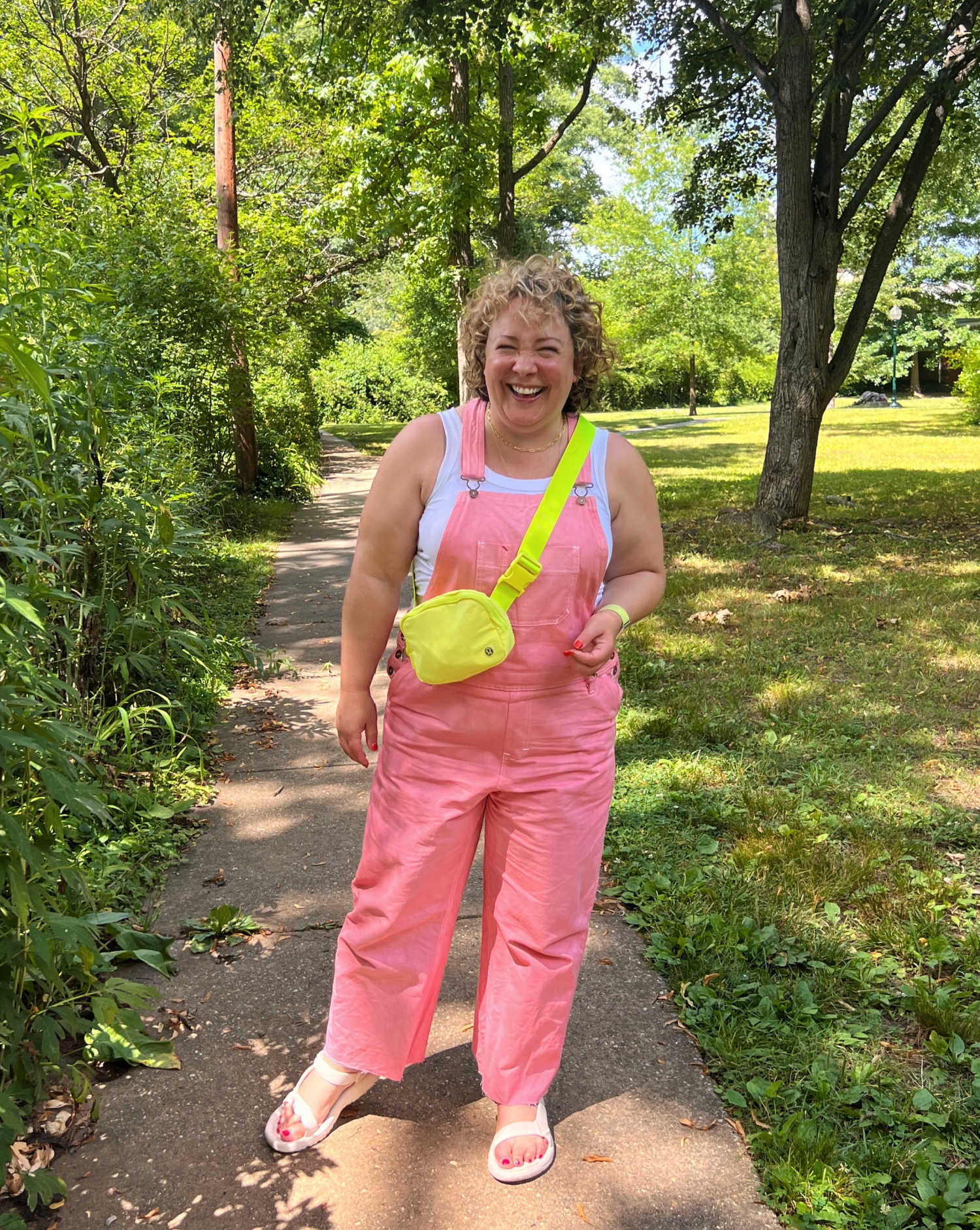 On a Sunday that wasn't too hot, I pulled out my pink overalls previously seen in this blog post. I cut them off so they were more my length; the straps are as short as they can be so if I want to cuff these (or my daughter or husband wants to wear them) there is some additional length. The tank is the Universal Standard Roitfeld in XS, and the same Teva sandals and Lululemon highlighter yellow belt bag.