This article may contain affiliate links; if you click on a shopping link and make a purchase I may receive a commission. As an Amazon Associate, I earn from qualifying purchases.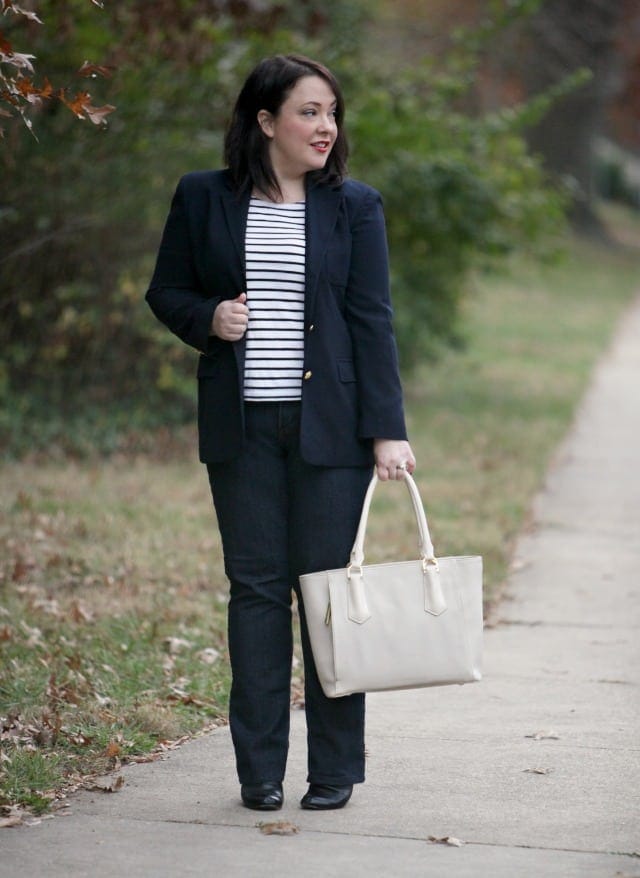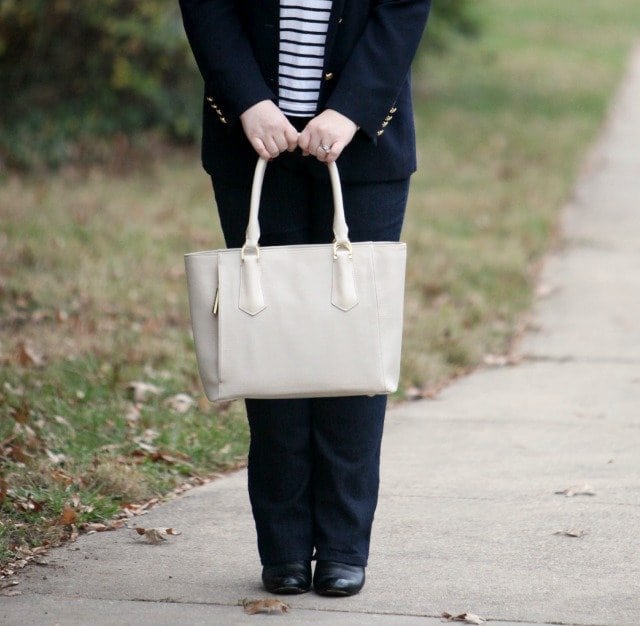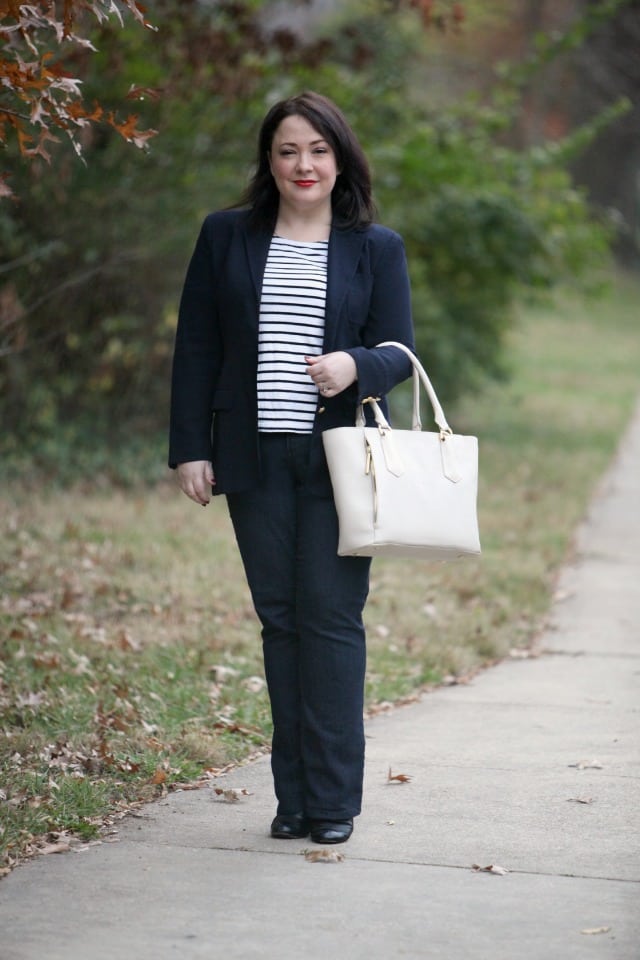 Blazer: Ralph Lauren (thrifted – similar) | Tee: armor-lux (gift from reader – similar) | Jeans: NYDJ | Shoes: Cole Haan (similar) | Bag: c/o Dagne Dover
Reader Missy recently contacted me regarding the bag company Dagne Dover. She saw there was a pop-up shop taking place in DC and asked if I may be attending and if so could I report back on what the bags were like in person. See, Missy has had the Dagne Dover Midi Tote on her wish list for months but was afraid to pull the trigger on such a pricey bag if she hasn't seen and experienced it. Unfortunately, I had plans the day of the DC pop-up shop so I contacted Dagne Dover to see if there would be another show in my area in the near future. To be honest I hadn't heard of this brand before Missy's email.  They were kind enough to send me one of the Midi Totes for me to experience and share with all of you.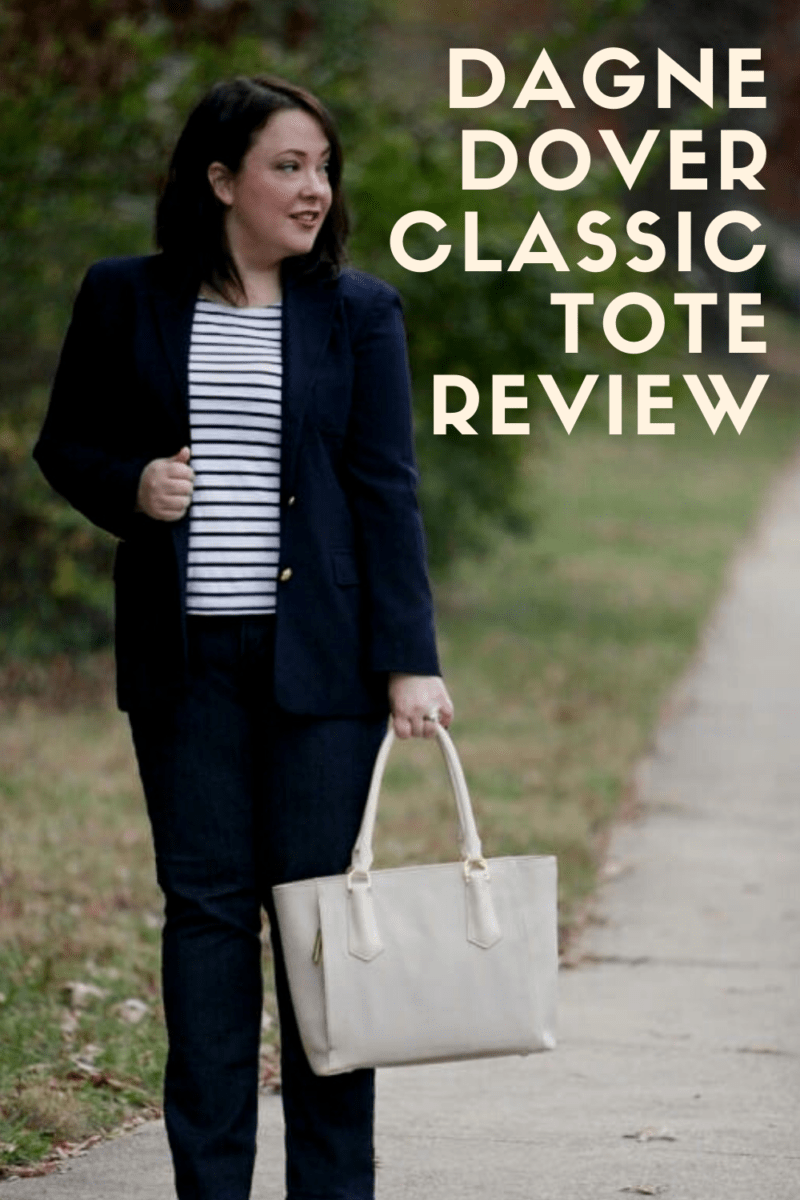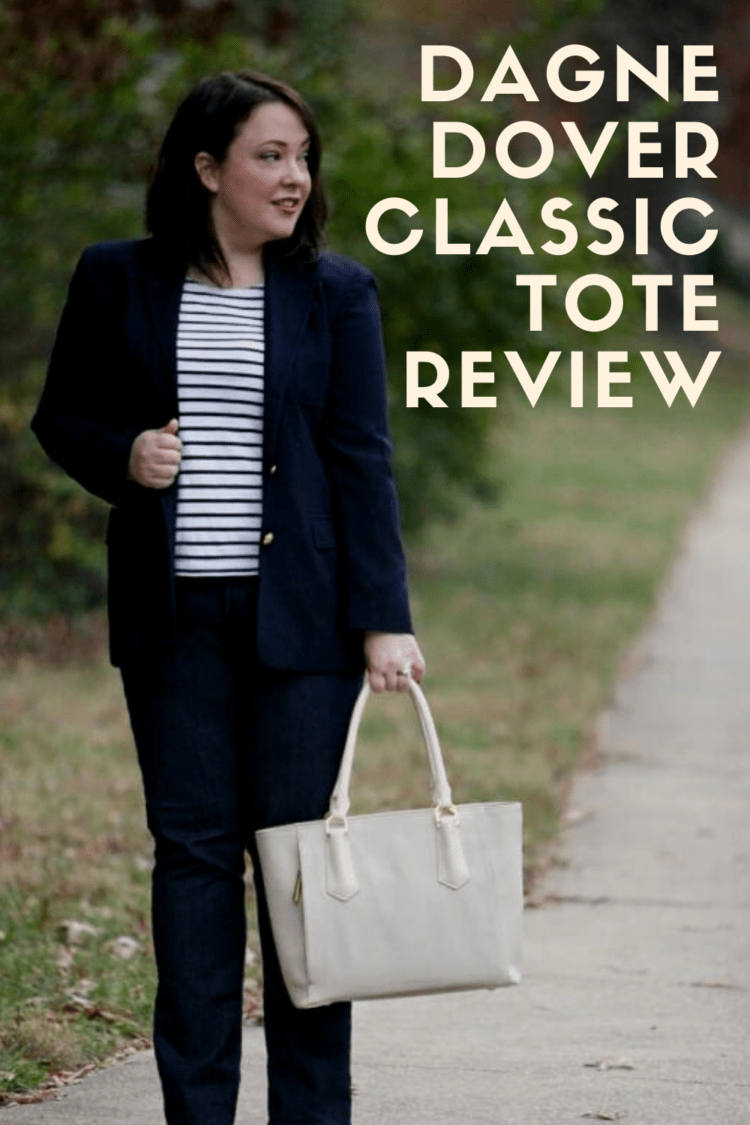 The Classic Tote from Dagne Dover is an incredibly smart bag while still maintaining style. It's a manageable size that seems to easily hold much more than my biggest hobos or satchels. It's not as tall or wide as my Brahmin satchel, but it holds twice as much and is far easier to access everything. There's a removable cup of sorts to hold an umbrella or bottle of water, a padded pocket inside for a tablet or small notebook computer (I use it to hold my momAgenda and a book or my Kindle), and a zipper exterior pocket that can also hold a similarly sized device (I slipped in my tablet). There's a pouch to hold sunglasses so they don't get lost in the abyss, a detachable cord to hold my keys, and pockets to hold and easily access everything from my SmarTrip to my iPhone to my lipstick.  Missy asked if the bag can hold an 8.5 x 11″ document or folder and the answer is yes.  While it wouldn't fit in any of the pockets, the main interior compartment is wide and deep enough to accommodate.  As I type this, I have 250 flyers of that size tucked in there and still room for my sunglasses, wallet, and the ability to access all the pockets.
Not pictured is a detachable adjustable strap that can make the Midi Tote a shoulder bag or crossbody. The strap is even smartly designed with padding where it rests on your shoulder! For my 5'3″ self I put the strap on the shortest setting and it was right at that comfortable hip place as a crossbody.  The built-in short straps do fit over the shoulder; I could fit it with a thin knit but found it too awkward with this outfit and impossible with a winter coat.  A slimmer woman may find it easier.  Full, the bag may feel too boxy for comfort under the arm, but the other day I slipped it over my shoulder for a quick trip to get lunch (my agenda, book, tablet, and umbrella were not in the bag).  I use the crossbody to get to the office so I can have my hands free to carry coffee or hold on when standing on the Metro, but I feel most comfortable at my height and weight to carry this bag in my hand as I did in this post.
After reading about these bags and the loyal fanbase, I really wanted to see the bag in person.  Why so much for a bag not out of leather?  Seeing it in person and using the bag, the price and loyalty is justified.  The bag is of coated canvas but it could easily be mistaken for Saffiano leather.  All the trim including the handles are of butter-soft Napa leather, the hardware is heavyweight and utterly gorgeous, and the pockets and added details are made with thought and care (a tight pocket for a Metro card, a deeper pocket for a SmartPhone, the ability to put the key cord on the side of your choice for easy access, etc.).  The more I used this bag the more I liked it; to be honest I wrote this post Sunday and came back Wednesday to edit it with more raving and detail.
I find Dagne Dover to be a perfect bag for the busy woman on the go. Unlike my other big bags, I find it a breeze to wear it across my body, unzip it and be able to see and access everything with one hand. Yes, you can hold a cup of coffee and be able to grab your sunglasses, you can hold a child on your hip and find your ringing phone, and you can quickly access your keys in a mall parking lot without having to put down your packages.  The Dagne Dover Classic Tote has a place for everything, with everything in its place.  If you have any questions about the Dagne Dover Midi Tote, please ask in the comments.  While Dagne Dover did send me the bag, this post is not sponsored and they knew I would be completely honest in my review and in replying to any comments.
Dagne Dover Promo Code
Use ALISON10 at checkout to get 10% off your order at Dagne