This article may contain affiliate links; if you click on a shopping link and make a purchase I may receive a commission. As an Amazon Associate, I earn from qualifying purchases.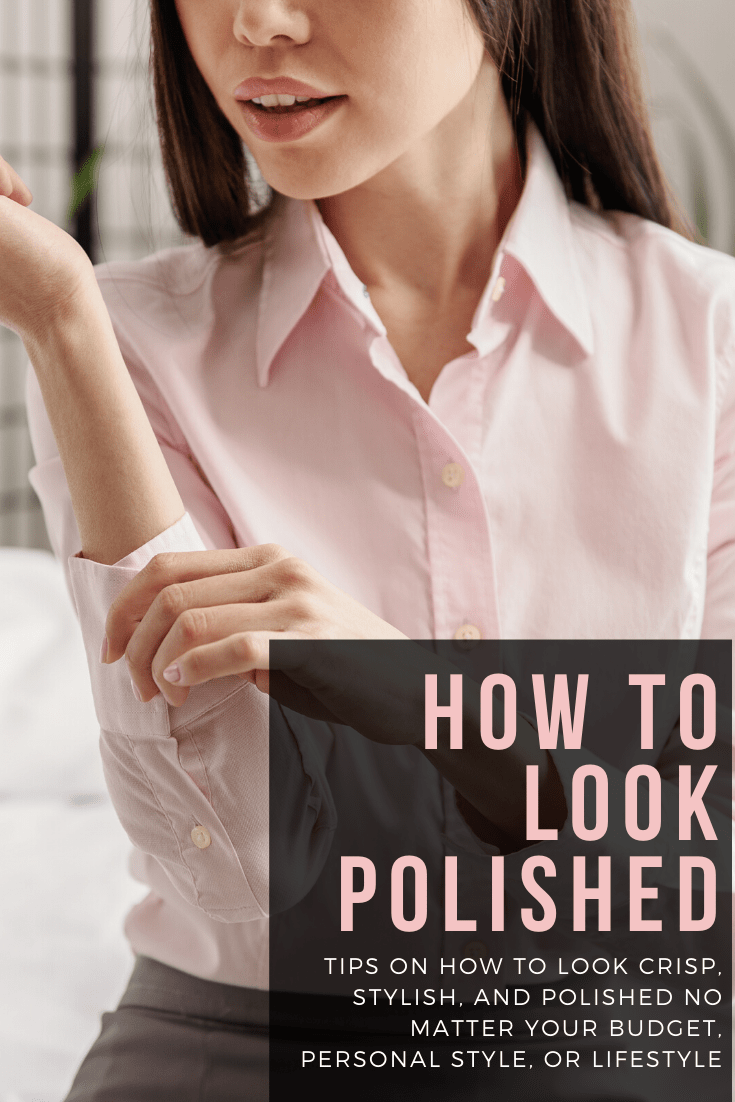 How does one get the polished look? How to look polished? How can I look polished and professional? These, and different variations of these questions show up in my keywords in my blog analytics on a daily basis. It seems that most women are searching for the Holy Grail of style instead of working on those spreadsheets or proposals at work!
I originally wrote this post in 2007 but have updated it because even though Yves Saint Laurent is famous for saying, "Fashions fade, style is eternal," what is seen as stylish and looking polished changes. To quote another fashion icon, Daphne Guinness said it well, "Fashion is not just about trends. It's about political history. You can trace it from the ancient Romans to probably until the '80s, and you can see defining moments that were due either to revolutions or changes in politics."
Our world has changed drastically over these past couple of years, and with it, style. Below I share how to look polished no matter your personal style for our here and now. These tips for looking polished will work regardless of your shape, size, budget, lifestyle, or personal style aesthetic.
How to Look Polished
Looking polished… well, some women are born with that skill. They are able to wear a simple tee shirt, jeans, and flats and look like a modern-day Audrey Hepburn. Their hair never frizzes, their lipstick never gets on their teeth, they have perfect yet natural posture, and possess effortless confidence and style.
I am not one of those people. I always spill my morning coffee on my sleeve. Friends are always picking a piece of lint out of my hair or a crumb off my sweater. I wear more bruises and scratches than articles of clothing and find my body shape can make a stylish t-shirt, no matter how expensive or well-cut, make me look like I'm ready to clean out the garage. That being said, I have learned how to look polished, with bruises and coffee stains and all.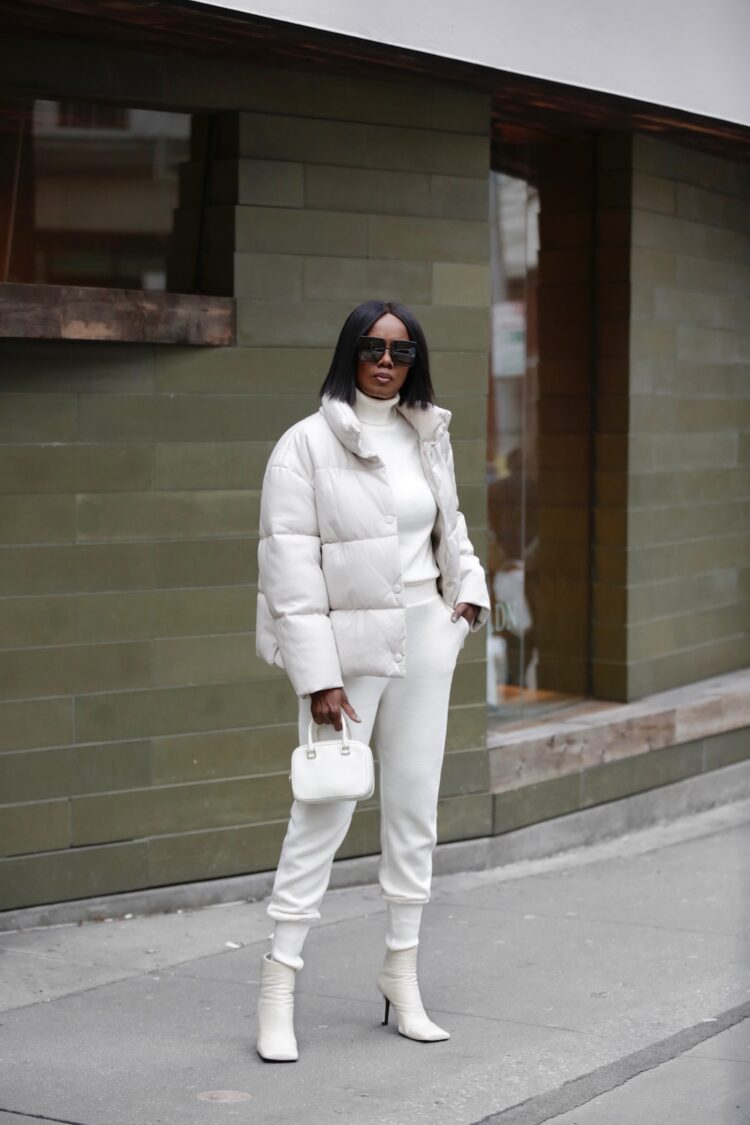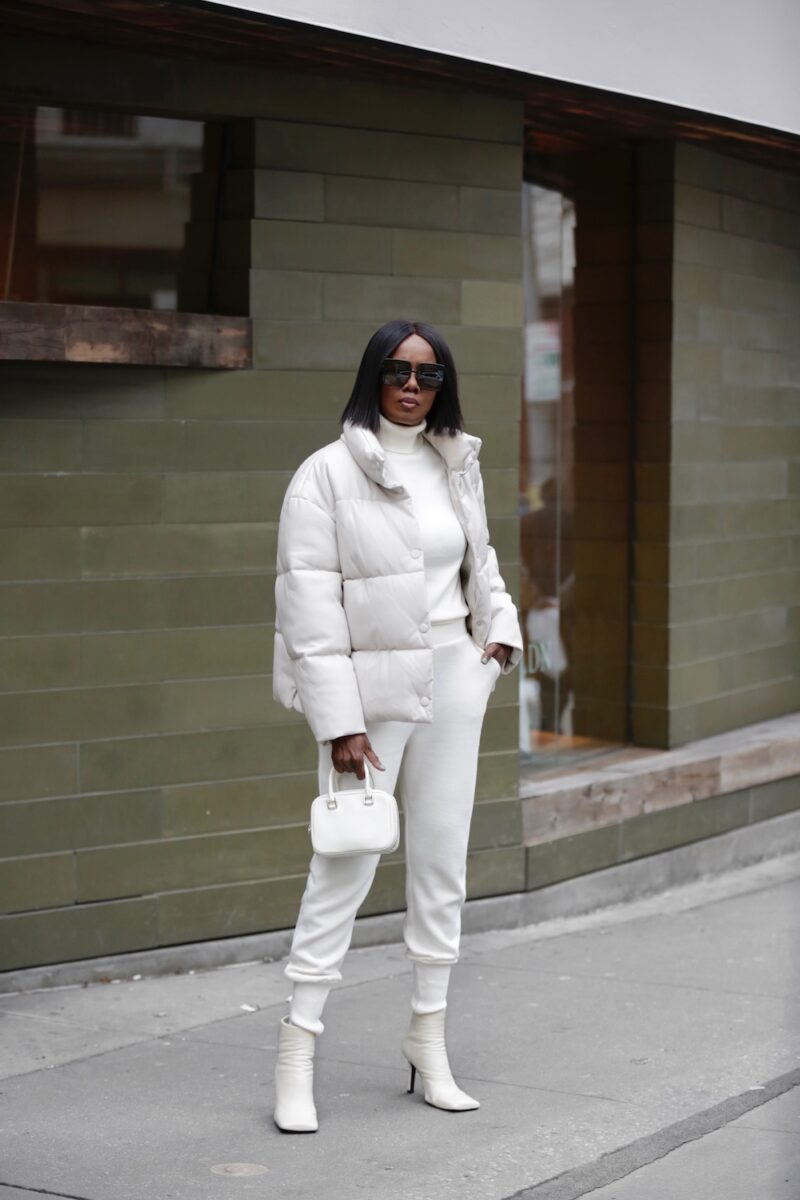 How Does One Get the Polished Look?
Step 1: Get Real
The first step toward achieving a polished look is to destroy that mental picture of Audrey Hepburn, Meghan Markle, Tilda Swinton, Olivia Pope, or Claire Underwood. If you are asking how to look polished, I can bet you don't look like these women, nor do you have their income or their connections. To attempt to force yourself into an ideal will never be successful, look authentic, or be enjoyable.
That doesn't mean you can't look polished. It just means by accepting you are you and not another, you can create a wardrobe, beauty routine, and lifestyle that celebrates your unique self. When you feel good, you look good. When you feel you look good, it affects your posture, how you care for yourself and your wardrobe, and how others portray you.
The most stylish thing a person can wear is confidence, and confidence is impossible when you are working to be something or someone else.
Step 2: Gather Data
For at least a week, keep a style journal. Each day, note what you wore (and what condition it was in), how you styled your face and hair, and what events took place during the day. Notice how people look at you, respond to you, and what comments or compliments you receive (not just on your outfit, but on your work, your talent in another aspect of your life, your health, or vitality).
Also note how you felt when you looked in the mirror before leaving that day, and how you felt when you returned in the evening.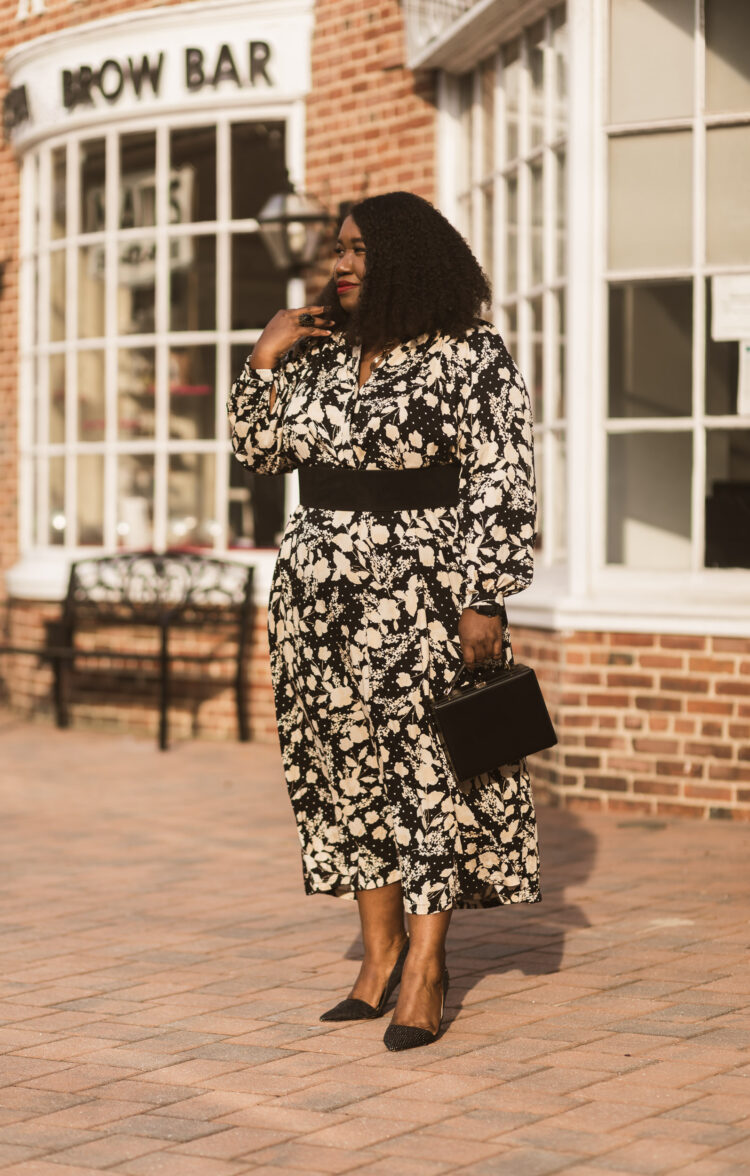 If you leave your house in something that you don't love and does not love you, you will not look polished, composed, or comfortable. Maybe it's a dress that is a smidge too tight, a blouse that requires a few carefully hidden safety pins to keep your bra from public view, a sweater made from a fabric that itches and of a color you don't really like but seems popular this season.
I always say style comes from quality and not quantity; you likely don't need let alone wear all that is in your closet. It is better to donate or re-gift those items that make you uncomfortable and save up for worthy replacements.
How does the garment wear throughout the day? Does that pencil skirt end up resembling Venetian blinds by noon? Are you constantly adjusting the neckline of your blouse so your bra doesn't show? Did the sleeves of your sweater stretch out so much from pushing them up on your forearms that now they are saggy bells around your fingertips?
Who cares how sassy you feel at 8 am if you feel like a recycled grocery bag by happy hour? Such items do not deserve a place in your closet.
But what pieces in your wardrobe make you walk tall and feel good? Maybe it's that matte jersey wrap dress you found for a steal on clearance or a cashmere turtleneck in robin's egg blue that you bought with your holiday bonus. Possibly it's a frilly feminine confection that makes you feel as though you have been transported from a different time period or a black suit that has been tailored to fit your shape like a glove.
When I say "good," I don't mean cozy. I don't mean an item that reminds you of your mom because she knit it for you back in college, or because it's of cozy fleece and hides your lumps. Women often mistake feeling good for feeling safe. Sartorial security blankets have their place, but you came to this article to find out how to look polished. To look polished, you want clothes that make you feel beautiful, strong, confident, sexy, creative, unique, daring, or special. You are important, your wardrobe should reflect that.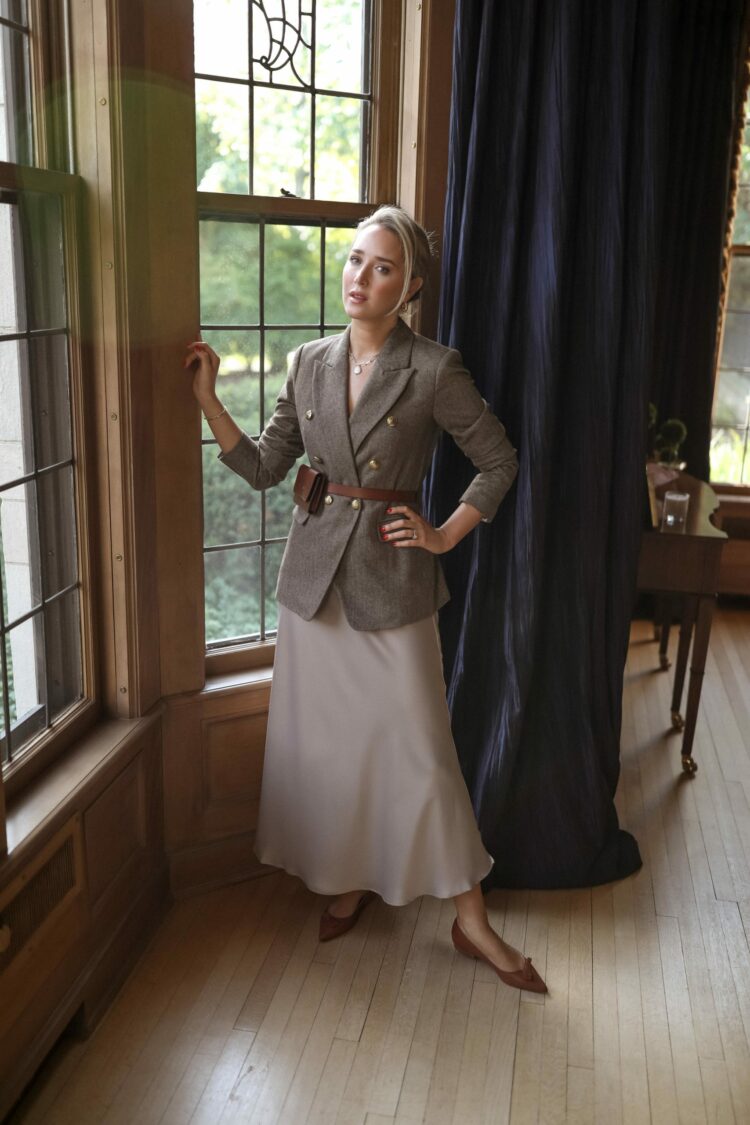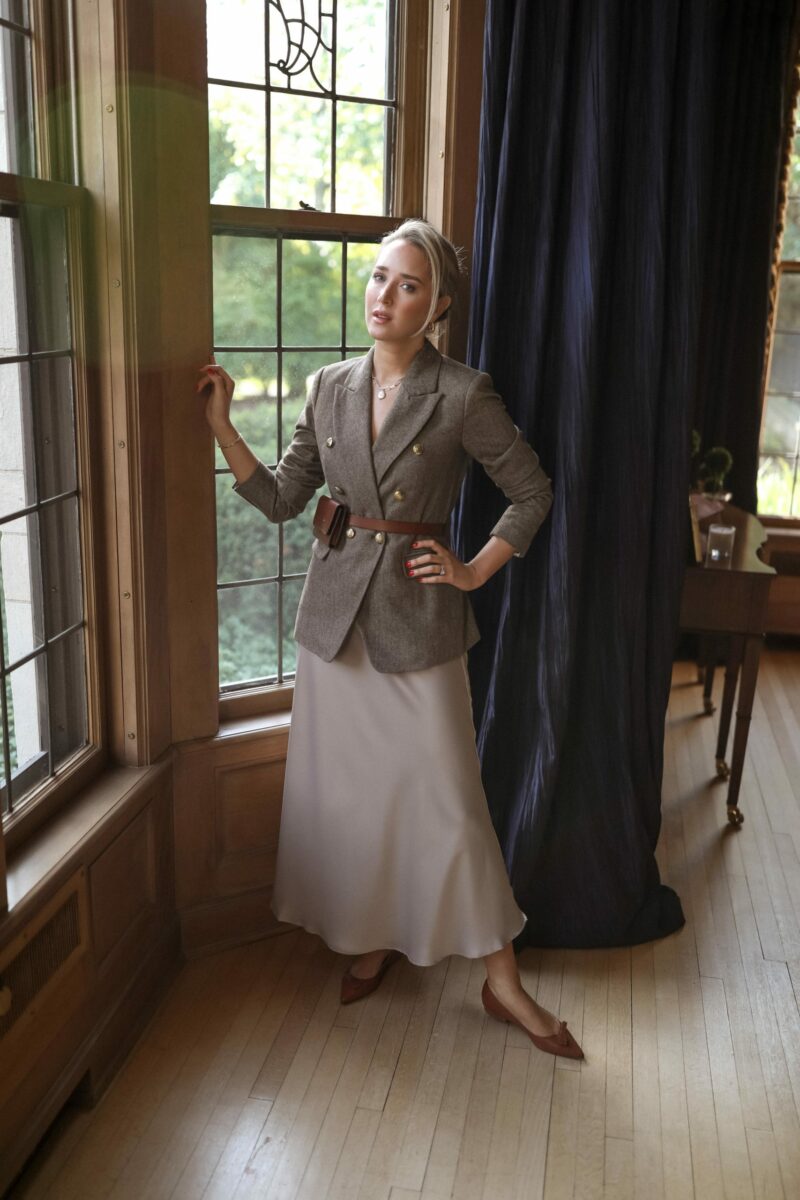 Step 3: Take Good Care of Yourself… And Your Wardrobe
A polished woman does not have snags in her sweaters, stains on her shirts, or wrinkles on her wrap dresses. You spend hard-earned money on your wardrobe, it deserves to be cared for.
If an item says do not put it in the dryer, do not put it in the dryer. Air drying will keep its shape and make it look better for longer. Want proof? Read how I ruined my Breton tee shirts.
You likely own an iron, but also consider getting a garment steamer. It's a way to quickly release wrinkles from brand-new purchases as well as garments that were worn but don't need to be laundered before the next time they come out of your closet. A steamer can refresh clothing that has lingering scents from an event, and it takes less time than an iron. There is no need for a giant professional steamer, a travel or handheld steamer is usually less than $75 (I own this one) and can hold enough water to steam 1-2 garments.
Hang up clothing at the end of the day. Your chair, treadmill, and doorknob are not meant to hold clothing, and it can cause creases, dents, and damage.
Use proper hangers. The hangers you get from your dry cleaner can leave rust stains on clothes, put dents in shoulders, and creases where they shouldn't be. For most apparel, I recommend the velvet flocked hangers you can find everywhere from The Container Store to Amazon to an end cap at your local TJ Maxx; the texture keeps clothing from slipping off and the streamlined shape provides more room in your closet so clothing can breathe and won't be crushed. For blazers and coats, a molded hanger will help it keep its shape.
As soon as you see a stain, take care of it. This is my favorite stain removal recipe, it works on almost any fabric.
If you can't take care of it, don't get it. It's okay if you don't have a hand wash or dryclean only lifestyle; few of us do. Don't set yourself up for frustration or damaged clothing by buying pieces that won't work with your life.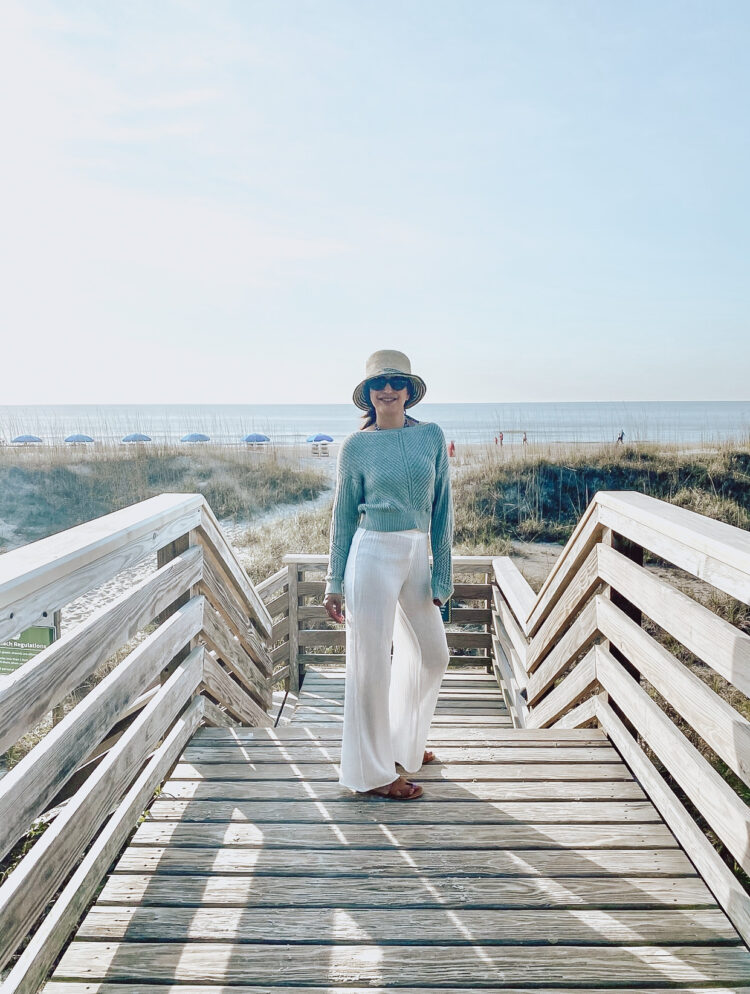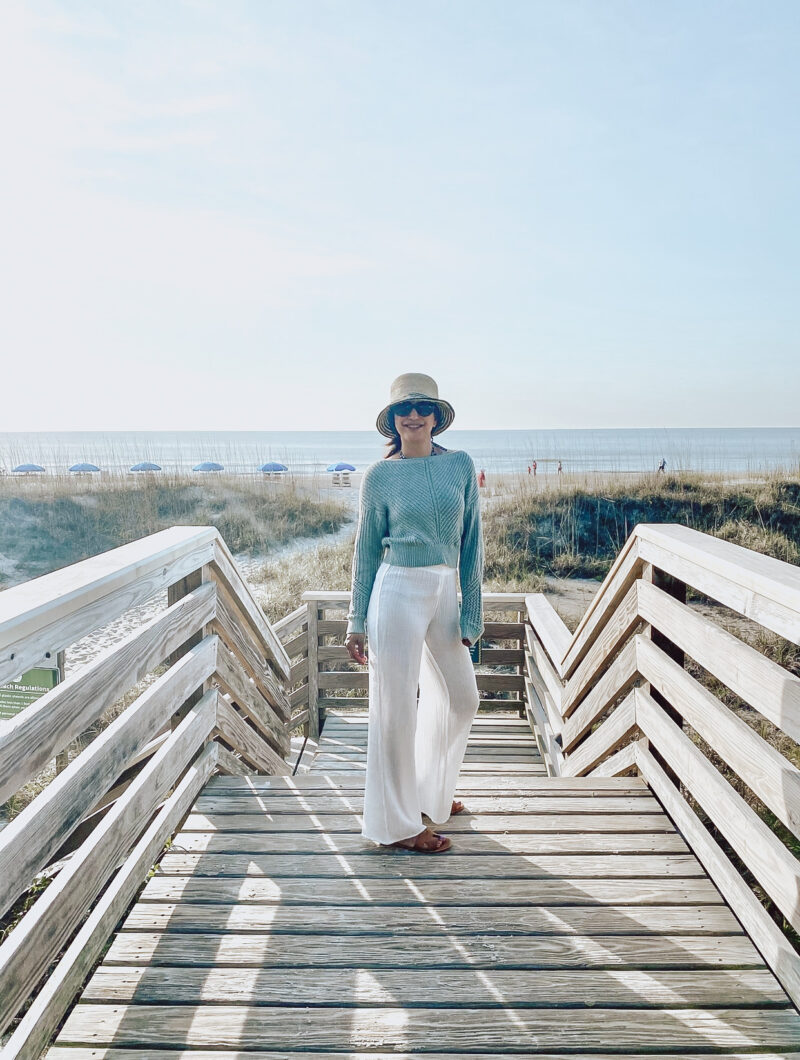 Step 4: Keep it Simple
You never see a "polished" woman in cabbage roses, brand logos, and bedazzled fabrics. The simpler your pieces, the more versatile they are, the chicer they are, the more timeless they will be.
It is tempting to buy the blouse with the kicky embroidery, but more often than not, you will tire of the pattern, the look will be out of fashion in less than three months and people will think, "oh there she is again in that embroidered shirt!" Fun and flashy pieces are added once a simple working wardrobe is created to show your personality.
Consider building a capsule wardrobe of hardworking pieces that can lead multiple lives. If you're not sure where to start, this piece shares how to create capsule wardrobes and this link will offer all the capsule wardrobes I've created for a variety of situations, lifestyles, and personal styles to inspire you.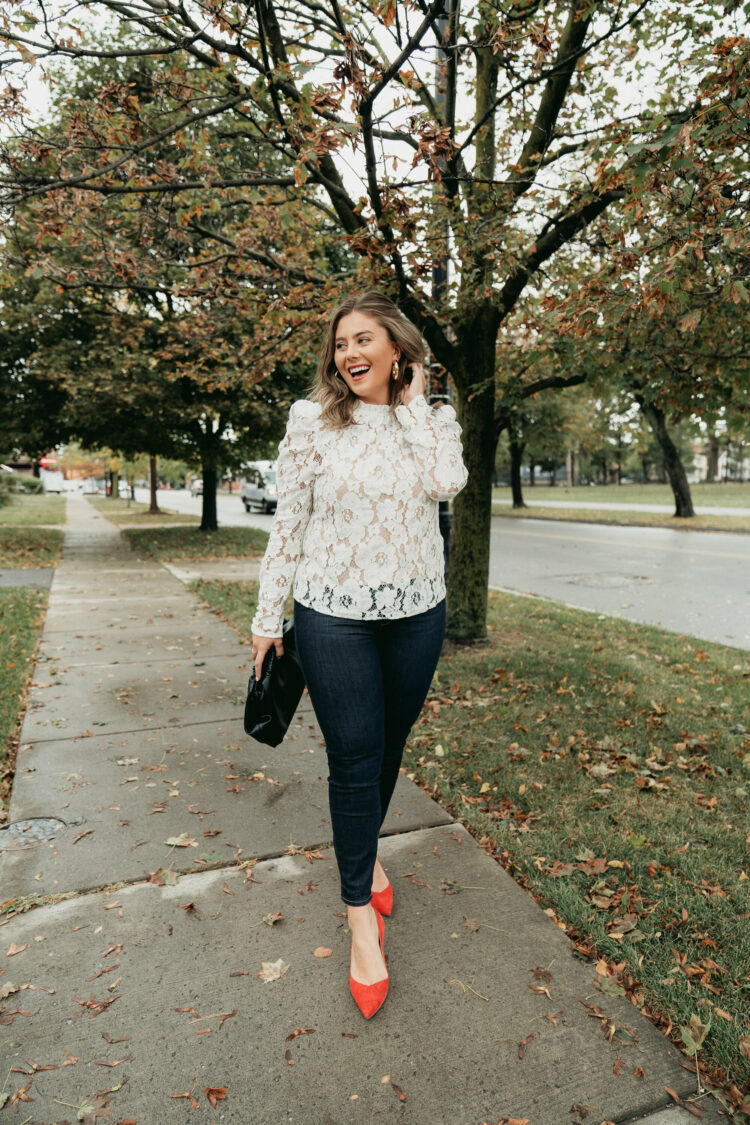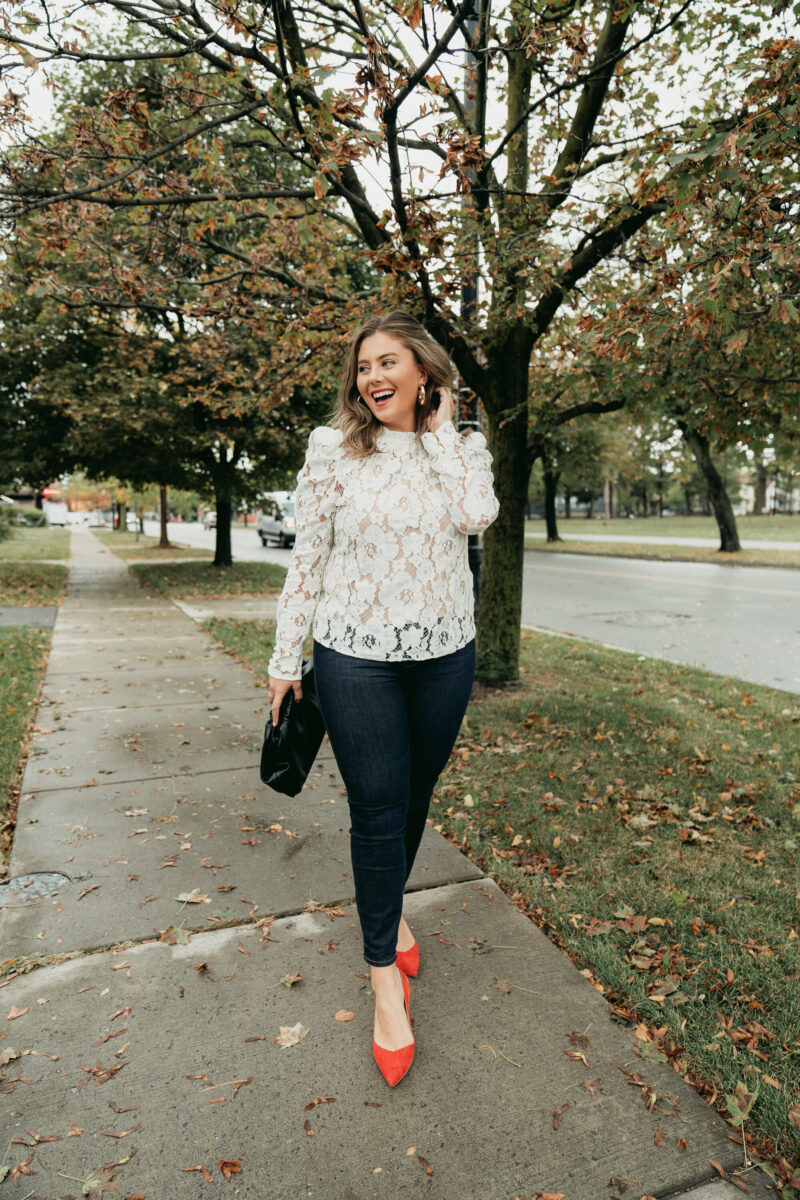 Step 5: Focus On Fit Above All Else
A polished woman's clothing fits. Her pants are the right length for her heel height, her buttons are never popping open, her sleeves don't hang over her hands, her necklines never gape to show her bra. She buys not what is trendy or a really great deal, but what fits her lifestyle as well as her frame.
The best way to make your body look amazing is to get your clothing tailored. Whether it's a t-shirt or a pantsuit, when it is trimmed to fit your unique figure, it will make you look fantastic, make the garments look more expensive, and the whole effect will be polished. All those style icons in your head? There aren't wearing a single item off the rack.
Everything, seriously everything, has been altered to fit their frame. Tailors are not just for the rich and famous; your dry cleaner can do simple alterations like shortening a hem or sleeve and a local seamstress or tailor can make that dress or blazer you scored on clearance look like a million bucks. Buy fewer clothes, spend the money to have them altered to fit you perfectly, and you won't miss the extra pieces in your closet.
Step 6: Accept Your Shape
It SUCKS when you are sure you are size X and you need a size Y or even Z to get the zipper closed. This does not mean you are fat or bad or weirdly shaped. This is just proof that the sizing in stores these days is all out of whack. It's NOT you, it's the clothes.
Once you let go of the "oh, I'm a size X" mentality, you will have a better time shopping. If need be, cut the tags out once you purchase these garments. Stylish women know the trick to great-fitting clothing is to size up and then have it tailored down to their unique shape and curves. When you wear garments that are too big or too small, you look uncomfortable, and you never look polished.
Shop for your current self, your current shape. We all have buyer's remorse from purchasing an item we KNEW we'd lose five pounds for that is sitting in our closet, tags still on, never worn. Stop that cycle, it is not stylish and it only makes you resent your perfectly lovely body. Honor your body by buying clothes that fit it now. If your size or shape change in the future, you can tailor your clothes to adjust.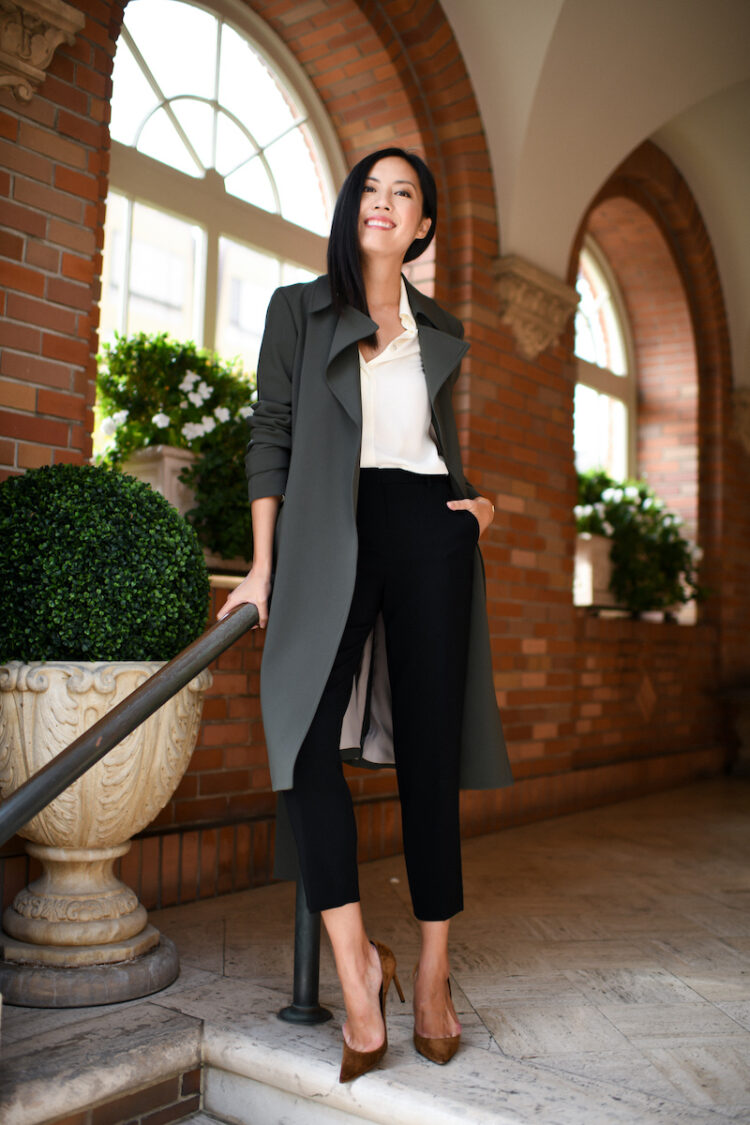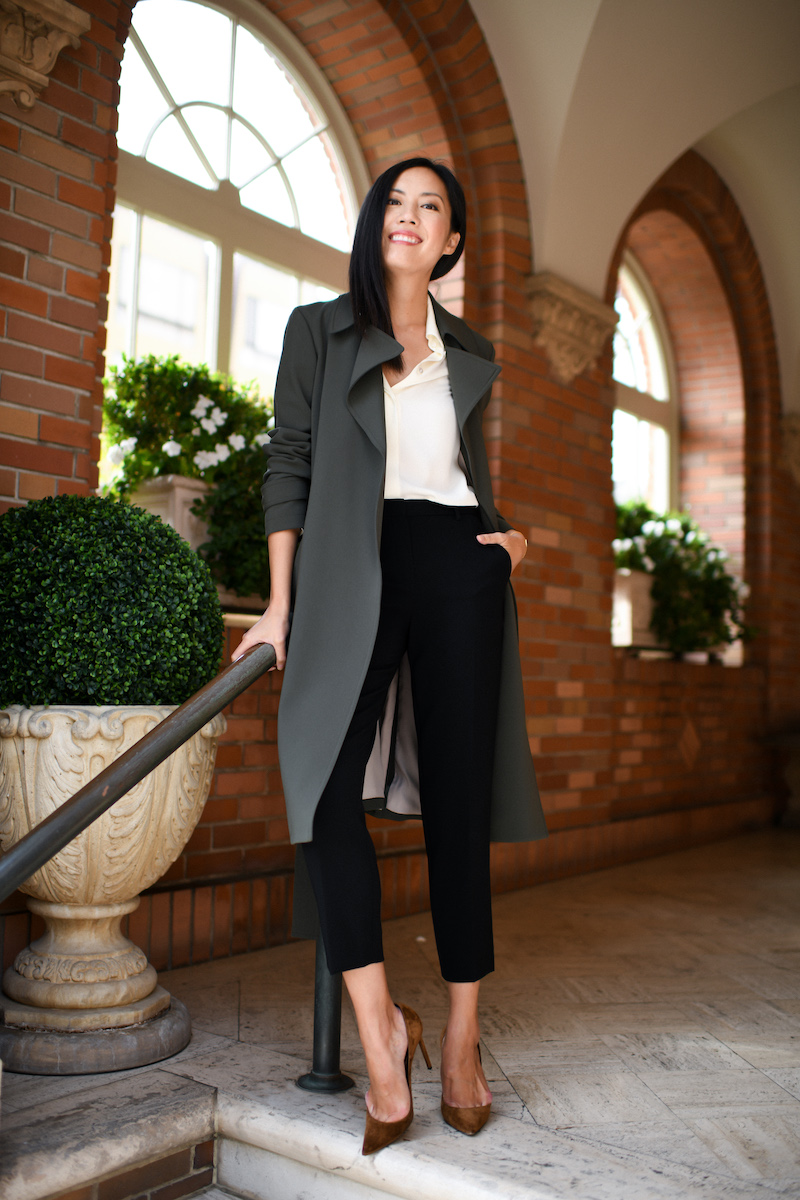 Step 7: Get over the Name
Stylish, polished women hardly ever wear obvious brand names. So many times, a fashionista is stopped after attending a runway show or a gala and is asked who she is wearing and we find out that fabulous frock was purchased at J. Crew or that blazer was from Topshop. Crap is sold at all price levels, and so is quality. Wearing an ill-fitting, and un-you dress from Prada far worse than wearing a well-fitting simple one from LOFT.
Especially now as we're exploring new retailers and shopping more online and seeing how the trend of fast fashion has affected the quality across retail as a whole, it's important to let go of stereotypes and try new-to-you brands and designers. A few tips for shopping new online retailers:
Before you make a purchase, research the return policies. How long is the return window? Can you wear an item and return it if it doesn't hold up during the day? Do returns cost money? Is there a prepaid label offered or are you responsible for figuring out postage? Which shipping company do they use for returns? Is there a restocking fee?
If you have questions, ask them. Retailers these days offer a variety of ways to contact them and most understand the importance of open communication. Whether it's a contact form or chat widget on the site, a comment on their Facebook page or a Tweet, don't be afraid to get the information you need to be an informed consumer and prevent buyer's remorse.
Buy a measuring tape and know your measurements. A size Large at one retailer may be several inches different from another retailer; even retailers that use number sizing do not have consistency. If you do not have someone to help you with your measurements, you may find it easier to use a measuring tape with a slightly adhesive backing. This video on YouTube is a really helpful guide on how to measure yourself for online shopping.
Google the brand, and then look at images. Bloggers like me will save images with names that include brand and style names for SEO (search engine optimization). Google will also show photos from websites that discuss that brand and/or garment style name. This way, you may find reviews beyond the retailer website and may also find another person with a shape similar to yours wearing it.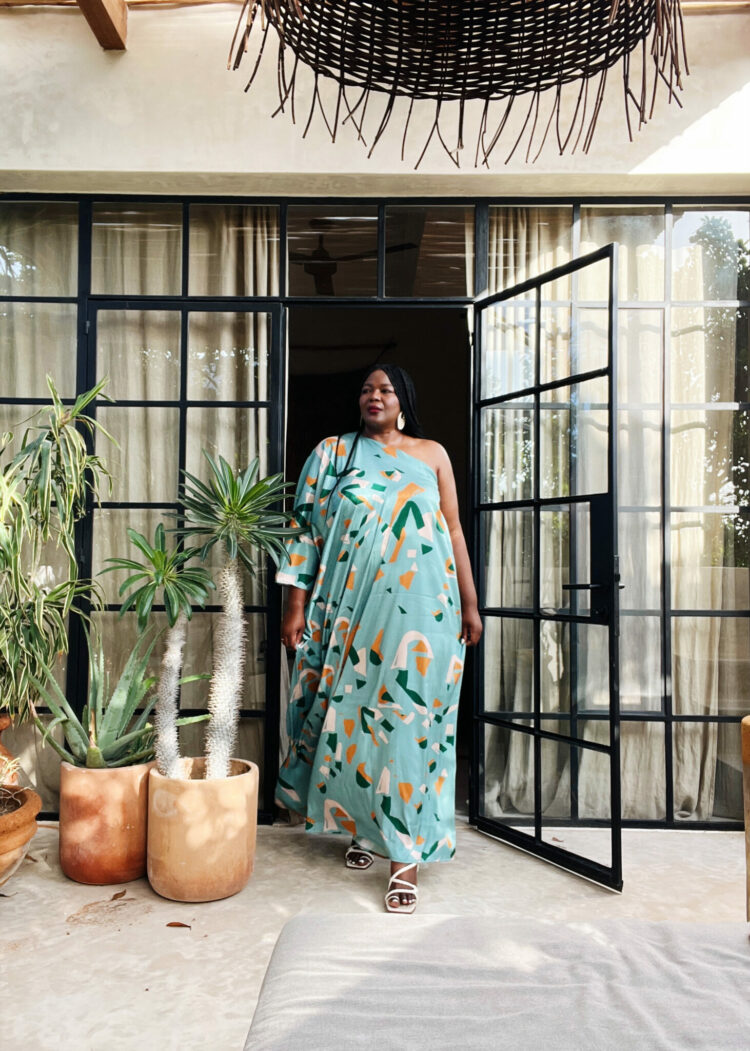 Step 8: Know Thyself
You got rid of the impossible dream to be Audrey Hepburn, now get rid of all those lists that say you need X perfect pieces to be well-dressed. I'm talking about that crisp white shirt, that trench coat, that pencil skirt, and the little black dress. Yes, these are great pieces for many women, but not all women. You're an artist, you're a weekend warrior, your wedding registry was at REI, you have more curves than Marilyn Monroe, you live hundreds of miles from a city and heck, it never rains where you live.
Go back to your style journal. Did you feel strong in that rust-colored turtleneck with your brown tweed trousers? Did someone say you looked great that day, or notice your green eyes while wearing it? How about that turquoise sundress you bought on a trip to Mexico two years ago, the one that you were wearing when your husband told you that you looked beautiful and when your son's teacher was shocked by your actual age, thinking you were a decade younger? More often than not, these pieces feel good to you AND to those around you because they express your personality best.
Personally, I love the look of a crisp white shirt tucked into a pencil skirt with some fabulous slingbacks… on another woman. A tucked-in blouse accentuates my short torso, my tummy and large breasts, most pencil skirts are unforgiving to my solid legs and round bum, and I have thick ankles and not enough definition from them to my heel to keep slingbacks up all day.
However, I feel great in short shift dresses in stretchy fabrics and tall boots because they work with my petite frame, de-emphasize my midsection and wide calves, fit my lifestyle, and make me look pulled-together, stylish AND true to my personality. Accepting and embracing your exterior AND interior is the key to achieving personal style, and looking polished.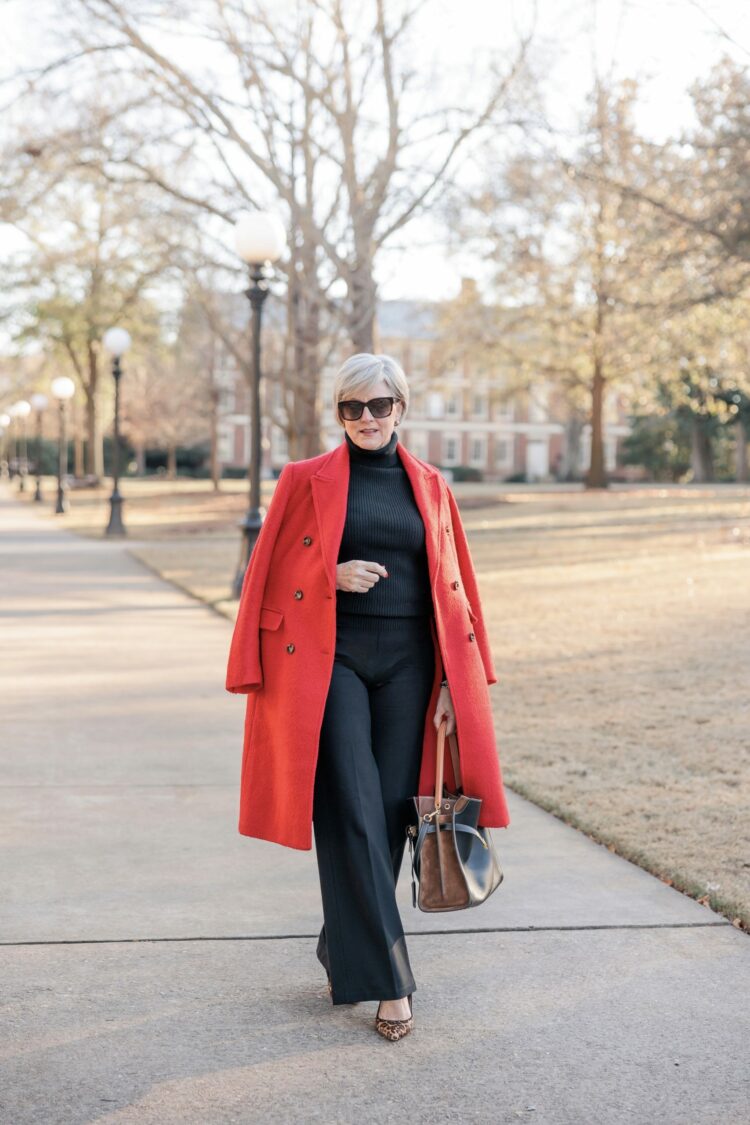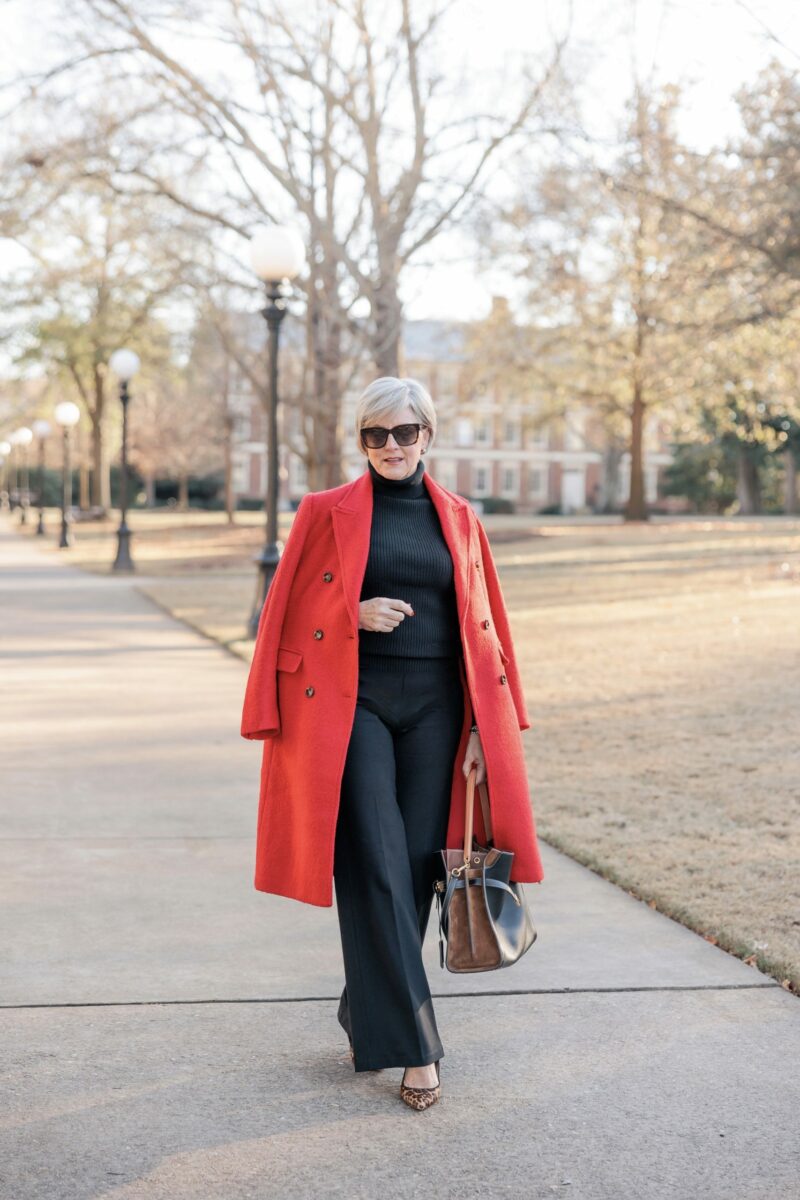 General Guidelines for Looking Polished
These don't always work for every woman, but a few tips that may help you on your journey to a polished look:
Update your handbag. When you find a bag the right shape and size, it's hard to let go. And it likely shows it, with threads hanging off the strap, bulging pockets, stains on the bottom, creases in the leather. While social media may make you think you need a fancy designer to craft your bag or that it's cool to wear counterfeit to get the "look for less," a polished woman knows it's not who you carry but what. A bag that is the right size and shape for your frame and lifestyle, is a color that works with the majority of your wardrobe, and is well cared for can look incredibly stylish at any pricepoint. Before you buy a new dress, consider using that money to either get your bag repaired and updated by a cobbler or investing in a replacement.
Update your hair. A polished woman does not have her hair in a claw clip or a messy bun 24/7. Get a cut that fits your lifestyle as well as your personality. Only have five minutes in the morning and have wavy fine hair? Don't try to replicate Anna Wintour's bob – you won't have the time to keep it looking crisp. Talk to your stylist before they shampoo your mane. Let them feel the texture, get to know you as a person before those scissors get anywhere near you. And be realistic – unless you want to spend a lot of time on your hair, you can't reverse nature and make straight hair curly and fine hair thick. Just as you should accept your body, so should you accept your tresses.
Reduce the prints in your wardrobe. Prints are the icing on the cake of a wardrobe. You need to bake the cake before you can decorate it. Focus on your core wardrobe, consider building a capsule wardrobe, and then on that add the prints and embellishments to "ice" your style.
Simplify your grooming routine. A polished look is clean skin, groomed brows, a look of health and self-care. A polished woman rarely has visible highlighting, contouring, or multiple statement features. Try adding a drop of face oil to your foundation to thin it out or replace it with a tinted moisturizer. Try creams instead of powders for a sheer wash of color on your eyes or cheeks. Instead of focusing on eyeshadows and liners, try a fuller, groomed brow. If you don't have time for regular manicures consider a buffing block so your hands still look cared for. You may find that this simplified routine actually makes you look more polished!
Take care of your shoes. They say shoes define the man, but they also define the woman. Be they ballet flats, classic pumps or knee-high stiletto boots; your shoes need to be cared for. Get them re-heeled and resoled each year, polish them, store them carefully, and immediately treat them for stains, scuff, or any other damage. Instead of five pairs of fun and cheap shoes that will last a season, use that money to invest in one pair that will last you for years. No matter how beautiful the woman, how sassy the outfit, or how perfect the hair, a pair of scuffed, cheap and worn down shoes will destroy your image.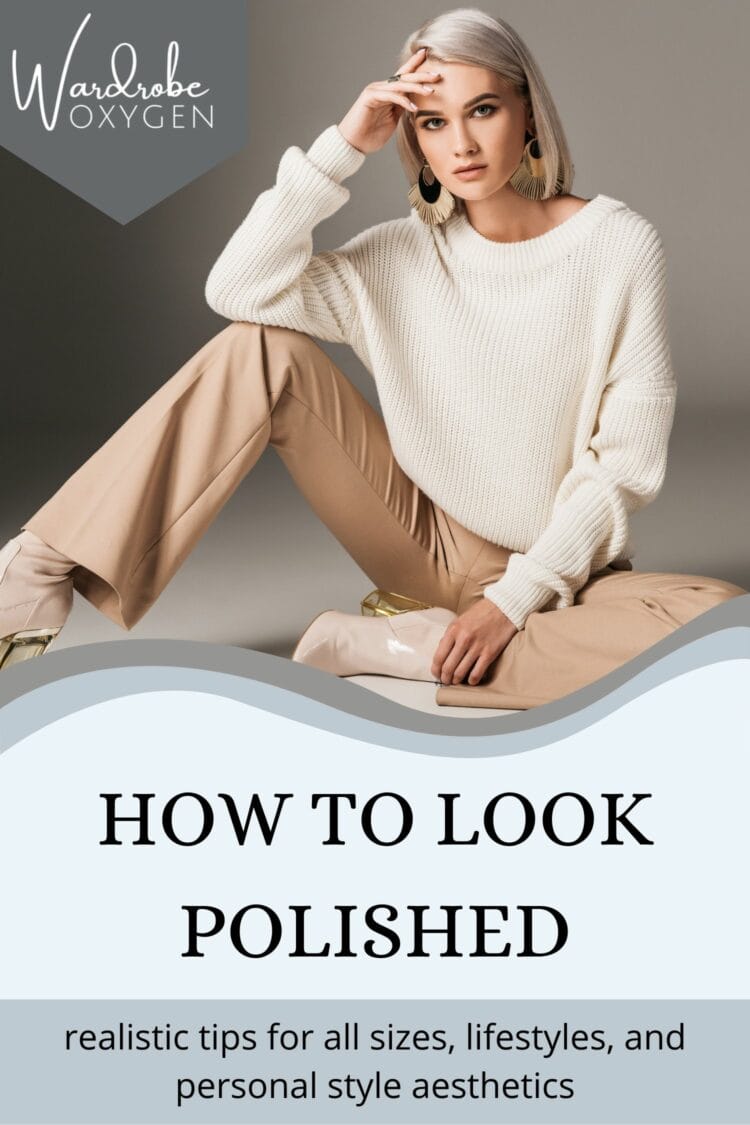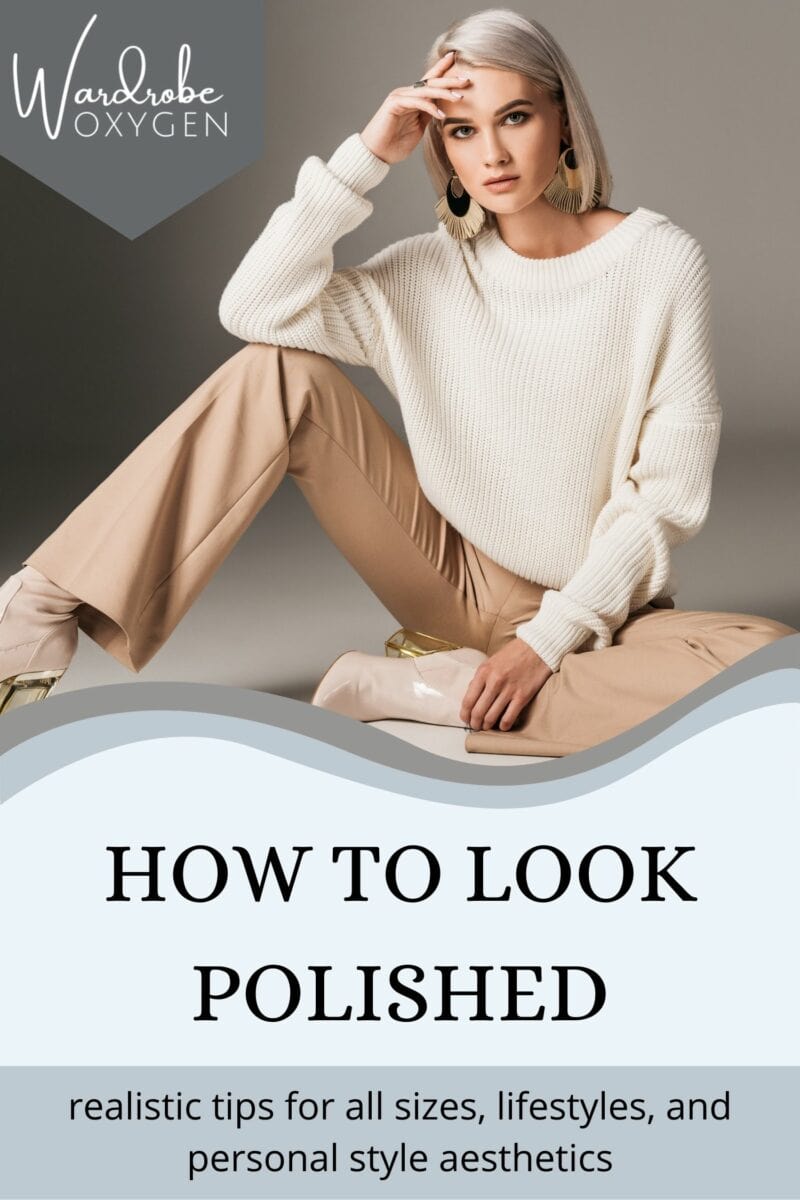 Do I Need to Look Polished to Be Stylish?
Heck no, you do you, grown-ass woman! In fact, you will see that GenZ is leading the way in showing that true personal style comes from accepting your personality, frizzy hair, and coffee stains and all. We live in a different time, and it is a time that is more accepting of what makes each of us unique and fabulous.
While I don't think that means we should all run around town in stained, ill-fitting clothing, it means that if looking polished is not a priority for you, this article isn't for you, and that is great. The most stylish thing a person can wear is confidence. True style comes from knowing yourself, not attempting to be someone else!