This article may contain affiliate links; if you click on a shopping link and make a purchase I may receive a commission. As an Amazon Associate, I earn from qualifying purchases.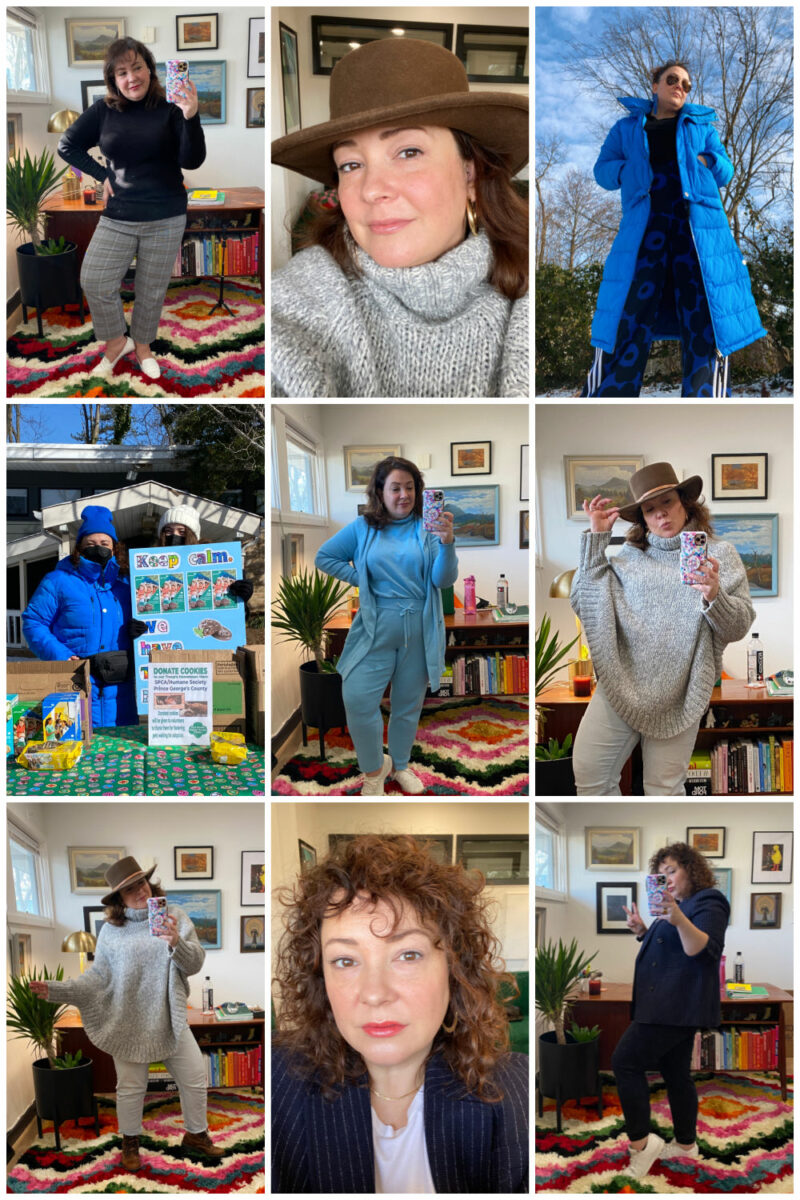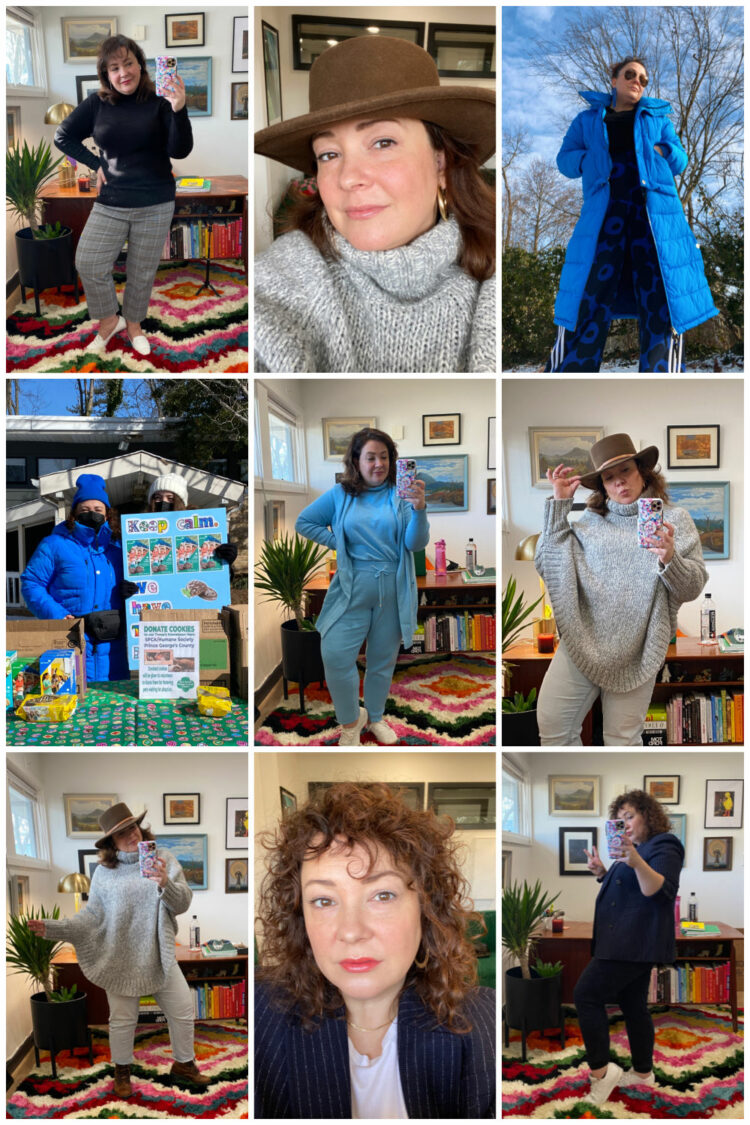 What I wore last week is usually on Mondays but things continue to be hectic here in my world so… better late than never! Some of the looks I wore last week and into the beginning of this week.
You May Have Seen This Before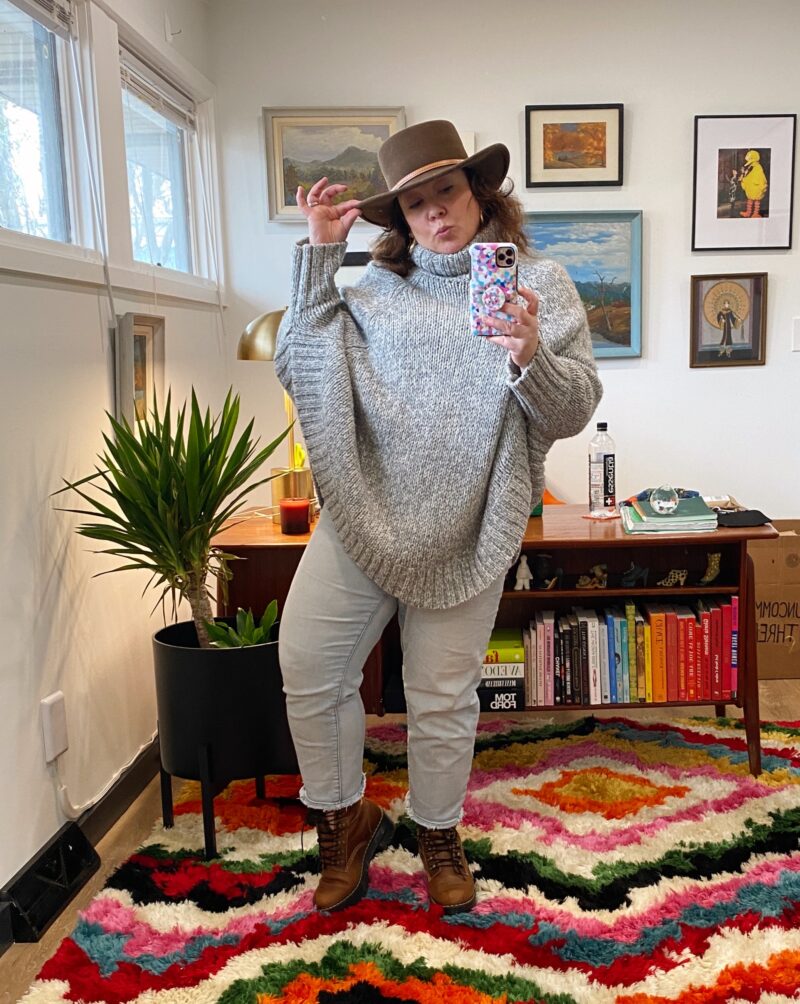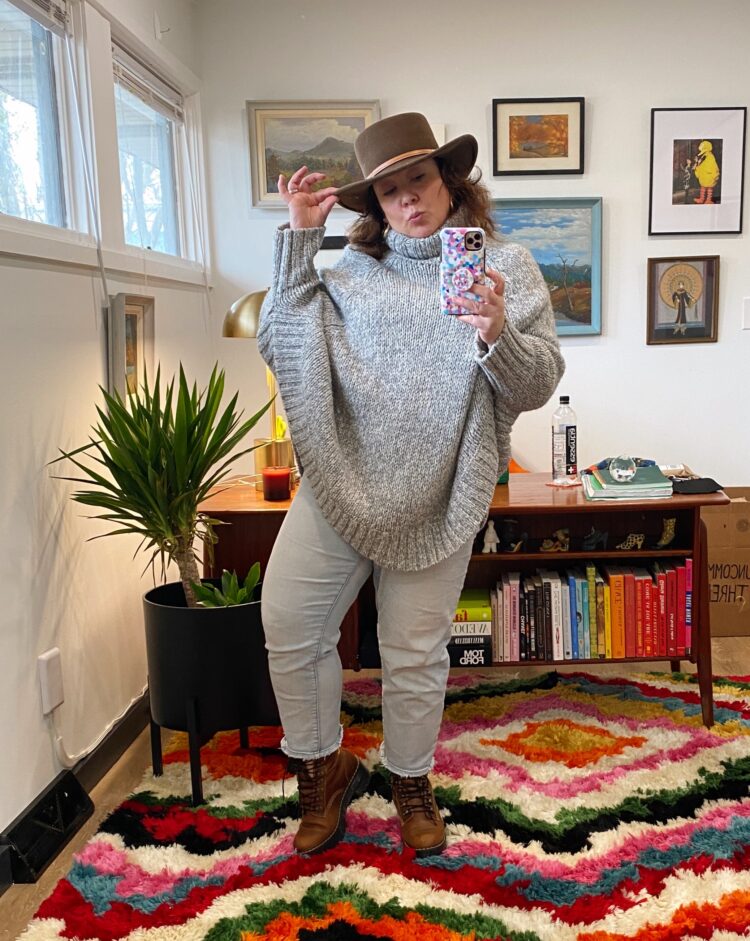 I have had this poncho sweater for almost a decade. I think this is the first time it made its appearance on the blog, but I believe I had it before 2014. Here it is again in 2016. But I didn't wear it a lot after that. It was too heavy, I thought it made me look bulky, it was itchy on my sensitive skin, it wasn't my style. But lately… it feels like my style again and I am glad it survived all my closet edits.
To be honest, one reason I held onto it is because so many of you loved it. I had folks email me as recently as October seeing the sweater in my archives and asking if they could purchase it from me. And I was like… well maybe this is worth keeping.
And then I figured out how to handle my sensitive skin (post to come) and it didn't itch anymore. And then I stopped worrying about if my clothes made me look shorter or wider or whatever-er and I realized how great this sweater is and have worn it several times this winter!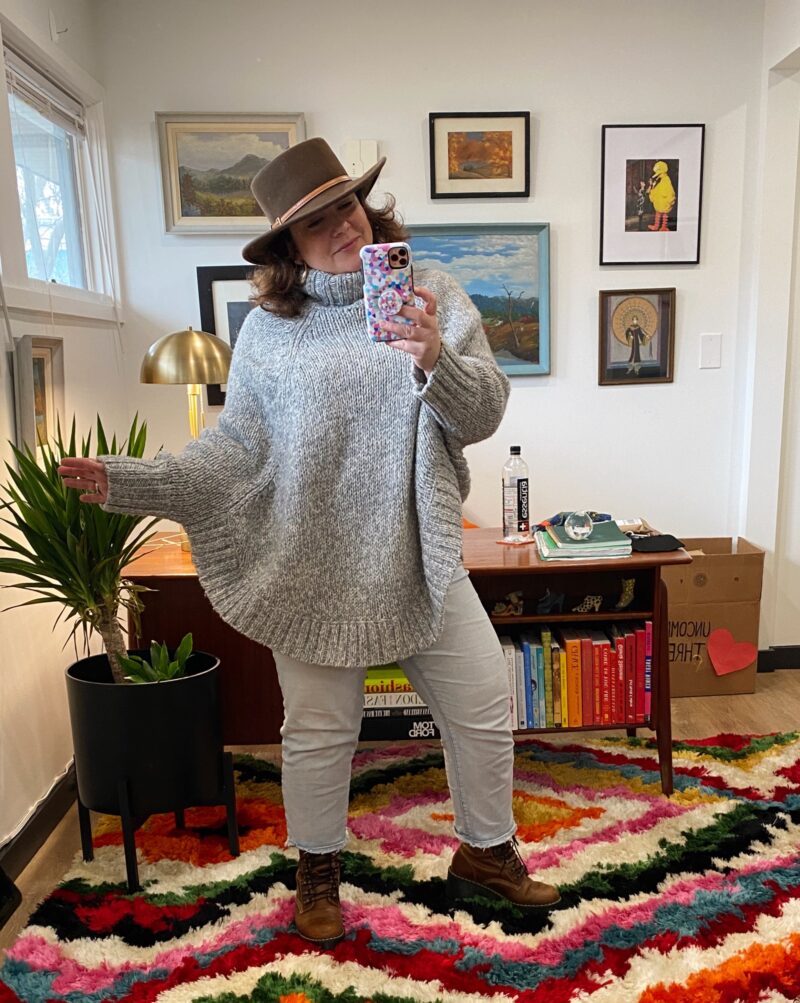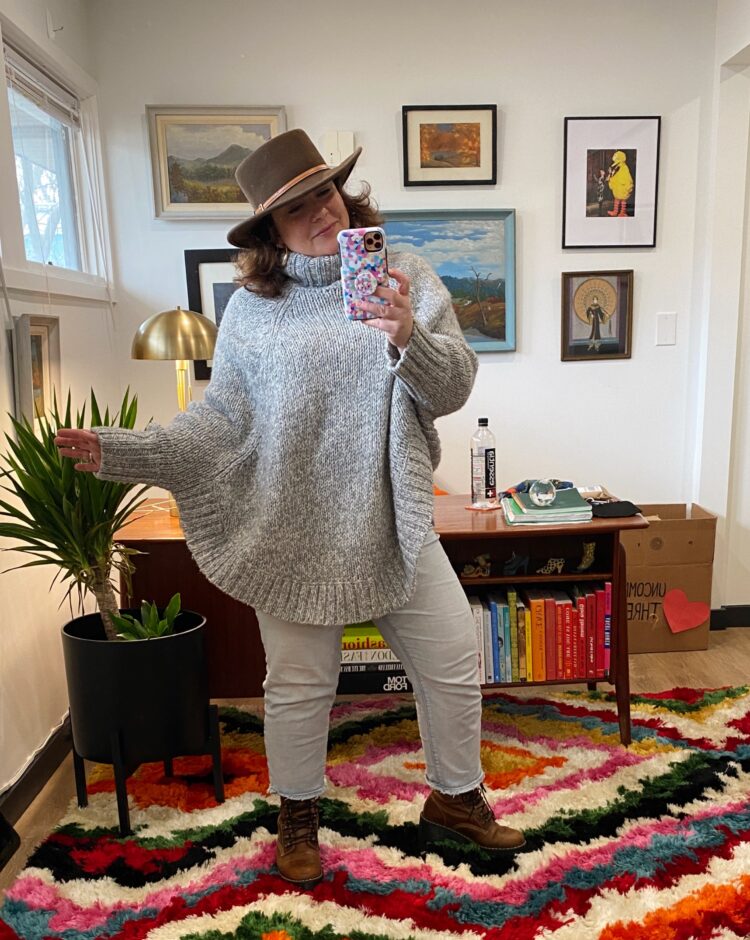 With it I'm wearing very old jeans from Athleta. They are a straight leg; Athleta only had them one season and since has leaned into the skinny jean, though they have a flare leg style currently available. These jeans go through the dryer, they've been washed dozens of times. They have gotten thinner and faded but not in a bad way, they continue to be a favorite comfy jean. I distressed the hem (just took some sandpaper to them). You can see them previously in this post.
The jeans are ankle length, so wearing them with boots make them winter friendly. These are the "Leona" from Dr. Martens and I really like them a lot; no break in period. The brown is hard to find but they do still have them on Amazon in a few sizes. This pair of Docs at DSW are a good alternative.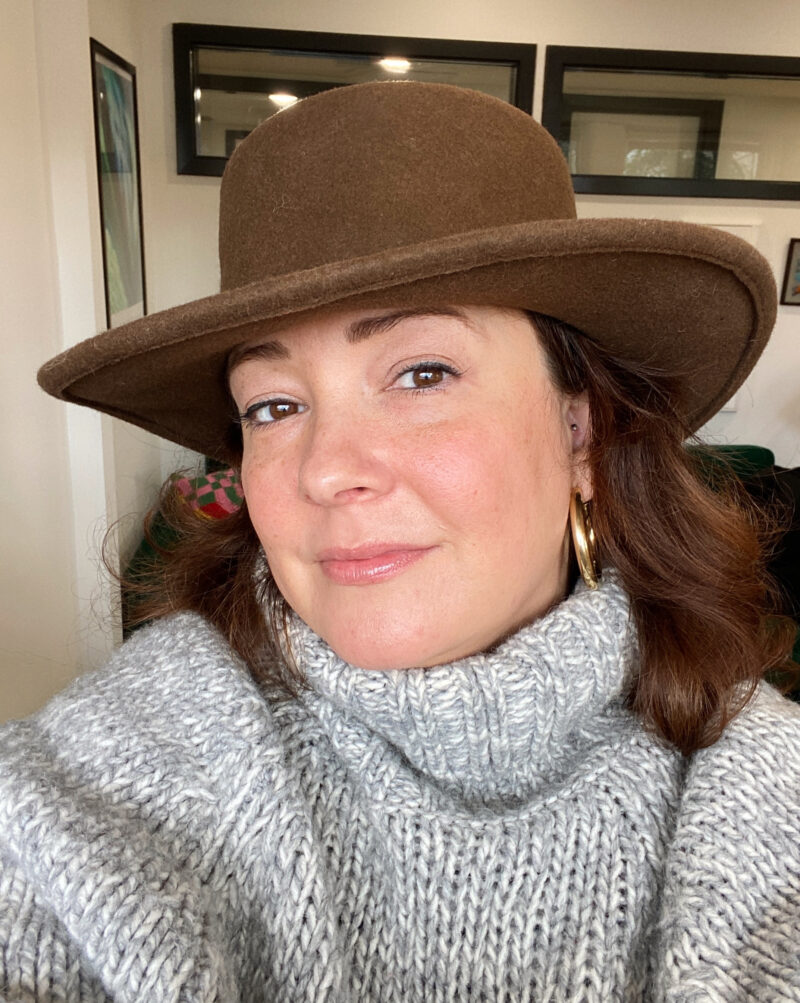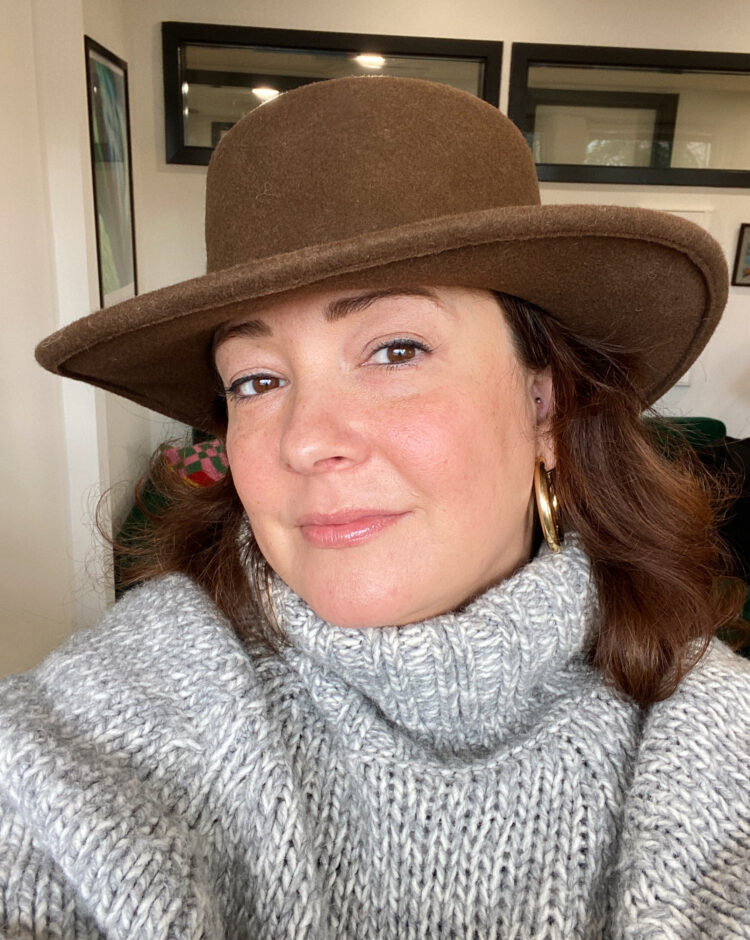 The hat is Chico's and from the fall. But it's a very cool shape and nicely made. Don't sleep on Chico's, their quality is great and while their styling on the site can be weird, the pieces are actually quite awesome.
Blue on Blue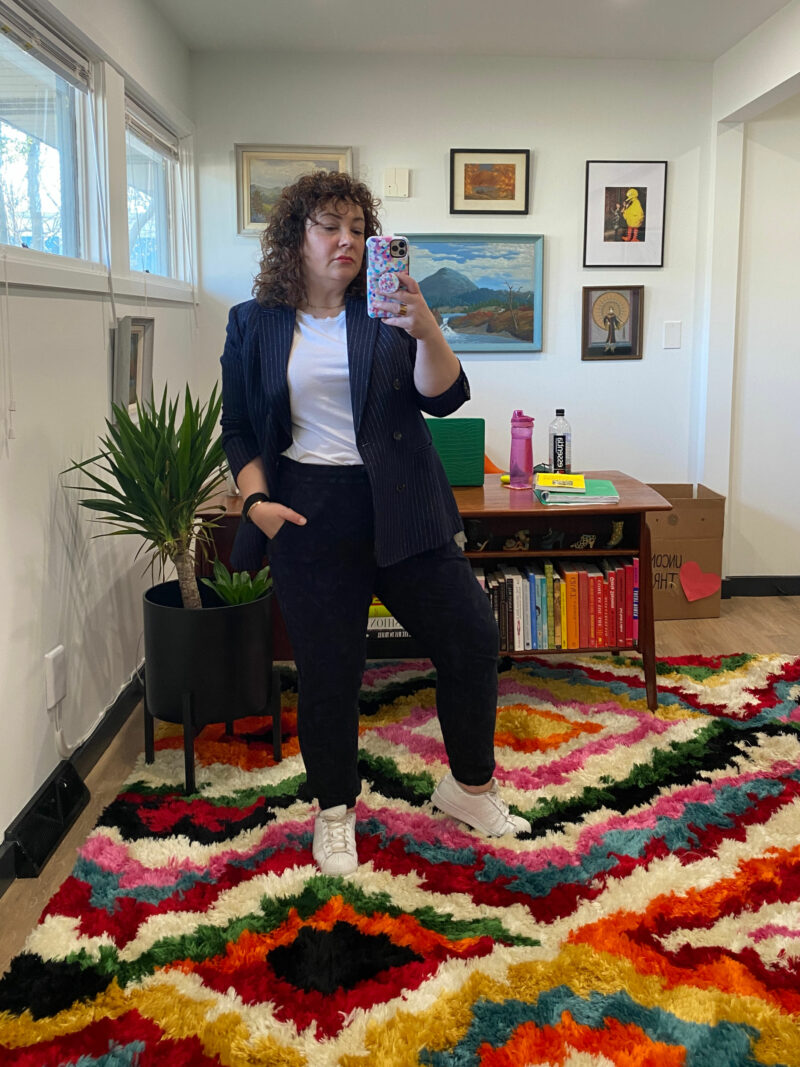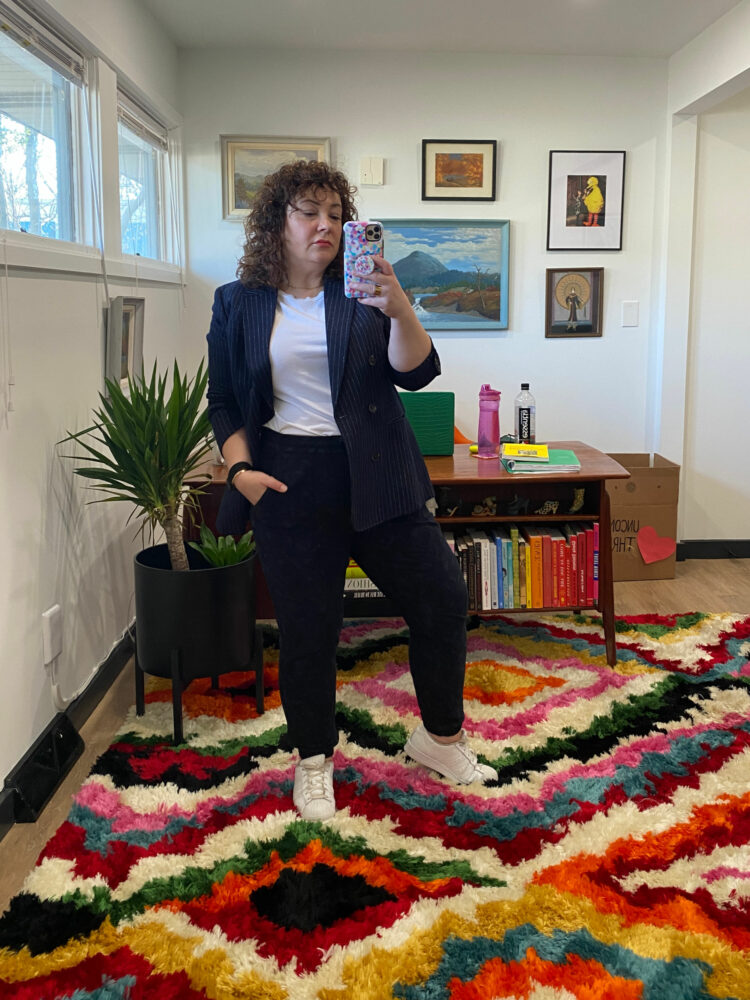 When you have your own office you can wear what you want, but I like to dress up a bit. It's one of the perks of having a place outside the home to go to, but I still want to be comfy. I decided this day to pair a blazer with joggers. I've done it before (oh look at that innocent person having no idea what was around the corner in a few weeks' time), but this time it's blue on blue.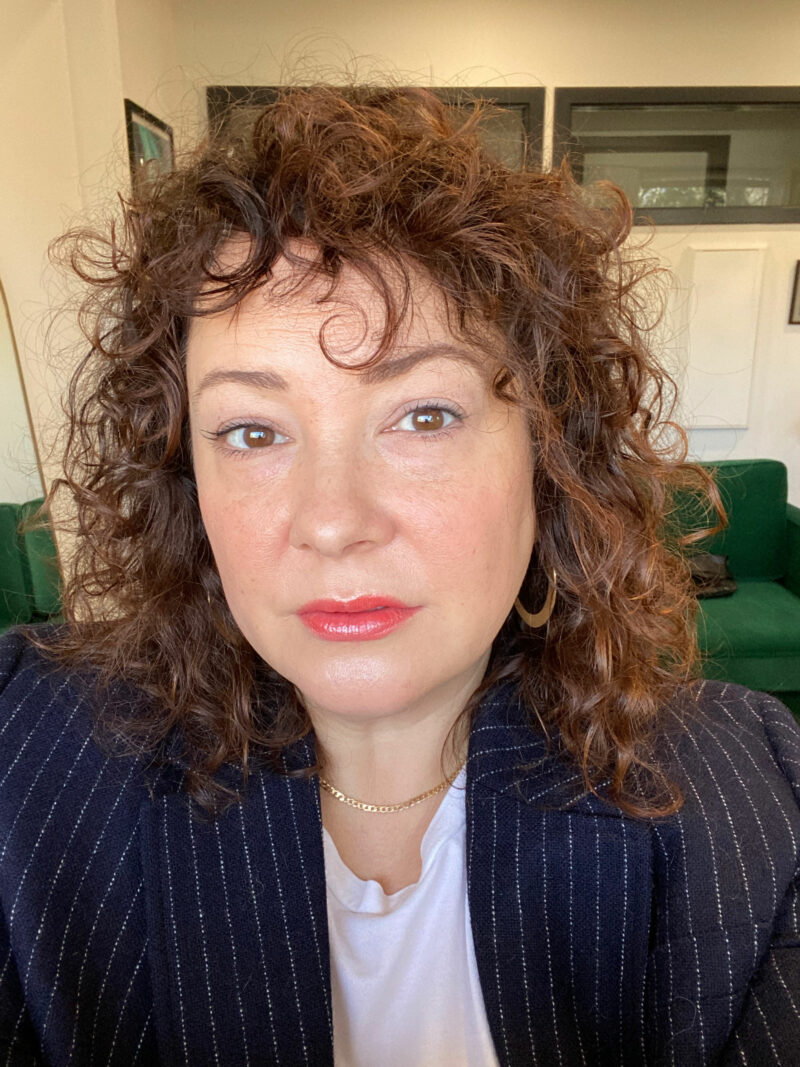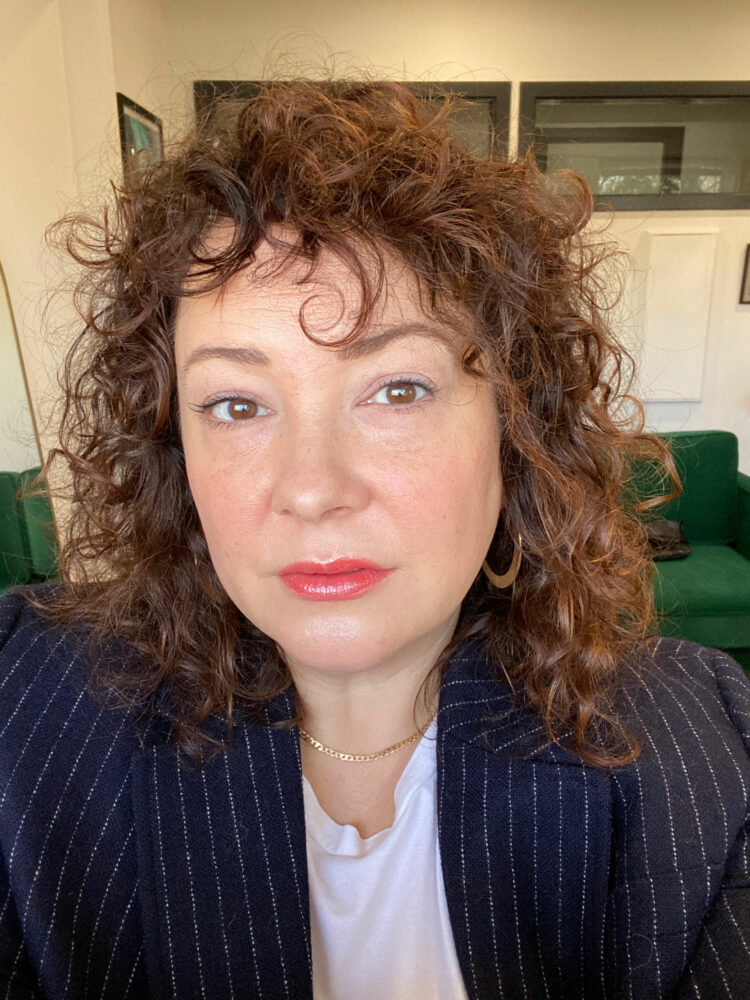 The blazer is J. Crew, you've seen it before. It's no longer available but this one is similar. I was putting away laundry and realized these navy camo joggers from Athleta (they're from last year, these are similar) were the same tone of navy and an outfit was born!
The t-shirt is the Tee Rex from Universal Standard, size XS. Continues to be the best white t-shirt, IMO. Opaque but not stiff, a really nice cut of sleeve, long enough to tuck in but not sloppy looking when it's left out, and the fabric has this drape and silkiness that makes it look expensive. Plus, this shirt has been washed a dozen times and still looks really nice and is still bright white!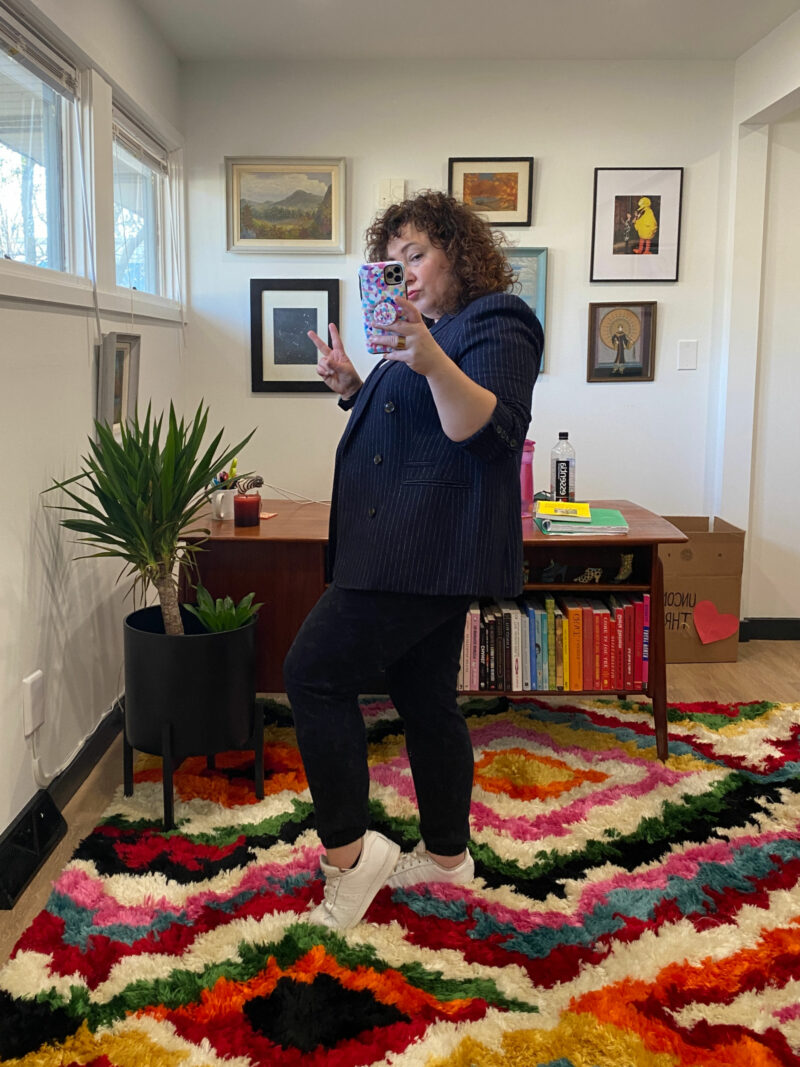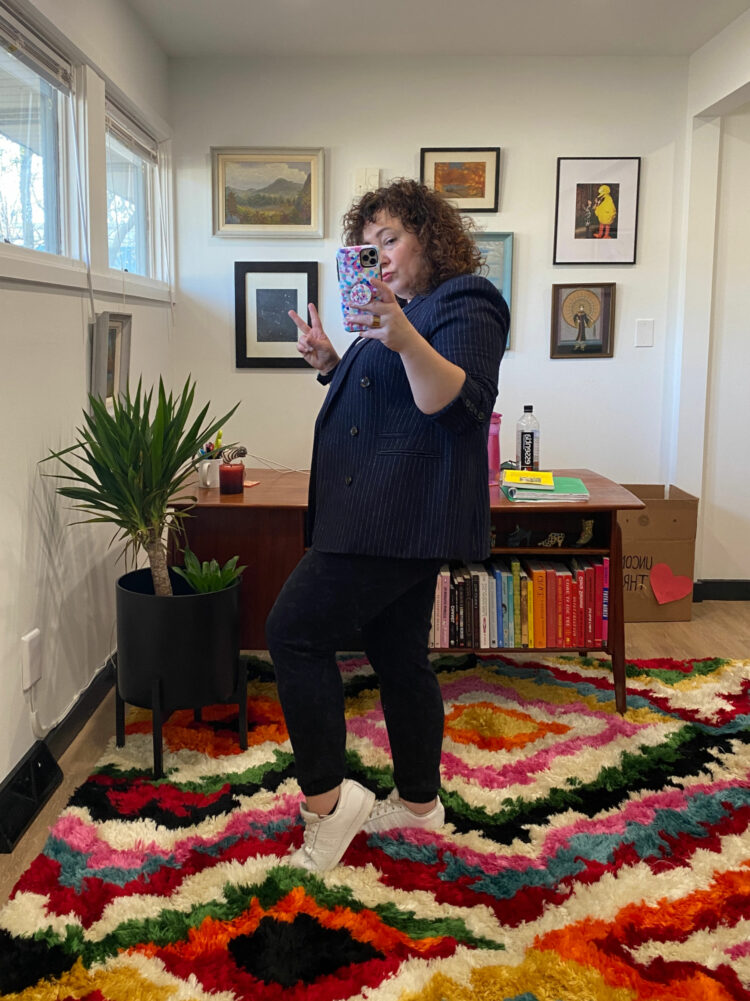 Sneakers are my Adidas shelltops which are in need of a good Magic Eraser-ing and the laces washed to get them crisp again. They are still my favorite white trendy sneaker; without the colored stripes they are pretty neutral. They're chunky enough to look good with pants but still look nice with shorts and skirts, and fit my wide feet!
Keeping it Comfy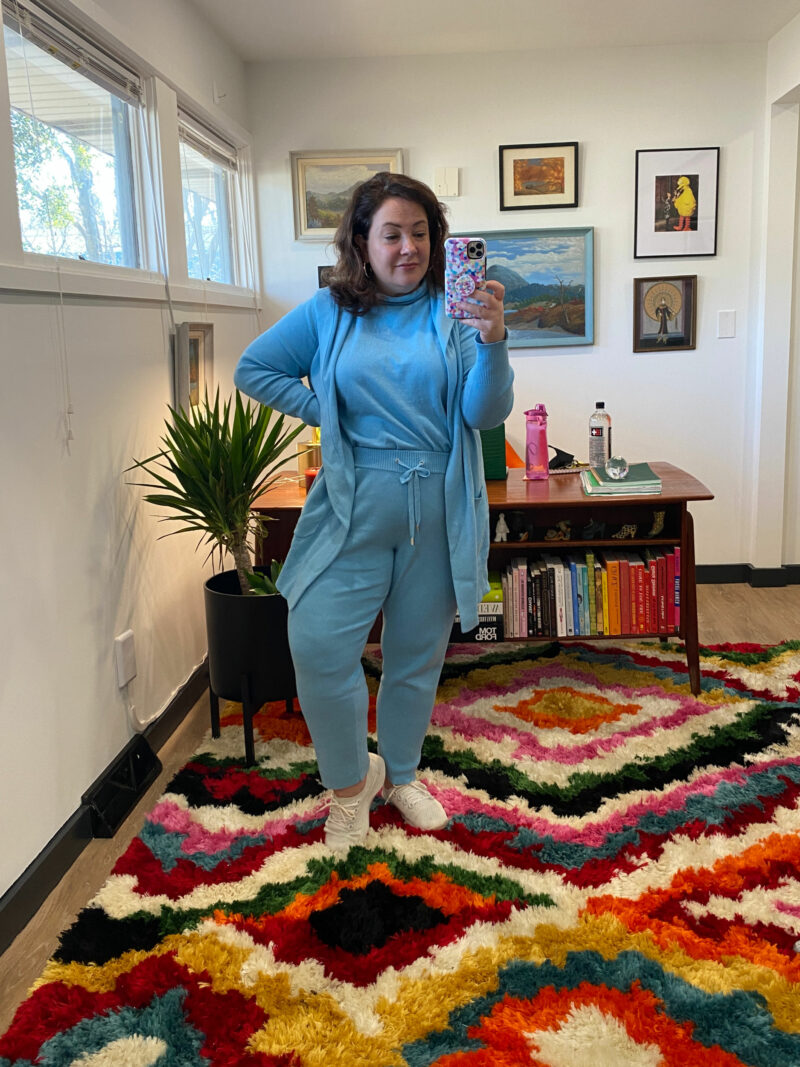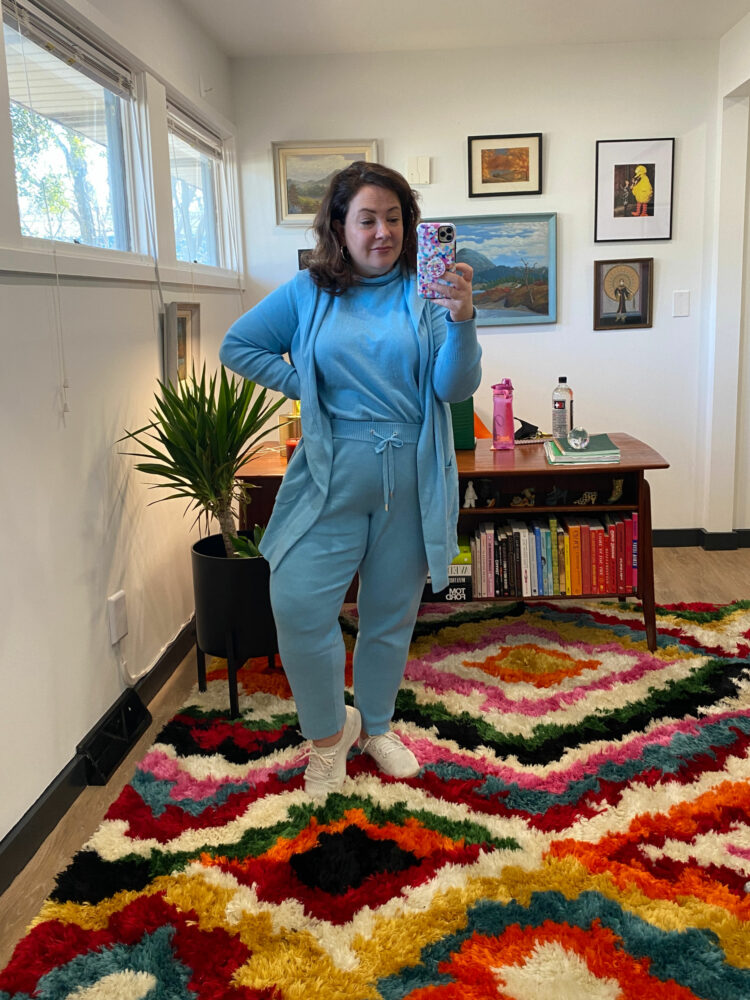 Continuing with the comfy theme, I've been rocking these cotton cashmere separates from Chico's. I've rocked Chico's cotton cashmere before, here, and here. And they have a spring version with pieces you can wear together or separately. I am wearing a 2 in the sleeveless roll neck and cardigan/jacket, and a 1 in the pants because I know from past experience they run big. TBH the jacket is too long for me, there is no petite option but it's so cozy I wear it anyway!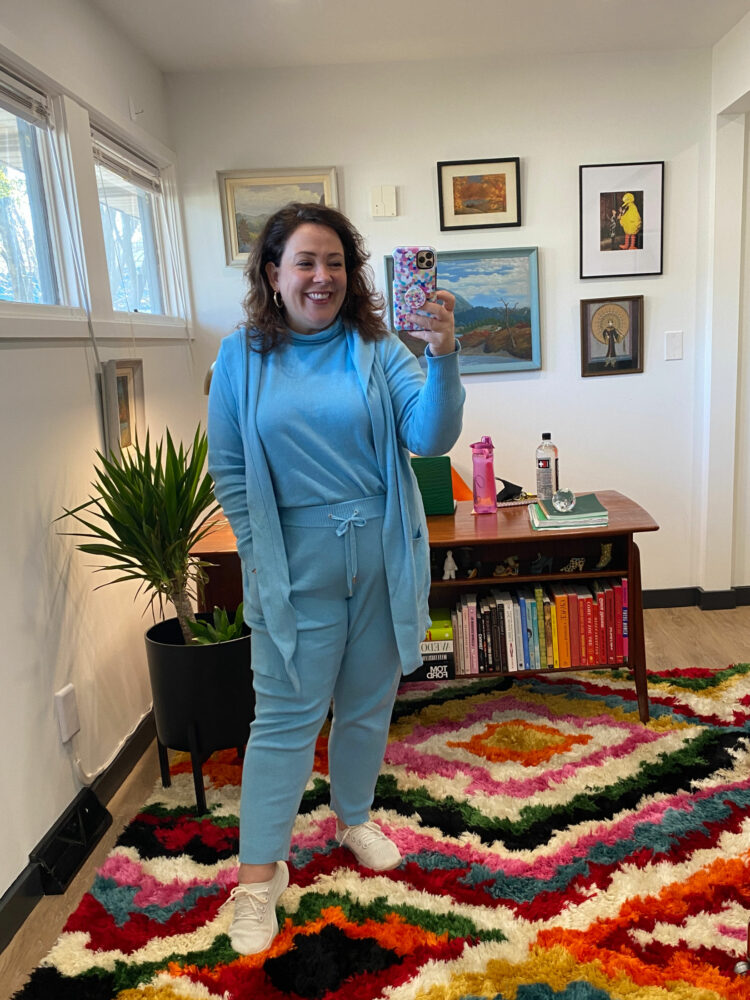 Shoes are Allbirds (read my review of Allbirds and if they fit wide feet). Unlike the Adidas, these are really streamlined and low profile. Having wide feet and thick ankles, I sometimes like a trimmer look of sneakers and these have been a good choice. I saw them in the closet and realized I hadn't worn them since summer so decided to take them for a spin this day!
I'm the Mary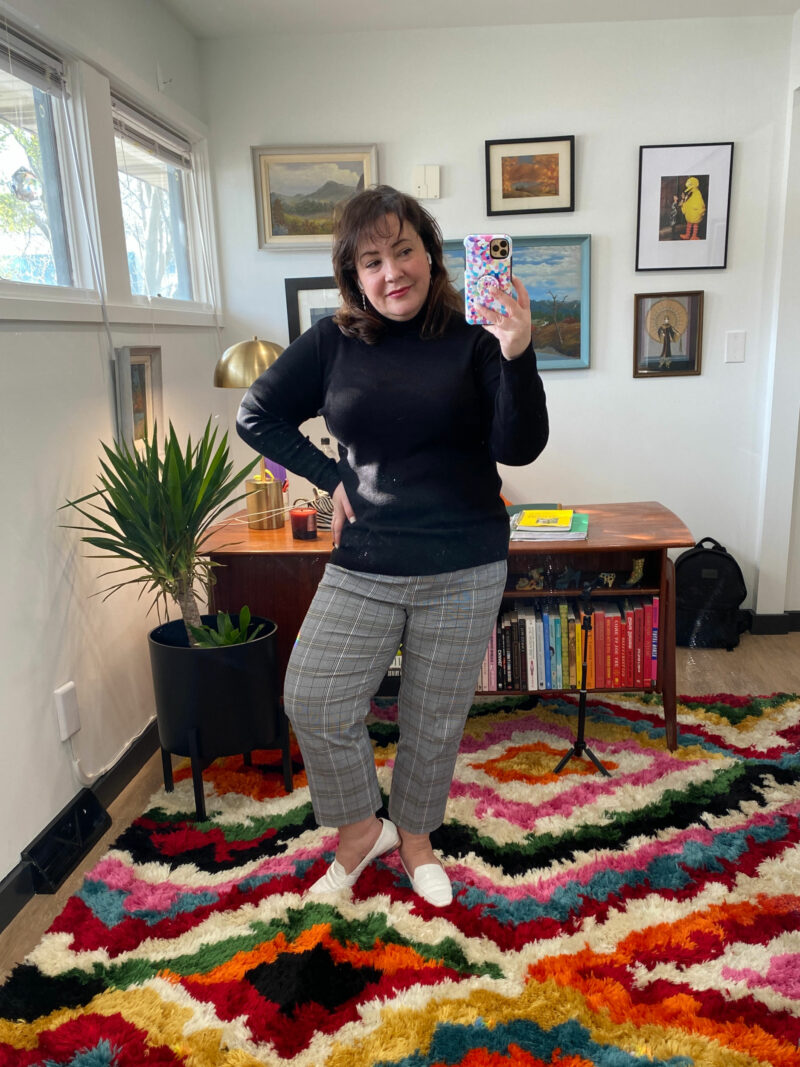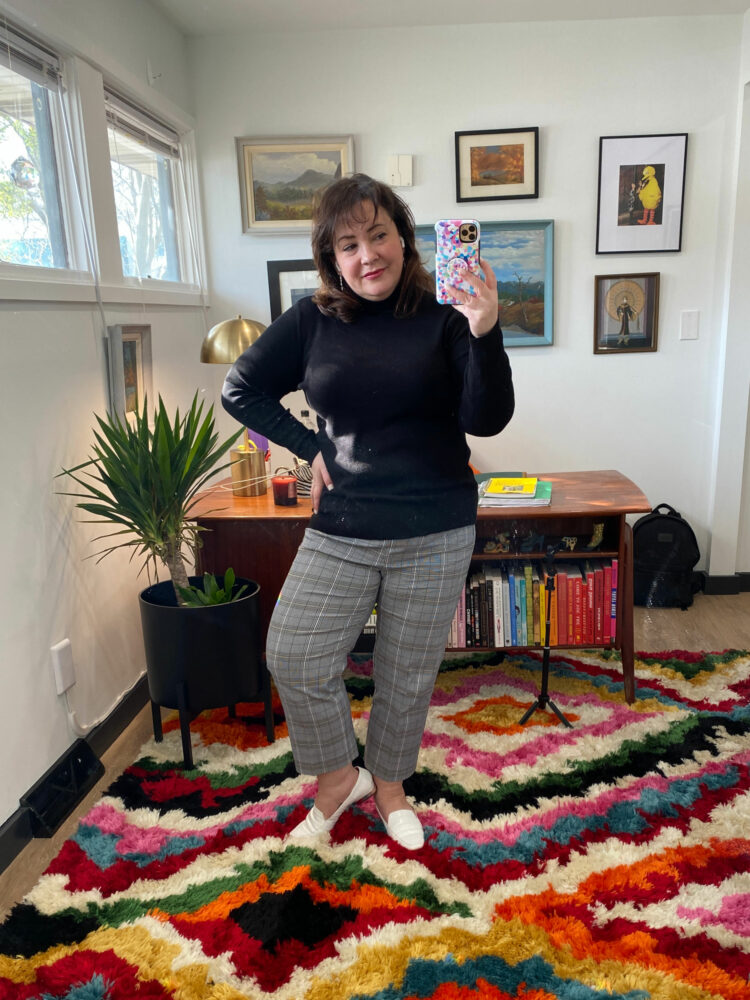 I felt very Mary Tyler Moore in this look. And it's more Chico's! The turtleneck is this one, though black is out of stock. I'm wearing size 2. It's soft and a greatweight to wear alone or even under other items on very cold days. These are the pants; I'm wearing size 2.5. The only problem with these pants is a lack of pockets, but if they had pockets they wouldn't be as streamlined and trim. As an FYI, the 2.5 is a bit loose at the waist, but I prefer that to too-tight legs on my larger calves and it makes these super comfy (they're hella stretchy without looking stretchy).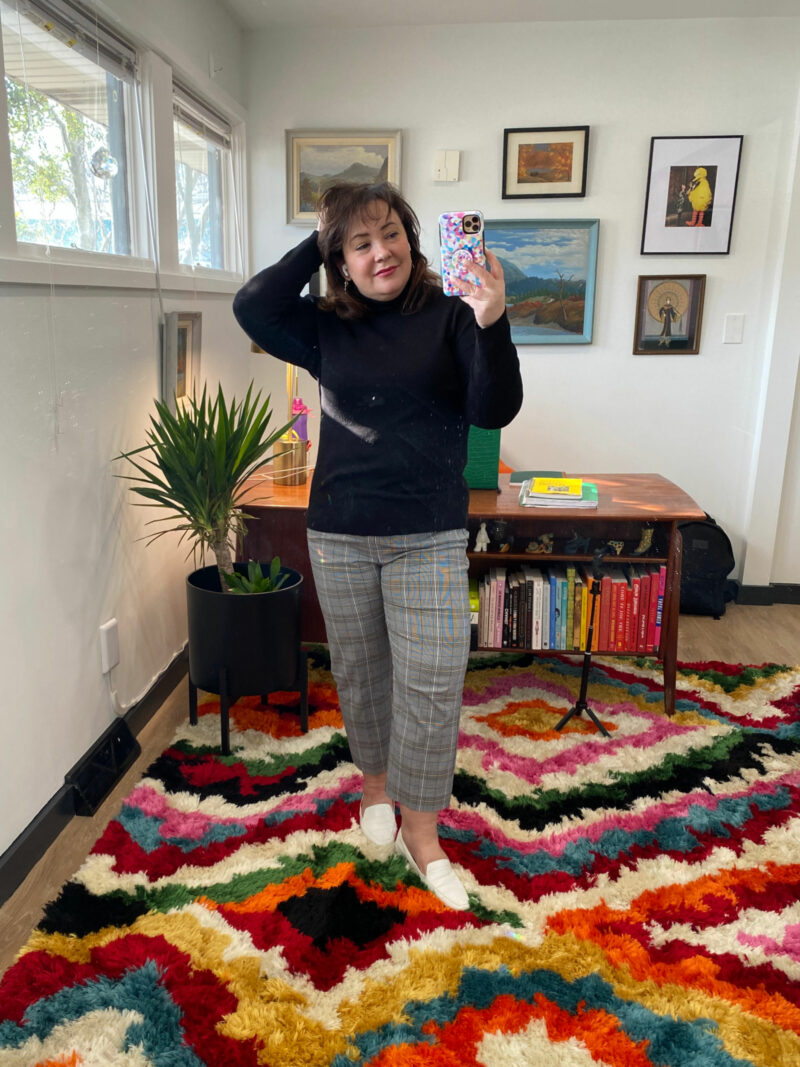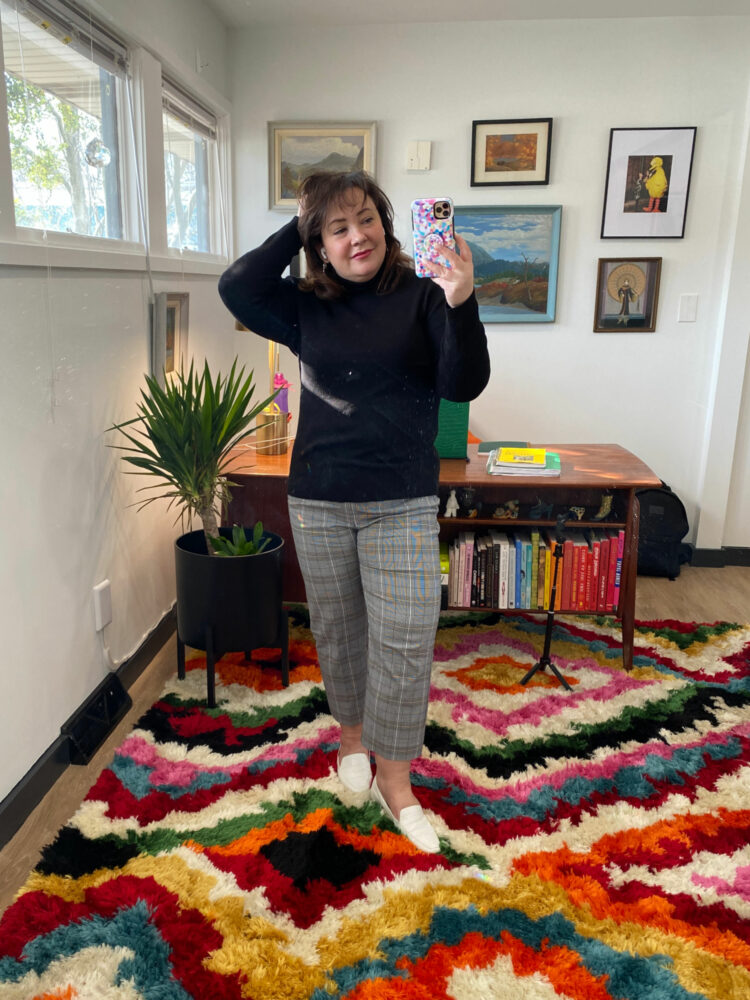 The shoes are Naturalizer; I got them pre-pandemic. They are white croco with a bit of a silver detail on the heel. These are another nice pair of white loafers that are available in wide width. Naturalizer is one of my favorite shoe brands since I have wide feet. So many wide width shoes are fugly, or they're not really wide, or they're cheap and uncomfortable. Naturalizer continues to create stylish wide width shoes.
I recently ordered these in "pottery" for spring/summer and they're so much fun while being comfortable. I only returned them because I think I need to go down a half size and then I started thinking I don't really need them since I have my Margaux heels. But I may end up getting them again!
Blue on Blue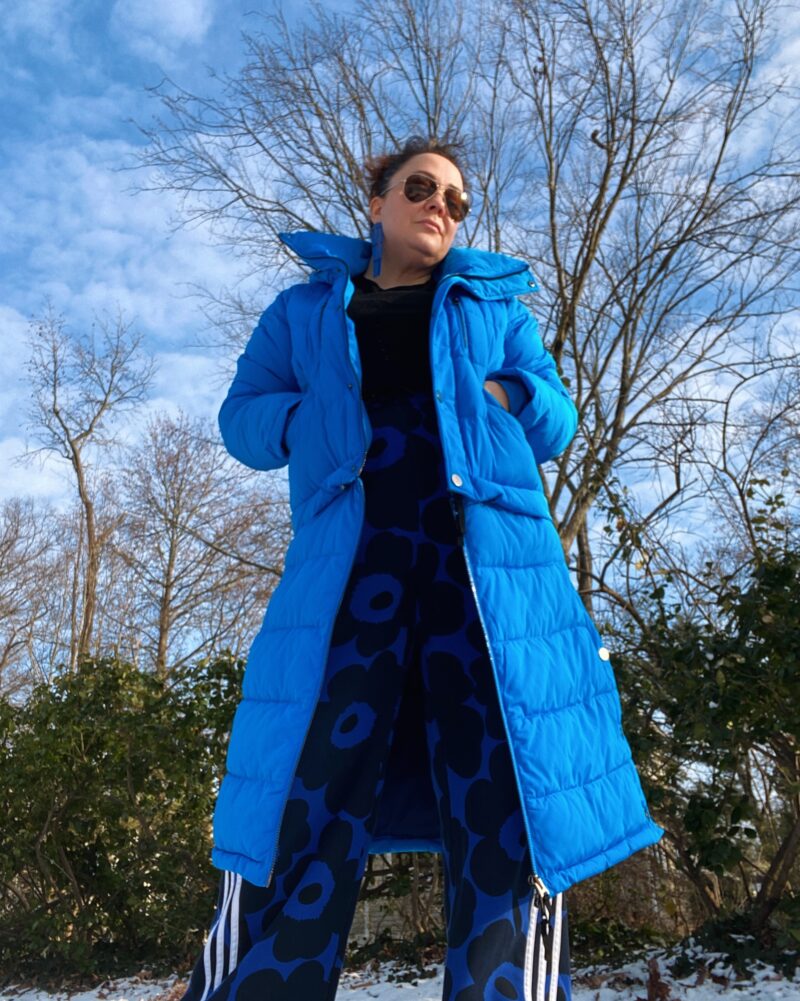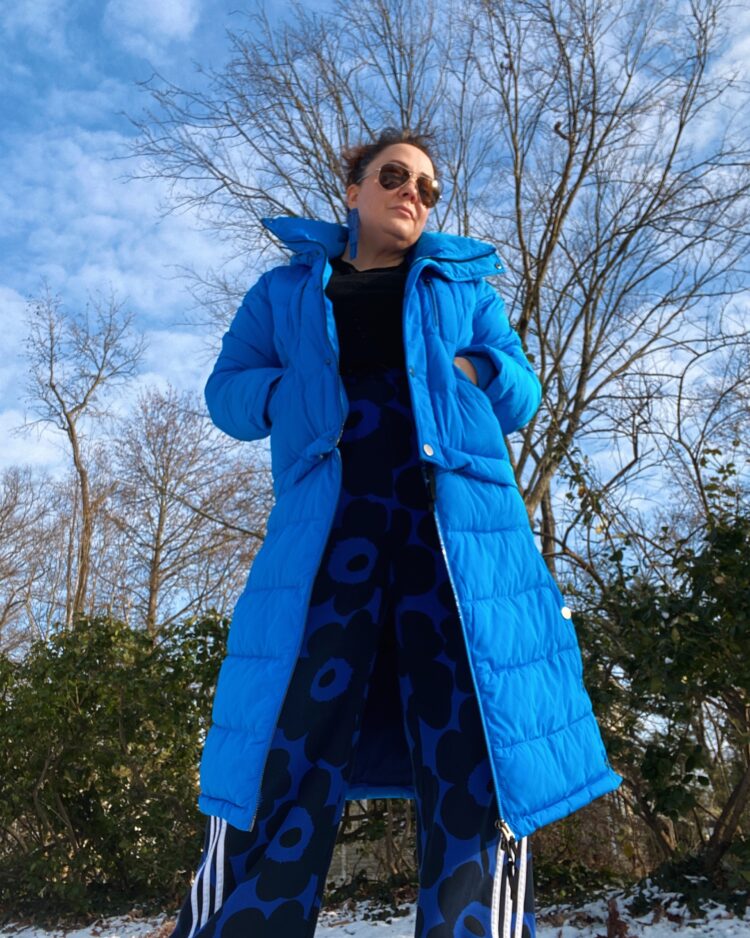 And then this weekend, I walked to my mom's house and wore this look. It's the same turtleneck seen in the last look. With it are the Marimekko for Adidas pants I've worn before. The pants are sold out but there are some pieces still left in this cool collaboration collection. The earrings are old; I got them at Nordstrom about five years ago. The sunglasses are ROKA.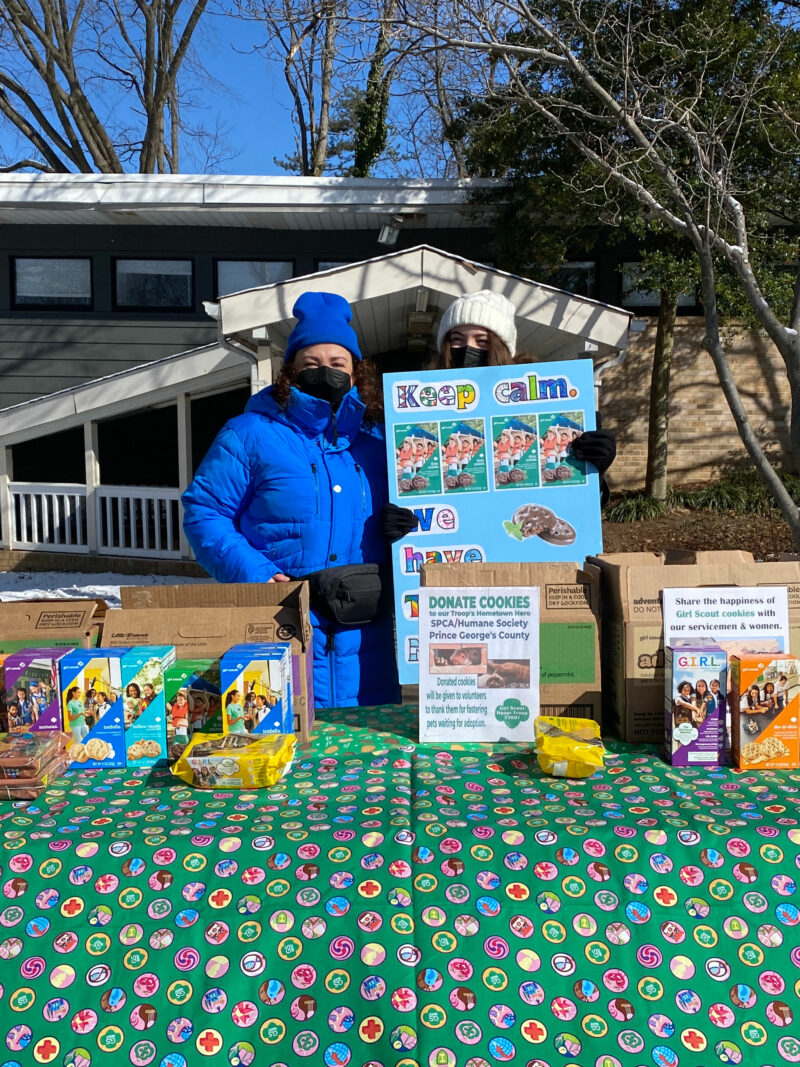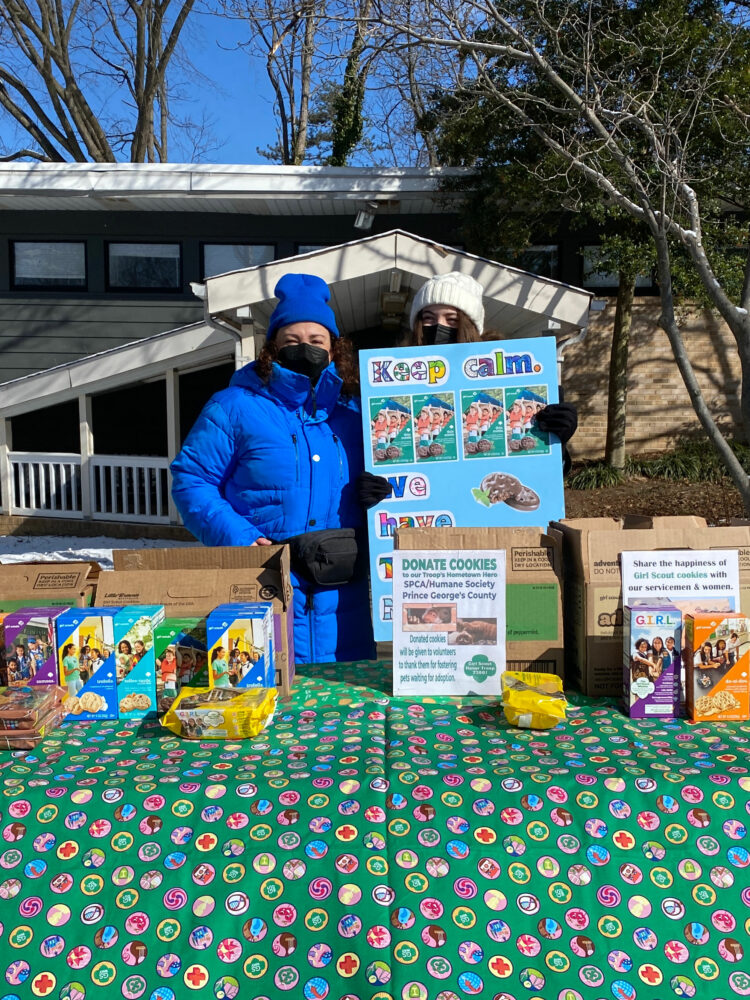 The jacket is Universal Standard. I did a full review of the Universal Standard 4-in-1 Hybrid Puffer but since then I've been wearing this coat nonstop. This is a very comfortable coat on super cold days. The day prior, my daughter was selling Girl Scout cookies. It was 20 degrees and super windy so the wind chill made it feel far colder. Underneath I wore a jersey turtleneck over this cashmere sweater and Athleta Altitude tights and I was comfy cozy.
Shop the Post: