This article may contain affiliate links; if you click on a shopping link and make a purchase I may receive a commission. As an Amazon Associate, I earn from qualifying purchases.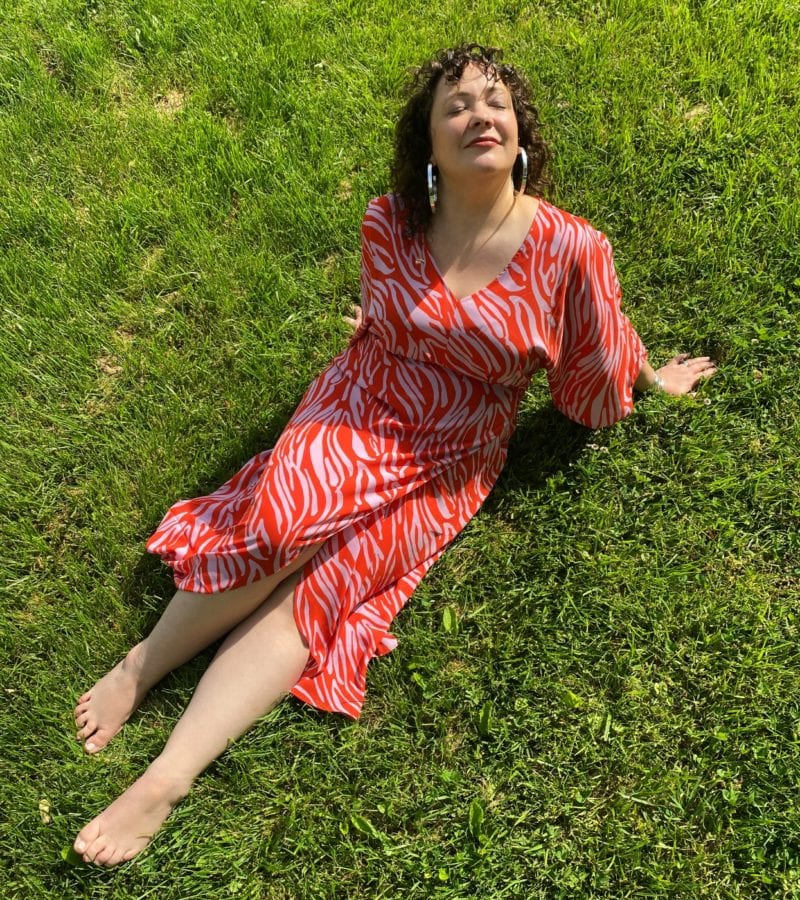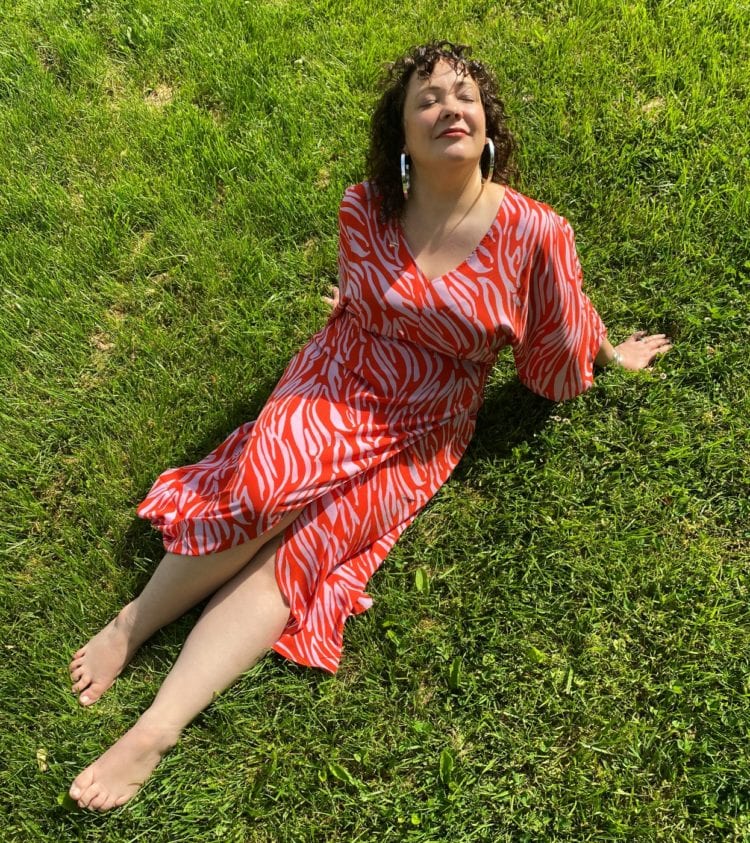 I've featured cabi here at Wardrobe Oxygen since 2011 and just grow to love this brand more each year. The company does so much for women across the globe, they now sell in Canada and the UK, this year they began extended sizing, and the clothing quality and versatility is excellent. Cabi is a company that is not available in stores or at boutique websites; it is a business model where you experience the clothing through trained stylists at their home or at parties and events often hosted in your own living room. But with what is going on in the world, how do you shop cabi without attending a party? How can one shop cabi from home?
How to Shop cabi from Home
Far before the world shut down, cabi was hard at work finding an effective way to allow customers to shop their collections virtually and it just recently launched. Introducing cabi Front Row, a way for stylists to host engaging, informative, and fun virtual fashion events. I had the opportunity to attend a cabi Front Row event and wanted to share the experience of being able to shop cabi from home.
cabi Front Row: The Virtual Fashion Event
To attend a cabi Front Row experience, you register in advance with your Stylist. The Stylist or host will send you an invitation that brings you to a page that shares all the details of how the event will go down. You will go through a survey to share your style likes and dislikes, some info about your fit and size, and you can fill out a profile with a photo, links to social media, and more (all optional). You will receive a link to follow when it's time for the actual Front Row event.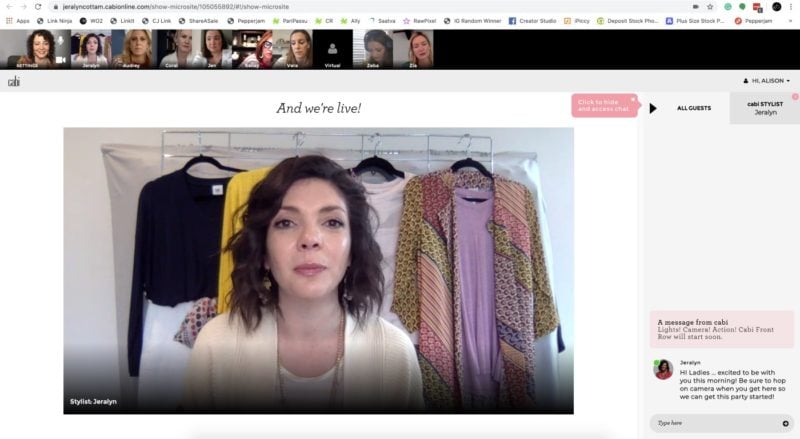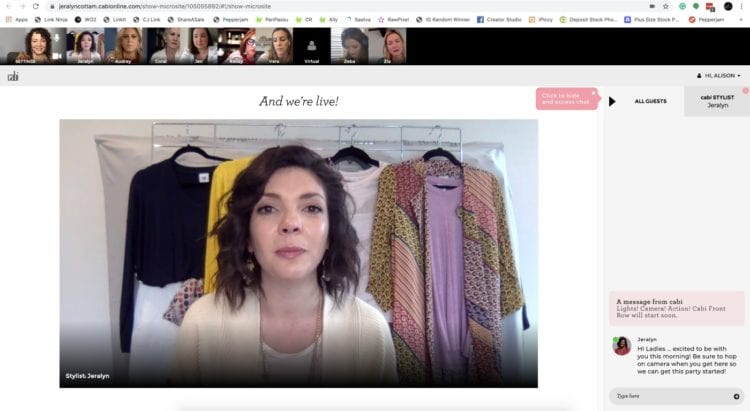 I think many of us are Zoom-weary by this point, so I need to start my cabi Front Row review by stating this is NOT a Zoom meeting. This is cabi technology set up specifically to see and experience the clothes but also have a social experience. There's no need to download software, cabi Front Row takes place in your Internet browser. There will be a filmstrip at the top of the room of all the attendees, a chat to the right, and then in the center, you will see a larger space where your cabi Stylist manages what you see.
A cabi Front Row experience will only have 10-14 people attend so it stays social but also intimate. During the cabi Front Row, we were able to chat with one another and directly with the Stylist. She was in cabi clothing with it hanging behind her. She explained a line within the collection, the concept, the colors, the inspiration. And then the screen changed from her to a video from cabi with models in the line of clothing walking around, turning, moving so you can see the clothing as it works with the body. Not only that, below the video would be images of each piece of clothing on the screen and you have the ability to heart or favorite individual pieces or entire looks. Your hearted items can only be seen by the stylist, not other attendees.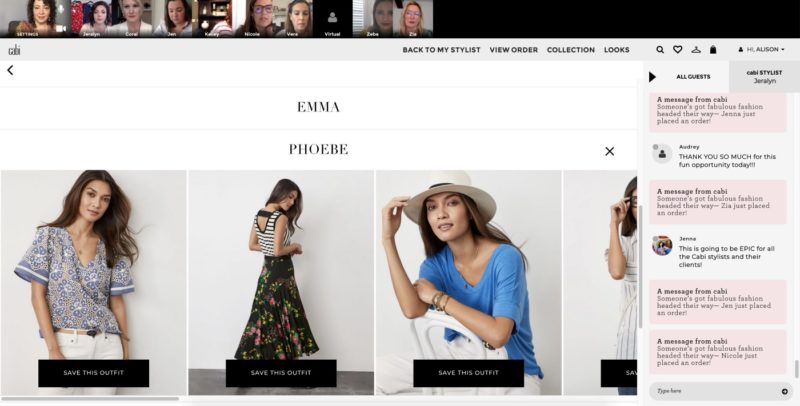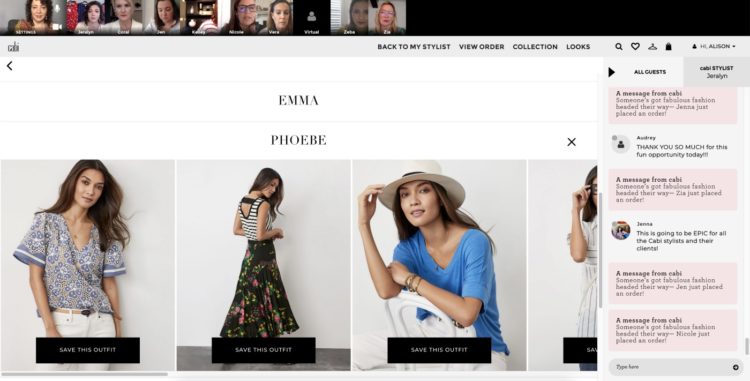 After seeing each cabi video, we as attendees chatted with the Stylist on what we liked, what we had questions about, and sort of just had that social time together. Once we finished seeing all the collection videos, we continued to chat, asking our Stylist questions, her offering tips and suggestions on fit and styling. Sometimes we spoke, sometimes we typed both were engaging and no one felt forced to participate in either. You also have the ability to privately chat with your Stylist which is great if you're unsure of pricing, fit, and such. During this time we placed our orders. There are multiple ways to shop. You can shop by collection, shop by your favorites, or shop the whole collection, which looks just like the cabi website. Everyone has the ability to navigate their own screen and shop the way that is best for them. No one except the stylist can see what you order, but do know when you place an order there is a notification in the group chat that you made one.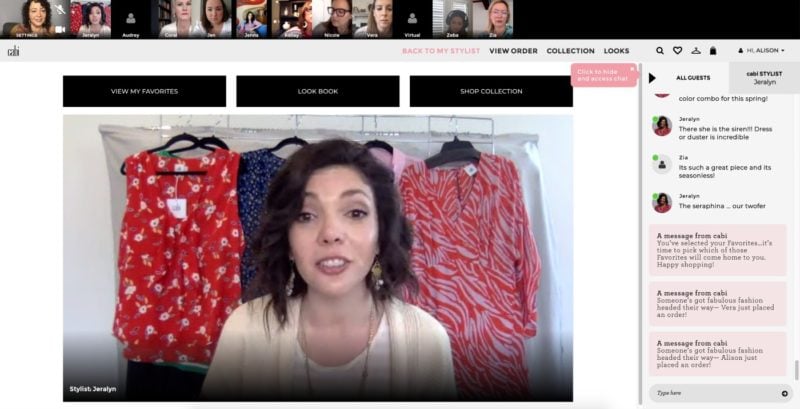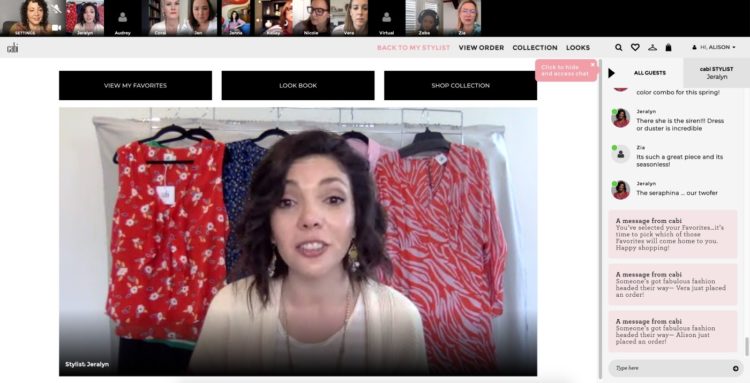 A cabi Stylist can keep the Front Row event open beyond the scheduled time it took place, so you can come back, make decisions on what you put in your cart, make additional orders, and again scroll through the collections. It's a very low-pressure experience, I never for once felt I had to make a purchase, and in fact, felt less pressure than attending an in-person cabi Fashion Experience.
The cabi Front Row I attended was attended by fellow cabi Ambassadors like me who live in the US, Canada, and the UK. We were each provided a gift certificate to buy fashion during the event; we were not paid beyond that and not required to write about or share images from the event. I am writing this piece because I know many of you are cabi fans and because many of you have asked over the years how to shop cabi without attending a party. From my cabi gift certificate, I bought some pieces for Wardrobe Oxygen readers that are part of the community on Facebook, and I got myself the Saunter Dress, which I have been admiring for weeks and wearing in the photos in this post. I got it in a size Large and love how it's like a smart caftan. It nips in to give shape and flares out elsewhere to allow for ease of movement. The sleeves are romantic and fun but angled so they won't get caught in your meal or while washing your hands. The fabric doesn't cling and the dress can be machine washed on gentle and hung to dry.
Cabi Front Row is available in the USA and will soon also be available in Canada and the UK. To attend a cabi Front Row, contact your local cabi Stylist or visit cabi's website and click the button at the top of the screen that says "Find My Stylist" to find one where you live. I also recommend the app, cabi Tap, which lets you shop cabi any time of the day or night from your SmartPhone without having to attend an in-person or virtual event.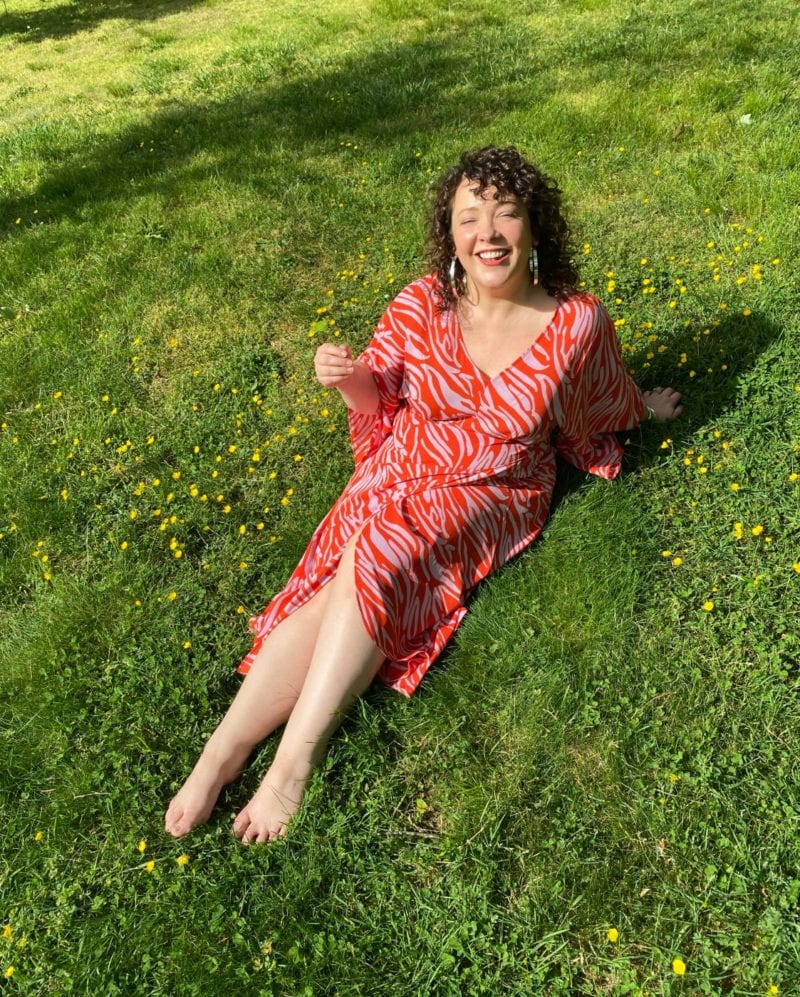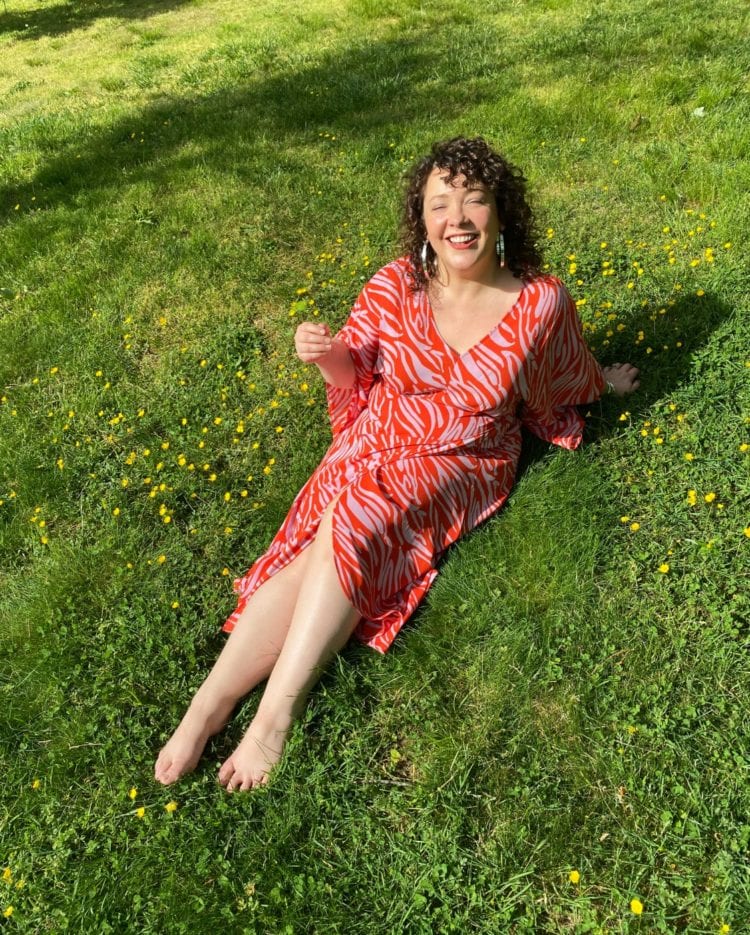 What cabi Spring 2020 Pieces I Own and Love
I highly recommend checking out my spring cabi capsule wardrobe where I am wearing and styled several pieces from the Spring 2020 collection and showcase their versatility. Beyond that capsule wardrobe and the dress in this blog post, I have several pieces from cabi that I really like: