This article may contain affiliate links; if you click on a shopping link and make a purchase I may receive a commission. As an Amazon Associate, I earn from qualifying purchases.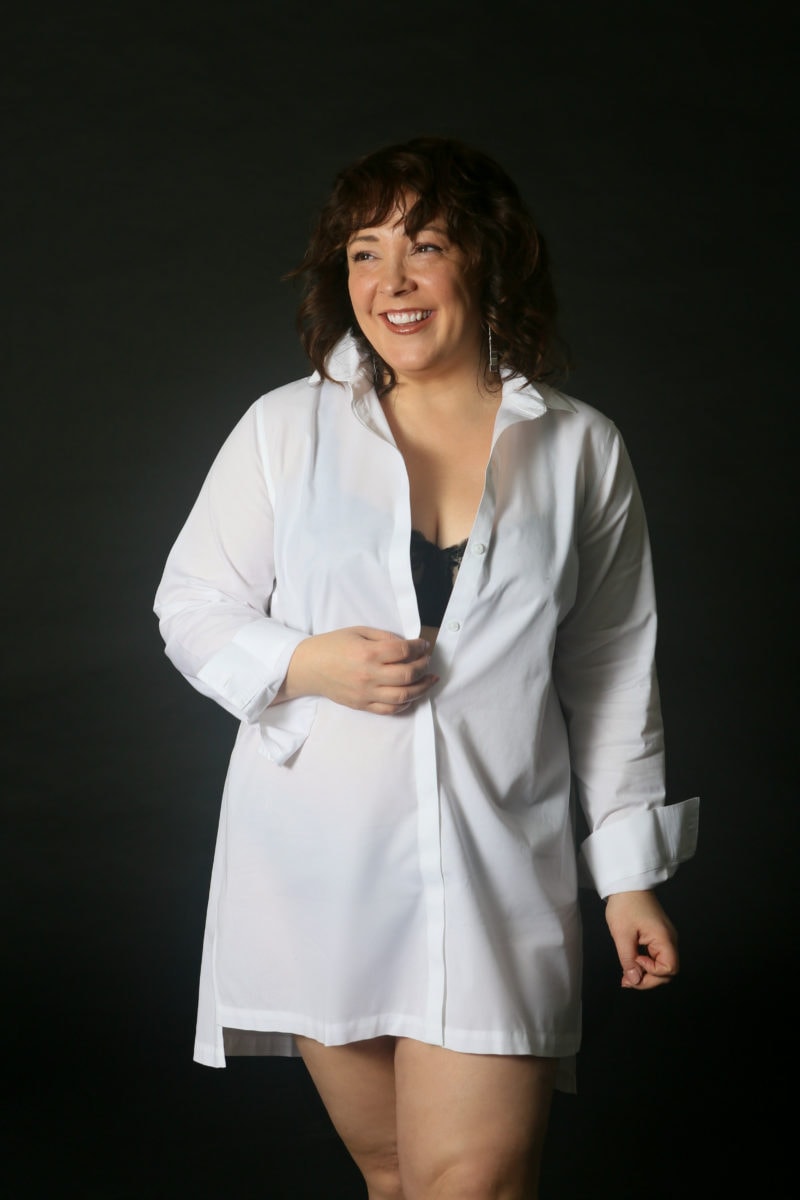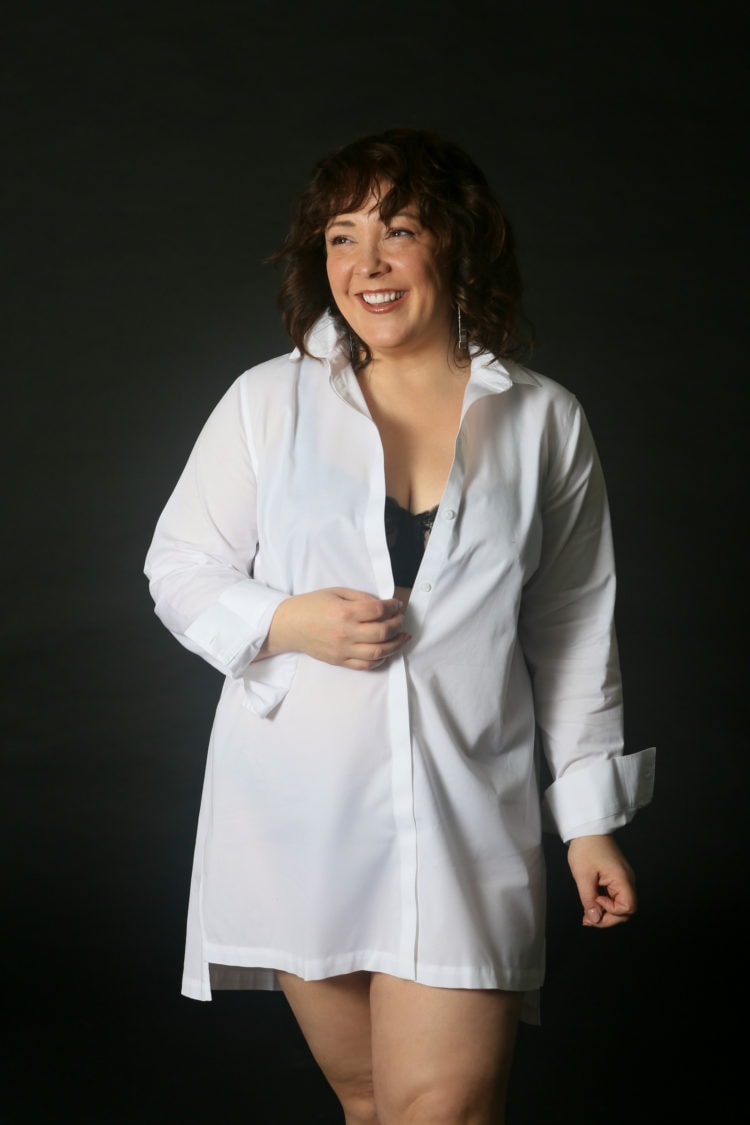 It's been a while since I did one of these posts. Since lifting weights, my body has changed a lot and therefore so has my lingerie drawer. Below I share my favorite bras, panties, and other underpinnings.  I took a few photos of the actual items as I find it helpful to see when I am shopping online.  As for the bras, 99% of the time I am wearing one of the ones mentioned below in my outfit posts.  As for the photo above?  It was from a shoot for Soma for International Women's Day and I liked it and it's one of the few photos of me in lingerie so it felt appropriate.  I'm wearing their white no-iron shirt and this bra which is one of my favorite special occasion/fancy bras.
Disclosure: I received Soma bras, my first pair of Bombas socks, my first pair of Jockey Skimmies, and my first pair of Hipstik tights free from the brands.  However, every product in this post is mentioned because I truly love it.  I was not paid for this post, however, affiliate links are used when available. 
Favorite T-Shirt Bras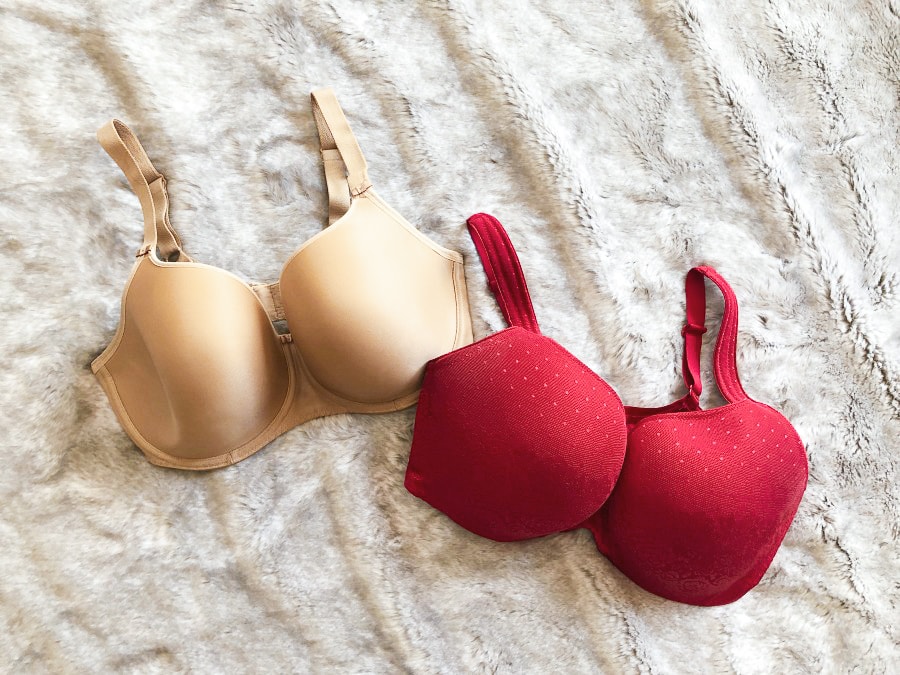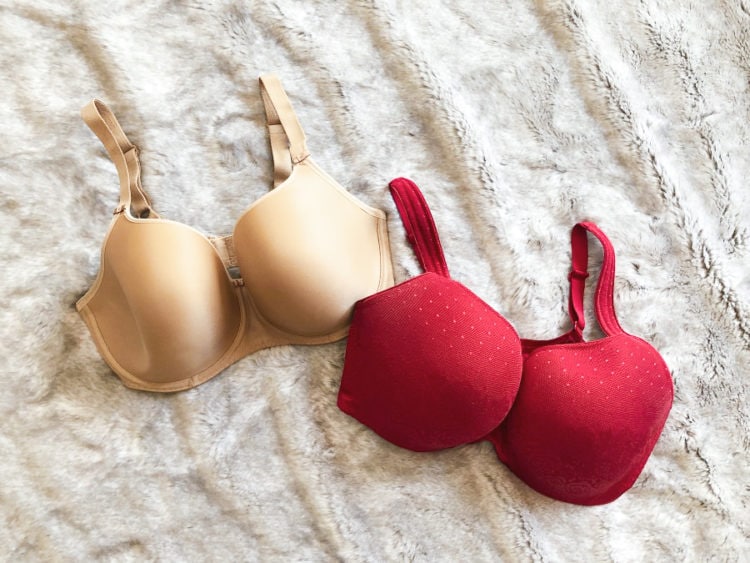 I have had large breasts since college, have gained and lost weight, and nursed a baby for over two years. My breasts, if left to their own devices, would go be in a squad with my belly button. I like a molded cup bra to lift them up and keep them from jangling around; I also find them far more comfortable. I like a T-shirt bra for everyday; I don't desire a drawer full of 50 bras and wear a lot of items that do better with a relatively invisible bra. I have two bras that are my favorite:
Fantasie Underwire Smoothing T-Shirt Bra
This bra has been my jam for almost a decade. I have changed sizes over the years but I still find this bra to be the most comfortable, the most invisible under clothing, and I like the effect they have on my shape. They don't usually go on sale because it's available in black, beige, and occasionally you can find it in some non-white color like 'Candle' but they're worth the money IMO. I replace them every 6-12 months because molded cup bras can get wonky from wear, washing, and being shoved in a drawer. Fantasie has other bras that come in pretty colors, a bit of lace, interesting prints but this one is my ride or die bra. I always have one black and two nudes in my wardrobe.
Soma Stunning Support Balconette Bra
If Fantasie gets an A+ score, Soma gets an A. The cups are just as nicely shaped and it lifts as well without discomfort. I know the wider straps are for comfort and I do prefer them under sweaters and fitted knits because they don't press into my shoulders and show the dent. However, they sometimes show with boatnecks and wide strap tops. But it's a super pretty bra and it holds up nicely (dare I say better than the Fantasie).
Favorite Sports Bra
Last year I shared that the Knix The Catalyst was my holy grail sports bra. I have to take that back. The bra hasn't held up well with laundering and sweat, the seams have pulled apart, the straps and the whole body has stretched out. The other week at the gym doing ab rollers, a breast literally popped out of the neckline of the bra. Not chic. I'm sorry to any who bought it because of my recommendation. I have had trouble with sports bras, they seem great at first but a month or two into it they seem to fail me. So it's hard to say my current favorite sports bra is the best in the world because who knows, in six weeks I may wish to burn it. But it's been good to me since the middle of January…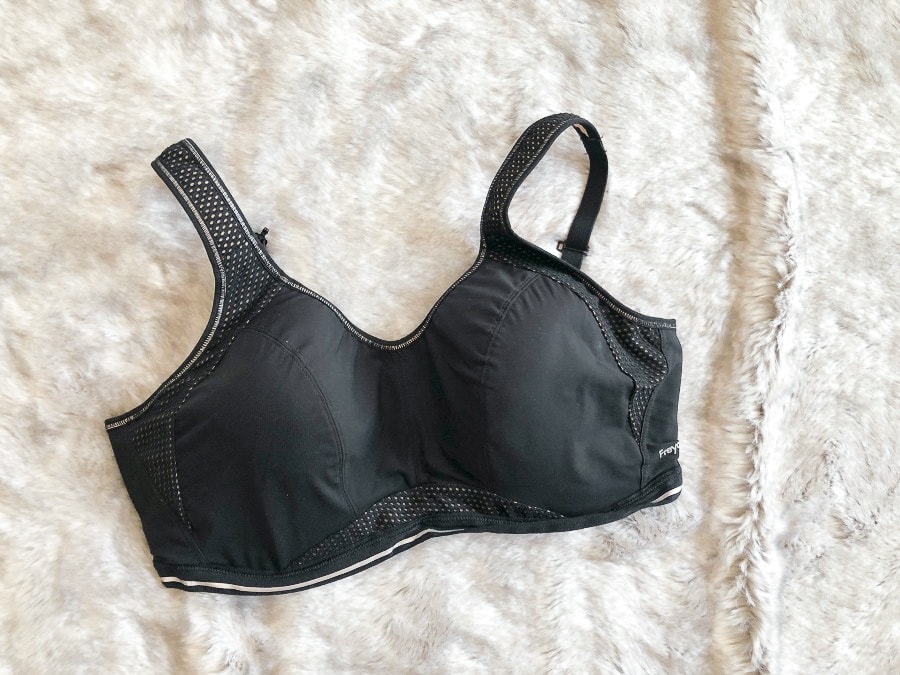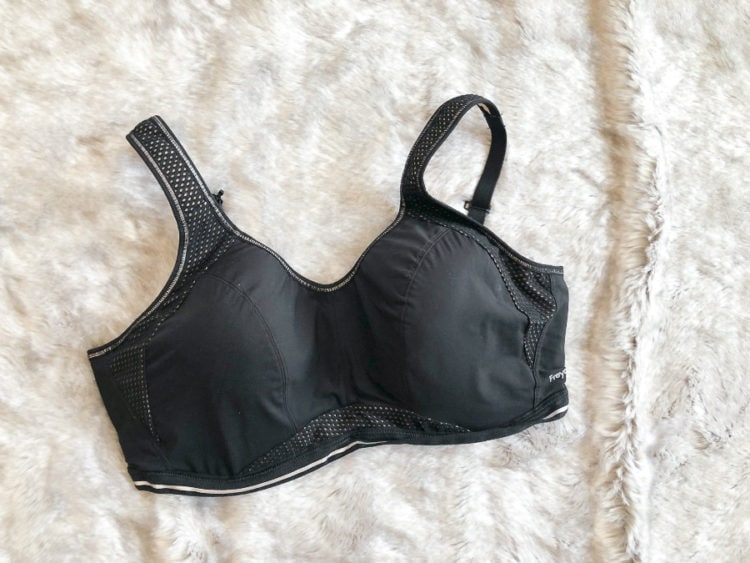 Freya Epic Underwire Sports Bra
I like having a sports bra that looks like a sports bra, not an everyday bra or a medieval torture device. Harder than you'd think when you have a 36 DDD/F chest. I want to be able to wear thin-strapped workout tops and not look like I'm wearing an old lady over the shoulder boulder holder, or even take off the top and not look naked. So the appearance of this bra appealed to me. What I also like is I don't need to be a contortionist to put it on. There's a hook to make it racerback, but it also works great without using it. It also is padded, which I like because I hate having my headlights on display. I can run on the treadmill comfortably, I can do ab rollers without having to adjust my breasts afterward, my breasts are lifted and separated and not shoved into a hard lump, and the bra holds me in place without cutting off circulation. I'll report back if it doesn't hold up.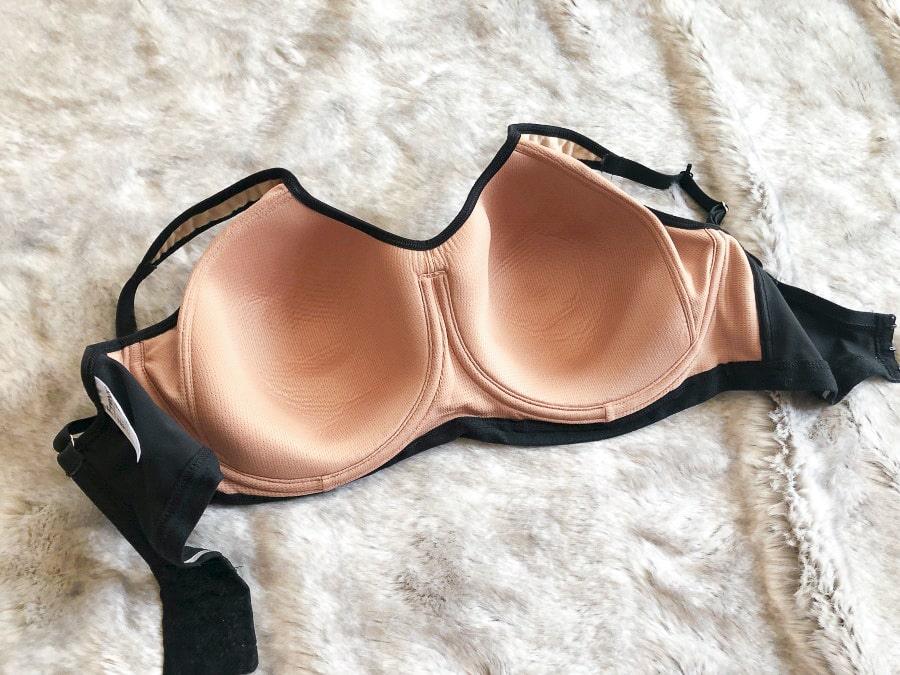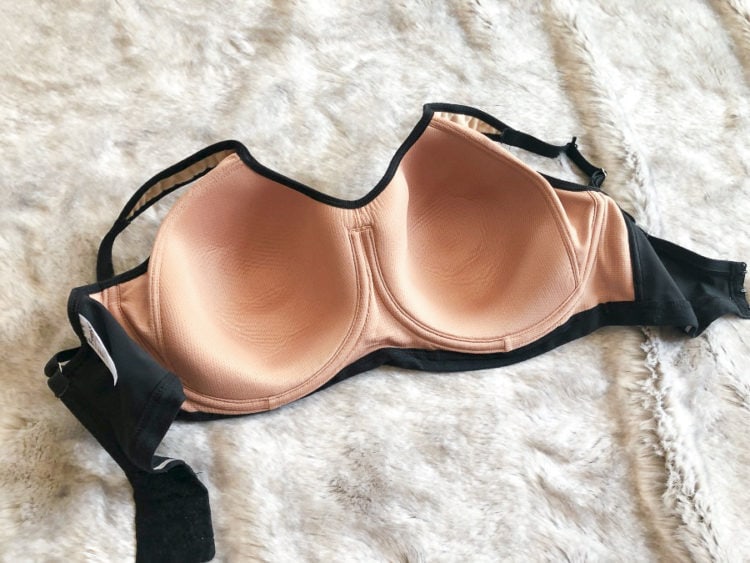 I thought it may be helpful to see the inside of the bra, since it does have foam cups.  As you can see the padding is perforated and I don't find myself getting overheated or too swampy during a hardcore workout and it doesn't get heavy either.
Favorite Strapless Bra
Every time I wear an off the shoulder or one-shoulder outfit I get comments about what I am wearing underneath. I know, strapless bras suck. They hurt, they don't support, they don't fit right, they slide down, they give you quad boob. I've heard it all and experienced it all. I'm telling you, go get professionally fitted not just for your bra size, but for a strapless bra. Go with the mission to get a strapless bra. Bring with you tops or dresses you'd wear with one to make sure the silhouette in the bra is to your liking. Jump up and down in the fitting room, pretend you're getting down on the dance floor, give it a workout and see if it shifts or slides (or you fall out the top). That's what I did and how I found my favorite strapless for the past two years or so.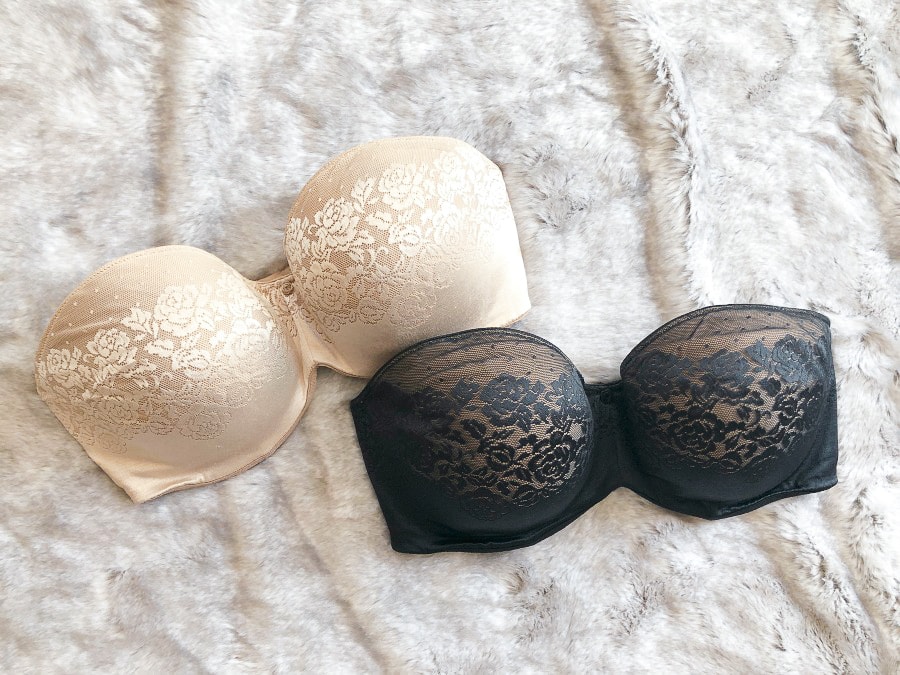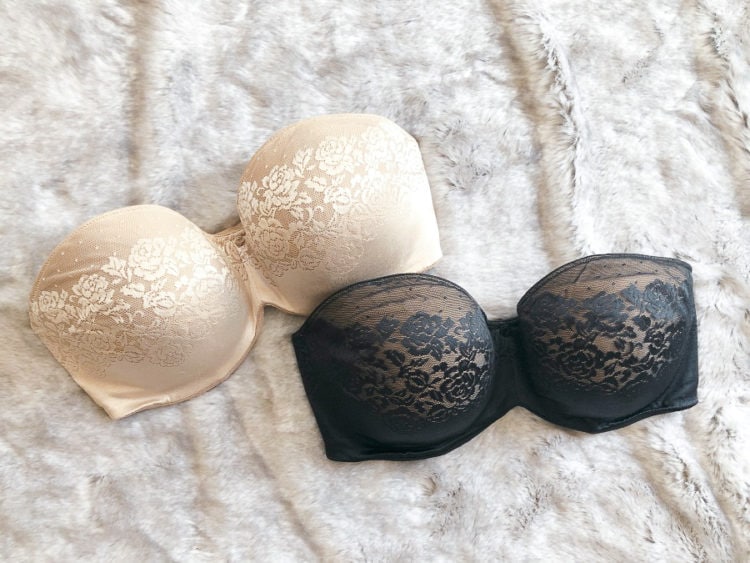 Soma Stunning Support Strapless Bra
Yep, it's the strapless version of my everyday bra from the brand, and it's just as great. I can wear it for six hours without wanting to tear it off my body. The silicone is the right amount and in the right places to keep it from sliding without pinching. The foam cups provide shape and support. All this and it's not ugly! I have one in black, one in nude. They're not worn as often so I only replace them maybe every 12-18 months when they start to be stretched out.
Favorite Bralette
If I wrote this a month ago, this category wouldn't even be in this blog post. Bralettes may be made for larger busts but that doesn't mean they accomplish anything. I don't see the benefit to wearing a bralette that still has my boobs hang near my belly button. I asked Soma if I could try out their Enbliss bralette and I gotta say… it's pretty good! I got XL and while it doesn't lift and separate and make my boobs cute for street wear, it's a comfortable lounge or sleep bra. Because those of you with boobs the size and age of mine know that going bra-free may be great at first, it can be uncomfortable as well. This is a great way to keep them lifted off your torso without wires or constriction and it covers enough of the bust that you won't fall out or have quad boob under your knit top.
Favorite Everyday Underwear
When I was in my 20s, I'd rock thongs on the everyday, finding them quite comfortable. Yeah, no, not any more. I prefer a completely covered bum, something that doesn't ride up, and high enough of a front that it won't slide down under my belly. I don't like too high of a panty as I am 5'3" and if it's too high it shows over my jeans and pants. I also don't like too low cut of a leg because with my juicy booty and solid thighs it is constricting and chafing. In a world of granny panties (said with affection because that ish is comfy), bikinis, and low-rise boyshorts the kind of panty I want is a bit of a unicorn. I've found two that I love.
Hanky Panky Retro Vikini
I've raved about this panty for years and it continues to be a favorite. Full coverage yet pretty. The elastic at the legs isn't too tight, the waistband is just a wide band of lace so no muffin top. High enough to not slide under my belly but low enough that they're not on display when I bend over in my jeans. There's a bit of VPL (visible panty line) with fitted pants but nothing drastic and they're great with most jeans and lined looser trousers. They hold up really nicely; if you baby them (lingerie bags, cold water, line dry) they will last about two years and then the lace or elastic will begin to degrade. You can find them at many department stores and lingerie retailers and they often change the colors so during sales like the Nordstrom Anniversary Sale you can get discontinued colors for great prices.  Same with Amazon.
Knix Athletic Boyshorts
I totally called out Knix about their sports bra, but I am a HUGE fan of their underwear. I don't usually like boyshorts because they ride under my belly, but I adore their Athletic Boyshorts. They feel like wearing nothing, they're invisible under the tightest and thinnest fabrics, and they even have leakproof versions! The only negative about these undies is the same problem with the brand's sports bra – this fabric is so comfortable and molds to your body but because it does that it can stretch out. I've had the leg seams on two pairs separate, and a few pairs stretch out so much they won't stay up. But I love how these fit and feel so much I still buy them and seek them out in my lingerie drawer. Every time Knix has a sale I stock up. As an FYI, these are also my favorite for working out; the leakproof is great for periods, that big sneeze, but also for getting your fitness on and wanting to grab a latte after without having swamp ass.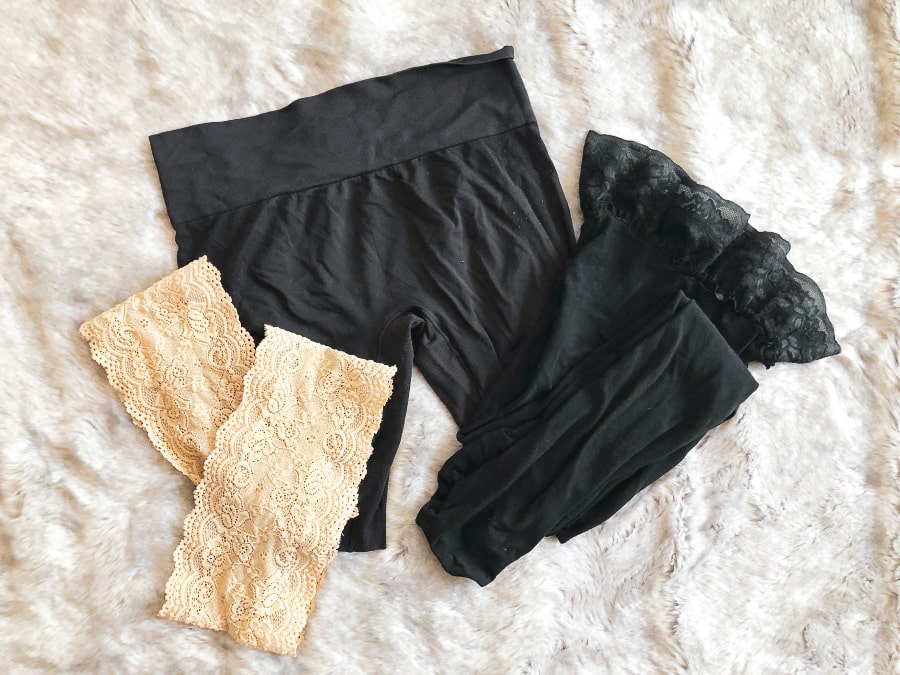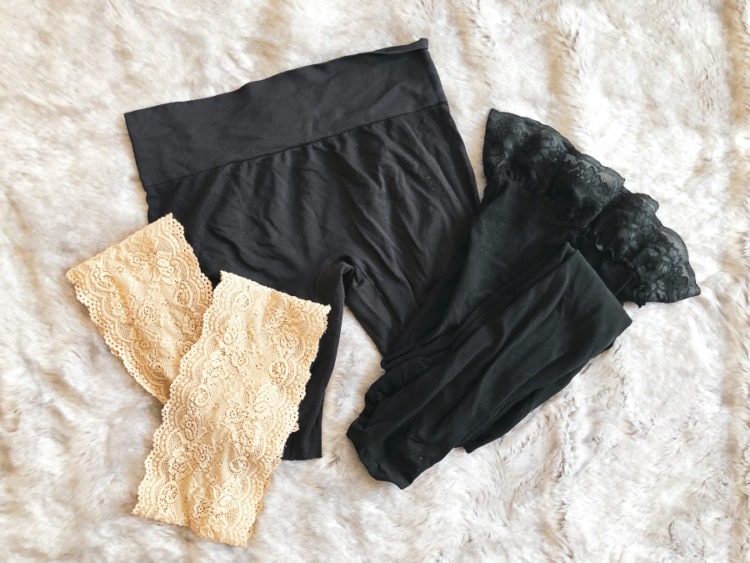 Favorite Slip Shorts and Anti-Chafing Items
Slip shorts are my JAM, especially in the summer. I've tried all the anti-chafing products on the market. Some are fine, most are awful, and I'd just rather have fabric between my thighs than a sticky, creamy, powdery, or other mess along with sweat during an outdoor wedding. Not all slipshorts are created equal. I don't want them to make me look a size smaller, I just want them to keep me from chafing, I don't want them to show through my clothes, and if they can also prevent swamp ass all the better.
Jockey Classic Skimmies
Jockey is one of the first on the scene with slip shorts and they continue to be my absolute favorite. They have the right amount of stretch, aren't too thick, and are comfortable and well-fitting even during a humid Maryland August. Jockey makes several variations of their Skimmies. There's a shorter version, a cooling version, a wicking version… my favorite is the classic. Even being petite I find the short version too short to cover where I need it on my thighs. The fancy versions have a different waistband I find rolls down. If they're too long you can shove them up a bit and they'll stay at that place on your legs. These don't look like bike shorts, they look like some sort of lingerie/Spanx so you may not like them with shorter dresses.  Like many other intimates mentioned here, if you know your size head to Amazon where you can often find them for the lowest price.
Bandlettes
I poo-poohed Bandlettes for the longest time. I think they improved the quality or the shape or something because now I love these things! When you're wearing shapewear that doesn't cover your thighs and you need to prevent chafing. When you're wearing a slip of a dress and slipshorts would add bulk. When you have a date night and don't want to be all Bridget Jones in your scary pants. There are plenty of situations when Bandlettes are a godsend. I have one pair in a lace that is close to my skintone, they're so small I can tuck them in any bag in case, they always go on travel with me. Heck, I've even worn just one Bandlette and it gets the job done. It's important to place them just at the right place on the leg. I find straight across the thigh will cause them to roll; if you put them on an angle either higher on the outside or lower depending on where you need the inner-thigh protection it will help them stay in place all night.
Favorite Shapewear
I don't wear shapewear as often as I used to, but some outfits really are better with it. I always have these pieces in the back of my lingerie drawer.
TC Intimates Under-Bust Firm Control Bodysuit
With a large bust I laugh at shapewear with a built-in bra. An under-bust style is great because I can wear whatever bra I want. This one doesn't compress so much that I look and feel like a stuffed sausage, it just smooths everything out and adds a bit of opacity. There is no gusset; I just slide the suit to the side to use the facilities as it's so stretchy like a leotard. The leotard feeling is likely why I like it as many styles of thong and panty shapewear dig into me at the leg openings causing irritation. The only problem with this bodysuit is the straps are a bit wide and may show with sleeveless dresses and tops but that's also why this bodysuit is comfortable; nothing digs into your skin anywhere.
If you desire more control; TC Intimates has an Extra-Firm Control version. I haven't tried it but considering I've bought this same bodysuit now three times over the past several years because I like it so much, I bet this one is also great.
Spanx Higher Power Short
When I am wearing strapless or thin strapped garments, this is my shapewear of choice. It goes all the way up under my bra so there's a consistent smooth line, and it has shorts so it also prevents chafing. Every panty style of Spanx I have gotten has dug into me at the leg openings or else has ridden down leaving a bubble of skin between the bra and shaper. These stay in place, and they keep their shape and compression even with several washings. The gusset is pointless unless you like wearing what you eliminated so there's a bit of adjustment in the bathroom. I tried cutting the gusset out of a pair completely… bad idea. Stretchy fabric and while the hold didn't run, the area of the gusset grew to expose my whole butt crack and stretched almost up to my belly button. That gave some super weird compression lines under my dress!
Favorite Tights
I like a mix of tights – the ones more opaque than stockings but still a hint of sheer to look dressier; the completely opaque ones; the thick keep me slightly warm in winter ones.
Hipstik Tights
These are my favorite completely opaque tights. They are a rich black and not shiny. They have an ingenious lace waistband so there's no digging yet they don't slide down. They're super durable; if hypothetically a husband didn't notice them and they went through the washer and dryer with jeans they will still be the same shape and color and fit without a bunch of fuzzballs or runs.
Spanx Tight End Tights
These are my favorite everyday or work tights. They're opaque enough that you don't need to shave your legs but look more business for client meetings or conferences. They do have shapewear built in, but it's not too hardcore and it helps them from sagging. I like that they have a high waist so they don't cause muffin top and are more comfortable for long days. These tights are super durable; they've been scraped against brick and thrown in the dryer by accident and still look and fit great.
Berkshire Cozy Tights
Fleece tights… a great idea but usually a terrible fit. Rarely is there enough stretch to stay in place; either your crotch is near your knees or your ankles and knees are a saggy mess or by noon you have plumber's butt from them slowly migrating down. These are the best fitting fleece tights I've found, likely because they're not as thick (though I still find them warmer than super opaque normal tights). I love that they are available in more than just black. A tip for those who have trouble fitting fleece tights – if you usually wear them with ankle booties or tall boots consider cutting off the feet. They will then fit more comfortably and you can cover your foot with a proper sock, holding the tights in place and no one will be the wiser.
Favorite Socks
Now that I wear lower shoes and work out, my sock needs have changed. For years I'd just buy socks on sale at TJ Maxx but now I want features – arch support, cushioning, moisture wicking, and I don't want them to slide down.
Bombas Socks
No show socks? Ankle socks for the gym? Knee socks under trousers in the winter? Yep, Bombas. These socks are AMAZING. They're well made, they're cushioning, they hold up after washing after washing after washing. For every pair that is purchased, a pair is donated to a homeless shelter. My husband has also become a Bombas fan (these are his favorite though he has several styles). Bombas has a 100% satisfaction guarantee so it's a safe risk to try them, but I bet you'll keep them. They're not cheap, but gosh they are worth the money.
Smartwool Hide and Seek No Show Socks
These have been my favorite for years. As I type this, I am wearing one gray and one black (it was an early morning and they wouldn't be seen under my shoes). I love these socks. No-show socks are usually a joke; they slide down, they hardly cover the toes, they're just a pain. These stay up, fit well, and are so high quality they keep their shape and grippiness and only get retired when a toe wears through after a couple years.  Shop Amazon where you can get discontinued colors and prints for great prices.
Smartwool has an even lower rise version called the Secret Sleuth; I've decided that one works better with low-volume feet as many of you rave about it but it just doesn't offer me enough coverage to stay in place all day.
My Favorite Places to Shop for Intimates:
Shop the Items Mentioned In This Post:

And now I'd love to hear from you; what are your favorite underpinnings? Anything that is so awesome you want to share with the Wardrobe Oxygen community?