This article may contain affiliate links; if you click on a shopping link and make a purchase I may receive a commission. As an Amazon Associate, I earn from qualifying purchases.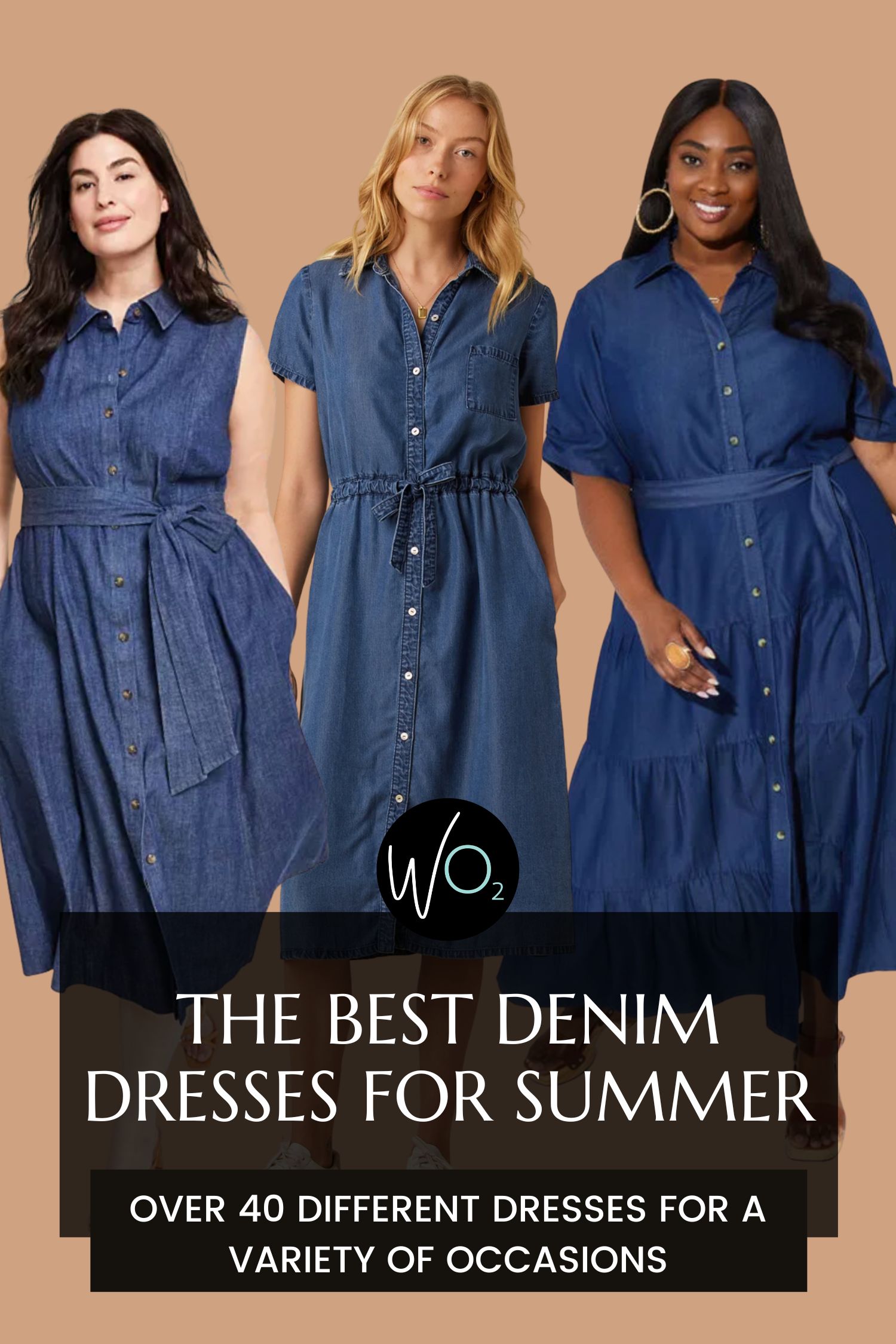 Hello, summer lovers! The warmer season is coming to an end but one of the best things about summer is that you can wear denim dresses even in winter! Denim is a material that is not only suitable for the summer and spring but it can also be used throughout the whole year. It gives you a casual vibe while not sacrificing your color palette or shape. You can show off your legs during the cooler months and keep them covered during the hot seasons.
For any woman's closet, denim should be present. Some may have avoided it in the past but years ago denim was considered formal apparel, hence why some still think it isn't proper attire for an office environment. Well, ladies, put those worries behind them because since 2001 this fabric has been widely worn by celebrities and of course, stars prefer to dress comfortably while they're working on their next hit music video or movie. The 2000s saw this fabric take over the fashion world and now we are seeing every part of our day-to-day outfits use this type of material such as our booties, shorts, skirts, jackets, and more!
40+ Denim Dresses for Summer and Every Style and Size
There's this thrill when a fashion trend returns that we liked the first go-round. Even better when it's a trend we weren't able to pull off the first time. It may have been because of money, body shape or size, age, or gender… there are a lot of reasons it's awesome when the planets align and we get a second chance to do a trend. And this summer, it's your time if you always loved the trend of denim dresses for summer and beyond.
I think many Gen X women have a positive memory of a denim dress. I know I do. My kindergarten teacher, Mrs. Winston had a calf-length denim jumper (a pinafore to those outside the US) and I just thought she was the greatest. One year for the first day of school, I wore an acid-washed lightweight denim dress I found at Burlington Coat Factory. It was two sizes too large, but I cinched it with one of my belts, rolled up the sleeves, and popped the collar. And I remember hitting many a nightclub in the late '90s in a fitted calf-length stretch denim dress with detachable straps.
Even more recently, I had a belted denim shirtdress from Boden I wore back in 2016 (I think it may still be in my attic…) and a CityChic jumper I wore in late summer of 2016 as a dress and winter of 2017.
Get The Look: Celebrity Denim Dress Outfit Ideas
The reason denim dresses for summer are great is that silhouettes and shoes can transform them into almost any aesthetic. Silhouette and shoe choices can make a denim shirtdress look appropriate for the office, a vacation getaway, a baby shower, or running errands.
The denim dress trend has been popular for a few springs and summers, and it's not quitting any time soon. This season, I have seen so many fantastic denim dresses (and dresses of Tencel and chambray) that can fit most any personal style aesthetic and price point.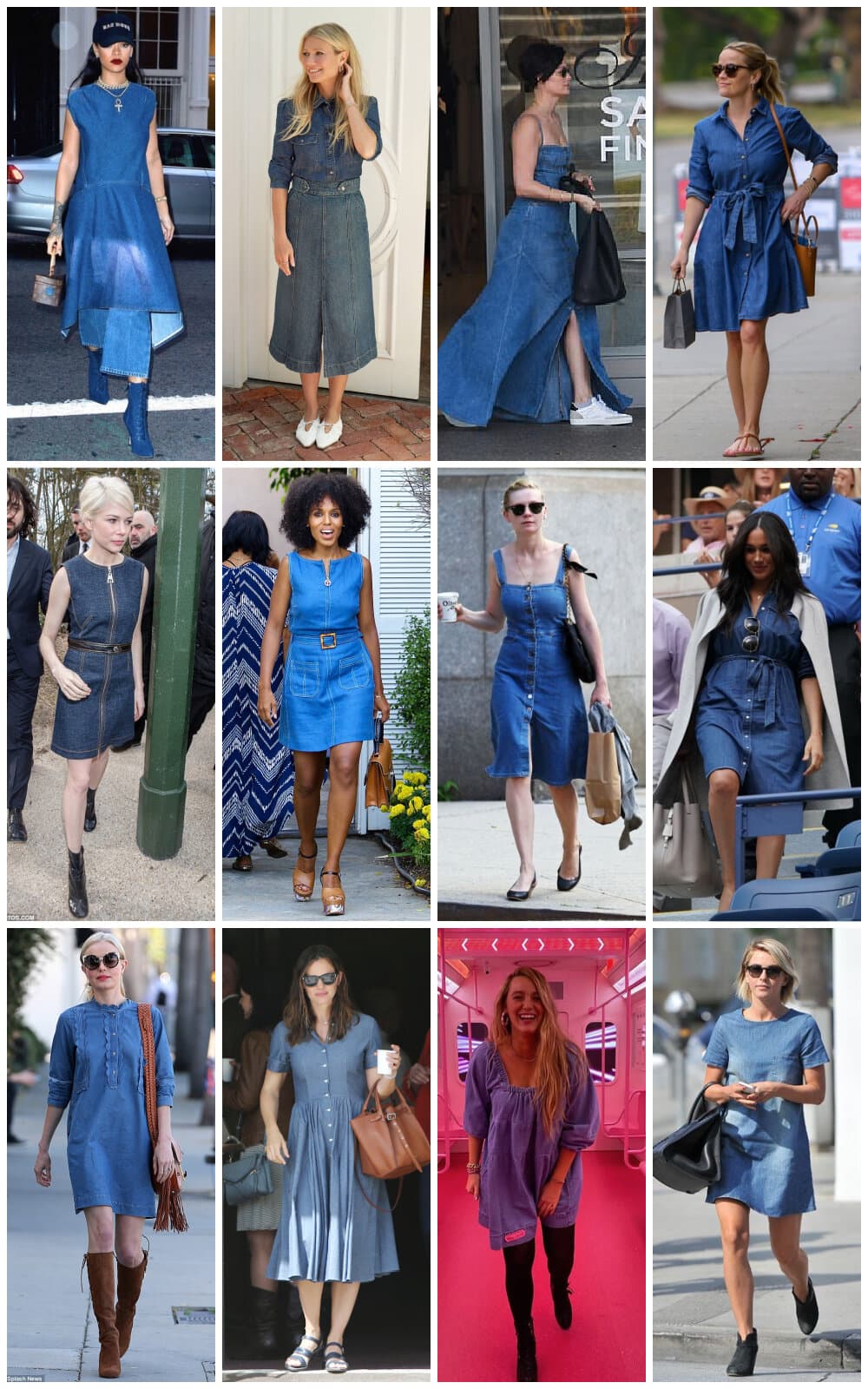 Tips For Styling a Denim Dress For Summer
Accessorize like a boss
Denim dresses can be dressed up or down with the right accessories. Accessories can completely transform the look of a denim dress. A statement necklace or earrings can add a touch of glamour to a simple denim dress, while a belt can create a more defined silhouette. Try wearing a hat or a scarf for a more bohemian look. The key is to experiment and find what works best for you.
Mix and match with footwear
The right shoes can make or break an outfit, and this is especially true with denim dresses. Ankle boots or pumps can add a dressy touch, while sandals or sneakers can create a more relaxed feel. You should also try espadrilles or wedges for a summery vibe. Don't be afraid to mix and match until you find the perfect combination.
Layer like a pro
Layering is a great way to make a denim dress work for different occasions and seasons. A denim jacket or a leather jacket can give it an edgier look, while a blazer can make it look more polished. A cardigan or a sweater makes for a cozy feel. Or even put on a denim shirt for a denim-on-denim look.
Fit is key
When it comes to denim dresses, the fit is everything. A loose, flowing dress can be comfortable and easy to wear, but it might not be the most flattering. On the other hand, a fitted dress can accentuate your curves and create a more defined silhouette. The key is to find a fit that makes you feel confident and comfortable.
Play with textures
Denim is a versatile fabric that can be paired with a variety of other fabrics. A denim dress can look great with a silk scarf, a cotton blouse, or a leather jacket. Mixing different denim washes gives a more exciting look. The possibilities are endless!
Details are everything
Small details can make a big difference when it comes to denim dresses. Look for dresses with unique buttons, pockets, or stitching for added interest. You can also try dresses with embroidery, patches, or other embellishments for a more bohemian look.
Get colorful
While blue is the traditional color for denim dresses, there are plenty of other colors to choose from. Black, white, and pastel hues can all look great in denim. Try mixing different shades of denim for a more textured look.
Add a pop of print
If you're feeling bold, you can add a pop of print to your denim dress. A floral or animal print can create a fun, playful look. Just be sure to keep the rest of your outfit simple to avoid clashing.
Layer with leggings
If your denim dress is on the shorter side, you can layer it with leggings or tights for added coverage. This can also make it more appropriate for cooler weather. Just be sure to choose leggings or tights in a complementary color and style.
Get the Look: Shop Denim Dresses for Summer
A denim dress is a piece that can be worn three seasons of the year with a quick change of footwear. For summer, style your denim dress with sandals (black will look modern, brown and tan are a classic), your sneakers (go for a retro-inspired style with colorful details or a clean white leather version like the Birkenstock Bend), or glam it up with gold sandals or slides.
Below each collage are links to the dresses; I also share the size range available so you don't have to click to find out the items that aren't available for you. However, I cannot guarantee the items will stay in stock in all sizes! Then below each collage is a carousel of dresses seen in these collages with their price. The price may be lower if the retailer has a sale taking place; if you click on the image the shopping page will open in a separate browser.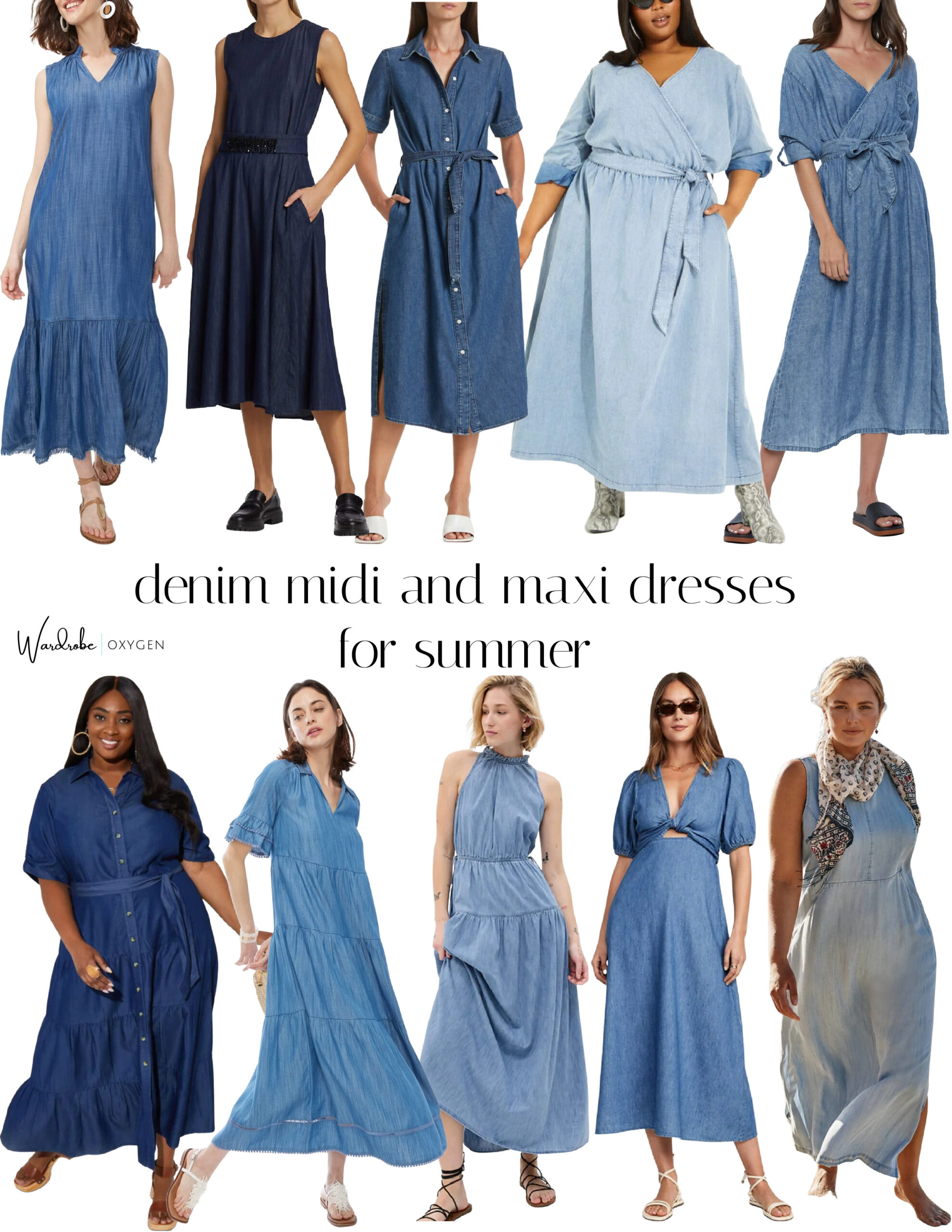 Shop the Collage:
Top Row from Left to Right: one (0/2-20/22) | two (0-16) | three (XS-XL) | four (10-36) | five (XS-XL)
Bottom Row from Left to Right: one (10-36) | two (0-20/22) | three (XXS-XXL & petite/tall) | four (XS-4X & tall) | five (XS-4X & petite)
Shop Midi and Maxi Denim Dresses for Summer: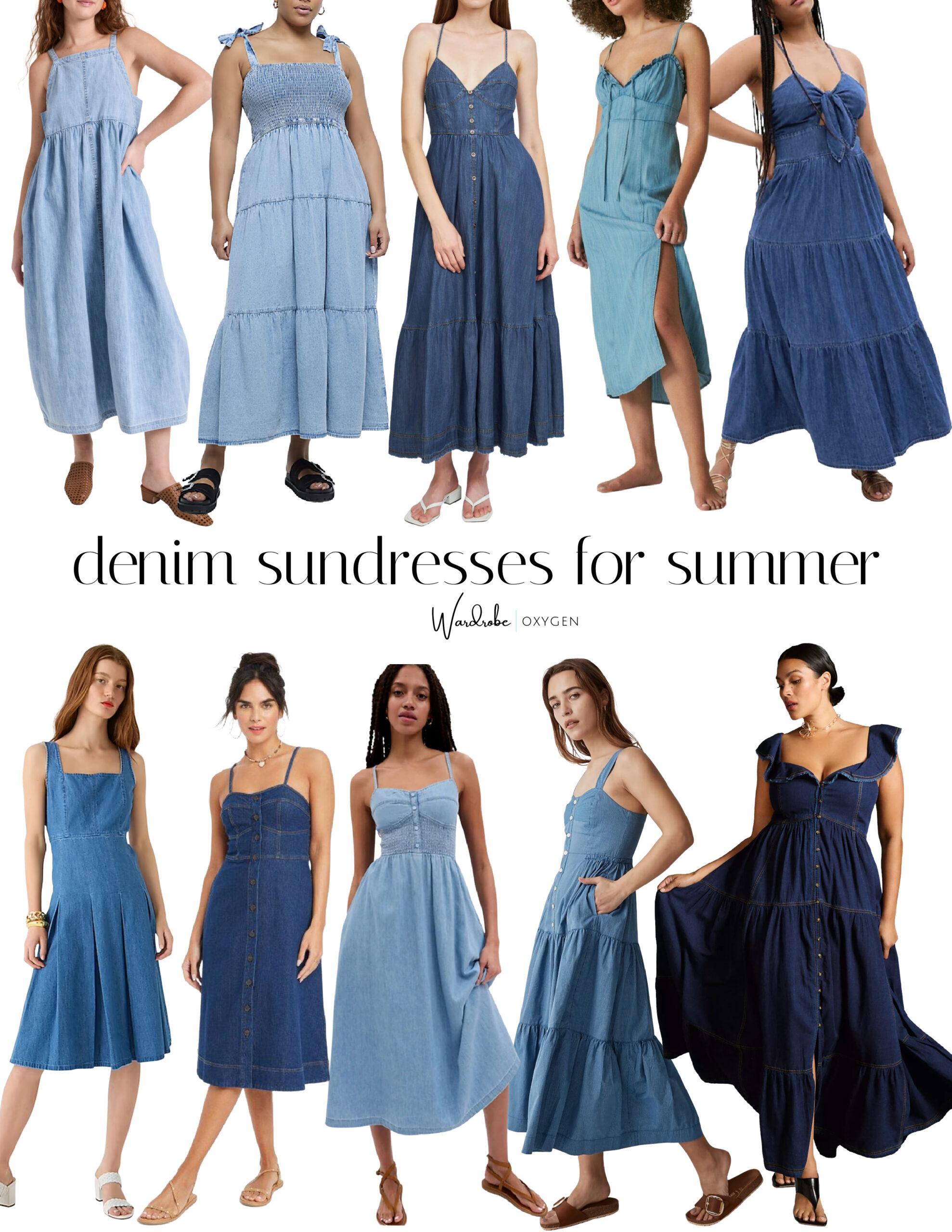 Shop the Collage:
Top Row Left to Right: one (XS-XL) | two (14-22) | three (XS-L) | four (XS-2XL) | five (XXS-XXL & petite/tall)
Bottom Row Left to Right: one (00-24) | two (XS-4X) | three (XXS-XXL & petite/tall) | four (00-28 & petite) | five (XS-3X & petite)
Shop Denim Sundresses: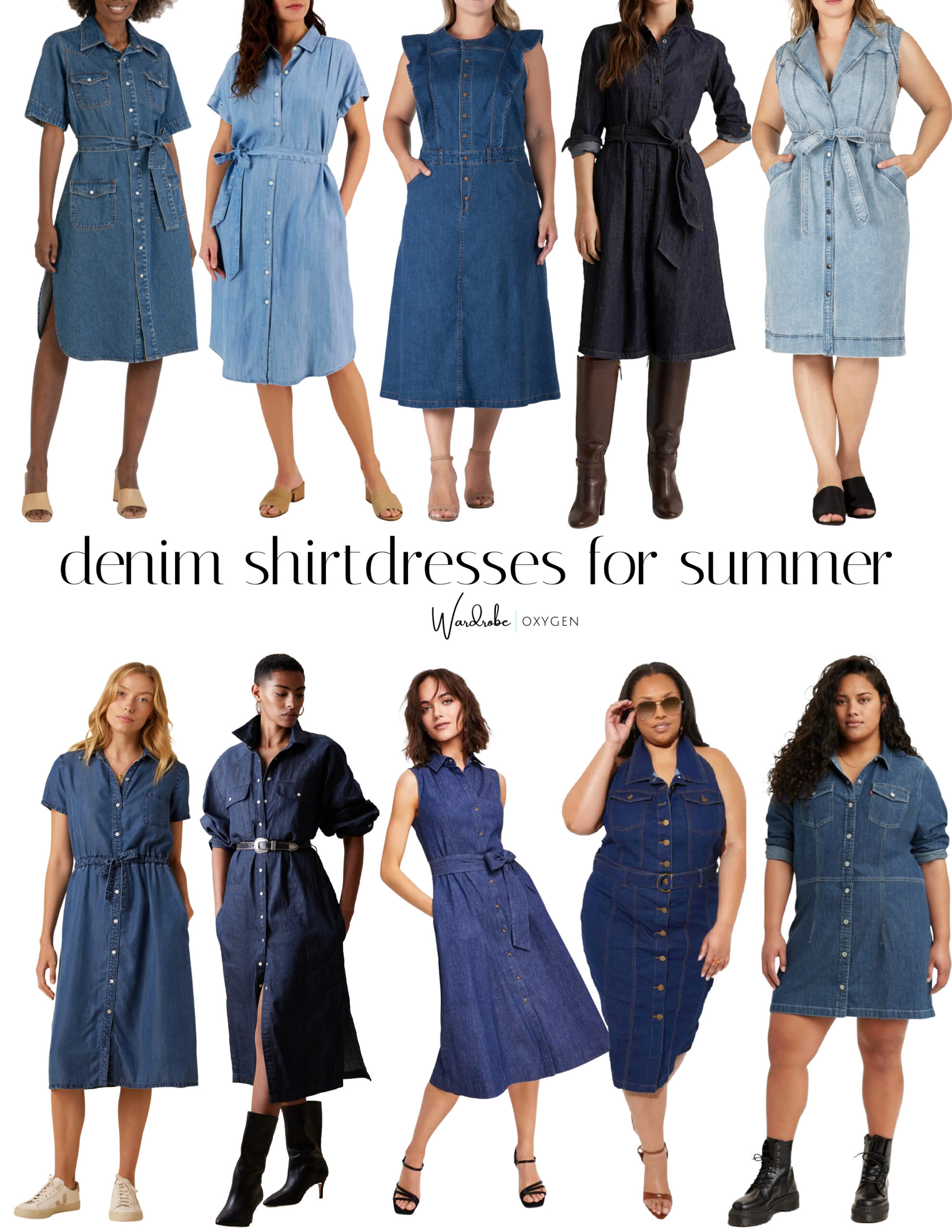 Shop the Collage:
Top Row Left to Right: one (XXS-XXL) | two (XS-XXL) | three (14-22) | four (0-18) | five (14-22)
Bottom Row Left to Right: one (XS-XL) | two (XXS-XXL & tall) | three (2-16; link to 14-24) | four (12-36) | five (1X-4X)
Shop Denim Shirtdresses: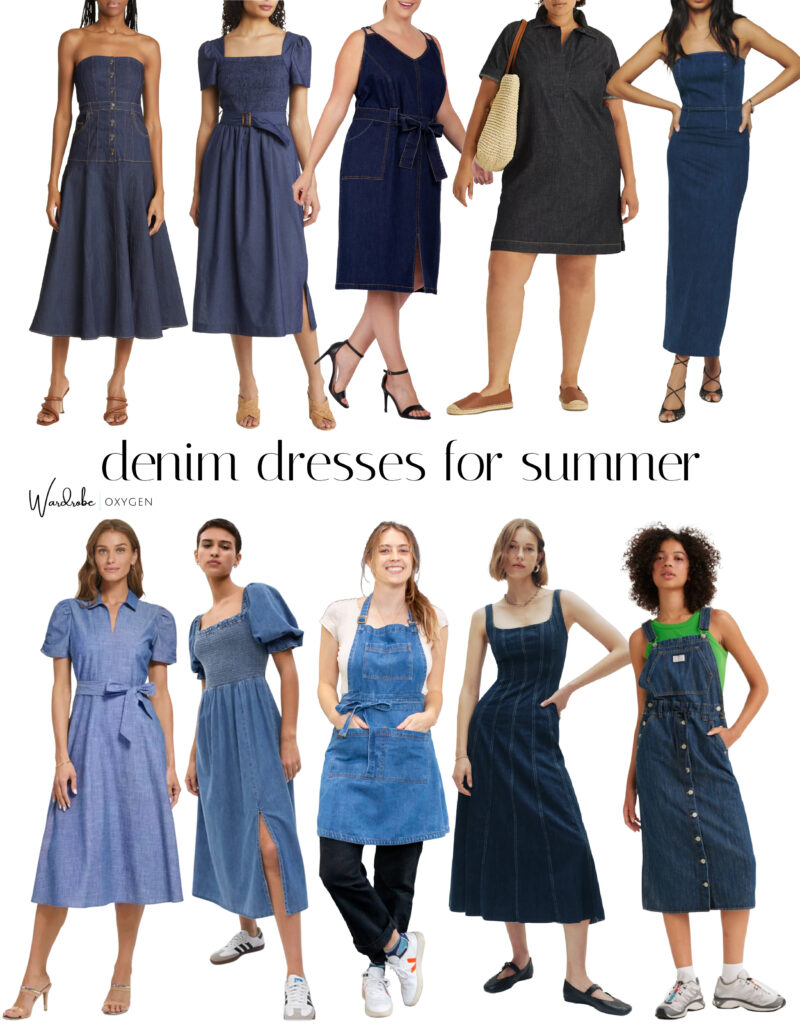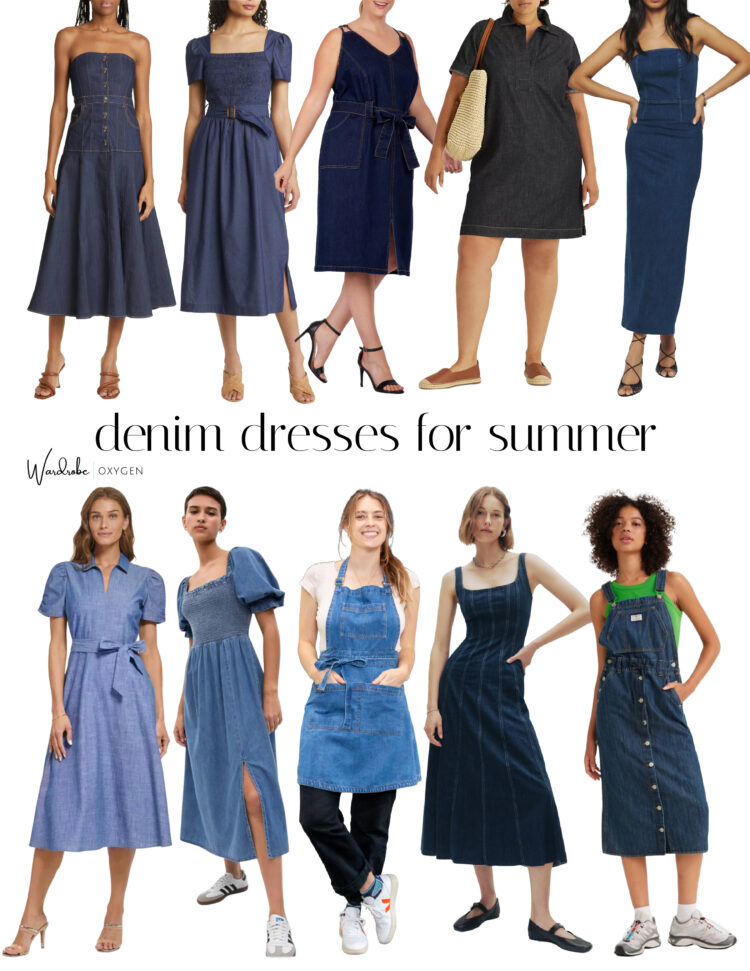 Shop the Collage:
Top Row Left to Right: one (0-12) | two (2-16) | three (14-22) | four (1X-3X) | five (0-12)
Bottom Row Left to Right: one (4-16) | two (XXS-XXL & petite/tall) | three (S-XXL) | four (0-12) | five (XS-XL)
Shop Denim Dresses for Summer: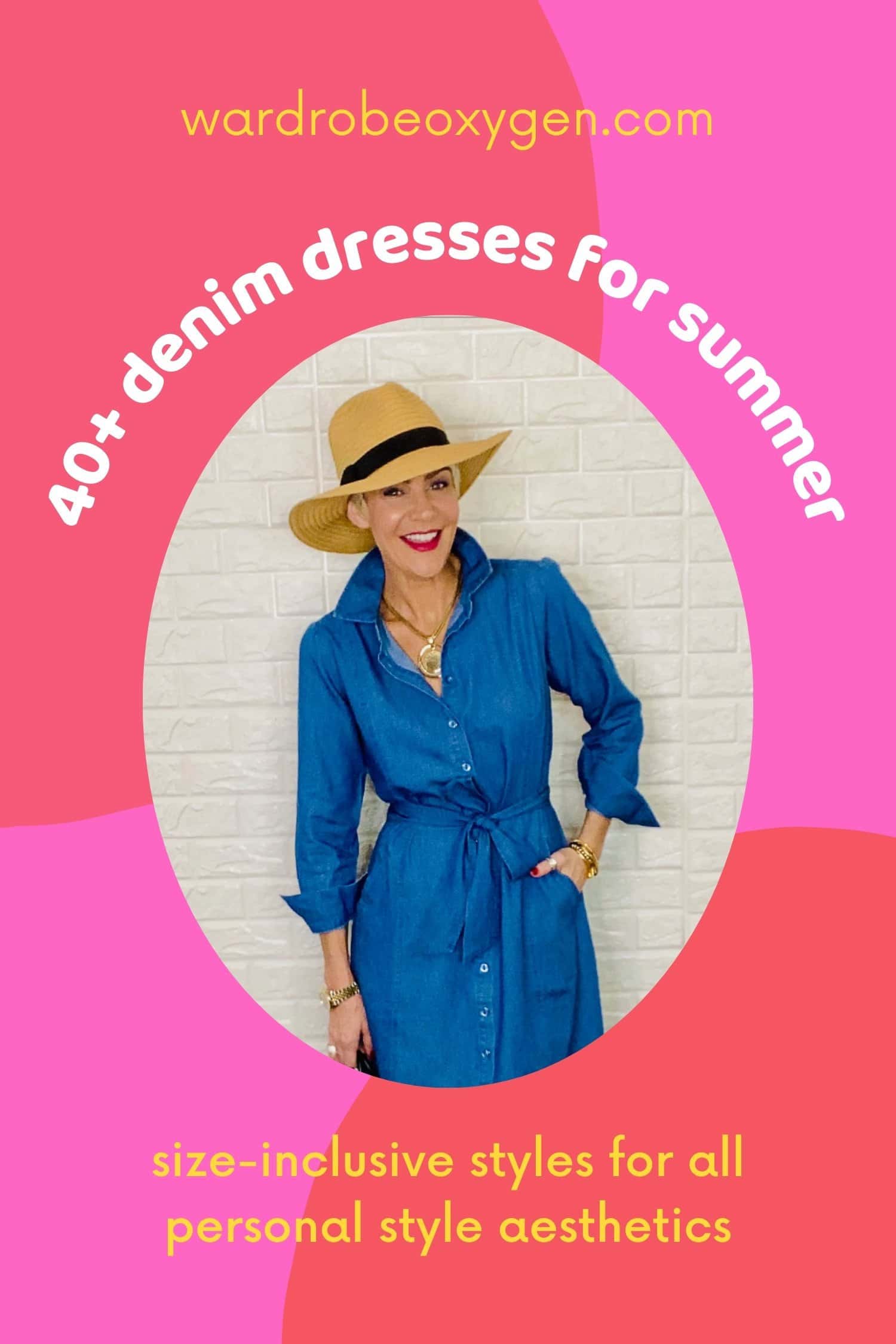 What Shoes To Wear With Denim Dress
When it comes to shoes for denim dresses, the most popular and versatile option is heels. They add height and elongate the legs, which is especially flattering when wearing a shorter denim dress. Heels also add a touch of elegance and sophistication to the overall look. However, not everyone may feel comfortable wearing heels for extended periods, especially if they have to walk or stand for long periods. In such cases, flats or sandals can be a great alternative. They offer comfort and support while still looking stylish and chic.
For a casual daytime look, a pair of trendy white sneakers or stylish tan sneakers can work perfectly with a denim dress. These options offer a more casual and relaxed vibe while still looking fashionable. For a more formal event, a pair of embellished or metallic sandals can add just the right amount of glamor to the outfit. Alternatively, chic comfy sandals can provide both style and comfort, making them a great choice for any occasion. Ultimately, the choice of footwear depends on personal preference, style, and comfort level. It's important to choose the right type of flats or sandals that match the dress's style and occasion.
How to Style a Denim Dress in 2023
While the denim dress trend endures, the styling changes with each year's trends. We've done the distressed rocker, we've done the prairie princess, we've done the patchwork hippie. This year, the denim dress is far more minimalistic and modern.
The denim dress in 2023 is the statement, so steer clear of styling with a lot of other statements. No need for bold earrings, scarves, colorful shoes, chain belts, and various other details we've used in past seasons to jazz up denim dresses. A simple pair of hoops, maybe a delicate chain necklace, a hat to keep the sun off your face, a leather bag… that's all you need along with footwear.
For shoes this summer, a denim dress looks great with a sandal. This season, black sandals have made a return. From a pair of Tevas to black puffy leather kitten heels, choosing black gives a modern touch. However, classic brown and tan sandals are still chic and look great with denim.
For chambray and Tencel dresses and denim dresses that have a more breezy style, consider a pair of classic espadrilles. And sneakers are always a go, whether it's a retro-inspired style with colorful details or a clean white leather pair like the Birkenstock Bend which I recently reviewed.
Join the denim dress fan club and elevate your summer style game!
Denim dresses are a versatile and stylish option for your summer wardrobe. They provide a blank slate that can be easily transformed with various accessories, shoes, and layers to suit any occasion. Whether you need to dress up for the office or channel your inner boho goddess, a denim dress can be easily styled to fit your needs. The possibilities are endless, so don't be afraid to mix and match textures, prints, and colors to create a look that's uniquely you.
With a denim dress in your closet, you'll be ready to tackle any event that comes your way, all while looking effortlessly chic and comfortable. These dresses are like a blank canvas that you can transform with the right accessories, shoes, and layers. Want to look polished for the office? Add a blazer and some pumps. Going for a boho vibe? A floppy hat and some ankle boots will do the trick. And don't forget to have fun with it – mix and match textures, prints, and colors to create a look that's uniquely you. So why not add this wardrobe staple to your collection today?
Originally Published: 5/11/2021
Updated: 5/7/2023