This article may contain affiliate links; if you click on a shopping link and make a purchase I may receive a commission. As an Amazon Associate, I earn from qualifying purchases.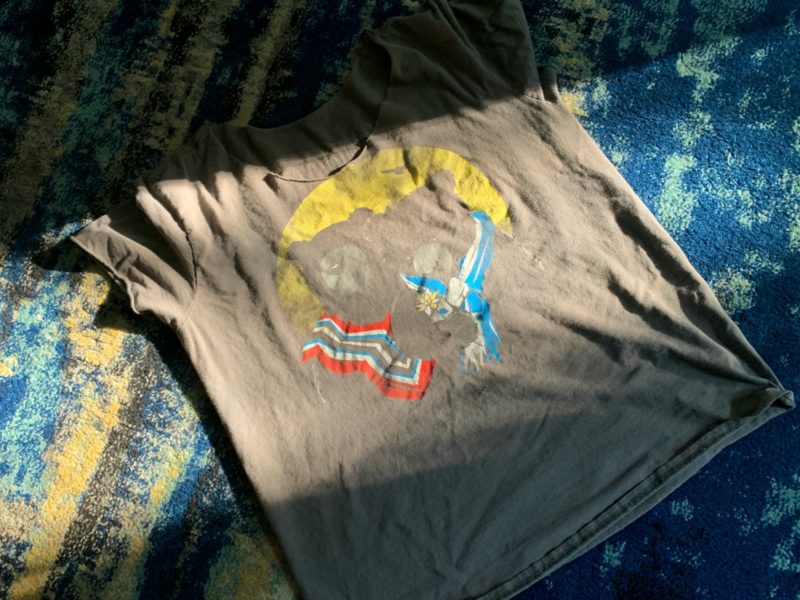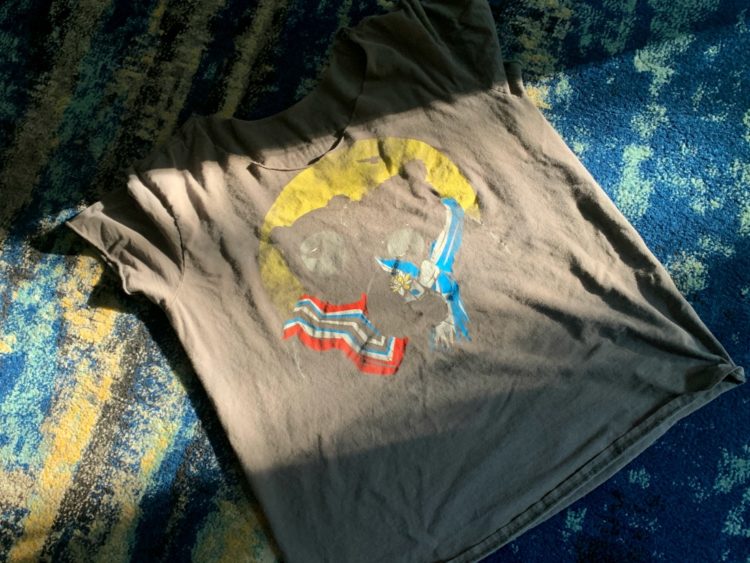 My body has changed so much over the past decade, my attic is full of bags and boxes from my former selves. My Weight Watchers self, my Whole30 self, my broken arm lying on the couch self, my broken arm power walking every morning self… you get the picture. And here I am, year and a half lifting weights self and I think I may be able to fit into some of my past lives.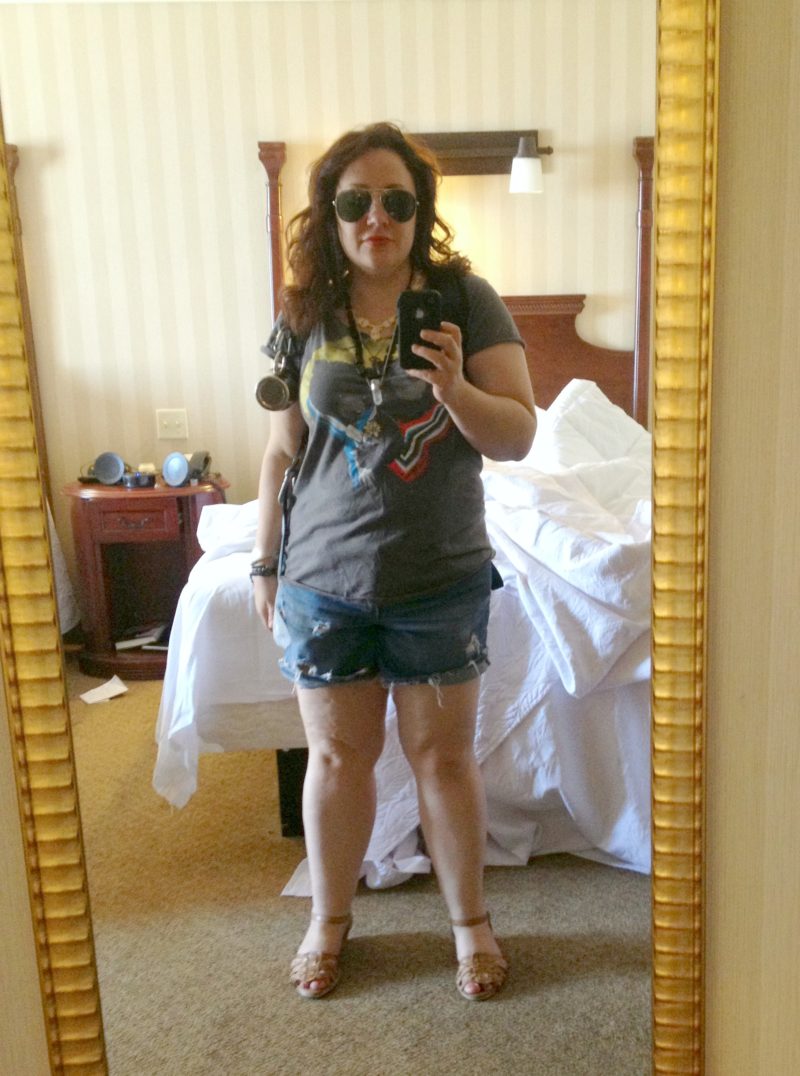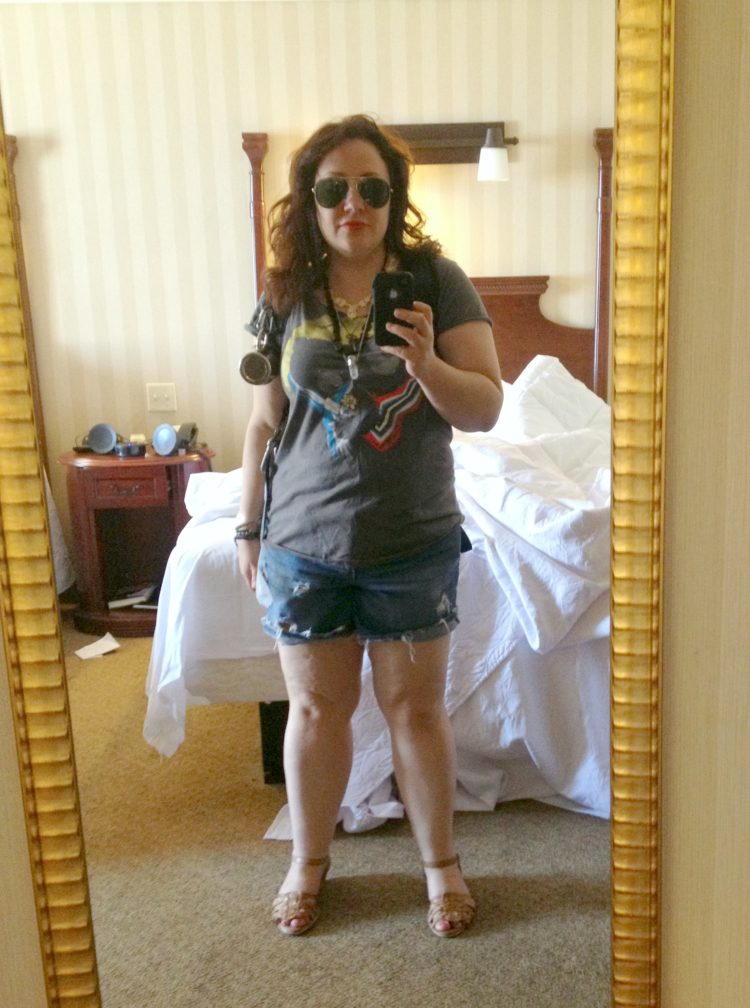 I specifically want to fit into one past life – the one that wore my My Morning Jacket fan club t-shirt, perfectly cut to be just off the shoulder with well-worn and well-distressed denim shorts I lovingly frayed and patched from Target of all places. I'm going to a My Morning Jacket show this weekend, it would feel so damn good to wear that same shirt I wore a decade ago.
My husband goes up in the attic for me. His legs and arms are longer, he can reach over the Christmas ornaments and camping equipment we shove right on the perimeter of the ladder opening to the bags and boxes we don't access as often. He brings down three large contractor bags. Instead of having to carry them down, my new self can grab them from him hanging them above my head and carefully carry them to the ground. This makes me more excited to open the bags, find past stylish selves I can wear again.
The first bag is a bag that probably should have gone straight to the donation center. Overly worn work pants with pills on the inner thighs, polyester silk shells with oil stains, so many blazers with cuffed sleeves. I try a few on, and then decide to donate the whole lot. Even if this past self fits clothing-wise, I am no longer Corporate America Allie and it doesn't make sense to fill my closet with these pieces anymore.
The second bag is pre-gym Allie. It is like opening a rainbow. Sequins, florals, brocade. Gorgeous dresses from ELOQUII and CityChic, fun going out tops, printed blazers… all two sizes too large. Anything corporate or not pristine I add to the donation pile, the rest I start a bag to Poshmark. I try a few on… I may only be 10 pounds lighter but I swim in these pieces. It feels just like yesterday, but I am no longer that person either physically or style-wise.
The third bag is the one I was looking for. Denim shorts, perfectly cut t-shirts, vintage dresses, funky jackets, several pairs of white jeans. This is a bag from maybe three summers ago. It was one of those big black bags and stuffed to the gills, full of pieces I bagged up because they no longer fit me and therefore didn't fit my life.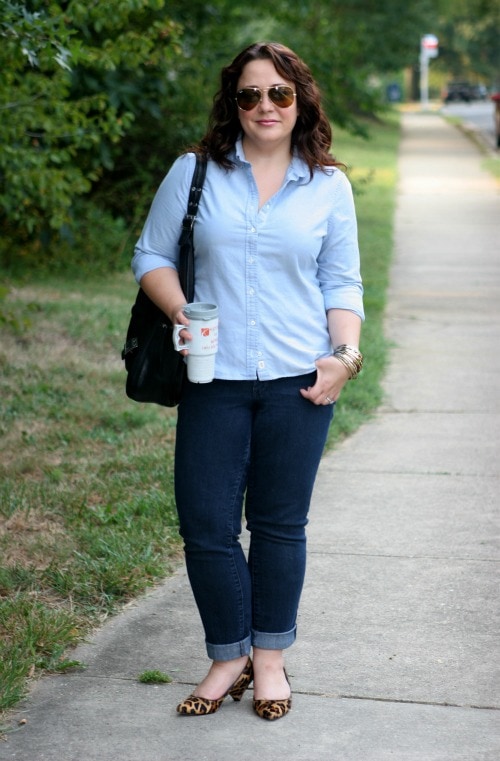 I dug through and found the t-shirt. It fits again, and not like the time I put it on, took it right off and threw it in that bag. And it doesn't fit the way it did when I wore it to Merriweather Post Pavillion to see My Morning Jacket with Band of Horses as their opener. The one where the weather was perfect, we bumped into my friend Amanda. We hung out on the lawn with friends, then when the show was about to start, thanks to being in the fan club we walked down to our second-row pavilion seats, bumping into a coworker and seeing a few folks we knew from festival-related message boards. Strangers complimented me on my t-shirt, and I proceeded to become a Band of Horses fan and have my face melted off by my favorite band. It's not the same.
However, unlike the majority of that bag, it works for the current life I am wearing. One that is strong, and sexy, and confident, and comfortable in her skin and age. Instead of being a wide neckline that hangs a bit off one shoulder, it is more of a u-neck. The sleeves I cut to a shorter length seem longer, but looser. The top which used to end just below the waistband of those perfectly worn and distressed denim shorts hangs a bit lower. But I like the changes.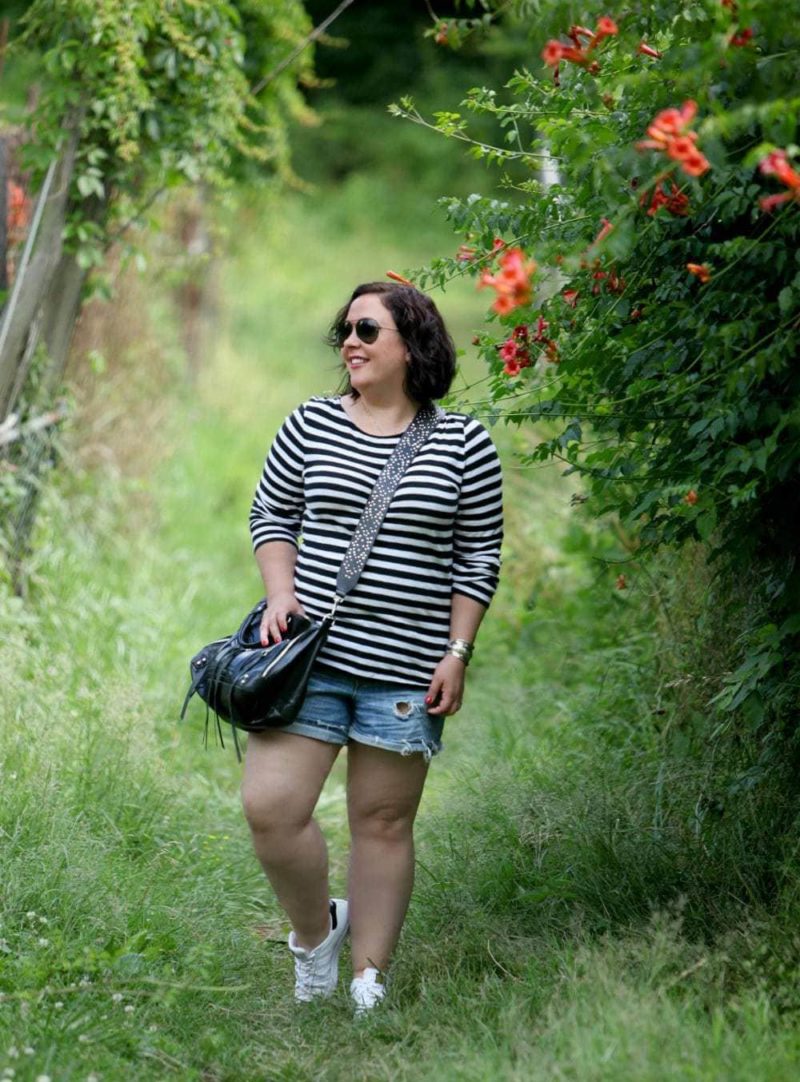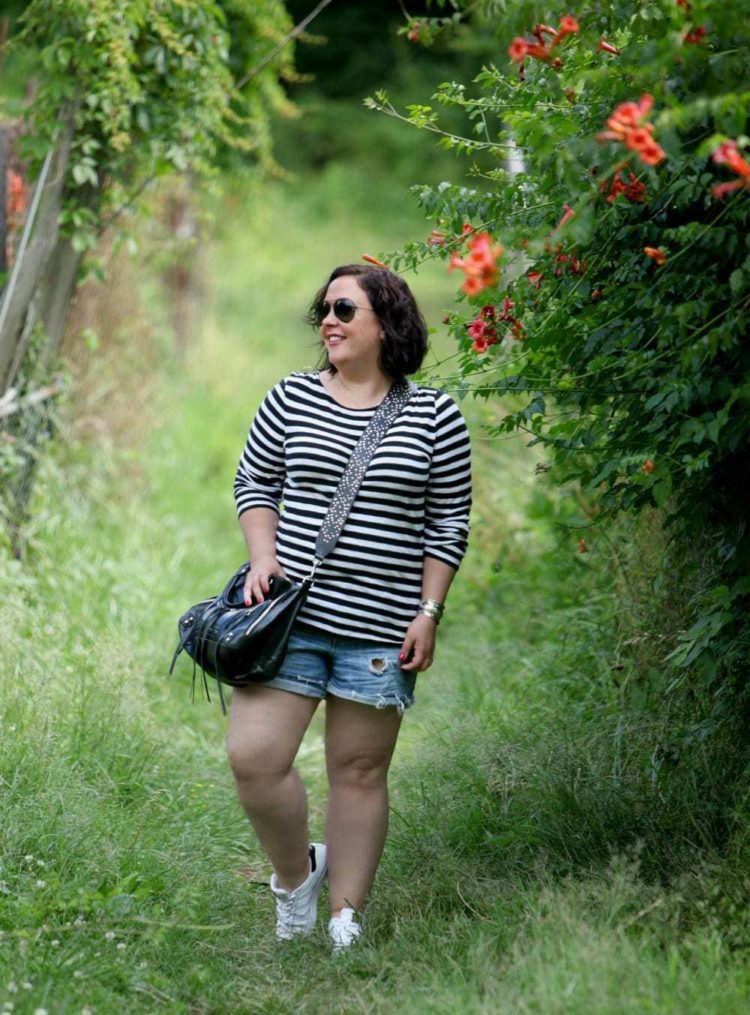 The shorts work too, and like the t-shirt in a different way. They hang differently thanks to firmer thighs and a rounder rear. The tear I held together with safety pins and thought looked cool back then looks pitiful now; I'm going to properly patch it up. While they won't be ready for this weekend, they will return to regular rotation. They fit the current me, both in size and in lifestyle.
I used to believe in staples, investment pieces. The items every woman needed in her closet that were so universal, so timeless. And sure, they're a good base if you are starting your style from zero. But most people change. Our bodies change with age, health, food, and activity. We change our haircut or color and suddenly our feelings on scarves, earrings, lipstick, collars, and more switches. And our lives change; I left Corporate America at the end of 2017 and no longer need a closet full of blazers, trousers, blouses, and wrap dresses. But beyond that, I am no longer the same person. Life experiences, beliefs, even books I have read color my views and alter my personal style.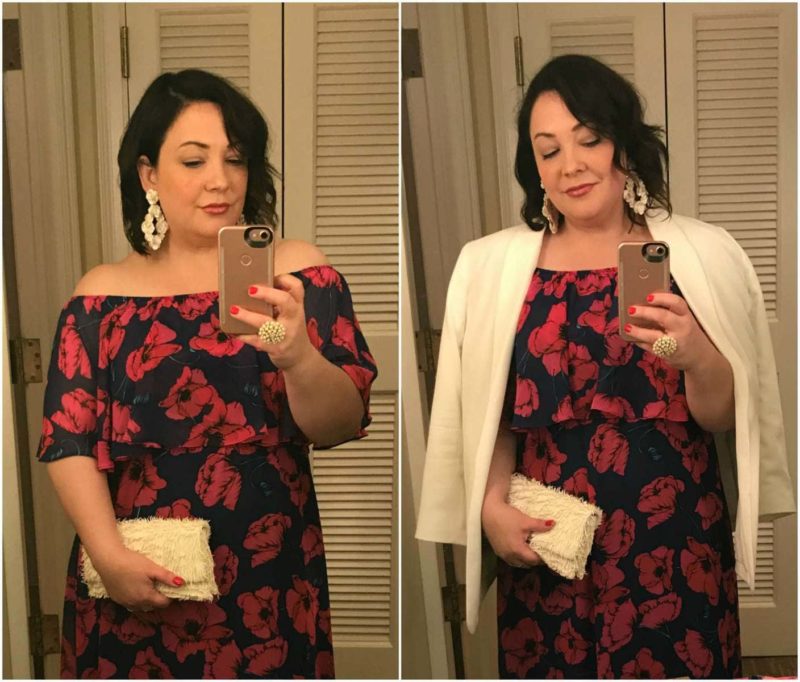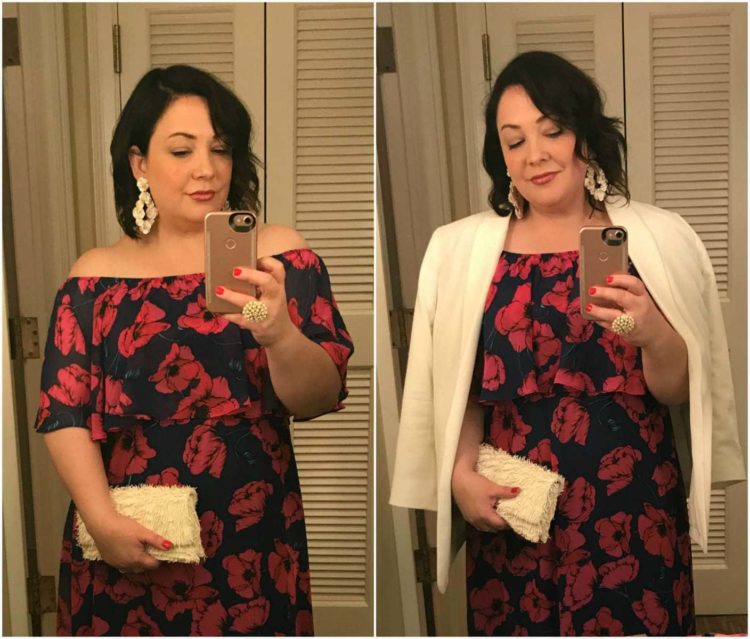 I went through the bag and found this floral off the shoulder maxi. I bought it to wear to the rewardStyle conference in 2017, and even I was terrified to attend but forced myself to do so anyway. I was so nervous about attending (I just KNEW I'd be the biggest body in attendance and one of the oldest) I hired a personal stylist. She picked out this dress, and as soon as I put it on I felt confident. She suggested an orange-red shoe with it, off-white statement earrings and an off-white fringey clutch. I wore it to the last night, the formal evening and felt fantastic. I was comfortable, stylish, my body was made for the dress, I danced all night. I wore that dress again many more times, including when I spoke at the TCF Style Expo. I was excited to find this dress, I have a trip coming up where it will be hot and I need to dress up and it would be a perfect choice.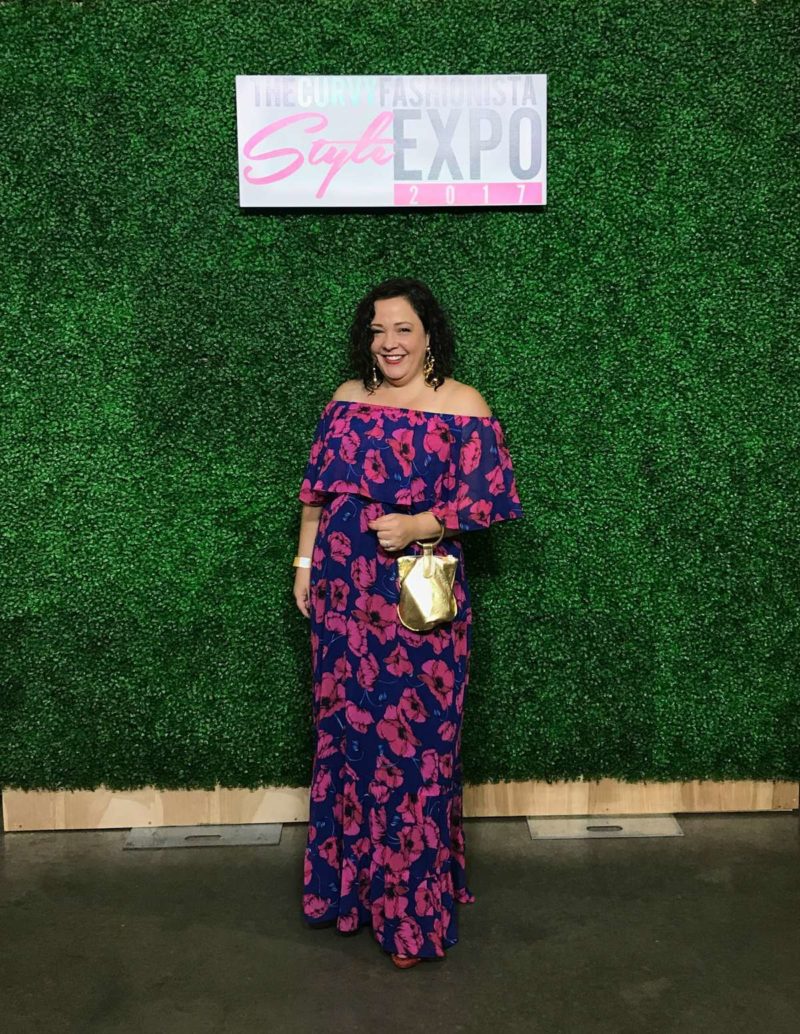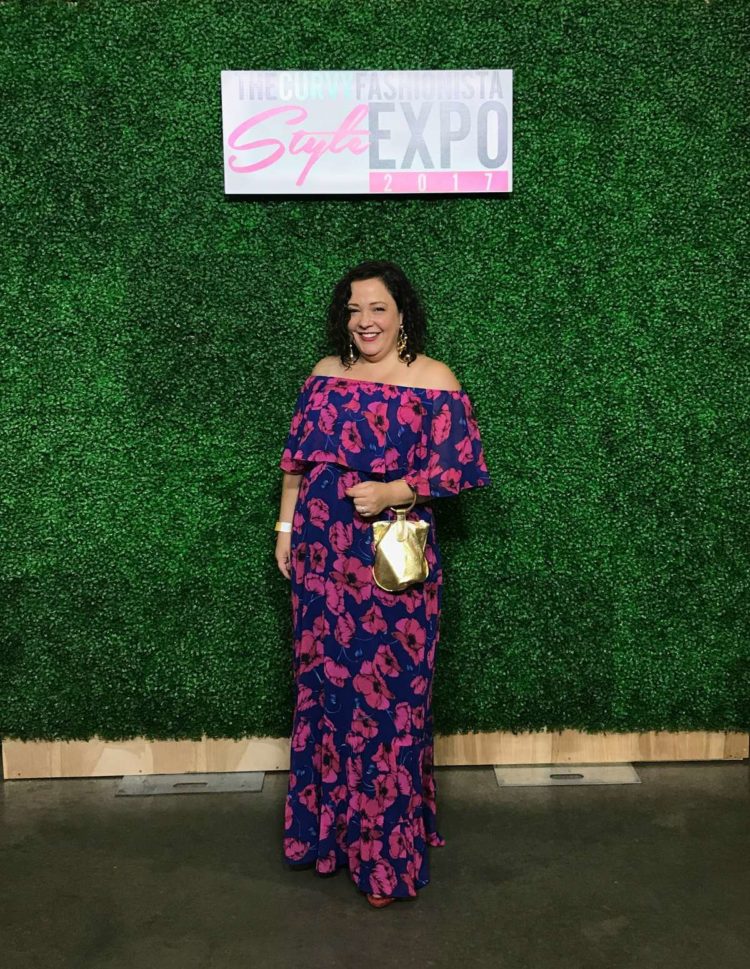 The dress still fit. It was still comfortable, though a hair too long. But it just didn't look right. It felt like a costume – too full, too bold a print, too garish of colors. My closet currently holds plenty of printed maxi dresses, some that are off the shoulder, but this one, one I adored so much, it was no longer right. Off to Poshmark.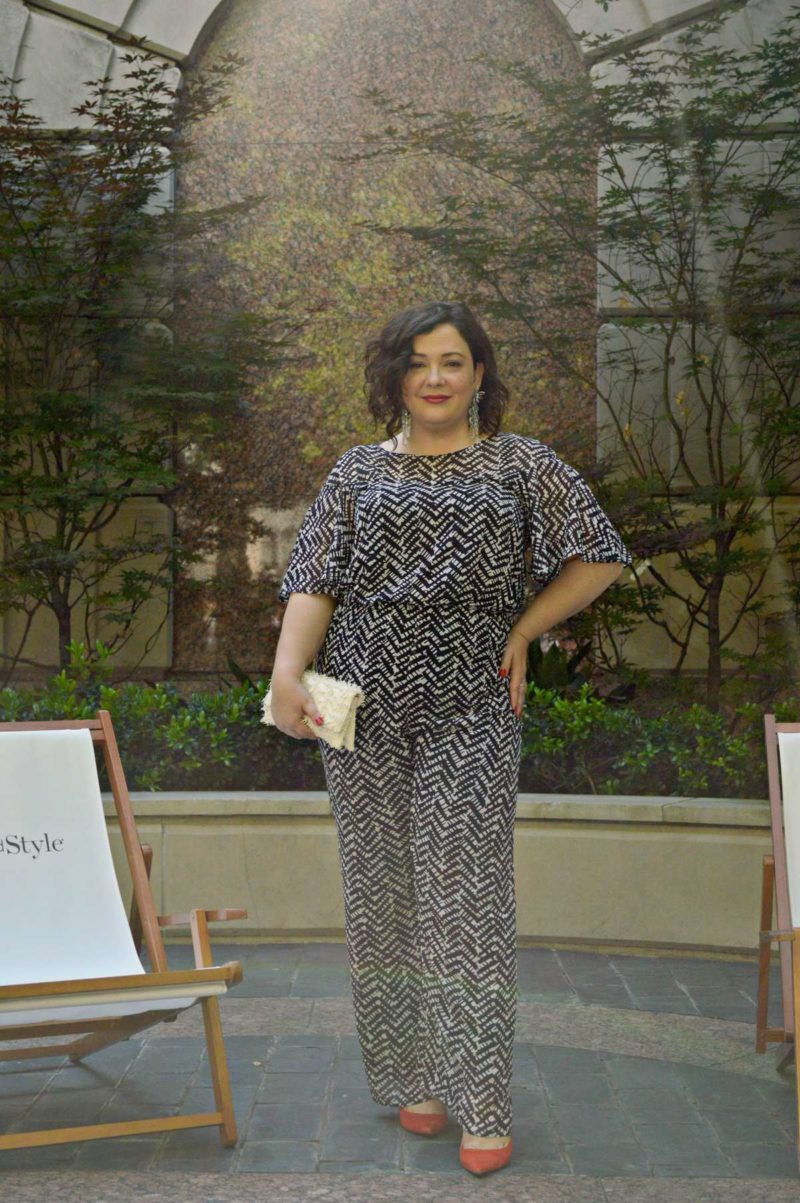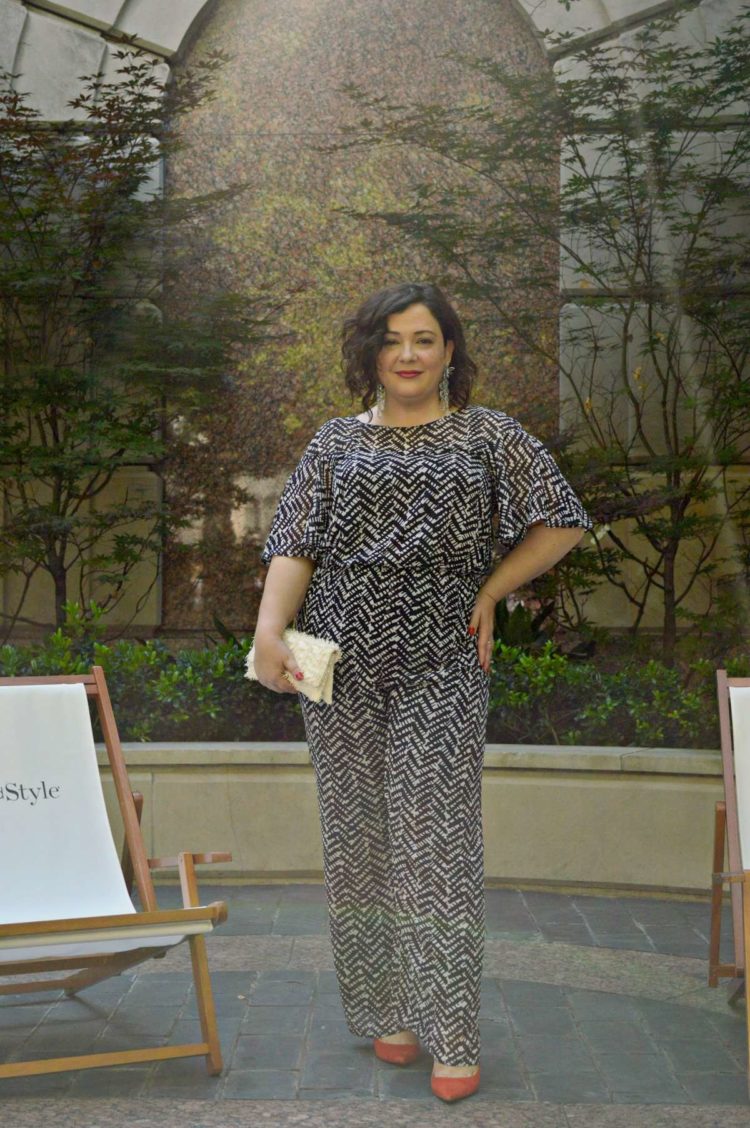 And this jumpsuit, oh this jumpsuit was sublime. I put it on and felt tall and sophisticated and like I could take on the world. I also wore it to the rewardStyle conference and had people asking where it was from, shocked it was Eliza J and not say DvF. I had so many readers ask if I'd sell it to them; no this is mine, and I know I'll wear it for years. Until it became too snug, and then now, when it became too much. Before, it gave me curves, was alluring without showing a lot of skin. Now, it feels like I'm wearing a curtain. The print too busy for the current me.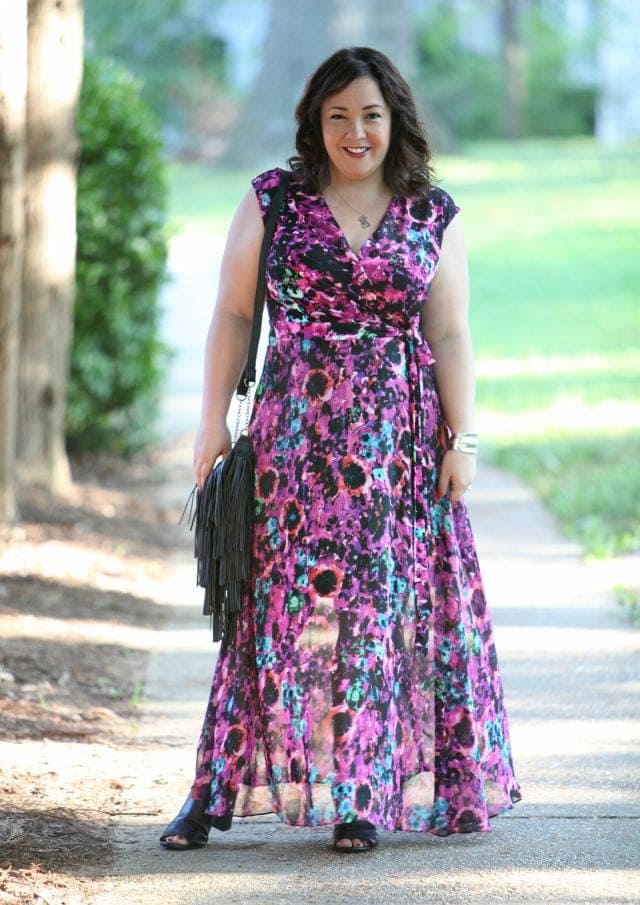 The same with this vintage dress, this silk maxi, this shift dress, and this dress that I rented from Gwynnie Bee and didn't give back for over a year and finally ended up trying to buy but because I had a gifted membership I couldn't charge it and it took three weeks of emails and finally they just gave me the dress and I wore it to weddings and even to a Gwynnie Bee event that I hosted in DC. None of them work on the current me.
I could try to make them work. Hell, that's a lot of money in that pile and there's no way I'll recoup even half on Poshmark. Maybe if I shorten the ruffle, have a tailor nip it in here, maybe if it's knee-length? What if I add a belt? But I know I can put in plenty of money with the tailor and still never wear these things because they're not me anymore. And if they're in my closet, I won't buy the things that are right because I feel I have enough. I will sacrifice my style holding onto my past.
I could be sad about all that wasted money. Why did I buy so many things that now I can't wear? But the thing is, these pieces worked so well when they did. They gave me confidence, they made me feel sexy, they helped me get to the point of loving my current body for the first time in my life, and that confidence is what inspired me to join a gym and become the person I am now. I look back at photos of me at conferences, at weddings, and here on the blog and am proud of how good I look. I rocked the hell out of these pieces, I proved you can be plus-size and short and over 40 and look like a million bucks. Now that's an investment piece.
My closet is called a walk-in, but essentially you can walk in, spin in a circle with your arms to your sides, and walk out. It's a box with three sides having a single rail, which means two sides have half a rail and there's one long rail in back. That long rail is my wardrobe, and three years ago it was a continuous line of black velvet flocked hangers holding a rainbow. I had to force my way between the hangers to get out a jacket or dress. Now, my closet holds a third of the clothes. My life is so different, and with it my style. I wasn't wrong then, and I am not wrong now. Neither self was bad, both are beautiful and strong and making her wardrobe the book jacket for the novel of her life.
I took out three bags, but kept only a handful of pieces. And that sounds about right for a life that is constantly evolving. Take part of your past with you on your journey, but keep room for new memories and future experiences. I'm excited to take this t-shirt from my past with me this weekend to make new memories in it.