This is a sponsored post written by me on behalf of Clairol Nice 'N Easy. All opinions are 100% mine.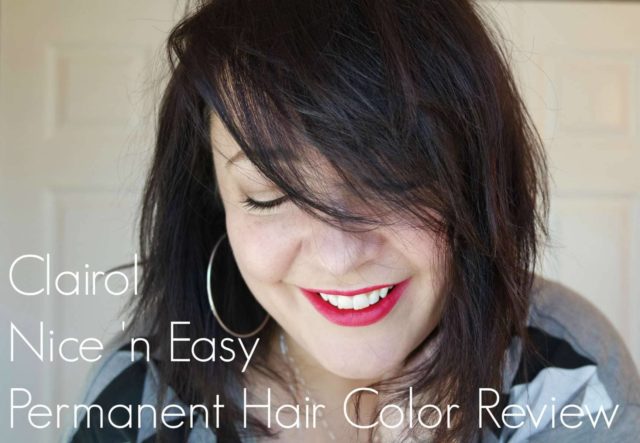 For those who have been reading Wardrobe Oxygen for a while, you know I dye my hair. While I was born with medium brown hair, I've been having fun with color since middle school. Black, red, blonde, pink, blue, and even some purple and red streaks. However the past few years I have liked my hair being a more natural shade; my birth haircolor only better… and without the grey. I got my first grey hair two months before I turned 29, and while I don't have enough to rock a badass Bonnie Raitt streak, I have a few patches at the temples and along the hairline that I prefer to cover.
I've been getting my hair professionally colored for years, and between salon visits I've been using Clairol Natural Instincts. I've been scared to use permanent color for fear I'd do a bad job or it would look obviously dyed. I thought I'd lose my highlights and depth of color with a single-process permanent hair color. Clairol reached out and asked if I'd like to refresh my look for the new year with Nice 'n Easy, their permanent hair color, informing me that Clairol Nice 'n Easy provides the broadest selection of shades to achieve real, natural-looking results for color as real as you are. I've been using Clairol since middle school and know the brand has a wide range of product options and shades and has always offered easy-to-follow processes for at-home hair color results that look great. I like the idea of getting stellar results at home, and that this could be a wallet-friendly alternative to salon visits I decided to try it.
Nice 'n Easy offers 8 weeks of permanent color with 100% coverage of greys. They have 45 shades ranging from the fairest blonde to a deep blue-black. Clairol provided me with a color consultant who examined my hair, asked my issues (stubborn greys, hair that gets dry in winter), asked me what I wished to achieve (my natural hair color, though a cooler tone and richer in color), and from that recommended color 6a/114 Natural Light Ash Brown.
I hadn't colored my hair in a couple months and when the box of Nice 'n Easy arrived in the mail I was ready to get to work! The box contains three bottles: 1) the color blend formula, 2) the color blend activator, and 3) the CC ColorSeal Conditioner, as well as gloves and very detailed instructions. However before I did the whole head, I did an allergy test. At least 48 hours before dying your hair, you should do a skin allergy test, even if you have used the product before. I recommend testing hair at the nape so it's discreet. Better safe than sorry! Having no ill effects from the test, I colored my hair two days later.
Clairol provided me with a professional color cape; if you don't have one I recommend wearing an old tee shirt and clipping a towel around your neck to catch any drips. I donned the gloves, poured bottle 1 into bottle 2, and shook until blended. I then separated my dry hair into small sections and applied the hair color, starting at the front and temples, where I have the most grey. I applied to my roots all over the head, and then worked to the ends of the strands, being sure to not rub the dye into my scalp. After all my hair was saturated and piled on top of my head, I wet an old towel and wiped up any drips or smears of hair color that got on my skin; I was impressed how easily it wiped off.
After 25 minutes, I wet my hair a bit to build a lather, then rinsed until all the dye came out and the color ran clear in the tub. I then opened bottle 3, the conditioning gloss, and added a third of it to my hair. I let the conditioner sit in my hair for a few minutes to really get its full effects, then rinsed it out completely. I truly see the color and condition of my hair, I dried it without adding any styling product.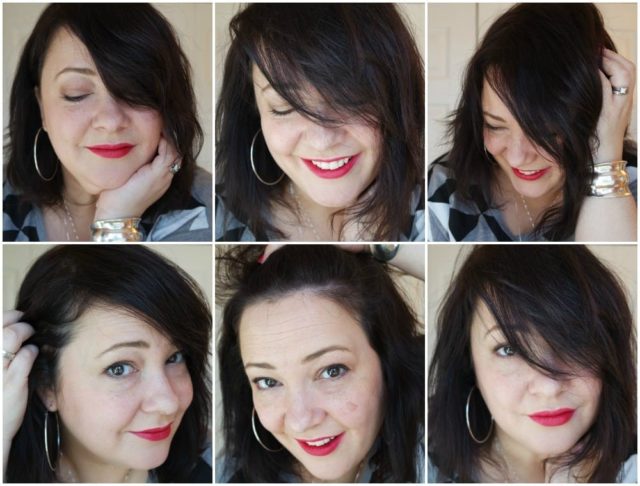 And this is the final result a day after coloring – shiny, soft, natural looking, multifacted with depth of color, no greys at all, and exactly how I want my hair to look. My hair feels in better condition now than it was before I colored it. I feel like me, except better. Fresh, polished, and ready to take on the new year.
I feel good recommending Clairol Nice 'N Easy as an easy and natural looking permanent hair color you can do in the comfort of your own home. To learn more about Nice 'n Easy and other Clairol products, follow Clairol on Twitter or visit Clairol on YouTube where they have a bunch of helpful and informative videos!