This article may contain affiliate links; if you click on a shopping link and make a purchase I may receive a commission. As an Amazon Associate, I earn from qualifying purchases. 
It has been a bit since I shared what I wore recently. We had Spring Break and then suddenly life got really busy. It has been two years since I lived and died by my Google Calendar but I'm back, baby. Lots of, I can do that Tuesday but only after 2pm; I'm free Friday prior to noon; this weekend is out but next Saturday we're available for dinner. And with a schedule like that, I think less about taking a photo of my outfit. But I need to get on the ball, a mirror selfie is quick and easy, so here are the ones I captured since my last What I Wore post!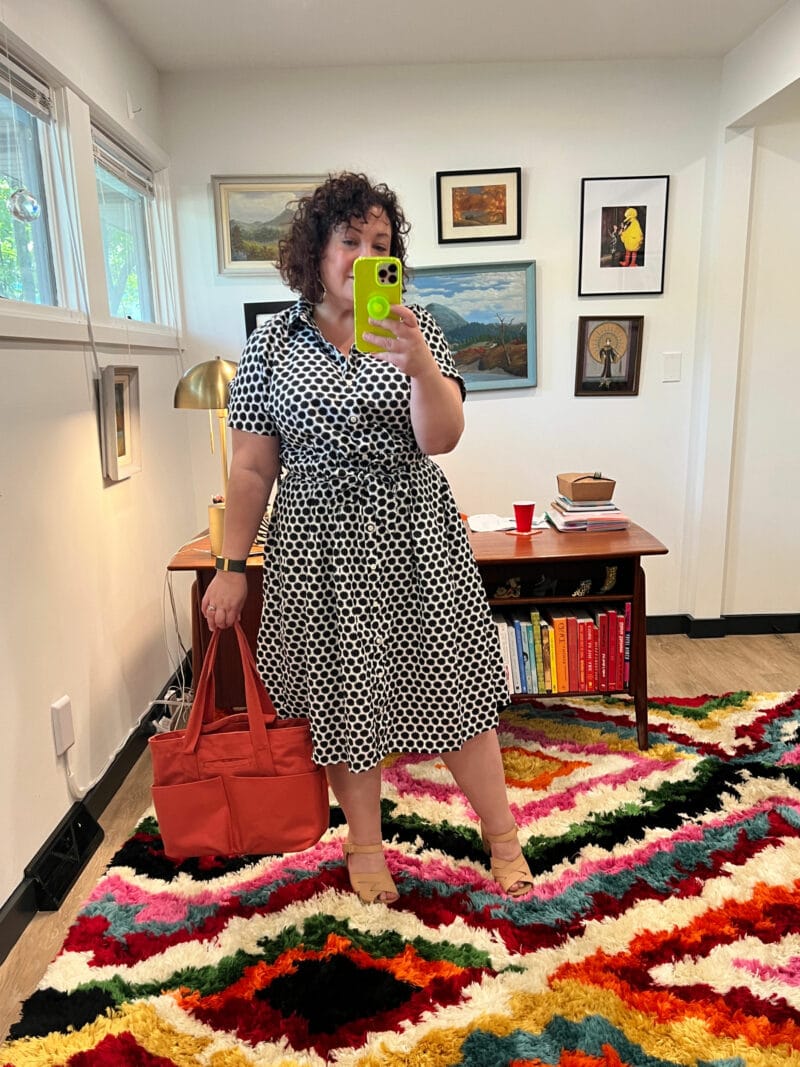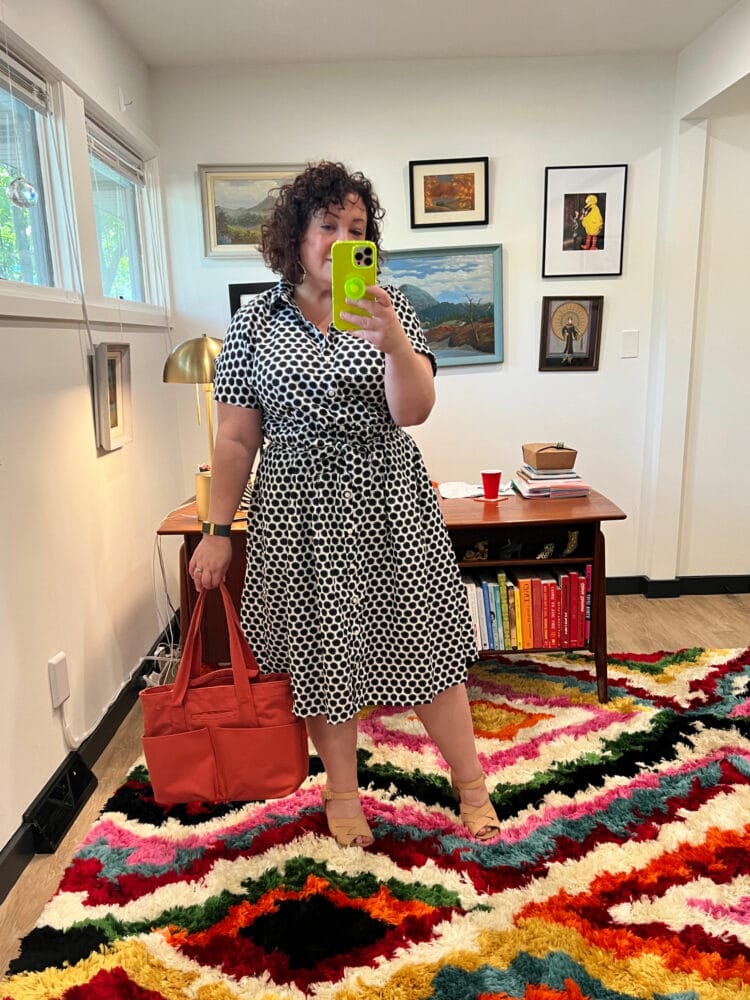 This dress is from Talbots; I got it a while ago and even wore it on Easter, but didn't think to get a photo that day. It is a bit big so I put it in the washer and the dryer… and it didn't shrink. But it made it softer. I didn't even iron or steam it before wearing; the only thing creased was the self belt.
I ordered it in a 14W because in the past, shirtdresses from Talbots were snug on my upper arms and bust. I should have gotten a 14 instead. It doesn't look big in this photo, but it does in back where the torso and skirt are bunched because the belt is cinched tighter than the waist seam. But I'll still wear it because it's cute and 100% cotton comfortable and likely more comfortable being loose.
The shoes are Rockport; I got them last year and love them (you can see them in this post). They have a wood heel and lots of cushioning and are surprisingly comfortable. They don't have them this year, but this sandal (which is on sale) is the same heel and a super cute style I'm considering adding to my wardrobe. The tote is from Dagne Dover, I got it last year and love it so much (I have the large size).
But this dress would be cute with white sneakers, but can dress up too. I felt very comfortable in this for a day of work and then meeting my sister for happy hour at a cafe patio; I received a lot of compliments and folks thought I looked really dressed up even though it was a super comfy easy look!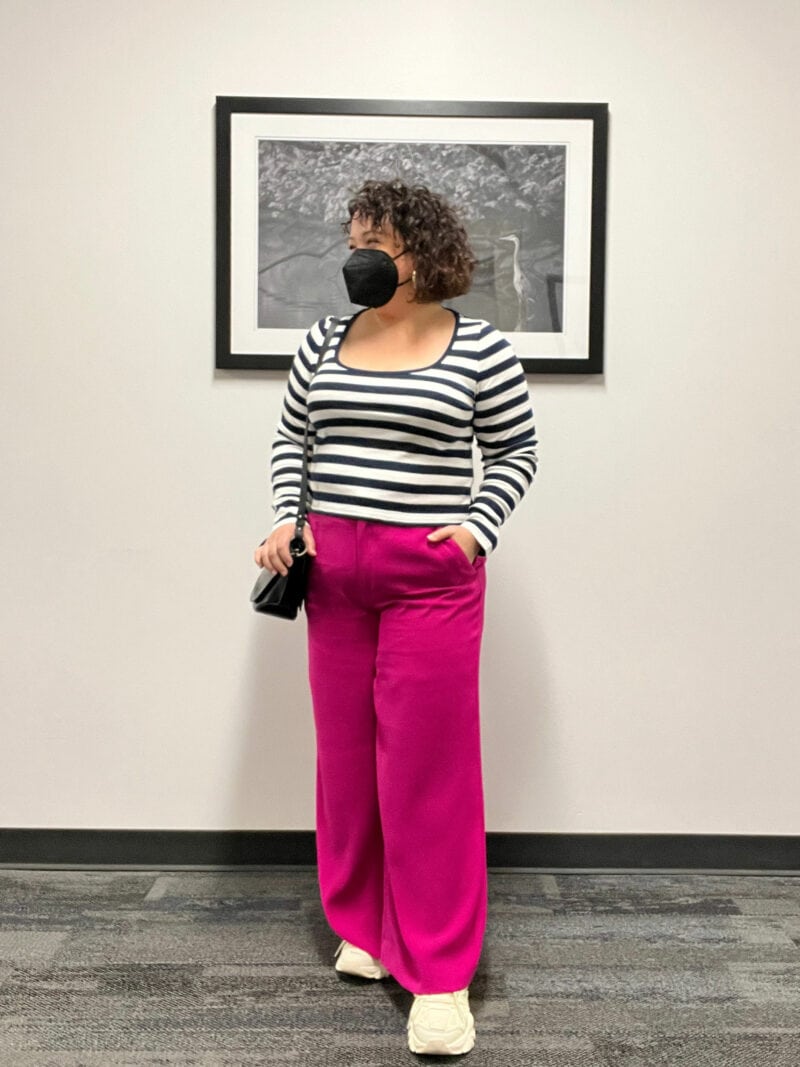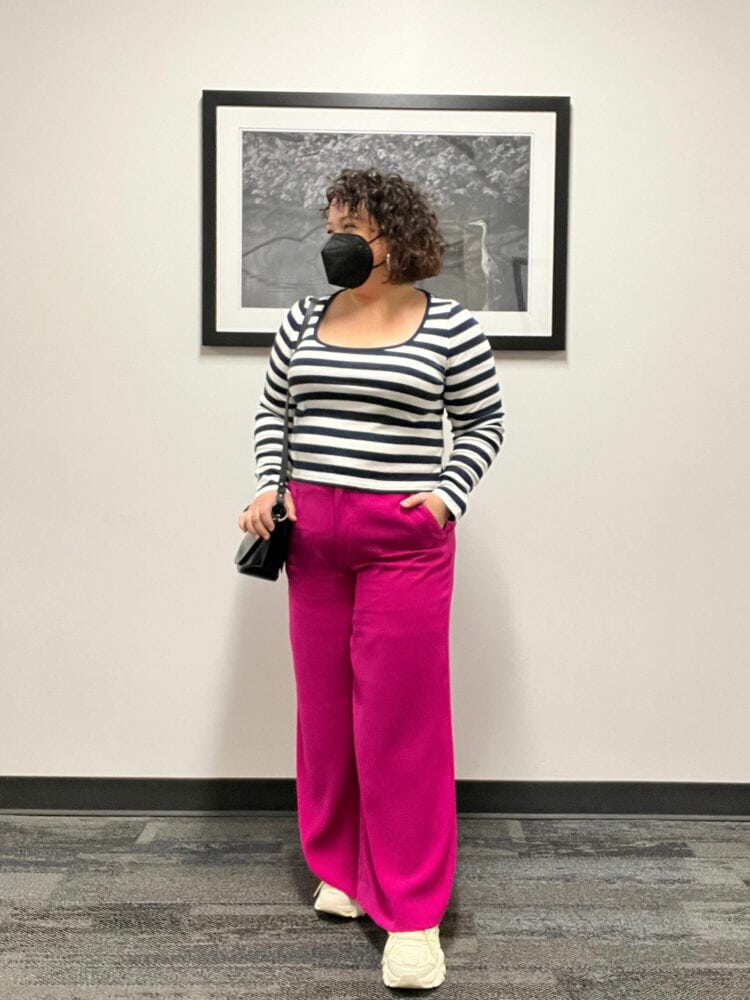 This is what I wore to run errands. The pants you have seen many times before; they are Banana Republic and first seen on the blog in this post from 2019. The sneakers are FILA and I've had for quite a while. They're the Elektrove, in off-white and I've seen a few on Poshmark but a lot of other brands now carry super chunky off-white sneakers. Chunky sneakers are a hot look, and a comfortable one too. For an alternative I like these from SOREL and these from VEJA.
The top is from J. Crew and considering I am 5'3″ this top is cropped (I'm wearing XL). But I like the cropped length because it's essentially the length it would be if I tucked in a shirt, but I don't have to tuck in the shirt. Expect to see me wear it soon with these white linen pants and this straw bag and maybe a straw hat and some sandals.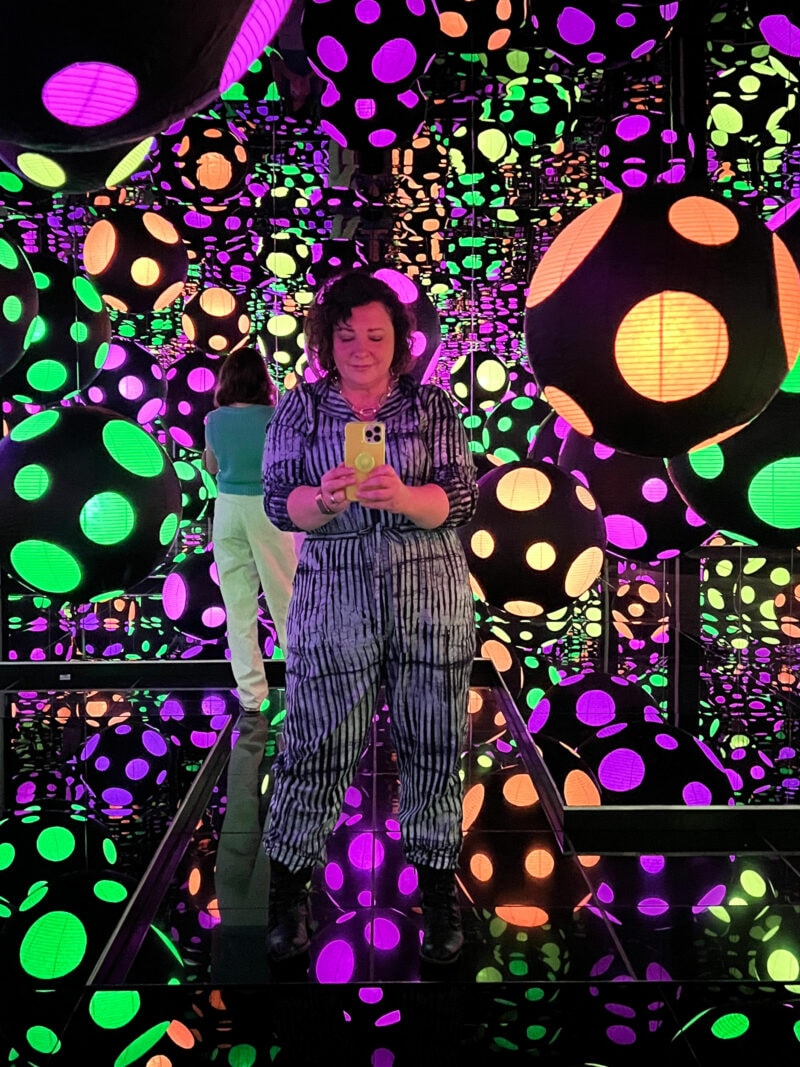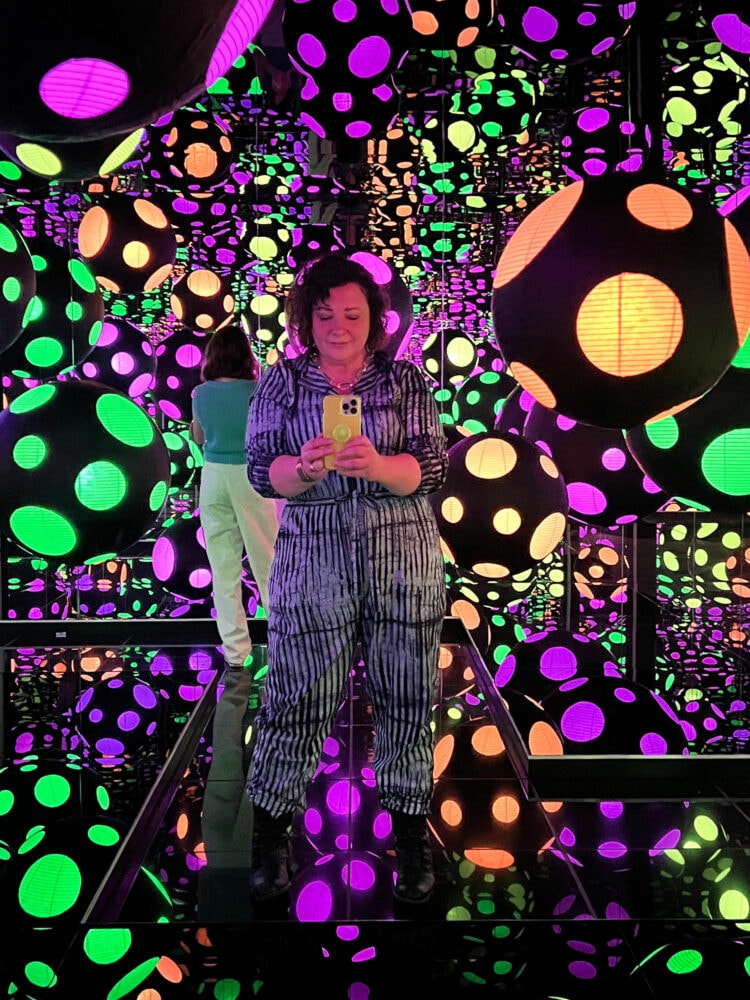 As I mentioned in this Weekend Reads, I went to see the Yaoyi Kusama exhibit at the Hirshhorn Museum and decided to wear my blue printed Osei Duro jumpsuit because it's easy and comfortable and interesting. It's easy to get on and off (zipper front) and has pockets deep enough to hold my phone securely. I tucked the legs into my years-old La Canadienne boots (super comfy and supportive with a pair of these insoles inside) for a flight jacket effect.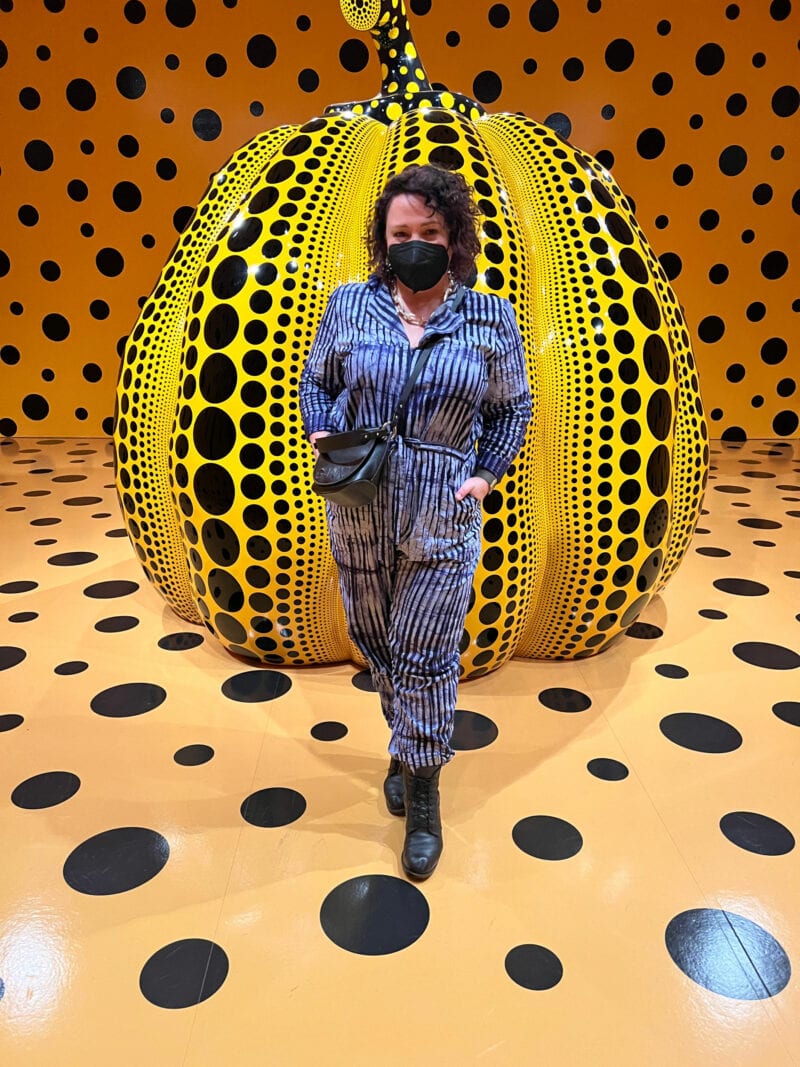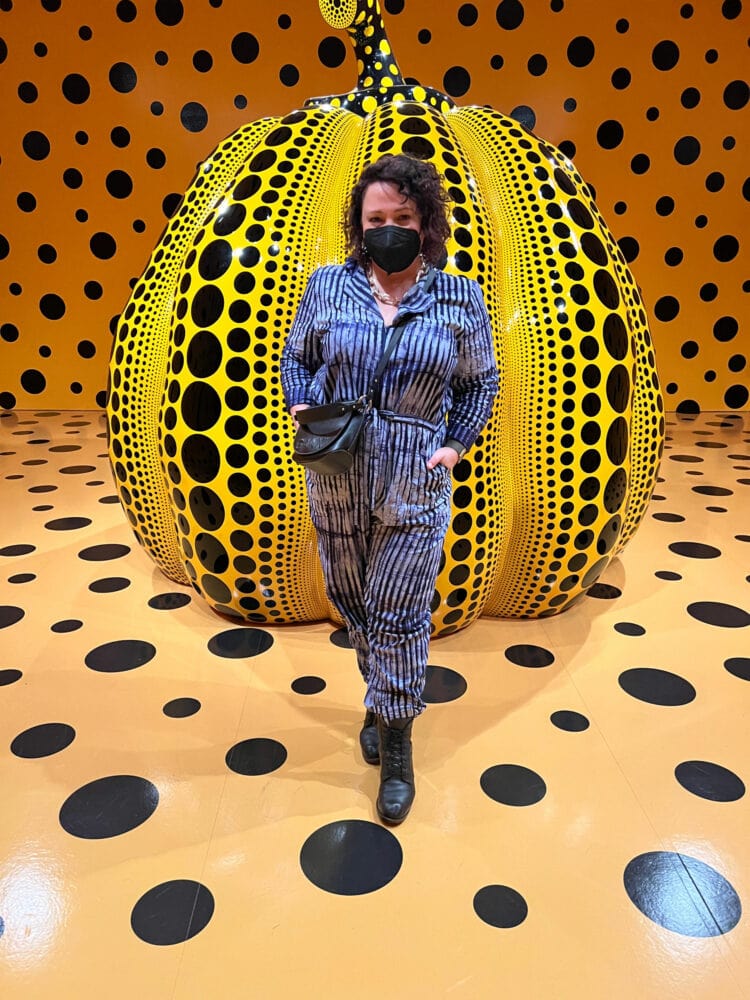 The bag is from Ganni, and a relatively new purchase. I desired a black leather crossbody that also made for a good shoulder bag. I wanted a variety of pockets and a clean and modern yet relatively timeless look. This one was on sale at the time for around $200 and I liked that it was made from recycled leather. It has a back pocket, the interior section with a zipper pocket, but another smaller compartment inside so plenty of places to tuck and organize things in a relatively small bag.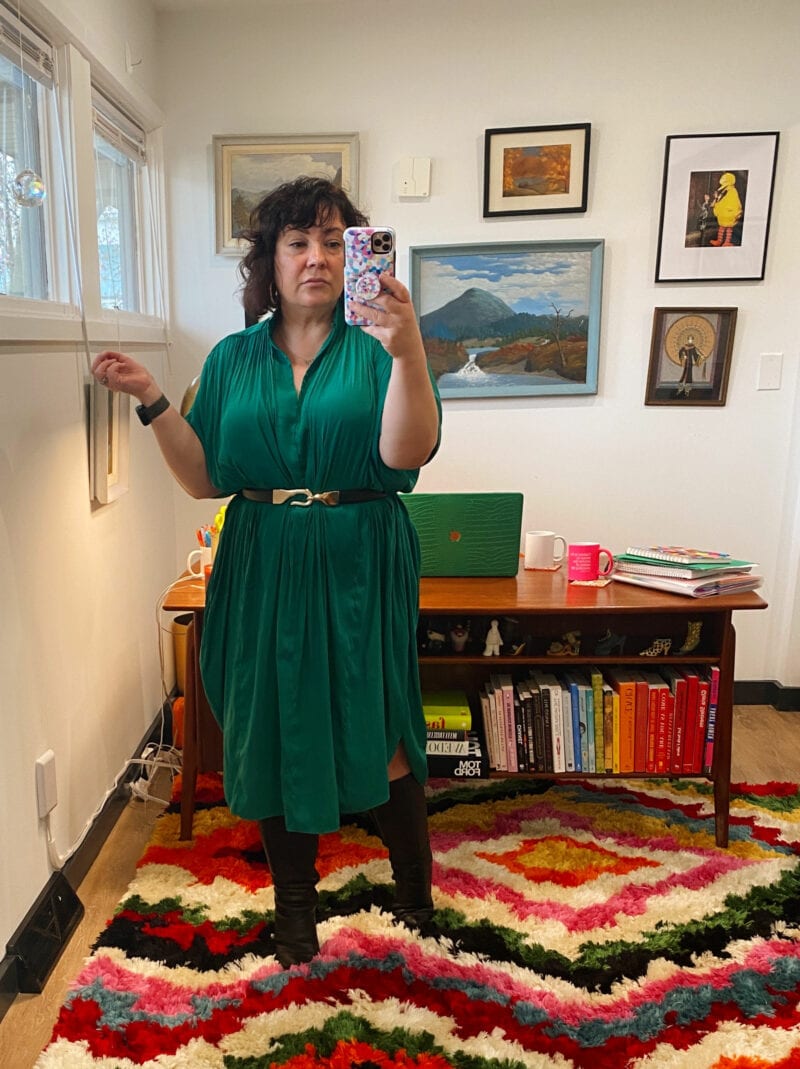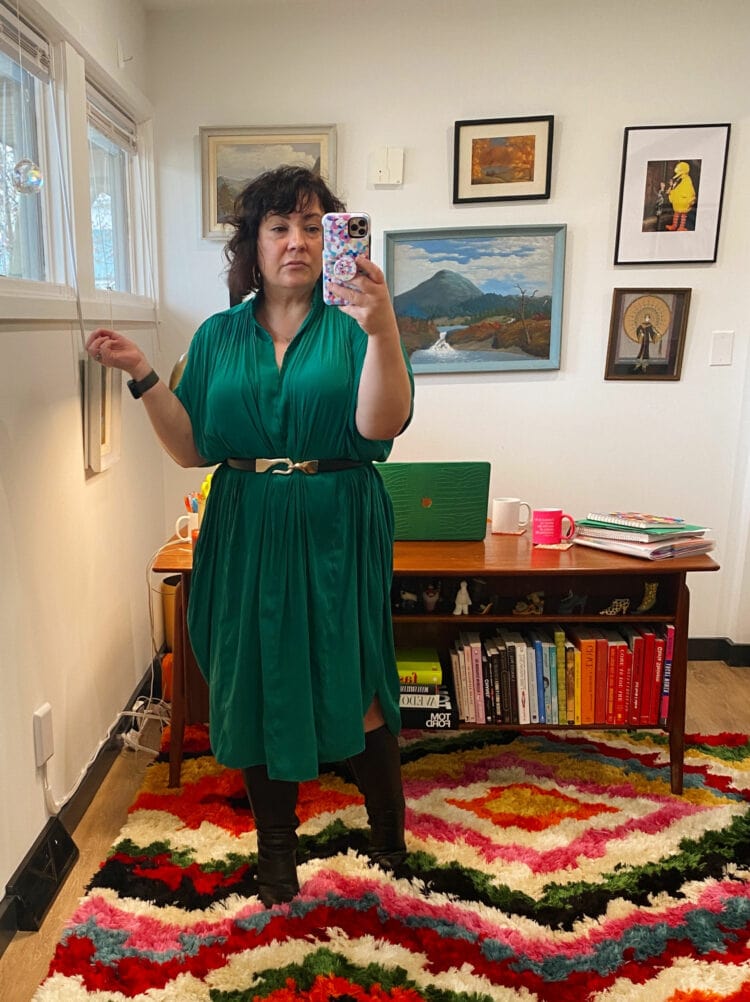 I shared this green ever by X dress in this blog post and I just love it so much. I often wear it just around the house as a caftan because it feels good on the skin, is completely opaque, and has pockets. But it dresses up beautifully. I'm wearing it with my ancient black boots that no longer are made and this belt from Chico's.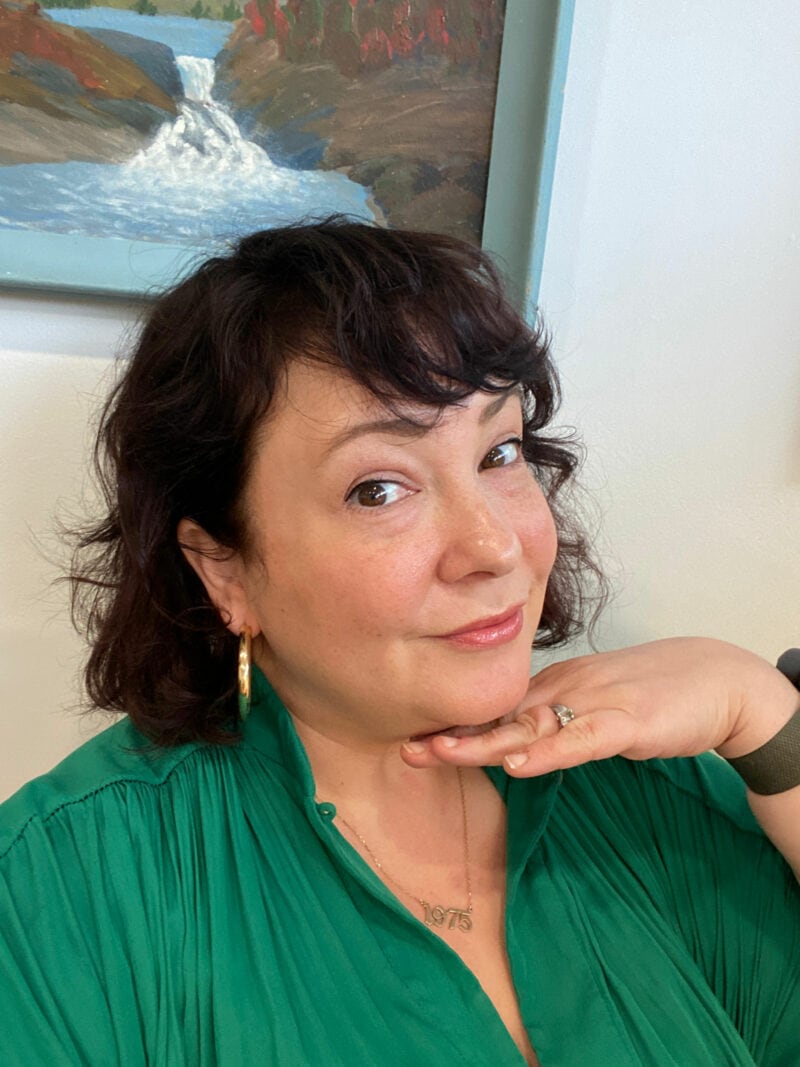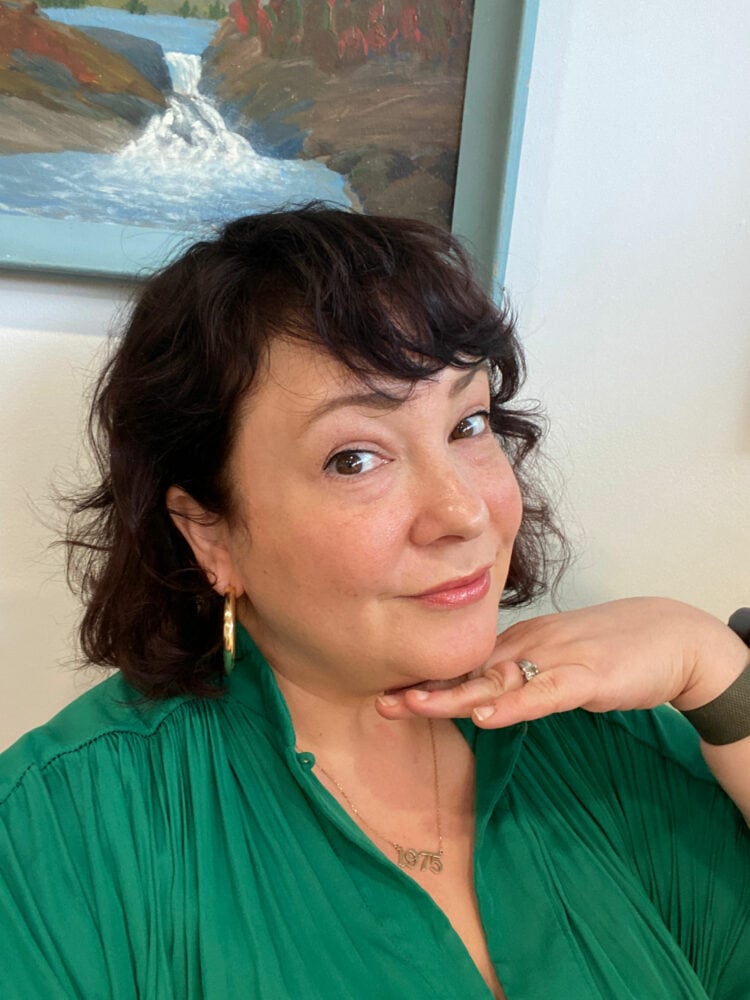 I sent this photo to my friend who asked if I had changed my haircolor, but it's a good photo to show my hoops and my necklace!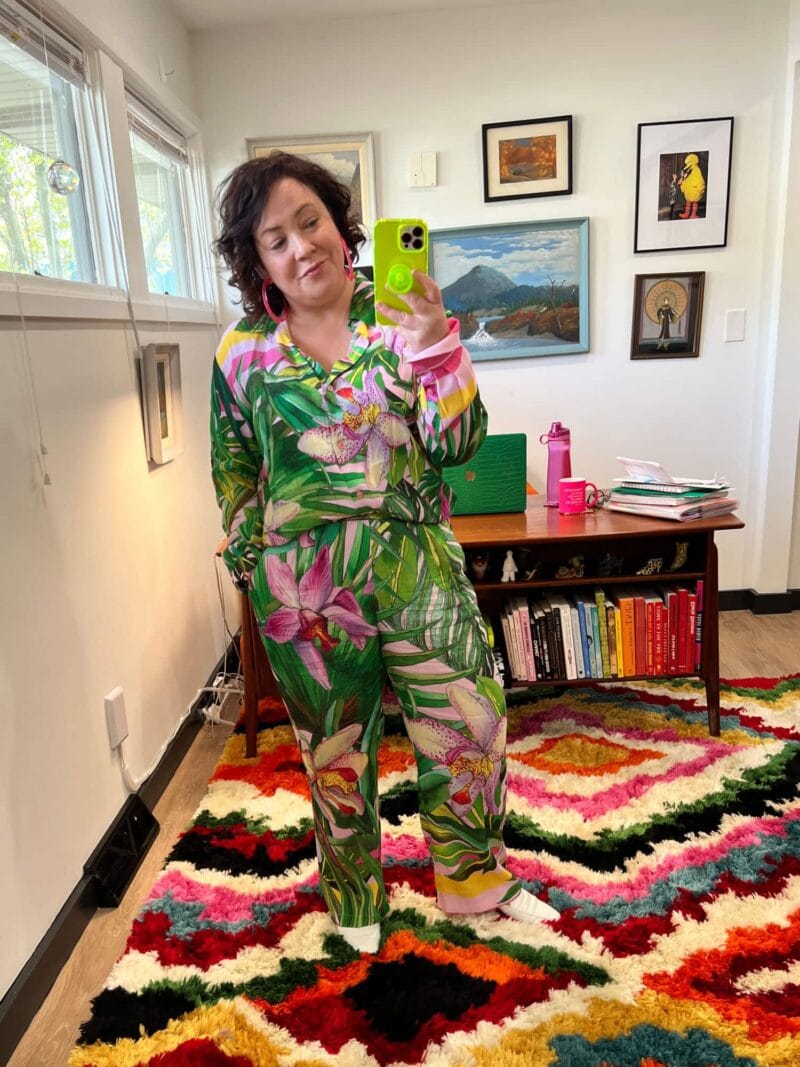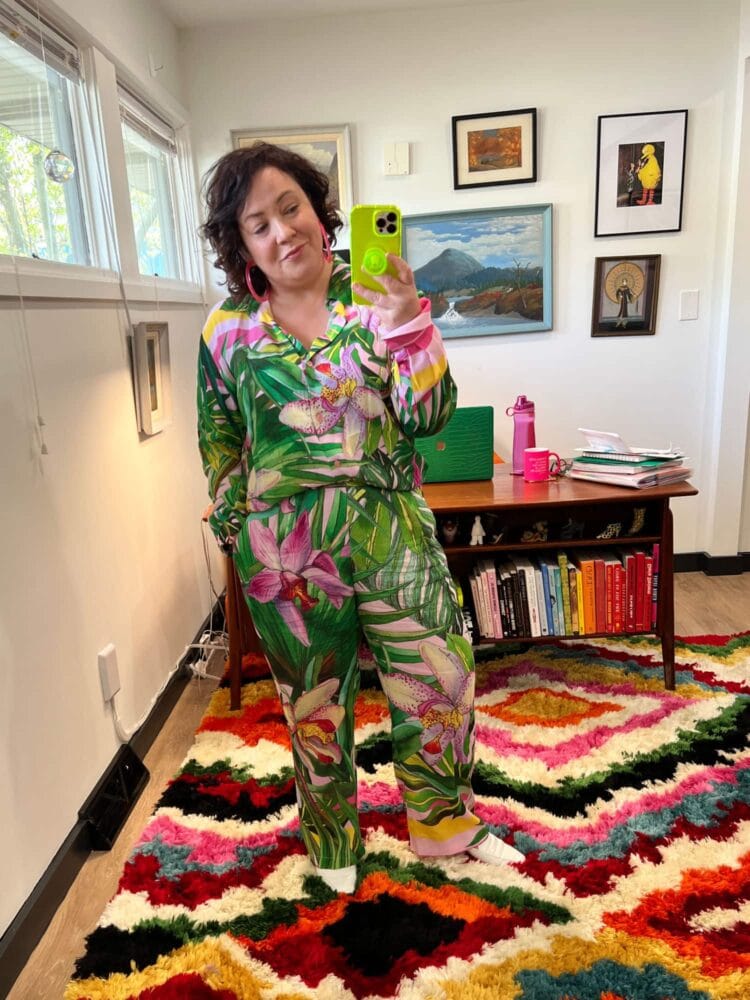 I am a fan of the athleisure brand Dressed in Joy. I've worn the line before; you can see me and my husband wearing Dressed in Joy athleisure at this post and here I wore a Dressed in Joy shirtdress. So when they dropped a Ready to Wear collection, I had to get pieces! I got this shirt in XL and these pants also in XL. I had the pants shortened by my tailor.
I find these pieces… fine. The pants run small (they fit but are snug on the waistband), the top has very long sleeves, neither have much style or detail. The pants are elasticized in back with a side zipper and the elastic twisted with wear and the zipper I fear is too delicate and too hard to get up that I'll end up breaking it.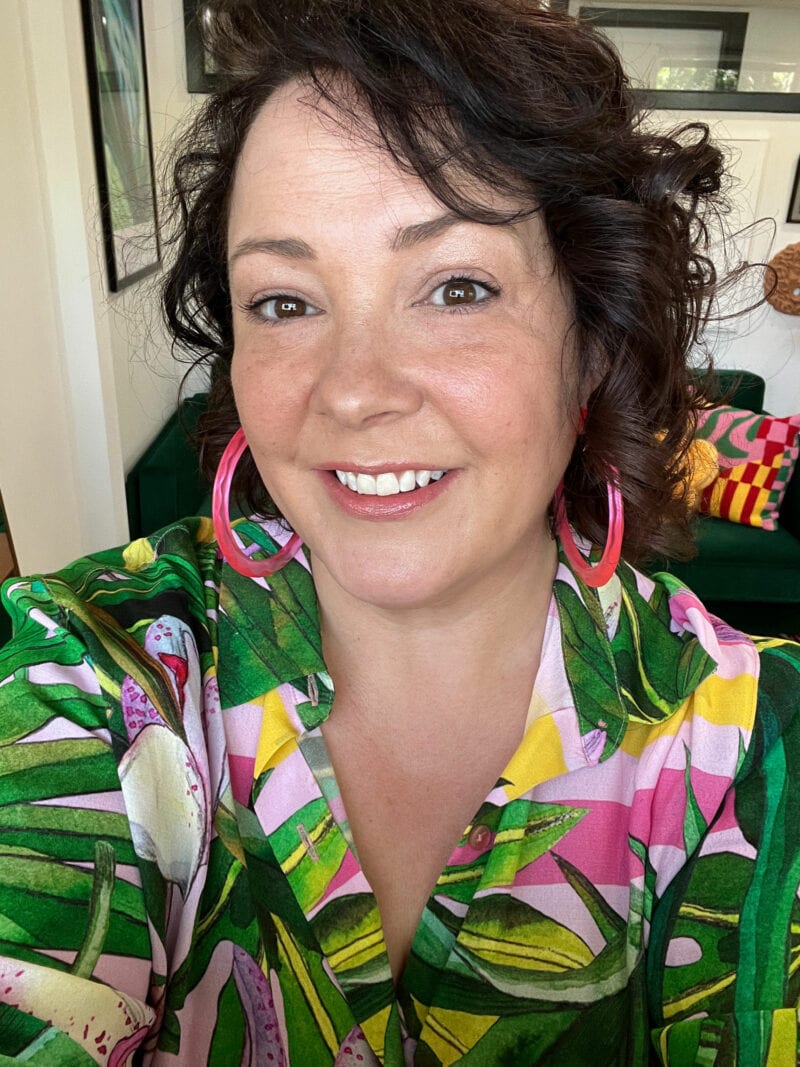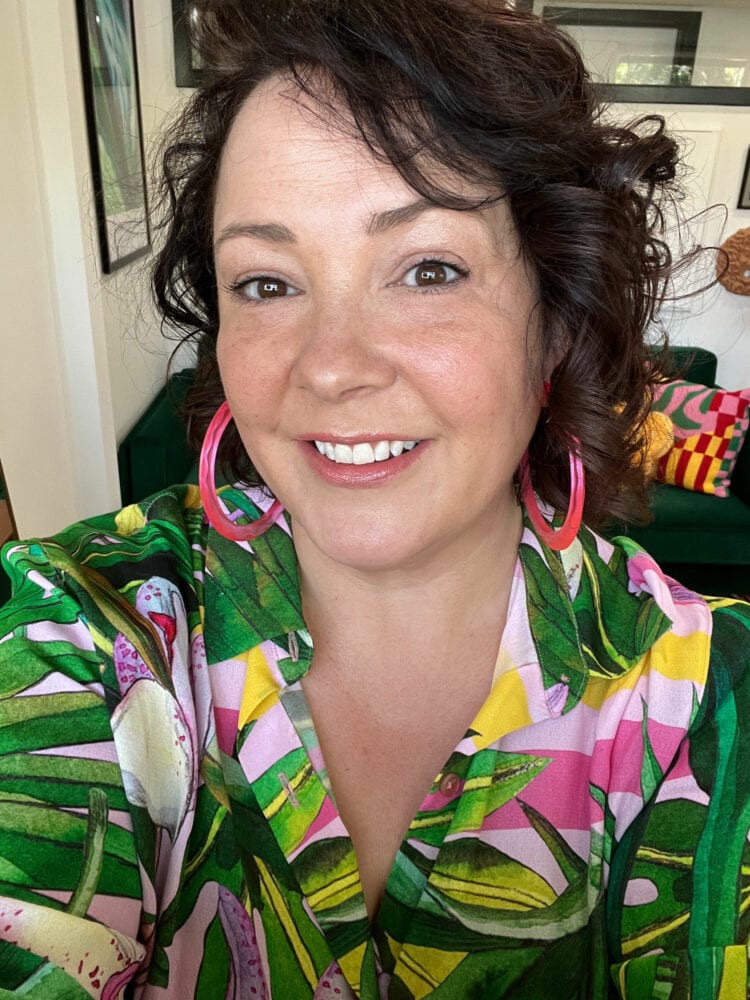 The pieces are made with Resonance, which I discussed in my The Kit review, and honestly, I am underwhelmed. The prints look great on the fabric with Dressed in Joy but the garments themselves feel like something I'd buy at ASOS for half the price. But instead, I am supporting a Black woman-owned small business. I'll wear these pieces again (this isn't my first time wearing the outfit) but I can't honestly say these pieces deserve five stars.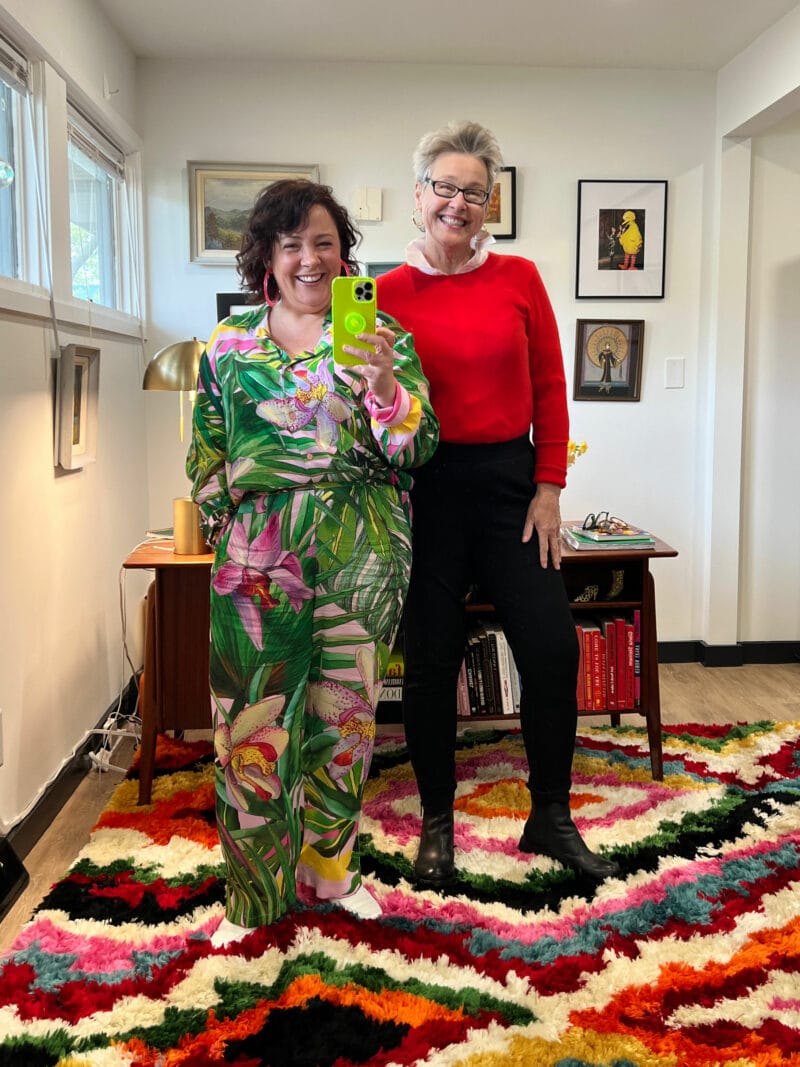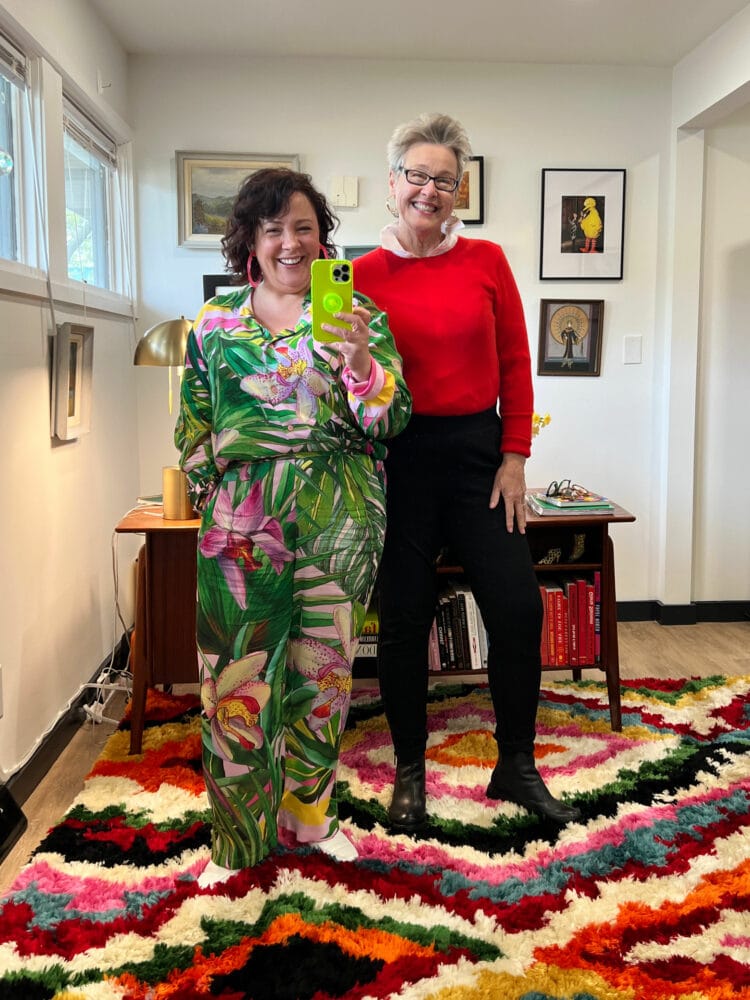 So let's go into positive things about this day wearing this look… I got to meet J, a Wardrobe Oxygen reader! She lives in the area; we've connected often through Instagram and her old coworker is a family friend. She came to visit my office and take me to lunch and it was such a lovely afternoon!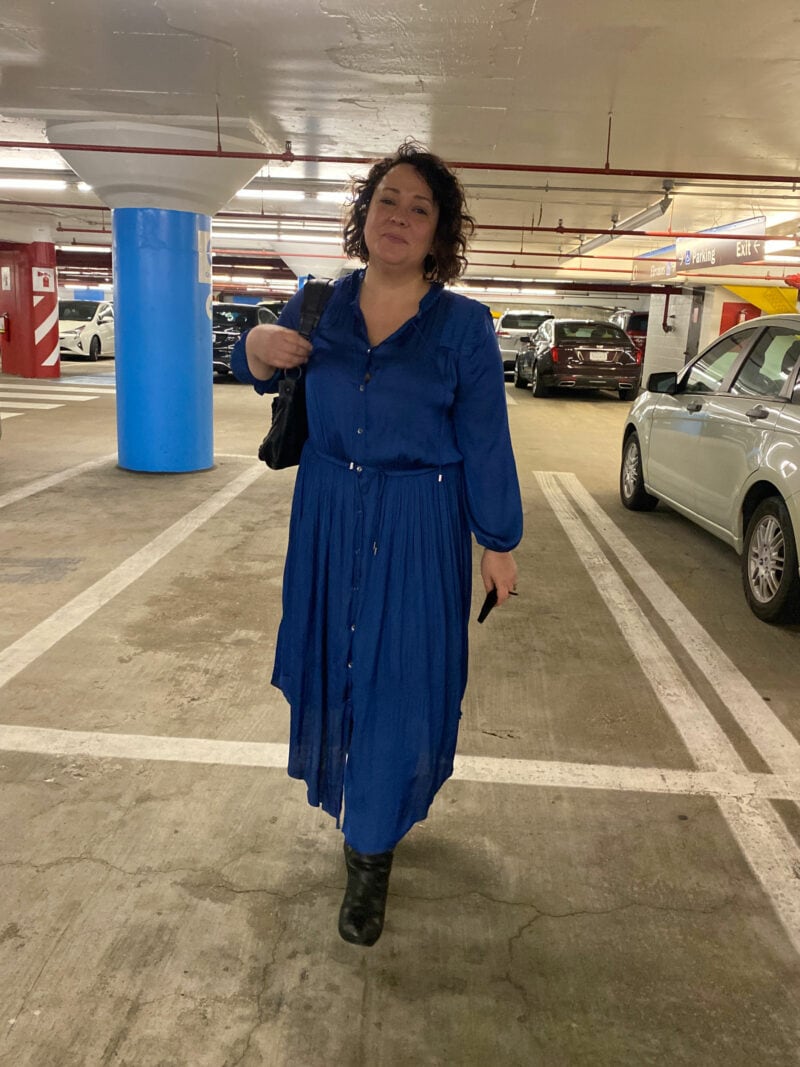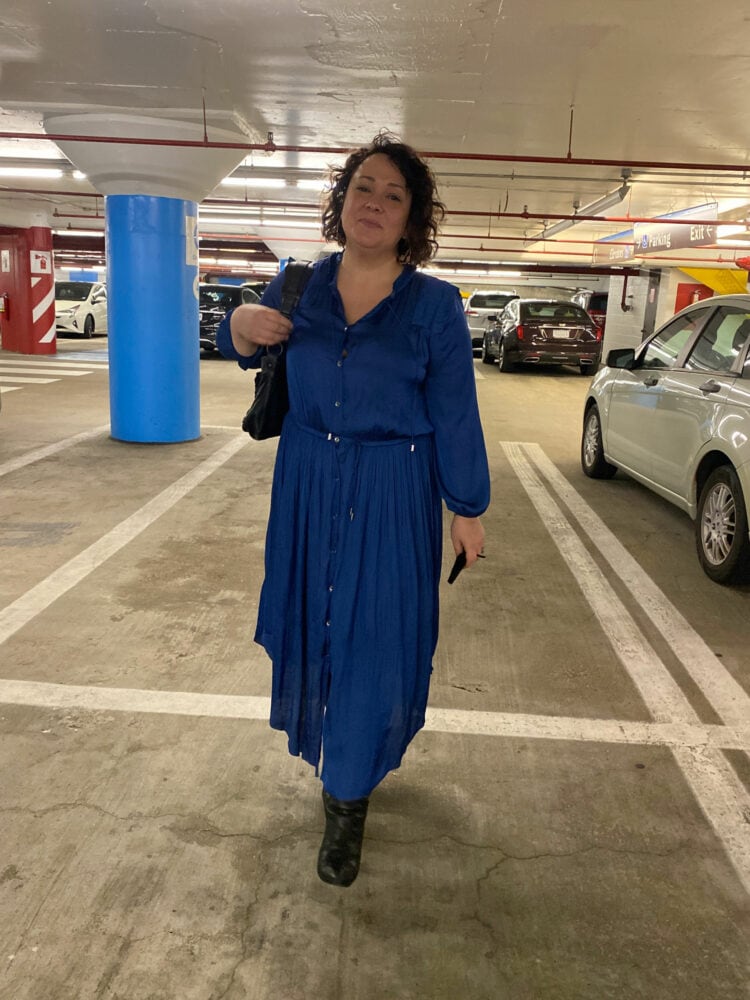 I also mentioned in a previous Weekend Reads that my sister, daughter, and I went to see Mean Girls at the Kennedy Center. Yes, they made the movie into a musical and it was so much fun! I wore the same Chico's dress you saw in this blog post again with my ancient crumbling black knee-high boots I need to replace but can't find anything similar in super wide calf. The dress is sold out; this sleeveless orange dress is like a summer version of it.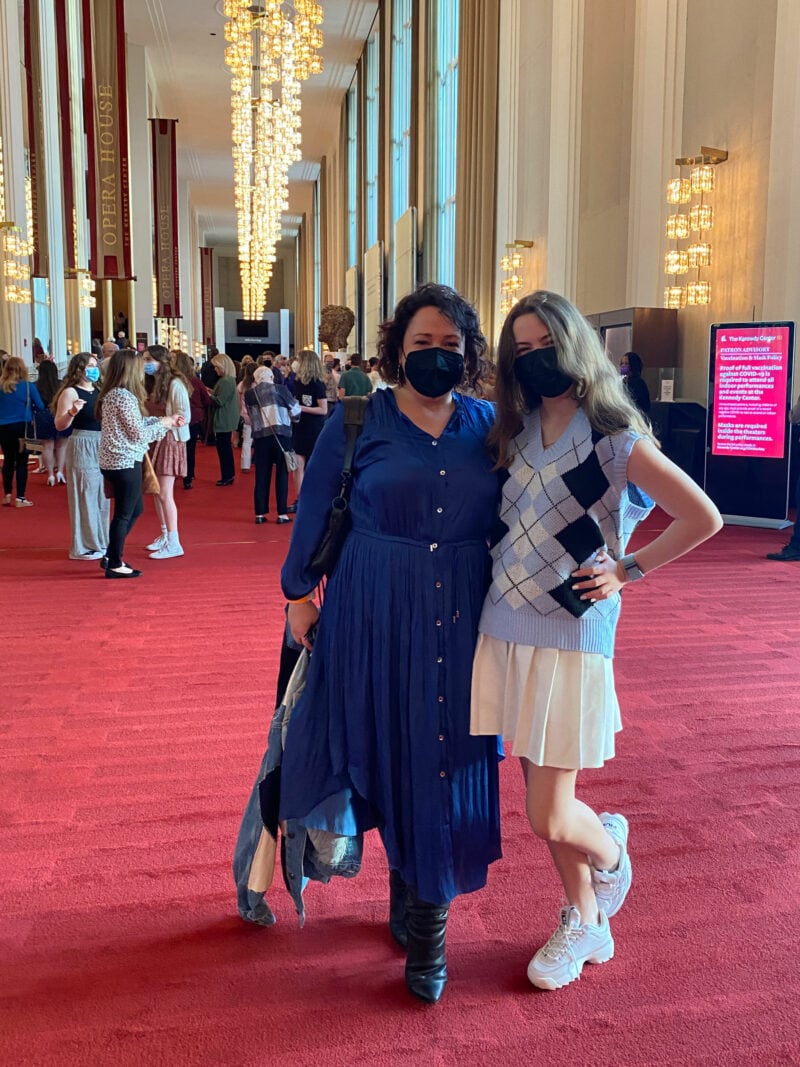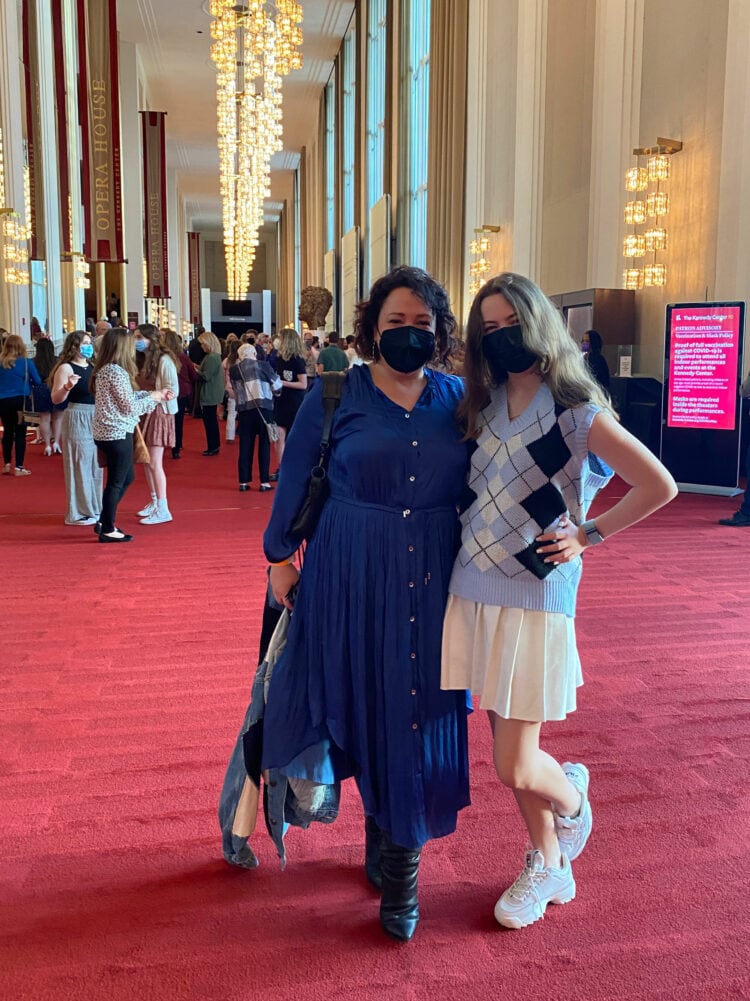 My bag is my Balenciaga City bag that I discussed in this blog post. The look was perfect for the theater – comfortable, dressy but not over the top for a weeknight, a fun color, bag just the right size for everything I needed for the evening!