This article may contain affiliate links; if you click on a shopping link and make a purchase I may receive a commission. As an Amazon Associate, I earn from qualifying purchases.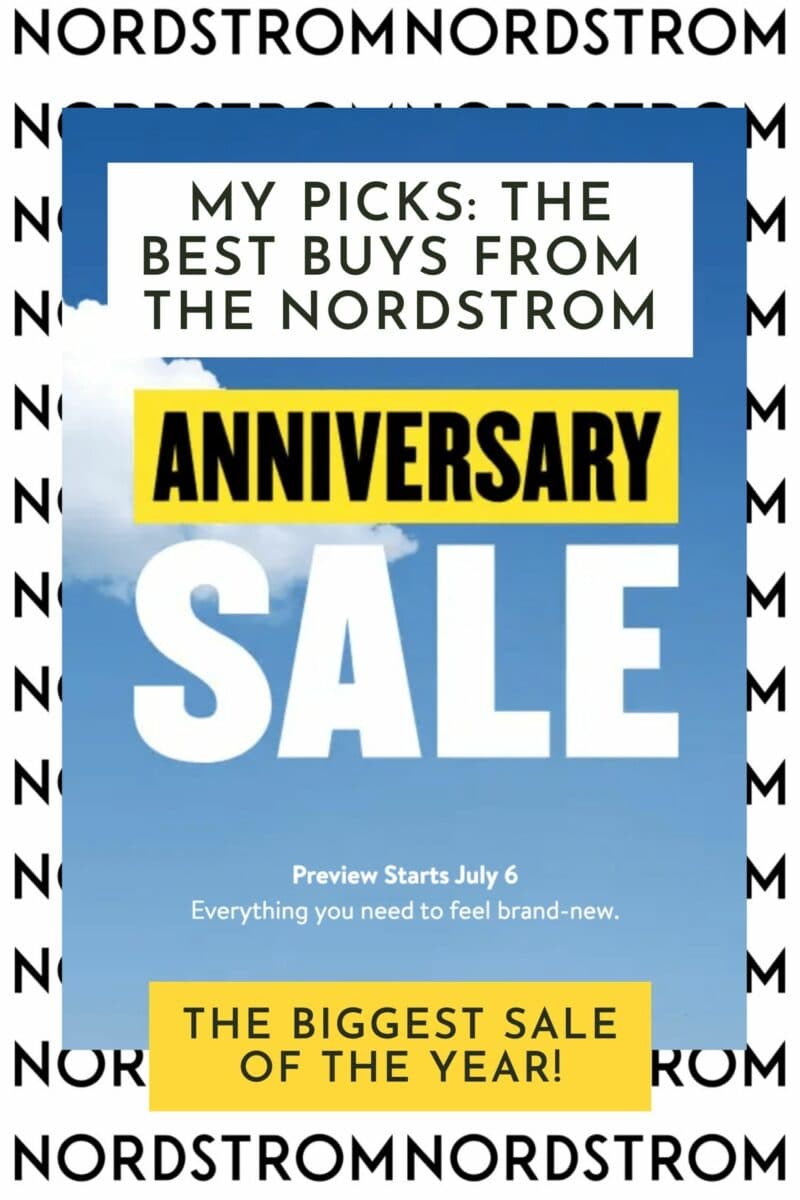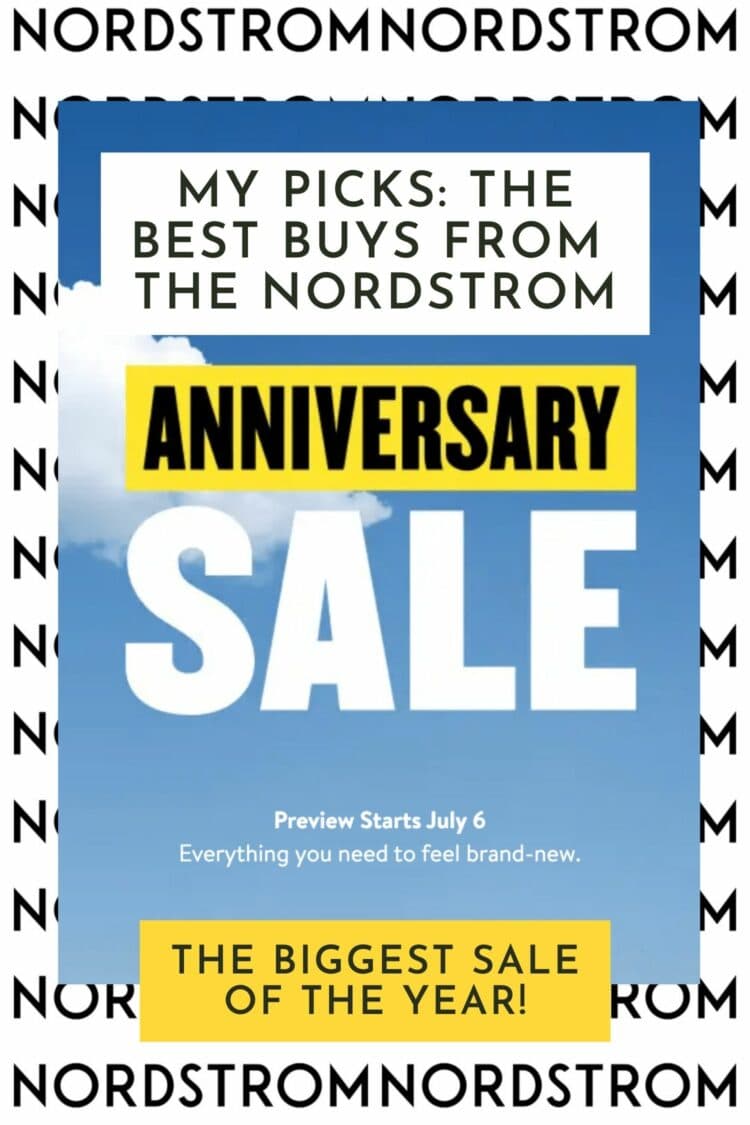 I hoped my picks from the Nordstrom Anniversary Sale would have published sooner, but I didn't expect to have such spotty connection on my vacation. I also didn't factor how desperately I would need to log off while away. Today is cold and rainy in Vermont, so I am pulling this together on the front porch, watching the rain.
After perusing the 2021 Nordstrom Anniversary Sale, I have to say the best way to shop this sale is using my tips, but also choosing very specific categories. Because Nordstrom made this sale look bigger by combining categories and repeating products. It is daunting to see a kazillion pages of "Women" but easier to digest 11 pages of "Accessories." Also it's easier then to see that hey, that's the same Dagne Dover bag that was on page 2 and 6.
My Picks from the Nordstrom Anniversary Sale: 2021 Edition
But no worries, I did the work and below I share my picks from the Nordstrom Anniversary Sale, and I hope they aren't the same tired things shared year after year (and by blogger after blogger). As always, I want to hear from you! If you have some great picks you bought or have on your wish list for this sale, please share in the comments!
Badass Yet Practical Footwear
Friend, you don't need any more suede ankle booties or platform sneakers unless they are your signature style. But if you're like me, what you do find you need this year are some tough boots that are comfortable, functional, but still look cool.
These are shoes and boots that are water-resistant or waterproof, have soles that can handle a mud puddle or icy walk, and if you're enjoying the return to our GenX years in Docs and Vans, these will give you the vibe without looking like you're lost in the wrong decade.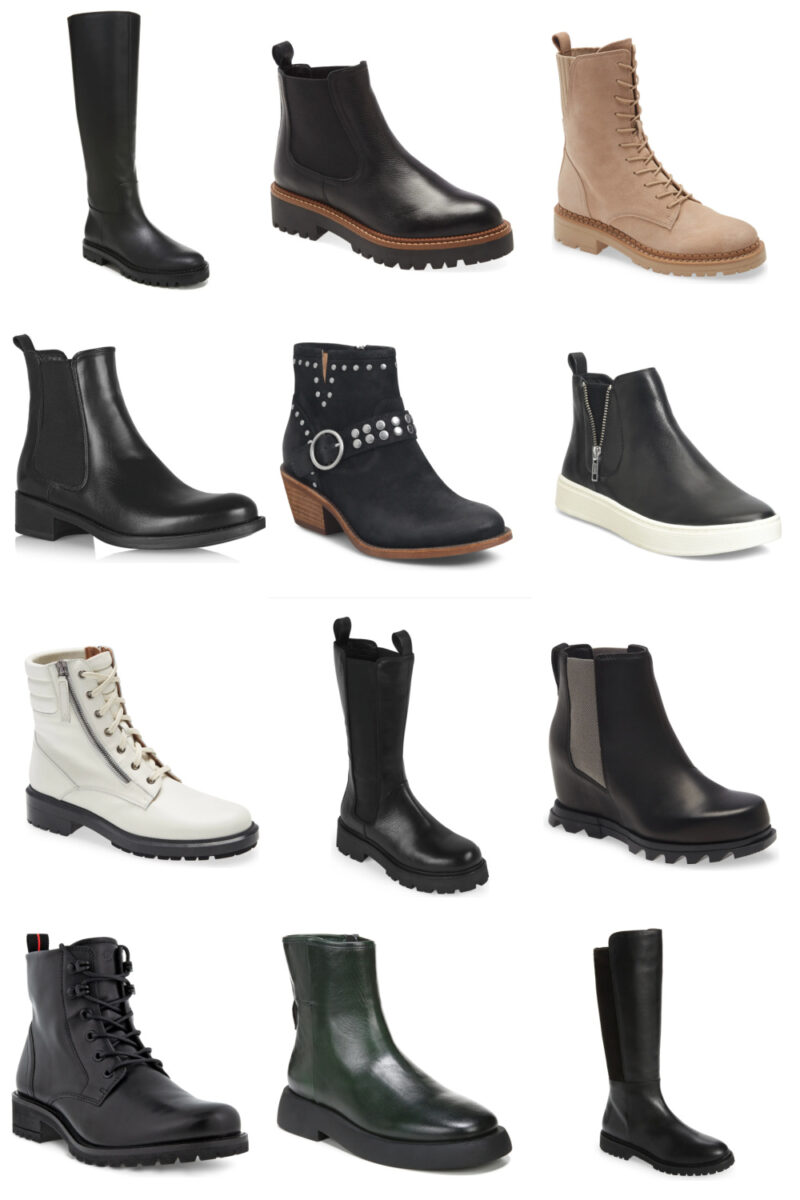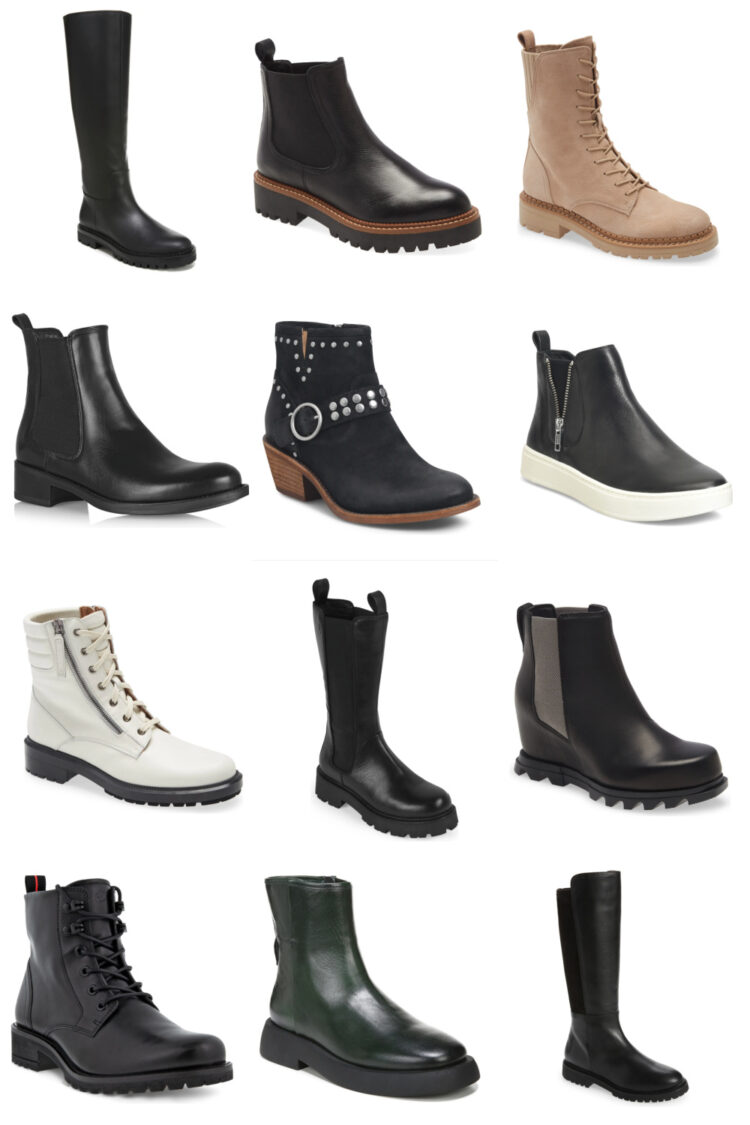 Top Row: Vince water-resistant knee-high boot (also comes in brown) | Caslon water-resistant Chelsea boot (two colors) | Sam Edelman lace-up boot (four colors)
Second Row: La Canadienne waterproof bootie (also comes in suede) | Sofft Western-inspired bootie (two colors) | Sofft water-resistant sneaker (two colors)
Third Row: Aquatalia water-resistant boot (also comes in black) | Vagabond Shoemakers lug-sole mid-calf boot | Sorel waterproof wedge bootie
Bottom Row: ECCO lace-up boot (two colors) | Sarto by Franco Sarto waterproof bootie (three colors) | Aquatalia water-resistant tall lug-sole boot

Accessories Worth Checking Out
Going through the jewelry, sunglasses, scarves, and bags in the Nordstrom Anniversary Sale and a lot is… meh. Jewelry I recall from last year's sale, blanket scarves and floppy felt hats, and luggage with mediocre reviews. What I found to be the best style and best value were larger bags – totes for weekend getaways and work, and jewelry that is in between costume and high-end.
If you have been looking to treat yourself with a nicer piece of jewelry, Monica Vinader creates everyday luxury by creating sterling silver modern pieces plated in higher-end metals And a LOT of Monica Vinader is in the Nordstrom Anniversary Sale.
Monica Vinader is a British sustainable jewelry brand that only uses 100% recycled gold vermeil and sterling silver, Kimberly Process approved ethical diamonds, is Responsible Jewelry Council certified, and uses 100% recyclable packaging and reusable jewelry pouches. Below I focused on rings from Monica Vinader, but you can see all the pieces part of the sale at this link.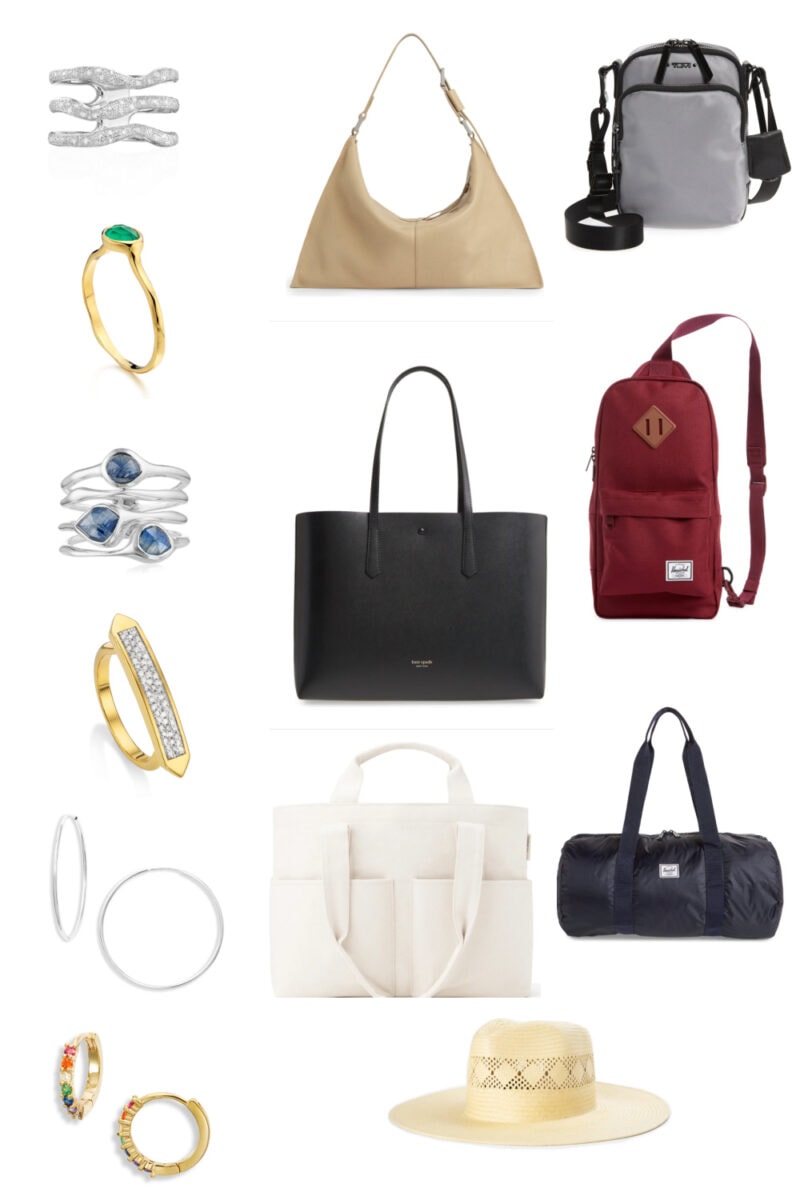 Column One: this wave ring of sterling silver and pave diamonds makes a statement without shouting | a delicate green onyx with gold is pretty on its own or stacked with other rings | sterling silver with kyanite stones (this site shares the possible benefits of kyanite if you believe in that or are thinking of giving this as a gift) | tough but tender, modern yet classic, this pave and gold ring is also available in silver | I have always found Argento Vivo to be a great brand for sterling hoops; these are a classic I believe already reside in my jewelry box (they also come in gold) | these rainbow "huggie" earrings are a colorful everyday look and less than $25 (they also come in just blue stones).

Columns Two and Three: a tan leather hobo bag that has the '80s vibe with 2020's clean lines. Also comes in a honey brown color. | The Tumi Voyager is a classic travel crossbody with space for everything while keeping your hands free. Available in gray seen here, and blue. | This Kate Spade tote is a corporate commuting classic for a reason. Fits most 13″ laptops, made of durable poly/PVC with metal feet and a detachable inner pouch. I love the animal print lining! | Sling bags are back and this one from Herschel Supply Co. is a classic style available in three colors | I adore Dagne Dover bags, and this organic cotton canvas one is genius in design and storage. It also comes in black, and this link has the same bag in a smaller size. I mentioned in my travel must-haves that a packable tote is a smart item to have for travel. This duffle from Herschel is a great option and comes in three colors. | This is just a chic hat at a great price! Comes in four sizes.

Beauty at the Nordstrom Anniversary Sale
Maybe I'm jaded, but I really don't think the beauty deals this year are all that. Especially with recent Sephora, Ulta, Dermstore sales, this isn't blowing me away. However, if you have a fragrance you love, it's worth checking the selection because your favorite may be available in a specially priced gift set.
Also, there are several beauty devices (LED light, NuFACE, scrubbers, hair irons and curlers, etc.) that I didn't include because I don't know enough about them to recommend or I have used and do not recommend (I think I'm the only person who does not recommend the NuFACE). But there are some good deals, and I share them below: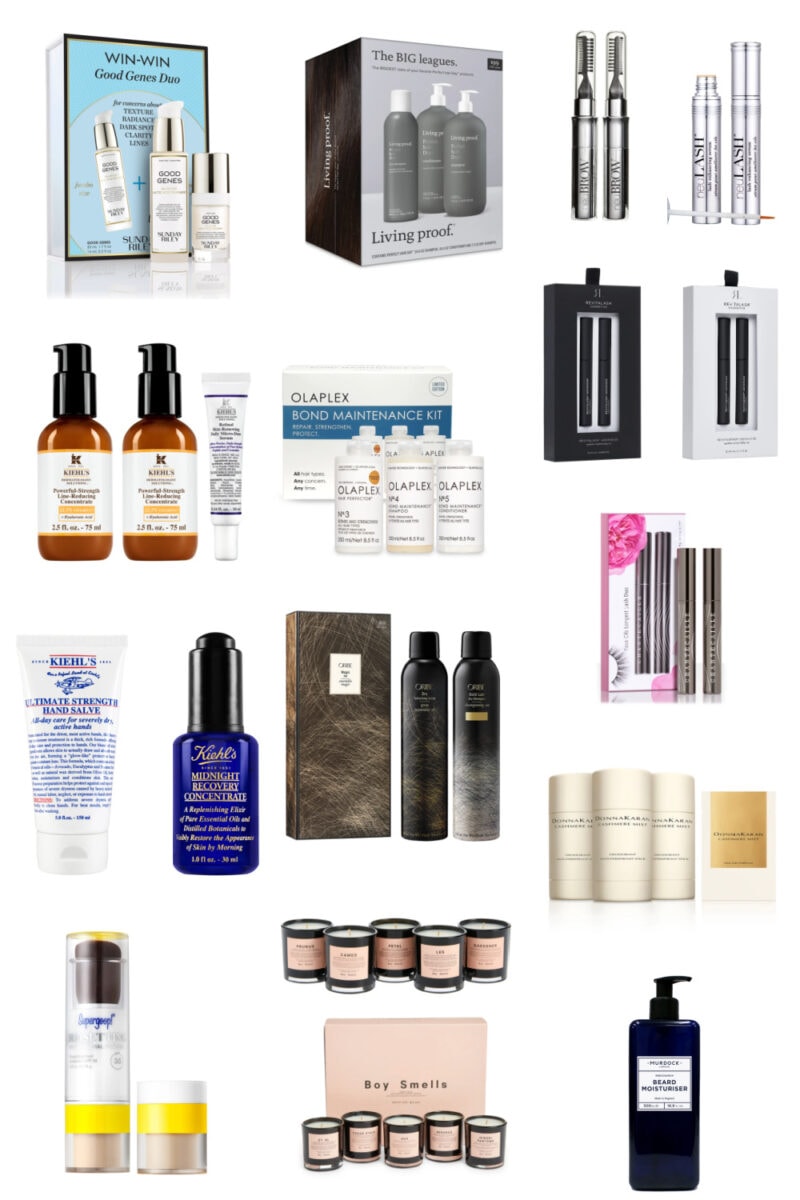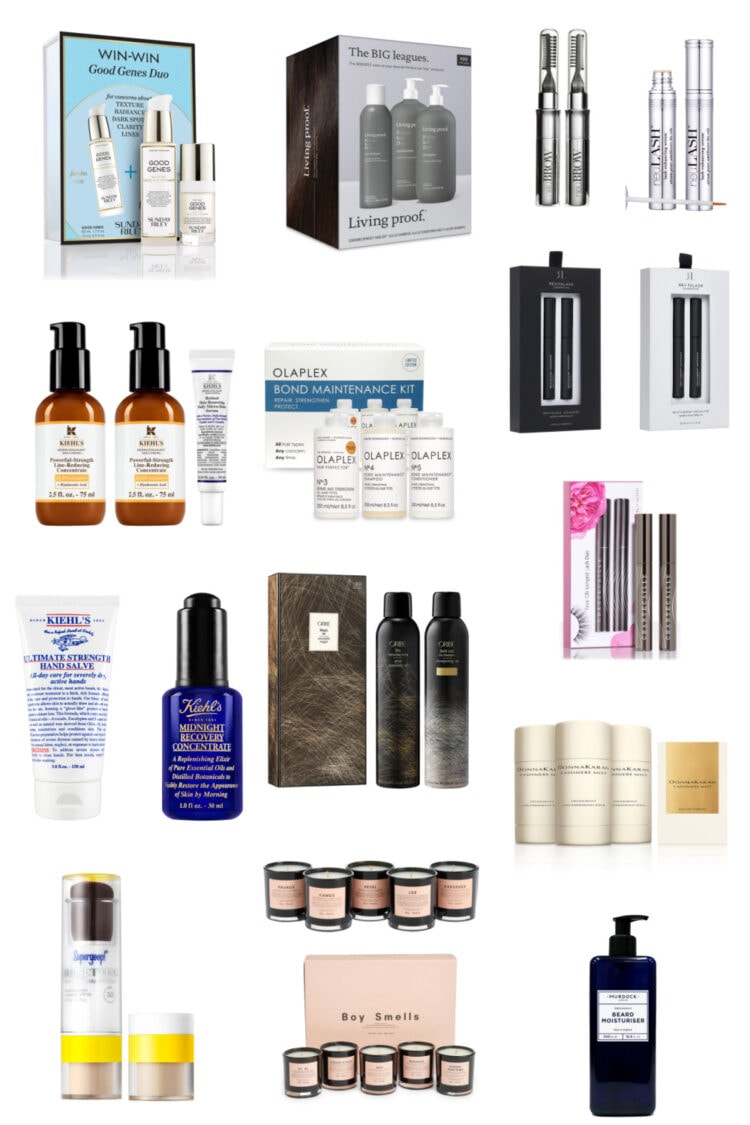 Column One: Sunday Riley's Good Genes is a cult favorite lactic acid exfoliator. This kit comes with a full-sized bottle and a bottle for travel for over $80 off. | I mentioned in my how to shop the Nordstrom Anniversary Sale post that I love this Vitamin C serum from Kiehl's; this kit saves you $70. | Kiehl's hand cream is awesome, and makes a good gift too. Grab a few for teachers and stocking stuffers at this great price. | I love Kiehl's Midnight Recovery Concentrate. Put on the vitamin C first, then this, and wake with a glowy happy face! | I keep one of these in my purse all summer for SPF touch-ups while also touching up my makeup. Fair-haired folks, this can also be used on your hair part.
Column Two: Before I embraced my natural curl, I was obsessed with living proof's Perfect Hair Day collection. This is an awesome value; one I'd buy each NSale. | I've never used Olaplex, but everyone I know with wavy and straight hair, especially color treated, finds this stuff to be the Holy Grail. | When I had non-curly hair, I also was obsessed with Oribe Dry Texturizing Spray which gave that little bit of grit to offer volume and hold without being sticky or obvious. Oribe's dry shampoo is also phenomenal making this set quite a value. | And finally, this is more like a gift idea (though why not gift yourself?). Boy Smells are yummy candles, and these kits are easy to break apart for a little over $10/candle. This set of candles has more moody of scents, and this set has floral scents. Any teen to 30-something (and beyond) would be psyched to get these.
Column Three: If you're a grown-ass woman, there's a good chance you're finding your lashes and brows to not be as lush as they were in the past. NeuLash has created a product for lashes, and a product for brows. Both receive rave reviews for effectiveness. Also well-known for such growth products is RevitaLash. In this sale, RevitaLash has a kit for lashes, and a kit for brows. I've used RevitaLash in the past and did see growth. | I have never used Chantecaille but folks I highly respect LOVE this mascara and claim it truly is worth the money and this kit gets you two tubes for not much more than the cost of one tube. | Another product folks LOVE is Donna Karan's Cashmere Mist deodorant. This is a do-not-miss price. | And finally, I am thinking of getting this for my husband, who like many men over this past year, has grown a beard.

Nordstrom Home Sale
In the past, I stocked UUPPPP on home goods during the Nordstrom Anniversary Sale. Last year I ordered several items… and found them to be "outlet" quality, not Nordstrom quality. So this year I am more hesitant to recommend what I haven't used when it comes to linens. A good portion of the sale home products this year are unframed prints. I recommend checking out Etsy where you can find similar prices and more unique of pieces from small artisans. That being said, there are still some deals and a lot would make great gifts.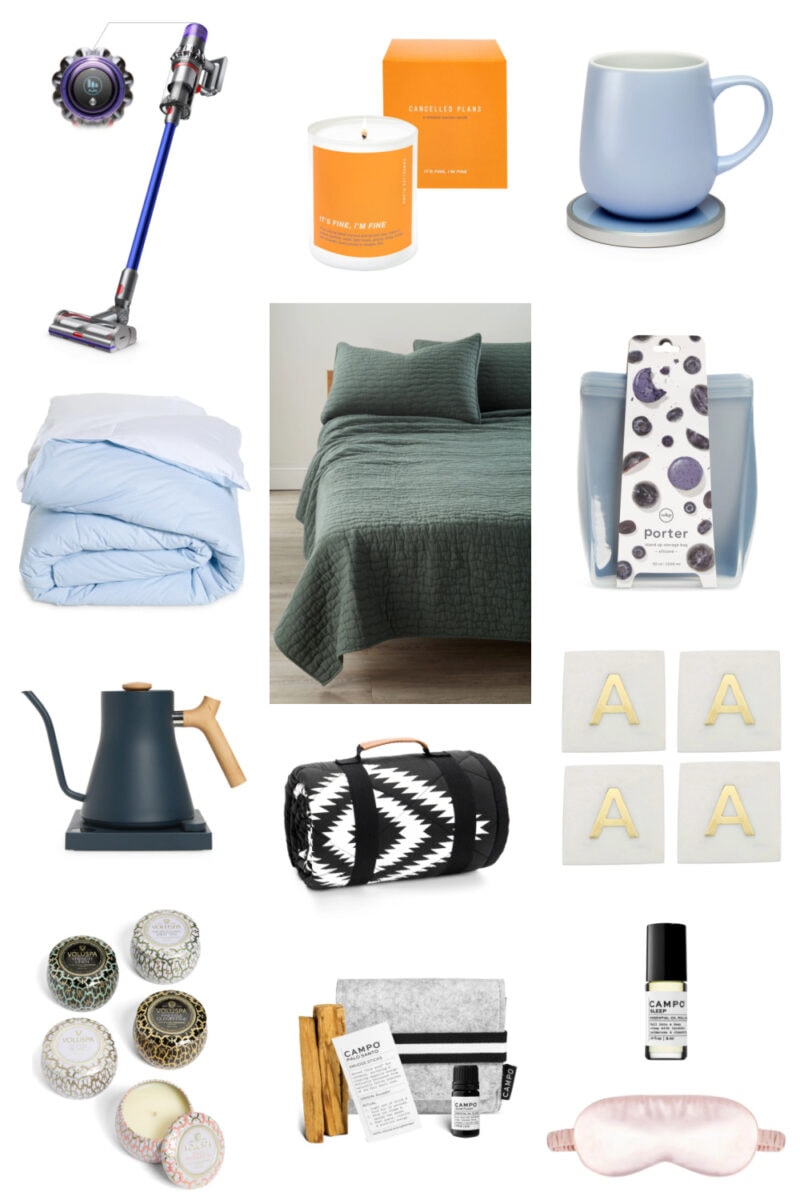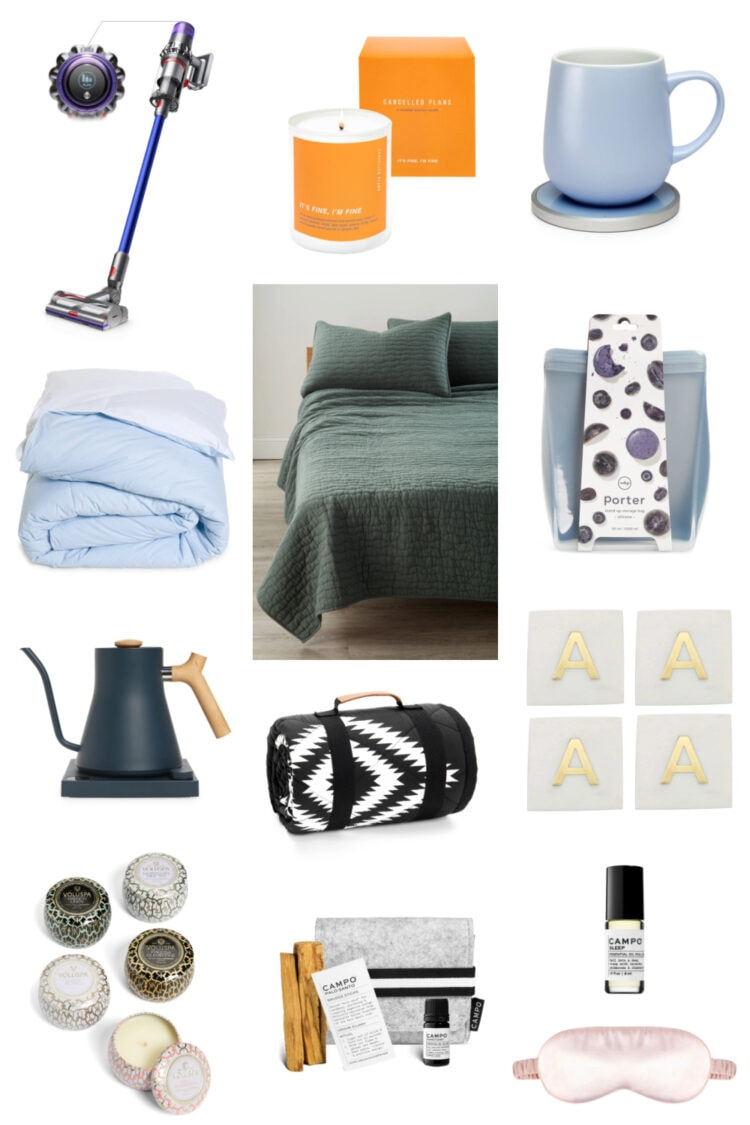 Row 1: Who can resist a highly-rated Dyson on sale for more than $100 off? | An appropriate candle after this past year – great for yourself or as a gift | Keep your coffee or tea warm all day in style; three colors to choose from.
Row 2: A cooling comforter that pulls away and dissipates heat | I bought a quilt set like this from Nordstrom years ago and it has held up beautifully | a stand-up reusable bag; we have ones like these and they are so handy and durable!
Row 3: Inspired by the electric kettle that we love so much we brought on vacation, this one is so chic and comes in two colors. | I have the quilt in this Pendleton print and think this washable throw is perfect for summer outdoor movies and picnics. | a great gift or for yourself – real marble coasters with initials on them for less than $25.
Row 4: This is all about gifts: shop now and save for the holidays. A set of Voluspa candles perfect for breaking up and gifting; each ends up only being a bit over $6. | a great set for a new homeowner or that kid heading off to college | a lovely gift set for a new mom or anyone feeling the stress from the past year.

Okay, Let's Be Honest with the Clothing in the Nordstrom Anniversary Sale
I scrolled through the clothing options in the Nordstrom sale multiple times. So much is the same stuff from previous years of the sale – Zella and Spanx leggings, Natori and Wacoal bras and Chantelle and Hanky Panky undies, Barefoot Dreams merch, and lots of faux leather pieces.
I think these options are fine, but they are not so special or at such a special price that they warrant the frenzy that comes with this sale. I also think a lot of these items are last year's trends. Still wearable and great this year, but not something you will be reaching for year after year in the future. From the ones mentioned above, I think the intimates are the best value. I didn't break them down into a collage because sizes are limited but if you click this link you can see the selection in the sale.
Jean silhouettes are changing, the pandemic inspired many of us to seek more comfortable apparel, we're seeing either clean minimalism of loungewear and modern dresses and boots or else maximalism with caftans and color and glamour. The whole skinny jean/ankle bootie/shacket/blanket scarf/felt fedora/vintage-looking band tee shirt is sort of played out. It reminds me of how the plaid shirt/puffer vest/skinny jeans/tall boots trend went from everywhere to sort of a joke. Unless you live a life where such items make sense, I cannot condone investing in such items in 2021.
What I did see between the faux leather leggings and wubby fleeces were some elegant wardrobe additions that are more timeless, luxury on sale, the sort of things I used to love finding during the Nordstrom Anniversary Sale. And the majority of them are from Nordstrom and Nordstrom Signature, which come up to XXL/18. This is how the sale used to be, Nordstrom's in-house brands offering classic pieces in luxe fabrics for a fab price. Now if they just added plus sizes in all the styles!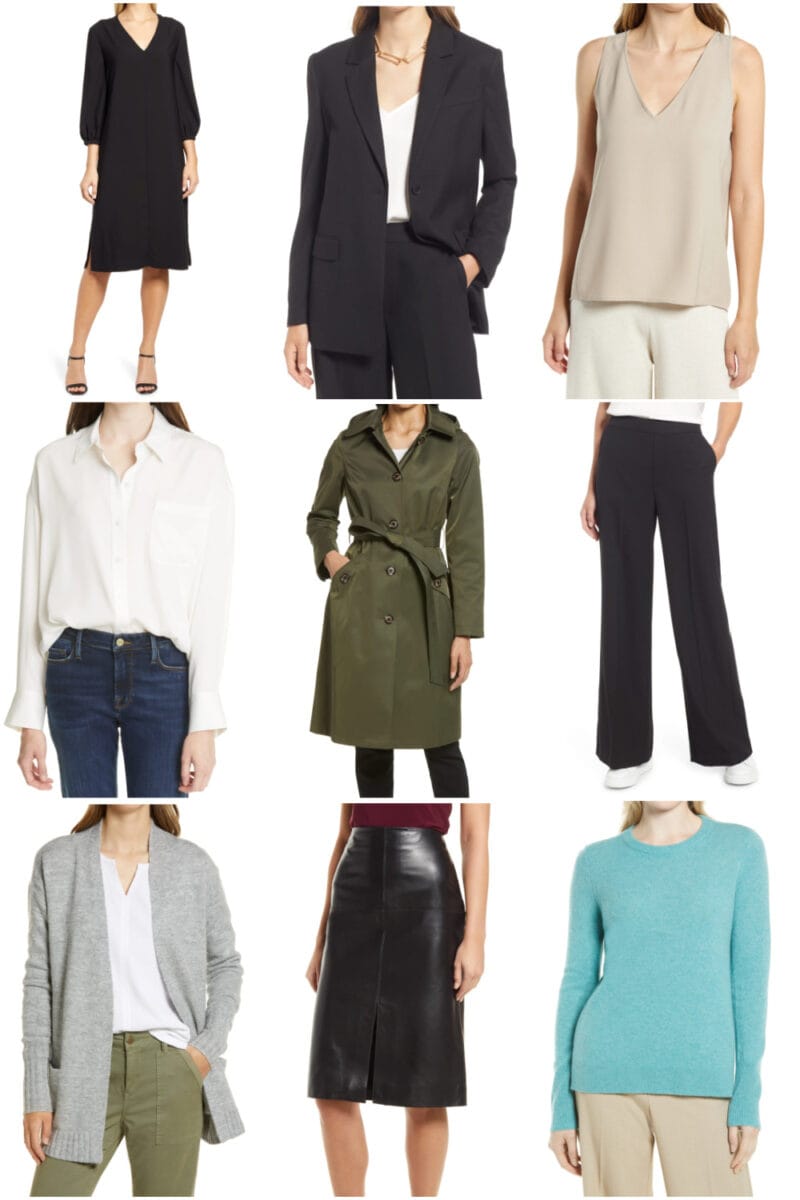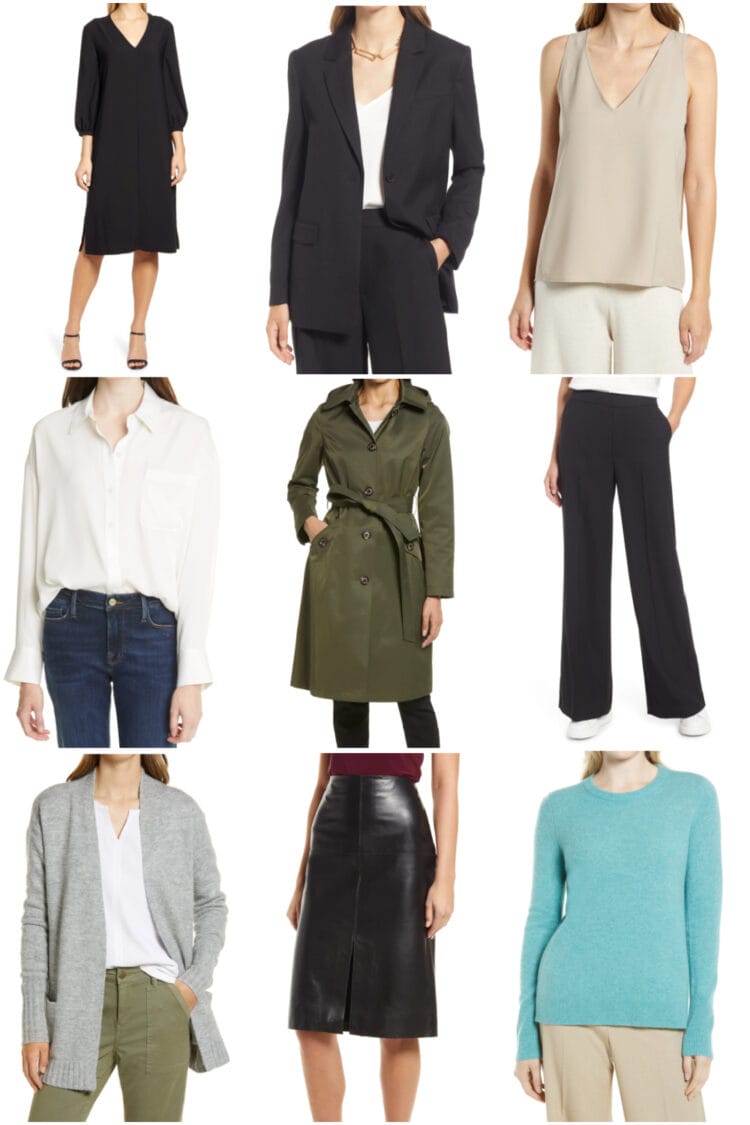 Row 1: comfy yet perfect dress for work or social occasions; two colors available | flannel boyfriend blazer (two colors) | drapey tank/shell great with linen pants now and under blazers later (multiple colors)
Row 2: stretch silk blouse (5 colors) | water-repellant trench with removable hood (two colors) | flannel pants to match the blazer with a hidden elastic waist
Row 3: wool open-front cardigan under $50 (six colors) | real leather pencil skirt under $200 | cashmere crewneck (six colors)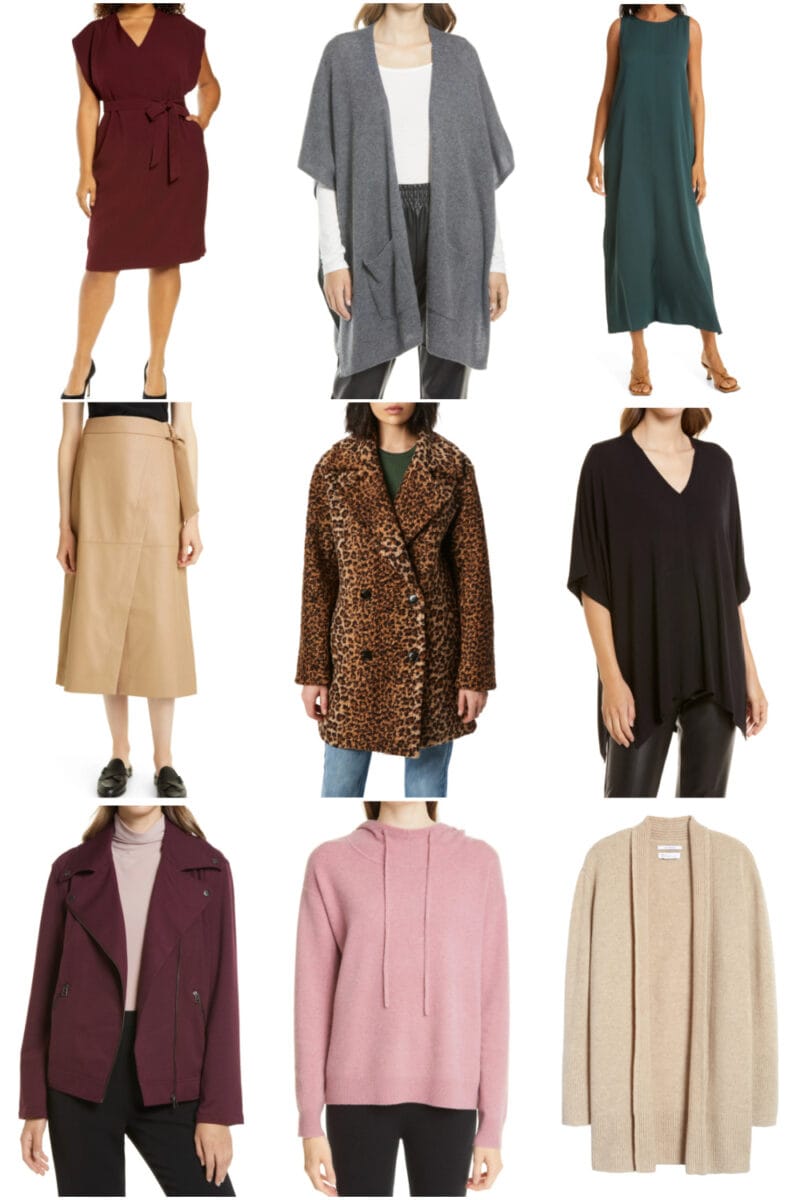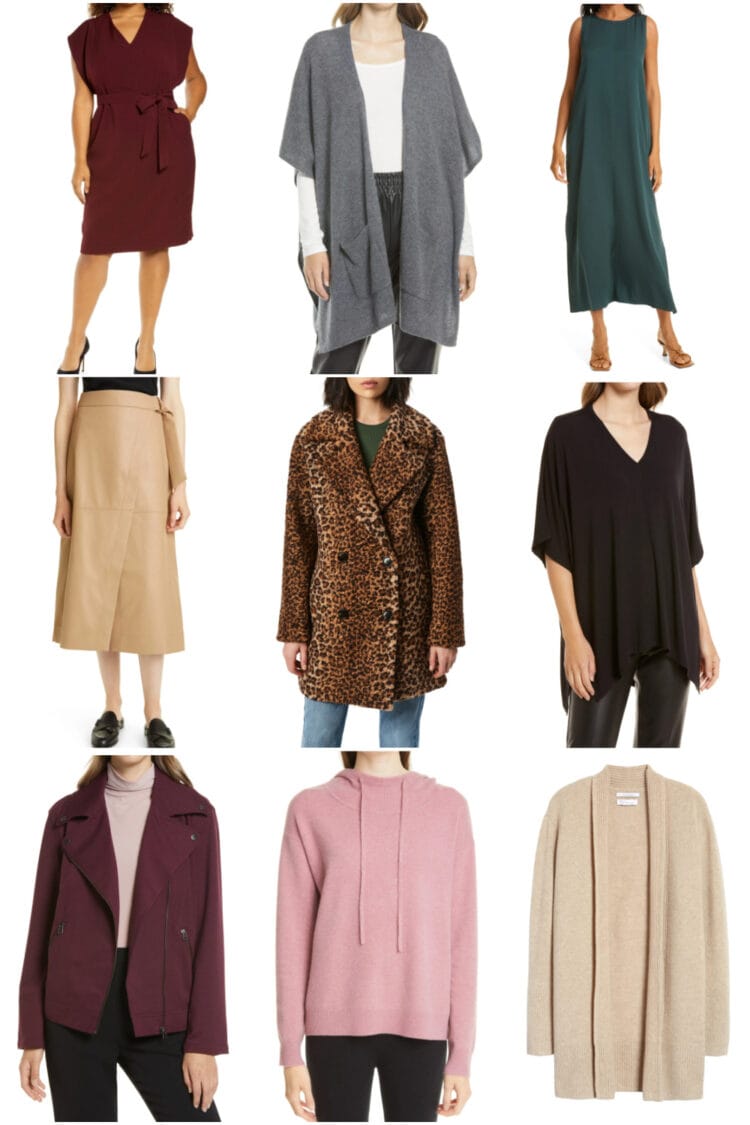 Row 1: belted crepe dress under $100 perfect for work, weddings, and everything in between (link for non-plus sizes) | recycled cashmere ruana under $100 (six colors) | breezy stretch silk tank dress with pockets (two colors)
Row 2: faux leather a-line wrap midi skirt | animal print boucle coat under $150 | dolman sleeve tunic under $25 (two colors)
Row 3: knit moto jacket under $60 (two colors) | cashmere hoodie under $150 (three colors) | cashmere open-front cardigan (two colors)

Are you shopping the Nordstrom Anniversary Sale? Any items you have your eyes on? I'd love to read your thoughts!