This article may contain affiliate links; if you click on a shopping link and make a purchase I may receive a commission. As an Amazon Associate, I earn from qualifying purchases. 
This weekend was pretty fun and event-packed! Saturday after my husband got back from teaching yoga, the three of us walked to the nearby elementary school for their Spring Fair.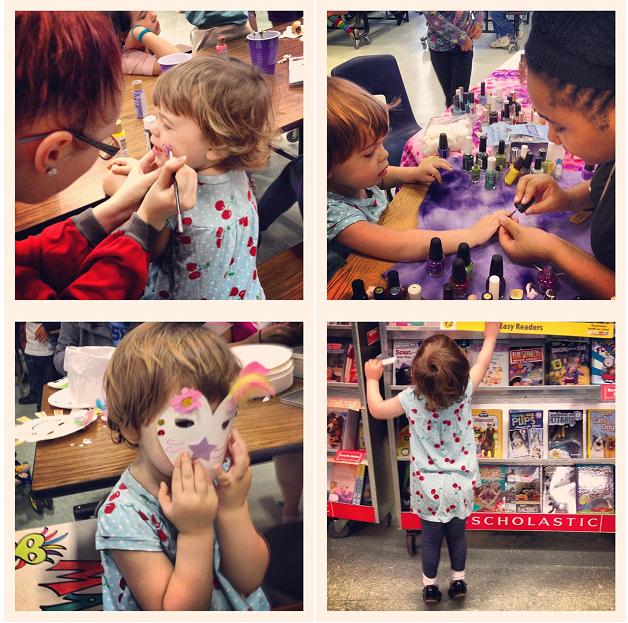 I remember such fairs from my childhood – tossing ping pong balls into bowls to win goldfish, buying a new book from the Scholastic stand, getting my face painted. Saturday was supposed to be rainy so they moved their fair into the multipurpose room, but didn't lose any of the fun. Emerson had a BLAST! She had a butterfly painted on her cheek, searched for hidden treasure in a sand pit, made a mask, got her nails painted, and yes… got two books from Scholastic (shocker, one was a Fancy Nancy!).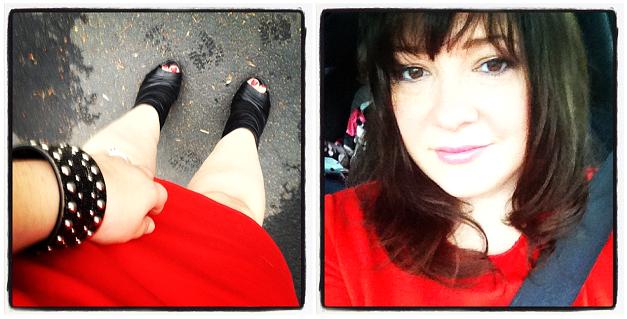 After her nap, we took Emerson to my mom's house for the evening so my husband and I could have a date night. We really like Band of Skulls and they were playing at the 9:30 Club.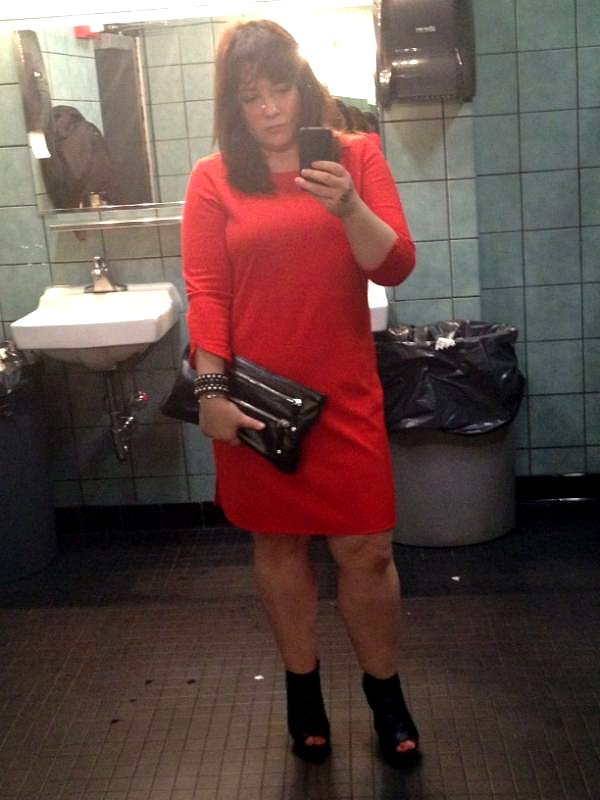 I didn't get a picture of my outfit at home, but captured a MySpace-esque shot in the bathroom of the bar. This is a new dress from NY & Company (Solid Keyhole-Back Knit Dress – not sure why it's called knit because the fabric isn't very stretchy)– it has a pretty fun keyhole in the back, and curved shirttails and sleeve hems.  Not uber-fabulous quality, but a simple style in a fabric that can work most months of the year.
The opening band was We Are Augustines, who I didn't know before the night.  They were a fun band to see, felt like a local band who just made it big and they were super excited to be playing at the 9:30 Club.  Very heart-felt group of guys who really enjoyed performing for us.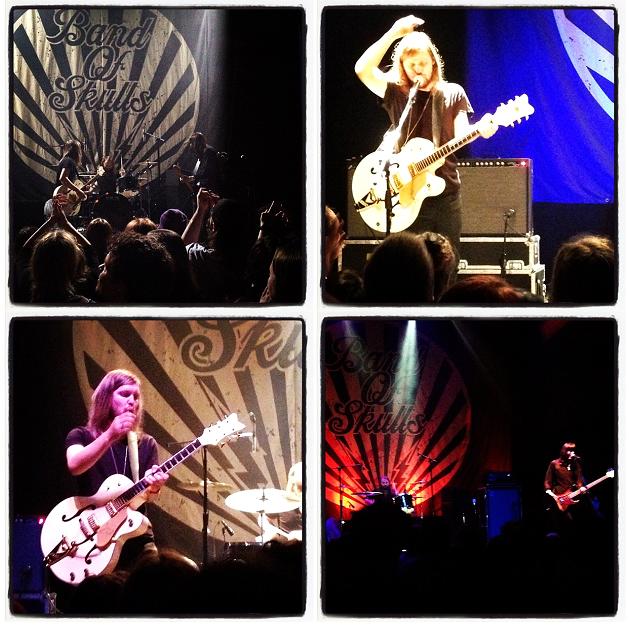 I saw Band of Skulls at Bonnaroo this past summer, but it was at my least favorite tent and I couldn't really see, just stood in mud in a sweaty crowd.  However, they sounded great so when they came to DC I knew I wanted to see them and wanted to be sure to get up front to actually see the performance.  We got there early enough to find a great spot on the floor surrounded by true fans.  Band of Skulls was phenomenal – one of the best live shows I have seen in a long while.  If you haven't heard of Band of Skulls, you may be surprised that you know a few of their songs, thanks to them being featured in a Ford commercial, The Hangover movie trailer, and episodes of shows like True Blood and Gossip Girl.  My husband and I can listen straight through Baby Darling Doll Face Honey over and over, and are starting to really dig their latest album, Sweet Sour.  They are pretty classic rock, a bit of rockabilly and great harmonizing of their voices, I encourage you to check them out!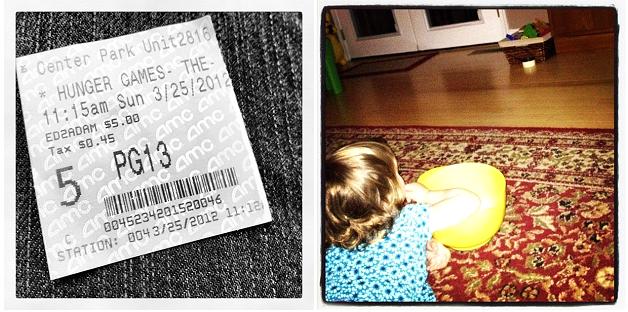 Sunday I planned on being very productive around the house, but when my sister asked if I wanted to go see The Hunger Games with her, I jumped at the chance.  As you know, I loved the series of books, so I was excited to see how they adapted it for the movie.  We were excited to find out my best friend and her husband had the same idea and were able to meet up with them at the theater.  I didn't think the movie was the best film of all time, but I found it enjoyable, true enough to the book, and my friend who hadn't read the books said he still found the movie to be enjoyable.
We continued the movie theme that day – after Emerson's nap we let her see Tangled and she loved it.  Girl loves anything to do with fairies or princesses and Tangled kept her attention the entire time, lying on the floor eating popcorn.  We have yet to take her to the theater to see a movie, but after last night, I think we'll have to do it soon – she would LOVE the experience!
How was your weekend?  What did you do?
Follow Me | Twitter | Facebook