This article may contain affiliate links; if you click on a shopping link and make a purchase I may receive a commission. As an Amazon Associate, I earn from qualifying purchases.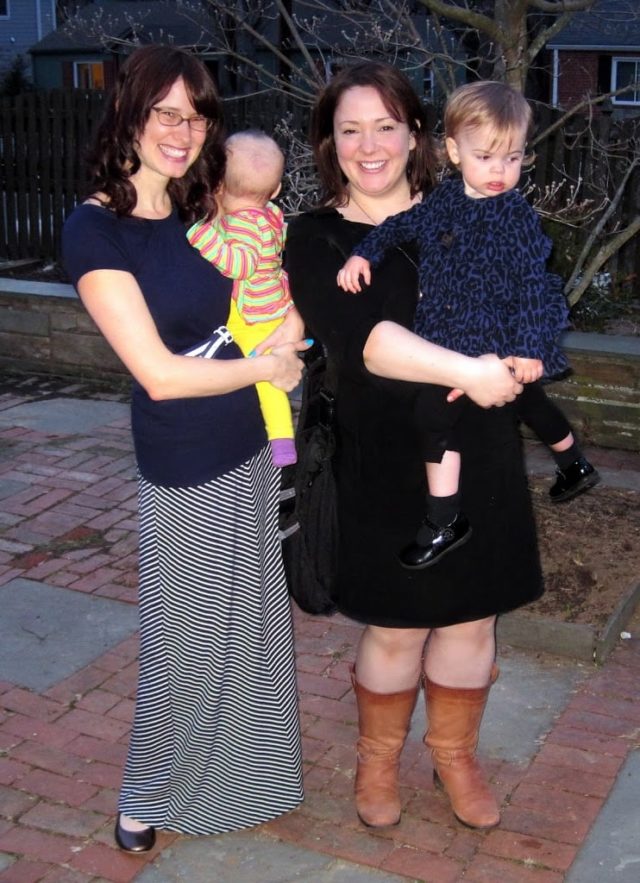 Black sheath dress with pocket – Mossimo for Target (no longer available)
Tan boots – DUO "Bern"
Silver chain with square silver pendant and silver cuff
Diaper Bag – Diaper Dude
Saturday we went to my friend's son's third birthday.  This is me and her with our daughters.  We went to high school together but lost touch after graduation.  A few years ago she found me on MySpace.  She was living in San Francisco at the time and I was traveling there on business so we met for dinner and saw one another for the first time in over a decade.  Since then, she has moved back to the DC area, has a son just a year older than Emerson and her newest little cutie who is six months.  We try to take a picture together at each of our reunions.
Speaking of reunions, at the party was my first boyfriend, who I don't think I have seen since 8th grade.  It was 6th grade, I think we "went together" for maybe a week and the romance didn't go farther than maybe being within five feet of one another on the playground.  But it was really crazy to see him after all this time – he is married, has two adorable kids, the youngest just a few months older than Emerson!
When Emerson was smaller, I didn't really see the need for a diaper bag.  I would take a wet bag and tuck in it a couple cloth wipes and a cloth diaper and toss it in my purse.  However as she has gotten older, I see the need for not just a diaper bag, but an Emerson Bag.  A diaper of course, but wipes not just for changes but drippy noses and sticky hands, a sippy cup, a snack, a book to entertain her if we get stuck somewhere.  I have found it is more successful for day trips to stick my cosmetic bag and wallet into her diaper bag than chance a leaky sippy cup in my overstuffed leather purse.  This bag
was a shower gift and we didn't even remove the tags until Emerson was almost a year old – before that we used a black microfiber tote from Pottery Barn Kids.  But now I really appreciate the style of this bag
– the separate pockets, the open back pocket, the ability to hang off one shoulder, be a cross-body, or hang evenly from stroller handles.  And my husband appreciates the fact that it is not pink or covered with Winnie the Pooh!
Follow Me | Twitter | Facebook