This article may contain affiliate links; if you click on a shopping link and make a purchase I may receive a commission. As an Amazon Associate, I earn from qualifying purchases. 
Hi Alison, I just bought this skirt from Ann Taylor and I love it. It's so pretty and fits great but I have no clue what to wear with it. The other day I wore it with a black v neck sweater, black tights and pumps but I want versatility. Does it only go with black? Can I wear it to work? What would you wear it with? Thank you!
I love the Ann Taylor Quiet Leopard Print Skirt and have been fighting myself to not buy it. I don't need it but boy every bone in my body wants it! So I shall live vicariously through you and offer some ensembles that I would totally rock if I owned the clothing.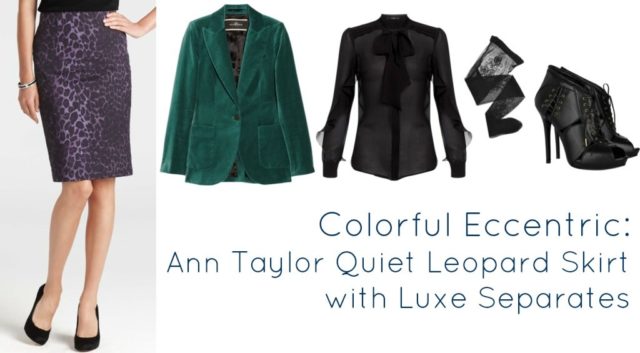 Colorful Eccentric
Such a skirt doesn't have to be only paired with black, it actually lends itself to looking great with other jewel tones. Deep indigo, berry, and shades of teal would be gorgeous with it if there is a connecting color and/or fabric. I used black as the connecting fabric and various luxe fabrics to connect to the sheen and print of the skirt. A velvet blazer, chiffon blouse with a floppy bow, sheer but lacy hose and corset-inspired booties combine for an outfit that is a bit over the top but quite chic. I'd wear a deep wine lip and several coats of mascara to complete the look for this fall.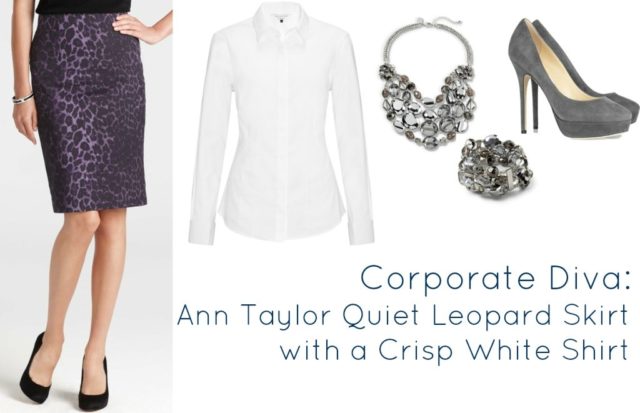 [via]
Corporate Diva
Sheen and sparkle can be worn for daytime if you balance it with more traditional pieces. I paired
the skirt
with a crisp white button-front shirt and gray suede pumps to keep things from looking too After-Five. However, I did add more shine with a statement necklace and bracelet so the skirt didn't look out of place. By choosing gray jewelry, the shine is toned down to make it look more boardroom than ballroom.
Not Your Basic Black
A black sweater is a logical choice for such a skirt, but it can look pretty boring if not accessorized properly. I took a classic fitted black merino wool turtleneck, but upped the glam factor with sleek tall boots, a skinny belt to define the waist (wear the sweater untucked), and brushed gold jewelry. This could be worn with anything from patterned hose to opaque tights to make it winter-appropriate.
Shades of Plum
When I saw this skirt, I thought of my Ann Taylor black peplum top as a good match – a peplum looks great with a pencil skirt and is a trendy touch that lets the wearer get more bold with accessories. Just because the skirt is a blue-purple doesn't mean you can only wear that color purple with it. Choosing a similar color with a slightly different tone can make an ensemble look very luxe if you do it carefully. For this, I chose a plum colored shoe with more red to it, and pulled that color up with a necklace with the same tones. I added a pair of black fishnets to make this ensemble more of a date look, but you could make this work-appropriate with different hosiery and/or footwear.
Follow Me | Twitter | Facebook