This article may contain affiliate links; if you click on a shopping link and make a purchase I may receive a commission. As an Amazon Associate, I earn from qualifying purchases. 
Hi Allie, I bought an adorable red-striped dress at J. Crew Factory but need help styling it for fall & winter. I'm thinking a denim jacket will be great with it but I'm not sure about shoe choices. I love boots & already have a camel colored pair, black pair, & dark brown pair. I also have a pair of suede gray Chelsea boots. I don't do heels at all but love flats. I live in Arkansas, so our falls can be chilly & our winters do get cold, so going bare-legged is not a choice for me. Can you help?
It's so easy to throw a pair of boots and a jacket over a summer dress, but when you truly need to winterize a piece with tights and warmer elements, it does get tough. As you wrote a couple times in your full email and I often say when looking in my closet, "What about tights???" Not everything works with an opaque black pair. Here's some ways to make your dress, or any summer tee shirt-inspired dress transition into fall and winter.
Add an Accent Color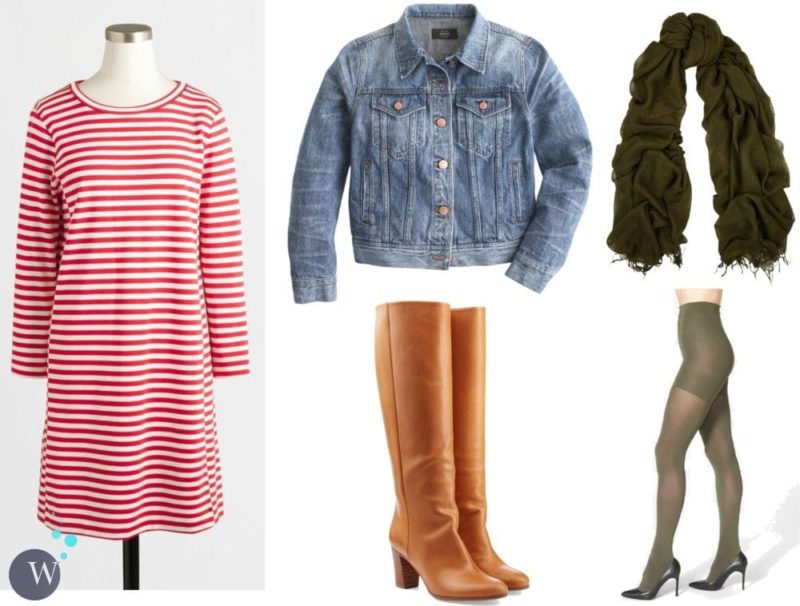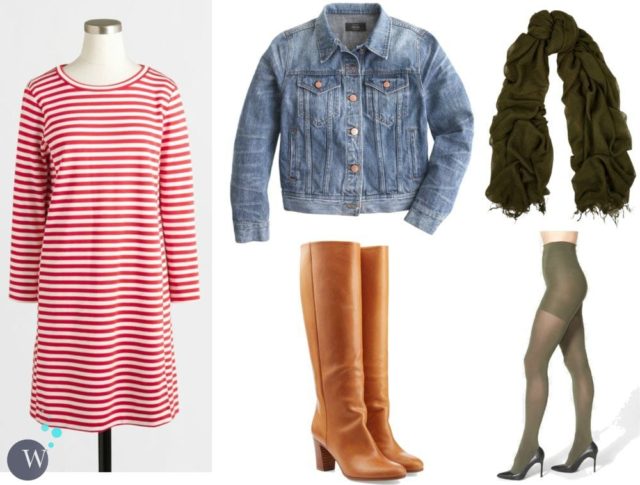 Shop this Look: Dress | Jacket | Boots | Scarf | Tights
While matching your tights to your footwear is a tried and true way to look cohesive and elongate your leg, an accent colored tight can actually pull an outfit together. You mentioned you have camel tall boots; consider using olive green as an accent color with tights (I love Spanx Tight End Shaping Tights for durability and fit and they have a great olive shade) and pull it together by bringing olive to the top of the outfit with a scarf or necklace.
Make the Dress the Accent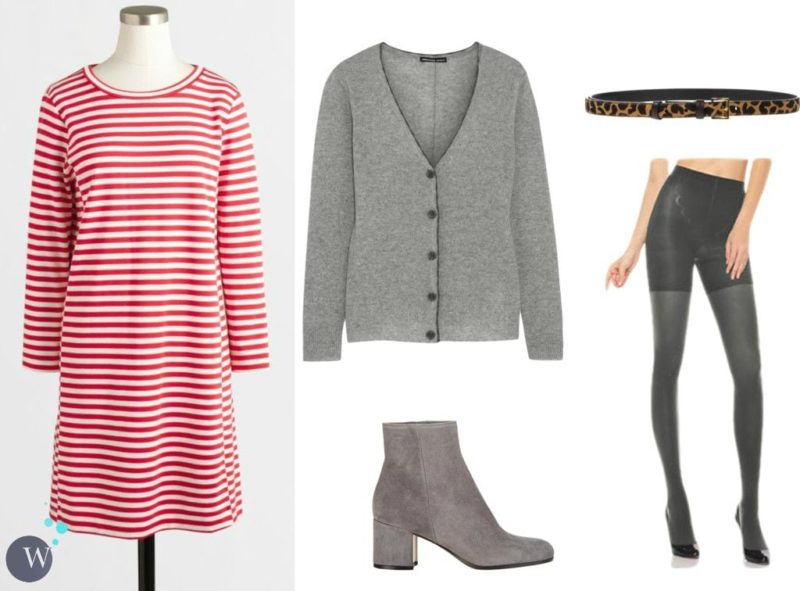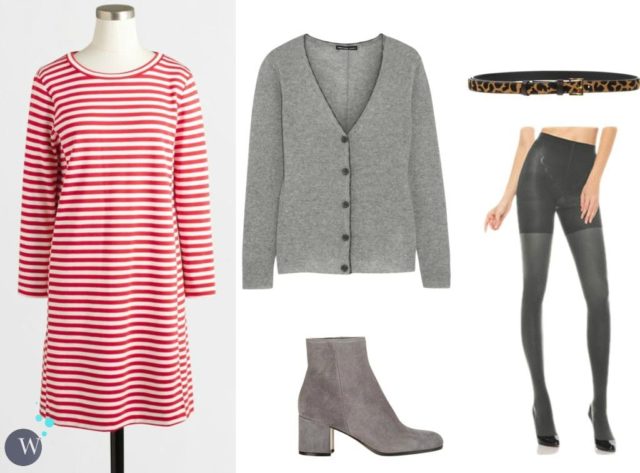 Shop this Look: Dress | Sweater | Boots | Belt | Tights
If you have your topper, tights, and shoes all coordinate, you can use most any color and the dress then becomes the accent. For this look I considered your gray suede Chelsea boots and added a gray v-neck sweater with a longer line, and gray tights (these are Assets by Spanx, they're reversible adding warmth, opacity, and versatility – I have a pair and like them a lot). I added a leopard haircalf skinny belt to be worn over the sweater and dress to highlight the waist and add interest. This belt could be switched out for a solid contrast color, a different print, or even a scarf.
Keep it Classic with a Leather Jacket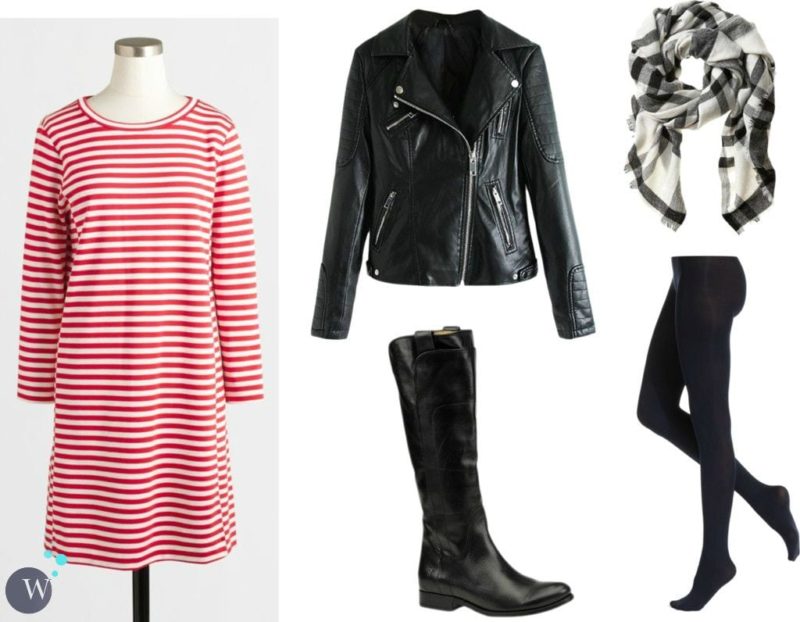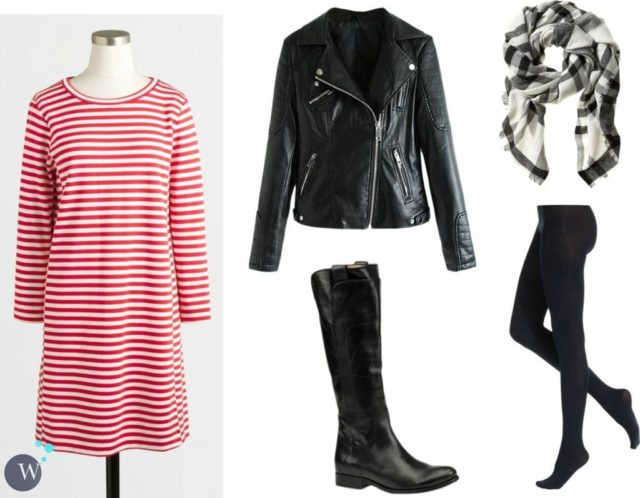 Shop this Look: Dress | Jacket | Boots | Scarf | Tights
Leather jackets are great for cool weather, but are also a great alternative for cardigans, denim jackets, and blazers. This look isn't that drastically different from the first ensemble, but the moto-inspired leather topper gives a bit of a rock & roll vibe. Keep it going with moto-inspired boots, very opaque black tights (check out Hue's Super Opaque control top tights), and a scarf that has a plaid or "tough" pattern (animal print, skulls, etc.).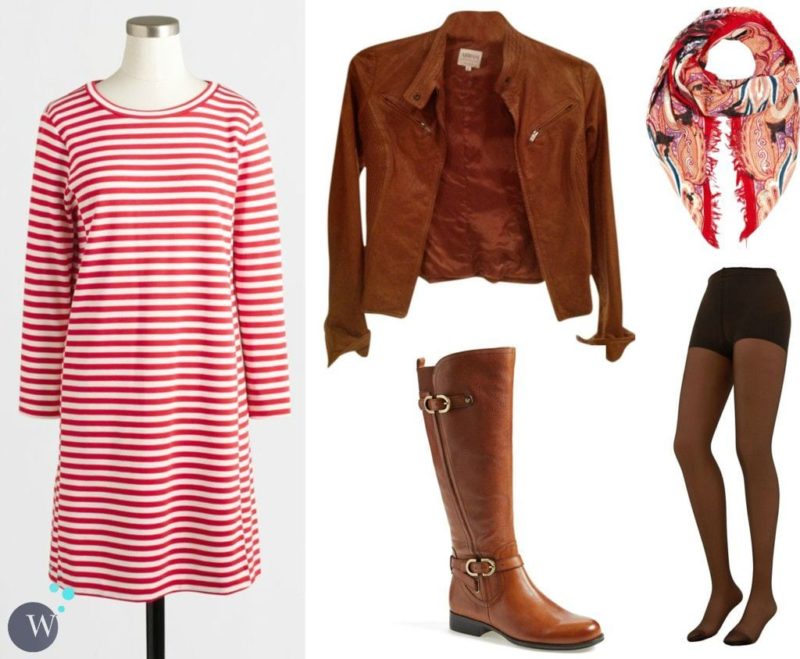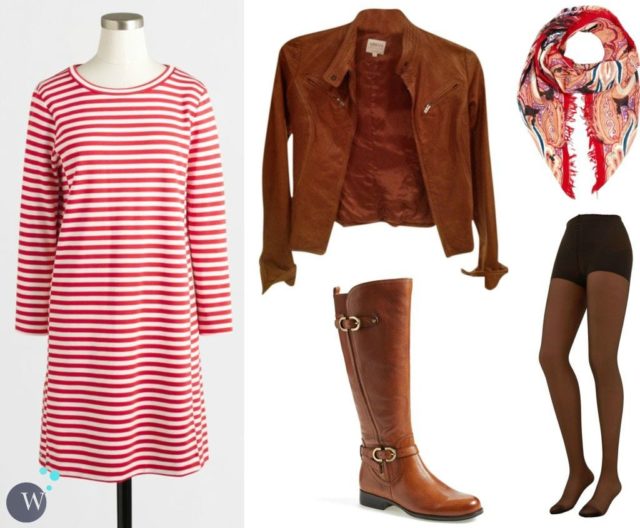 Shop this Look: Dress | Jacket | Boots | Scarf | Tights
Want a softer look? Switch out the black for brown or cognac and style with brown tights, riding-inspired boots, and a printed scarf in a classic print (plaid, paisley, floral).