This article may contain affiliate links; if you click on a shopping link and make a purchase I may receive a commission. As an Amazon Associate, I earn from qualifying purchases. 
Internet shopping can be sketchy. You may not receive what you ordered, it may be packed so clumsily that it arrives damaged… if at all. Quality doesn't always match the photographs and return policies may make it more worth your while to stick with your defective purchase.
Much of this is because it's very cheap for a company to start up online. No rent to pay, no utilities, no need for stock or employees even. The entire business can take place in a person's dining room during the commercial breaks of an episode of grey's Anatomy.
Sometimes… one can be blown away by a small internet company. It may be the quality, the prices, the variety, the service. In the case of Custom Glam Girl, I have to say it's because of All Of The Above. This is probably why this company has been big enough to be featured in many magazines, TV shows and be sported by many celebrities (none of this I knew when I found the site).
My husband and I are friends with a dear couple; the husband is one of three sons and they all have the last name "Jones." Growing up the brothers were always lumped together as "The Jones Boys" and when they grew up, they all went and got tattoos in Old English script that say, "Jones Boy" on their forearms. When I found out that our friends were pregnant with a boy, I knew I needed to get them some piece of baby clothing stating this on the front.
While trolling the internet, I found Custom Glam Girl. Unlike many of the other baby sites, this one didn't just carry cutesy blue and pink frilly pieces with hearts. They had more rocker looking ideas, and that was more appropriate for this couple and their son-to-be. Though their site was extensive (and their site easy to navigate), I didn't see exactly what I was looking for. I called their toll-free number and was immediately connected to a really peppy and friendly agent. I told her what I was looking for, Told her the style of font, the wording and how I wanted it placed on the onesie. She was patient with me and quite helpful and friendly. I placed the order late on April 6th, the agent told me that it would be about 1-2 weeks for processing and shipping. I feared I was cutting it very close for the shower on the 23rd, but kept my fingers crossed.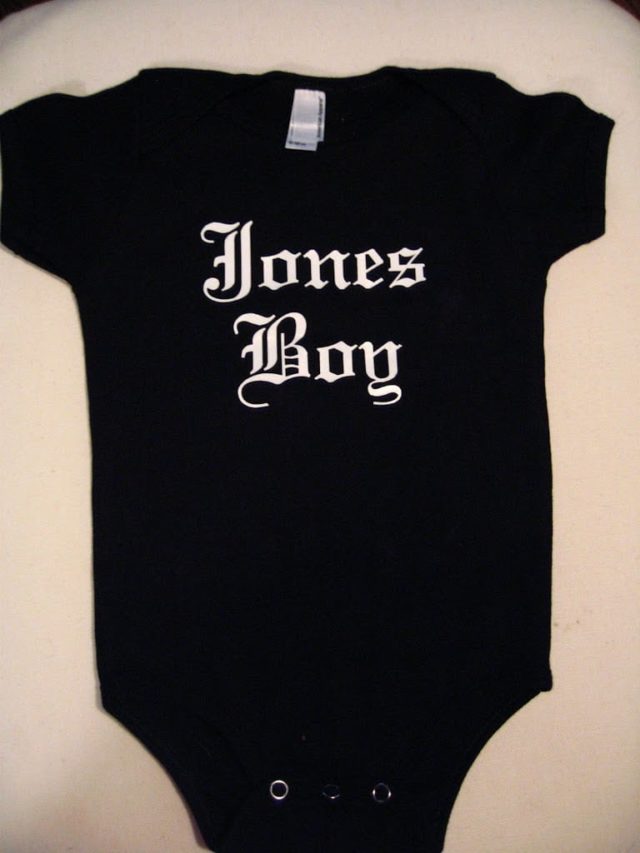 I had nothing to fear, the onesie came in on the 13th. It wasn't cheap knit, it was well made, thick, and the screen-printing was solid and not likely to peel or fade after a couple of washings (check out the picture that I took after it arrived). Not only did it arrive in a heavy plastic shipping bag, it came with a legible packing slip AND a free gift! I received for free a silvertone necklace with a heart with wings and matching earrings.
This item arrived the same day that I got a package from American Apparel. Unlike Custom Glam Girl, American Apparel is a global company with stores as well as their internet shop. The items from American Apparel came thrown into a bag, the bag covered with writing via a Sharpie, the packing slip crumpled the bag looked as though it was sealed in the dark (all crooked and stuck upon itself and smooshed). The fabric of the onesie from Custom Glam Girl was better quality than the tees I got from American Apparel.
The onesie cost $19.95, which I felt was reasonable for the quality (higher quality than the one I got from Snapfish), and shipping was a standard $5.95. This company sells most anything you could get personalized, from tees and hoodies to engraveable flasks in a rainbow assortment of colors. I have bookmarked this site for future reference and think it's a great place to get a fun and creative gift for someone!