This article may contain affiliate links; if you click on a shopping link and make a purchase I may receive a commission. As an Amazon Associate, I earn from qualifying purchases. 
I don't remember how or when I met Melissa Tosetti. Maybe it was through a forum about living a chic French-inspired life, maybe she was a reader of my blog. All I know is that once we connected, we realized we were kindred spirits. Melissa has spent the past several years mastering the art of living a savvy life. She doesn't sacrifice style, quality, or pleasure to stay within her financial means.
Melissa Tosetti is the editor of the fantastic online magazine, The Savvy Life. The Savvy Life focuses on helping women achieve the balance between being overly frugal and exceedingly lavish. I always look forward to The Savvy Life's blue e-newsletters in my email inbox, and The Savvy Life has quite a team of article contributors (like yours truly!).
When I heard that Melissa and The Savvy Life's Managing Editor, Kevin Gibbons were going to write a book, I couldn't wait to read it. I knew they wouldn't rehash the same junk from The Savvy Life, but create a useful guide for women who want to live rich lives while staying within their means. I was psyched when Melissa sent me an advanced copy of Living the Savvy Life: The Savvy Woman's Guide to Smart Spending and Rich Living
.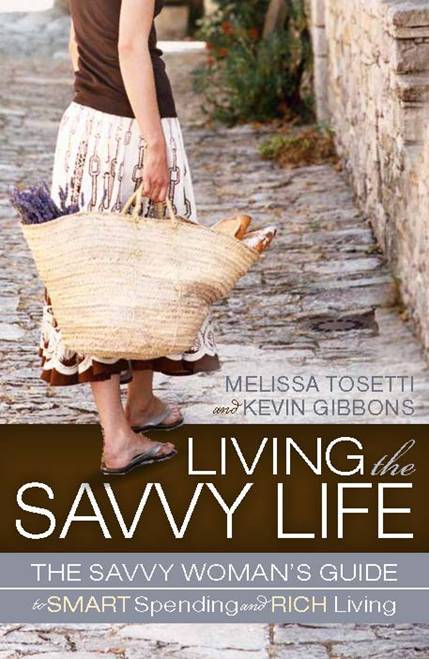 The book did not disappoint. Like The Savvy Life online, this book is an easy read, but chock full of helpful ideas and suggestions. Melissa keeps it real by sharing her personal experiences and those of her friends and family (be sure to check out page 191 where I am mentioned!). The book is broken down into chapters covering different categories – wardrobe, beauty, food, home décor, entertainment and more.
Melissa and Kevin give realistic suggestions – no immediate saving a crazy amount of your paycheck when you can hardly make ends meet. They offer ways to slightly change your current spending, saving, and shopping habits; tips to slowly build up a nest egg; and ways to have a really fulfilling and satisfying lifestyle.
This book completely fits in with the premise of Wardrobe Oxygen – the ability to be stylish no matter your lifestyle, figure, age, or budget. Living the Savvy Life doesn't expect you to have the same interests and priorities as the authors. The advice given is universal and can work for any woman.
Living the Savvy Life: The Savvy Woman's Guide to Smart Spending and Rich Living by Melissa Tosetti and Kevin Gibbons will be available on January 11, 2011 but you can pre-order a copy today through Amazon
, Barnes and Noble, and Books-a-Million. Click here to read a bit more about the book's concept, and please come back and let me know what you think of the book if you read it!
UPDATE: I heard from Melissa and it will be offered as an eBook, though she does not yet know the date of availability.