This article may contain affiliate links; if you click on a shopping link and make a purchase I may receive a commission. As an Amazon Associate, I earn from qualifying purchases. 
My friend Melissa Tosetti is the founder of The Savvy Life, a great site that gives tips on how to live a full life without living past your means. I have learned so much from her site, as well as her recent book, Living the Savvy Life (you can read my review of the book here). I am honored to be partnering with her and many other fabulous online budget-savvy folks (hello Flylady!) for the promotion below.
I own Living the Savvy Life and find it a great resource for anyone (and hey, it's cool that I am mentioned on page 191 of the book!). I encourage you to check out the promotion below, you won't be disappointed!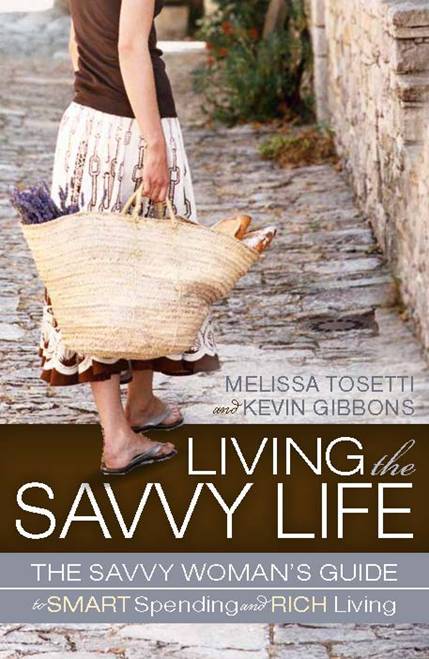 and receive $190 in Free Bonus Downloads
Offer valid July 12th-13th, 2011
Melissa Tosetti, the author of Living the Savvy Life – The Savvy Woman's Guide to Smart Spending and Rich Living has created a brand new online program that brings the international best seller to life.
Melissa is launching the new program with a special limited time offer. Purchase a copy of Living the Savvy Life from Amazon.com on July 12th – July 13th and you will receive a one month free subscription to the Living the Savvy Life Coaching Program. The new program guides you step-by-step, day-by-day to gain control of your finances, focus your spending on what you truly want and enjoy your life to the fullest.
As an added incentive, some of her savvy friends (like me!) have offered valuable downloadable gifts (worth $190) for free to help you on your savvy path.
Additional Bonus Gifts
Free copy of The Working Woman's eCookbook from Leanne Ely of Saving Dinner ($20).
Free 90 Day Membership to FFIT at home, an online exercise, nutrition and support program ($149.85).
Free copy of Healthy Beauty Spy, the phone app that helps you choose healthier beauty products while you shop ($2.99).
Free French Breakfast & English High Tea Menu and Recipe Guide from The Rich Life on a Budget. (unavailable anywhere else).
Free Article on the 10 Must Have Wardrobe Staples and How to Wear Them from Alison Gary of Wardrobe Oxygen (unavailable anywhere else).
Build Your Own Control Journal – Instruction Manual courtesy of Marla Cilley, The Flylady.
Favorite Savvy Websites Directory compiled by Melissa Tosetti
Remember, this offer is only valid for July 12th- 13th, 2011.
Follow Me | Twitter | Facebook