This article may contain affiliate links; if you click on a shopping link and make a purchase I may receive a commission. As an Amazon Associate, I earn from qualifying purchases.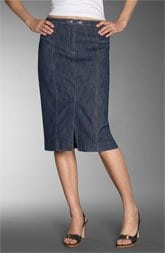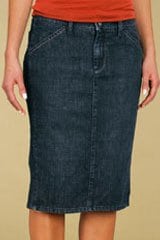 1. Denim Pencil Skirt – the darker the better. Stretch is good too. It doesn't have to be tight all the way down, just a classic straight style (a slight a-line will be unnoticeable and far more forgiving for some figures). This is a dressier denim; go light on the stitching, rivets and other traditional dungaree fare. The fabric may be denim, but the look is appropriate for work, dinner and nights out on the town as well as a weekend jaunt to the market.
What to wear it with – a white collared shirt and gold chains for a very crisp elegant look. A black turtleneck and boots or peeptoe pumps for a chic work-worthy outfit. A blazer (could be twill, or a luxe fabric like velvet, suede or leather – dark denim is so versatile) and tank or shell for most any event. A v-neck slim-fitting sweater and boots for lunch with the girls. Even in the between season, a slim scoop necked tee and sandals can be quite lovely.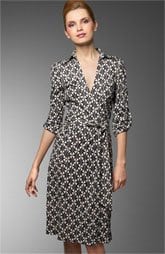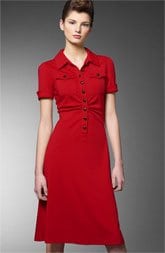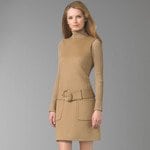 2. A work-appropriate dress – Be it a wrap dress, shirt dress, a heavier wool knit sheath; dresses are very big this season. Work-appropriate means you can wear a traditional bra with it, it comes to your knees, does not cling to your curves, and is in more subtle of a print or color. Have the dress with a flattering but not plunging neckline, and at least short sleeves so it can travel through seasons and situations with ease. Use Diane Von Furstenburg's dresses for inspiration and if your budget or shape doesn't allow her pieces, you can find similar concepts with many of the other brands. I have a matte jersey wrap dress I bought on sale at Express a few years ago that gets tons of wear, even if I gain or lose a few pounds. I have worn it to a bat Mitzvah with pumps, to work with boots, out with the girls with strappy heels.
What to wear it with – slim boots with a feminine heel, pumps, ankle-strap heels, most anything in your closet. Try jazzing it up with a long gold chain necklace or an oblong scarf slung around the neck.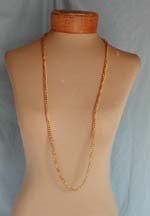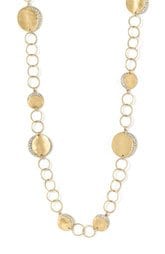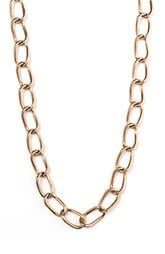 3. A chain necklace – the longer the better. Even if you are a silver fanatic like me, consider buying one in gold. This does not have to be high quality – I have found gems in Claire's, Express and Rampage. The bling of previous summers has become muted, but luxe looks are all over the runway. A great way to get that glitzy compromise is with a chain necklace. Let it loose hanging past your waist for a carefree, stylish and elongating look. Loop it a few times and have it displayed in the neckline of a sweater or collared shirt. Loop it twice and wear it with a suit for a flash of shine. If it has a clasp you can get creative and make it into a belt, wrap it around the wrist as a bracelet, or clip it as a lariat-style necklace.
What to wear it with – most anything in your wardrobe. Nothing is more sophisticated than a dark turtleneck, dark bottoms in the same color and a single gold chain necklace. Jazz up your wardrobe essentials with this chain – white shirts, sheath dresses, simple black suits all can use a dangling necklace!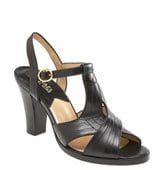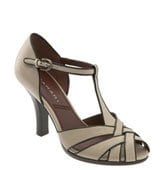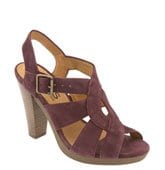 4. A chunky strappy heeled sandal – This is a wonderful wardrobe addition to transition pieces from summer to fall and fall to winter. A sleeveless black wool shift seems appropriate in September with a pair of dark green suede sandals. The weight and fabric of these shoes makes them more stylish, work-appropriate and comfortable too! Thanks goodness for the return of the sturdy heel. It balances out soft floaty skirts and dresses and summarizes heavy dresses and suits.
What to wear them with – skirts of all shapes, dresses, denim trousers, jeans. Replace your espadrilles, flip flops and thin strappy sandals with these shoes to make the step into fall.
5. A kimono-inspired top or dress – Movies always seem to inspire designers, and it shows with this trend and Memoirs of a Geisha. What is great about this trend is that the focus is on the piece, not your figure. Light floaty fabrics, watercolor prints and dramatic shapes cause for an artistic yet chic look that is stylish and flattering. Make sure to stick to light fabrics – silk, matte jersey, organza for the best drape and most flattering fall. With the right fabric, the piece it totally evening-appropriate or lovely for a shower, luncheon or daytime wedding. I am personally partial to the top because it is so versatile.
What to wear it with – tops can be worn with crisp jeans, denim trousers or even your favorite black pants. Dresses can be worn with strappy heeled sandals or delicate pumps. Your shoes and accessories will dictate the dressiness of the outfit – hoops, jeans and heels will be right for a club, flowing black pants and a single bangle makes it fitting for a wedding or evening event.
Please understand that this list is not all-inclusive. As with every post I write on this blog, I hope to include all ages, sizes, budgets and lifestyles of the readers. There are some gorgeous new styles this coming fall – inspiration can come from online retailers (check the list to the right), magazines (I am partial to Bazaar – they break down couture and make it understandable for all incomes and ages) and other great websites and blogs. Feel free to post your particular favorite look for fall, it may influence or inspire another reader!