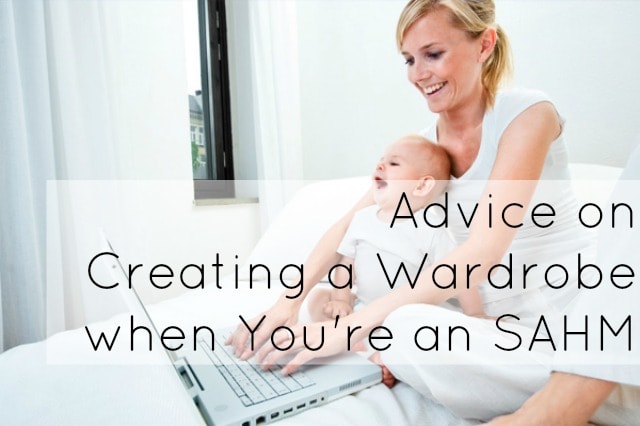 I have had many mothers contact me regarding my SAHM capsule posts (winter capsule, summer capsule). Some are appreciative, some find my suggestions ridiculous, and some desire more information and assistance. I'd like to answer most of your questions here:

How Do I Shop with a Nursing Baby?
I went back to work six weeks after Emerson was born. Luckily my job let me transition back to full time at the office, having me work two days at home the first week, three the next, and so on. However, I was still working at least 40 hours a week and Emerson was consuming only breast milk. This meant when I wasn't at work pumping, I was at home with a baby latched to my chest. I remember I went to Target ONCE in the first three months of Emerson's life and it was a traumatic experience. I couldn't even imagine going to the mall to shop for myself, let alone have the time to do so.
Online shopping. I looked at the clothes I already had and said… hrm this 12 doesn't fit any more, but it's only a tad too small so I likely am now a 14 in this brand. However, this 12 won't even slide over my butt so I am guessing I am a 16 in this brand, but probably a petite since the 12s are just the right length with my 2" heels. I then went online and looked for retailers who had friendly return policies and free or near-free shipping.
Lands' End. Talbots. Nordstrom. These three stores are the reason I survived the first year of Emerson's life without resorting to Crocs and maternity pants. I stuck to a lot of dresses in stretchy fabrics like ponte because they were more forgiving and comfortable. Wrap styles which let me wear normal clothing but easily slip the bodice to the side for nursing. I found a pair of shoes from Sofft that I liked… and I bought them in three different colors and pretty much only wore those all summer long. I didn't try to create a fabulous, cohesive and chic wardrobe, I just bought basics that worked. Then as Emerson slept more, started solids, my body started normalizing… then I started to create a new working wardrobe with this new body and new life.
You have so much going on in your life right now, the last thing you should worry about is creating a perfect wardrobe or hone your personal style. Keep what you buy simple – simple colors, simple silhouettes, simple pieces that flatter, work with your needs, and pretty much get the job done. The rest will come in due time.
Your Choices are Too Expensive!
When I make my capsules, I use Polyvore. To keep the collages clean and easy to get inspiration from them, I work with clothing in Polyvore that is not on a model, and is on a white background. Check out the online boutiques of your favorite budget-friendly retailer and you will likely see those garments on a mannequin or model.
Do not take my capsules as gospel, but more as inspiration. I may show a $200 designer sundress, but look at it and realize WHY I used it – it's cotton, it has a print, it is below the knee, it has straps wide enough to cover a traditional bra, it has a defined waistband. Such a dress can be found at your nearby Goodwill, at a big box retailer, your neighborhood department store, and most any online retailer. Always shop within your means – great style can be achieved at any income level.
You Don't Feature Plus Sizes!
Again, my capsule wardrobes are made in Polyvore, and I have to work with what is available. Again, I ask you to check out your favorite online plus size retailers and you will see the clothes are usually featured on a model or mannequin. Also, as a woman who is cusp sized, I know that what works on a 5'8" size 20 woman with a large bust and long slim legs won't necessarily work on a 5'6" size 26 woman with small breast and larger hips. I try to choose pieces that will work on a broad range of sizes and shapes of women, but we females are snowflakes and no two of us are built the same. Please use these capsules as inspiration, not gospel. And subscribe to the blog, I regularly provide shopping suggestions specifically for plus sized women!
I Don't Have Time to Search for Deals!
Oh my darling, I hear you loud and clear! Since having Emerson, I shop less, and I shop less frugally. I don't have time to scour the entire Internet for the lowest price on a garment, so I usually just go with the retailer with the best shipping/return policy. Hello Nordstrom, my best friend. Nope, Nordstrom is not the cheapest, but they ship quickly, they have a broad range of prices and sizes, customer reviews, good sales, and free returns.
If you narrow down the stores you shop at, you can become quicker shopping there. I used to find Nordstrom's site a maze, but now I know how to quickly find what I want, the brands I know that fit, how to shop from lowest to highest price, narrow down by size or color or brand even before surfing.
I also recommend signing up for a site like Ebates which gives you cash back on every online purchase and usually has some of the most popular coupon codes. Once a member, use the search function at the top of the site to type in the name of the store you wish to shop. It will take you to that store's page on Ebates, where there's a button to take you directly to the store, as well as any codes. Takes about 20 seconds and you're in decent shape. It may not be the best price in town, but time is money and as a mom you don't have a lot of time to waste.
And finally… no need to buy a whole wardrobe all at once.  Buy what you essentially need to get out of the house, and then slowly build up.  Shop when you have the time, the beauty of online shopping is it's available 24/7.  I have been known to shop at 3am when I can't get back to sleep after a feeding or nightmare, even on Christmas day when my child is being cared for by family and I can sneak away for an hour with my Smartphone and a glass of wine.  Life first, then shopping.
I Don't Wear Pants/I Don't Wear Sleeveless
Again, please don't use these capsules as gospel, but inspiration.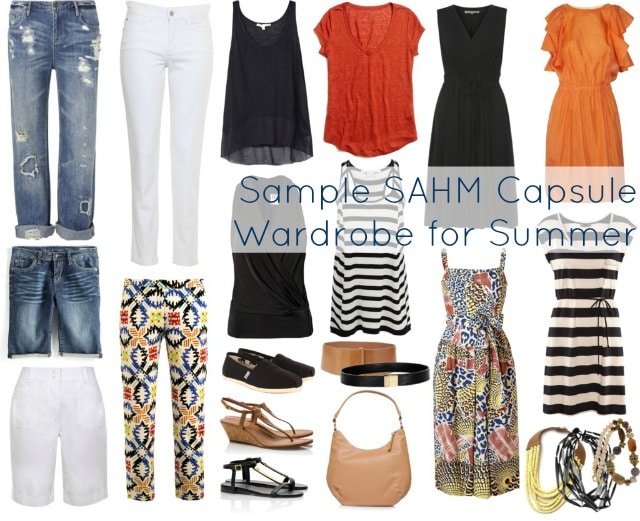 For the summer capsule, you can easily replace the pants and shorts with some skirts in a variety of colors and lengths. In place of the printed pants, how about a printed cotton lawn skirt that hits between the knees and the calf; instead of white jeans a white linen maxi skirt; in place of the shorts a chino straight skirt that hits around the knees and maybe a denim or chambray fuller wrap skirt that hits at the knees.  All the tops featured can be found in a similar style with sleeves.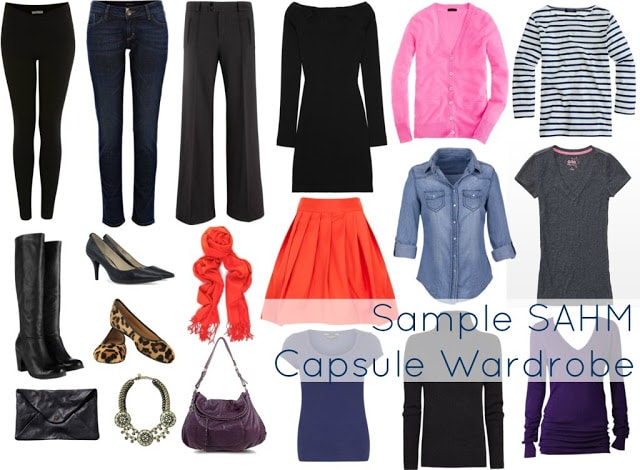 For the winter capsule, I'd get a black skirt of ponte or another heavier fabric that is midi length, a dark denim straight or a-line skirt that hits anywhere between the knees and calf, and maybe another ponte midi skirt in charcoal or gray.  The shorter-sleeved tops can easily be found in similar fabrics and silhouettes with a longer sleeve.
Follow Me | Twitter | Facebook | Instagram