This article may contain affiliate links; if you click on a shopping link and make a purchase I may receive a commission. As an Amazon Associate, I earn from qualifying purchases. 
Hi Allie:
I just ordered a pair of linen pants in dark brown. I eyed them all summer, and when they went on clearance, I pounced. My question is: When should the linen be packed away? I'd like to wear them a few times before fall/winter. Also, I live in Texas, if the scorching heat makes a difference!
-April
Linen is not as much a summer fabric as it is a tropical fabric. It's popular in the summer because of how well it keeps the body cool, and that is actually looks presentable when crushed and wrinkled.
I may be very conservative to many in regard to when one should wear white and most summer fabrics (eyelet, seersucker, cotton gauze, gingham, madras), but linen is one that can transition a bit from season to season depending on where in the world you live.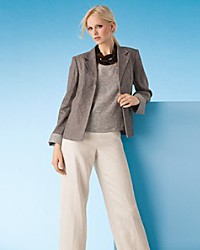 I have a pair of white linen trousers that have already moved up to the attic. However my olive green linen short-sleeved shift dress is still in the closet and in the Washington DC area, I believe it can still have a couple more weeks of life. I think a pair of brown trousers can transition as well.
There isn't going to be a snowstorm any time soon in Texas, and I doubt you are already packing up leather sandals for sturdy boots. Certain pieces of summer fabrics in more autumnal colors and silhouettes can equally survive the next several weeks.
Brown, black, charcoal, navy, plum, dark red, olive green… these are autumnal colors that look great in tropical fabrics like linen. Paired with solid leather sandals or flats, quality knits and lightweight sweaters, a pair of brown linen pants can be quite nice in Texas all through October. Linen dresses can look more like fall with peeptoes in place of sandals, heavier wooden jewelry in place of delicate necklaces, possibly a belt or jacket over the piece to add some stability while still staying relatively cool.
Post-Labor Day linen look from Sutton Studio for Bloomingdales.
I have a question about rise in jeans. Is it true that if you have a poochy belly that at waist jeans are the way to go? I have been reading this lately in magazines as they say lower and mid rise sometimes makes a "muffin top" over the waistband of jeans. What are your thoughts? -Renee
As a woman who has had a poochy belly since she was 16, I disagree with this thought. The problem is, women are not built like mannequins, and not all "pooches" are equal.
I have found most women who have tummies usually have the most issue with that which is below the belly button. Childbirth, weight loss and gain ends up showing the most in the lower part of the tummy. By having a true-waist jean, you are less likely to have a "muffin top," but actually having that zipper and extra fabric from pockets all in that already heavier area just adds more focus and thickness to a problem area.
If you have an issue with your lower half, a good way to prevent the dreaded "muffin top" and not focus on the tummy is to get a jean that is just below the natural waist, and with a wide waistband that sits flat on the belly. A wider waistband (often more like a denim trouser or a novelty style of jeans) will be less likely to dig into soft flesh and will actually provide a mini-girdle to keep things more in place and smooth under tops.
If your issue is with an all-over tummy (poochy from rob cage to groin), a true-waist jean may be a good choice. It will keep the whole torso smooth without cutting a line in the center (making that "muffin top"). Though many It Girls are running around town in high-waisted jeans and tightly-tucked fitted tops, a more classic and polished way to wear true-waist jeans is with an untucked shirt that glides over curves, or a shirt that is tucked in, slightly bloused out and paired with a belt through the jean loops.
This jean from Lane Bryant has a wider waistband and minimal waist and pocket details which is flattering to a woman's tummy. Not only that, it has a secret slimming panel built into the jeans!
Can you suggest a few pieces that I could pull off (casual) for work that won't break my budget? I am 6 feet tall and wear a size 12 to a 14. I love my jeans and T-shirts but I am literally bored to death with my clothes at this point.
-Melinda
If you have a very casual work environment, you will need some additions to my list of staples for every woman's wardrobe. It's possible to add a couple of basic and budget-friendly pieces that can quickly transform a current collection.
– A pair of trousers in black or charcoal gray. Amazing how a scoop neck or v-neck tee can be gym wear with some yoga pants, but look quite polished with a proper pair of trousers. A pair that are a straight or boot cut, flat front, no front pockets (or a small coin pocket), unlined and in a fabric with at least 5% lycra means they will be comfortable, most likely able to be machine washed (though hang them to dry to keep them looking great), and versatile. Pair with basic sweaters, tees with a more feminine cut (slightly fitted, interesting necklines), and cotton shirts.
– A pair of city boots. These are also called booties and ankle boots. It's a boot that either has an elastic gusset or a zip up the side, a slight heel, and are usually of leather or microfiber. Look for a pair that is light on decoration (no perforations, variety of fabrics, studs, etc.) so it is versatile and will last more than a season. You can often find this style of boot at store's clearance sales because it is in style year after year yet designers slightly modify the look each time. Sticking with a heel that is neither too skinny nor too chunky, a toe box that is not too round, pointy or square and a simple look will mean that even though they were at a bargain price, they will be a wardrobe staple for years to come. My suggestion is black because it goes well with denim, the above mentioned pants and can dress up a bit better than brown.
– A great blazer or casual jacket. Nothing can jazz up a simple tee and jeans better than a great jacket. Again, this is an easy find on clearance racks at stores because it's a staple for every season, just slightly changing in cut and fabric. Due to your height, it may often be hard to find a jacket that is long enough in the sleeves. If you can't find the right length, ignore a classic length all together and go with a three-quarter or bracelet length sleeve. As for fabric, your best bet is a twill or canvas as that it will keep with the casual vibe, be easy to clean, and work year-round.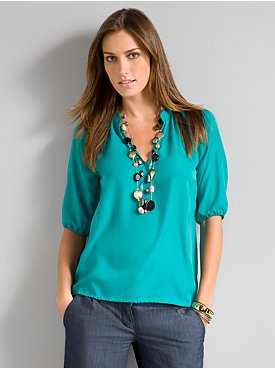 – A necklace that can be a signature piece. Hit your local craft fair, jewelry boutique, or even mall kiosk and you can find some amazing creative necklace out there. You may be the delicate chain with pendant sort of woman, or feel best in a long strand of homemade clay beads. Bold metal, funky shells from the sea, or layers of turquoise… a necklace can take knits and denim to the next level with little effort. Best thing about a great necklace? You can wear it every single day of the week and no one questions you. As that this piece can be worn every day, don't purchase unless you love it, it feels good on you, and the colors and style compliments your current collection. It's easy to be sucked in by pretty baubles, but even $5 is too much spent if you never end up wearing the piece. If a necklace isn't your thing, a similar concept can be had with earrings, a bracelet, a scarf or even a brooch. It all depends on your personal sense of style and what feels good!
This is a great example of how a necklace can transform a simple top and jeans – look by New York & Company

You may also wish to visit:The Staples For Every Woman's Wardrobe
Wardrobe Hints for Warm ClimatesUnexpected "Staples" for a Summer (and beyond) Wardrobe
From Allie's Mailbag…