This article may contain affiliate links; if you click on a shopping link and make a purchase I may receive a commission. As an Amazon Associate, I earn from qualifying purchases.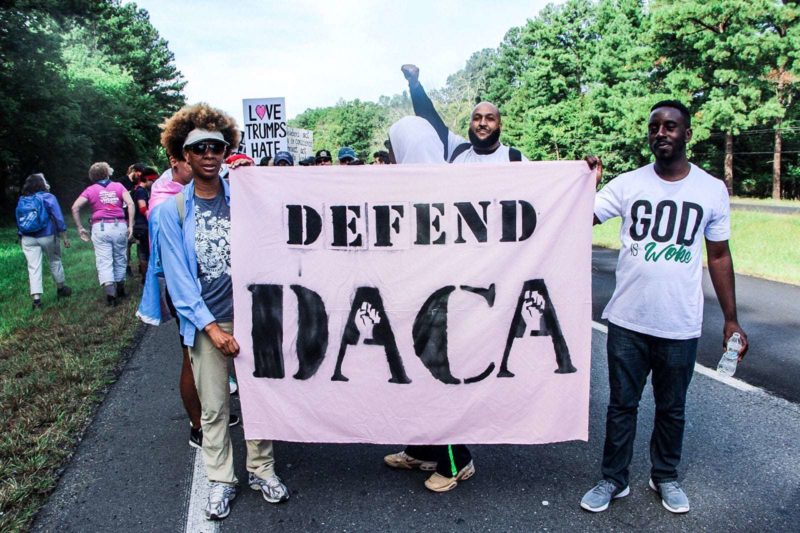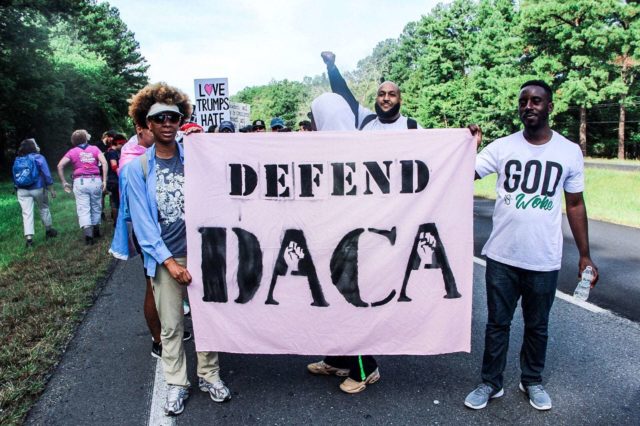 Unless you're hiding under a rock, especially this past week, you've heard about DACA. The news is reporting on it, your coworkers are discussing it, and it seems all your Facebook friends have opinions about it. Earlier this summer, 10 state attorneys general wrote the President demanding the end of DACA. The reason it's been in the news this week is because the letter gave Trump an ultimatum of this past Tuesday, September 5th. Attorney General Jeff Sessions announced the administration will rescind the DACA program and the administration is giving Congress six months before it's revoked. What is DACA? Why is this such a big deal that your uncle, 11th grade English teacher, and dogsitter are sharing memes about it? I do not claim to be an expert regarding DACA, in fact I realized how little I knew when the news came out this week. Doing some research helped me understand it better; this post breaks down the basics about DACA and why we all need to be informed.
What is DACA?
DACA stands for Deferred Action for Childhood Arrivals. It's an immigration policy founded in 2012 by the Obama administration to allow certain illegal immigrants who entered the United States as minor to receive a renewable two-year deferred action from deportation and eligibility for a work permit. Almost 800,000 people (referred to as "DREAMers" or Dreamers after the Development, Relief, and Education for Alien Minors AKA the DREAM Act) have been approved for the program.
To be eligible for DACA, applicants had to arrive in the US before age 16 and live here since June 15, 2007. They could not have been older than 30 when the policy was enacted in 2012.
Under DACA, DREAMers are able to apply to defer deportation and legally reside in the US for two years. After that, they can apply for a renewal. By March 31, 240,700 people had applied for renewal in the 2017 fiscal year and nearly 800,000 renewals had been approved over the life of the program.
What does the current administration plan to do with DACA?
The Trump administration says it's phasing out DACA in a way that will provide "minimum disruption." What that entails:
Officials won't accept any new applications to the program, but for current DACA recipients, protections currently remain in effect.
Due to the costs associated with rejecting all pending initial requests, DACA applications received by September 5, 2017 will be adjudicated on a case-by-case basis.
According to officials, work permits issued under DACA will be honored until they expire and anyone whose status is set to expire by March 5, 2018 has a month to apply for a new two-year permit, and those renewal applications will be processed.
Any requests to renew DACA and associated applications for EADs filed after October 5, 2017 will be rejected.
If Congress does not pass a measure protecting DACA recipients, nearly 300,000 people could begin to lose their status and be at risk for deportation in 2018 and an additional 320,000 would lose their status before August 2019.
Doesn't DACA take jobs away from Americans?
There's no proof of this claim, and some economists show DACA actually benefits the US economy. DACA recipients are relatively well educated, meaning they have the capacity to make the economy that much more productive. The vast majority of DACA recipients are employed, and almost half of them are currently in school, according to data collected in an online survey by the Center for American Progress. 36% of the respondents over the age of 25 reported that they had a Bachelor's degree or higher.
Attorney General Jeff Sessions stated this week that beneficiaries of the program ended up denying jobs, "To hundreds of thousands of Americans by allowing those same illegal aliens to take those jobs." It is quite likely there are some DACA recipients who have jobs that native or naturalized workers might otherwise have. However, not only is the labor market tight for educated workers, geography also is a factor. If the DACA recipient leaves that job, the native or naturalized resident must be living in the same vicinity or be willing to relocate to get that open job. DACA recipients are heavily concentrated in a few states, like California and Texas, so this may hold true for states like that but may not be as real of an issue across most of the country.
I heard DACA recipients don't pay taxes.
False. DACA recipients are required to file taxes just like the rest of us. I wonder if this rumor started because DREAMers don't have to pay the tax penalty for not having Obamacare/the Affordable Care Act. But DREAMers don't have to pay the penalty because they're not even eligible for it! (source) As an FYI, DREAMers aren't eligible for welfare either.
But DREAMers commit crimes and join gangs!
There is no evidence that DACA-eligible individuals commit crimes at a higher rate than natives. Trump recently said DACA led to an influx of people coming in across the border with many of them, "young people who would become members of violent gangs throughout our country, such as MS-13." DACA protections are cancelled for anyone who is a threat to either public or national safety. According to Immigration and Customs Enforcement, about 1,500 people have had their deferral canceled due to a crime or gang-related activity or admission (source). That's less than 0.2% (not two percent, but two tenths of one percent) of the total number of people accepted into the program.
I'm not a DREAMer and don't know anyone who is. This doesn't affect me, right?
Wrong. If DACA ends, it means we will lose 800,000 people who have jobs, bought houses, pay taxes, started student loans, joined the military, and otherwise invested in America. Some of the estimated 280,000 beneficiaries who have attended college or graduate school have borrowed from Sallie Mae and Discover. According to "Open Letter from Leaders of American Industry," 65% of DREAMers have purchased a car and 16% have purchased a home. These borrowers may now have to make loan payments without the right to work legally. That's a lot of potentially defaulted mortgages and loans. But that's just the start of it. If DACA ends, The US economy would lose $460.3 billion from the national GDP and $24.6 billion in Social Security and Medicare tax contributions.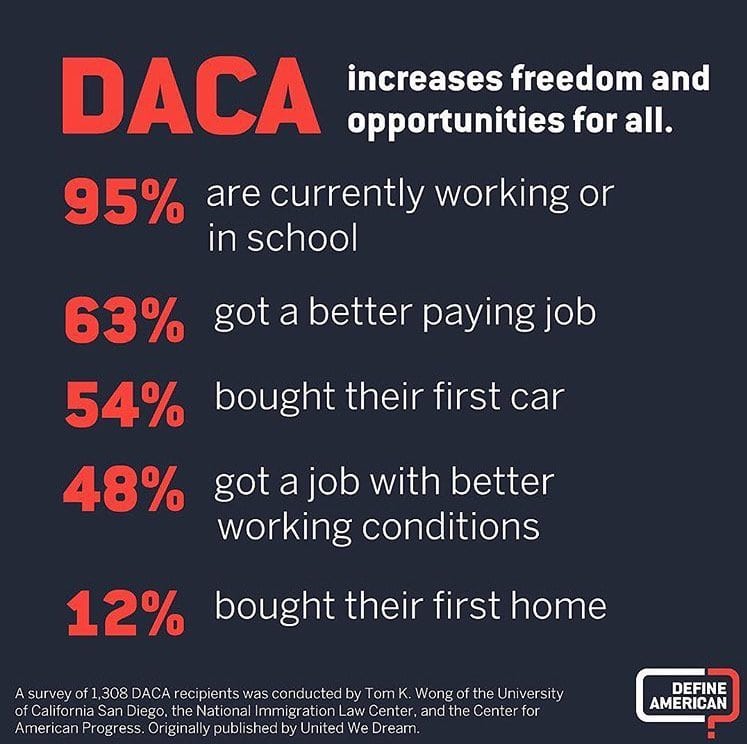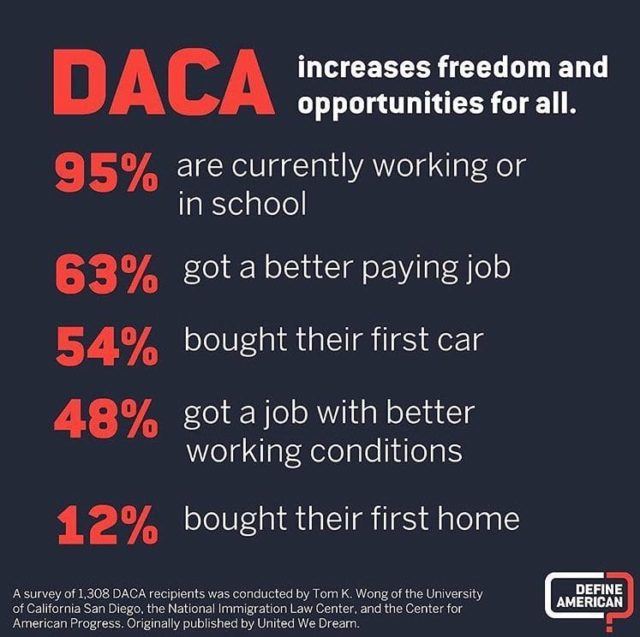 It's always easier to understand and feel empathy for people when you know their story. Define American is a non-profit media and culture organization that uses the power of story to transcend politics and shift the conversation about immigrants, identity, and citizenship in a changing America. If you don't know any DREAMers, and even if you do, I recommend you visit and read some of these true stories about immigrants. Define American has also crafted this wonderful fact sheet about DACA.
How Can I Help #DefendDACA?
Contact members of Congress
Contact your local representatives and let them know you support DACA. If enough of us take action to put pressure on Congress, we can send a strong message of support for DACA and can very well save the program. Yes, your one voice DOES make a difference; think if everyone who thinks their one call or email or letter didn't matter didn't send them… change happens when individuals are united. Here's a sample script for your emails, postcards, and letters to make it easy:
"[Name of Representative] I am contacting you in support of the Deferred Action for Childhood Arrivals (DACA) program. I strongly oppose any attempt to terminate DACA, which has helped over 800,000 undocumented immigrant youth access new opportunities in work and education. I urge you to do everything in your power to protect DACA and stand in solidarity with immigrant youth."
If you're not sure who to call, the Dream Act Toolkit (a project of the Center for American Progress Action Fund) provides a few key telephone numbers as well as an easy way to tweet those lawmakers.
FWD.us, a 501(c)(4) lobbying group focused on immigration reform also has a tool making it easy to call Congress.
Here To Stay has a great widget making it easy to tweet to Congress.
Start or Join a Campaign
United We Dream is the first and largest immigrant youth-led organization in the nation. They are organizing grassroots campaigns powered by immigrants, people of color, and allies all across the country. Click this link to find one in your area or join one already in existence.
Support in Person
Here to Stay has a site that helps you find #DefendDACA events in your area.
Consider joining a local Indivisible group and connect with neighbors who also wish to protect DACA.
As Barack Obama stated in a recent Facebook post, "[DREAMers] were brought to this country by their parents, sometimes even as infants. They may not know a country besides ours. They may not even know a language besides English. They often have no idea they're undocumented until they apply for a job, or college, or a driver's license… Whatever concerns or complaints Americans may have about immigration in general, we shouldn't threaten the future of this group of young people who are here through no fault of their own, who pose no threat, who are not taking away anything from the rest of us… Kicking them out won't lower the unemployment rate, or lighten anyone's taxes, or raise anybody's wages."